Are you counting down the days for the big festivals and holidays? Want to spice up your festival anticipation more? Then do it in a fun way by making a lovely advent calendar. Don't know where to start or need some design inspiration? Explore these 15 homemade DIY advent calendar ideas sure to bring extra festival love in the air. These homemade advent calendar ideas will be the exciting day count down, and surprise the kids and family members with so many cute rewards like a sweet treat, a small toy gift, tattoos and funny jokes.
You can easily buy the advent calendars from the stores, but it will always be a great idea to make personalized ones at home. Look through these projects to see a big range of homemade advent calenders made on so many different themes using various materials.
Whether you are a little expert in sewing, you can sew the felt in many colors to make wall-hanging advent calenders with lots of colorful pockets mentioning the dates. Opt for the small little cardboard or Take-Out boxes to make cool advent calenders and pack the custom treats and activity cards in them also. Put together the envelopes to whip up super beautiful calenders just at the drop of a hat.
Moreover, these DIY advent calendar ideas will also provide instructions about making the super cool hanging bucket advent calenders, sure to be a big love of all the homey persons.
1. DIY Felt Truck Advent Calendar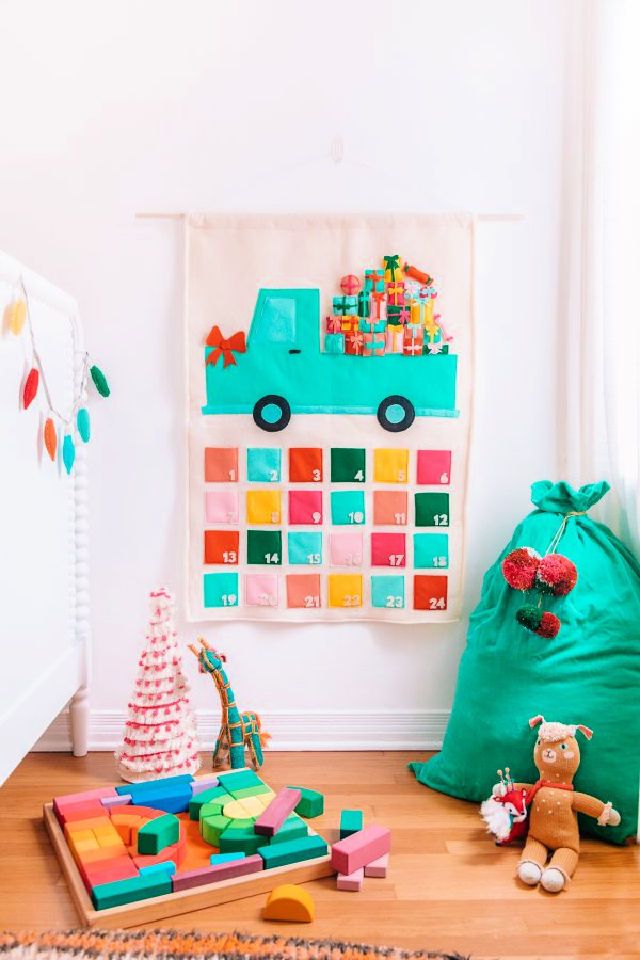 The advent calendar is the big highlight of the big day and festival. Using your creativity, you can make this calendar in various ways at home while choosing lots of interesting themes. If you add an advent calendar in the kids' room, then this truck advent calendar will be a smart pick. Grab here the complete instructions to easily clone this fantastic and cute calendar. In supplies, you need a truck template, off-white felt, mint felt, sheets of felt in various colors, sewing machine, thread, glue, stuffing, scissors, velcro, wooden dowel and rope to make this calendar. studiodiy
2. Making Mini Box Advent Calendar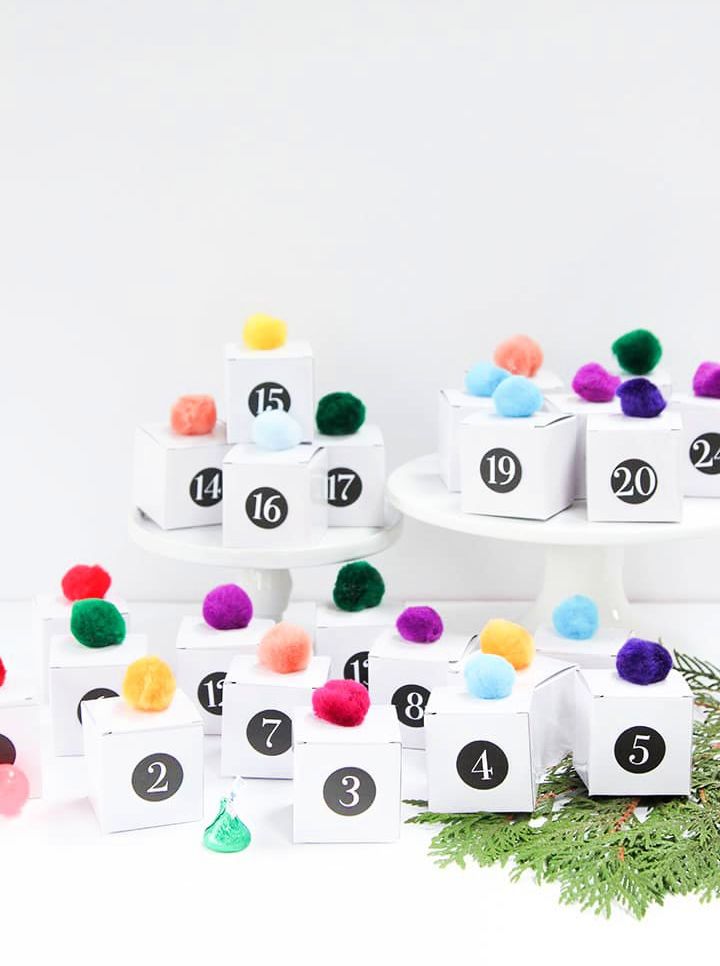 There is a wide range of advent calendar designs to choose from when it comes to making it at home. Just duplicate this small box advent calendar that appears in a variety of different colors and numbers, and you will love making it. Just make the mini boxes or grab them from the shops and stores. Paste custom month dates on them and adhere to the colorful pom-pom toppers. Don't forget to fill the boxes with custom treats. aliceandlois
3. Homemade Fabric Advent Calendar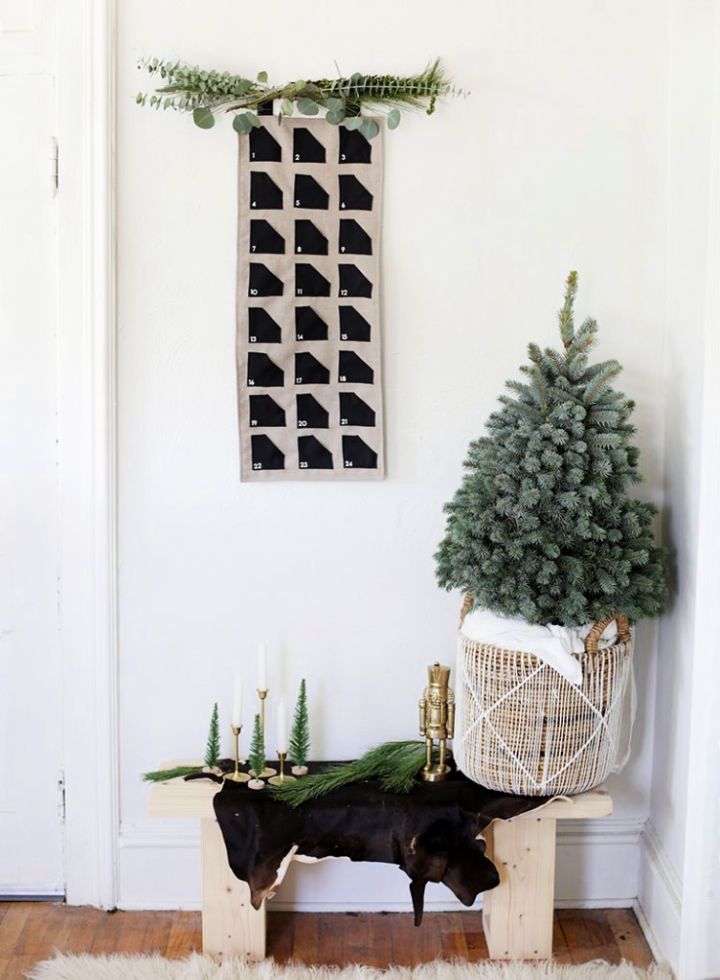 Hopefully, you can use the fabric scraps also to make gorgeously cute and lovely advent calendars at home in no time. Feel free to duplicate this fabric advent calendar that is sweet and gorgeous to look at and will be a total breeze to make at home. Finally, a green touch is also given to the entire calendar for some natural vibes, and you must be a little expert in sewing to complete this project. You need black fabric, upholstery fabric, scissors, a Cricut machine or iron-on numbers, square dowel, greenery and a sewing machine to easily complete this fabric advent calendar. themerrythought
4. DIY Balsa Wood Advent Calendar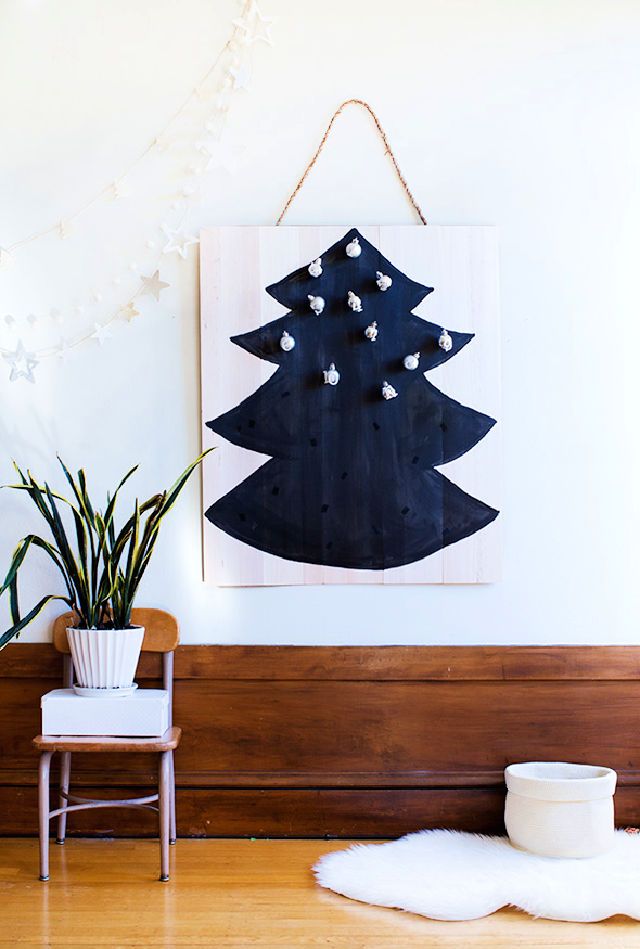 One can use a wide range of materials while being willing to make an advent calendar at home. You can use any from paper to wood to fabric to whip up this outstanding calendar and learn here to make a beautiful one using balsa wood. Put together the balsa wood slats on a large piece of kraft paper first. Trace the festival tree and fill it up with black chalkboard paint color. Next, add this balsa wood board with the decorative numbered silver ornaments. Paste the number stickers all around the small ornaments before adding them to the balsa wood board. sayyes
5. Make Your Own 5 Minute Advent Calendar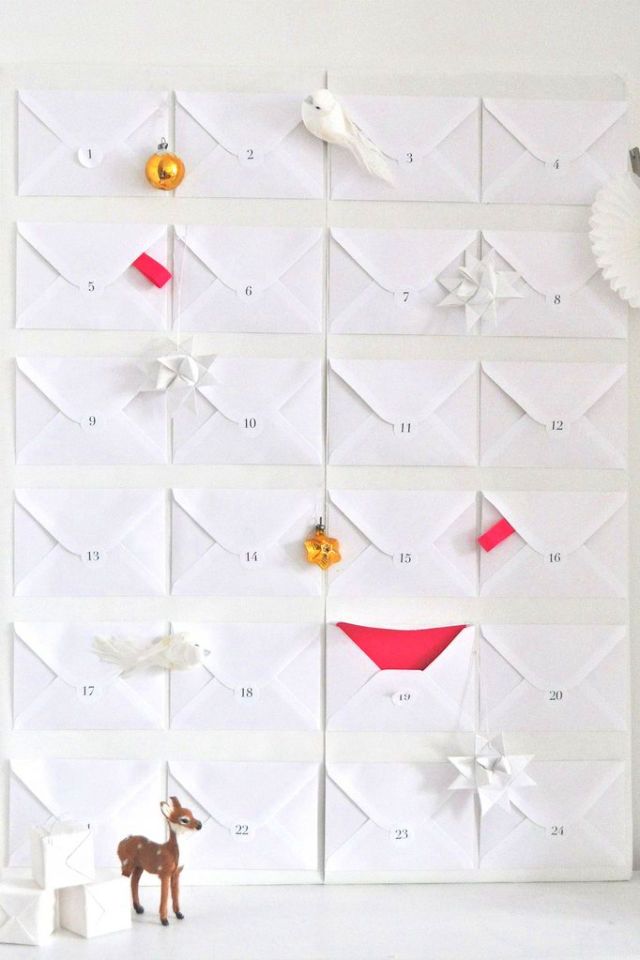 You can mention the dates of the advent calendar in lots of different ways, and this will also help give amazing and cool variations to your advent calendar. Get inspired by this gorgeous advent calendar made with white paper envelopes that you can make and design at home. Just mention the dates on each envelop and paste them on a custom board with custom hidden surprises on them. Finish with custom festival-related baubles and trinkets. One of the best advent calendar ideas ever. fewthingsfrom
6. Pottery Barn Inspired Advent Calender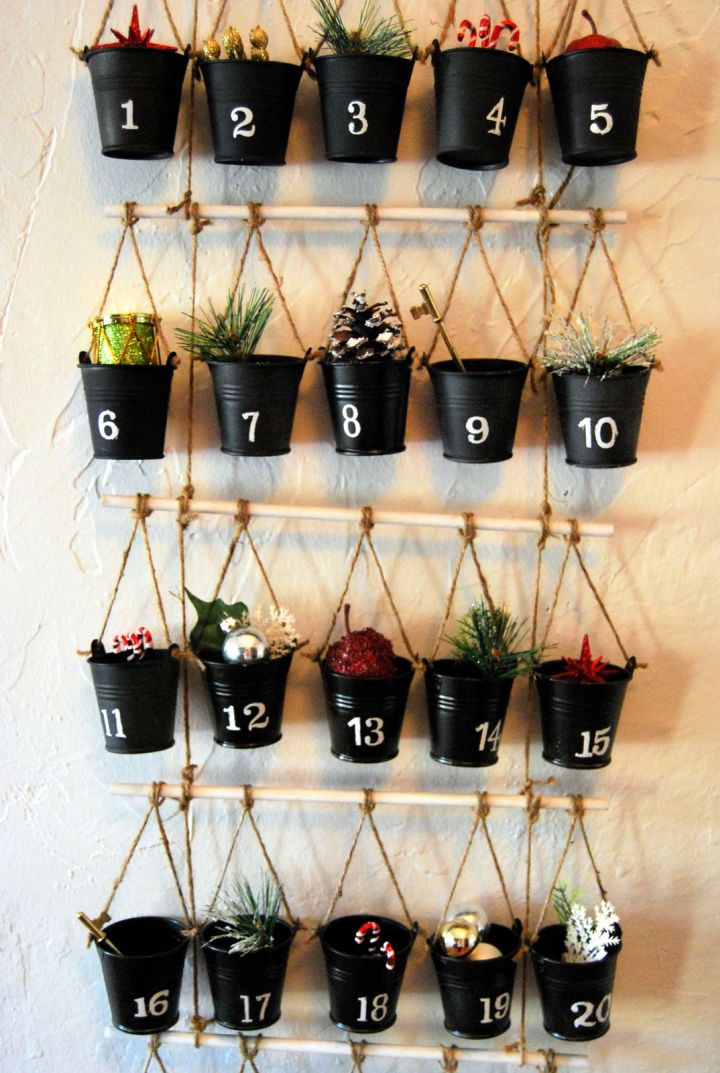 Looking for a unique advent calendar to hang on the interior walls? Hen, you will love this bucket and branches advent calendar that is to make with the 25 buckets. Just make the hanging advent calendar frame using the wood dowels and natural jute. Next, hang the decorated buckets with the calendar dates mentioned on them. One of the best and quick-to-make advent calendars, and it will be like a whole beautiful mini garden on the wall. Fill the buckets with custom trinkets and decorative items. You need 25 buckets, natural jute, 5 wood sticks or dowels, number stickers, floral foam and little trinkets to complete this fantastic hanging advent calendar, sure to be a big love of all the homey persons. davidandcaroline
7. How To Make Felt Advent Calendar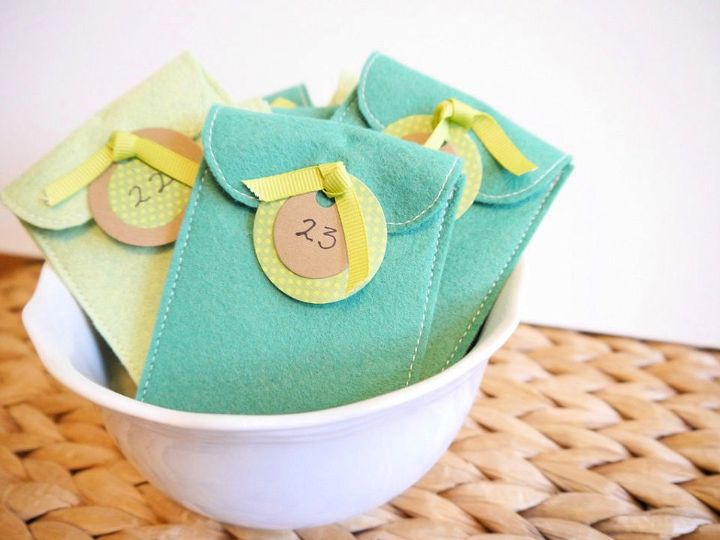 You will be sorting out an advent calendar if the festival holidays are just about to come. Learn here to make the best advent calendar using felt, and doing this project will create too much fun. You need beautiful wool felt, ribbon, craft and scrapbook paper of choice, mini clothespins and some creativity to complete this advent calendar. Just sew the felt pockets in the mermaid green and mint julep color and then string them up all to make a gorgeous advent calendar. You can add anything in the pocket that you want. skiptomylou
8. Creative Envelope Advent Calendar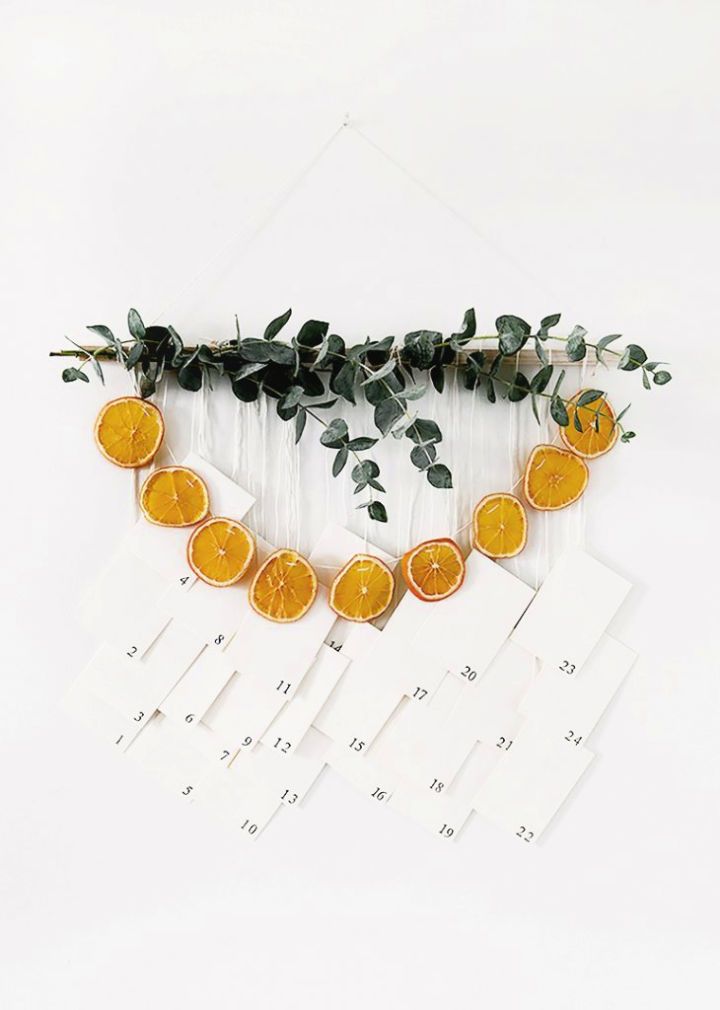 It is always super easy to make an advent calendar, and you can think about various materials to make it properly at home. Learn to make it using the envelopes, and you can easily hide those mini surprises in the envelopes. Here you need the small envelopes, and you can punch out some small holes in them to easily string them up. Also, add the custom cards surprises in the envelopes to boost the fun of this advent calendar, super easy and quick to whip up. With the small envelopes and a hole punch, you need advent activity cards, number stamps or number stickers, string, ½" wooden square dowel, and scissors to complete this calendar. themerrythought
9. Build Your Own Advent Calendar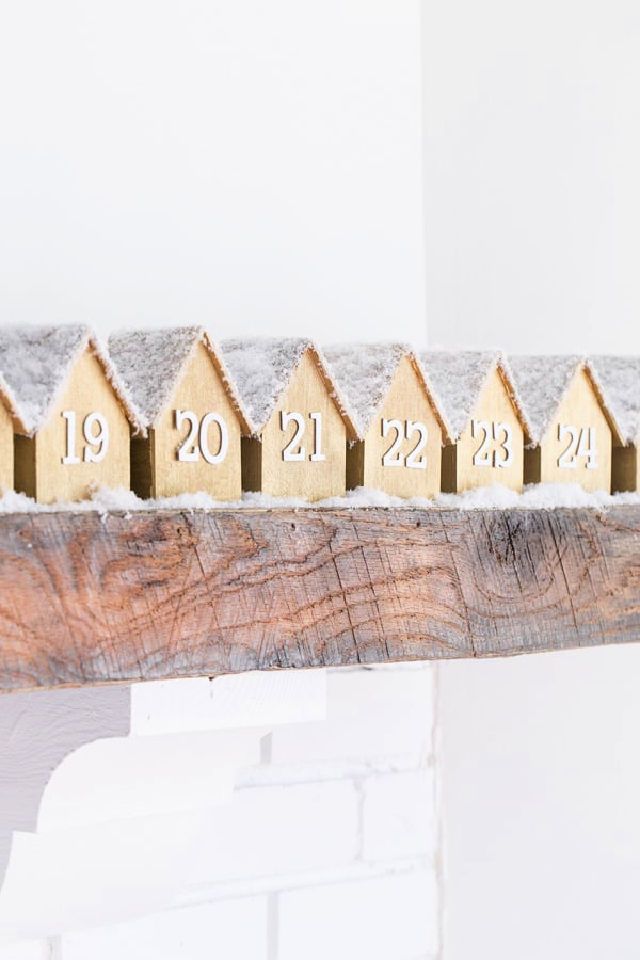 You will love these small houses beautifully put together on a decorative mantle. They are beautifully number to make a gorgeously cute and beautiful advent calendar, and everyone will just fall in love with it. Use a wooden house template and start making several wooden houses with its help. Just hide your favorite surprises in the houses and cover the houses with fake snow for added visual grace. Don't forget to add the beautiful numbers to these wooden houses to get a beautiful advent calendar in no time. sugarandcharm
10. Take out Box Advent Calendar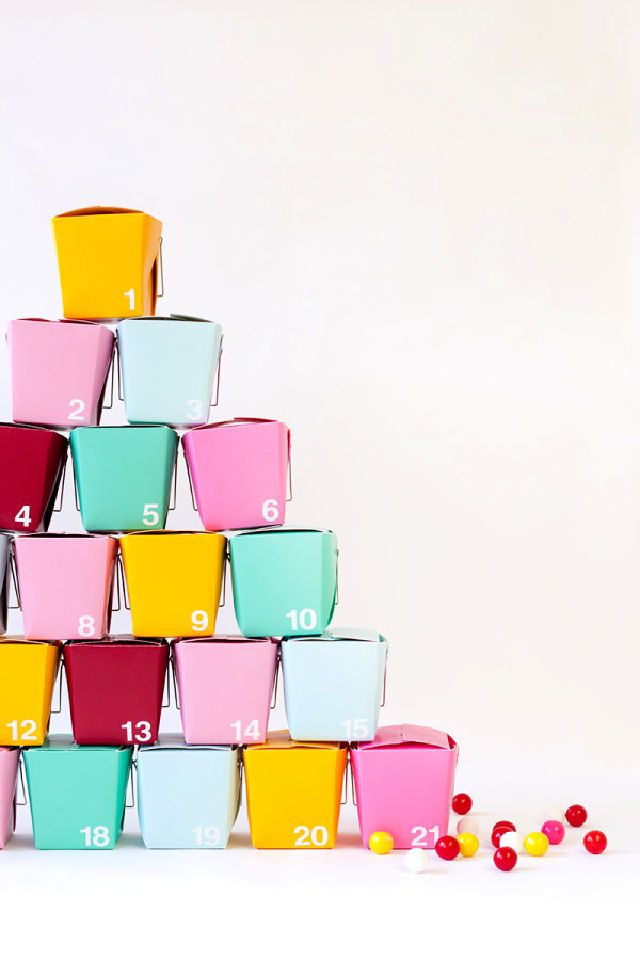 Everyone will just fall in love with this outstanding stack of colorful boxes that result in a beautiful advent calendar. This is here another great and gorgeous-looking advent calendar to make at home without getting a bit expensive. Here te 25 mini Take-Out boxes are used for this advent calendar, and they have numbered beautifully also for added visual grace. Just hide the kids' snacks and other activity cards in the boxes, and they will be super beautiful to look at once piled up neatly. studiodiy
11. Printable Advent Village Calendar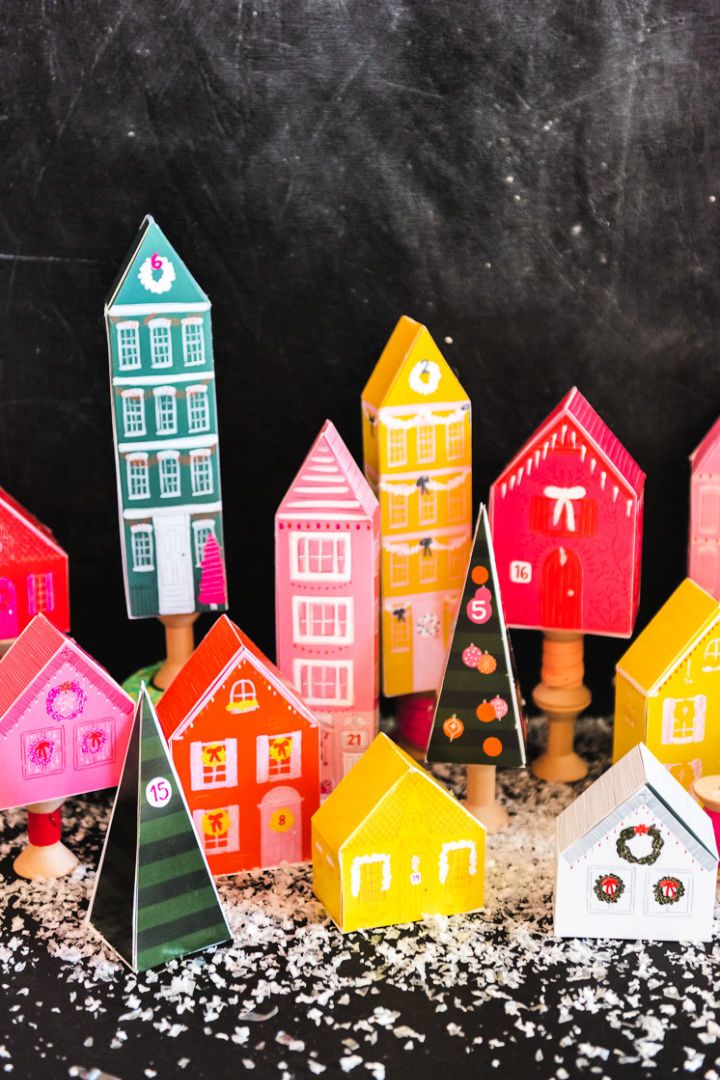 You can simply get inspired by anything beautiful and amazing when you need to make a quick, beautiful advent calendar at home. It will surely get ten out ten from you to build this advent village calendar. You will get here free printables for the calendar also. Including the tall, small, medium, trees and other festival houses, there are a total of 25 pieces added to this outstanding advent calendar. You need the free printable village, glue, tape and scissors to easily duplicate this outstanding advent calendar, sure to be a big love of all the homey persons. However, you also need the scoring device, cutting mat, double-sided stick tape and metal ruler as the necessary tools and adhesives for the project. thehousethatlars
12. DIY Advent Calendar For Adult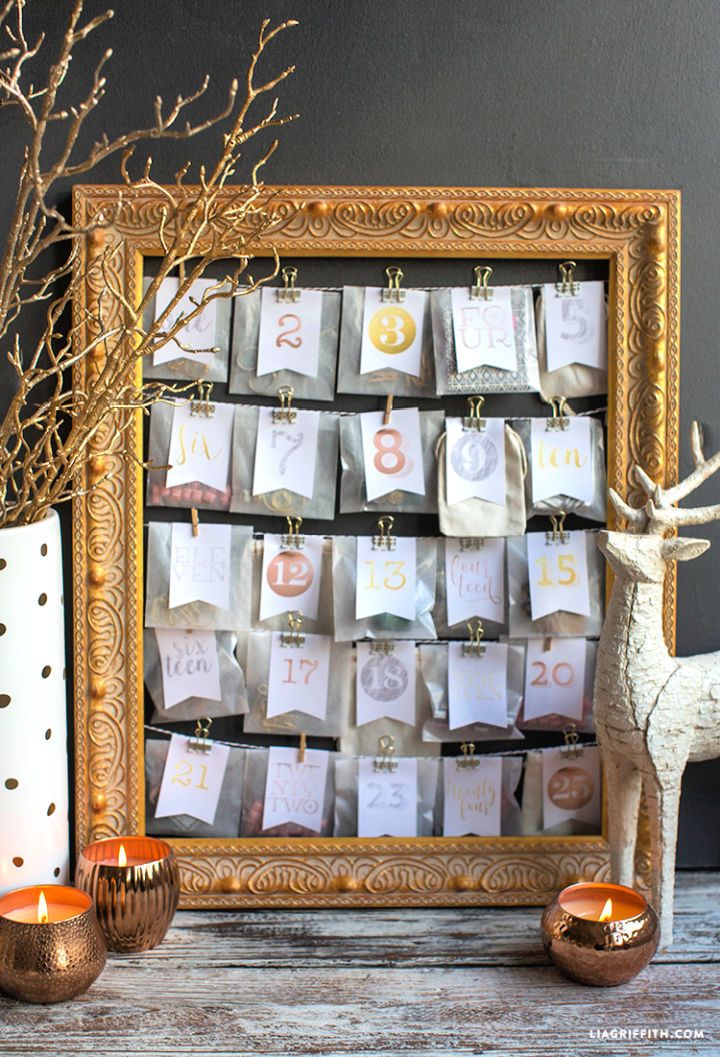 You will fall in love with this graceful edition of the advent calendar that is also handmade. Here a beautiful photo frame is put around the whole calendar for added visual grace, and everyone can duplicate it for this space. Here you need to make lots of buntings displaying the dates and custom quotes or activities that you can string up in the frame to make this gorgeously cute advent calendar. Surround this calendar with beautiful tea lights or votives and also with a faux dear toy. Here dainty baggies are also used along with the numbered flags to hold the custom treats. liagriffith
13. Paper Trees Advent Calendar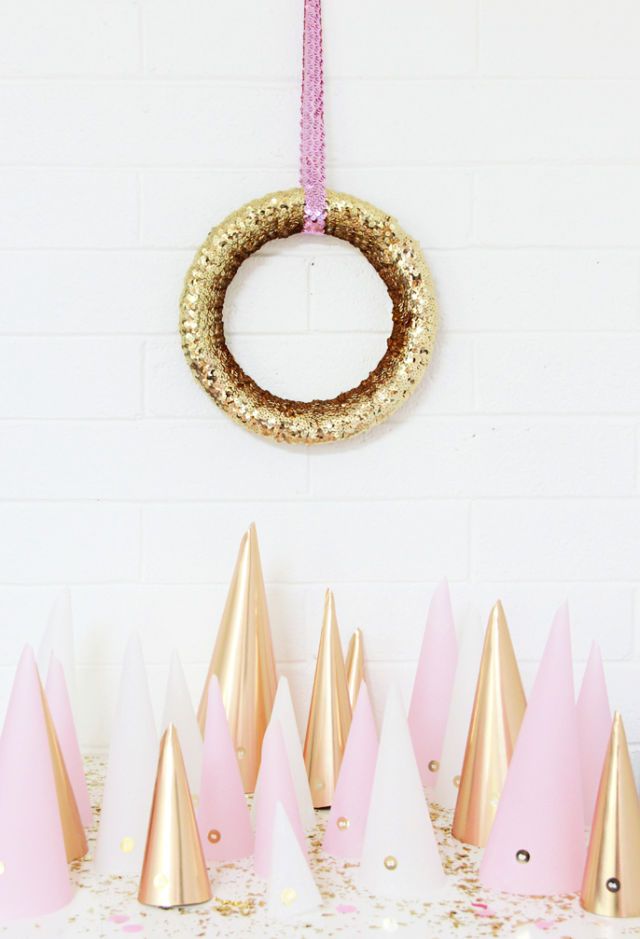 Do you love sparkly things and items? Then you will surely become a big fan of this lustrous advent tree calendar and activity list. You will also see a glittery hanging wreath on the wall that looks like the part of this calendar and will be loved dearly by all the onlookers. Here you need a handful of supplies to easily complete this outstanding advent calendar, sure to be a big love of all the homey persons. Grab metallic poster board & translucent pink & white scrapbook paper, scissors, ruler, tape, stapler, metallic number stickers and advent calendar activity list to complete this project. abubblylife
14. Cute Bonbon Advent Wreath Gift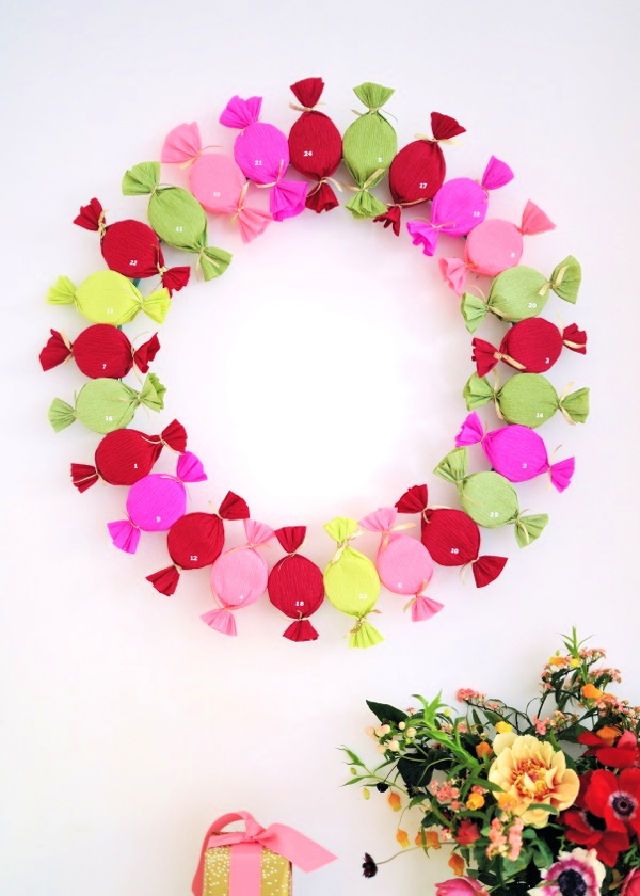 Do you strive for cuteness in everything? So, you will surely fall in love with this cute adventure calendar that is to make with colorful bonbons. Here a total of 25 bonons are used to whip up this crazily cute model of the advent calendar, and everyone will just fall in love with it. You can fill each bonbon package with custom treats, activity cards, jokes, tattoos and much more. Here you need crepe paper, gold ribbon, glue gun, plastic container, scissors, white number stickers, aluminum wire, assorted treats, snacks, jokes, tattoos, coupons and goodies to complete this calendar. ohhappyday
15. Simple DIY Advent Calendar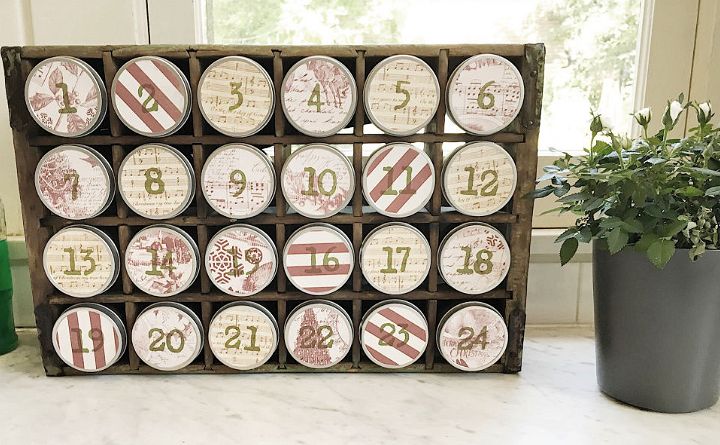 Want to make the advent calendars at home that will impress all? So, follow here quick guides to create one that will win the heart of all the onlookers for you. It will take about two hours or less to build this advent calendar, and it involves using an old wooden bottle create, and it will cost you next to nothing. Decorate the metal tins with scrapbook papers and add the custom date numbers to their lids using the rubber stamps. Finally, you can put the metal tins in the wooden create to gain an impressive advent calendar, as you can see. You can fill the tins with custom treats, activity cards, jokes and also with custom goodies. my100yearoldhome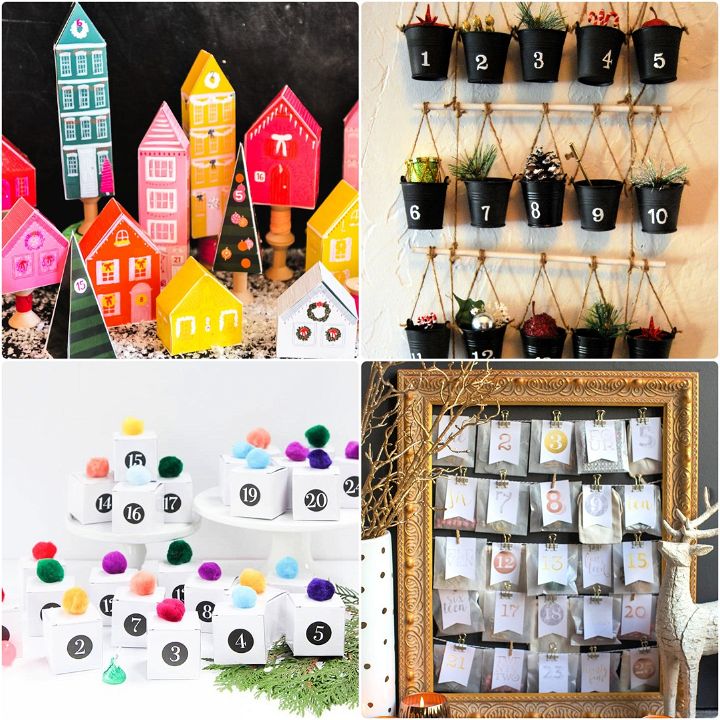 Related DIY Projects:
Decorate With Mudcloth – Here are 10 different ways you can decorate your space with mudcloth. Whether you're looking for a new way to decorate your walls or you want to make an area rug, mudcloth has so many great options! From wall hangings to headboards, mudcloth is an incredible textile for a one-of-a-kind accent piece.
DIY Gift Box Ideas – You won't find a better selection of DIY gift box ideas anywhere. Here you will find all sorts of creative ways to turn a regular box into a decorative, personalized, and useful gift packaging option.
DIY Jewelry Box Plans – Building a jewelry box is a great way to use your creativity and show off your skills. This collection of free DIY jewelry box plans includes designs for jewelry boxes of all shapes and sizes, from the classic two-compartment box to specialty boxes meant to hold rings or other smaller jewelry pieces.
DIY Ornaments – Don't be left without an ornament this season. These homemade ornaments are easy to make, and you'll love the creativity behind each one.
Halloween Decorations – The best collection of free printable Halloween decorations, including cutouts and paper crafts. The only thing scarier than the ghosts of your past is the blank space on your wall.
Conclusion:
These advent calendar ideas provide you with the ultimate DIY hacks and solutions to make quick and affordable homemade advent calendars at home. So, you will get complete advent calendar tutorials providing step-by-step instructions, material lists, tool lists and detailed diagrams to make every one of the given advent calendars beautifully and efficiently.
Homemade advent calendar ideas are on the list for all skill levels, from easy to intermediate to advanced. Moreover, these projects also contain some sewing advent calendar projects that will help hone your sewing skills.