Putting your own stamp on a new living space can be a challenge. Most of us don't have the expertise – to say nothing of the budget – to redesign the entire layout and decor scheme of a home. So we need to get the little touches right, as this can make the difference between show-apartment bland and genuinely homely and welcoming.
Many of the quickest, most affordable, most "DIY novice friendly" home design ideas involve using your own photos. Our favorite photographs will always raise a smile whatever mood we're in, so including them in our decor can do wonders for our sense of wellbeing. And you might also be surprised by how much potential they have to transform your home aesthetic!
In this article we suggest 5 creative home decor ideas that even the most budget-conscious designers should be able to afford. So if you see something that appeals, it's time to start browsing those image folders!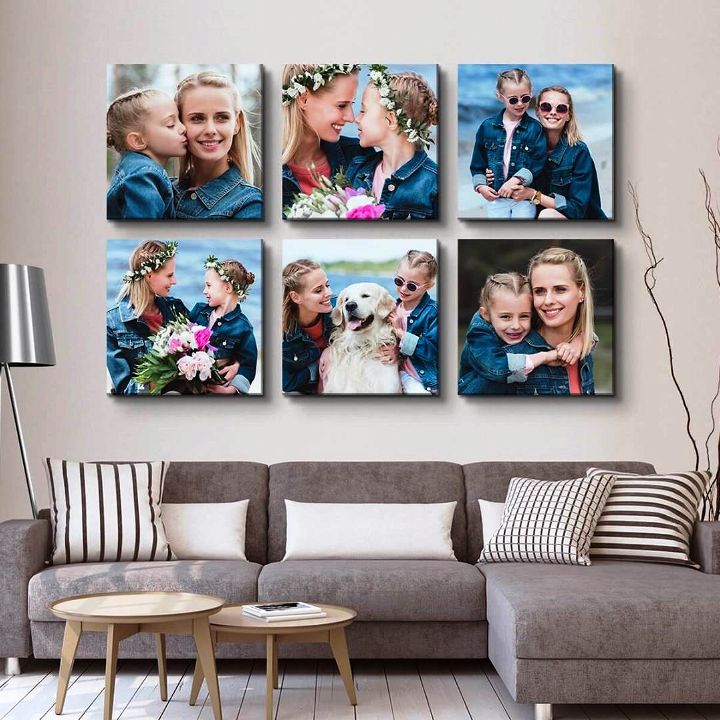 Framed Prints for Classic Style
A tried-and-true suggestion to start off with. People have been putting framed photos on the walls of their homes since the earliest days of the photography era. And the basic design formula – a photo, surrounded by white matting, surrounded by a rectangular or oval frame – has changed little since then. Why tinker with a classic?
In the past the photos themselves tended to be rather staid posed portraits of their loved ones, but you can include any subject you like – scenes from nature, moody urban shots, dynamic candid photos…
The digital revolution has made the process easier than ever. You can upload image files direct from your phone or computer to any respected print website (we're big fans of the framed prints at CANVASDISCOUNT, the US-based specialists who offer consistently superior quality for amazingly low prices) and they'll deliver your prints direct to your door, frame included.
Go Go Retro
Needless to say, the easiest way to decorate with photos is to stick them directly on the walls. And the basic prints which are widely available cost mere pennies, so this is probably the cheapest solution too. But let's face it, your regular 4" x 6" prints from the high street won't make for particularly striking design statements.
Classic Polaroid-style prints are a different matter, though. The "instant camera" look gives photo prints an inimitable retro vibe that will jazz up any modern flat with some 20th-century period charm. The square format has a chunky, tangible appeal that contrasts nicely with today's smooth interior trends, while the white border helps draw the viewer's eye and intensifies the image detail.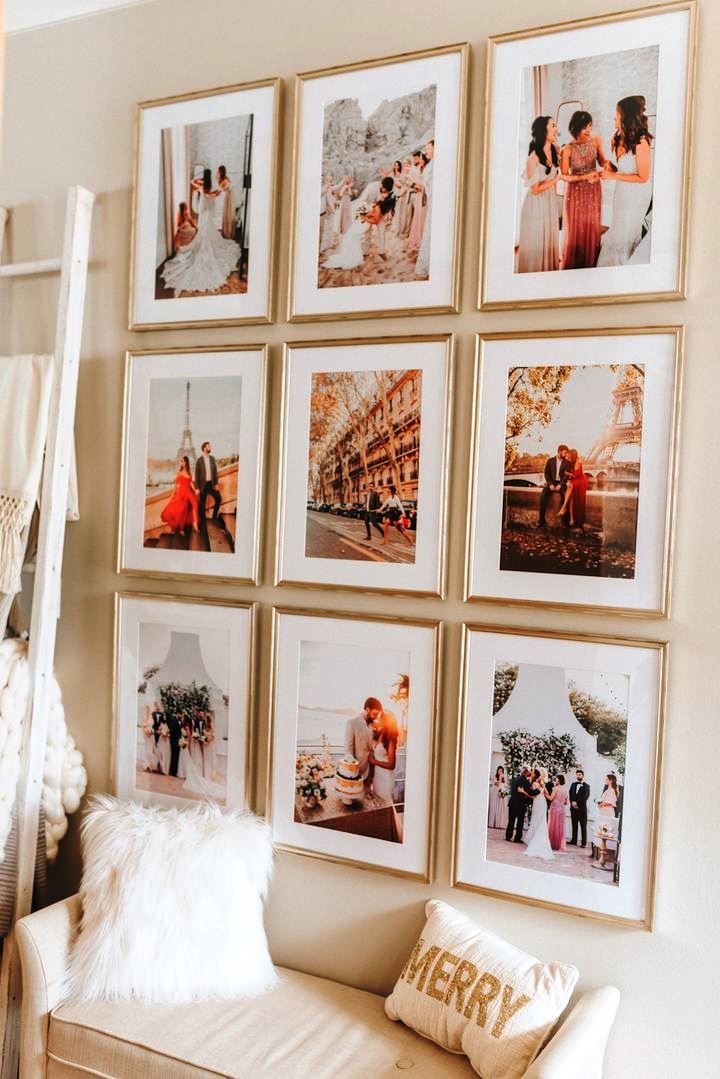 There's no need to take the photos yourself with a bona fide antique camera. Plenty of online print providers will recreate the effect.
Retro photos are punchy enough that you can just pin them up and you'll already have an appealing decor feature. But getting creative lets you totally transform a space's look. Try these ideas just for a start: hanging a length of string along a wall and attaching your prints with clothespins; arranging your photos in a geometric grid on a corkboard or wire backing; putting them in miniature stands and lining them up on a shelf.
Open Up the Fourth Wall
You know about accent walls, right? That's when you paint just one of a room's four walls in a different color – usually a big and bold choice like yellow, plum, or bubblegum, to make a virtue of the contrast with the surrounding decor. Well, this idea takes feature walls one step further…
Yes, that's right – we're going to suggest turning an entire wall into one big photo! Look for services offering picture wallpaper; some of them will only offer a pre-set choice of photo designs, but others will let you provide your own images which they'll print to order.
The classic photo choice here is a shot from a dream location you've been on. Got a heavenly beach photo from that trip to Tahiti or the Maldives? Print it on the wall, and you can trick the brain into thinking you're right back there, with the lapping waves just a skip and a jump away. A great, fun solution for modern bedrooms, or even the living room if you dare.
Cut a Rug
Custom printing services for home use really have come a long way. As well as a whole range of wall art solutions, these days you can easily get your photos reproduced on home textiles. Printing services like CANVASDISCOUNT offer personalized pillows, towels, and blankets featuring any photo of your choice. And if you want to give your living room a bold new look without a lick of DIY work required, why not consider their customized photo rug?
This is a rather daring choice, to be sure – choose the wrong photo and you might give your room too much character. We recommend you choose a cityscape or a vista from nature (forests, mountains etc) if you want to play it safe. It's best to think twice before printing a portrait on your photo rug.
Well, perhaps there's an exception to that last one…because pet photos can work beautifully on home textiles if you do it right. They're never going to be cool of course, but few things are better for making a house feel like a home than an adorable pup or kitty portrait. (Tip: these make great presents for loved ones too!)
Multi-Panel Prints
You can create a striking feature for any living space by getting one of your photos printed as XL wall art. Whether you choose a traditional classic like a photo canvas, or take a more contemporary approach with a print on photo board or metal, a single image printed in a large format can bring a whole room together.
To get an even more impressive effect, consider splitting a single image across two (or more) separate wall art pieces. The split-panel technique has been used by painters for centuries, and it brings the same depth and complexity to photographic features. The eye reads the panels as distinct shapes, yet still processes the image detail as a cohesive whole, which forces the brain to focus on the entire work at a heightened level.
You can either split the photo yourself using image editing software, or find a print provider who'll print a single image file across multiple prints. We recommend choosing either a sparsely detailed image or a consistently busy one; if the photo detail is concentrated in one particular area, the panel split could lack balance.