Make your bathroom feel like an oasis with these 25 modern minimalist bathroom ideas and decor. Do your best to create a bathroom that's as modern, clean and minimalistic as possible. This can be the perfect place to make your bathroom a more soothing and beautiful sanctuary. From custom shower curtains to handmade soaps, these modern minimal bathroom ideas will help you achieve a modern-minimalist look and feel.
At home, when it's the rush hour which is mostly the morning time, everybody has to get ready and leave for work or school. There is practically a long line in front of the bathroom waiting for their turn. We present to you with minimalist bathroom ideas that are your chance to utilize all the space available at your house, even if it's very small and tight. Living with teenagers, there is always a fight to get into the shower first. So it's time to reclaim your space from the teenagers at your house and build your own minimalist bathroom just to have a little peace while going to the loo whenever you want.
Minimalist bathroom ideas are a great way to give your house a makeover, as you might not be aware of some space that could be put to good use. You try many different ideas like giving a black and white makeover to your narrow bathroom, trying a vanity plan to make a rustic bathroom, making a rental bathroom beige and white colors, making lighting for your bathroom, for your wall mounted sink, building a wooden vanity, give a makeover to your tub and shower, remodel your bathroom by making a shower enclosure or you could try building a minimalist bathroom without any counter space. All these ideas will help to utilize a small space excellently.
1. Black and White Narrow Bathroom Makeover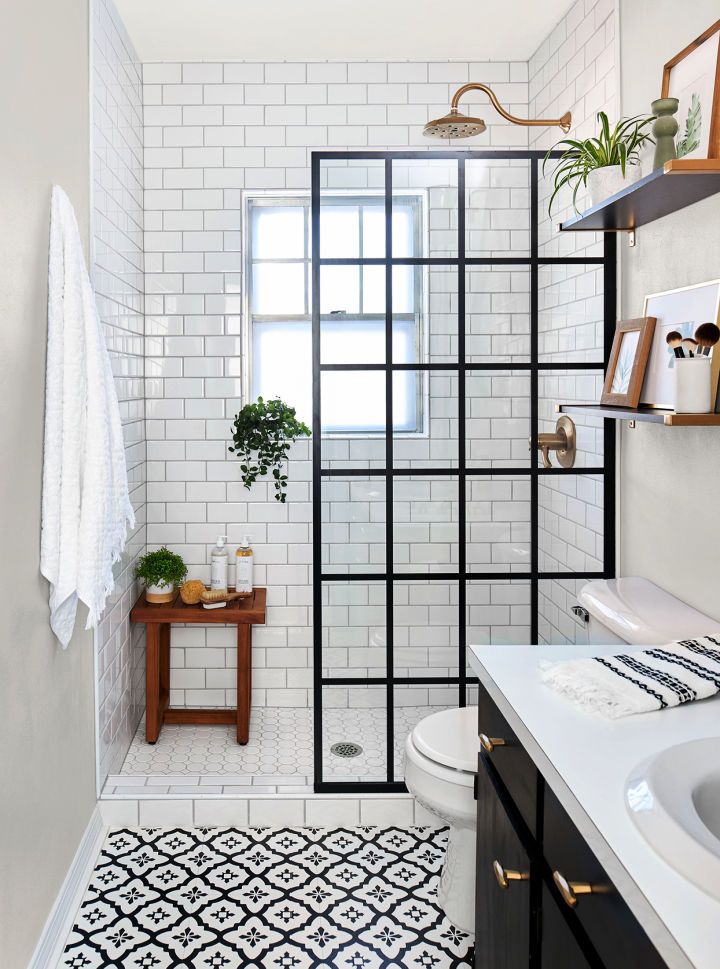 Give your old bathroom a makeover that's budget-friendly but also provides a high-end finish to the bathroom. This makeover will be a game-changer and you won't be able to stop enjoying the overall refreshed look. You will be applying a fixed glass panel, a ceramic tile, a pan-style shower head, paint, new knobs, a round mirror, floating shelves, spray-painted brackets, a new bronze faucet that will modernize the old sink, peel and stick vinyl tiles and clear silicone. bhg
2. Rustic Bathroom Vanity Plan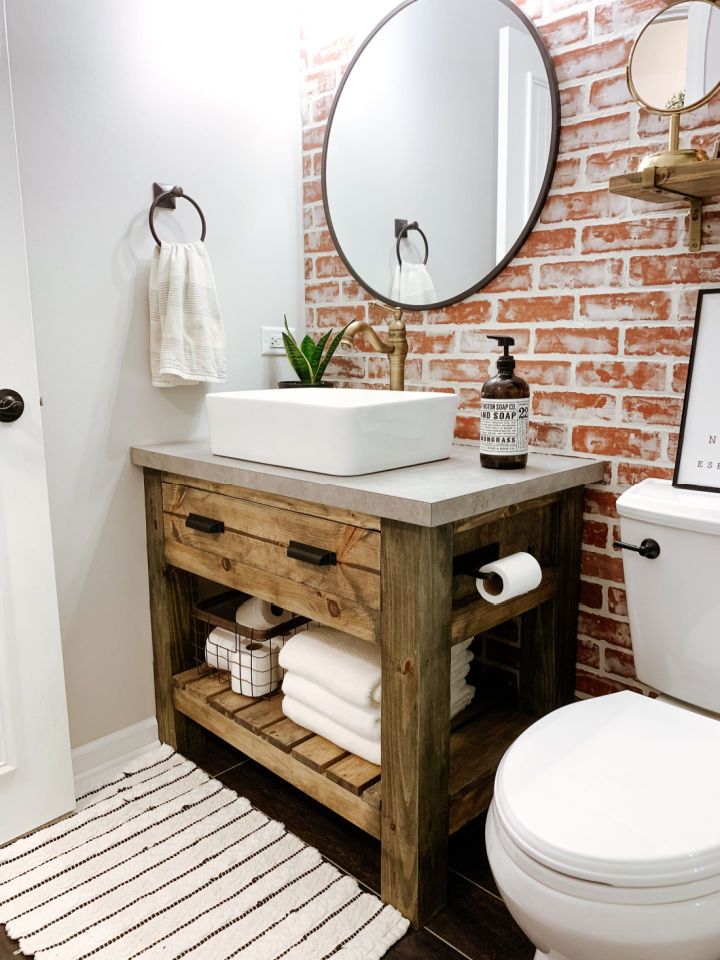 In the bathroom of your bedroom or any other bathroom of the house, DIY a bathroom vanity that will really liven up the whole area. To build your own bathroom vanity, you will need supplies like different sizes of wooden boards, sanded plywood sheets, screws of different sizes, wood glue, a side mount drawer slide, and a vanity top. You will also need a few tools miter saw, a jigsaw, circular saw, Kreg jig, nail gun, sander, drill, pencil, speed square, tape measure, etc. sammyonstate
3. DIY Beige and White Rental Bathroom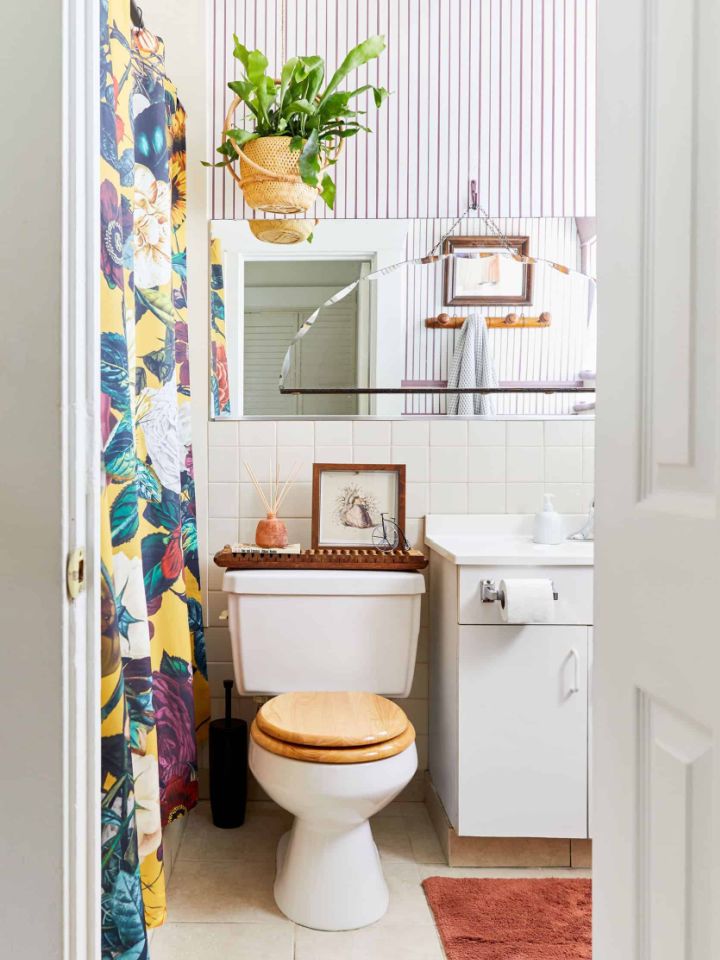 Give your rental bathroom a makeover that will make you smile every morning when you drag yourself out of the bed. Get some supplies to give your own bathroom a makeover like painted striped wallpaper, a wooden toilet seat lid, oil diffuser, flower print shower curtain, a hanging planter, marigold light fixture, and a vintage mirror. It's not necessary that you swap out things on your vanity or the hardware as the other additions you made will be enough. stylebyemilyhender
4. How to Make Bathroom Lighting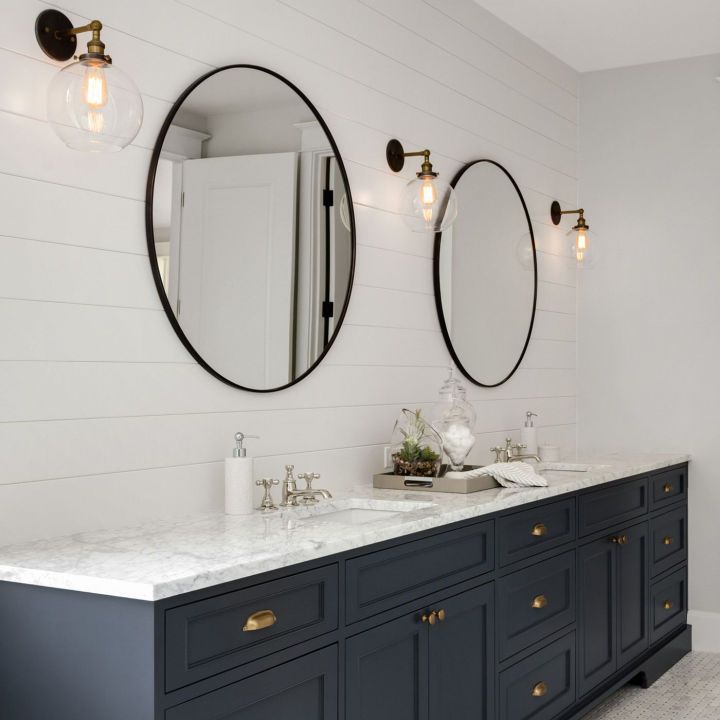 Lighting in the bathroom is so important as basically, we are doing most of the day's work in the bathroom which is makeup, changing, and all. The best lighting in the bathroom must be chosen by considering the types of lighting, fixtures, and layout. A good lighting plan includes a series of layers like placing ample light at the showering place, makeup area, or shaving place. The vanity lighting fixtures must also be considered along with the showering area. thisoldhouse
5. Build a Wood Vanity for Wall Mount Sink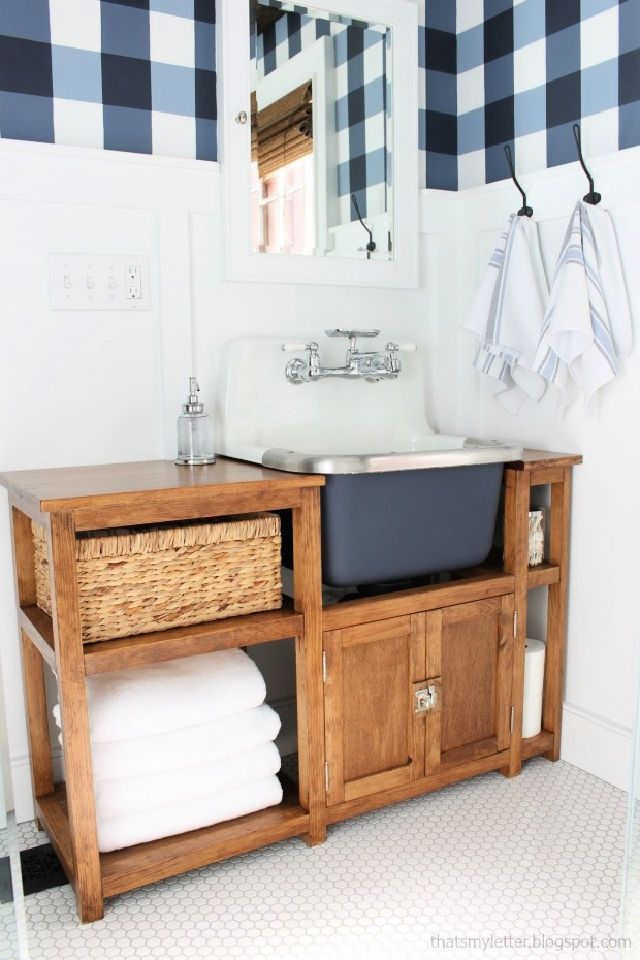 Around your wall-mounted sink, build a vanity that fits it perfectly following the free plans available here. You just have to find a perfect sink around which you can a very functional vanity that will make it look stylish too. The vanity necessities include hiding the plumbing, providing extra storage, and some more counter space. You can give your vanity a perfect finish by staining it and sealing it. Make sure that you sit in between each coat of sealing. jaimecostiglio
6. Décor Small Apartment Bathroom on Budget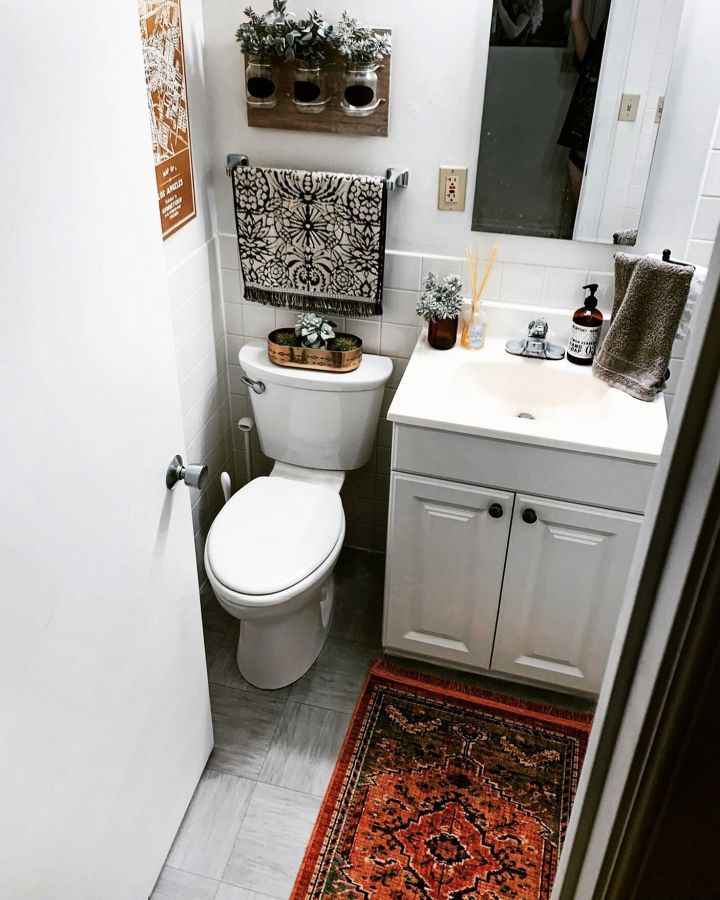 If you have a studio apartment, some really great bathroom ideas are coming right your way. You can make your tiny bathroom décor easy with these minimalist bathroom ideas and enjoy your little space in the best way. Sometimes bathrooms seem extra tricky to decorate so you must start with accessorizing your countertops first. Use functional items like hand soap and a towel on it. Utilize the rest of the space by adding decorative embellishments which must include aesthetically pleasing things. modamisfit
7. DIY Half Bath Remodel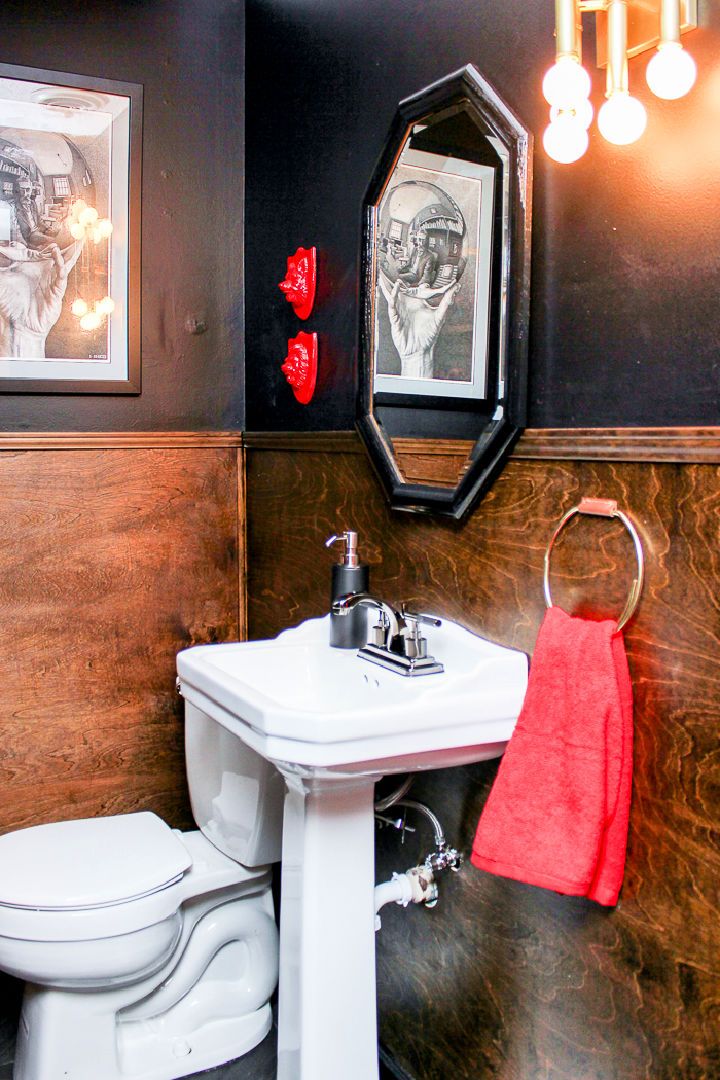 Kick-off your year with something good like remodeling your half bathroom. Even if your bathroom is tiny, there are a lot of things that can be done to improve its look and enjoy the space completely. Add a decorative mirror, some art, etc. which will take up lesser space and will change the overall look of your bathroom. Add wood wainscoting on the walls and get a tiny pedestal sink. The toilet paper holder must be mounted vertically so that it takes up lesser space. rainonatinroof
8. Bathroom Makeover with Black Painted Wall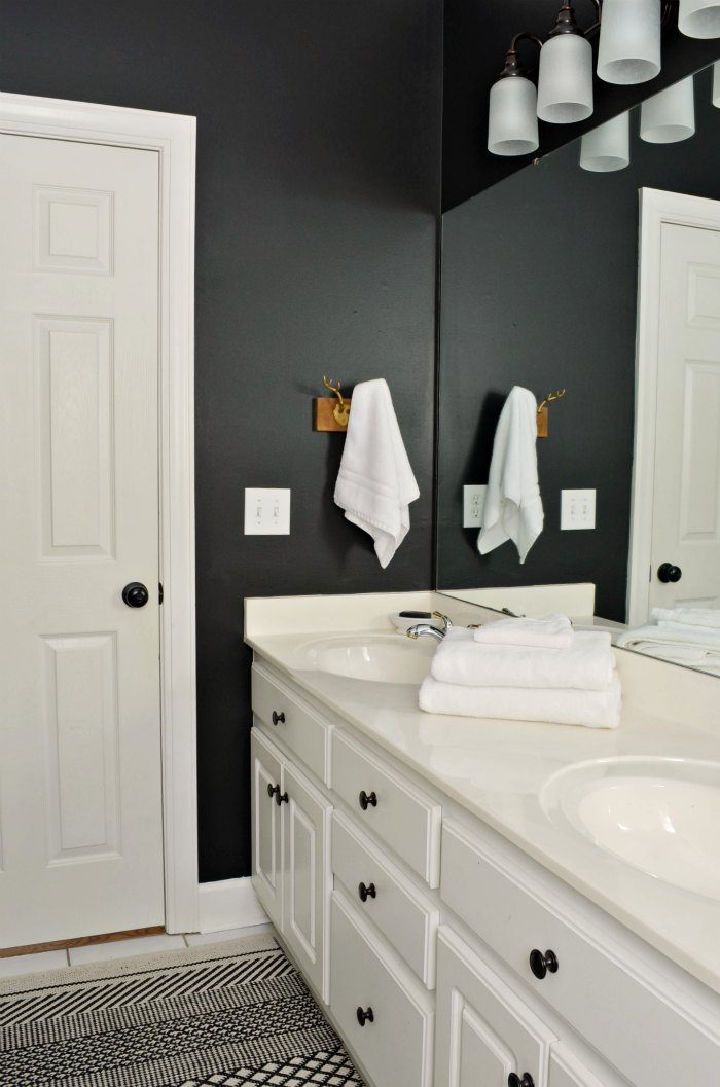 With black painted walls, your bathroom will get a makeover that everybody will admire but most importantly will really uplift your mood. Get some supplies like black paint, hand towel holder, hanging wall basket, wicker wall baskets, greenery from your garden, throw rug, mirror, soap, lampshade, hand towel, shower curtain, and soap dish. Add any accessories or embellishments you want which will really uplift the look of the whole bathroom giving you the satisfaction you need on a very small budget. athomewiththe
9. Extra Long Scandinavian Shower Curtain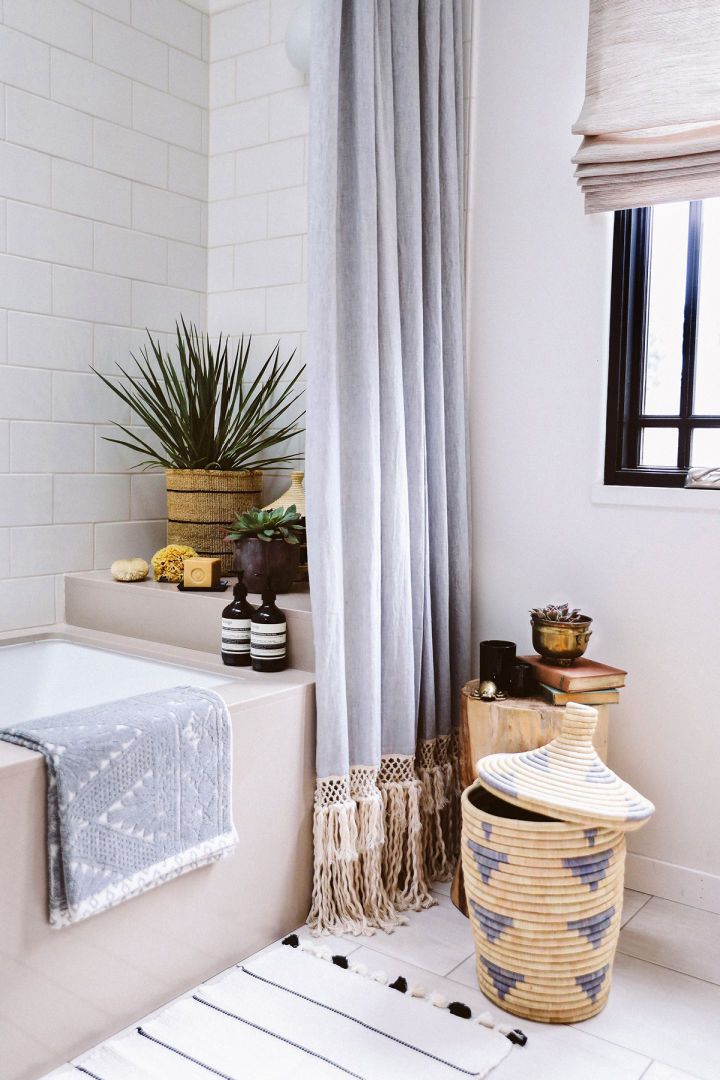 If you can't find a perfect shower curtain for your bathroom, it's time to make yourself one that will fit your space and style perfectly. This will reinforce the value of customization and will inspire you to get to work and do wonders for your bathroom. You will only need a few supplies like macramé trim, twisted cotton rope, shower curtain, sewing machine, and scissors. You must start by determining the length required of the shower curtain so that it touches the bathroom floor. honestlywtf
10. Guest Bathroom Refresh Design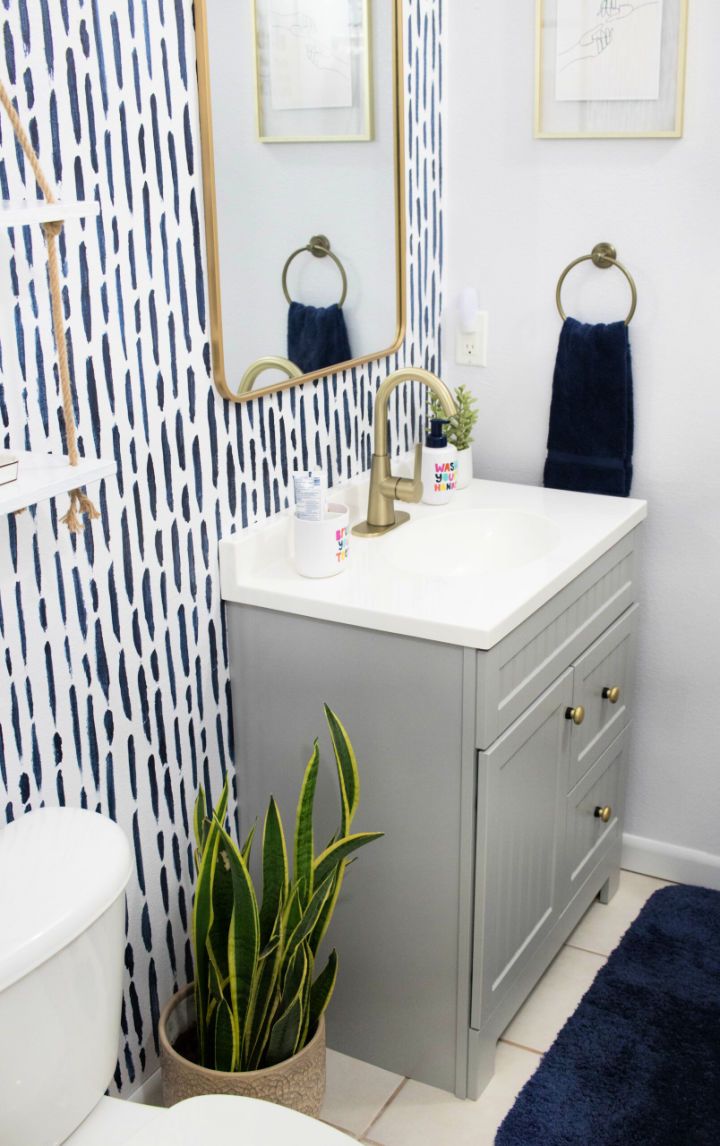 Give your bathroom a refreshed look even if you have very little space to work with. This will help you uplift the look of the bathroom and everybody will be wanting to use it more. You will need advanced paint and primer to paint the bathroom along with a few accessories to add to the limited space available. Pick the paint shades that suit your mood and style perfectly and let the transformation begin. Make the process as simple as possible. middleofsome
11. $950 Budget Boho Bathroom Makeover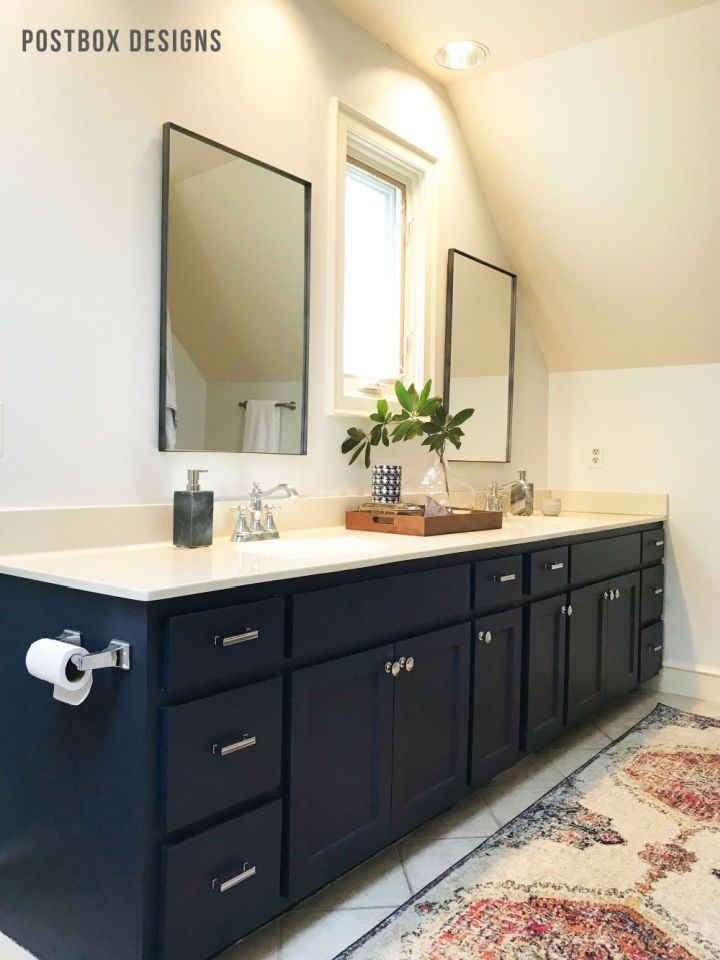 Tackling the makeover of your own bathroom sounds so overwhelming but you can easily pull it together by following instructions and staying within your time and budget. It's really a lot of fun and very simple too. You will need supplies like paint to change the color of existing cabinets, polished nickel pulls, chrome faucets, black and white art print for the walls, modern metal framed rectangle mirrors, rug runner, and a wooden tray. Painting the cabinets in your favorite color will uplift the look. postboxdesigns
12. Bath Shower Renovation Using Small Tiles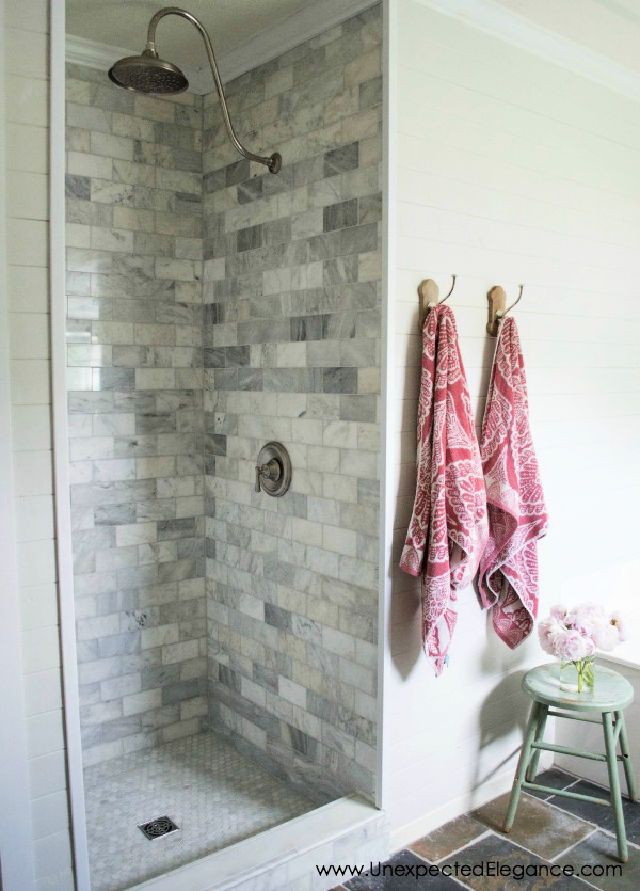 There arises the time when changing the shower in your bathroom becomes absolutely necessary but the expense is never in the budget. It's better to do some research and do the project all by yourself so that you can customize it in any way you want. You will just need a plumber to replace your old faucet and install a new one. Put up a concrete backer board and install two kerdi niches. Add membrane to the walls by using non-modified thin mortar. unexpectedelegance
13. Tub and Shower Makeover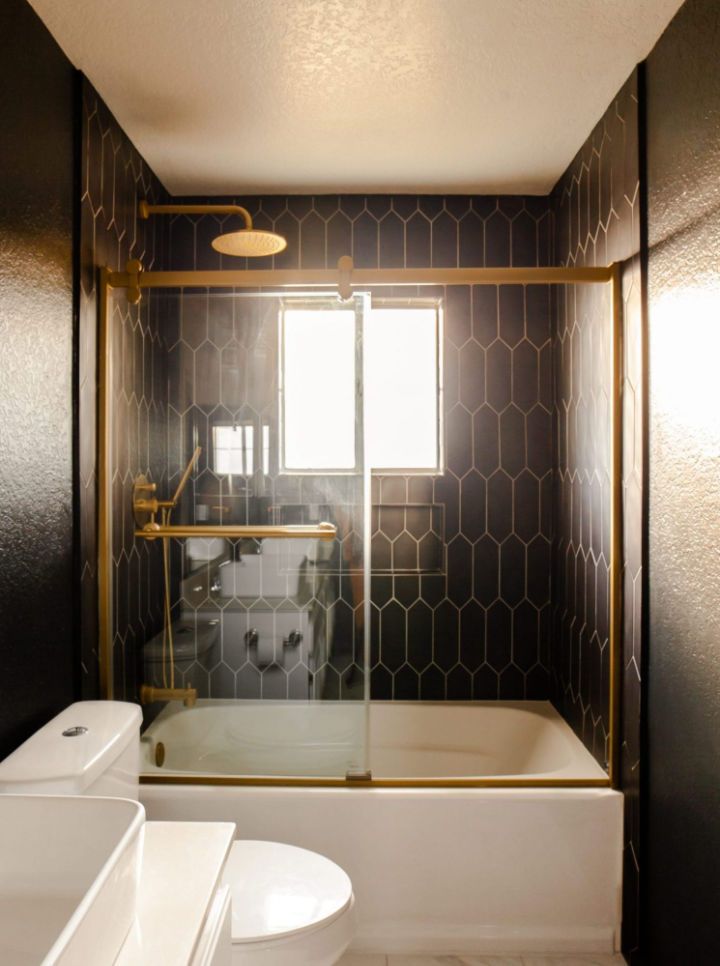 Give your dingy and unclean bathroom a new look by updating the shower and the tub giving the whole bathroom a makeover. Start by tearing down the shower by hitting it with a hammer and wedging it underneath the tile. Put in some new insulation and take out the old pipes so that you can replace them with new copper ones. The pipes must be soldered together to prevent all the leaks in the fittings. Install the tub carefully as it's a delicate process. theballeronabudget
14. Build a Shower Enclosure for Bathroom Remodel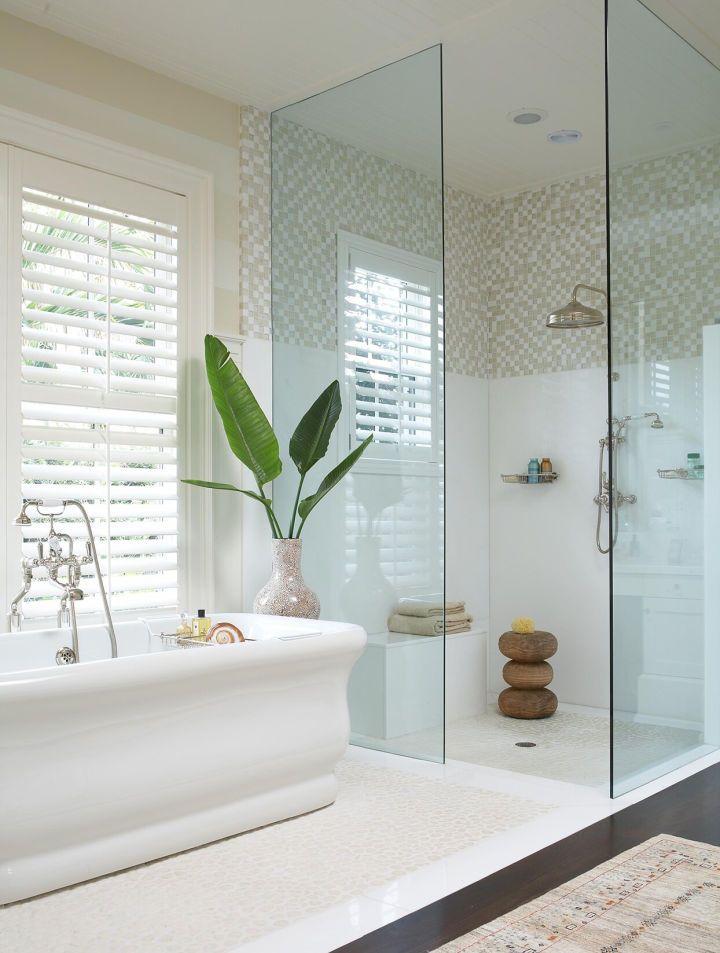 For your bathroom remodeling, making a new shower enclosure is a must. You have to learn how to install the base, frame the walls, and then add the tiles. The enclosure of the shower must be installed by first installing a new drain pipe with a trap in the center. This will also include adding supply pipes, a faucet, and a shower riser. You will need supplies like a drill, tools for plastic and copper pipe, liquid dish soap, hammer, steel rod, tiling tools, and hole saw. bhg
15. Minimalist Bathroom with No Counter Space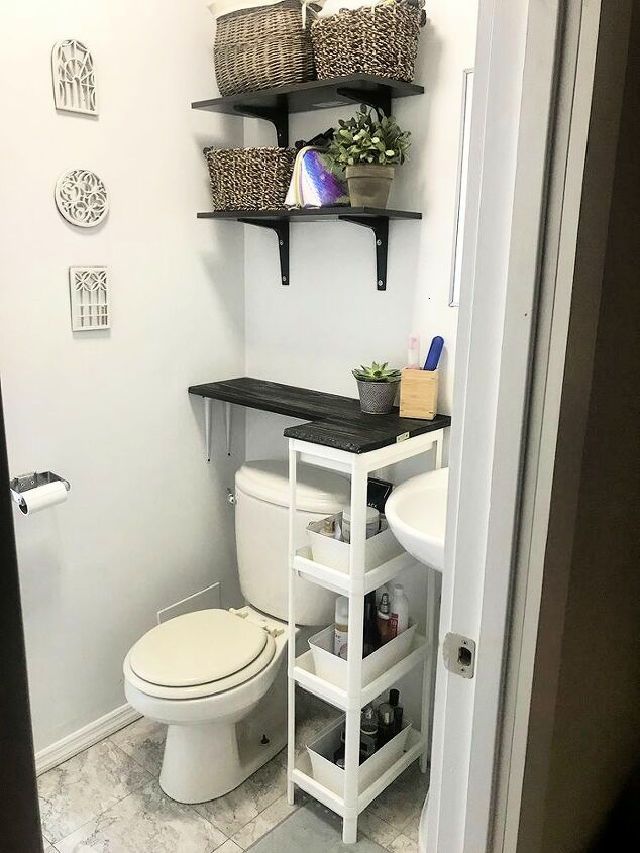 Small bathrooms with no counter space require some brilliant solutions to save the day. After all, there are a few things that are a must to be put in the bathroom to start the day. Add a small bathroom shelf that can provide you with some extra storage space whilst looking very stylish in the bathroom too. Start by measuring the space you have available in your bathroom so that you can decide on the height and width of the bathroom shelf. hometalk
16. Kids Bathroom Interior Reveal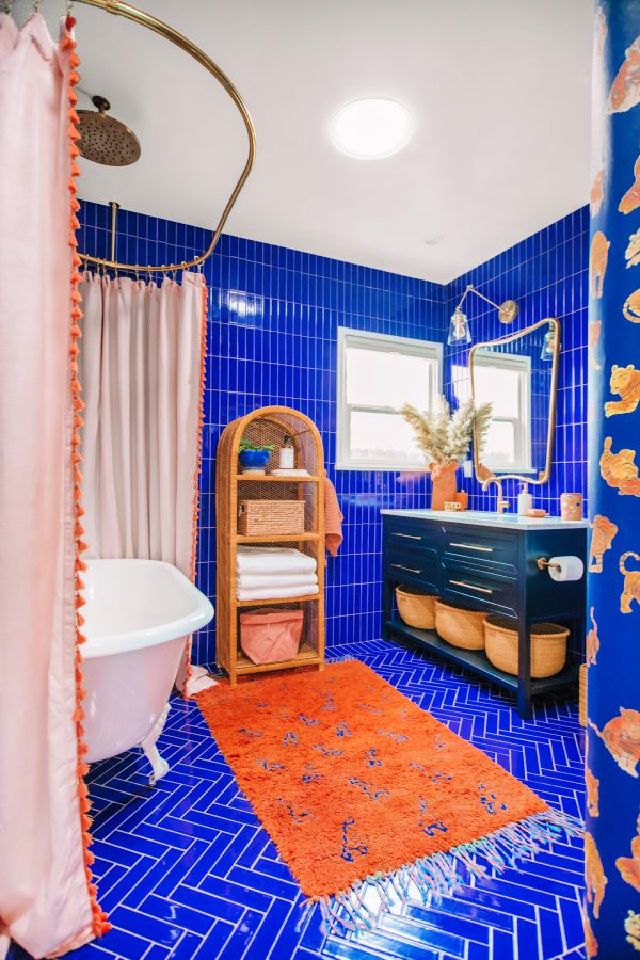 The kids' bathroom sometimes looks like it may fall apart so that is the perfect time to pay some attention to it. Make an animal-inspired, jewel-toned bathroom for your kids and their future siblings that they will adore. You can start the makeover plan by tiling the whole floor with an incredible range of color selection depending upon your style. The space will already start to look like a jewel. Add a small lion vase that will make the whole bathroom animal-themed. studiodiy
17. Minimal Faux Marble Countertop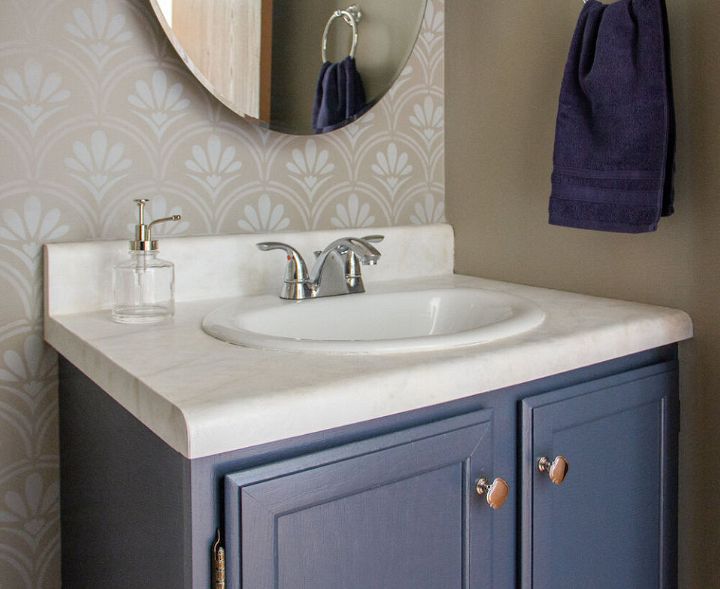 If the countertop in your bathroom is absolutely hideous, there must be a way to give it a makeover. You can paint your laminated countertops which basically means that you can customize the color of the marble to incorporate the colors that you want. Start the process of painting by taping off the surrounding area. You must also scrub off the surface properly to remove any dirt from it. Sand your countertop so that the paint adheres to it better. aestheticinteriors
18. Space Saving Bathroom Storage Shelves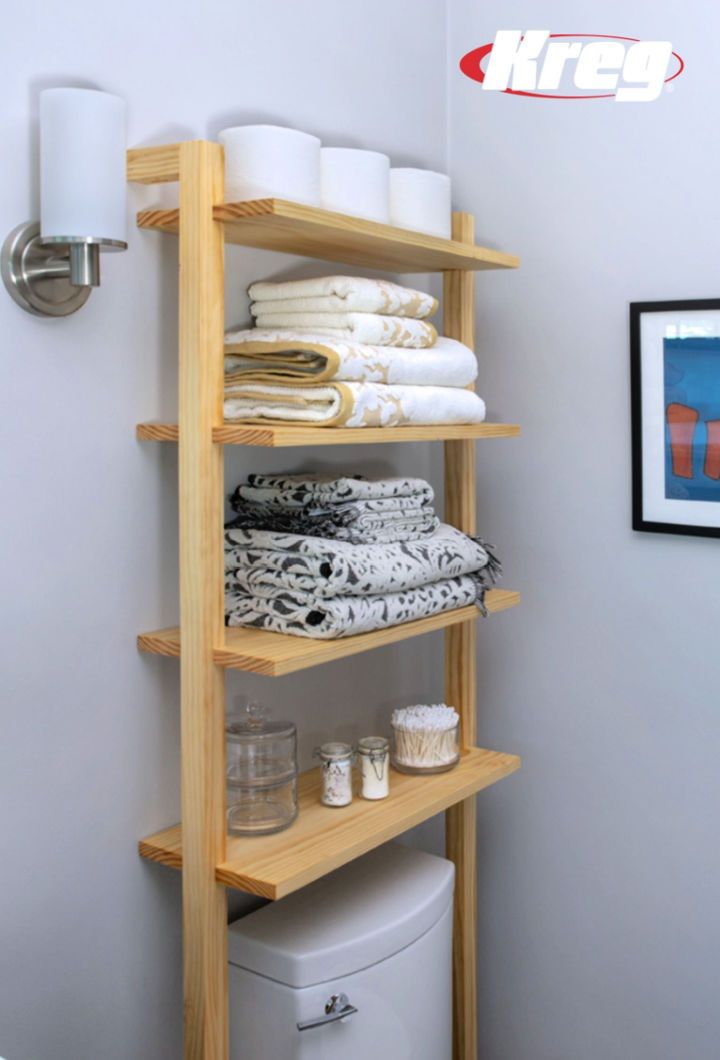 Elegant storage space can be added to any bathroom no matter which size it is. This can be done by adding a simple and compact ladder shelf which you can fit over the toilet. This shelf can be very helpful for storing bathroom necessities as almost every room is space-challenged. This shelf can also be a perfect place to show off the new towels and other bathroom accessories to your guests. Supplies needed are wooden boards, pocket-hole screws, wood glue, non-skid pads, wood screws, and wall anchors. kregtool
19. Grey Painted Bathroom Tile Floor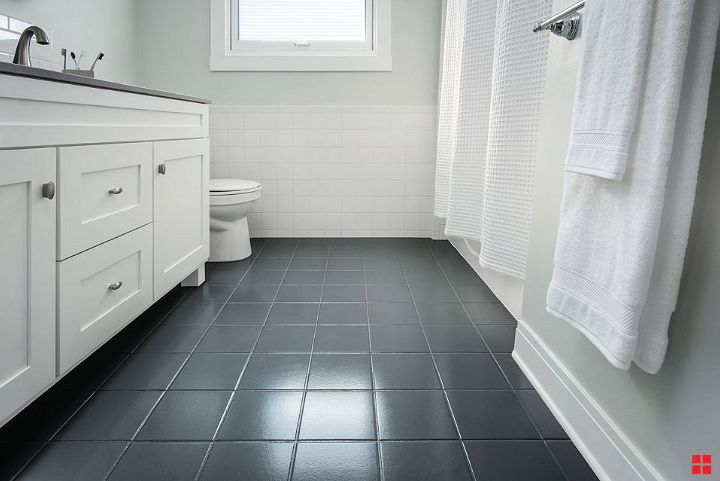 An updated bathroom with an outdated floor is no combination at all so you must do something about it quickly. You can give your floor a new and fresh look without the hassle of removing the interior floor paint. Simply paint over the existing floor using a durable system without any stripping, sanding, or priming. Start the process by cleaning the floor first so that there is no dirt or debris on it and the floor must be absolutely dry. rustoleum
20. Black and White Peel and Stick Floor Tile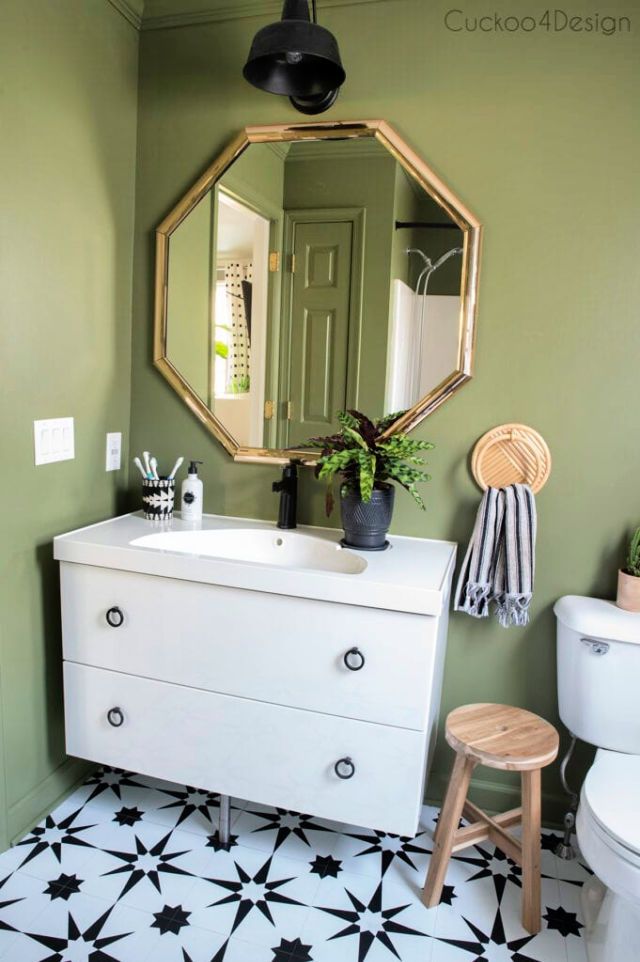 A budget-friendly bathroom makeover is what we all dream of. Give your own bathroom a very simple makeover while staying in your budget with black and white peel and stick floor tile. Try using the triangle vinyl sheets on the checkerboard tile which will give your floor a very unique and modern look. If you think that the white paint on your walls doesn't go with the tiles, you can easily change the color too. The installation process of the tiles is very simple. cuckoo4design
21. Narrow Master Bathroom Makeover Under $1000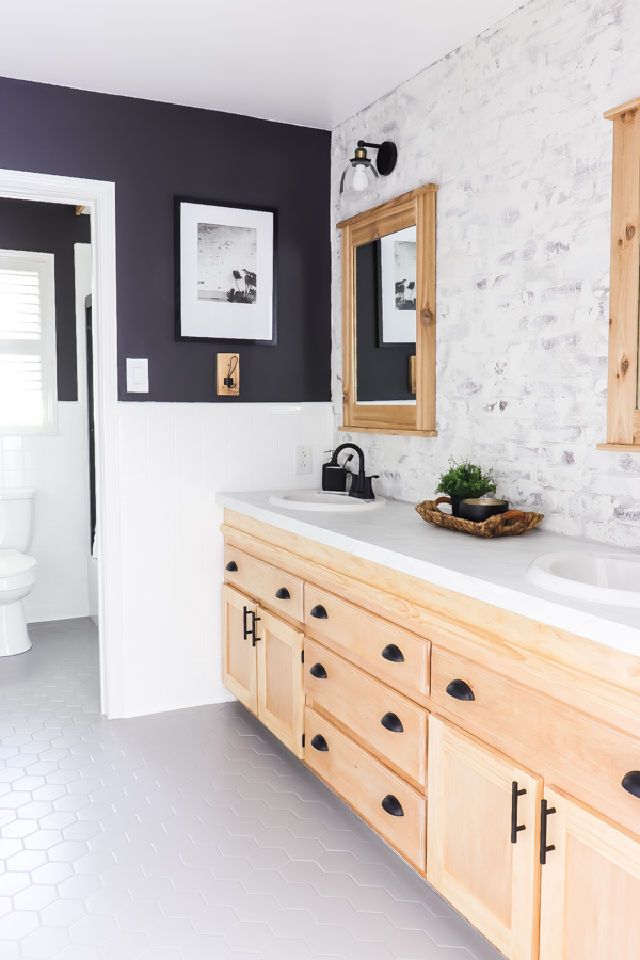 A bathroom makeover that doesn't take up a lot of time to complete and also doesn't look cheap can be the best gift you can give to your house. Even if you don't have any money left on the budget you can still pull this makeover off easily. You can make small changes to update the overall look like building new doors, adding beautiful black door handles and drawer pulls. Replace the countertop with a Formica counter and cover it with an industrial vinyl wrap in marble. notinggrace
22. Coastal Palm Leaf Tropical Bathroom Renovation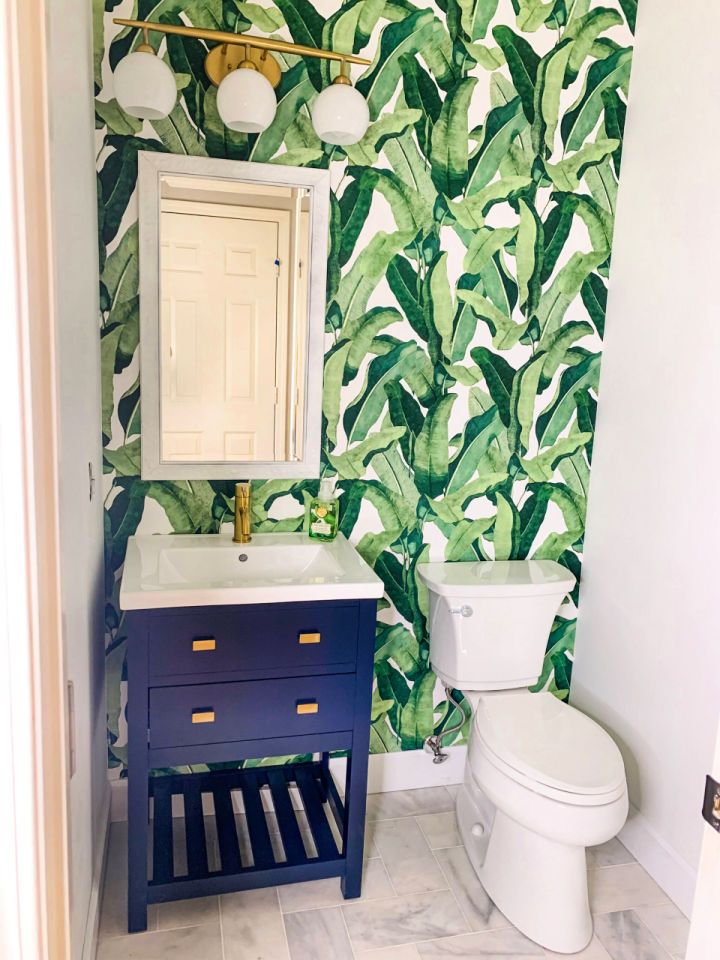 Full renovation of your guest bathroom can be such a breath of fresh air and that bathroom will be much more in use than it was before. You can do the renovation by replacing the wooden floors and installing new marble tiles. Add a new vanity and toilet. Change the white painted walls and put up new wallpaper. Add new baseboards and a mirror which you don't have to buy off. Simply spray paint the old one in any color you want. annadanigelis
23. Aesthetic Japanese Zen Bathroom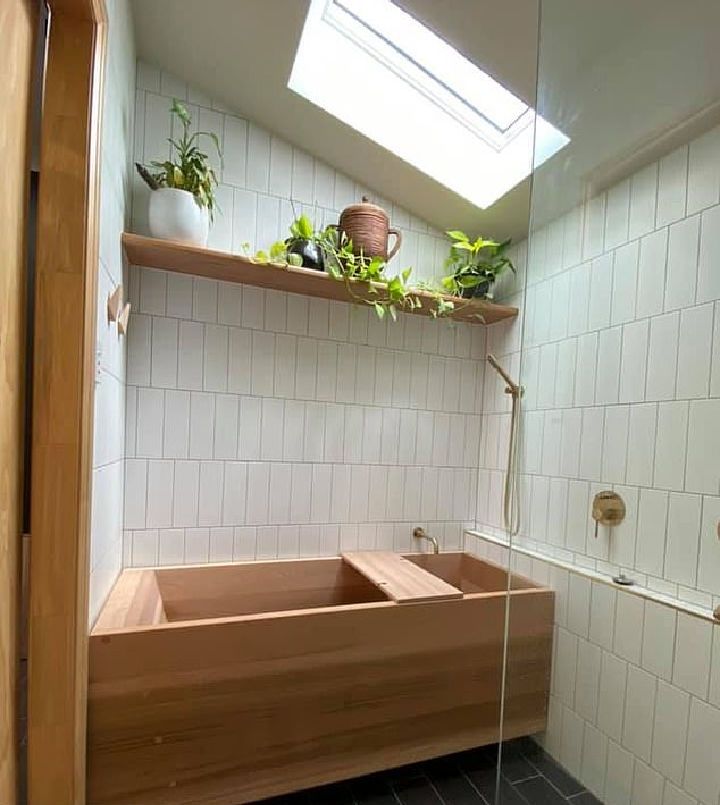 Install a zen Japanese bathhouse in your home that will surely wow hundreds. This can be done by installing a Japanese western cedar bath along with some matching wooden shelving. You can also install a corner shower and a vanity if you have some space for a separate connecting room. If you don't have space for a standard-size bathtub, build one with wooden finishing which will really stand out among the white tiles. For a touch of greenery, add potted plants. readsector
24. DIY Plant Wall in the Bathroom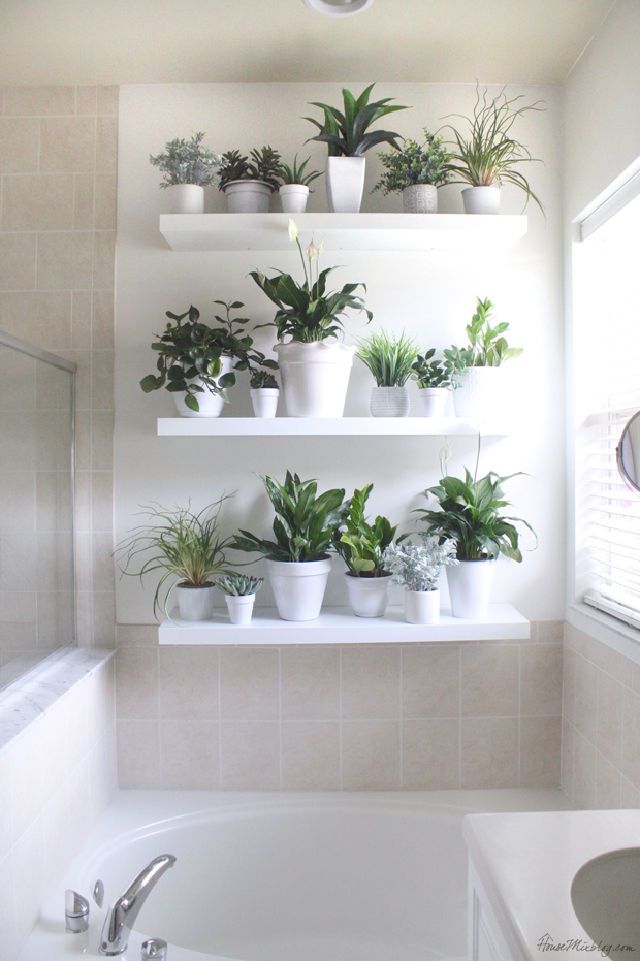 A plant wall in a bathroom will add such a beautiful green touch to your space that the overall area will have a refreshed look. You can use both artificial and real plants for adding to your wall and it will give your bathroom a very unique and stylish look. You will need 3 shelves that you can buy from anywhere you want. Assemble the shelves and then arrange the potted plants. You will have to spray paint all the pots white. housemix
25. Minimalist Bathroom Makeover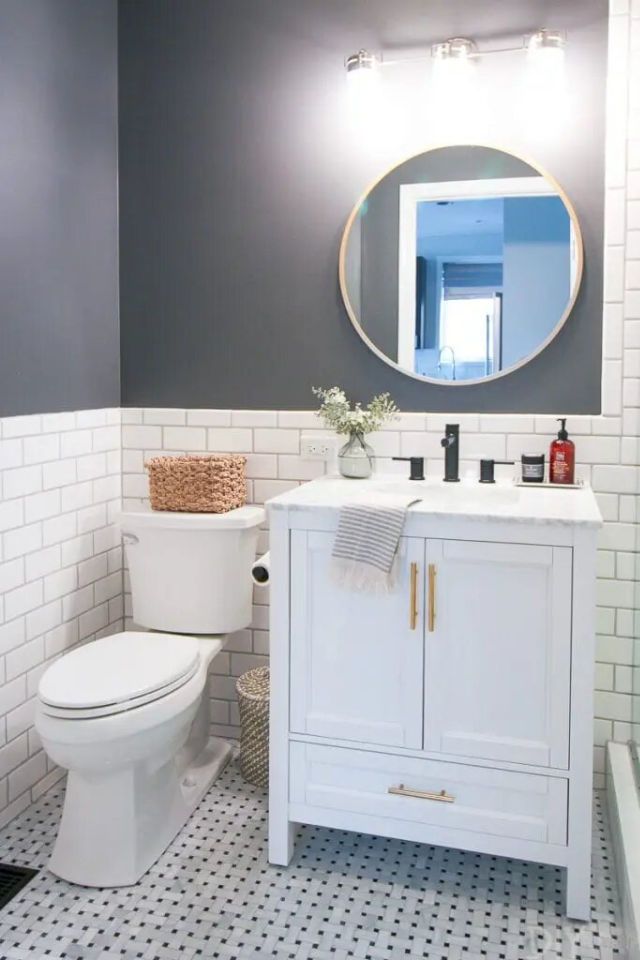 Give your bathroom a makeover and you will start to love using it more. The makeover must start by changing the tiles of the floors so do proper bathroom planning for them. You must choose a paint color that will go with the floor tiles like grey paint, which basically goes with every color. Install a vanity of any type that fits into the available space and you must choose a perfect mirror for the wall too. Enjoy the process. thediyplaybook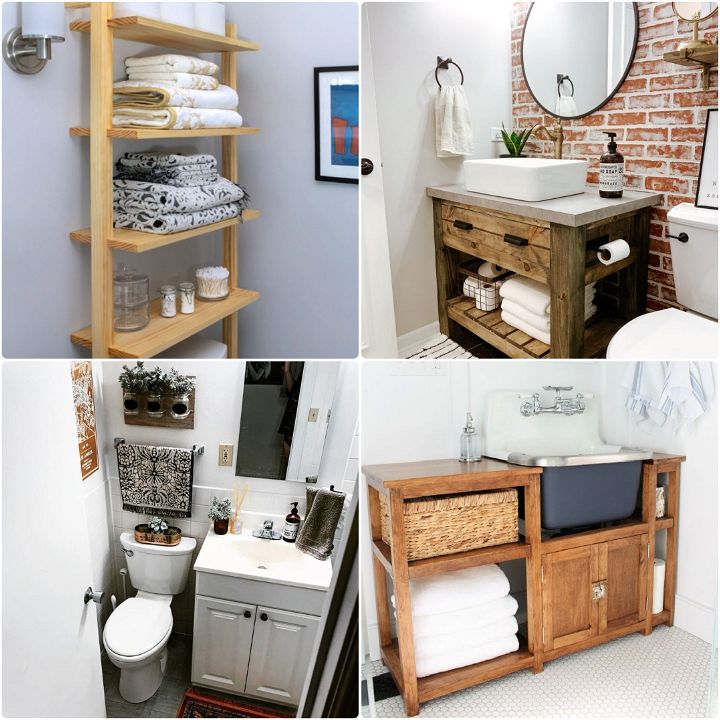 Related DIY Projects:
DIY Bathroom Shelf Ideas – Save time, money and sanity with these quick and easy DIY shelf ideas. These storage hacks are simple, inexpensive and take just minutes to create.
IKEA Pegboard Ideas – IKEA pegboards are inexpensive and easy to install. They're perfect for organizing the garage, kitchen, closet, or kids' rooms. Here are 25 ways to customize your pegboard in minutes!
DIY Wood Crate Projects – Wooden crates are a classic way to display your favorite trinkets and curios. Here are some wooden crate decorating ideas that will totally wow your friends! You'll find everything you need to know to get started.
Wall Organizer Ideas – Find creative DIY wall organizer ideas and systems for your home to declutter and organize your life.
Ways To Decorate With Mudcloth – Mudcloth is a textile created from a mixture of mud, cow dung, and water that's then shaped by hand. It's an ancient technique used to produce geometric patterns with a rich, varied aesthetic. Explore ways to decorate with mudcloth, including how to make your own and how to incorporate it into your decor.
Conclusion:
When you try different minimalist bathroom ideas, everybody will question where you got your bathroom stuff from or who gave a makeover to your bathroom. You don't need any expert skills to give your bathroom a makeover, and you will knock it out of the park. Just follow all the instructions carefully and don't hesitate to ask for help. Involve the little ones in your minimal bathroom ideas just to get them a little excited to build a new bathroom for the house and give them small chores. Who knew a small space in the house could turn into something useful that the whole house would be able to take advantage of it? Happy building to you!