Sometimes adding new wall storage around the house changes the whole look of the house making it refreshed all over. These 25 easy DIY wall organizer ideas and systems provide you with many different wall storage to style your house and add a lot of value to overall regular walls. It's not possible to change the wall of the house every six months as if we get real it can be very expensive and besides it's impossible to find something that matches your style. That's why these DIY wall organizers have come to your rescue to provide you with wall organizers and storage ideas to change the whole outlook of your house without being a huge hit on your wallet.
So enjoy these easy-to-make DIY wall organizer ideas so that when you are in a crafty mood, you can accomplish something that will be worth your while. We have compiled a bunch of interesting ideas that include a wall organizer by making a fabric craft, or using mason jars to make wall organizers supply art, also use fabric to make a wall mail organizer, a wall file organizer using scrap wood, a pocket organizer wall hanging, a wall organizer to be used as a shelf. Moreover, you will find a plan to DIY a jewelry wall organizer or a French cleat wall storage for your tools and many more interesting ideas to organize your life better.
1. DIY Fabric Craft Organizer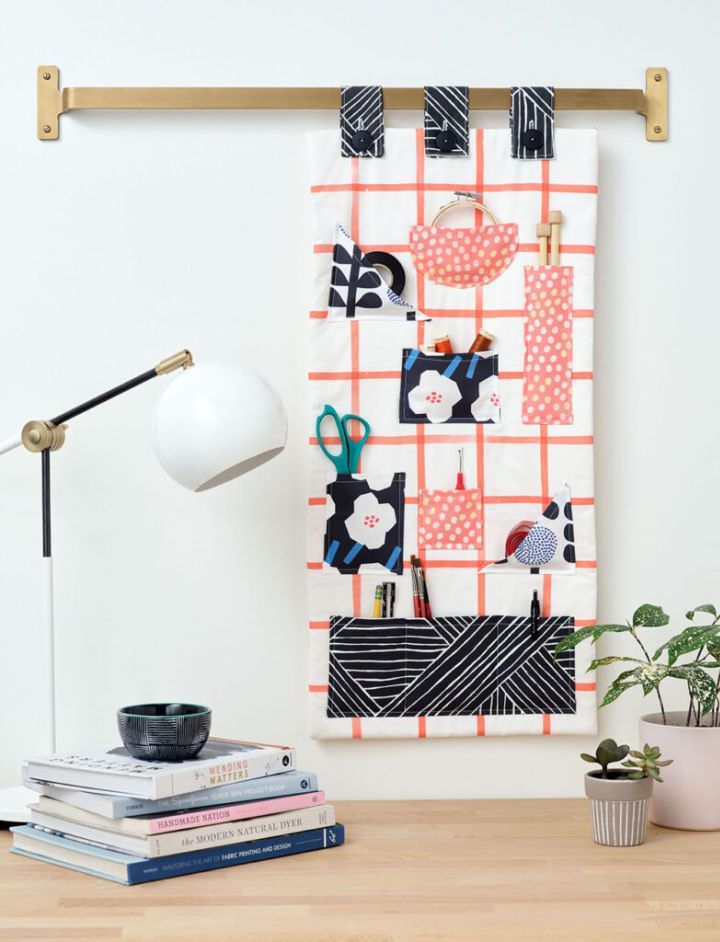 Sometimes your sewing stuff can be a big hassle to keep organized and find the right color of thread when you need it. It's time to get your sewing space in a tip top shape with this craft organizer idea that can keep all your sewing and craft supplies organized at one place. This hanging craft organizer can double as wall art too as you can ad in any type of design and color you want. Add pockets for holding your crafts. spoonflower
2. Wall Organizer from Upcycled Hardwood Flooring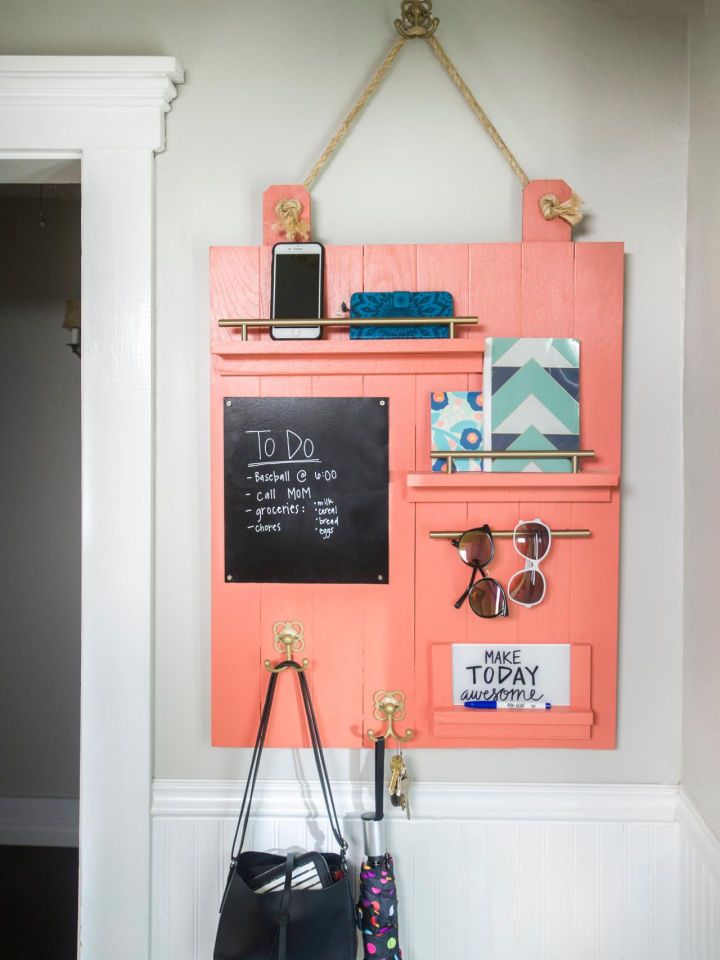 An easy to build craft that can hold all your clutter is exactly what everyone needs to make their life easier. Make a wall organizer that can concur all your clutter keeping it organized at one place. You will need supplies like a box of hardwood flooring, paint and primer, paint brush, cabinet pulls, glass subway tile, decorative hooks, screws, dry erase, gold spray paint, adhesive, caulk gun, miter saw and its stand, table saw, compressor, nail gun, finish nails, tape measure, pencil, sander and sand paper etc. hgtv
IKEA pegboard and Skadis: A wall mounted storage option is cheap and easy to DIY to fit any of your small space needs. Find these cheap IKEA Pegboard Ideas & Skadis Inspiration to craft your own.
3. Mason Jar Art Supply Organizer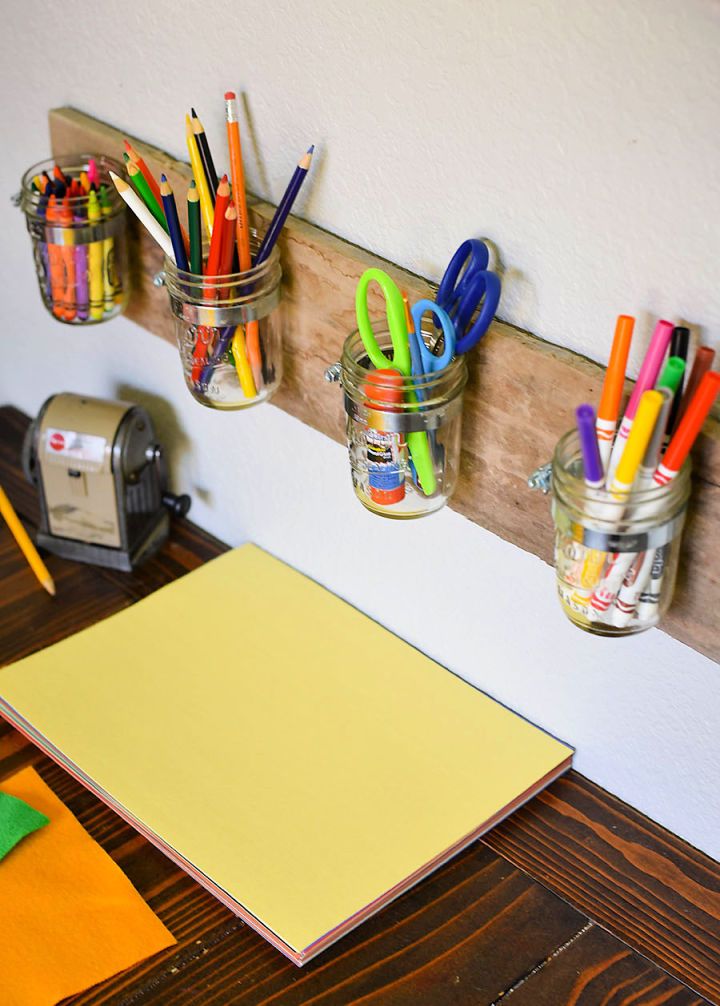 Mason jars are very handy as they can be used as candle holders, vases or organizers. Take organizing with mason jars to the next level by trying DIY wall organizer ideas. Make a rustic Mason jar wall organizer that can be perfect for use for the kids. Gather some supplies like mason jars, hose clamps, pallet wood, picture hanging kit, drill and screws, awl and a screw driver. This organizer can be used anywhere around the house for holding utensils, napkins or any other knick knacks. ourhandcrafted
4. Wall Mail Organizer Using Fabric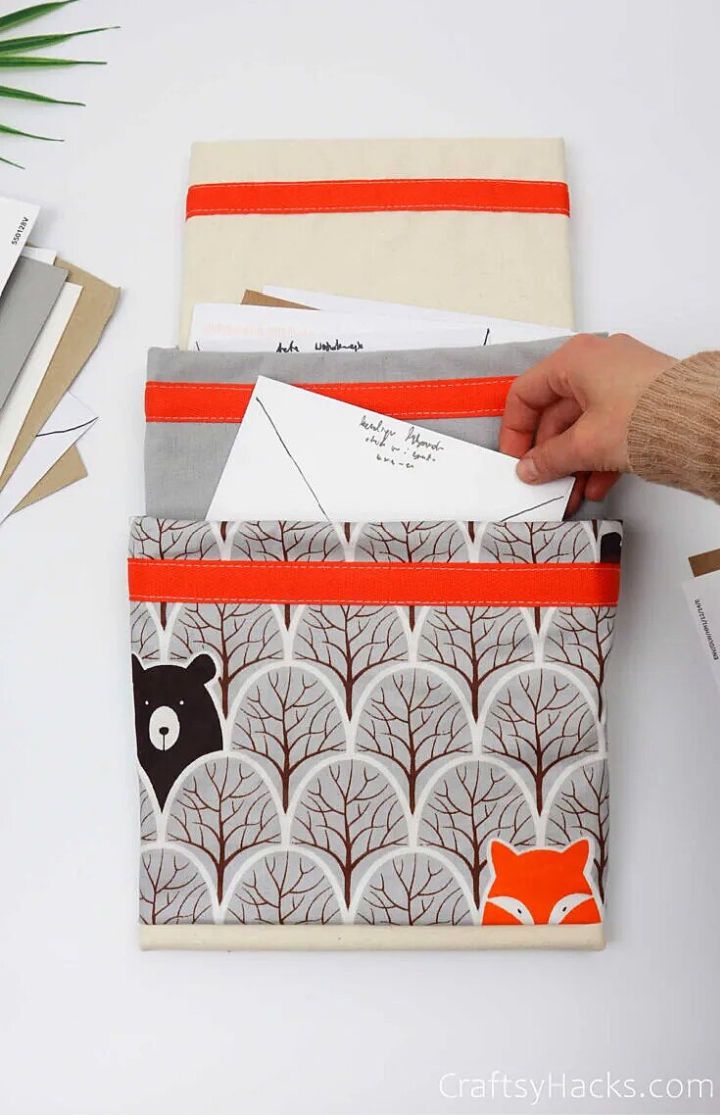 Keep all your mail clutter at bay by making this beautiful wall hanging to be used as mail organizer. It is quite easy to make and looks great wherever you decide to display it. A small designated spot specified for keeping our bills, letters or mail organized can be great instead of dumping them. For this project you need an artistic canvas, main piece of fabric, cardboard pieces, hot glue gun, scissors, sewing pins, cotton twill tape and sewing machine. craftsyhacks
5. Scrap Wood Wall File Organizer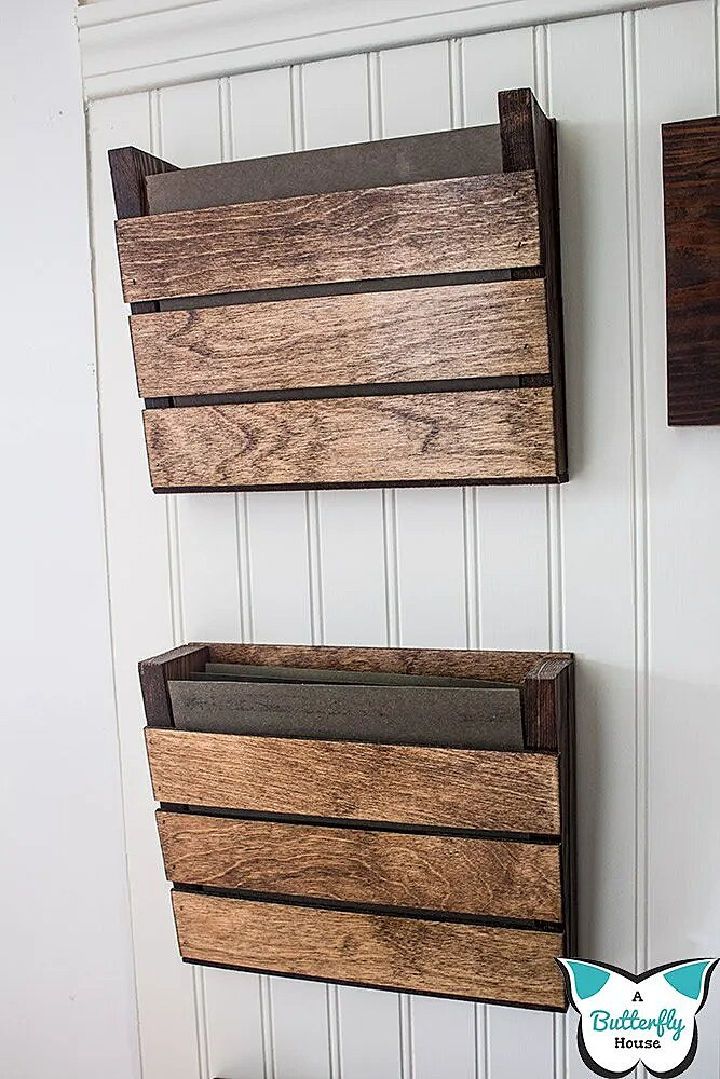 Your mudroom, kitchen or office walls could do with a little bit of perking up by making a simple farmhouse scrap wood wall organizer. Do a little bit of pre-planning before you start the project and make all the measurements carefully. You will need supplies like different sizes of plywood for front, back and the sides, wood glue, stain, nails and screws, miter saw, brad nailer, random orbital sander and drill/driver. Make the cuts according to the instructions carefully. abutterflyhouse
6. Hanging Wall Pocket Organizer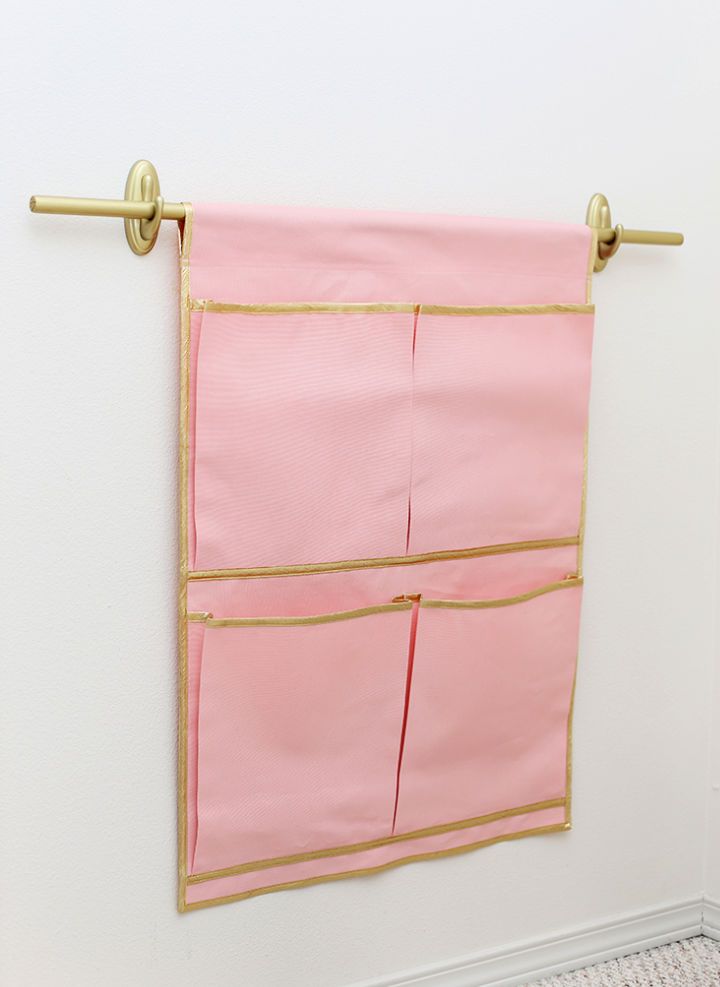 For your girls' room, a nice pocket wall organizer would be a great help to store up a lot of random stuff. It will look so great displayed there and can look like simple wall art too. It's really quite simple to make with a few supplies. You will need duck canvas fabric, extra wide bias tape, wooden dowel, large hooks, spray paint, E6000 glue, level and measuring tape for hanging the organizer. Begin by applying bias tape to each pocket. sewmuchado
7. How to Build a Wall Organizer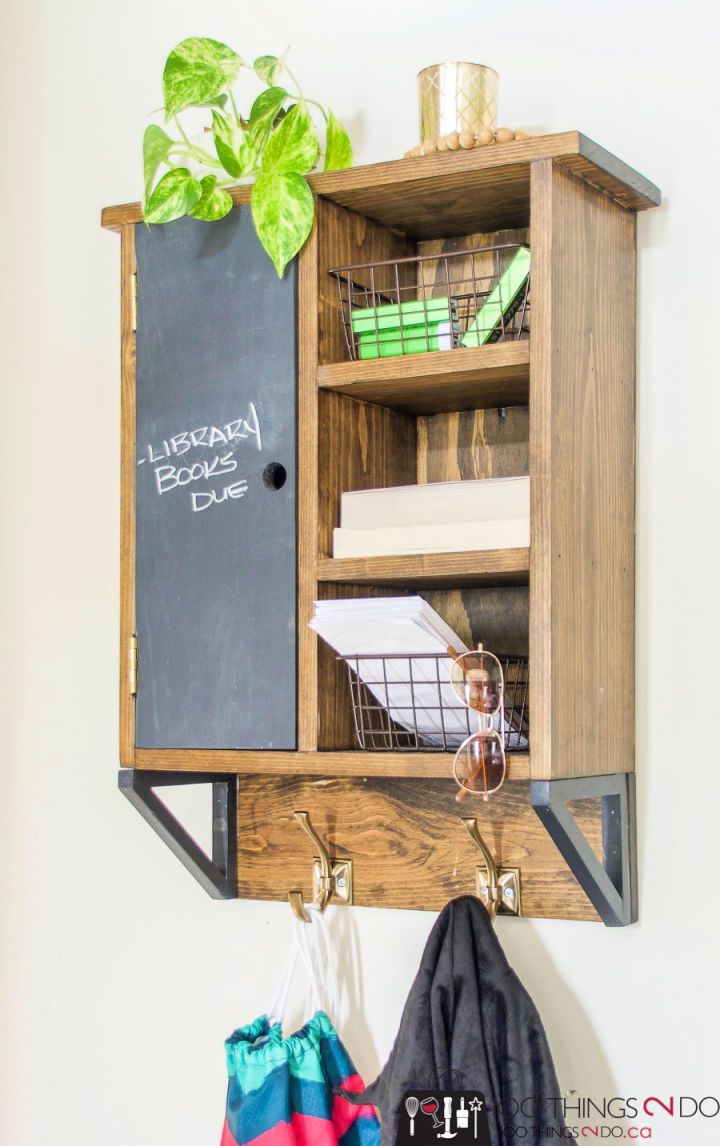 Calm the chaos around the house by getting the kids to work. A great way is to make them help you to build a wall organizer. It's really good and versatile since you can use it to for the last minute grab-and-go items. Hang it by the door to keep corral keys, backpacks, dog treats, grooming supplies or the leash for your animals. These are the things that somehow get lost at the last minute and finding them is no less than a hassle. Use hooks for holding bags. jenwoodhouse
8. How to Build a Wall Organizer Shelf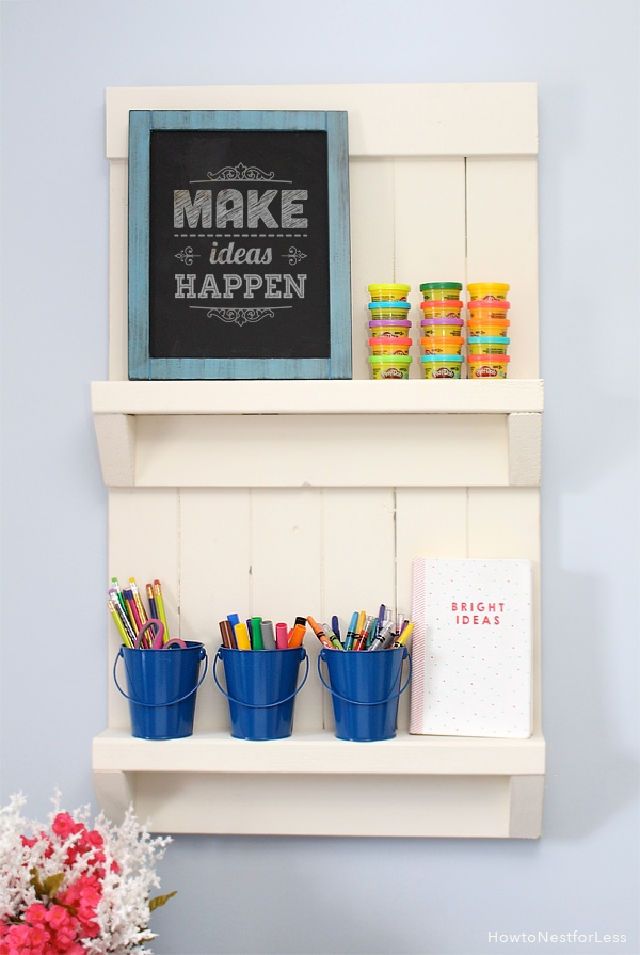 A beautiful addition to anywhere in the house would be a wall organizer which can double as a shelf too. This can basically serve as a space for all your art supplies, crafts and whatever you want at one place. You will need supplies like different sized wooden boards, saw, tape measure, wood screws and paint of any color you want. The length and width of the boards depend upon the size of the shelves that you want so decide accordingly. howtonestforless
9. DIY Jewelry Wall Organizer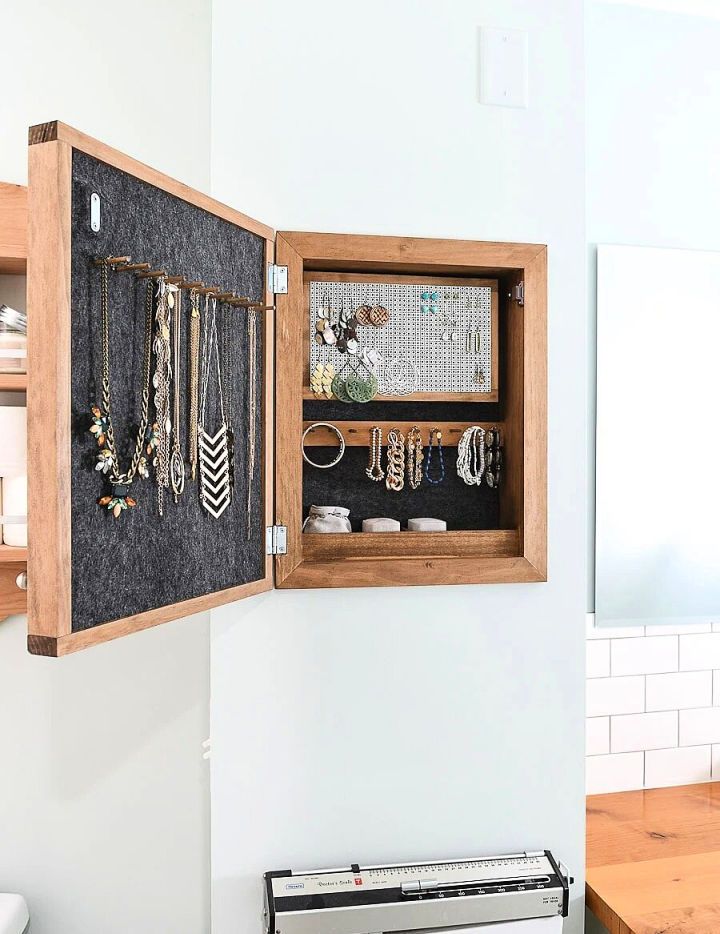 Hide away all your jewelry that stays in a pile on your table or a box and it's so hard to find the matching earring at the last minute. DIY a wall jewelry organizer from a series of DIY wall organizer ideas that will become your favorite corner around the house. You will have to make a wood sign that will act as a door for holding the hooks for your jewelry at the back of it. It will look like a small wooden cabinet with all your jewelry displayed inside. housefulofhandmade
10. French Cleat Tool Wall Storage Organizer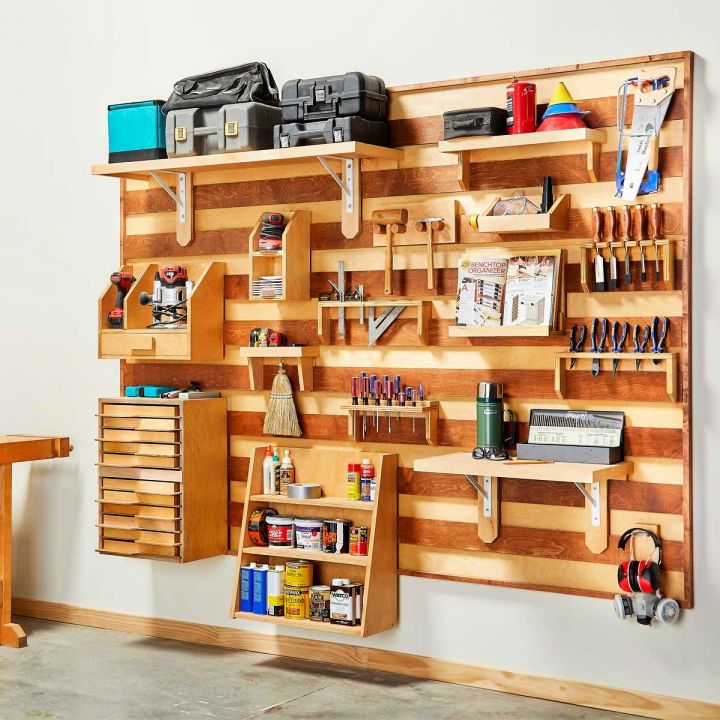 As your tool collection becomes larger, you need more space to keep it organized whilst being able to find something at the right time. Build a French cleat tool storage wall that is a very easy build and simple to configure as your tool collection grows bigger. The tools required for this project are a drill/driver, miter saw and a table saw. The French cleat created in this project can be used to pretty much hang anything you want. familyhandyman
11. Recycled Cardboard Tube Wall Organizer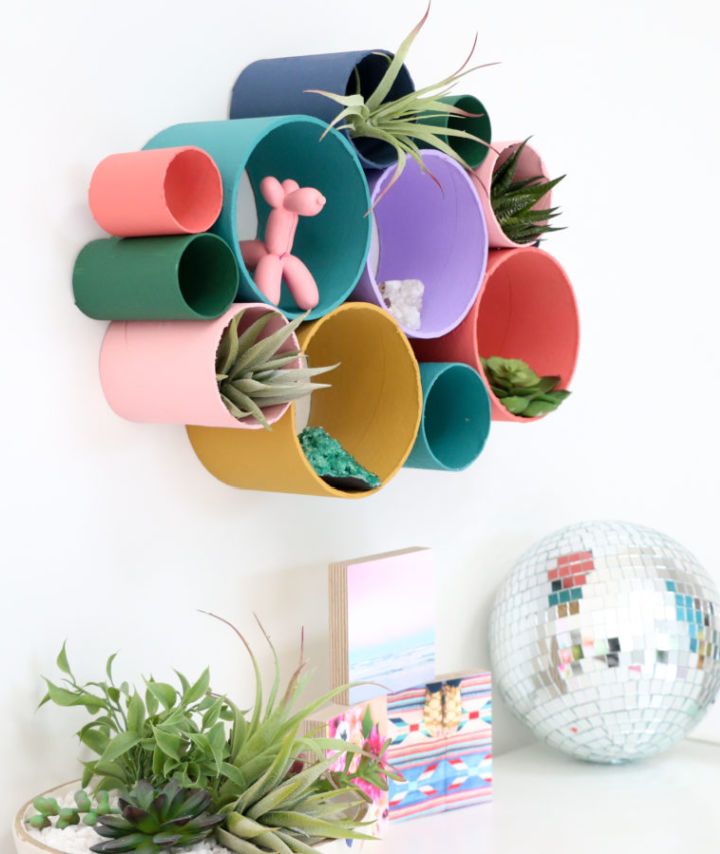 Small air plants, gemstones and other chotchkes can be displayed in a perfect way by making a wall organizer using some repurposed cardboard tubes. These cardboard tubes will look like wall art so you can display this organizer anywhere around the house you want. Supplies needed are different sized cardboard shipping tubes, acrylic craft paint, hot glue, paint brushes and utility knife. Cut your tubes into thick slices using the utility knife. Modify your cardboard tubes using paint color of your choice. akailochiclife
12. Make Your Won Wall Organizer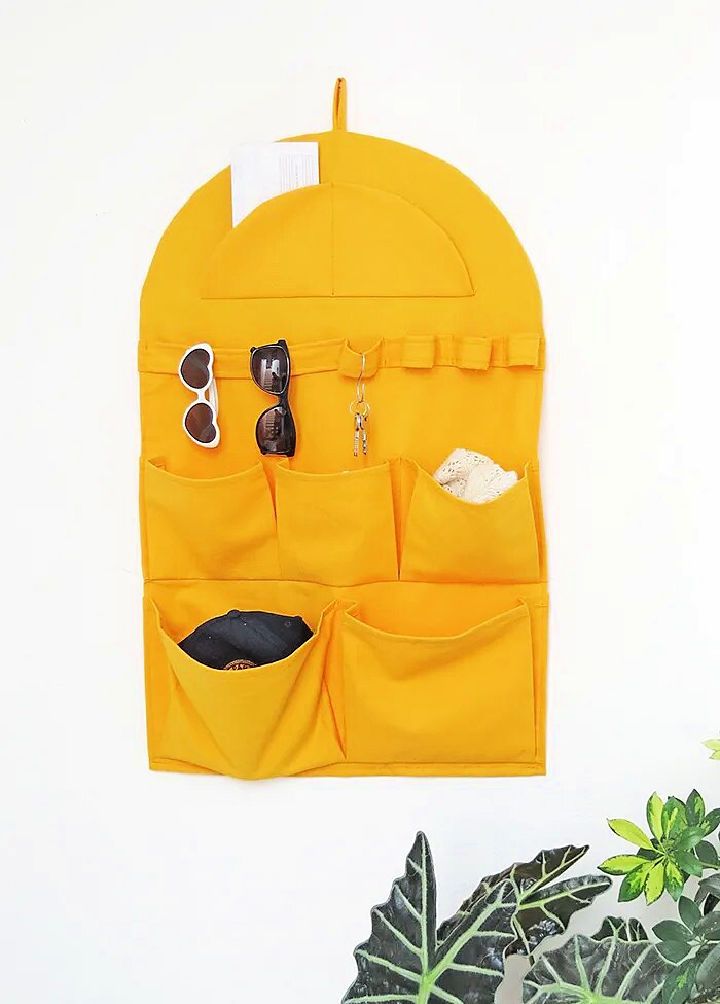 Extra storage creation by simply using the walls anywhere? A BIG yes to that! Make a beautiful wall organizer that can be displayed anywhere like the entry hall, the kids room or your craft room. Add a storage strip with different pocket sizes for storing all your stuff. You will need supplies like cotton canvas fabric, wooden hooks, nails or screws etc. It is perfect for keeping your keys, caps or sunglasses at a specified spot making them easier to find. ohohdeco
13. Make Essential Oil Wall Storage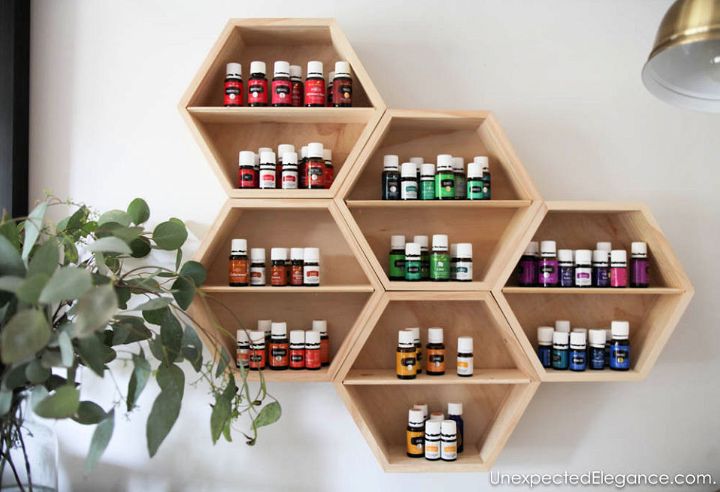 Sometimes your essential oils collection can also get a bit out of hand and there's no way you can get rid of them easily. An organization system would be such a great idea which can increase your wall storage too. It looks quite pretty whilst being very functional too. For this quick and easy wall storage project you require a hexagon shadow box, thin scrap wood or any leftover wood you have available, screws of size ¾', saw and drill. unexpectedelegance
14. Paper Wall Mounted Mail Organizer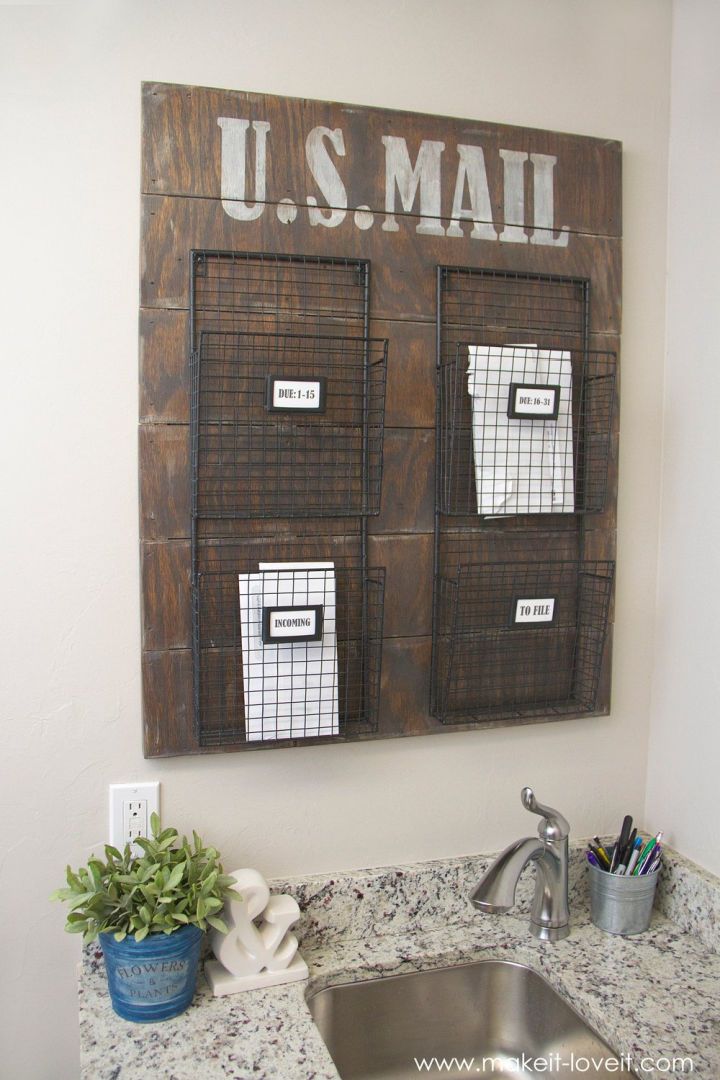 At every busy home there is an issue of the huge pile of mail scattered here and there. On the counter, the table or everywhere around the pile of mail grows and grows. Get rid of your mail pile anger issues once and for all with your new wall mounted mail organizer. You will need thick plywood, long pieces of wood, staple gun, wood stain, white acrylic paint, sand paper and mail organizers. Cut the pieces of wood according to the size of your mail organizers. makeit loveit
15. DIY Hair Tools Wall Organizer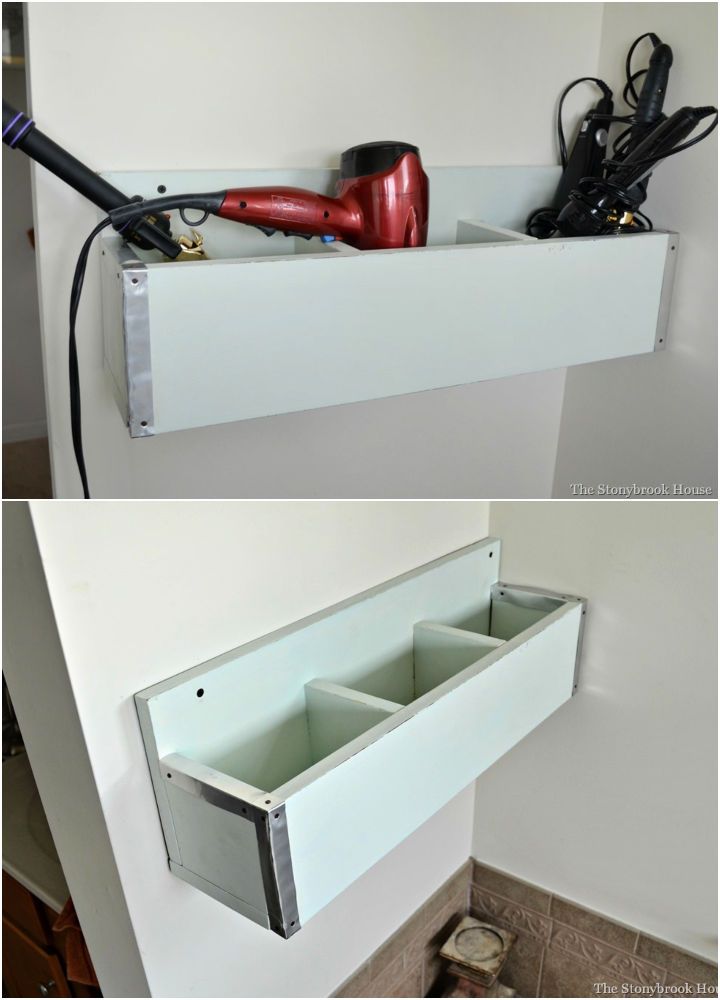 Get back into the grind and come up with a way to get rid of our hair tool mess. Make a wall hair tool organizer that is ideal to use and arrange all the tools according to their usage. You might want to make it out of frustration more than just for decoration. Jump into the bandwagon and make it into the trendy rustic farmhouse style. Paint the organizer according to your favorite color using chalky paint and trim it out with some aluminum. thestonybrookhouse
16. DIY Office Wall Organizer Message Center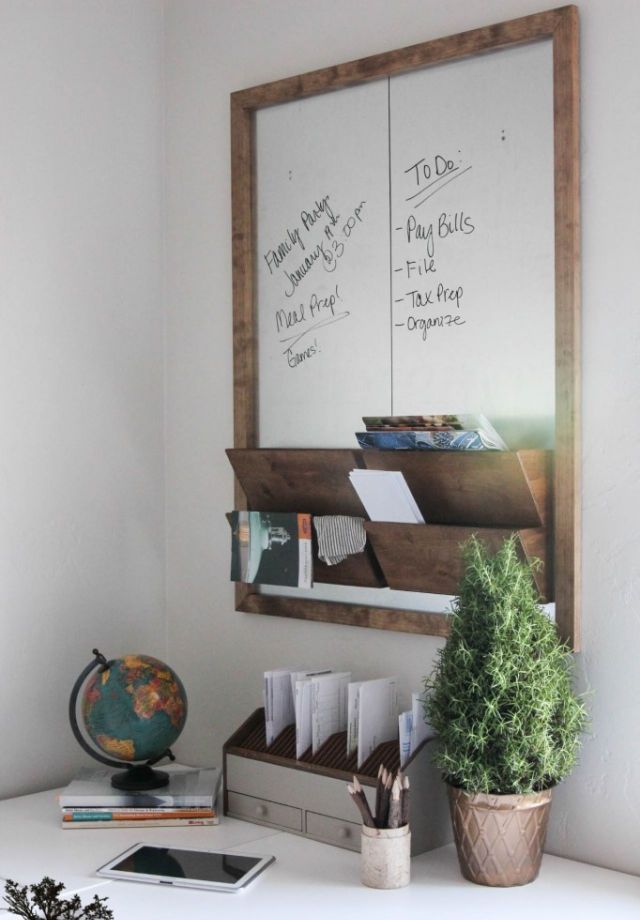 When the holidays are over, it's hard to wrap your head around doing some organizing. If you want to do some organizing around your office, the best way to do it is to make a large galvanized and metal wood wall organizer that will hold a lot of junk for you. Supplies required are a normal sheet of galvanized sheet metal, pine for making the frame, wooden file hangers, stain, liquid nails, clamps, razor blade and metal picture hangers. You can customize it by adding a big calendar. foxhollowcottage
17. DIY Makeup Wall Organizer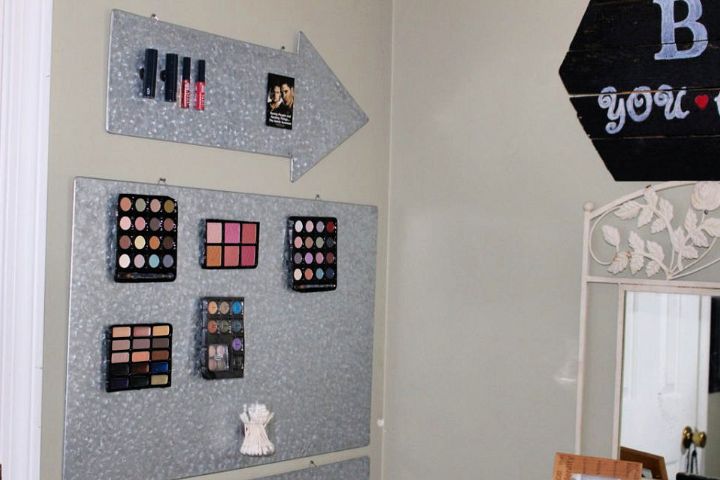 A mini makeover done to any room in the house will bring a very drastic change to the overall atmosphere and everybody will appreciate the change. Arrange all your makeup in a cool way where everything can be right at hand available to you and you will take lesser time to be ready to go anywhere. Make a cool DIY wall makeup organizer so that you can have access to everything right away. Use hot glue to attach magnets to the organizer to keep your makeup kits to use easily. ourcraftymom
18. Family Command Center Wall Organization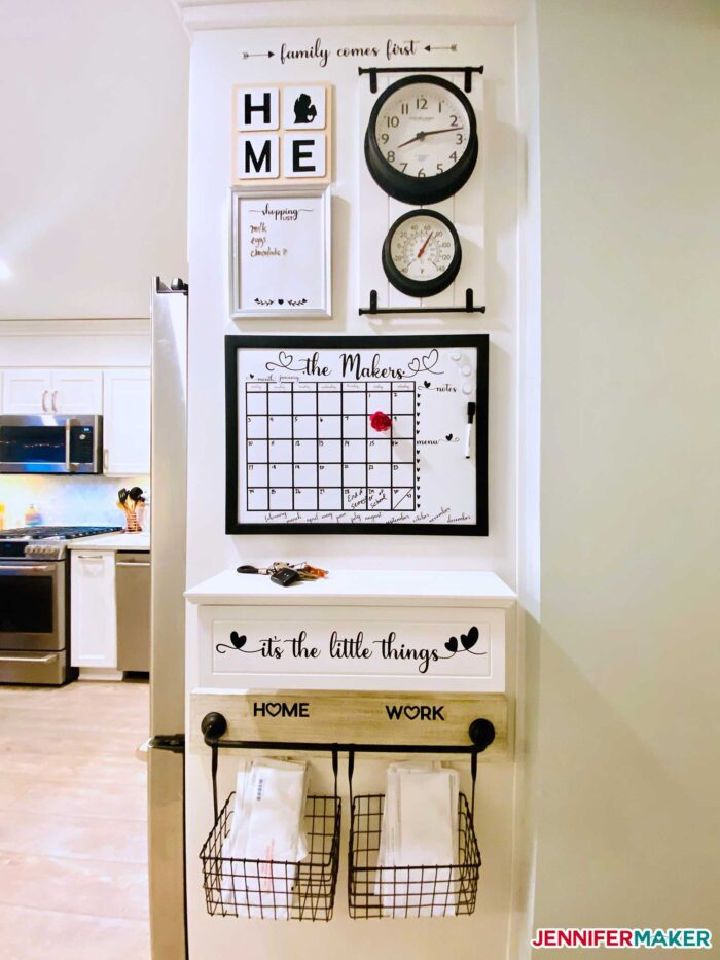 DIY wall organizer ideas can help you do big organization in small spaces. Make a family command center that can help you keep your family along with other things organized in one place. It can also be called the drop zone as there is where the family calendar will live. Just collect all your mail and notes at one place, drop your keys and phones there, keep your pens and charging cords and everything else there to have everything available at the right time. jennifermaker
19. Pegboard Wall Organizer for Home Office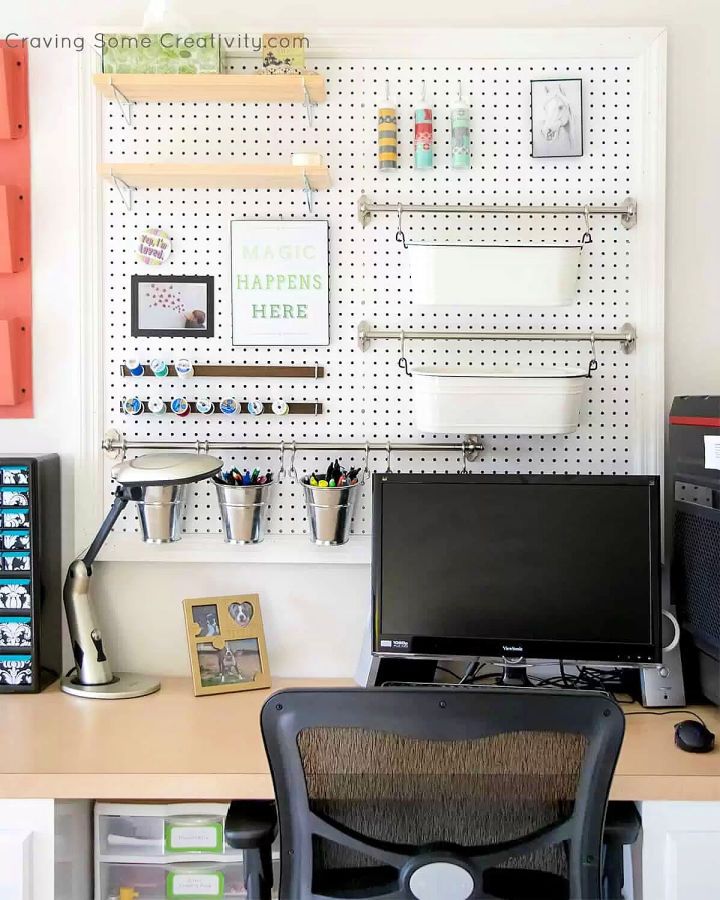 Tools and craft supplies will always be normally scattered everywhere! Undoubtedly, no matter how hard we try to keep them at bay it's nearly impossible. So, hang a pegboard on a drywall and get it framed so that it provides you with some functional and pleasing storage. You will need supplies like boards, pegboard, nails with flat heads, trim, paint and paint brush, miter or hand saw and miter box, wood filler, wood glue, finishing nails and long screws. Add organizer accessories according to your usage. cravingsomecreativity
20. DIY Canvas Wall Hanging Organizer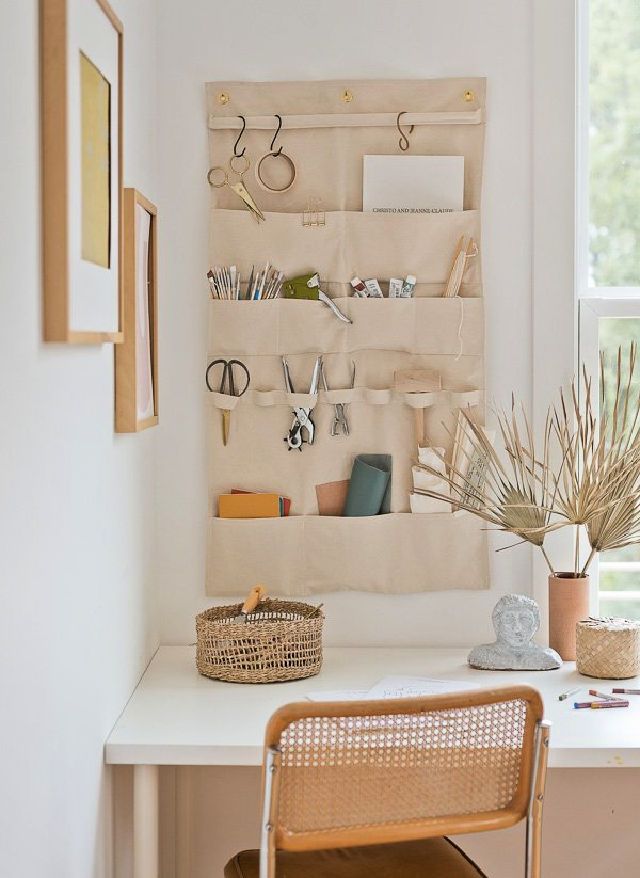 Make a pretty DIY hanging wall organizer which is so stylish that you might want to take pictures of it but also functions like a champ. It is actually a perfect tool to keep all the items handy yet still tucked away from sight. It doesn't really cost much to make too. You will need supplies like canvas drop cloth, gold grommet kit, dowel rod, sewing machine, measuring tape, pencil or tailor's chalk, scissors, thread and S-hooks. papernstitch
21. Yarn Wall Storage System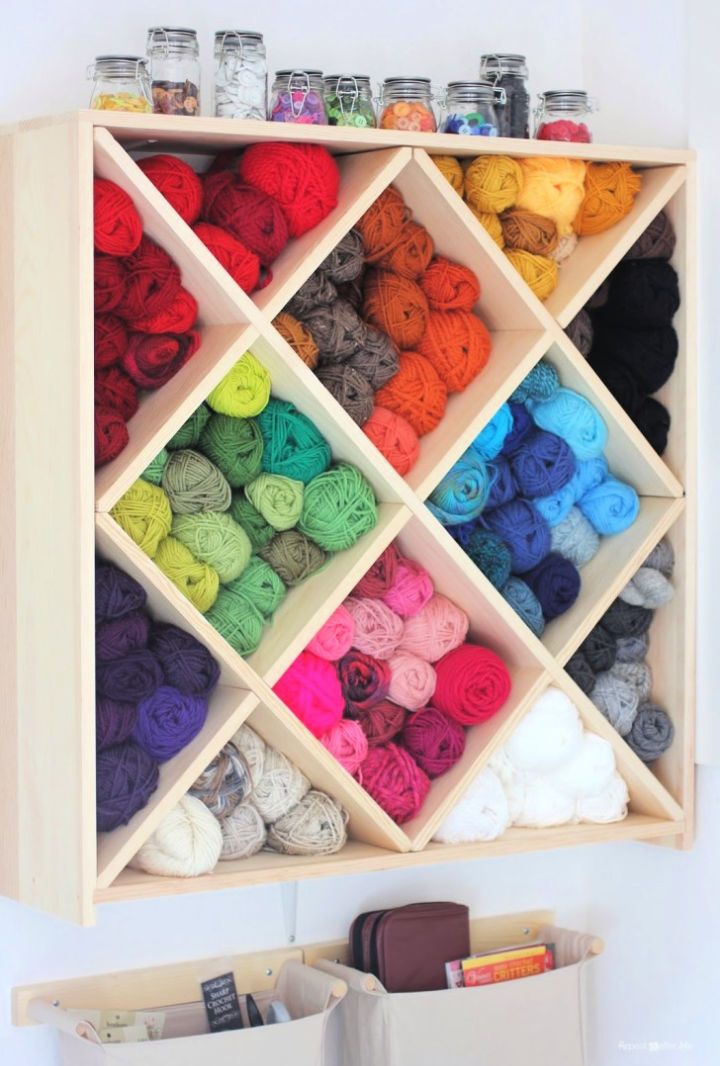 Yarn is stored in many ways mostly by knitters like Rubbermaid bins, laundry baskets, shoving under the bed or in craft space etc. But somehow it's still difficult to find a particular color when the need arises. That's why we have come up with an efficient yarn storage system to help untangle all your leftover yarn. Use a wine rack with dimensions according to your space and add pockets to the bottom to store your tapestry needles, crochet hooks, stitch markers, scissors and rotary cutters etc. repeatcrafterme
22. Wall Organizer for Boy Bedroom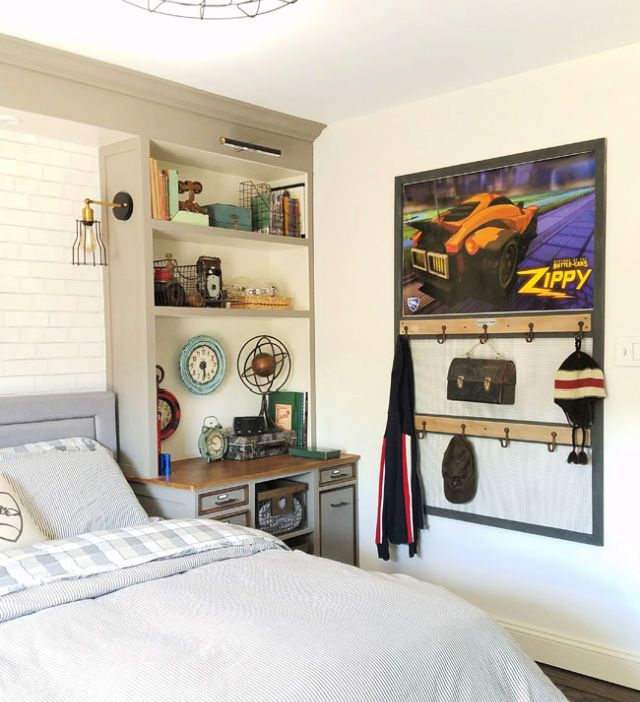 A boy's room is nothing but mess and clutter everywhere. No matter how hard you try to keep it organized there is always less space for storage of everything. Create a beautiful DIY wall organizer perfect for your boys' room that will provide you with the extra storage that you have always wanted. Get a wooden frame with dimensions customized according to your specifications. You will also need a pocket hole joinery, metal cloth, stapler, anchors, planks and hooks etc. You will love the rustic look of the hooks that will hold anything from a metal tool box to old caps. remodelandola
23. Wall Mounted Desk with Storage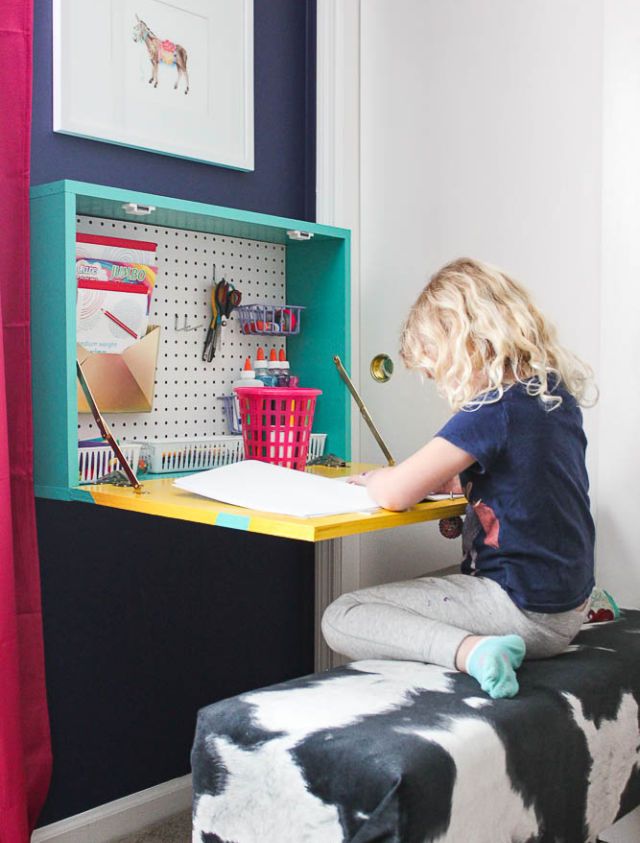 If you have a little space available that you want to utilize in the best possible way, fit in a wall-mounted desk that will provide you with some extra storage space too. It can also serve as a small workspace for you as it will reveal space for writing or keeping your computer. You will need a common board, plywood project panel, furring strip, magnetic door catches, pegboard hooks, pegboard baskets, knob, paint colors of your choice, drill and wood screws etc. rainonatinroof
24. DIY Pegboard Wall Organizer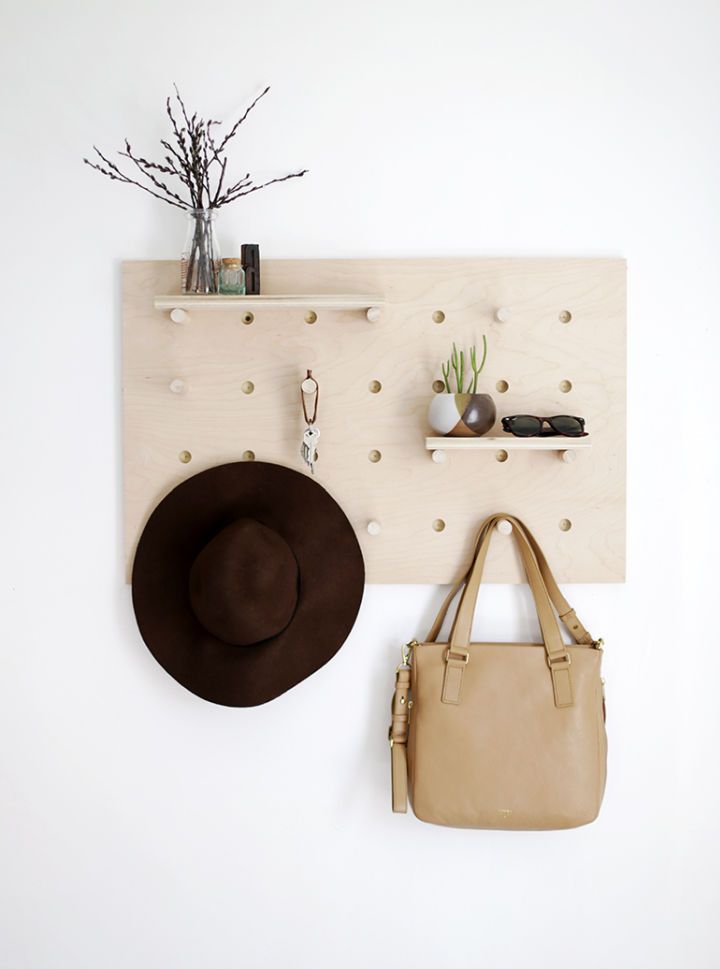 The moment when you're in a hurry to fly out of the door and you can't find your car keys or phone is the most frustrating one. You can have these moments happen less often with this pegboard wall organizer. All your necessities can be kept in one place like your keys, sunglasses or your bags etc. This wall organizer will keep your stuff available whilst making your wall space look prettier. You need a thick plywood board, wooden dowels, circular saw, miter box, sandpaper, yardstick, pencil, drill, drill bit, screws and screw driver. themerrythought
25. DIY Kitchen Organizer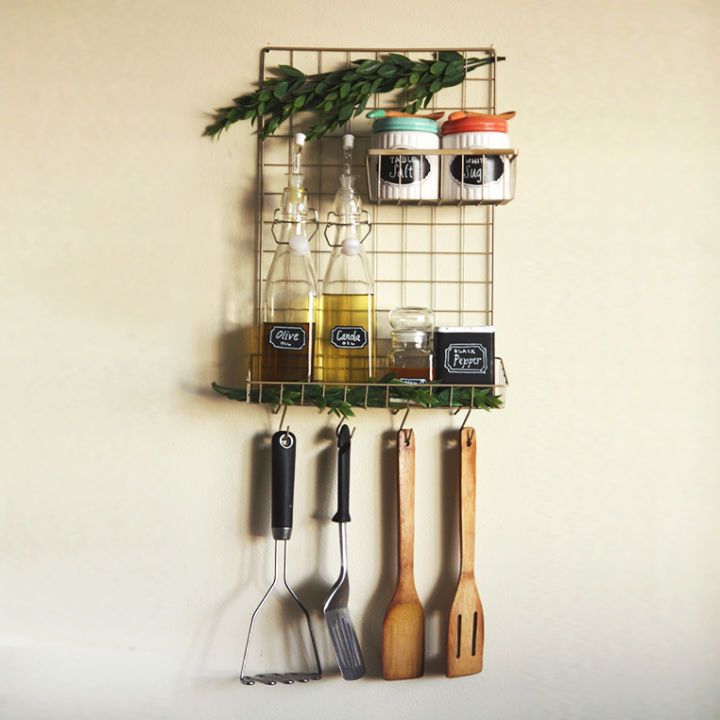 An organized kitchen is certainly such a dream come true for everyone who likes stuff neat and easily available. To build an easy kitchen wall organizer that will keep all your glass jars and ladles in one place decreasing your cooking time and making it more fun. You will need a wireframe, shelves and s-hooks, faux leaves, spray paint, glass bottles, chalkboard spray, bottle pour spouts, jars, wooden spoons and paint or nail polish for the spoons. Lastly, let the paint dry up before proceeding forward. creatingwithklc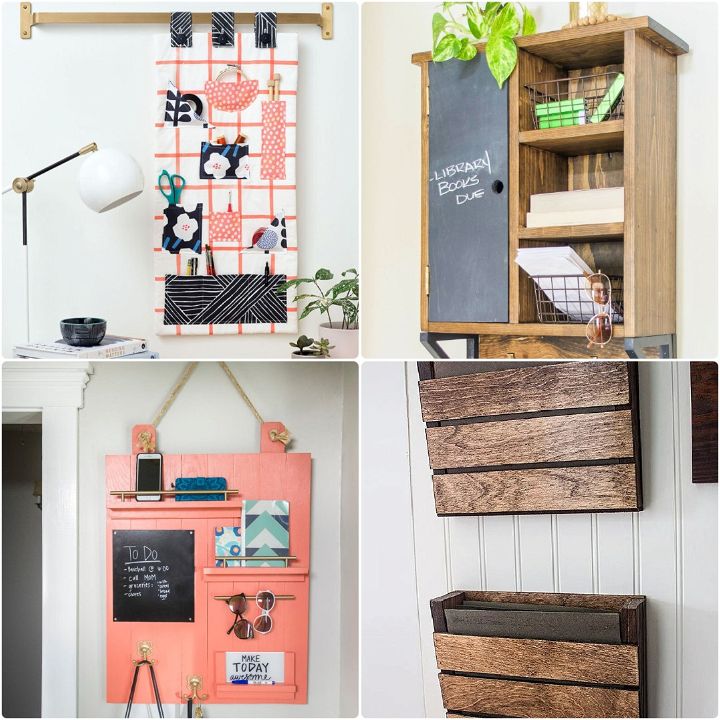 Related DIY Projects:
DIY Jewelry Holder and Organizer – Here are DIY jewelry holder ideas to help you declutter your space and keep your jewelry looking great.
Make a DIY Jewelry Box – Free yourself from expensive jewelry boxes and create your own with these 30 free DIY Jewelry Box Plans.
Wooden Crate Decorating Ideas – We've compiled 40 ways for you to make your own wooden crate decorations, from candle holders and plant stands to coffee tables and storage boxes.
DIY Bathroom Shelf Ideas – It's a simple solution for those looking for a way to make their bathrooms more functional and stylish. Whether you need to save space or just want to make your bathroom look better, these 40 DIY bathroom shelf ideas will help.
Conclusion:
So, certainly, some easy-to-build wall hanging helpers can be a great help for you to concur the clutter around the house. Enjoy these DIY wall organizer ideas to deal with a lot of lying-around stuff that comes in daily use but doesn't have a specified space around the house. Most importantly it would be a dream come true for parents who can't get the children to clean up their room so these wall organizers will look like beautiful wall hangings whilst holding a lot of stuff inside. Above all, we all know it's hard to find something when it's lying around under a pile of mess on the table! Hence these DIY wall organizer ideas can help you arrange all the stuff in a fashionable way. So, gather around these supplies and get your DIYer juices flowing.