IKEA is providing all frugal items that can have a huge impact on your life. Head over to IKEA components and build modern DIY furniture and a big range of luxury items in a wallet-friendly way. Solve all your storage problems with these 25 simple IKEA pegboard ideas and Skadis hacks that involve building outstanding storage systems using the IKEA pegboards and will be unbeatable in both price and performance. These versatile IKEA pegboard hacks can be added further with lots of containers, shelves, hooks, elastics and wire holders to hold a wide variety of items. You can rearrange those added shelves, containers and hooks any time to boost the usability of these IKEA pegboard storage systems.
Want to know how to install these pegboard organizers for selective profession categories. Explore these 25 IKEA pegboard ideas and Skadis Hacks and learn to install these storage systems for bathroom, craft room, kitchen, home office, makeup room and even for gaming room organization. These flexible storage systems can be planned to fit all of your storage needs and be painted to suit any theme or décor.
Are you addicted to gardening or willing to give your home decor a glam touch of natural green garden elegance? Then see these IKEA Pegobard ideas and hacks that will allow you to install amazing living walls, a pot organization station and much more. You will get all your storage problems solved after looking through these IKEA pegboard hacks, shared to impress and inspire.
1. IKEA Pegboard Hacks for Kids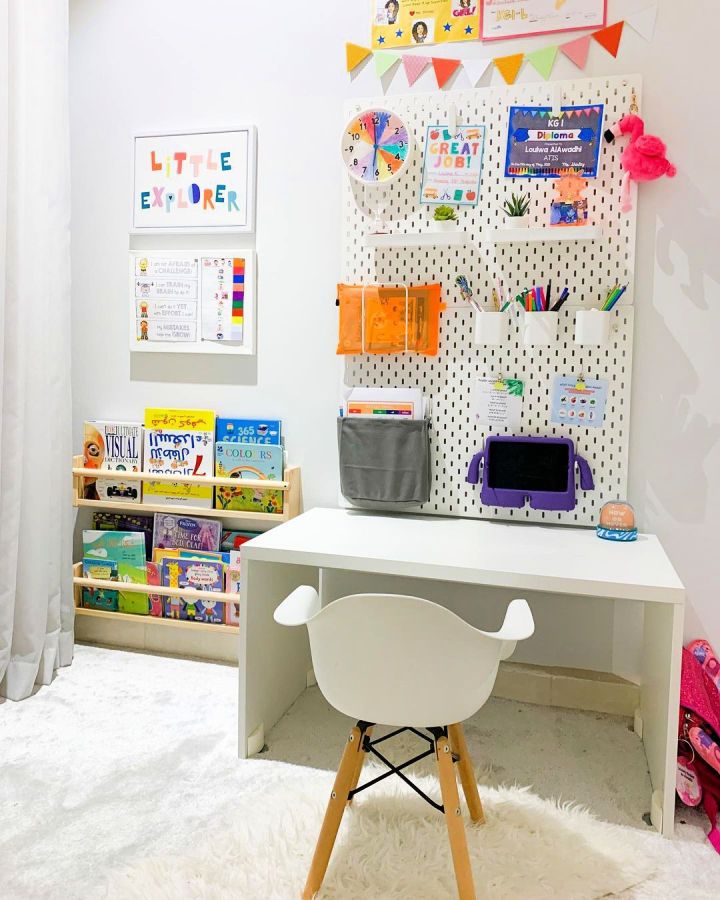 The IKEA products have made life easier. You can seek help from IKEA also when having storage problems always on the brain. Go smart with the IKEA Skadis pegboard and install the best flexible storage systems on the walls. They can hold various tools and items and can be employed to organize all sorts of items like clothing, sports equipment and other tech gadgets, depending on where you are using them. So, you will surely fall in love with this miniature craft desk nook, built with the IKEA pegboard, and it brilliantly organizes all those craft supplies and hangs right above the craft desk.
2. Skadis Pegboard Organizer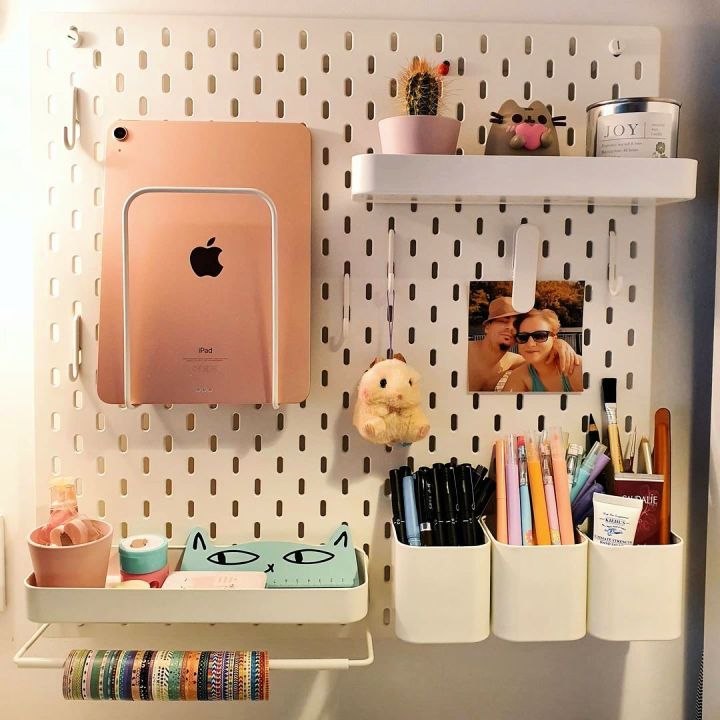 The IKEA Skadis pegboard is highly versatile and can smartly be used to organize various stuff. They are always flexible to add extra containers, shelves, and custom holds so you can load anything on them that needs instant storage. Peek into details of this given IKEA pegboard organizer that is planned to hold decorative pots, stationery items, apple iPad and lots of craft supplies. Hence, it is smartly added with the custom plastic containers, shelves and holders, and hooks to serve the purpose best.
3. IKEA Pegboard System for Jewelry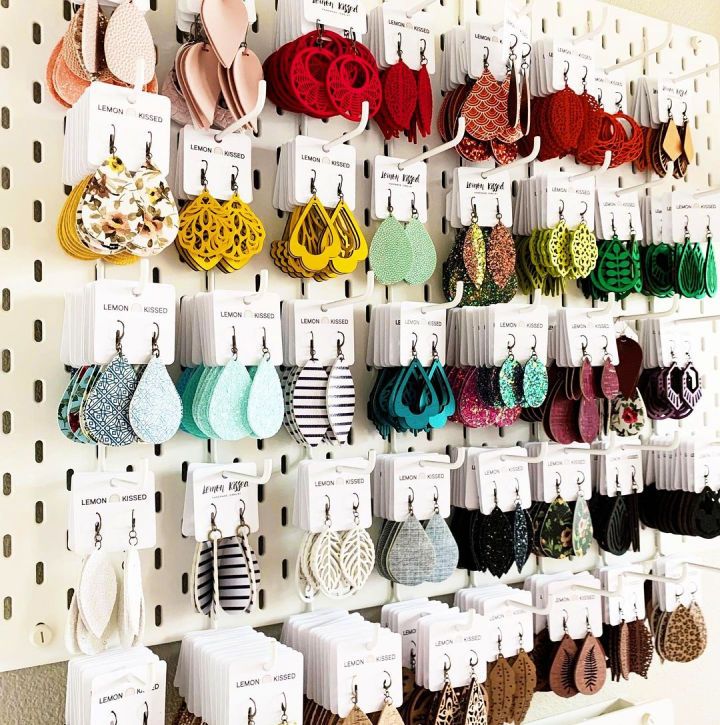 You can plan the IKEA pegboard system to organize and store anything coming out of the drawers. However, it is always bad to store the jewelry in the drawers. This results in a big jewelry mess and causes big damage to expensive jewelry. So, learn how to organize your jewelry like in the boutiques and jewelry shops. You will love this outstanding display of the earring stocks, done with the IKEA pegboard system, and it will be super easy to install also. You can buy it readymade from IKEA and then just install it on your favorite wall area.
4. IKEA Pegboard Ideas for Craft Room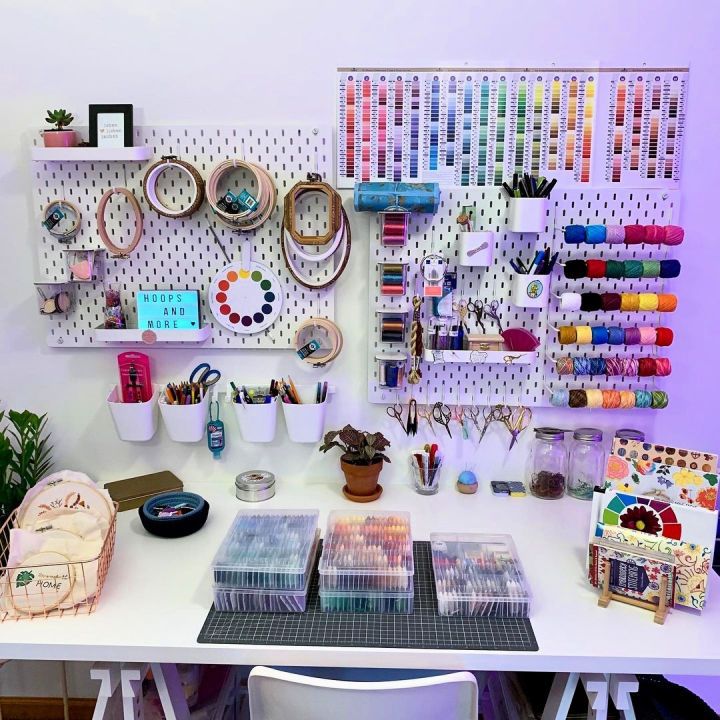 The output is always amazing when you are very organized in the home office and the craft room. So, let the kids be more efficient in crafting with this IKEA pegboard craft room storage hack. Here two IKEA Skadis pegboards are used to hold various craft supplies like yarn, embroidery hoops, pencils, markers, ribbons, scissors and other items of this kind. To accommodate all the items on the IKEA Skadis pegboard, additional containers, trays, hooks and shelves are added.
5. IKEA Greenhouse Cabinet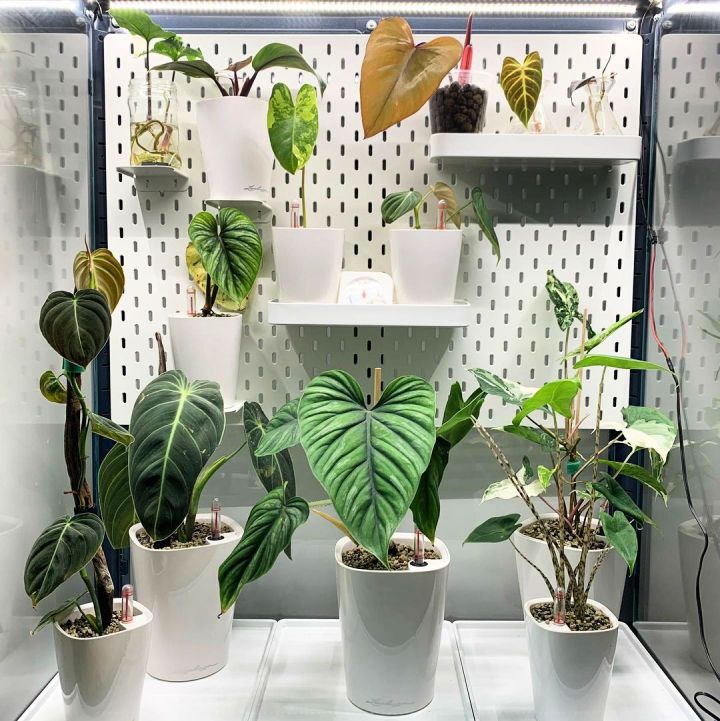 Use the IKEA pegboard system to organize your pots and planters also. Look at this IKEA greenhouse cabinet, sure to be a big love of all the homey persons and garden lovers. All addicted to indoor gardening will find this pegboard greenhouse amazing and super helpful. Just add up the pegboard with the custom trays, containers and shelves and make them hold your favorite plants and pots. The whole greenhouse planting station will cost you next to nothing, and you will surely fall in love with it. One of the best IKEA pegboard ideas for gardeners.
6. IKEA Skadis Hack For Sewing Room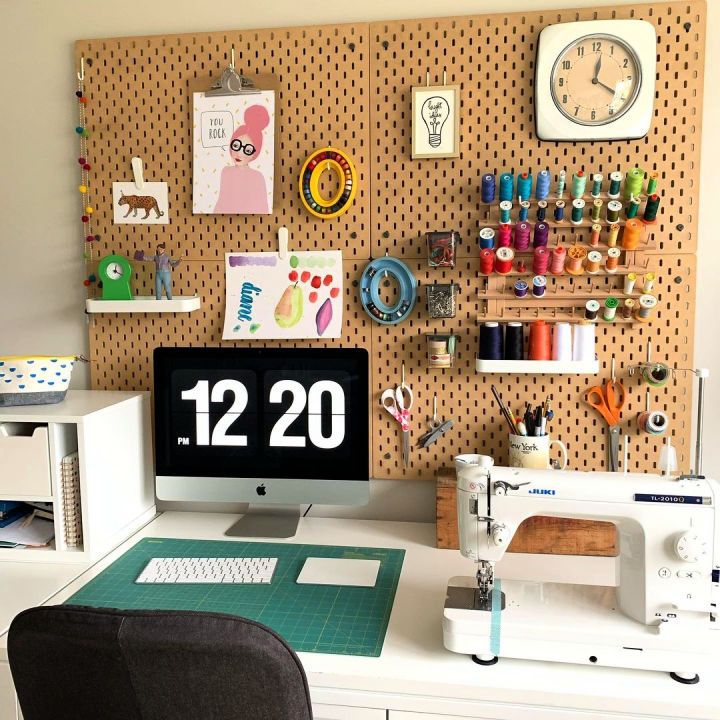 Are you an avid sewist and always find it hard to get your favorite sewing tools and materials? Then make your life easier as a sewist with these IKEA pegboard storage ideas, specially designed to hold various sewing supplies and tools. Choose the IKEA pegboard in the favorite that will fit best to your home decor also. Just put together the IKEA Skadis pegboards together to gain a large organization station for your sewing supplies. Next, add the custom yarn holders, hooks, clipboards, shelves and containers on it to organize all your tools and materials.
7. IKEA Pegboard for Office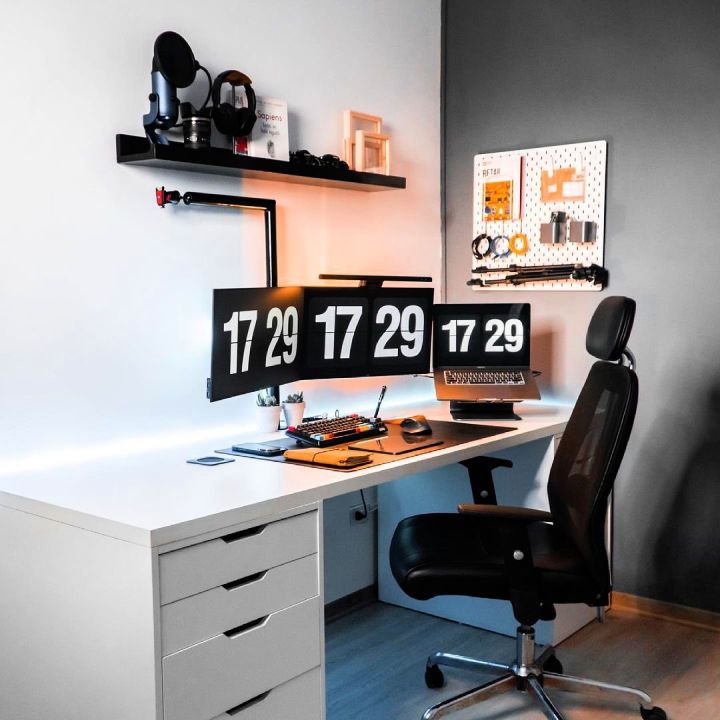 Want to organize your home office like a pro without getting a bit expensive? Then solve all your storage issues in a modern way with this IKEA pegboard organizer. With lots of holes in it, it can easily hold extra hooks, additional organizers and containers and will be a great addition to your home office. The best part is that it will also provide the ease of pick and drop along with creating that fetching display of all your favorite items. The best solutions for a cost-effective home office organization.
8. IKEA Pegboard for The Bathroom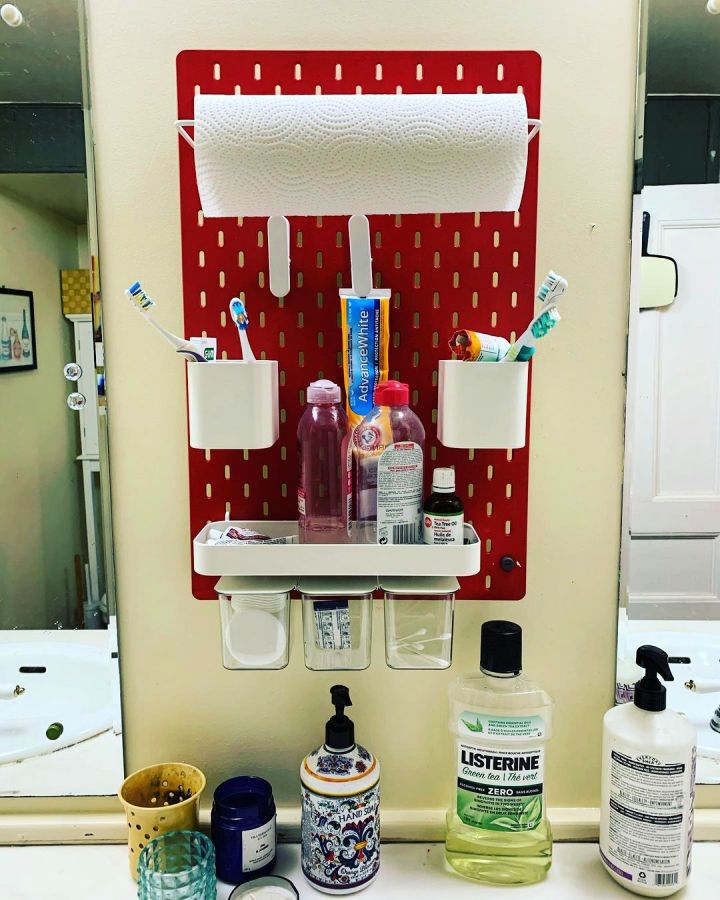 Are you suffering from storage problems in your bathroom? Then solve them beautifully with this IKEA pegboard, smartly modified to hold the bathroom stuff. Here it is planned to hold the toilet paper rolls, toothbrushes, shampoos and other toiletries and help save tons of bathroom space. Pick it in your favorite color, and you can also paint it to match your bathroom decor. The whole magic is the miniature slits and holes that make installing additional hooks, containers, and accessory holders easier. One of the best bathroom organizers to make at home in no time.
9. Kitchen Pegboard IKEA Hack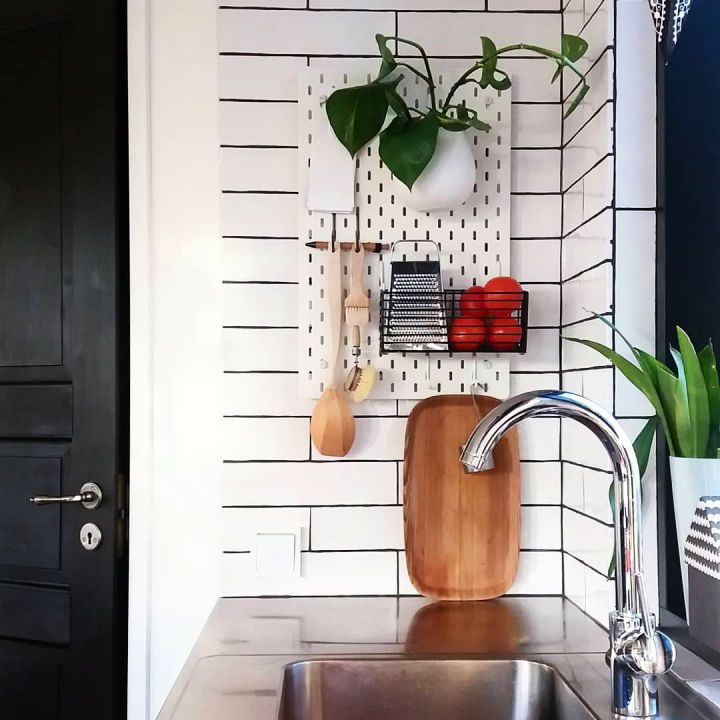 Going out of storage in the kitchen? Here is a quick practical storage solution for your kitchen, sure to be cost-effective and easy to install. Just add the IKEA pegboard with custom hooks to hold all additional tools. The pegboard also holds a beautiful planter for amazing decorative vibes. The project is much doable for all beginners and will cost you next to nothing. You can add a few of these IKEA Skadis pegboards more to hold those spice racks and other kitchen organizers. Choose from various colors, and you can also paint these pegboards to fit best to a custom kitchen décor theme.
10. Small Workspace Skadis Hack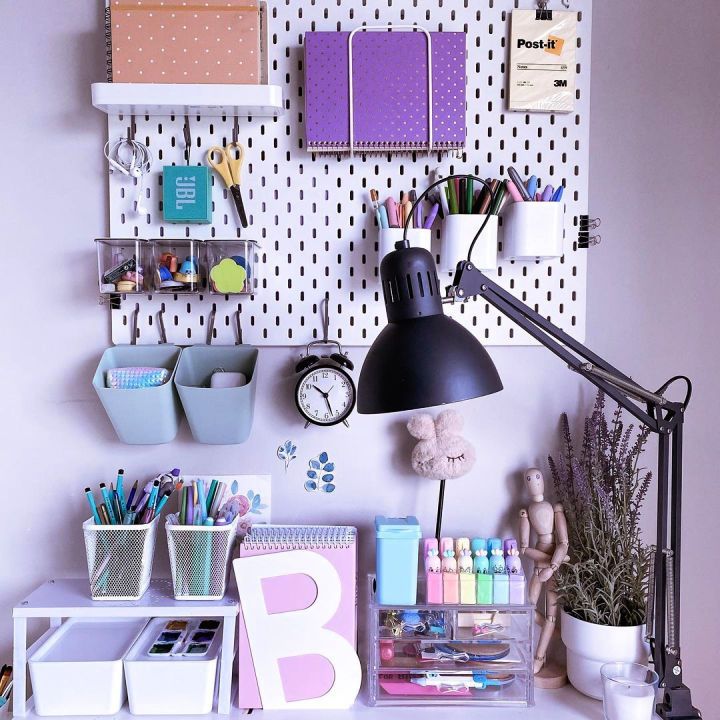 It is always a big challenge to organize a small workspace. So, get inspired by this IKEA Skadis pegboard hack that allows you to organize a whole small workspace and create that prominent display of the items. The pegboard is added with custom trays, wire holds, containers, and hooks that hold a big range of stuff, including books, scissors, pencils, markers and other craft supplies. The whole pegboard organizer just looks fabulous and will help set up a cool home office for sure. The best organization hack for all who are striving for extra storage space.
11. Little Dyson Hair Station Using IKEA Skadis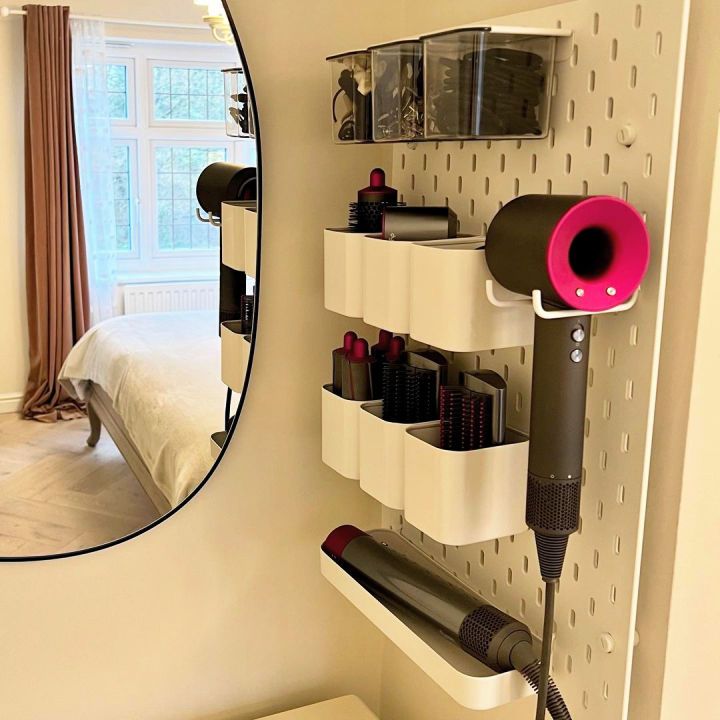 The IKEA Skadis pegboard can also be a proud addition to your professional salon or home makeup room. Learn here how to organize those hair tools and items with the IKEA pegboard storage system, sure to be a big love of all. Just add up the whole pegboard on the wall and add the custom containers, shelves and holders to it to organize all your hair tool collection. The project is totally easy and quick to do and loved dearly by all the homey persons. The best storage solutions to organize all your expensive hair tools.
12. IKEA Peg Shelf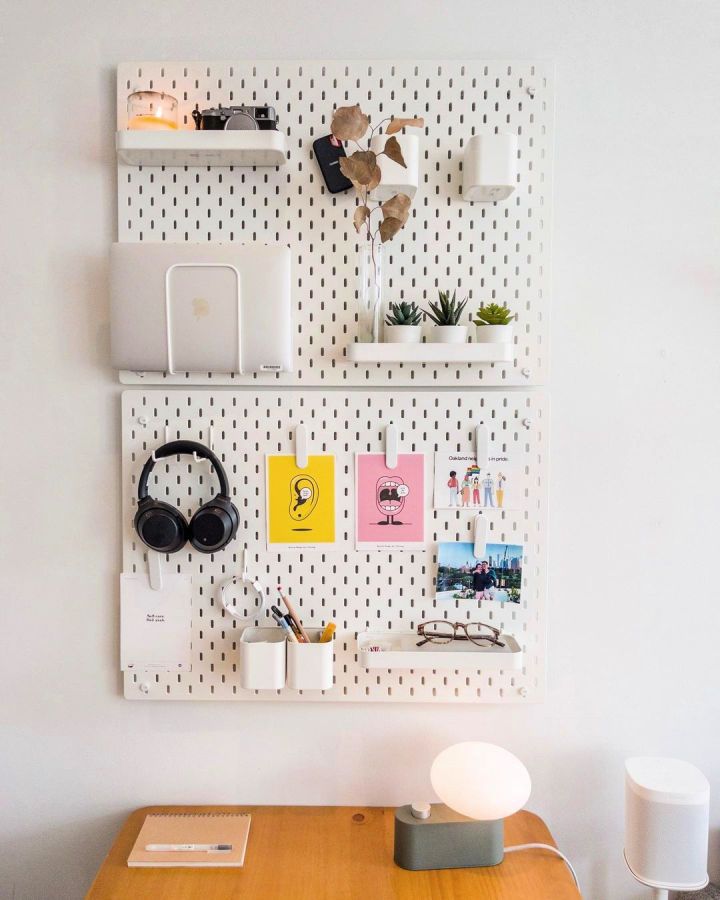 The IKEA pegboard system setting will rock for a kid's home office or computer room. The fun part is that it will not take too long to complete this brilliant organizer, all you need to do is install the IKEA pegboard on the wall, and that's it. This project involves using the 2 IKEA Skadis pegboards added with custom hooks, shelves and containers to organize all those tools and materials. An easy, modern and cost-effective wall organizer that is super flexible to fit your storage needs.
13. IKEA SKADIS Bathroom Pegboard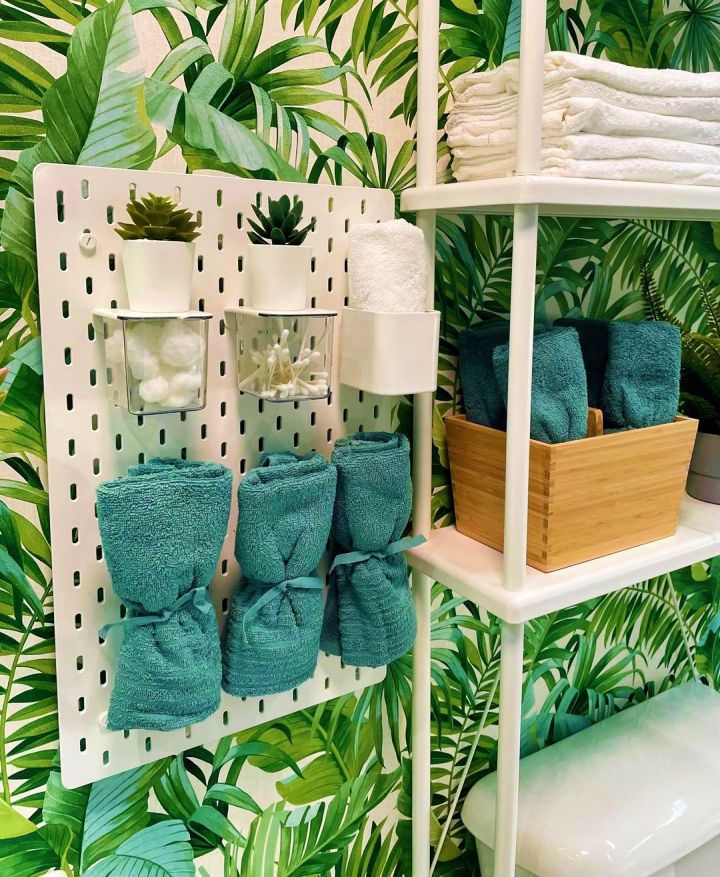 Are you going out of bathroom storage space? Head over to this IKEA bathroom storage hack that is modern and frugal at the same time. Just grab an IKEA Skadis pegboard and make it hold your towels, containers and pots. Finally, you will get an ultimately modern bathroom storage station that will be loved dearly by all. One of the best and quick-to-build bathroom storage ideas that all home lovers will fall in love with. The addition of succulent pots makes it appear extra beautiful and natural also.
14. Teenage Room IKEA Pegboard Ideas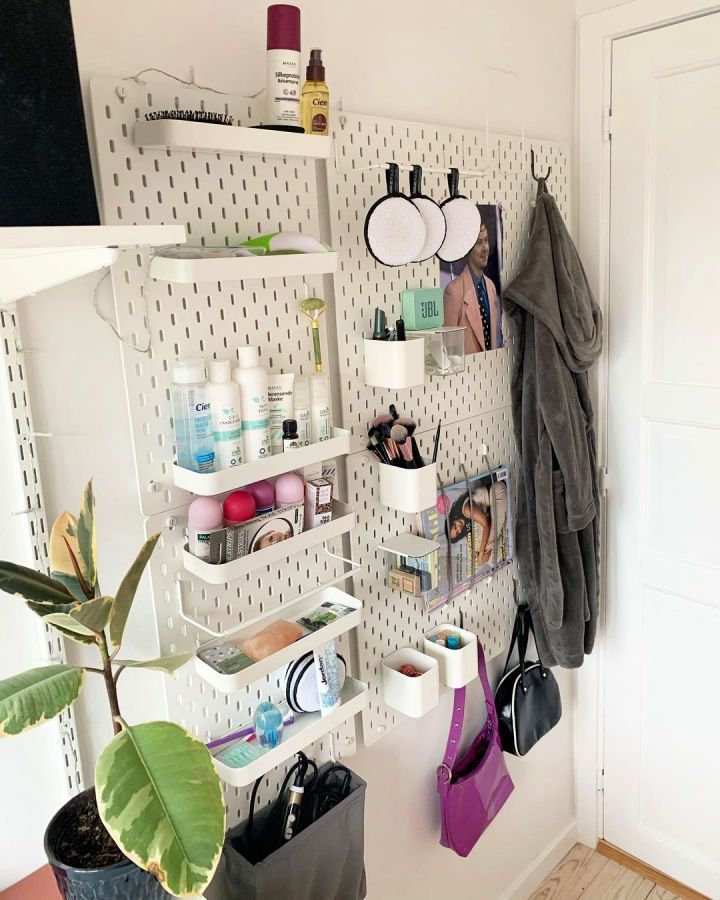 Teenagers always have a lot to store in their rooms, and their rooms should be added up always with ultimate storage solutions. Everyone will praise this storage system built with these IKEA pegboard ideas. It allows organizing a big stock of stuff, including makeup, makeup tools, magazines, photos, coats and other immediate items. You can also install this pegboard storage system to an entryway to easily overcome your mudroom storage space problems. The whole project is easy and quick to do and will be loved dearly by all for sure.
15. IKEA Black Pegboard Hacks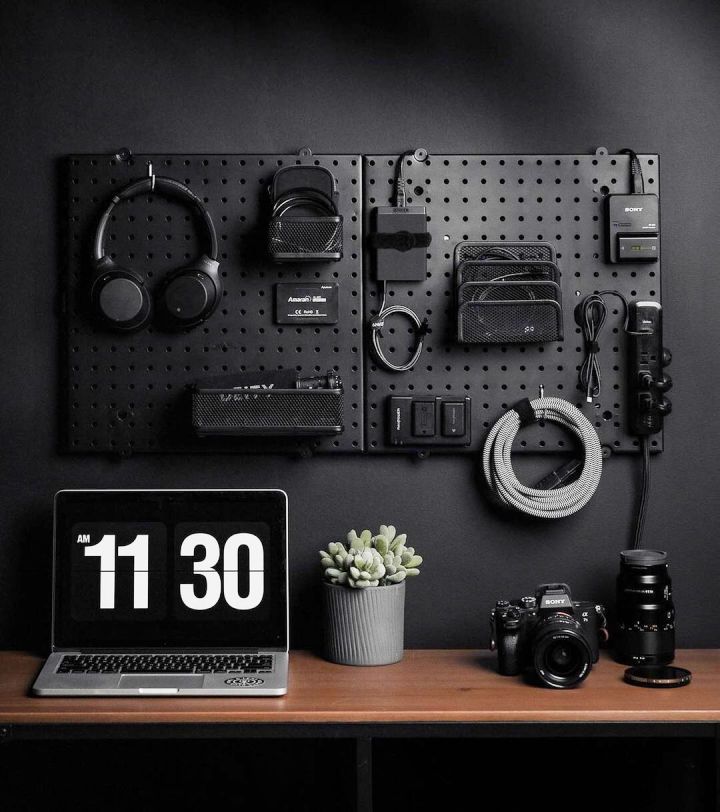 Are you a big fan of the black theme? Then this IKEA storage hack will surely win your heart. Here involves building a beautiful IKEA black pegboard that will have the capability to organize a bunch of your tools and tech gadgets. This pegboard setting will rock for a computer room or home office. You can also paint the IKEA Skadis into any custom color in demand for a custom theme. The way this pegboard holds the custom adapters, wires, paracord and other necessary tools is just amazing. The whole project will go super easy on your wallet, and you will love building this pegboard for sure.
16. IKEA Pegboard Spice Rack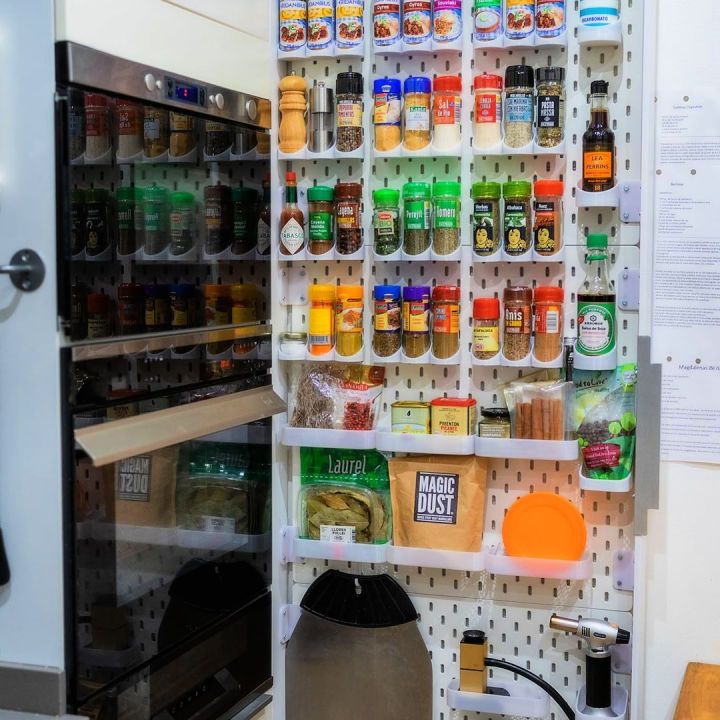 Let the IKEA components serve you in marvelous kitchen organization also. You will love this kitchen storage hack that involves using the IKEA Skadis pegboard. Here a fantastic spice rack is built with the IKEA pegboard, and it just looks amazingly beautiful and lovely. The custom spice jar holders, tray shelves and containers are added to the wall-mounted pegboards to gain a large spice rack. It is super functional and will grace up any kitchen. However, this IKEA storage hack will rock for pantry organizations also.
17. Ikea Skadis For Copic Markers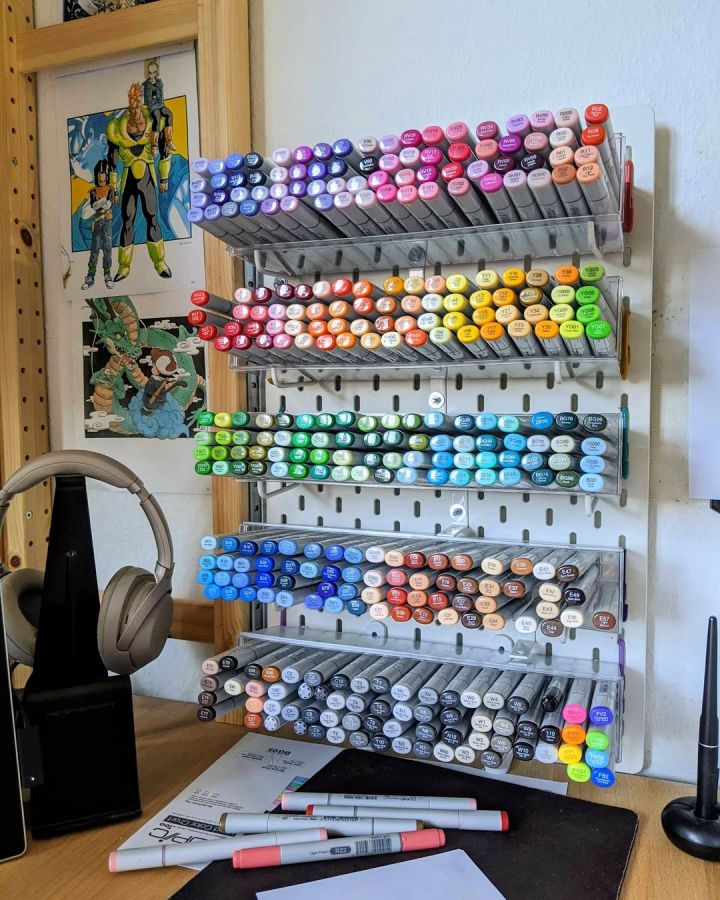 People of all professions can avail themselves of the IKEA storage hacks to organize their respective gadgets, tools and materials. You will love this amazing IKEA pegboard storage system, done for an artist, and it is capable of holding a big stock of Copic markers. However, the idea will also rock for a stationery shop where you need to manage a big stock of Copic markers. Here the pegboard is further added with custom Copic marker holders equally spaced on the pegboard. Everyone will just fall in love with this storage hack, sure to impress all the onlookers and guests for sure.
18. Pegboard Living Wall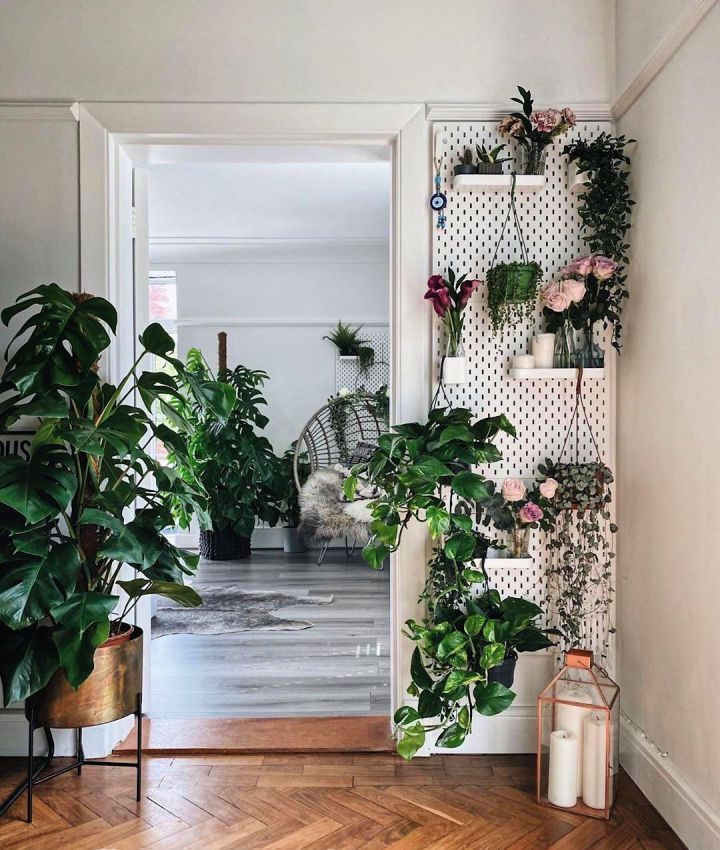 The living walls are one of the hottest interior décor trends. It can be more than easier to build a living wall to a favorite indoor wall with this IKEA hack. Peek into details of this pegboard living wall, a whole beautiful IKEA Skadis creation, sure to impress all the home lovers. Just give the IKEA pegboards a durable wall mount and then add them with custom trays, containers and holders. Next, display your favorite pots, vases and planters on the pegboard and even the macrame plant hangers. The best IKEA hack to bring those natural garden vibes to a targeted modern interior.
19. Back Side Of Pegboard To Hang Thread Stands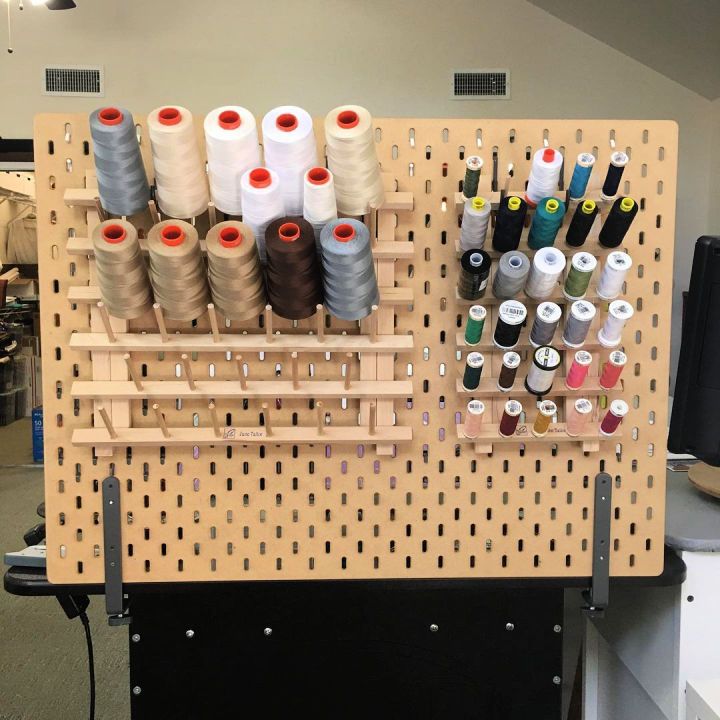 However, you should be smart enough to take full advantage of the IKEA pegboard storage systems. They are often to add on the walls, but you can plan both sides of them for your custom storage needs if they are not on the wall. Get inspired by this pegboard organization that is planned to hold the office supplies on the front side while its backside is purposed to hang thread strands. You can easily install the thread strand holders or racks to the backside of the pegboard. One of the best IKEA SKADIS hacks for adding storage to a particular interior space.
20. Pegboard Scraproom Organization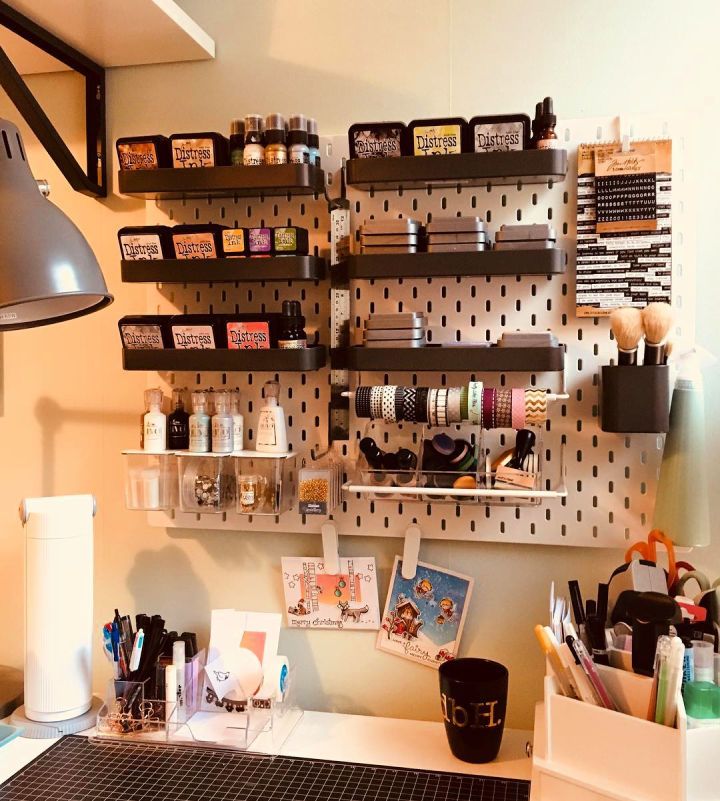 Finally, organize the scrap rooms with the IKEA SKADIS storage systems that involve using an IKEA pegboard. Mount the pegboard on the wall in a stable way, and then plan to add the custom tray shelves, containers, dowel holders, and hooks according to your storage needs. Get inspired by the sample organization that is done to impress and inspire and will surely be a big love of all the homey persons. The project is much doable for all beginners and will cost you next to nothing. Opt for this storage hack to tidy up your craft room also.
21. Ikea Skadis Makeup Pegboard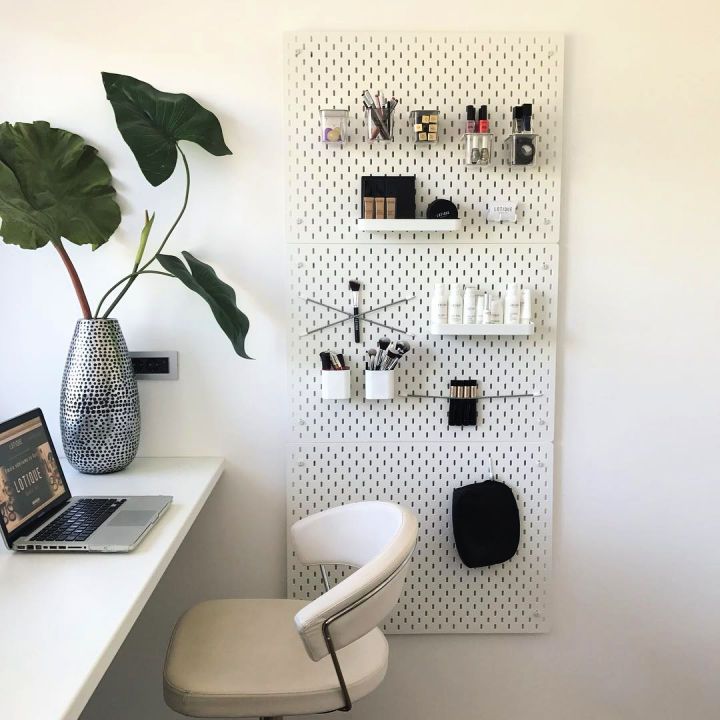 Are you making efforts to do less damage to your expensive makeup by adding some smart storage systems? It can be done easily, quickly and frugally with this IKEA hack. It involves installing a lovely pegboard on the wall that can be added up with custom organizers, shelves, wire holders and hooks to organize a big range of makeup items and tools. Peek into details of this sample IKEA Skadis makeup pegboard that is visually captivating and super easy to build. You need a total of 3 IKEA pegboards to complete this storage system.
22. Ikea Skadis Polymer Clay Pegboard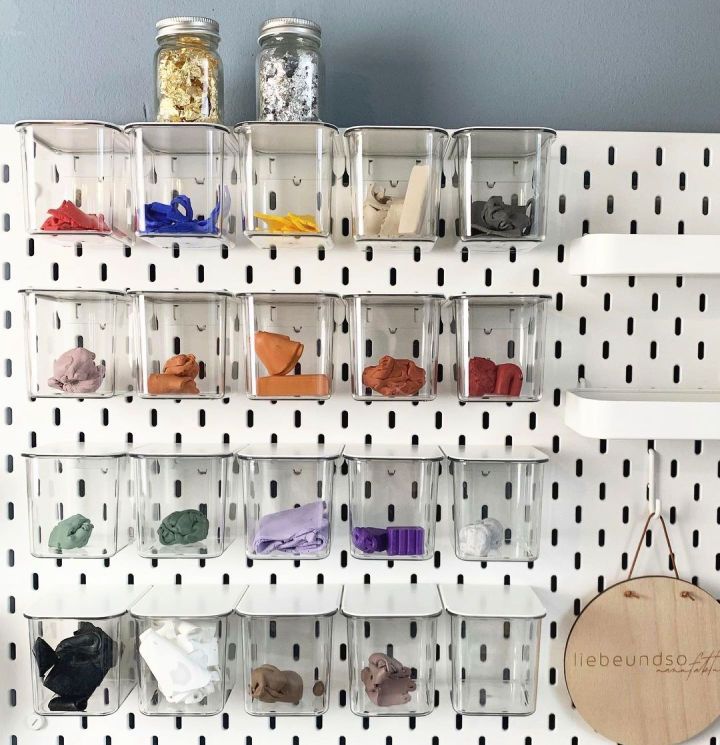 Are you deeply in love with Polymer Crafts? So, you will have a good stock of clay colors to pick for various instant projects. Here is how to manage a big stock of colorful polymer clays in the home. Just install this fabulous pegboard system to your favorite craft room, and it will go much easy on your wallet. Mount the IKEA pegboards on the targeted wall and then add the additional clear plastic container to it, enclosing your clay collection. This modern IKEA Skadis pegboard system will be loved dearly by all and can be installed in kids' craft rooms also.
23. IKEA Patchwork Pegboard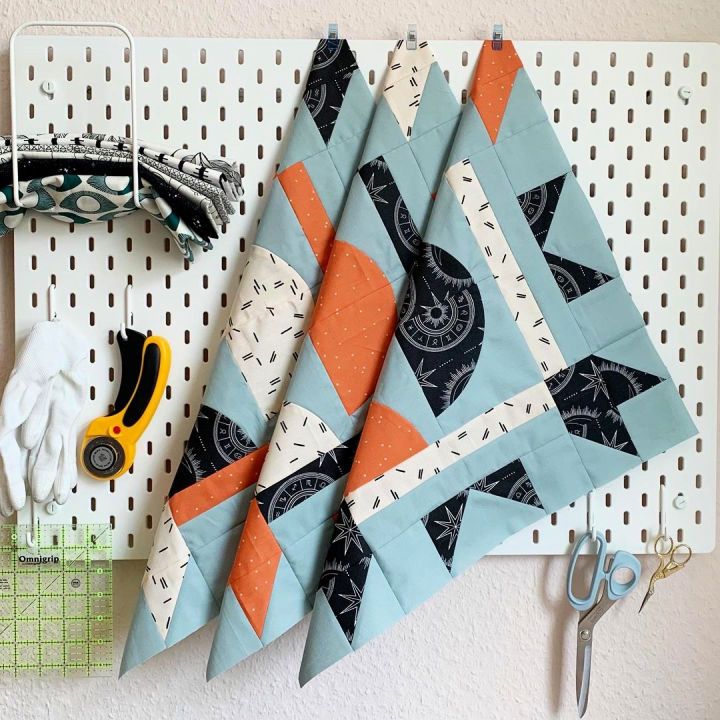 Are you highly passionate about sewing projects? Willing to organize all those patchworks and along with other sewing supplies? Then opt for this IKEA patchwork pegboard that is the ultimate modern solution. It is added up with custom hooks, clips, and wire hangers and beautifully holds the patchwork collection, scissor collection, fabric collection, rotary cutter and gloves etc. The best part is that you can easily enlarge this pegboard system to any size to accomplish your storage needs. Doing this entire project will cost you next to nothing, and you will fall in love with it.
24. Pegboard In Boys Bedroom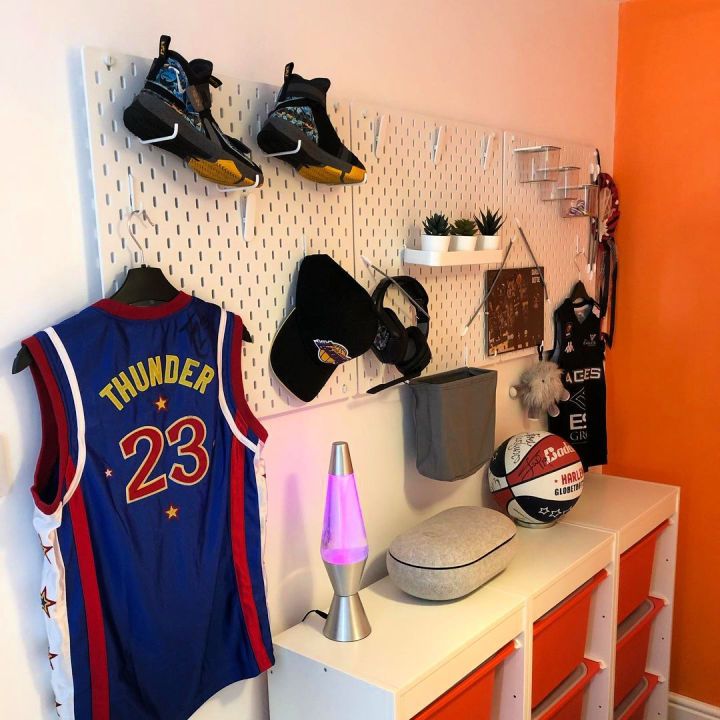 Need to organize those boys' rooms? So, create that clutter-free look of them with this IKEA pegboard hack that is super flexible. Yes, you can enlarge it to any particular size, and it can also be added up with lots of shelves and containers to organize a big stock of items. Here, it is employed to hold all the boyish items like shoes, caps, headphones, sports t-shirts, and other items of this kind. You can also install custom racks and organizers to this pegboard for added visual grace. One of the best and quick-to-build DIY pegboard organizers ever.
25. Ikea Skadis Kitchen Pegboard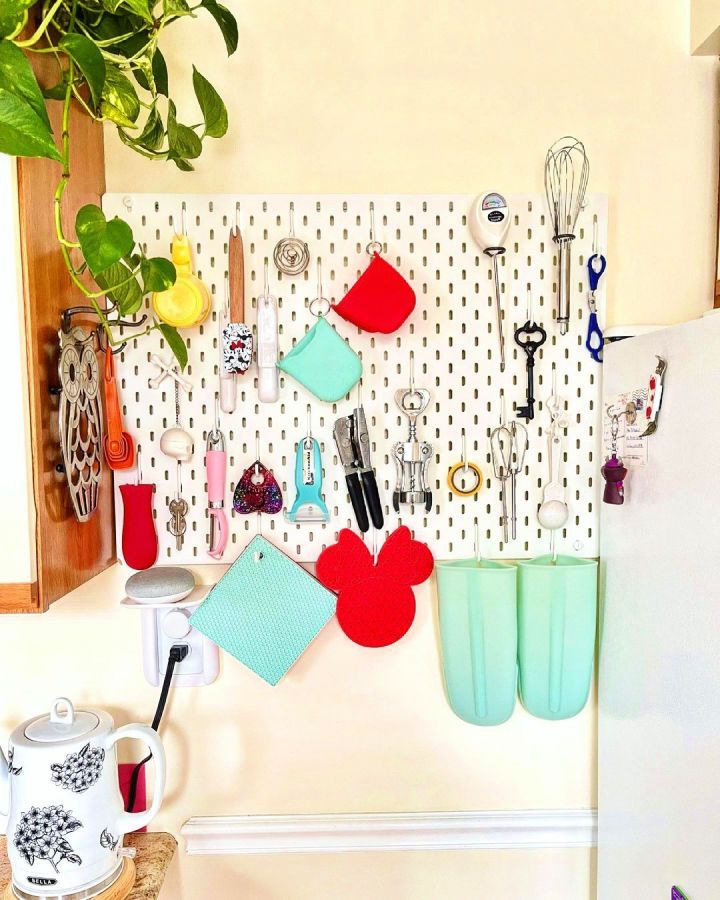 Tangled in kitchen organization problems? Solve them all with this IKEA Skadis pegboard storage system. Even a beginner can install it efficiently on the wall, and you can buy it from IKEA for a few pennies. Just install the pegboard to the wall and add it up with lots of hooks to hang your kitchen tools. However, you can also add custom containers to hooks to hold a variety of stuff more. Get inspired by the given kitchen pegboard design that is much focally stimulating and sure to be a big love of all the homey persons.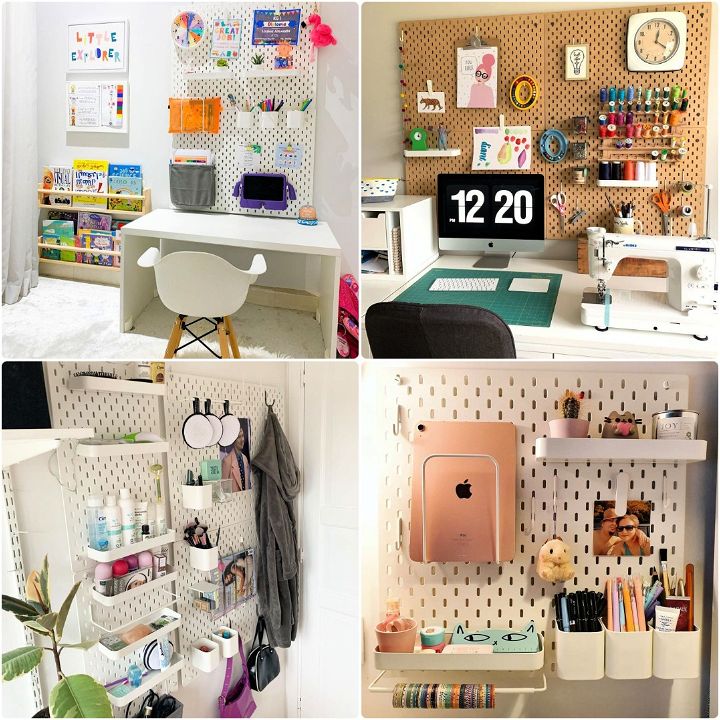 Related DIY Projects:
DIY Wall Organizer Ideas – You'll find 25 of the best, most creative DIY wall organizer ideas and systems. From floating shelves to shadow masks, these organizers are sure to inspire you.
DIY Bathroom Shelf Ideas – Bathroom space is always at a premium, but that doesn't mean that you can't take advantage of the available space. With these 40 DIY bathroom shelf ideas, you'll find it easier to store and organize your bathroom necessities.
DIY Jewelry Holder and Organizer – Do you want some clever ways to organize and display your necklaces, bracelets, earrings and rings? We've got 25 DIY jewelry holder and organizer ideas for you.
Wooden Crate Decorating Ideas – These 40 DIY wood crate decorating ideas include wall art, furniture piece, anything and everything. From rustic to modern they're perfect for all styles of homes.
DIY Home Office Ideas – It's not always easy to decide on the perfect office space for your home. Luckily, we've compiled 40 cheap and creative DIY home office ideas for you to get inspired by!
Conclusion:
The purpose is to tell you how you can overcome your storage problems using the IKEA pegboard systems. You will get here tons of ideas that will make great inspirations. From kitchen organization to craft room organization to bathroom organization, these IKEA pegboard hacks will surely serve all sorts of organizations.
Moreover, you will also learn to build custom living walls, jewelry displays, and greenhouse cabinets. You will also get Ikea pegboard ideas for building custom jewelry displays, makeup organizers, and kitchen spice racks. So, do take a quick tour of all these Ikea pegboard ideas to get your creativity inspired.