From a rustic coffee table to a child's playhouse, there are so many awesome wood crate projects for you to try out. From simple DIYs to more complex crafts, we've gathered 40 wooden crate decorating ideas for you to get started on your next wood crate project. Turning old crates into a bench or coffee table to building a kids' castle, this roundup has many great diy wood crate ideas.
These wooden crate decorating ideas are going to change your life! A wooden crate is a simple box for many shipping and storage uses – such as milk, mangoes, etc. Moreover, this box has many types as it is made out of many types of wood. Common examples include plywood, lumber, engineered woods, etc. Furthermore, some of these wooden crates are also made out of decorative wood for some purposes. You'll find these types of wooden crates almost anywhere, and they can be very cheap, too!
You will have a lot of fun re-creating these wooden crate decorating ideas. People like to look for wooden crates at places like the Facebook marketplace or their second-hand furniture stores. You can also find new ones, but looking for an old one is recommended – if you can get it for cheap or free.
Many people have a few lying around their house, so you can also ask your friends for these. These wooden crates can be turned into the most beautiful decoration pieces by following the amazing guides in this article. It has a huge variety – planters, toy boxes, jewelry boxes, rolling storage space, shelves, shoe storage, etc.
1. DIY Crate Bookshelf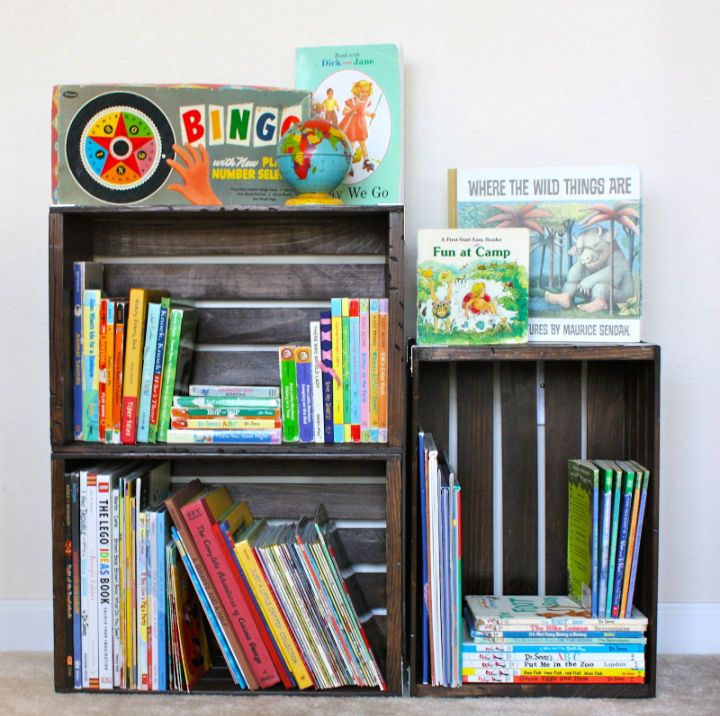 If you have a child who likes to read or has a lot of school books, then this DIY crate bookshelf would be perfect for him or her! This can be kept in the room of your child and you can ask your little one to fill it up with all the books. Moreover, you can add a few decorative pieces to this bookshelf and it will end up looking beautiful! You can find crates like these in home improvement stores. justcallmechris
2. Rolling Crate Storage Shelf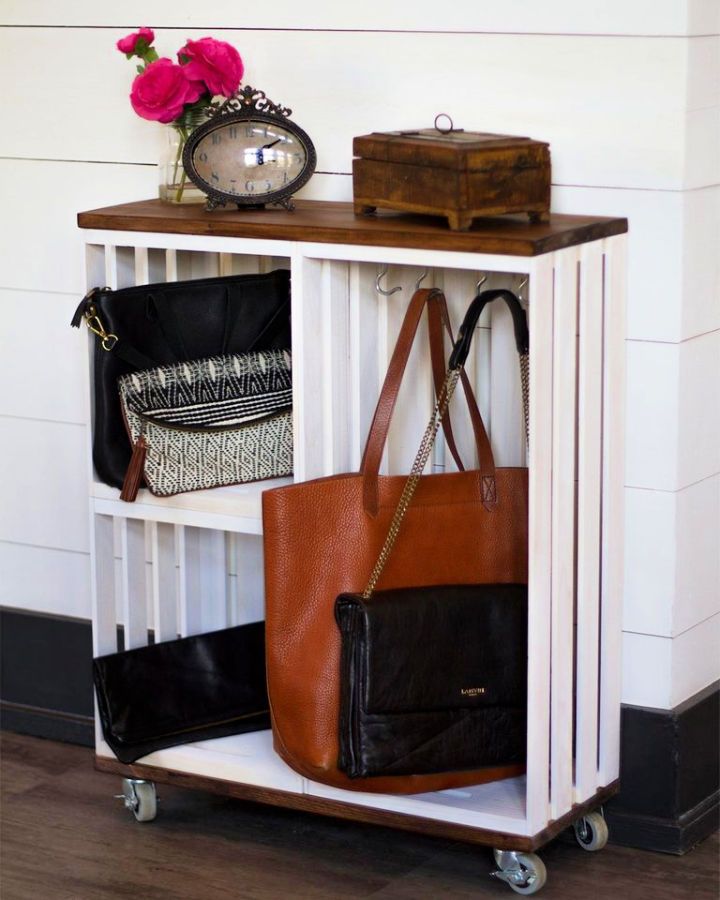 What's better than rolling storage space? It can never hurt to have some extra storage space in your house as that's just going to make your house look cleaner. Moreover, when the storage is movable, you will be easily able to hide it when needed and bring it back without much effort. Furthermore, the best part about this project is that you can make this in less than an hour! familyhandyman
3. DIY Shoe Storage Display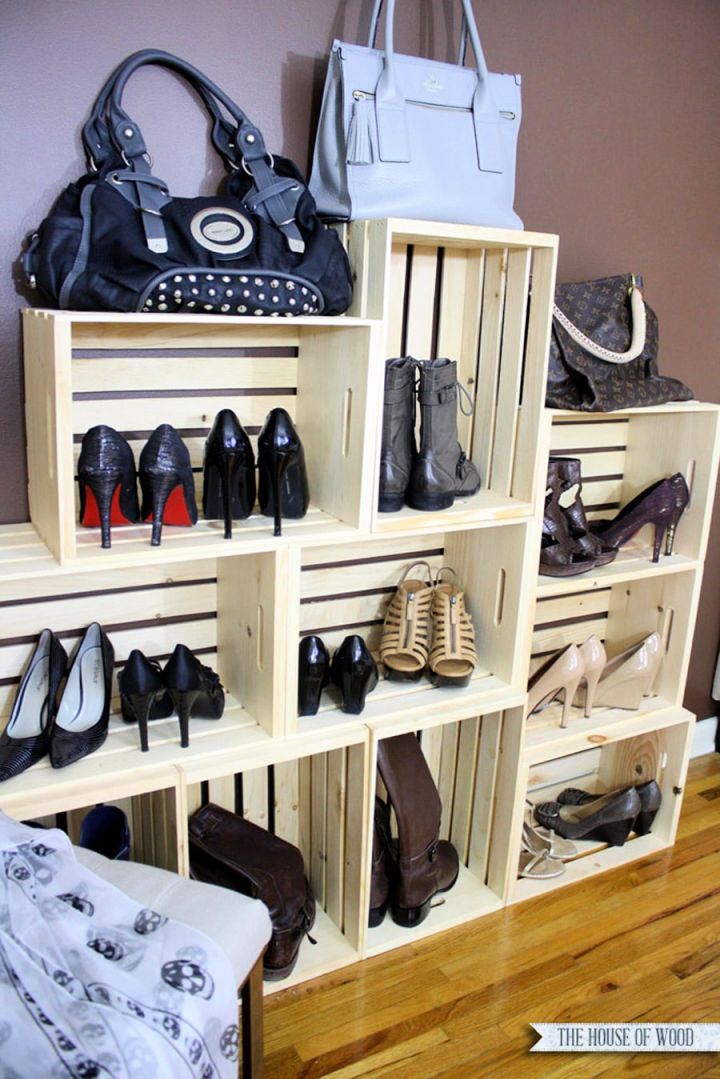 Shoe storage is always a good idea, especially if you're addicted to buying shoes and collecting them. However, it can become a problem when you can't properly display your favorite shoes! It can look weird to put your shoes on a shelf or a dressing table. However, this display shoe storage stand is going to change your life! It's so cute and you will love the final product. jenwoodhouse
4. How to Make a Crate Footstool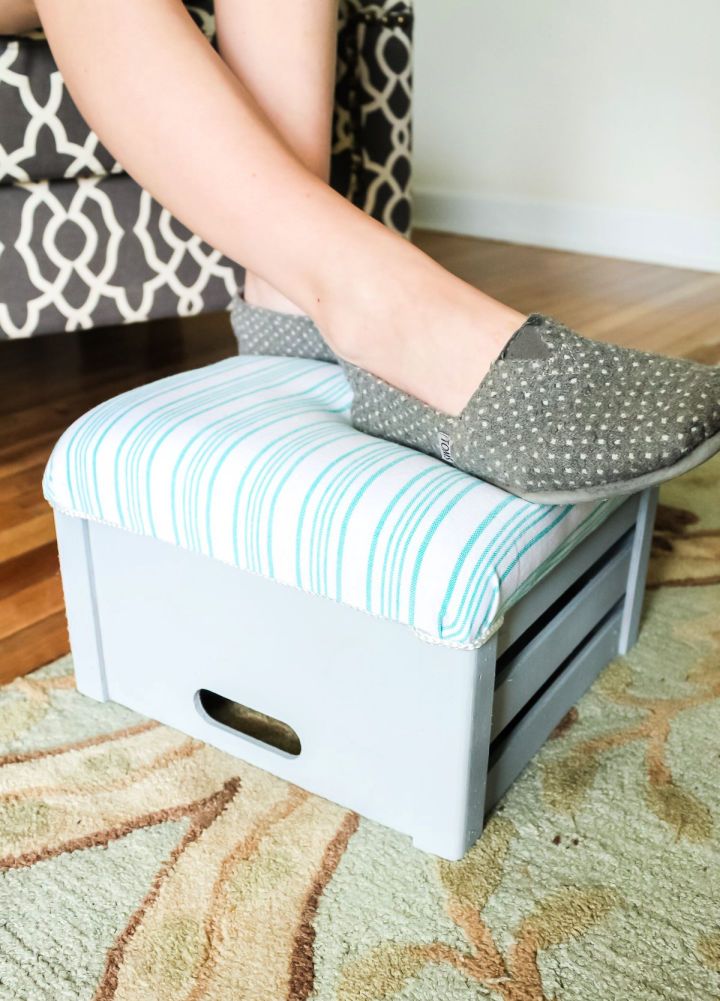 Who knew that crates could bring you so much comfort? What's better than coming home from a tiring day and relaxing in front of your television? A footstool! Yes, you heard that right! If you make this amazing footstool, your feet will be able to rest just like your whole body while watching television. Crate, plywood, paint, padding, staple gun, hot glue, and a few other supplies are required. thecountrychic
5. DIY Locker Cubbies Using Crates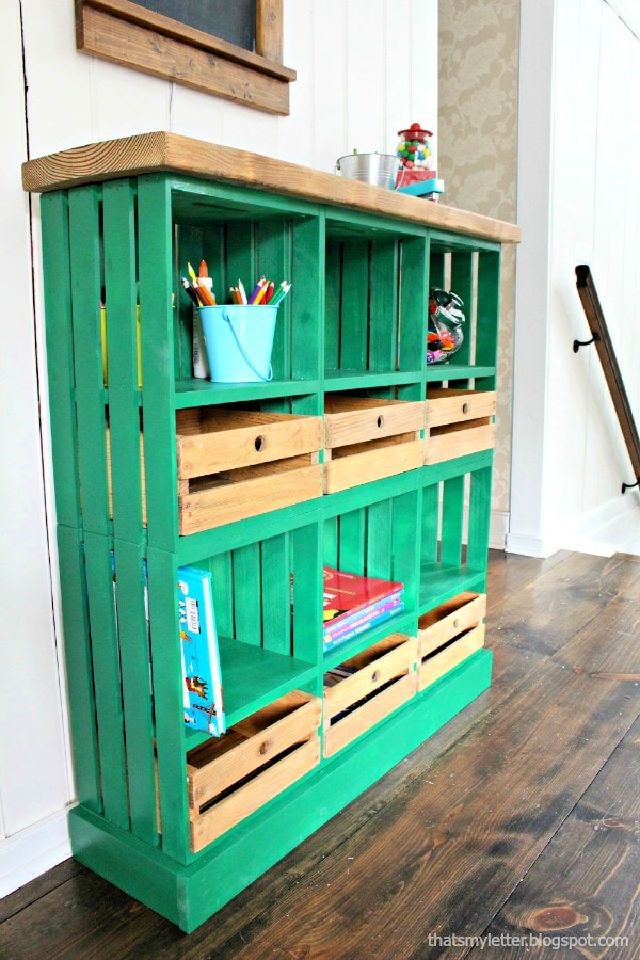 Lockers can be a nightmare to organize if you don't have the right tools. Moreover, it can be ever frustrating to find your supplies during the small breaks between classes if your locker is a mess. Here's how you can make these adorable locker cubbies and organize all of your supplies and notebooks! You will only need a few supplies – wood glue, finishing nails, pine board, etc. jaimecostiglio
6. Upcycle Wood Crates to a Rustic Bookshelf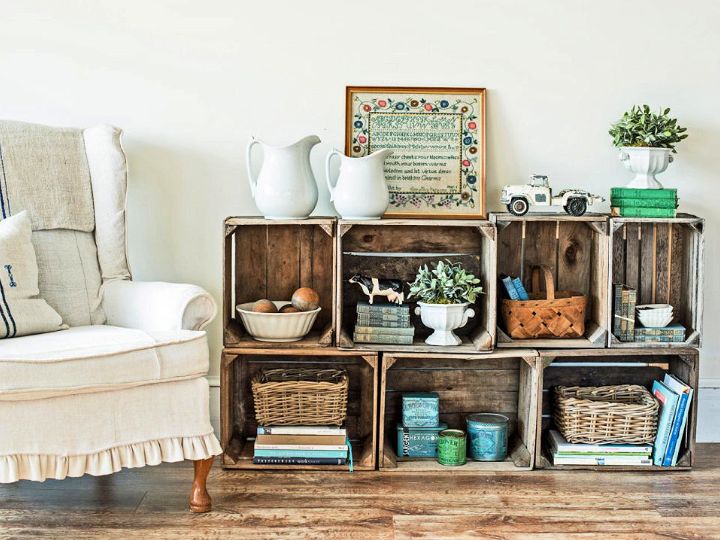 Do you want to add a vintage vibe to your house? Are you visiting your farmhouse and want to install a few bookshelves there? You can make these beautiful bookshelves for a rustic atmosphere as they have such a vintage and old look to them! Wooden crates, measuring tape, pencil, pine boards, drill bit, wood screws, and a few other materials will be needed for this project. hgtv
7. Record Player Stand Out of Wooden Crate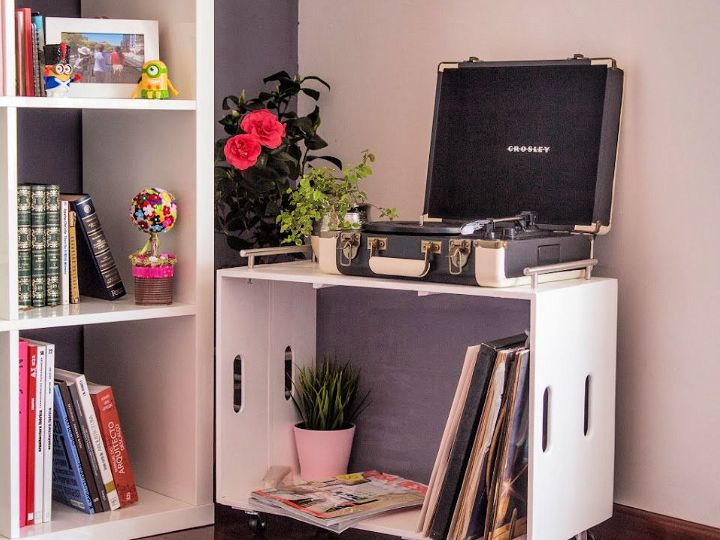 Even though music is usually found online these days, you can still live in the '80s by using a record player to play your music! This is a great way to live in the moment and romanticize your life. However, you will also need a record player stand – you can follow this guide to make a great one! Wheels, wooden crates, paintbrushes, nails, screws, and a few other supplies will be required. missknown
8. Farmhouse Inspired Mini Crate Shelf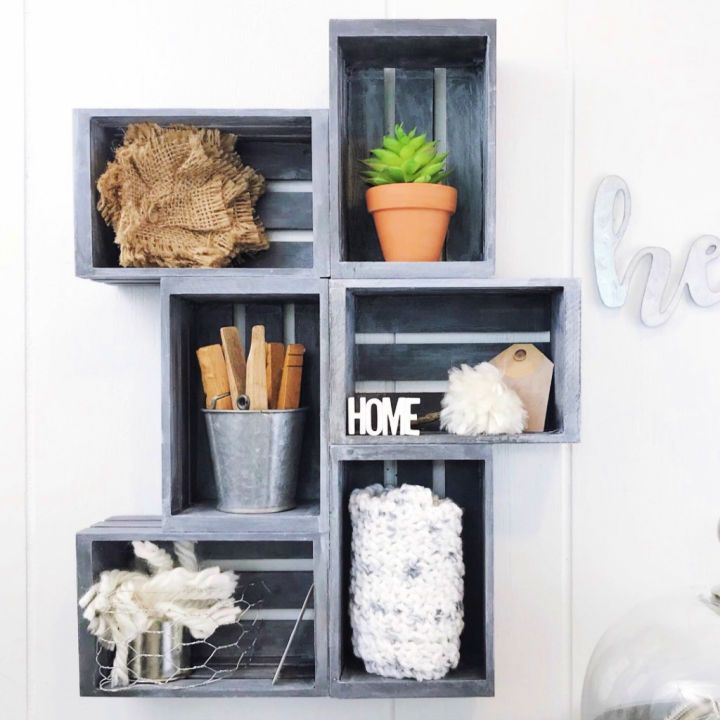 Here's how you can make a farmhouse-inspired mini-shelf crate! Farmhouses usually tend to have a rustic feeling to them and that is exactly what's emulated in these beautiful crate shelves! Mini crates, sanding block, tack cloth, paintbrush, foam brush, gray paint, white paint, water, torn t-shirt, wood glue, plastic clamps, and wall hanging hardware are all the supplies you will need to make these. desperatelyseek
9. Build a Crate Side Table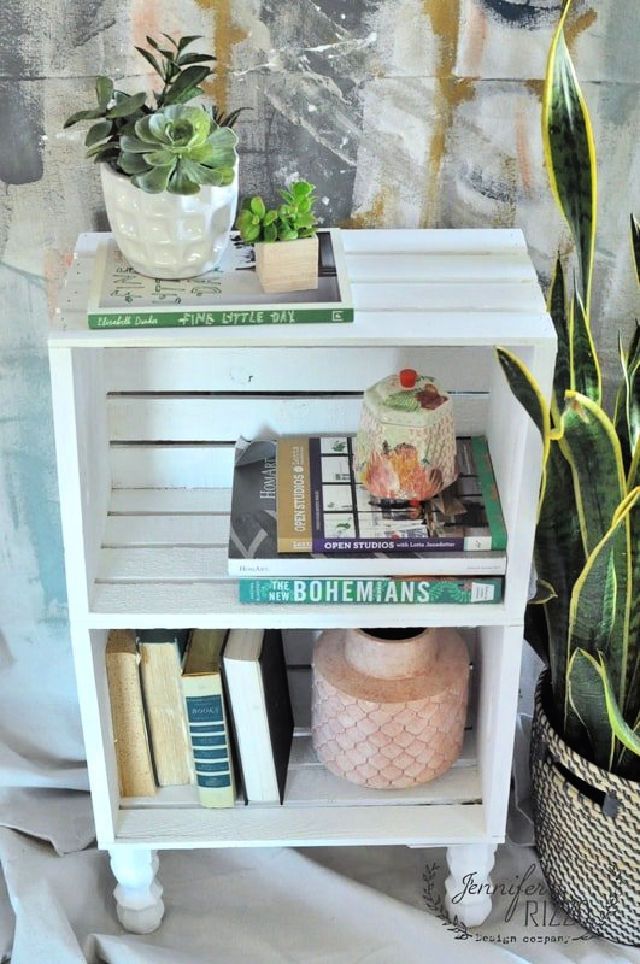 Who doesn't like easy storage? Everyone wants big cupboards and drawers to hide everything away and have clean surroundings. If you're looking for the perfect storage option, then this is the guide to follow! You will end up making a great storage unit that is not only functional but also aesthetically pleasing. Isn't this just the best thing ever? Are you ready to give this a try? jenniferrizzo
10. Wooden Crate Picnic Basket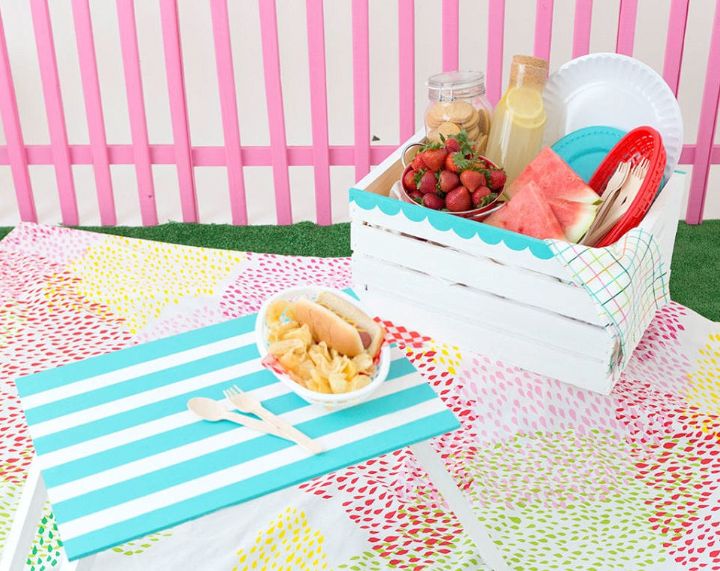 Spring season is just around the corner, which means that it's the perfect season to go outside and enjoy the sunny weather and beautiful flowers all around. You can do this with all of your friends by organizing a picnic! Moreover, these picnic baskets are really easy to make – just buy a few wooden crates and follow this guide! It's going to be so much fun to paint these crates! damasklove
11. Build a Crate TV Stand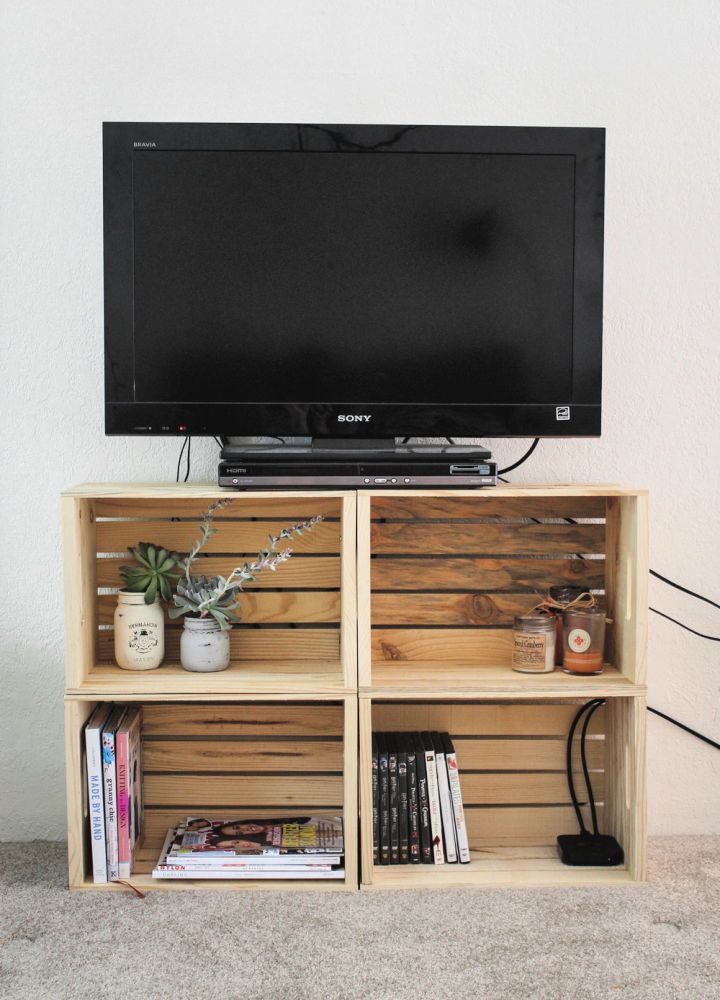 Television stands can be boring at the market as they're almost all the same. If you want to add a different vibe to your house, then you can make a television stand using crates by following this amazing guide! Moreover, you will be able to add your customizations – such as the color, shape, size, and style of your crate. This guide uses four simple crates to make a stand. cashmereand
12. Mobile Outdoor Coffee Table from Wooden Crates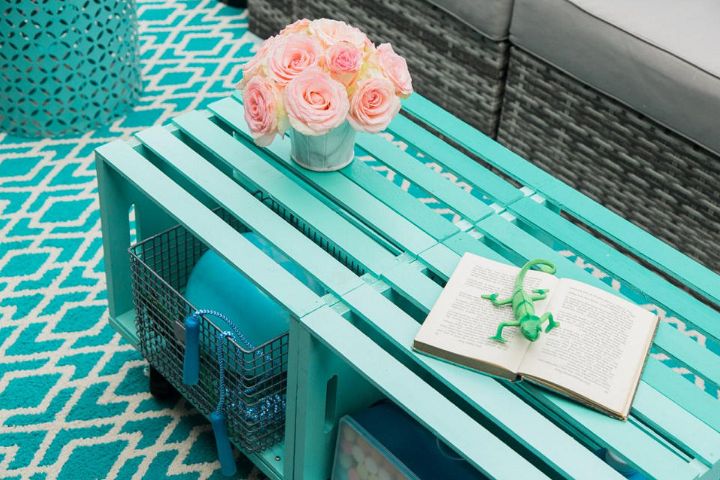 How beautiful is this coffee table! This coffee table is made in a turquoise color which will add a pop of color to your patio or backyard as this is supposed to be used as an outdoor coffee table. Moreover, you can play around with the colors and decoration of this coffee table, if you decide to place this outdoors. It can be a great idea to set up your patio with this for the spring season! hgtv
13. Old Wine Crate to Nightstand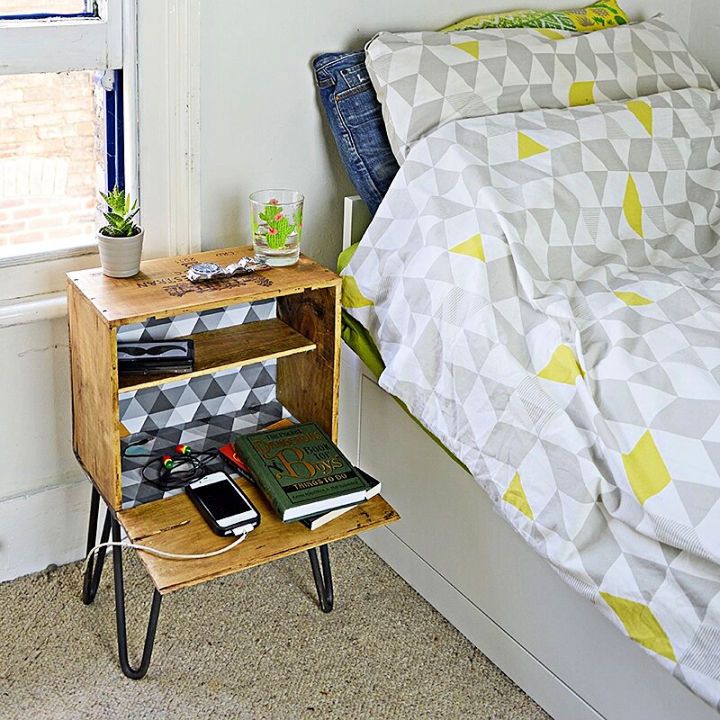 Nightstands can be expensive in the market and you won't believe just how easy they are to make! All you need is a simple crate and a few basic supplies to make this amazing stand. This is great for dorm rooms, hostels, or any area with not a lot of space as it's tiny but functional! Are you ready to gather all the supplies that are mentioned in the guide and give this a try? pillarboxblue
14. Make Your Own Crate Plant Stand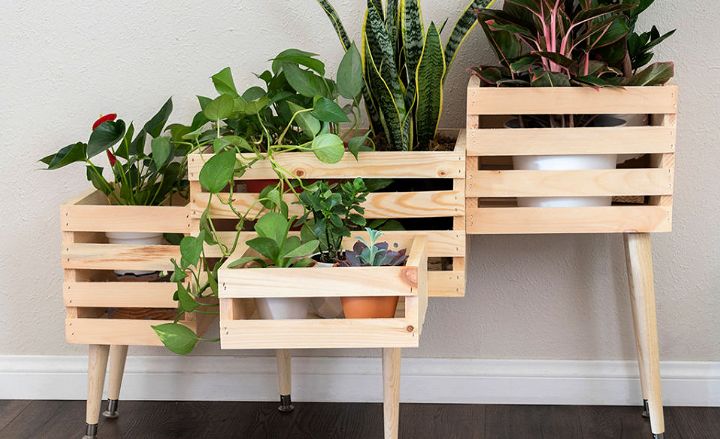 Spring season can't be properly celebrated without growing a few plants! You can grow these plants in any corner of your house – whether outdoors or indoors by using a beautiful crate plant stand like this one! Moreover, it can be used in many different ways and you can follow this guide to follow the step-by-step instructions. These planters can be used to grow any type of plant or flower. homedepot
15. DIY Wood Crate Storage Ottoman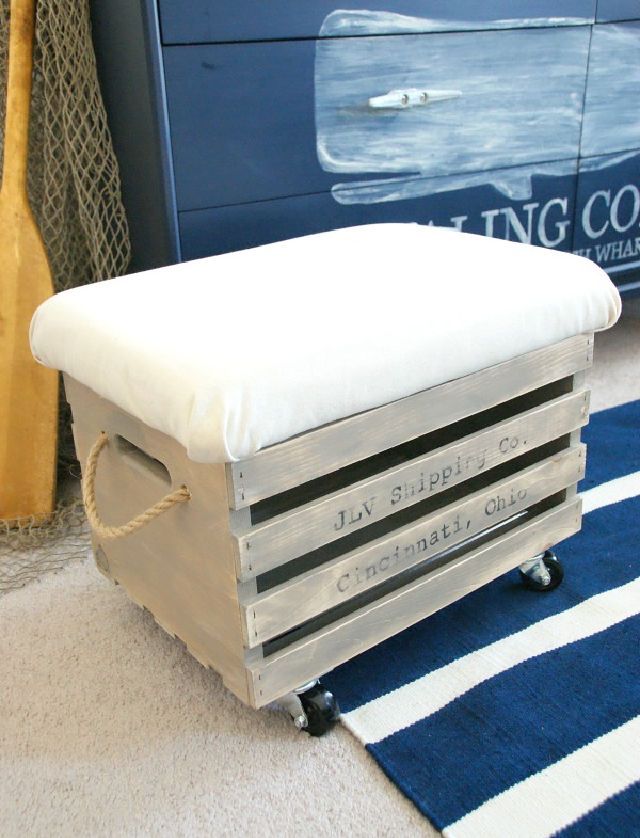 Do you have a large wood crate lying around your house or did you just find one for cheap on the Facebook marketplace? Whatever the case may be, you can not miss being the opportunity to turn it into a beautiful ottoman storage unit! This can be used to store many things as it will have a lot of storage space inside of it! You will need wood glue for this project – it can be found at your hardware store. canarystreetcrafts
16. Wooden Milk Crate Coffee Table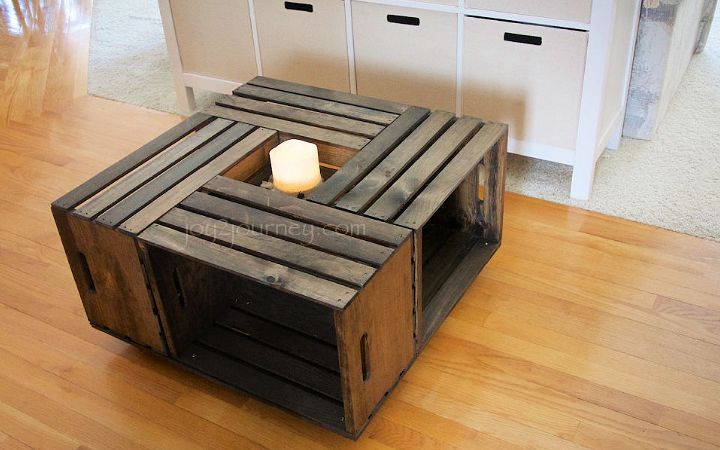 It can be nice to receive milk crates from family or friends; however, it can be hard to get rid of them once you're done drinking all the milk! What can you do with these crates? Well, join them all together and make a beautiful coffee table out of it! Isn't this amazing? You will be able to make this beauty in no time as it's so simple and easy to re-create. joy2journey
17. Build Your Own Wooden Crate Bench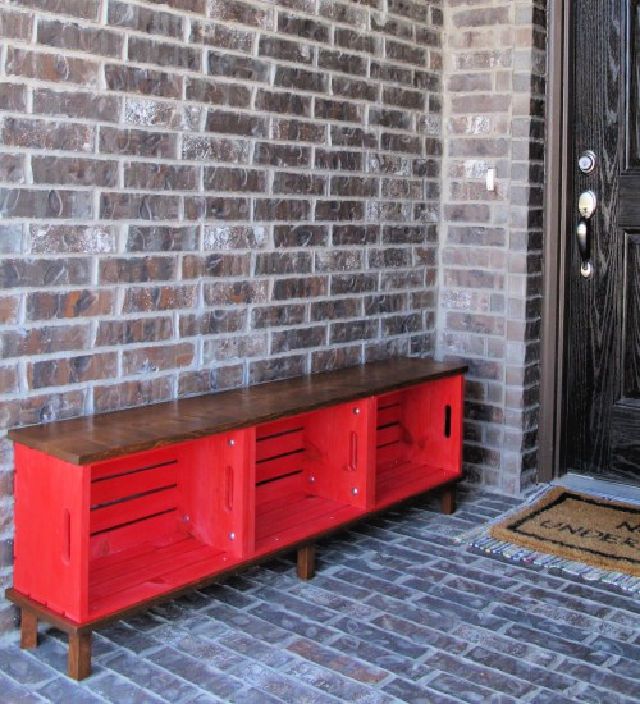 Do you want to add a pop of color to your patio or backyard for the spring season while still keeping it sophisticated and elegant? Well, then you're at the right place as this amazing idea is going to be perfect for you! This wooden crate has a brown exterior and red interior – which is slightly visible. The red will help you spice up your patio for the spring season! Isn't this perfect? operationhome
18. Easy Bathroom Shelving Using Crate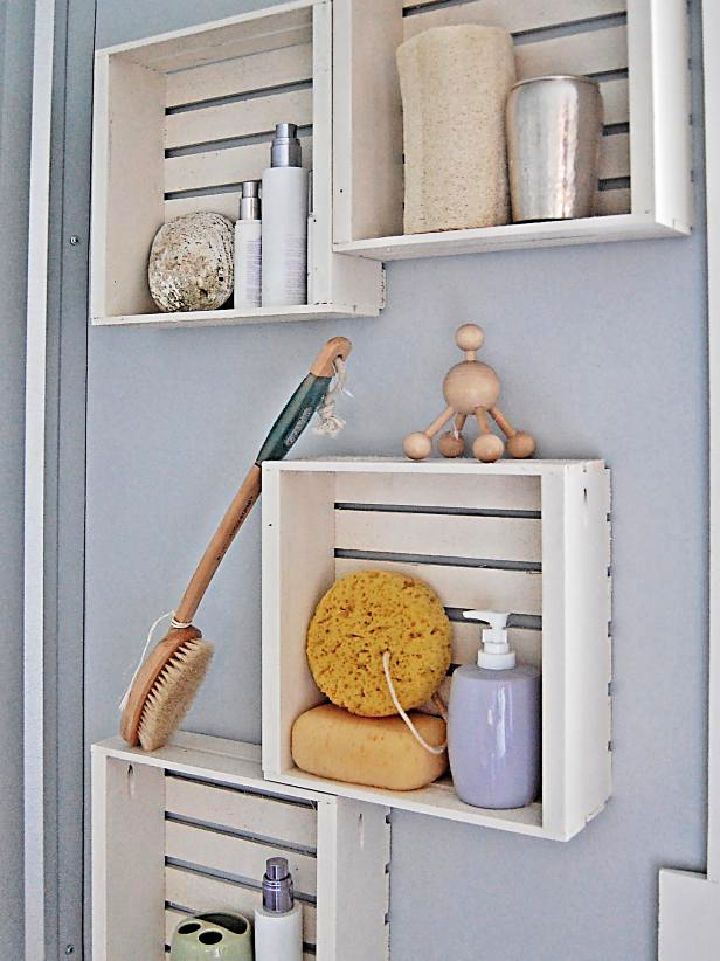 Bathrooms look bad and unclean if they're not organized properly. If you want your bathroom to look nice and clean, then it's important to have the right tools to organize your bathroom! Here's how you can make this adorable bathroom shelving! These shelves can be hung up on the wall and all of your bathroom supplies – soap, shampoo, etc. can be placed on them. hgtv
19. Yarn Storage Shelves Using Wooden Crates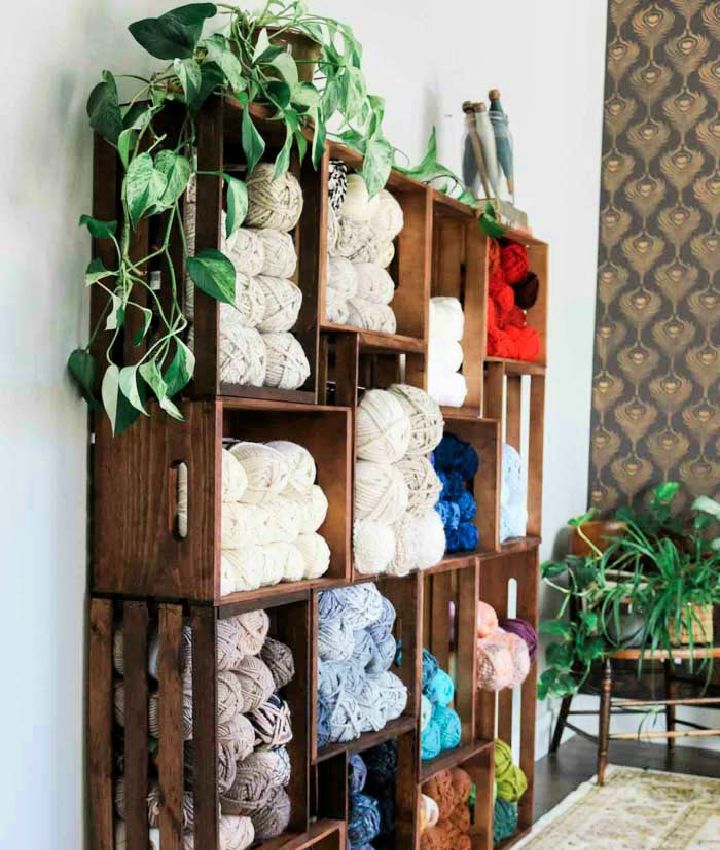 Yarn shelves need to be organized properly if you want it to look good and be easy to use. It can be hard to organize yarn without having a storage space with a lot of compartments. This amazing yarn storage shelve has space for all of your different types of yarns with unique colors and textures. All you need to do is to join a few wooden crates together to make this! makeanddocrew
20. Wooden Crate Storage and Display for Hot Wheels Cars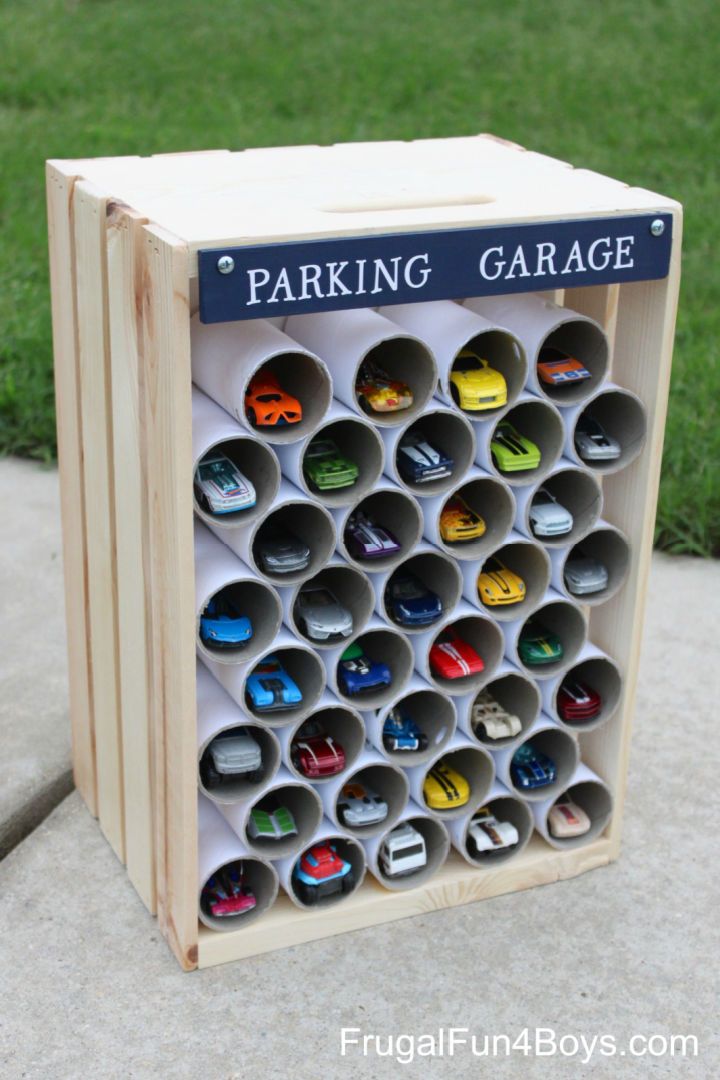 If your little one is a collector of hot wheel cars, then this would be the perfect gift for him or her! It can be really fun to collect all of the hot wheels cars as they come in different models and colors. You can create this hot wheels car storage for them – this will not only make your child happy but also help you organize your house as they will not keep the cars in a pile of clutter. frugalfun4boys
21. DIY Crate Bookshelf with Rope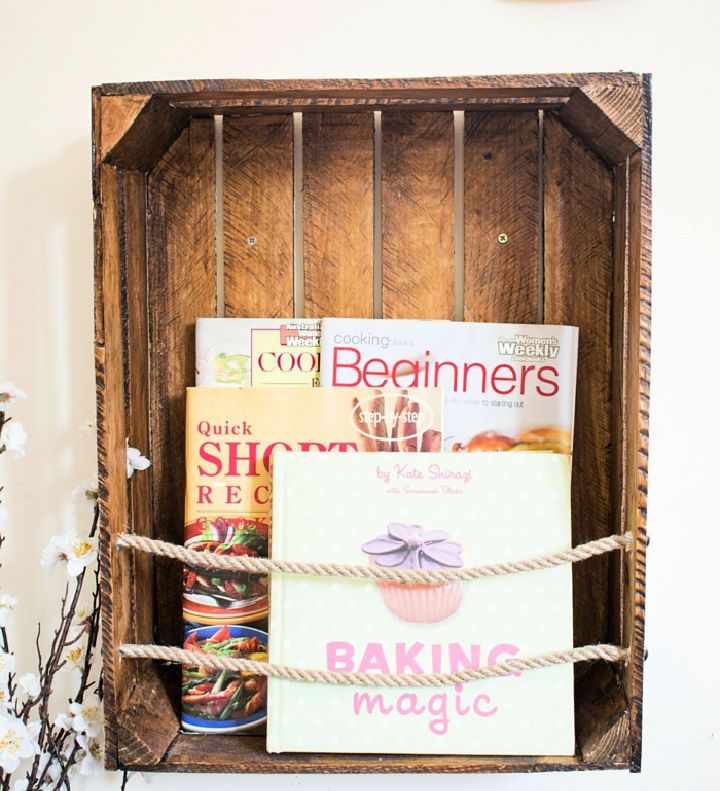 Have you ever seen such a unique idea for making a wood shelf? Books can be really fun to collect but it can be a struggle to keep them all clean and organized. If you want to keep your books clutter-free and nice, then you just need to make these beautiful crate shelves with ropes attached – the idea is very dark academia and beautiful! So, are you ready to give this a try? grillo designs
22. Crate Book Storage for Nursery Room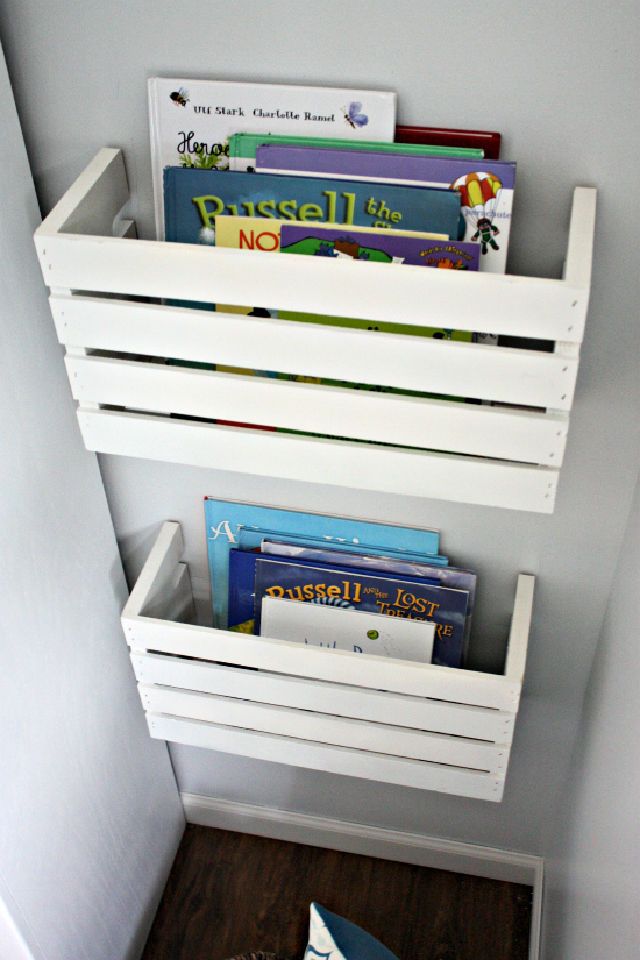 Do you have children and you want them to keep all of their toys when they're done playing? Well, then you need to train them to do so. It can be really hard to take all the toys and put them in the cupboard; however, you can make this process efficient for them by making them a crate for storage! The next time they're done playing, instruct them to put their toys into the box. iheartorganizing
23. Outdoor Crate Coffee Table with Wheels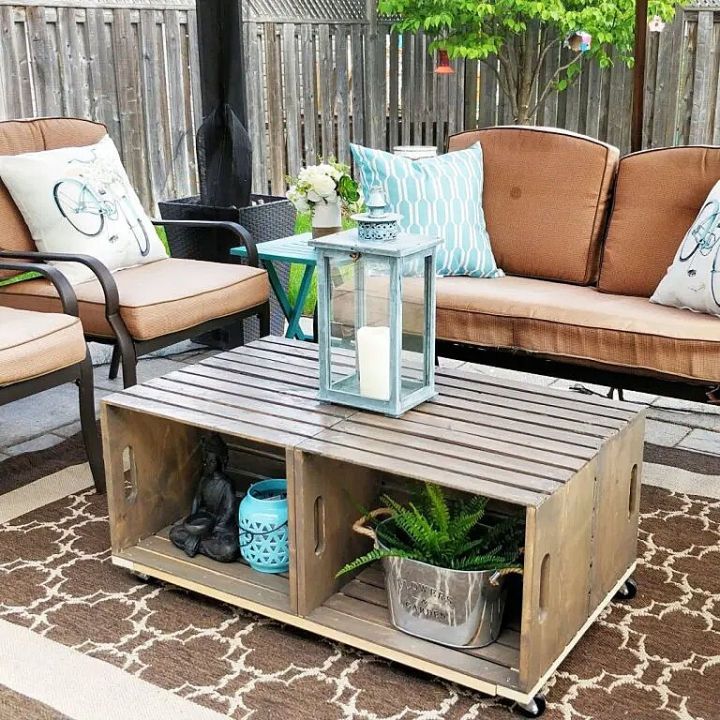 Farmhouses tend to have a very rustic vibe to them as they are usually old. Do you want to add that vibe to your house? If that's the case, then this project is perfect for you. Moreover, if you want to add an outdoor coffee table to your farmhouse, then this project will work for you, as well! You will need four rectangular wooden crates, stain, and a few other supplies to make this table. feelingnifty
24. DIY Crate Shelf Statement Wall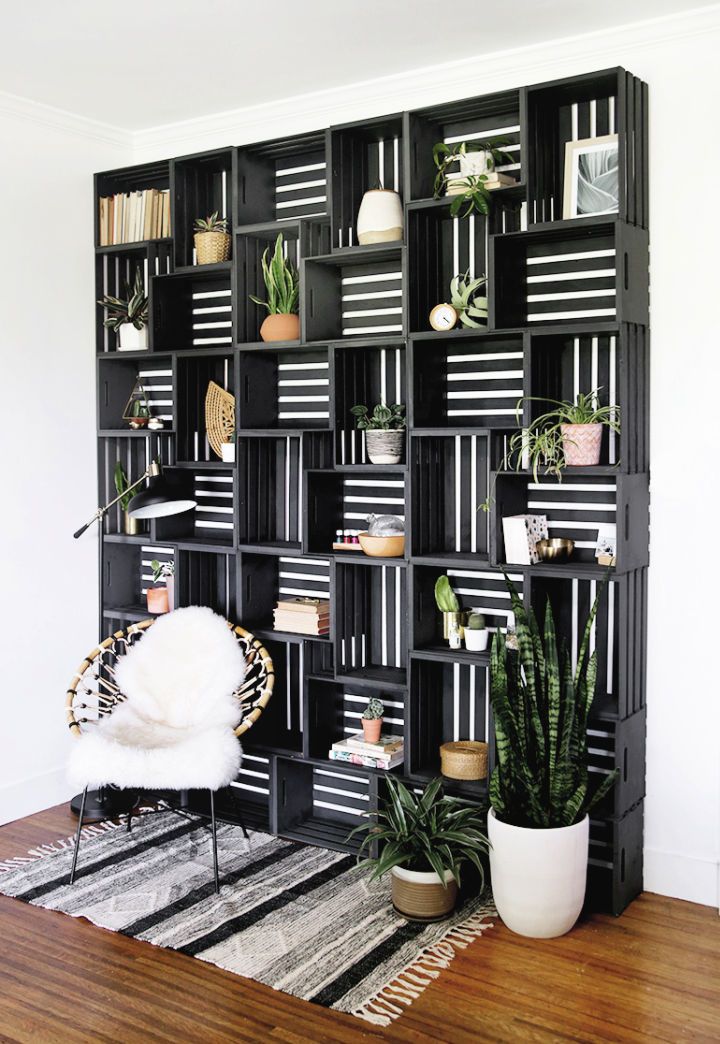 Don't you just love how luxurious and expensive this crate shelf statement wall looks? If you want your house to stand out, then this is the project to follow! It has such a beautiful shape to it and the black color accentuates the texture of the crates. Matte paint, spray paint, protective topcoat, wooden crates, tape measure, drill, countersink bit, screws, and a few other supplies will be required. themerrythought
25. Easy DIY Wood Crate Desk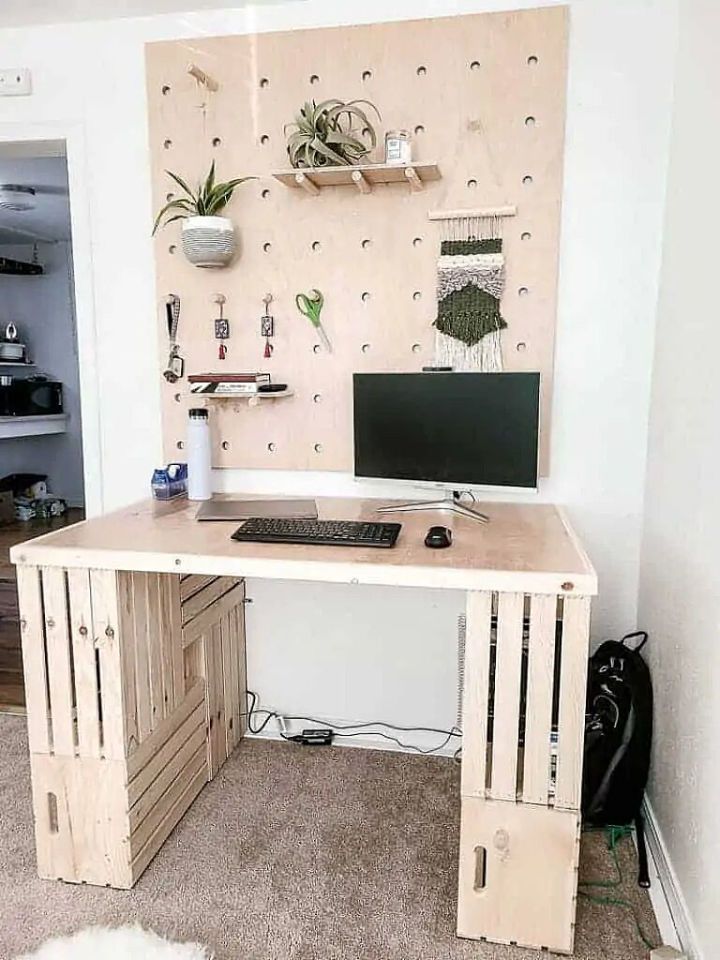 Home-schooling is getting more common as time passes by. People can get online degrees and study in a peaceful environment; however, it can be hard to create a productive environment without a desk! If you want to be efficient and motivated to work, then you need to make a space for yourself that is only for working. Start by making this amazing desk! makingmanzanita
26. Crate Shelving in a Kitchen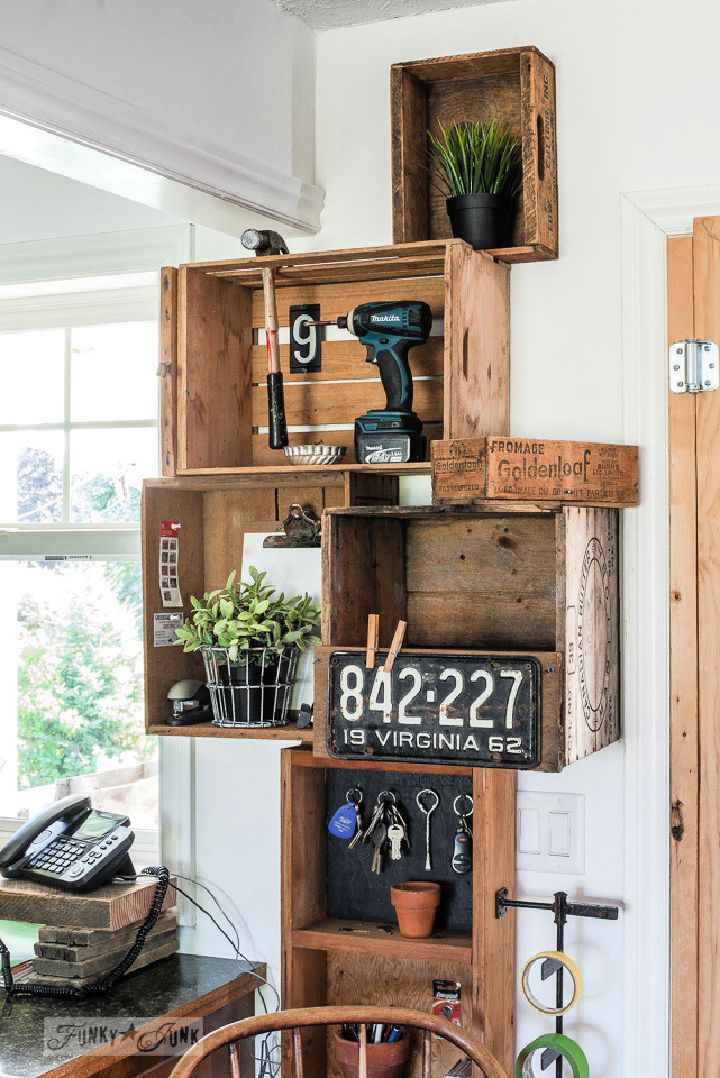 Kitchens can be boring as they tend to have a lot of cupboards and everything is kept inside of them. However, if you want your kitchen to look special, then you need to spice it up by being creative and adding your special vibe to it. Here's how you can make a beautiful shelf using a few crates. This shelf can be filled up with all of your decor pieces – it will look amazing! funkyjunkinteriors
27. Two tier Wood Produce Stand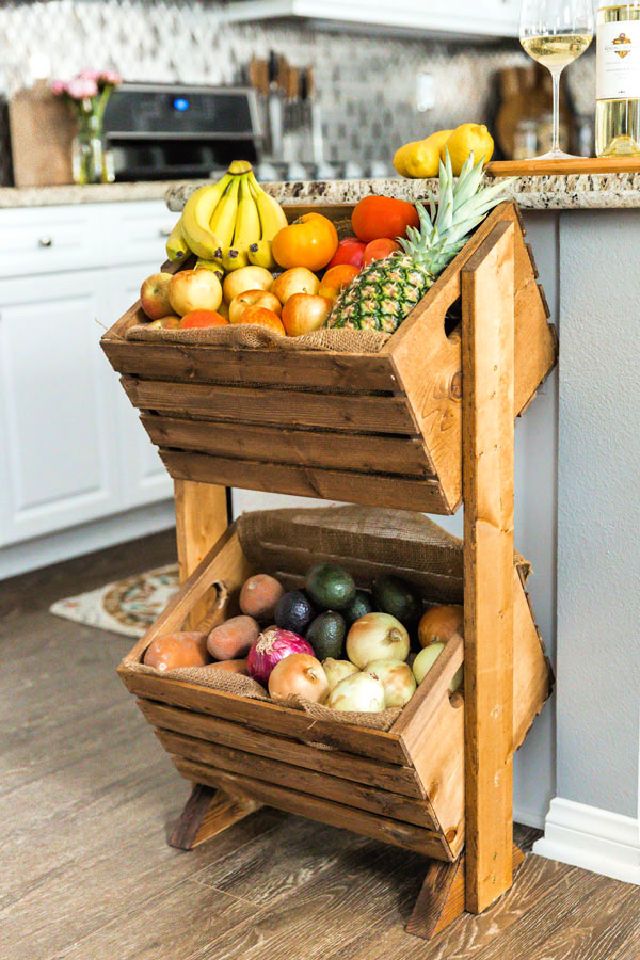 If you love to go to the farmers' market every weekend and buy fresh vegetables and fruits, then you should put them on display in your kitchen as they look beautiful! However, fruit baskets can take up a lot of space on the counters – it's recommended to make this beautiful two-tier wood produce stand. Wood crates, wood board, wood stain, and a few other supplies will be required. kj
28. Soda Crate Jewelry Organizer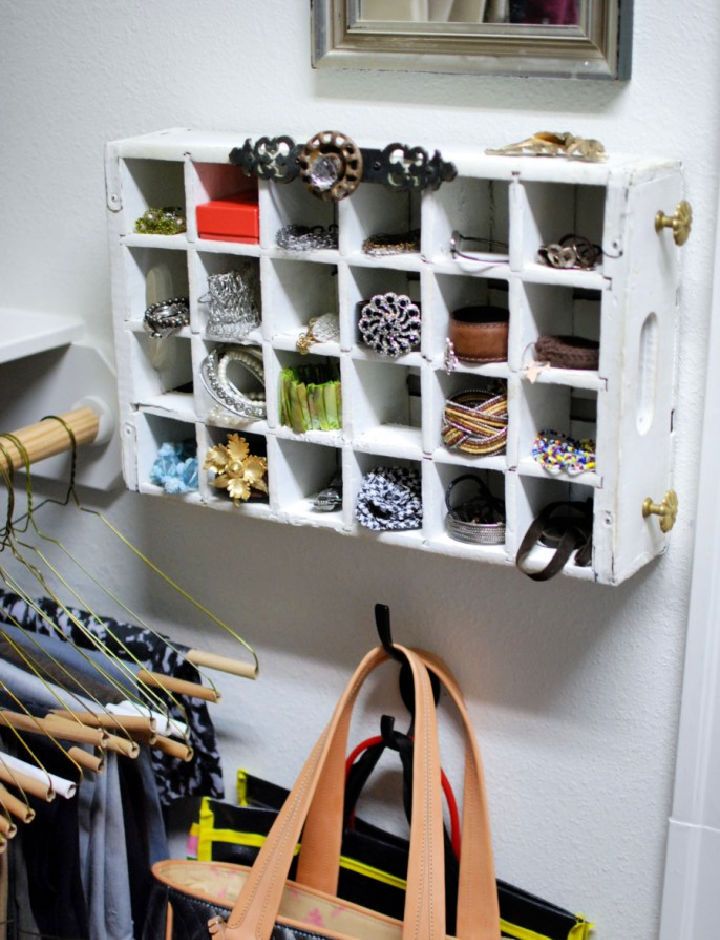 If the right type of jewelry organizer is used, then you can put your jewelry on display in a beautiful way! Jewelry is shiny and sparkly – the perfect thing to put on display! However, you need to do so in the right way – using a jewelry box like this one would be a great idea. You can start by finding a box with many compartments and some paint. After that, you can start working on this beauty. salvagedliving
29. Antiquing a Wood Crate for Cushion Storage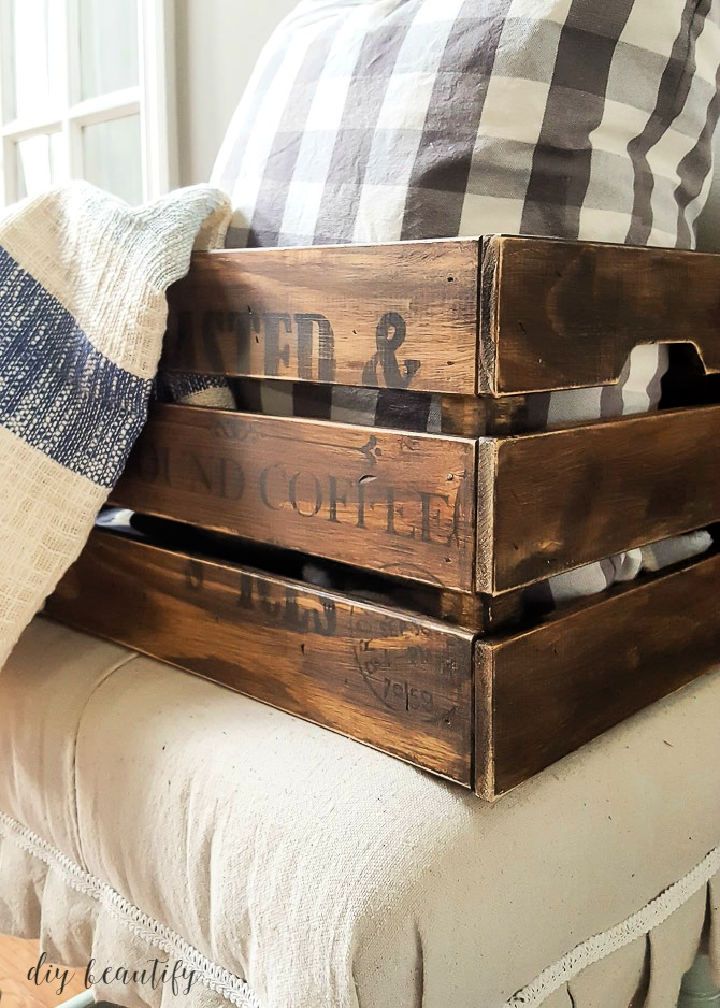 Antique pieces can make any house look more expensive and they can make your house give off a luxurious vibe. However, antique pieces can be very expensive – if you want to stay on a budget, follow this guide! This amazing guide features all the steps that will be required to turn a brand new wooden crate into an antique beauty. So, are you ready to give this project a try? diybeautify
30. Rustic Whitewashed Wooden Crate Window Box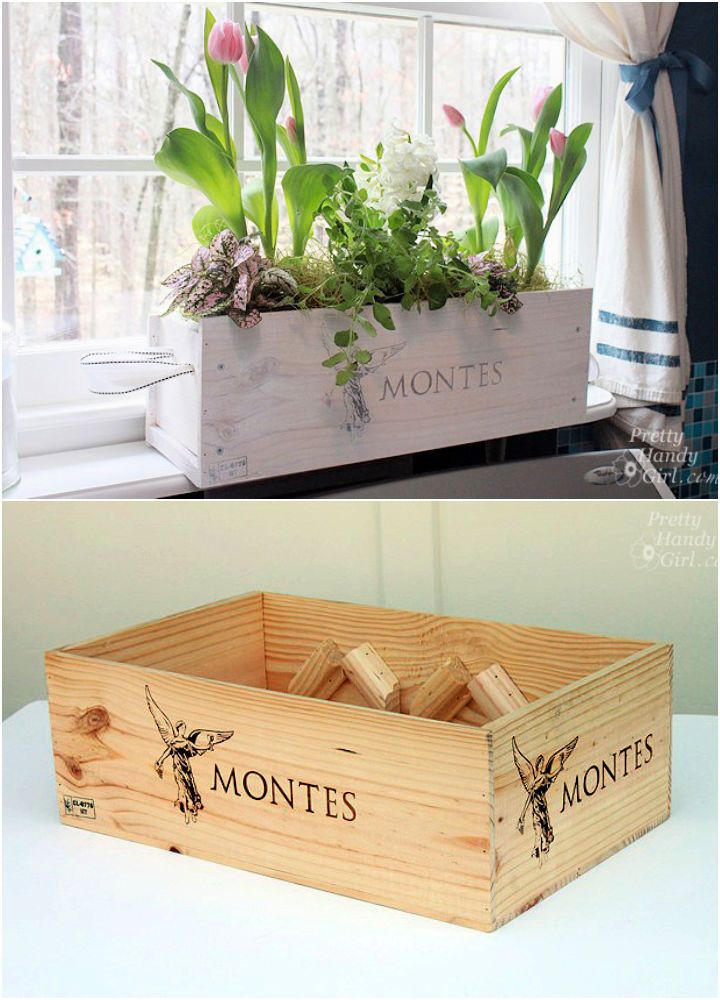 Don't you just love the idea of this beautiful window box? It will make your house look beautiful from the outside of the window and inside too! You can keep this white-washed window box in your window and put flowers inside it. Wine crate, pine board, drill bits, pry bar, hammer, impact driver, wood glue, pencil, and a few other supplies will be required for this project. prettyhandygirl
31. Upholstered Wood Crate Storage Seat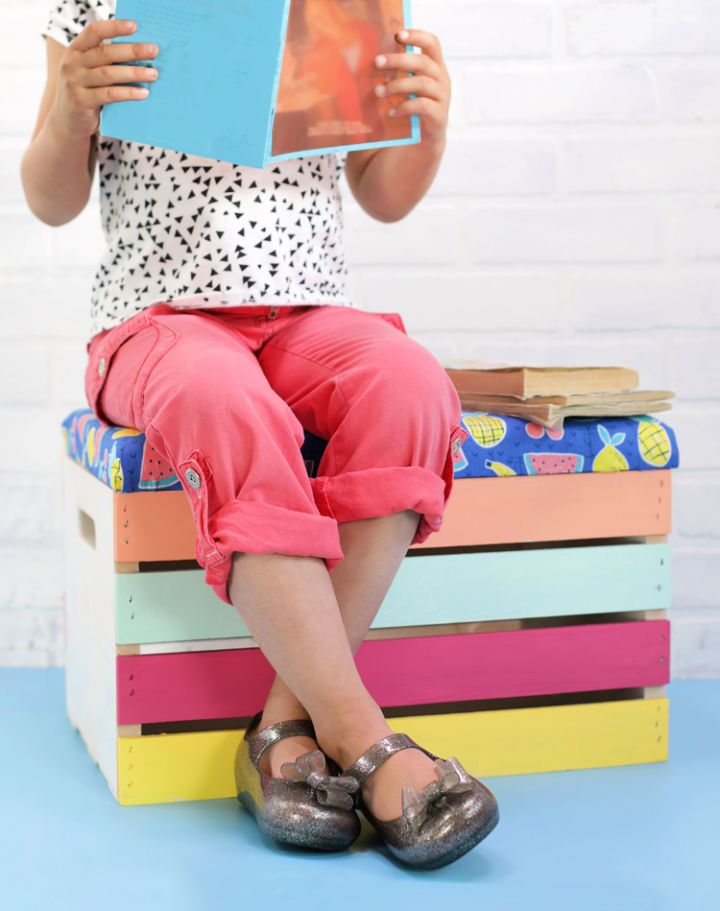 Check out this cool wooden crate turned into a storage seat! It will have quite an ample space inside for you to store anything from toys and books. Gather supplies including a wooden crate, plywood, wood strips and nails, batting, fabric, glue gun, staple gun, sandpaper and paint supplies to get started. With this guide, you will be able to work on and fit an upholstered into a pre-made wooden crate! thecraftpatch
32. Painted Wood Crate Magazine Storage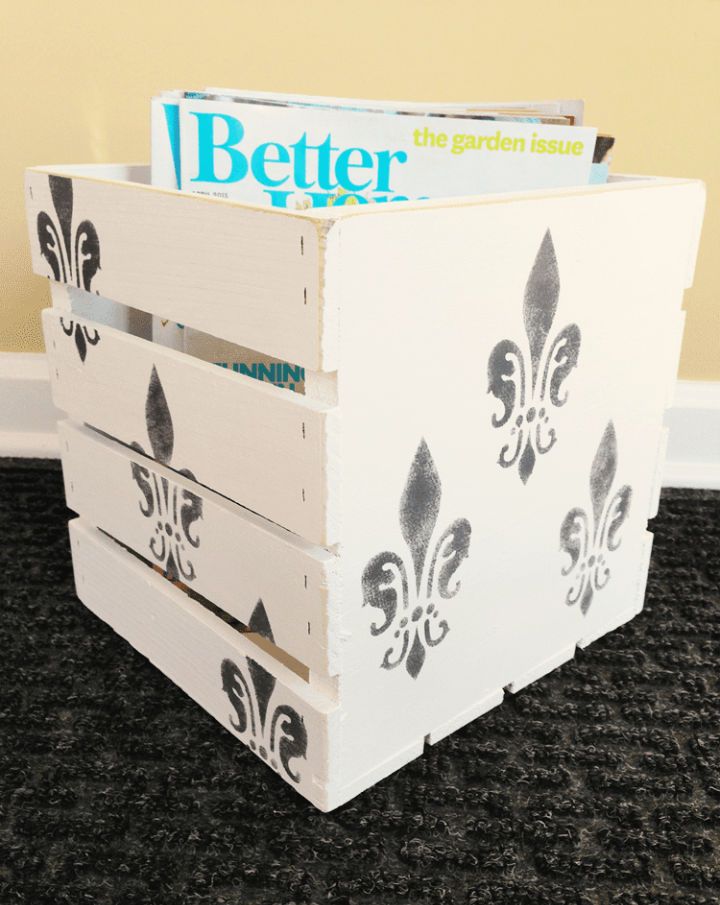 Get ready to give your magazine holder space a new and exciting look! Instead of just putting your magazines like a messy pile around, it's time to get creative with aesthetics in check. This particular magazine organizer is 9.5" into 9" into 9.5". Start the process by finishing off with a chalky white coat. Then get crazy with some black utensil art. petscribbles
33. Wooden Crate Toy Box for Dogs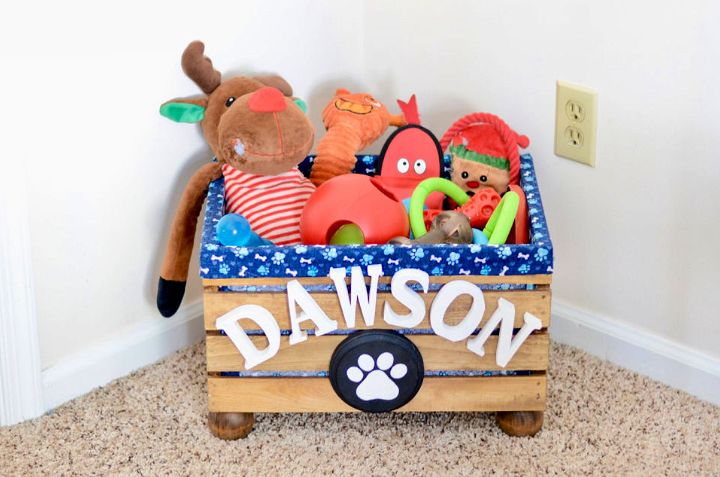 Are you a dog mom? We all know how messy it gets to manage all those dog toys always lying around. This wooden crate project has the perfect storage space for your doggo, your pup can easily access his toys too. Get your hands on an unfinished pine crate, chunky wooden letters, 1.5 yards of fabric, paint and wooden crafting supplies to get started. Hit the link for more details! breannaspain
34. Unfinished Wood Crate Patriotic Planter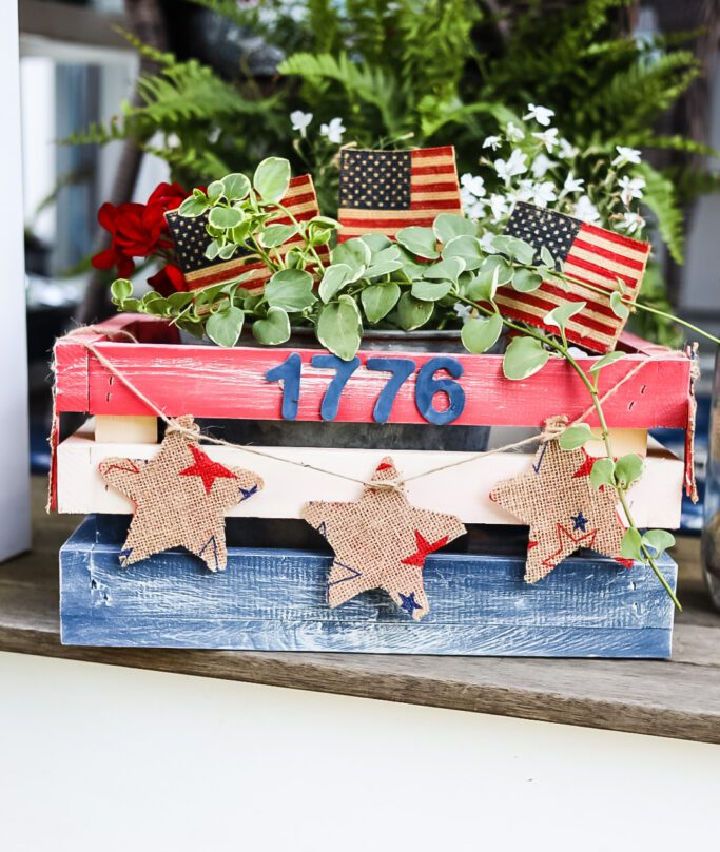 Here's an idea for this 4th of July, time to get patriotic with a creative hint! Get your hands on an unfinished wooden crate, garb the three colors of paint i.e., red, white and blue. Give your crate the most textured look by dry painting it, which by the way is an exciting technique shared in this guide. Add the wooden stars using twine and thread, finish it by adding the wooden numbers on top. cottageonbunk
35. Joann Wooden Crate Ottoman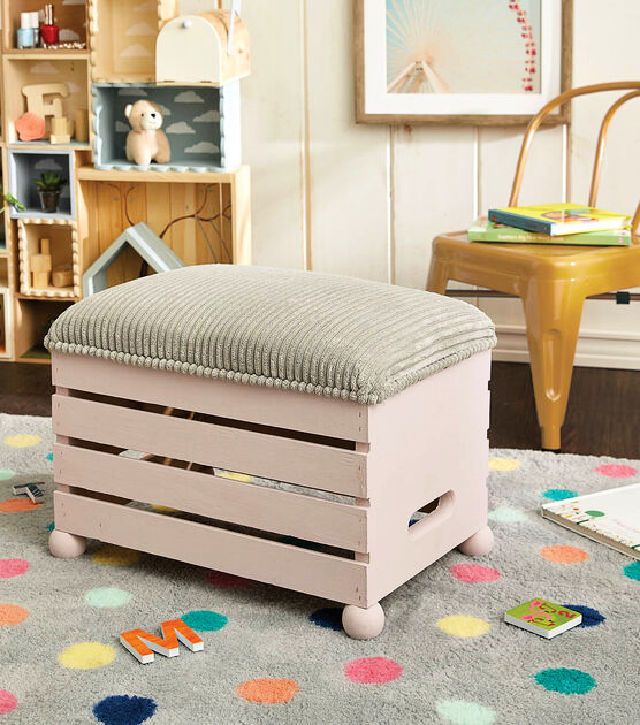 Ottomans are the new decor must-have these days! Reason being how they can be a perfect seat, flawless hidden storage or a comfy footrest; all these things at one time! This classy wooden storage ottoman will hardly take 3 to 5 hours to get ready. You will need supplies like foam or fiber padding, fabric, wooden crate, ball knobs of wood for the feet, basic sewing and paint supplies to get it done. joann
36. Farmhouse Wooden Crate Bed for Puppy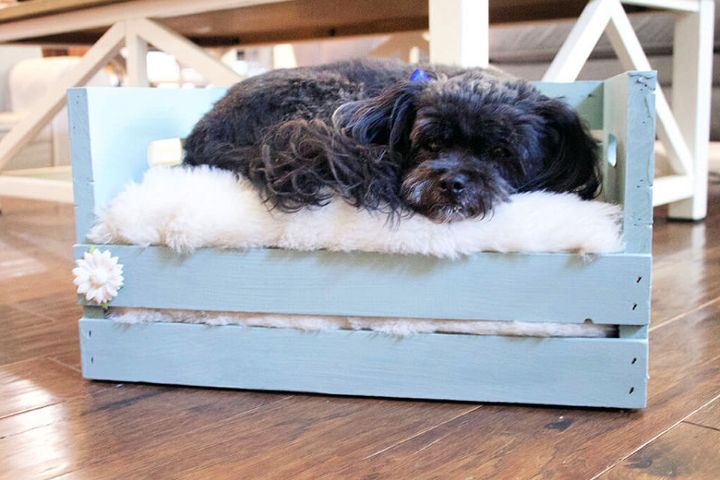 Bringing home a furry fellow? A pawrrfect addition to the family needs some new arrangements as well. Here's an exciting wooden crate project to make a comfy bed for your pupper. Gather supplies including a wooden crate, paintbrush and paint of any color you like, a soft and comfy blanket or pillow. You will need to remove the top front 2 rows from one side of the crate so your little fellow can easily jump inside. agutsygirl
37. Wooden Crate Planter and Storage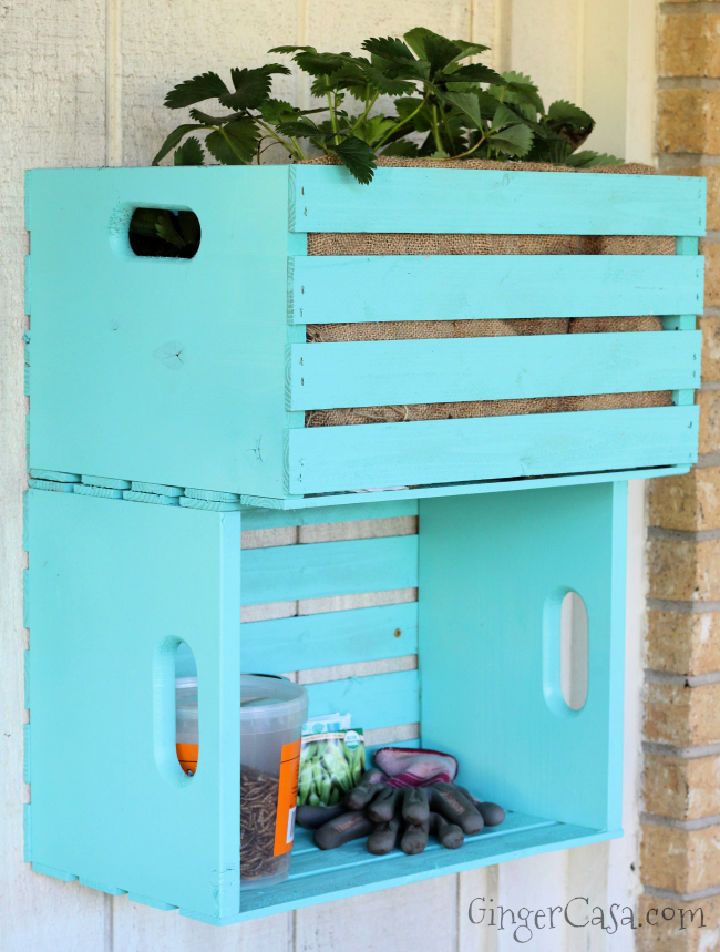 We are absolutely in awe of this refreshing wooden storage idea that comes with a wooden storage planter as well! If you love gardening then say goodbye to your gardening supplies storage problems! Time to have it all in one place. You will need 2 crates and harvest potting mix for putting the planters on top and putting the supplies at the bottom. Hit the link and get started. gingercasa
38. Small Wooden Crate Pumpkins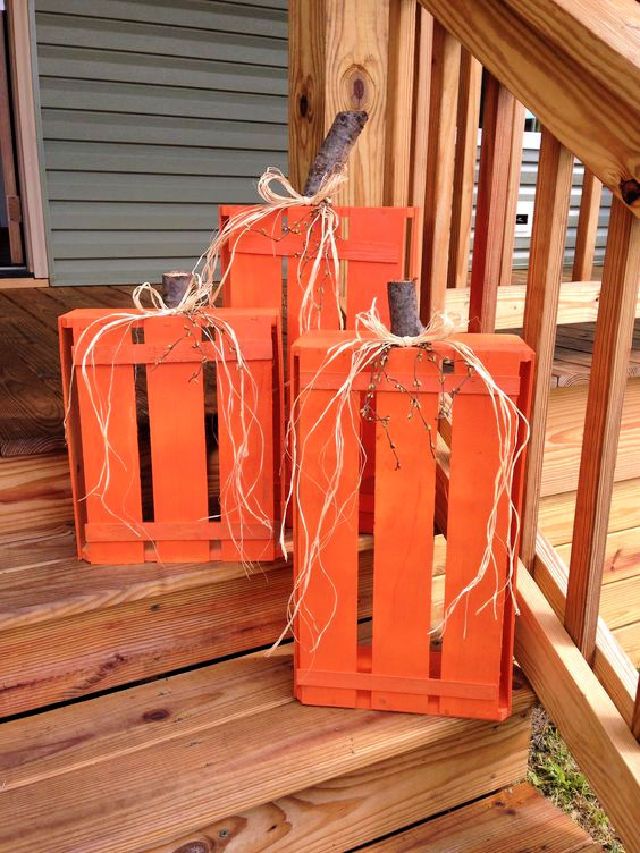 If this isn't a delight for sore eyes! Here's another aesthetically appealing and less spookier version of Halloween decor. Get your hands on 3 wooden crates of different sizes, orange acrylic paint, a hot glue gun a corn husk ribbon and a branch stem to give the pumpkin appeal. Let the crates dry after the paint and then set them glued with the branch stem at your front doors, tadah! craftymorning
39. Rustic Mini Crate Table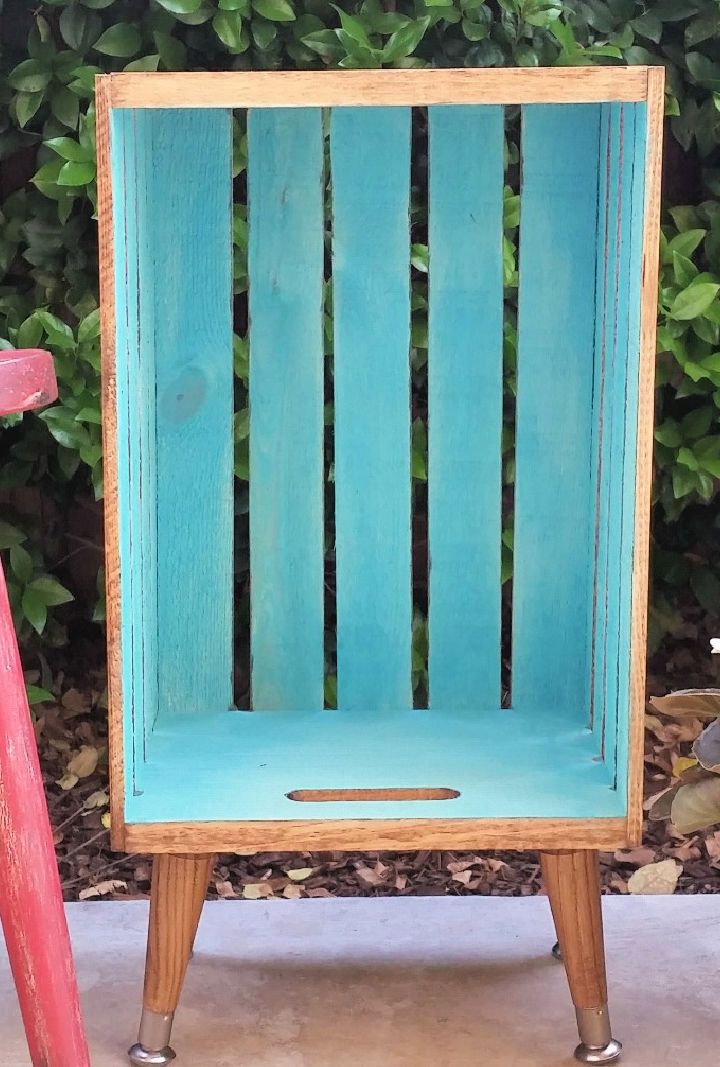 Too many tables is not a real thing, tables truly come under the notion of the more the merrier! Spruce up a rustic mini table using a wooden crate, paint supplies, Danish oil, 4 wooden legs and angled leg plates. The tutorial uses aqua acrylic paint by Folk Art. Get step-by-step instructions from the link below. mypinterventures
40. Repurposed Wooden Crate Rolling Table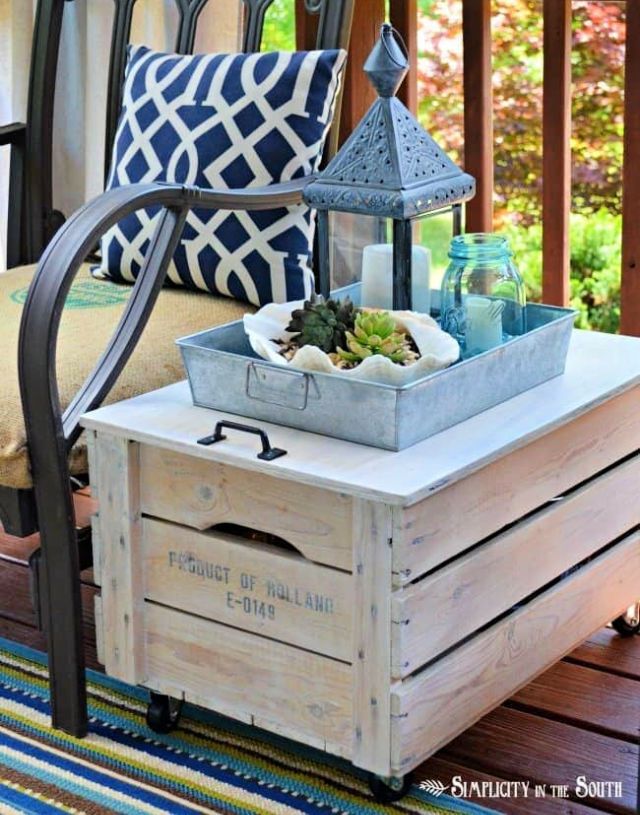 Got some old crates lying around? Well, it's time to put them to some good use with this repurposed wooden crate table that rolls! To make your wooden crate cum table roll around, you need 4 caster wheels, hinges, ½ inches of plywood to overlap the table, sandpaper, paint brush, a handle. If you want to put it outside, it is advised to use outdoor polyurethane to keep it safe from weather conditions! simplicityinthesouth
Related DIY Projects:
DIY Plant Stand Plans – Are you looking for a new way to display your plants? These are the free planter stand plans for you, with a step by step guide and all the measurements to create a beautiful wood plant stand.
DIY Bathroom Shelf Ideas – Do you need some bathroom organization ideas? A bathroom shelf will be a great addition to your space. It is not always easy to find a good bathroom shelf. However, with these DIY bathroom shelf ideas and hacks, you will be able to rejuvenate your bath space and organize everything in just minutes.
IKEA Pegboard Ideas and Hacks – IKEA Pegboard is a versatile, inexpensive, and stylish storage solution for small spaces. Here are some of our favorite IKEA Pegboard Hacks to make your pegboard stand out.
DIY Wall Organizing Systems – These DIY Wall Organizer Ideas make it a breeze to have the perfect home office by organizing your wall space.
DIY Jewelry Organizer – These DIY jewelry organizer ideas are the best way to keep your jewelry organized and beautifully displayed. For the home crafter with a creative streak.
Conclusion: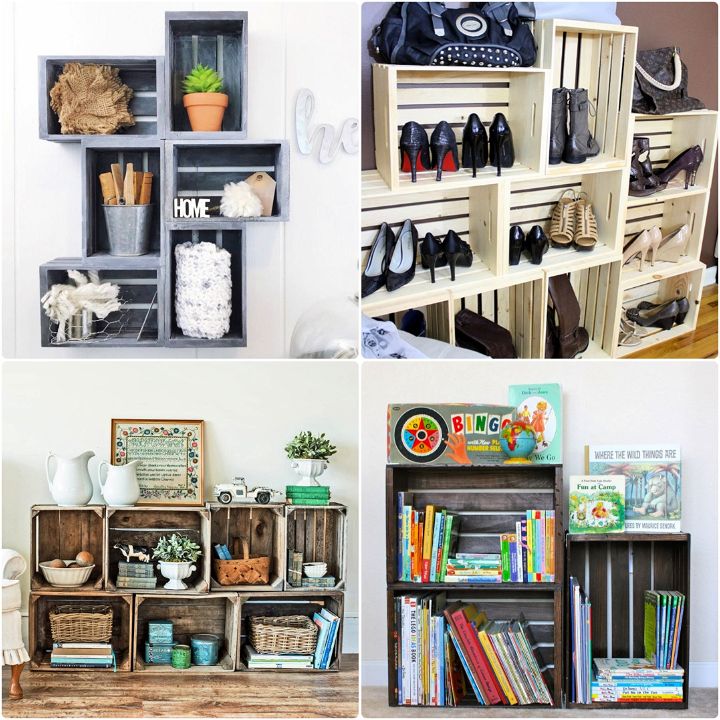 So, are you ready to experiment with these amazing wooden crate decorating ideas? It can be exciting to look at all of these options and get ideas on how you will add your customizations! It's recommended to note everything down – so you won't forget any ideas you have right now. Furthermore, taking it one step at a time is recommended when re-creating these ideas. Make sure to measure your walls and crates to make something that looks and fits on the walls or any areas you'd like. Best of luck!