If you're trying to save up some money while decorating your house, then these 30 cheap DIY planters are made from recycled materials! These homemade DIY diy planter ideas can help you decorate any corner of your house – whether it's indoors or outdoors. Moreover, you can also choose different diy plant pots for your indoor and outdoor needs from this article as it has a lot of variety. DIY planters can also make nice presents – especially the elegant and minimalistic options in this guide. If you're tired of the way that your house looks – just add a few planters, and it will start looking and smelling fresher! Isn't that the ideal situation?
You should make these DIY planters in the comfort of your own house for many different reasons. Firstly, making DIY planters can help you save money and make a profit. If you're thinking of selling planters, then you can make a huge profit as they're cheap to make and can be sold for more. Secondly, you will have more control over how these planters turn out looking – you can change up the color, size, shape, and height of these DIY planters!
Lastly, it can be a fun activity and satisfying to see the result. You can also make these with your friends and family to have a good time. These diy planter ideas have a huge variety – cedar ones, tissue roll ones, used cans, plastic bottle ones, etc.
1. Terrazzo DIY Planter with Oven Bake Clay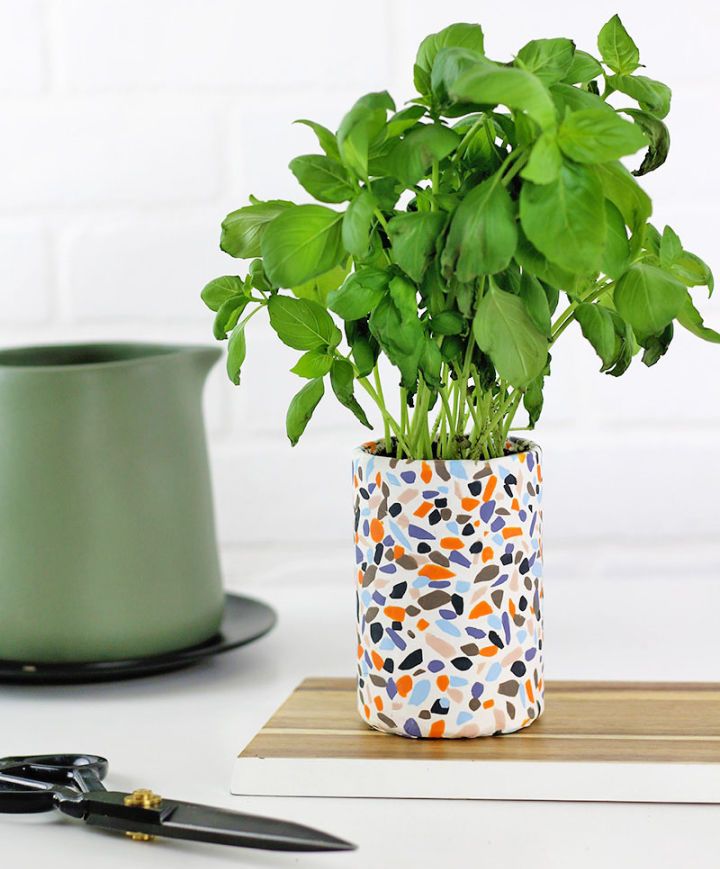 Here is a beautiful terrazzo-style planter that can make your house look more modern and spiced up! No matter where you decide to place it – this beautiful planter will brighten up the place. Empty cans, hammers, nails, oven-bake clay, rolling pin, craft knife, slicer, ruler, measuring tape, and Sculpey glaze are all the supplies that you will need. Sculpey glaze is optional, but it looks great! persialou
Painted Terracotta Pots: Put your personal touch on your container display. Learn how to paint your own clay pots in this tutorial from The Beauty Dojo.
2. Cute DIY Concrete Planters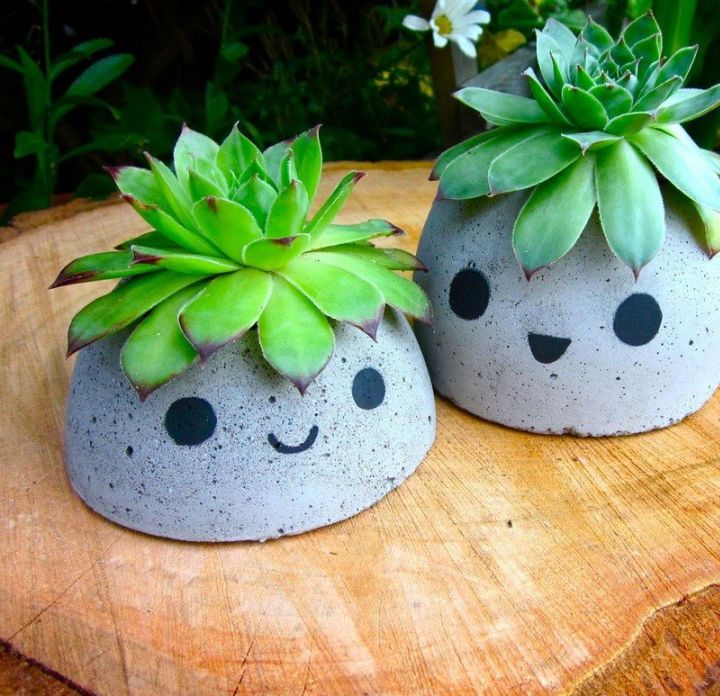 Nothing can make your house look more adorable than adding happy and friendly planters like these. As they radiate positive energy and can make your house look more welcoming. The molds are made of recyclable materials, which are great for the environment, whereas the concrete mix is also cheap, so you won't have to spend a lot of money. A plastic pop bottle, marker, and a few other supplies will be required. instructables
DIY Terrarium Ideas: Make cheap homemade terrariums for your home and garden with these cool DIY Terrarium Ideas available with tutorials!
3. How to Make Faux Cement Planter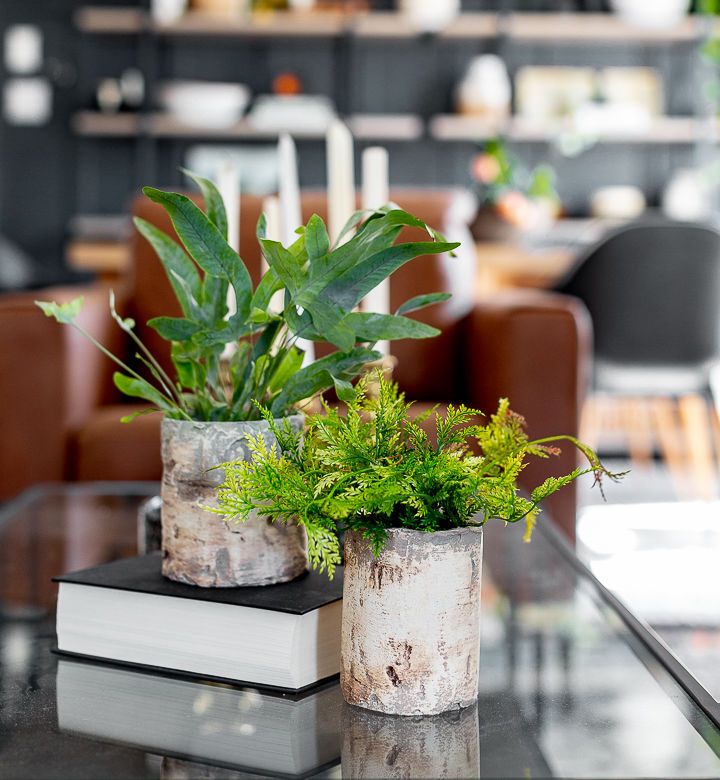 Cement is a great material to make planters as it can be very durable and strong. You can easily use it to make beautiful planters that give off an antique and rustic vibe. All you need to do is to use an old can for this project – mix some cement and then place it on top of the can. Wait for the cement to dry up, and you will be done in no time! craftberrybush
4. DIY Protein Powder Tub Planter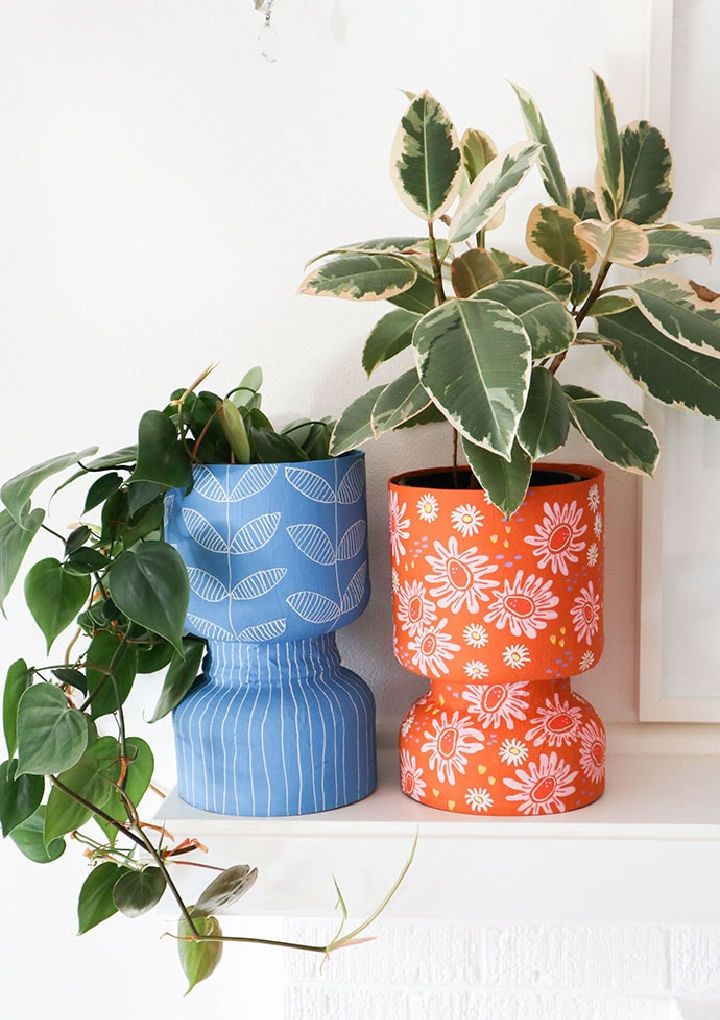 Have you ever thought of using protein powder containers in one of your craft projects? If not, then you're at the right place as this project will make you think otherwise! Protein powder tubs can be very huge and make perfect planters to hold your beautiful plants. You can decorate this planter in many different ways – using wrapping paper, color block paint, stencil art, or using printed paper. mypoppet
5. DIY White Cement River Planter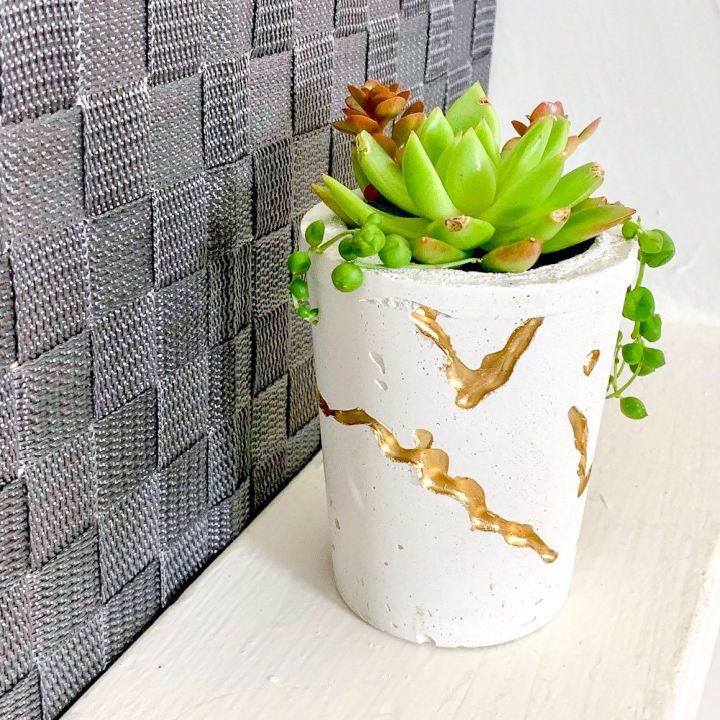 White cement can look stunning, especially when it comes to making planters! Mostly becausewWhite cement looks cleaner in comparison to the other types of cement. Moreover, you can also mix in any color to make your planter look beautiful and decorative. Plastic drinking straw, golf learn metallic pen, a tiny paintbrush, scissors, hot glue gun, gloves, and a few other supplies will be required. uglyducklinghouse
6. DIY Modern House Number Planters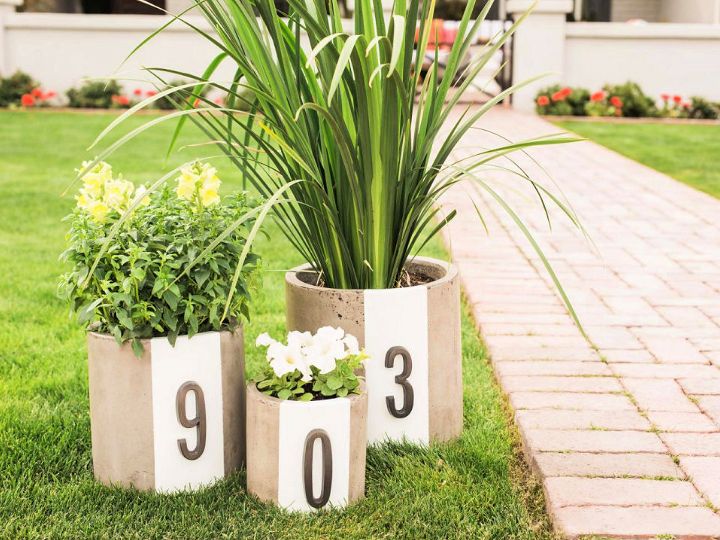 It can be really hard to keep track of all of your diy plant pots, especially if you're a huge fan of keeping plants. How can you fix this problem and prevent your plants from dying simply because you forgot to water them? Well, just use numbered planters! Isn't that a great idea? You can wake up every day and water your plants white, counting the planters and don't stop until you water them all! hgtv
7. DIY Old Tire to a Pretty Planter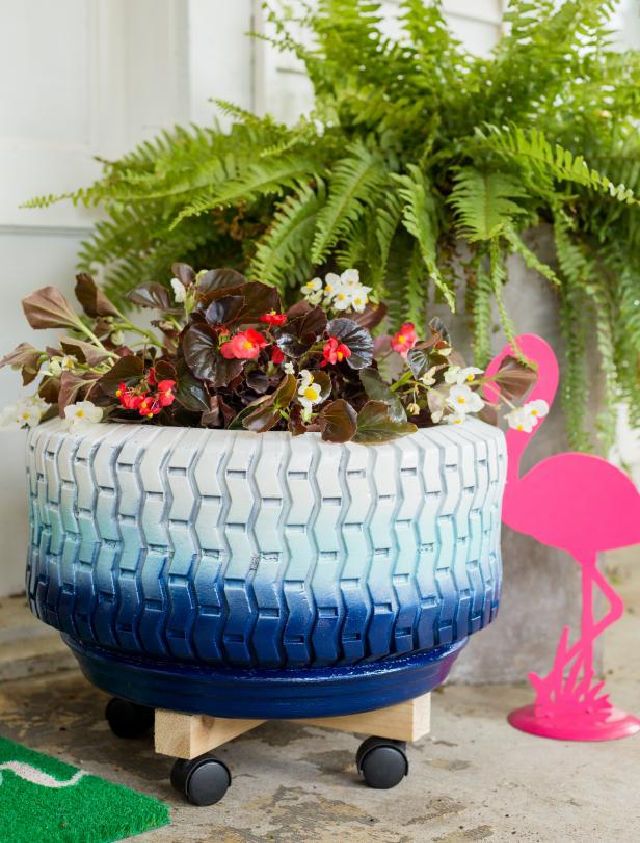 Who would have thought that a tire could be turned into such a beautiful planter? This DIY planter looks so exotic and tropical – it is perfect to put on your patio during the summer season as it will match the vibe. Moreover, the texture on the tires for grip looks stunning when painted over – the paint makes it stand out and look beautiful. It's painted in an ombre effect! hgtv
8. Make Your Own Hanging Pumpkin Planter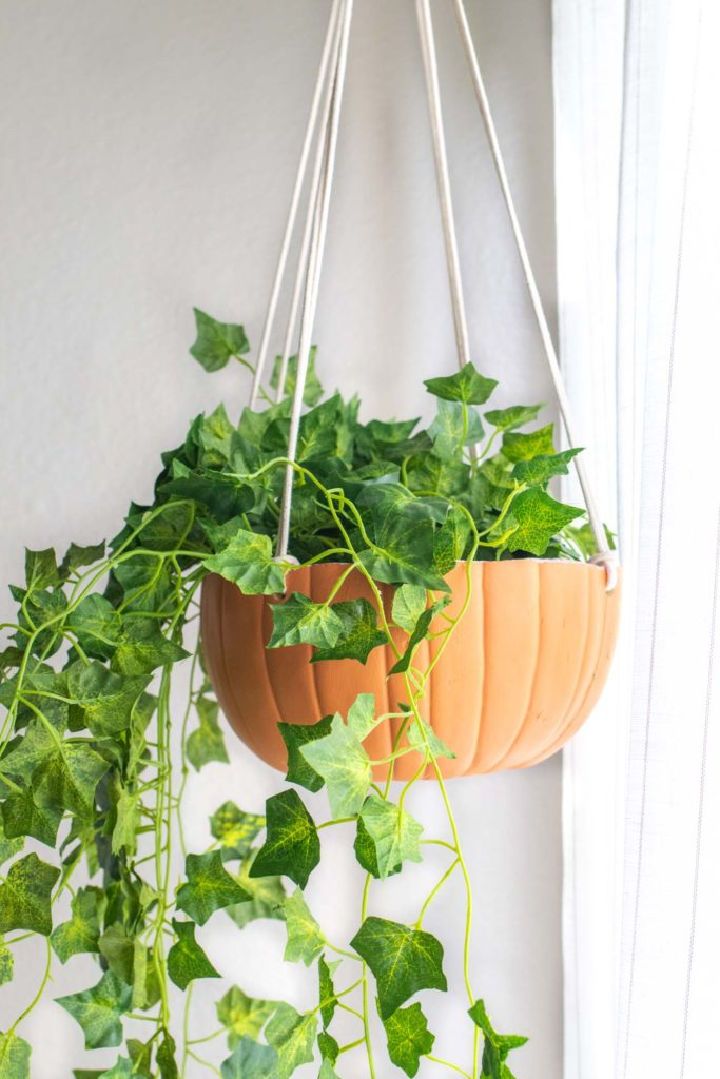 Nothing looks more elegant than hanging planters! These types of planters hold a certain charm and look beautiful. You can hang them up on a wall inside or outdoor your house to spice it up. Make sure to use beautiful plants – whether they're real or fake! It's also really important to follow the instructions step-by-step to make this beautiful mold. You will love the final result. clubcrafted
9. Easy DIY Beer Can Planters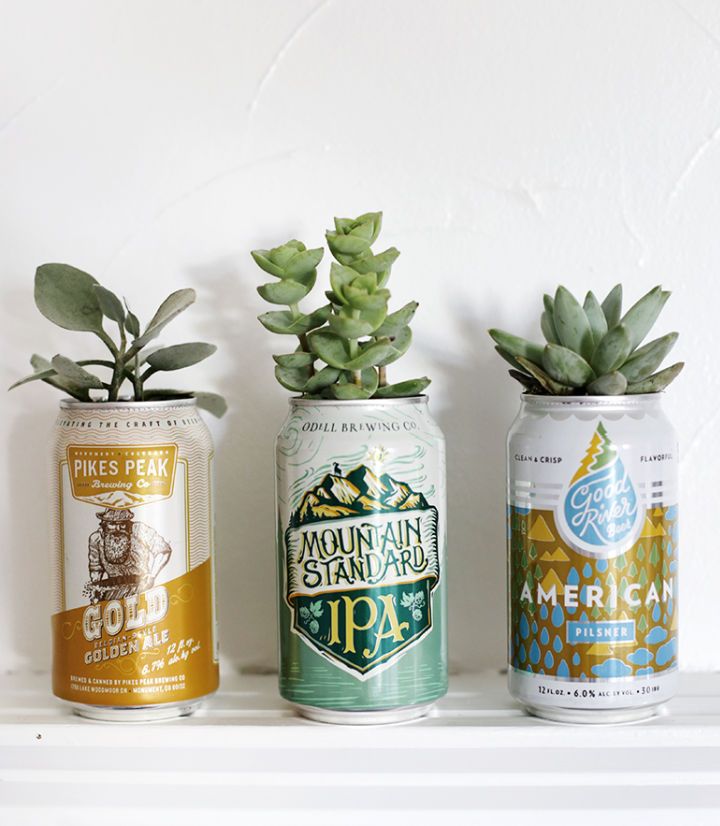 Have you ever loved beer can covers and wanted to keep them? Well, now you can keep them for projects like these! Beer cans usually look that beautiful for marketing strategies, but you can always use them to your advantage by turning them into beautiful planters. This will add a very edgy and preppy vibe to your house – which can always look nice if done right. Best of luck! themerrythought
10. Self Watering Planters with Recycled Bottles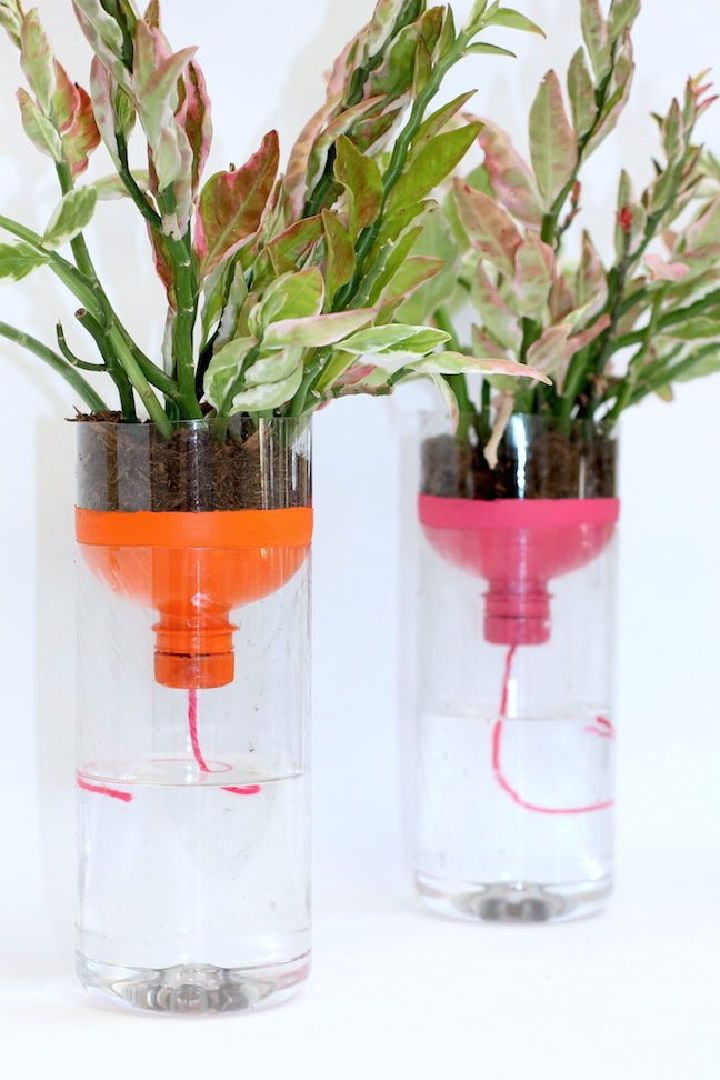 If you're a busy person and don't have time on a day-to-day basis to water your plants, then you might have killed many of them. However, you don't need to feel guilty anymore as this stunning planter will be the perfect option for you! This planter is not only made of recycled plastic bottles, but it is also a self-watering planter! Isn't that amazing? Are you ready to make it? momtastic
11. Succulent Planter Using Plywood Scraps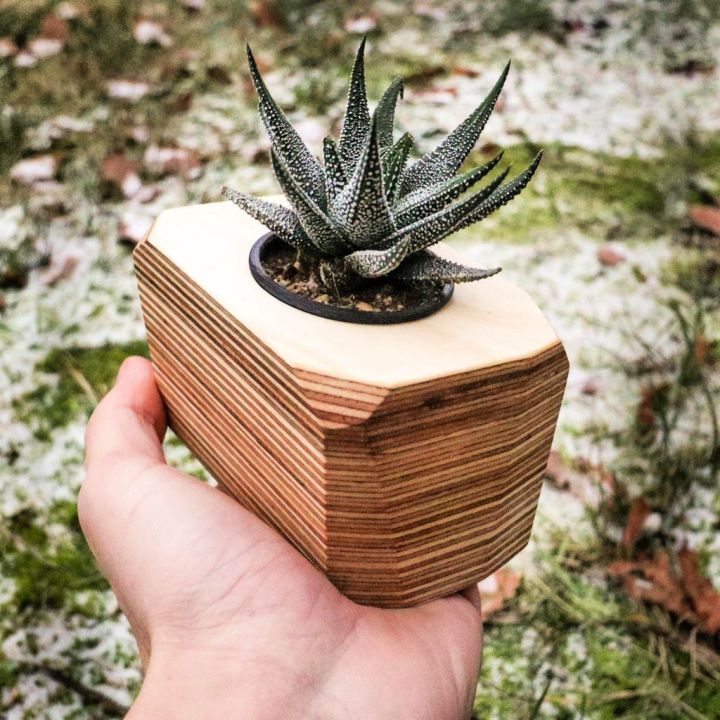 DIY planters are famous these days and most people are making them at home – as it helps you save money. However, succulent planters have been famous for many years – succulents just never go out of style! Plywood scraps, table saw, sander, drill press, wood glue, 3D printer, and a few other supplies will be required for this amazing project. instructables
12. Tin Can Fence Planters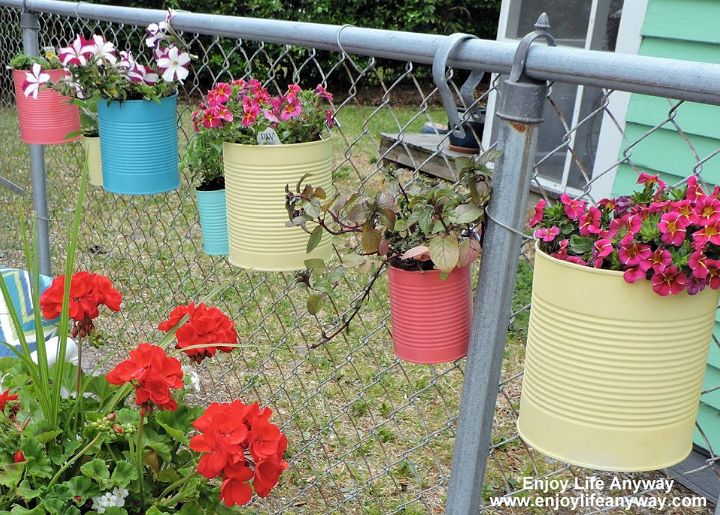 Instead of throwing your cans away the next time you're done eating takeout, store them away to make beautiful DIY planters out of them! Here's a great plan that will take you through the process of making these planters. You can also attach them to your chain link fence! Empty tin cans, sandpaper, metal primer, paint, S-hooks, electric drill, and a few other supplies will be required. thatsaltygirl
13. Embroidered Basket Planter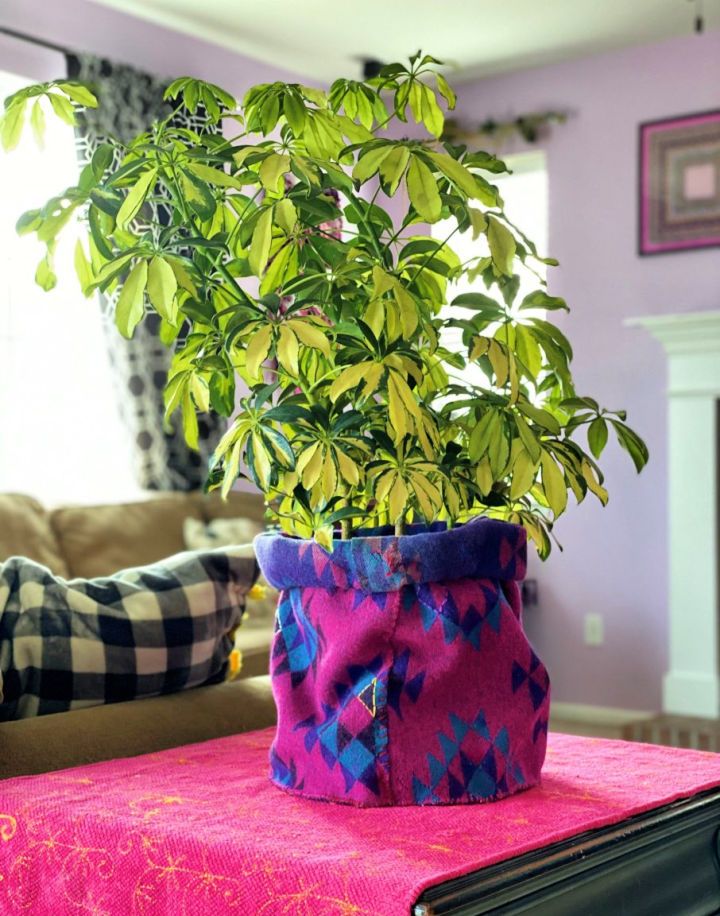 Embroidery and plants go hand in hand – they both look delicate and beautiful. Imagine combining these two things and making the ideal planters! Here's the plan that you need to follow to do so! You will only have a few simple materials that you most probably have at home for this project – wool rug, throw, embroidery floss, needle, and scissors. Are you ready to give this a try? lostmom
14. Strawberry Planter from Recycled Gallon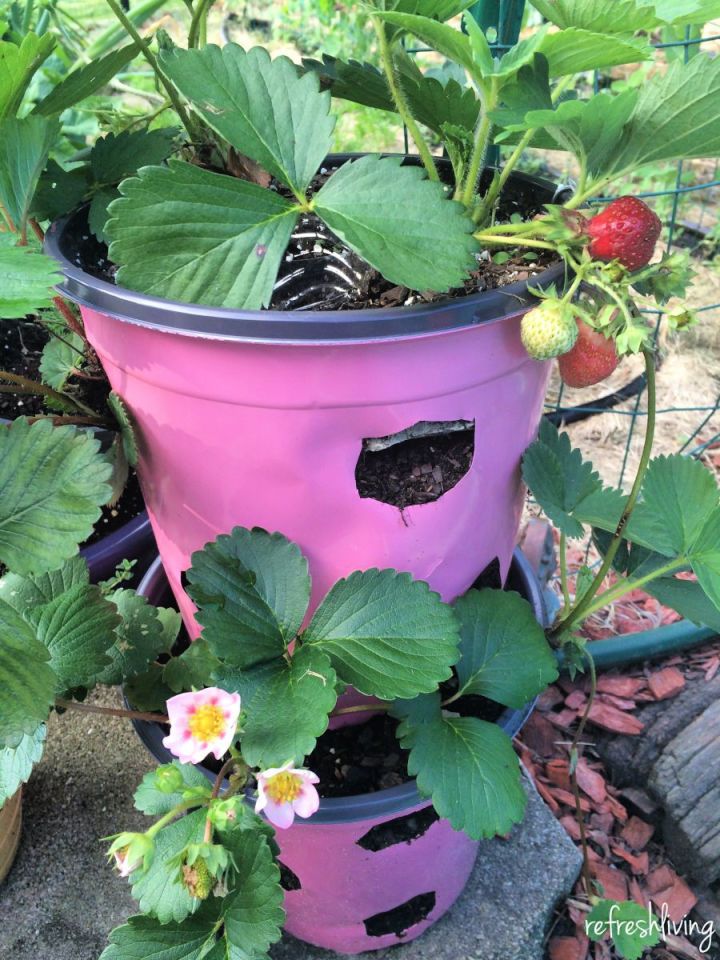 Strawberries can be weird to grow as they grow when their ends touch the soil – this process can look ugly. If you want to make your garden look aesthetically pleasing, then you can simply make light pink planters like this one to hide the growing process of strawberries. You will need to cut holes through the containers or nursery pot. A carpenter can help cut holes if you don't want to do it. refreshliving
15. Cool DIY Deck Rail Planter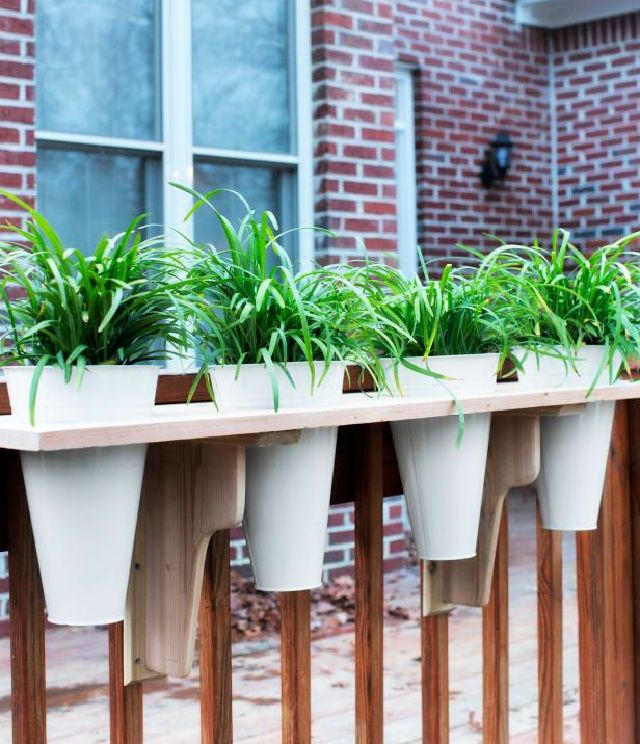 How beautiful is this rail planter idea! Don't you just adore it? It has the perfect mold and planters. You will need to get a bunch of planters in the same shape and color, to make this look aesthetically pleasing. Only a few supplies will be required to make these DIY planters – wide planks, measuring tape, galvanized pots, pencil, marker, drill, drill bit, jigsaw, decking screws, etc. hgtv
16. Easy Denim Flower Pot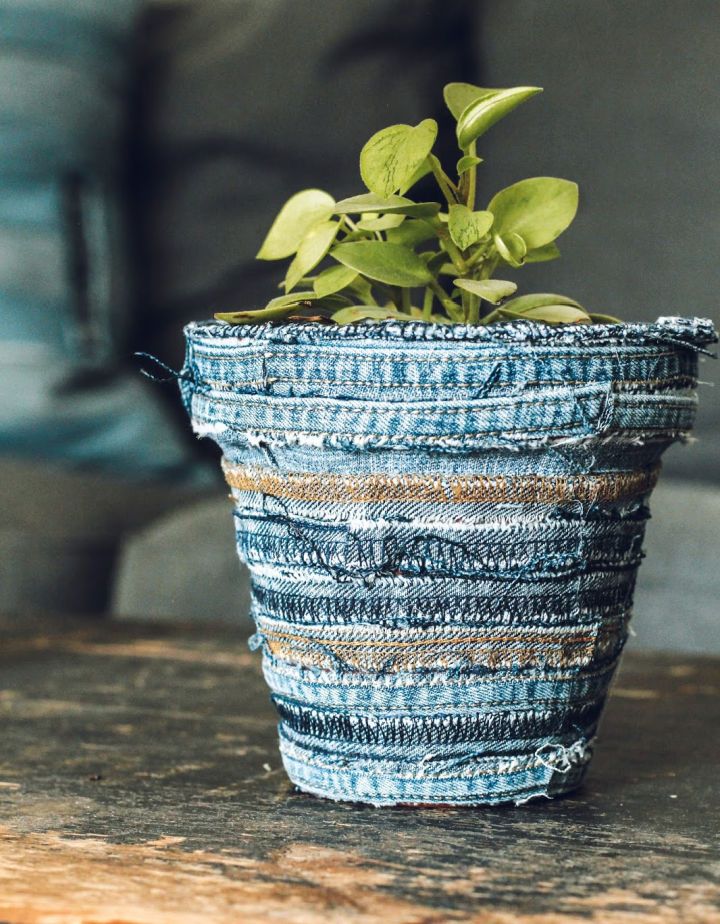 Do you have a pair of denim jeans lying around that you don't wear anymore? Well, then here's the perfect project to use your denim jeans and recycle them. This planter will look beautiful with any different type of wash – light, dark, blended, faded, etc. You just need to be creative and cut layers of your jeans to attach to this planter. Moreover, this can be fun and satisfying to do. thewickerhouse
17. Outdoor Planter Box Using Old Pallets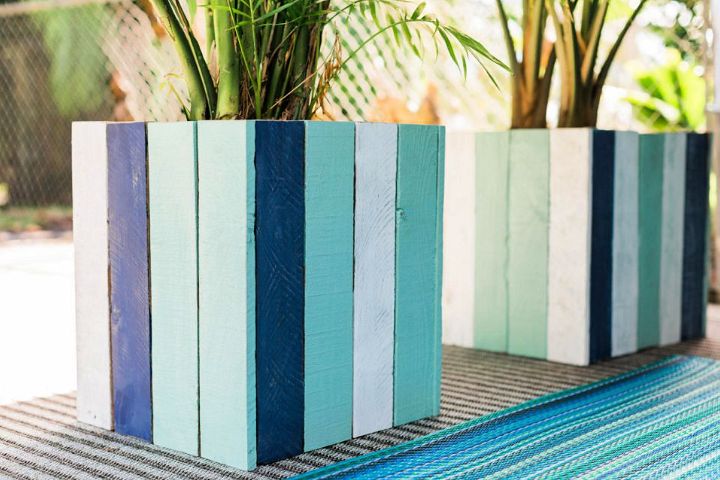 Old pallets can be used in many different pallet projects; however, if you want to use them to their full potential – then making a pallet planter out of them can be a great idea! Moreover, it's recommended to paint your planter in a similar method – one dark, light, and lightest shade of the same color. The color can be customized – you can three shades of your favorite color for this project. hgtv
18. Fabric Twine Flower Pot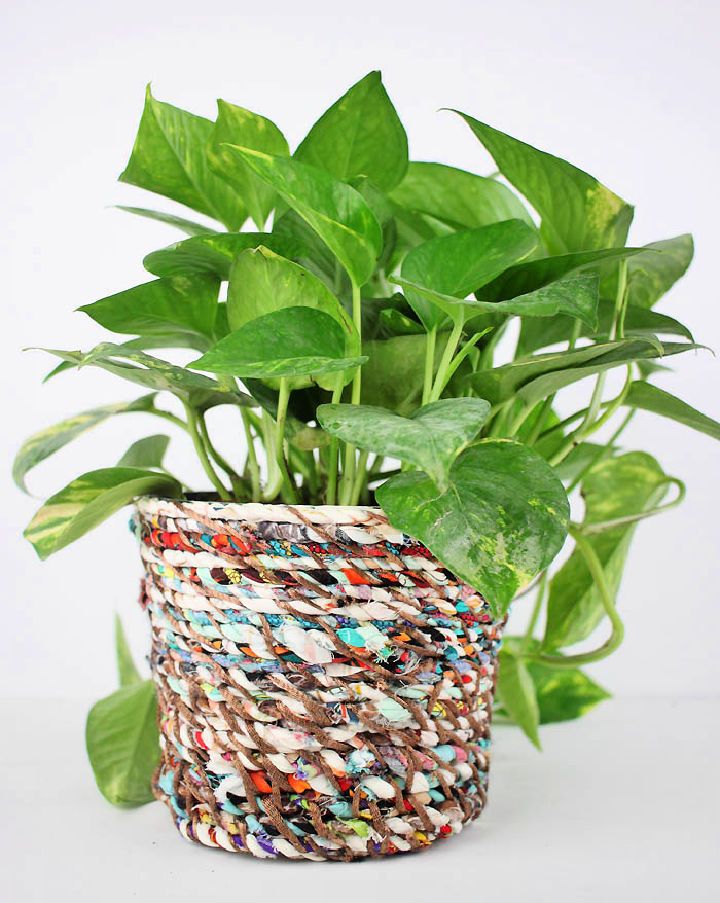 Fabric twine comes in really pretty patterns and colors – it can be used to spice up any boring planter in a matter of minutes. Just put glue onto the planter and wrap the twine around the planter until it is fully covered! This can be a really fun process if you follow the instructions step-by-step. You can also use different colors and textures of twine on the same planter. gina michele
19. Epoxy Resin Planters Using a Silicone Mold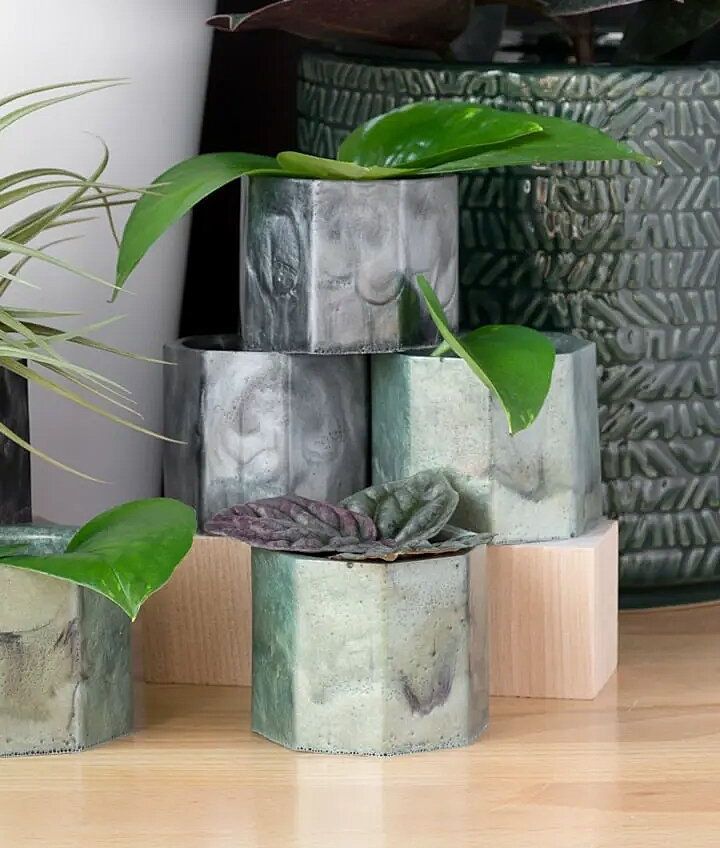 The name of these diy plant pots might make you feel intimidated, but it's easy to do. Epoxy resin and silicon mold can always be found at your local hardware store and then you can easily follow the process. This beauty is made using epoxy resin and then shaped using silicone molds – isn't that a smart idea? The final result of this project can be very satisfying. bybrittanygoldwyn
20. Homemade 3D Graphic Planter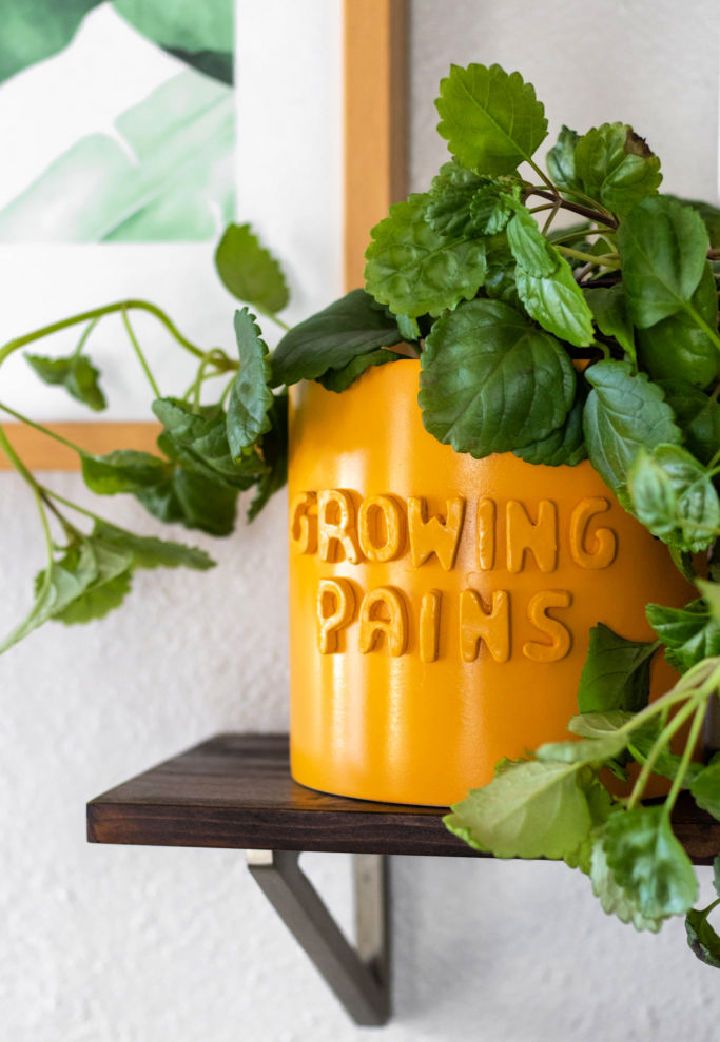 It can be always nice to add a bright and vibrant planter to a boring idea in your house, to spice it up! Do you have a boring corner in your house that you want to spice up? Well, all you need is a little pizzazz – just like this beautiful planter. It has a pretty yellow color and a cute message which says "growing pains"! This message can put a smile on anyone's face. clubcrafted
21. DIY Vintage Hoop Planter on Budget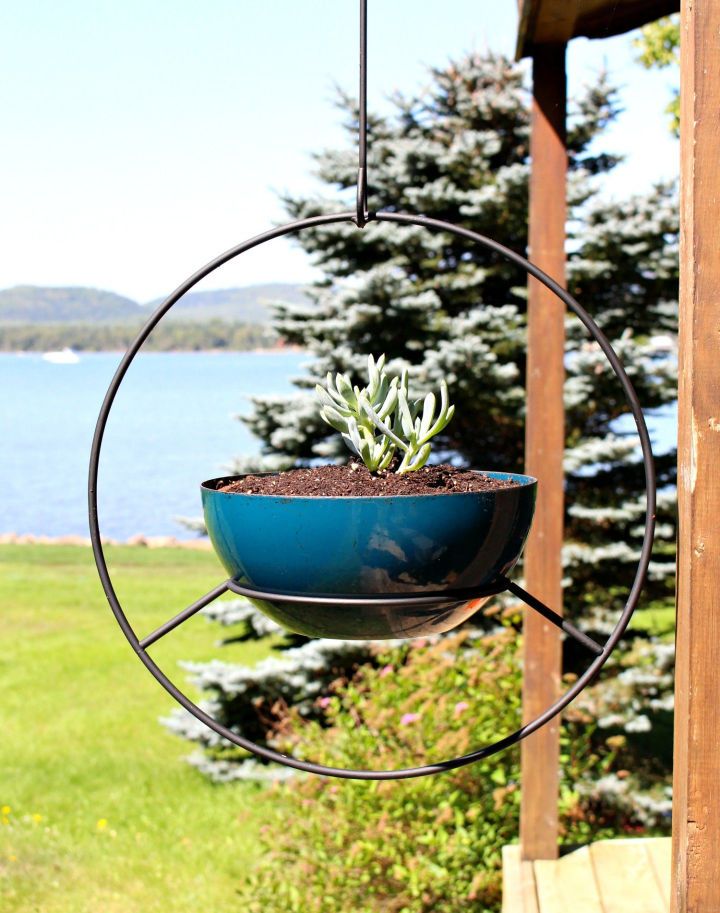 DIY planters like this one can be found too hard and even if you find them in the market – they can be really expensive as they're usually made by professional designers. However, if you make it on your own – it will help you save money and make a beautiful planter! A simple hoop and a planter are all you need to make this beautiful. Moreover, you can always add your customizations too. danslelakehouse
22. Make Squared Tiled Planter at Home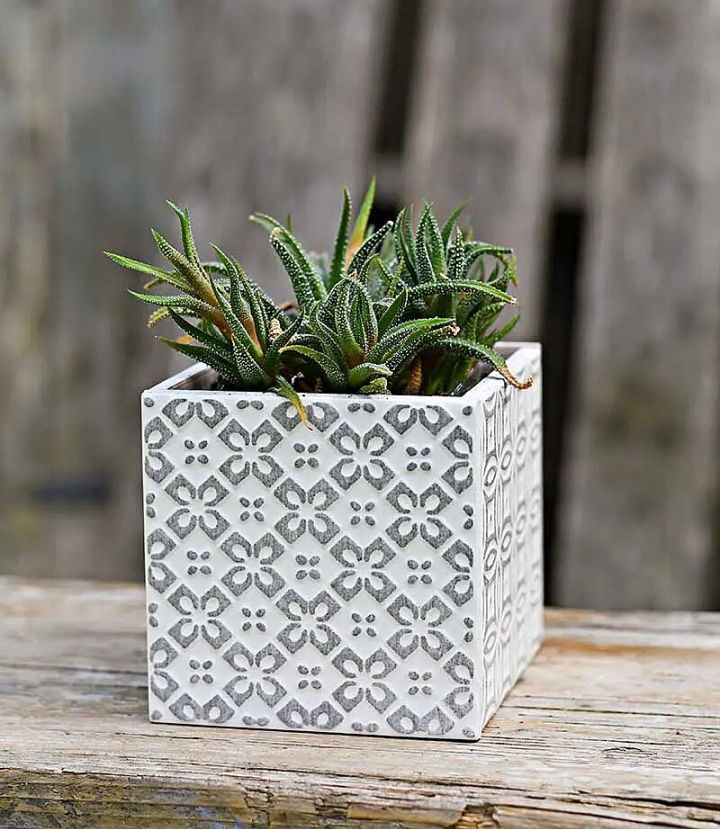 Are you looking for a simple DIY that will cost you less money and be done in less than 10 minutes? Well, then you're at the right place as this plan will help you make beautiful Moroccan planters in only a few minutes. You will need just a few supplies for this one – Moroccan style tiles, super glue, plastic soda bottle, scissors, etc. So, are you ready to give this a try? pillarboxblue
23. Awesome DIY Pineapple Planters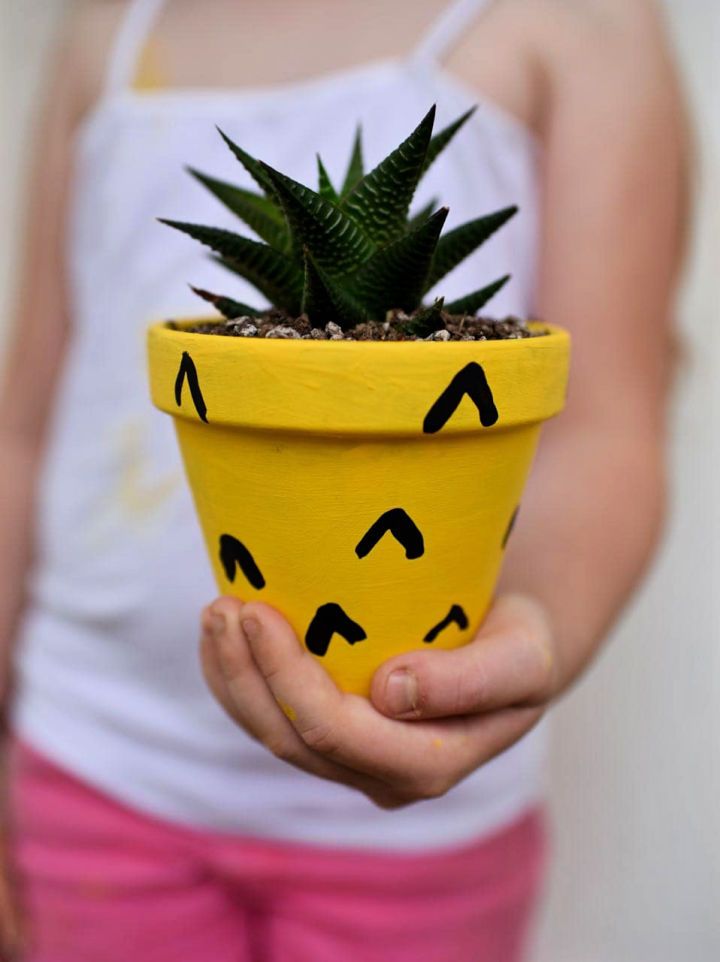 These children-friendly pineapple planters are perfect to make with your children – they can not only be a fun experience but also help you bond with them while making these. Moreover, since it has a pineapple theme – that will keep your little ones interested in making these and seeing the final result. Terra Cotta pots, potting soil, succulents, craft paint, foam paintbrush, and a few other supplies will be required. makelifelovely
24. DIY Painted Plastic Planter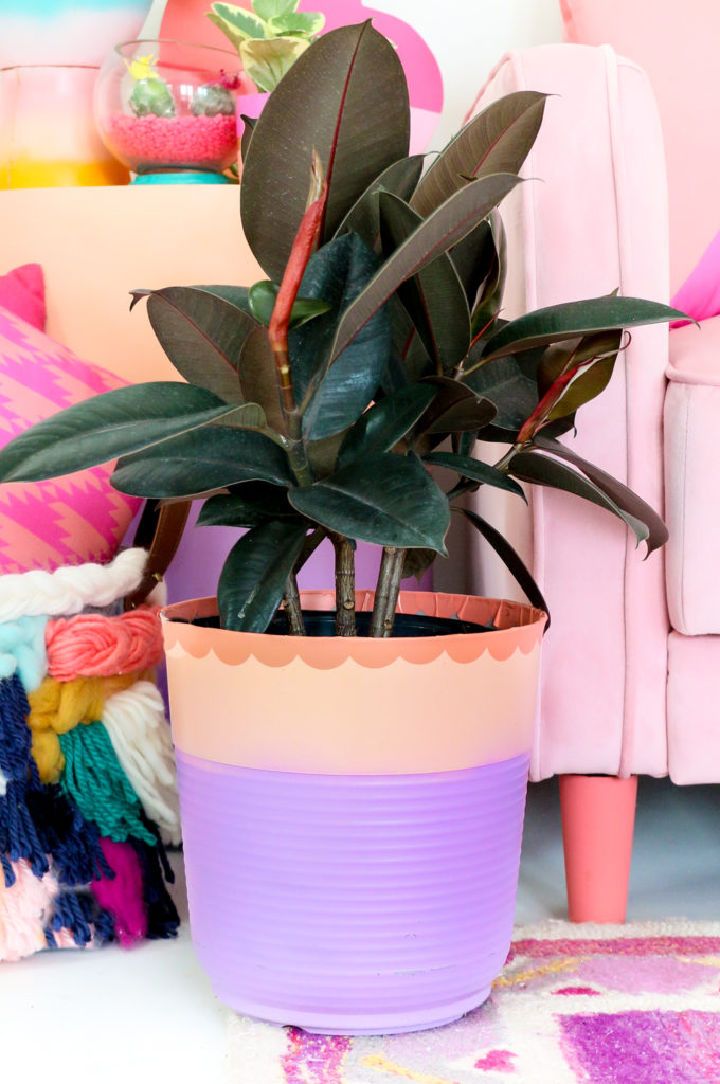 Pastel colors have been famous lately and they're making a comeback in furniture! You can always add little pastel bits in your house to make it pop and keep your house looking fresh and exotic – this planter is the perfect bit to add! Planter, spray paint, spray varnish, adhesive vinyl, and a vinyl cutter are all the supplies that are required for this project. akailochiclife
25. Small Planter in a Mug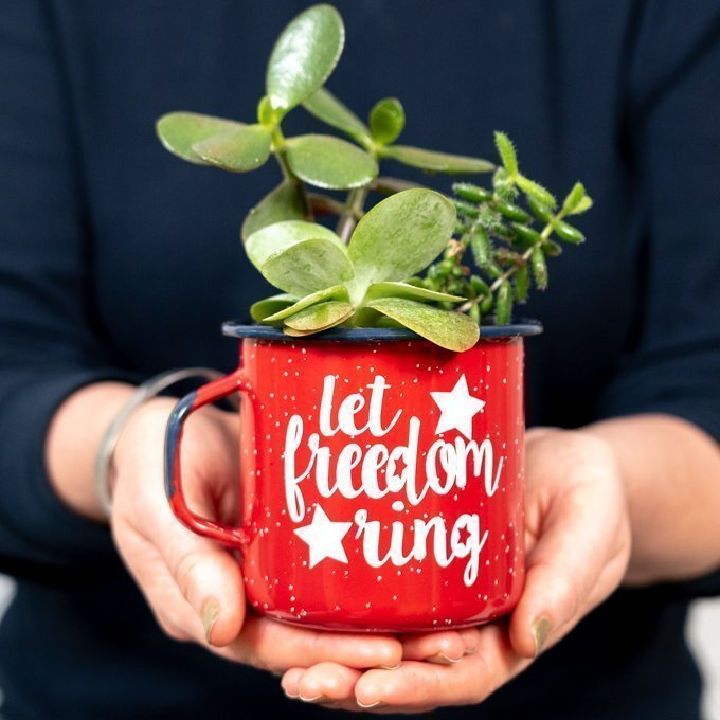 Who knew that such adorable planters could be made in less than 15 minutes? These planters are not only super adorable but also really easy to make. Moreover, limited supplies are required to make it – A Cricut maker, Cricut mat, Cricut vinyl, Cricut transfer tape, assorted mugs, and a Cricut basic toolset. It's recommended to find mugs like these at the thrift store to save some money. thekingstonhome
26. Create a Poured Paint Planter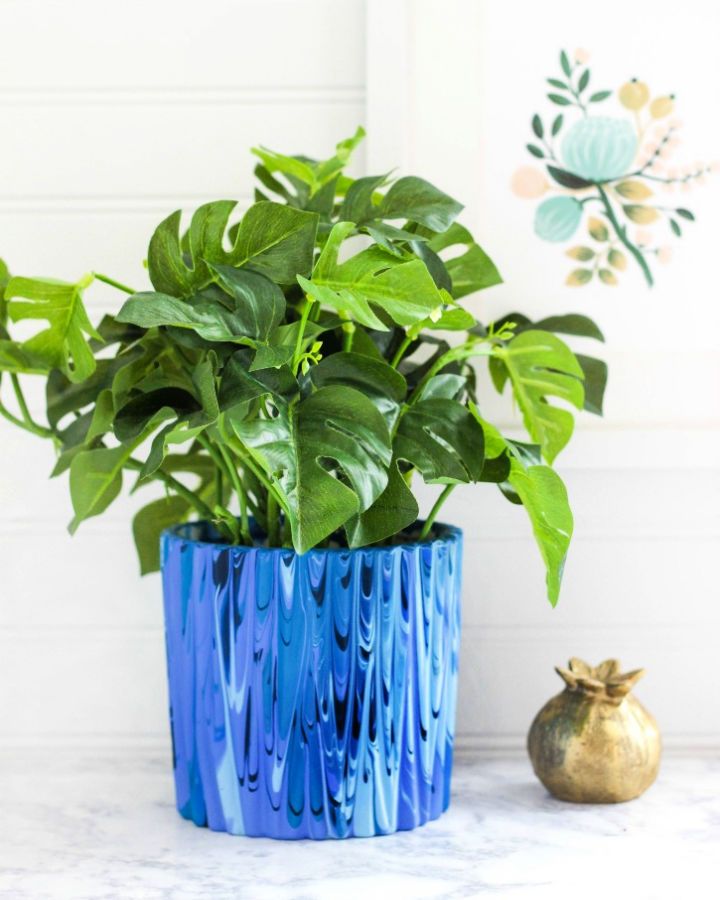 DIY planters are easy to make and you can make them out of many different materials – cans, wood, tissue rolls, etc. However, when it comes to decorating them, it can be hard to decide the perfect way. If you want to make your DIY planters look stunning, then this is the project to follow as these planters are made using paint that is poured over the planter. After that, you just wait for it to dry up and you're done. purelykatie
27. DIY Herb Garden Planter for Kitchen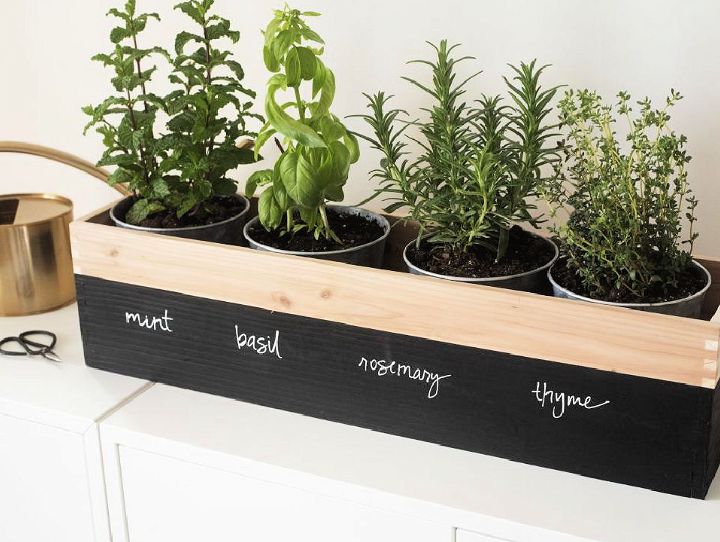 If you want to grow your natural herbs, then this is the perfect planter to make as it will help you keep several tiny pits – all in one place with their names underneath. It looks really pretty and will add a nice vibe to your kitchen. Make sure to keep this by the window with maximum sunlight so the growth of the herbs doesn't get stunted. Isn't this exciting? Are you ready to try this project? fun365 oriental
28. Build a Modern Cedar Planter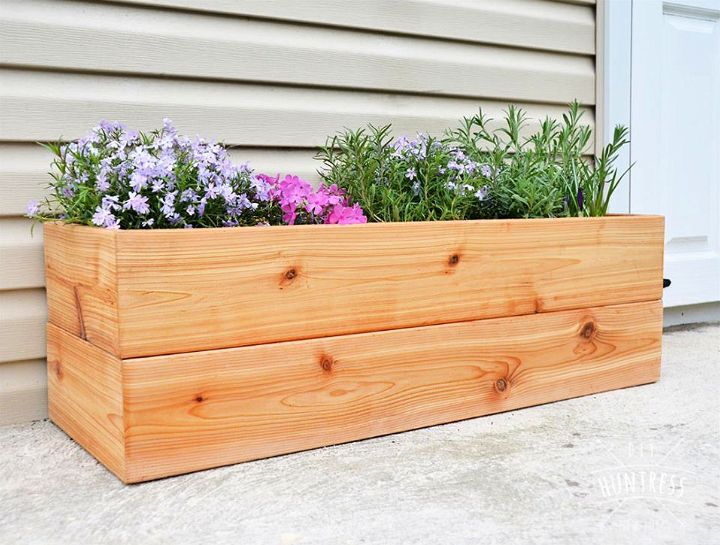 Cedar planters can give off a modern vibe as cedar is a very clean and nice type of wood – it is aesthetically pleasing and quite durable. Moreover, you can do a lot of different things with something like this – grow different types of plants or flowers inside it and everything will grow perfectly! Only a few supplies will be required and any beginner in woodworking can easily re-create this beauty. learn kregtool
29. Build Your Own Tall Wood Planters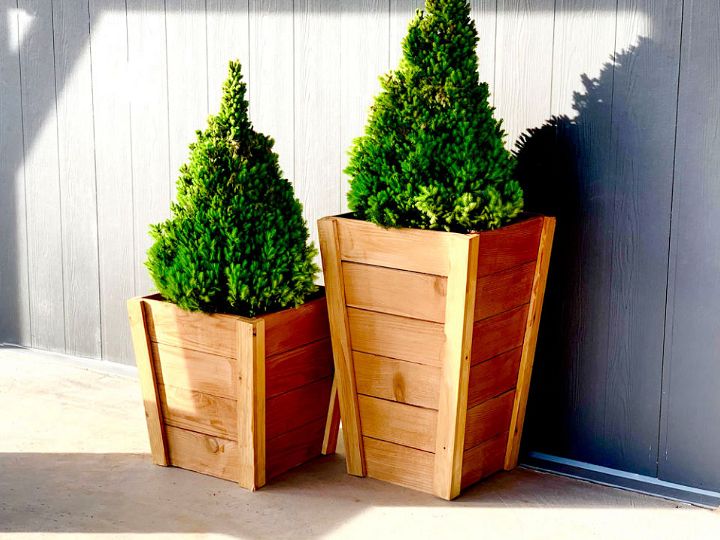 Cedar is not only inexpensive but also has the potential to look quite aesthetically pleasing and nice in your backyard. This amazing project can help you save time and money while making a project like this one as it has all the tips and measurements listed down. Both of these beautiful planters can be made in the comfort of your own house for just under $25! Isn't that amazing? ana white
30. Simple Mailbox Planter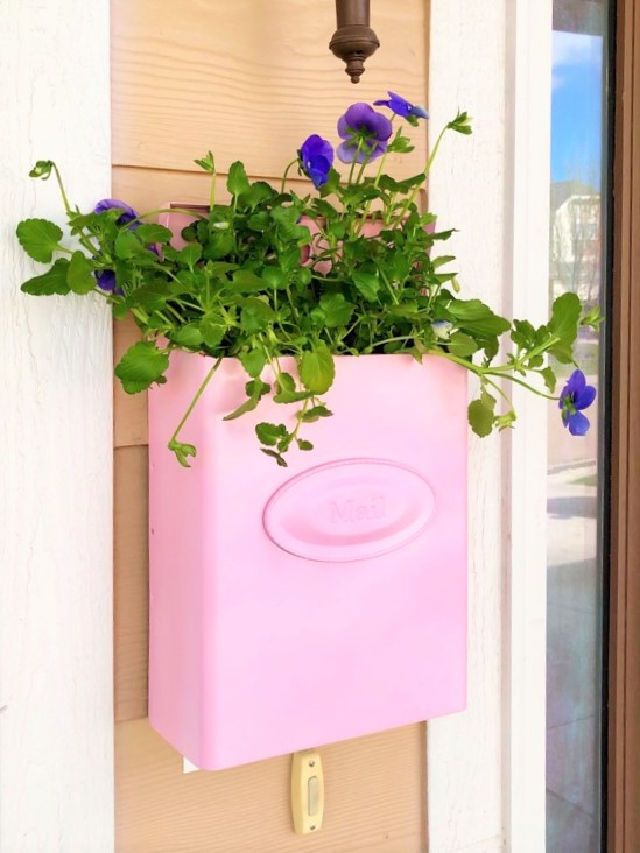 Mailboxes usually look quite bring, unless you decide to spice it up! Furthermore, mailboxes outdoors so they can give off the impression of how your house would look like. If you want to give off a good impression, then you need to make this beautiful mailbox planter! Don't you just love it? It's super easy to make and you will be able to make it in no time. You will need to start by covering your mailbox in spray paint. lostmom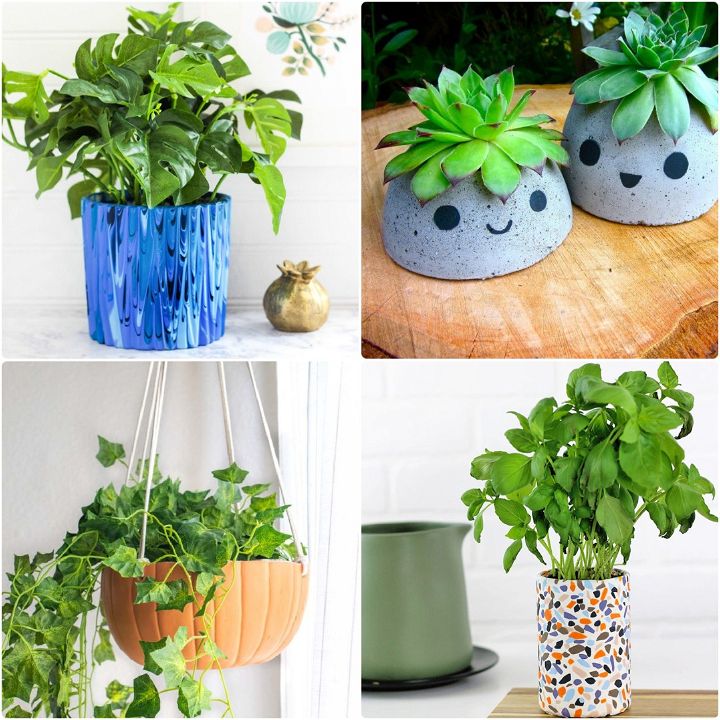 Related DIY Projects:
DIY Wood Plant Stand – Find easy to read, step by step woodworking plans for outdoor plant stands. With no prior carpentry experience, you can build a simple yet elegant diy wood plant stand. The variety of diy wood plant stand designs will suit any style and need.
DIY Herb Garden Ideas – If you don't have space for a garden, you can still grow herbs from your windowsill. With these diy herb garden ideas, you'll find out how to plant, grow, and harvest fresh herbs without leaving your kitchen.
DIY Jewelry Organizer – Explore these DIY jewelry holder and organizer ideas to help you keep your jewelry safe and organized.
Conclusion:
So, are you ready to re-create these DIY planters? Well, you might already have the whole homemade planter plan in your head on how you're going to make your favorite DIY planters from this article, but it's recommended to keep a few things in your mind before getting started.
Firstly, make sure to keep the budget in mind as some of these are cheap options whereas some of the other ones can be expensive. Secondly, choose three to four different options so you can have a backup plan, in case you don't find the supplies. Lastly, remember to write down all the measurements for the wood planters!