Do you want to build a diy terrarium of your choice? Explore these 30 EASY DIY terrarium ideas and learn to make a beautiful terrarium at home in a cost-efficient way. They will be a smarter choice for all who are addicted to indoor gardening and give a glam touch of garden greenery to any targeted space. From using custom glass containers to glass jars to old aquariums, you can use them all to build these beautiful terrarium ideas.
At the same time, you will get instructions for building miniature plant terrariums to large and extra-large terrariums. These diy terrarium ideas do not end here. You will learn to make impressive terrariums on various themes like rainforest, beach, woodland forest, etc.
Here the very first thing is to build a big glass container or box to easily showcase any favorite nature's scene. From using drink glasses to Mason jars to glass bowls, you can use any for building a quick terrarium. Repurpose the old glass bulbs, dome clocks and antique candle lanterns to make quick, beautiful and miniature terrariums.
Explore all these DIY terrarium ideas to learn more about how to build a gorgeously cute DIY terrarium at home. You will learn here to make a very interesting sand art terrarium, air plant terrarium and custom reptile enclosure, also like a pro.
1. How to Make a Glass Terrarium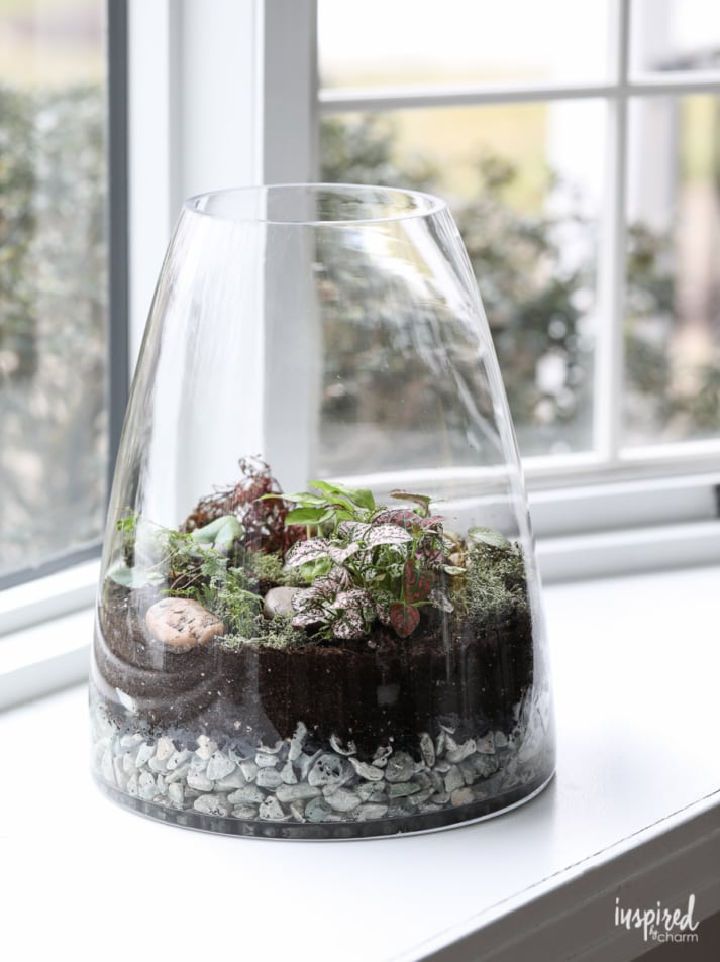 We feel great when living in natural environments or being close to those natural environments! So, bring that natural green flair to your living space by whipping up this terrarium that you can quickly whip up at home! It can get expensive to buy one, but you can put together cheap material to make a lovely one in no time! Duplicate this given one using a glass container, pebbles, horticular charcoal, soil, plants, stone and moss! The best way to give your spaces a glam touch of natural decor! inspiredbycharm
2. DIY Hanging Terrarium Wall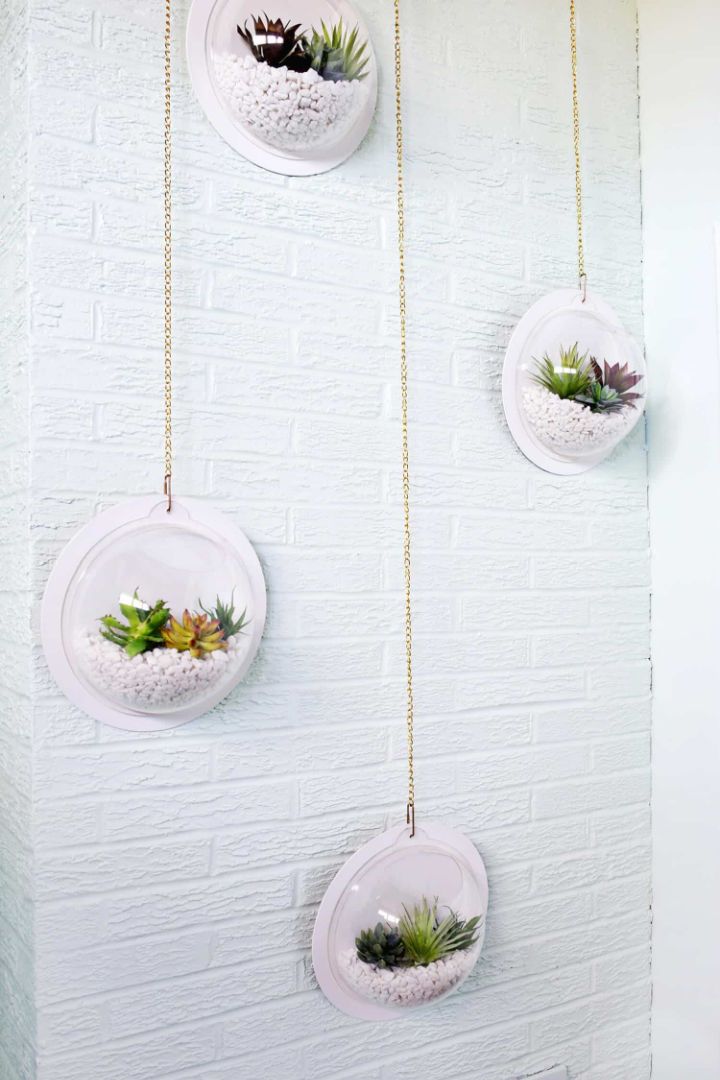 These terrarium ideas can be added to home or room as focal points, and they work great as classy natural decor centerpieces! So, giving a glam touch of natural greenery to your home with these hanging terrarium walls is a total breeze to duplicate! Intending to clone these hanging terrariums? Then go handmade with the wall-mounted plastic fish bowls, white marble rock chips, faux succulents, bras chain, quick link, 13″ wooden circles, glue, drill, small claps and brass cup hooks to easily make these terrariums! The best natural decor to make for your home! abeautifulmess
Painted Terracotta Pots: Planning to use a terra cotta clay pot for your next DIY project? Read this painted terracotta pots article to learn how to prepare a clay pot for painting a project—including how to clean and seal the surface.
3. DIY Tabletop Succulent Terrarium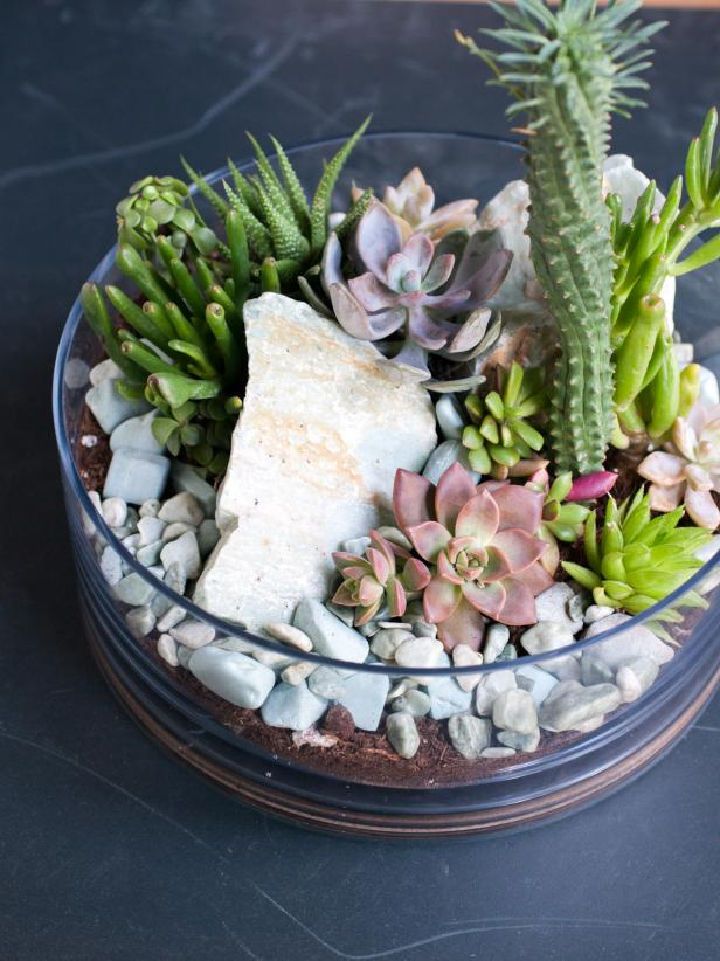 Rock your tabletops with this succulent terrarium, the best centerpiece to get for your living room coffee table! The terrarium will sit in the center of the table and amuse all the guests and people sitting around! You will see a whole ecosystem in this bowl terrarium, and everyone can make it at home! You need a big glass bowl, pebbles, succulents, soil and some other items of this kind to duplicate this terrarium! It will simply cost you next to nothing, and you can even make it for a friend! diynetwork
4. Embroidery Hoop DIY Terrarium Globe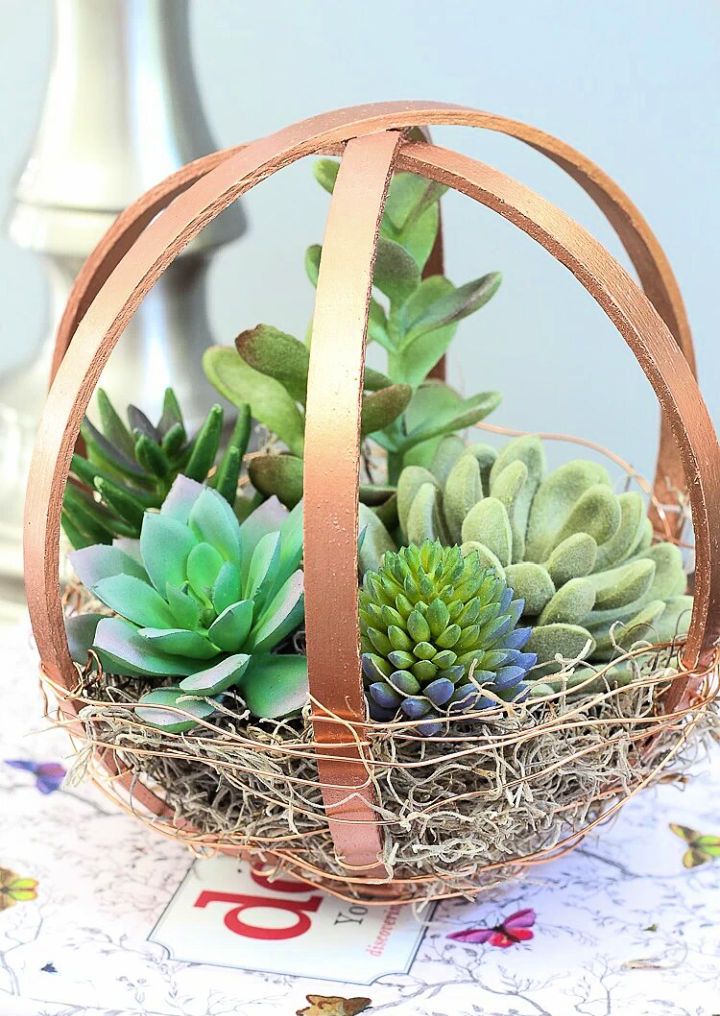 Looking at this terrarium will surely make you say a big wow! You will love the arrangements of the embroidery hoops resulting in a closed structure in which the whole mini-ecosystem is enclosed! To make this diy terrarium you need beginner skills to easily clone this one-of-a-kind terrarium, and it will be the big love of all the homey persons! You need embroidery hoops, glue, bright copper paint, foam paintbrush, glue gun, parchment paper, coper craft wire, faux succulents and Spanish moss to complete this entire terrarium glob! Use the custom hardware and hang it aloft in the home for bigger natural decor statements! lydioutloud
5. Make an Air Plant Terrarium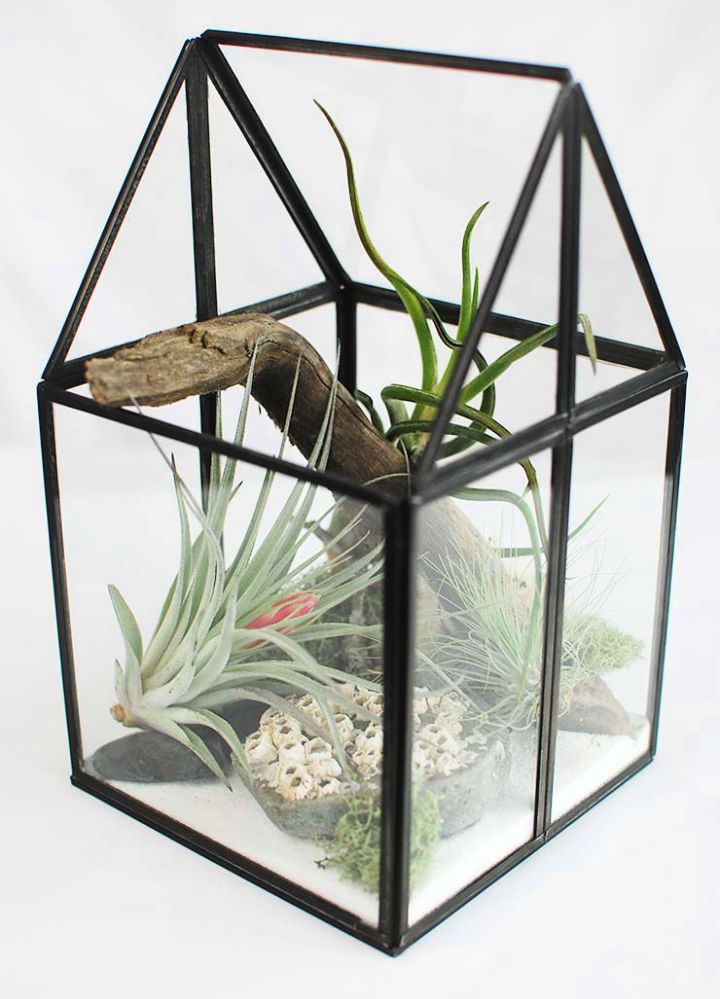 Show your love for the custom plants by prominently displaying them in your home! You can add them to pots or planters, and making a terrarium will also be a smart way to do that! So, learn how to make a terrarium to showcase your favorite air plants! You need sand or gravel, rocks, stones, wood, air plants, and some creativity to easily duplicate this gorgeous terrarium! It will never get out of style and make a cool handmade gift to a favorite homey person! You can make this terrarium for your make and sell business also! One of the best DIY terrariums to make at home! thegardenglove
DIY planters: Find these best DIY planters to make your own planters. From small indoor plant boxes to large outdoor planters. Find the inspiration you are looking for to create homemade planters.
6. DIY Fish Bowl Terrarium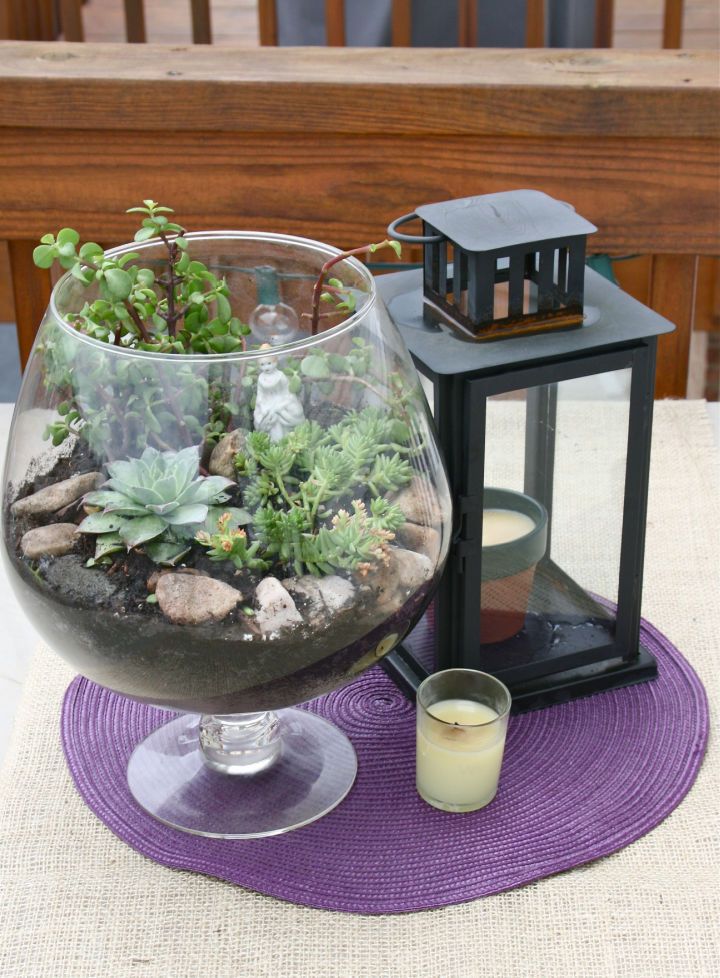 Go handmade with the fish bowls to make sweet and lovely looking terrariums in no time! At the same time, these terrariums will be easy to maintain and will also go much easy on your wallet! This will be the best way to make a mini garden in the confined space, and the results will just be amazing! It will be a big delight to look at this terrarium, and it will also make the best living room table centerpiece! Fill the rocks, potting soil and plants in the empty recycled fish bowls to make these terrariums! dreamgreendiy
7. Woodland Forest Mason Jar Terrarium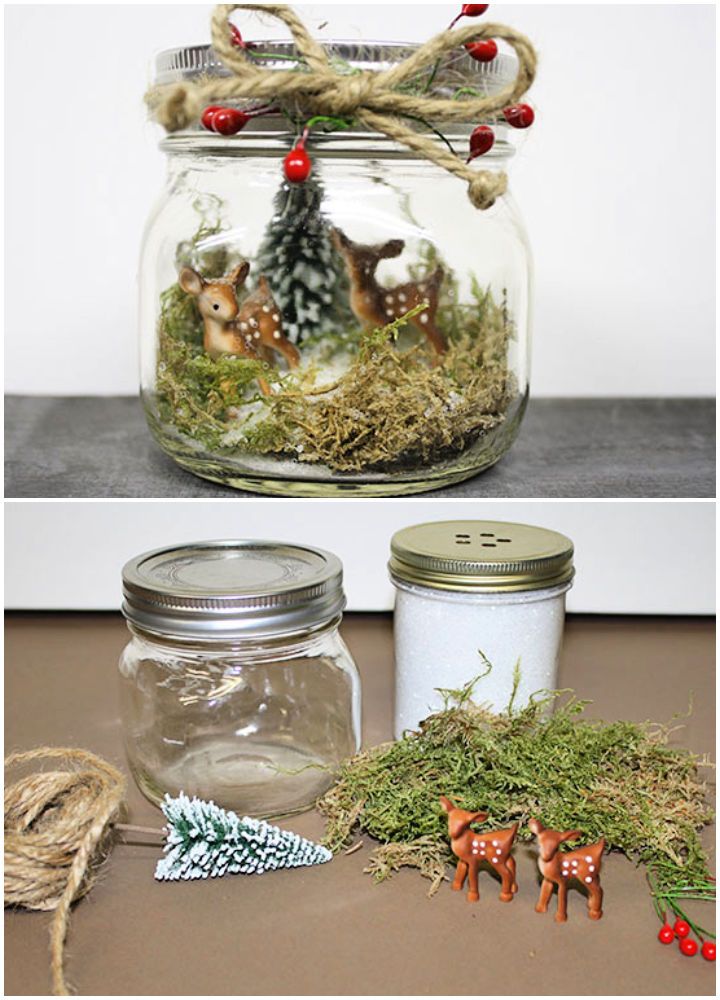 Are you a beginner and intend to make a quick, beautiful terrarium? It will be like a whole beautiful mini garden you are enclosing in a glass bowl or jar and will be loved dearly by all! Learn here to make a terrarium in a mason jar, and it will be the best and cute handmade gift to make for a little kid or friend! The whole project completes in just 20 minutes, and you will make it too! Grab the Mason jar, miniature reindeer, miniature trees, sheet moss, crystal glitter, hot glue, twine and berries to easily complete this terrarium project! factorydirectcraft
8. DIY Fish Tank Terrarium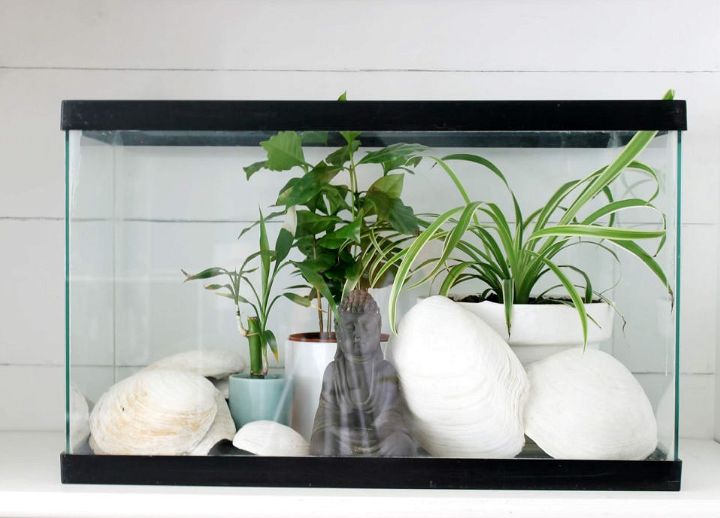 Are you having an old fish tank lying around? Want to do some quick DIY projects with it? Then get crafty with it and whip up this very sweet terrarium! Here a whole mini garden is built inside the aquarium, and you will love to do this project for sure! Just in case if you do not have an old fish tank, get one from the thrift stores or yard sales by paying much less! Just put your favorite pots, figurines and statues inside the aquarium to complete this project! thewickerhouse
9. Easy Closed Lid Terrarium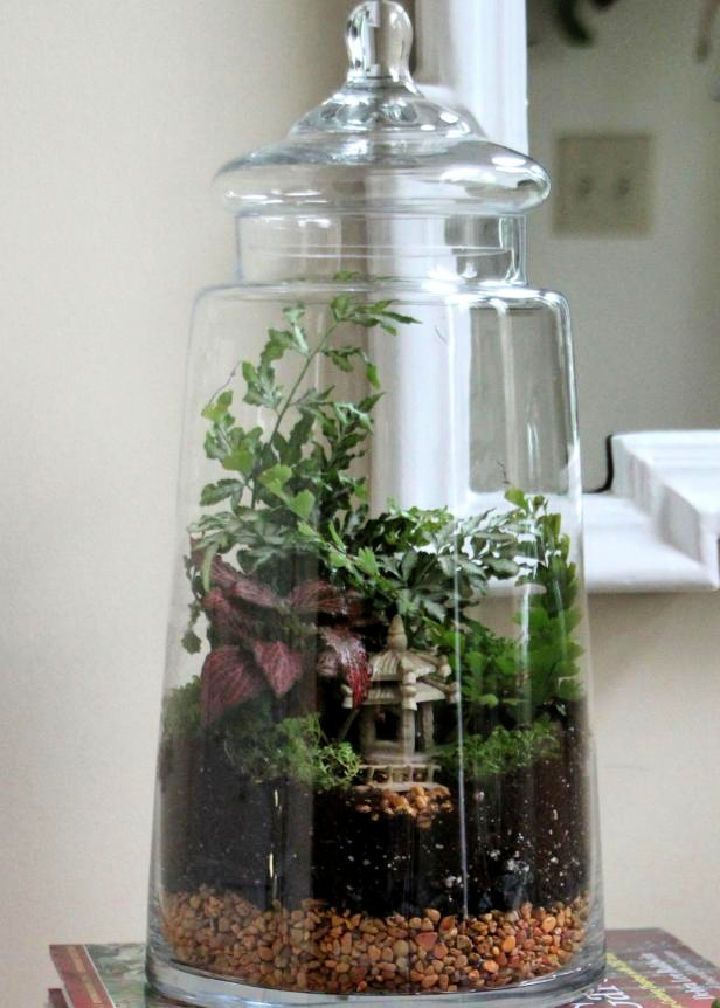 Win the heart of all the guests and family members by putting this closed lid terrarium on a center coffee table or the accent shelves! This terrarium in a jar is here, and everyone will just love to duplicate it! You need a large glass apothecary jar with lid and custom tools, and terrarium fillings to complete this entire project! The gravel, activated charcoal, assorted plants, potting soil, newspaper and small dry paintbrush will be all your favorite tools to complete this terrarium project like a pro! One of the best DIY terrarium projects ever! hgtv
10. Unique DIY Terrarium Lamp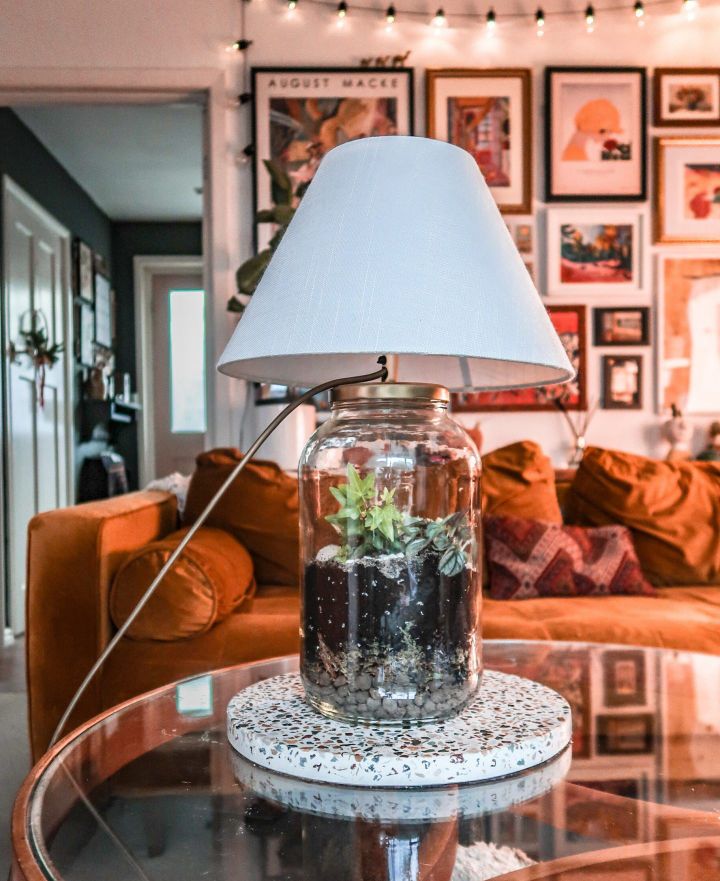 You can place the finally completed terrarium on the accent shelves and coffee table for some bigger natural decor statements! At the same time, you can make beautiful lamp bases also out the terrariums-in-a-jar! You will surely fall in love with this terrarium lamp that is quite something super beautiful to look at! It will be a fairly easy and cheap natural decor item to make at home! Just fill the jar with the decorative stones, moss, soil, plants and other figurines and then install a beautiful lamp kit to its top or the only lampshade! The flawless natural centerpiece that everyone can make at home in no time! iamhayleystuart
11. Self Sustaining Terrarium from Scratch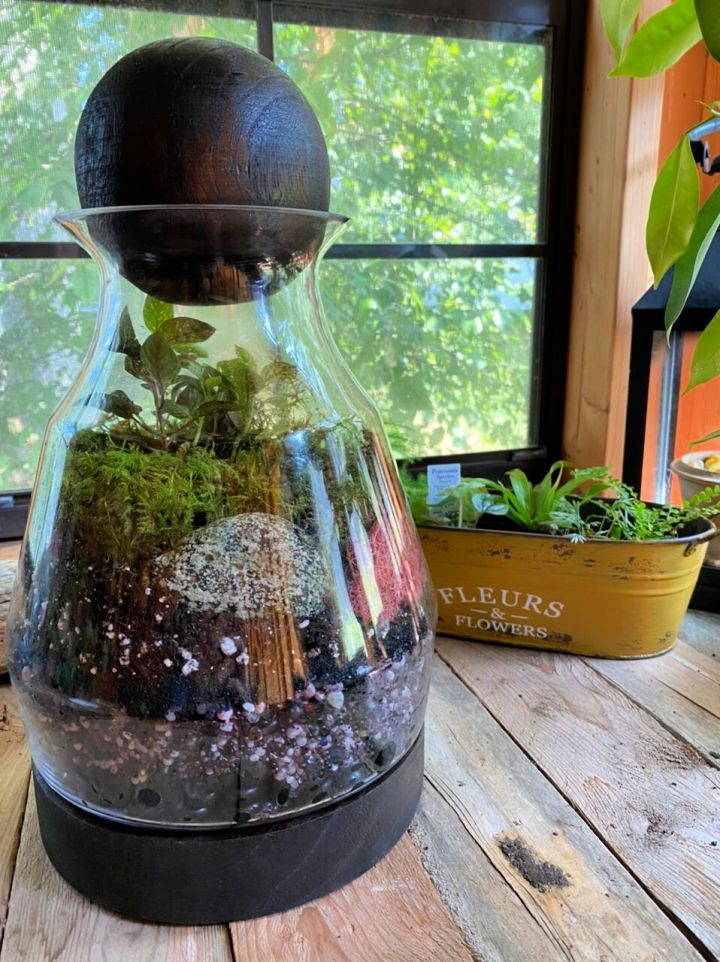 Finding it hard to build a terrarium? This project will reveal all the hidden tricks and hacks about building a self-sustaining terrarium from scratch! It will look like the whole garden is enclosed in a glass jar, sure to give that mind-blowing touch of greenery to a targeted interior space! You need terrarium, colored sand, horticultural charcoal, reindeer moss, potting soil, live moss, terrarium plants, decorations, wood stain, glass pebbles, stones and marbles to complete this terrarium! This will be the easiest terrarium out there to maintain! theoldwoman
12. DIY Sand Art Terrarium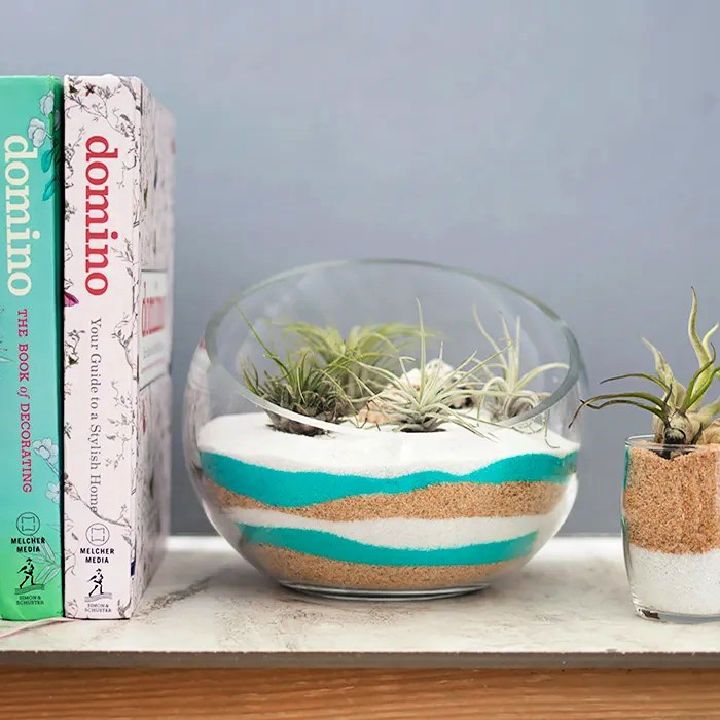 Feature this terrarium in your home decor, and it will also make a great piece of art! The colorful layers of sand go highly eye-catching, and everyone can build it easily with the help of provided guides and instructions! The whole terrarium is an easy way also to create an enchanting display of your air plant pets! Comparatively, this sand art terrarium will be easier to complete but will certainly get more views! The best decor and centerpiece for your bookshelf or any accent shelf in your home! One of the best terrariums to make at home without getting a bit expensive! You need air plants, a terrarium, colored sand and assorted seashells to complete this project! gina michele
13. Homemade Mason Jar Terrarium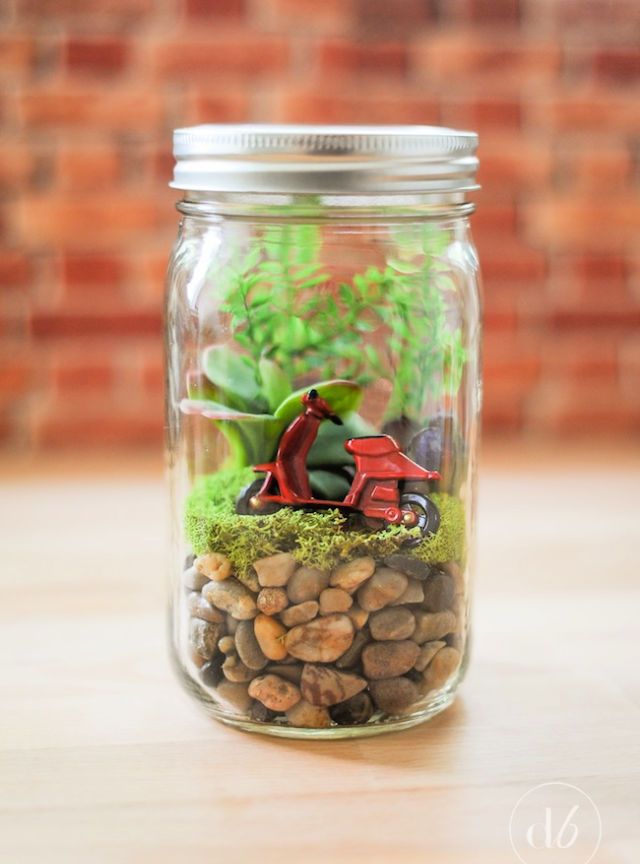 Make lovely terrariums at home out of the recycled Mason jars, and they will be loved dearly by all! Just grab the custom Mason jars and add the terrarium fillings in it, and here you go! Look at this sweet one that comes with a little figurine and looks just super cute and lovely! Grab the custom-sized Mason jar, small rocks and pebbles, moss, assorted greenery and succulents, wire cutters, and little custom figurines to complete this Mason jar terrarium! The completed terrarium makes a pretty awesome handmade gift also! ohmy creative
14. Succulent Sand Art Terrarium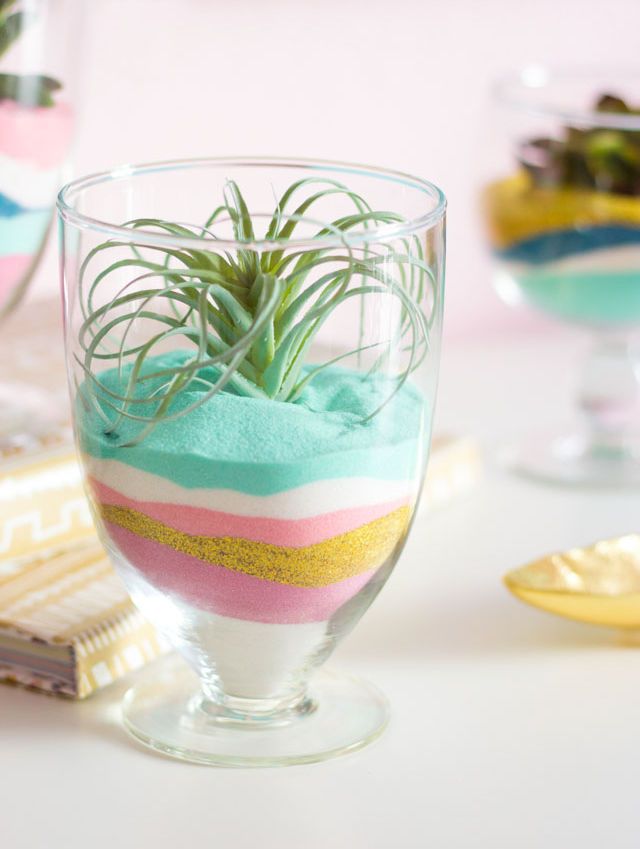 Making these terrariums will allow you to feature succulents, colorful sand and glassy elegance to your home simultaneously! Here are the classy sand art terrariums that you can make in any glass container! They are not rocket science to put together and will be a total breeze using a handful of ingredients! Grab the three glass jars, colored sand, and some creativity to create these beauties, sure to be a great addition to an accent shelf! You can even use the drink glasses to make these terrariums! designimprovised
15. No Care Required Water Terrarium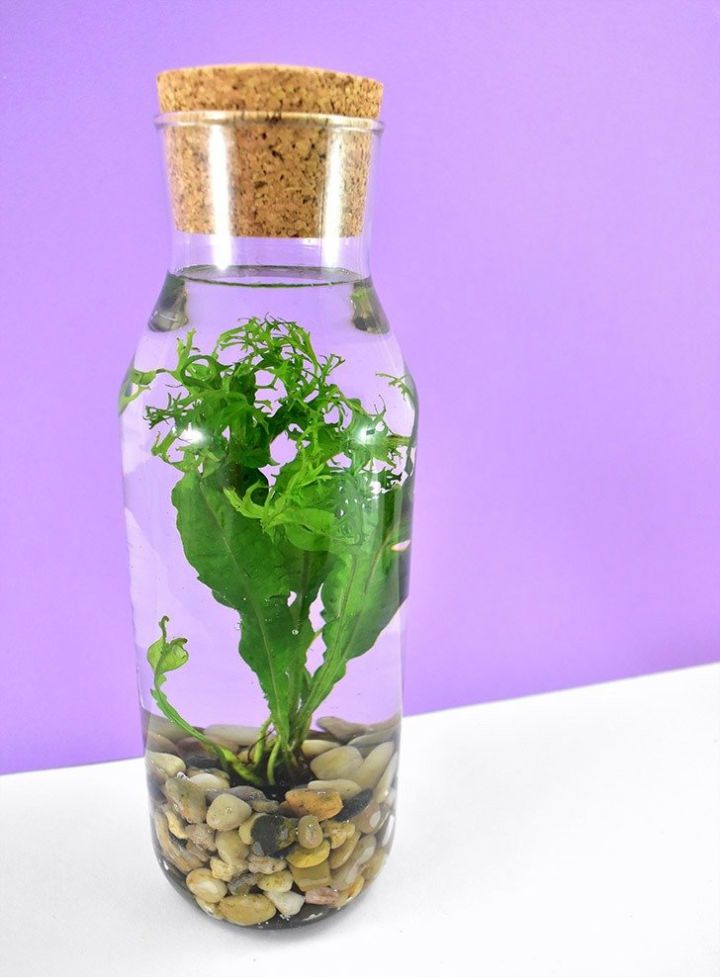 Intending to make those beautiful terrarium ideas that will be super easy on your wallet? Then whip up these water terrariums that are cute and enough to grab someone's attention and will be a total breeze to duplicate also! You need a glass carafe with a cork stopper, aquatic or semi-aquatic aquarium plant, aquarium gravel, wood skewer or chopstick and purified water to complete this outstanding terrarium! The best and long-lasting natural centerpiece is sure to be a lovely way to feature outstanding greenery in your home! dreamalittlebig
16. DIY Rainforest Terrarium in a Jar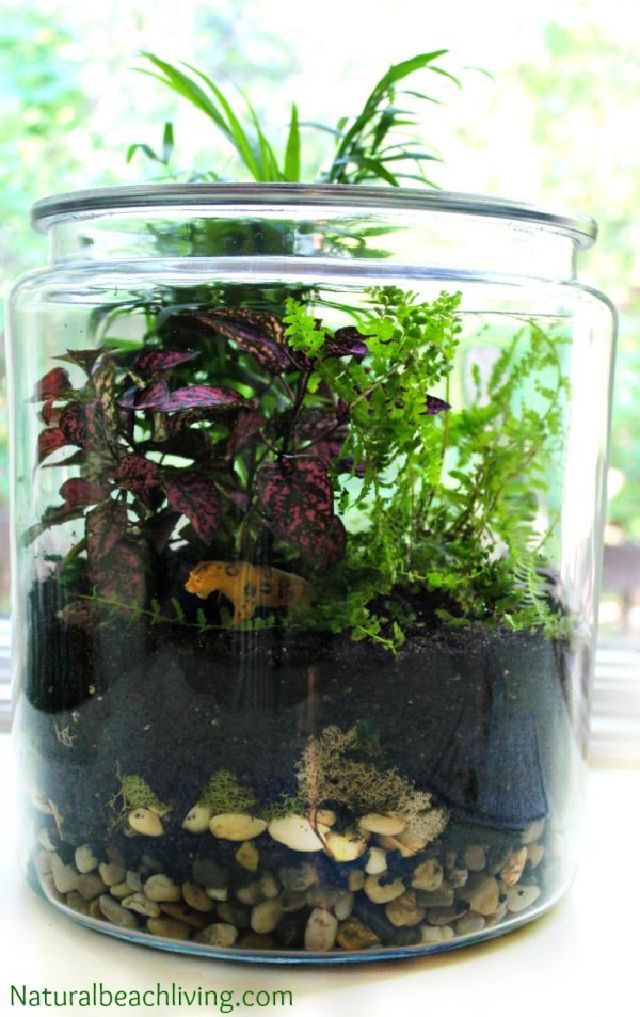 However, you can whip up the terrariums on various themes also! Get inspired by this rainforest terrarium, a gorgeous natural centerpiece to make at home with your own hands! Opt for custom small or big glass containers for this project, and it will be much doable for all beginners! Even the kids can try making this centerpiece, and it will be great kids' activity also to learn about the rainforest! You need a glass jar, pebbles, activated carbon charcoal, moss, soil, tropical plants and custom rainforest animals to complete this terrarium project with quite ease! The whole project will cost you next to nothing! naturalbeachliving
17. Faux Succulent Mini Hanging Terrariums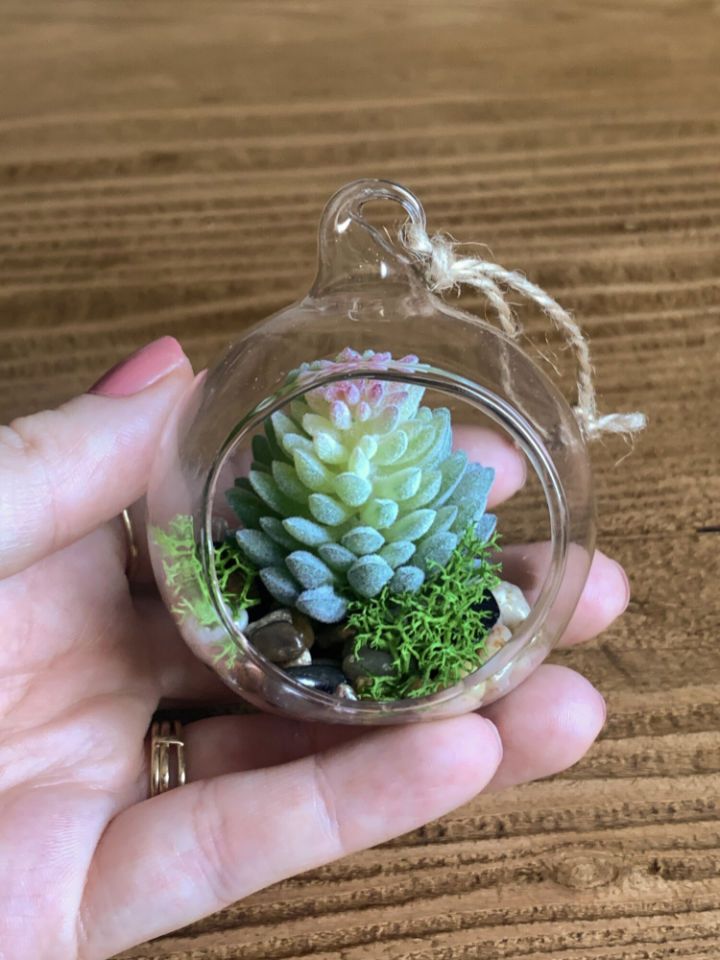 The succulents are long-lasting and easy to maintain plants! So, they can be a smart choice for making terrariums! Grab here guides about making the faux succulent mini hanging terrariums, perfect for adding to a space for an enhanced visual appeal! They are the best home decor when you want to put your love for nature to an enchanting display! From accent shelves to tabletops, they are just the perfect place anywhere in the home for bigger decor statements! You need faux succulents, mini glass terrariums, string, moss, mini river rock, mod-podge, disposable cup, wire cutters and pencil to easily complete this terrarium project! designconfetti
18. Beachy Air Plant Mini Garden Terrarium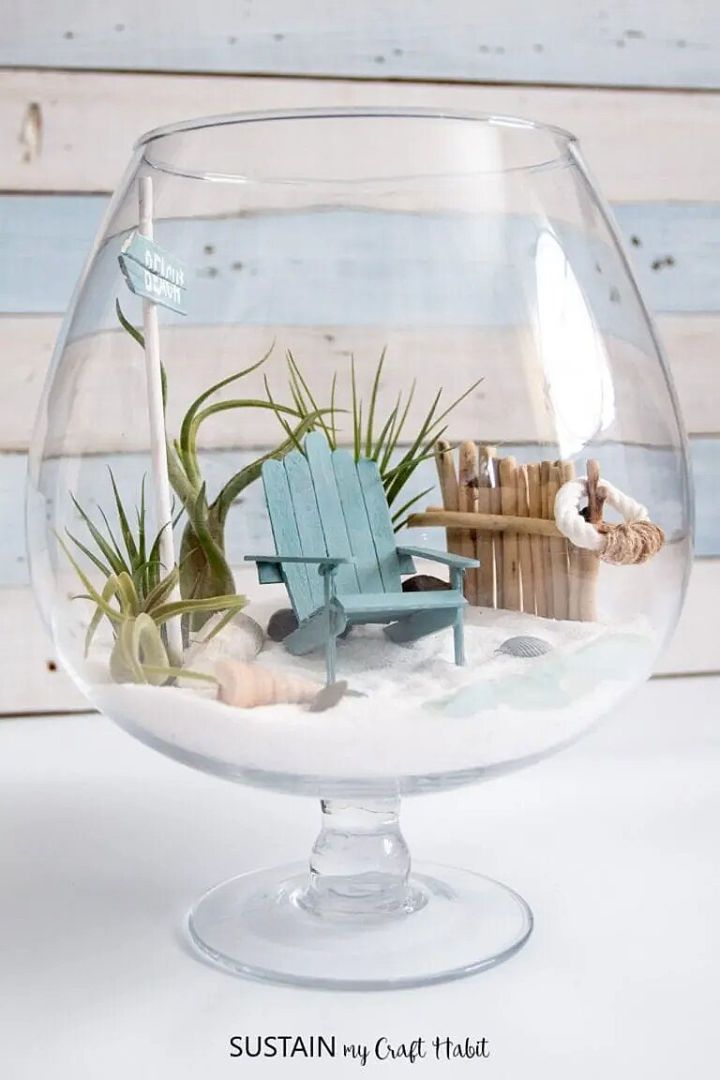 Intending to feature that amazing beachy elegance to your home? Then this beach air plant mini garden terrarium will surely be a smart pick. It will not take that too long to complete this beginner project terrarium. This terrarium holds inside a beautiful beach and will surely be a big center of attention. Looking at this sweet centerpiece will surely take you back to those beach picnics and parties. It will not take that too long to complete this entire beautiful centerpiece. sustainmycrafthabit
19. Cool DIY Air Plant Terrarium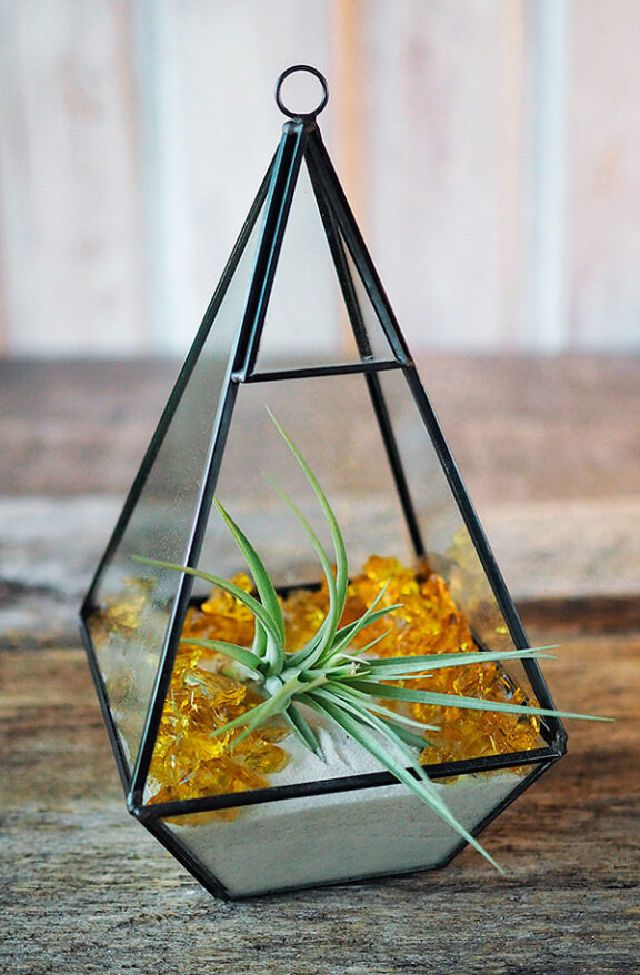 Are you addicted to indoor gardening? Want to tell the guests and visitors about this passion of yours? Then you must make this air plant terrarium that looks super beautiful and is the perfect centerpiece that features nature. At the same time, this terrarium will be a smart way to put your air plan collection on a lovely display, and it will be all easier to whip them up with the help of provided guides and instructions. Grab a glass vessel, aquarium sand, decorative glass, air plant, big spoon and some creativity to complete this air plant terrarium. pattymacmakes
20. How to Make Terrarium Using Plastic Bottle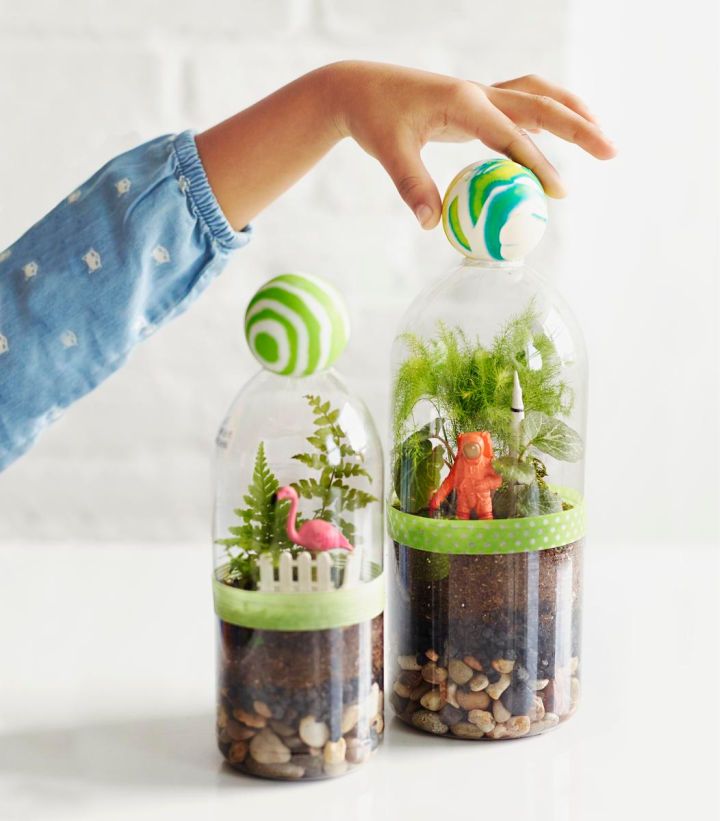 Get professional instructions about making a cool DIY terrarium at home by spending a few dollar bills from your pocket. To build these small terrarium ideas you will need custom glass containers or jars and fill their bottoms with pea gravel and activated charcoal. Next, add the potting soil layer and keep on adding your plants and plastic toys. Here plastic bottles are used for this terrarium project, and finally, the decorative bouncy balls are added to the top opening of the bottle for added visual charm and grace. One of the best DIY terrarium ideas ever. parents
21. Picture Frame Greenhouse Terrarium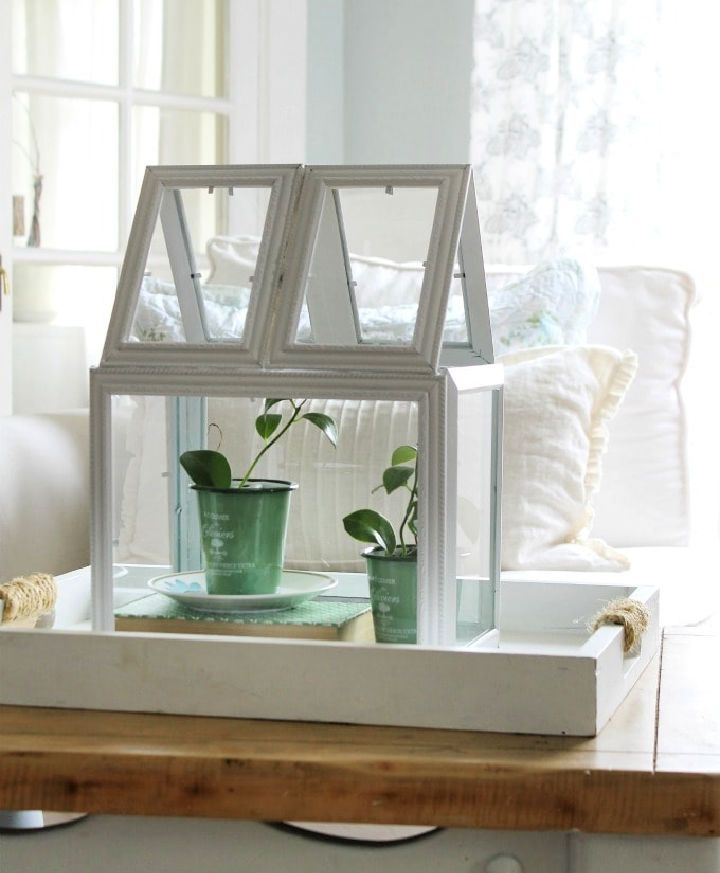 Check out a doll store hack to make a brand new terrarium at home. Just find the lightweight frames from the dollar stores and then put them together in custom arrangements to easily complete this terrarium. Just paint the frames for a gorgeous white appeal and then glue them together to make the glassy container for the terrarium. Next, just finish it up by adding the terrarium filling, and that's it. Build a chevron roof using additional picture frames and then put the custom pots inside. The best greenhouse-style terrarium to make at home. ellaclaireinspired
22. Beautiful DIY Terrarium Side Table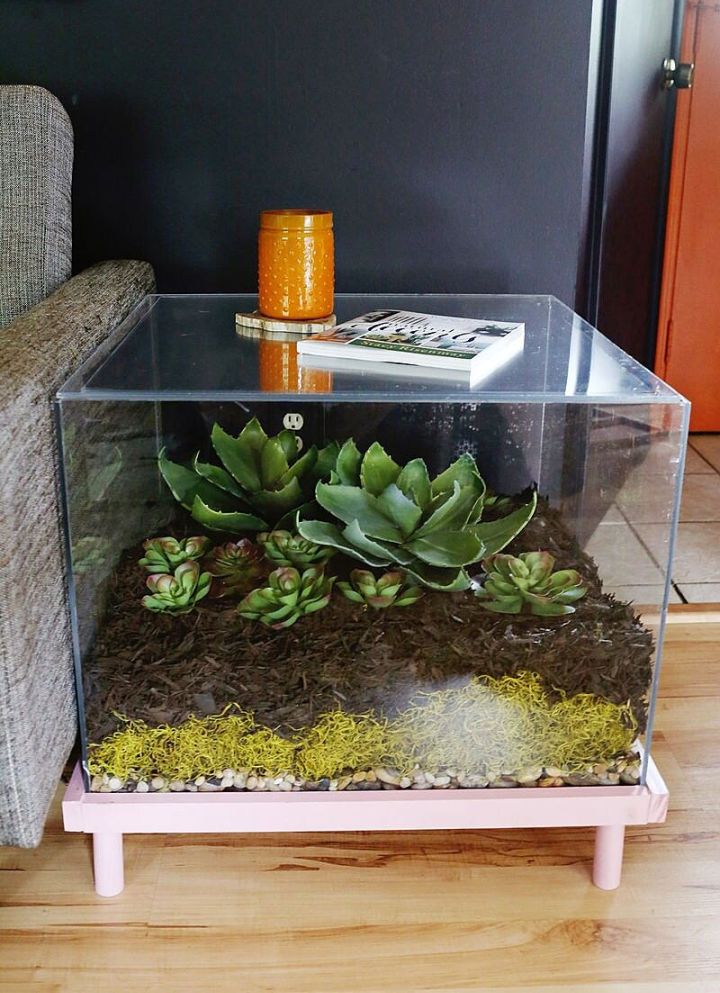 Take your terrarium game to the next level and make outstanding side tables out of them also. Look at this outstanding terrarium added up with a bottom stand and works great as a side table. You can even use an old aquarium for this adorable terrarium creation, and it will also make a great handmade gift. You can even use an old recycled aquarium to build this terrarium side table. But here, you need plexiglass to make the classy glassy housing for the terrarium. Next, grab the OSB plywood, 1x2s wood pieces, 1″ dowel for legs, plexiglass knife, paint and terrarium filling to complete this project. abeautifulmess
23. DIY Lantern Terrarium on Budget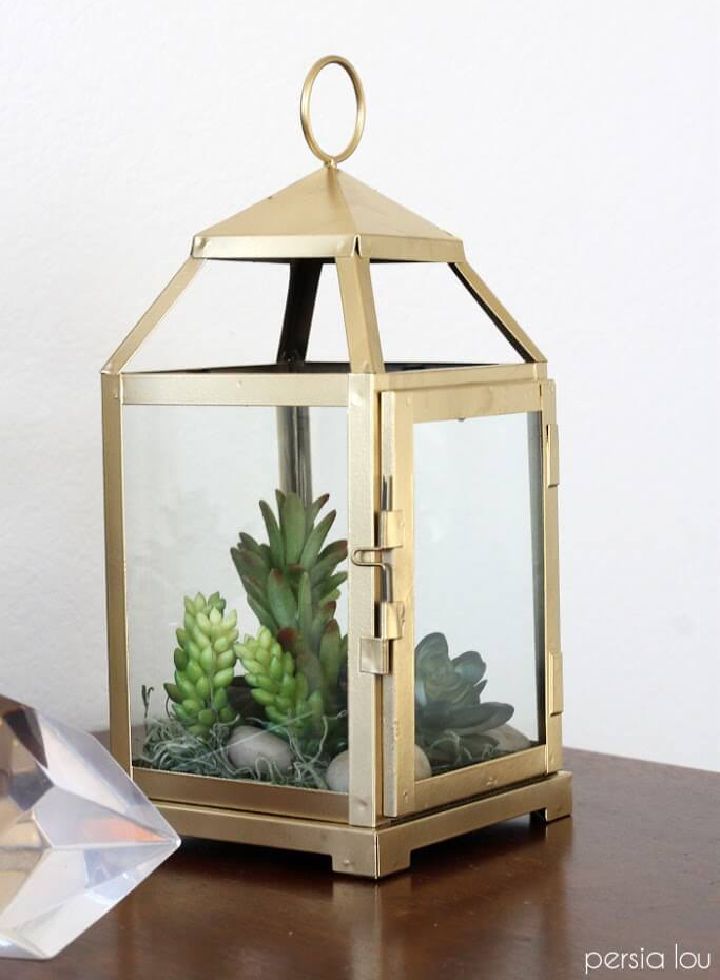 Are you having some old lanterns lying around in the home? Transform them also into beautiful terrariums with this ultimate hack. First of all, spray paint your candle lantern for a posh gold appeal. Next, add a bottom layer of river rocks and another layer of Spanish moss. Finish by adding the faux succulents. You can also hang these terrariums anywhere in the home, and they will be a total pleasure to look at. One of the best and quick-to-make terrariums that everyone can make with ease. persialou
24. Hanging Lightbulb Terrarium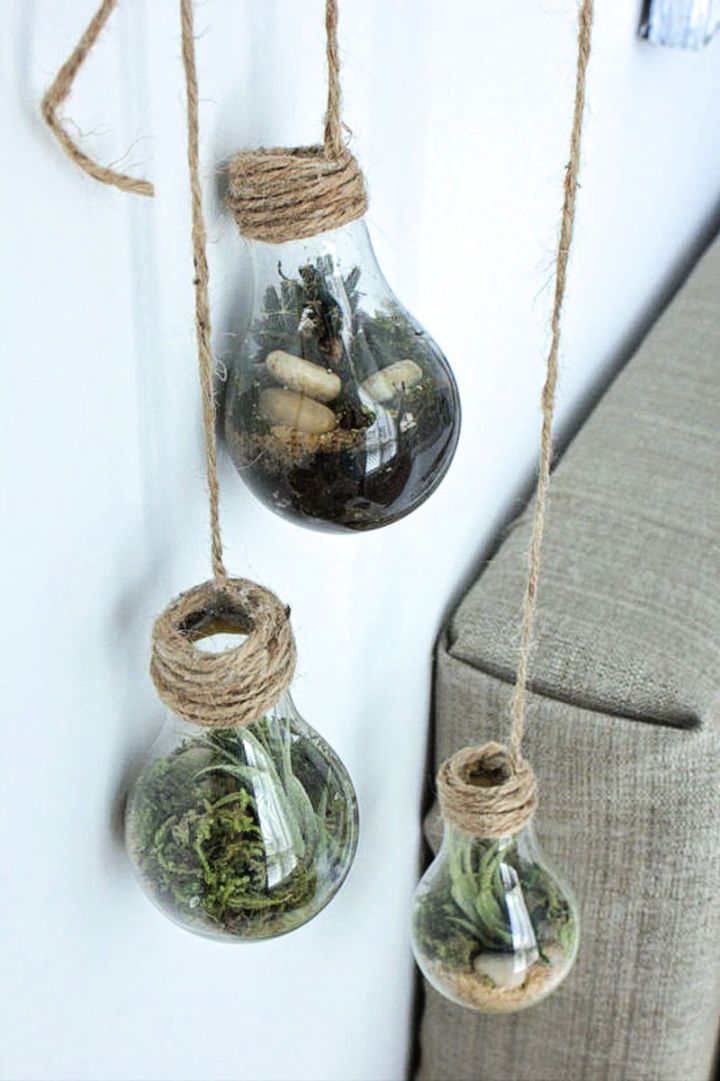 Find these inspiring terrarium ideas that you build by repurposing the old light bulbs in no time. You will surely fall in love with this rustic hanging bulb terrarium that is cute and mini and will be loved dearly by all. At the same time, it will be a smarter way also to keep using your old and fused light bulbs also. Just remove the back of the bulb and the whole inner portion and keep that glassy case. Next, fill the terrarium items inside it, and here you go. One of the best and quick to do DIY terrarium projects ever. simplehomesimple
25. Pumpkin Terrarium from a Dome Clock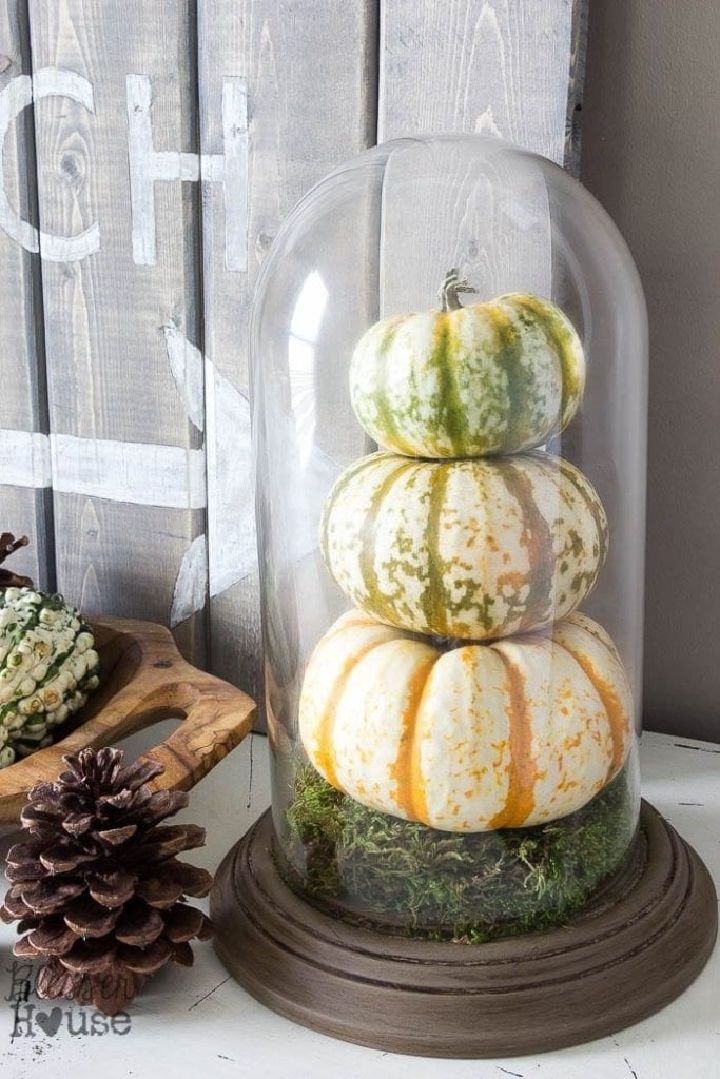 You can easily find the dome clocks in the home, thrift stores, or yard sales. They always make a great centerpiece, and the older ones can also be planned to make beautiful terrariums. This special fall terrarium will get ten out of ten from you and is quite something cheap and quick to make also. To easily complete this terrarium, you need a dome clock, wrenches, coarse sandpaper, Annie Sloan chalk paint in coco, Annie Sloan soft wax in the dark, chip brush, sheet moss and small pumpkins to complete this fall pumpkin terrarium. blesserhouse
26. Build a Bearded Dragon Terrarium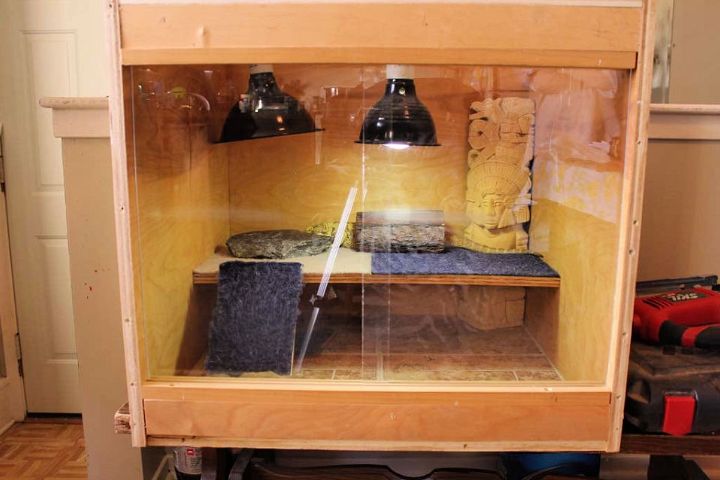 However, you can also enclose your land animals and reptile pets in the terrariums. Look at this bearded dragon vivarium, sure to be a big love of all homey persons. At the same time, it will be quite something easy and quick to make also with beginner crafting skills. To build this vivarium, you need baltic birch plywood, 1x8s poplar boards, plexiglass, poultry fabric, and custom drills and screws to complete this fabulous terrarium easily. The required tools for the project will be a cordless drill, table-saw, crosscut sled, and tin-snips. Here this enclosure is built for a bearded dragon. instructables
27. DIY Snake Terrarium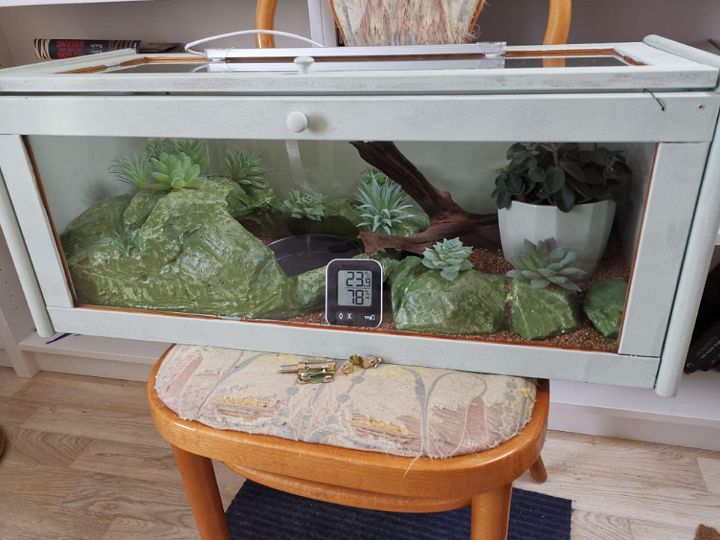 Get here ultimate guides and instructions to make a snake enclosure, another great terrarium to make for your living room. Here you need a big wooden box with glass-paneled sides to easily complete this snake closure. However, you can give some amazing color effects using paint and custom colored lights. Add the foam as the faux stones and then a layer of faux or real succulents on the foam. You can look through the projects for comprehensive step-by-step instructions, and everyone will just fall in love with this sweet and simple terrarium. imgur
28. Build an Extra Large Terrarium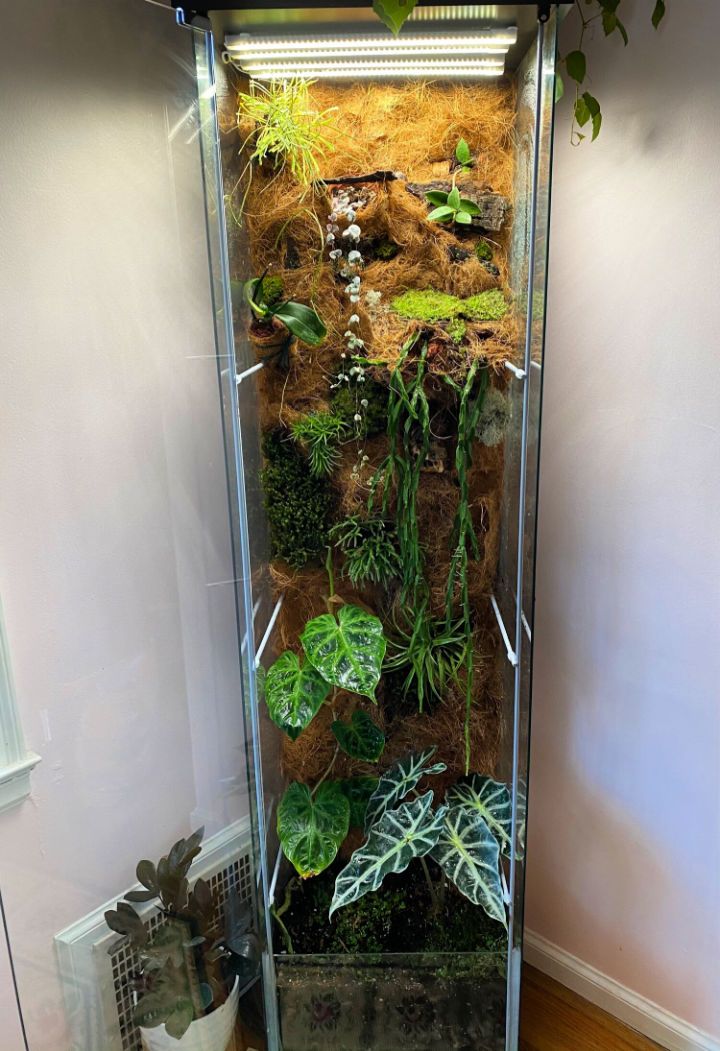 Intending to make an extra-large terrarium at home? Then get comprehensive guides and instructions here to build a one like a pro. It will be a great natural beauty station and will give your spaces a glam touch of garden elegance. In supplies, you need Detolf cabinet, black pon and stone expand spray, GE silicone caulk clear, coconut fiber, round peat pots and nursery pots, cork bark, most think LED plant grow light strips, AC infinity multifan, moss, drill, zip ties, caulk gun, razor blade and gloves to complete this project fast. midwesternjungle
29. Custom Terrarium for Leopard Gecko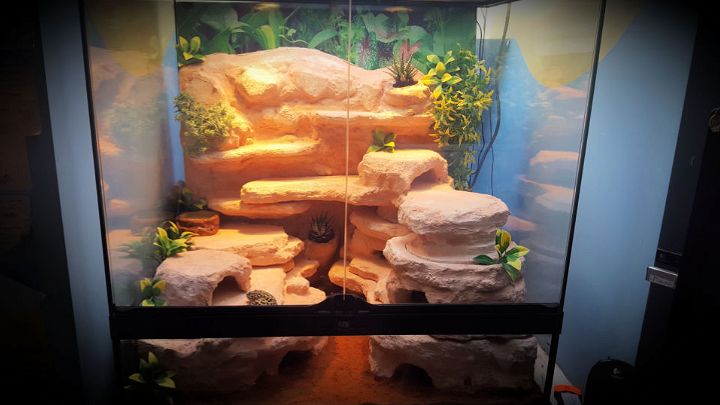 Want to put your reptile pets on a great display? Then opt for this terrarium, a total custom build for a leopard gecko pet. You will get step-by-step instructions to easily build this terrarium and make a beautiful handmade gift. It will surely be a great alternative to the aquarium, and you will love building it at home. You need Styrofoam planks, a knife or better, a cheap soldering device, expanding foam, tooth sticks, styrofoam glue, non-toxic grout, adhesive mortar, alcohol pen, duct tape, gloves, brushes, and buckets to easily build this outstanding gecko house or terrarium. imgur
30. Aquatic Turtle Terrarium with Underwater Tunnel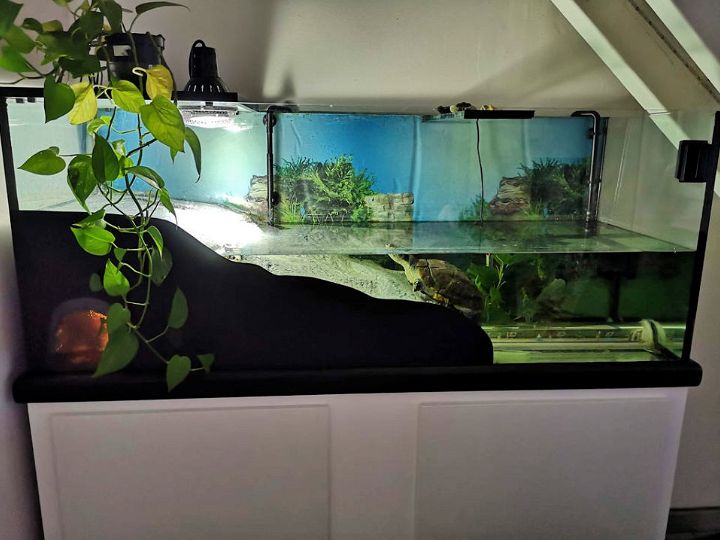 You will find this aquatic turtle tank somewhere between the aquarium and terrarium, and it will be super easy and quick to build. You need a 450 L tank with furniture, solar raptor HID lamp, tetra HT 150 heating, JBL cristal profi E900 filter, epoxy resin, strip LED, poster, polystyrene, paint, and custom accessories to easily duplicate this turtle tank. It looks pretty much like the fish tank but will get an extra number of views due to being a wholly beautiful and smart creation. You can modify it to house the snake, gecko, and dragon like pets. One of the most loved DIY terrarium projects ever. instructables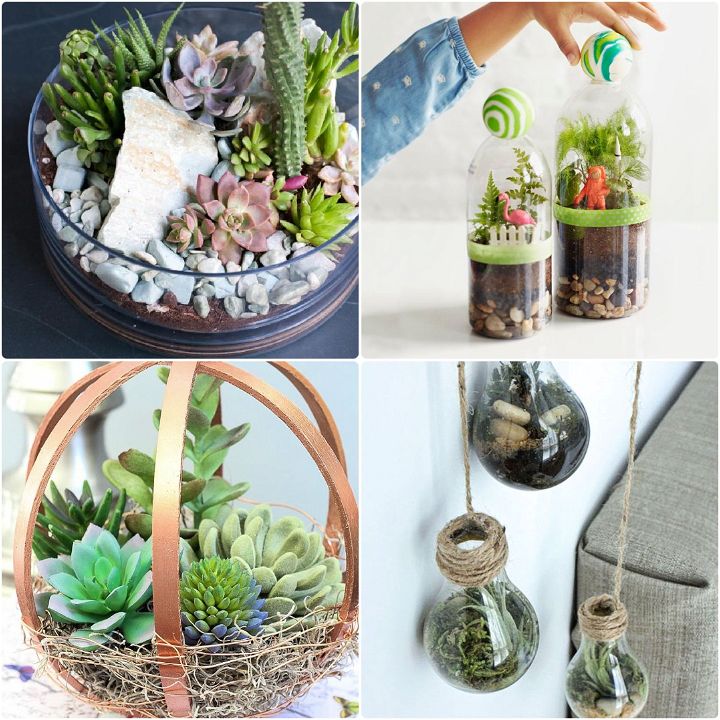 Related DIY Projects:
DIY Wood Plant Stand – Find free downloadable wood plant stand plans and instructions to build this cute, modern plant stand for your home or office. Start building today!
DIY Planters Make From Recycled Materials -You'll love these creative and inexpensive DIY planters made from recycled materials. Let's get creative and make your own planters from recycled materials and things you may already have around the house.
DIY Wedding Favors – You don't have to break the bank to have a budget-friendly wedding. Here are 30 ideas for DIY wedding favors that you can make yourself.
DIY Air Conditioner Ideas – Keep cool this summer with these DIY air conditioner ideas for your home. Hang a wet towel in front of the fan, make a DIY window A/C unit, or just buy an inexpensive fan.
Conclusion:
These DIY terrarium ideas aim to tell you all about how to make a terrarium at home like a pro. From using cheap material to home items to recycled items, these cheap DIY terrarium ideas involve building a terrarium with all of these items.
Moreover, these cool terrarium ideas will share complete DIY Terrarium tutorials to make you easily duplicate any of the given terrarium samples. These terrarium ideas share complete material lists, tool lists, step-by-step written instructions, and detailed diagrams to easily complete any of the given terrariums. So do check them out all.