Do you love making your beautiful gifts at home? Then why buy the expensive gift boxes for them? Make gift boxes at home too. Don't know where to start? Learn how to make gift boxes at home with these 30 homemade DIY gift box ideas that are quick and easy to understand. From miniature gift boxes to artistic style gift boxes to super unique gift boxes, you will get here directions to make all. Moreover, you will get here instructions and tutorials to build lasting longer wooden gift boxes too.
However, in paper materials, the cardboard, cardstock, paper mache, and thick papers will rock to make the homemade gift boxes of choice. If you are puzzled at gift box design selection, explore this collection of 30 easy diy gift box ideas looking divine and crazily beautiful and providing a big range of homemade gift boxes. These boxes are the same you buy expensive from the shops. While making them at home, you will have the ease to personalize them easily.
The diy gift box ideas will cover all the popular types of gift boxes, including the exploding gift boxes that are highly trendy these days. You will also get the guides and hacks to decorate more a finally completed gift box. The very used embellishments will be faux flowers, decorative tapes, ribbons, and custom toppers. However, you can use paint also to fancy up your gift boxes. Get inspired by fruits, men's suits, and various objects also, while making a gift box, you will get great inspirations in the list.
Learn more about making a gift box by looking through all these diy gift box ideas that cover all types of market gift boxes. Make emoji-inspired gift boxes and use origami art to make quick and lovely gift wraps and boxes at home in no time. In this list of unique gift box ideas, you will get free printables, templates, and patterns.
1. Small DIY Gift Boxes With Faux Bow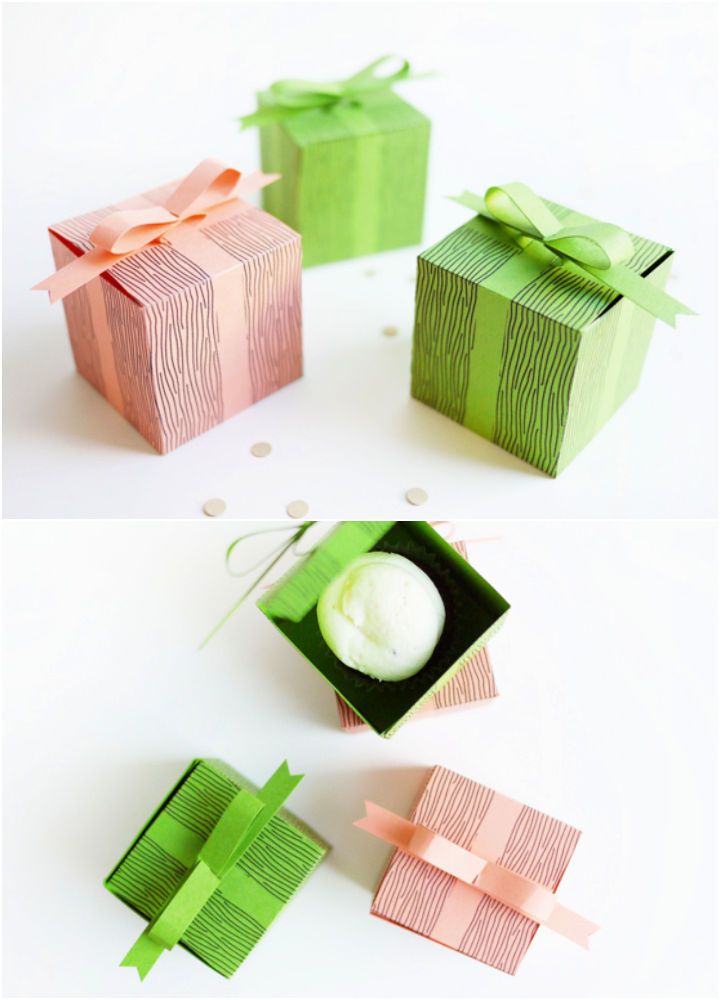 While giving gifts to your favorite persons, we tend to pay more attention to decorative wraps and gift boxes. So, learn here how to build a beautiful DIY gift box that will surely add value to your gifts. This gift is pretty easy to whip up and make with a printable faux bow box template, 8.5 x 11 cardstock in favorite colors, scissors, ruler, craft knife, glue, and bone folder to whip up this faux bow gift box. With the help of a template, it will be easier to cut the pieces. ohhappyday
2. Decorative Wooden Gift Boxes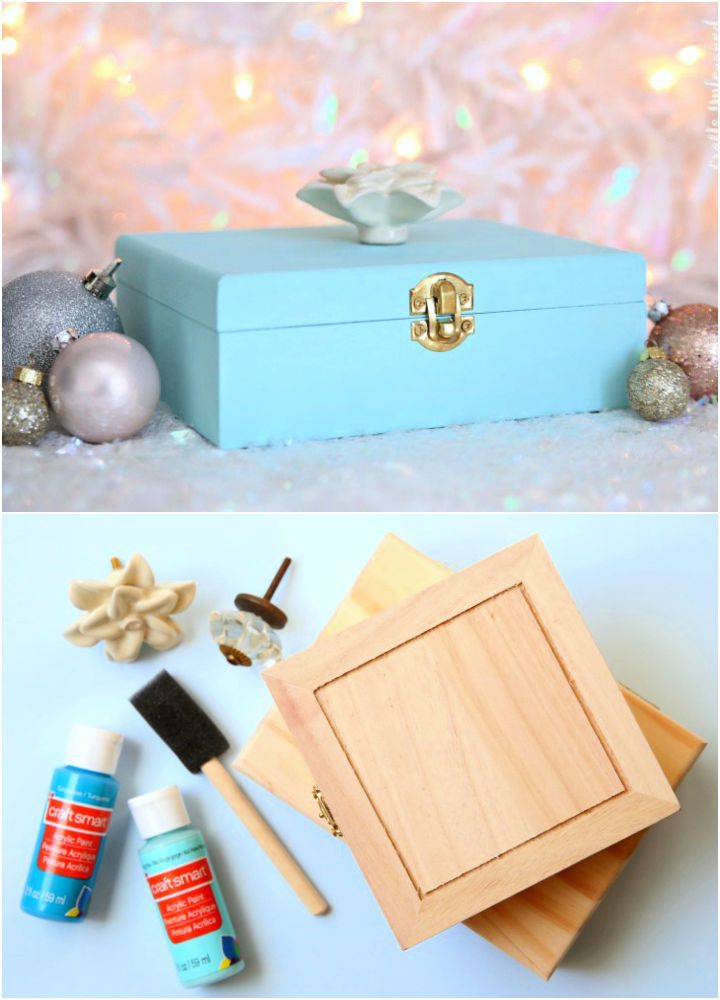 Want to pick the durable and stylish gift boxes for gifts you are going to give to a special person? Follow here guides to build a lovely wooden gift box, nicely hold all your gifts, and secure way. The box is too beautiful to make a gift itself and is easy and budget-friendly to make. You need assorted wooden boxes, unfinished wood boxes, flower ceramic knob, acrylic paint, and decorative glass knob to build this fantastic gift box. consumercrafts
Wrapping Paper Gift Bag: DIY paper gift bags are super cute as an alternative to gift wrapping! Learn how to make a gift bag out of wrapping paper.
Printable Gift Tags: These free printable gift tags are truly inspired by nature with images of birds and squirrels. You can print 8 gift tags per page of these.
3. Mens Suit Gift Box and Treat Holder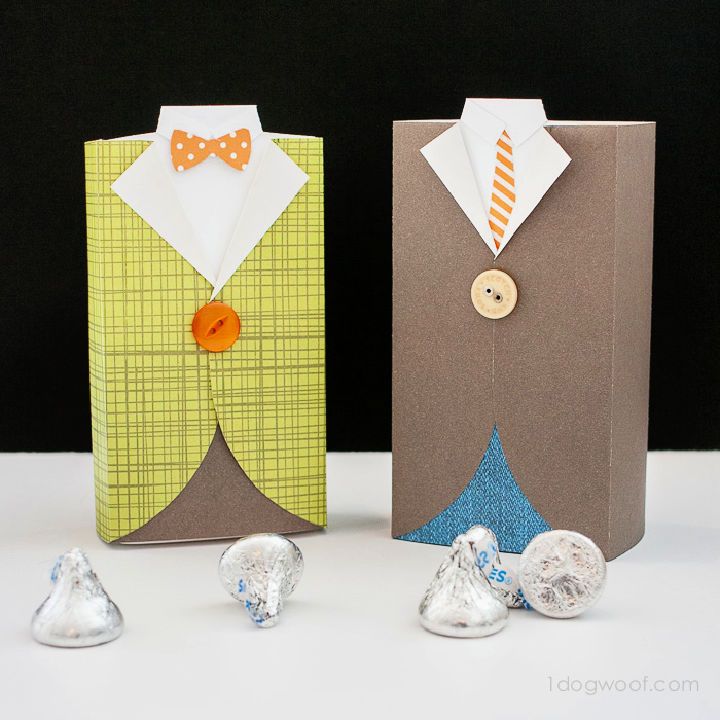 Opt also for the custom gift boxes when you give a gift to a male who may be your hubby, friend, brother, father, or boyfriend. So, presenting here this fabulous gift box model, specially designed for the men's suit gift boxes. The boxes are easy to make with the help of provided guides. In supplies, you need solid patterned scrapbook paper, matchbox, ruler, scissors, glue, pencil, and matching button to build these outstanding men's suit gift boxes or candy holders. 1dogwoof
4. DIY Cake Shaped Gift Box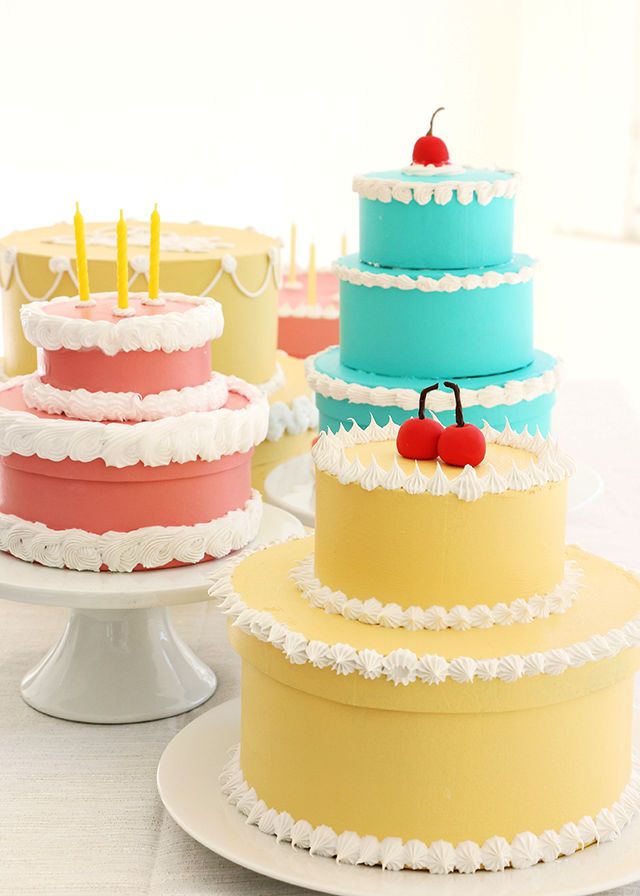 Nothing will make a better gift box for the birthday, but these DIY gift box cakes, specially designed for birthdays. Here you need the paper mache round boxes to whip up these gift boxes that are truly looking cute and beautiful. Paint your boxes with acrylic paint, and you also need the white silicone rubber caulk, caulk gun, plastic piping bag, decorative tips, printable tags, and some cake decors like candles and toppers etc. alanajonesmann
5. Pretty Flower Topped Gift Box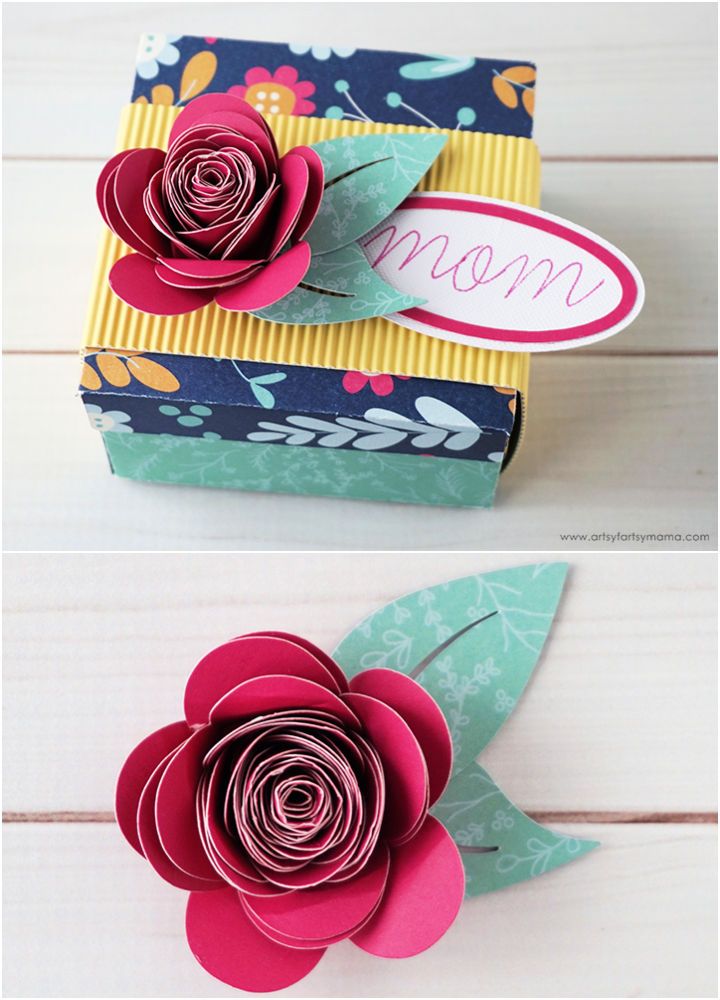 Follow here the right guides and instructions to craft another cute and lovely gift box, will add value to your gifts. You will learn here to make both the gift box and the rose flower topper. The project is to do using the Cricut Explore machine, Cricut scoring wheel, cardstock, whimsical garden paper, corrugated cardboard, glue, glitter gel, quilling tool, etc to build this flower-topped gift box, will make an impressive handmade gift to a favorite person. artsyfartsymama
6. DIY Painted Gift Boxes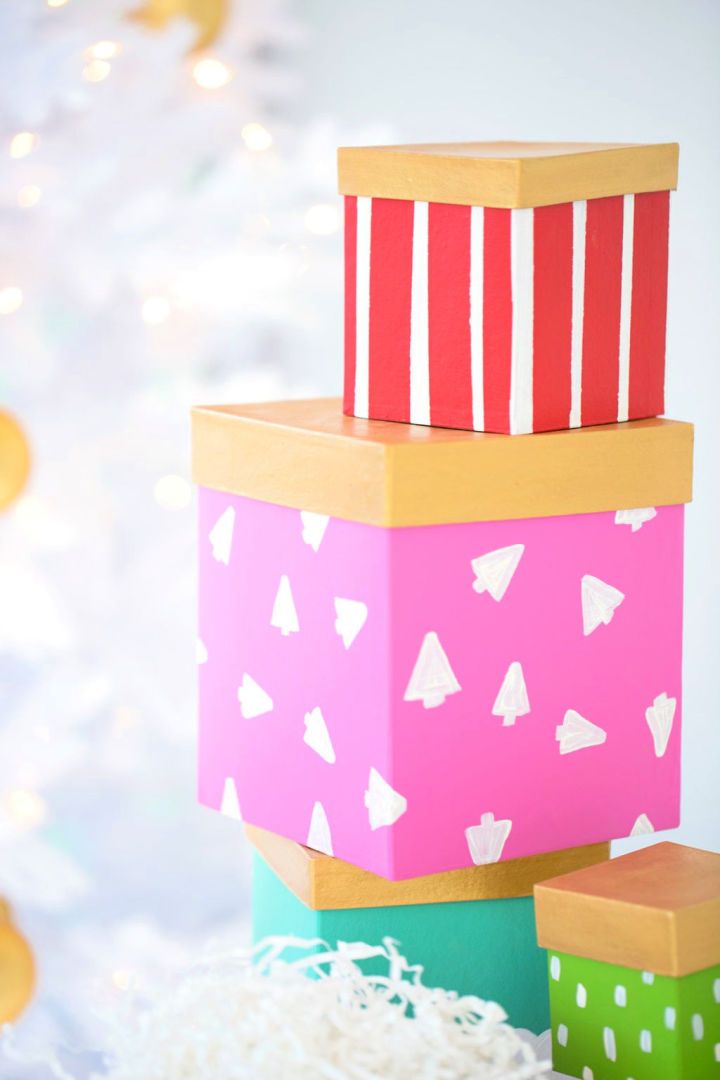 Are you good at painting? Then why not use your painting art to whip up beautiful gift boxes. Follow here directions about how to make painted gift boxes like a pro. You need paper mache boxes, Americana craft paint in colors of choice, foam brushes, paintbrushes, masking tape etc to whip up these painted gift boxes, please the receivers. The project will share lots of different painting hacks to make all popular types of gift boxes. Get inspired more by looking at the given samples. damasklove
7. Burlap Floral Rustic Gift Box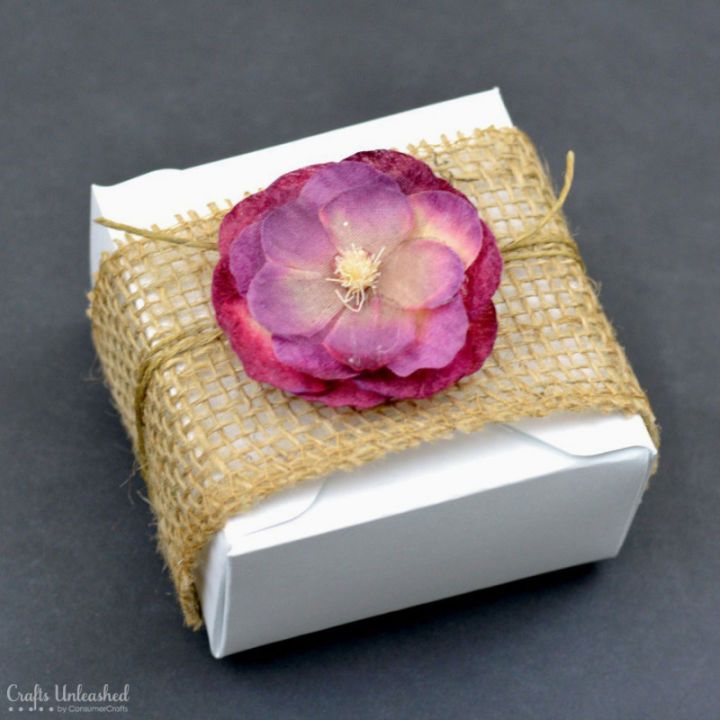 Are you a big love of rusticity? So, why not make the rustic gift boxes at home with this quick DIY hack. These boxes come with flower tops and come wrapped a little in burlap for a rustic appeal. The finally completed size of the gift boxes is 3.25″ x 3.25″ x 1.75″, and they will rock to pack the miniature gifts. These miniature boxes will rock to hold the candies inside and be the most loved gift boxes for all. Mainly you need the white gift boxes, burlap, and flower tops for this project. consumercrafts
8. DIY Gift Box Printables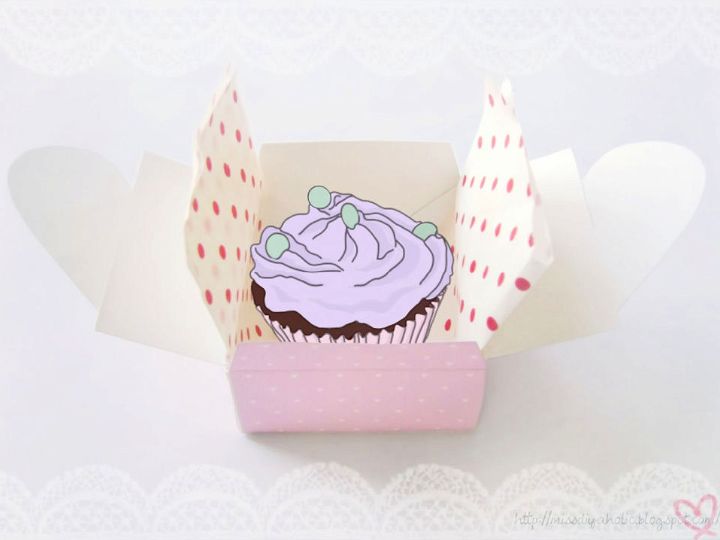 You will get the complete free plans and instructions to make a quick DIY gift box at home while using paper. The project will guide how to mark a paper and cut to create the folds that will help make a quick box with custom storage compartments inside. Next, just decorate the finally completed box in the way you like and pack your gifts inside the box. This box will rock for the Valentine's Day gift boxes. The project will provide free templates and printables for all 4 boxes. missdiyaholic
9. How to Make a Milk Carton Gift Box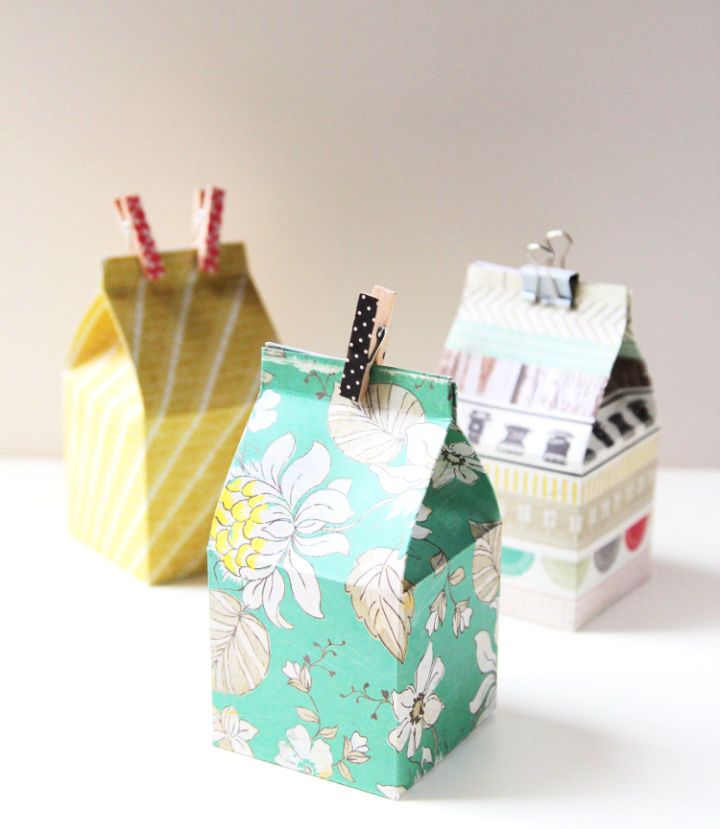 Having nothing to do with those empty milk cartons? Just upcycle them to make quick gift boxes. You need scrapbook paper, scoring board, scissors, double-sided tape, mini wooden pegs, and some creativity to whip up this very beautiful gift box. This type of gift boxes will rock to hold the treats and other items of this kind. The project will guide you through all the steps to make a quick lovely gift box from cutting to folding to decorating. One of the best DIY gift boxes ever made. gatheringbeaut
10. Homemade Gift Box From a Vintage Book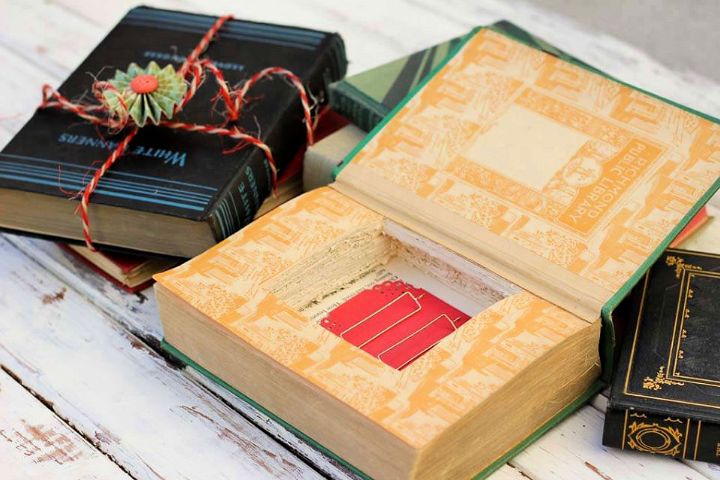 Repurpose also vintage books from home and make quick homemade gift boxes out of them. It will be super impressive. The finally completed gift box will rock for the Valentine's Day gift and can be used to pack all the worthy little gifts like rings, watches, and other items of this kind. Here you need an old book, X-acto knife, paper, washi tape, scissors, larger binder clip, mod-podge. One of the best DIY gift box ideas that will add a great sentimental value to your gifts due to being handmade. makeanddocrew
11. DIY Explosion Gift Box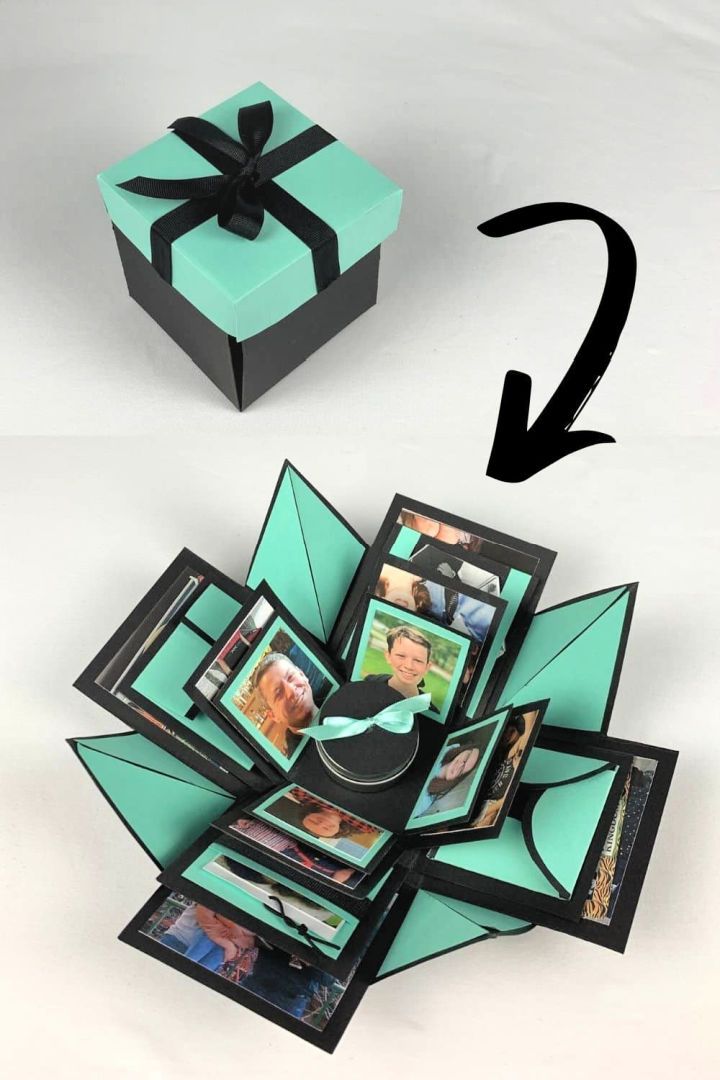 Win the heart of your beloved ones by giving this explosion box that is full of hidden surprises and will give a big blast of happiness to users. To make this explosion box, you need several sheets of 12 x 12 cardstock, complimentary scrapbook paper, scissors, glue, pictures, and custom decorations like flowers and ribbon. A scoring tool and a paper cutter will be the best tools to make this explosion box. You will get here guides for box folding also. chaoticallyyours
12. DIY Gift Box With Lid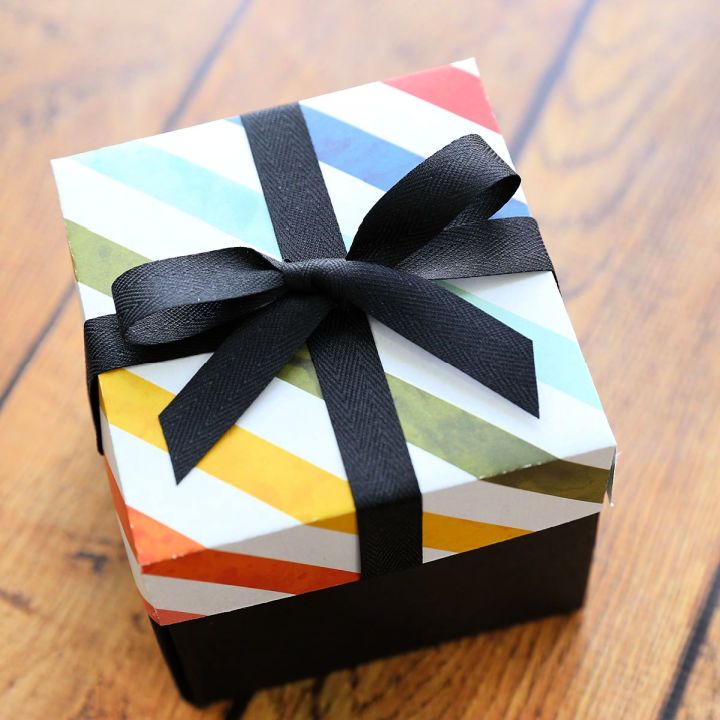 If you are willing to give the best photo-based gift to a favorite person or kid, then building an explosion box is just best. So, get professional instructions about building a DIY explosion box will make the receiver happy every time he/she opens it. What is unique and magical in this gift box is that it gets folded up like a normal gift box and comes with a lid on the top. You need 12" x 12" solid colored cardstock, 12″ x 12″ or 8.5″ x 11″ printed cardstock, adhesive, photos, and custom embellishments to build this explosion box. itsalwaysautumn
13. Corrugated Cardboard Gift Box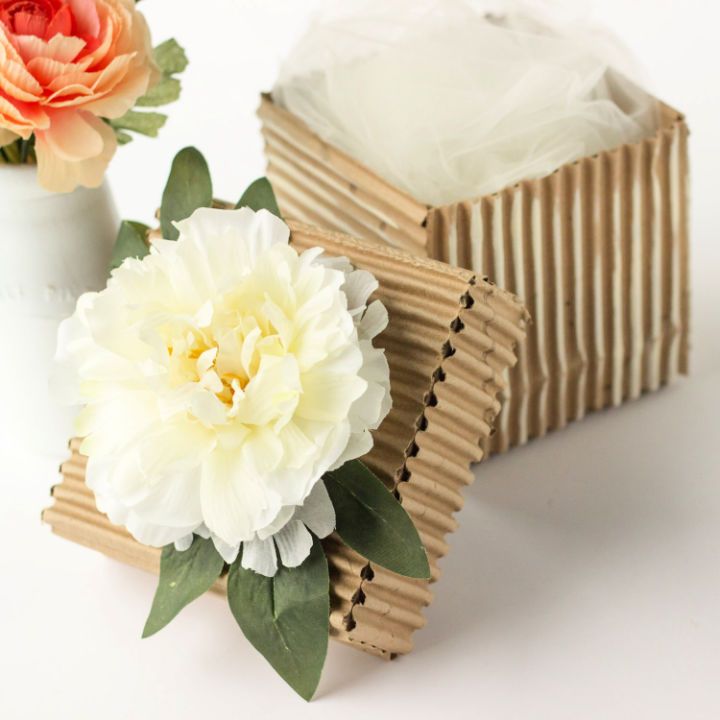 The cardboard is the ideal material choice to make lovely and durable gift boxes at home. Use the corrugated cardboard to whip up lovely and solid gift boxes, will be a big love of all. You need the corrugated cardboard, scissors, box cutter, craft glue, ruler, and cutting surface to whip up this cardboard box. To decorate this box, you need ribbon, paint and artificial flowers. One of the best DIY gift boxes ever crafted at home. muslinandmer
14. How To Make A Gift Box With Wallpaper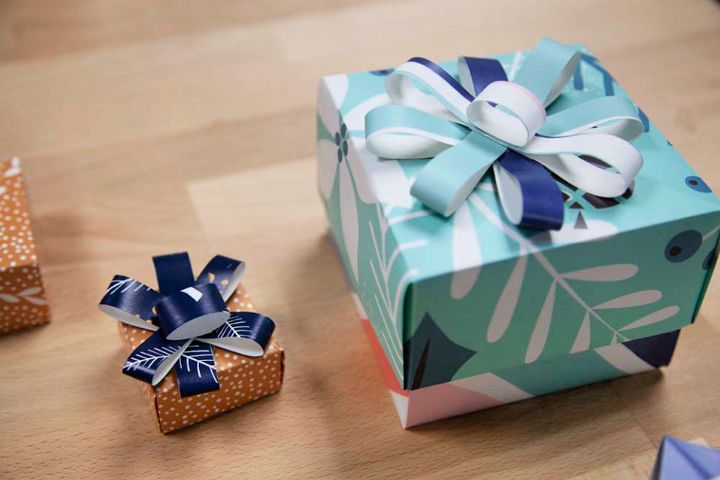 Grab here the full instructions to make a quick gift box that will make your packed gifts look divine and impressive. Play creatively with the wallpaper to whip up this gift box and securely hold your expensive gift. You need a 24″ x 12″ wallpaper swatch, pencil, ruler, and scissors to build this fantastic gift box that will help save a lot of your money. Experiment with this gift with your own favorite wallpaper. You will get here detailed diagrams for the accurate folding of the paper to make a quick box. spoonflower
15. Cute DIY Gift Box Ideas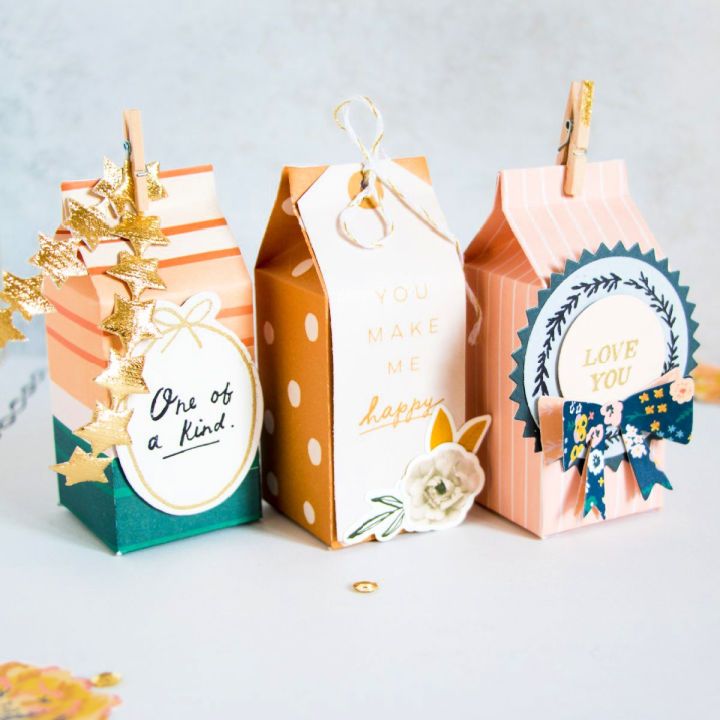 Just like the gift, the gift boxes and gift wraps also matter when you are on a mission to please a favorite person. If you want a personalized gift wrap for your expensive gifts, learn how to build a quick cute gift box at home. The finally completed gift boxes are like the milk cartons, and they are the faster DIY creations. You need a gift box punch board, small milk carton die, die cutting machine, cardstock stickers, 12″ x 12″ paper pad, stamp and die set, and crate paper etc to build these crazily cute and beautiful gift boxes. maggieholmesdesign
16. DIY Surprise Box Or Mystery Box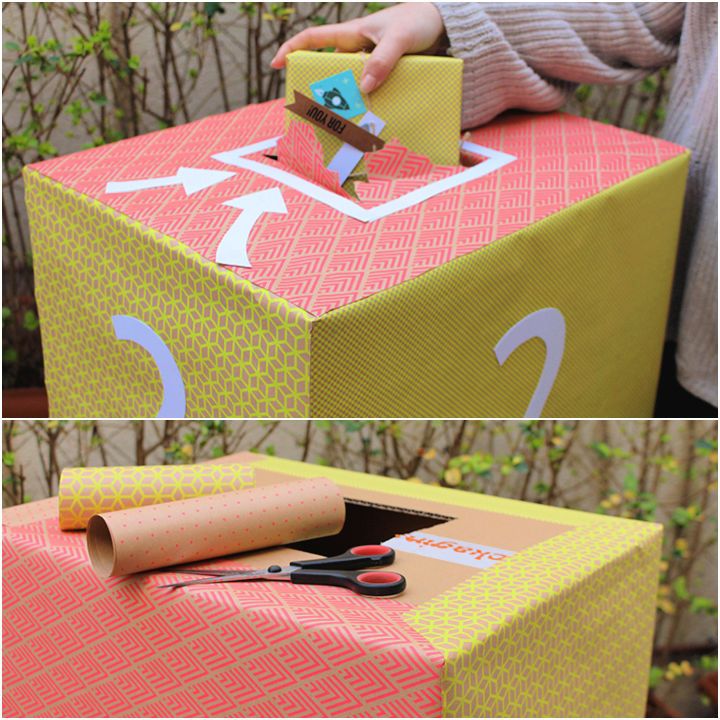 This gift box makes a great mystery box and will double up the fun of gift-giving. The surprises in surprises make a person happier, and the same will do this handmade gift box. The project will have to build several boxes for the large surprise box, which will be big fun for sure. You need wrapping paper, a white A5 card, double-sided tape, moving boxes, and security tape. The project is easy and quick, and all beginners can do it nicely and expertly if they rightly follow the instructions. selfpackaging
17. How To Fold An Origami Gift Box

Origami is a great art of paper folding that helps build interesting things with paper. So, you can use the origami art also to whip up an origami gift box, will nicely pack your gifts, and will be a total pleasure to whip up. Here you need scrapbook paper, a paper trimmer, ruler, and a cutting mat to quickly make these gift boxes, will hold your gifts nicely and are guaranteed to impress the receiver. So, why pay higher for the good-looking gift wraps as you can make them yourself. gatheringbeauty
18. Making A Paper Apple Box for Teachers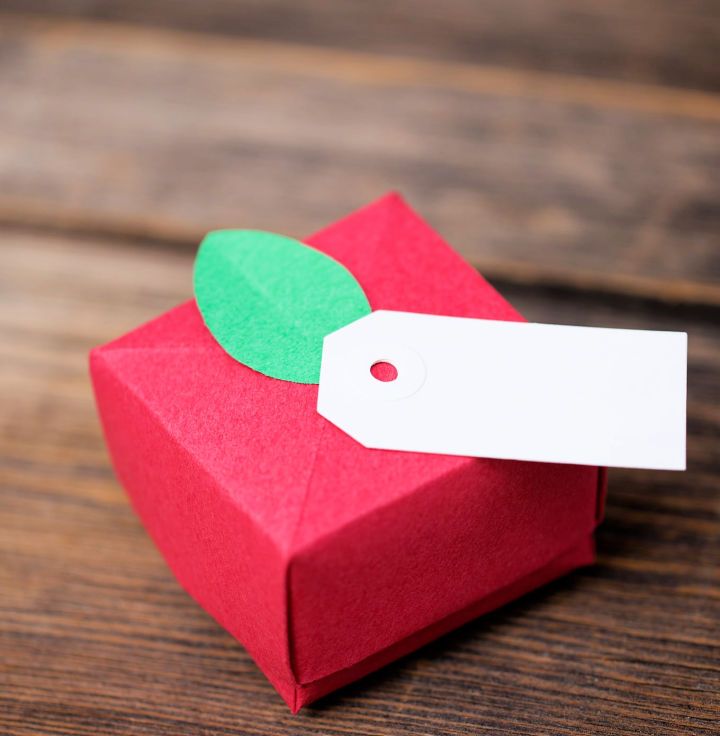 Skip buying the expensive gift boxes as they are super easy to make at home with beginner crafting skills. The project will show you how to make a paper apple gift box, rock for the Teacher's Day, and other Memorial Day gifts. Just fold the card or paper in the apple color to make a quick box and then finish it up with a green leaf and stem and whip up a nice and quick paper apple gift box. You need the free printable, scissors, tape or glue, and some creativity to whip up this gift box. firefliesandmudpies
19. Paper Gift Box Idea For Her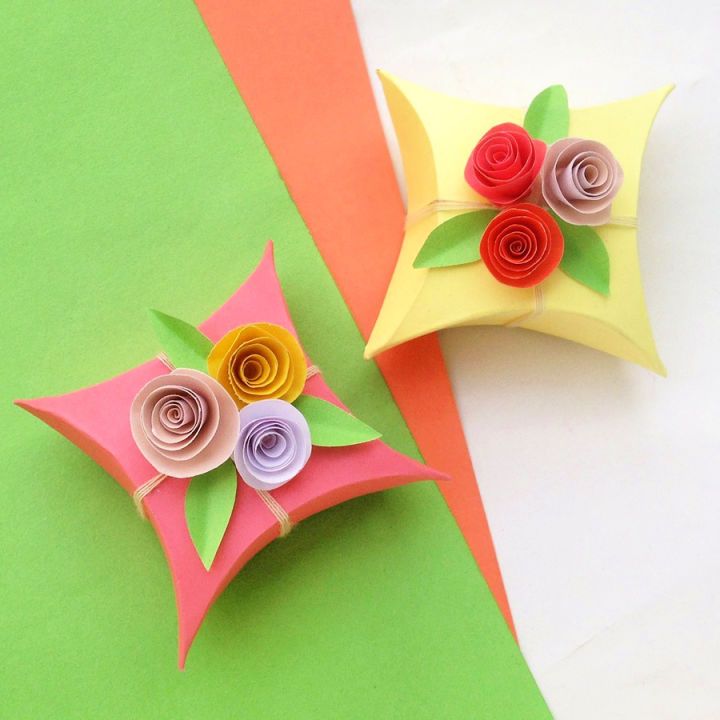 Folding the paper is a creative mind game. The art of making valuable things by folding the paper is called origami, so you can follow the directions here to fold a paper gift box. The project will be big fun and will eliminate your need to buy expensive gift boxes for the gifts. Look at this flower-topped gift packing, is not it cute and graceful. You need cardstock, thin ribbon, and the free provided template to whip up this paper gift box in just 5 minutes. You also need glue, a pencil, and scissors as necessary tools for the project. Roll the ribbon to make flower toppers. happy mothering
20. DIY Collapsable Gift Box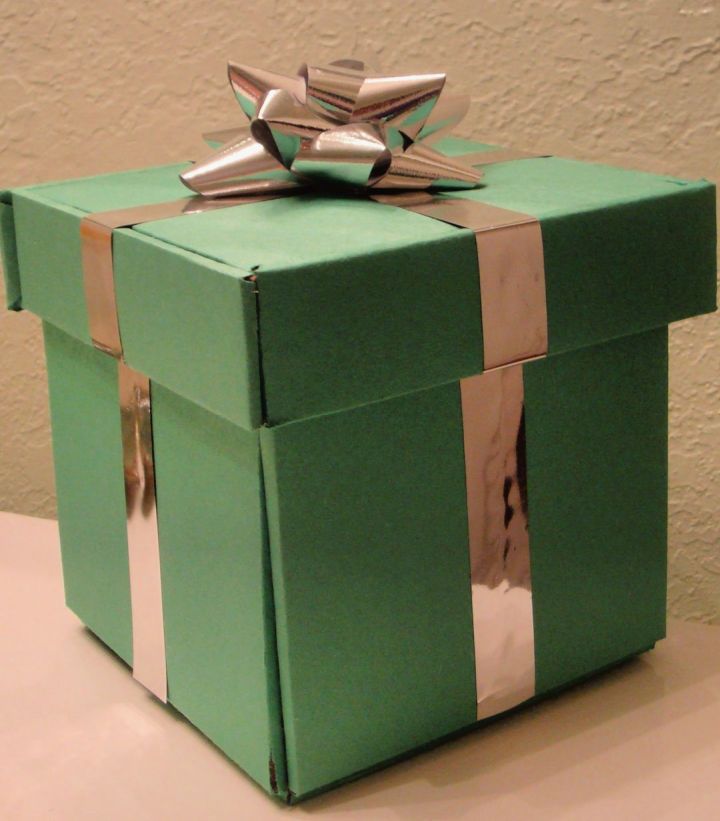 The explosion boxes are the most loved ones and the most expensive ones to buy at the same time. So, get the latest hacks here to make a nice and accurate explosion box without getting a bit expensive. In supplies, you need cardboard, wrapping paper, thick paper, box cutter, glue, ribbon, and bows to work up this very beautiful and special explosion box in no time. Make a grid-like template on the thick paper and then layer the folds with cardboard squares, and there you go. Finish the box with a nice topper. instructables
21. Handmade Open Gift Box Ideas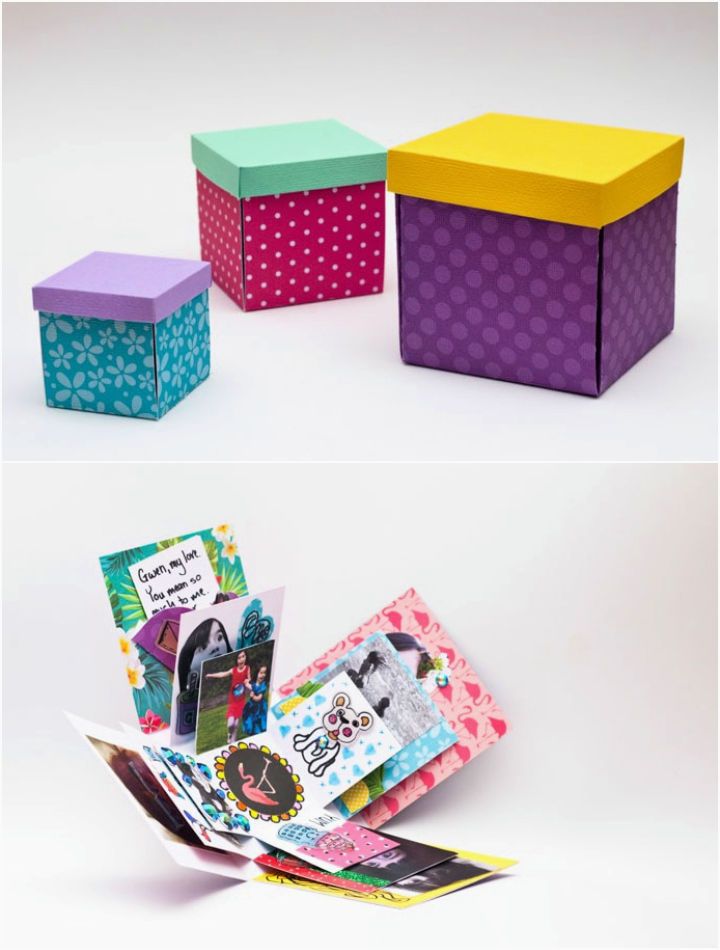 Are you deeply in love with paper crafting? Why not help yourself with this art to save a lot of money? Yes, get crafty with the papers and make quick gift boxes that are expensive to buy from shops. If you are hesitating to make a start, follow here guides to build an exploding box that comes with a nice lid and ensures better protection of the gift also. This exploring box keeps exploring one box after one until you reach the center revealing the final surprise. The gift box will be flat at the end. mypoppet
22. How To Make Empty Gift Boxes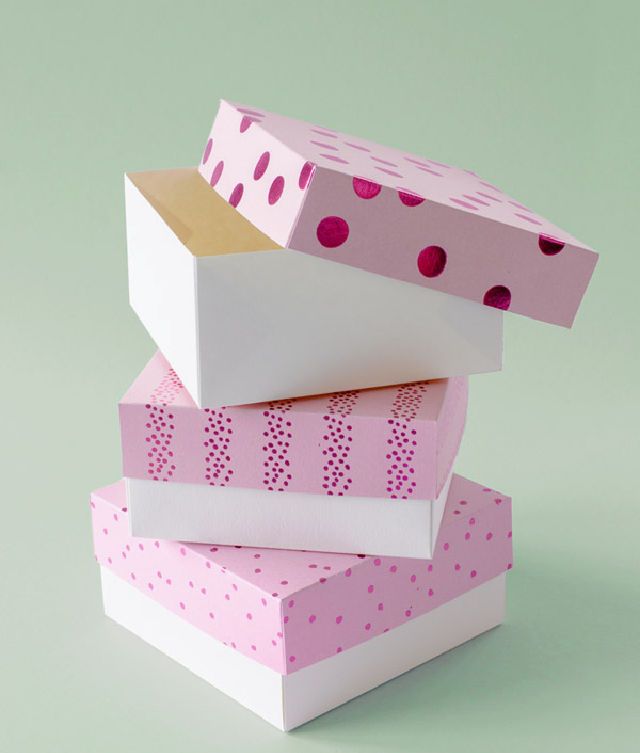 Are you a beginner and wishing to make a gift box? Follow here instructions to make a simple yet beautiful DIY Gift box while using the decorative paper of choice. The project will provide the free downloadable template that will provide the whole cutting and folding instructions. Next, you need paper in 2 colors, glue, scissors, a ruler, a bone folder, and a cutting make to complete the project. Pick your favorite decorative papers for the project. paper shape
23. Beautiful Flower Gift Box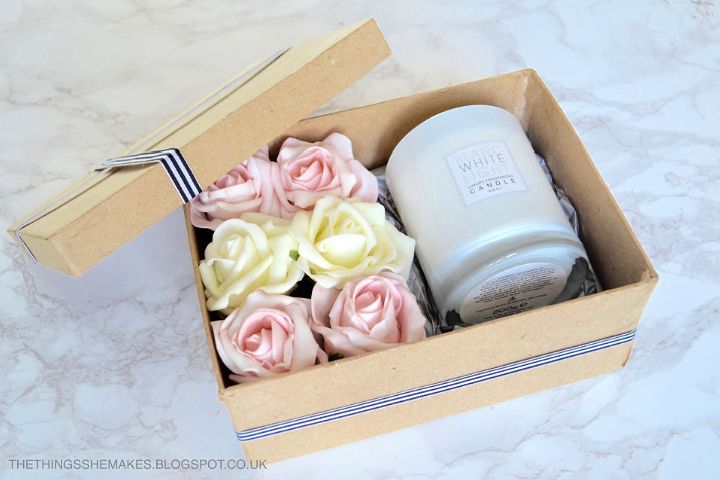 It adds a lot of value to your gifts when the flowers are added to your gifts. So, follow the right guides and directions here to build a flower gift box. It comes with flowers nicely placed inside that will bring a smile to the receiver's face at the very first opening. You need a gift box, foam, and colorful faux flowers to work up this very special and lovely gift box will nicely hold your gifts. You also need a decorative ribbon to whip up this crazily cute and beautiful gift box. One of the best DIY gift boxes to make with flowers. thethingsshemakes
24. Small Cardboard Gift Boxes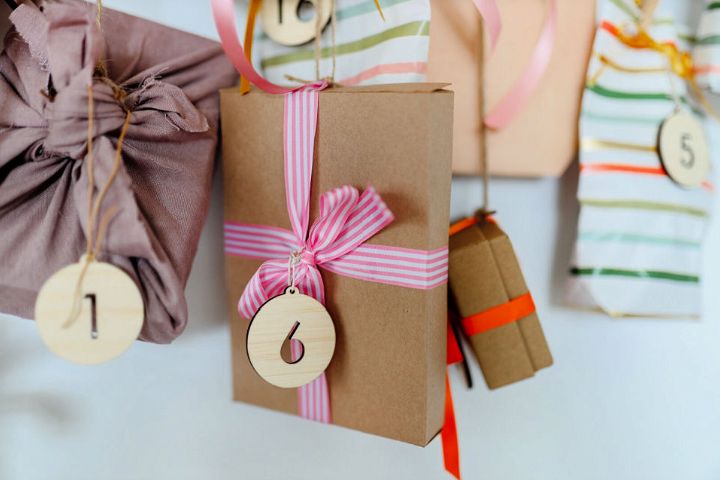 The making of gift boxes often needs a template. But you can now make the superb-looking cardboard gift boxes at home without getting a bit expensive. You need an A4 card, double-sided tape, a craft knife, and scissors to whip up this beautiful DIY cardboard gift box. It will add great value to your gifts. The project involves the simple folding of papers to make a lovely gift box. Use the ribbon, custom embellishments, and decorations to fancy up the finally completed gift box more. cleverpoppy
25. Tiny Wooden Gift Boxes With Lid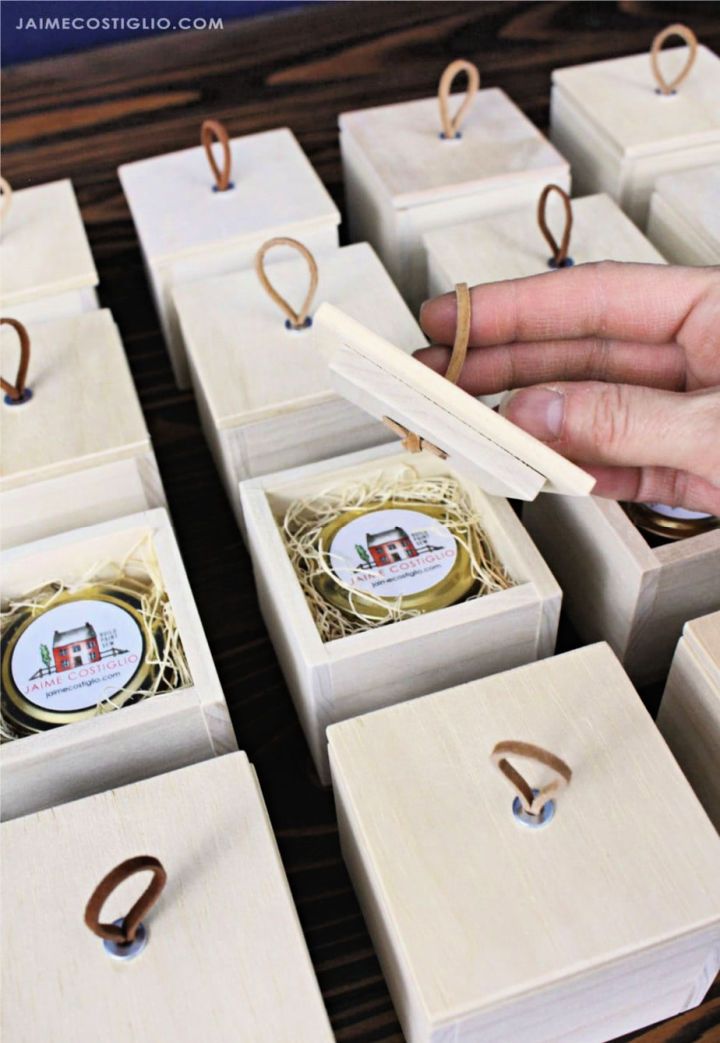 Grab the complete directions and instructions here to build quick and beautiful DIY wooden gift boxes with lids, will rock to wrap the miniature gifts like watches, rings, and other miniature items of need. The gift boxes are too beautiful to make a gift and will be a total pleasure to make with the free provided instructions. The lids of the boxes come further with leather loops for added visual stimulation and charm. The best boxes to pack miniature gifts of choice. jaimecostiglio
26. Free Printable Emoji Gift Boxes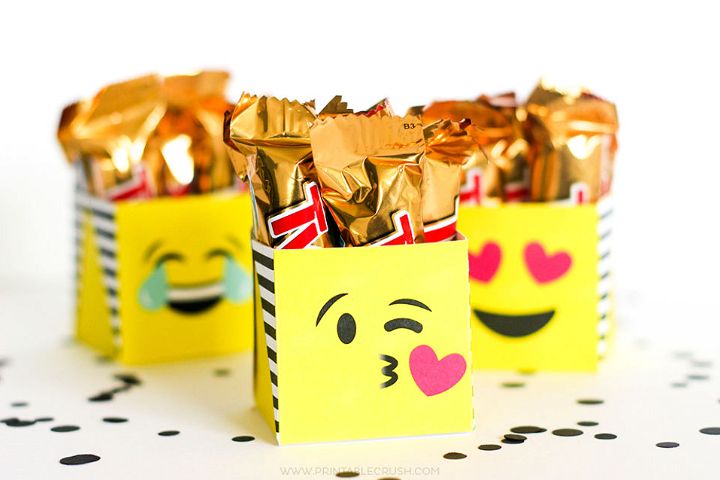 The emojis are cute and should not be only in mobile and social media text messages. Bring them to everyday life by making these emoji gift boxes, will express you feeling also for the receivers. You need free printables, white cardstock, silhouette cameo, scoring board, and glue to whip up these emoji gift boxes, will rock your gifting game. This type of gift boxes will rock for the treat gifts. This is going to be the easiest gift box project ever. printablecrush
27. Lovely Jewelry Gift Boxes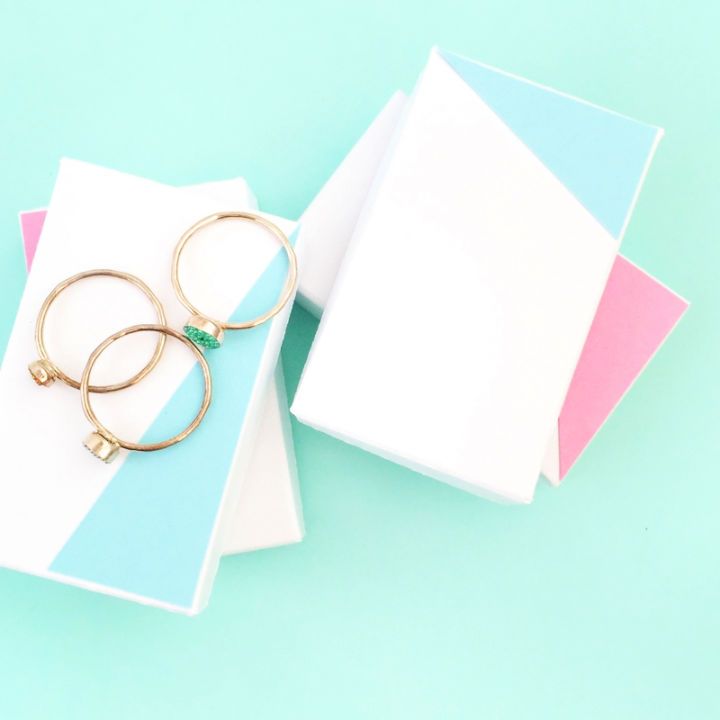 Sorting out the best gifts for the jewelry items? Get the directions here to make quick and lovely jewelry boxes, impress the receivers, and securely hold all the delicate inside. The boxes come in majorly in white and a custom accent color and will be easier to whip up with the beginner folding and crafting skills. You need a silhouette cutting machine, silhouette studio, cutting mat, cardstock, and glue to make these boxes. As a big bonus, you will get here Free Jewelry Box Studio 3 Cut File, Free Jewelry Box PDF file also. maritzalisa
28. Pretty Heart Gift Box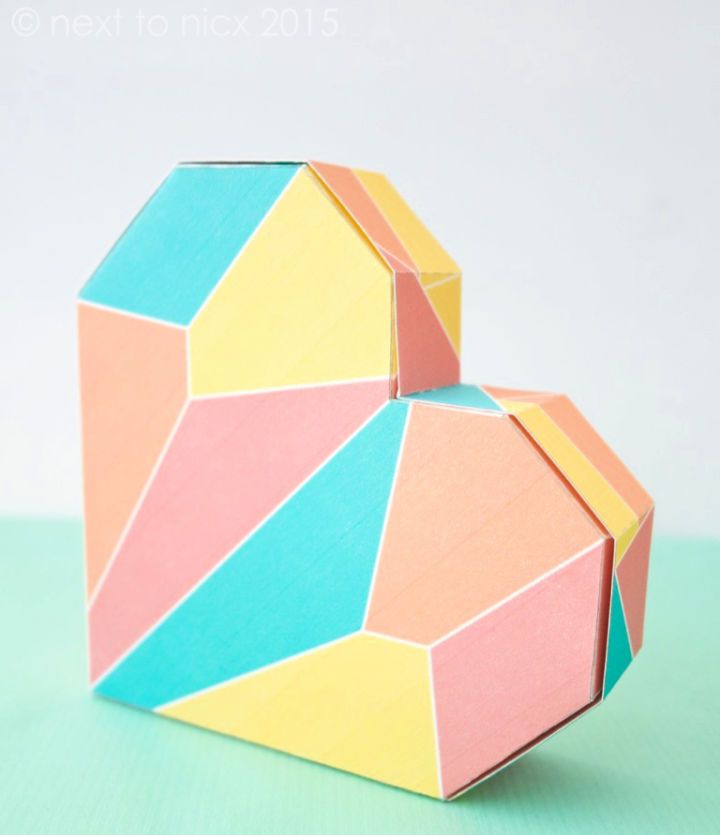 The heart shapes rock for the love day, like for Valentine's Day. So, consider making the heart shape gift boxes for Valentine's Day. Get here the complete visual directions and a free template to build a lovely heart gift box. Look at the given sample boxes that are colorful and finely shaped and will nicely hold your gift items inside. You need a cutting mat with an x-acto knife, glue, and two pieces of A4 cardstock paper per box. Decorate and embellish these gift boxes more in the way you like. nexttonicx
29. How to Make a Neck Tie Gift Box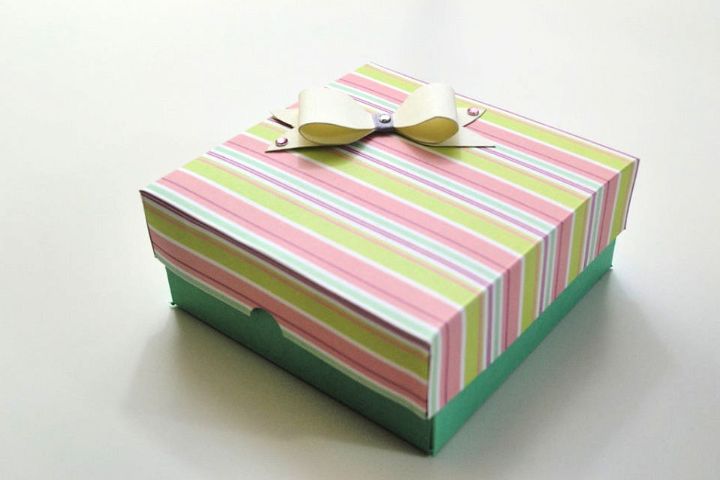 Satisfy your love for colorful stripes by making this striped gift box will enchant the receiver. You need glue, scissors, paper bow, scoreboard, 15.2cm x 15.2cm designer paper, 18cm x 18cm cardboard, and some creativity to build this fantastic and good-looking gift box in just no time. The project involves precise scoring and cutting, and you will love the finally completed boxes. Don't forget to add the final bow accent on the top of the box. instructables
30. Easy DIY Cookie Gift Boxes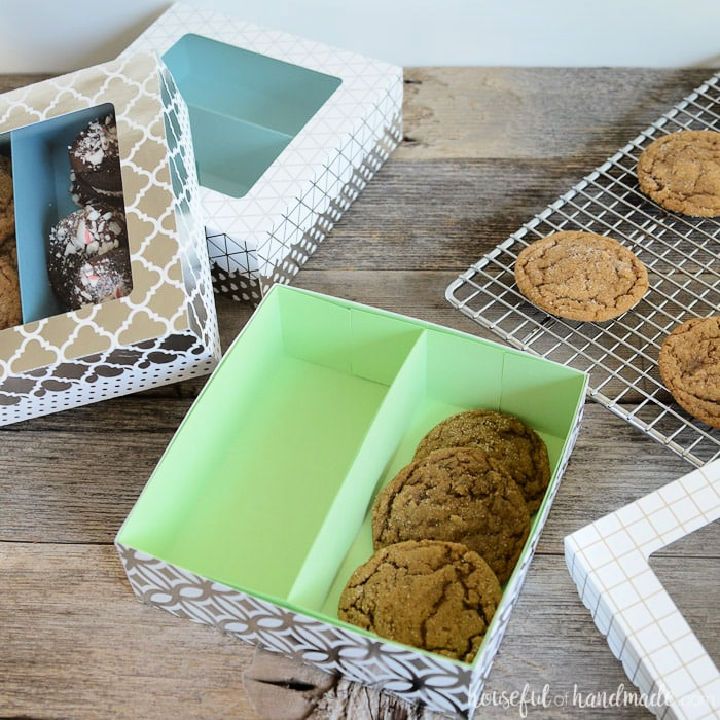 Follow here directions and instructions to whip up the best cookie gift boxes, which will make the inside items visible from the top. You need the cookie box template, cardstock, plastic sheets, glue, and custom treats like cookies or popcorns to fill inside the box. Use custom ribbon, flowers, and other decorations to decorate the finally completed gift box more. It will not take much time to whip up a bunch of these boxes. housefulofhandmade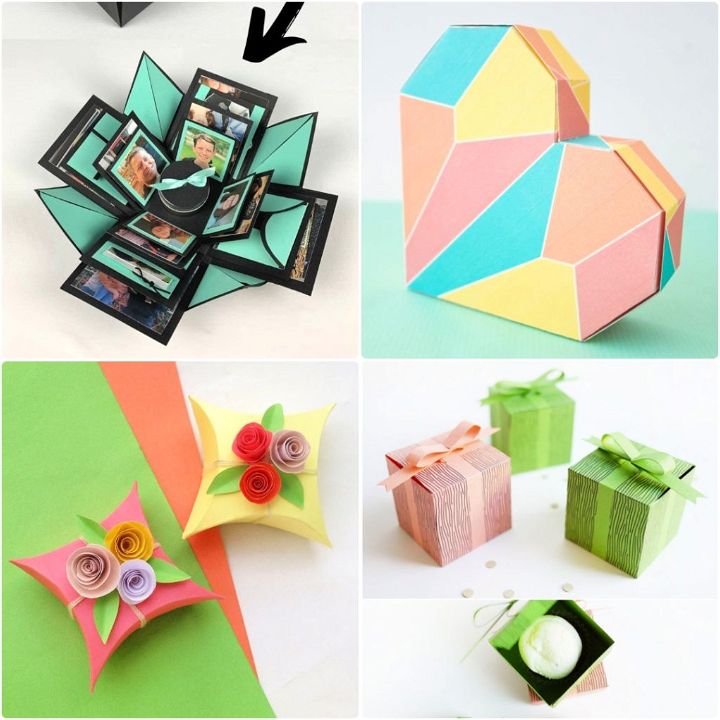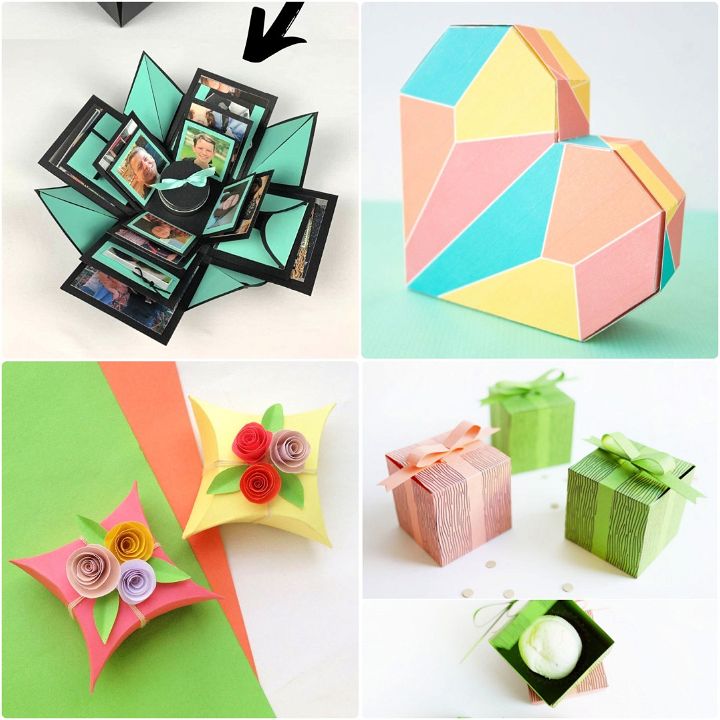 Related DIY Projects:
Free Printable Gift Tags – Customizable Gift Tag Templates: Download free printable gift tags for any occasion. These simple and customizable templates work for any type of gift and can be customized to match any style or theme.
Free Halloween Printables – Need some inspiration for Halloween this year? From printables to decorations, these 40 free Halloween printables are just what you need to get your creative juices flowing.
DIY Paper Mache Gift Boxes – These DIY Paper Mache Gift Boxes are easy to make and fun to personalize with your own touches. Great for any occasion and the perfect DIY gift idea.
DIY Jewelry Box Plans – Create original, personalized jewelry boxes for yourself or as a gift with these free DIY jewelry box plans.
DIY Painted Pots – Find inspiration with these painted pots guide. Discover a variety of ways to paint pots, including how to make your own, stencils, and more.
Conclusion:
Sometimes it costs you more to buy a gift box than to buy the actual gift. So, why not save a lot of money by making lovely style DIY gift boxes at home? This will help save a lot of market visits and hence time. So, to master the techniques, strategies, and art of making gift boxes, you can peek through the details of these DIY gift box ideas that solve so many different gift box-making cases.
From making simple folding paper gift boxes to whipping up those exceptional explosion gift boxes to those stylish Cricut machine-based gift boxes, these cool gift box ideas will show you to make also with ease. Moreover, you will get free printables and templates also for the most loved gift boxes. So, take a short tour of all the homemade gift box ideas to get your creativity inspired.