Get your home ready for Halloween decorations with this spooky collection of 40 free Halloween printables, cutouts, templates and crafts. Find printables for every room in your home. The decorations will last for years, and with over 40 free printable Halloween decorations, you're sure to find exactly what you need.
The bigger festivals need bigger preparations. So, it will take a lot of time to make Halloween costumes, decorations and other Halloween party details at home. Lessen your Halloween preparation burdens with these Free Halloween Printables shared for the Halloween invitation cards, greeting cards, treat bags, spooky masks, Halloween scavenger hunts, labels, Halloween coloring pages and Halloween kids worksheets.
Just download them for free and print them on paper and cardstocks to add to your Halloween parties. So, these labels will help save a lot of your time and money simultaneously. Explore these 40 Free Halloween Printables that will lend you a big helping hand in the Halloween decorations and planning. However, you will get free printables for the Halloween votives, jar gift tags, wall art signs, buntings, garlands, and the Halloween gift and drink bottle labels.
However, you will also find custom stencil printables that will make the Halloween pumpkin carving easier. With the help of a Jack O Lantern stencil printable, you can easily carve the pumpkins for the respective scary monster look. However, you can download here the free Halloween sticker and bat printables. You can paste on many different Halloween decorations and even the blank walls for bigger spooky statements. Take a quick tour of all these Free Halloween Printables to see more unique printables to choose from.
1. Free DIY Printable Halloween Pennants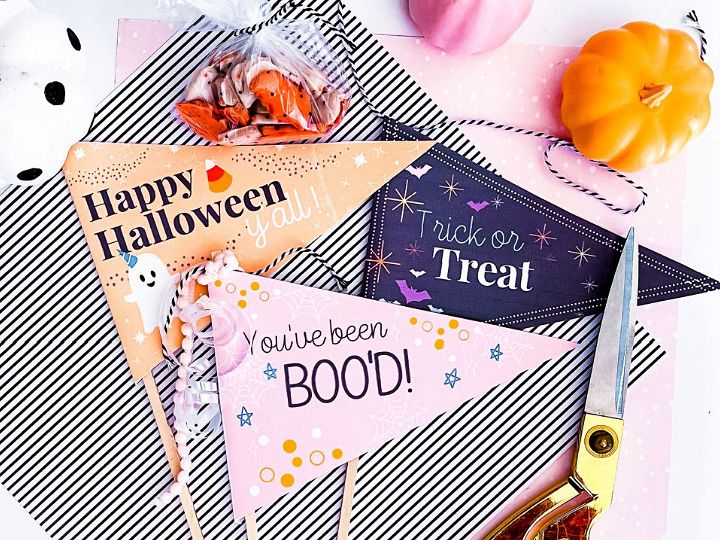 The spooky season will make you do lots of craft projects, and every just loves to craft out those creepy Halloween decors. However, you can make your work easier and quicker with these Free Halloween Pennants Printables that you can download and print out to make quick Halloween pennants. These pennants will rock for the spooky season and boo bags and will be loved dearly by all the kids and adults. You need a home printer, paper, dowel, scissors, tape and ribbon to easily whip up these pennants. turquoiseave
2. Printable Black Cat Treat Cones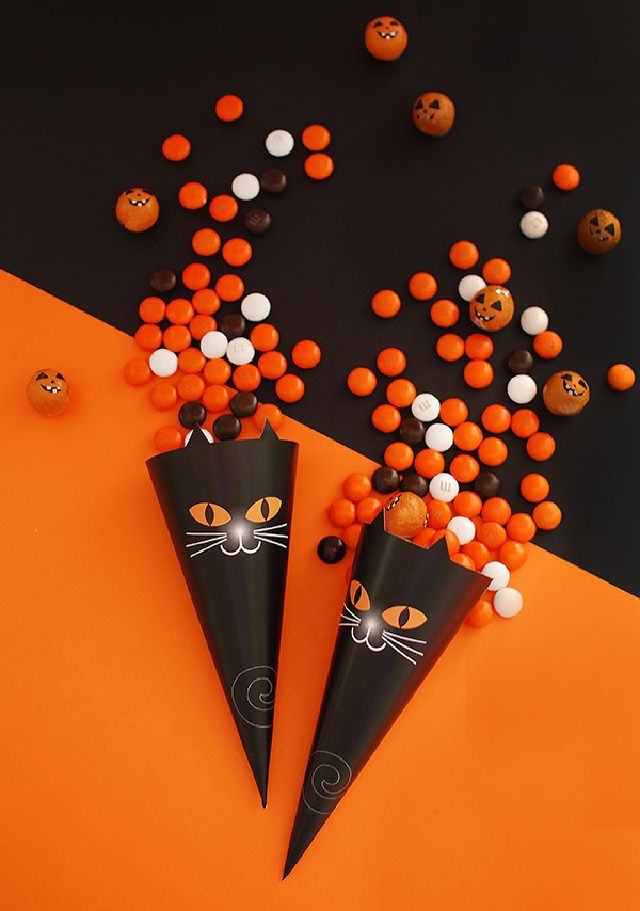 Sorting out the best treat bags for serving those Halloween treats to kids? Then get a free printable for the black cat treat cones that you can easily print out and roll up into cones to serve the candies and other treats. The free printable will allow you to make dozens of these teat cones in no time, so you can save a lot of time to spend on other Halloween decorations. Opt for these cones when you need to give treats to those Trick or Treaters. The spooky black appeal of the cone makes it look super special, and everyone will just fall in love with it. Along with free printable, you need mid-weight paper to print onto, double-sided tape and treats. we are scout
3. Printable Halloween Votive Candle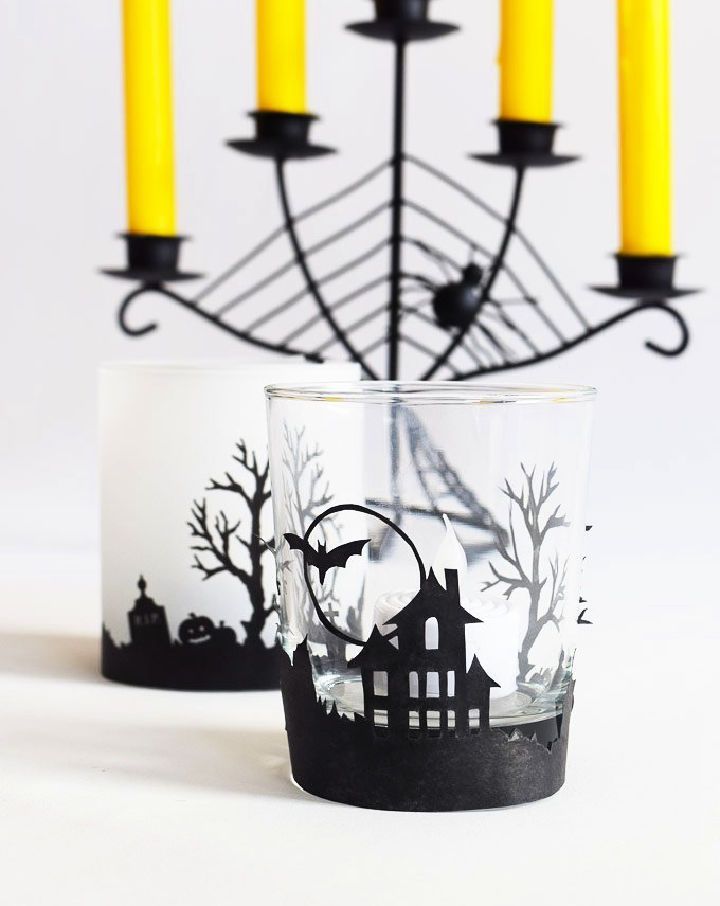 It will take much time to craft out those spooky lanterns and votives. However, buying the readymade ones can be an expensive affair also. So, save yourself a lot of time and money with these free Halloween votive printables that appear with the haunted house, haunted tree, bat and pumpkin art and will be loved dearly by all. You need a small glass, printable Haloween votive wrapper, craft knife, double-sided tape, and candle to easily make these Halloween votive candles, sure to be a big love of all. littlehouseonthe
4. Printable Bats on the Wall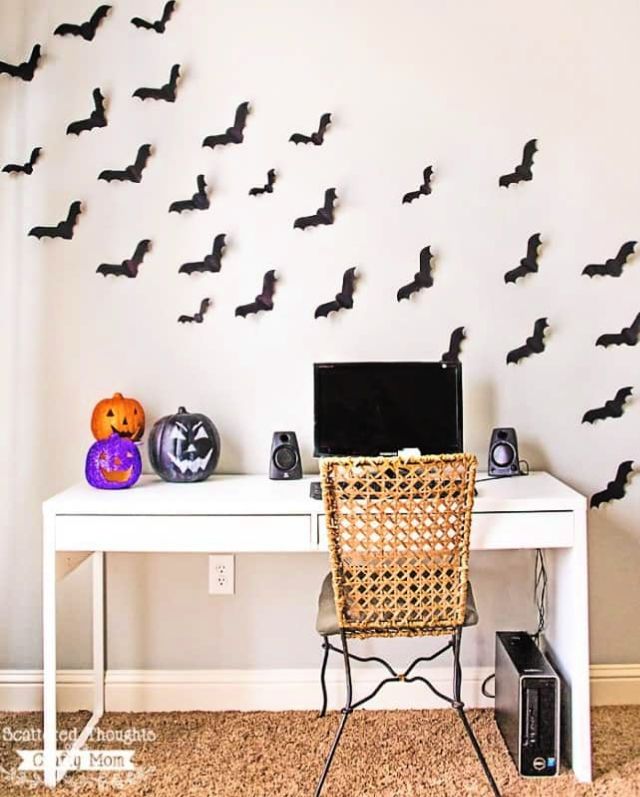 The bats are another iconic Halloween character to feature in the spooky decors for those necessary Halloween scares. So, learn here to make realistic-looking bats with paper that you can easily mount on the wall for great spooky Halloween decorations. However, the project provides free printable for these BATS on the wall, and they can be added to anything for a glam spook touch. Get these bats on the popsicle sticks and also on the front door for a lot of spooky fun. Not only is it free printable, but you will also get a free bat SVG cut file for your cutting machine. scatteredthought
5. Free Printable Halloween Greeting Cards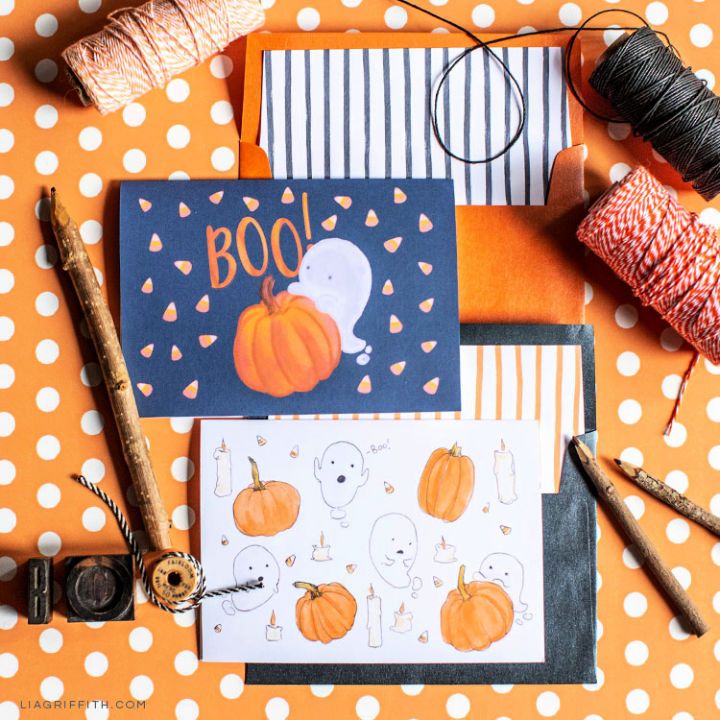 Halloween is the biggest spooky festival of the year, and everyone seems to be highly obsessed with the Halloween decorations, costumes, and other Halloween party funs. So, say everyone a sweet "Happy Halloween" with these greeting cards that you can quickly make with the free Halloween greeting cards printables provided here. The very required materials for the project will be a half-fold 5×7 white greeting card, free printable and 8.5×11 text weight paper to easily duplicate these lovely Halloween cards. liagriffith
6. Free Printable Halloween Trick or Treat Signs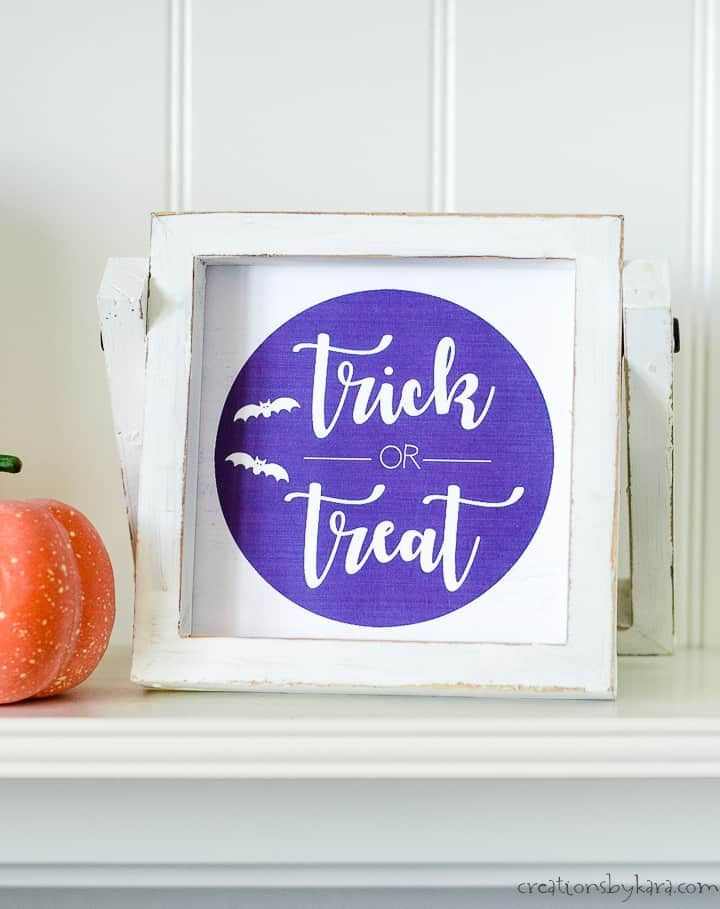 The spooky signs can be the very first or final addition to Halloween decors that jazz up the whole decor for sure. Willing to make some quick spooky signs at home? Then make them in a few minutes with these free printable Halloween signs. It can be a part of lots of Halloween decors. You need free printables, white cardstock, a printer, sharp scissors and custom decorative frames to easily complete these creepy 5×5″ and 5×7″ Halloween signs. All the beginners can easily whip up these signs, and they will surely be a great addition to your spooky festival dessert table backdrops. creationsbykara
7. Printable Haunted House Cut Out Template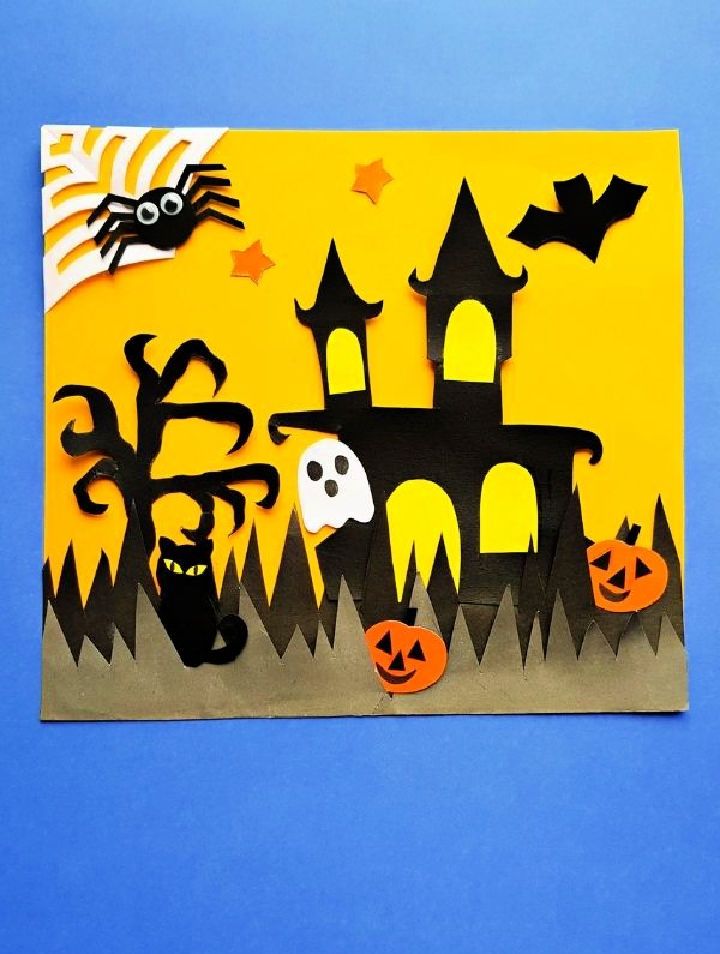 Everyone will love to stare at these haunted house papercraft made with the free Haunted house printables. The flying bats, the spiders, black cats, haunted trees, jack o lanterns and some spiderwebs are all included in this outstanding art craft. You can frame it up to make spooky Halloween signs, and they can also be used as great greeting cards. At the same time, they will be a great crafting activity for all the little kids to do on the spooky festival holiday. You need colored construction paper, colored cardstock paper, pencil, scissors, craft glue, sharpie and free printables for the haunted house and other creepy objects. sugarspiceand
8. Spooky Printable Mason Jars Labels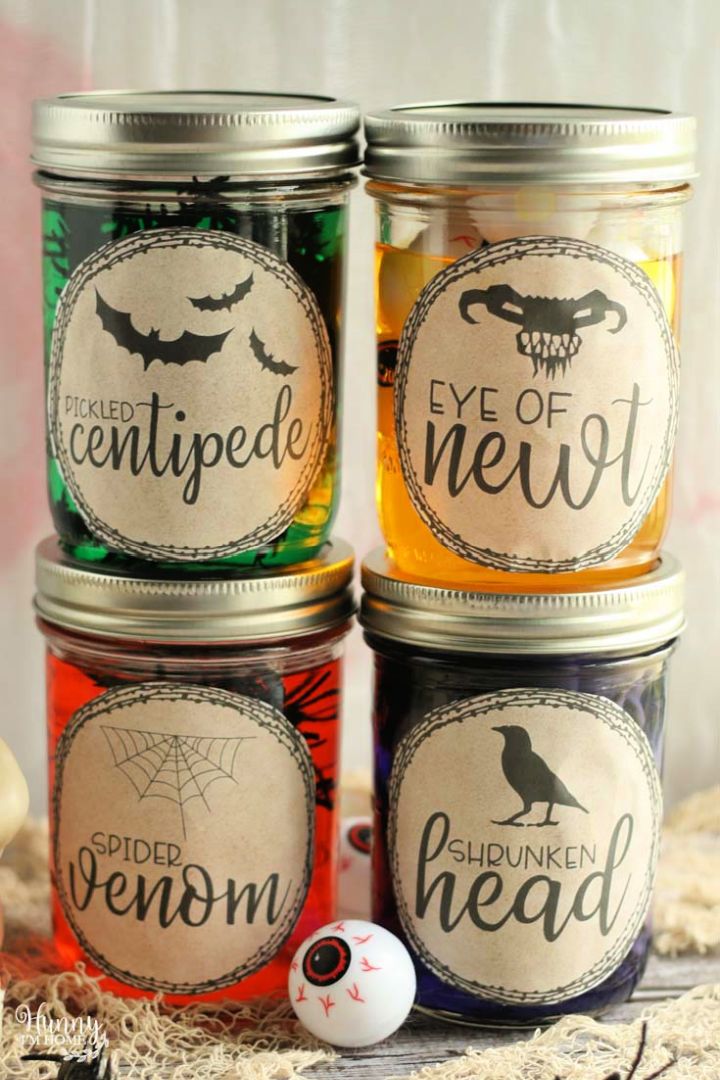 Duplicate this one of the best Halloween decorations, sure to rock your spooky festival decors. However, they are pretty easy and inexpensive to make. Just put the custom spiders, skulls and other spooky objects in the jars and fill them up with the colored waters. For those spooky labels, you can easily download the free printables here that you can easily add to these jars for added visual grace and stimulation. Get inspired by the given Eye of Newt, spider venom, a shrunken head and pickled centipede jars, sure to be the spooktacular Halloween decors. hunnyimhomediy
9. Day of the Dead Sugar Skull Cupcake Toppers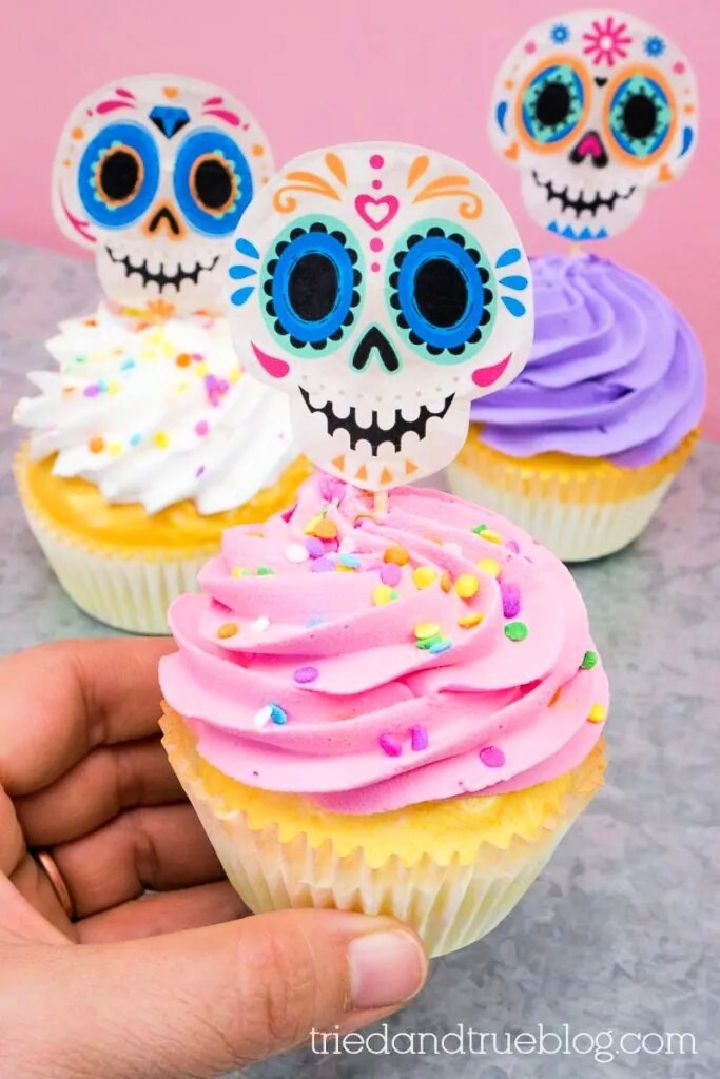 The Halloween party decors involve a lot to design and make at home, and this takes a lot of time and money to craft them. So, the free printables can be a big rescue in this case. So, grab the free printables to quickly make the sugar skull cupcake and cake toppers, and they will bring a great scary character to the entire Halloween party dessert table. However, these skull toppers are cool and colorful and can easily be added to wooden dowels or skewers to fix on the cupcakes. The project provides a free printable for these skull toppers. triedandtrue
10. Free Printable Halloween Boo Sign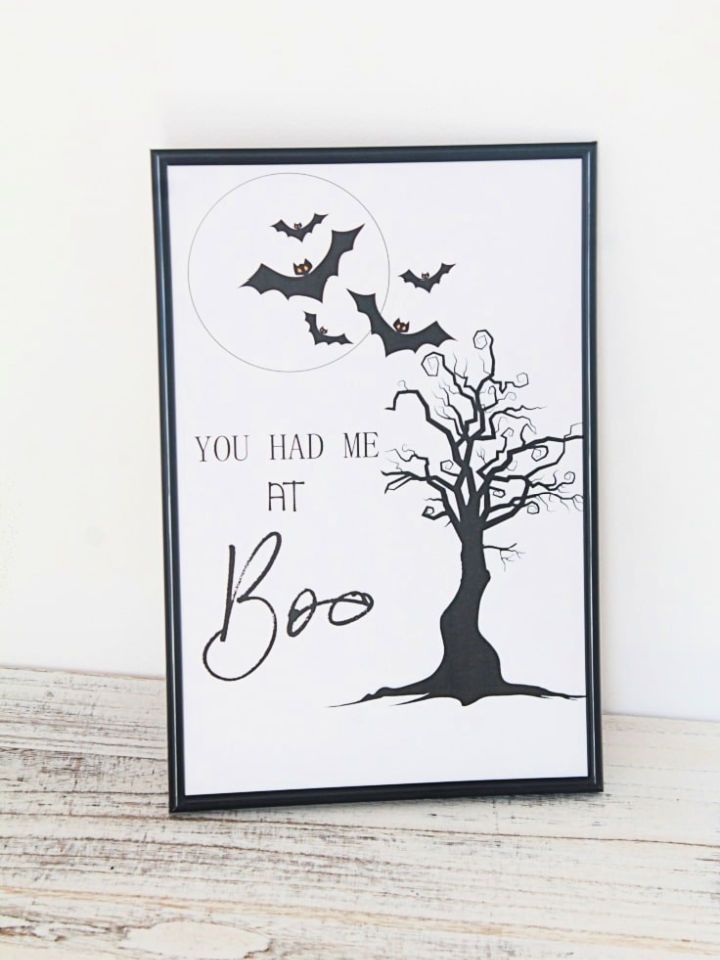 Get all the guests and family members boo'd with these Halloween boo signs. Make it a part of your scary Halloween entry arches or dessert table backdrops. It will be frightening in every way. You can quickly whip up these boo signs to celebrate Halloween to the fullest, and even little kids can quickly duplicate it. Just download the free printable for the spooky art and print it down on white cardstock paper. Next, just frame it up and gain a fantastic spooky wall art frame just at the drop of a hat. theseamanmom
11. Cute Printable Photo Booth Props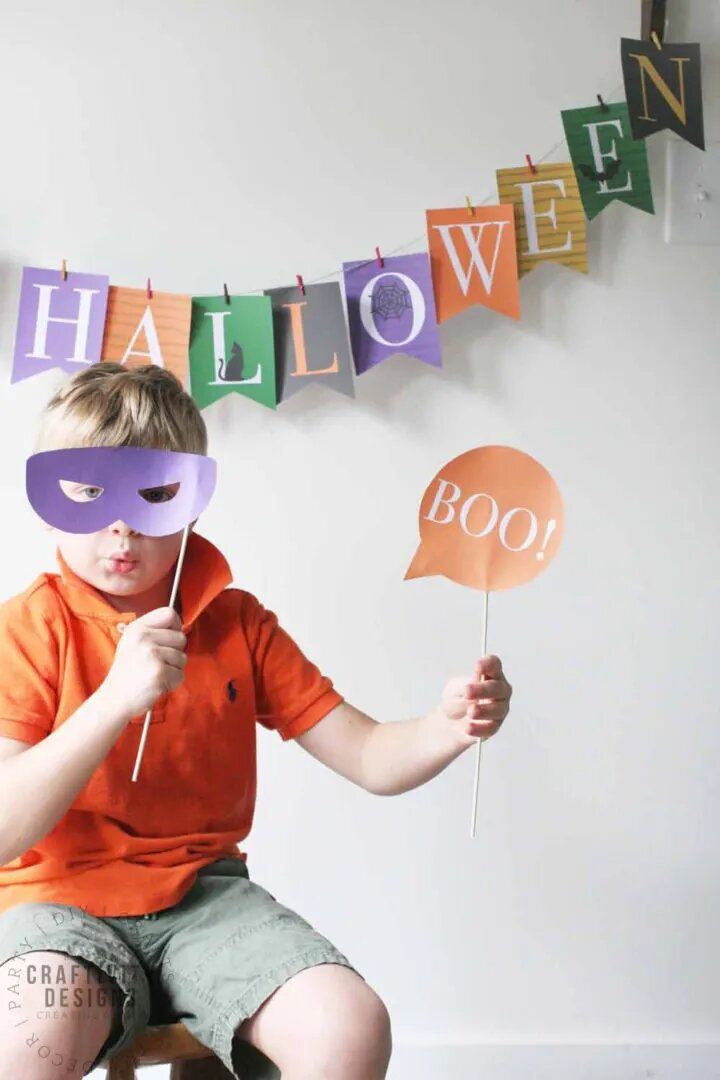 The free printables can lend you a big helping hand in making the Halloween decors, signs, props, greeting cards and lots of other decorations quickly and efficiently. So, this avail the free printables to quickly and cost-effectively create the Halloween photo booth props, sure to create too much fun for the kids. At the same time, they will also help take some memorable photos at the end of the party. Everyone will fall in love with these free Halloween printables, and they will win the heart of all Halloween fans. You need white cardstock, printer, Halloween photo booth printable files, scissors, wood skewers, dowel rods and tape to easily complete these props. craftivitydesigns
12. Cute Free Printable Halloween Invitations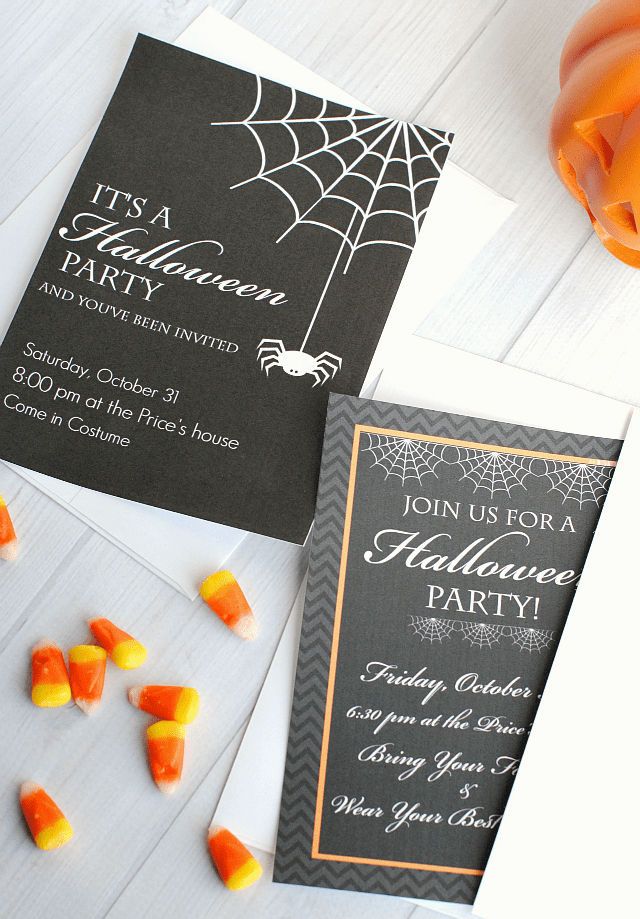 Making the Halloween invitations can be the first thing when hosting Halloween parties. However, it often takes hours of creativity to design the unique yet impressive invitation cards for the Halloween parties. However, these free Halloween invitation cards will make it all easier and quicker for you. Just download here the free printables and print them down on the different favorite colors of the cardstock. Pack in the envelopes, and you are done. You can also open them in an editing program to some alterations and modifications. fun squared
13. Printable Vampire Bookmarks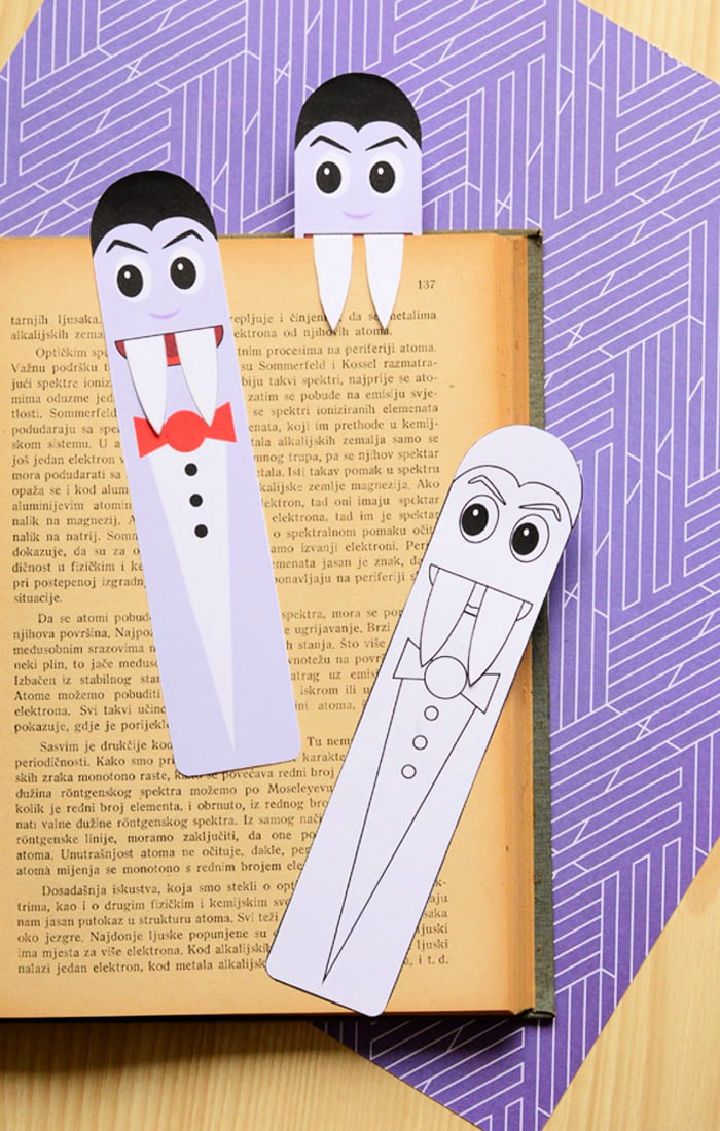 Instead of letting the Halloween vampires suck your blood, keep track of your book pages. Yes, these vampire bookmarkers will do it nicely, and they will make sweet handmade gifts to all those book lovers at home. These vampires beautifully add their long fangs on the book pages and manage to keep them in place. So, you can make them easily and quickly with the provided free printables. However, you can print them down colorful or as a lovely coloring page for the kids. However, you can also give those vampire bookmark coloring pages to kids to fill custom colors in them. easypeasyandfun
14. Unique Halloween Card Printable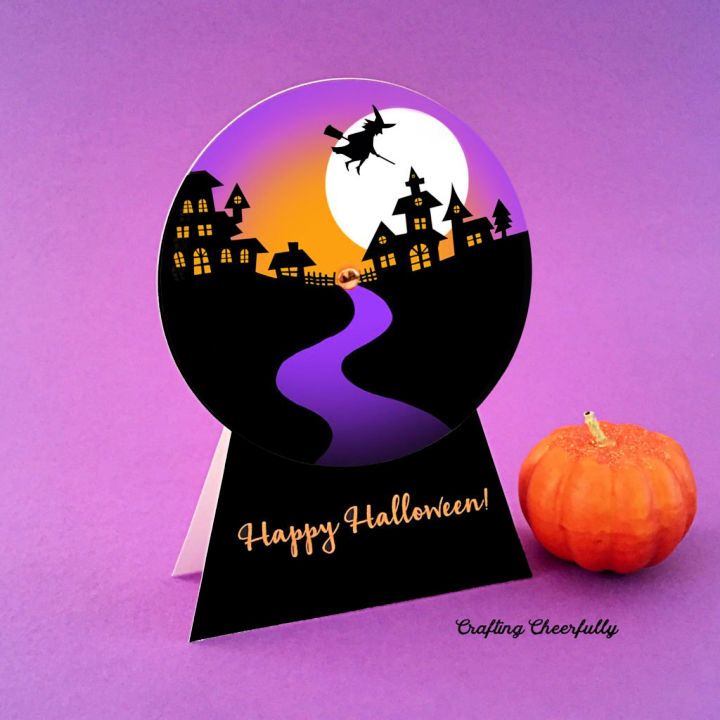 Sorting out the best Halloween greeting cards or table number cards? Then this Halloween snowglobe card will surely rock for both purposes. The card features the witch flying through the sky, and it will add to your spooky festival decors. You can enhance the overall visual of this card on the table by putting some other Halloween decorations around it, like the mini pumpkins. You need free printable, white cardstock, A7 envelopes, clear craft plastic, brads, glue stick, scissors, and scoring board stylus to easily complete this free Halloween snowglobe witch art card. craftingcheerfully
15. Peek A Boo Halloween Garland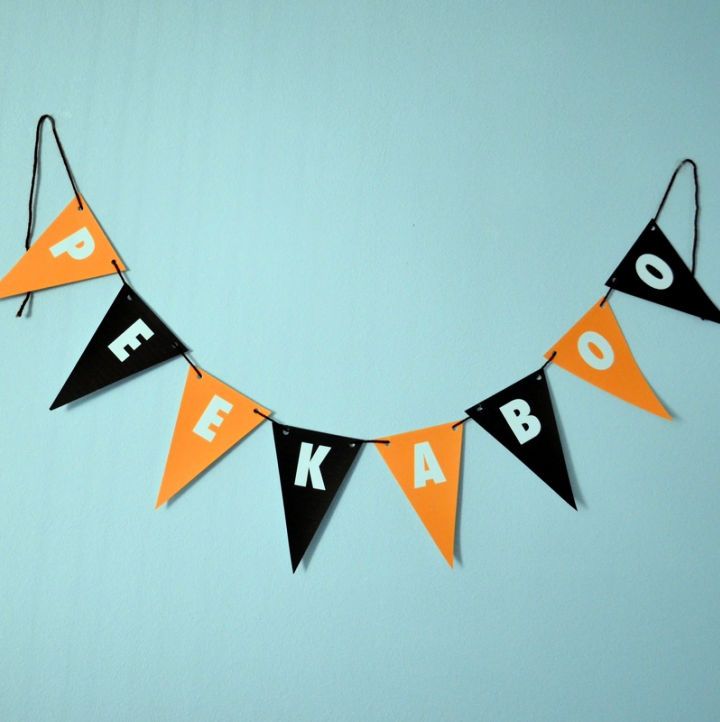 Need to make some garlands or banners for the Halloween parties and main entrance decors? Then why not get helped by the free printables? Get here free printables for a "PEEK A BOO" Halloween garland, and it will complete just at the drop of a hat. You need the free printable, a printer, scissors, hole punch, twine or black string to easily duplicate these Halloween bunting banners or garland. You can put it around anything like baby's crib, main door and dessert table for bigger statements of spook Halloween decorations. cozyreverie
16. Printable Halloween Shadow Puppets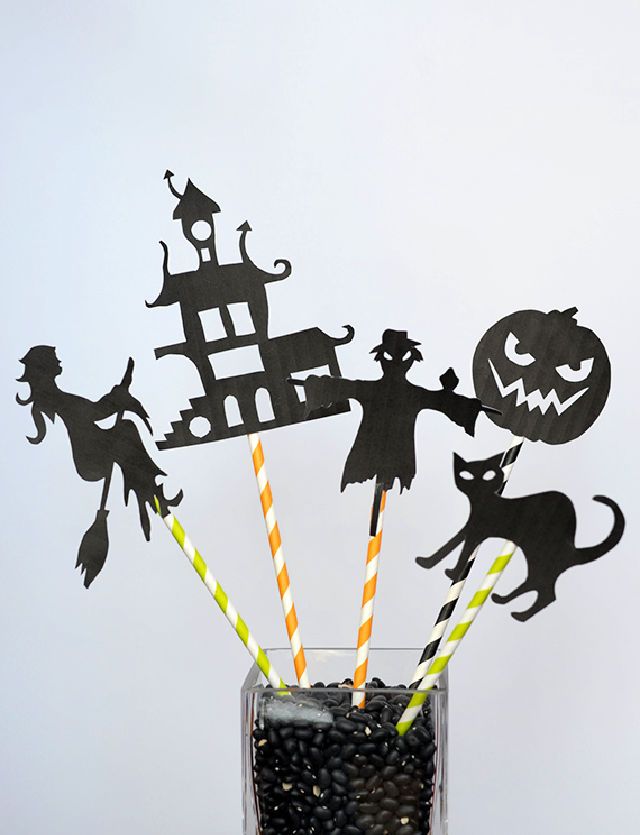 Boosting the kids' fun will be all easier with the spooky puppets. Here you need to add the spooky Halloween cut-outs on the striped straws to easily complete these puppets, sure to make great party props also. Again you can go with the free printables to easily print out these printables on your favorite papers. Cut them out and glue them on the top of some bamboo skewers, wood dowels or straws and make lovely puppets for Halloween. You need white cardstock, scissors, an x-acto knife, straws or dowels, glue and a flashlight to easily do this project. You can duplicate the same idea to make outstanding Halloween straw toppers also. minted
17. Printable Halloween Treat Boxes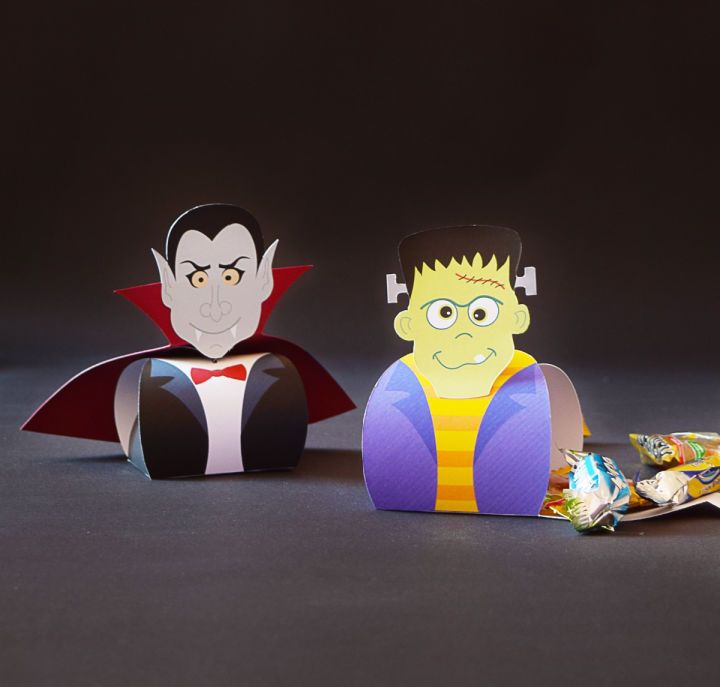 Looking for some spooky Halloween treat boxes to give at the end of the Halloween party? Then you will love o duplicate these vampires and monster Halloween treat boxes that are visually captivating and will be a total breeze to whip. Yes, you can easily download the free printables here for these treat boxes that you can cut out and glue together to make instant spooky treat boxes. You need free printable, thick paper or card, red paper, scissors or a craft knife, double-sided tape, glue, printer, sweets and treats for this project. littlehouseonthe
18. Halloween Bowling Game with Free Printables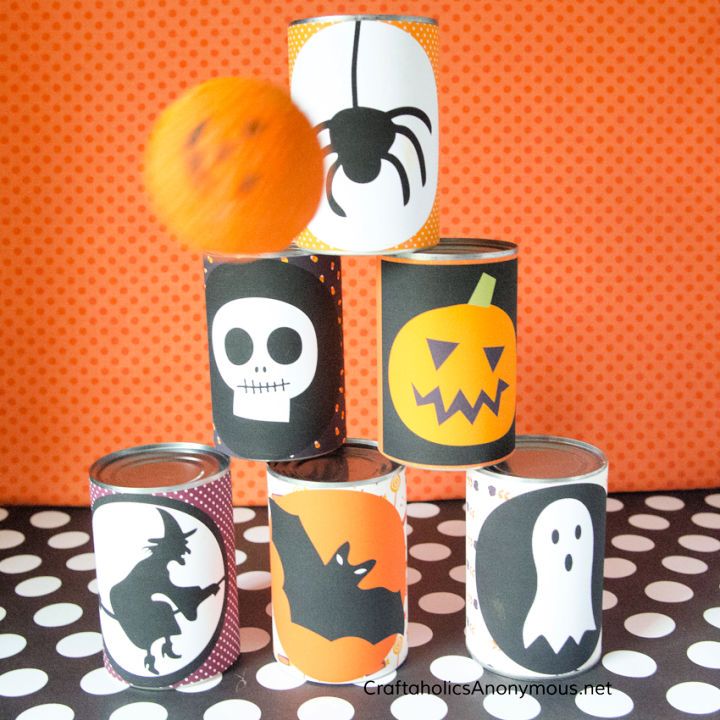 Intending to boost the kids' activities on the spooky festival holiday? Then this Halloween bowling game idea will surely keep the kids busy creatively and productively. You can easily plan the tin can as the game pieces and a ball to play this game. Both kids and adults will love to play this game, and it will add to spooky Halloween fun. However, you can quickly download the free Halloween printables here to paste around the tin cans for a glam, spooky touch. Also, paint the ball orange and finish with Jack-O-Lantern face features for added fun. craftaholicsanon
19. Halloween Maze Printable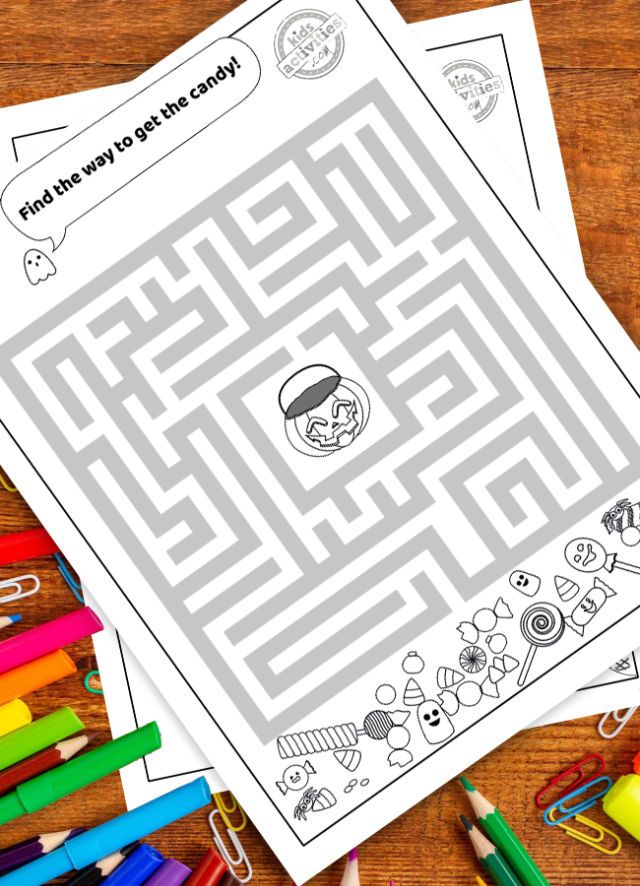 You can add spooky games and the Halloween holiday kids' crafts to keep the kids busy actively and creatively. So, these mazes card games will help bring tons of kids fun to Halloween. Planning and making this game can take a lot of time. Go straightforward, download the free printables and easily print them down on your favorite papers to instantly get these mazes game cards for the kids. However, you can also opt for some coloring pages, math worksheets and tracing papers, and they will rock for Halloween sensory activities. kidsactivities
20. Halloween Can Toss Game with Free Printables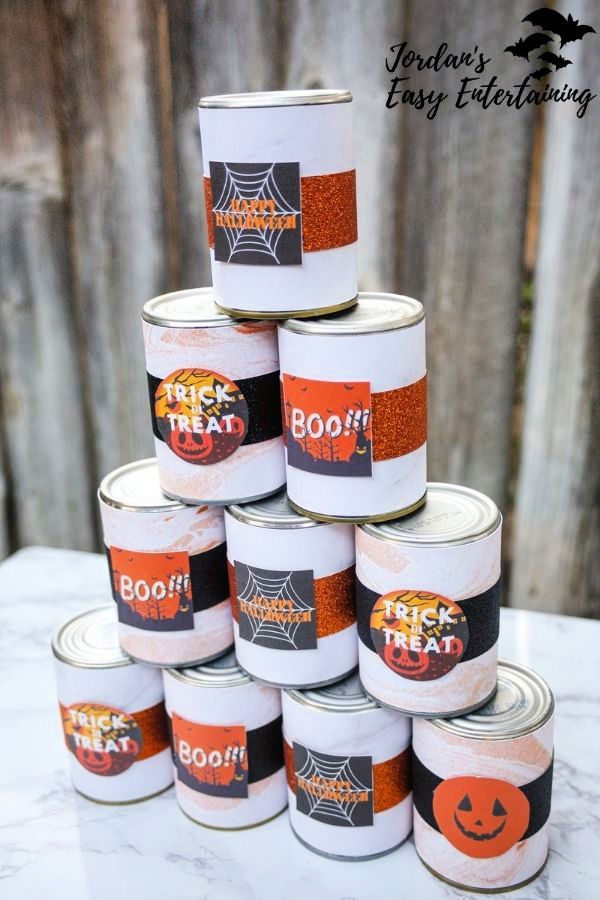 Are you deeply in love with the can toss game? Want to duplicate it for the Halloween kids' activities and fun playing? Then learn how to set up a spooky can toss game without getting a bit expensive and without spending too much time. Just add up each can with the spooky labels for a spooky glam touch. So, you will get free printable labels here that you can easily download and print out to add to cans. In supplies, you need 10 empty cans, cardstock, glitter cardstock, scissors, cutting tool, hot glue gun and printable labels to easily whip up this spooky Halloween game. jordanseasyentertain
21. Free Printable Stickers for Mason Jar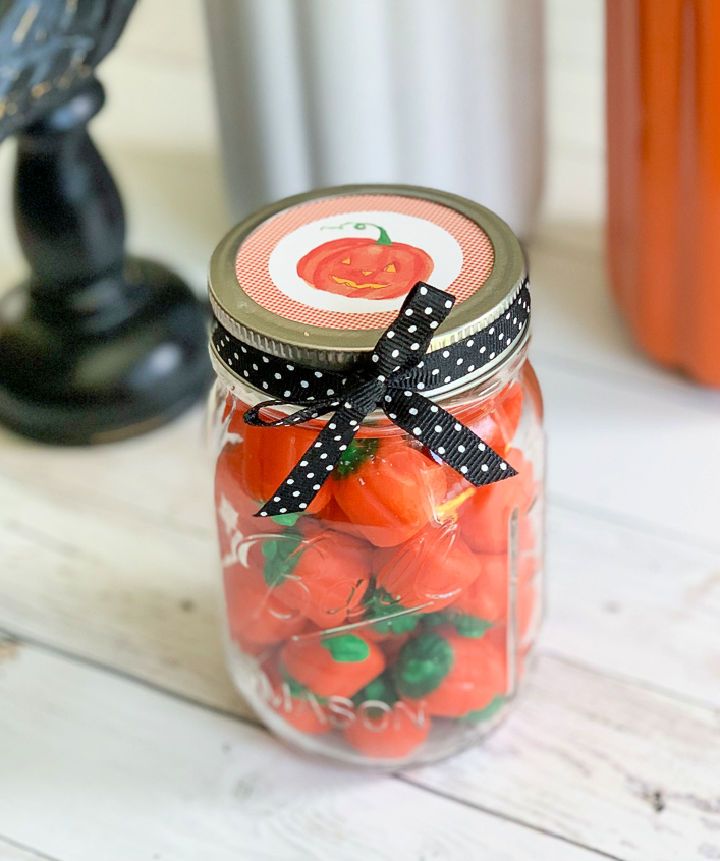 The spooky Halloween stickers can be the best option to instantly make some spooky decorations for the Day of the Dead. Yes, you can paste those spooky stickers as lovely labels on any custom decor or treat box for added spooky grace and charm. They can adhere to anything you want to create a spooky avatar. So, you will get here free printables for the creepy Halloween art and objects. You can easily print them down on the sticky paper sheets to start using them. Get inspired by these jack o lantern stickers to paste on the Halloween treat jars. everydaypartymag
22. Free Printable Ghost Halloween Craft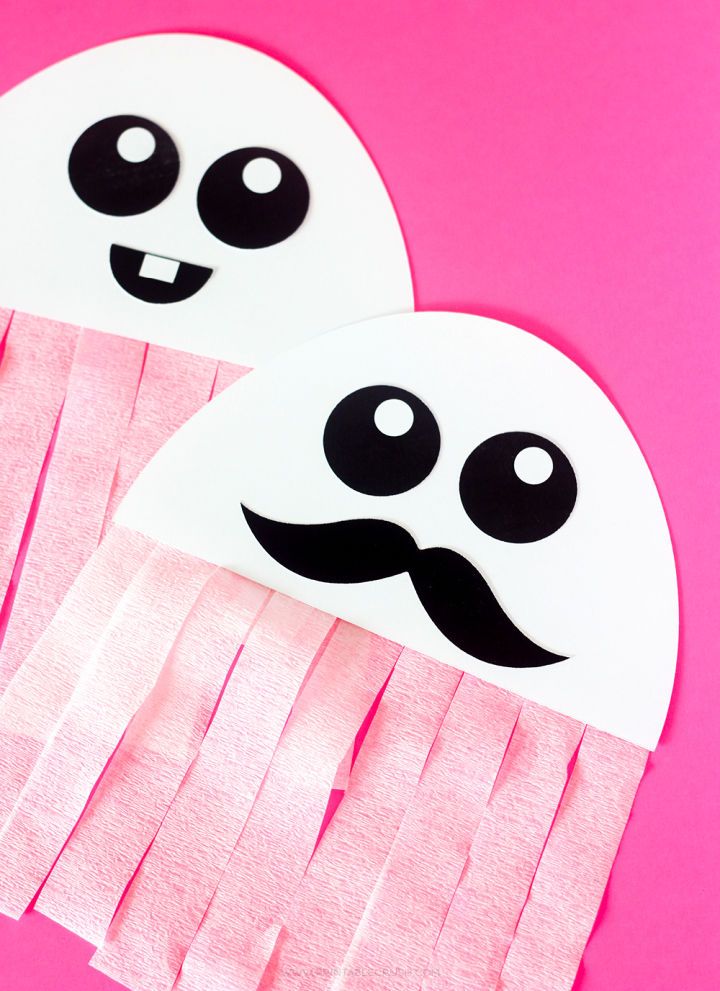 Are your Halloween party settings demanding instant spooky decors? Do you need some ghost decors to complete the look of the Halloween backdrops and other scary settings? Then get here free printables to easily make the free Halloween ghost printables that you can easily print out to make these super cute ghosts. This will be the best kids' Halloween craft that will complete in minutes, and every kid will love to put together this ghost. printablecrush
23. Printable Pumpkin Bunting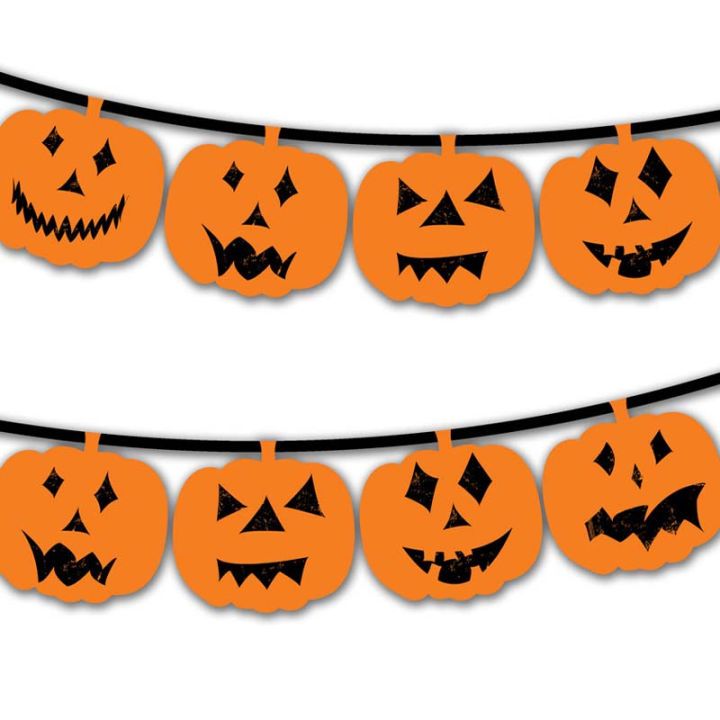 Do you need to make dozens of spooky decorations in just no time? Then head over to free printables and start making the spooky Halloween labels, greeting cards, art signs, pumpkin banners, peek-a-boo buntings and even the treat boxes quickly, easily and cost-effectively. Want to add some spooky garlands and banners to the dessert table backdrop or dessert table itself? Then these pumpkin buntings or garlands will rock. Download the free printable for them to easily get them for your Halloween decors in a few minutes. One of the best Halloween decoration ideas ever. creativecenter
24. Fun Hocus Pocus Spell on You Printable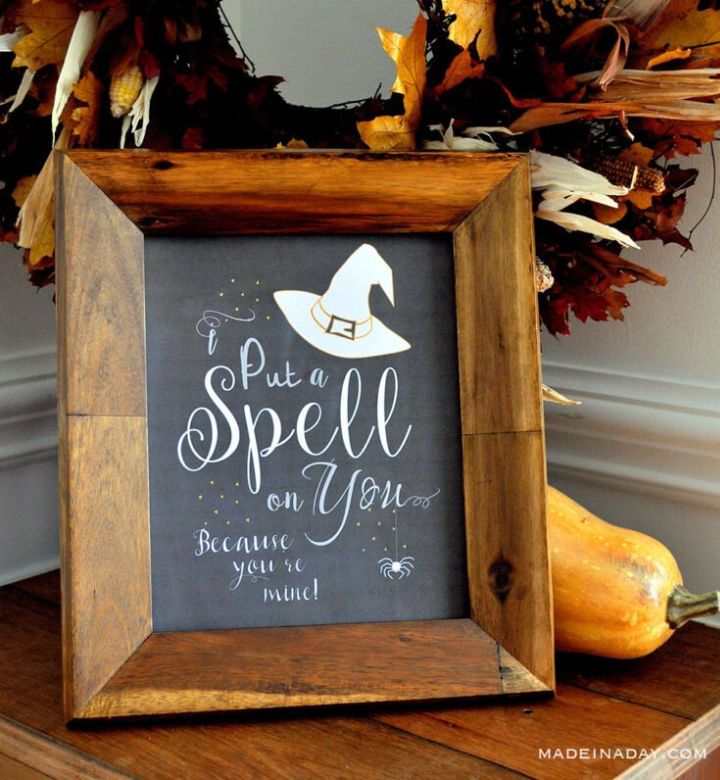 Want to add that evil or witch magic spell to the entire Halloween decorations? Then you can easily do so with these fun Hocus Pocus Spell On You printables that come with custom spooky witch quotes and will rock to bring those Halloween scare in the entire party. Here the free printable is available in two colors, and you will also get a bonus witch quote printable to add to your spooky decorations for added visual grace. Here the prints are 8″ x 10″, and you can easily print them down and frame them up to make the best-quoted art signs for Halloween. madeinaday
25. Printable Halloween Drink Labels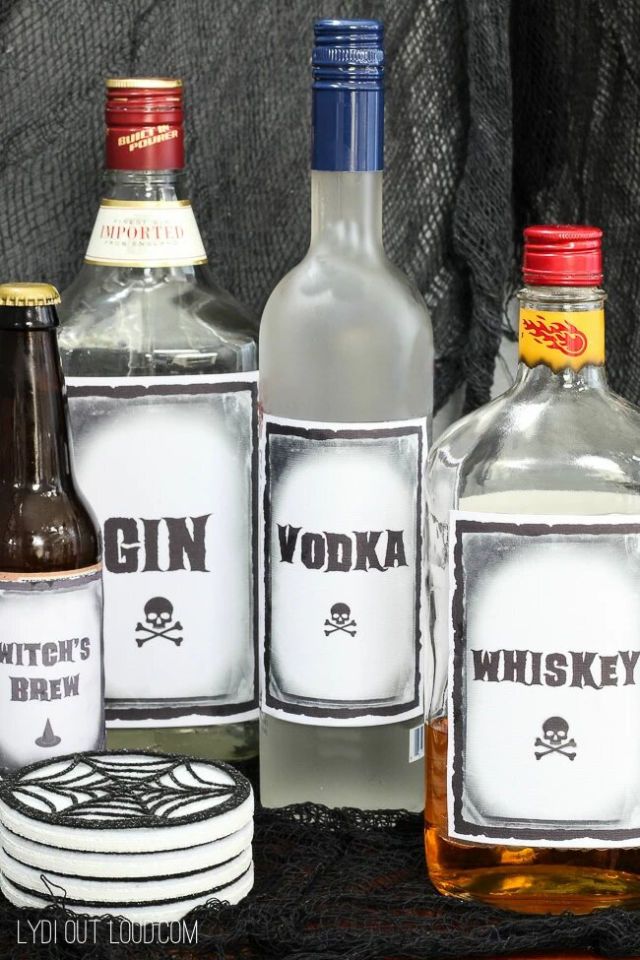 Need to make some best Halloween poison drinks? Then this project will explain how to make the best one quickly and in a cost-efficient way. The project provides free spooky label printables that you can paste around the drink bottles to transform them into Halloween poisons. You can also grab the old liquor bottles from home for making these spooky witch brew, whiskey poison and vodka evil drinks. Here these free printables are available for the gin label, whiskey label, vodka label, witch's brew label, and crumb label. However, you will also get some blank labels to decorate in the way you like for added spooky fun. lydioutloud
26. Printable Paper Chains with Toddlers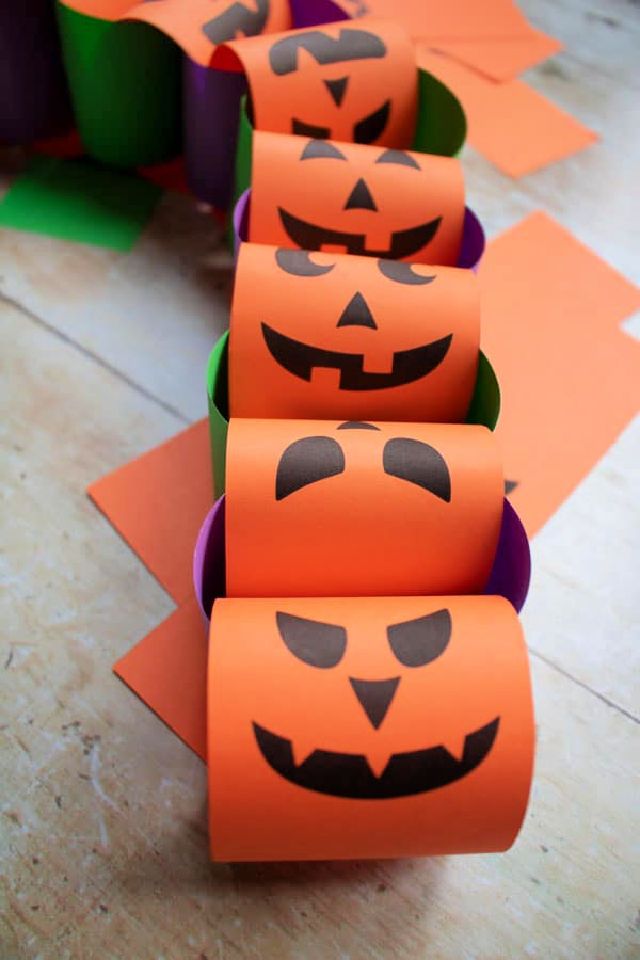 Sorting out the best Halloween crafts to do with your kids? It will create too much fun to make this Jack-O-Lantern paper chain that is scary and frightening at the same time and will be a total breeze to put together. Making this chain will be a great kids' craft activity, and you can add it to Halloween decors in lots of different ways. You will find free printables to easily duplicate this chain here, and it will be one of the easiest Halloween decor projects ever. The required tools and equipment for the project will be a printer and scissors. You need orange paper, green paper, purple paper, and sticky tape in paper supplies. rainydaymum
27. Black Cat Halloween Printable Gift Tag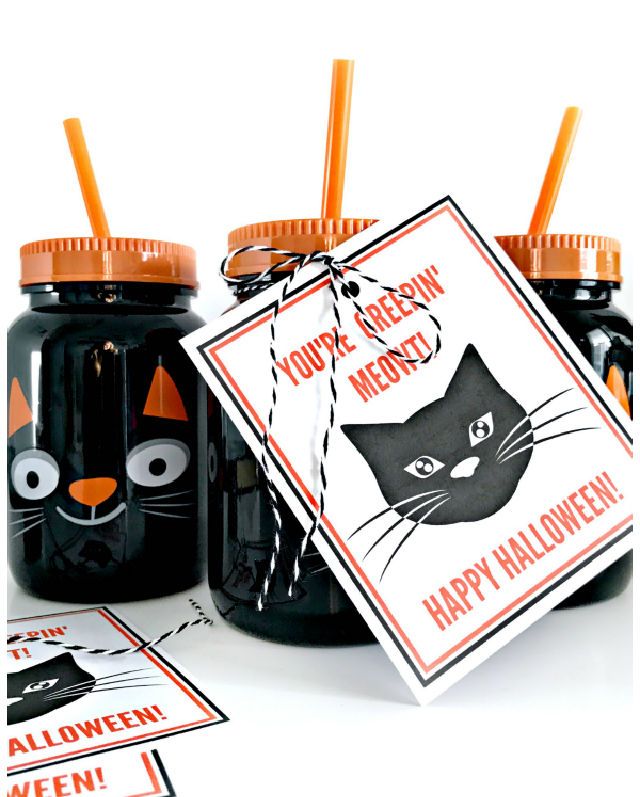 Black cats are one of the spookiest Halloween characters, and they are often featured in the Halloween decors. So, want to give a glam black cat touch to your Halloween gifts? Then easily print out these Halloween black printable gift tags you can easily add to Halloween jar treat gifts using a twine. Here these black cat tags have beautifully been added to jars painted for a black cat avatar. You need a black cat printable Halloween gift tag file, computer, color printer, white cardstock, Fiskars trimmer, We R Memory Keepers Crop-A-Dile Punch, scissors, baker's twine and Halloween treat to complete these treat gifts with tags. taunieverett
28. Sugar Skull Candle Votive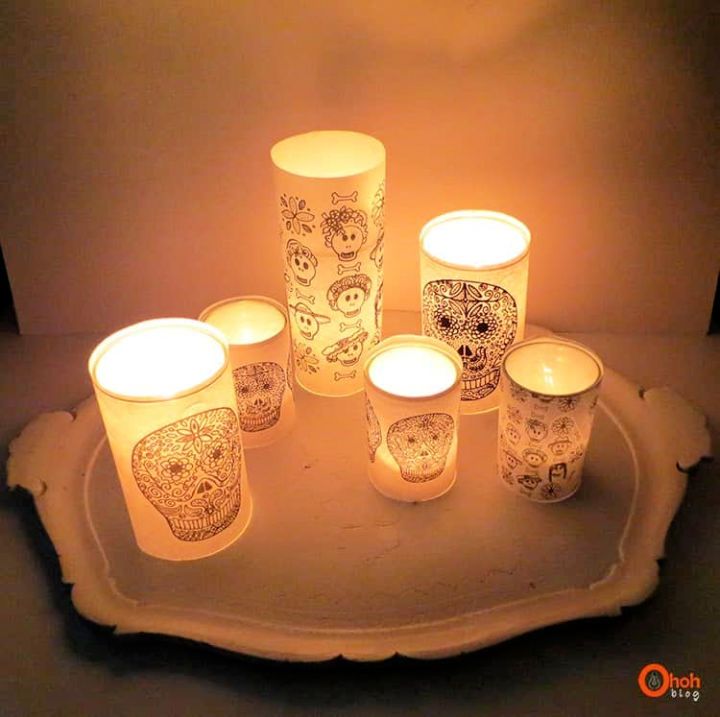 You will get instructions to make the best votives for the Halloween parties. These are here the sugar skull candle votives that look pretty scary and lovely at the same time and can quickly be made with the free provided printables. You need paper, free sugar skull printables, glass or jars, clear tape, LED tea lights, pencils and markers to complete these superb-looking Halloween votives. However, these will be the best creepy light decors to add to your Halloween parties. ohohdeco
29. Printable Halloween Book Covers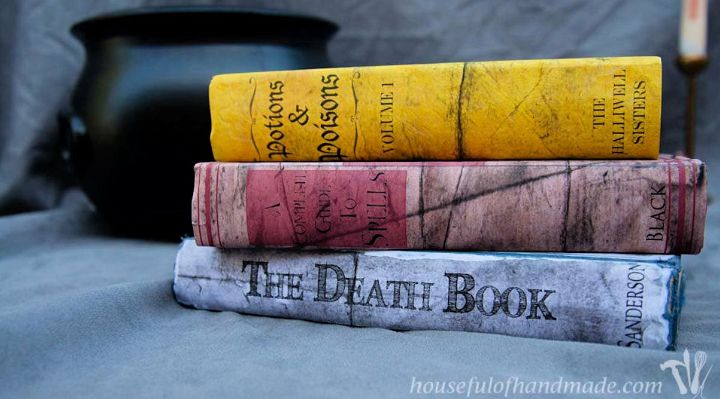 Bring the necessary Halloween scares and spookiness to your home with these Halloween book covers that are easy and quick to make even with zero crafting skills. Yes, you will get free printable Halloween book covers here that you can easily download and print down to fit around any particular book. You will get here 3 different types of book cover printable that will help you make a spooky stock of books to add to a scary Halloween centerpiece, as you can see. You need old books, printable book covers, printer, rotary cutter, glue, mod-podge and creativity to complete these spooky books. craftingmyhome
30. Free Printable Pumpkin Face Stencils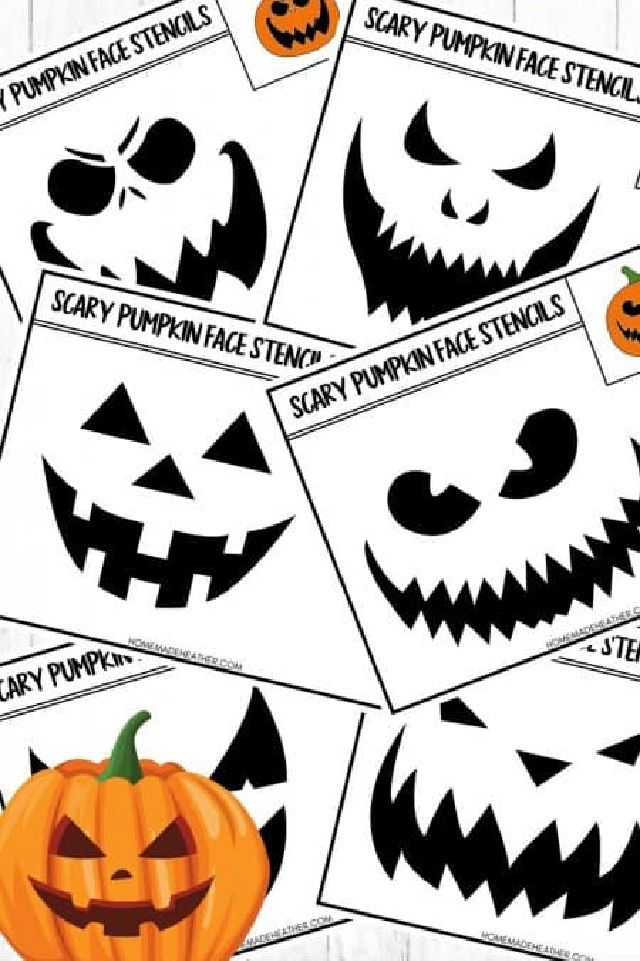 You can stencil many items and surfaces with the Halloween stencils to take your Halloween decorations to peak level. You will surely fall in love with these free pumpkin face stencils that are cute and gorgeous at the same time and will be super quick to make also. With the help of these stencils, you can easily mark a Jack-O-Lantern face on any surface and paper item. Moreover, these stencils will work great to easily carve out the Jack-O-Lanterns out of the pumpkins. You will get free printables for the stencils that you can easily download and print out using a printer and computer. homemadeheather
31. Printable Scavenger Hunt Clue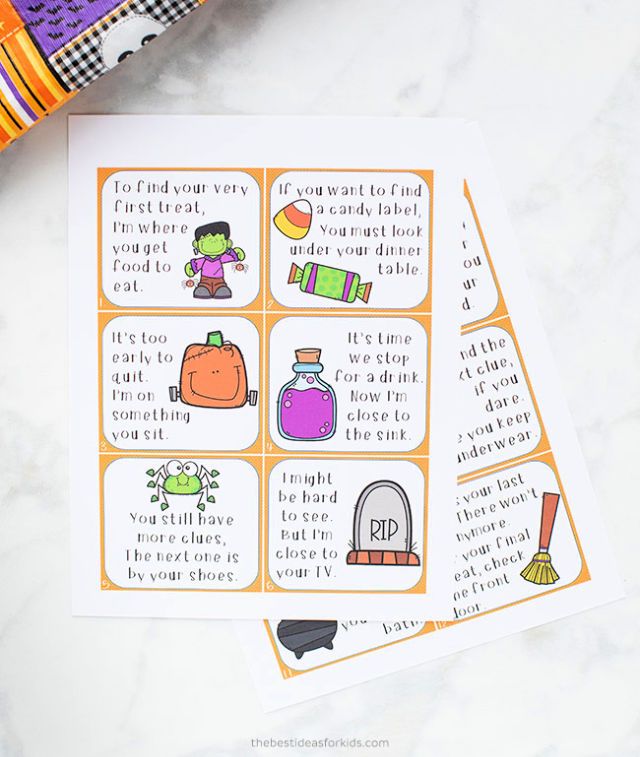 The Halloween scavenger hunt is the most loved Halloween game, and everyone just loves to play it with friends and party guests. So, make Halloween a lot more interesting with these fun games, and you can easily plan the clues and items to find for the game. However, if you want to save tons of your work and time, go with these free Halloween scavenger hunt printables that you can download easily to print down on the papers or cardstock. Here these printables also come with overwritten clues that will add a lot of fun to the whole hunt. thebestideasforkids
32. Halloween Word Search for Kids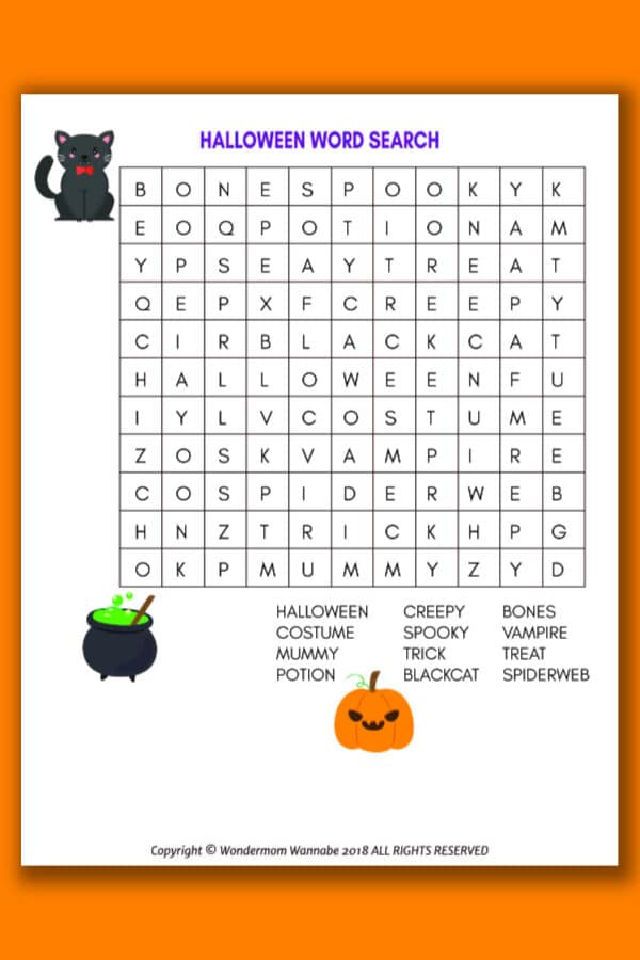 There are tons of different games out there to plan for the Halloween holiday. The Halloween word search is one them, and kids just love to play it with siblings and friends. So, want to add this game to Halloween party nights to keep the kids busy in a fun way? Then download the free game printables to quickly print out the whole Halloween word search game card. Give it to your kids, and let the fun start. The entire page will surely help boost the Halloween activities of the kids. wondermomwannabe
33. Printable Spooky Worksheets for Preschool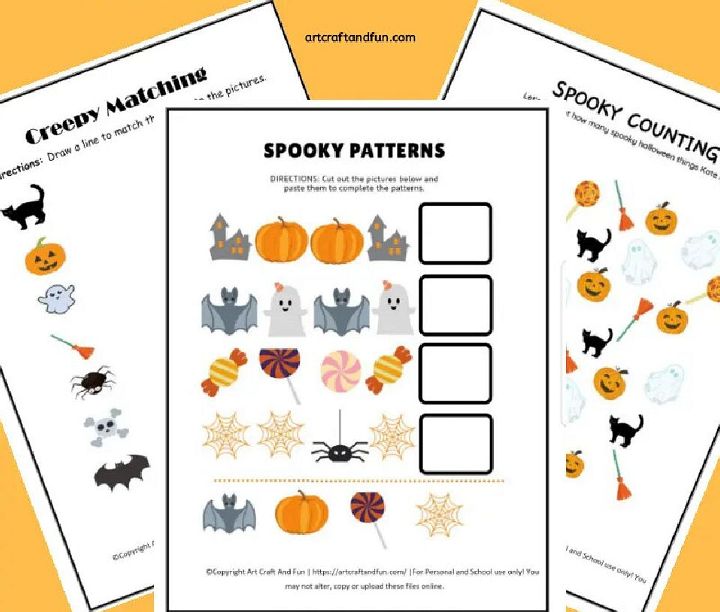 Willing to create some math sheets or worksheets for the kids and the All Saints' Day activities? Then skip all those plannings and hours of thinking and pick these free spooky Halloween worksheet printables. You can easily download them to give to your kids to stay active during the spooky holiday. Here you will find free printables for spooky patterns, creepy matching, and spooky counting, and they will also create too much fun for the kids. One of the best free Halloween printables to boost the kids' fun activities. artcraftandfun
34. Haunted House Coloring Page Printable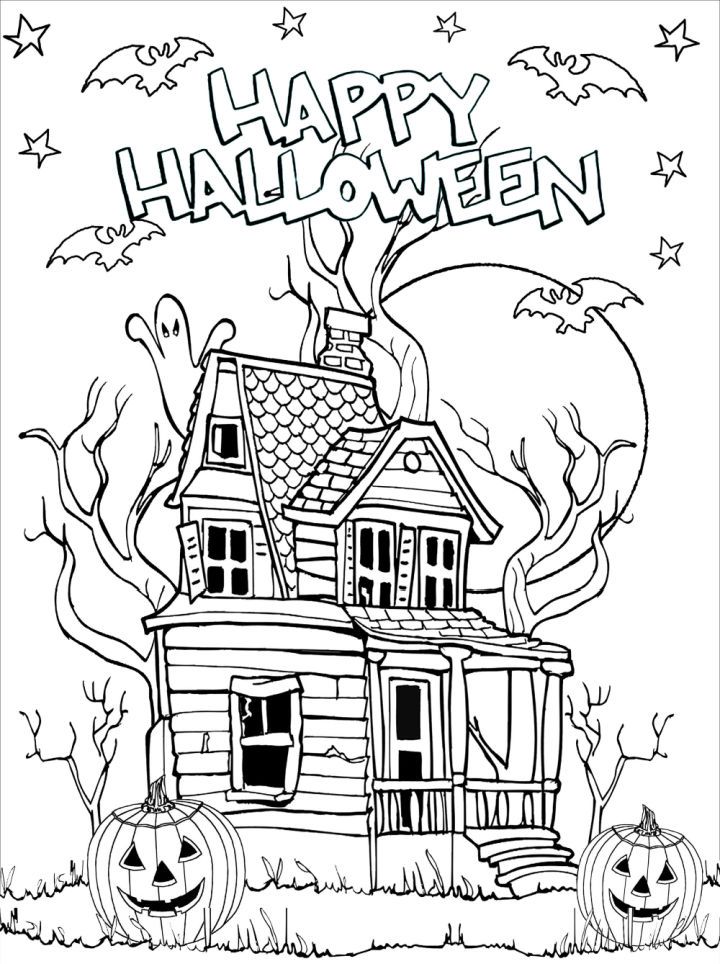 Provide hours of horror fun to your kids with these Halloween haunted house coloring pages. This will work great for the sensory Halloween activities, and just no need to draw it manually. Just download the free printable here and let the kids color it beautifully to complete a beautiful Halloween haunted house painting. You can also frame the completed drawing to make a beautiful spooky sign for the Halloween decors. Moreover, it will also enhance the hand-writing skills of the kids and improve the hand-to-eye coordination and focus of the kids. justcolor
35. Free Printable Black and White Halloween Art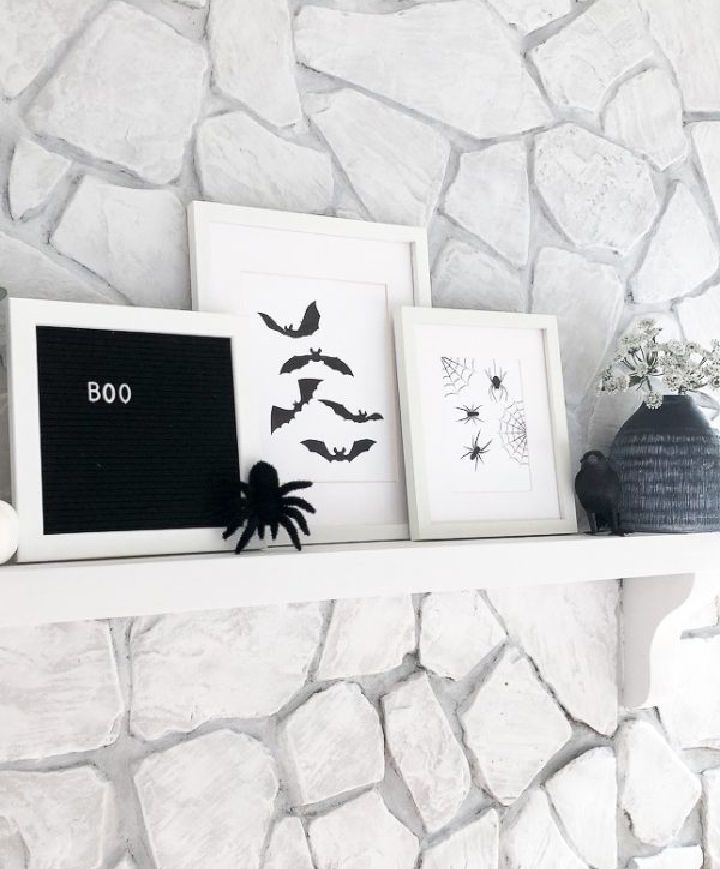 Intending to make some cool Halloween art frames to hang up on the wall and place over the decorative mantles this Halloween season? Then grab here the free printables that you can quickly download and print down quickly and easily to make these outstanding Halloween wall art signs. However, you can also opt for the colorful printables to make these wall art signs, sure to add to spooky festival decors. This will b a super quick Halloween wall art idea that everyone can duplicate with quite ease. Moreover, you will find dozens of free printables here, including Halloween cards, kids' games, and much more. thehappyhousie
36. Printable Bats Flying Wall Decor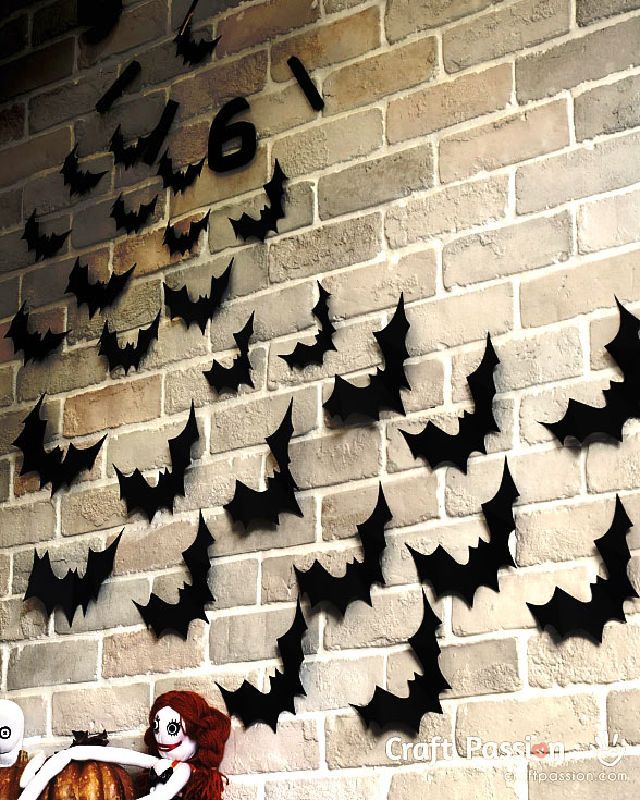 Bring a big wow factor to your interior home walls with these spooky Halloween wall art ideas. These ideas will rock for the Halloween decors, and you can easily cut the bats out of the black paper with the help of a bat template to add to the wall. However, the addition of these walls will surely make the whole wall haunted. The whole project is easy to do and will complete in an hour. You need bat templates, black cardstocks, white cardstock, bone folder, scissors, ruler, and double-sided tape to easily duplicate this bat wall art decor. craftpassion
37. Print Out Halloween Invitations for Spooky Soiree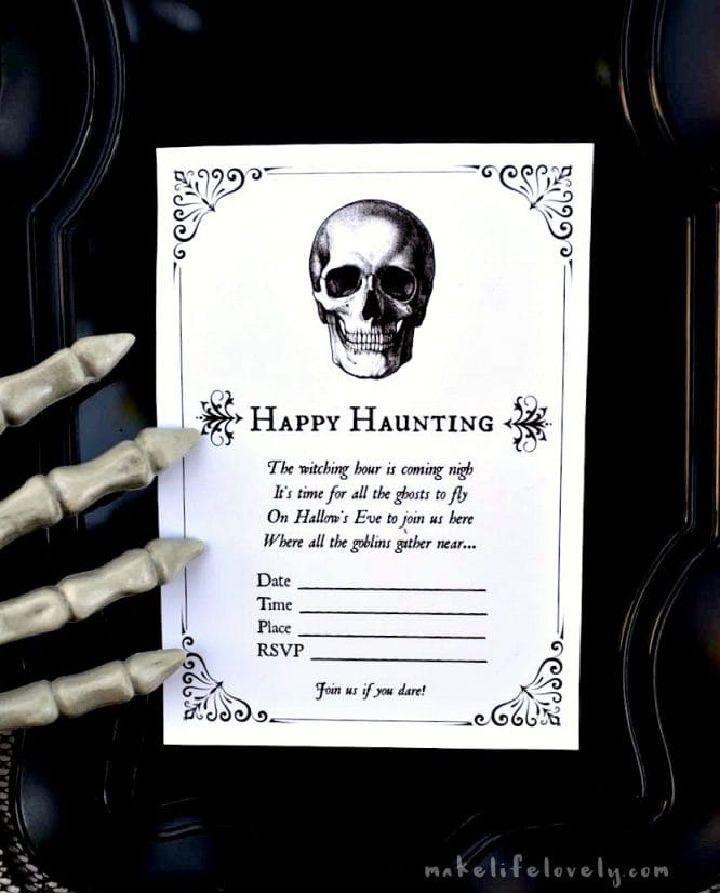 Willing to make some cool Halloween invitations or greeting cards at home? Then grab the free template and printable for the Halloween invitations that you can easily download to make quick, beautiful Halloween printables. After you download the printables, just print them down, fill in the custom guest information and then wrap them into custom envelopes to send to the guests. The invitations are 5″ x 7″ and can be printed colorful or blank and white depending on your choices. makelifelovely
38. Cut Out Printable Halloween Characters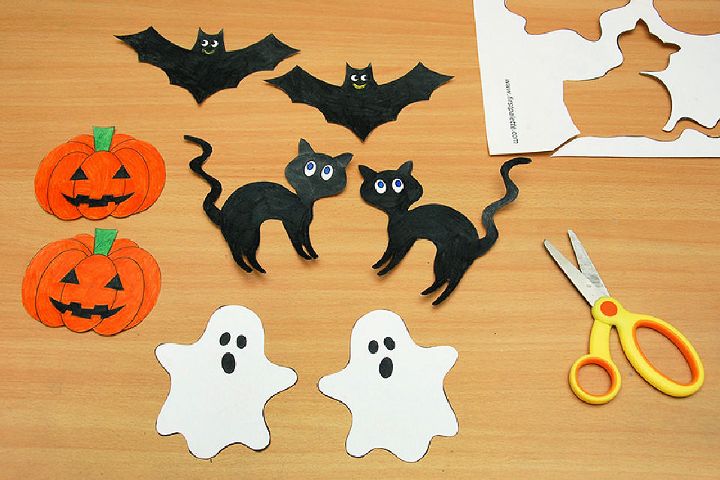 Whether you need free printables for custom Halloween decors or the coloring pages, you will get them here both for free. Yes, you will get black and white printables that you can print down to get beautiful coloring pages for your kids. Next, print out the colorful Halloween characters that you can cut out to paste on so many different items as the lovely decors. Both of these printables will bring tons of fun to your Halloween party decors, and you can easily print them out on A4 paper. One of the best Halloween printables to choose from for the Halloween decors and kids activities. firstpalette
39. Printable Scary Masks for Kids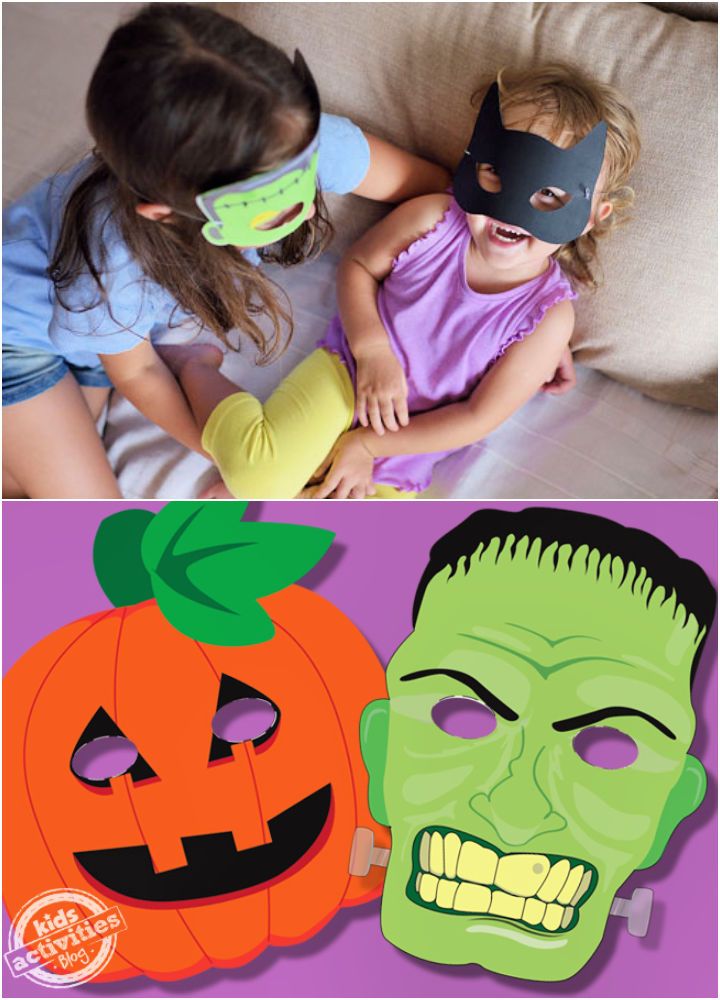 Willing to make some spooky masks for the little kids? Then learn to make the best Halloween masks for the kids using the free printables. Yes, you can download the free printables here for the vampire, green monster, Jack o Lantern and skull and next, you can easily cut the eyes out and add the custom ribbons or rubber bands to let them fit nicely around the head and face. The project provides the free printable templates of all 4 characters, and they will also make great Halloween party props. kidsactivities
40. Free Printable Halloween Pictures to Color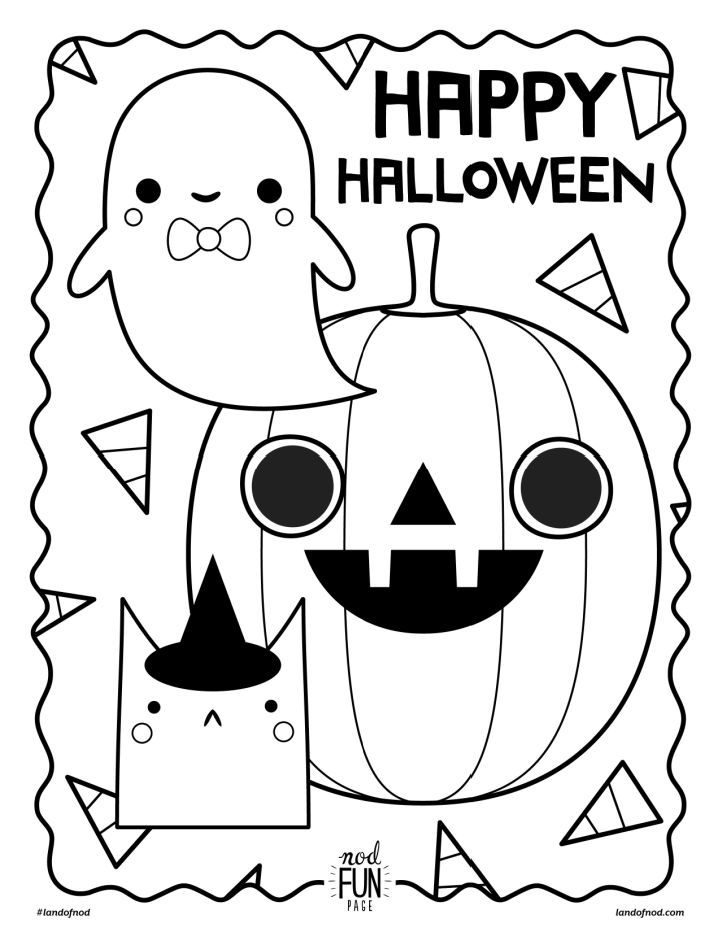 The coloring pages provide tons of different benefits to kids. Like they help improve the kids' focus, hand-to-eye coordination, and fine motor skills. So, download this free coloring page printable, sure to be a great sensory activity for the kids on the Halloween holiday. Coloring this page will also make you get a cool Halloween art that you can frame up and hang up on the walls for bigger spooky decor statements. This free printable coloring page features the ghost, pumpkin, and a black cat; kids will also love to color it. crateandbarrel
Related DIY Projects:
Free Customizable Printable Gift Tags – Printable gift tags are the perfect way to add a personal touch to any present. Featuring pre-made designs with your choice of wording, these printable tags make it easy for anyone to create a one-of-a kind tag.
Cheap Halloween Party Guide – We've compiled a list of some of the best and cheapest Halloween party ideas for you to enjoy.
Free Printable Cards & Greetings – A free printable card resource for all occasions. Choose from hundreds of designs to find the perfect card for every occasion.
No Carve Pumpkin Ideas – Give your pumpkin the most unique and personalized style with these easy ideas for pumpkin decorating. From cool painting techniques to no-carved designs, there's something for everyone.
Happy Halloween Banner Printable – Find happy Halloween banner printables that are perfect for your Halloween celebration. Download and print for free to decorate your home or give as gifts to friends and neighbors.
Conclusion: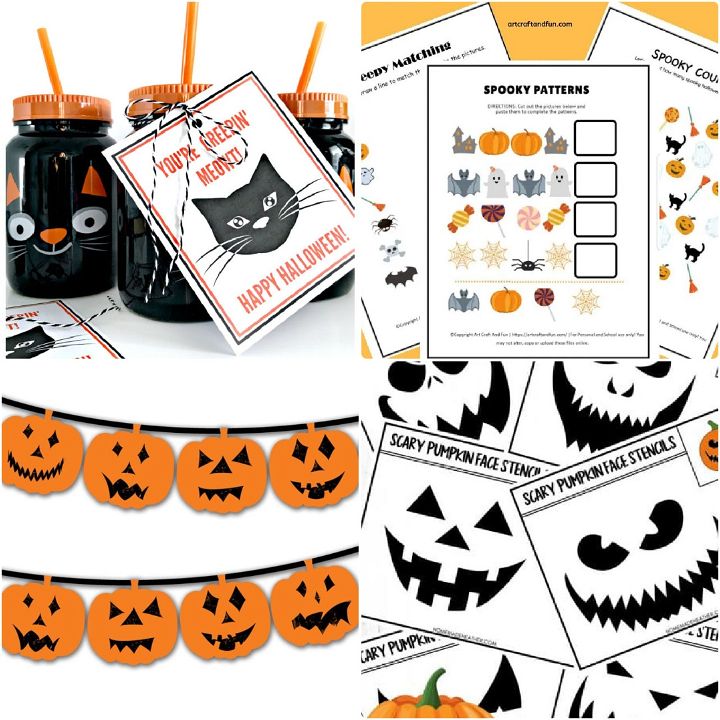 These projects aim to make your Halloween preparations easier by providing free printables. However, these free printable hours of labor on deciding and making the custom spook Halloween invitation cards, treat boxes, kids game sheets, scary Halloween masks and props and much more. So, along with the free printables, you will get complete step-by-step instructions, necessary tool and equipment lists, and the required paper lists to easily print down and cut out these free printables to add to respective Halloween gifting and decoration projects. Everyone will fall in love with these free Halloween printables, and they will help get dozens of Halloween things done in a few seconds.