Halloween is just right around the corner, we've got some exciting painted pumpkins for you! Find these 50 cute and simple pumpkin painting ideas are here to brighten up your Halloween 2022. Not only are all these cool painted pumpkin ideas are simple to follow but also quick. Pumpkin is an incredibly healthy cultivar of winter squash and a necessity during the Halloween season! With our beautiful pumpkin painting ideas, bring all your colors to use and paint just the way you like. Pumpkins are round with smooth, slightly ribbed skin making them just perfect and fun to paint. Trust us, once you begin, there's no going back as this painted pumpkins activity is highly addictive. You'll totally be obsessed with these no carve pumpkin decorating ideas!
From Chinoiserie painted pumpkins to marble pumpkins and disco ball-painted pumpkins to glow-in-the-dark ones! We've got lots of incredible pumpkin painting ideas in one place. Work on these beauteous painting crafts and call it a day! Not only that, but all our pumpkin ideas come with detailed guides and tips to help you complete your task with ease. Invite your friends over or paint with your family over the weekend! Also, it is such a cost-effective way to spend your time productively when you have nothing to do. Moreover, these pumpkin painting ideas are super cool to organize a Halloween party bash! Decorate your place, be it indoor or outdoor, with these cute pumpkin painting ideas and win everyone's heart. Brace yourself, and let's begin!
1. DIY Pour Paint Pumpkin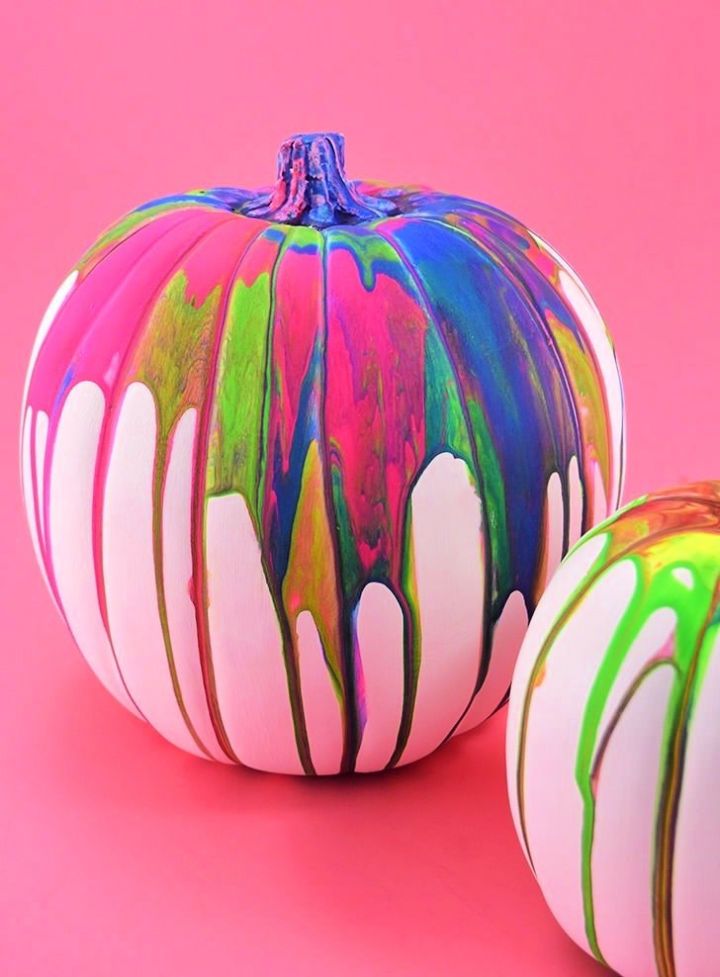 Want to work on a fun project this coming weekend? Check out this DIY pour painted pumpkin idea! This is that one craft you can completely rely on and make your kids have fun too. Not only is it super easy but also very quick! Moreover, the final results will leave you in awe, and you will be obsessed. Real or fake pumpkins, white chalk paint, vibrant colored paints, plastic cups, and a spray sealer are the required materials. dreamalittlebigger
2. Blue and White Chinoiserie Pumpkins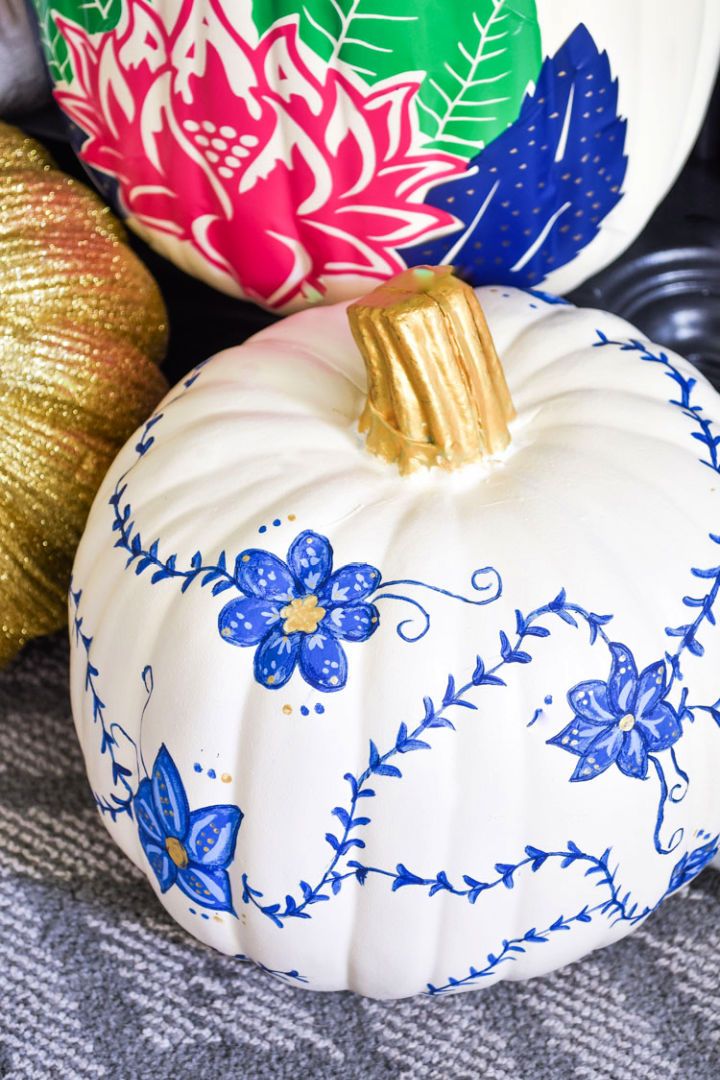 If you're looking for something artistic to work on, then this is the right place! Look at these beautifully painted blue and white Chinoiserie pumpkins. You can paint these babies too by simply following the step-by-step instructions! Decorate your room with these alluring pieces and be proud of your work. A white craft pumpkin, 1″ brush, thin paintbrushes for detailing, erasable pen, a cup of water, and a paper plate are the required materials. monicawantsit
3. Bewitching Halloween Pumpkin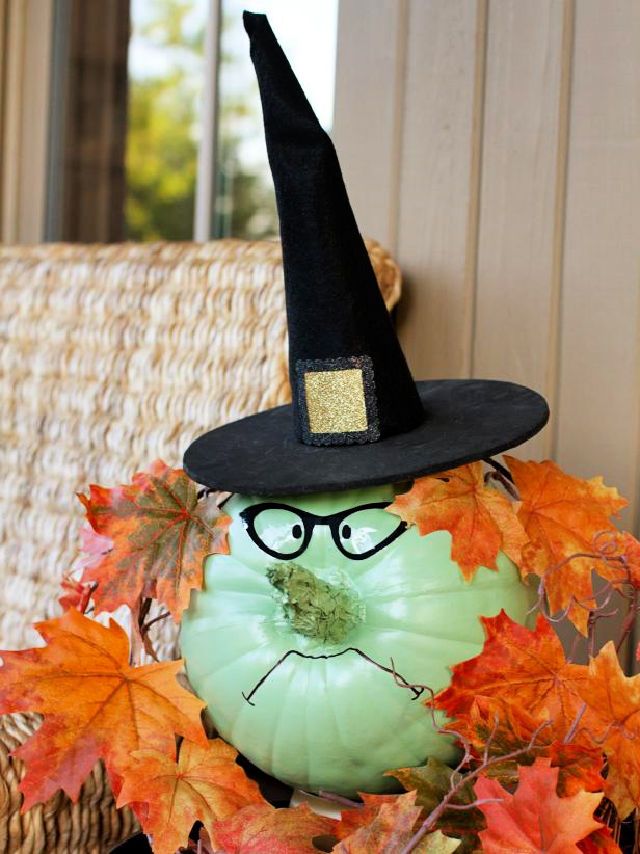 Want to make a bewitching Halloween pumpkin the center of attention? Look no further as you are exactly where you need to be! This simple pumpkin project is super fun to work with and involves zero carving. Embellish it with your favorite craft items and admire later! A faux pumpkin, black felt sheet, gold glitter paper, 6″ foam cone, hot glue gun & glue sticks, black permanent marker, googly eyes, pencil, scissors, aluminum foil, and faux leaf garland are the materials needed. hgtv
4. DIY Sugar Skull Painted Pumpkin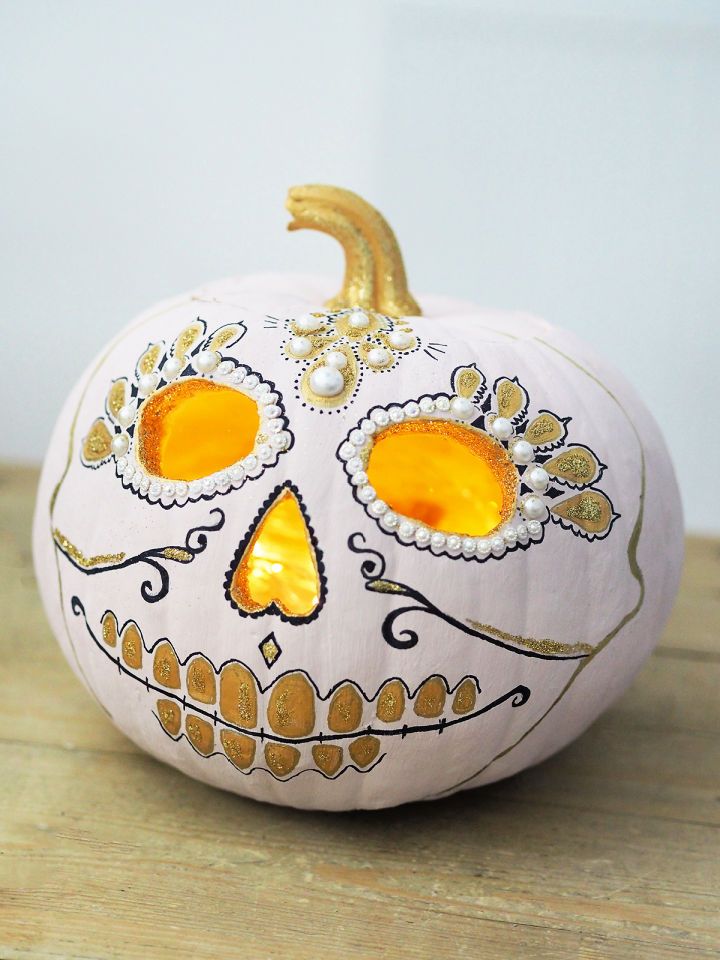 Check out this super cool DIY sugar skull-painted pumpkin! Work on this beautiful project along with your friends and get into those Halloween spirits. Fill up your space with fine-looking pumpkins as creative decorative pieces! Also, you can experiment with your best-loved pumpkin sizes. Faux pumpkin, pearls, gems, gold glitter, black marker, and paints are the required essentials for this project. bangonstyle
5. No Carve Scary Frankenstein Pumpkin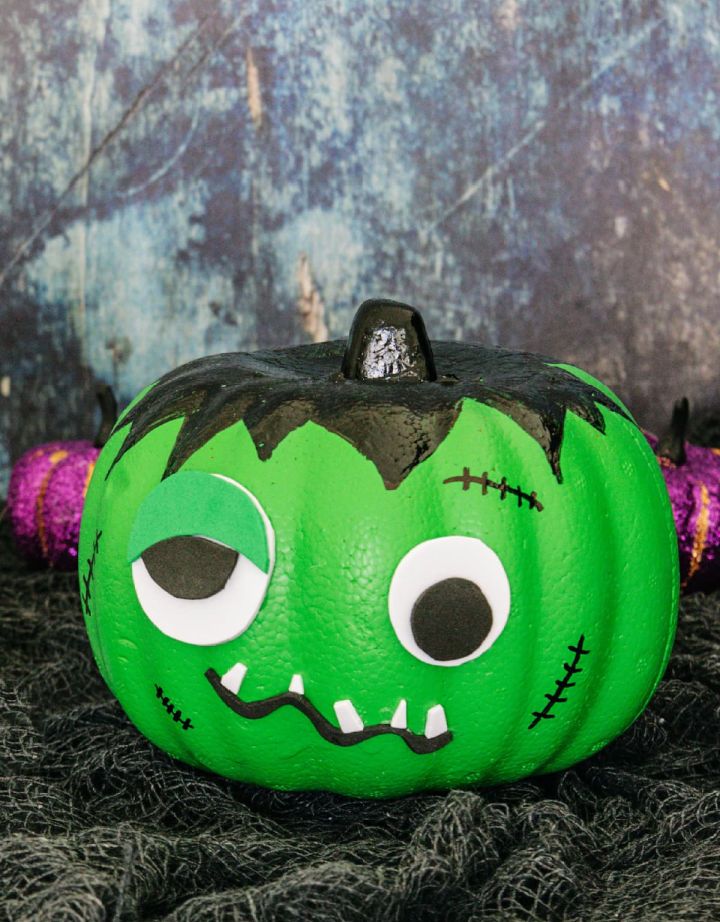 Let's work on a no-carve pumpkin project with this scary Frankenstein pumpkin buddy! It's best to freak all your neighbors away on Halloween and have some fun. Moreover, it will sit perfectly as the center table piece giving off all the spooky vibes! Also, this is a kid-friendly project and not messy at all. A Styrofoam pumpkin, green & black acrylic paints, glue gun & glue sticks, paintbrushes, permanent marker, and scissors are the needed supplies. funmoneymom
6. Cute Rustic Pumpkin Painting Ideas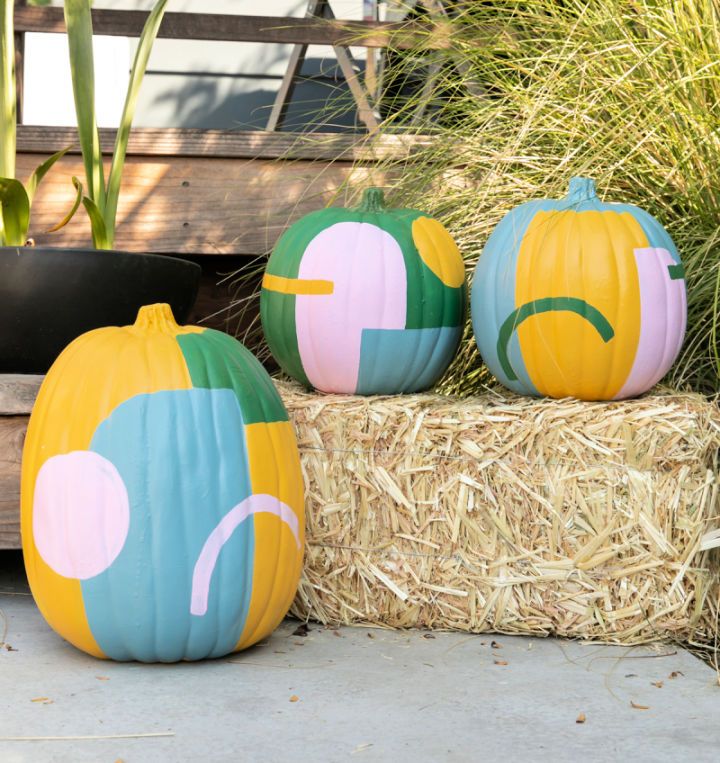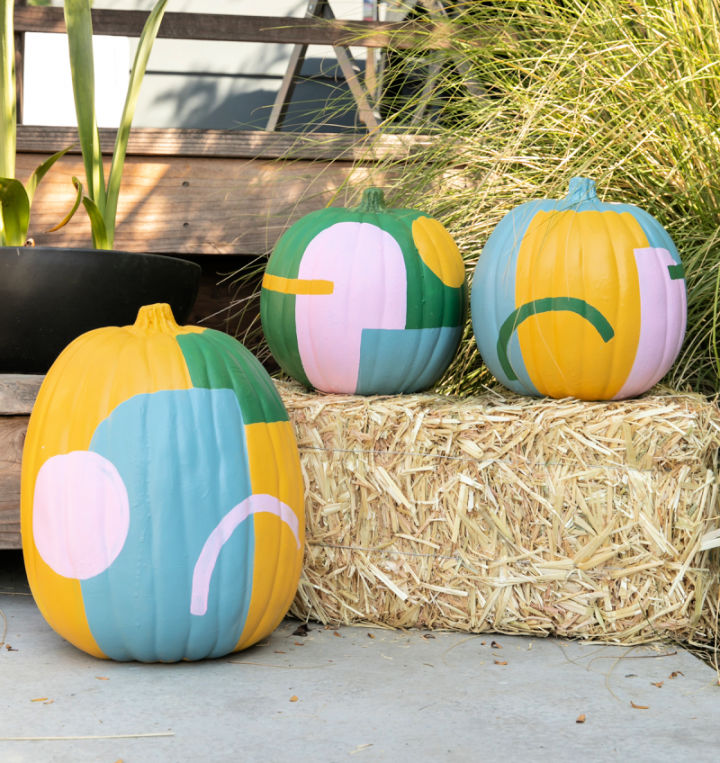 Want to paint pumpkins like a pro? Do it now following our simple tutorial and be super proud of yourself. This painted pumpkin project is such a fun alternative to carving, and you'll absolutely love it! Also, inspired by art deco designs, these bright-colored pumpkins would lift the look of any place. All you will need are pumpkins, acrylic paints, paintbrushes, and a pencil to master this craft. ohjoy
7. Harry Potter Painted Pumpkin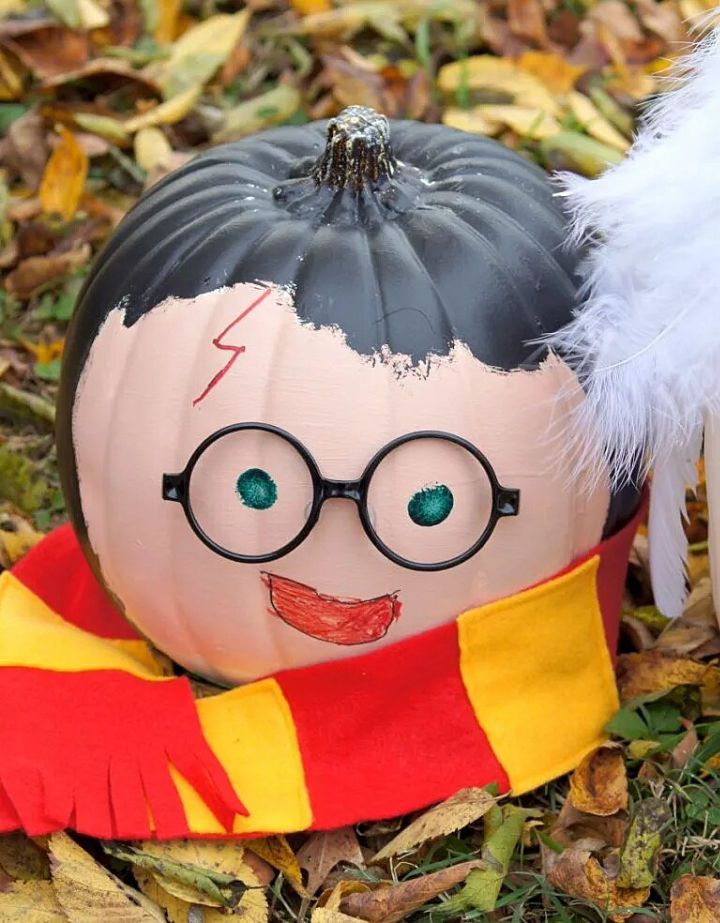 We've got a super cool painted pumpkin project for all the Gryffindor fans! This Harry Potter-painted pumpkin can make the best pre-Halloween craft for anyone. Also, it is a kid-friendly craft as it is a lot less messy than carving pumpkins. A white faux pumpkin, an extra pair of glasses, pencil, paints, paintbrushes, and a piece of red and yellow felt are the crafting items required. thescrapshoppe
8. DIY Buffalo Check Pumpkins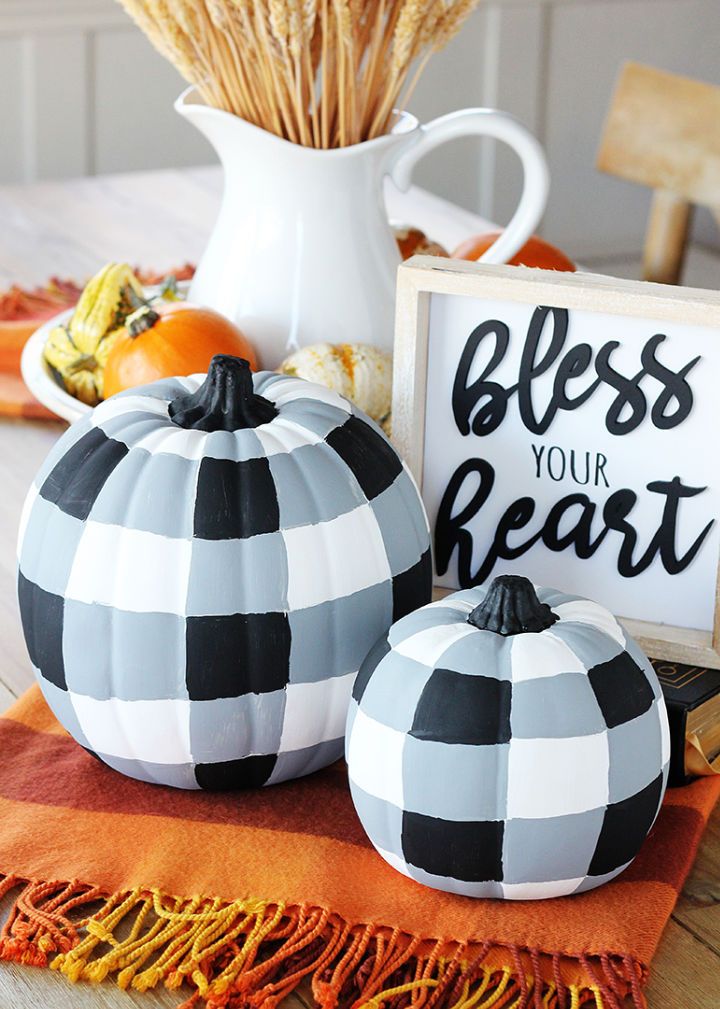 Looking for cute yet easy decor pieces to work on? Worry not, as we've got your back! Check out these DIY Buffalo check pattern pumpkins so easy to make. Not only are they trendy designs which would lift your place but also very simple! It does not involve any carving and allows you to be as creative as you like. A large and a medium white faux pumpkin, gray, white & black acrylic paints, paintbrushes, and a pencil are the required supplies. positivelysplendid
9. Buzz and Woody Toy Story Pumpkins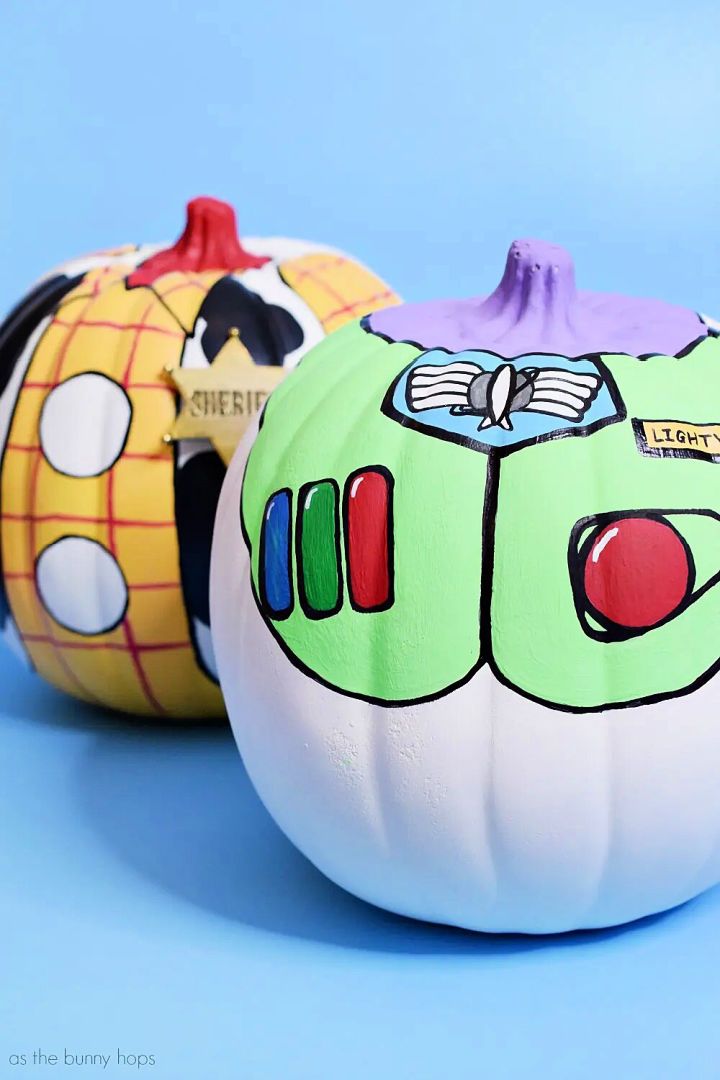 Looking for something new to revamp your little one's room? Check out these Toy Story-themed Buzz and Woody-painted pumpkins! This pumpkin project is definitely a treat to work on when you're feeling crafty. Not only that, but they are simple too; just by following the step-to-step instructions, you'll be done in no time! 2 white faux pumpkins, craft paint bottles, paintbrushes, paint pens, markers, and a pencil are what you will need. asthebunnyhops
10. Ghost Painted Pumpkins with Plasti Dip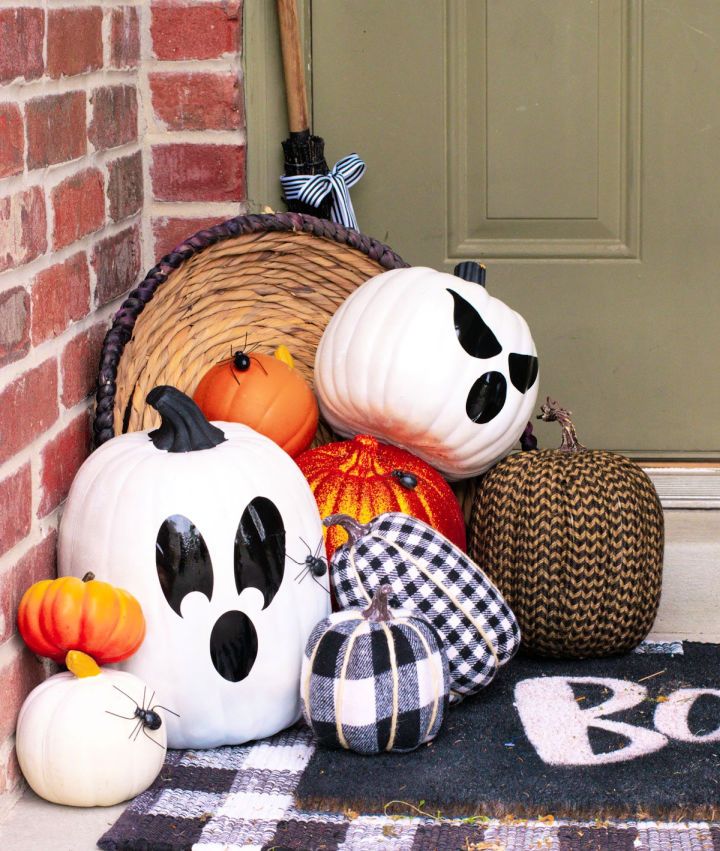 Searching for a fun Halloween-time craft? Check out these ghost pumpkins made using Plasti dip craft! Not only is this a super fun painted pumpkin project to work on but also easy. All you need to do is follow along with the instructions and come up with your flawless statement pieces! Plasti dip craft pearlizer, faux pumpkins, black paint, paintbrush, black permanent vinyl, rubbing alcohol, and an electronic cleaning machine are the required supplies. seelindsay
11. Funny Pumpkin Painting for Kids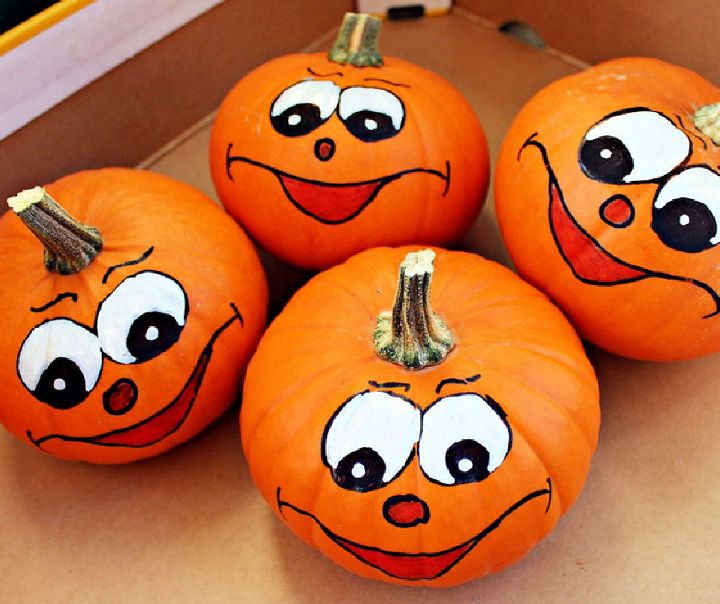 Hey, check out these funny pumpkin painting ideas for kids! Kids are always better at learning and performing when the lessons are all about creativity, fun, and arts. This pumpkin project allows just to do so. Work on this fun craft with your children and bring a pop of color into the house! A sheet of paper, vibrant colored paints, paintbrushes, a smock, and a pencil are the materials required. educationaltoyfactory
12. Beautiful Marble Pumpkin Painting Ideas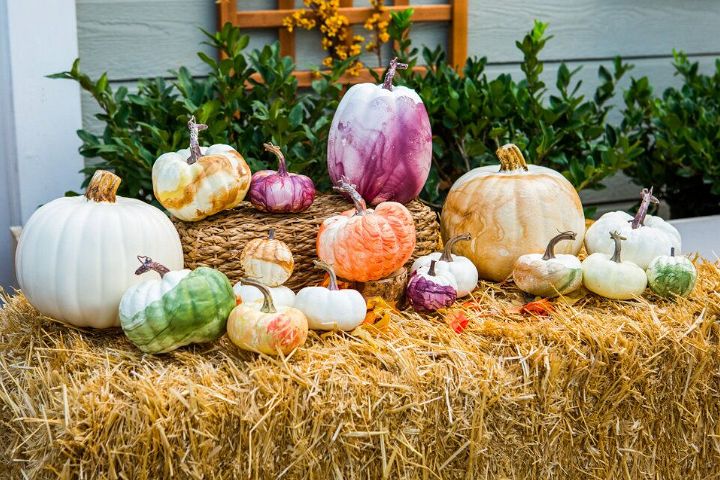 Halloween season is everybody's favorite, right? Check out these beautiful marble-painted pumpkins to work on this spooky season and enjoy! Not only working on this craft is a treat but also super fun. Also, the whole family can join hands and come up with their masterpiece as it's just that simple. Follow the instructions and have a little play with your favorite colors! White faux pumpkins, spray paint, water, and disposable gloves are the materials needed. hallmarkchannel
13. Painted Poison Apple Pumpkin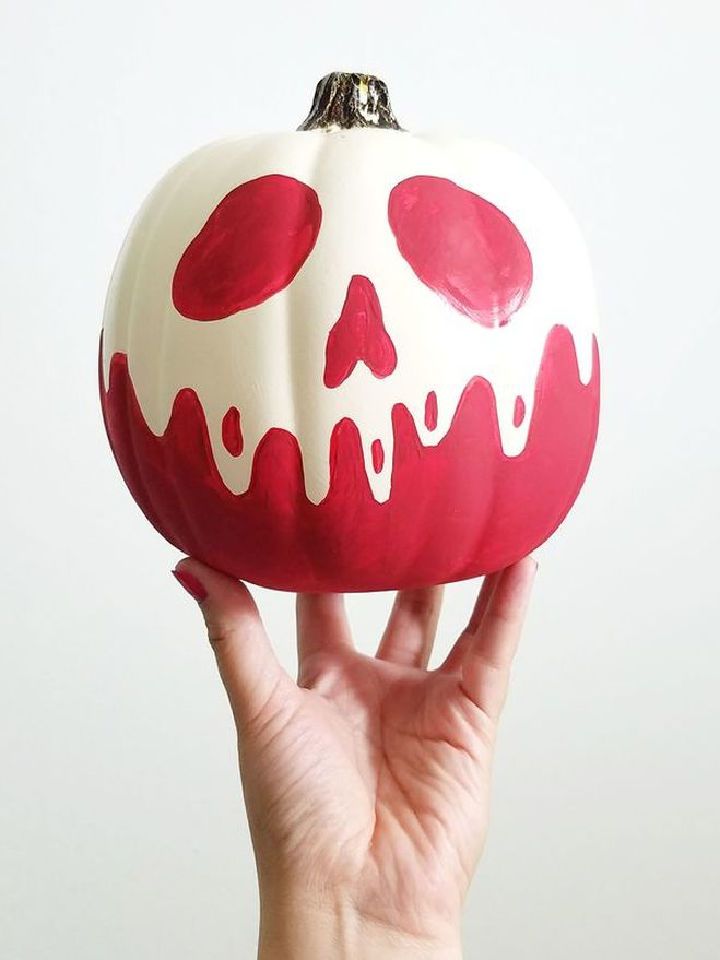 Want to get into the Halloween feels? Work on this painted poison apple pumpkin and enjoy a me-time activity! Not only is it super fun to do but also very simple. All you need to do is follow along with the step-by-step instructions for the best results. Also, it can make a brilliant decor piece for the living room! You will need a white craft pumpkin, red acrylic paint, a paintbrush, and a pencil. cozyreverie
14. Sharpie Watercolor Painted Pumpkins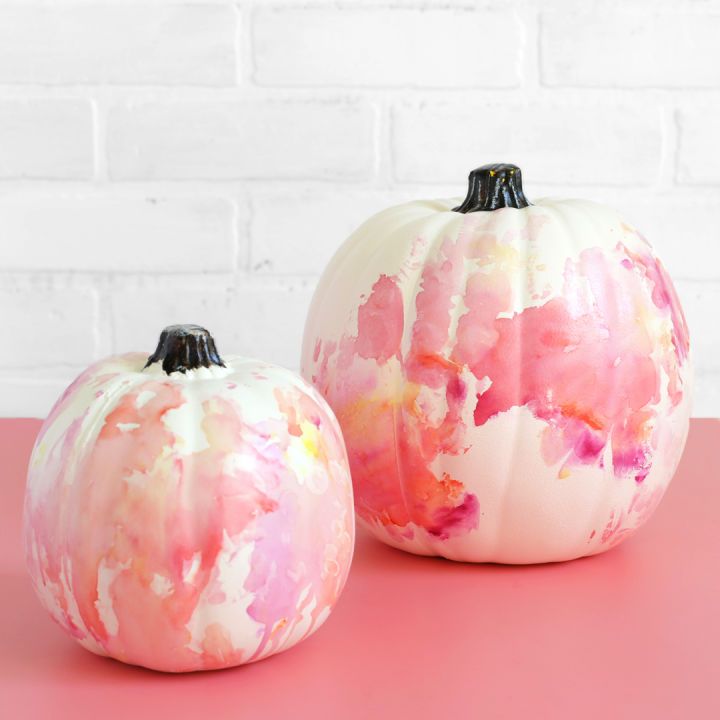 Want to work on a quick yet fun project to make the most of your weekend? These painted pumpkins using sharpie watercolors are the best option out there! Also, this project is super kids-friendly as well as it does not involve any carving. All you need to do is follow along with some simple instructions to ace it. The required materials are a white craft pumpkin, sharpie markers, rubbing alcohol, a plastic bag, and a medicine dropper. thecraftpatch
15. Easy Leopard Painted Pumpkin for Adults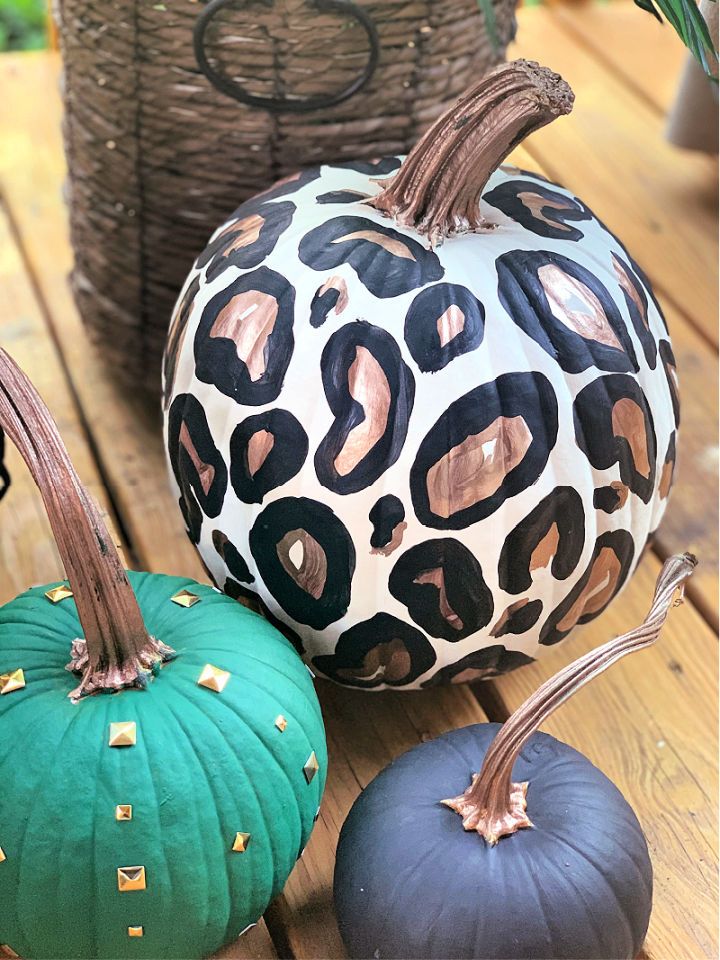 Looking for an easy yet fun craft to work on after a long day? This easy Leopard painted pumpkin craft is perfect for adults! It's time to unravel your painting skills and give this one your best shot. Also, this beautiful pumpkin can make a great decor piece in the dining room, don't you think? The materials required are a faux pumpkin, black & metallic gold paint, a paintbrush, and a pencil. uncommondesignsonline
16. Disco Ball Pumpkin Painting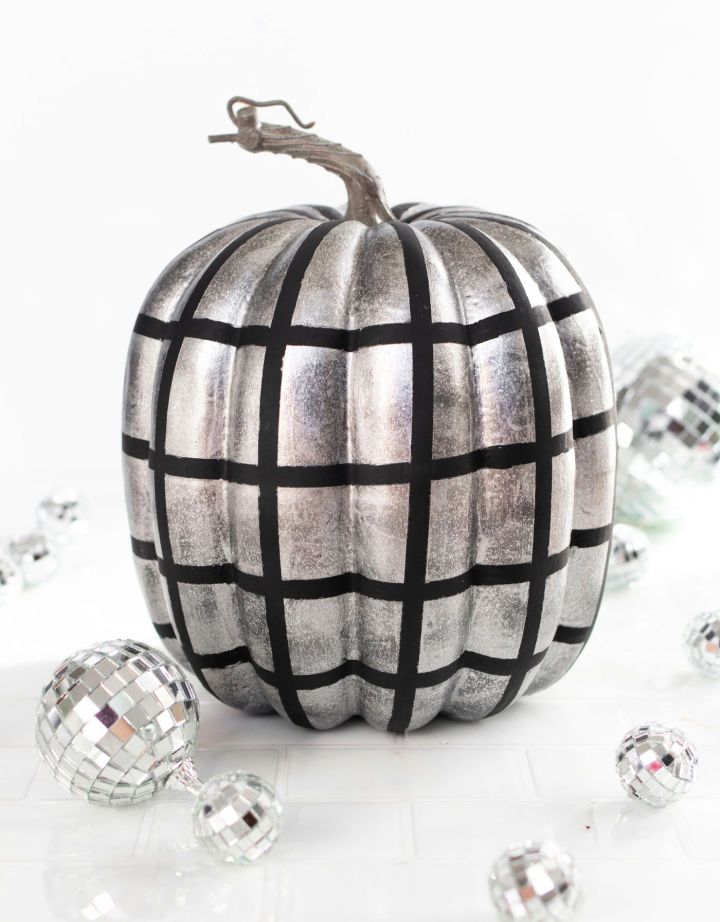 Check out this stunning disco ball pumpkin painting idea! Plan and organize your Halloween party the right way by adding a bold disco theme to it. Also, this craft is super easy to work up, and you'll enjoy it all along the process as well! Decorate your place in all shimmers and glitter to enjoy every party to the full. The required materials would be faux pumpkins, black & silver glitter paint, paintbrushes, and a thin washi tape. clubcrafted
17. DIY Tardis Painted Pumpkin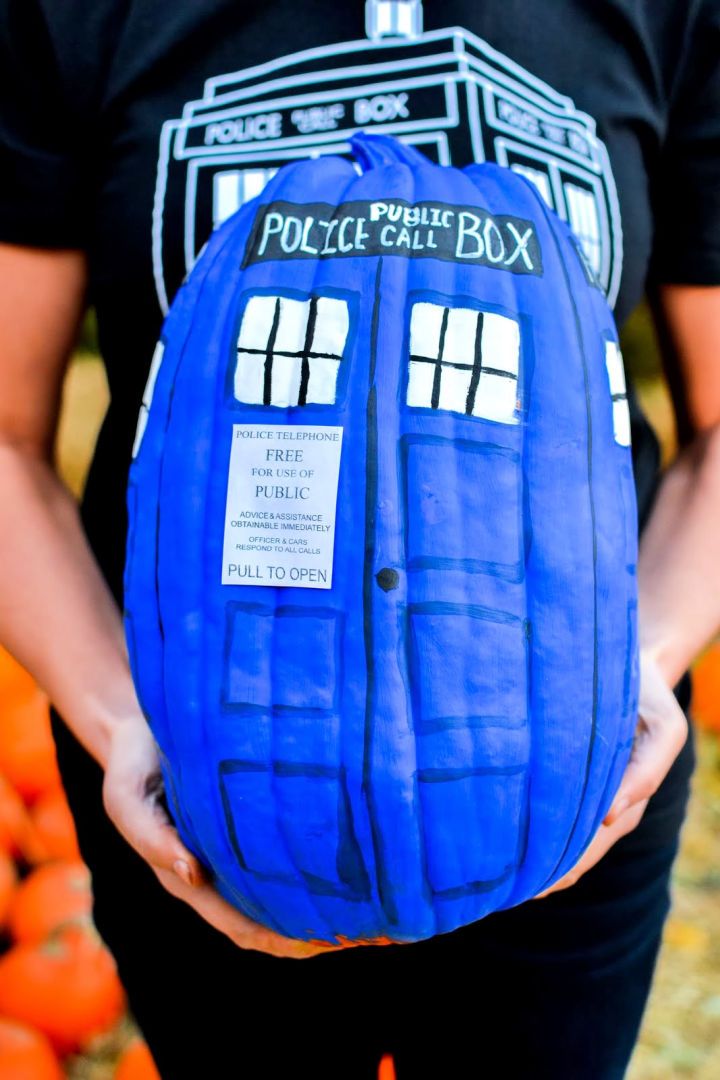 If you are a Doctor Who fan as well, then this is the right place for you! Make this DIY Tardis-painted pumpkin, and be proud of your masterpiece. Not only that but this pumpkin painting idea is also very easy! All you need to do is follow along with the simple step-to-step instructions. The required supplies include acrylic paints, paintbrushes, and a white paint pen. the farmersdaughter
18. Painted Pumpkins That Look Like Cement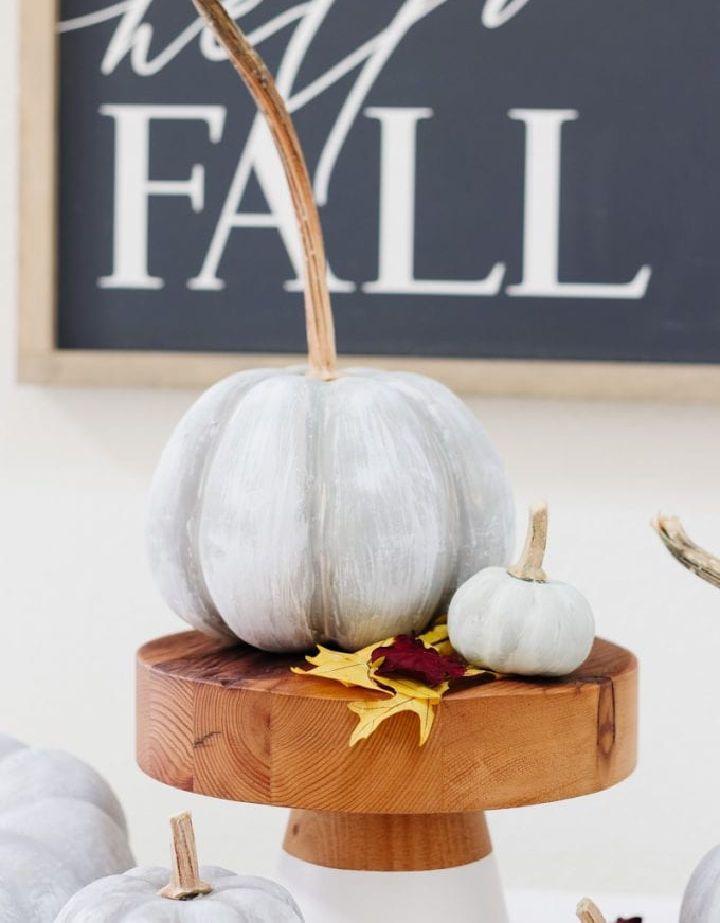 Check out this super cool painted pumpkins craft that looks like cement when complete! Not only is it a simple pumpkin project to work on but also very fun. They have a very real concrete feel to them from afar. Also, they can make great entrance decor pieces too! Plain white faux pumpkins, real stems, glue, paintbrushes, and chalk paint are the materials required for this craft. modern glam
19. Glow in the Dark Pumpkins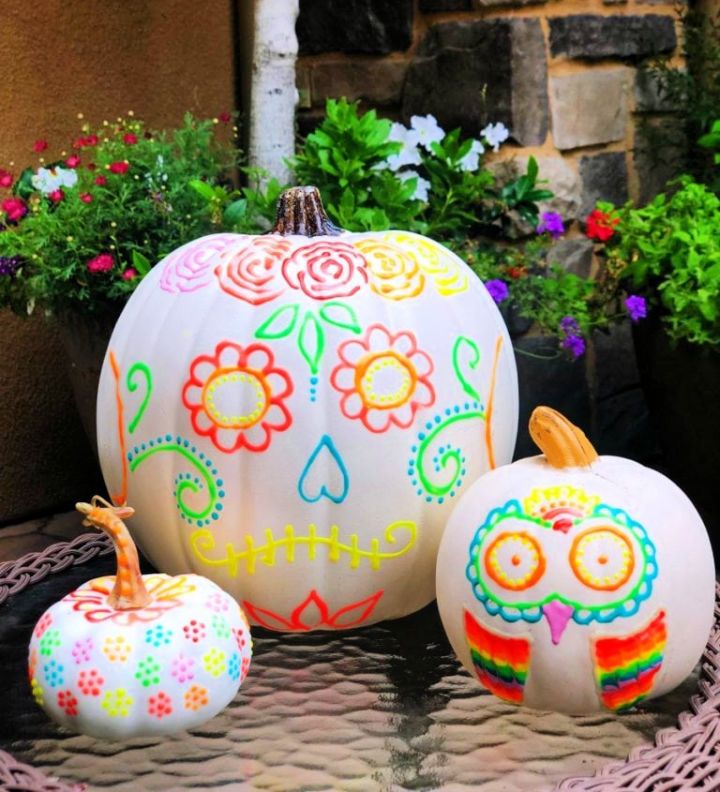 Want to work on an exciting new craft? Check out these glow-in-the-dark pumpkin painting ideas! Easy to make and have fun in less time. Also, they can make exquisite mini decor pieces as well! It's that craft of the year which keeps you obsessed for a while. The materials that you will require are faux pumpkins, spray paints, and glow tulip dimensional fabric paints in your favorite colors. colormadehappy
20. DIY Painted Pastel Pumpkins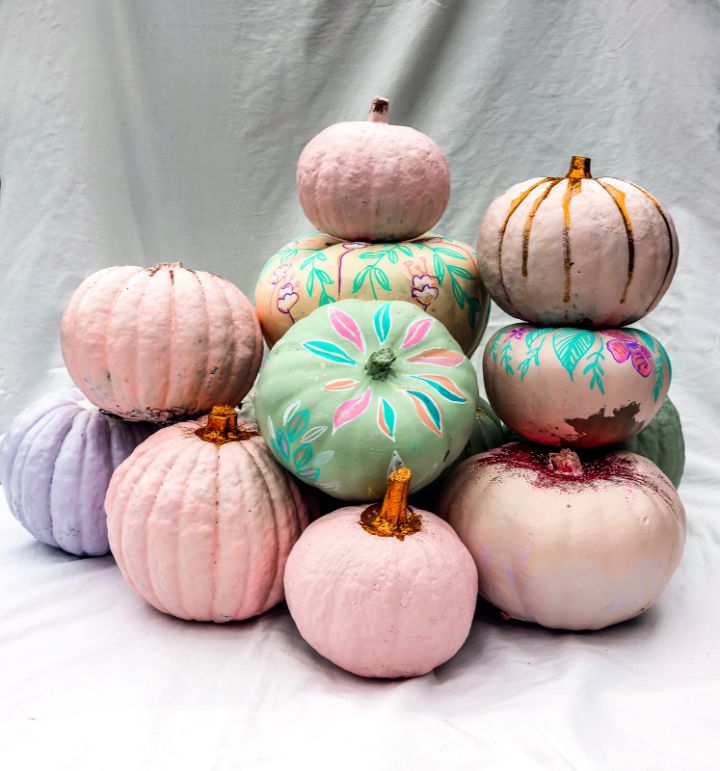 Looking to work on a simple yet fun project? Check out these DIY painted pastel pumpkins perfect for painting with ease! It's time to experiment with different shades and let your creativity rule. The colors are beautiful, and pastel tones are the ones to die for! Decorate your place with these incredible pumpkins and enjoy. The supplies needed are Dulux test paint pots, faux pumpkins, paintbrushes, paint pens, glitter, and PVA glue. cleverpoppy
21. Unique Trick or Treat Ombre Pumpkin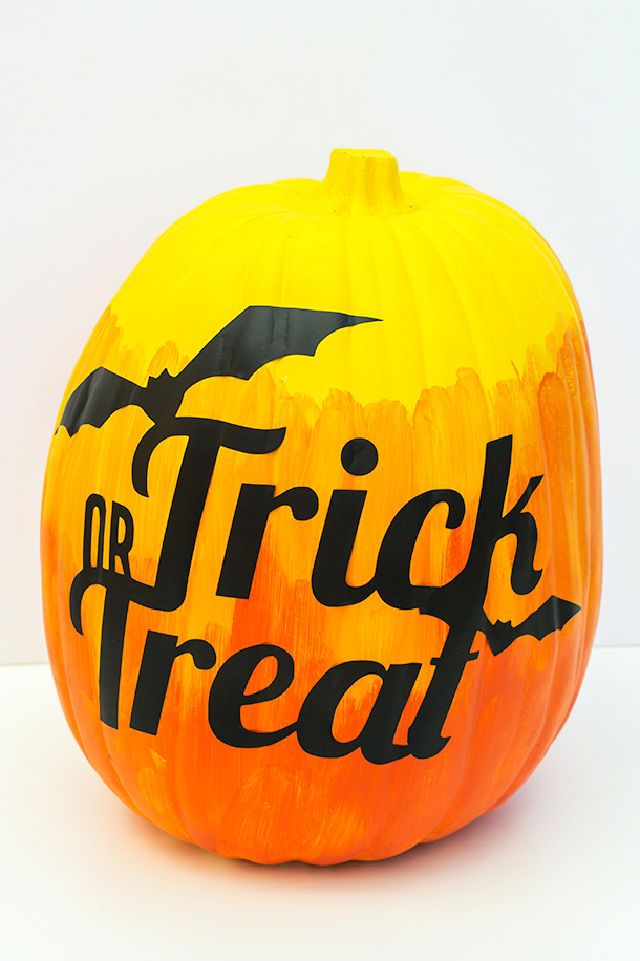 Looking for a fun Halloween craft to work on? This unique trick-or-treat Ombre pumpkin is the best choice to give off spooky vibes! The season hit craft is here for you to experiment with your creativity and all the colors. All you need to do is follow the instructions and come up with a beautifully painted pumpkin of your own. A faux pumpkin, craft paints, medium paintbrush, adhesive vinyl, transfer paper, and a Xacto knife are the materials needed. sarahhearts
22. Mickey Mouse Painted Pumpkin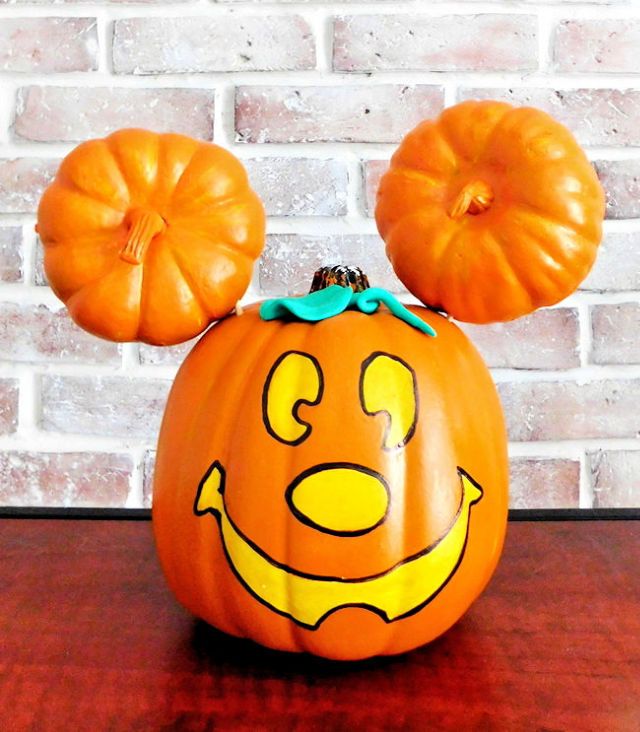 Check out this cute Mickey Mouse-painted pumpkin, which makes the perfect Halloween craft! This DIY jack-o-lantern craft is easy as well as super fun to work on. Also, it is a kid-friendly project to have fun with your family over the weekend and enjoy the holiday season. Simply follow the instructions for the best results! Foam craft pumpkins, permanent marker, craft paints & paintbrush, 2 bamboo screwers, a hot glue gun, and glue sticks are the materials required. momfoodie
23. Creative Star Wars Porg Painted Pumpkin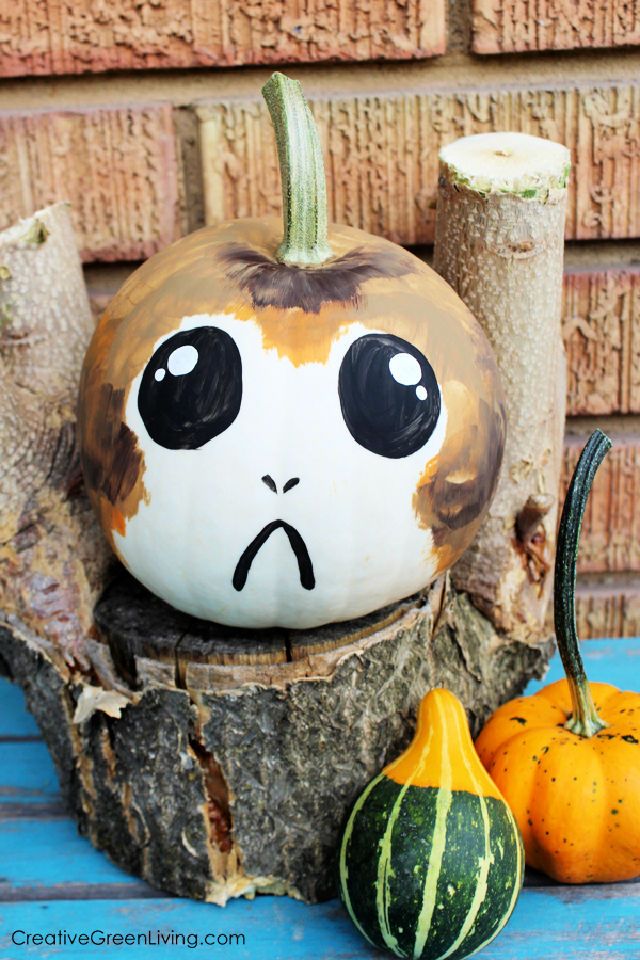 Are you a star wars fan too? Then these creative star wars Prog-painted pumpkins are perfect for you to work on! Also, this is a great way to decorate your room cheaply and when you're on a budget. Moreover, they can make cute presents too for little star wars freaks! The supplies required are hazelnut brown, dark brown, orange, black, & white craft paints, a faux pumpkin, and paintbrushes. creativegreenliving
24. DIY Desert Oasis Painted Pumpkins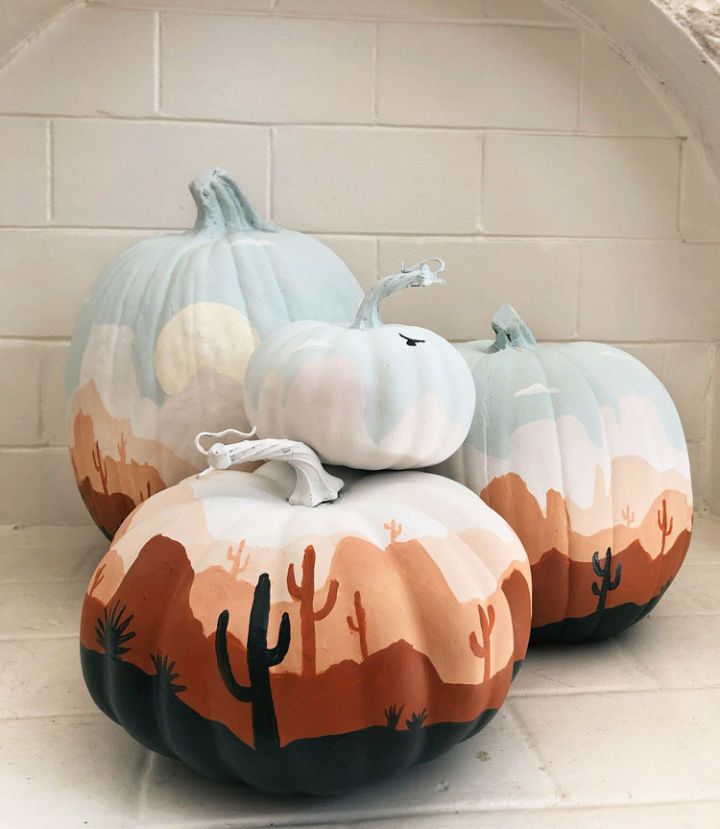 Looking for a fun yet easy project to work on? These DIY dessert oasis pumpkin painting ideas are the answer! Not only is it a simple pumpkin project but also really fun. It lets you experiment with color schemes and be creative in a unique way. All you need to do is follow a bunch of easy instructions, and you're good to go. The materials required are faux pumpkins, acrylic paints, paintbrushes, a palette plate, and a drop cloth. wethedreamers
25. DIY Black Cat Pumpkins Painting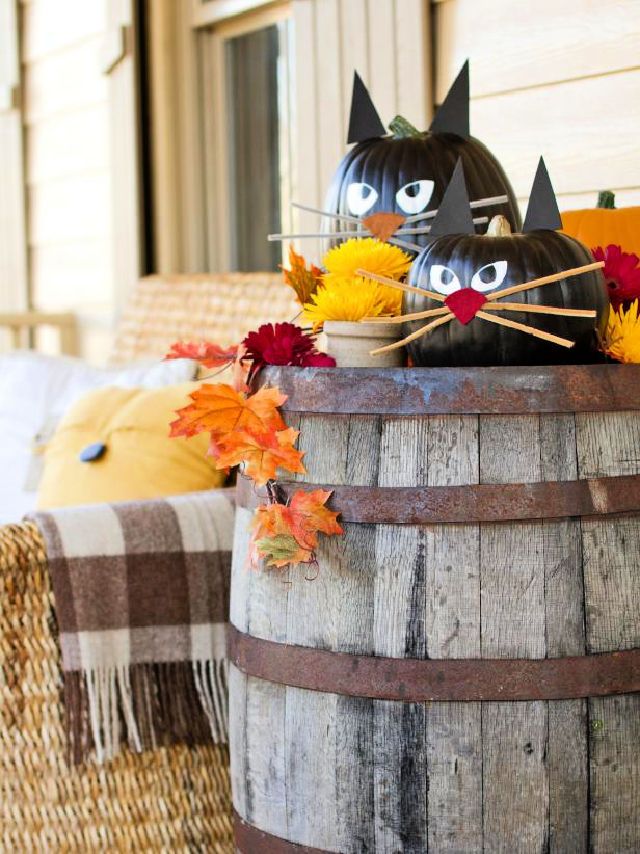 Looking for a fun retro-themed decor idea this Halloween season? This DIY black cat-painted pumpkins craft is the ultimate project to work on! With zero carving, this activity is fun to do along with your friends and family to get in the Halloween spirits. The required supplies are faux pumpkins of different sizes, a hot glue gun, glue sticks, black paint, 2″ foam paintbrush, scissors, white paint marker, white craft paint, craft paintbrush, pipe cleaners, felt, and a black marker. hgtv
26. Frightfully Monsters Pumpkin Painting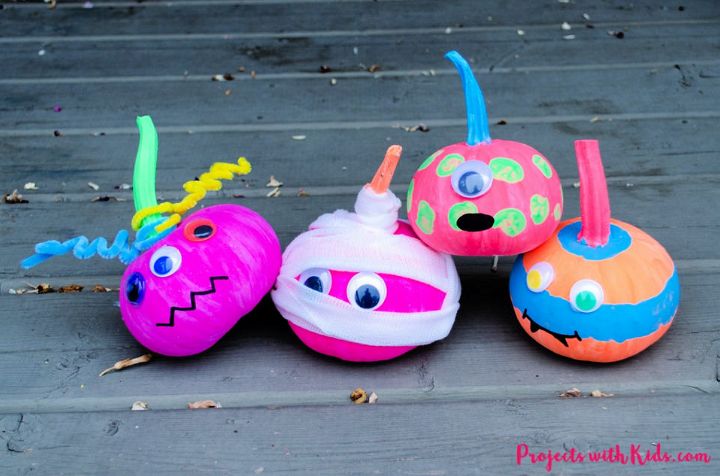 A great fun for kids Halloween project is making of colored no-carve pumpkin monsters. They are quite easy to make neon-colored cute monsters designed especially for the kids who don't enjoy the scary bits of Halloween. The kids can enjoy designing their own pumpkins as there are endless color and design possibilities that will create cute pumpkin monsters with their own individual personalities. You will need supplies like mini pumpkins, neon paint, paintbrushes, pain rays, water containers, glue guns, googly eyes, pipe cleaners, wine cork, gauze, sharpie and any other embellishments you want. projectswithkids
27. Playful Rainbow Painted Pumpkin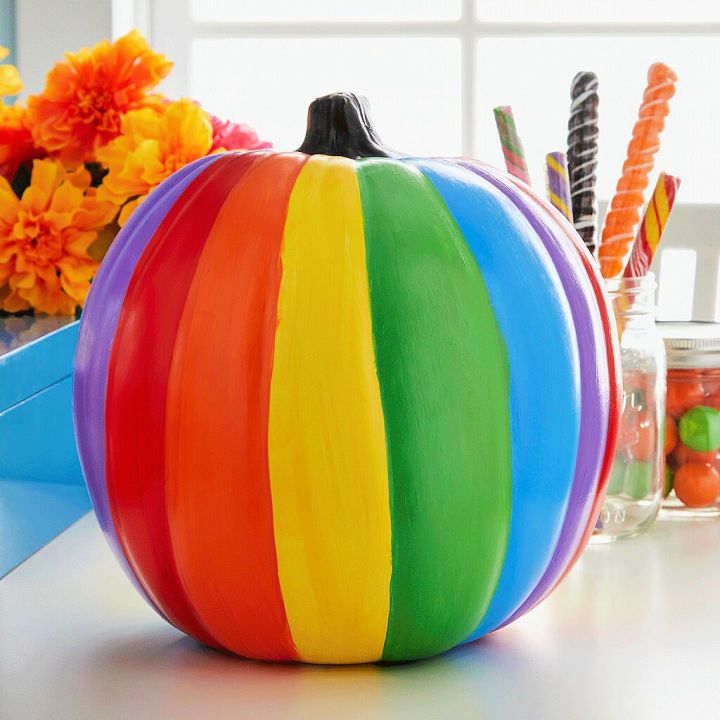 Around the month of October, kids need different projects to stay busy as they get super excited for the holidays. Give them a project that they will love and will stay occupied for a few good long hours. Make a rainbow pumpkin by simply painting rainbow-colored stripes on a large pumpkin. For this project, you will need supplies like acrylic paint in seven rainbow colors, a set of triangle paintbrushes, a cream craft pumpkin and a paper plate/paint palette. michaels
28. Toy Story 4 Forky Pumpkin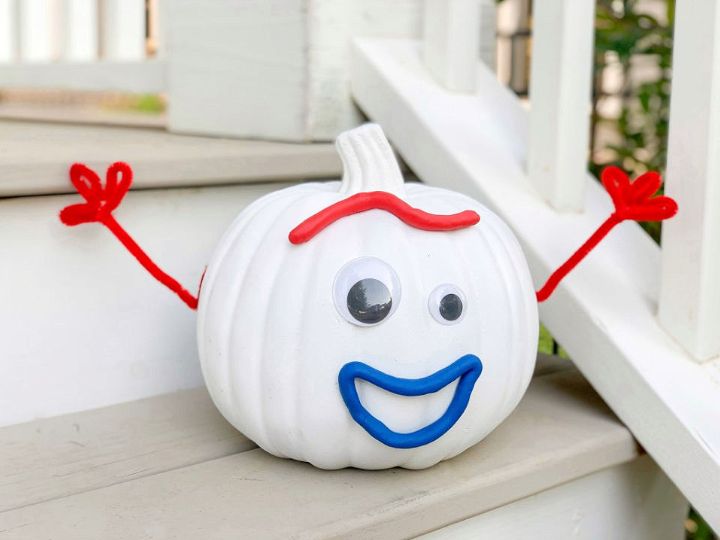 Kids love toy story especially the 4 forky pumpkins in it. Get your craft on by turning a pumpkin into Forky. Kids will simply love this project and will be more than ready to share all the tasks with you. Gather your supplies like medium craft pumpkin, white spray paint, googly eyes, red pipe cleaner, modeling clay and craft glue or hot glue gun. It's a no-carve pumpkin project that is really easy to do for the kids. Start by spray painting your pumpkin first. gracegigglesandnaptime
29. Fun Minion Pumpkin Painting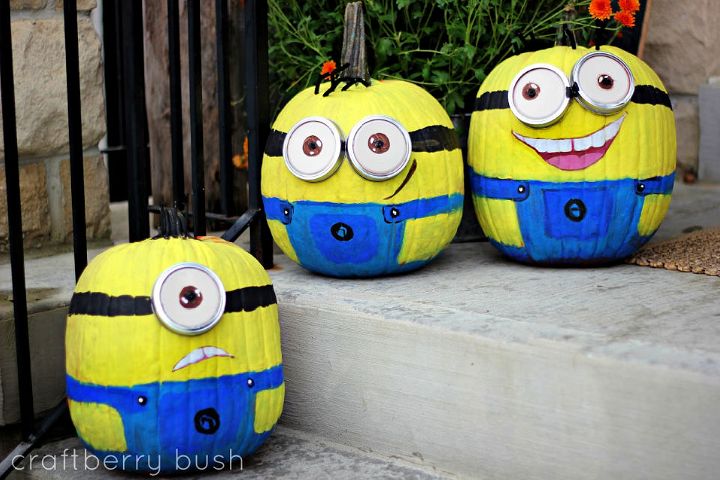 When you become a mom, painting pumpkins is one thing that's a must, especially around the holidays. Paint little minion pumpkins, which will become so popular that you would have to make them every year. The kiddos will love them, and they will be a big hit among all your guests too. Get your supplies like pumpkins( real or artificial), canning jar lids, long screw, wooden skewer, hot glue, yellow and blue outdoor paint or spray paint, black, brown and white sharpie or paint and black pipe cleaners. craftberrybush
30. Fingerprint Cat Painted Pumpkin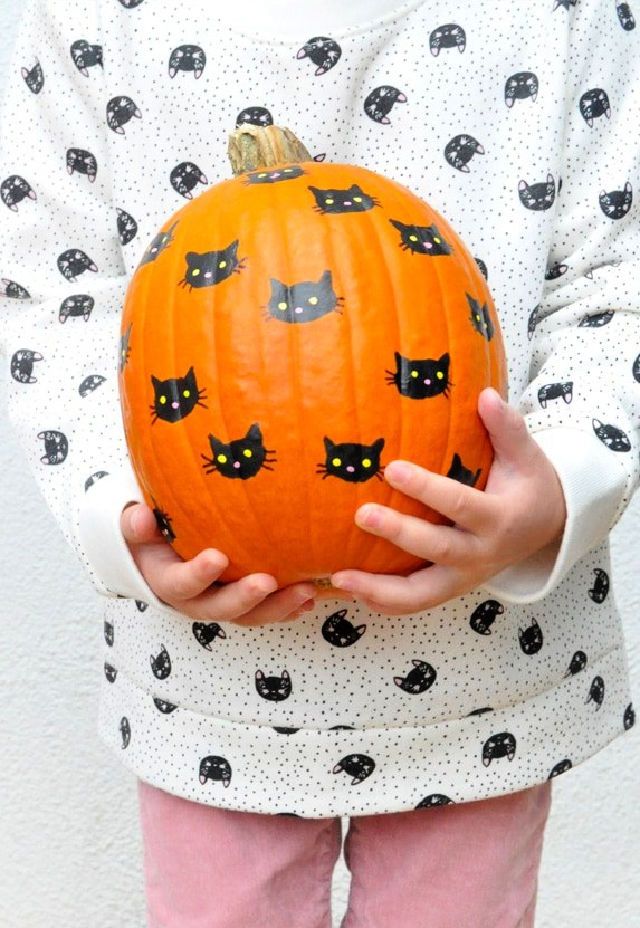 Halloween cheer is all about decorating the house for the whole month of October with pumpkins of different shapes, sizes and even colors. A great way to personalize your pumpkins is to paint them using our favorite colors so that the little ones can also join in the fun. It's better than carving them, which is a little difficult. Make lovely pumpkins decorated with cats using thumbprints and also add your own special details. You will need a pumpkin, paint, brushes, a plastic plate and a black marker pen. naturino
31. Creepy Pennywise Pumpkin Painting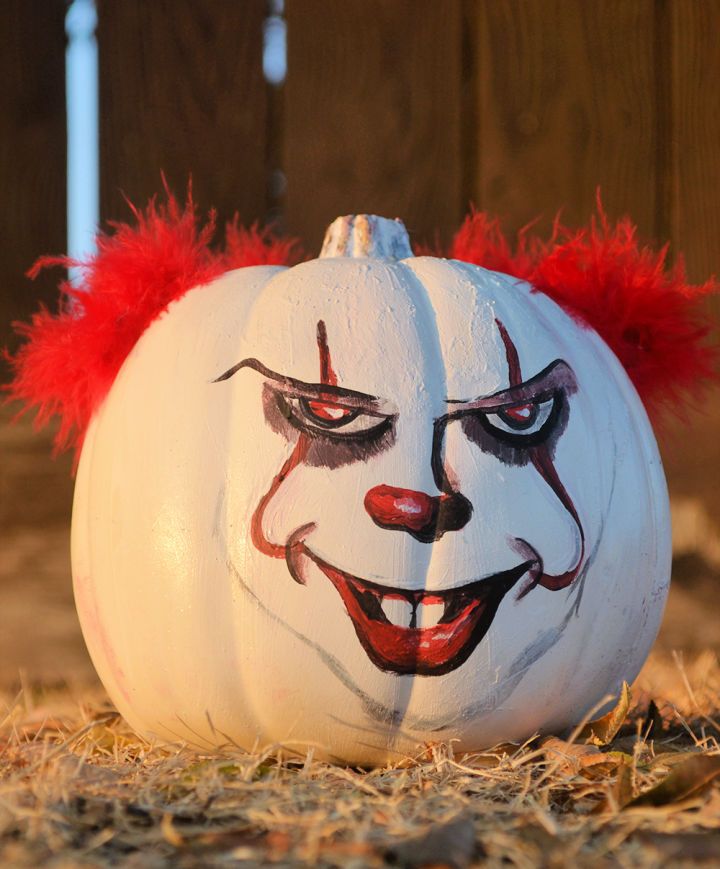 The character Pennywise from the famous Halloween movie is the go-to character to create this year. You can also rock this character clown custom for Halloween by turning it into your kind of craft by using pumpkins. Get in on the clown action by gathering some supplies like a white-medium-sized pumpkin, red, black and white acrylic paints, tacky glue, paintbrushes, red feather marabou boa and scissors. The off-white pumpkin must be painted with white acrylic paint before starting off to give the clown a pale complexion. theswelldesigner
32. Paint Pumpkins with Stencil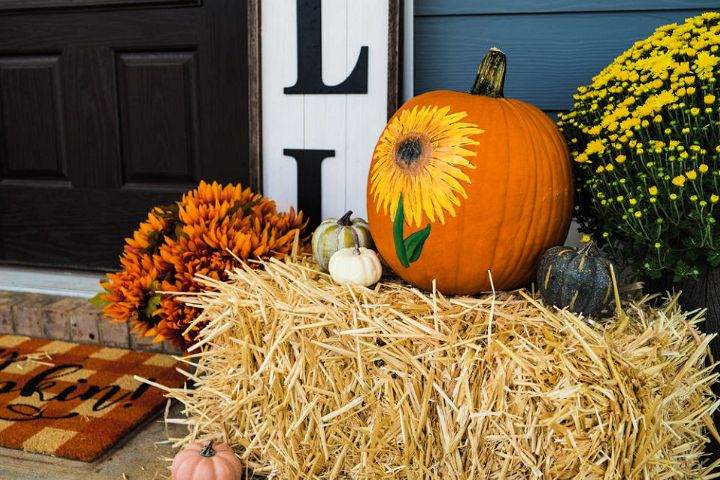 During the cooler season, people only used a jack o' lantern for porch d??cor, but those days are long gone. Pumpkin d??cor has become so elaborate now that it's hard to keep up. Create a beautiful fall-themed pumpkin that is as easy to make as a pie without the hassle of carving and your pumpkin rotting at the end. For painting your pumpkin, you will need supplies like stencils, X-acto knife or scissors, pumpkin, paring knife, paint, small paintbrush, paint pens and newspaper. Simply head to your local pumpkin patch. kirklands
33. Paint Faces on Pumpkins for Halloween D??cor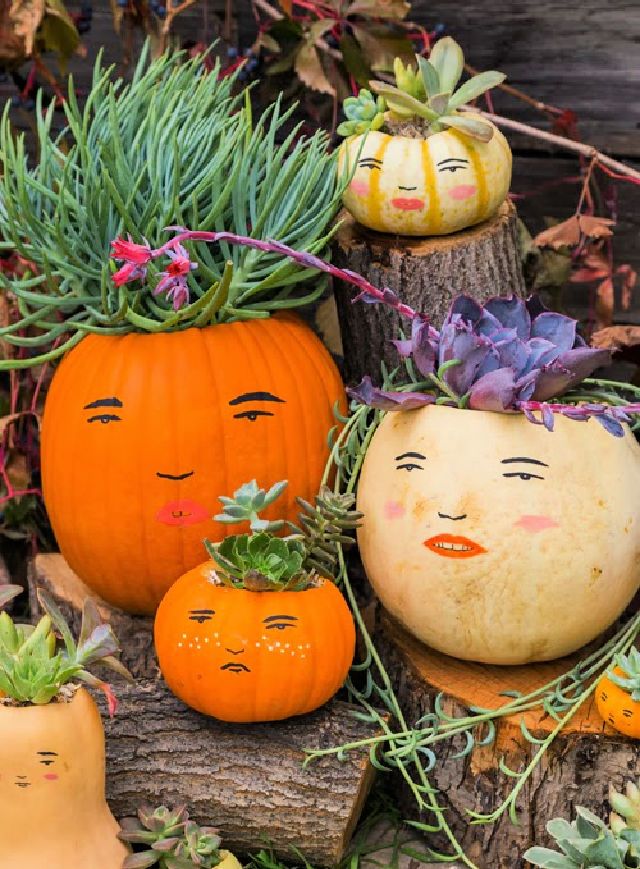 Create adorable pumpkin characters with painted faces and succulents as hair. You can never go wrong with this project as the easiest to make yet very classy to display. Make a pumpkin family of your own using supplies like light-colored pumpkins like white, acrylic paints in different colors like black, red and white, fine paintbrush, carving knife, pumpkin face template, pencil, a variety of succulents and rocks for succulents. This pumpkin family will make every one die with their overloaded cuteness. thehousethatlarsbuilt
34. Painted Pumpkins with Glitter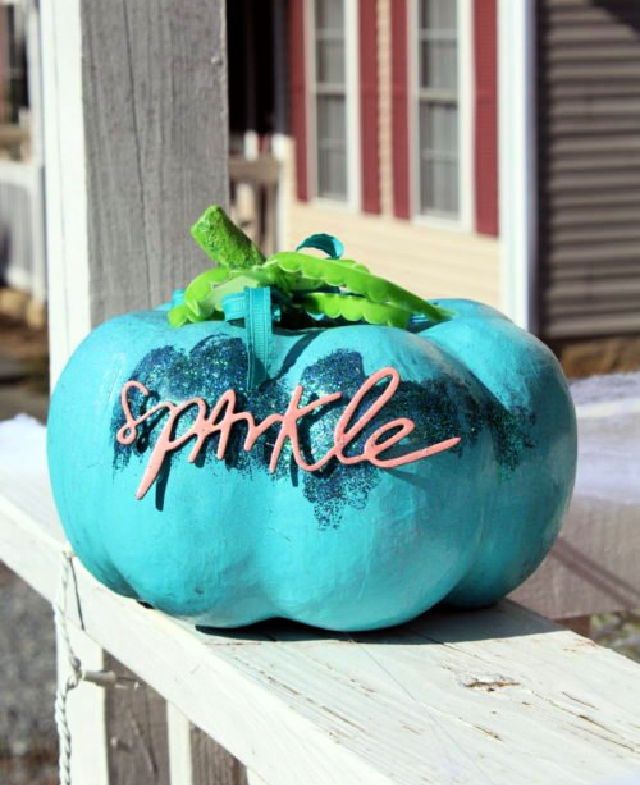 Use some new painted pumpkin ideas and create your own DIY painted pumpkins for fall this year which will simply wow your neighbors. This project can give you a great chance to spend some time with your friends by hosting a pumpkin paint night. Everyone can come up with their own ideas of painting pumpkins which can later be brought indoors to be used as a seasonal fall table centerpiece. Get some supplies like paper mache pumpkin, teal and lime green paint, matte mod podge, foam brushes, glitter shimmer spray, strong craft paint, glitters and ribbons. soapdelinews
35. Block Printing Inspired Pumpkins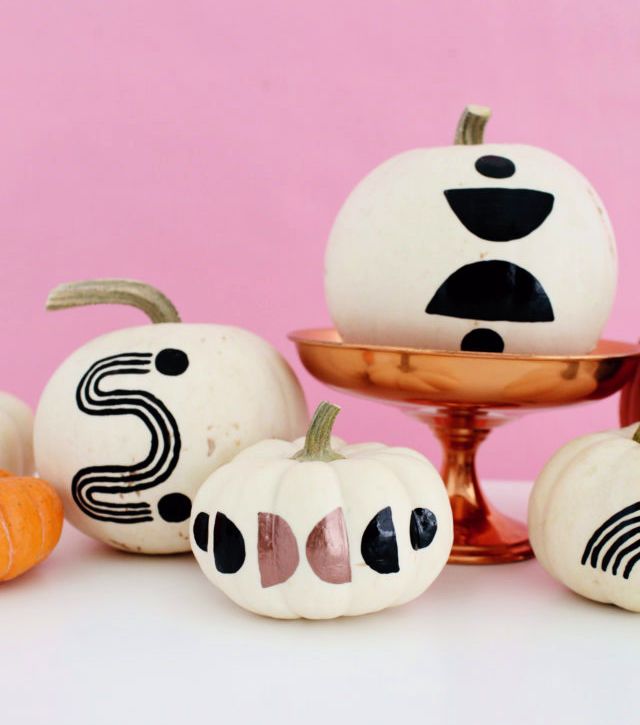 Enjoy making these DIY block printing-inspired pumpkins which will keep your pumpkin color palette towards the neutral side, making them look super classy. Black paint on white pumpkins and even orange color will create some shocking visual interest. You will need supplies like paint markers in black, copper and white colors, paint brushes, craft paint, paint palette or paper plate, card stock, scissors and pumpkins in different shapes and sizes. Start by thinking of various shape combinations to use on your pumpkins. ohsobeautifulpaper
36. Paint Your Own Heirloom Pumpkin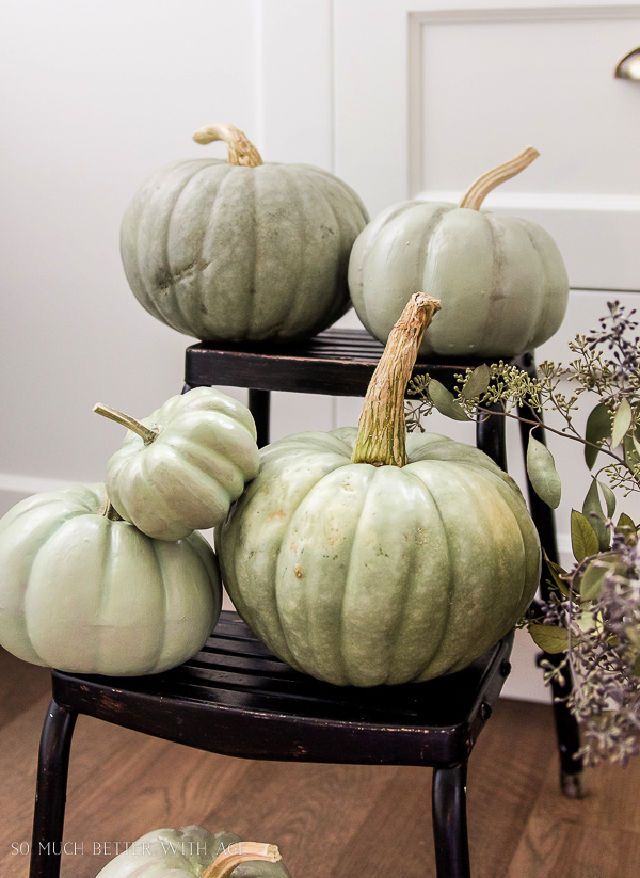 After painting a lot of pumpkins for many years, there arises the need to do something unique and different for all craft lovers. This year paint your own heirloom or muted color pumpkins that are otherwise very expensive in the market. You will need supplies like paint colors, paint brushes or sponge brushes, a hot glue gun, drywall filler and polyurethane semi-gloss spray. Use pliers to take the tops off the plastic pumpkins and fill the holes using your own fingers before you start to paint them. somuchbetterwithage
37. DIY Coral and Gold Pumpkin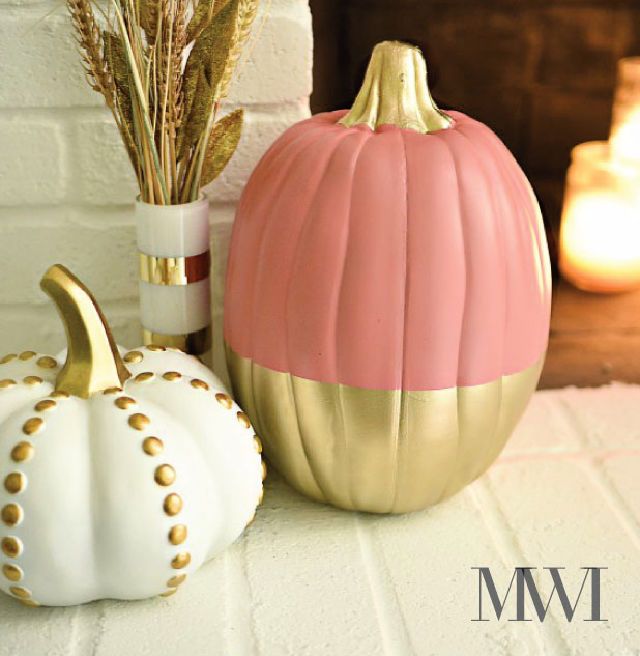 A great way to decorate for the fall season is by making DIY pumpkin crafts. They are quick and affordable ways to decorate while being very budget-friendly. You will only need craft paint, spray paint, fabric, tissue paper and any other craft items that you think will match your d??cor and your style. Make different designs and use different colors to make as many pumpkins as you want in different sizes. Everybody will be completely smitten with all the beautiful designs you create. monicawantsit
38. DIY Mercury Glass Pumpkins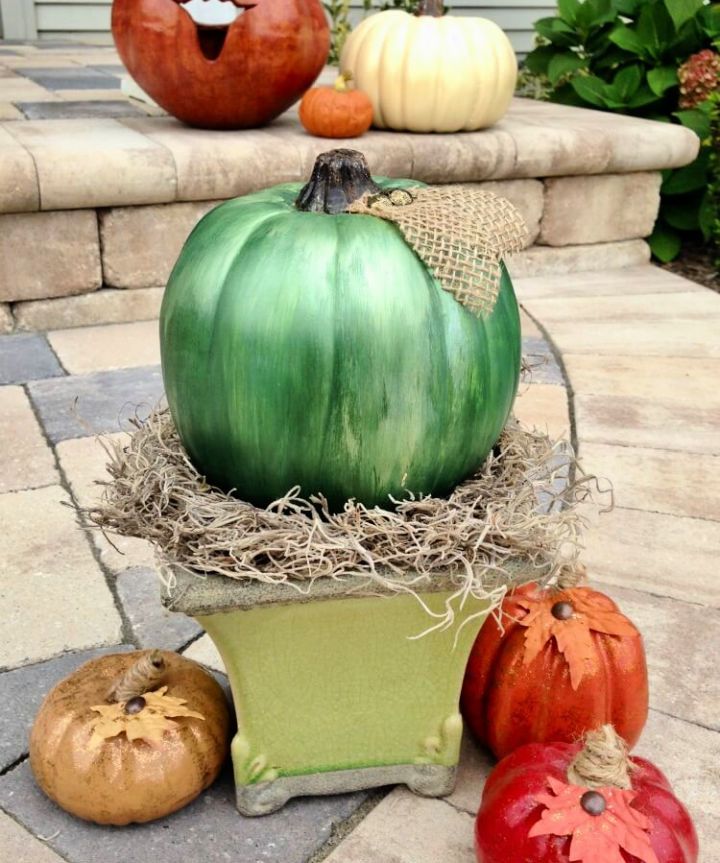 Without using any expensive or fancy craft items with chemicals and spray cans, make this beautiful DIY craft pumpkin. You will only have to use three shades of metallic paint to make them, and displaying them anywhere will be a pleasure. For these pumpkin painting ideas, get some supplies like medium-sized white craft pumpkin, metallic paints, paintbrushes, paper towels, wax paper, burlap ribbon, scissors, furniture nails, Spanish moss and vintage urn. Start painting the pumpkin using sage-colored metallic paint. petscribbles
39. Acrylic Painted Fall Pumpkin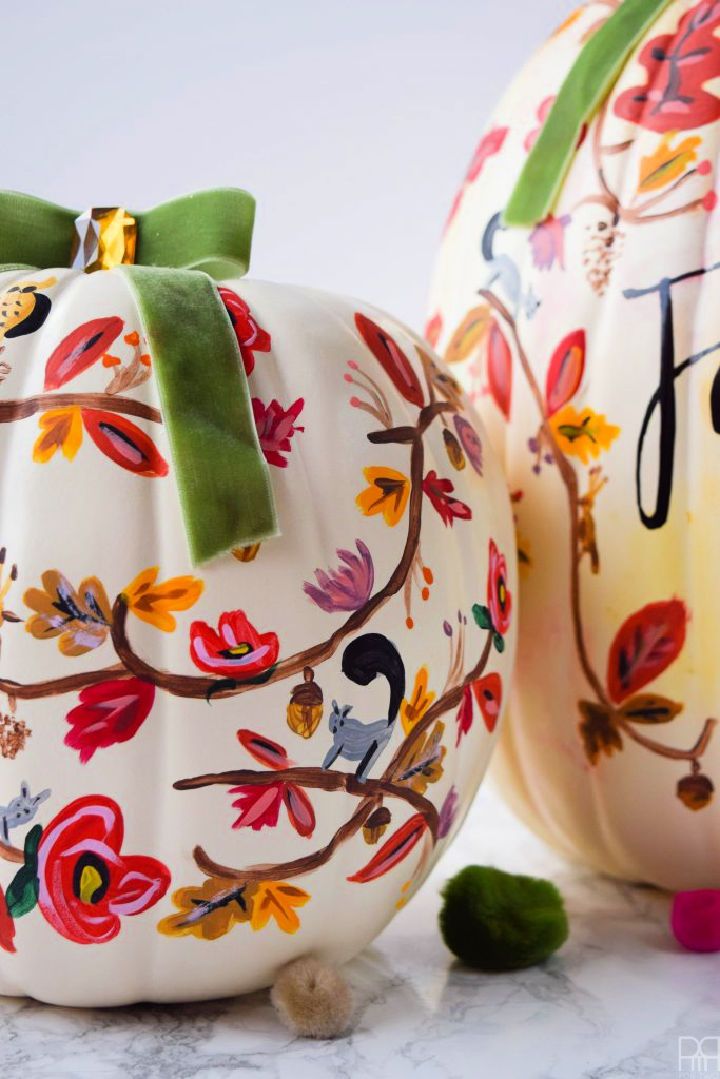 Painting your own pumpkins have many advantages like they will stay around for use till the next year, and they won't be rotting from inside out. So make your own DIY fall-painted pumpkins if you love to paint. You will need supplies like paints on any colors you want, fine tip brushes and plastic pumpkins. Using warm shades of red and yellow colors will be perfect for the fall season. Just make falling leaves with a flower or two on them. pmqfortwo
40. Cute Painted Pokemon Pumpkin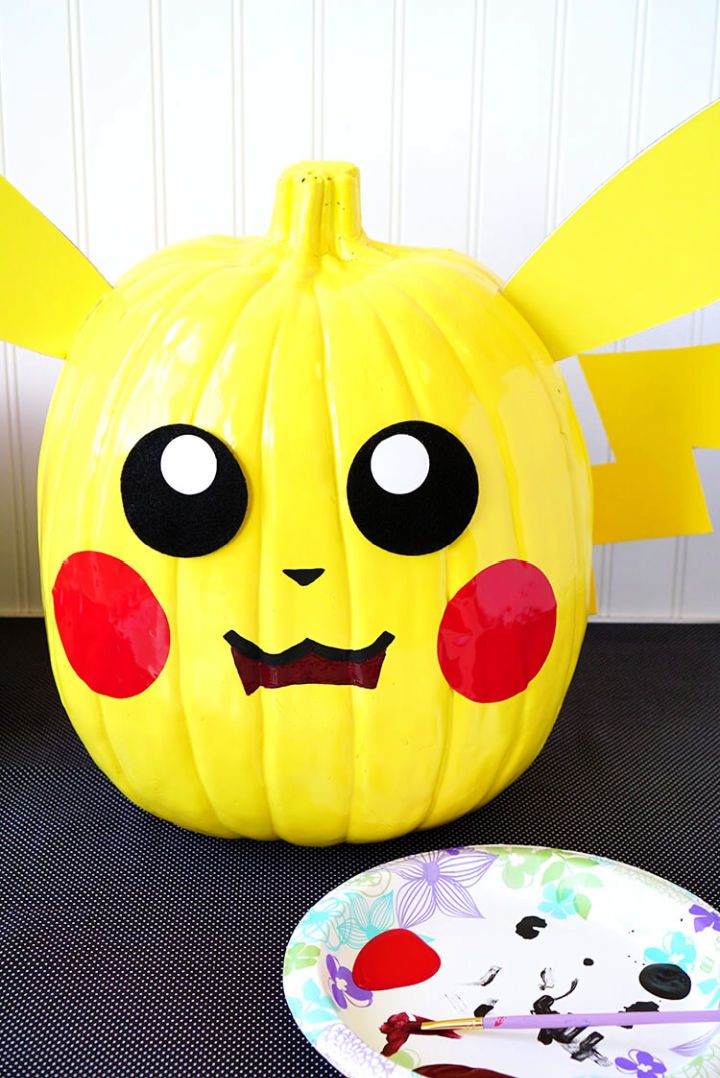 A few famous characters of children like Pikachu and Pokeball must be brought to life this Halloween, which will be a huge hit among children. Make some cute painted Pok??mon pumpkins that are very cute and quick to make besides being tons of fun. You will need supplies like 2 faux pumpkins, several small dishes, red and black acrylic craft paint, black electric tape, clear glossy sealer, yellow cardstock, yellow paint and hot glue gun etc. happinessishomemade
41. Small Pumpkin Unicorn Witch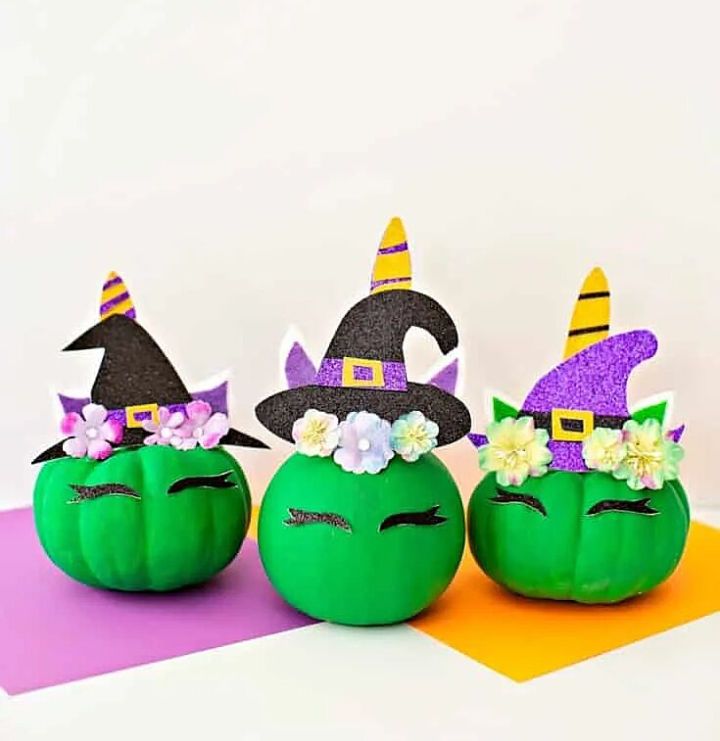 A fun activity around Halloween is creating your own ideas designing pumpkins. It keeps the kids happy and excited about the upcoming holidays. Make this fun pumpkin unicorn witch that will be fun and scary, just like the kids want. This pumpkin unicorn witch brings a lot of magic to the Halloween celebrations and is a great no-carve pumpkin decorating idea. The painting and gluing can be done by the children to get the Halloween celebrations started for them. hellowonderful
42. Black Cat Painted Mini Pumpkins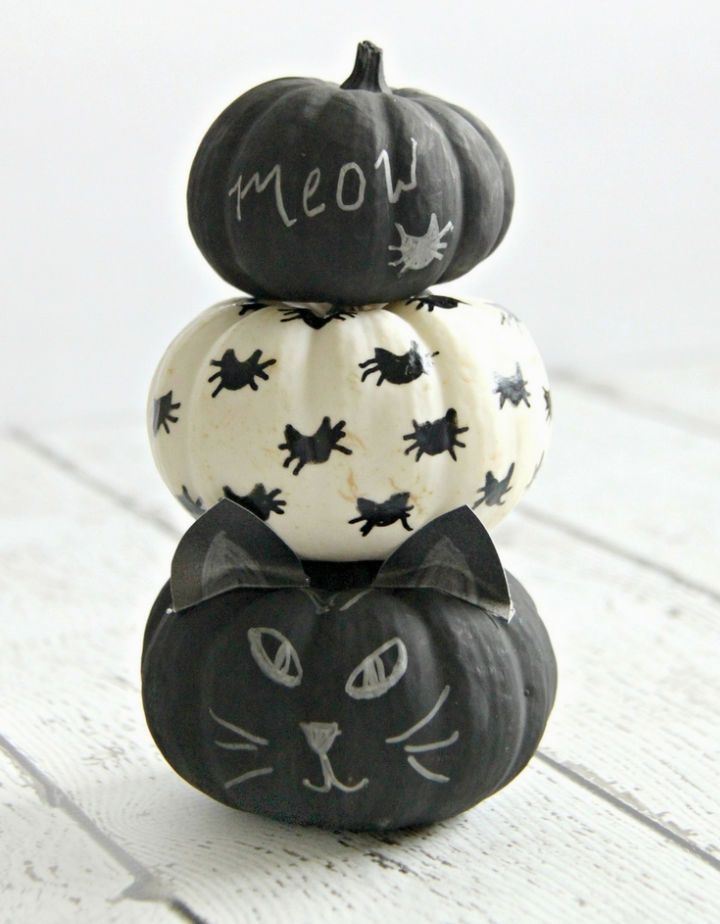 A simple and easy Halloween craft is what all crafters prefer while trying to make the d??cor unique and fun. Try making this simple Halloween craft of black cat mini pumpkins that look very adorable to be displayed anywhere. For all cat lovers, it is a very fun craft involving just a few steps. You only need 3mini pumpkins, black chalkboard paint, a paintbrush, black and silver paint pen, black cardstock, craft scissors and a hot glue gun for decorating your mini pumpkins. thecrazycraftlady
43. Simple DIY Ceramic Painted Pumpkins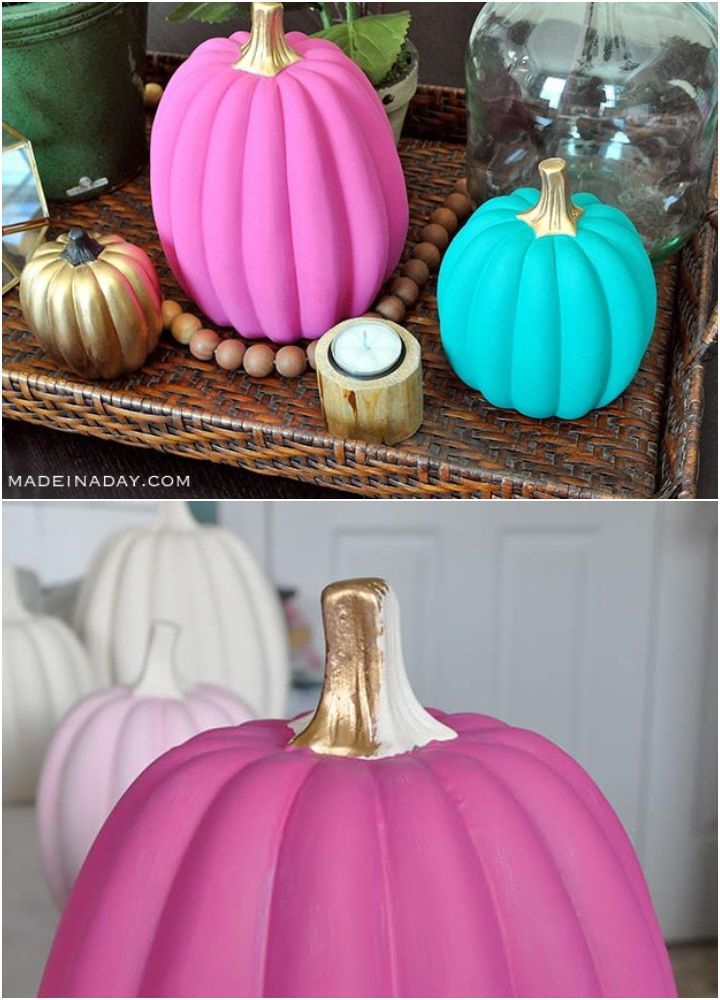 For changing the look of your home d??cor around holidays, you must choose the right color accessories. This Halloween, make some unique ceramic-painted pumpkins and paint them up using some really bright colors. You will need supplies like a decorative pumpkin set, acrylic paints in different colors, gold liquid gilding, gloves and paintbrushes. You don't have to paint the stems of the pumpkins and start by painting the body using acrylic paint. Let the paints dry up. madeinaday
44. DIY White Painted Pumpkin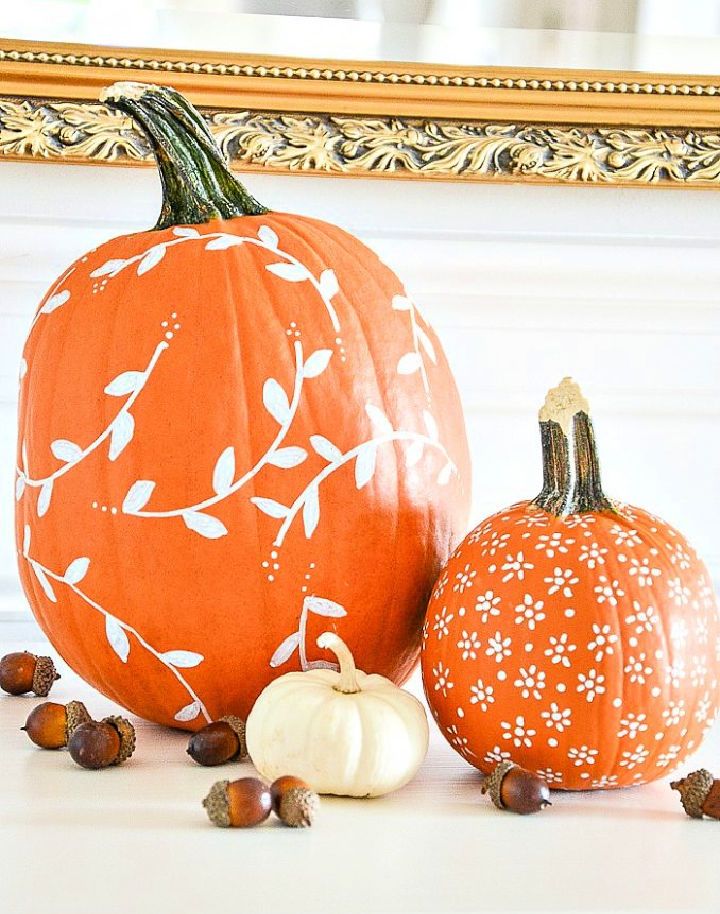 Sometimes a project comes out looking much better than it was in your mind. Painting your own pumpkins can be one such project. An amazing project would be making your own DIY white-painted pumpkin, which is really easy to make. No special craft or art skills are required to do this project, and they are perfect for fall d??cor or for Halloween celebrations. You will need supplies like pumpkins without deep ribs, medium tipped acrylic paint pen markers and a plastic lid. stonegable
45. Snapchat Filter Pumpkin Painting Ideas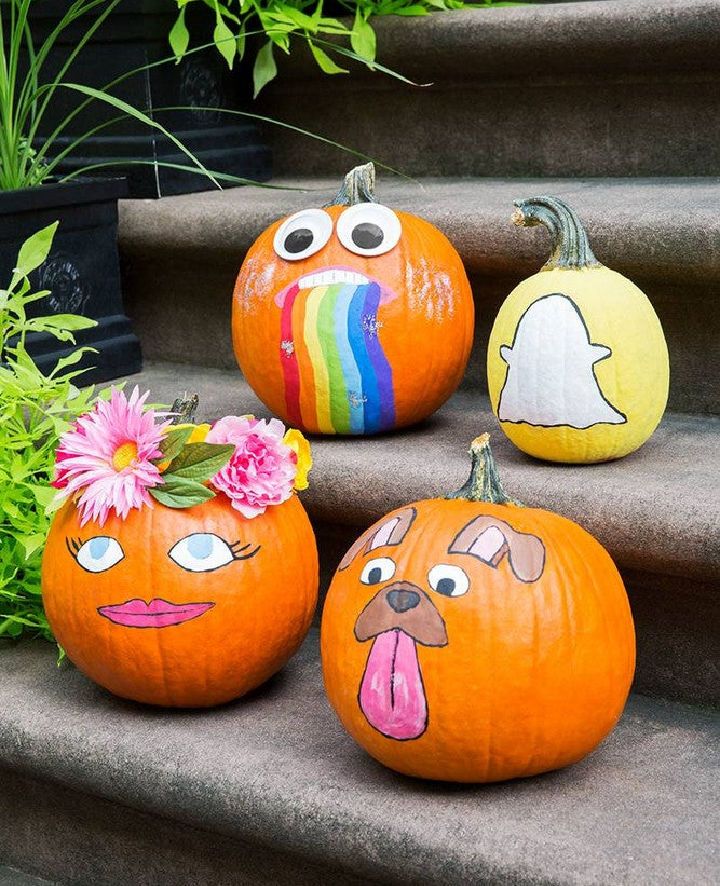 Snapchat filters are very famous these days so why not actually bring them to the house and add them to your home decor? Add a Snapchat filter to your pumpkins by painting them in fun ways to add to the Halloween celebrations. You will need some simple supplies like a rainbow supply of paint, large googly eyes, mod podge or any other transparent drying glue and silver glitter. Start your pumpkin painting ideas by googling photos of all the Snapchat filters you want to make. domino
46. Pretty Emoji Pumpkins Painting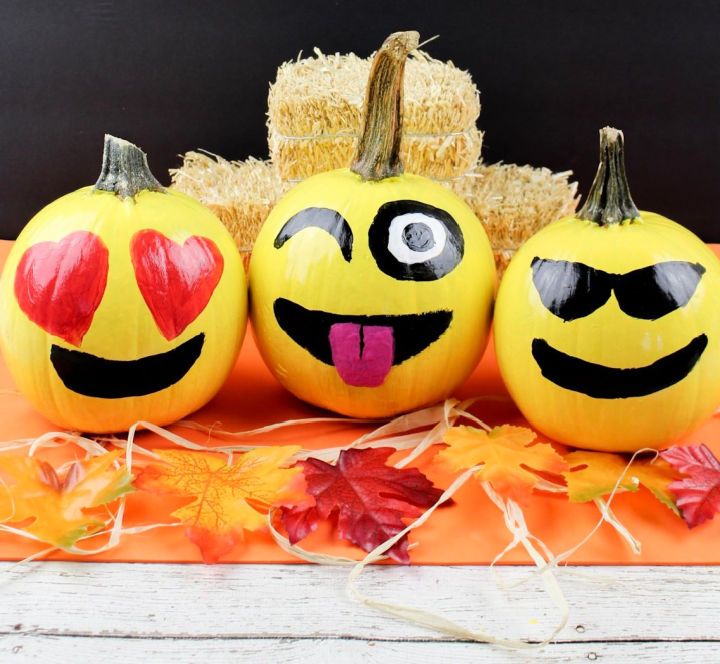 Decorating the whole house for fall is such a fun way to bring some cheer into the house before the holidays start. Decorate your whole house in pumpkins and hay bales which will look like autumn is already here inside the house. You will need supplies like 3 medium-sized pumpkins, craft paint in different colors, paint brushes, paper plates and googly eyes. It's a fun and creative project that doesn't require the use of a knife too. myincrediblerecipes
47. DIY Paint Stitched Pumpkins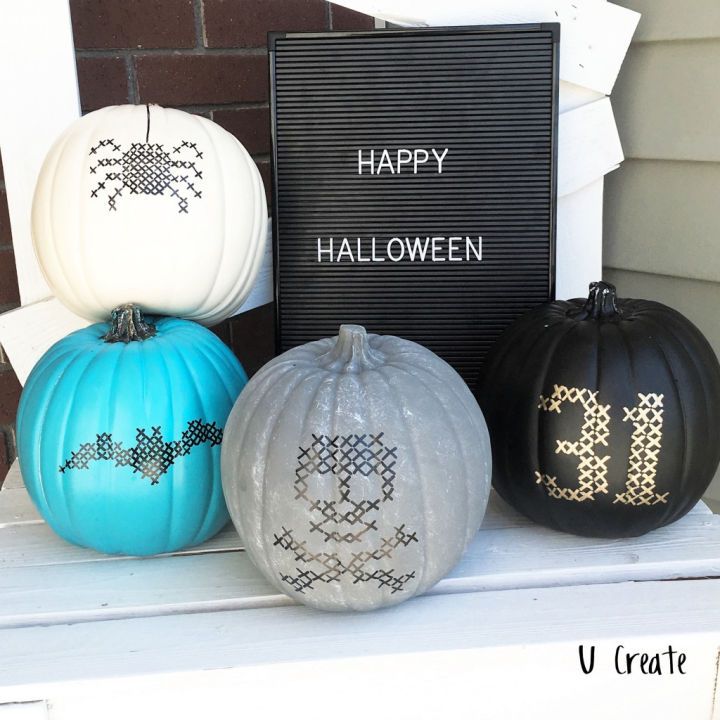 The arrival of fall means pumpkins, pumpkins and more pumpkins. A very fun project for you is to head to the local store to get faux pumpkins and create your own beautiful pumpkin painting ideas. Make paint-stitched pumpkins for which you will need supplies like faux pumpkins, paint markers, tracing paper and a free printable Halloween template. After printing the template, trace it on the pumpkin using tracing paper. You can resize or change the design in any way you like. u createcrafts
48. Painted Baseball Pumpkin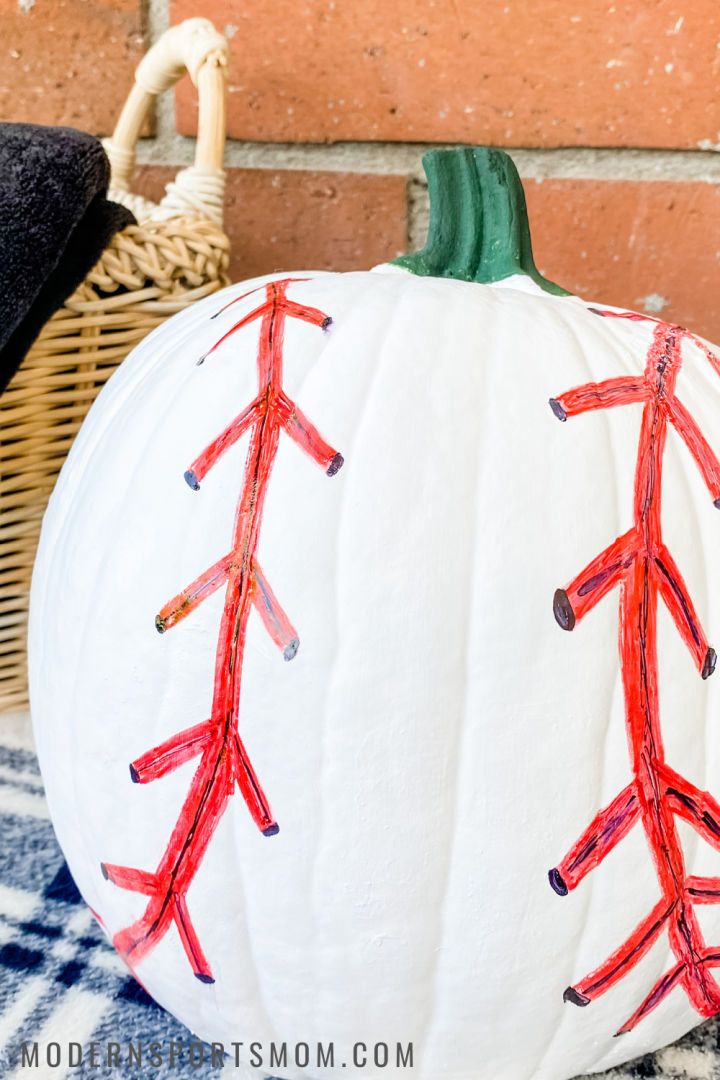 When you decide to paint your own pumpkins for the Halloween d??cor, the possibilities turn out to be endless. Make a DIY painted baseball pumpkin that is perfect for all sports fans and comes together really quickly too. Supplies required for this project are a clean pumpkin, some tin foil, white spray paint, acrylic paint in white and green colors, small foam brushes, a paper plate and a red and black permanent marker. Start prepping for spray painting using a drop cloth. modernsportsmom
49. Stacked Pumpkin Topiary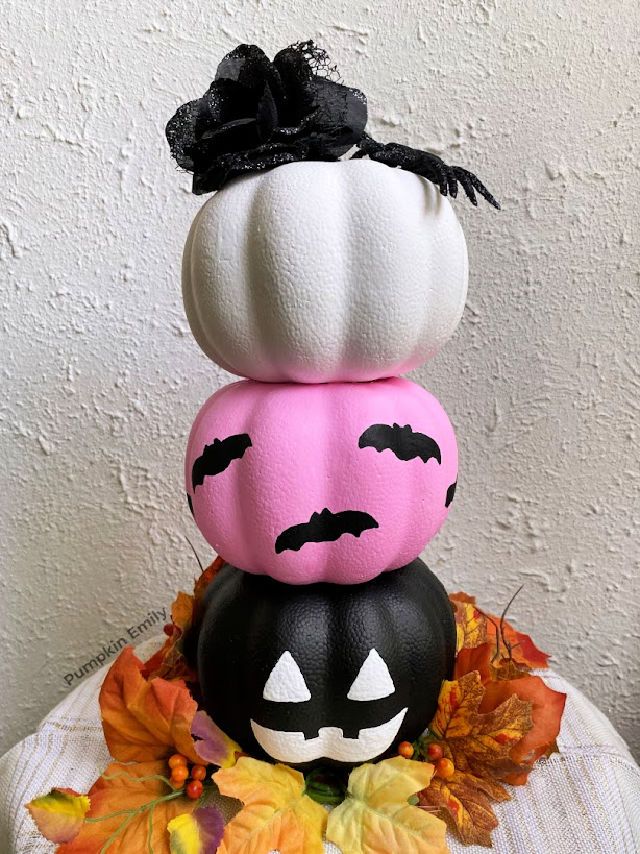 Make unique pumpkin painting ideas topiary this Halloween and decorate it in any way you want to match your style. This is quite a fun project to do, and you can display it outside or inside or anywhere else you want. Get some supplies like 3 foam pumpkins, acrylic paint, paintbrush, hot glue and decorations that you would want to put on your pumpkins. Start by painting your pumpkins in any colors you want after taking the stems out. pumpkinemily
50. DIY Painted Wood Pumpkins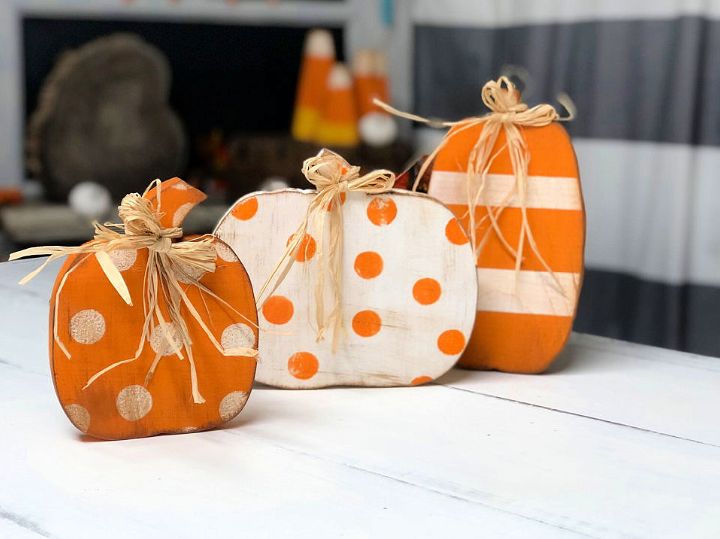 DIY your own painted wood pumpkins this Halloween using just a little bit of paint. These pumpkins are very easy to create and transform with some very basic craft capabilities. Get some quick supplies like 3 wood cutouts, acrylic paint in white and orange colors, paintbrushes, sponge and chip brush and wide painter's tape. Start by painting your wood pumpkin bases. Paint a thin layer on all sides of the pumpkin and let it dry. meganplusfive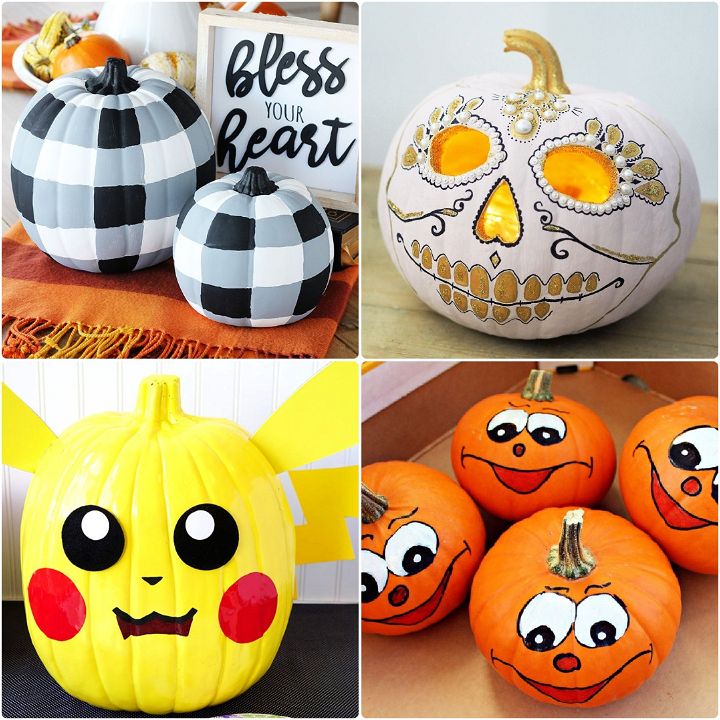 Related DIY Projects:
Halloween Printables – This is your one-stop shop for all your Halloween needs. Find everything from pumpkin stencils, to printable coloring pages, to decorations. Download free printables for Halloween – cutouts, layouts, decorations, crafts and more.
Halloween Party Ideas – Looking for budget-friendly Halloween party ideas? These affordable and spooky DIYs will have you saying, "I can do that." Get spooky on this Halloween with these 50 Cheap and Easy Halloween Party Ideas.
Painted Terracotta Pots – Do you want to change the look of your pots, but don't want to spend a lot of time and money? If so, then here's a great collection of 30 easy painted pots and pot painting ideas.
Paper Bag Crafts – Brown paper bags are so versatile! From making a puppet theater to crafting a homemade dress, there are so many ways to use these brown paper bags. This list of 30 brown paper bag crafts for kids includes fun and creative ideas.
Conclusion:
These amazing pumpkin painting ideas are all, for now, folks! We hope you loved every painting idea as much as we did by sharing them with you. It's time to pick and choose your favorite painted pumpkins from the ideas mentioned above and do your magic. Also, it's a great way to make use of your crafting essentials and all the painting supplies you haven't touched in a long time.
These pumpkin painting ideas also serves as therapy and relives all your stress and anxiety! So, what are you still waiting for? Grab the required materials and dive into the realm of creativity! Moreover, a beautifully painted pumpkin can make the sweetest present for a dear friend too. Get going and start Halloween painted pumpkins right away!