Ready to throw the best Halloween party this year? Looking for some inexpensive Halloween party ideas? Whether you're hosting or attending, we've got 50 Cheap and Easy DIY Halloween party ideas that are perfect for kids and adults. From costumes and treats to decor, we've got you covered.
The best way to celebrate the spookiest festival of the year is to throw a Halloween party by inviting all the friends, family and loved ones. So, you can impress them all with the creepy party decors, spooky snacks and also with ghostly costumes. Go with these DIY Halloween party ideas and throw the best Halloween party that will create great memories. From creating frightening centerpieces to setting up the scariest tablescapes to making the best spooky backdrops and props, you will get ideas and instructions for all. The best thing about these party ideas is that they will help save tons of your money for the Halloween party decorations and be much doable for all beginners.
Whether you love to feature those skulls in the party ideas or those witches, you will get party decor ideas for both types of themes. You will also get complete tutorials to make the spooky centerpieces you like and love individually. However, you will learn about the different Halloween party themes that come with a different color schemes.
These easy Halloween party ideas will provide instructions for all, from making creepy table coasters to scary yard ghosts to spooky wall decors, these cheap Halloween party ideas will provide instructions for. Moreover, you will get lots of unique game ideas here to add to Halloween parties for added fun.
1. DIY Halloween Backdrop Using Sheet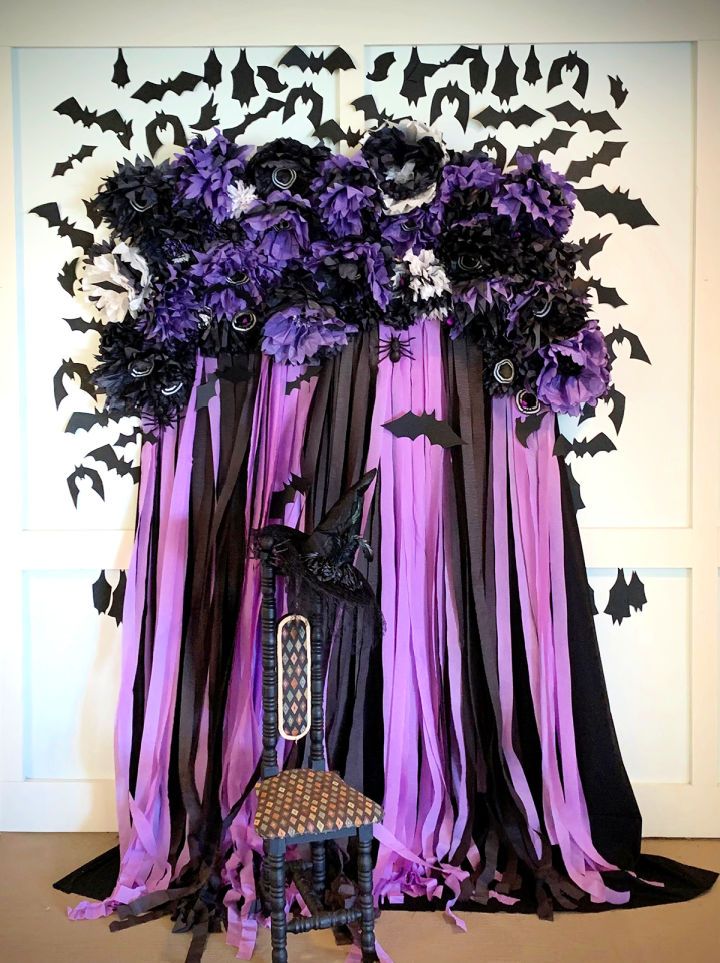 Halloween is all about scary things, and here is how to add those ultimate scares to your Halloween party photo booth. Build this Halloween backdrop that looks ghostly with dozens of bats and will add that mind-blowing spooky background to your photos. So, you can easily install it with the help of provided guides to take some memorable couple and family photos in the Halloween costumes. You need 20″ x 20″ tissue paper sheets in your favorite Halloween colors, scissors, pipe cleaners, utility tape, painter's tape, crepe paper streamers, black cardstock and some creativity to complete this project. njfamily
2. Spooky Black and White Skull Centerpiece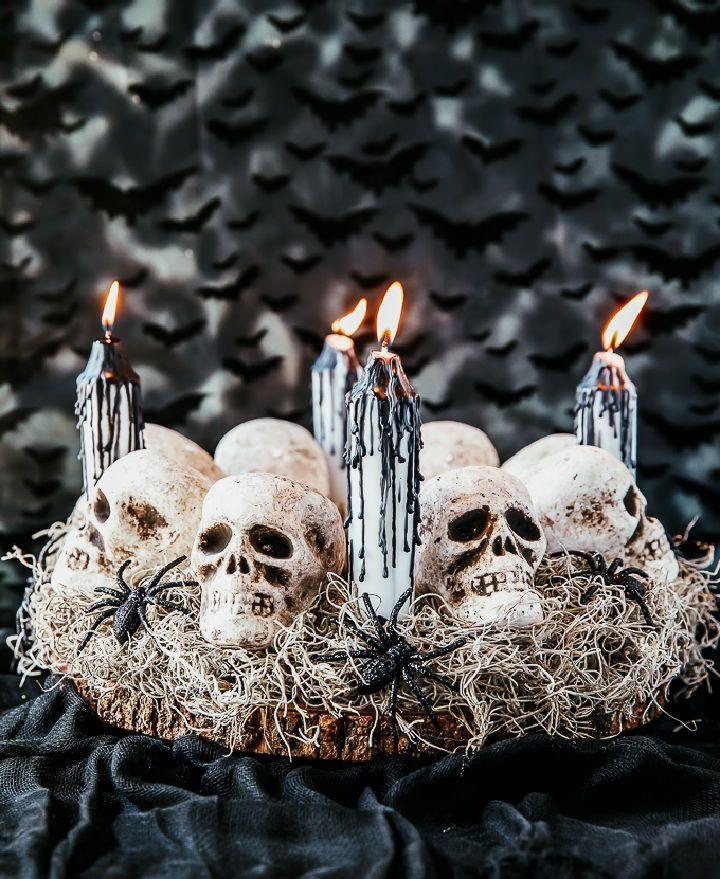 Looking at the skulls takes you to the graveyard that is considered the spookiest place on the earth. So, add to Halloween scares with this arresting skull centerpiece that gains instant visual stimulation with the dripping candles and black spiders. You need a metal wreath, skull heads, Spanish moss, floral wire, taper candles and hot glue to easily craft out this Halloween skull centerpiece. However, you can opt for the Styrofoam skull heads to add to this outstanding centerpiece, sure to double up the Halloween fun and scary decors. apumpkinandaprincess
3. Printable Photo Booth Props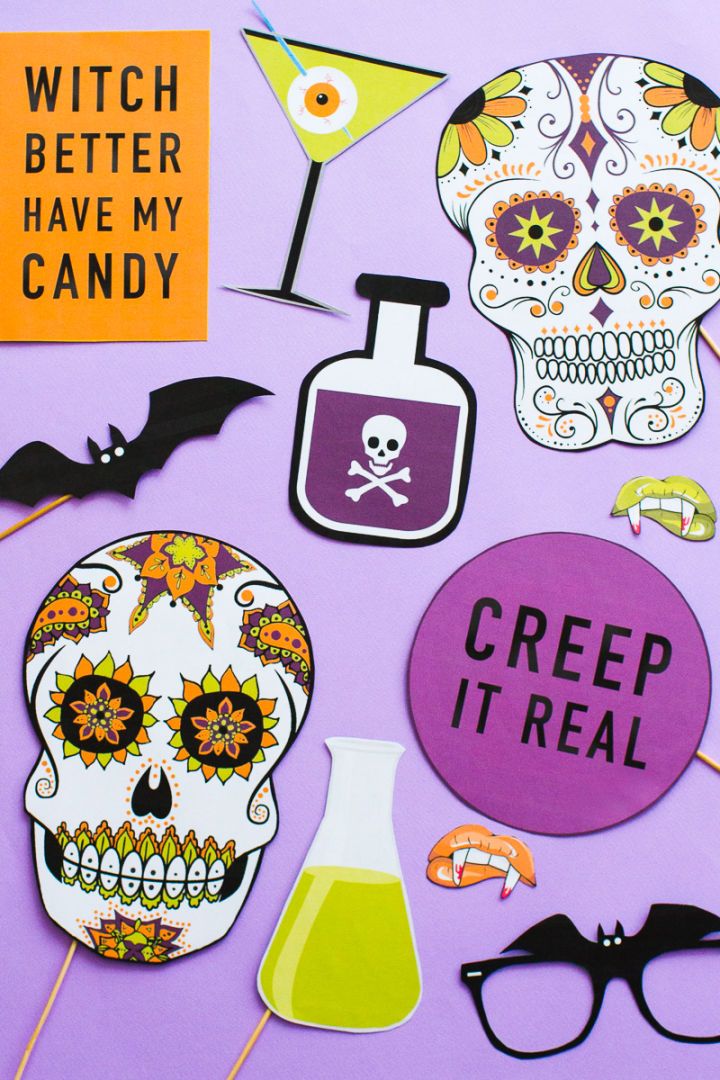 Using custom props makes the photos a lot more graceful and impressive, and you can also use those funny props for added party fun. So, Double up the fun of Halloween parties with these spooky Halloween props. From spider props to flying bats to ghost props, you will learn here to make them all like a pro. You need a printer, white card, BBQ skewers, glue and Halloween props printable file to easily duplicate these props, sure to be a big love of all. One of the best Halloween party ideas that all kids and adults will fall in love with. bespoke bride
4. DIY Witch Leg Chandelier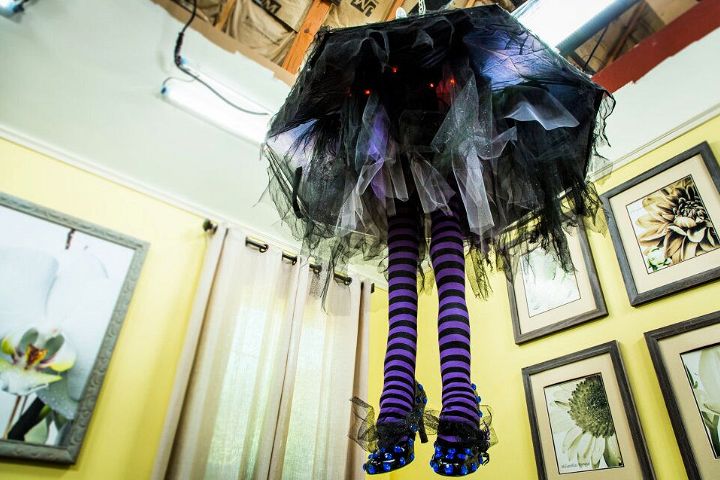 Surprise everyone entering your home or room with this scary Halloween witch chandelier. Being exactly on the top of the Halloween party table will add to creepy Halloween decors and is super quick and easy to whip up. Want to duplicate it for your spooky parties? Then get crafty with the umbrella, black tulle, wire, striped stockings, old shoes, spiders and accessories, LED lights and glue gun to complete this outstanding Halloween chandelier, sure to be a big love of all. One of the best DIY Halloween party ideas ever. hallmarkchannel
5. Set Up a Spooky Halloween Table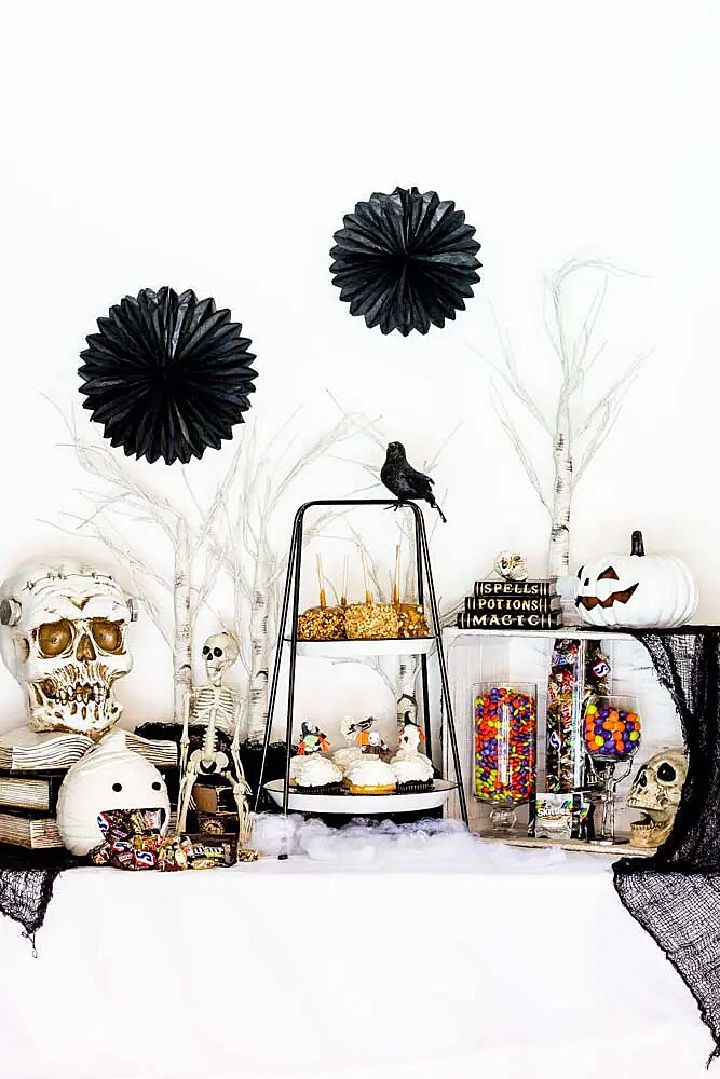 Comparatively, it can be a bit challenging to set up a spooky Halloween party table. Here is a great inspiration for you to check out. It will surely help you organize a super scary spooky table for Halloween using the spooky custom centerpieces and food items. Opt for the creepy table cloths, spiderwebs, other table decorations and custom food items like candies, chocolates, custom eyeballs etc to easily set up this super scary Halloween party table, sure to be a big center of attention of the entire party crowd. confettiandbliss
6. Creepy N Chic Halloween Cocktail Party for Adults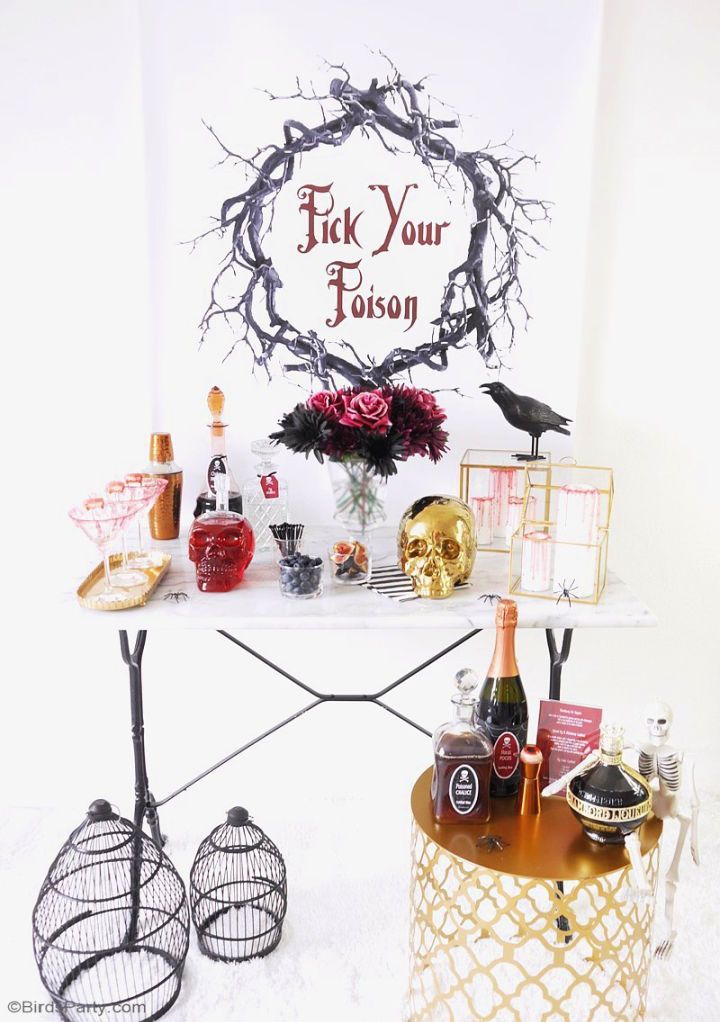 Are you doing plannings to throw a Halloween cocktail party on a super scary theme? Then you will surely fall in love with this creepy N' chick Halloween party idea, guaranteed to be loved dearly by all. Just pack your poison drinks in the skull containers and also load the bloody candles in the glass containers on the table for added spookiness. The addition of the black crow, black treen branches and scary black flowers adds tons of spookiness to the entire party decor. Also, add the skeleton or skull labels to party table poisons and add some skeleton figurines on the table for enhanced creepy fun. birdsparty
7. Halloween Party Jack O Lanterns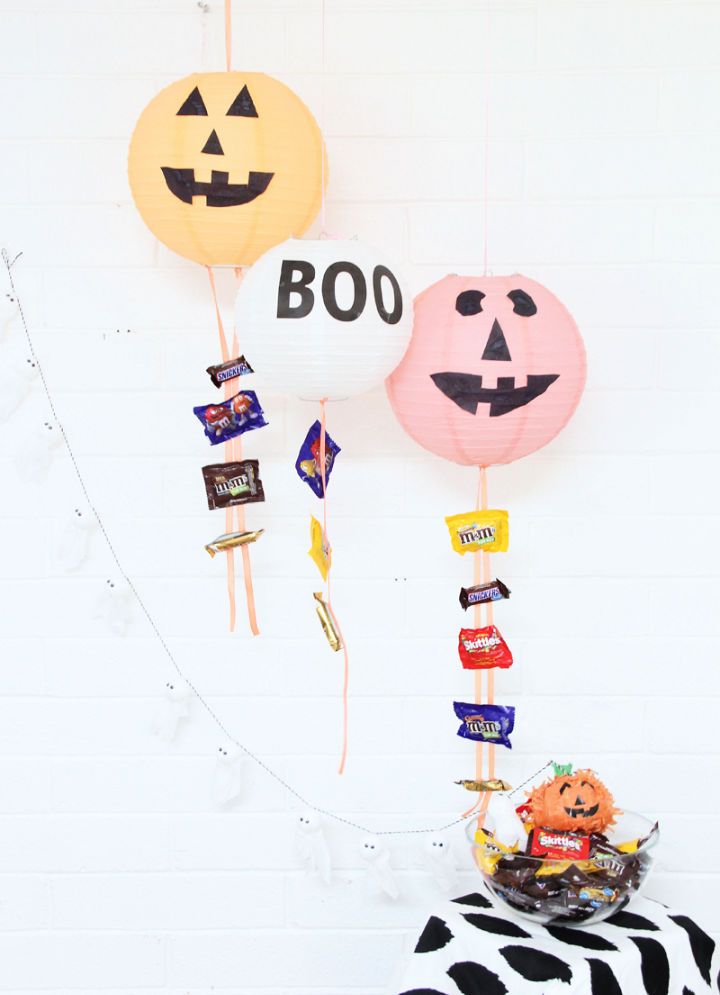 The paper lanterns and paper balloons are the most loved decorations for every party or celebration. So, also do a creative makeover of the paper Halloween globes or balloons to make scary Jack O Lanterns out of them. They will go amazing to the Halloween party and can be added with a ribbon tail loaded with lots of chocolate, sure to be the best reward for the kids at the party. You need MARS candy, party lanterns, mod-podge, tissue paper, brush, scissors, ribbon, tape and alphabet stickers to complete these stand-out Halloween party decorations easily. abubblylife
8. Last Minute DIY Halloween Votives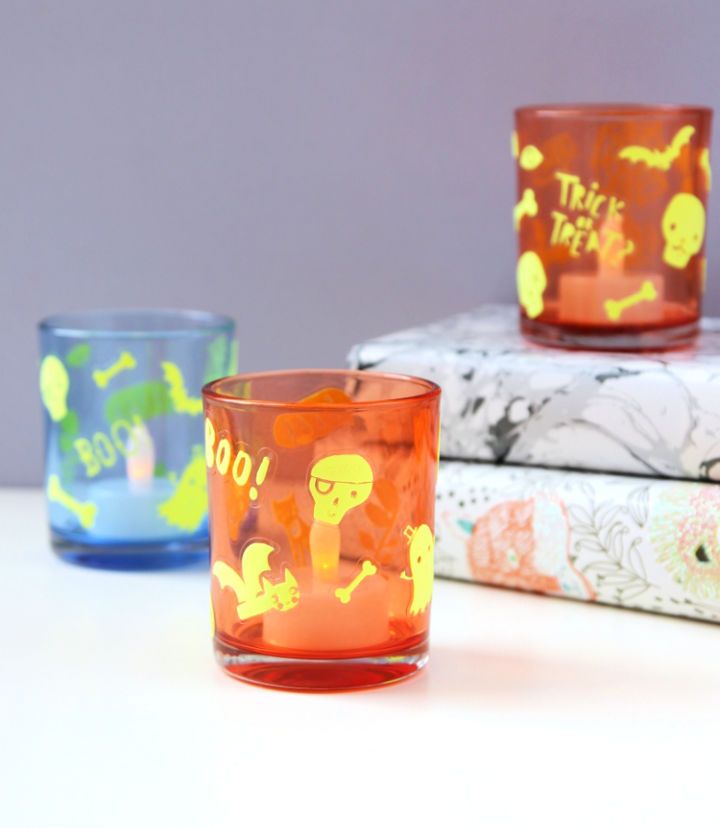 The votives are a must to add to dinner party tables and various visually attractive spots when planning the party and party table decorations. So, sorting out the best spooky votives to make for the Halloween party? Get here instructions to make those spooky votives at the last minute. The whole idea is quick and cost-efficient and loved dearly by all the homey persons. You need colored glass votives, LED tealights, and clear Halloween stickers to easily complete these spook votives. One of the best Halloween party decoration ideas that everyone will fall in love with. gatheringbeauty
9. Dollar Store Halloween Wreath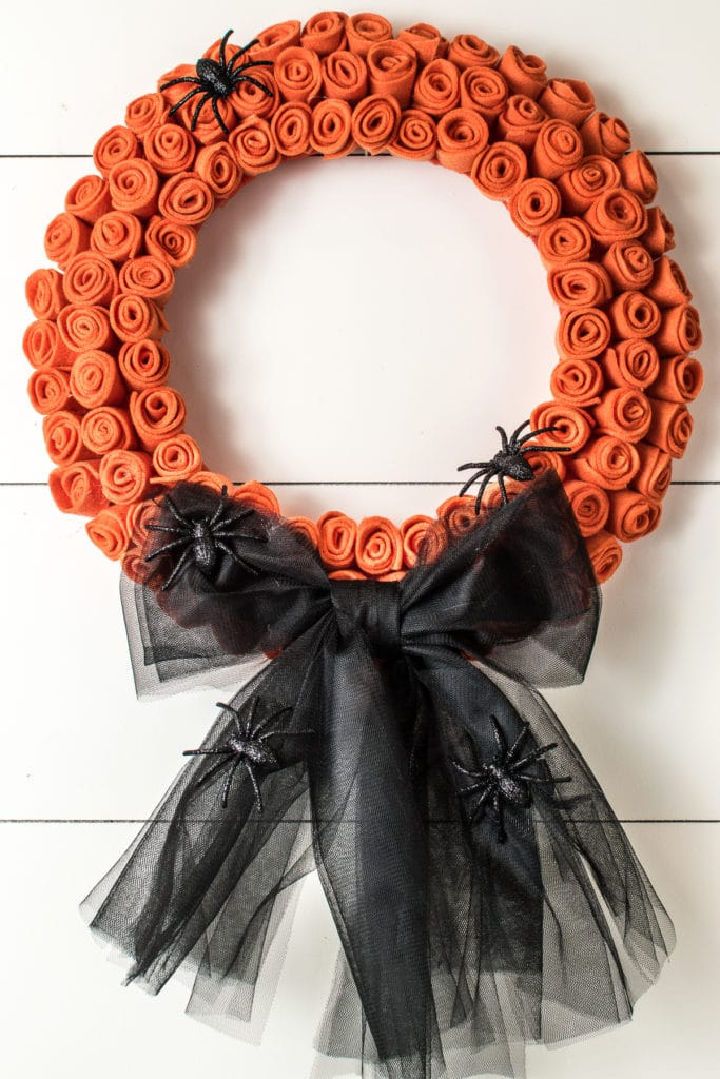 Sorting out the best Halloween wreath designs that will take the whole Halloween party decors to the next level? Then you will surely fall in love with this spooky Halloween wreath, made with dollar store items and is loaded with spooky black spiders. Just roll up the orange felt strips to make the wreath flowers and then make them in on a wire wreath frame and glue them in place. Finish the wreath with black tulle accent bow and the fake black spiders, and that's it. The very required tools for the project will be sharp scissors, a piece of paper, a glue gun, glue sticks and gloves. littleyellowwheel
10. DIY Spider Nest Lanterns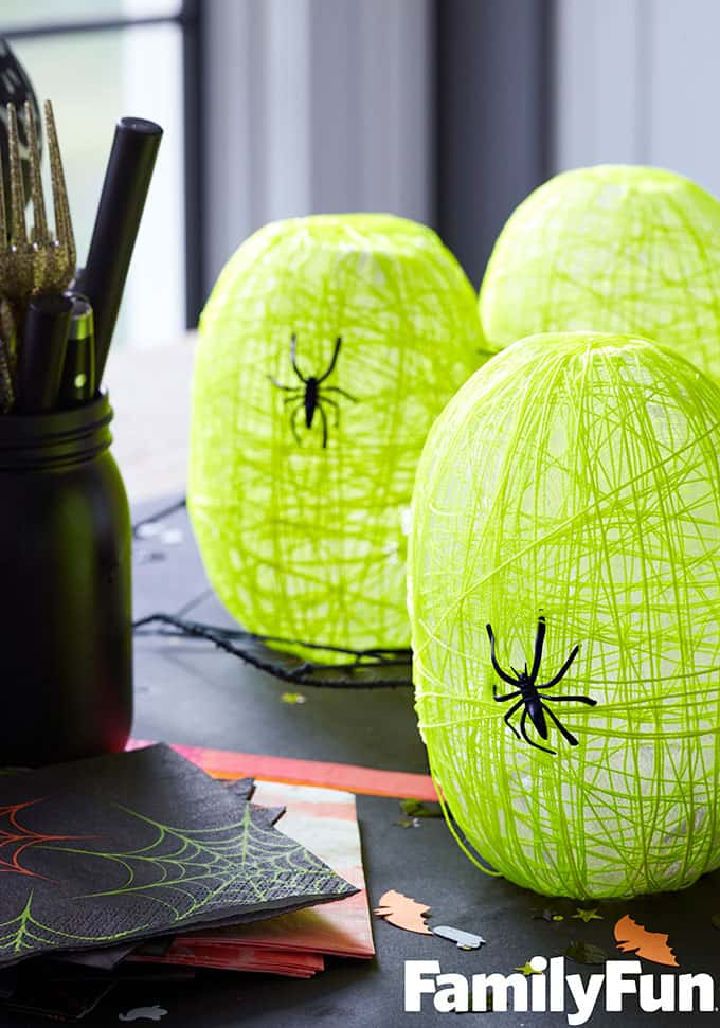 Every Halloween party decor will be incomplete without the spooky lanterns. So, are you finding it expensive to buy them from the market? Then get here complete guides to make outstanding spider nest lanterns, sure to add to your party decors. Before getting into the construction, manage to have the two 1-liter soda bottles, craft knife, clear packing tape, cheesecloth, cotton string, plastic spider and battery-operated tea lights to easily duplicate these beautiful lanterns, sure to be a big love of all the Halloween fans. craftsbyamanda
11. Creepy Crawly Pumpkin Decorating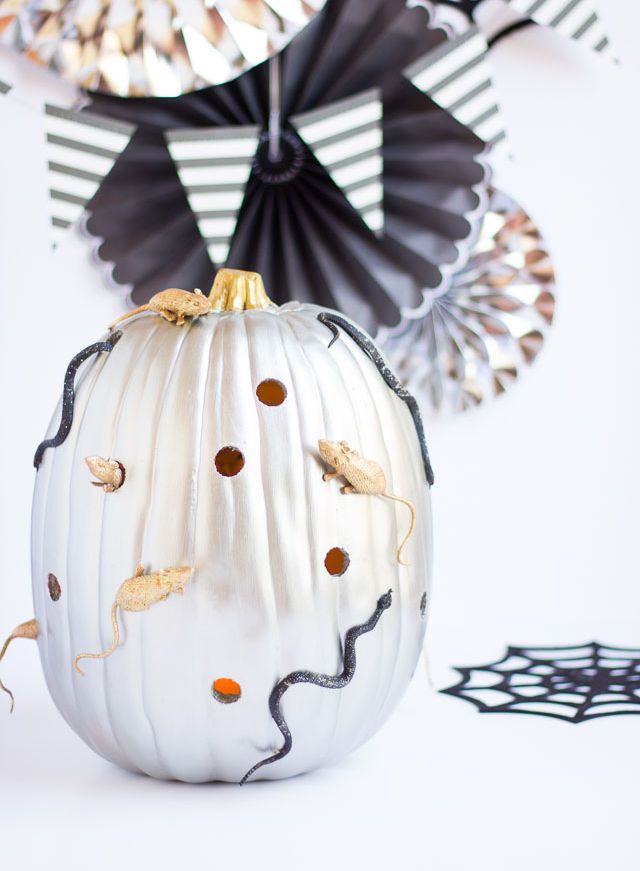 Looking for some creepy Halloween centerpieces? Duplicate this spooky pumpkin Halloween centerpiece, sure to be a great addition to your Halloween party. Here this pumpkin looks like the favorite place of the snakes and rats, and it will not take that too long to duplicate this extra brilliant Halloween party centerpiece. You need craft pumpkin, apple corer, rubber or plastic mice and snakes, silver metallic craft paint, gold metallic craft paint, gold glitter paint, silver glitter paint, a small brush and E6000 craft glue to complete this creepy crawly pumpkin decor for Halloween party. Doing this project will hone your crafting skills. designimprovised
12. How to Make Halloween Banner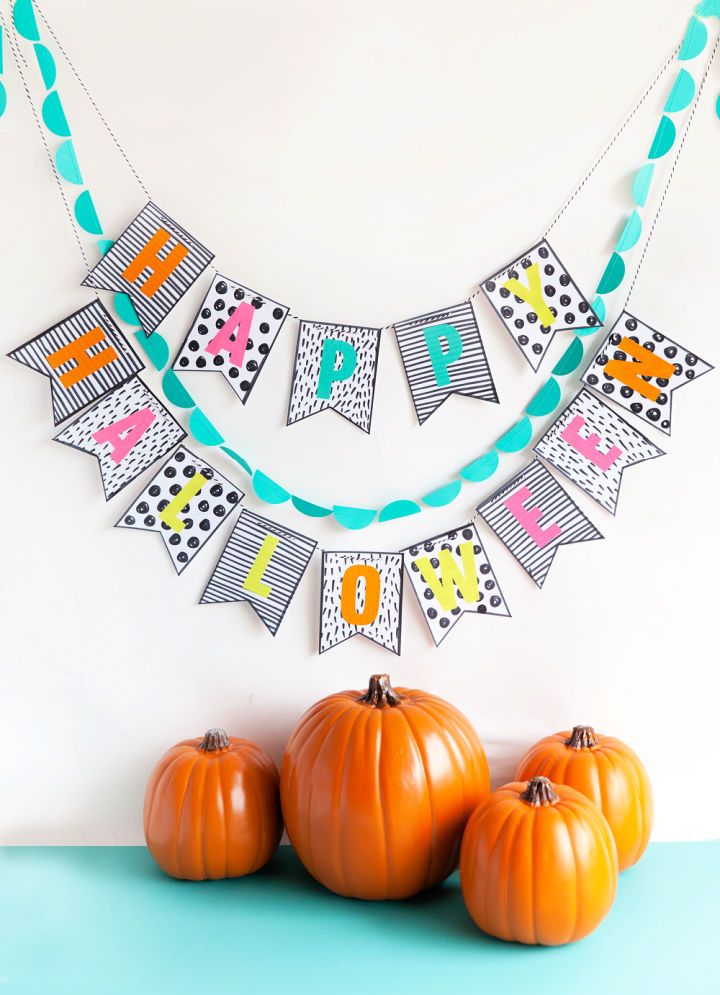 The garlands and banners often add to parties as super beautiful decors. So, follow here instructions below to quickly make some lovely Halloween party garlands and banners, sure to double up the fun of the Halloween parties. Even the kids can try doing this project that involves adding custom" Happy Halloween" letters on the patterned paper buntings. Grab the white card stock, black pen, scissors, baker's twine, sticker letters, heavy-duty paper punch to easily complete these paper garlands and banners. You can paint and decorate the banners more using your favorite accents. tellloveandparty
13. Printable Party Hats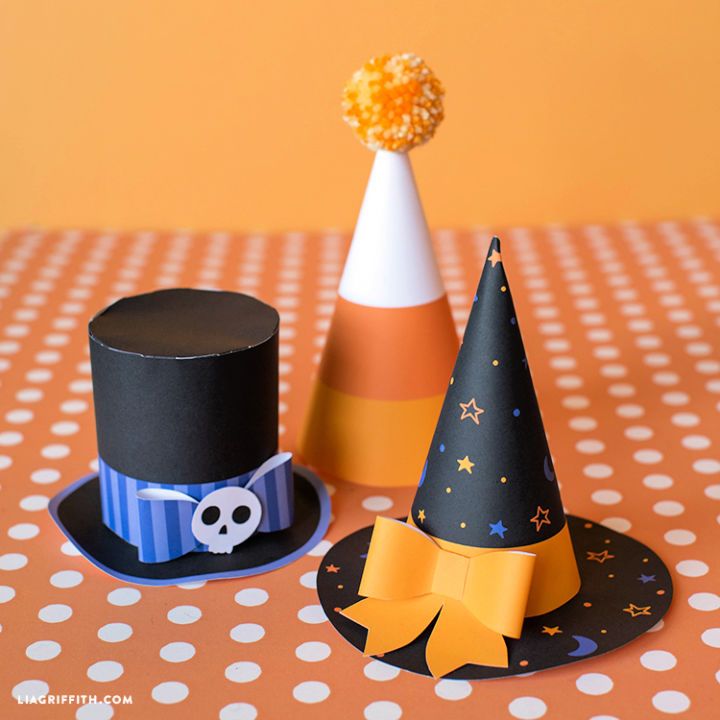 Rock your Halloween parties with these awesome handmade party hats. You will get complete instructions to make them beautifully at home like a pro. The very required materials for the project will be a low-temp hot glue gun, scissors, extra small pom-pom maker, cardstock printer paper, yarn, and headband to easily duplicate these awesome part hats. However, you also need custom hat templates to easily cut out the hats, and you can easily fold them to the targeted shape. One of the best and quick-to-do DIY Halloween party decor ideas ever. liagriffith
14. Dollar Store Creepy Portrait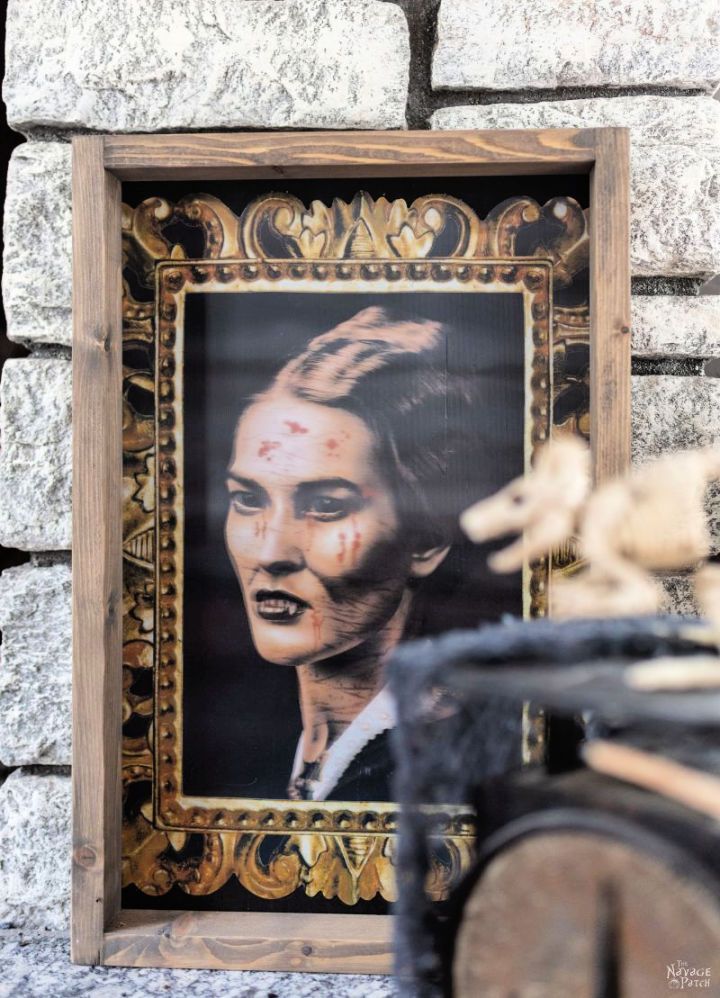 Looking for some spooky Halloween chandeliers that will hang right above the Halloween party table? Then this witch leg chandelier will surely get ten out of ten from you. It is easier to complete with the beginner skills and will be a total breeze to duplicate with the provided instructions. You need an umbrella, black tulle, wire, striped stockings, old shoes, spiders and accessories, LED lights and a glue gun to easily complete this outstanding Halloween party decor. This Halloween decor will surely bring a big wow factor to a targeted party room, and it will also bring that necessary spookiness to the party environments. hallmarkchannel
15. Halloween Balloon Garland Arch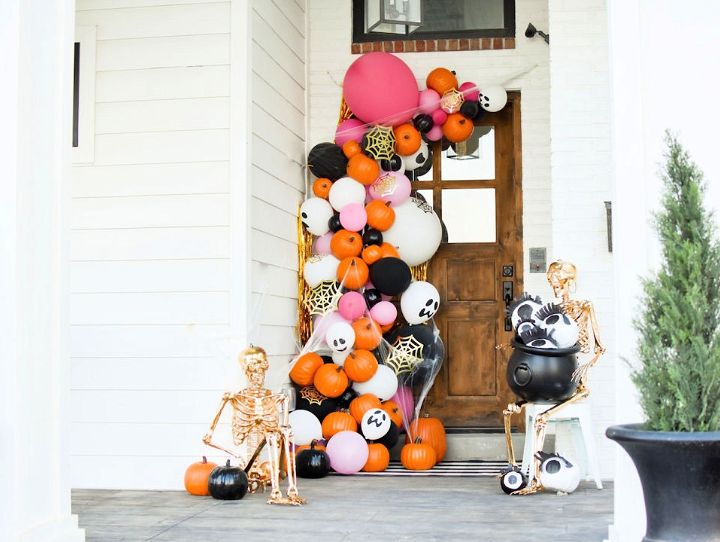 It will require some advanced crafting skills to make these gorgeous Halloween party decors, the crazy creepy balloon garland arch. However, this decor will rock to make your front porch look haunted. Moreover, the entire project will be completed in less than 3 hours and will be wholly easier to do. To complete this outstanding Halloween arch, you need a gold metallic fringe door curtain, foam orange pumpkin decoration, stretchable spider webs, balloon decorations strip, large gold posable skeleton, and latex balloons in respective colors and sizes. One of the best and quick-to-do DIY Halloween party ideas that will welcome the guests at the door. fun365 orientaltrading
16. Make Your Own Tile Coasters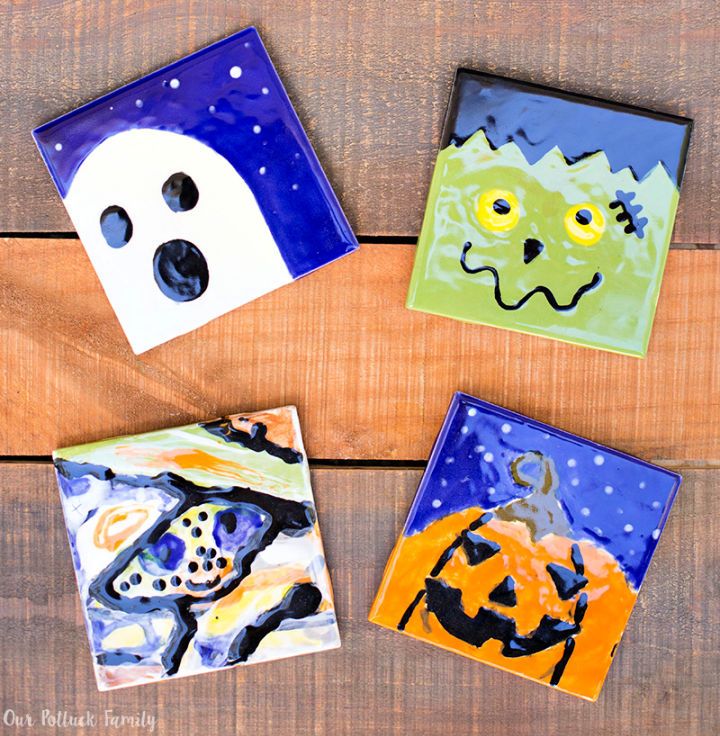 How about adding those scary coasters to Halloween party tables? This can be another great and quick party decoration idea for All Saints' Eve. So, look at the given ghostly tiles, are not they are looking super cute? They are cheap and quick to make, with beginner crafting skills. Here the project is all about painting your favorite ghost designs on the tiles; even the kids can do it easily while having a lot of fun. This will be a great Halloween craft activity for the kids to test their drawing and painting skills. ourpotluckfamily
17. Human size Ghosts Using Chicken Wire for Night Party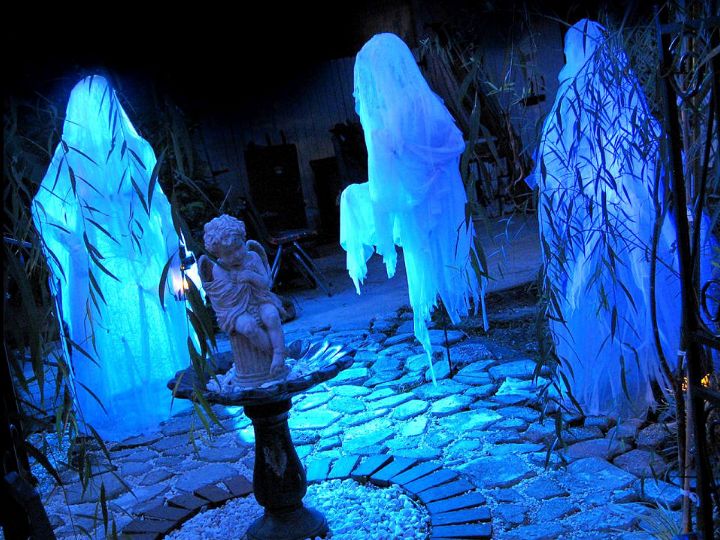 Give a warm ghostly welcome to all those trick-or-treaters with these flying human-size ghosts. These ghosts are lightweight and can easily be made stand on the porch or anywhere around the home for ultimate spooky decor statements. You can easily fold and mold the chicken wire over the human statues to gain a lightweight wire ghost skeleton. Next, just cover it up with the white fabric and install some lights inside for a realistic ghost appeal. You need a roll of chicken wire with 1″ cells, a roll of chicken wire with 2″ cells, thin wire, semi-transparent fabric, S-hooks, mannequin head, work gloves and wire cutters etc to complete these ghosts. hgtv
18. Cute Watch's Hat Piñata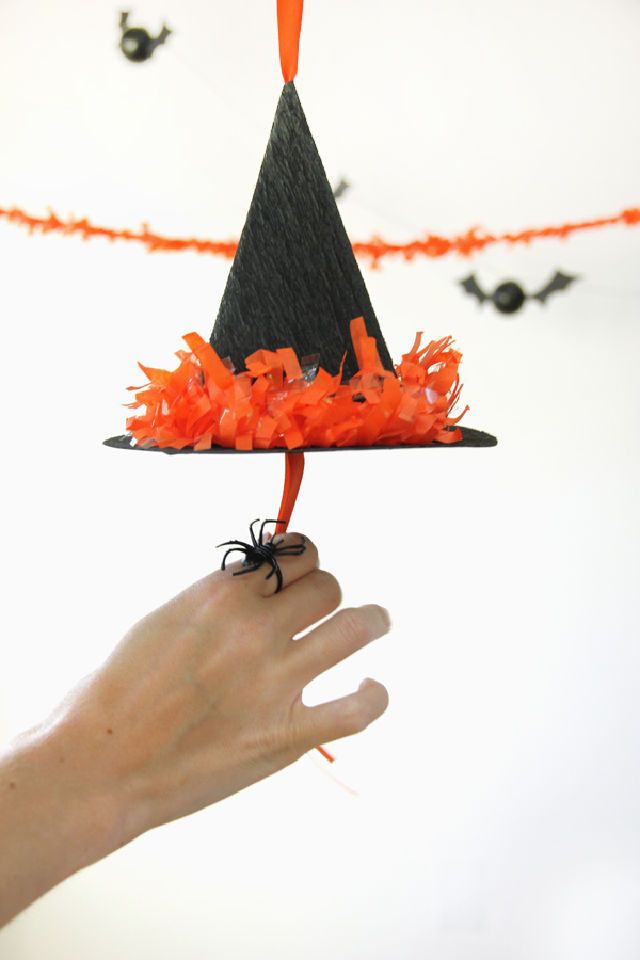 The witches are well-known Halloween personalities and appear with unique hats as the signature feature. Want to feature the spooky witch hats at your Halloween parties? Here is the best way to do so? Make this witch hat pinata sure to double up the fun of every Halloween party. You need printable pinata templates, black cardstock, black crepe paper, orange fringe streamers, orange ribbon, hot glue gun and glue to easily duplicate this witch hat pinata, sure to be a big love of all. studiodiy
19. DIY Spider Web Glassware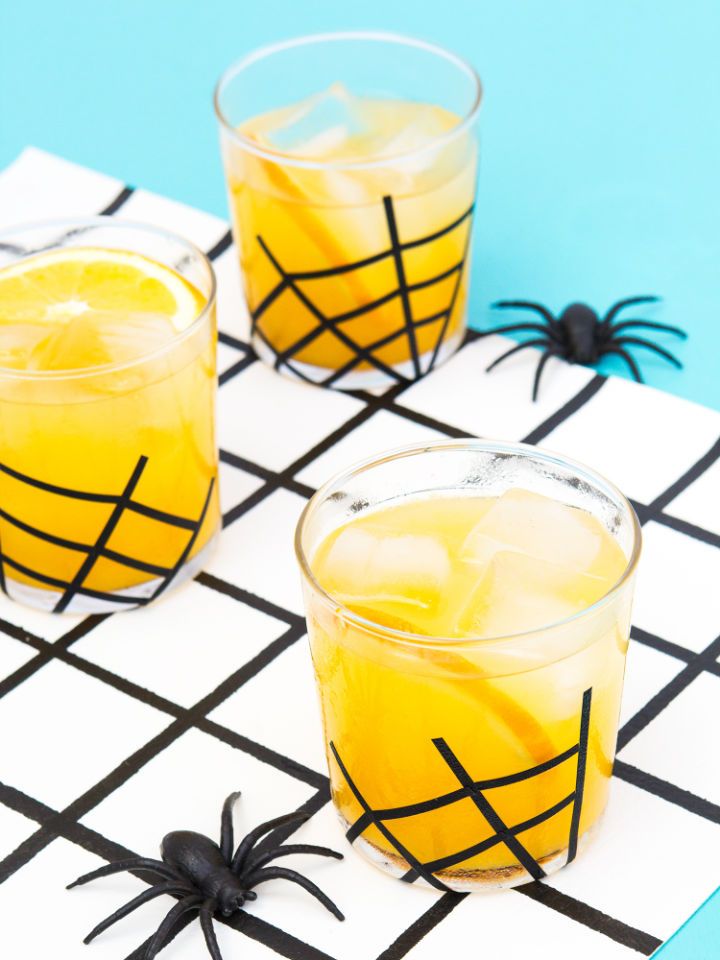 You can also create ghostly glassware to impress the party members. Learn to make both the spooky glassware and some outstanding Halloween party drinks, both will rock the event. You need the drinking glasses, cocktail shaker, thin black graphic tape, and tiny scissors to complete this Halloween barware in no time. For the vanilla spiced gin and orange juice cocktail, you need sugar, water, cinnamon sticks, whole nutmegs, vanilla bean, cut in half lengthwise, Natalie's orange juice, gin, and orange slices for garnish to easily complete this Halloween party. sarahhearts
20. Fun Googly Eye Drink Glasses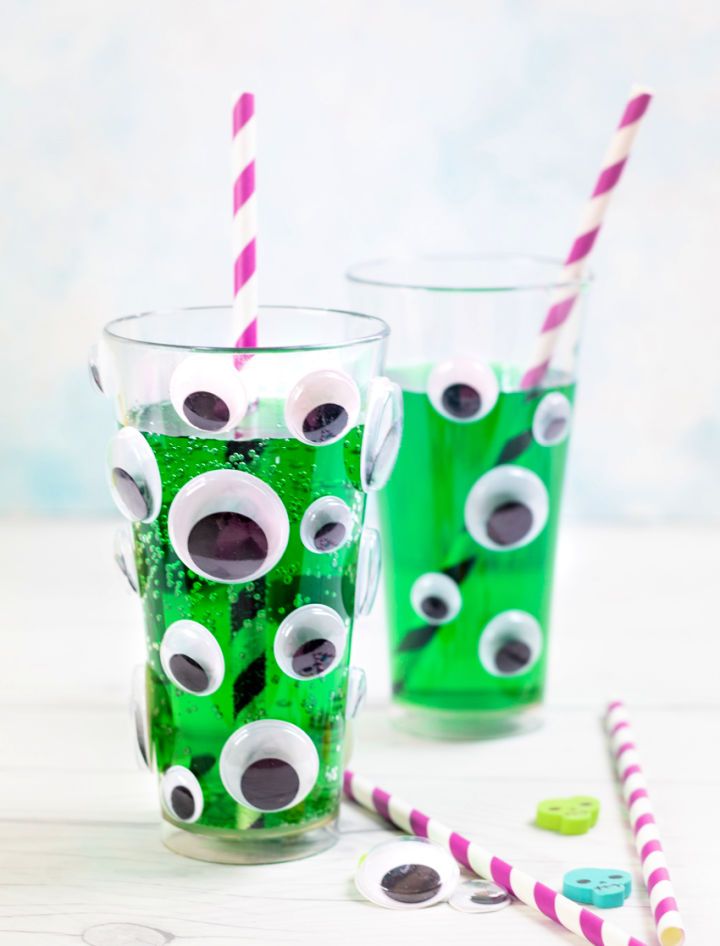 You will surely fall for this party glassware that is made to look spooky as per the demands of Halloween scares. The guest will praise your creativity used to create the scary avatars of these party glasses, and the whole project will be big fun to do also. Just grab your favorite drinking glasses and add them with the googly eyes to complete these monster drink glasses easily. They will look super cool when filled with colorful drinks. Even the little kids can easily do this project without getting expensive. One of the best Halloween party ideas ever. makeandtakes
21. Halloween Pumpkin Paper Party Bags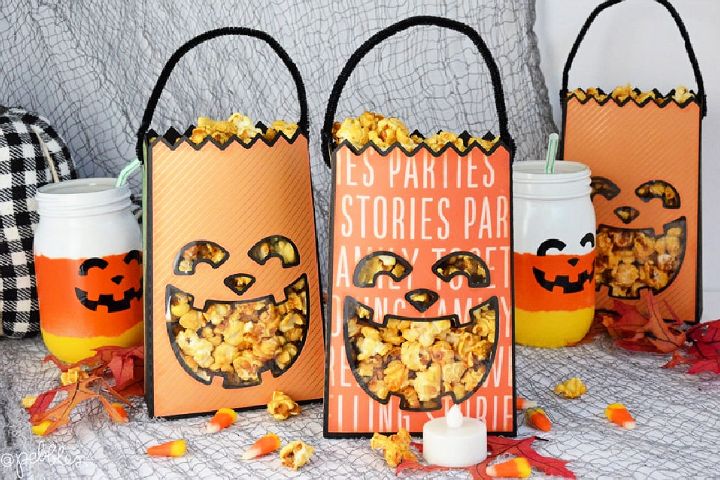 You can create the whole party with spooky avatars to enhance the spooky Halloween decors and double up the Halloween fun. Make these Halloween pumpkin paper party bags that can be filled with custom party treats and given to kids for bigger spooky decor statements. These monster bags will e easy and quick to make, and you can easily follow the given directions to make them efficiently. To make the paper bags, you need SVG pumpkin paper bag files, clear acetate sheets and custom rope handles. Moreover, you will learn to make candy corn, Mason jars, and various other bags. tatertotsandjello
22. Easy to Make Pumpkin Toss Game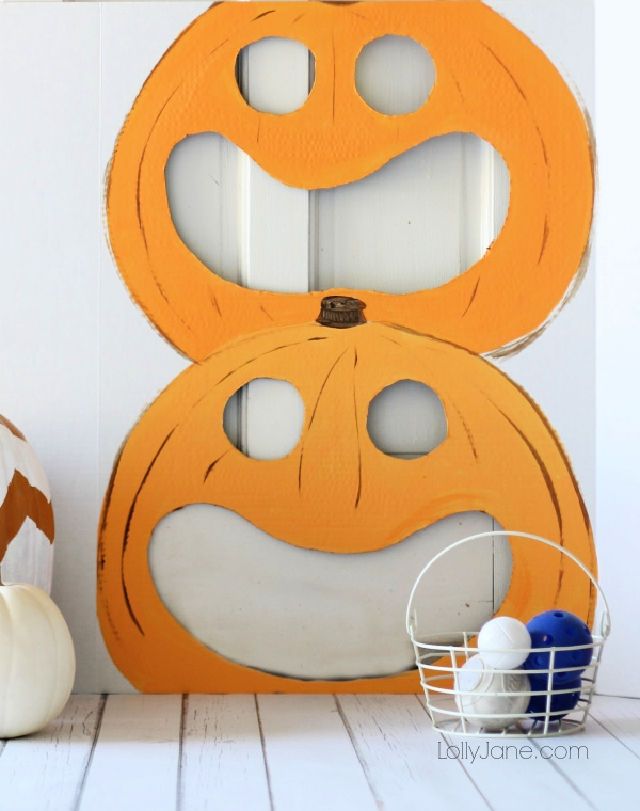 Want to add some spooky fun games to Halloween parties? Then nothing will work great, but this pumpkin toss game. The game is super easy to plan and make and will also be easier for the party kids. Even the adults can play them to have a lot of fun. You need acrylic paints, foam brush, 3D poster board, X-acto knife, pencil and ping pong balls to easily whip up this fantastic Halloween party game, sure to boost the kids' party activities. lollyjane
23. Printable Halloween Bingo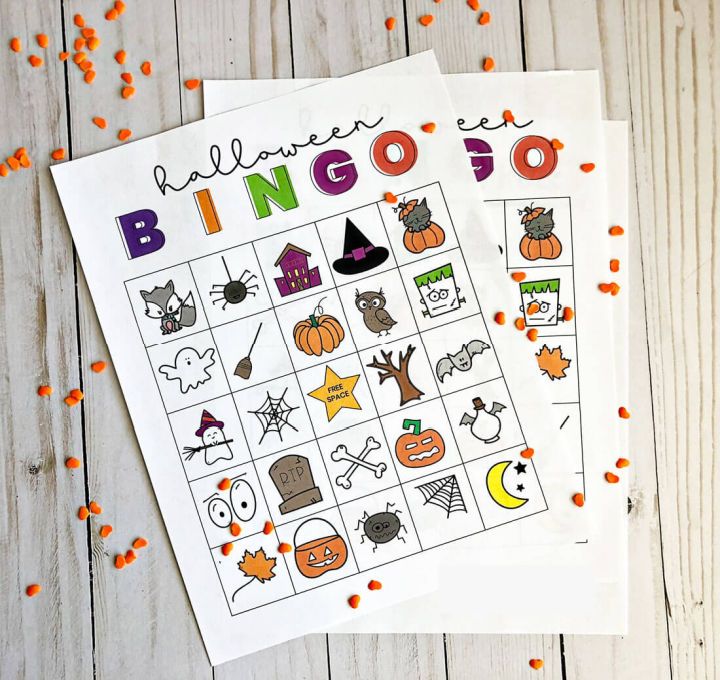 Do you and your kids just love to play the Halloween bingo game? It creates lots of fun for the younger kids, and you can easily plan and make this game home. Get here a free Halloween bingo printable to plan and play this game easily, and kids will love it. However, this game plan can be a great inspiration for you to generate more unique Halloween bingo sheets with custom added Halloween images. You can easily download the printable here and print it down to provide to your kids waiting for the peak Halloween fun. thirtyhandmadedays
24 Halloween Spiderweb Place Mats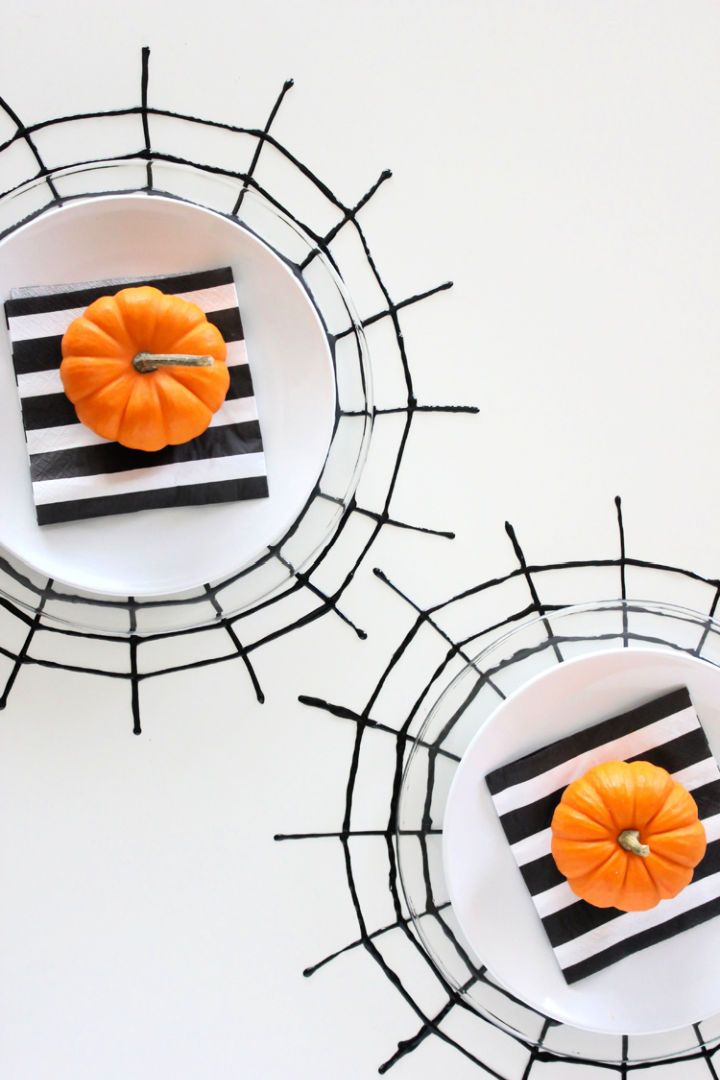 Do you also concern with the creepy Halloween party table decors? You will love this idea of creating that scary Halloween tablescape, and everyone will just fall in love with it. Are you highly obsessed with spiderwebs? Want to feature them on your Halloween party tables? Then why not duplicate these Halloween placemats that are cute and scary simultaneously. Intending to clone these spiderweb placemats? Then get crafty with the black puff paint, wax paper and invisible tape. Follow the spiderweb sketch lines on the wax paper with black puff paint and then pick it up once dried. deliacreates
25. Funny Halloween Pun Vinyl Stickers

You can do all for the spooky Halloween decors by playing smartly and creatively with the stickers. Yes, they can be pasted to any surface or part item for instant spooky touch. So, you can make spooky vinyl stickers inspired by different Halloween characters. You can also make the custom Halloween letters stick to put together for those ghostly quotes. Buy these stickers from the shops, or you can easily make them at home using the Cricut machine. Just design the stickers in the Design Space and then cut them out on vinyl. bespoke bride
26. Golden Insect Taxidermy Plaques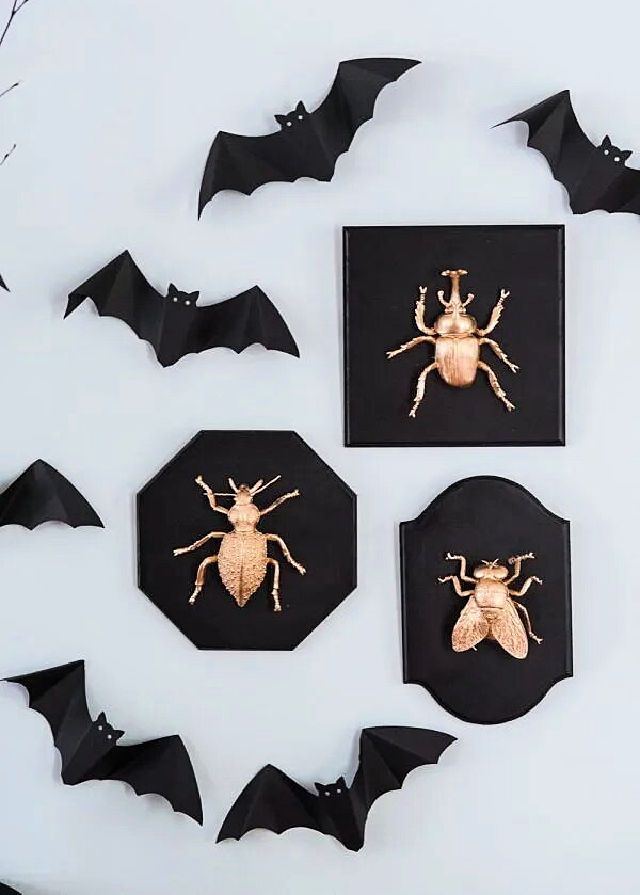 You will love to decorate your home and spaces uniquely when intending to celebrate the Halloween festival to the fullest. Learn here to make the best golden insect taxidermy plaques that are much focally stimulating and will be a smarter way to wow the audience with your creativity and crafting skills. The bats flying in the surrounding makes them appear haunted, hence the whole house. You need wooden plaques, black spray paint, plastic bugs or insects, liquid gold leaf, E600 glue, paintbrush and sawtooth picture frame hangers to easily complete these spooky insect taxidermy plaques. They will surely help create a ghostly background for the Halloween buffet tables. thesweetestoccasion
27. Ultimate Kidz Bop Halloween Party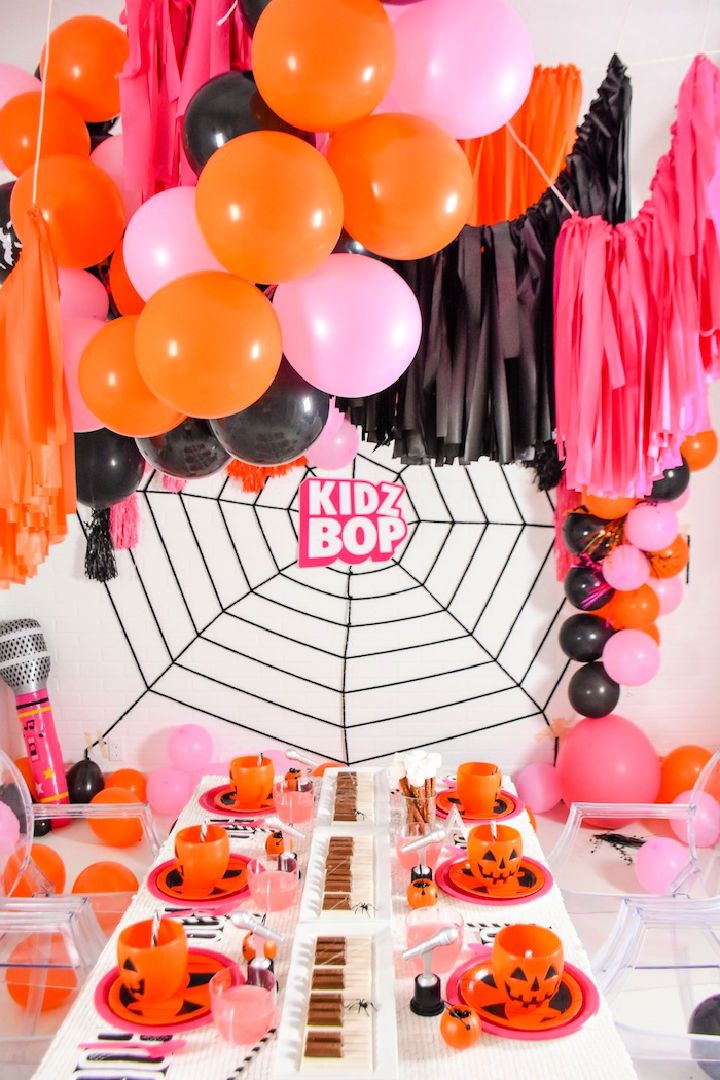 Are you and your kids are huge fans of the KIDZ BOP? So, why not organize a Halloween party mixed with the KIDS BOP theme? Here is the ultimate idea for that, and it will also impress all the kids and adults. Peek into the party decor details to learn how to mix both the themes for a blast of happiness and joy at the party. A brilliant idea will be to past the KIDS BOP logos on the different spooky Halloween decorations. And next, you can also dd the pink and white items in the Halloween blacks and oranges as per demands of the theme. karaspartyideas
28. Haunted Forest Halloween Party for Backyard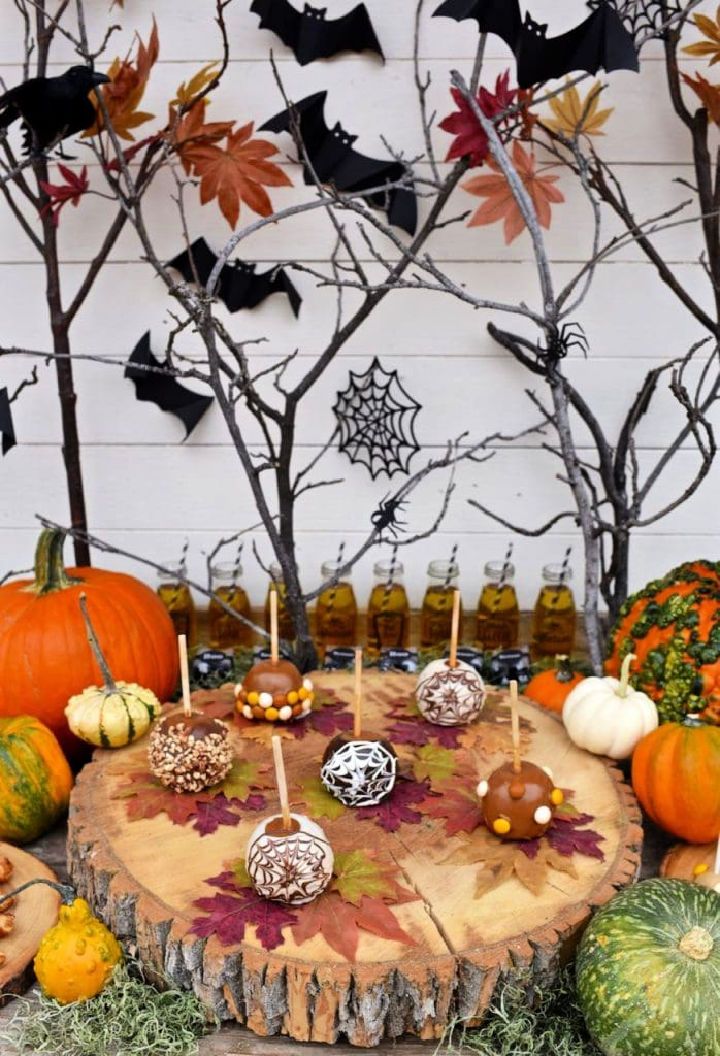 You can further invest in many scary Halloween themes using your creative imaginations. Impress all the Halloween fans with this haunted forest Halloween party that gives that ultimate spooky forest feels as you can see. The addition of rustic wood log cake plates, tree branches as haunted trees and black crows are majorly responsible for this creepy forest appeal of the whole theme, and everyone will just fall in love with this spooky Halloween party idea. makelifelovely
29. Free Printable Halloween Labels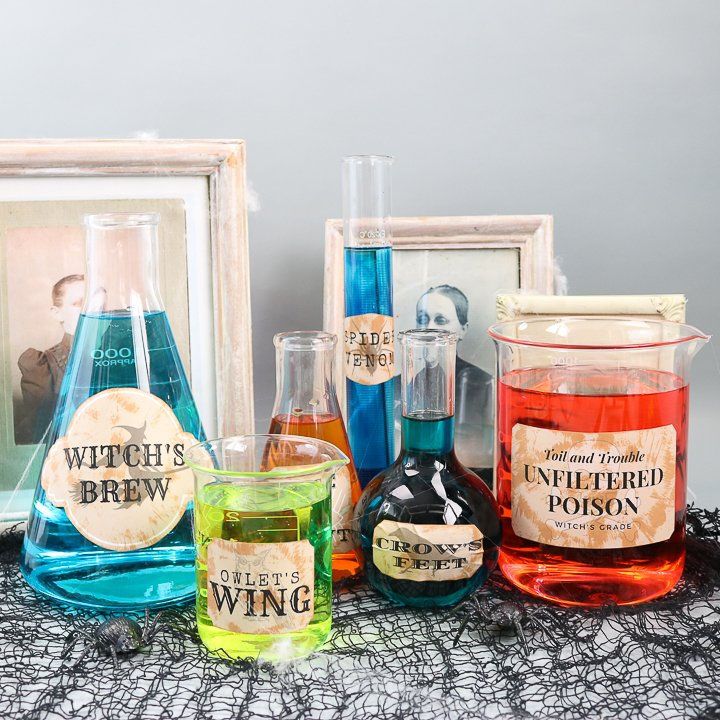 Are you willing to transform all those amazing Halloween drinks into ultimate Halloween poisons? Then all you need is the spooky labels that you can easily paste around the Halloween drinks. So, you will get here free Halloween drink label printables that you can quickly print down and paste on the Halloween drinks made in the flasks and other glass containers. You need printable Halloween labels, Xyron creative station, scissors, distressing ink, glass containers or jars to duplicate these Halloween party drinks easily. One of the best Halloween party ideas that everyone can easily duplicate. thecountrychiccottage
30. Ghostly Outdoor Party Draperies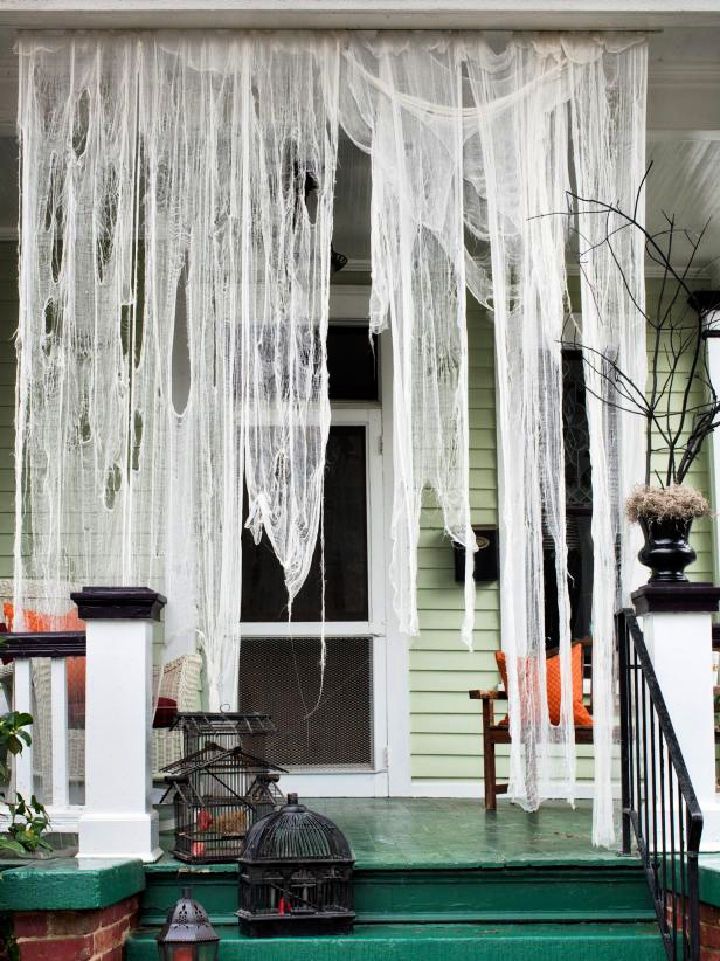 You can also install ghostly curtains and drapes to your house for ultimate spooky details. You need several yards of cheesecloth, 2x4s poplar strips, staple gun, scissors or utility knife, tape measure, bucket, bags of black tea, hot water and miter box and saw to easily duplicate these spooky outdoor draperies for Halloween decors. The project is much doable for all beginners and will be loved dearly by all for sure. However, it will not take too long to complete this project. hgtv
31. Monsters University Family Costumes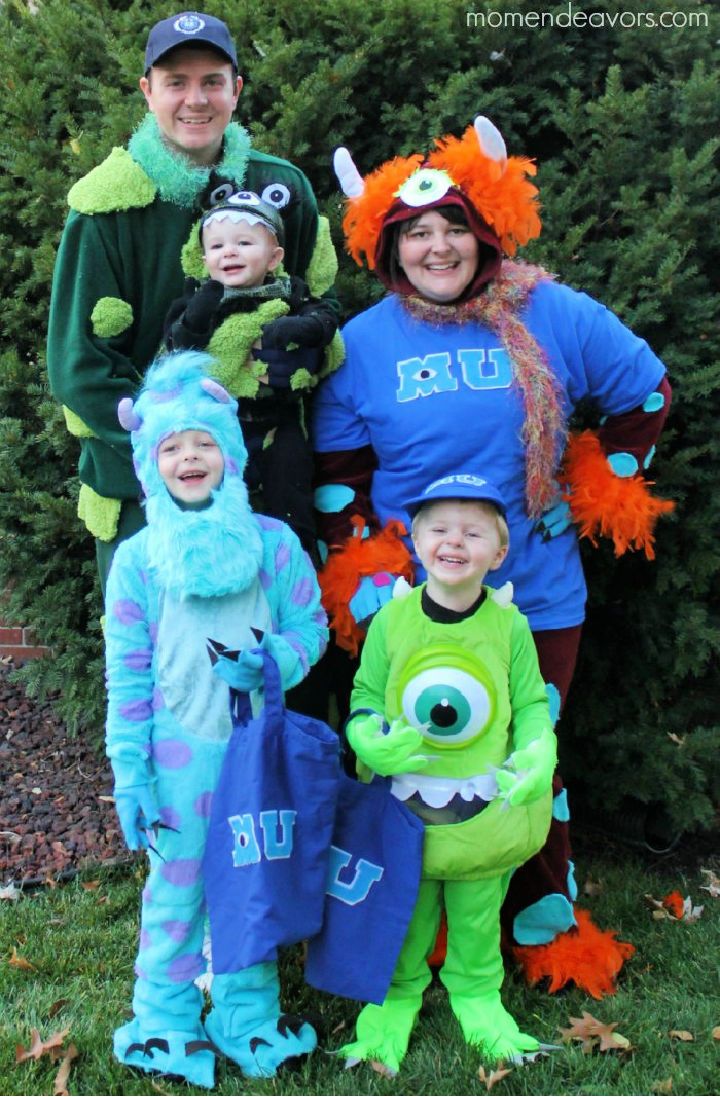 The Halloween costumes are an ultimate Halloween craze. People love to decide and make them in anticipation of Halloween. So, want to make those monster costumes for the whole family? Then grab here the ultimate instructions to easily make them at home without getting a bit expensive. These costumes will rock for those trick or treaters also. Just add up the simple clothes with custom cutouts logos and spooky details to complete these monster Halloween clothes easily. They will be both cute and scary at the same time. You will get complete instructions for the Sulley, Mike Wazowski and other random U monsters. The best costumes to make for Halloween parties. momendeavors
32. DIY Candy Corn Halloween Party Decoration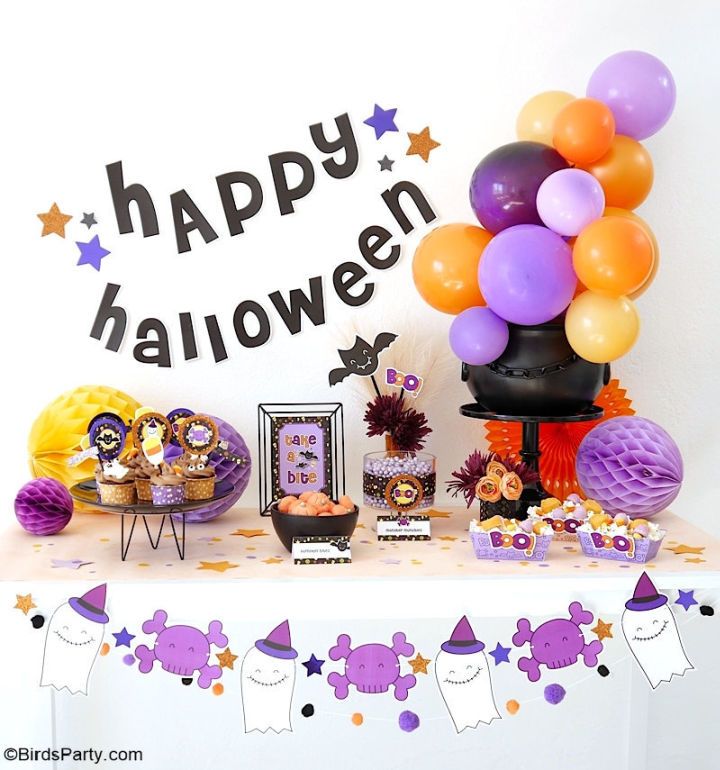 The Halloween party ideas are just never-ending, and they can differ depending on many Halloween party themes. Follow the instructions about making the cute candy corn-inspired Halloween party decoration that will be loved dearly by all the kids. You will get instructions to make boo mugs, spooky balloon Halloween arches, ghost straw toppers, lots of flower centerpieces, etc. If you have not organized or decorated a Halloween party yet, get inspired by this boo bash to decide on your own beautiful Halloween party and table decorations. birdsparty
33. Wickedly Sweet Witch inspired Halloween Party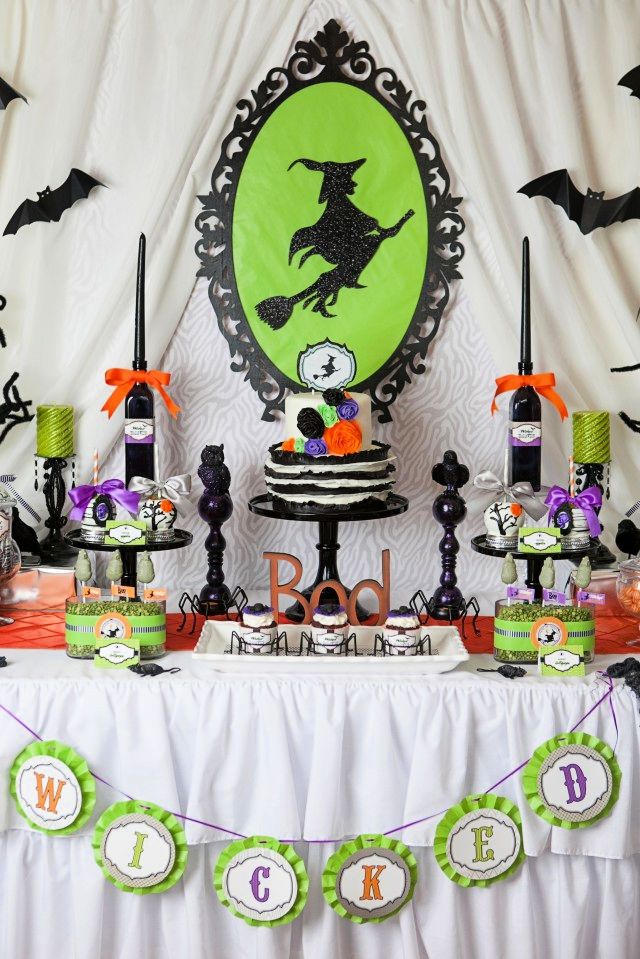 A witch is a must to add a spooky Halloween character. However, you can also choose a theme for the whole Halloween party. Peek into details of this Halloween party that is thrown on a wickedly sweet witch theme, and it will rock the whole Halloween party. You can easily see the arrangements of those black bats, black haunted trees, crows and other black poisons and centerpieces that speak volumes for the creepy witch theme. The witch art frame is a big focal point, and it will not take too long to easily duplicate this Halloween party theme idea. andersruff
34. Boo Tacular Halloween Birthday Party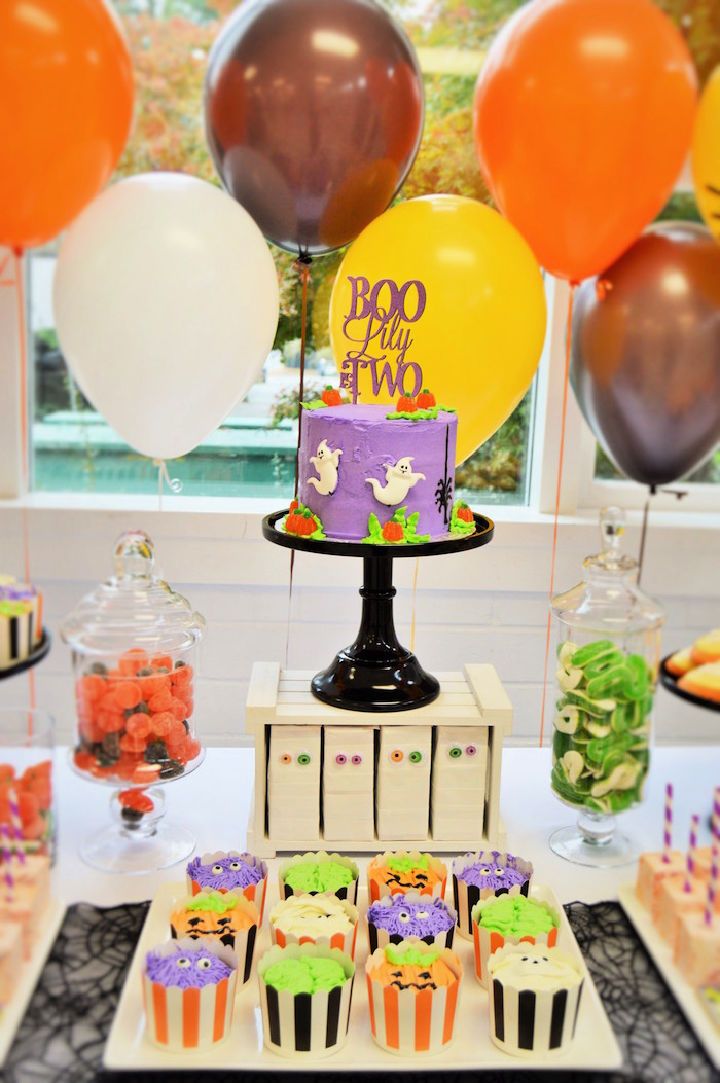 Are you willing to organize an unforgettable Halloween party? Looking for those impressive spooky decors for the party? Then you can simply peek into details of this spooktacular Halloween birthday party, sure to win the heart of all the little kids at home. You will love the whole party details, and looking through the details will make it easier to duplicate the whole party theme. You need orange jumbo balloons with purple and black tassel tails, candy corn cookies, balloon backdrop, balloon garland with spiders, Halloween ghoul, monster cookies, mummy juice boxes, orange marshmallows squares with purple striped sticks, black spiderweb dessert table runner and much more. karaspartyideas
35. DIY Trick or Treat Tins Favors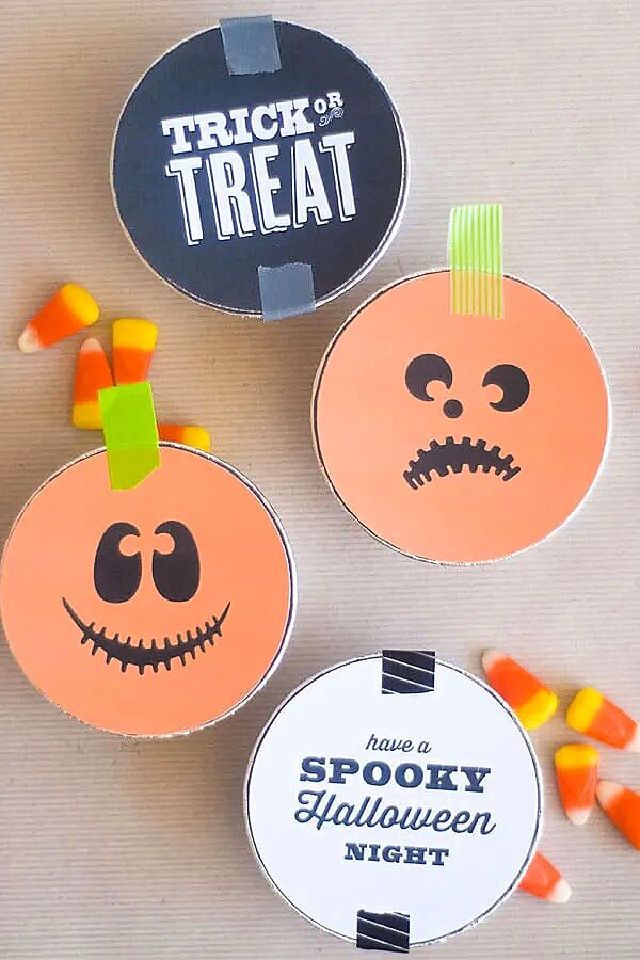 The part favors are the best gifts to give to the guests and kids at the end or during a party, making the whole party unforgettable. So, sorting out the ideas for the best Halloween favors? Then learn here to make some outstanding ones in no time. These are here the adorable trick-or-treat tins that you can easily duplicate with the help of provided free printable tags. You need mini 3.5" tart tins, washi tape, free printable tags, Halloween candy and scissors to easily whip up these Halloween favors for neighbor Trick or Treaters. diycandy
36. Easy DIY Mummy Candy Bowl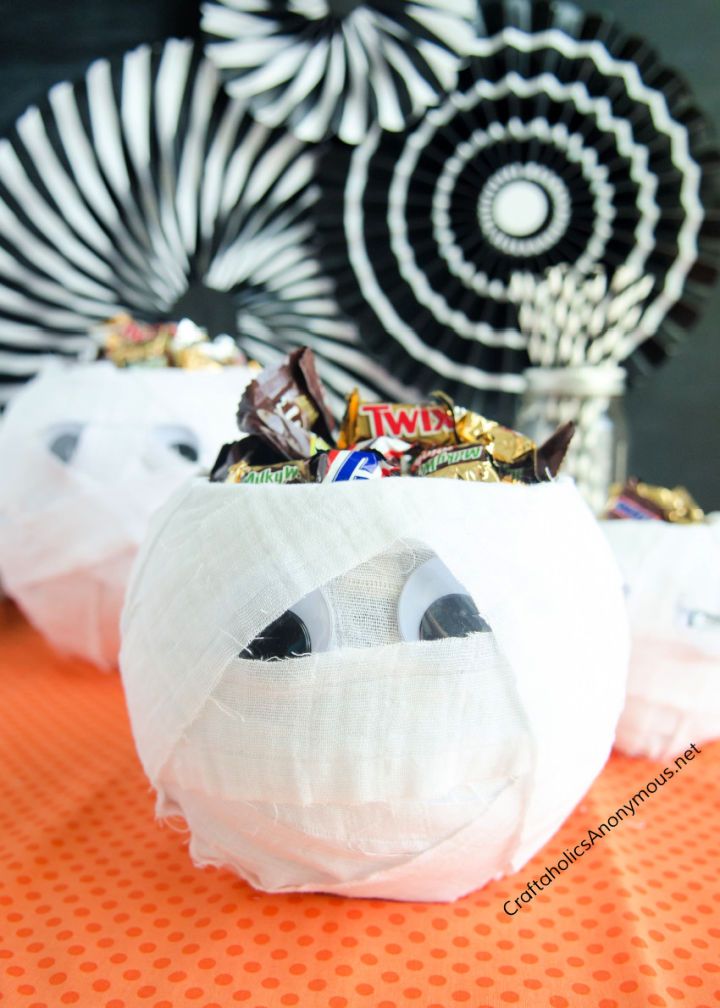 You can think of tons of amazing Halloween party decors using your creativity. Need some inspiration? Look at this given mummy candy bowl, a spooky Halloween treat box for the party kids. Go handmade with a fishbowl to easily duplicate this Halloween treat bowl, and you will get here complete step-by-step instructions for it. In supplies, you need cheesecloth, Halloween candy, glass fish bowls, large googly eyes and a hot glue gun to easily make this mummy candy bowl. Just use glue to wrap the cheesecloth around the fishbowl for a lovely mummy look. Add it up with googly eyes and fill the whole bowl with candies. craftaholicsanonymous
37. Printable Charades Game for Teenager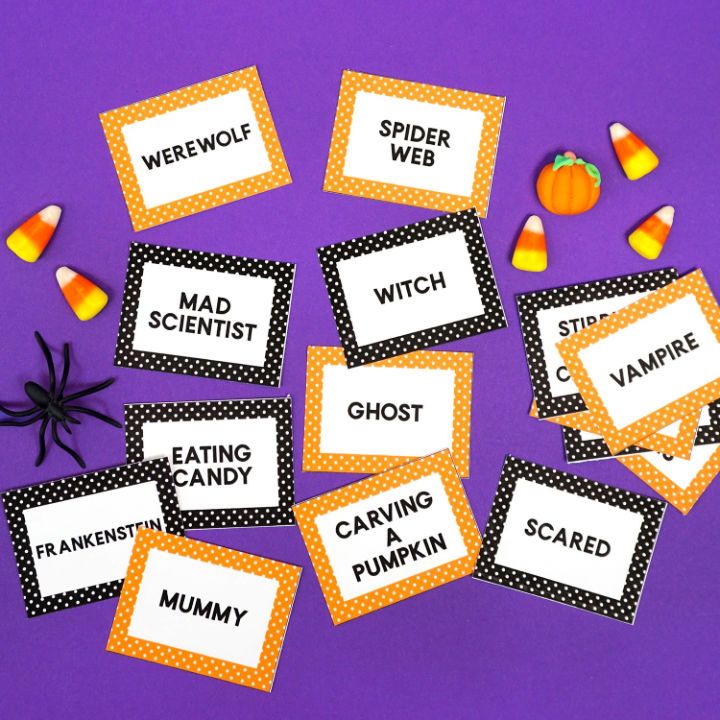 Do you love the Halloween games that involve guessing the words or phrases from the written or acted clues? Want to add to your Halloween party? Then get here free printables for the Halloween charades game card. This game will rock your Halloween party night, and you can play with the whole family, group of friends and also kids. However, you can design your cards also with the help of these free printables, as they will make great inspirations. happinessishomemade
38. Easy and Fun Halloween Class Party for Kids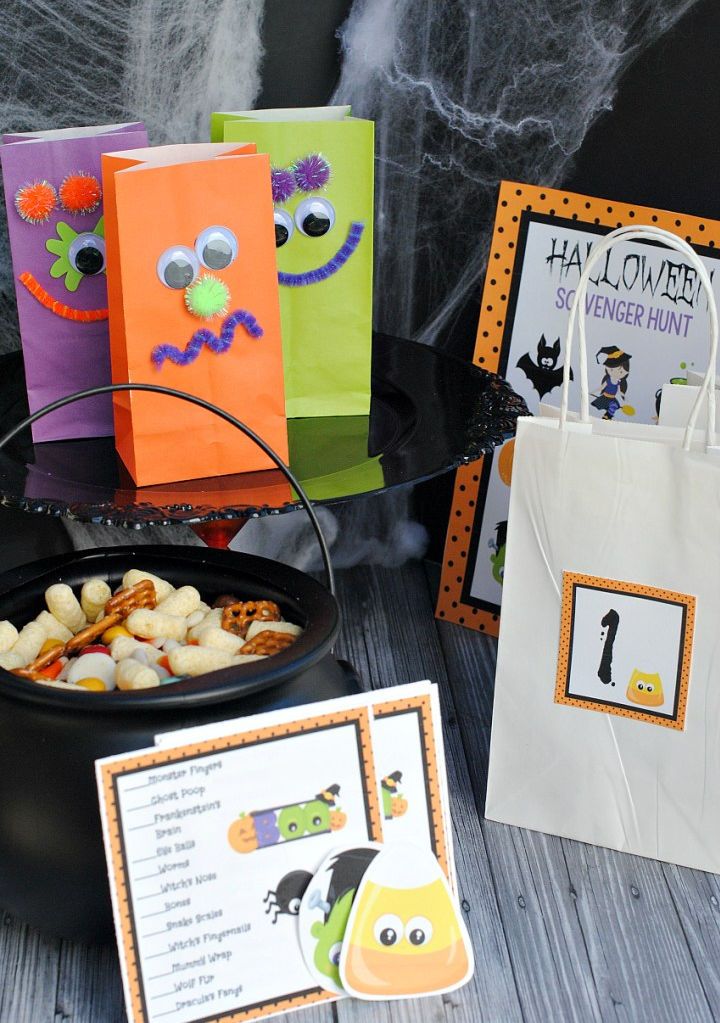 Are you willing to celebrate the Halloween party in the classroom? Get here ultimate ideas for the Halloween class party, and you will love them all. You need paper sacks, free printables, mini marshmallows, carrots, tomatoes, grapes, spaghetti, baby pickle, candy corn, faux fur, silvered almonds pretzels, coconut shavings and fabric piece to easily duplicate these party decors and favor ideas. Everyone will just fall in love with these ideas, and they are super easy to clone also. At the same time, you will also find a free printable for the Halloween scavenger hunt. fun squared
39. Halloween Dinner Menu Printable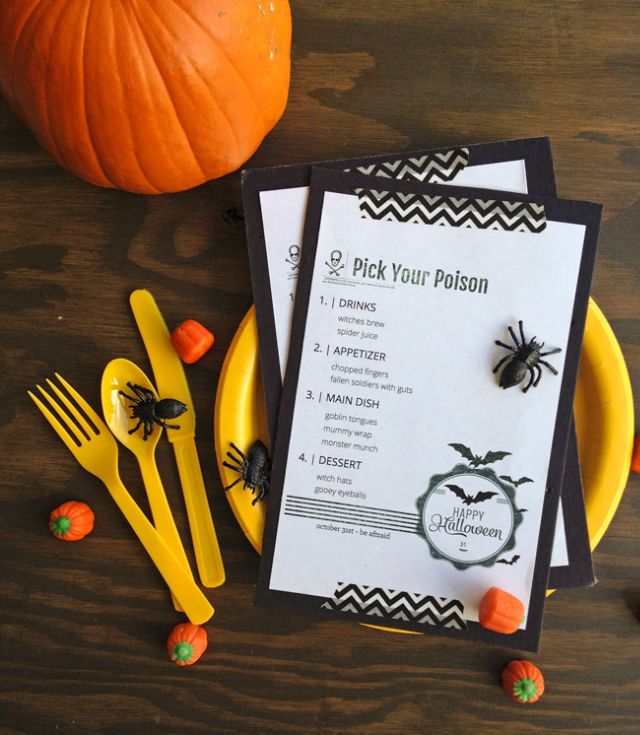 Make the Halloween party more interesting with these Halloween dinner menu printables. You just do not need to design them manually, just print down the free printables and print them out using your printer and then add them to the Halloween party tables. The dinner menu mentions the drinks, appetizers, main dish, and dessert. So, it will be easier for the guests to pick their favorite poison and meals. The addition of a bat monogram saying "Happy Halloween" really makes this entire printable menu a lot more spooktacular. You can easily print out several copies of it and add some plastic spiders on them for enhanced creepiness. reasonstoskipthehouse
40. Day of the Dead Halloween Party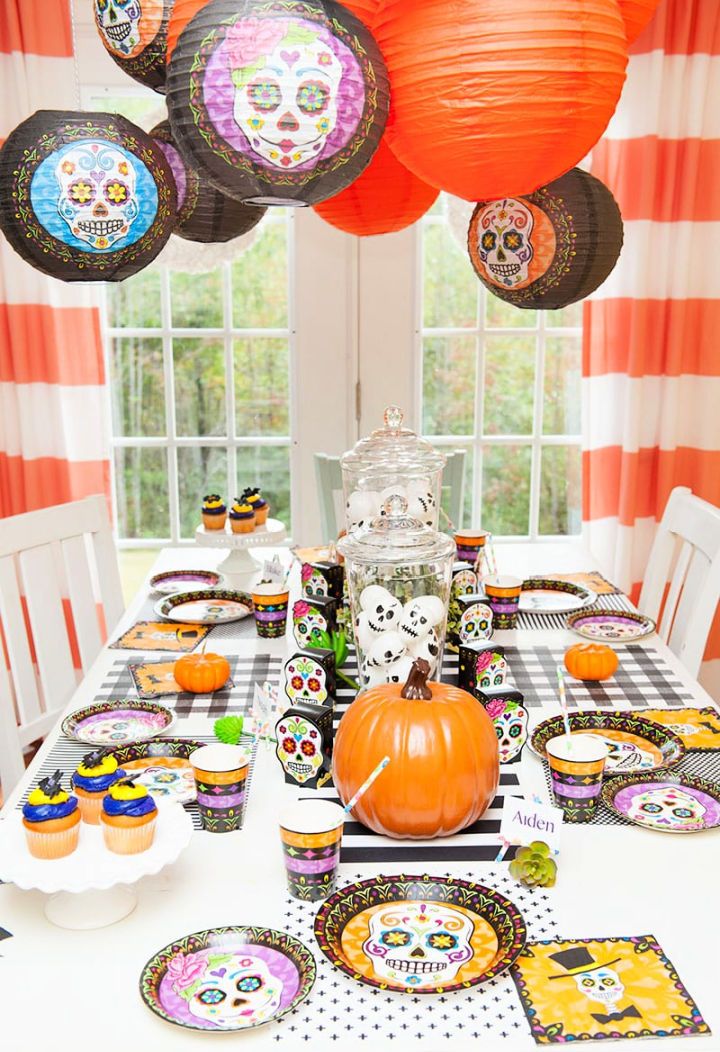 There are many different themes and ideas to pick for the Halloween parties. This one features tons of skulls is decorated on the Day of the Dead theme. You will be amazed to see that the whole stuff will cost you around $75, and everyone will just fall in love with this spooktacular party idea. The party tablescape features the skulls in the glass container centerpieces, skull plates, spooky skull menus, and spooky pumpkin decorations. Here the skull paper balloons or lanterns are also made to hang right above the party table for ultimate ghostly details. craftsbycourtney
41. Not so Spooky Pink Halloween Party for Girls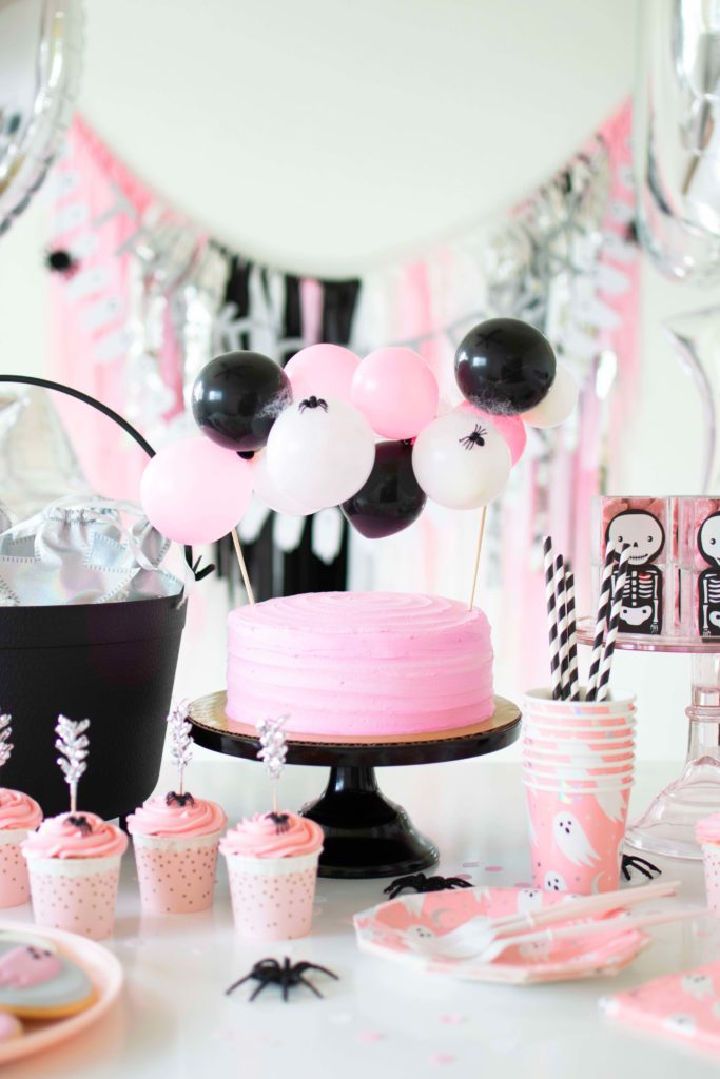 Looking for some crazy Halloween party theme mixes to impress all the party guests and friends? Then opt for this Not-So-Spooky pink Halloween party theme, sure to leave all the party crowd stunned. You can easily replace the orange with black or pink, which will turn out great. From custom balloon decorations to cupcakes to main party cakes and haunted house centerpieces, you will get here instructions for all. Also, add the ghost banners, silver star and moon balloons and yarn hanging garlands appearing in black, white and pink colors to duplicate this entire party theme. twinkletwinklelittle
42. DIY Scarecrow Mask Prop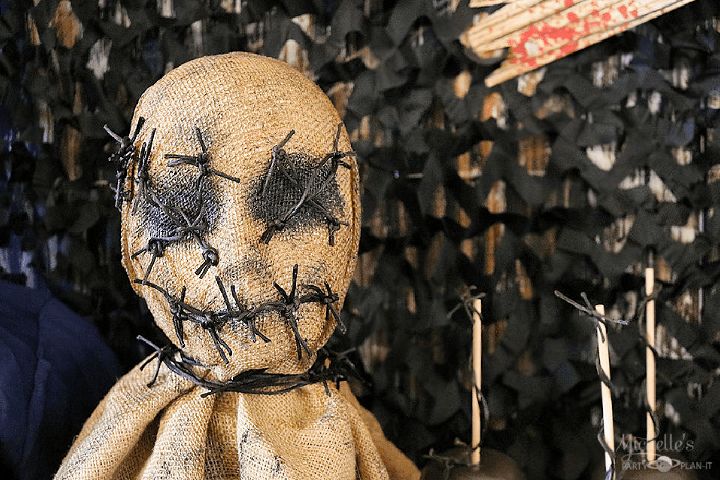 Everyone will just fall in love with this another unique idea that will impress at a very first glance and is easy to duplicate. This is where the creepy scarecrow mask prop will win the heart of all the Halloween fans, and everyone will just fall in love with it. Want to duplicate it for your Halloween parties? Then manage to have a foam head form, burlap, mod-podge, black paint, metallic bronze paint, foam brush, scissors, twine, rusty barbwire and hot glue to duplicate this scarecrow Halloween mask prop. michellespartyplanit
43. Supper Club – Sweet Sixteen Halloween Party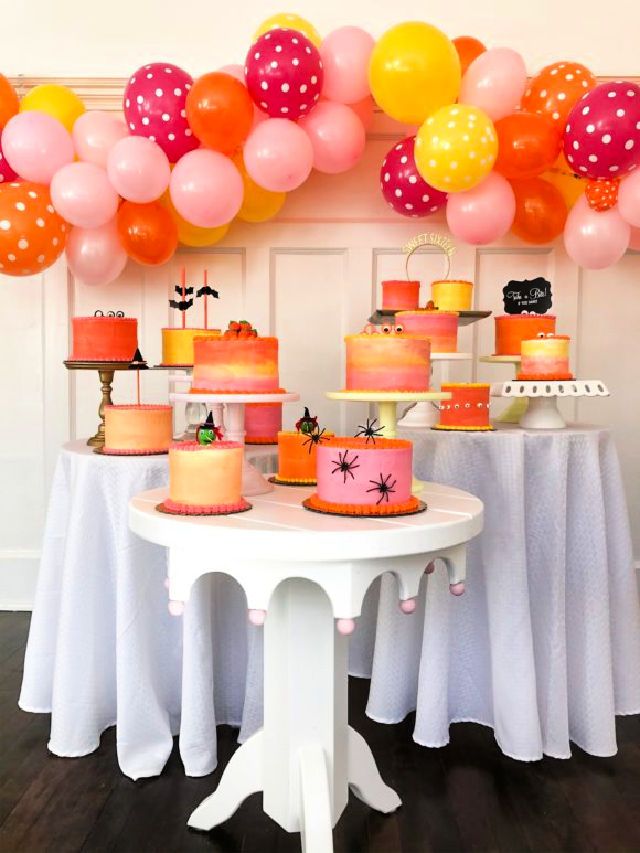 Looking for some super unique yet impressive Halloween party ideas? Then opt for these sweet sixteen Halloween party ideas that you can expand in many amazing ways for added visual grace. These ideas involve decorating the party cakes with lots of spooky, creepy and monster details. So, they feature monster eyes, spiders, witch hats, bats, and many other scary Halloween characters. You can also easily name this party theme by counting down the sweet party members. However, you will get here some frightening porch and main entrance decor ideas that will enchant those Trick-or-Treaters. One of the best Halloween party ideas ever. lydiamenzies
44. Cheap and Easy DIY Halloween Party Decor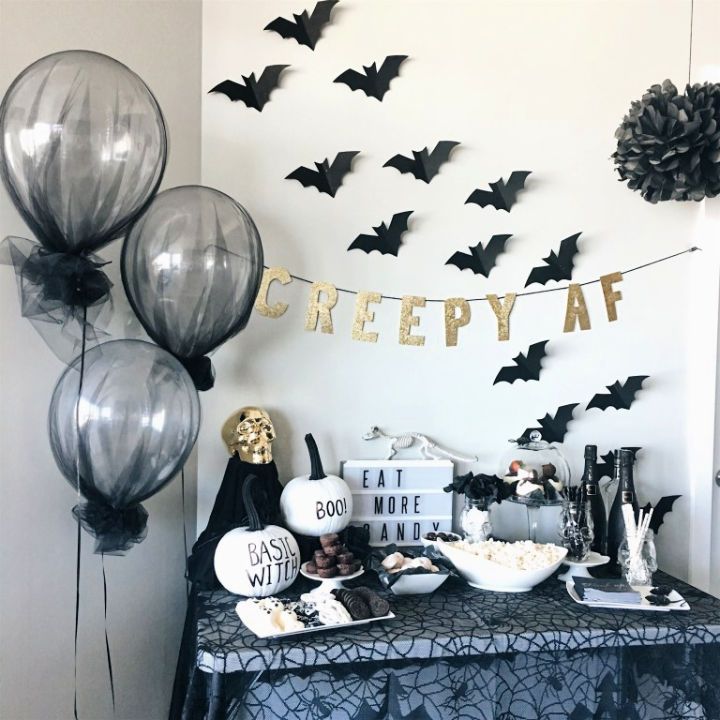 However, it can be challenging for many of us to plan and make the Halloween party decors. Get here instructions for the easy All Saint's Day party decors, and everyone can make them with quite ease. String up the glittered letters to make a lovely banner party banner and also use the paper bats to add to the main part table background. Also, use the black balloons to add to the spookiness of the theme, the black tulle-covered balloons will rock for the purpose. You can also make the custom spooky treats and food items easily. Get inspired by the given ones. allstylelife
45. How to Make Hanging Ghosts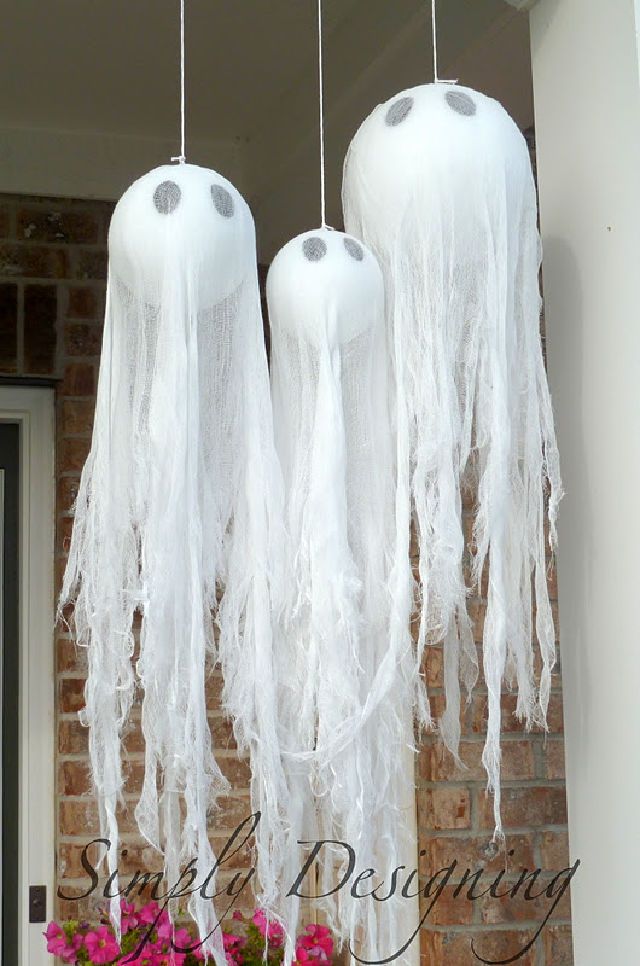 Are you deeply in love with those Pottery Barn's hanging ghosts and want to feature them in your Halloween party decors? They will cost you big, and a cost-effective alternative will be to make a PB hanging ghost knock-off. So, you will get here complete instructions to make a one without getting a bit expensive. The very required materials for the project will be Styrofoam balls, black craft paint, a small paintbrush, cheesecloth, eye screws, E6000 glue to easily complete these outdoor hanging ghosts. Another great Halloween party decor idea that everyone can duplicate with ease. simplydesigning
46. DIY Hanging Spider Balloons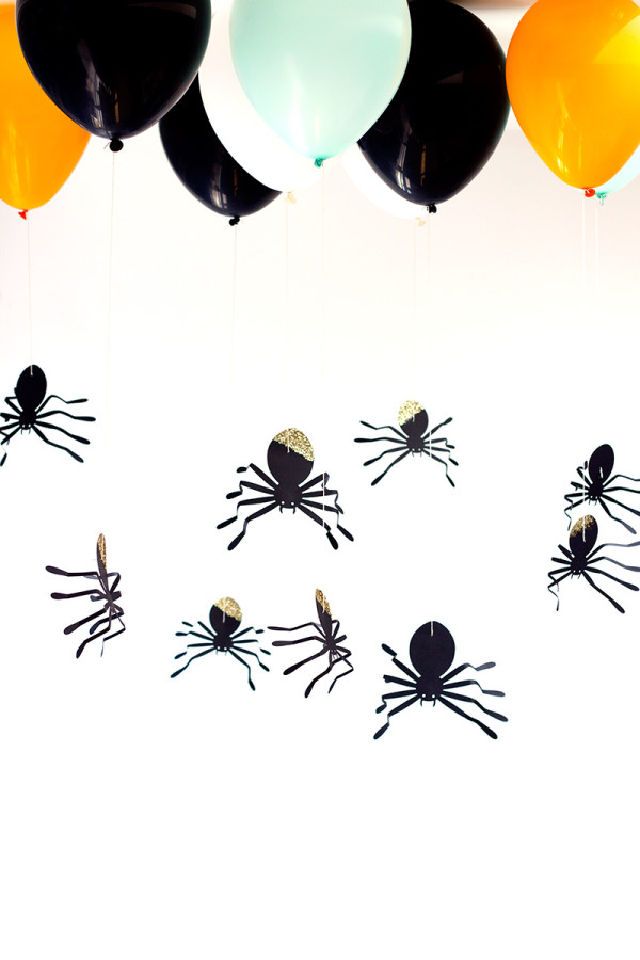 This Halloween party idea will rock for both party decorations and party backdrops. At the same time, it will be super easy and quick to duplicate while spending much less from your pocket. Here you need the balloons and spiders to easily make the hanging spider balloons, sure to make eye-catching Halloween party decors. You need helium-filled balloons, craft spiders, glitter, decoupage glue, paintbrush, twine and awl to easily duplicate this Halloween balloon and spider backdrop. The entire project is much doable for all beginners, and it will cost you next to nothing. studiodiy
47. DIY Ghostly Chair Slipcover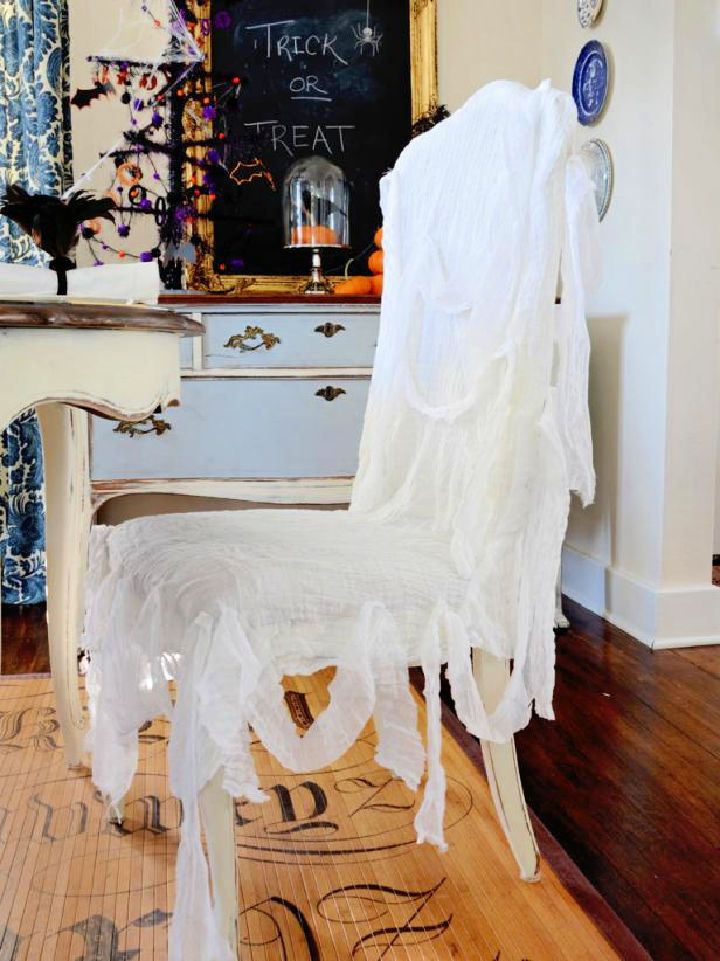 You can also use the white fabric in tons of different ways to bring tons of spooky decors to your Halloween party environments. Go handmade with white fabric to make outstanding mummy decorations and centerpieces. Also, use it for the spooky curtains and drapes, and you can also sew creepy chair slipcovers with it. Get inspired by the given spooky chair slipcover that you can easily duplicate with 4 yards of white gauzy fabric and 1-2 yards of cheesecloth. Moreover, you also need white cotton thread, a sewing machine, sewing needle, pins and scissors to complete this project. hgtv
48. Interactive Magic Mirror with Candy Dispenser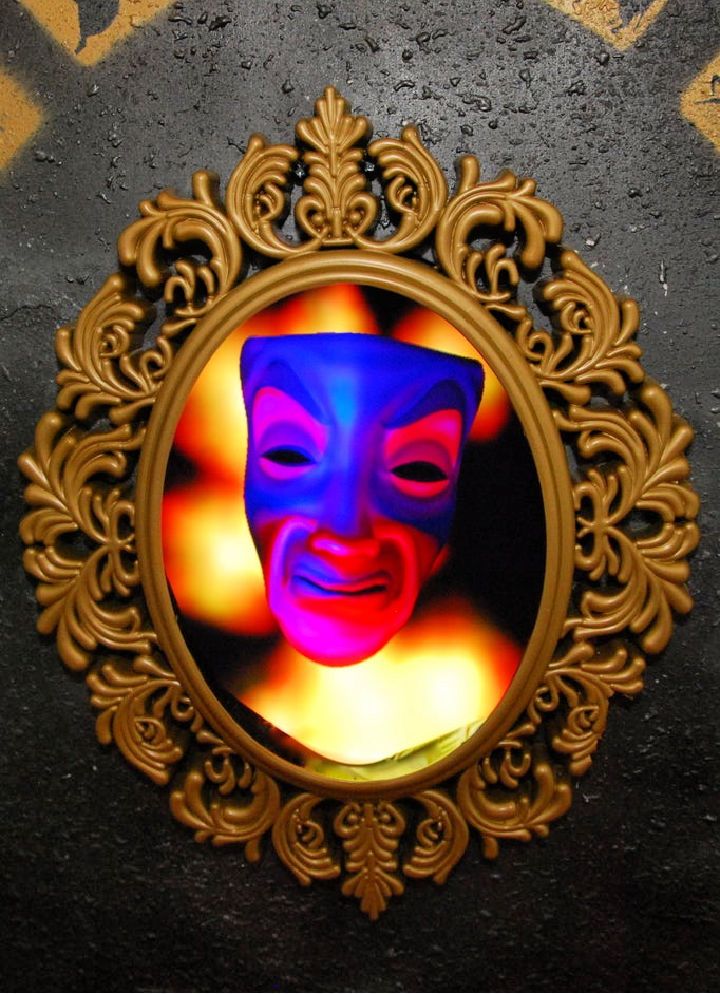 Grab ultimate instructions here to make the unbeatable and one-of-a-kind spooky decor that will be a big show stopper. This is where the interactive magic mirror with a candy dispenser will create too much fun for the kids and adults. You can install it in any particular party area, and it will be loved dearly by all. You need a mirror frame, sheetrock panel, 2x4s to build a frame, popcorn ceiling finish, zodiac cutouts and spray paint in black, gray and golden colors to complete this magic mirror wall. For an automatic candy dispenser, you need Arduino Uno, an adafruit prototype shield, ping parallax sensor and servo motor. Use the PC or MAC and a Computer LCD monitor for the magic mirror computer. Opt for a mini fog machine, X10 appliance relay, red floodlight and floodlight socket for the special effects. instructables
49. Creepy Eyeball Cookies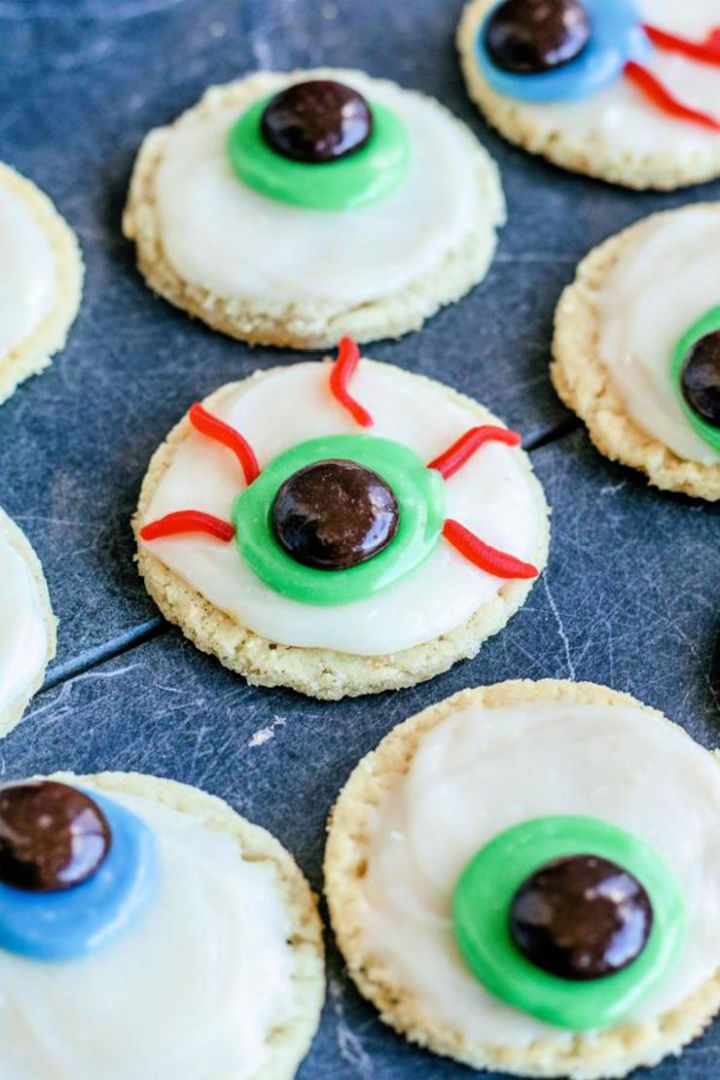 Sorting out the best Halloween treats and desserts that will win the heart of both kids and adults at the party? Then learn here to make these creepy eyeball cookies, sure to be the best Halloween food to serve to your guests. You will get here complete free recipe with comprehensive directions and instructions to easily make these cookies. The recipe involves using the tube of sugar cookie dough, cream cheese, powdered sugar, vanilla, melted butter, blue and green food coloring, junior mints and red licorice. The whole recipe will complete in 22 minutes. kimspireddiy
50. Spooky Halloween Candle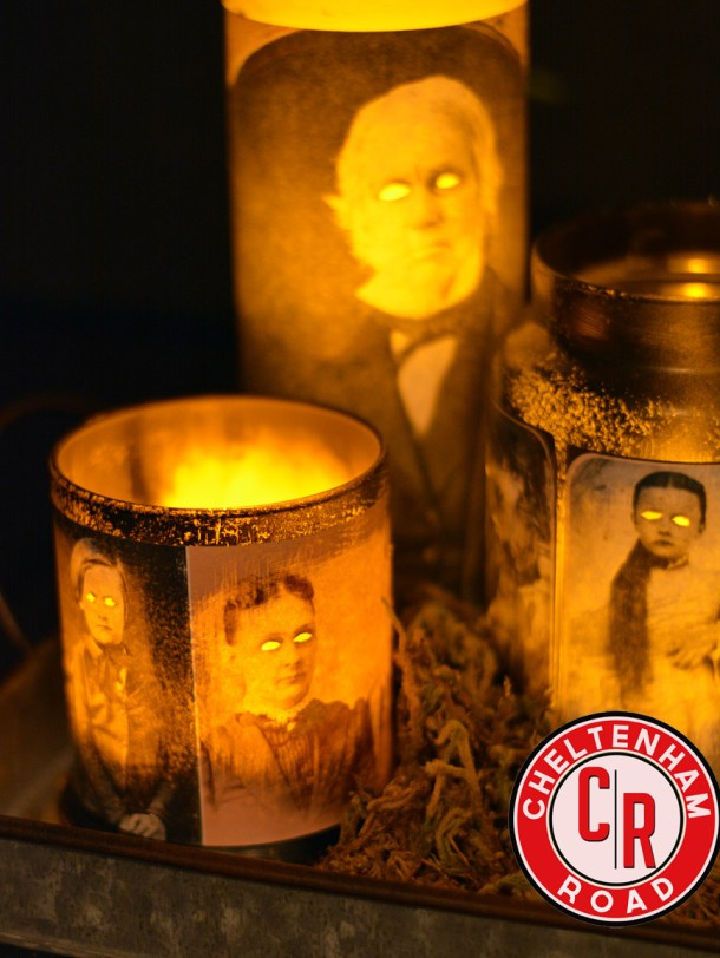 The spooky votives and candles can be the most loved spooky Halloween decorations. Follow here guides and instructions about making the spooktacular candles for the Halloween party, sure to bring a big wow factor to the entire party area. You need glass candle holders or jars, matte mod-podge, spray paint, rag, dour or un-photogenic printouts of Victorians, foam brush, sandpaper and sharp craft knife to easily duplicate these scary party candles for the Day of the Dead. Another great yet impressive Halloween party decor idea. cheltenhamroad
Related DIY Projects:
Halloween Decoration Printables – Our Halloween printables include free haunted house invitations and monster party invitations, plus free printable halloween decorations, such as free pumpkin carving stencils, free spider webs to color and hang, and free halloween stationery.
Pumpkin Decorating – Unhitch your creativity with these no carve pumpkin decorating ideas.
Pumpkin Painting – Find the perfect pumpkin painting idea for you and your family. Explore easy to follow instructions for painting pumpkins of all shapes, sizes, and themes.
DIY Backdrop Ideas – Need to dress up your space for a photo shoot? Get creative with these DIY photo backdrop ideas.
Happy Halloween Banners – Download and print these free Halloween banner templates for your front porch, windows, or anywhere you want to hang a festive Halloween decoration.
Conclusion: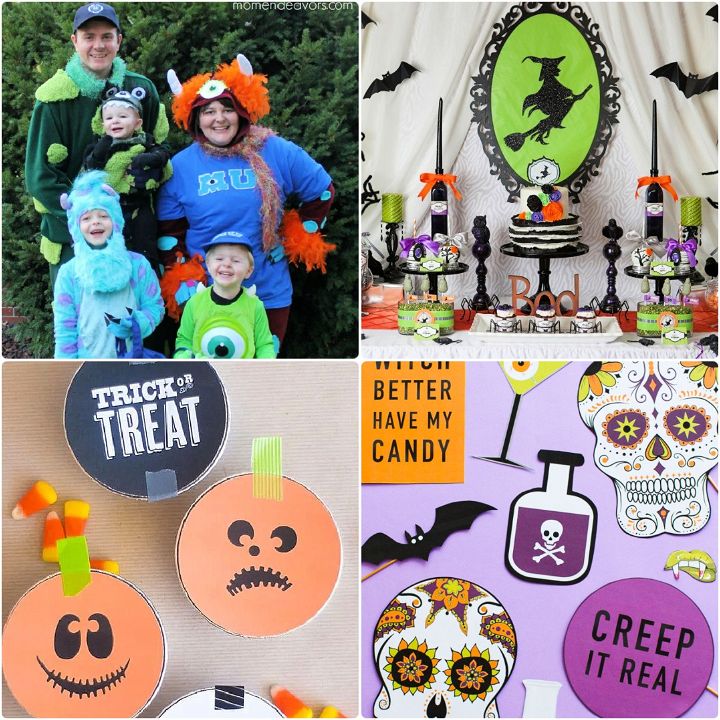 This project aims to tell you all about decorating the Halloween parties like a pro. For this purpose, you will get tutorials about making tons of party props, centerpieces, votives, backdrops, snacks, desserts, lanterns and much more. Moreover, these tutorials will share complete material lists, tool lists, detailed diagrams, and step-by-step instructions to easily duplicate any given ideas beautifully and efficiently.