Looking for a DIY backdrop to take your photos to the next level? Check out the best DIY photo backdrop ideas that you can make yourself, with items like curtains, white sheets, even trees and more.
This collection of 50 different DIY photo backdrop ideas will amaze you. Not only that, but they are super easily doable and just as beautiful. With our amazing ideas, you don't have to spend loads of money on photo backdrops to get great pictures. Why do so when you can simply make one on your own? Yes! All our photo backdrop plans are glamorous, and anyone can work on them without any special expertise required. Isn't that just awesome? Bring out the creator in you and give these stunning DIY photo backdrop ideas your best try!
From DIY cascading flower backdrop to a full moon photo backdrop and fall color block to a fringe party backdrop! We've got them all for you right in one place. For a gorgeous photography session, an expensive photo backdrop is not at all a necessity. Go cheap yet alluring with our super cool and easy-to-make DIY photo backdrop ideas and save yourself a fortune.
Not only are these photo backdrop ideas crazily affordable to set up, but they also look ravishing! All you need to do is simply follow the step-to-step instructions, and you'll be good to go. Moreover, once you start, there's no going back as these photo backdrop ideas are super addictive. Let's begin!
1. Kate Spade Photo Backdrop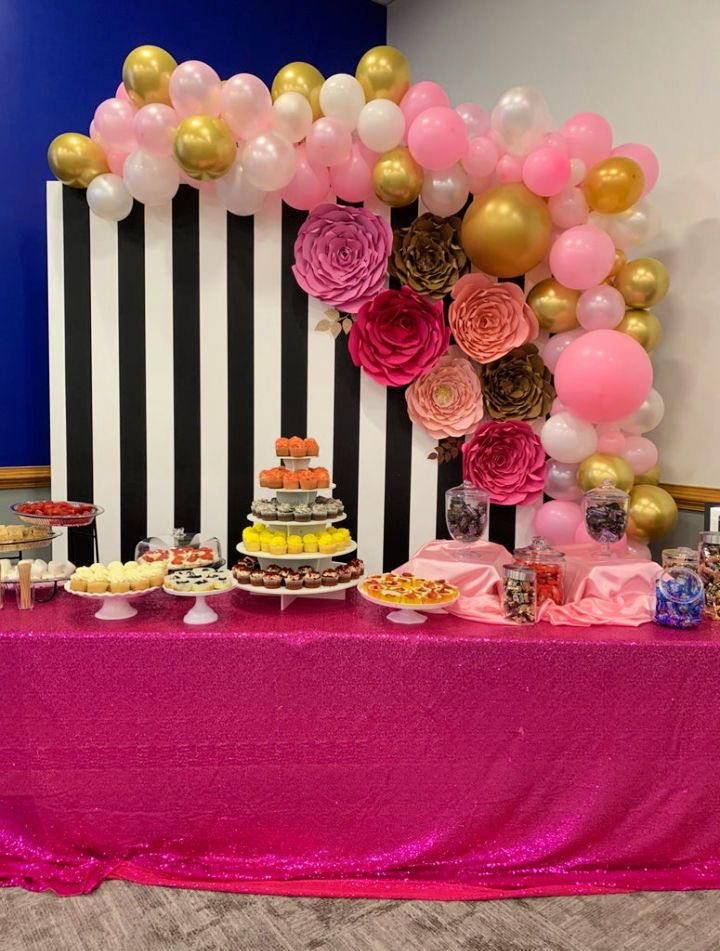 Organizing a fun party for your friends and family? Check out this must-have DIY Kate Spade photo backdrop! Isn't it just adorable? It will complement your theme and add a pop of color to your special day. DIY this easy yet beautiful photo backdrop by following simple instructions. Card stock paper, frog tape, construction screws, paint roller &C paints, drill, miter saw, hot glue gun, Cricut, scissors, and a paint sprayer are the materials required. handmade haven
2. Create an Arched Backdrop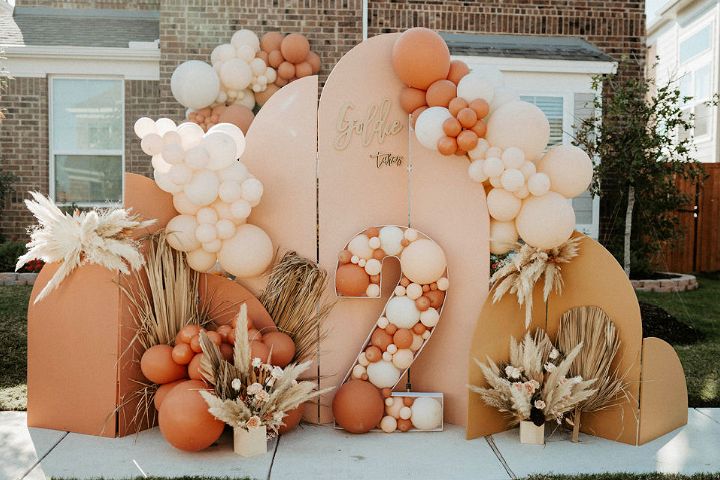 Want to be innovative while hosting a party for your special one? Here's how you can effortlessly do so by creating an arched backdrop! It will add such an elegant yet beautiful vibe to your space. Take endless gorgeous pictures in front of this heavenly backdrop, and thank us later! Not only is it super easy but also really cheap. ½″ pex tube, sanded plywood, ½″ flat-headed screws, sander, jigsaw, and wood filler are the supplies you will need. goldiewylde
3. DIY Wedding Shower Backdrop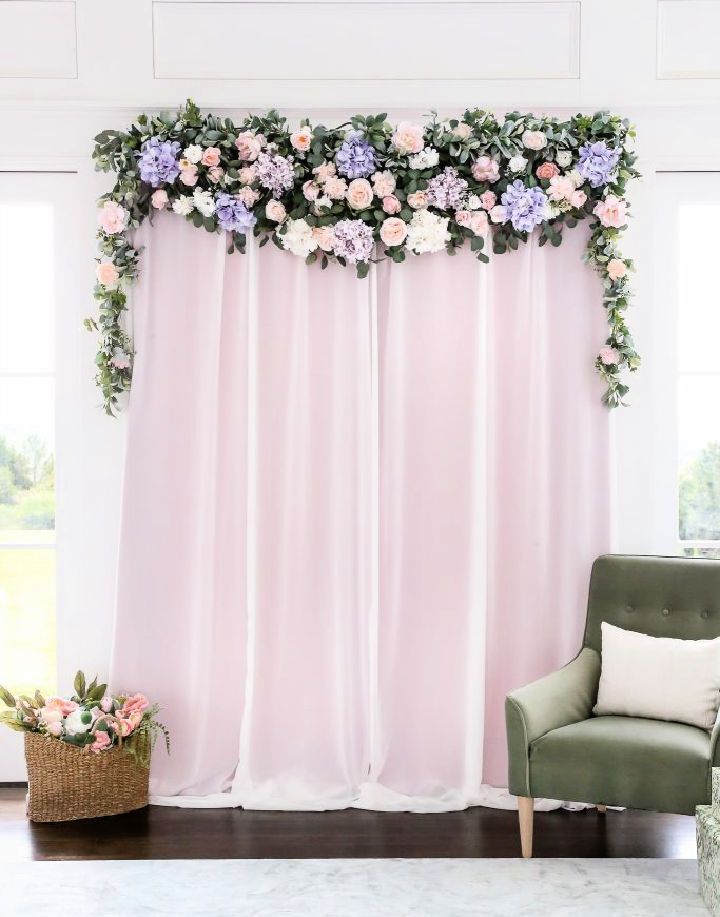 Planning a bridal shower for your best friend? Here's how you can make it extra special by adding a DIY wedding shower backdrop! This DIY photo backdrop is perfect for adding just the elegant look any event requires. It is both easy and cheap as well as time quick to set up! You will need blackout curtains, sheer fabric, clothespins, hooks, zip ties, floral wire, faux garland, faux flowers, and greenery. domesticallyblissful
4. Boho Outdoor Photo Backdrop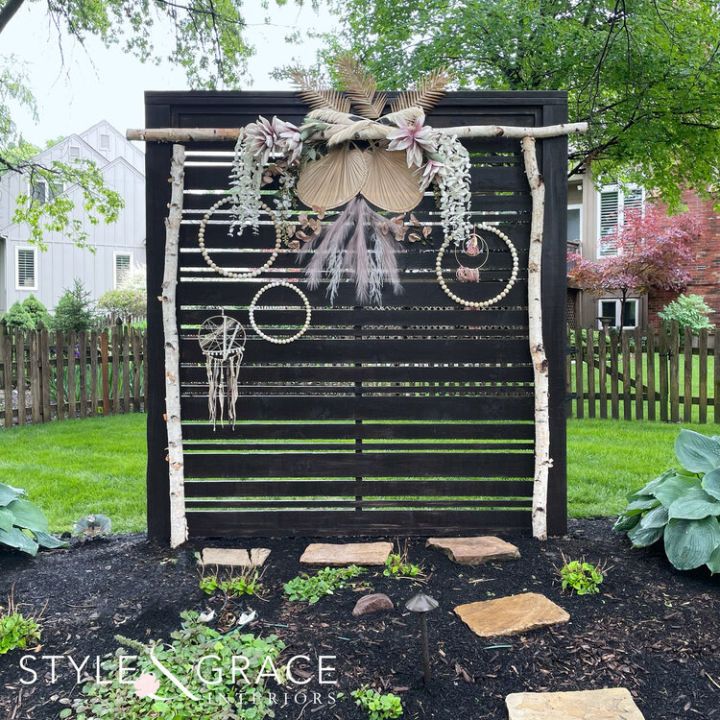 Check out this Boho outdoor photo backdrop perfect for hosting all your summer events! This idea is super fun and easy to work on, and with the help of a friend, you can be done in no time. Also, it's time to ditch the pricey photo backdrops and make one yourself on a budget. Isn't that cool? The materials required are common boards, lumber, timber, and a fast-setting concrete mix. styleandgraceinteriors
5. DIY Boxwood Green Backdrop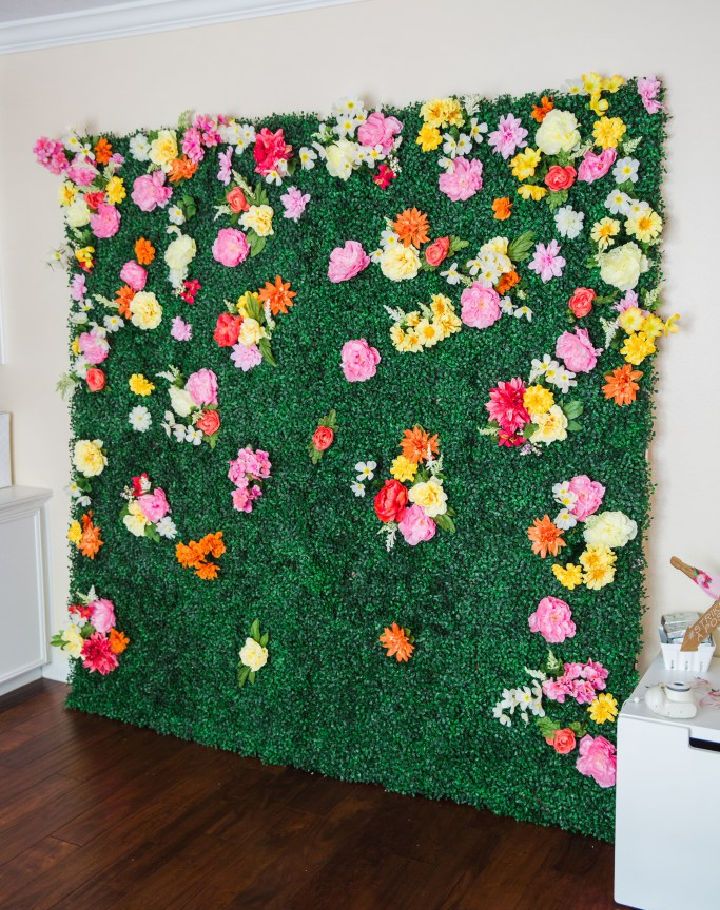 Here's how to make a fun DIY boxwood green backdrop to lift any spring event! Not only is this plan super easy to work on but also very cheap. Save yourself a fortune and be creative with this beautiful photo backdrop that will surely stand out! 40×40" four artificial boxwood panels, brass hinges, ¼" plywood cut, staple gun, electric screwdriver, and real or fake assorted flowers are the needed supplies. cakeandconfetti
6. How to Make Greenery Wall Backdrop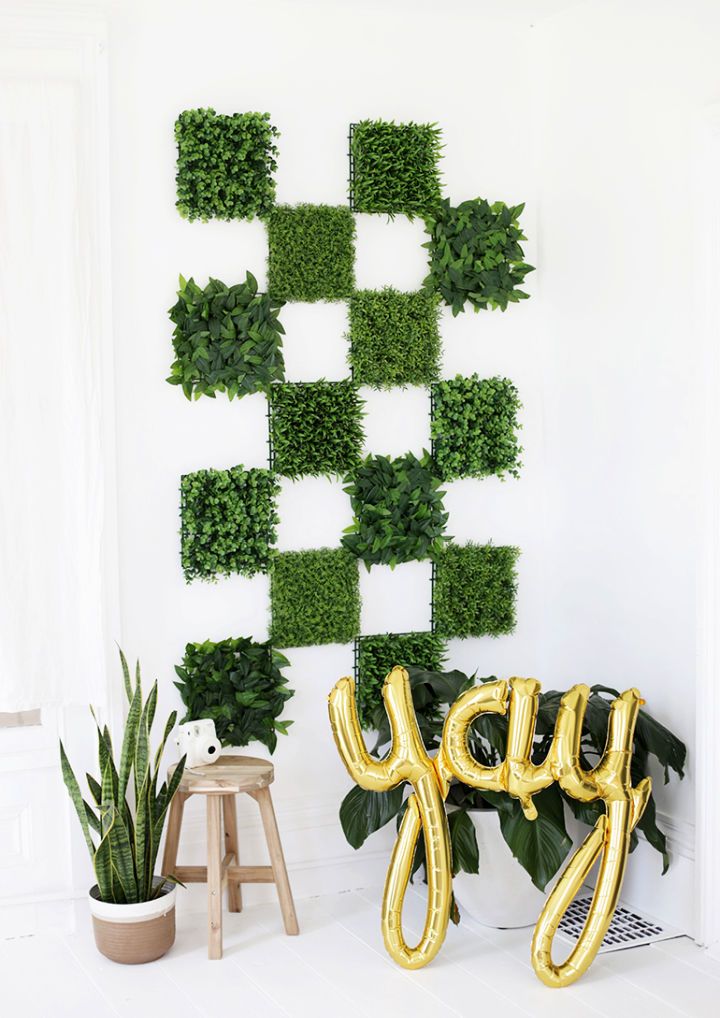 Are you a nature lover? Then this is the right place for you! Here's how to make a greenery wall backdrop to add evergreen beauty to your pictures. Setup a fun statement wall for all your gatherings, be it big or small! Not only is it very simple to DIY, but also super fun. All you will need is a variety of greenery mats, mini command hooks, and a tape measure to begin with. themerrythought
7. DIY Cascading Flower Backdrop for Pictures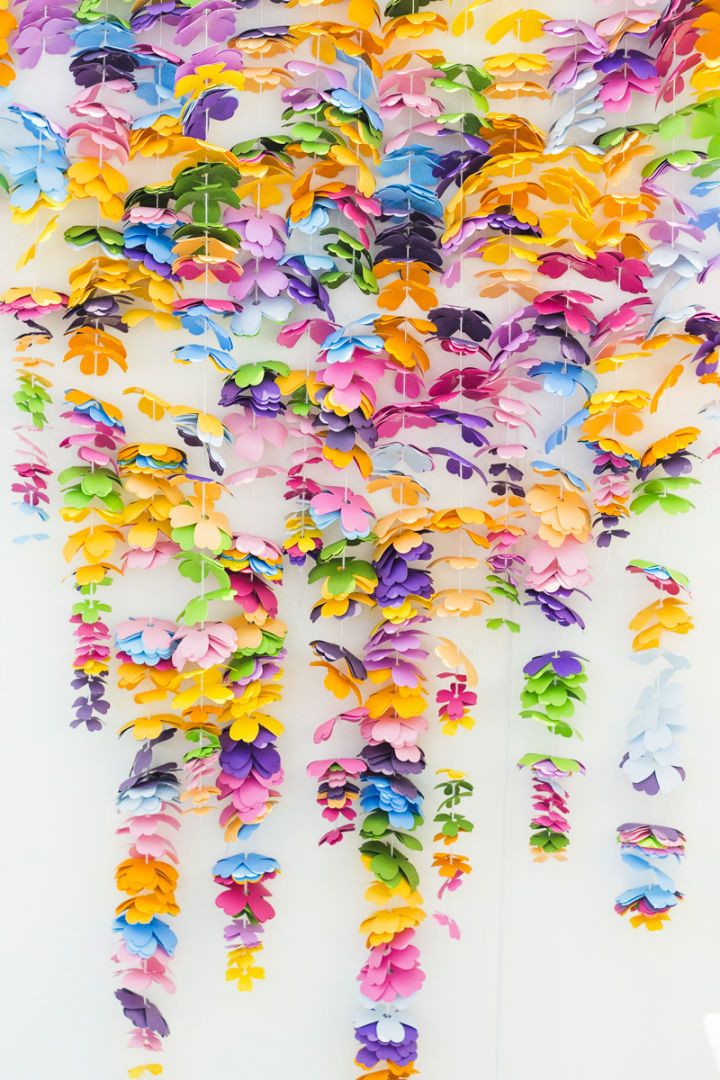 Arranging a surprise party for a loved one? Here's a creative DIY cascading flower backdrop idea for pictures! Not only is it super cheap to easily set up, but it also looks really pretty. Perfect for both indoor as well as outdoor handmade decor! The materials you will require are card stock in different colors, a threading needle, white yarn, a Cricut machine, and a pen. bespoke bride
8. DIY Rose Gold Graduation Backdrop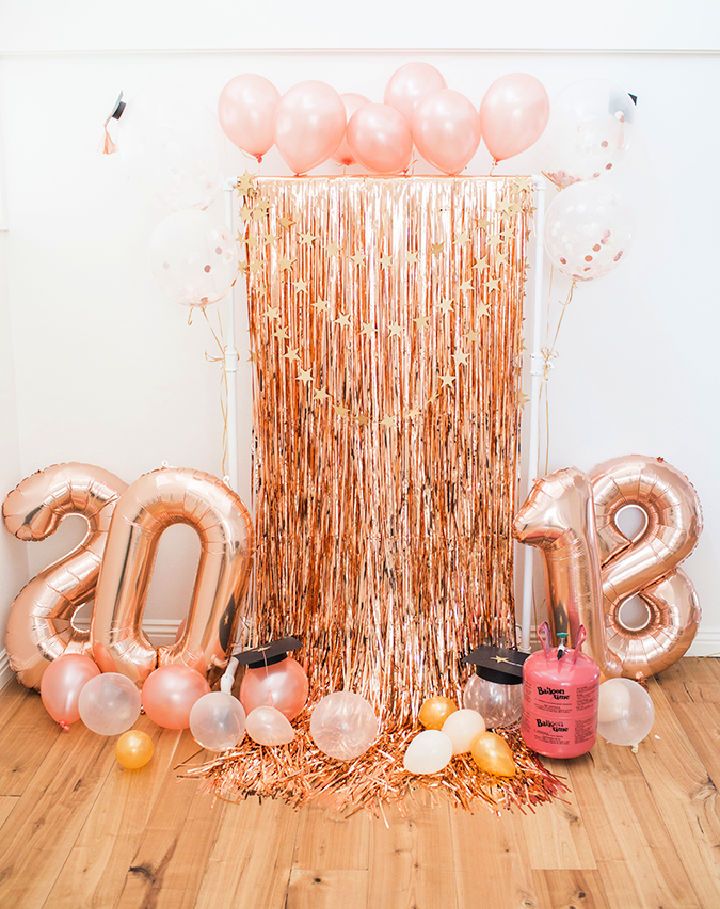 Excited to host a graduation party? Check out this DIY rose gold graduation backdrop for all your gorgeous pictures! It's the best yet simplest backdrop you can set up in no time and with zero effort. Also, it's such a cost-effective alternative to the costly photo backdrops. 2 helium balloons, black construction paper, tissue paper, tape, glue, and scissors are the materials required. laurenconrad
9. Make Your Own Streamer Backdrop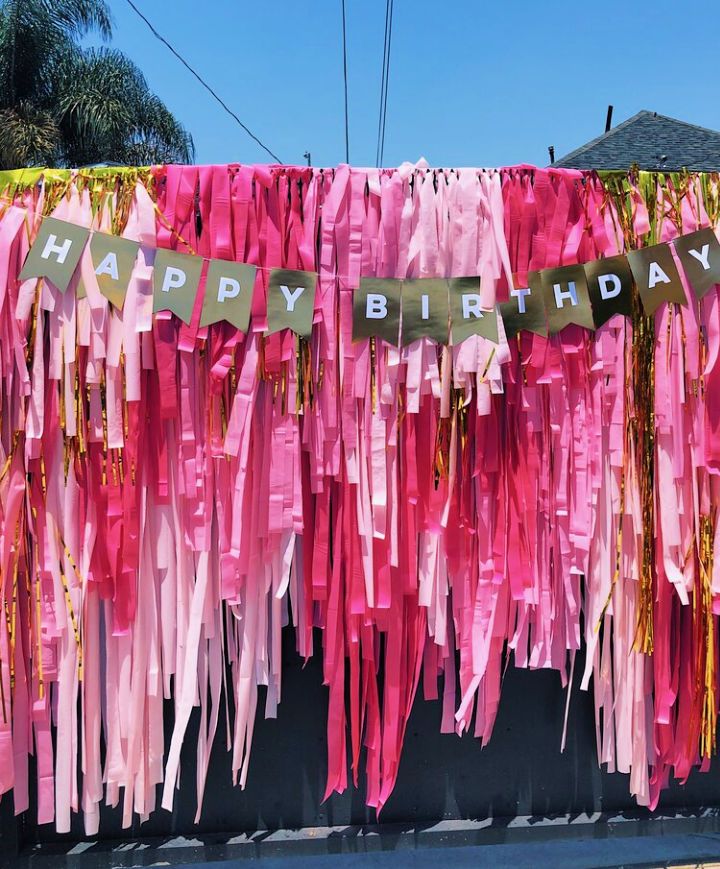 Want to make your own streamer backdrop? You're in the right place! Follow along with the simple tutorial and play with your favorite colors. Say hello to ever-gorgeous photos with an incredibly stunning DIY backdrop! Also, it is a cheap and quick way to set up a last-minute backdrop. The materials that you will need to set up this DIY photo backdrop are scissors, tape measure, plastic tablecloth, plastic fencing, and gold foil fringes. meganpicazoevents
10. Chiara Backdrop for a Birthday Party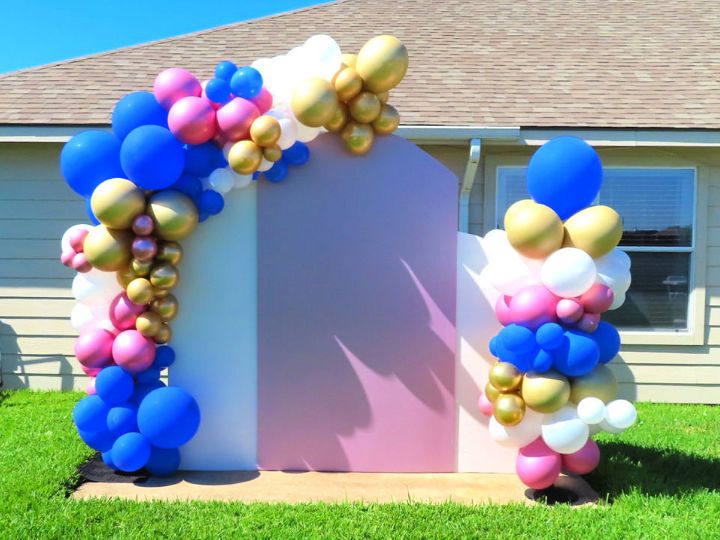 Arranging a surprise birthday party? We've got something super exciting for you! This beautiful Chiara backdrop is perfect for a birthday party. Be it indoor or in your backyard, it would simply elevate the look of any place. 4 joint boards, straight edge, box cutter, tape measure, pencil, circular saw, wood glue, ultra-white interior paint, wood screw, and heavy-duty shelf bracket are the supplies required. deanncreates
11. Shiplap Backdrop Wall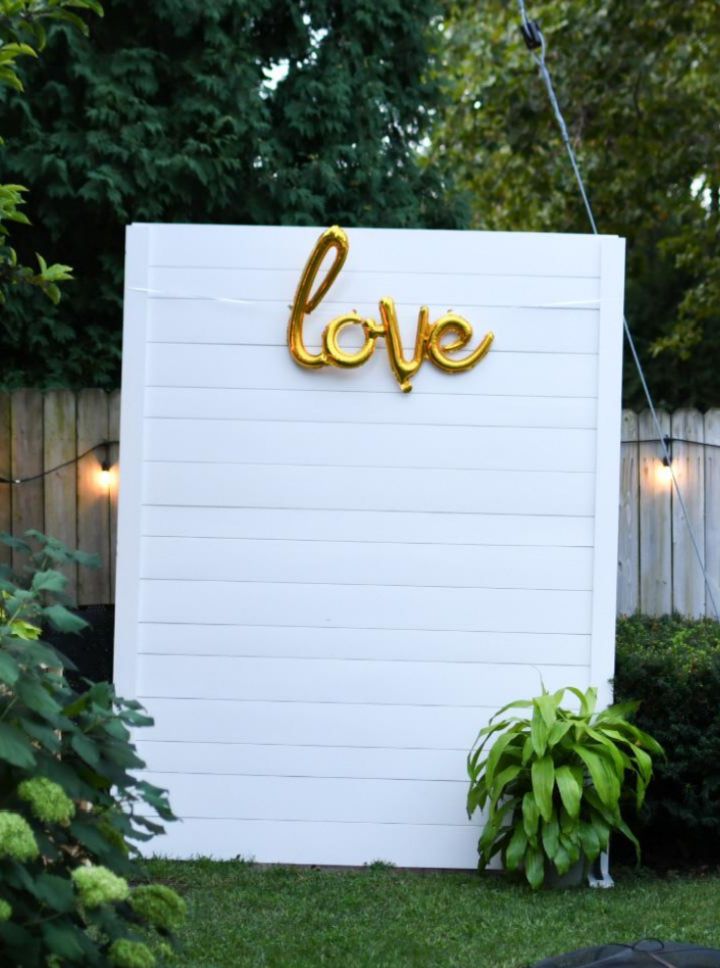 Can't decide on a cool photo backdrop idea for a party? This Ship-lap backdrop is here to the rescue. Not only is it super easy to set up but also very fun! Also, it will be ready in no time, that too on a budget. Ship-lap boards, wood screws, corner braces, trim nails, wood glue, table saw, hammer, tape measure, and pencil are the required materials. ufpedge
12. How to Make a Hexagon Backdrop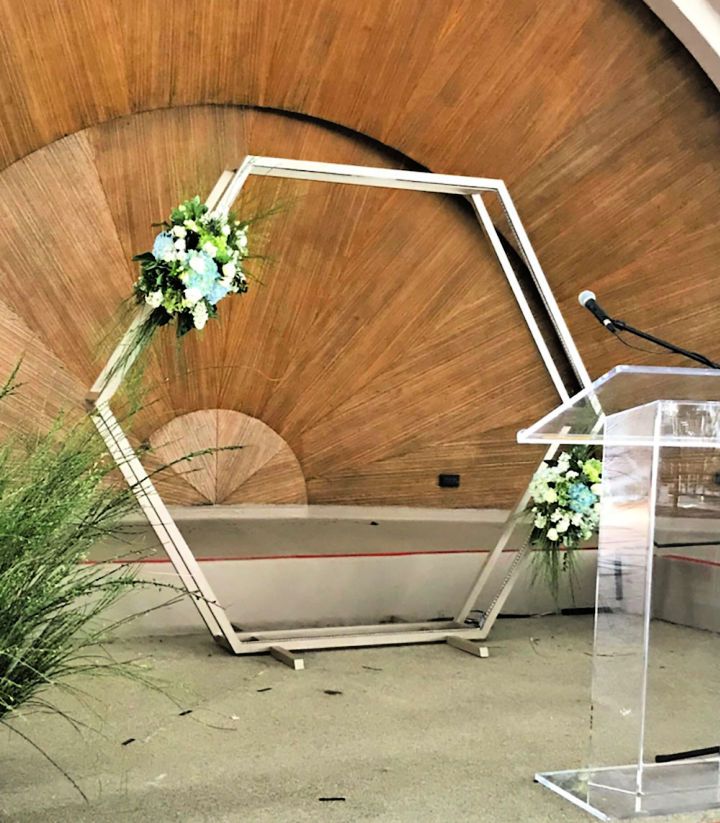 Do you want your party to stand out? Here's how to make a hexagon backdrop for a super elegant look! Not only is it simple to make but also really cheap. The best way to make all your guests happy along to save a fortune. Also, this project can be a good one to utilize any scrap wood! So, what are you waiting for? Collect your essentials and get to work now! homedepot
13. DIY Palms and Dried Palm Backdrop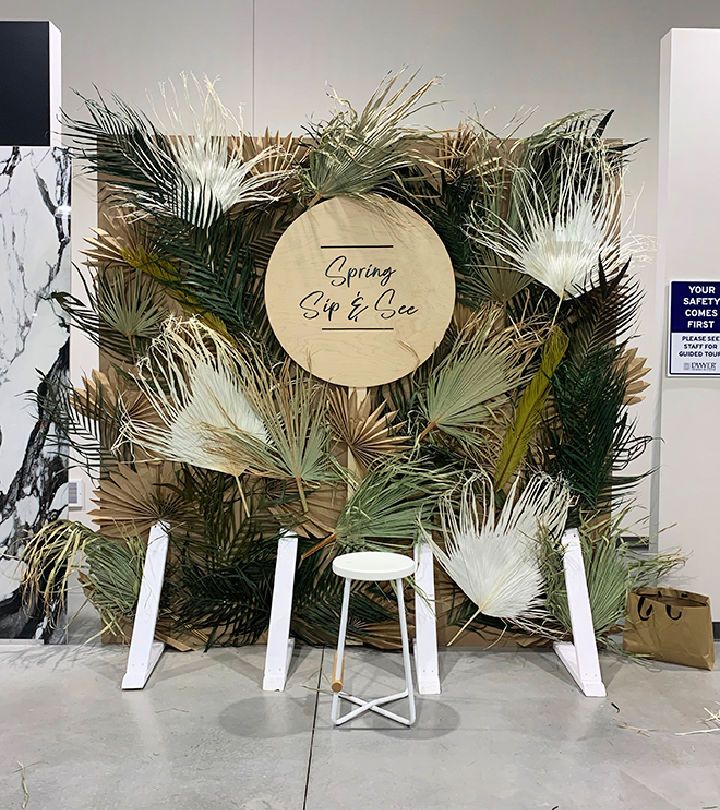 Want to set up a vintage-themed party? Here's how you can simply do so by adding this DIY palms and dried palm backdrop! It's a fun way to create a one-of-a-kind photo backdrop and impress your guest. Moreover, it can be a blessing in disguise as well if you're on a budget! The supplies required are a craft paper roll, scissors, glue gun, and bamboo stakes. somethingturquoise
14. Full Moon Photo Backdrop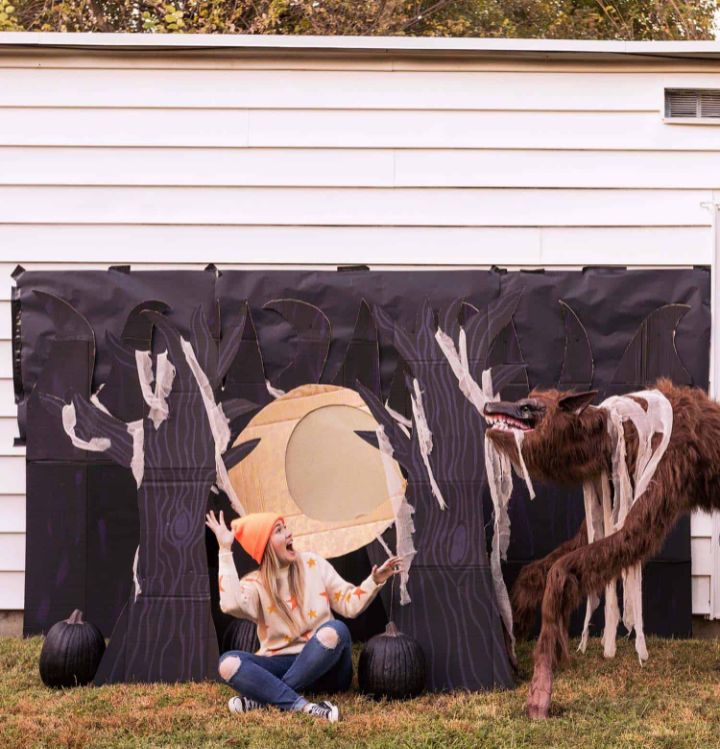 If you're organizing a spooky Halloween get-together for all your friends, then this is exactly where you need to be. Setup this full moon photo backdrop and get in all the feels! Also, it can be a fun activity to create this with your besties. Cardboard, Fiskars DIY tools, wooden sawhorses, paint & paintbrush, white fabric, duct tape, and a drop cloth are the materials required. abeautifulmess
15. Easy DIY Fringe Backdrop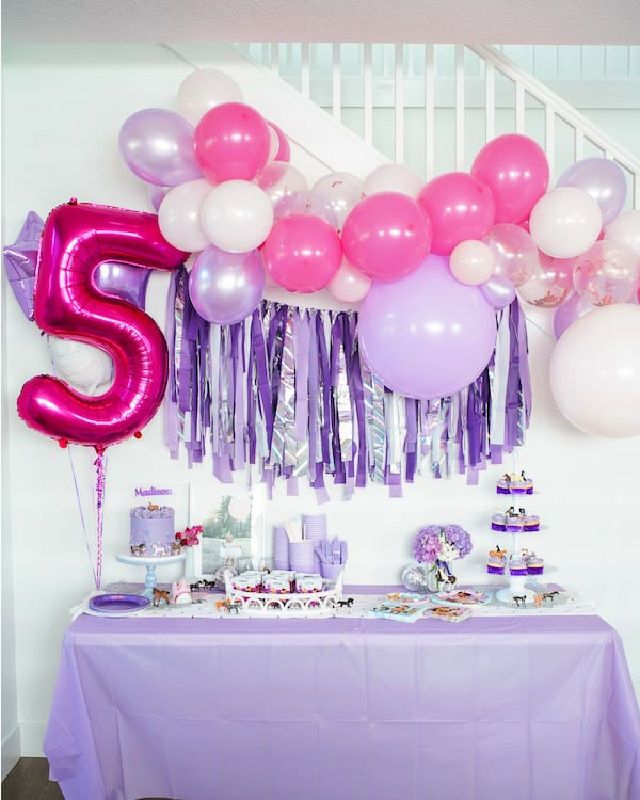 Running low on time and still having lots to do for the party? No worries! This easy DIY fringe backdrop can save you money and lots of time as well. It will literally cost you even less than $5! Can you imagine? So, experiment with your favorite colors and start now! Table cloths, string, and scissors are the required materials for this DIY photo backdrop. thehouseofhood
16. Straw Backdrop for Next Party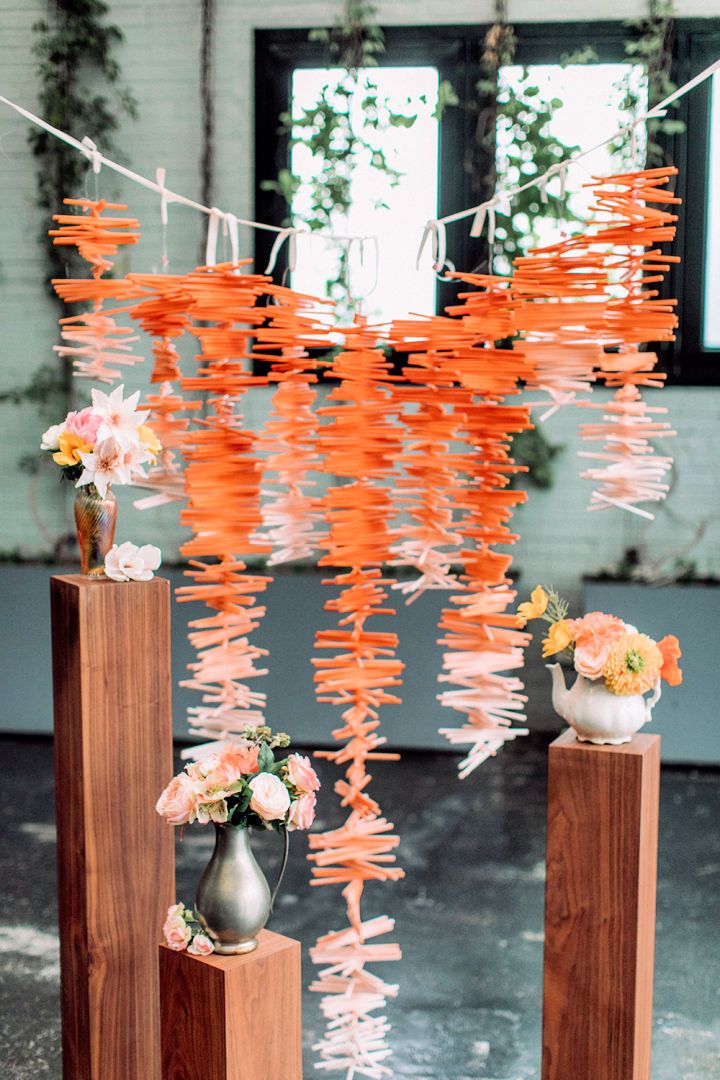 Want to know how to make a straw backdrop for your next party? This unique DIY photo backdrop idea will blow your mind! Not only is it an easy and cheap alternate but also a recyclable activity. Bring all your scrap straws to use and make something utterly beautiful out of them. All you need to do is follow the instructions alongside for the best results. Drinking straws, scissors, spray paint, a fishing line, and a sewing needle are the required materials. ruffled
17. DIY Halloween Backdrop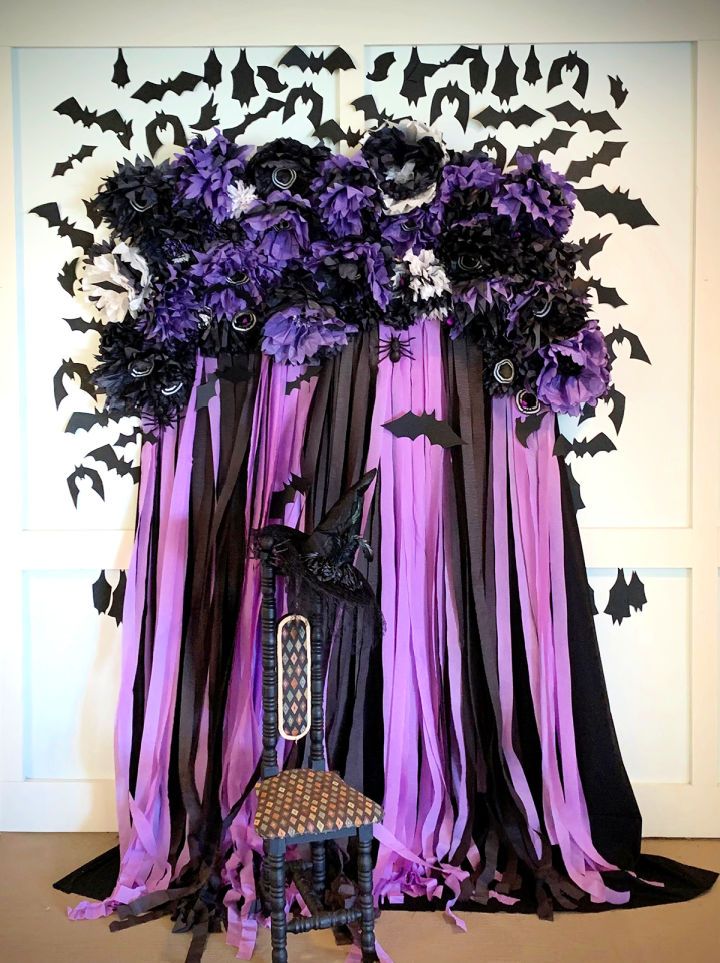 Looking forward to hosting a Halloween party? This DIY Halloween backdrop is perfect for you! Give this easy project your best try and make your photo backdrop stand out from all others. Simply follow along with the step-by-step instructions, and you'll be done in no time. 20×20″ tissue paper sheets, pipe cleaners, utility tape, painter's tape, and scissors are the materials needed. njfamily
18. Make a Flower Photo Booth Backdrop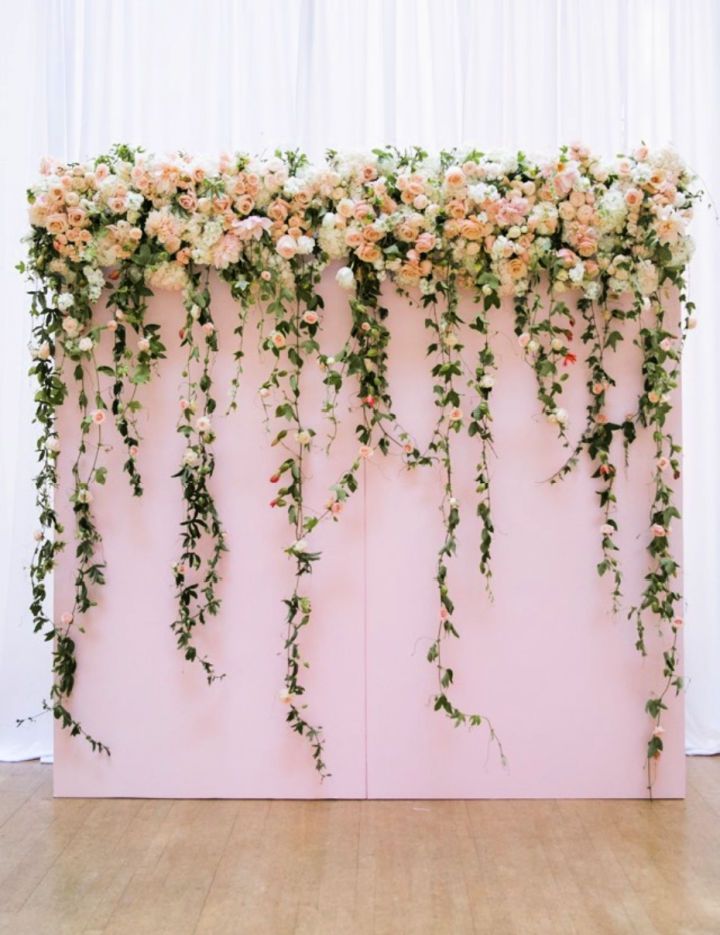 Planning a cute gathering for your girlfriends? Make a flower photo booth backdrop for gorgeous pictures worth remembering for a lifetime! Not only is this a super fun and easy project to create but also crazily affordable. So much better than the expensive photo backdrops and just as pretty! Drill, screws, floral cages, floral shears, 2 pieces of plywood, paint & paintbrushes, and scissors are the required supplies. weddingchicks
19. Wedding Ceremony Backdrop Using Curtains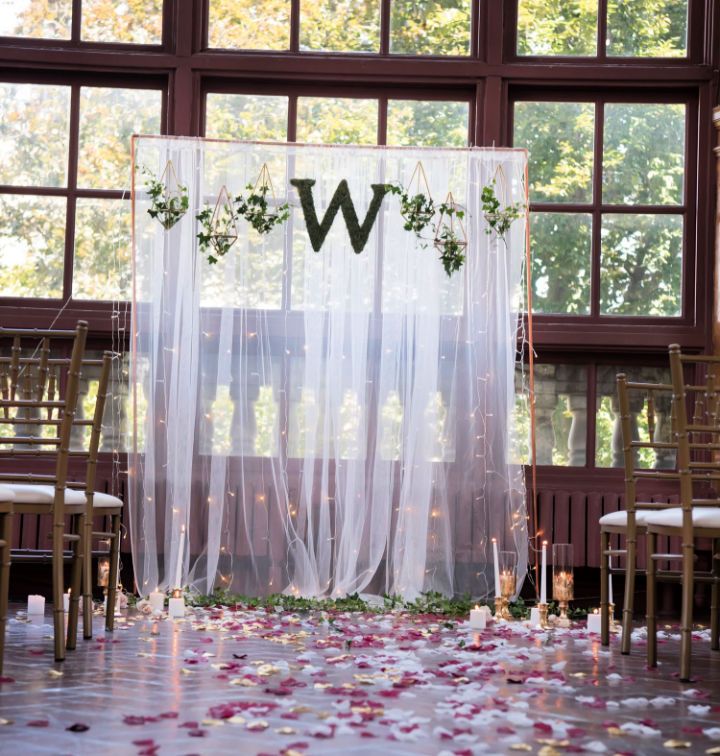 Have a simple wedding soon? Check out this adorable wedding ceremony backdrop made using curtains! Isn't it beautiful? Not only that, but it is also so very simple to make and super cheap as well. It's perfect for adding a super elegant vibe to any space! An 8 foot ½″ copper pipe, 2T fittings, pipe cutter, end caps, sheer curtains, lights, and metal glue are the materials you will need. simplyhandmadestudios
20. Giant Circle Moon Backdrop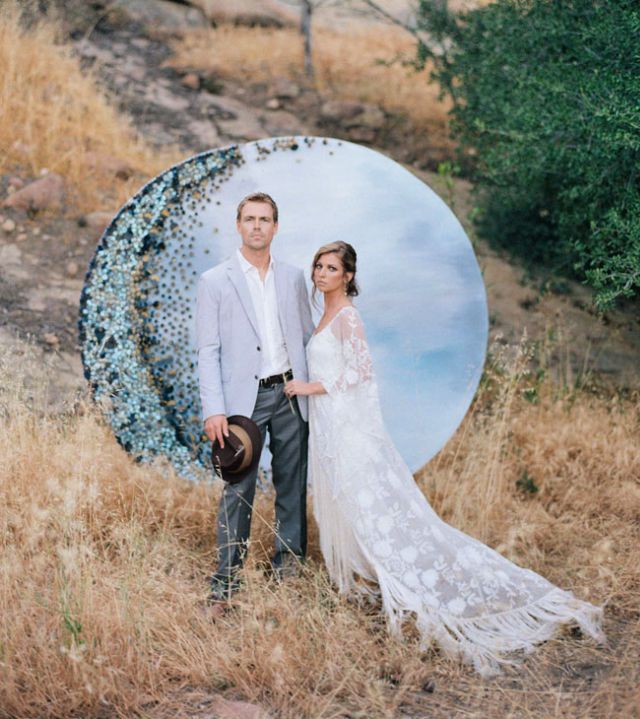 Want to host a party for a newly married couple? This giant circle moon backdrop will be the perfect addition to your setup! Not only is it super easy to create but also very cheap. All you need to do is follow the step-to-step instructions to get the best results! ¼″ plywood, paints, wine corks, wooden dowels, rit dye, marshmallows, glitter, tack glue, gold paint, glue gun, and glue sticks are the required materials. greenweddingshoes
21. DIY Backdrop for Baby Shower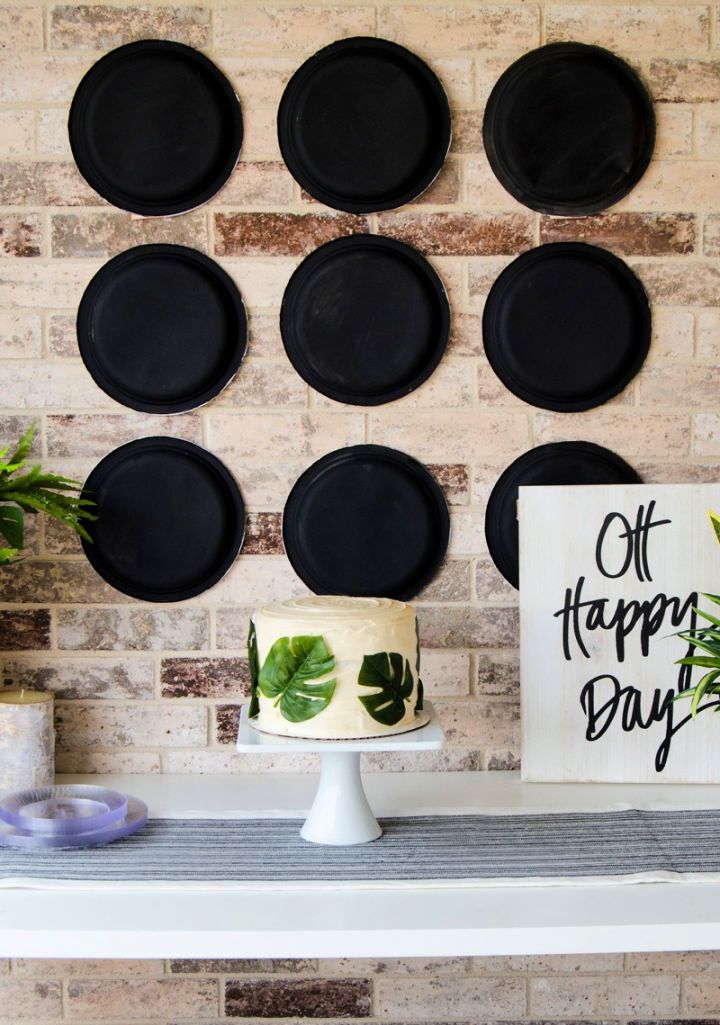 Planning a baby shower this weekend? This DIY photo backdrop for a baby shower is the best out there! A super cheap alternative to all the costly photo backdrops and just as adorable! With a little dedication and the right supplies, it's a piece of cake for you to set up. All you will need is a classic white all occasion 8 ¾″ plate, acrylic paints, sponge brush, and duct tape. love the day
22. Plastic Tablecloth Backdrop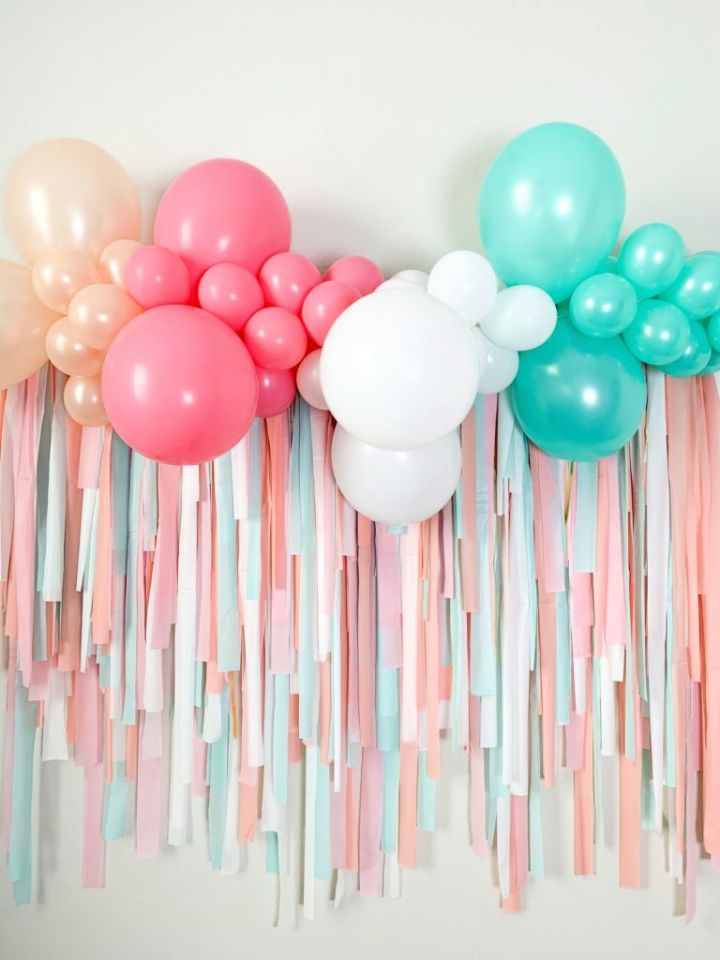 Looking for an easy DIY photo backdrop idea? Make this plastic tablecloth backdrop effortlessly, and thank us later. Not only is it an easy make but also super adorable. It will require much less time and money and is sure to stand out! All you will need are plastic tablecloths in your desired theme colors, a DIY balloon garland kit, and command hooks. ohhhowcharming
23. Homemade Paper Flowers Backdrop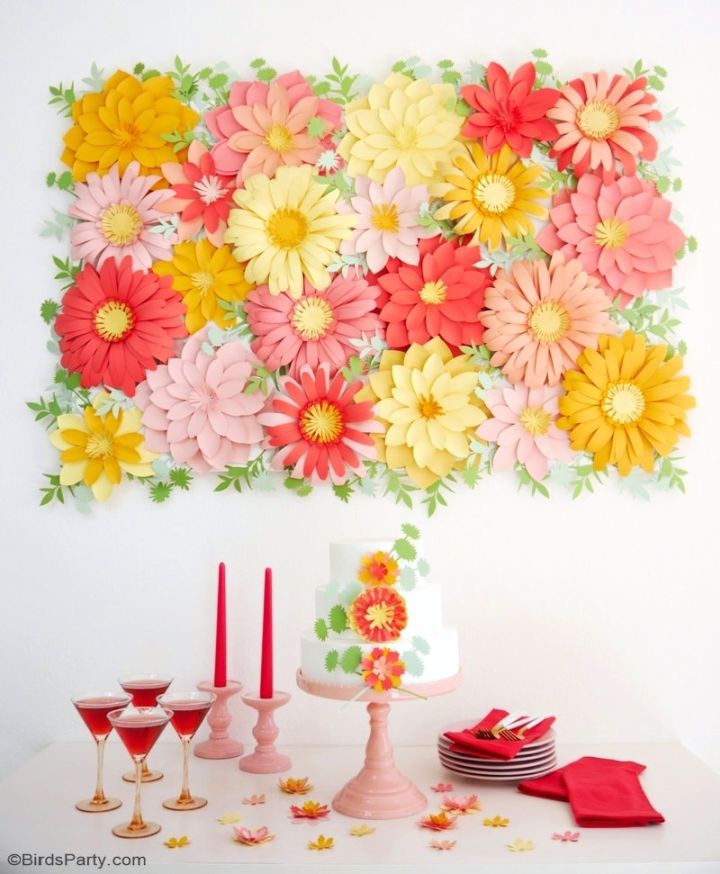 Check out this beautiful homemade paper flowers backdrop! You can make it up in no time, and with all the basic craft supplies you already have at home. Simply by following this tutorial, your DIY photo backdrop will be ready in no time. Flaunt your dress and take as many pictures as you want! Chart paper in different colors, hot glue gun, glue sticks, and scissors are the materials required. birdsparty
24. Make Backdrop for Photoshoot at Home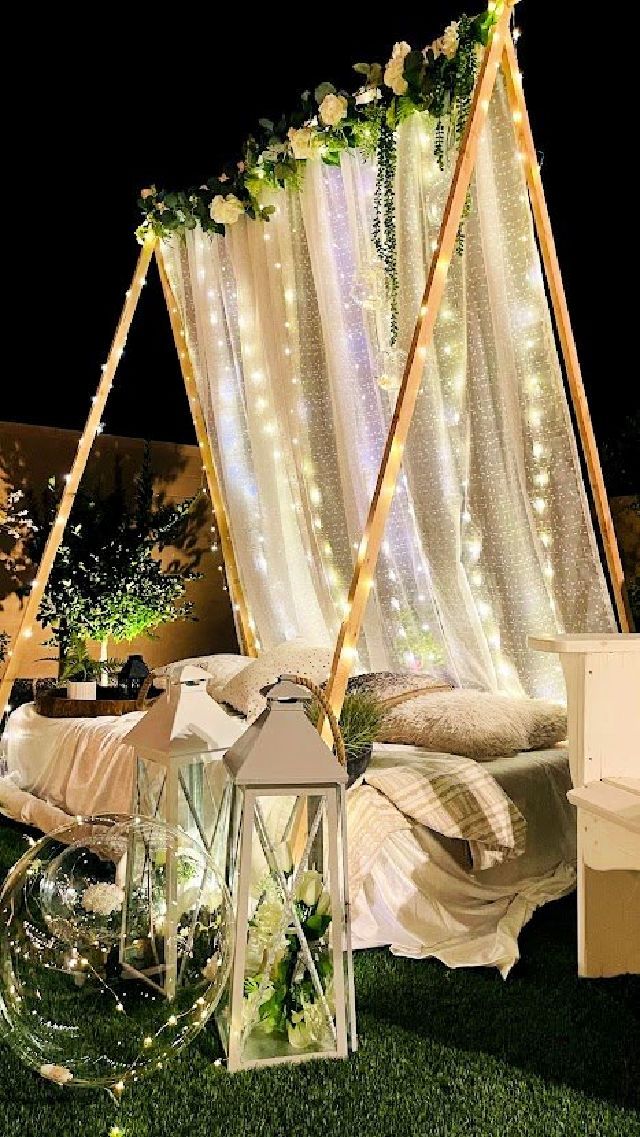 Here's how to make a backdrop for a perfect photoshoot at home! Not only is it a super easy project but also affordable. All you need to do is follow the step-by-step instructions and enjoy taking endless pictures after you're done. Spade bit, drill, strip boards, dowels, sheer curtains, eucalyptus garland with roses, faux eucalyptus vines, faux succulent vines, tealight globe holder, and fairy lights are the supplies needed. hometalk
25. DIY Lit Tulle Backdrop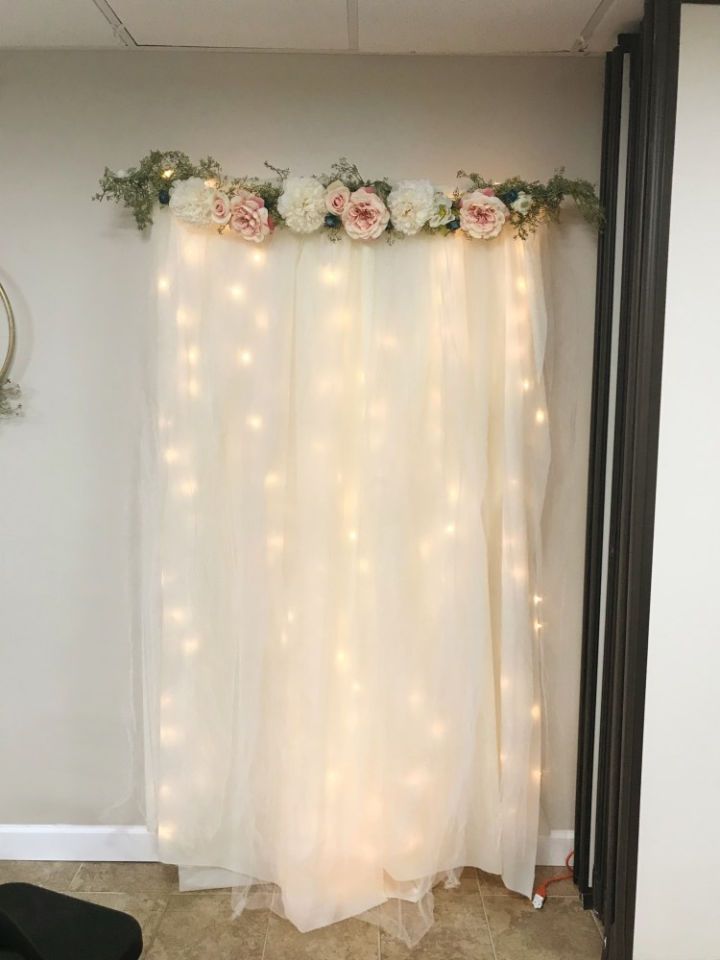 Hosting a bridal shower for a dear friend? Make this otherworldly DIY lit tulle backdrop and become the best bridesmaid ever! Not only is it an easy make but also super cheap. It will add the perfect elegant vibe to your space and be the reason for your stunning photos. Greenery garland, hot glue, flowers, zip ties, tablecloth, tulle, fairy light strings, curtain rod, and sheer curtains are the needed supplies. sixcleversisters
26. Stunning DIY Fabric Garland Backdrop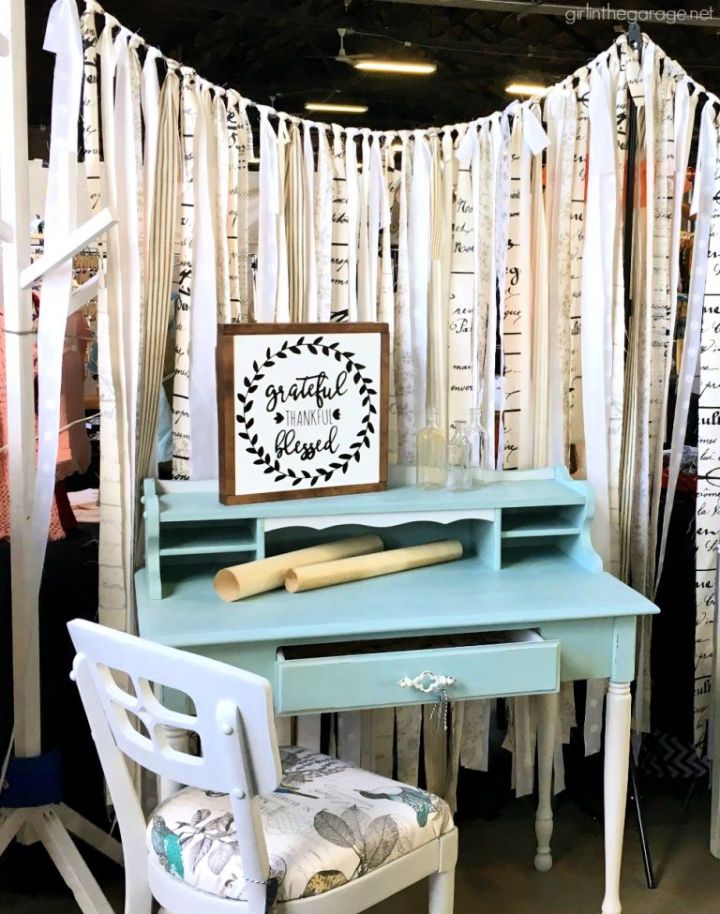 This beautiful DIY backdrop is going to be around 5 to 6 feet long and around 10 feet wide. Moreover, this amazing backdrop will cover almost the whole wall, which will make the perfect backdrop. You will only need a few supplies to re-create this beauty – a cutting mat, rotary cutter, ruler, and a jute rope. Isn't this amazing that you only need a few basic tools to make this? girlinthegarage
27. DIY Floral Photo Backdrop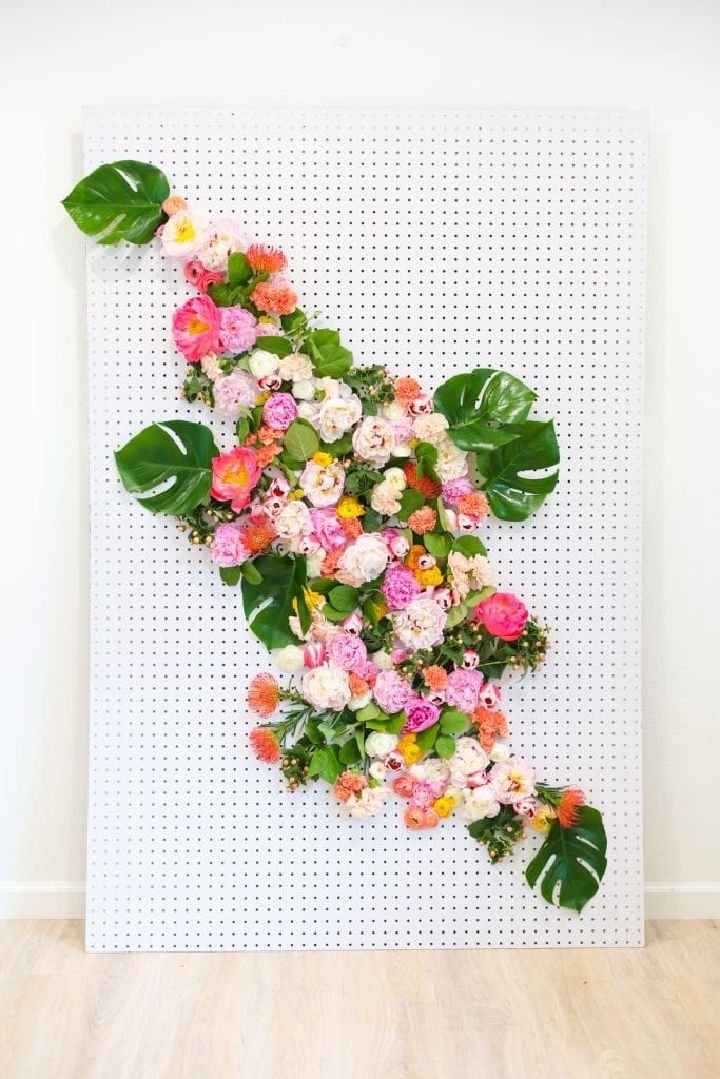 Another beautiful DIY backdrop has a floral design and white background with polka dots all over it! Don't you just love how it looks? Pegboard, florals, greenery, floral wire, wire cutters, lightboxes, firm foam, and removable glue dots are all the tools and materials that you will need to make this backdrop. Moreover, it will only take you around 90 minutes to complete this project. lovelyindeed
28. How to Make Glitter Backdrop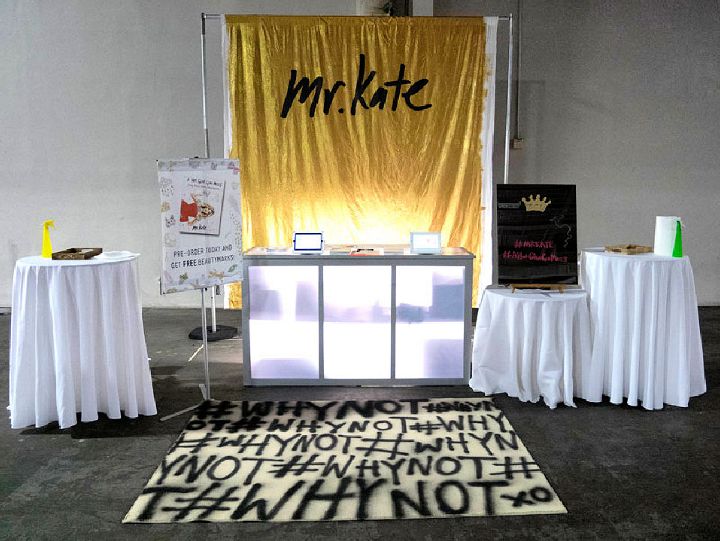 Do you have a girly blog or just want a really cute backdrop for your photos and videos? Well, then this glittery and shiny backdrop would be the perfect option for you! Gold glitter, gold paint, white cloth, backdrop stand, paint roller, plastic drop cloth, painter's tape, foam brush, stencil, spray adhesive, black paint, mini roller, and a few other supplies will be required. mrkate
29. Build Photography Studio Backdrop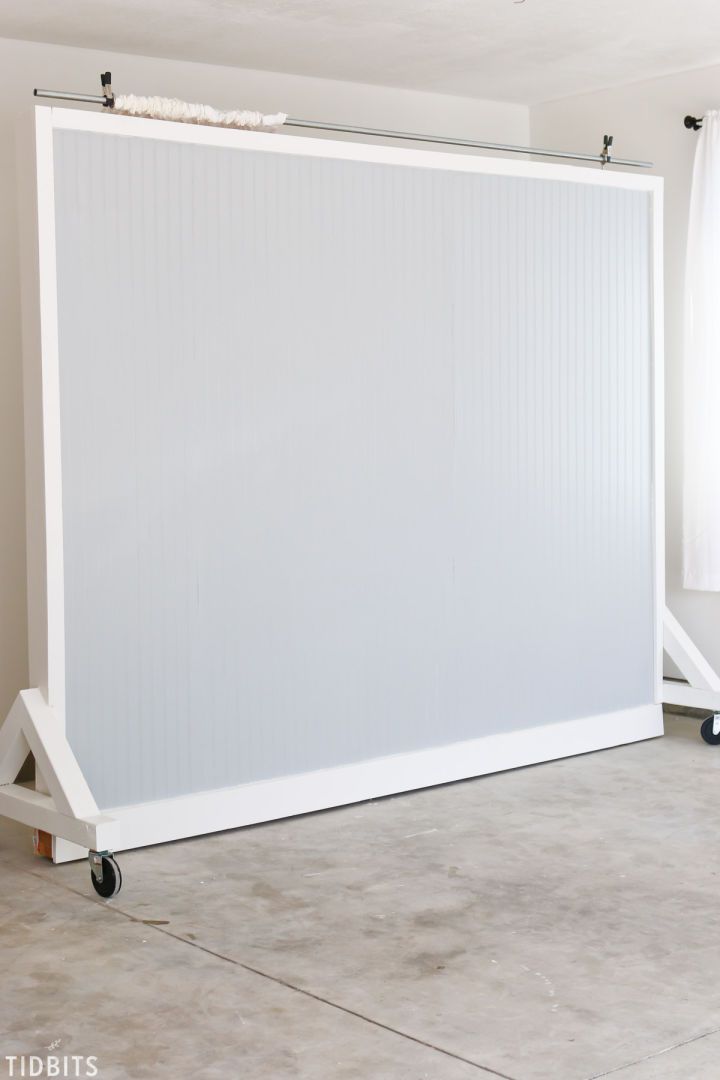 If you're a beginner photographer and want to own a backdrop but don't have enough money to invest in one, here's the guide to follow. You will be able to make this professional-looking photography studio DIY backdrop on a low budget! This backdrop has a dual-sided wall which will be perfect for your pictures. So, are you ready to experiment with this amazing idea? tidbits cami
30. DIY Color Block Fall Backdrop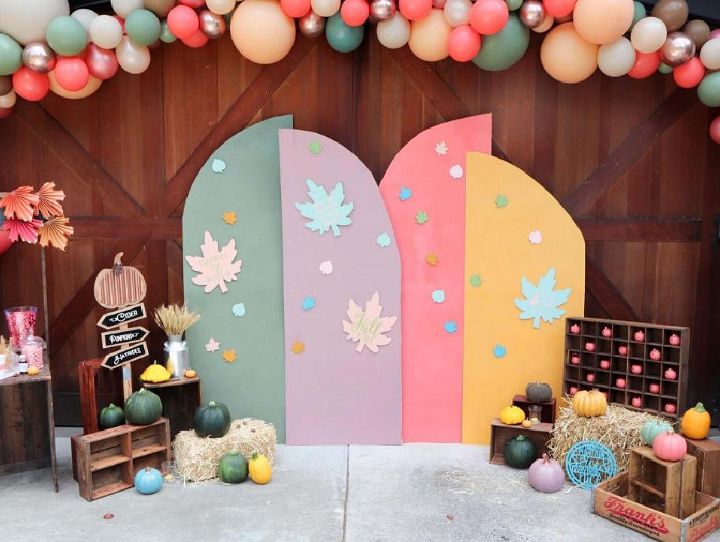 Spring season is just around the corner, and if you want to shoot amazing videos or take beautiful pictures during this season, you need to re-create this beautiful DIY backdrop! This beauty has so many colors combined for contrast, along with cut-out pieces attached on top. This project is at an intermediate level, and anyone can easily do it in around 50 to 60 minutes. fun365 orientaltrading
31. Dyed Cheesecloth Wedding Backdrop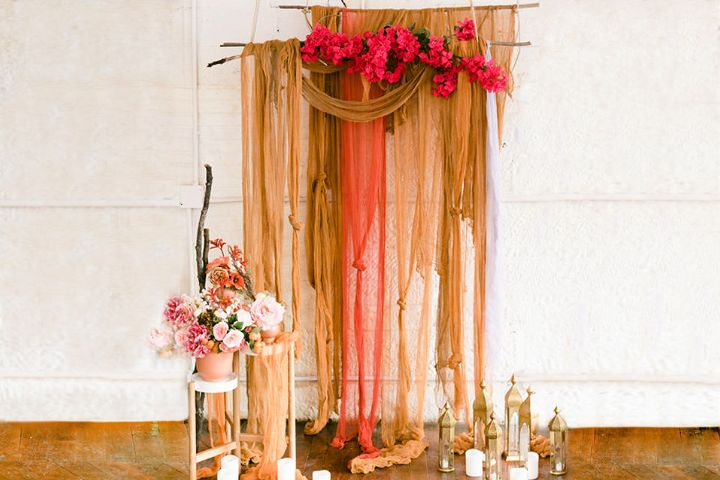 Wedding season is very common during spring as the weather is perfect for enjoying an event like that. If your wedding or your friend's wedding is coming up, here's the backdrop you will need for the special day! Having a beautiful backdrop like this one which is made out of cheesecloth, is going to help you shoot beautiful videos and photos. Isn't this the best thing ever? ritdye
32. Cheap Halloween Photo Backdrop with Tablecloths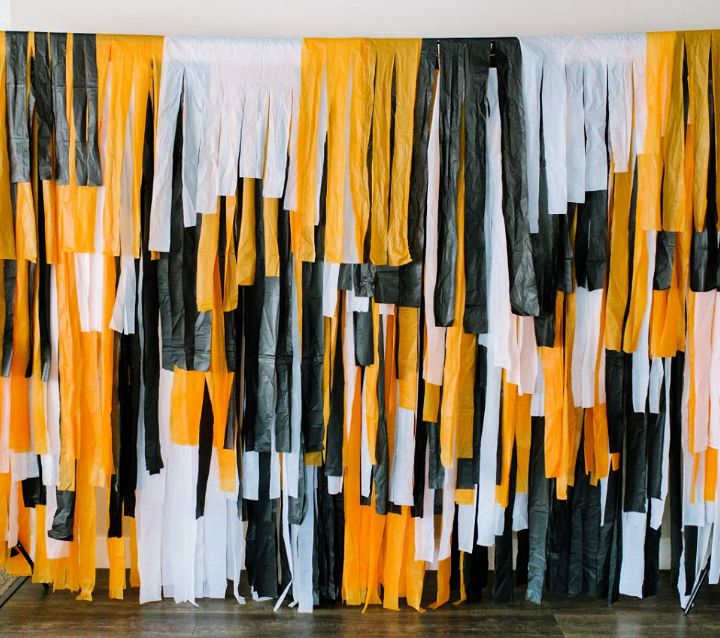 Halloween is a few months away, and it's the perfect time for you to start working on a backdrop for the festive season! Who doesn't love having a DIY backdrop in their house to take pictures and record beautiful videos? Plastic fencing, tablecloth, hot glue gun, and a backdrop stand are all the supplies that you will need for this amazing project. So, are you ready to try this out? prettylifegirls
33. Frozen DIY Photo Backdrop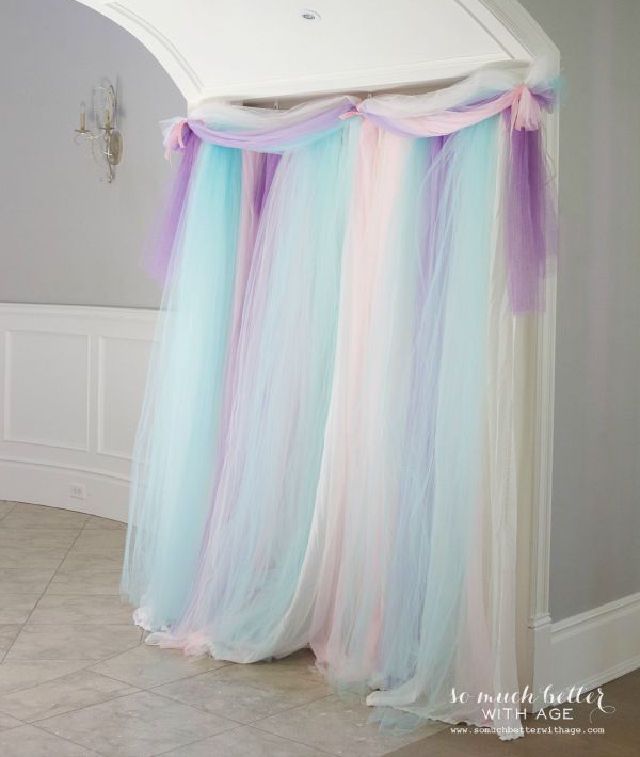 Are you about to throw a birthday surprise or a birthday party for a little girl? It could be your little sister, daughter, niece, or even grandchild! If you want to make her birthday special, use this beautiful frozen DIY photo backdrop idea! It looks so delicate and feminine, which is perfect. You can add this to the wall, curtains, bed, and any other place that would look good with it. somuchbetterwithage
34. Make a Mobile Backdrop Pallet Wall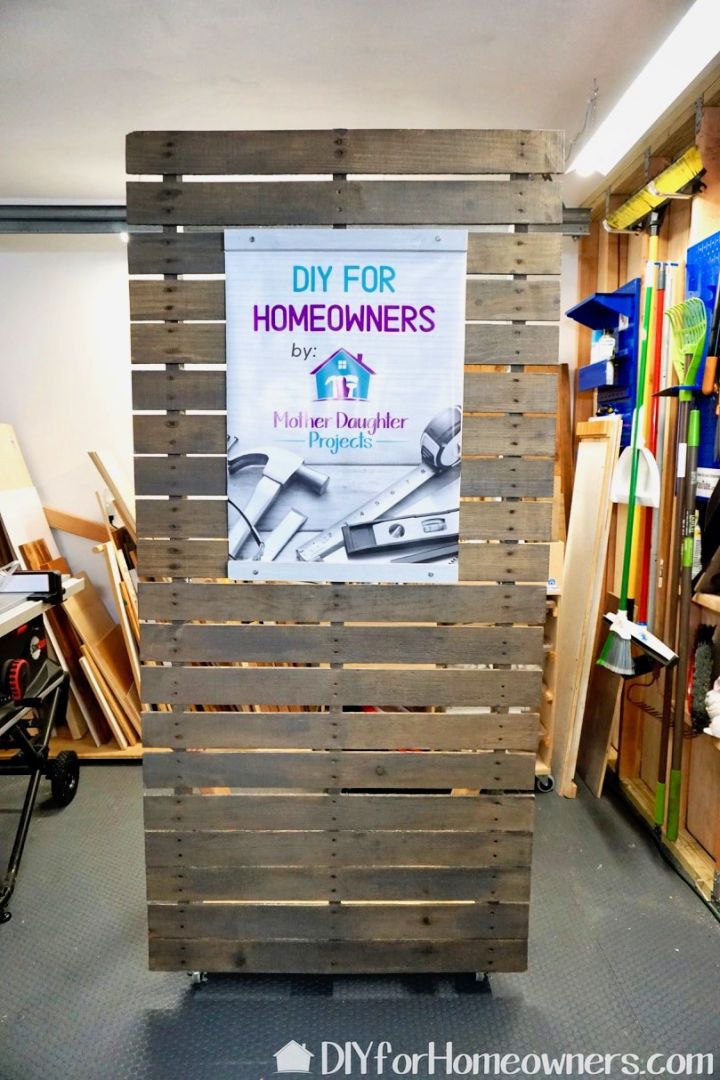 Here's a great plan, and this amazing mobile backdrop pallet idea could be used in many ways – seasonal decor, to hide a poster, hiding clutter, etc. Moreover, you will also need a few supplies to make this pallet wall – strap hinge, chest latches, plate caster, screws, nuts, tool bag, custom poster, cordless glue gun, saw kit, etc. Make sure to follow the measurements mentioned. motherdaughterprojects
35. DIY PVC Photo Backdrop in 10 Minutes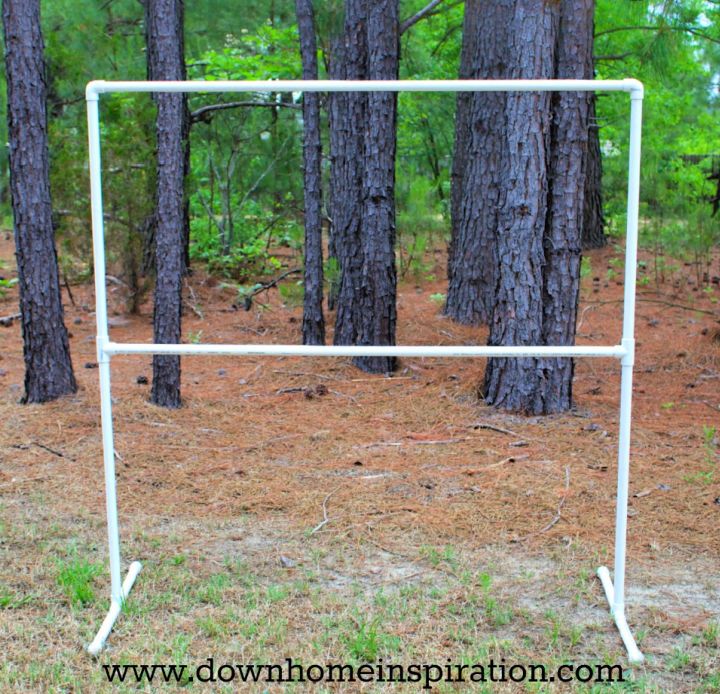 This is a great plan for those people who are looking for a DIY backdrop that is not only cheap to make but also takes less than 10 minutes! You can make this beautiful backdrop in less than 10 dollars and less than 10 minutes! End caps, PVC pieces, PVC elbow pieces, PVC T pieces, and a few other supplies will be required for you to re-create this beauty. Isn't this exciting? downhomeinspiration
36. Build a Wooden Wedding Backdrop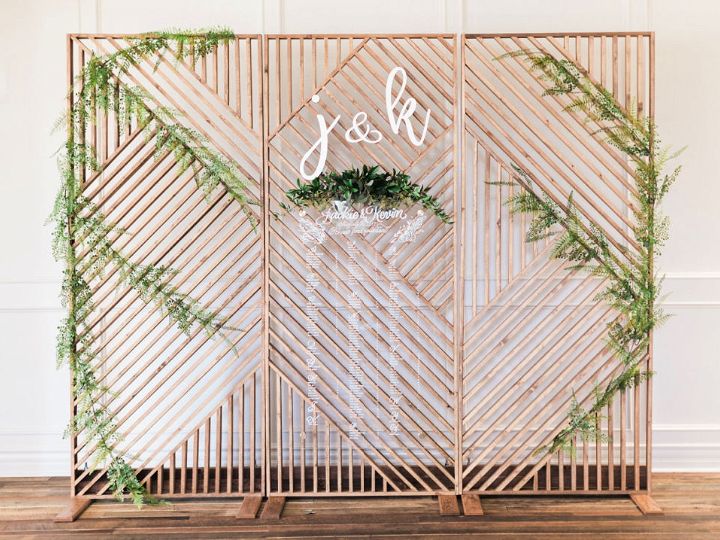 Wedding season is almost here, and this is the ideal time for you to start making wedding backdrops if you want to sell them during the season. Moreover, if you want your wedding to be special, this would be the perfect backdrop to make for your wife or husband and surprise them on the day! This backdrop is around 9 feet wide, which will be perfect for group photos or a couple of photos. osodiy
37. DIY Portable Plywood Backdrop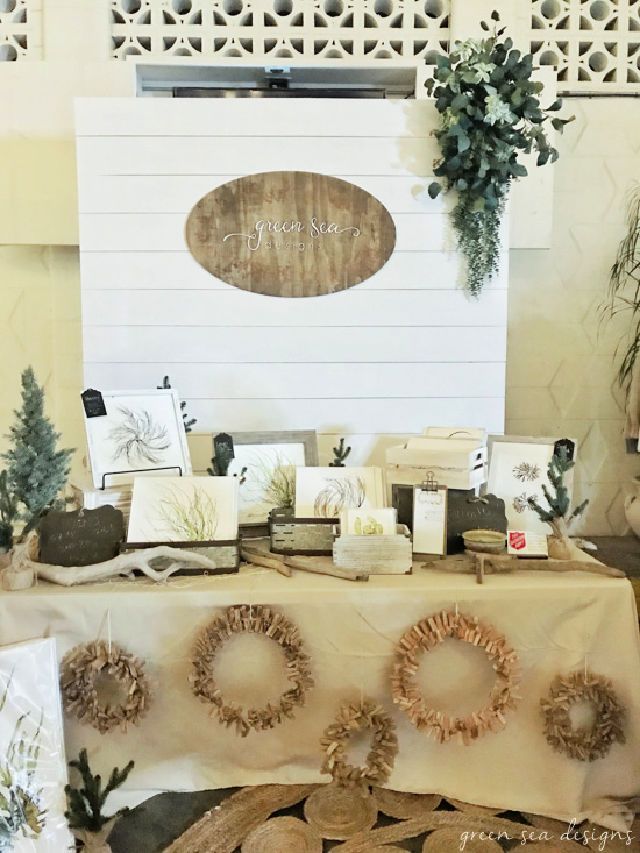 There's nothing better than a portable backdrop! Unfortunately, it's hard to find these types of backdrops in the exact style that you want in the market. However, you can always choose to make them on your own and add customizations. Plywood sheets, plywood underlayment, wooden dowel, hobby boards, miter saw, drill, and a few other supplies required. tableandhearth
38. Fiesta Bridal Shower Backdrop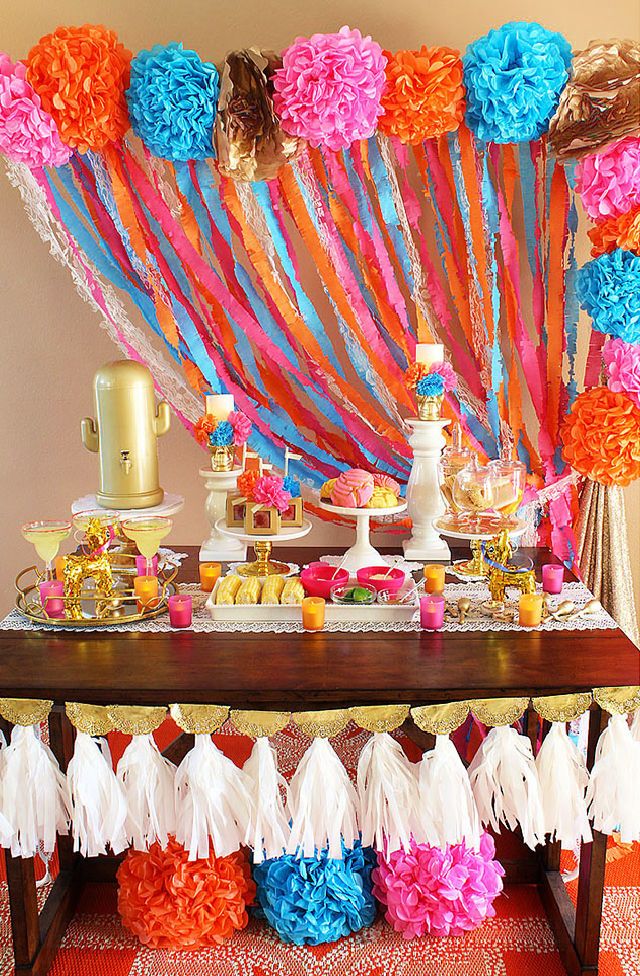 Bridal showers can be very special and nice. It can help the woman getting married connect with her femininity and spend a special day with there girlfriend before changing her single status! This is why a backdrop would be important as you will be able to take fabulous and memorable pictures in front of it! The skill level for this craft is experienced, and it will take around 180 minutes to complete this project. fun365 orientaltrading
39. Make a Photo Booth Backdrop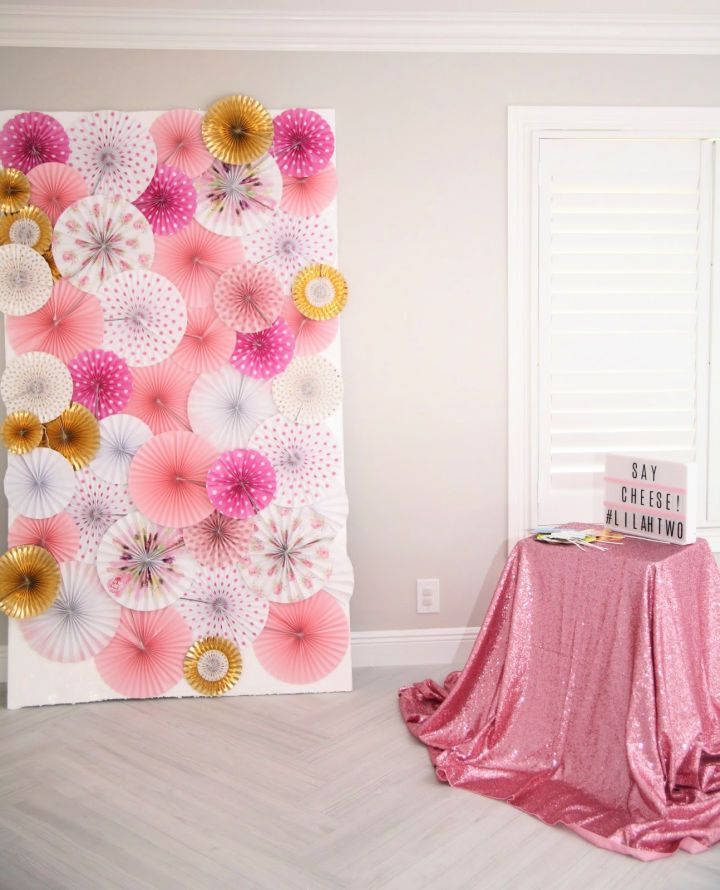 Photo booths are getting more common in parties these days, as taking pictures and posting them online is the norm now! If you're throwing a party and want it to be special, then you need to make a beautiful photo booth like this one! Foam insulation board, hanging paper fans, hot glue gun, glue sticks, scissors, stapler, and a few other supplies will be required. thecelebrationstylist
40. New Years Eve Photo Backdrop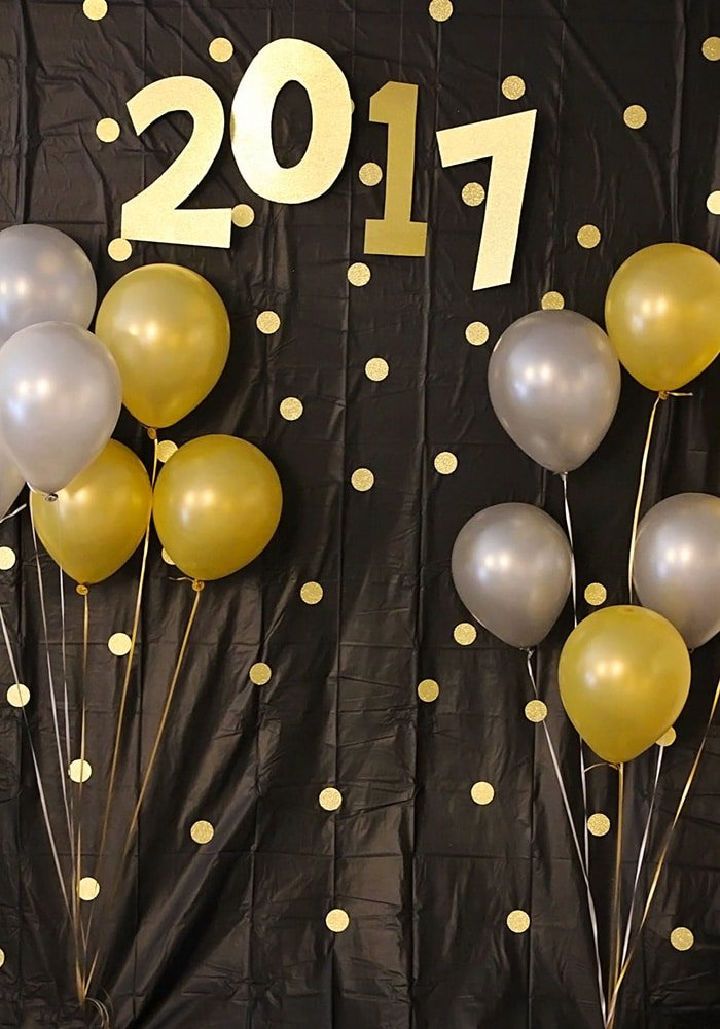 New Year's Eve is a special event, and many people take pictures on the last day of the year to remember it forever. If you're throwing a New Year's party, then you need to make sure that you set up an extra backdrop with a lot of balloons and glitter! Here's the perfect plan for you to follow. Glitter cardstock, curling ribbon, balloons, table-cover, and a few other materials are needed. somewhatsimple
41. DIY Painted Canvas Backdrop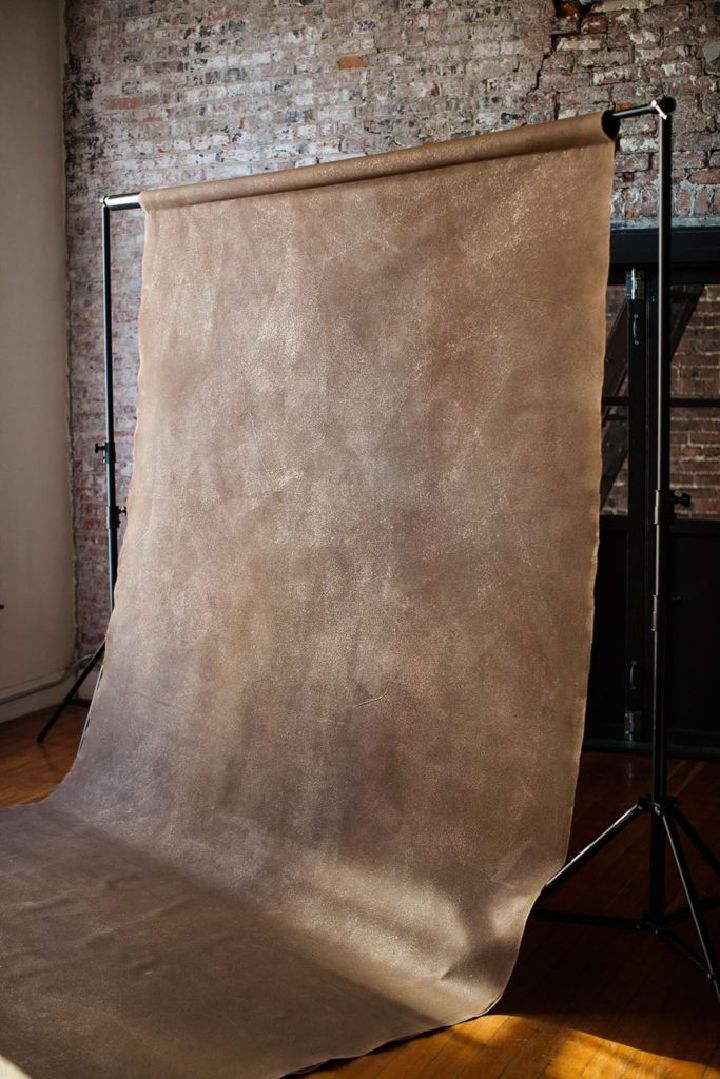 Canvas backdrops can be quite expensive in the market, but you can always make them for cheaper on your own. If you're a new photographer and don't have enough money to buy a backdrop, then just take a look at this DIY backdrop option! Fans, paint roller, metal paint trays, rags, small containers, ruler, scissors, hand saw, gaff tape, PVC pipe, artist canvas, sponges, brushes, and a few other supplies required. jenniferboylephoto
42. Fringe Party Backdrop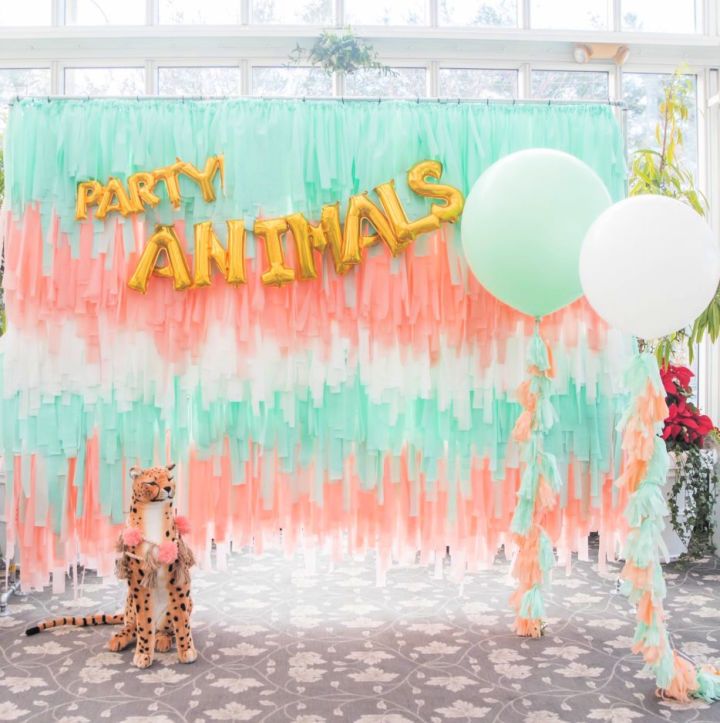 Don't you just love the pastel and beautiful theme of this backdrop? This is quite different from the normal backdrops as it is full of fringes and pastel colors! You can use this for weddings as it looks quite elegant but you can also use it for wild parties! A large workspace will be required for this project – you can rent a studio or work in your garage. thestylishdetail
43. Make Your Own Paper Chain Backdrop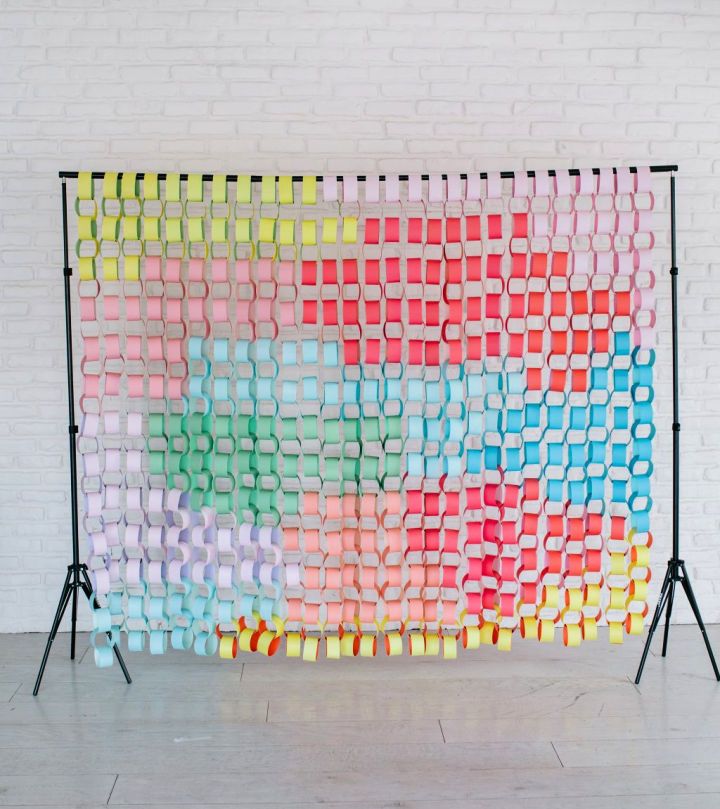 Every young child has made a paper chain in their art class. Do you remember being young and having a lot of fun making these? Well, the good news is that it's still very fun and stimulating to make paper chains – especially when you can make a beautiful DIY backdrop out of them! If you want detailed instructions, follow this step-by-step guide. prettylifegirls
44. Watercolor Paper Squares Backdrop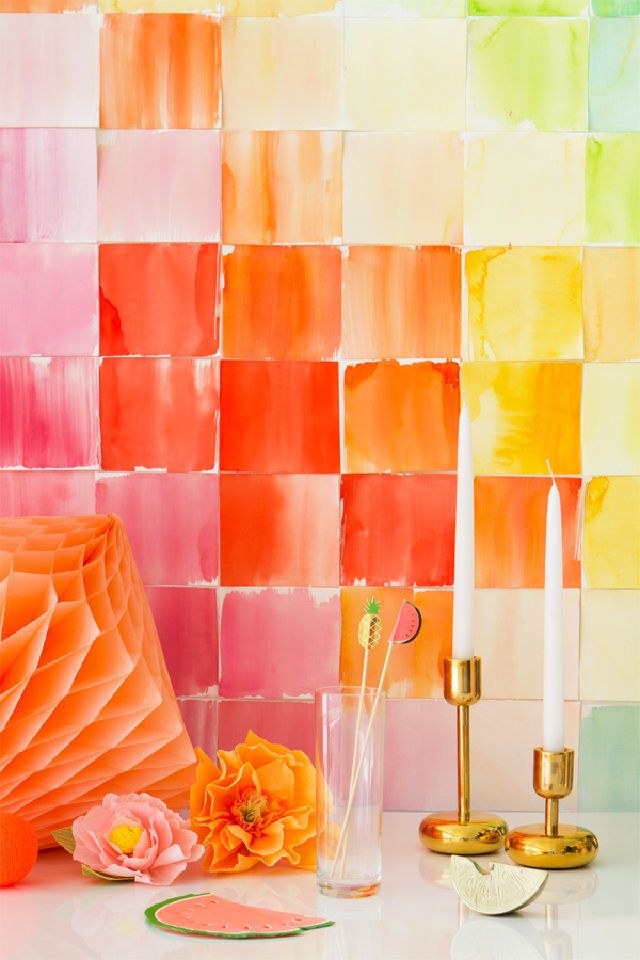 How beautiful and unique is this backdrop! Have you ever heard of a backdrop that's made out of watercolors before? Who knew that something so beautiful could be made out of simple watercolors and square-cut pieces of paper! This backdrop will need careful planning as a color gradient is shown in this project. The colors are changing their tones from reds on the left side to blues towards the right side. ohhappyday
45. Wisteria Trellis Ceremony Backdrop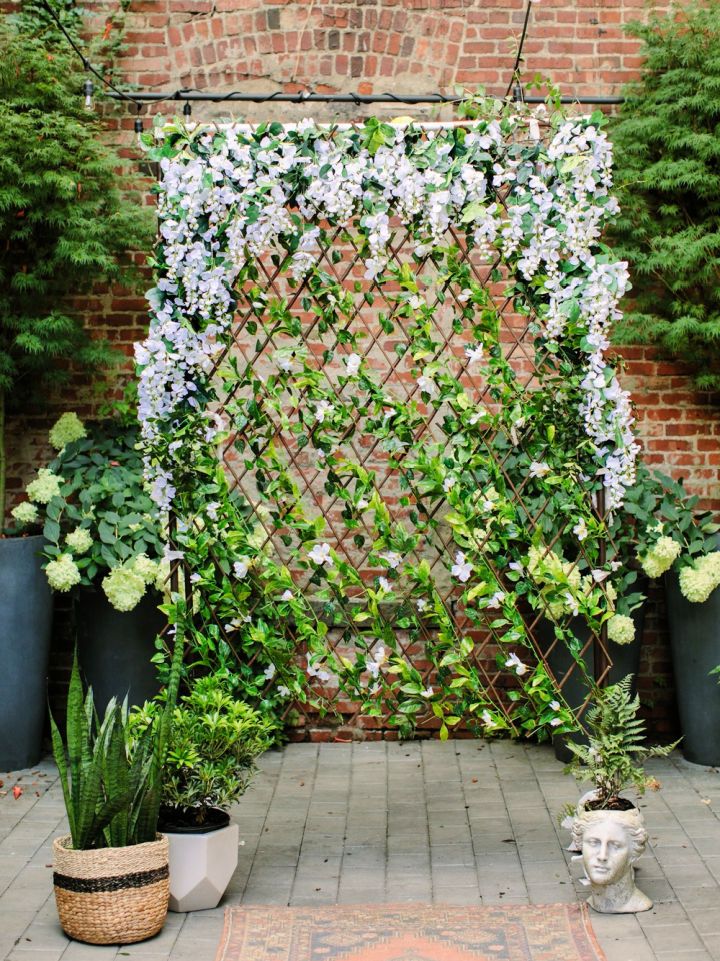 Whether you're having a wedding ceremony or just a simple celebration, it can never hurt to try an elegant theme that makes all the guests feel welcome and special. Here's a beautiful wisteria trellis-themed ceremony backdrop that is going to amaze your guests! You will receive so many compliments on this DIY backdrop as it's just so beautiful. ruffled
46. DIY Paper Poppy Backdrop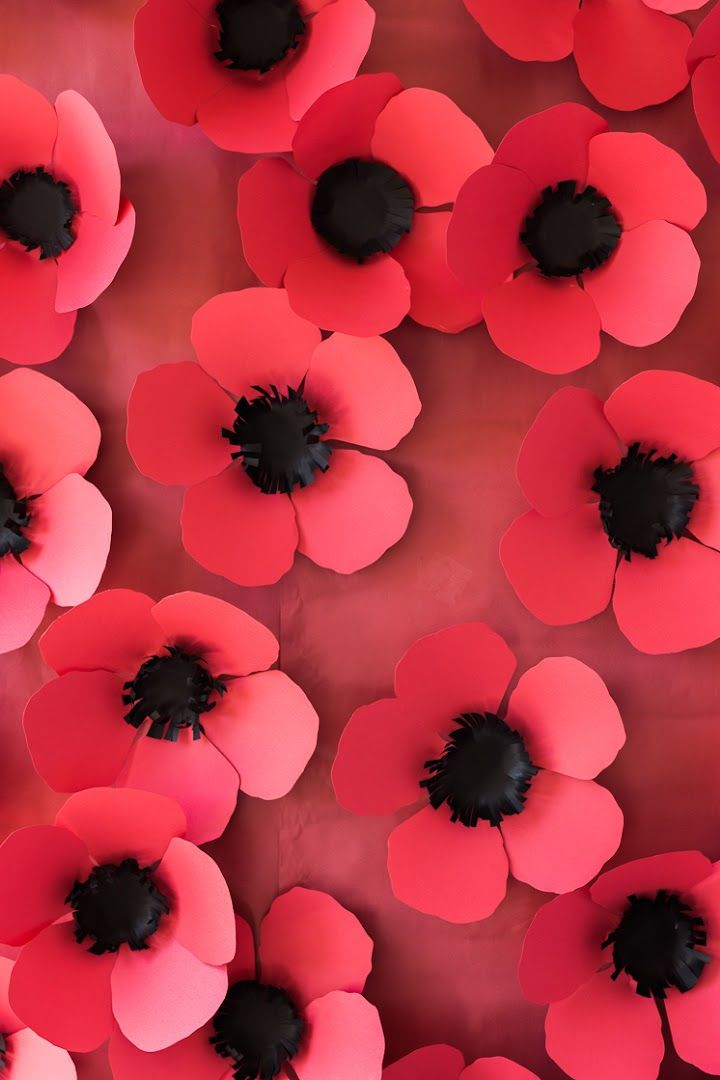 Don't you just love this paper poppy backdrop idea? This guide features an idea that involves huge flowers with red petals and black seeds! These flowers are attached to the red backdrop to make everything look put together and nice. All the flowers will be made by hand – you can ask your friends or family to help you. Moreover, this guide has a free poppy flower template for you to download and use! thehousethatlarsbuilt
47. Fresh Flower Wall Backdrop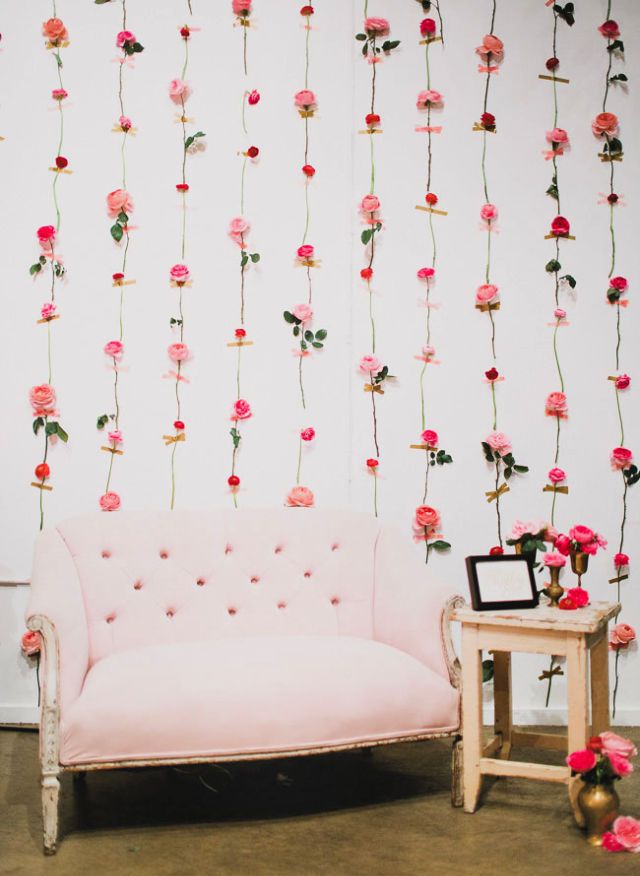 Feminine-themed parties mostly tend to have flowers. Are you thinking of throwing a party just for the girls? Well, then you need to give it a girly and nice theme! There is nothing more feminine than a wall with delicate and fresh flowers all over it! Many different flowers are used in this guide – hot pink ranunculus, pink garden rose, dusty pink garden rose, and a red ranunculus! greenweddingshoes
48. Paper Flower Backdrop for Spring

Spring season is finally here and this is the time to make your house smell and look fresh for this beautiful season! How can you enjoy spring without a bunch of flowers all around your house? Here's a simple and easy backdrop for you to try out! It's going to not only make your house look feminine but also give you a nice place to take your pictures. This versatile option can be used for parties and other events too. theseamanmom
49. Paper Sunflower Backdrop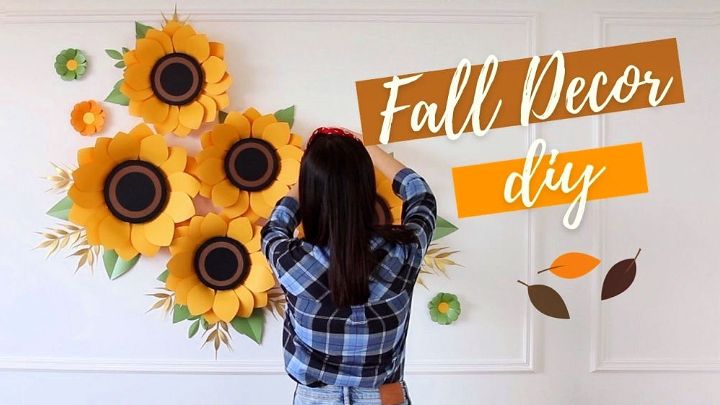 Sunflowers are very underrated when it comes to flowers. If you want to have a summery and nice theme for your party, then a sunflower background would be the ideal option! You can make all of these sunflowers with paper by following this step-by-step video guide. It is great for beginners as the guide is in video form so it's easy to follow and understand.
50. YouTube Studio Background on a Budget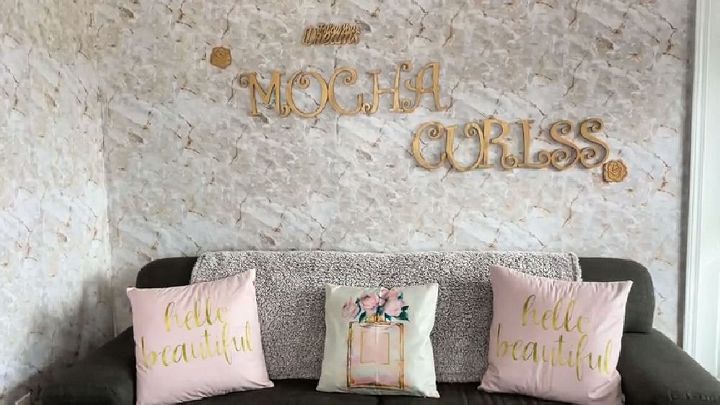 Last but not the least, here's a YouTube videos setup. Do you want to become a vlogger and start making videos regularly for your YouTube channel? Well, then you need to have a nice backdrop with good lightning – so your videos can be of high quality. High-quality videos will double your views and help you earn more! Are you ready to give this a try?
Related DIY Projects:
Halloween Party Ideas – Get your Halloween party started with these 50 cheap and easy Halloween party ideas. From decorations to food and games, we've got you covered.
Dessert Table Ideas on a Budget – There's no need to spend a lot of money on a wedding dessert table. With these 40 great ideas, you can have a stylish and affordable dessert table at your wedding.
DIY Wedding Favors – When you're on a tight budget, there's no need to break the bank on wedding favors. These 30 cheap DIY wedding favors will satisfy guests without breaking your wallet.
Decorate With Mudcloth – Mudcloth is a textile material traditionally used for clothing and wall art in Africa. We've gathered 10 beautiful ways to use it in your home design.
DIY Wood Plant Stand Plans – Building a wood plant stand is an excellent project to help you save money and get the most out of your home space. These 20 free DIY wood plant stand plans will make it easy to build one in no time!
Conclusion: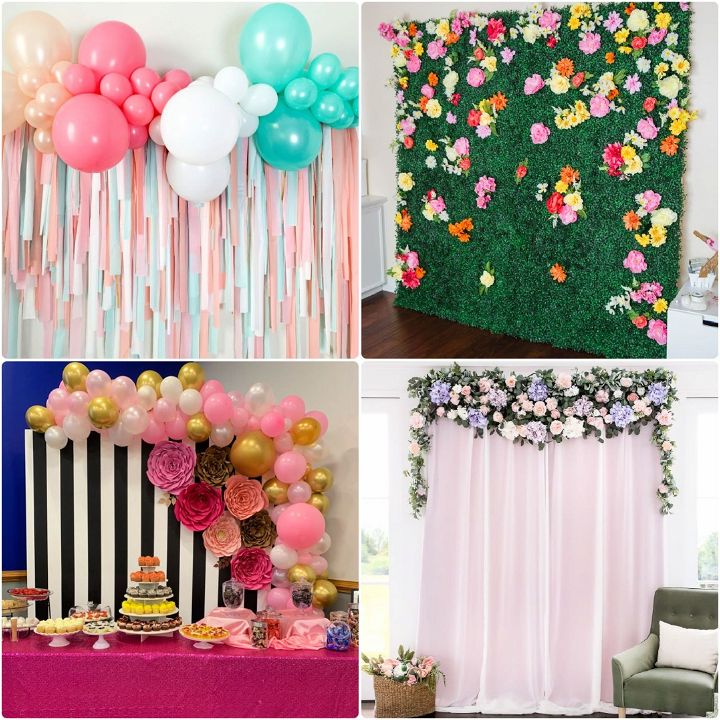 And that's all we have folks! We hope you adored every DIY photo backdrop idea as much as we did share with you. It's time to pick and choose your best-liked plan from the aforementioned ingenious DIY photo backdrops. If you are also a photographer who loves to take pictures, then this is exactly where you need to be! Be it a birthday party or a bridal shower event, flaunt your dresses in front of the prettiest DIY photo backdrop made by yourself and enjoy. Not only is this a super cost-effective alternative but also super fun to work with! So, what are you waiting for? Collect all the supplies and start right away!