The mudcloth is one of the most loved and exported types of handwoven fabrics used in fashion, fine art, and overall home decorations. So, fancy up your home with these 10 creative ways to decorate with Mudcloth that involve making lots of interesting stuff with this traditional African Fabric. The fabric is often made by sewing together the handwoven cotton strips having tons of amazing graphic patterns featuring geometric lines and dots. The fabric is dyed naturally with mud and is popular with every cultural fashion.
Explore these 10 creative ways to decorate with Mudcloth and see what kind of amazing stuff you can make with this fabric that will take your home decor and fashion to the next level. From lovely pillows to impressive blankets to curtains and table runners, you can make them all with this most loved fabric.
However, you can make this special fabric type at home using cheap supplies and various techniques. The fabric may also get your priority when you need to bring some highly enchanting geometrical fabrics to a particular interior space. However, you can also use this fabric to make outstanding mudcloth wallpapers, rugs, blankets, and crib sheets. However, it may feature all the necessary patterns in black and white and the other favorite colors you need for a particular decor theme.
1. Rust Mudcloth Pillow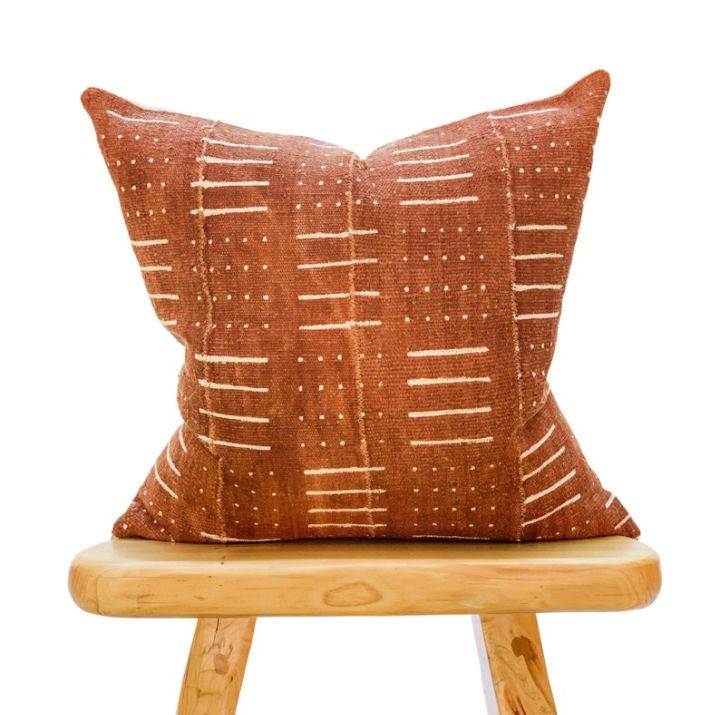 There are big fans of the mudcloth made of woven cotton stripes beautifully stitched together. Intending to bring those rich mudcloth patterns to your home or bedroom? Then, make this mudcloth pillow, enchanted with many line and dot patterns that repeat thoroughly over the fabric. So, this completed DIY pillow will be a big handmade gift for a favorite person. You need a mudcloth, sewing machine, pillow insert, scissors and other sewing supplies to whip up this lovely mudcloth.
2. Black And White Mudcloth Curtains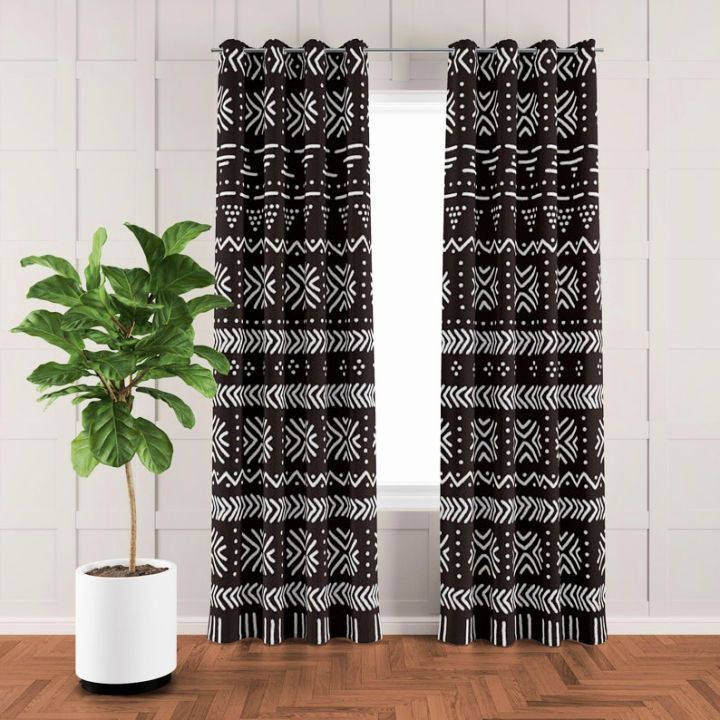 The mudcloth prints and patterns are worldly popular and are highly hot in every day and home decor fashion trends. So, feature this most loved cloth in the home or bathroom by making these black and white mud cloth curtains. However, you can also make this fabric at home using white cotton fabric, blue gel school glue, and salt and fiber reactive black dye. Just make holes in the top of the curtain, add curtain rings and then drop both of the curtains on a curtain rod, and that's it. One of the best DIY mudcloth projects that everyone can do with quite an ease.
3. Minimalist Mudcloth Shower Curtain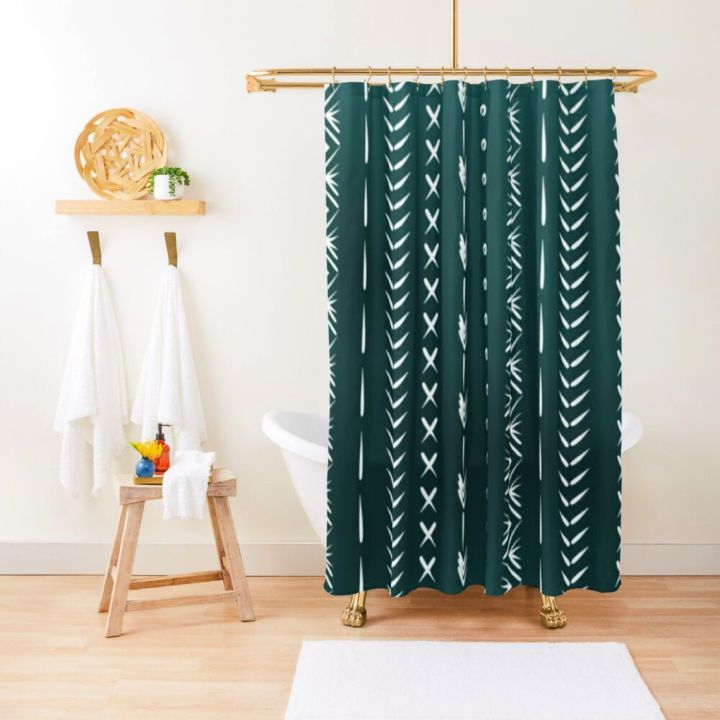 You will surely fall for the grace and enchanting patterns of this another mudcloth shower curtain, made for a minimalist bathroom interior. The entire curtain features a variety of design patterns that will be loved dearly by all the onlookers, and it will not take that too long to complete this curtain even if you make this mud cloth yourself. Give your bathroom a glam touch of traditional Malian culture with this fabulous homemade curtain. You can even make this curtain for your make and sell the business by learning how to make the mudcloth at home.
4. Vintage Mudcloth Rug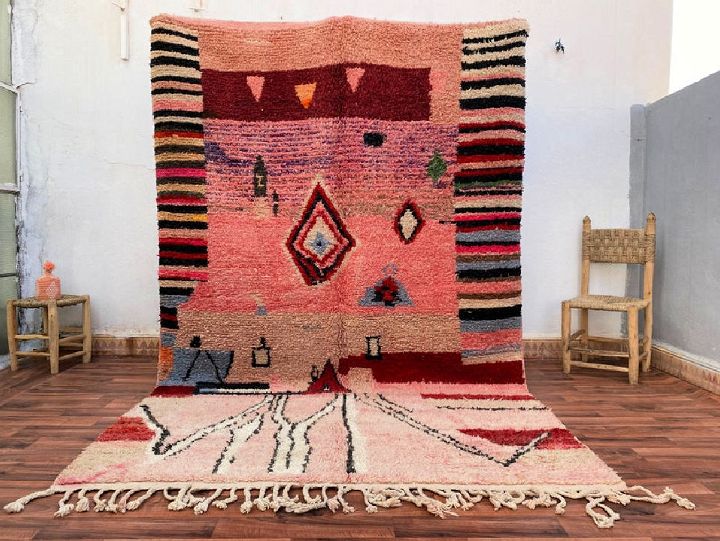 The mudcloth is a famous fabric used to convey so many different messages to wearers. You can easily make it at home and sew outstanding fashion outfits and custom fabric items. So, you will fall in love with this vintage mudcloth rug that is much visually captivating and features tons of stripes and geometrical patterns. The rug also features eye-catching tassel fringes and lots of curved line design patterns to be visually captivating. One of the best mudcloth projects that everyone can do with ease.
5. Extra Long Mudcloth Throw Pillow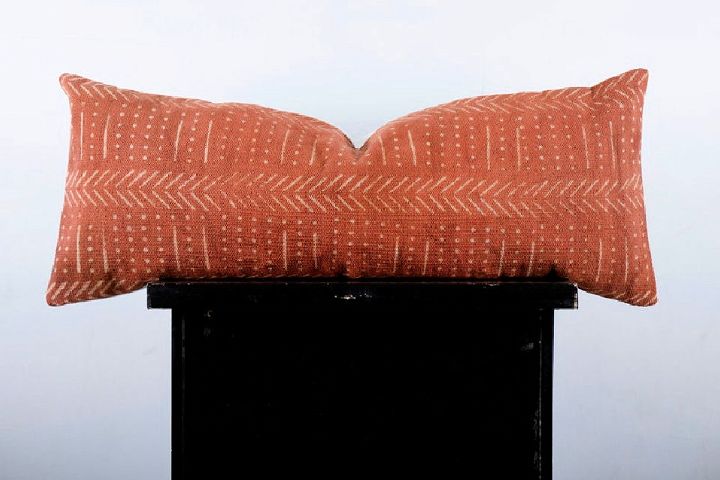 The mudc loth is considered the most trend patterned Textile that you often see in the shops. This West African Textile can also be a great choice when enhancing your home or bedroom decor. This time sew this lovely mudcloth pillow that is extra-long and will be a great addition to one's bedroom. This Malian Textile is always visually captivating and can also be a part of your everyday fashion wardrobe. By featuring this fabric in the living room or bedroom, you bring tons of unique design patterns to the whole bedroom.
6. Global Style Mudcloth Wallpaper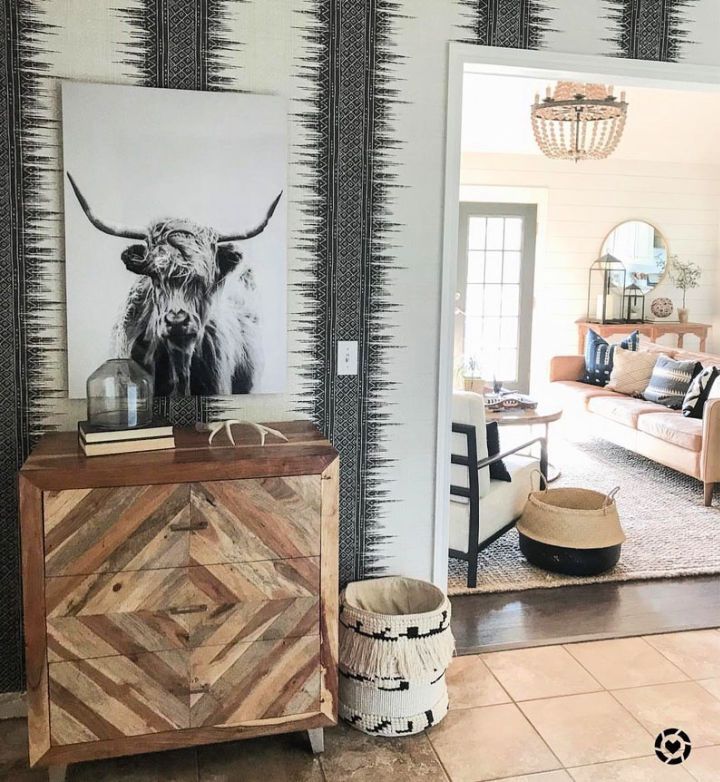 Everyone seems to be highly obsessed with the graphic pattern of the geometric lines and dots of the mudcloth fabric. The fabric is most heavy and durable, sewn in strips, and dyed naturally with mud. You will love this fabric more after looking at this global style wallpaper, a fabulous mud cloth creation. This will be an ideally beautiful way to decorate and fancy up your interiors. You must be a little expert in installing wallpaper to easily do this interior decor project. It will not take that too long to complete this wallpaper home renovation.
7. Unique Denim Mudcloth Blanket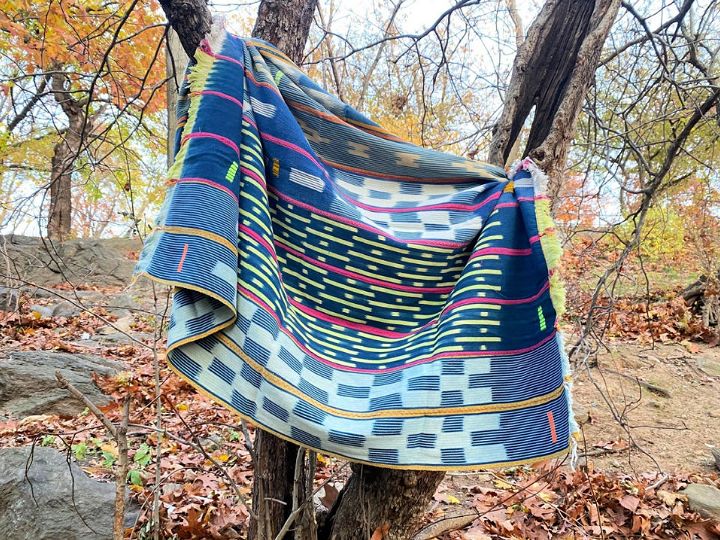 Feel free to duplicate this unique denim mudcloth blanket, makes a great picnic blanket. You will love the quality of the fabric also that is durable, and you can even dye at home by going with the respective directions and instructions. You can easily make this fabric with your hands, and it is a big love of all the fashion and style lovers. Bring a great touch of West African Textile to your picnic routines with this mudcloth blanket, will never get out of style. Moreover, with tons of amazing patterns, this blanket will also make a great handmade gift to a favorite person.
8. Black on White Mudcloth Crib Sheet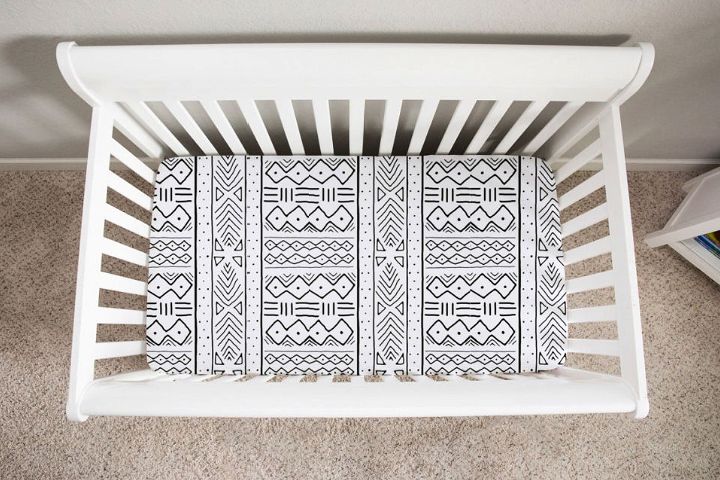 There are many different ways to bring the traditional African Textile into the home. Use the mudcloth fabric to make this crib sheet also makes a great handmade baby shower gift. One of the most loved fabrics is making appearances in all the fashion shops, and you can also prep this fabric at home with your beautiful patterns. The entire sheet appears with tons of black and white geometrical patterns repeating throughout the fabric, and it will not take that too long to duplicate this crib sheet. One of the best DIY mudcloth projects ever.
9. White Mudcloth Square Ottoman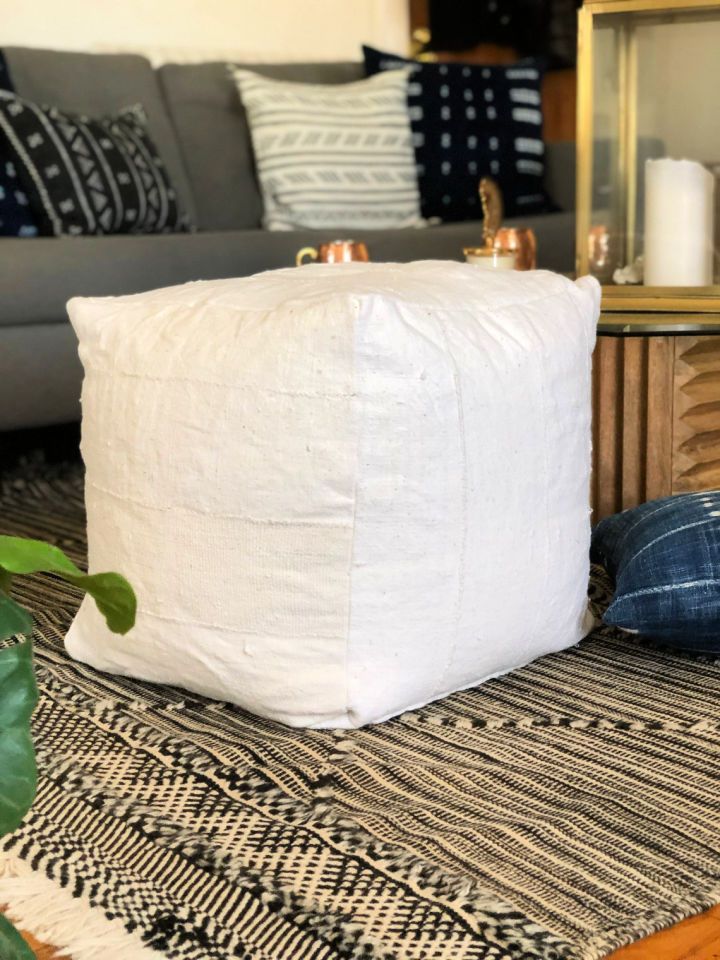 The mudcloth is a great Malian textile with a great history. The fabric is made by stitching together the handwoven strips of cotton fabric and is used to make outstanding fashion outfits and home fabric accessories like curtains, pillows, blankets and bags etc. You will love this square ottoman that is to make with the white mudcloth and will be an easy and quick mud cloth project. You need beginner sewing skills to easily duplicate this ottoman, which also makes a sweet handmade gift to your favorite person. The completed ottoman will make a great handmade gift for a favorite person.
10. Farmhouse Mudcloth Table Runner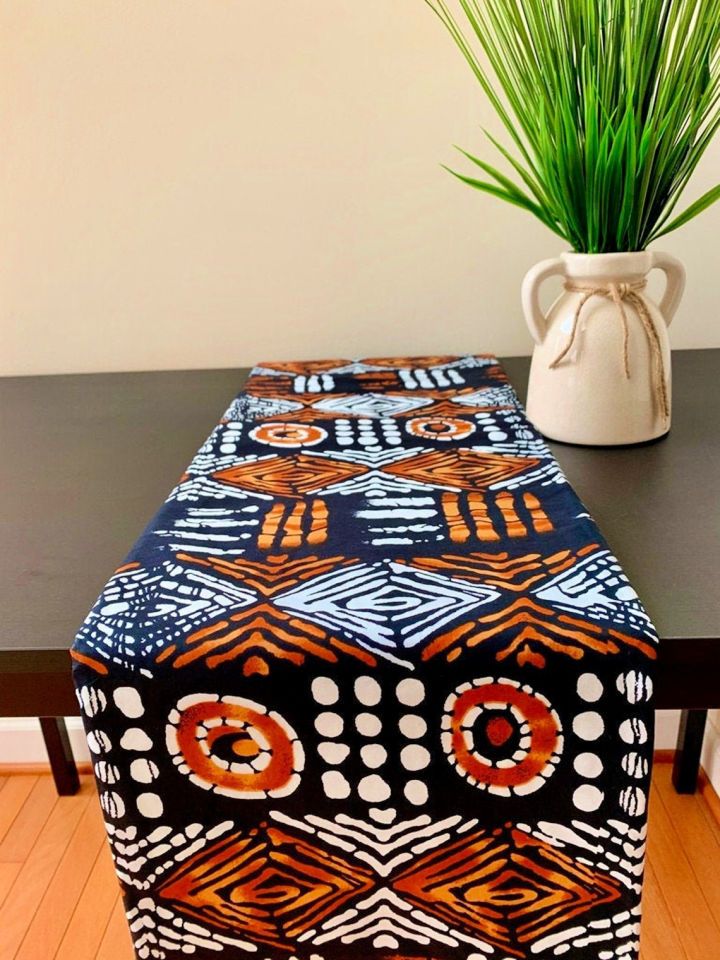 Impress the guests with the outstanding tablescape settings by using this mudcloth table runner. It comes with outstanding design patterns appearing in lots of different colors. The table runner will rock to bring the touch of historical Malian culture to your home. This fabric features all that can enchant an onlooker, from dots to circles to custom line patterns. The whole table runner will make the best handmade gift to a favorite person, and it will never get out of style. A simple and quick-to-do DIY mud cloth project ever.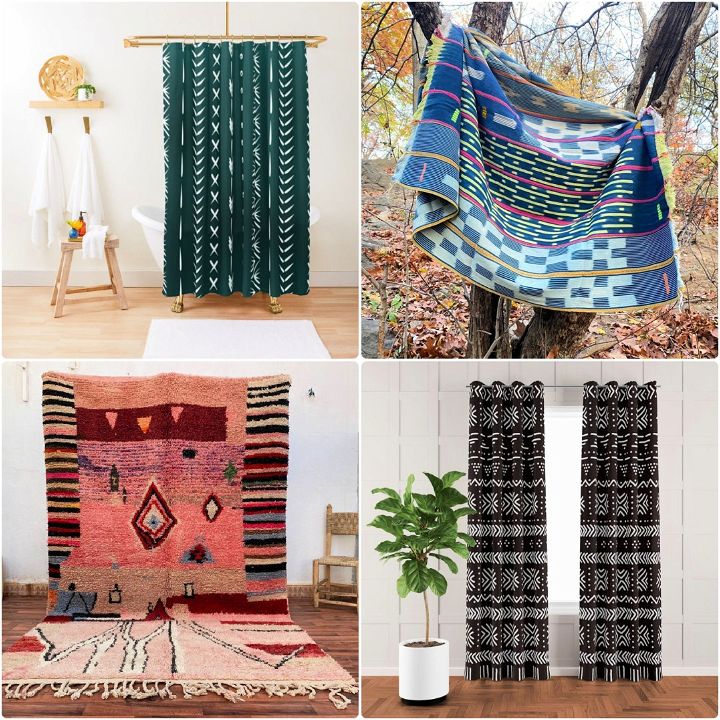 Related DIY Projects:
DIY Mudcloth Pillow Ideas – DIY mudcloth pillows can be made with a few common sewing supplies. Most pillows are about the same size, and so you'll need a pillow form that matches the size of your desired fabric.
DIY Photo Backdrop Ideas – Here are 50 DIY photo backdrop ideas for every type of photography. Planning a family shoot? We have you covered with homemade drapery. Hosting a photo booth? We've got the perfect DIY backdrop. These backdrops work for weddings, too.
Thanksgiving Table Decor Ideas – Make your Thanksgiving dinner table look festive and inviting with the help of these 40 festive thanksgiving table decor ideas and settings.
Dessert Table Ideas – You'll find a wide variety of budget-friendly dessert table ideas for your big day. Whether you're looking for a simple and rustic table, or something more elaborate, we've got something you will love.
Cheap DIY Home Office Ideas – Home offices are a great way to work from home and make the most of your personal time. But oftentimes, a lack of office space can take up all of your living room, leaving you with no place to call your own. Here are 40 creative DIY home office ideas to help you work from anywhere.
Conclusion:
The purpose of these projects is to share all the possible ways to bring the traditional Malian cultural fabric to your home. So, you can enjoy the outstanding patterns of this fabric smartly mixed with your home decor. These ideas will share the kind of stuff you can make with this fabric, highly hot in the modern fashion trends. Make the farmhouse style mudcloth table runner, white mudcloth square ottoman and also outstanding picnic blankets with the mud cloth. Everyone will just fall in love with the enchanting patterns of the fabric.