A DIY home office is something that you need if you're looking for ways to work from home. Instead of sitting all day in your bed and trying to work from there, you can create a dedicated space in your house to work. So, you can build your own home office area at a low cost with these amazing list of DIY home office decor ideas that comes with easy to follow guides. This DIY home office space can be used to just work and that will help you become more efficient and motivate you to work more.
A DIY home office has more benefits than you might think it has – it will help you stay motivated, get your work done on time, stay away from any distractions around the house, keep your pets and children away, a well organized and feel better while working! Let's explore these 40 cheap diy home office ideas that will help you to make and decorate your workspace at a low cost.
These DIY home office plans are perfect for those people who work from home – bloggers, YouTubers, tiktokers, journalists, video makers, editors, coders, etc. Moreover, you can also locate these offices a few meters away from your house and go there every day to work as leaving your relaxing surroundings can help you be more efficient and motivated to work.
However, it's also going to work just as well to keep this place in a quiet area in your house – find a room with sunlight, quietness, and peace. This list of home office ideas has many options for you – luxury office, feminine office, cool office, sophisticated office, bold wallpaper office, colorful office, white office, minimalistic office, girl blogger office, etc.
1. Cool DIY Home Office for Inspiration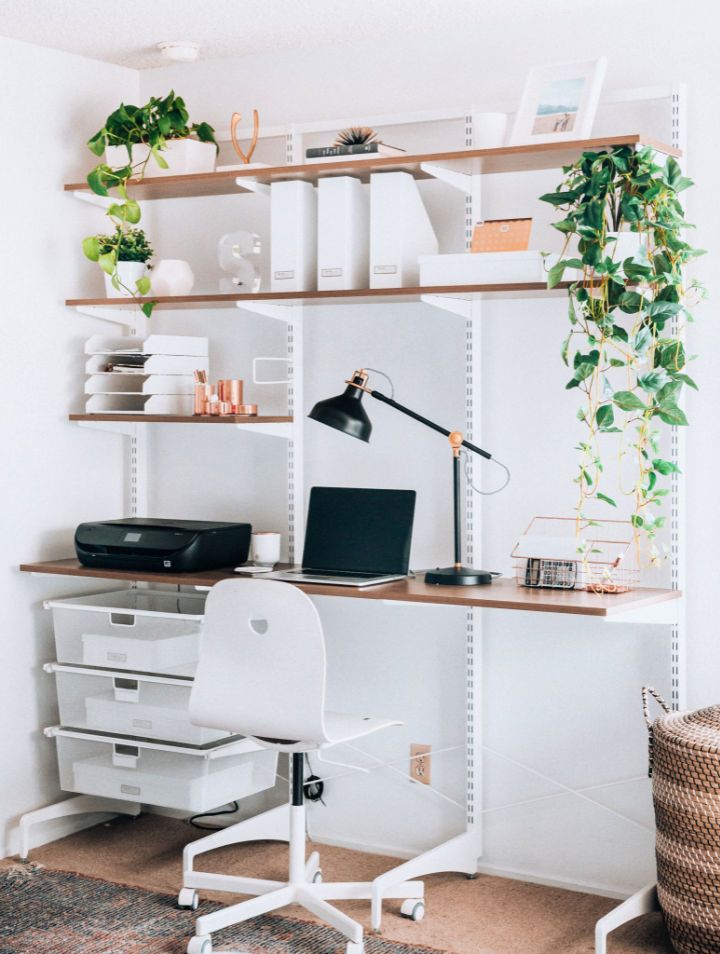 Do you have a small office or just want to use up your space to make it look big? Well, then you need to use lighter colors when decorating the room. A great way to open up a room is to use lighter colors such a white or light gray. This plan features a beautiful white room with wooden shelves and a desk to keep your supplies or documents on! thegirlintheyellow
DIY Wall Organizer: Make use of vertical space with these DIY wall organizer ideas for your home office or as a command center/family organization wall.
IKEA Pegboard Ideas: Get inspired with these IKEA Pegboard Ideas. These Ikea Skadis images will inspire you, helping you take your design ideas to the next rank.
2. Luxury DIY Home Office Interior Design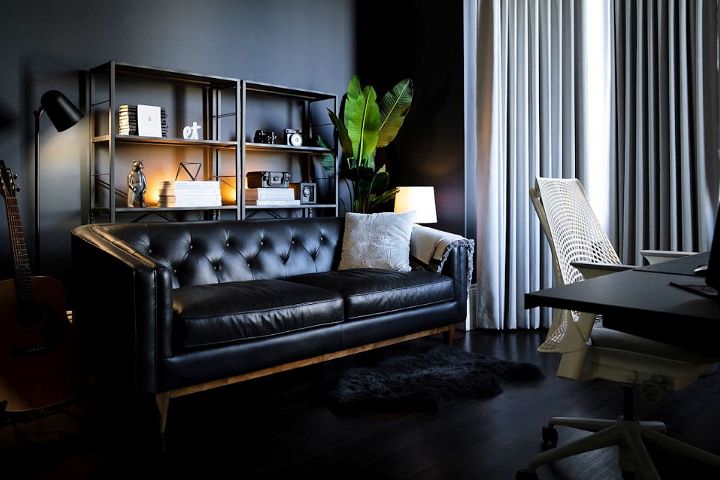 Are you looking for a great DIY home office plan? Well, then this is the guide to follow! Many people love to incorporate darker colors into their interior design – this plan features many dark colors including black! Moreover, a few lamps are added in golden color to balance out the darkness and make the office look warm and cozy. You will love the results! lifeandmuse
3. The Best Home Office Setup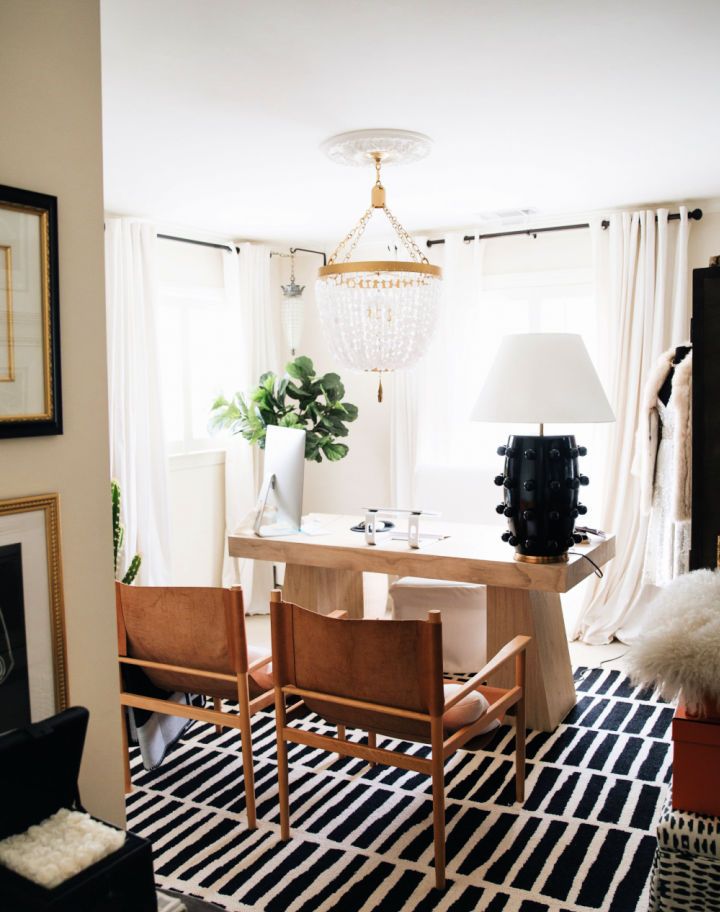 Nothing is more beautiful than a room that is open and has fresh air and sunlight flowing through. If you dream of having a room like that, then you just need to choose the room in your house that has ample sunlight during the time that you work. After you've freed up the room, follow this guide to make it look even more beautiful and vibrant. carriebradshawlied
4. Unique Family Home Office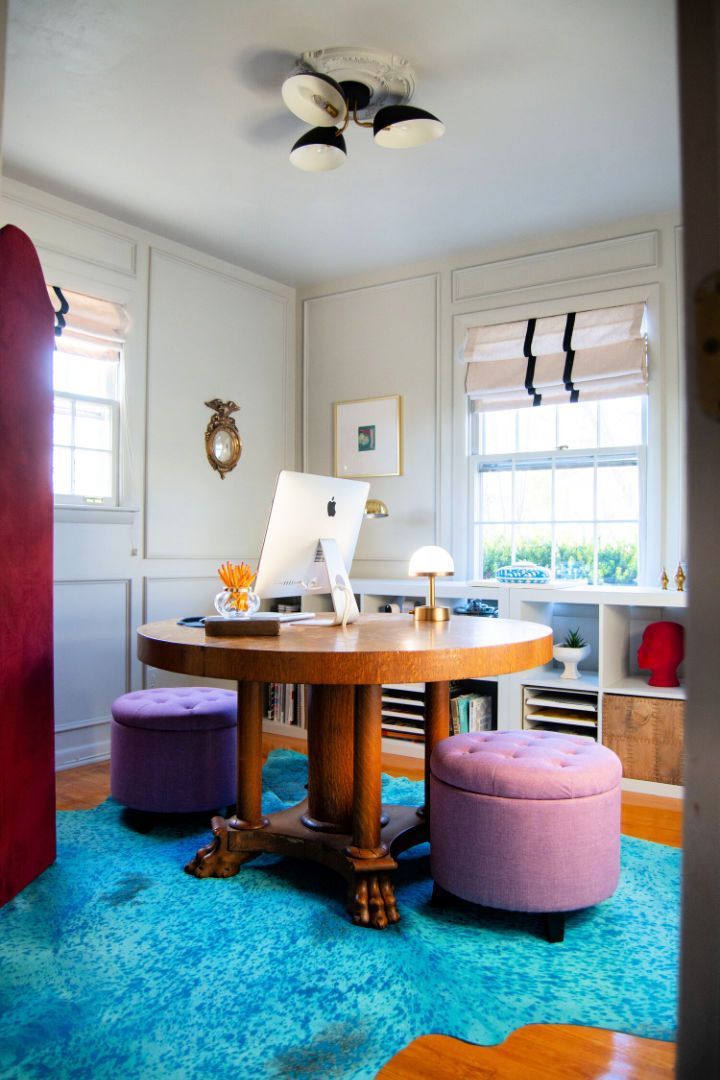 Are you bored of having mediocre or simple rooms? Well, then you need to follow this guide as it has a great plan on how you can mix up simple colors and bright ones to create and balanced and stunning space. You will paint your walls a nice cream color and then place a coffee table on a rug to create some cozy space to work. Lavender seats are added for some color! hausmatter
5. Creative Bold Wallpaper for WFH space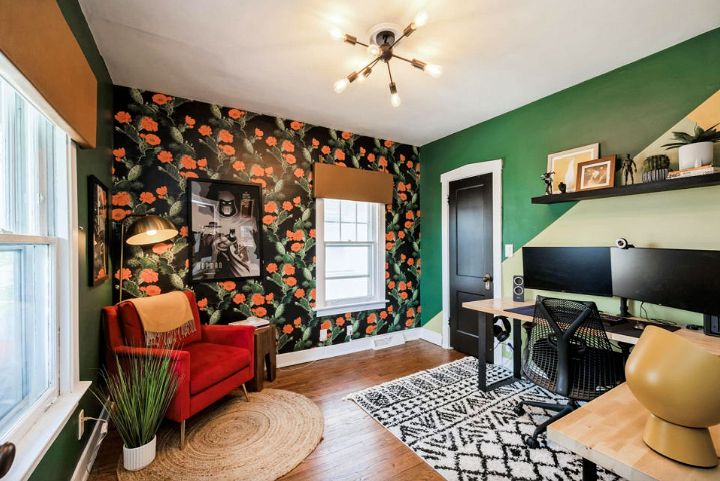 It can be very boring to have a simple white wall in your office. Do you want to spice up your place and make it a little more stimulating? The best way to do so is to add a colorful wallpaper with a crazy pattern! It will keep you awake and excited, whenever you decide to go work there. This plan is going to take you through the process of making an office like that! alifeunfolding
6. Pretty Globally Inspired Office Reveal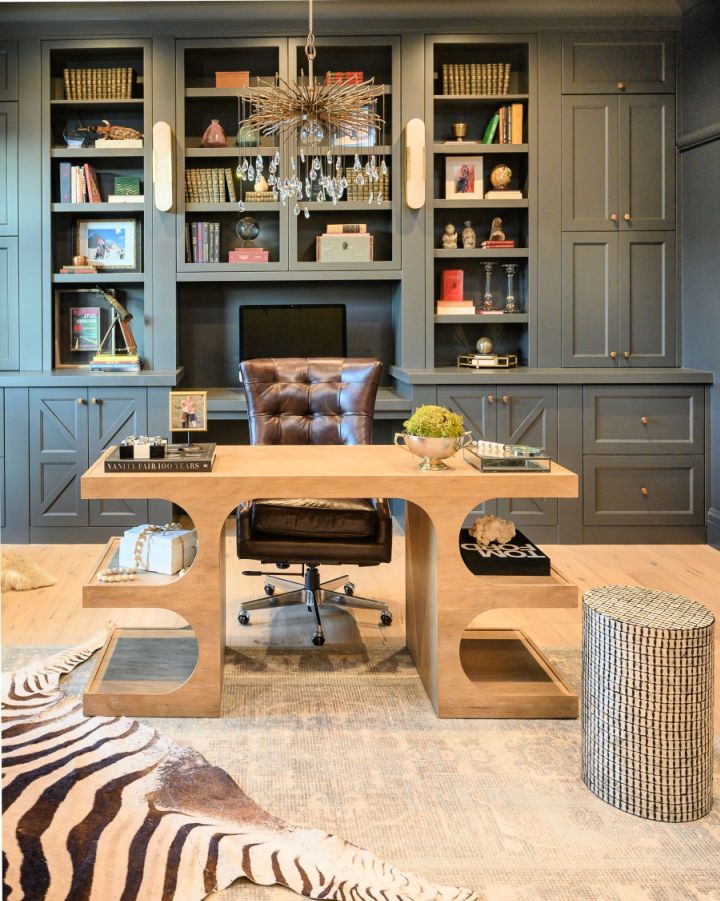 Don't you just love how royal and stunning this office looks? It has grey, brown and black hues. You will see something eye-catching, no matter where you look! It might be hard to work in a beautiful office like this one until you get used to the decor. However, you will enjoy your time in this happy and positive space. So, are you ready to take a look at the plan? remingtonavenue
7. Totally Transformed Office Reveal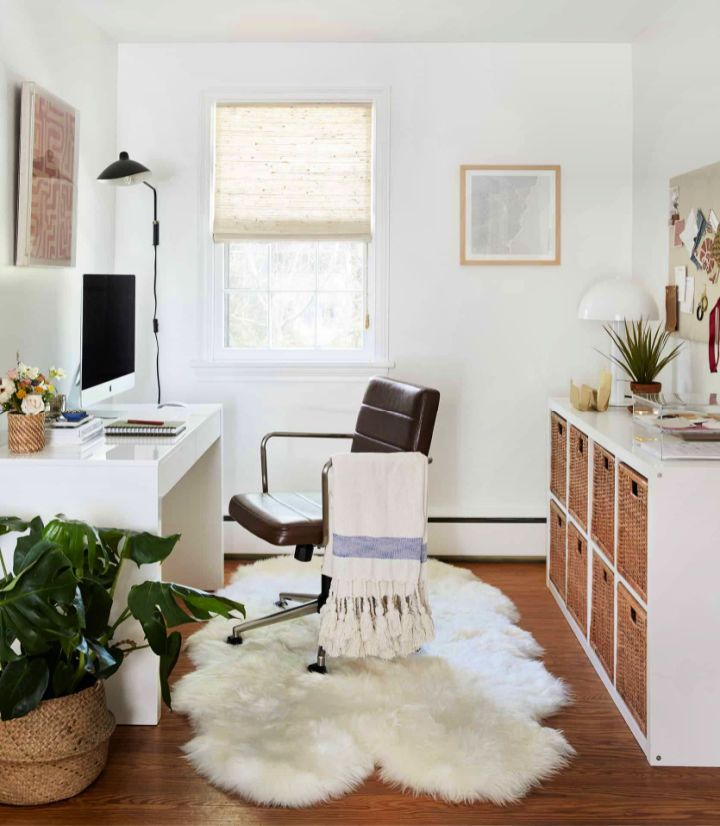 Are you looking for a minimalistic and clean space? There's no problem in wanting a relaxed and cozy space where you don't have to worry about any distractions as it's just so simple that it keeps you grounded. This room has a white desk, a white rug, and a brown chair with a cozy blanket on it. Moreover, the room has a few frames on the wall to add some personality. stylebyemilyhend
8. DIY Mounted Wall Desk For Two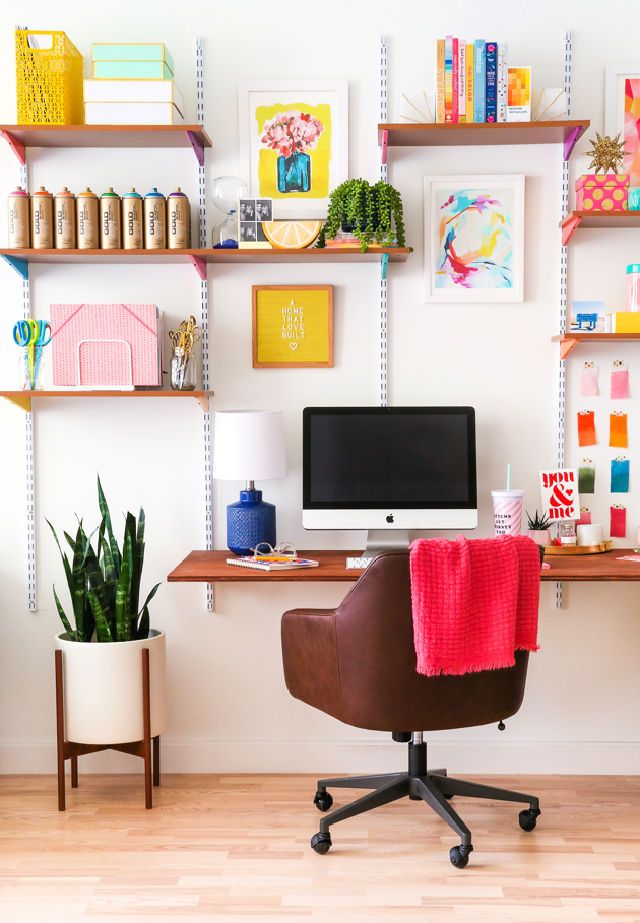 Here's a DIY home office idea that is going to be perfect for those people who are looking for something to experiment with within a small space. Don't ever feel like a small space is going to confine you to a few decor options – you can always be creative and follow plans like these! This plan has mounted wall desks and they can help you optimize the space in the room. thecraftedlife
9. Create a Gallery Wall for Home Office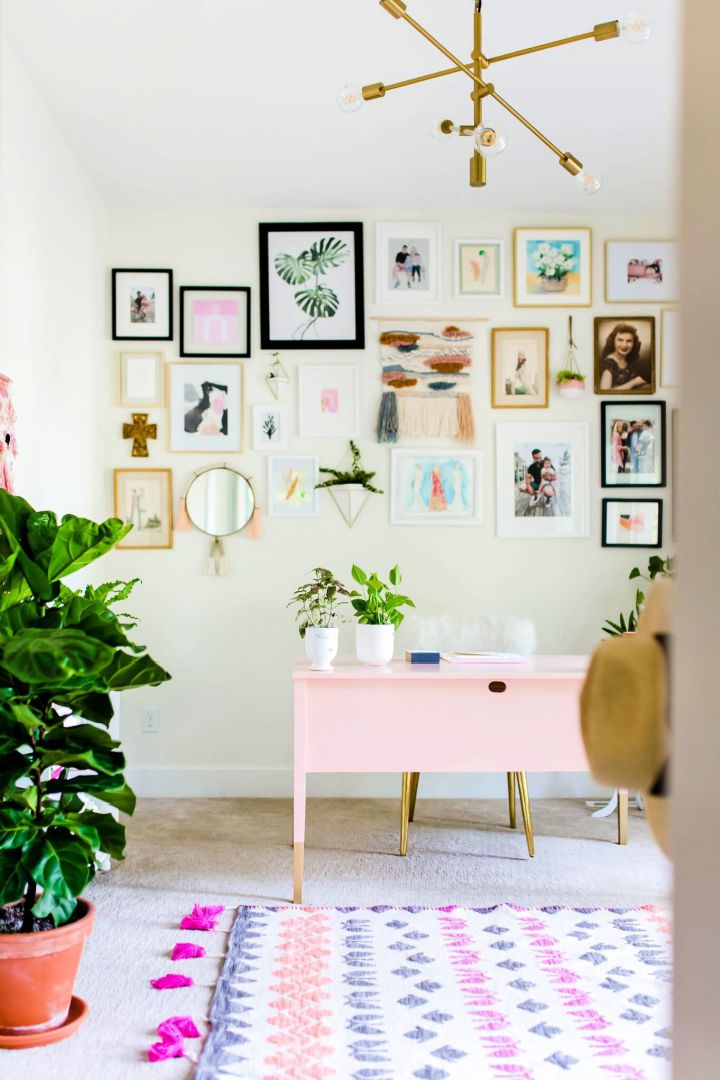 A gallery wall has been around for years and it never goes out of style. Moreover, a gallery wall can have a very modern and sophisticated look to it. If you're looking for a good idea to fill up a wall in your office – this is the plan to follow! Furthermore, this will help you save a lot of money in comparison to getting it from the market. paisleyandsparrow
10. Bedrooms Home Office Makeover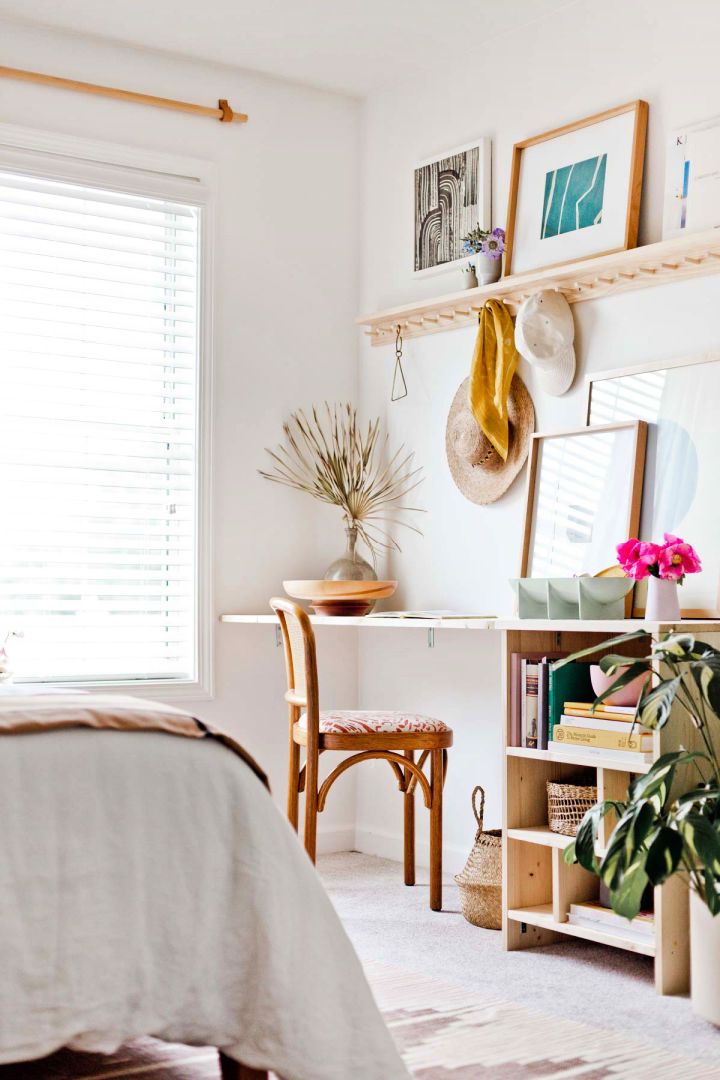 You don't need to throw everything out of your bedroom and start fresh, to turn it into an office. If you're planning to turn your room into an office, just follow this guide. It has so many tips and tricks for you to follow – you will be able to make your room turn into the perfect office in no time! Moreover, this will also help you save a lot of money. papernstitch
11. Modern Home Office Reveal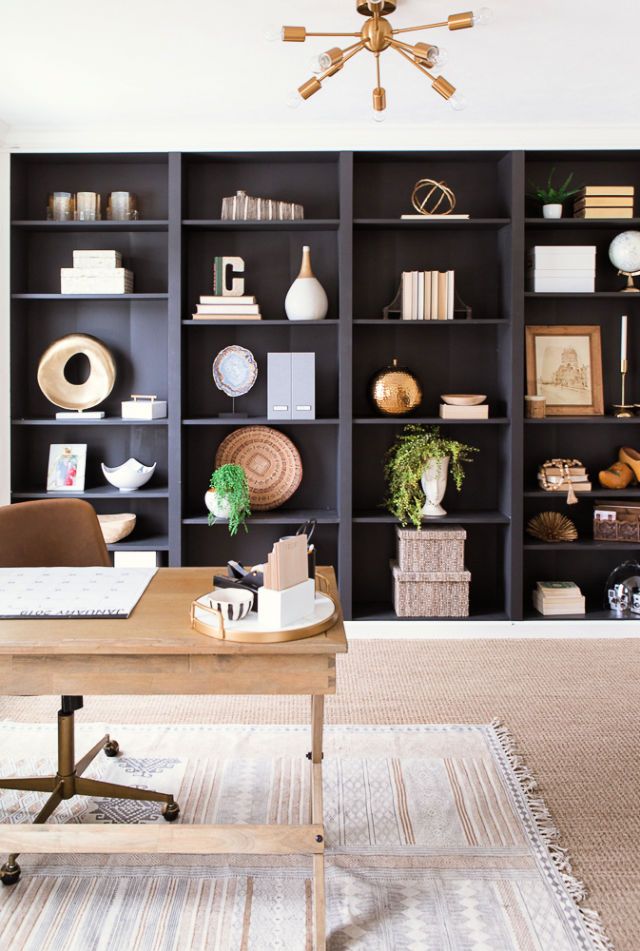 Don't you just love this modern-looking office? It looks so chic and beautiful. The best part about this office is that you don't need a lot of furniture – bookshelves, a dresser, desk, rug, lamp, desk tray, chair, cork wall, round mirror, and light are all the things required. So, are you ready to gather all the supplies and start working on this room? It will be fun! justagirl
12. Glam Home Office Decor For Her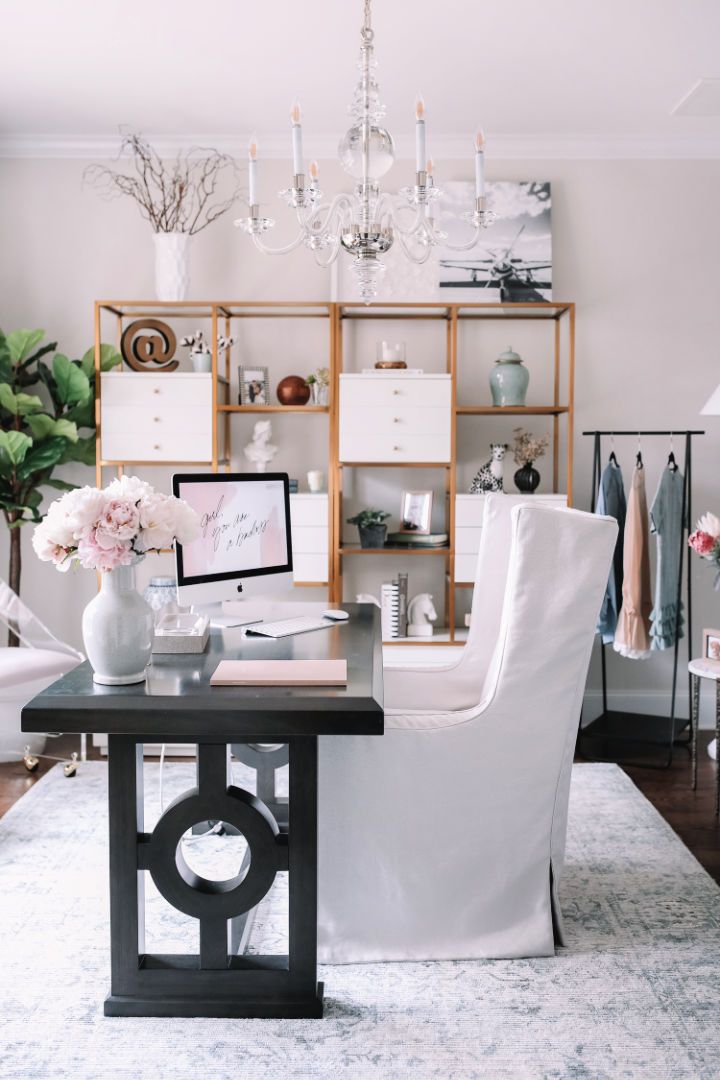 If you're a woman and want to make your office look feminine and sweet – just follow this guide. This office has beautiful paint and furniture. Even though, not a lot of pink is used – it still has a pink theme to it. There's a pink theme because many light pink accents are added to the room – such as the flowers, vases, computer wallpaper, etc. The final result is so pretty! southerncurlsand
13. Add a Standing Floor Mirror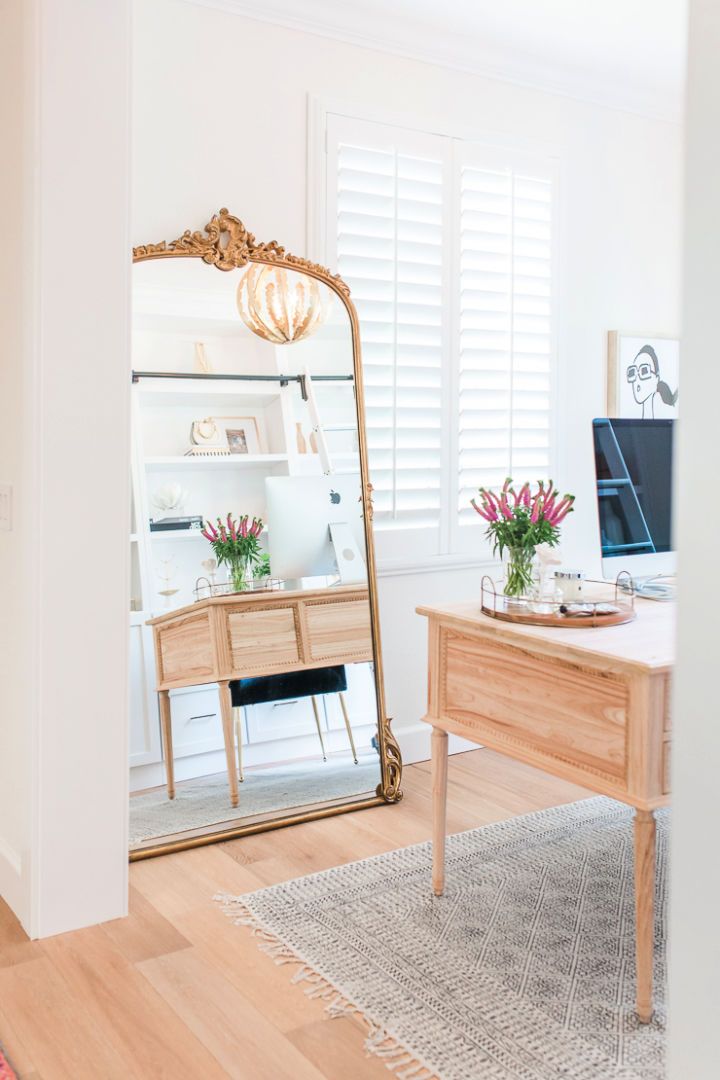 Nothing can make a room look wider and bigger than adding a mirror to it! If you feel like making your room look open and flowy, then here's the perfect guide for you to follow. This mirror plan is especially good for those who are looking for an office plan which will be good for the clothing business. The mirror is huge enough to take pictures of the sample clothing. sapphirediaries
14. Light And Bright Home Office Reveal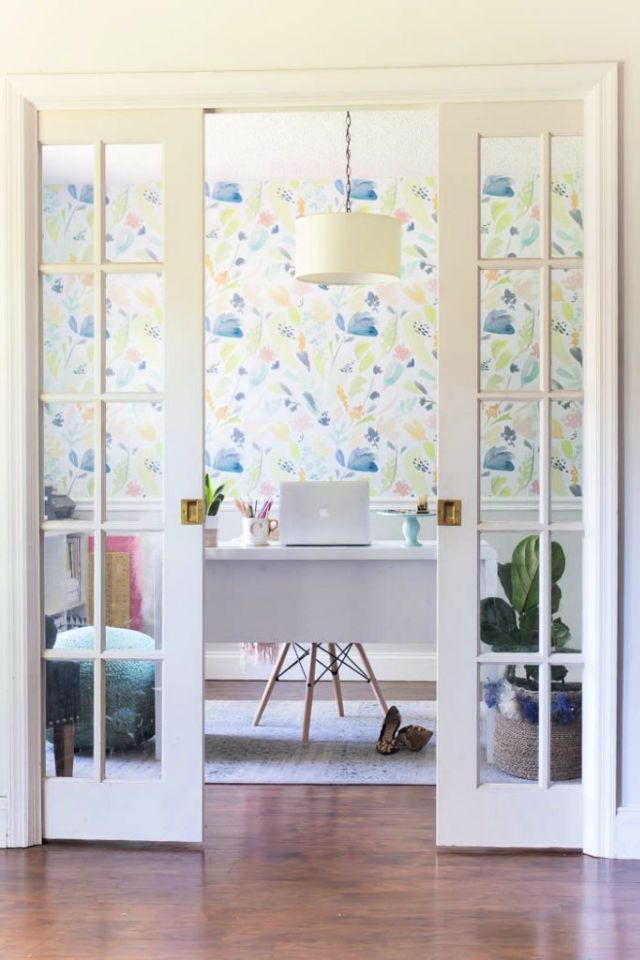 How sweet and beautiful is this office! It looks so pretty and balanced out – because most of the walls and furniture are white but there's a light-colored wallpaper at the back which adds some spice to the room. The wallpaper has a nice floral design on it – this would be the perfect wallpaper for the upcoming spring season too! makinghomebase
15. Modern Chic Office Nook Reveal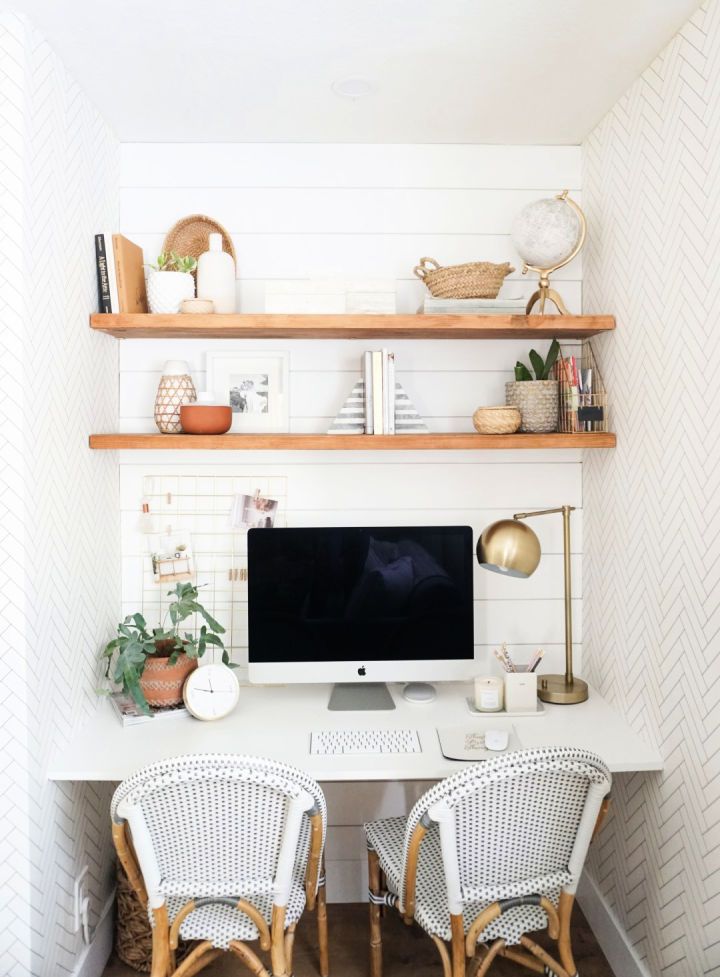 You don't need to have a dedicated room to turn into an office – just choose a nook of your room and start planning out everything! Here's a guide that will take you through the process of making this beautiful nook with a modern and chic design! You can add white paint, wooden shelves, your computer, and decor pieces to pull everything together. almafied
16. Simple Farmhouse Office Reveal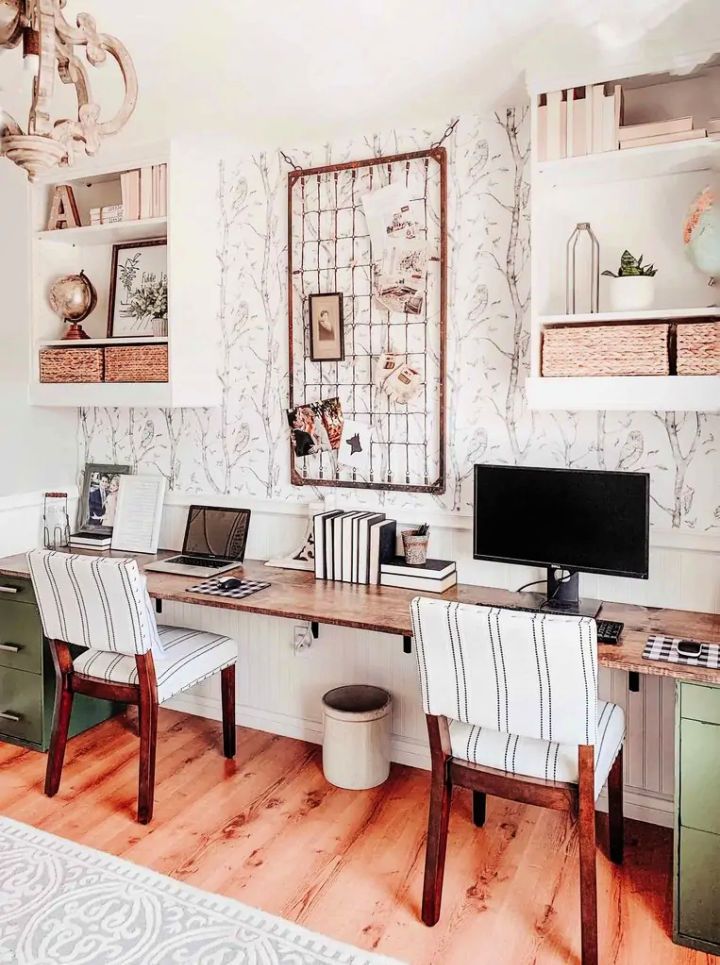 Farmhouses tend to have a rustic feel to them but offices usually have a modern ambiance. If you're not used to working in rustic offices, then making a modern office in your farmhouse can be hard. However, here's the perfect guide for your situation as it will help you create the perfect office! You will love the positive and happy space – that will help you become efficient. fiddleleaf
17. Turn a Wall into a Workspace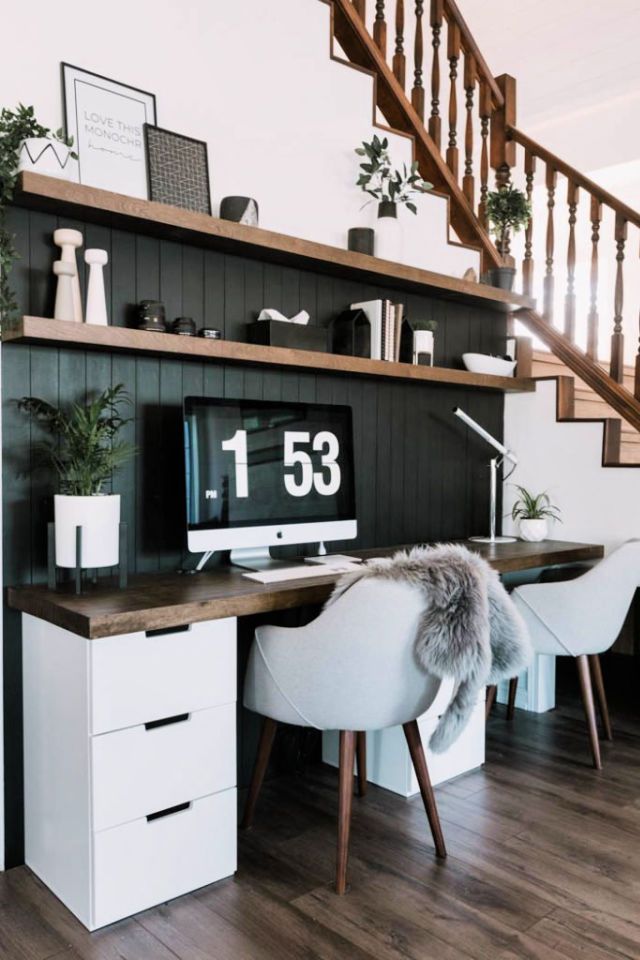 Who knew that a simple wall could be turned into such a beautiful workspace? Here's how you can follow a few instructions and make the most beautiful space on a blank wall – your office! This can also be used as your study area as it will have your desk, computer, and other stationery supplies. Having a space like this will help your focus on your work better. lovecreatecelebrate
18. Built ins And Office Organization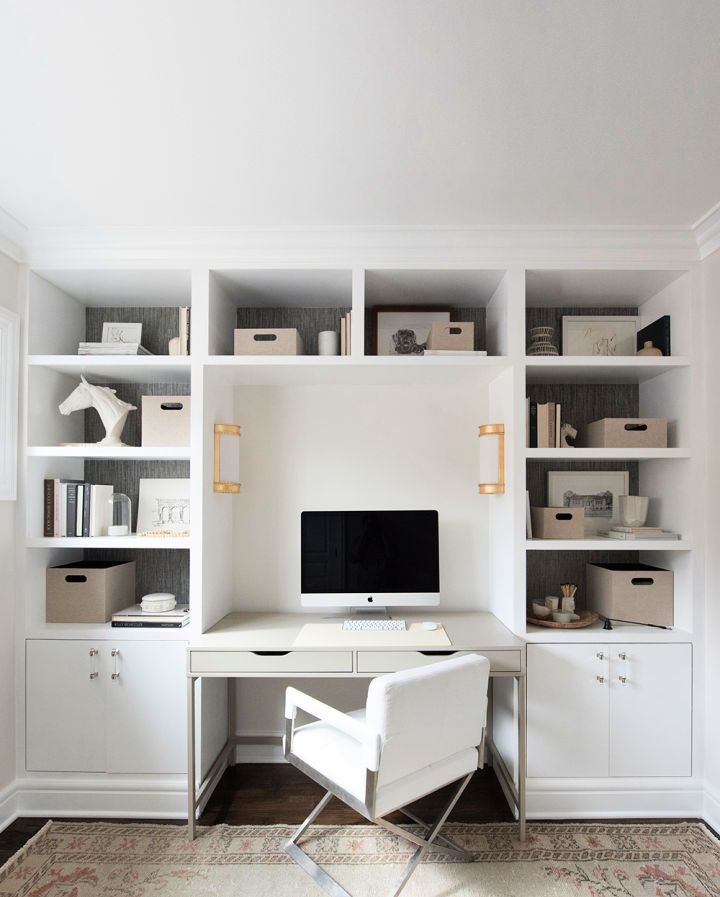 No need to worry if you don't feel like doing any construction or calling up your carpenter because this guide will introduce you to the best option – built-in office organization! This type of organization just consists of a few shelves which can be mounted up the wall along with a cupboard and desk space. You can easily access all the shelves and keep your books inside them. roomfortuesday
19. Sophisticated Female Office Idea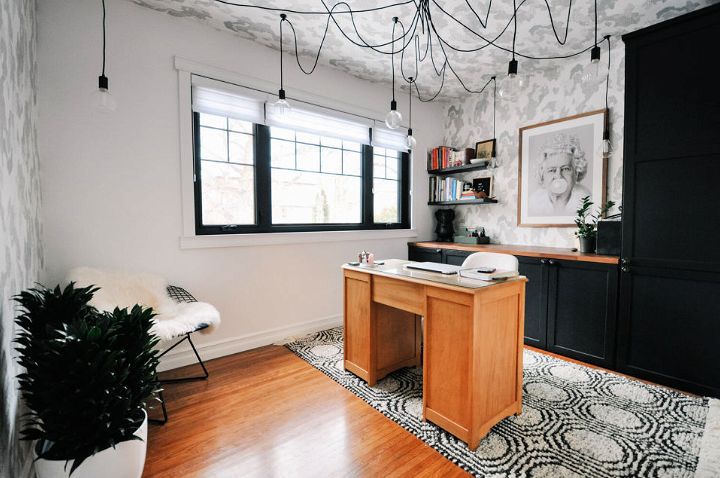 Female offices are the most beautiful spaces if you've even too many offices. Well, it can be hard to re-create that in your own house but it's always possible by following a guide like this one? This guide has the whole process of turning a simple room into a sophisticated and feminine office. You are going to love the final result as it is going to turn into your favorite space! kierstinsmythdesign
20. Beautiful Office Using Dining Table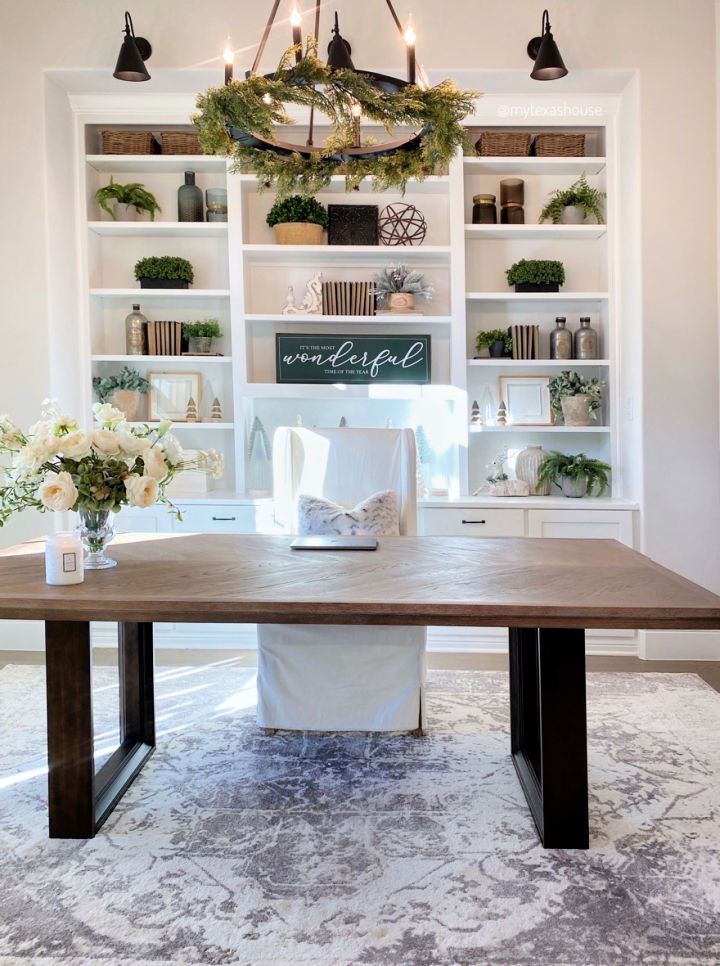 Have you ever thought of putting that old dining table that's sitting in your garage, to use? Well, it can be hard to get rid of stuff that you don't use anymore so why not recycle it into an office table? It can be kept in the middle of the office – it will look beautiful and make your office space look professional and nice. So, are you ready to follow this plan? mytexashouse
21. How To Decorate A Home Office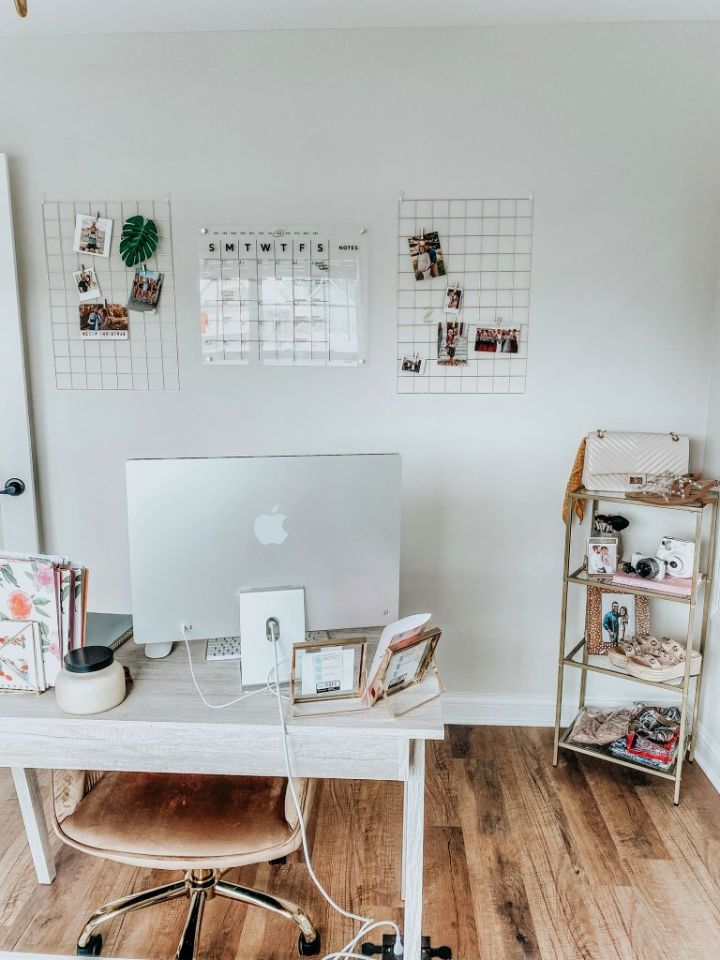 Are you looking for ways to spice up simple bedroom space and make it look beautiful? If that's the case, then you need to follow this guide as it has a few simple tricks and tips that can be used to make any house room look a little interesting and nice to work in. Some of the tricks would be to add a desk, paint the wall, add boards and pictures, etc. Isn't that amazing? simplybethany
22. Simple But Awesome Home Office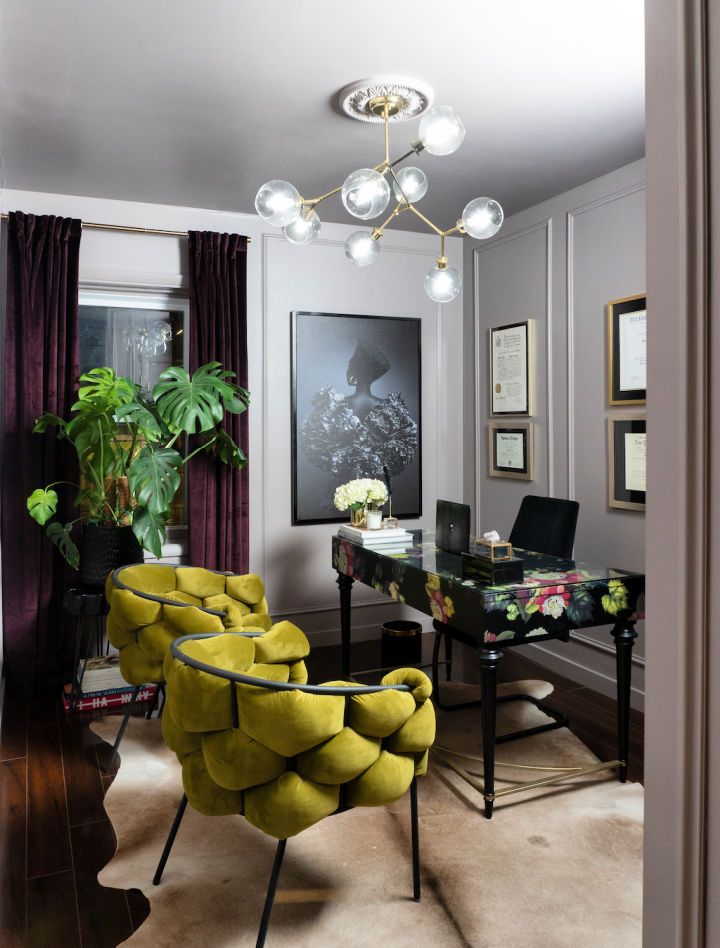 Here's a simple and unique office idea that all the minimalists are going to love! Have you always loved simple and clean areas but want to make an office that pops? If that's the case, all you need to do is to be creative and try to incorporate different colors and furniture pieces together. This plan will take you through the entire process of making your office look like this! signedblake
23. Nice Home Workspace Design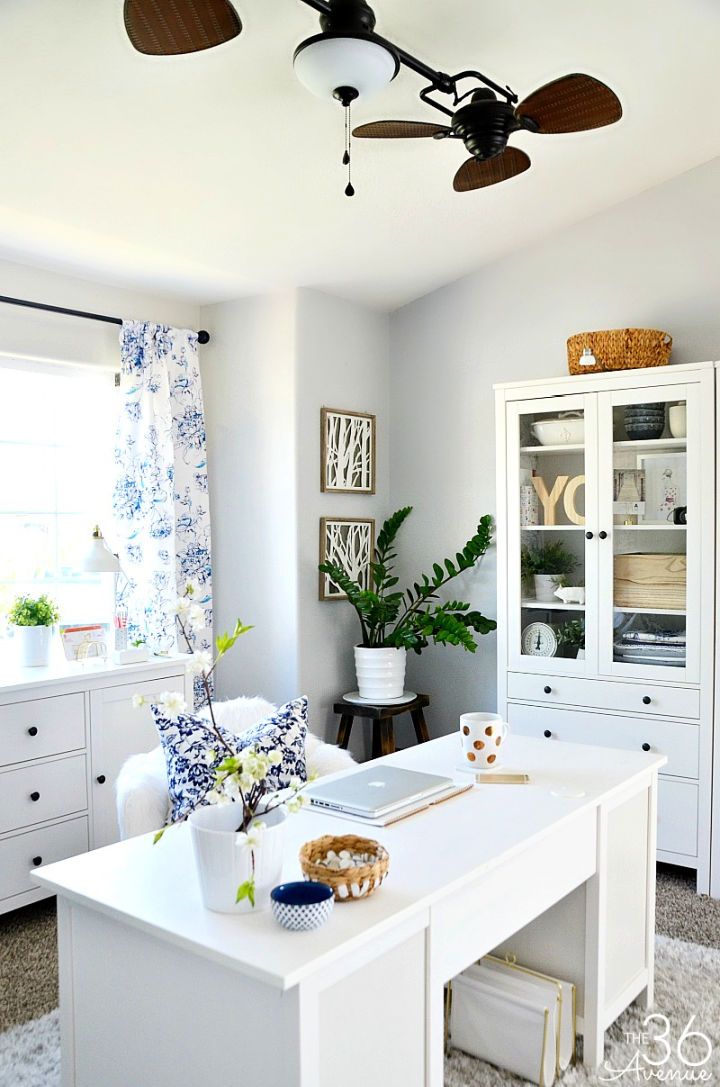 If you're bored of your office area and want to spice it up, just follow the few instructions in this plan such as – adding flowy curtains, adding a lot of plants, adding color through different furniture pieces, and adding a desk! Don't you just love how simple and easy these tips are? You will be able to get them done in no time after buying the pieces required. the36thavenue
24. Pretty Fashion Bloggers Office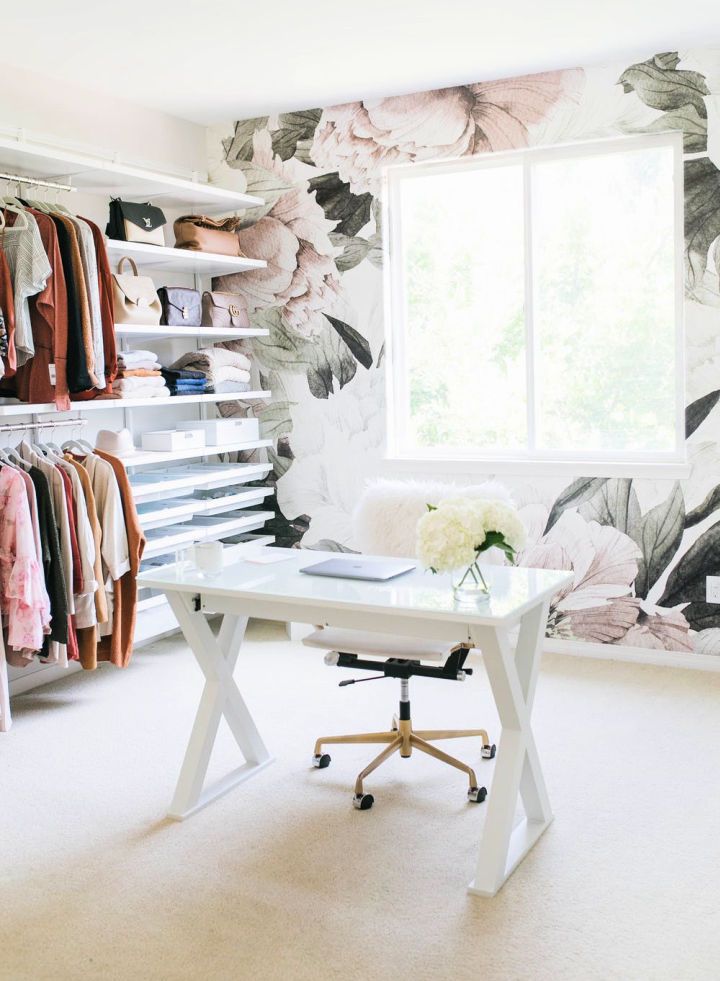 Fashion bloggers need to make their life seem beautiful and interesting – no part of their life should seem dull on social media. If you're a blogger, then you probably know how important it is to have a good office! This plan features a beautiful office which had a lot of pinks, whites and beautiful flowers! Start by finding a wallpaper. containerstore
25. His And Her Office Makeover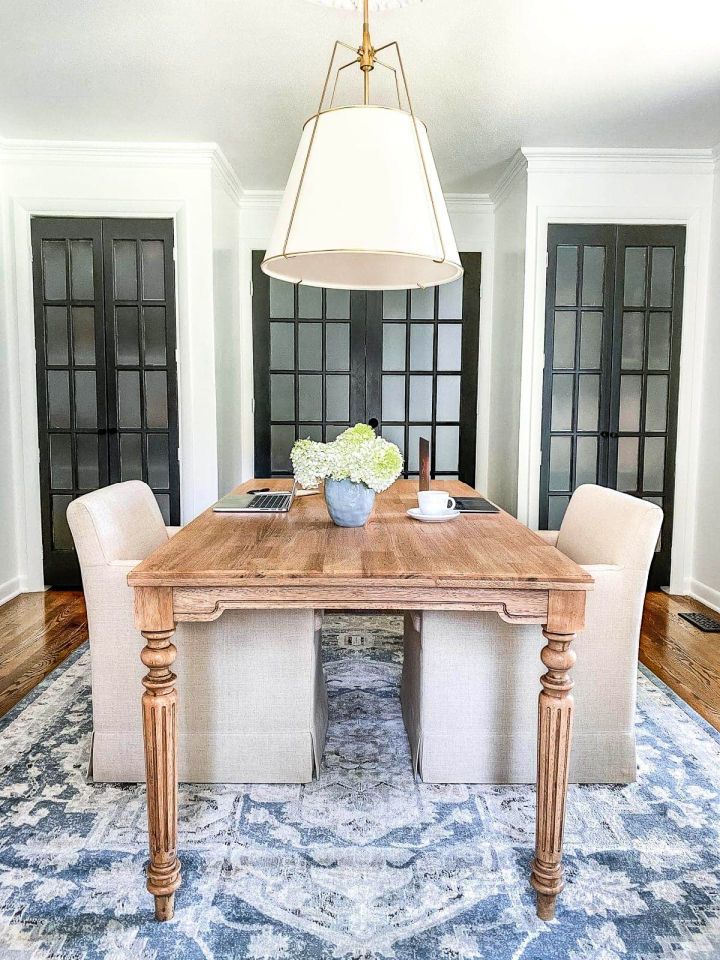 If you and your husband/significant other work from home, then you need to have an office together. It's scientifically proven that when people work together, they can be more efficient and creative. You can work with your husband and discuss all the ideas for the business you have! This project features the perfect "his and her" office! blesserhouse
26. Amazing Murphy Bed Desk Combo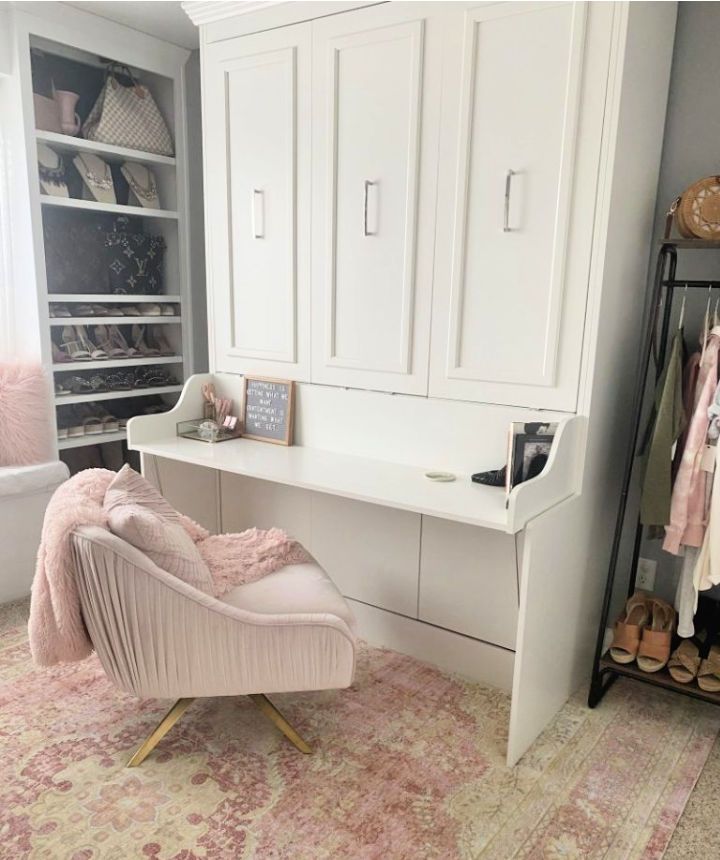 Murphy beds can be functional as when you're done sleeping, you can just fold it in and then turn your room into an office! This is also great for productivity as you won't have a bed that you can surrender in when working! Moreover, you will also end up saving a lot of space in your apartment or living space – which can be used for other things. justposted
27. Minimal California Inspired Home Office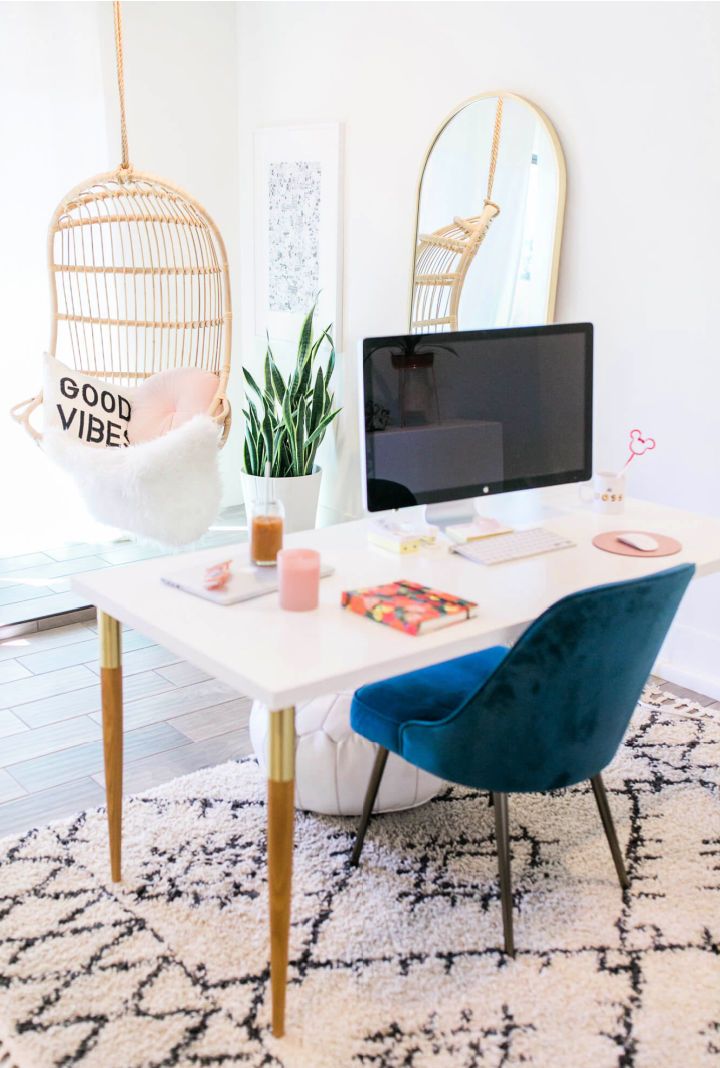 Do you wish to be in tropical areas all year round? Well, then you don't need to worry about leaving your house anymore as this plan will help you turn your office into a California-type and summery theme! Don't you just love the idea of that? Your office will be full of sunshine, white furniture, and bright stationery! Isn't that amazing? emmygination
28. DIY Blush And Brass Home Office Reveal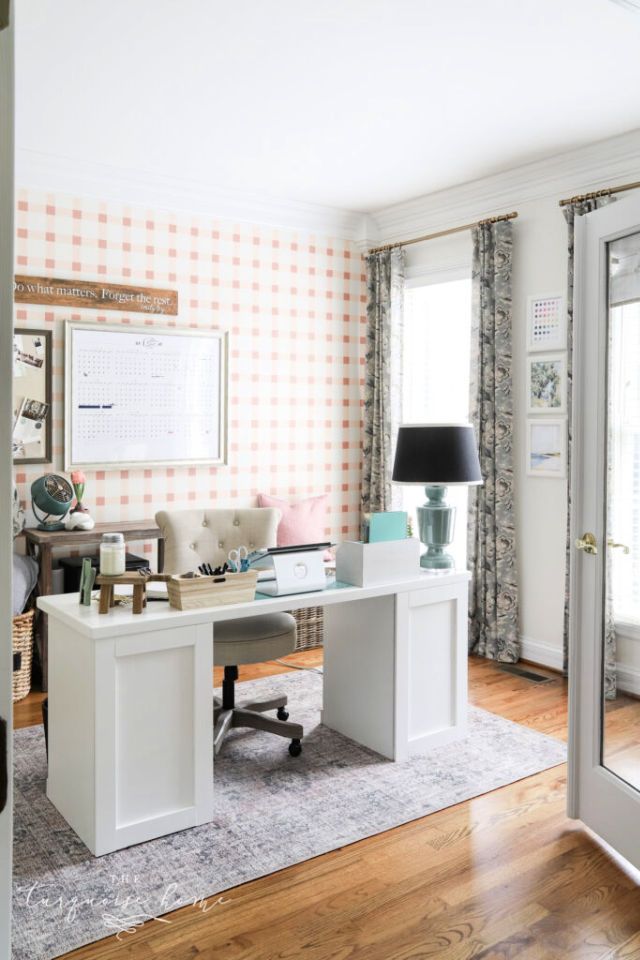 Who knew that such a beautiful office could be made into a simple bedroom? Here's a plan that will take you through the process of making this beauty! This office is really easy to make – you will need to add wallpaper, new curtains, a desk, a sofa, and a few other decor pieces – the decor pieces will pull everything together! The final result is stunning! theturquoisehome
29. How to Create a Functional Productive Space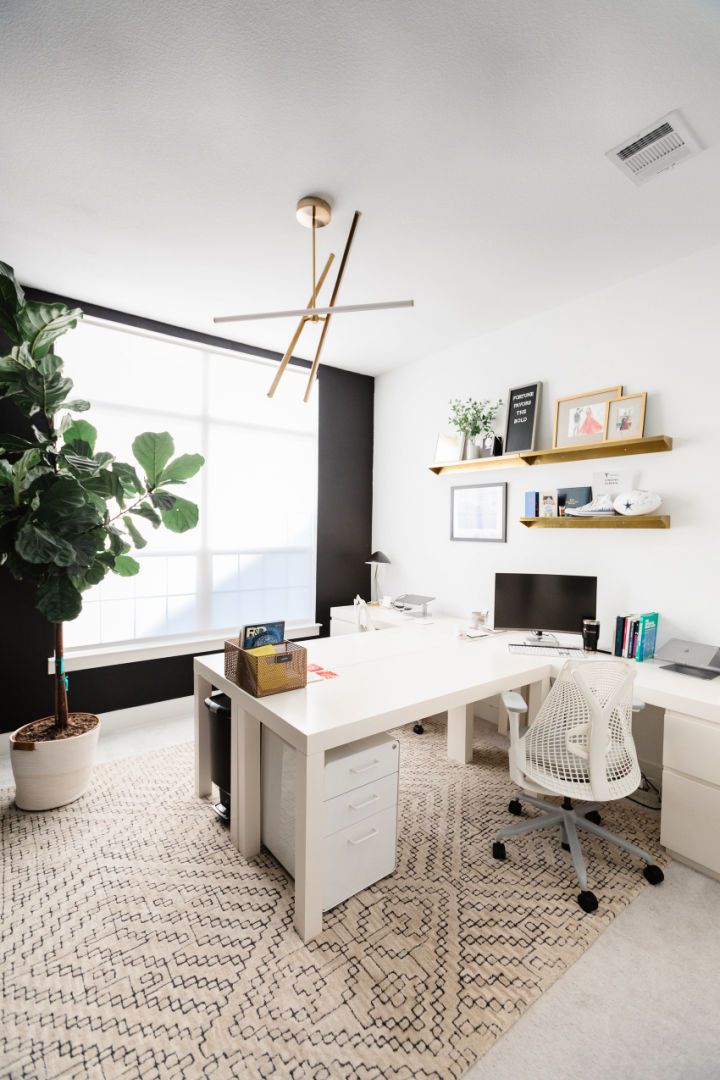 It can be hard to work on your bed. Instead of working from your bed, you can make a working space for yourself where you can feel productive and nice. This space can only be used for working and not resting – this will motivate you to work to your full focus! This project features a black wall with a huge window to let the light in along with a beautiful desk and pretty decor pieces. colorandchic
30. The Girls Fancy Office Reveal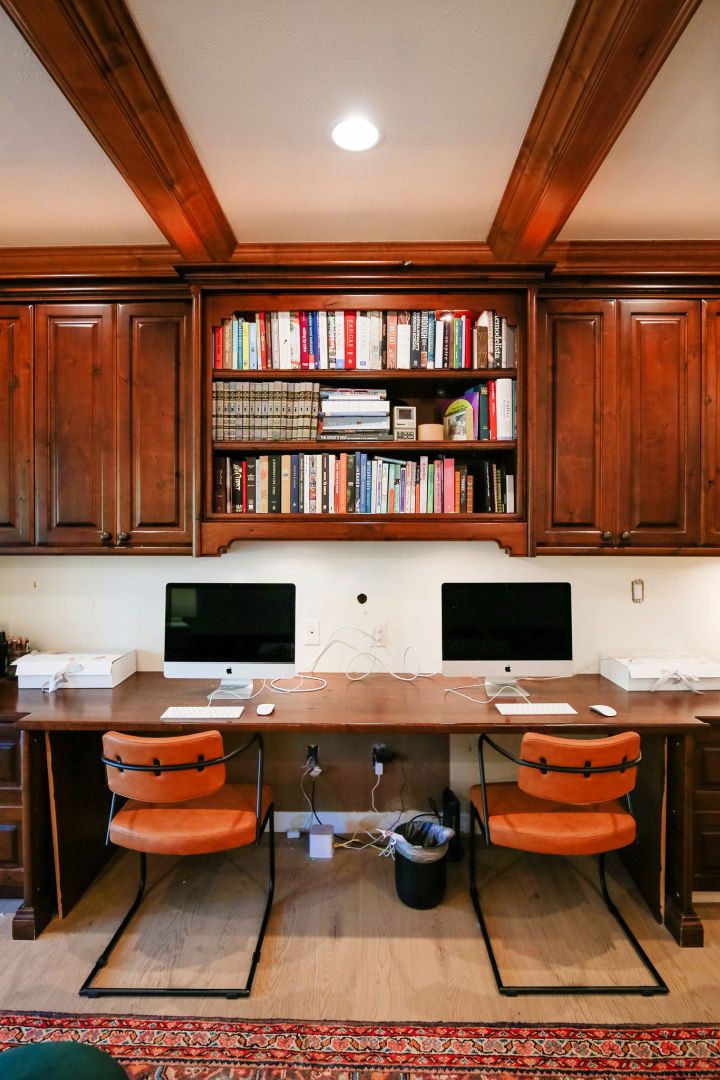 All girls need a fancy space that they can call their own! Are you someone who wants her office to look stunning? Well, then you're at the right place as this plan features a really cute office idea – beautiful shelves, nice desks, and space for a lot of books! You will love being in this space and calling it your own. So, what are you waiting for? It's time to get started! chrislovesjulia
31. Coolest Home Office Reveal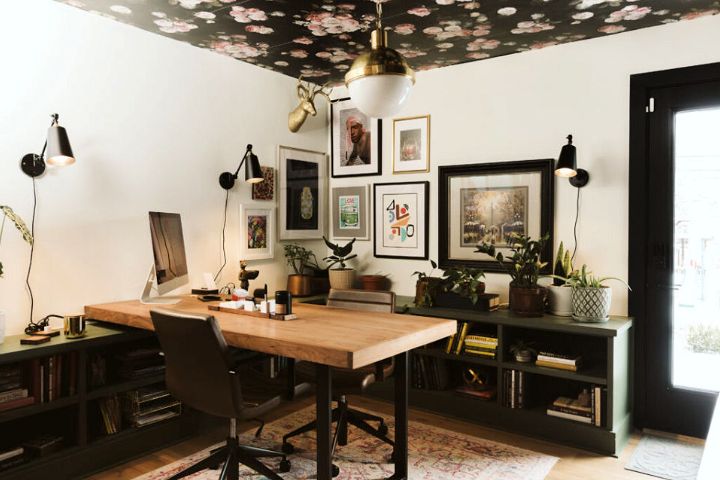 If you're looking for a room office idea that will look unique and different from all the other DIY home office ideas in this guide, then follow this one! The unique thing about this idea is that it features a wallpaper that is sticking to the ceiling! Moreover, it also has a beautiful desk with a lot of frames behind it. This room will look really beautiful and you will get a lot of compliments on it. clarkandaldine
32. Modern Boho Office Reveal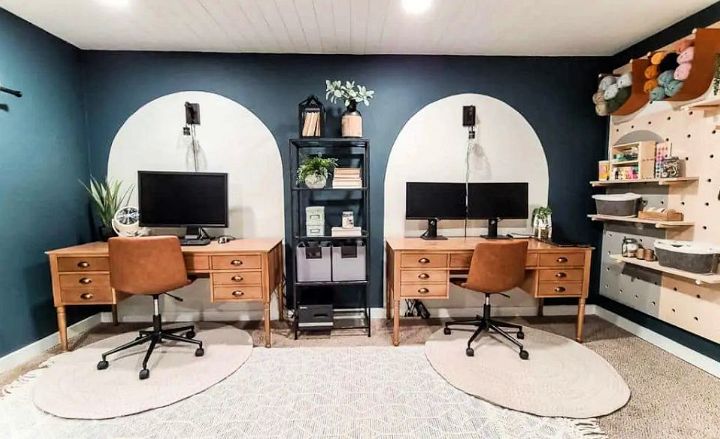 Boho and modern are two very different aesthetics but you can always incorporate stuff from both of them to make the perfect office for yourself! Here's a really beautiful office which has navy blue walls and white center parts. There are desks along these walls and every desk has a special plant on it. In the middle of the desks, there is a little shelf to keep all the mutual supplies on! makingmanzanita
33. Graphic Designers Office Design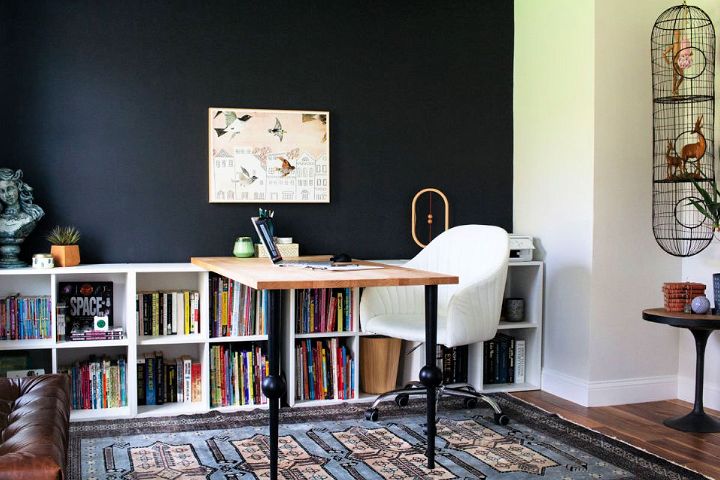 Graphic designers always need to promote themselves well and it can be a big reason as to why they would get a job in the tough market. Are you look looking for ways to promote yourself well so the clients can ask you for work? The best way would be to start from your office! Why is that? That's because whenever they would visit your office – they will be sold! Here's the best plan to follow for a graphic designer. bloomintheblack
34. Stylish Navy Home Office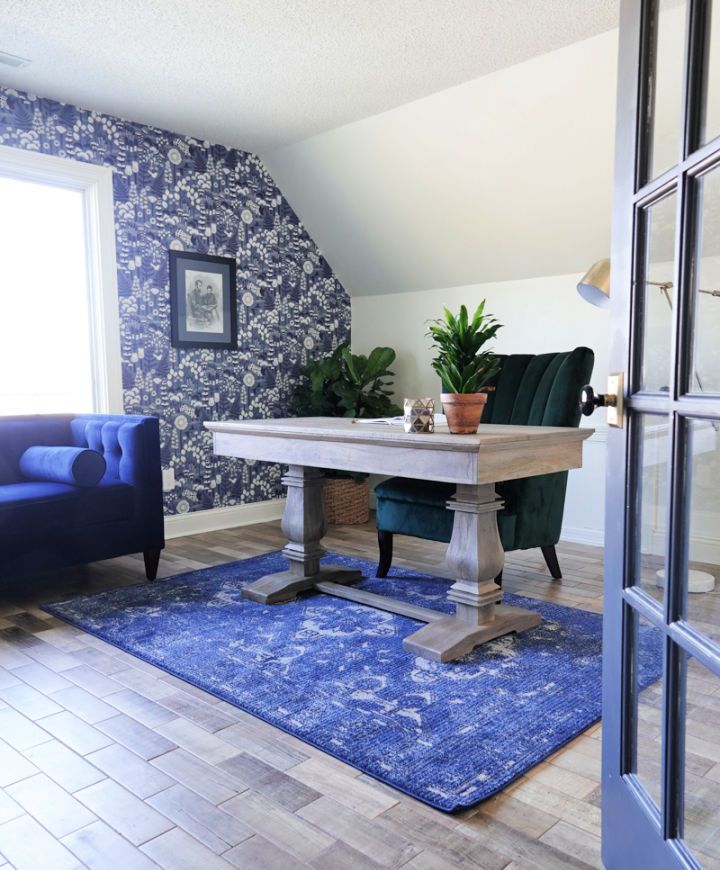 Navy is a dark color and it can be hard to incorporate it into different designs in your house. Are you looking for ways to make your office look stunning but still incorporate your favorite navy color? Well, then here's the perfect plan to follow as it has a wallpaper that is navy and blue along with other furniture pieces which will pull everything together and make the office lol amazing! sincerelysarad
35. Aesthetic Home Office Reveal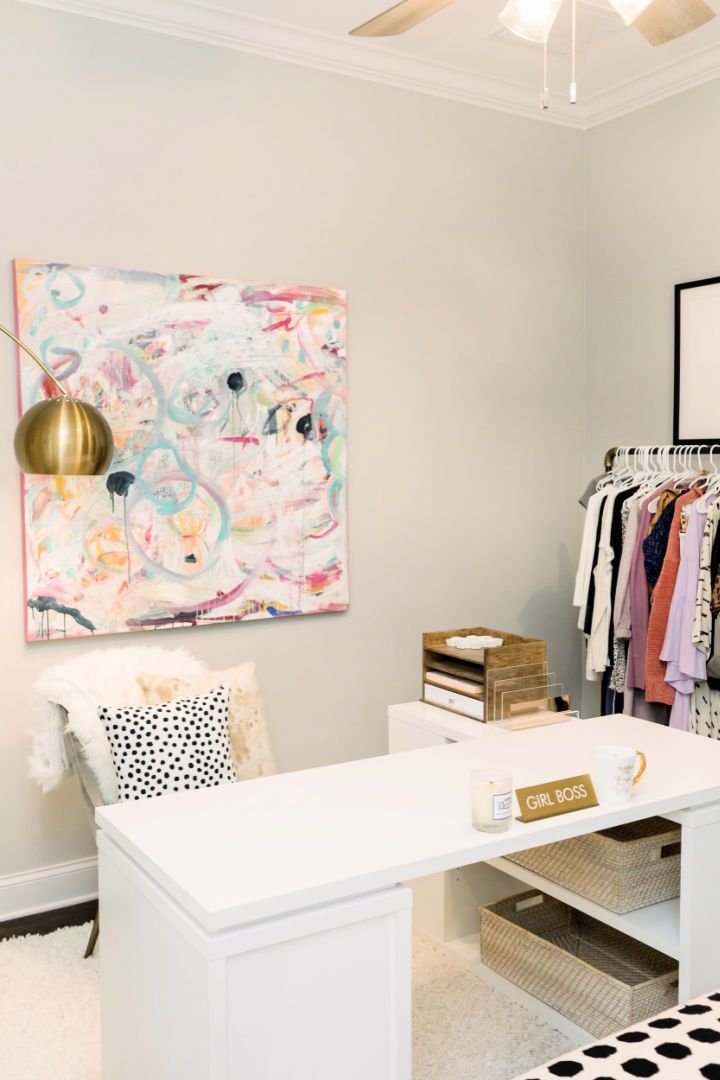 Your office is the space that you spend most of your day in so it is important to make it look beautiful. What can you do to make it look and feel nice? Well, you just need to be creative and make a plan. This amazing guide will take you through the process of making your office look aesthetically pleasing and stunning! You are going to love how it turns out. walkinginmemphisinhi
36. Dream Studio Home Office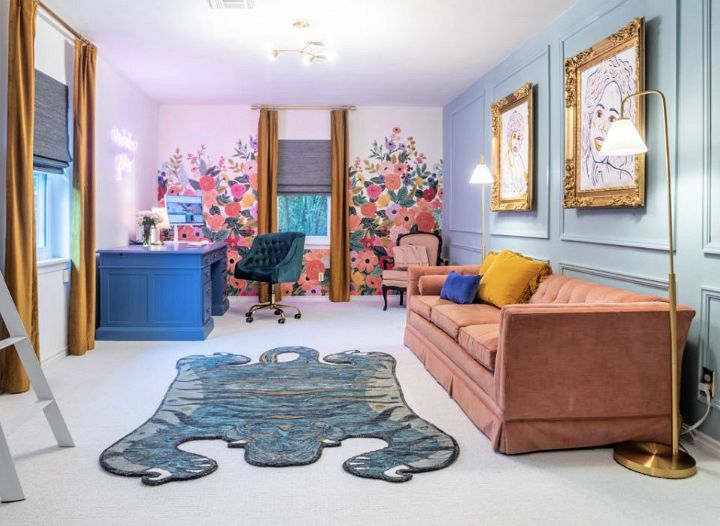 Do you have a pink and floral dream studio? If that's the case, then this is your dream studio office plan! You will need to go through the whole plan to make sure that you have enough space and budget to make work! This office looks so beautiful once it's done – the floral wallpaper, the beautiful rug, the blue desk, and a nice chair. So, are you ready to experiment with this? melodeeforbes
37. Modern White Workspace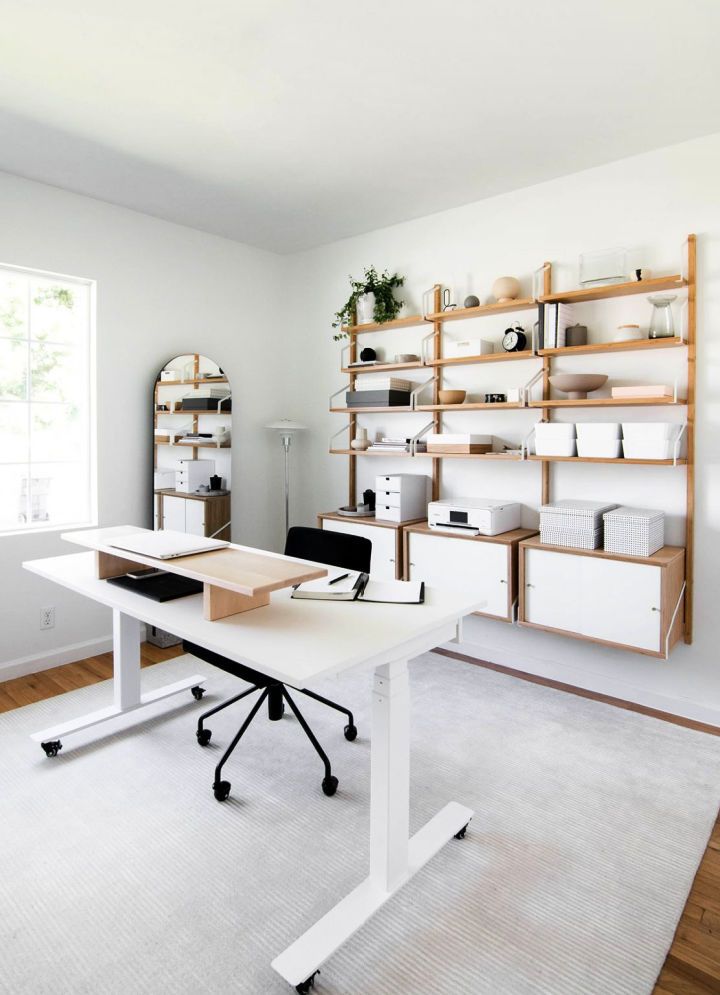 Modern and white workspaces are perfect as they don't overstimulate you and you will never get distracted in a simple space like this. Here's the perfect plan that features white walls, wooden shelves, and a lot of plants! You can also include a desk and mirror to make the office look aesthetically pleasing and perfect for you! Isn't this exciting? homeyohmy
38. Budget friendly Home Office Makeover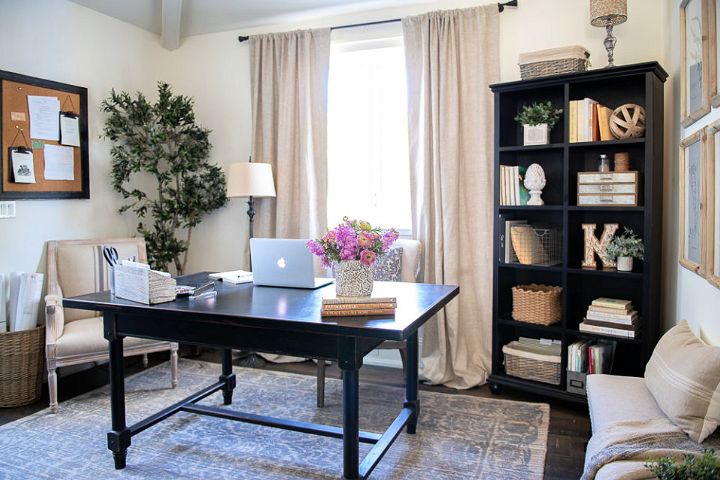 Are you on a low budget but still want your home office to look beautiful? It can be hard to work on a budget but if you use your old furniture pieces and follow a guide like this one – you will be able to make an office with less money and more creativity! Isn't that lovely? This office is so beautiful with the dark desk and cream curtains; white walls and flowers everywhere. sanctuaryhome
39. Dining Room Office Reveal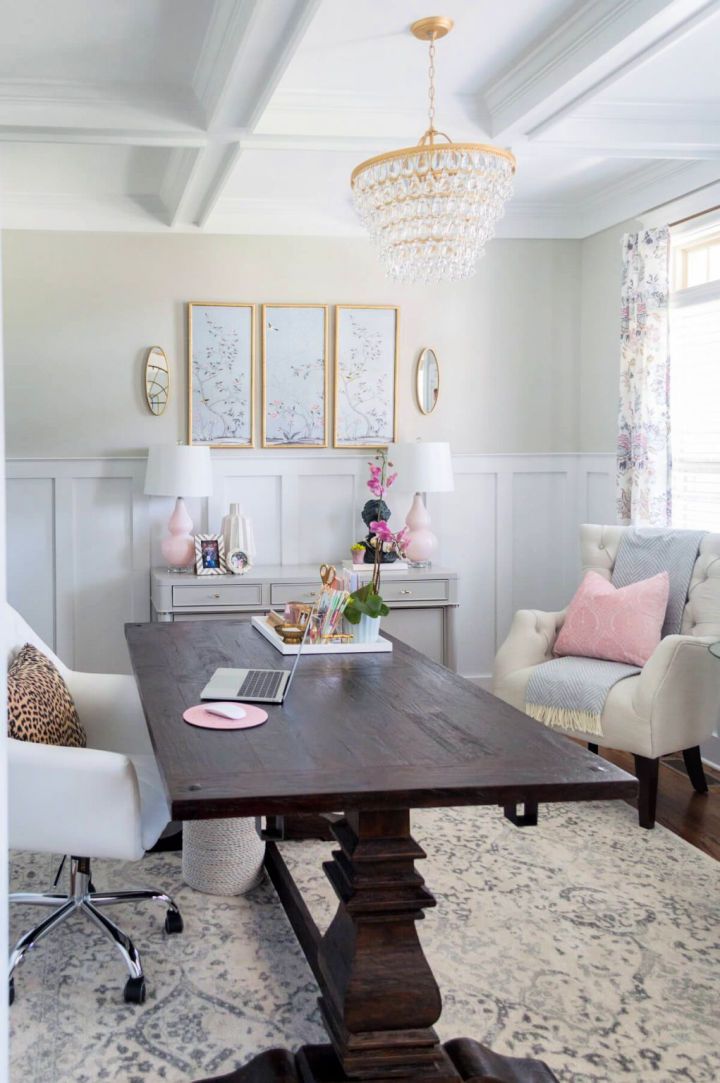 Have you ever seen an office with a chandelier? A chandelier can be a great thing to add to an office if you want it to look feminine and open. The light will be reflected off of the chandelier and wall to make the room look open and fresh. Moreover, you can add beautiful flowers with nice colors to make the room smell and look gorgeous. thehomeicreate
40. DIY Home Office Makeover Reveal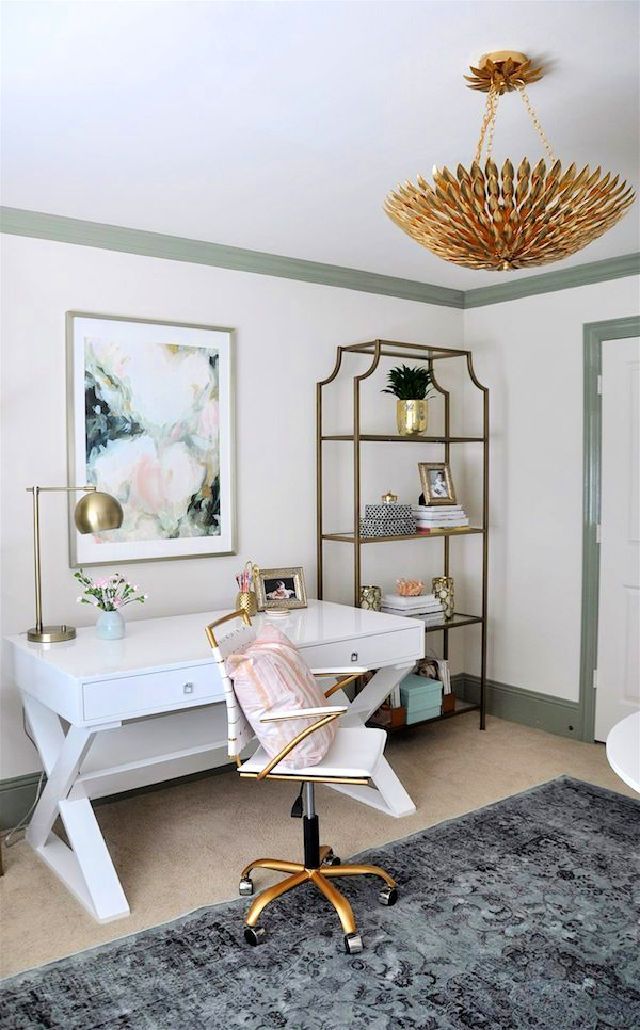 Last but not the least, here's another nice plan. This project features white walls with pink and golden accents! Anyone who wants to add a girly and feminine vibe to their room can use this plan as it turns out looking perfect and you will love the final result! So, are you ready to experiment with this amazing plan? honeywerehome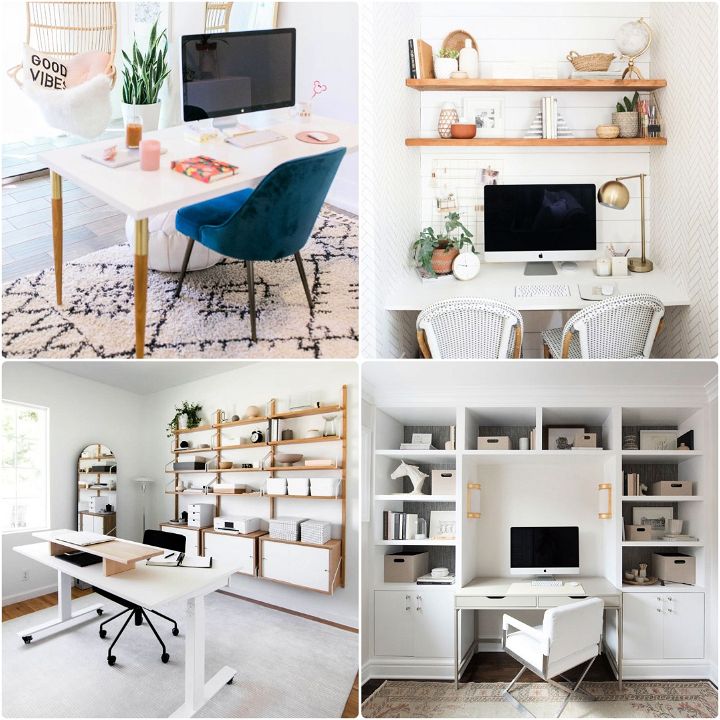 Related DIY Projects:
DIY Bulletin Board Ideas – Find 50 unique and creative DIY bulletin board ideas for your home, classroom, or office. These ideas include cork & paper bulletin boards, chalkboards, and more.
DIY Cork Board Ideas – From a bold and colorful cork board to an all-white, monochromatic wall of cork, this roundup of 25 DIY cork board ideas is sure to have the perfect project for you.
DIY Jewelry Holder – Sometimes it's not just the what but the where. An organized jewelry holder is key to keeping your pieces looking their best and in the right place. Here are 25 creative ideas for organizing your jewelry to make them easy to find.
Clever Pumpkin Painting Ideas – Whether you're into painting or carving pumpkins, there are plenty of creative pumpkin painting ideas to choose from for Halloween 2022! Check out these 50 options for inspiration.
Painted Pots – Plant pot painting ideas are great for indoor and outdoor decorating. Learn how to paint a plant pot in various styles with these simple DIY tutorials.
Conclusion:
A DIY home office is easier to make in a bedroom than you might think. However, it's recommended to do a few things before following any of these home office decor ideas. Firstly, choose a room in your house that has ample sunlight during the time that you work. Why is that? It's proven that bright places can help stimulate you just enough to work and be efficient.
A bright home office decor will also make sure that your office has positive and happy vibes which will help your work. Secondly, choose a room that has a huge window of many windows as this will let more sunlight in and make the room nice and flowy. Lastly, it's to DIY a mirror and office desk as these two furniture pieces will be needed for making an office.