Find the perfect Thanksgiving table decor ideas and settings guide for your Thanksgiving dinner decorations this year. Ideas include centerpiece ideas, place settings, napkins and more. Find the best and cheap thanksgiving table decor, and see how to set up your Thanksgiving table for your guests.
Elevate your dining tables on Turkey Day with these Thanksgiving Table Decor Ideas sure to impress all. The Thanksgiving Table Settings matter as you are hosting the biggest meal of the year, and you also have to win the heart of a huge group of guests and family members. So, these ideas will let you know about all the popular Thanksgiving table decor themes featuring custom place cards, tablecloths, Thanksgiving centerpieces and much more.
Explore these 40 Thanksgiving Table Decor Ideas guaranteed to bring a special and festive feel to the entire dining table for a more detailed discussion on choosing the best Thanksgiving tablescape decors. From rustic to gold vintage to modern, you will get ideas for all sorts of Thanksgiving tablescapes. So, look through all the projects to pick the best theme that fits your budget and taste.
These table settings feature everything from flower-focused flower centerpieces to pumpkin-based table decors to gobbling turkey-inspired ornaments. However, all these ideas will rock for the fall dinner parties also. Moreover, you will learn to make and choose the best place settings, linens, table clothes, light decors, chargers, cutlery, and candle votives that will make the whole tablescape impressive.
Moreover, these Thanksgiving Table Decor Ideas will also provide instructions to make individual centerpieces for the table decors. You will also get free printables to make the place cards and various other decors here easily.
1. Elegant Pink and Gold Thanksgiving Table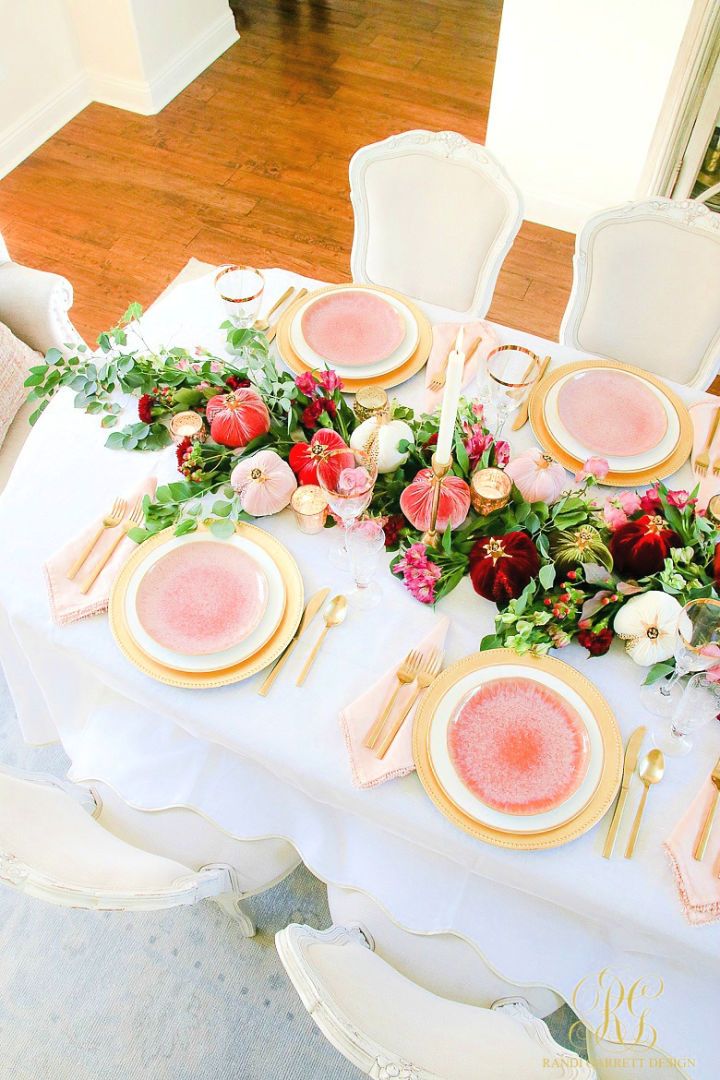 The thanksgiving feasting is something that we all love and enjoy. At the same time, it can be an event also when you get the opportunity to impress the guests with your table settings and decors. So, lacking of some great thanksgiving table decor ideas? Go with this pink and gold thanksgiving table decor theme. It will surely be a smart pick to win the heart of the guests, and this table decor idea will rock for the modern interiors also. Grab the tree clippings, fresh pomegranates, carnations, roses, charmelia, red berries and raspberries in respective colors to complete the outstanding flower arrangements. randigarrettdesign
2. Inexpensive Thanksgiving Table Decor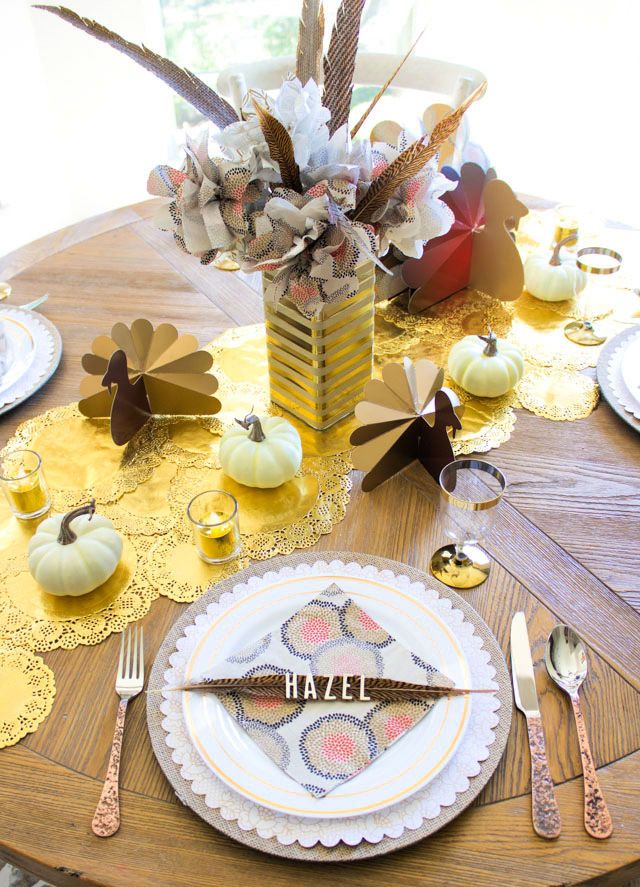 Thanksgiving is about to come, and maybe you are too busy preparing for the event. Have you picked the right decor theme and settings for your Thanksgiving table? If not yet, then check out here a simple and elegant thanksgiving table idea, sure to impress all the visitors and guests. Mainly, the round table comes with a brilliant decorative vase in the center and is loaded with golden doilies, pumpkins and also with paper turkeys. A simple and quick Thanksgiving table decor idea. designimprovised
3. How To Set A Thanksgiving Table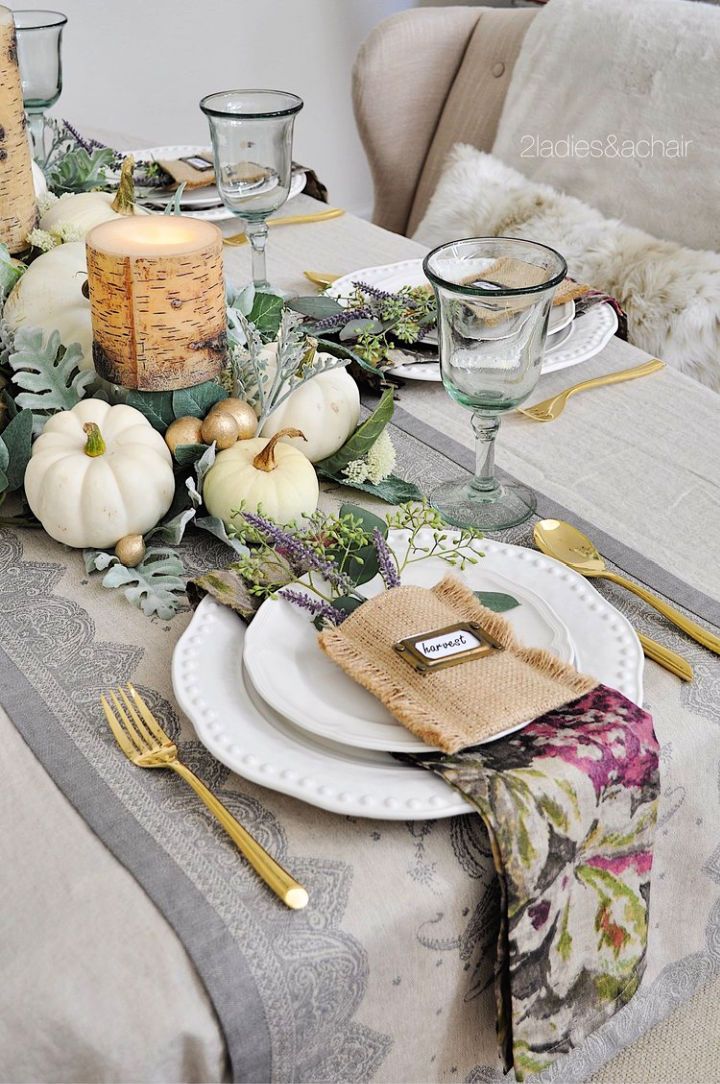 The table decors and settings matter when you want to make people aware of your unique taste of decors. This also adds to your personality to have impressive table settings when hosting feasting. So, get instructions to decorate the whole dining table in a simple but beautiful way. Pick the assorted pumpkin sizes, pillar candles, burlap napkins, golden spoons, and some greenery and foliage to easily duplicate this impressive fall table decor setting. However, you can plan this table setting for the Thanksgiving table also. 2ladiesandachair
4. Modern Rustic Thanksgiving Table Decor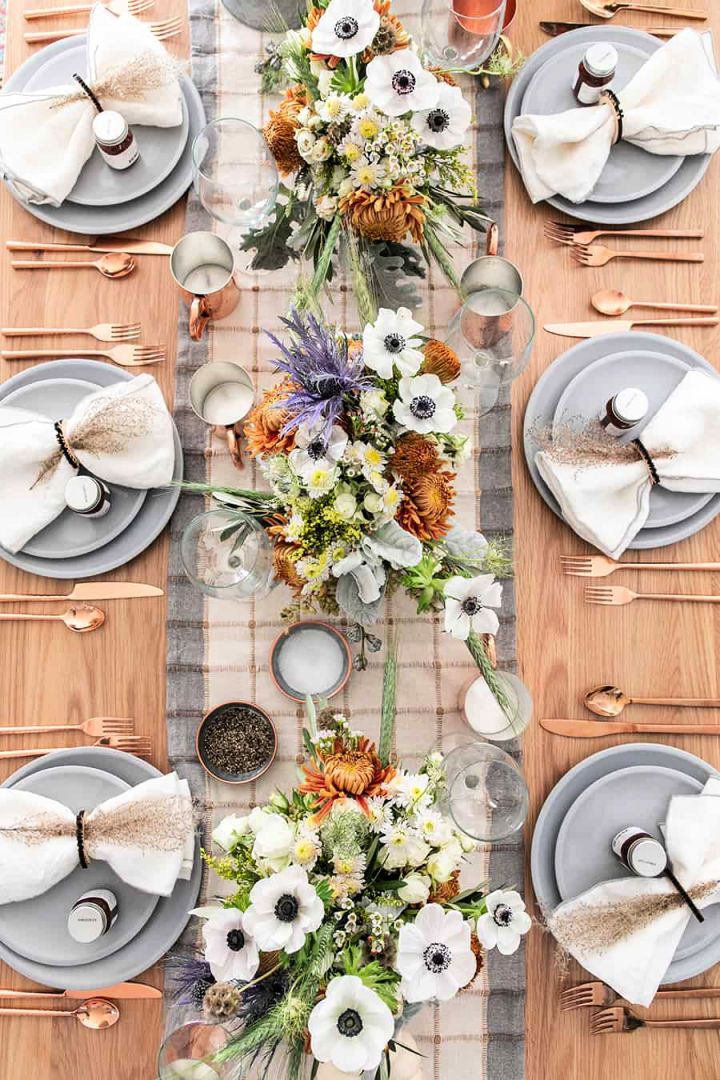 Do you strive for the rusticity that comes with a modern glam touch. Then this impressive table decor will win your heart, and it is done for both Thanksgiving and fall season. Just add up the table with the plaid patterned table runner, and then add the custom seasonal flower bouquets or the whole baskets on the table runner for some great flower arrangements on the table. Don't forget to add the candles and other fall and thanksgiving decors to fancy up this table more. The whole setting will cost you next to nothing. sugarandcharm
5. Modern Organic Thanksgiving Table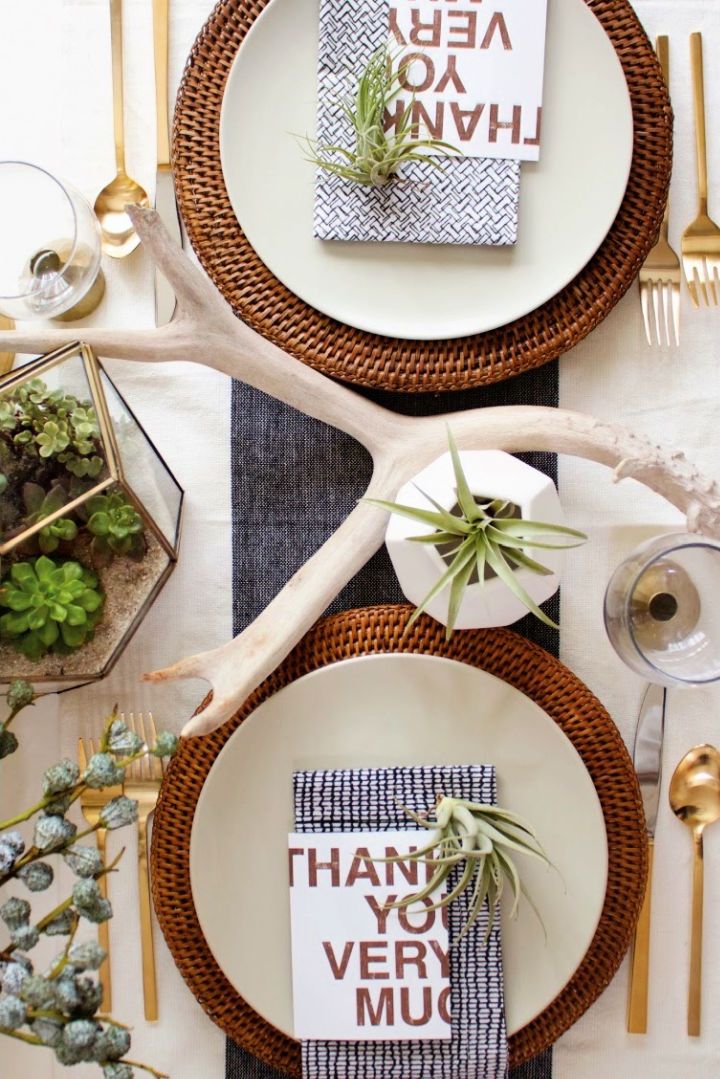 Presenting here another great modern and organic table decor theme will transform the whole table into a natural modern beauty station. Add faced chic white vases to the table decors and add those antlers on the table for added visual grace. Pick your favorite candles and table runners to easily complete this whole Thanksgiving table decor idea. Add the quoted tissue paper or napkins to make the entire table look beautiful and fall special. Also, cover the plate holders with custom sleeves for added coziness, rusticity and style. craftandcouture
6. Beautiful Fall Thanksgiving Table Setting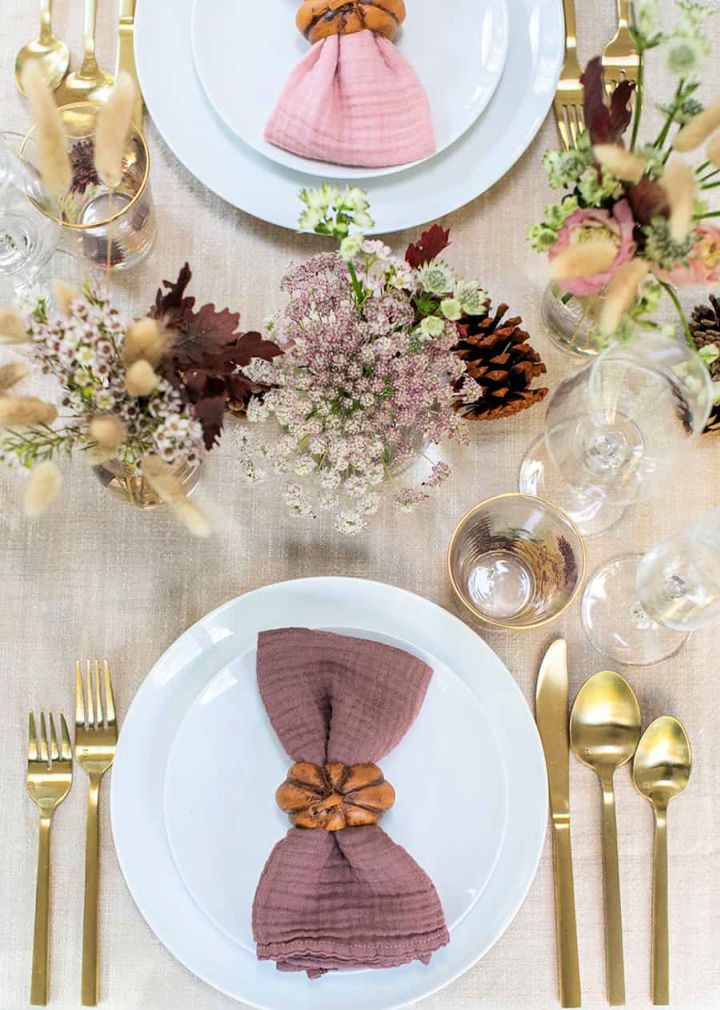 There are tons of impressive Thanksgiving table settings that have been shared here to choose from. If you love the ones that come with a natural touch of greenery, colorful touch of flowers and also the posh touch of golden, then this given dining table decor setting will be a smart pick. It comes with golden cutlery, lovely napkins and outstanding fall flowers and greenery in the center of the table. All guests will love to praise these table decors, and this will surely add fun to the Thanksgiving feasting. Without causing any load on your wallet, this Thanksgiving table decor idea will work for all. sugarandcharm
7. Sophisticated Thanksgiving Table Setting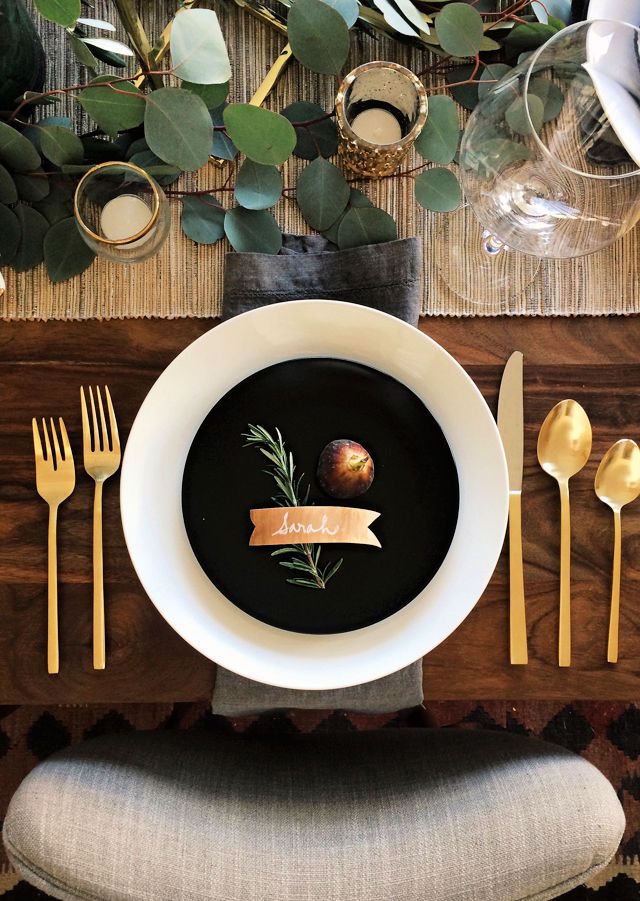 Are you having the turkey feasting table decors on the brain all the time? Then nothing to worry about here is a great inspiration to choose from. Just peek into the given project details that share the best possible settings of those tablecloths, centerpieces, plates and cutlery. It will surely help elevate the look of the entire table and win the guest's heart for you also. According to this theme, you need gold decorative votives, gold cutlery, lots of greenery even with flowers and some creativity to go for this impressive Thanksgiving tablescape settings. sarahshermans
8. Backyard Thanksgiving Table Decorating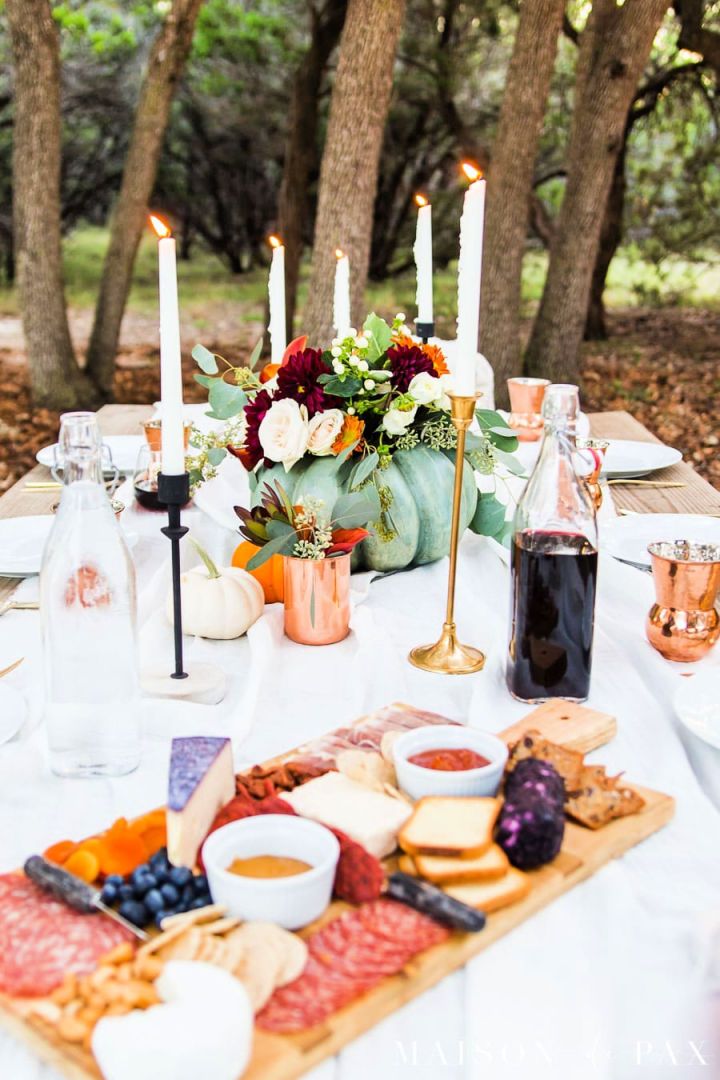 Are you often celebrate the fall and Thanksgiving with your loved ones? Then how about planning the Thanksgiving feasting outdoor? Pick the best outdoor Friendsgiving table decor settings here that will double up the fun of the whole feasting and will also create a great environment right in your yard or garden. The addition of candles on the candlesticks just brings those romantic antique vibes to the entire party table. The table comes with white table cloths and gains attention with the centra pumpkin decoration loaded with assorted colorful flowers. The addition of vases and votives makes this entire table look divine. maisondepax
9. Thanksgiving Turkey Food Table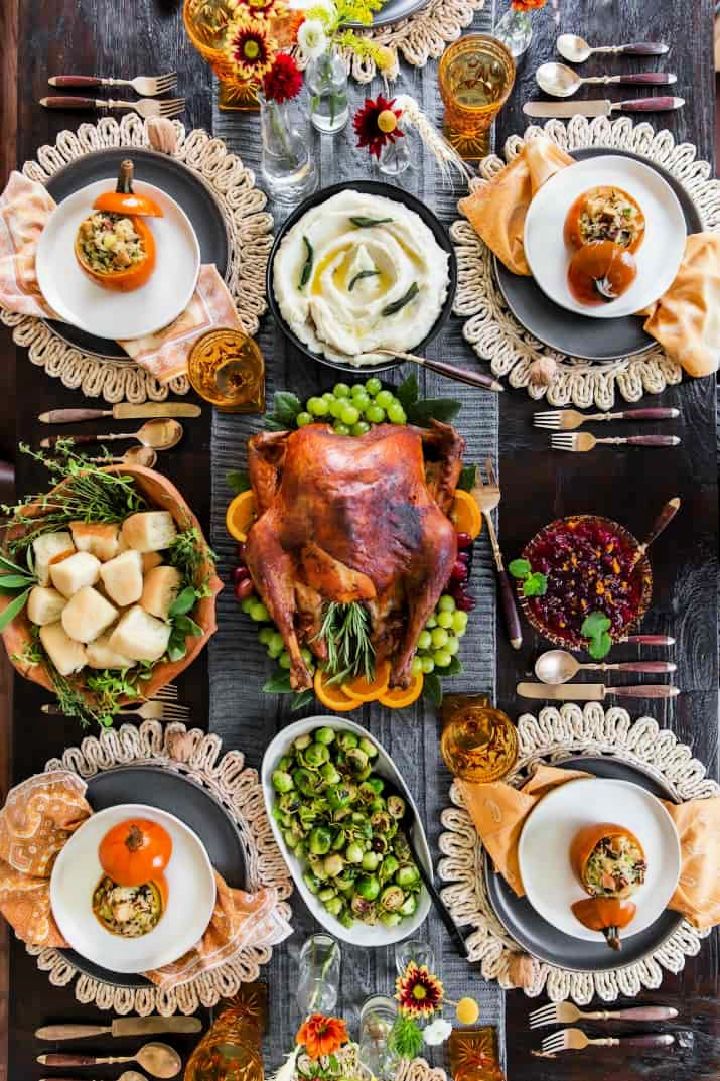 Not merely the table settings, it is always the way of serving food that will impress the guests. So, get her tips about displaying and serving the Thanksgiving food with the traditional turkey centerpiece. At the same time, the project reveals the best table decors settings to choose from, and the best part is that you will get here the complete free recipes for the displayed food items. A simple and elegant Thanksgiving table setting will be loved dearly by all. celebrationsathome
10. Vintage Thanksgiving Dessert Table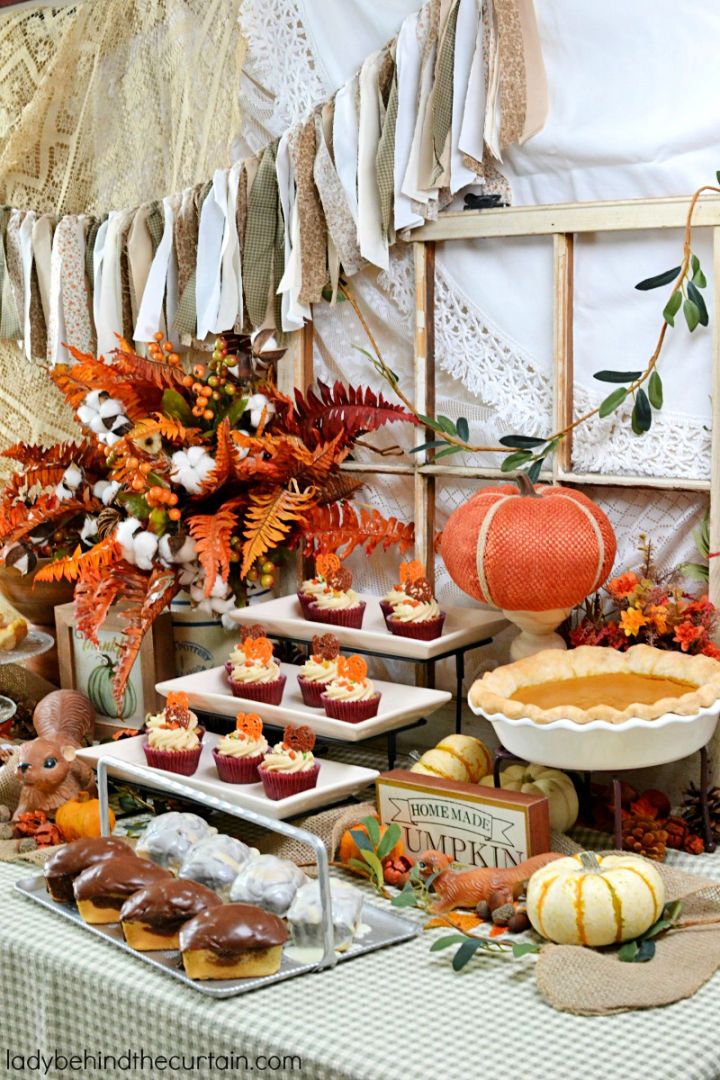 Every fall lover will fall for this super graceful fall party table that will also rock for the Thanksgiving parties. Custom tiered and elevated stands display pies, cupcakes and other desserts. The addition of pumpkin and leafy fall decors makes the whole setting heavenly and super impressive. The whole project is quick and easy to complete, and it will not take too long to duplicate these heart-winning table settings. The whole idea will also rock for the fall parties, and the entire setting beautifully highlights the pumpkins. You have the freedom to go for custom arrangements of the pumpkin and other decorations. ladybehindthecurtain
11. Thanksgiving Buffet Table Setup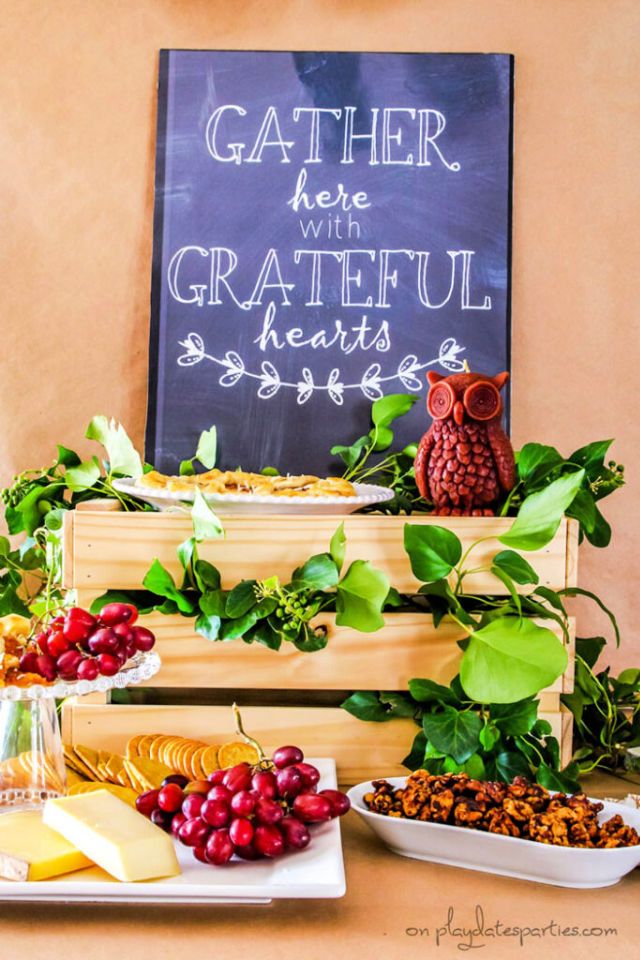 It should not cost you big always to decorate a Thanksgiving table. However, this project will provide an easy and cheap way to decorate your Thanksgiving table like a pro. The very first step will be to choose a custom theme like rustic and gold vintage, and then you can decide the best color scheme for it. This Thanksgiving decor goes for a brown, green and white color and looks super impressive and lovely. Use the rustic wooden storage crates and fill them up with greenery and flowers to whip up the table centerpiece. Mainly, you need natural woven baskets, cardboard shipping boxes, leftover glass jas, pretty colanders and wood storage crates for this project. playdatesparties
12. Thanksgiving Table Place Setting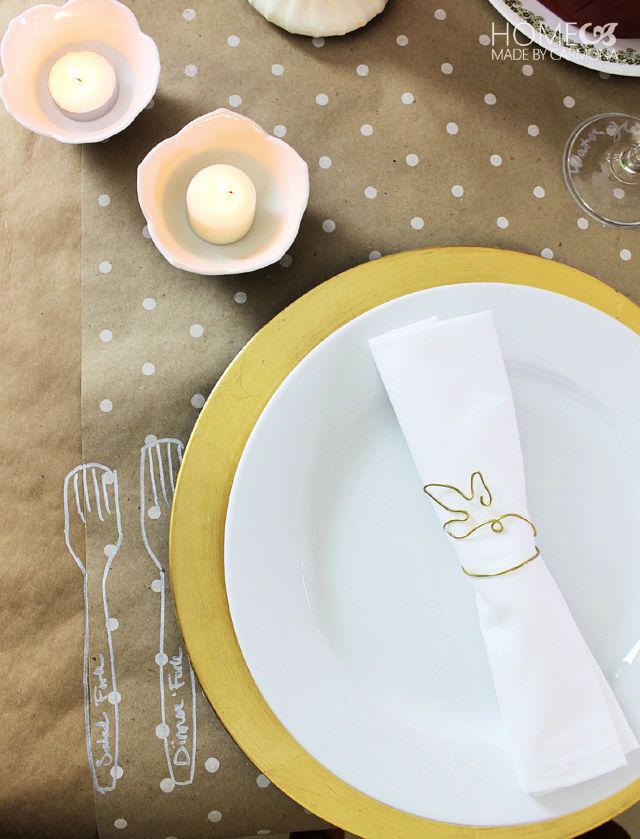 Make your thanksgiving feasting and parties unforgettable with these stand-out table settings. Here the project focuses on creating quoted placemats that will win the heart of all the guests. You can simply choose different quotes depending on the guests' personalities, which will create too much fun. Here the brown paper with white polka dots is selected for this thanksgiving table decor theme, and it impresses. One of the best and quick-to-do thanksgiving table decor ideas ever. homemadebycar
13. How To Set A Thanksgiving Dinner Table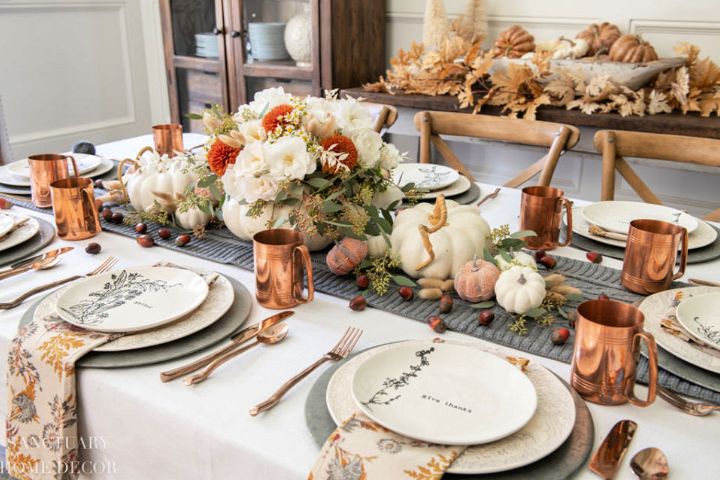 Are you busy with the thanksgiving decorations and feasting preparations? Then it will be hard labor to select the decor theme and choose the best suiting yet impressive settings of the tablescape. Choose the given settings that are good enough to win the heart of your favorite guest and person and feature the warm fall colors. The pumpkins and fall flower centerpieces are added on the pastel gray table runner, along with some random acorn scattering. Creamy white table cloth just works great as a great background, and the addition of copper-gold mugs and cutlery is just icing on the cake. sanctuaryhome
14. Romantic Thanksgiving Table Centerpiece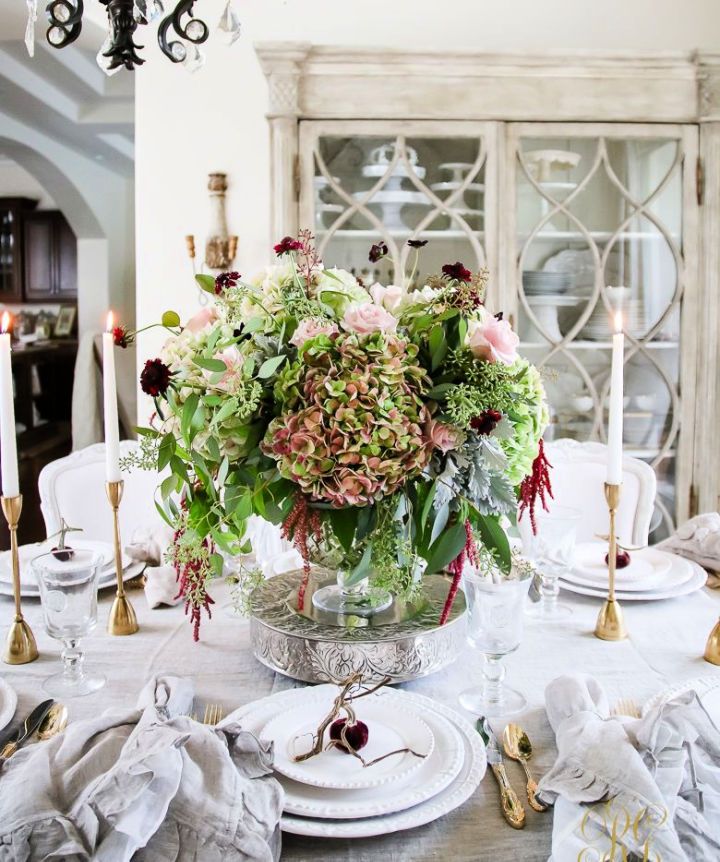 Are you a big fan of those traditional classic tablescapes? Want to go for those antique table decor themes this Thanksgiving? So, you will surely fall in love with this traditional Thanksgiving tablescape that is much visually captivating and will impress at a very first glance. It mainly features white and a little bit of a touch of greenery and flowers. Moreover, this setting prominently displays those white candles on metallic gold candlesticks, and this adds to the overall beauty of this thanksgiving table. Once you choose this theme, you can easily decide the centerpiece, place settings and linens for it. randigarrettdesign
15. Easiest Thanksgiving Table Decor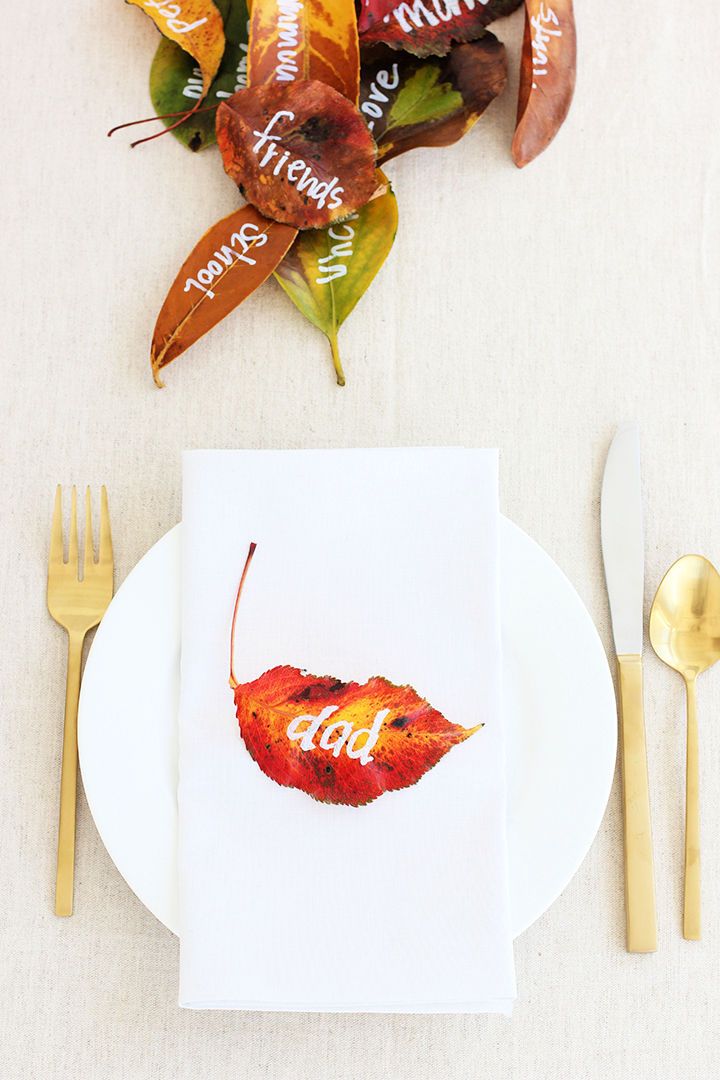 You can even make your thanksgiving table decors a lot more impressive in just last-minute using this outstanding hack. Just write down the names of the guests and family members on the fall leaves and then add to place settings, and this will impress the guests. Moreover, it will also be lovely to mention the specified seats and give a lot of honor to the guests. These leaves with written-over names can easily be added to any Thanksgiving decor setting. aliceandlois
16. Creating White And Green Table Decor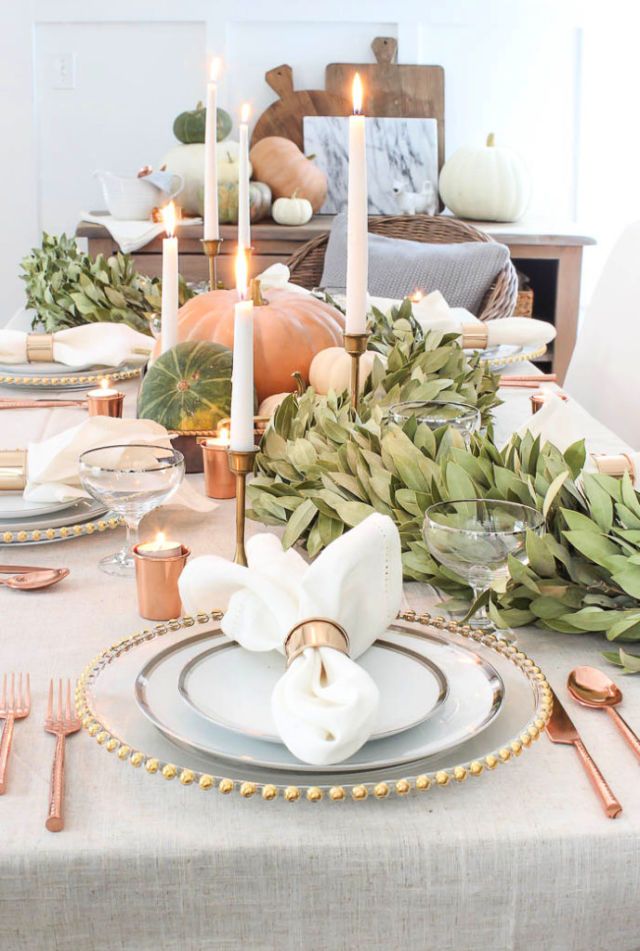 Make giving thanks parties unforgettable by choosing this elegantly stylish yet simplistic Thanksgiving table decor theme. The theme focuses on the copper, brown, gold and white colors and is fairly easy to duplicate. However, the bigger and small pumpkins can be positioned in the center of the table as an impressive centerpiece. Surround the centerpiece with the antique candles, should be added to candlesticks. One of the best and quick-to-do Thanksgiving table decor ideas that will impress all the guests and onlookers for sure. You can add a lot more to decor for a personal touch. roomsforrent
17. Simple DIY Leather Napkin Rings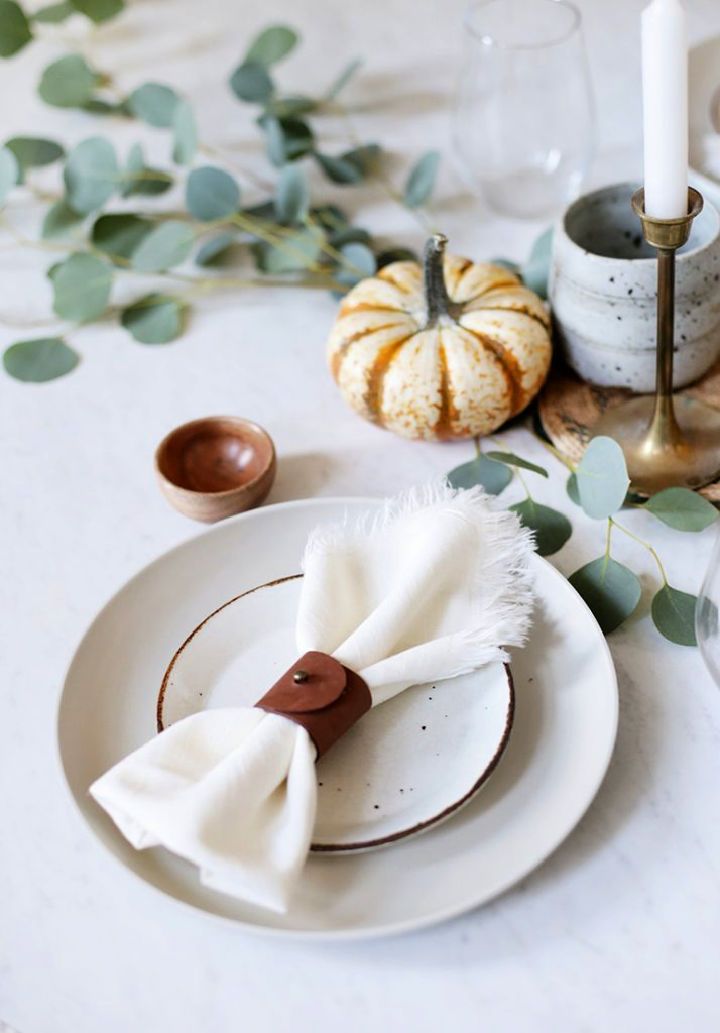 The brown is one of the most loved warm fall colors and should be added to your Thanksgiving tablescape. So, check out here a brilliant idea to bring the graceful brown to the table decor. Just make these leather napkin rings, and they are darn easy to craft out. It will only take a few minutes to create a dozen of these napkin rings while using a handful of supplies. You need leather, a ruler, a permanent marker, a rotary cutter and a leather punch to easily complete this project. One of the best Thanksgiving table settings to choose from. themerrythought
18. DIY Macys Thanksgiving Day Parade Tablescape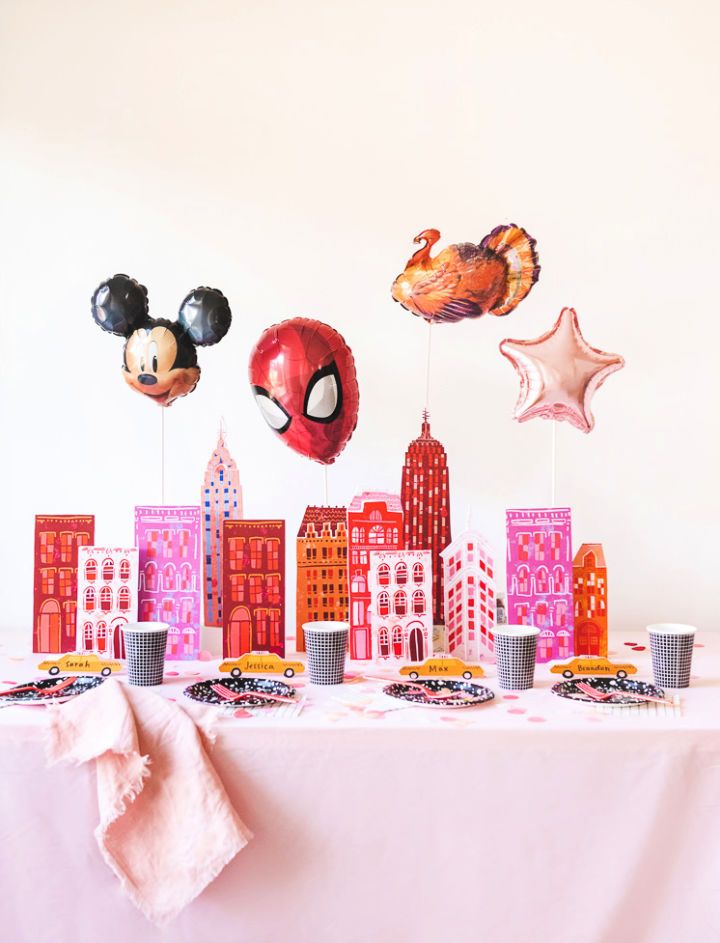 This Thanksgiving table decor idea is unique and impressive, and all will love it for sure. The Macy's Thanksgiving Day Parade theme is selected for this cute, adorable and impressive table decors. From kids to adults, all will praise this very amazing Thanksgiving table decor, and you can easily go for this theme without getting a bit expensive. To complete this project, you need cityspace and taxi printable, foam core, craft knife, spray adhesive, cutting mat, balloon pump, balloon sticks, and balloon sealer. You also need the turkey, Micky, rose gold star and spiderman balloons for this super unique yet lovely Thanksgiving tablescape. thehousethatlars
19. Personalized Pie Place Card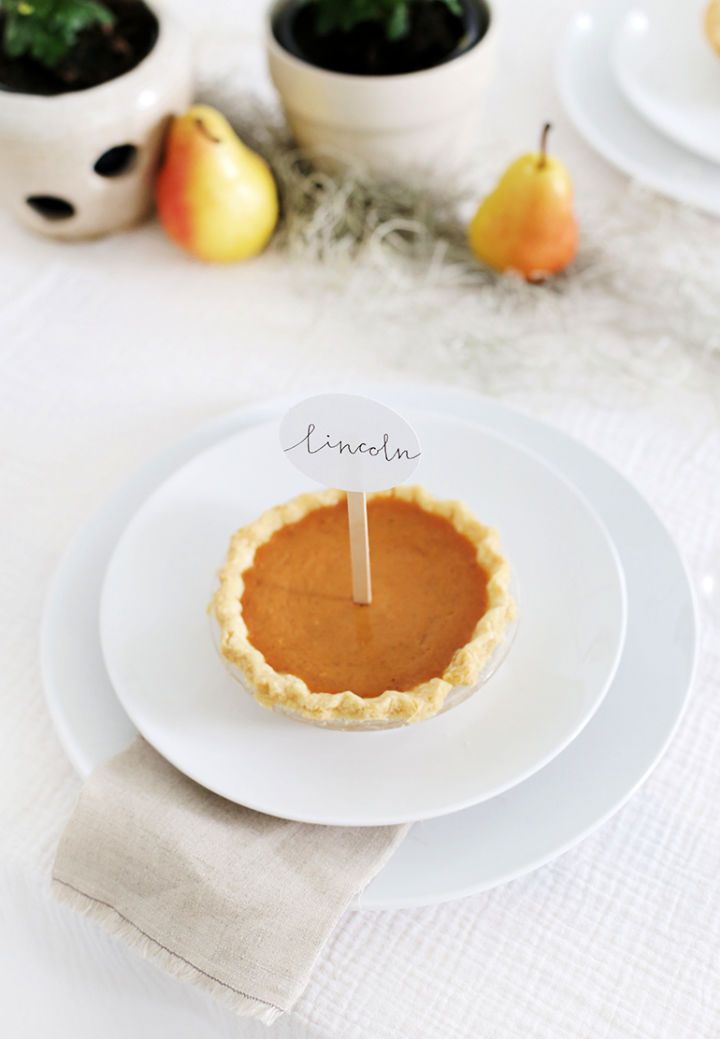 The place settings matter a lot when choosing the best and heart-winning Thanksgiving table decors. After choosing the color scheme, linens and centerpieces, you can head over to place settings and here is a quick and beautiful idea for that. Just go with these mini pie place cards that will be loved by all the guests and will be a total pleasure to put together. You need mini pie pans, cardstock, circle punch, wooden craft stick, hot glue and micron pen to easily duplicate these unique and sweet place carts. themerrythought
20. Orange And Gold Table Decoration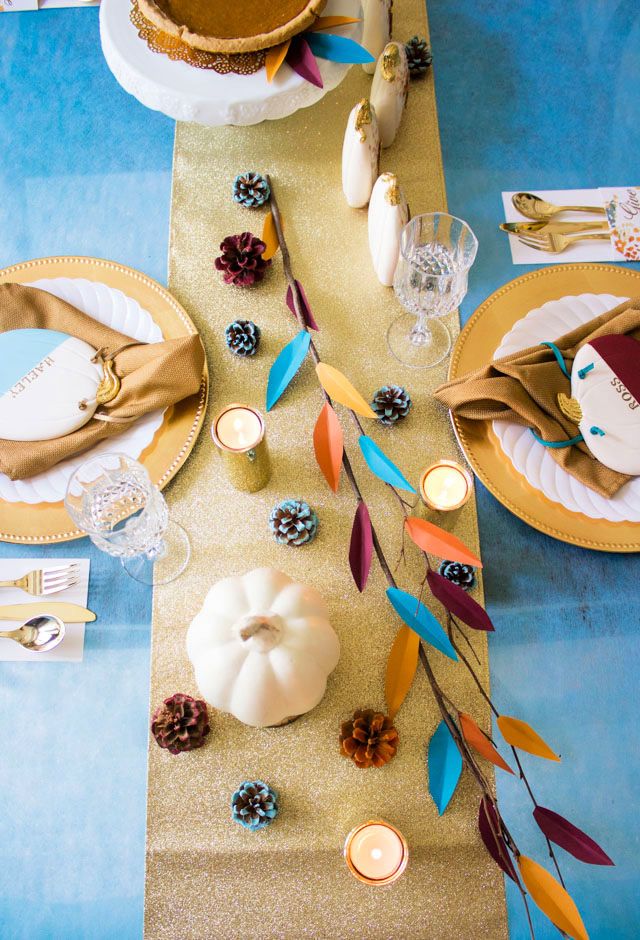 Are you willing to throw the Thanksgiving party on a modern theme? Then you will surely fall for this Thanksgiving table decor idea that will rock to bring that modern theme. You will get here all the possible and popular ideas for modern tablescapes, and the whole project will cost you next to nothing. Here this modern setting focuses on the turquoise, gold and warm fall colors, and you will get here instructions to make the best possible centerpiece for it also. Just create the turquoise, gold, yellow, orange and brown leaves out of the cardstock and then add them to a tree branch to make the best centerpiece for this modern Thanksgiving table decor. Use pies, glittered pumpkin letters and posh-looking gold candles for the theme and bigger decor statements. designimprovised
21. Colorful Disco Tabletop Decor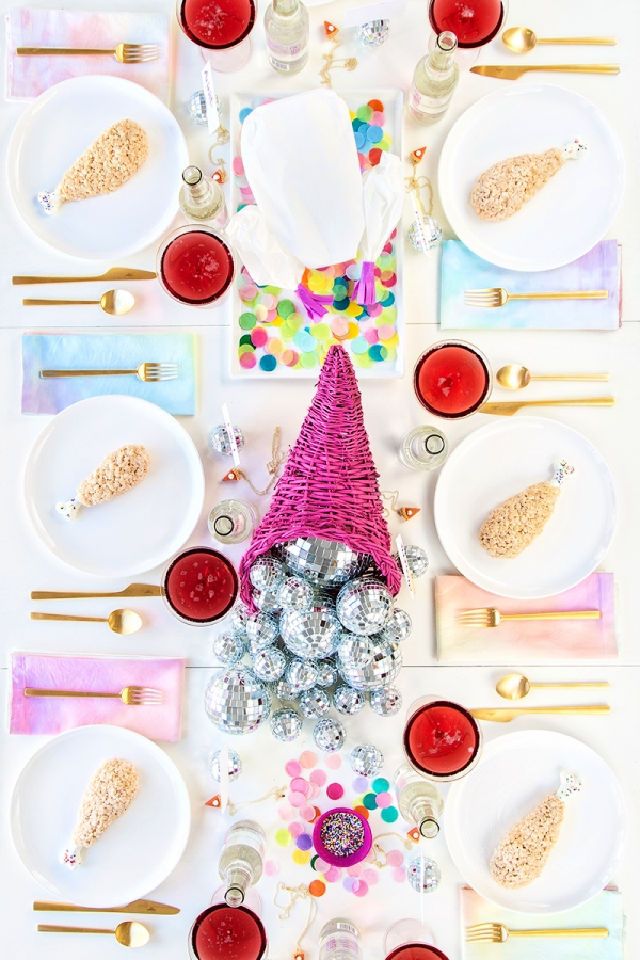 There are tons of different settings, themes and color schemes to choose the Thanksgiving table decors when you are on a mission to impress the guests. Explore this project details to learn about different decor ideas for the throwback thanksgiving. From choosing the best centerpieces to place settings to deciding the color schemes, you will get here step-by-step instructions for all. Moreover, you will get comprehensive details also about how to bring the ultimate enchanting colors to tablescape using custom food items. studiodiy
22. Beautiful Candle-filled Table Centerpiece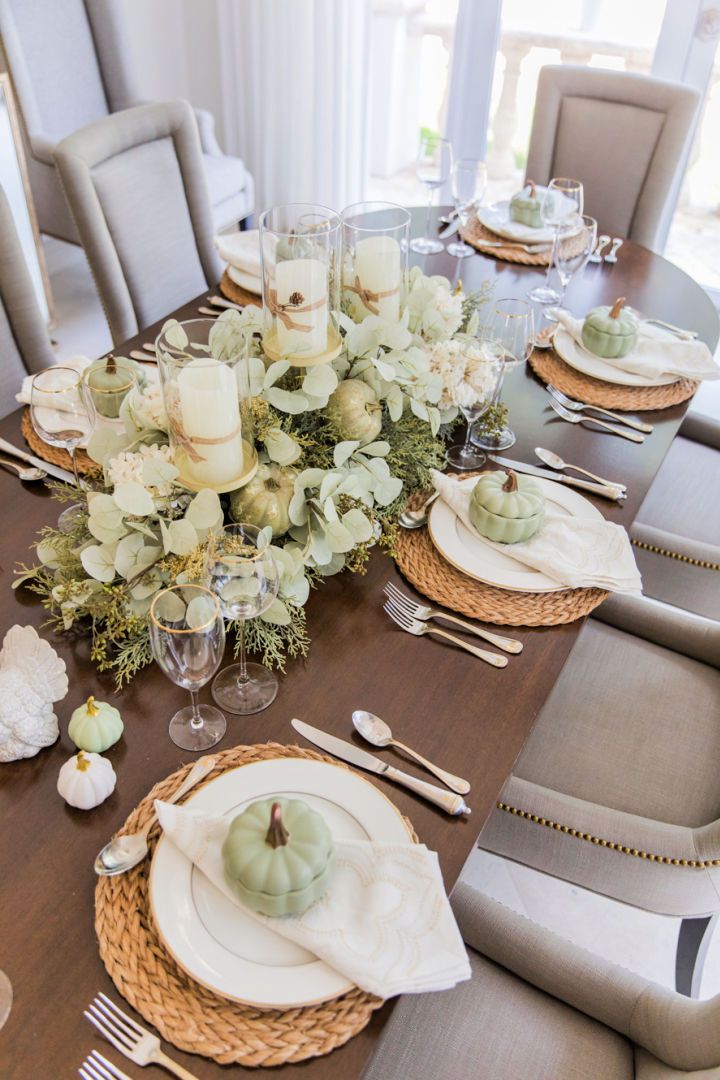 The fall theme is just best to feature those pastel shades of colors, and you will find so many in this Thanksgiving table decor setting. The whole theme features pastel gray, pastel green, gold, white and brown colors, making the entire decor super impressive and out of the ordinary. The pumpkin surpise place settings and pumpkin centerpieces loaded with candles, are the whole beauty of this specific Thanksgiving decor theme. One of the best Thanksgiving tablescape ideas ever. fashionablehostess
23. Pretty DIY Resin Place Cards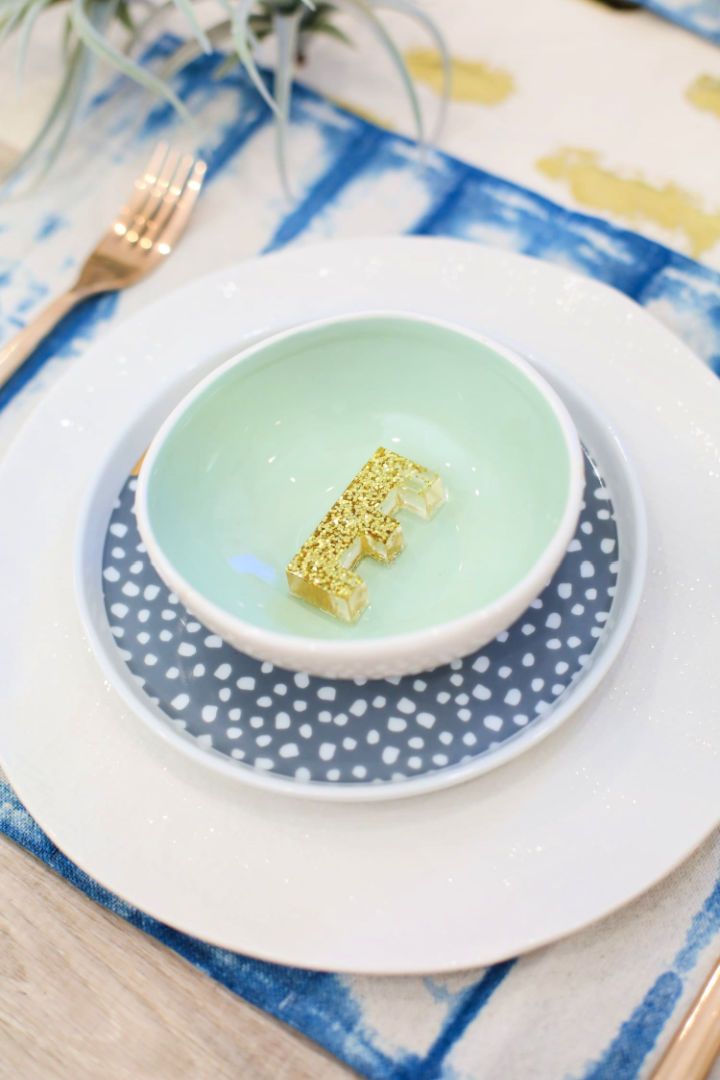 Are you highly obsessed with the place settings and decors when organizing a party yourself? Sorting out the best place settings and decors for the Thanksgiving table? Then you will love this idea. It involves making the gold glittered Thanksgiving place cards using the resin letters. It will be super easy and quick to complete these letters, and they are the best thing in the entire tablescape to impress the guests the most. You need a jewelry resin kit, silicone alphabet molds, glitter and 2 disposable cups to complete these letters, cute and gorgeous to look at. lovelyindeed
24. How To Decorate Thanksgiving Table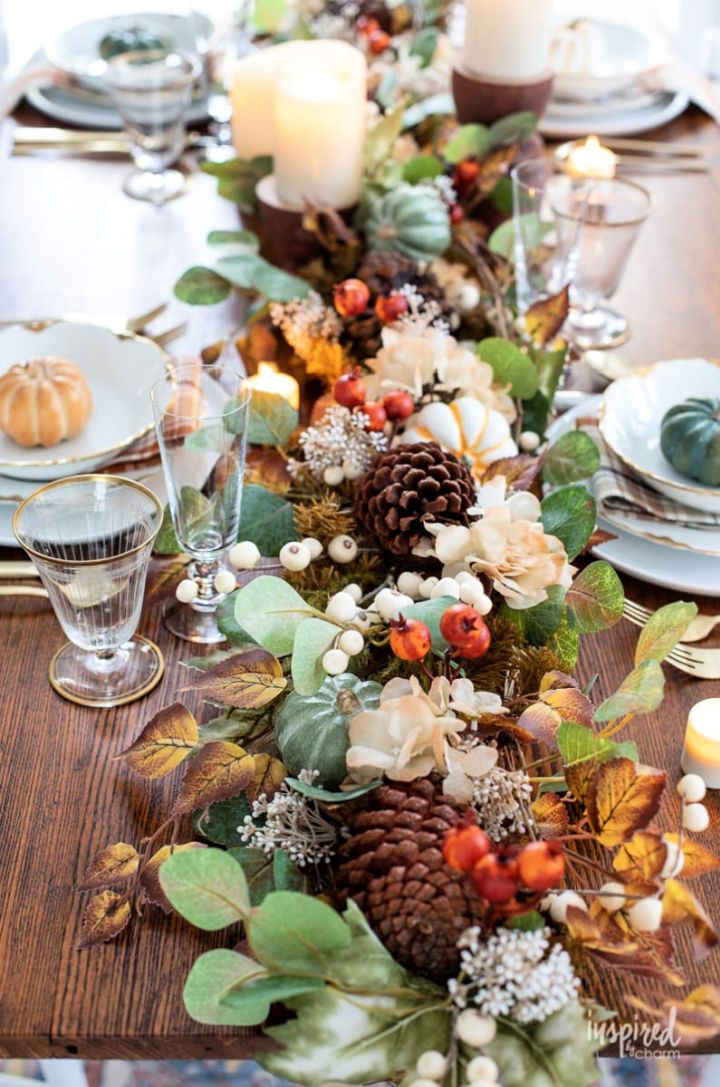 Bring the necessary elegance and coziness to Thanksgiving table decors choosing this unique setting and decor theme. The whole tablescape features pillar candles, pinecones, greenery, pumpkins, acorns and custom fall flowers, and these pumpkins are also added to place settings. The project is quick and impressive and will be loved dearly by all for sure. The addition of custom antique lanterns and pies, adds a lot to the overall beauty of this decor theme. Here is the best inviting and cozy decor setting to choose for the upcoming Thanksgiving feasting. Moreover, it will also cost you next to nothing. inspiredbycharm
25. Adorable Pumpkin Place Card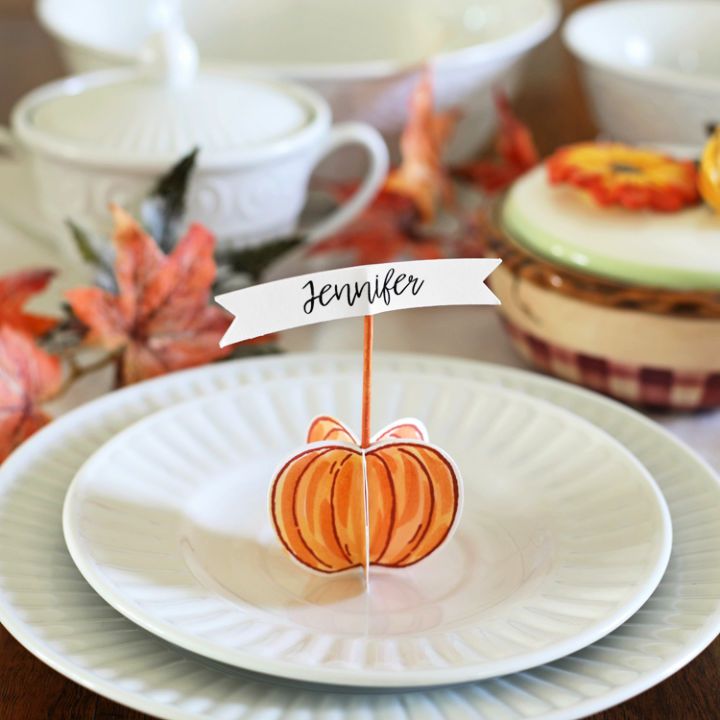 You will love to duplicate this another Thanksgiving decor idea that is both cute and lovely at the same time. Moreover, you will love this idea also if you need to give a handmade touch to those Thanksgiving tablescapes. The project involves making the two stamped Thanksgiving crafts that will also make the best place cards for the table. Before you get into construction, manage to have a Hellow Harvest stamp set, ink pads, apple builder punch, whisper white cardstock, snail adhesive, Stampin blends markers, clear stamping block and wooden toothpicks or small wooden dowels to complete this craft. thecraftpatch
26. Lovely Evergreen Table Setting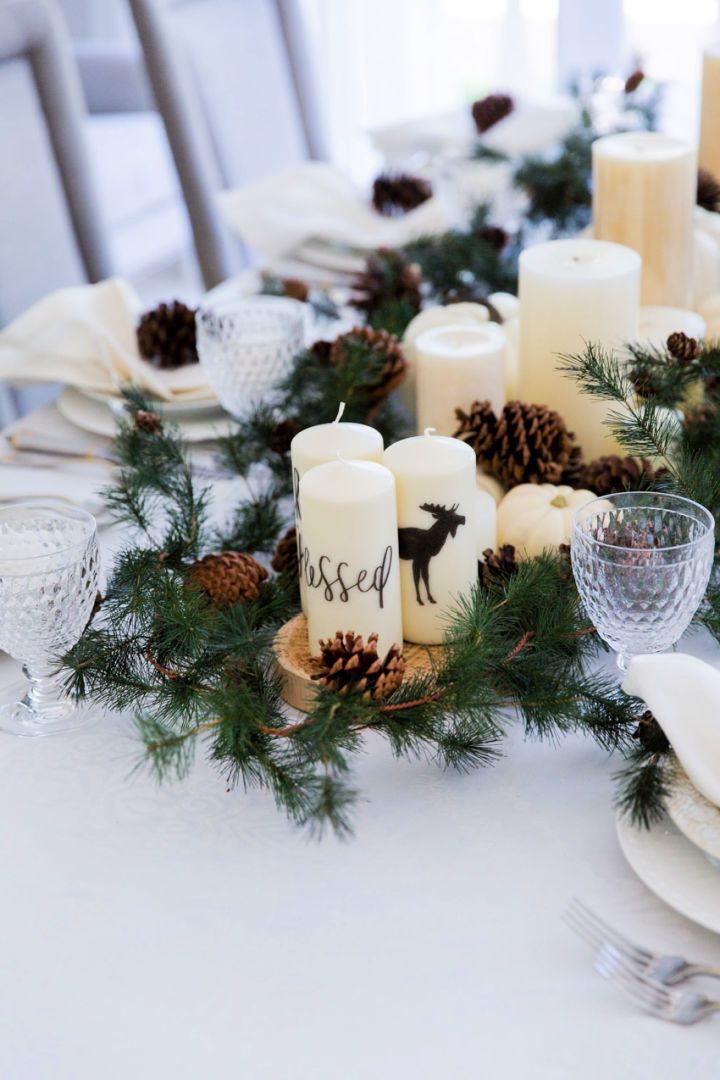 Are you making preparations for the biggest meal of the year, Thanksgiving? So, you will be thinking about the table decors changed from the previous one. This will make you choose different place cards, tablecloths and Thanksgiving centerpieces. So, check out here a great inspiration, the best Thanksgiving tablescape idea ever. It features pastel white and gray colors along with greenery, pumpkins and pillar candles. The addition of golden cutlery, centerpieces, and pumpkins makes the whole setting appear extra graceful and lovely. fashionablehostess
27. Minimalist Friendsgiving Table Setting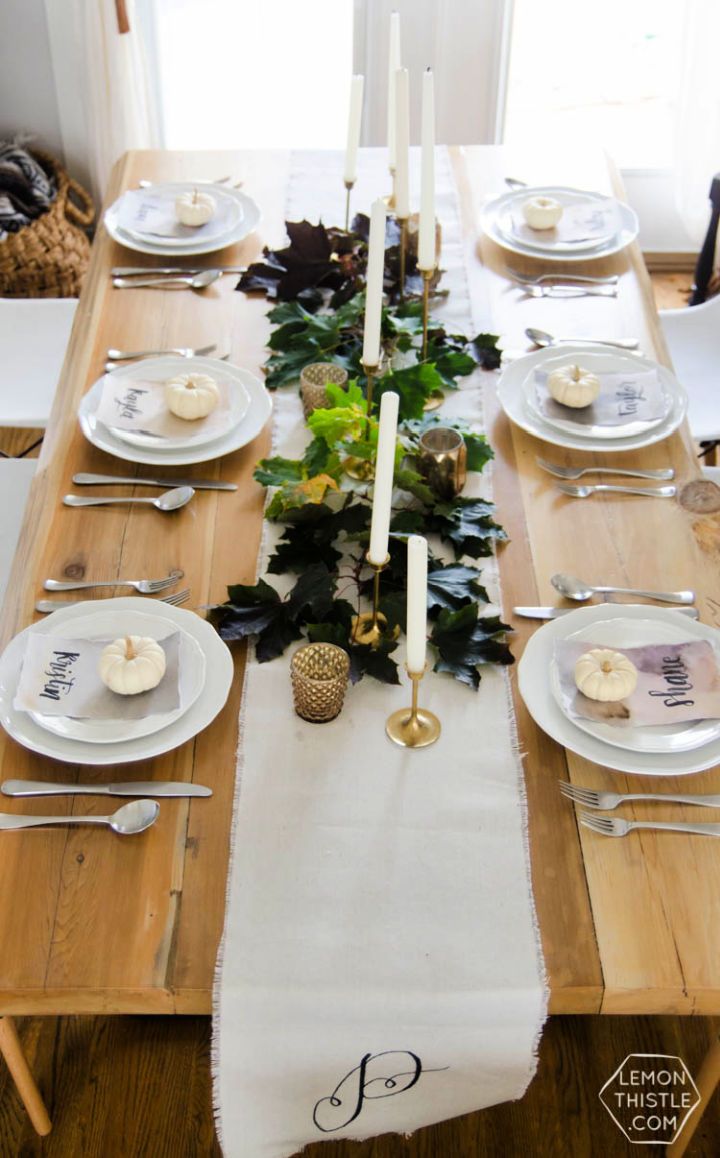 The fall decors mostly feature pastel and neutral shades, and this Thanksgiving tablescape setting does the same. It appears with the glittery gold mugs, silver cutlery, and loads of greenery on the white table runner. The addition of place cards with pumpkins is another impressive feature of this particular Thanksgiving table setting, will be loved dearly by all for sure. Also, add the long white candles on the golden candlesticks for visual grace. One of the best Thanksgiving decor ideas that will be loved dearly by all. At the same time, it will also go much easy on your wallet. lemonthistle
28. Personalized Tag Table Setting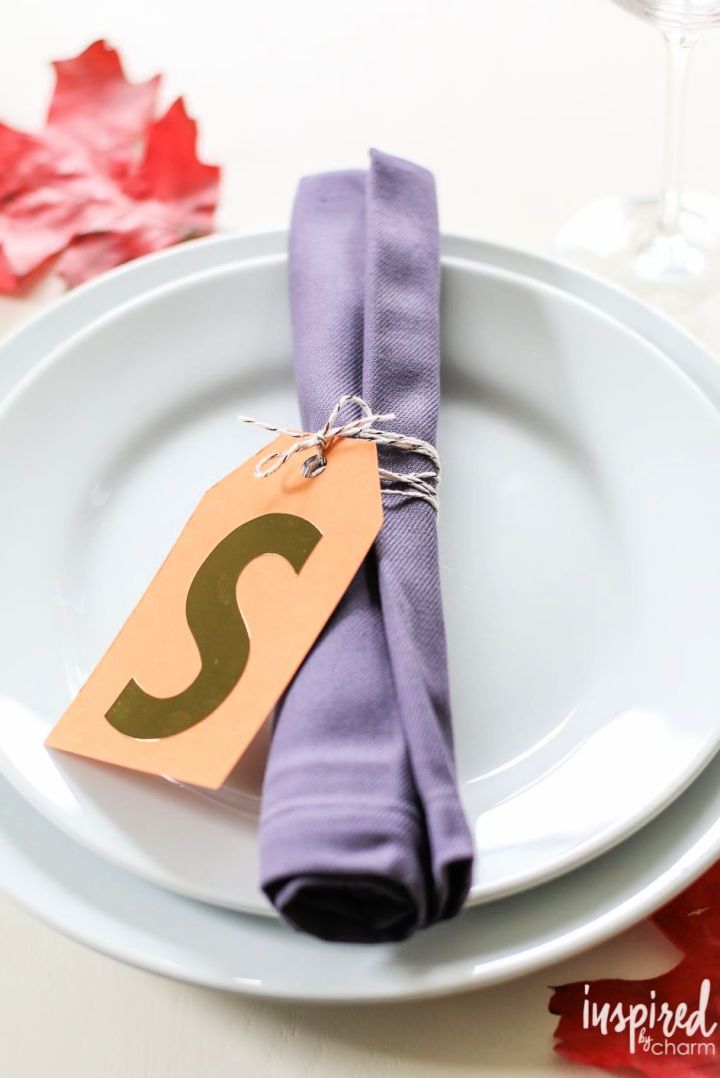 Elevate your Thanksgiving table with another decor idea. It involves styling the whole table with different handmade and simplistic decors that will bring that special and festive feel to the entire tablescape. From making fall leave cork sheet coasters to pumpkin stamped pumpkins to make personalized tags, you will get here instructions and ideas for all. Mainly the whole set features the warm fall colors along with the amazing gold, and everyone will just fall in love with this unique yet impressive Thanksgiving table decor idea. At the same time, this idea will also rock when you need to give a personal touch to Thanksgiving table decors. inspiredbycharm
29. Thanksgiving Utensil Pouch and Napkin Wrap Free Printable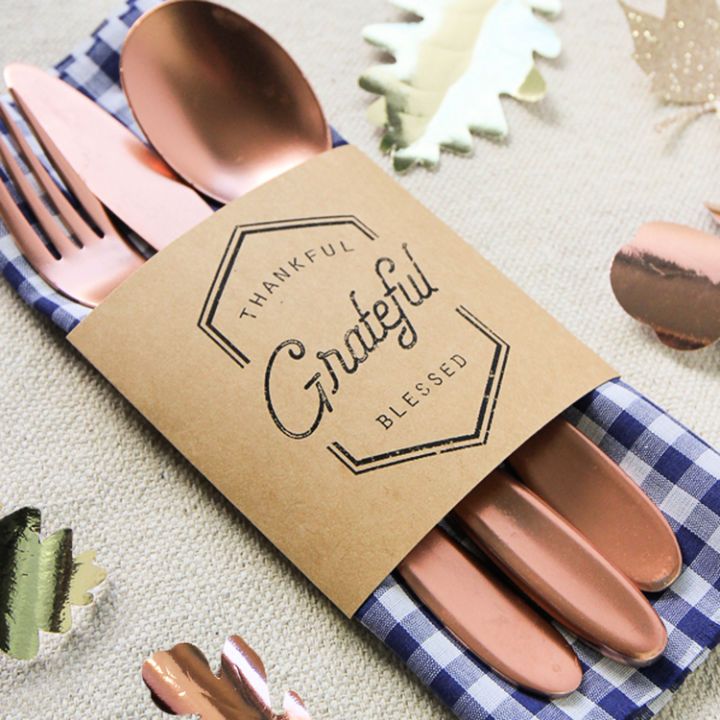 Some paying attention to minor details and table decors have bigger impacts on the overall beauty of the tablescape. So, learn to make the best Thanksgiving utensil pouch and napkin wrap, and you will get a free printable for that. You can easily download the printable to add to your table decor for bigger decor statements. This idea will rock when you intend to impress the place settings. The whole project will be quick and easy to do and will be loved dearly by all for sure. thecraftpatch
30. Cheap DIY Gold Table Runner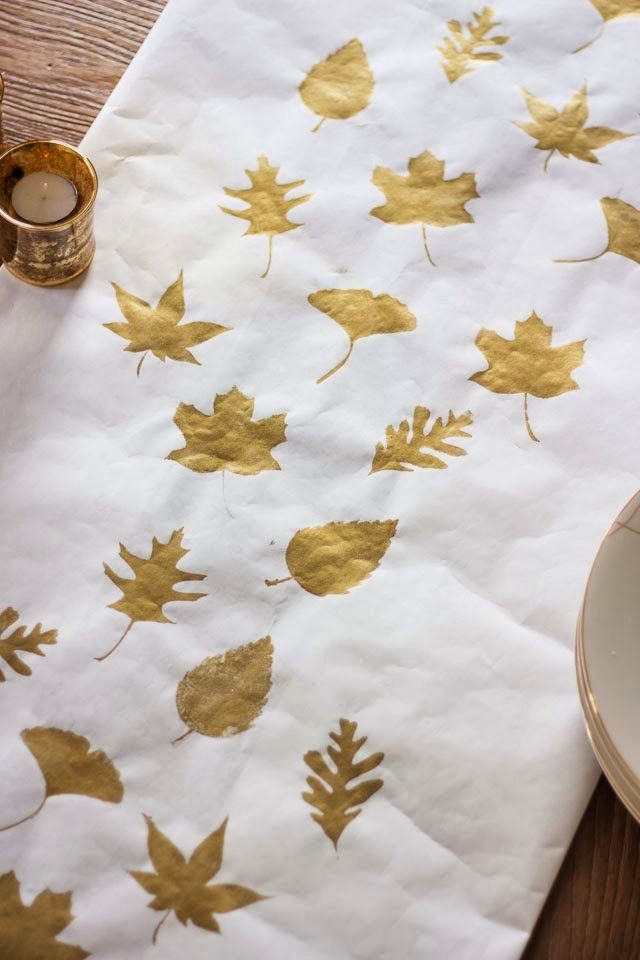 You can make custom centerpieces, linens, table runners and place decors to make the whole Thanksgiving tablescape impactful and impressive. So, learn here to make the best Thanksgiving table runner that features the golden fall leaves and just looks stunning with it. You can use the custom fall leave stencils and paint colors to easily paint the fall leaf patterns on the selected table runner. So, grab the roll of butcher or kraft paper, leaf stencil from your local craft store, craft paint in metallic gold and foam brush to complete this table runner. designimprovised
31. Bright Blue Table Setting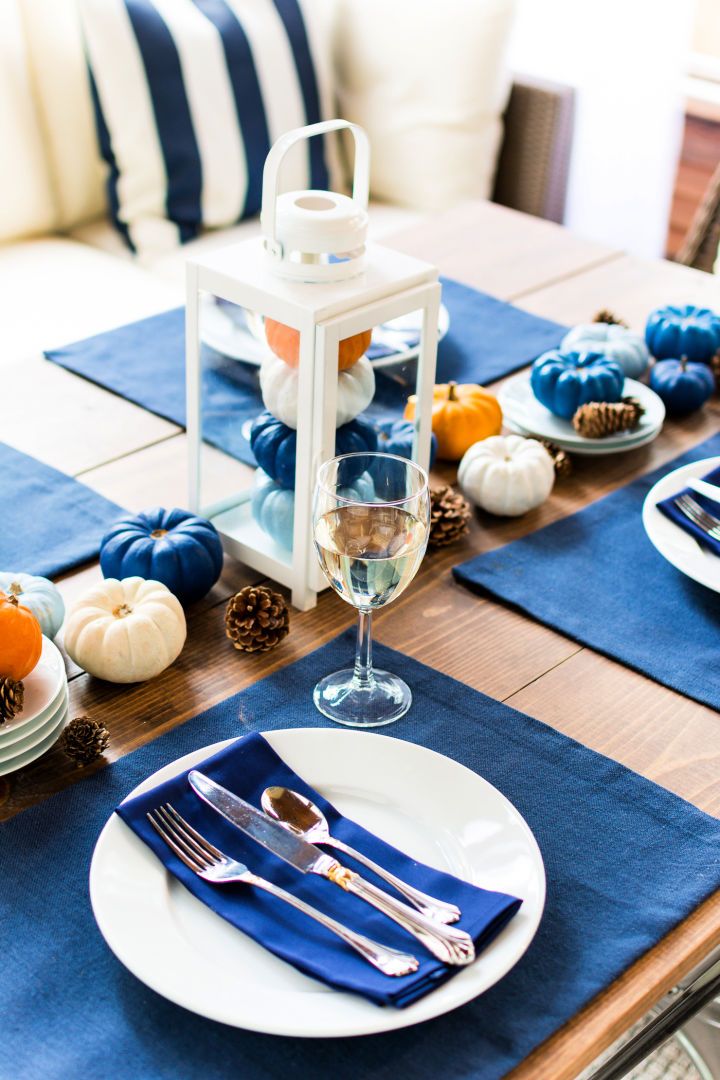 The decors ideas for giving thanks parties are just never-ending. You will fall in love with this another thanksgiving setting and decor also that is unique and lovely at the same time. You will learn where to go for some best Thanksgiving table decor settings and a turkey talk, which will surely impress you. The whole setting focuses on the blue, yellow and white colors, and every guest will praise the tablescape setting. The colorful pumpkin stack showcased in a glassy cage or lantern makes the best centerpiece for this glorious table decor setting. Don't forget to add the pinecones for added fall grace. itallstartedwithpaint
32. Wheat And Gold Colour Thanksgiving Tablescape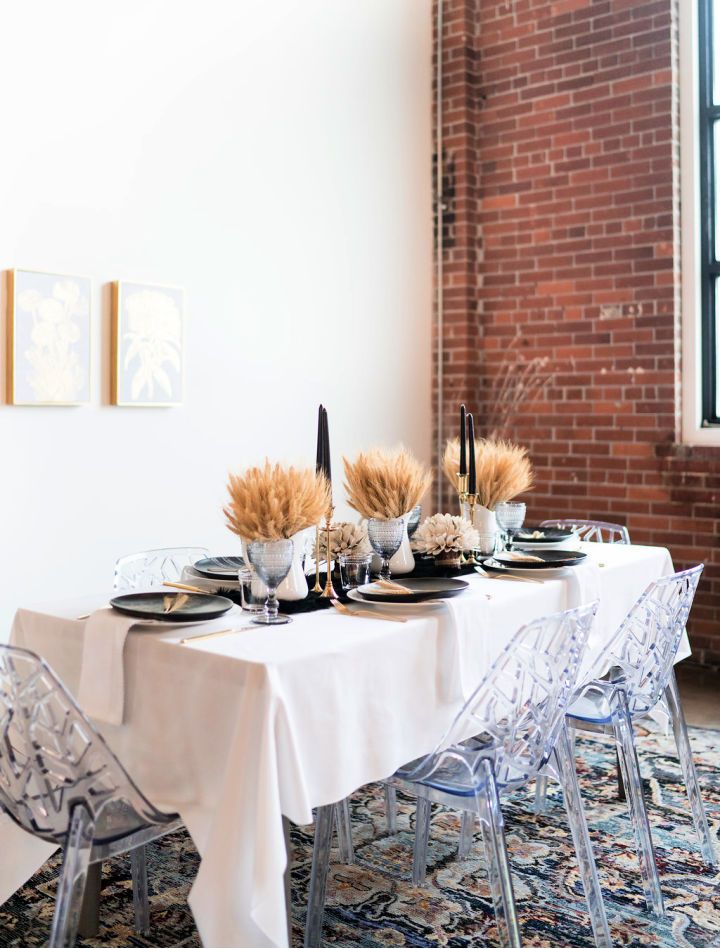 At a very first look, you will fall in love with this Thanksgiving tablescape, created quite inexpensively. With a little out-of-the-box thinking, you can easily create this thanksgiving table decor, sure to impress all the family members and guests. The whole decors feature the bundles of wheat as centerpieces. The addition of a black candle and faux fur table runner just makes the entire tablescape look extra visually captivating. What creates that posh appeal of the entire setting is the addition of golden cutlery and candlesticks. It will not take too long to complete this entire Thanksgiving table decor idea. patternsandpro
33. Simple Cozy Thanksgiving Table Arrangements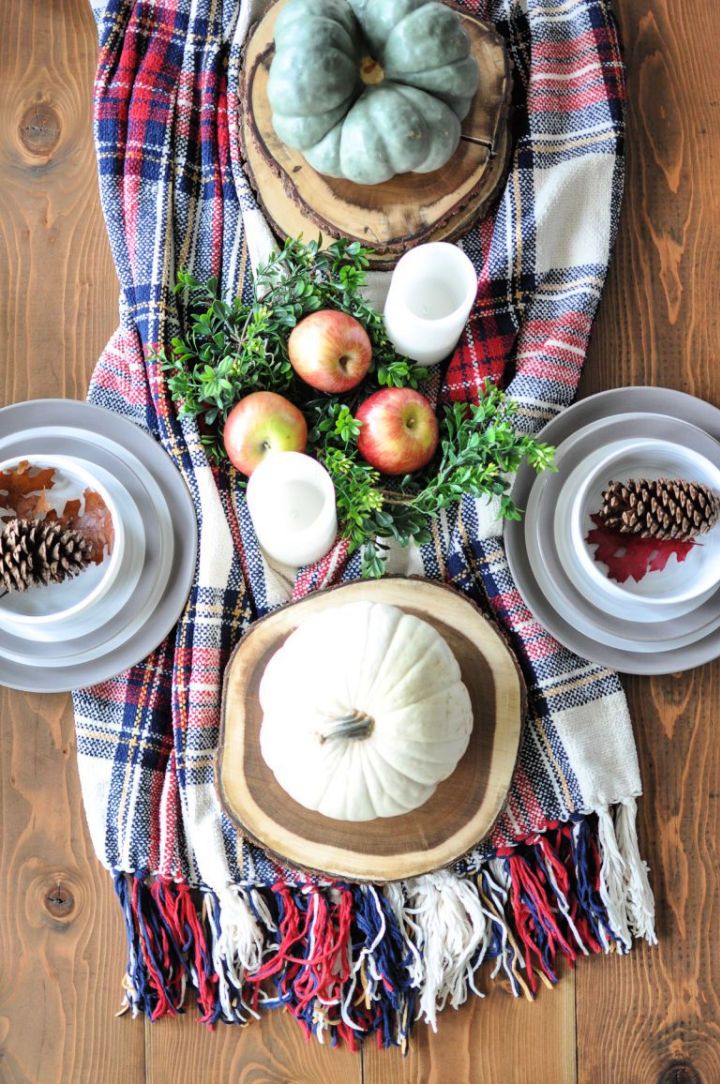 Getting ready for the bigger feasting of the years, the Thanksgiving? Then here is what is the most important, the Thanksgiving table settings. Before you decide your decors, color scheme and centerpieces, just have a look at this cozy, simple fall tablescape. It will be a smart choice for Thanksgiving dinners. The cozy plaid table runner, rustic wood slices, pumpkins, apples, pillar candles, pinecones and the fall leaves are the most prominent part of this entire table decor. However, you can also add more details for a personal touch. cherishedbliss
34. Thanksgiving Kids Table Set Up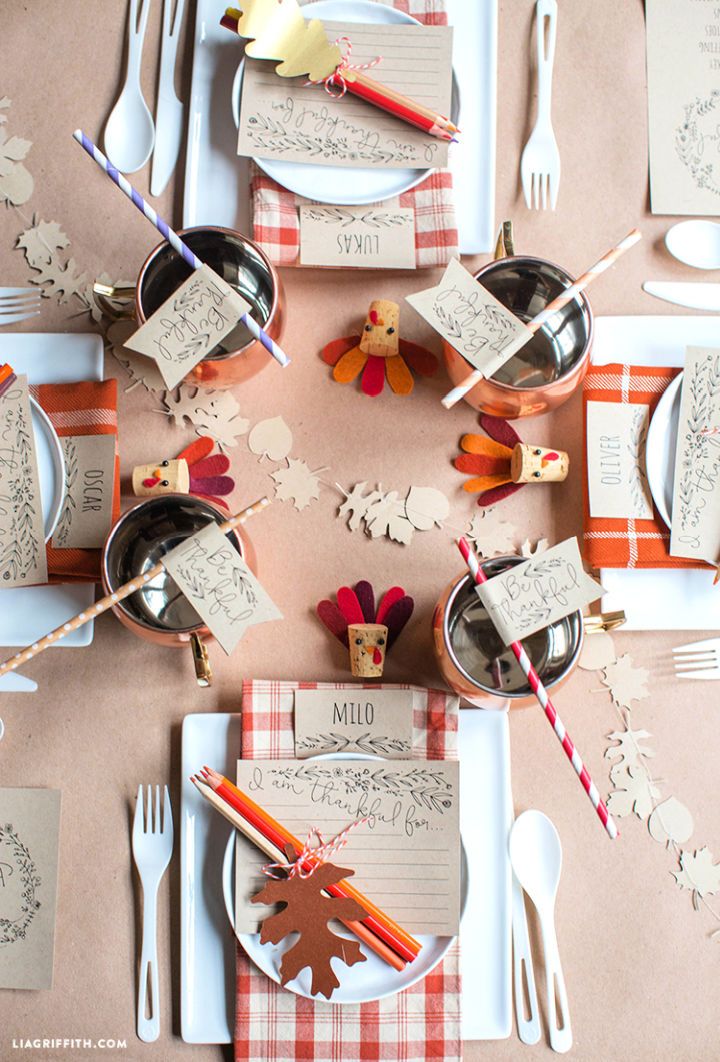 There are some cuter decor ideas available also to choose from for the Thanksgiving kids tables also. Opt for this cuter Thanksgiving tablescape that is super easy to whip up and involves making most of the items with hands like the wood cork turkey, be thankful flags, and other fall leaves. Add up the wooden corks with the turkey face and feathers to make cute turkey decors to add to this Thanksgiving dining table decor. One of the best, quick, cheap Thanksgiving table decor ideas that will be loved dearly by all the kids. liagriffith
35. Natural Green Thanksgiving Table Display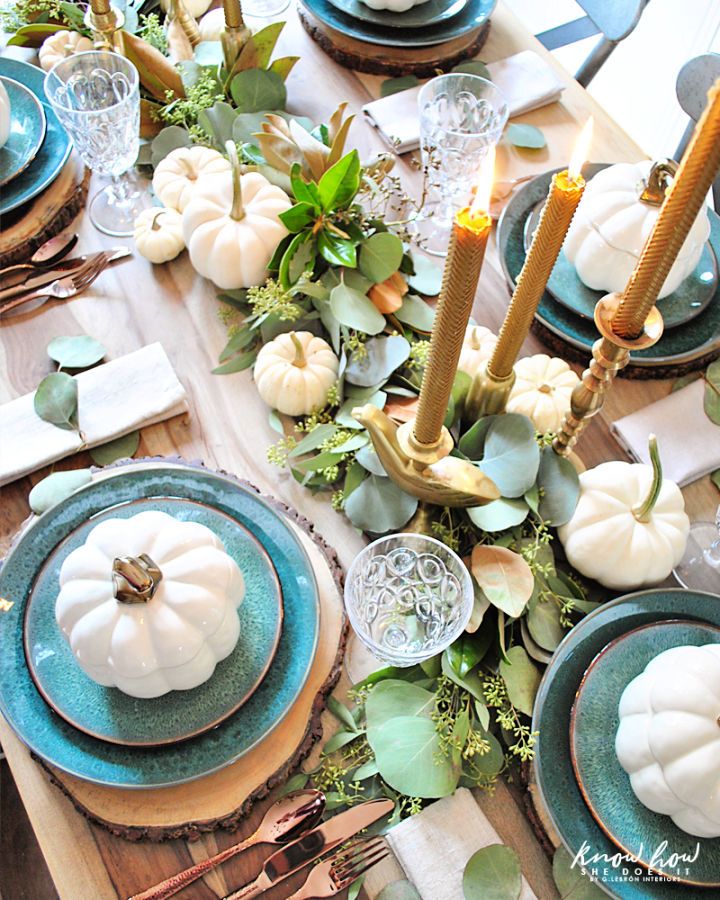 The Thanksgiving table decors and settings matter as a large group of people sit around it. So, get inspired by this crazy Thanksgiving table decor idea that is sweet and simple and will get appreciated. The whole table features lovely candles, pumpkins, greenery, and adorable pumpkins and is sure to be a big love of all. These settings are all about to feature the natural green, and this green sensation will bring that amazing feel to this table decor setting. knowhowshedoesit
36. Green and Copper Dinner Table Decor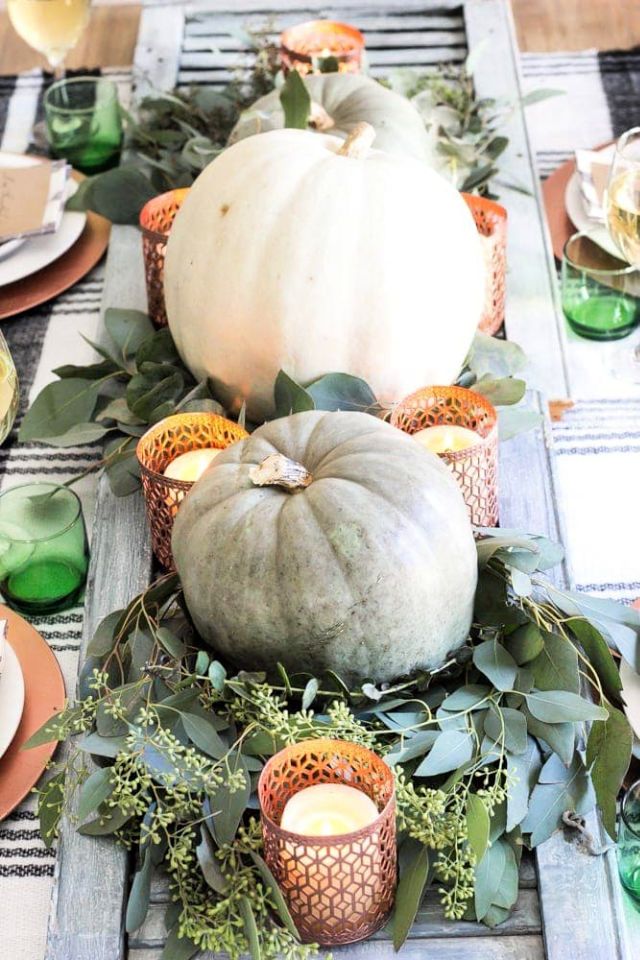 The metallic shades go amazing with the greenery and pumpkins when choosing the best Thanksgiving table decors and settings. Peek into details of this outstanding Thanksgiving tablescape that also features mesh candleholders, plastic chargers, and outstanding pumpkin decors. You will get instructions to make every unique detail inexpensively, and it will also add tons of visual grace to the entire table. However, you can add custom printables also to the place settings where the guests can write custom words. Here all the decors are added to an antique wooden window shutter door, and this is the unique feature of this tablescape. blesserhouse
37. Fancy Thanksgiving Dinner Table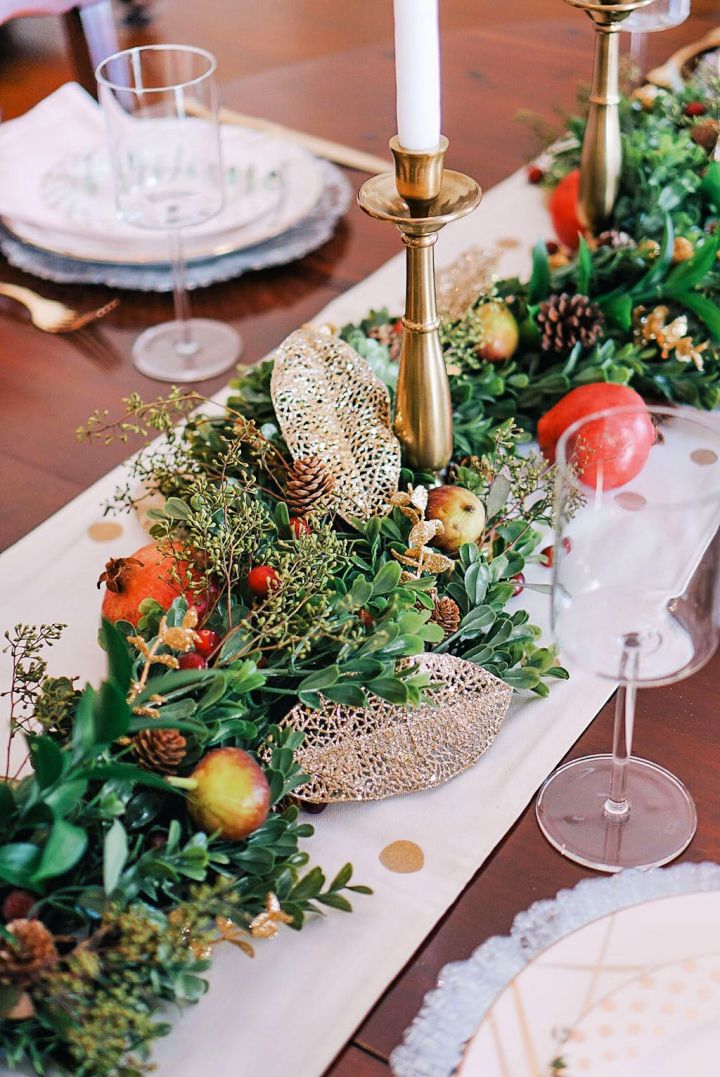 Intending to choose the best Thanksgiving tablescape ideas that will put the guest into big amazement? Then you will love to duplicate the given ones that feature lots of fall fruits, greenery and other accents like acorns and pinecones. The addition of the candles on the candlesticks will make the whole setting appear extra beautiful and impressive. Add stylish glassware and golden cutlery to add tons of beauty more to this thanksgiving tablescape. Here, most table decors are added to the central white table runner, and everyone can duplicate this decor for Thanksgiving. bestfriendsforfrosting
38. Pop of Color Fall Centerpiece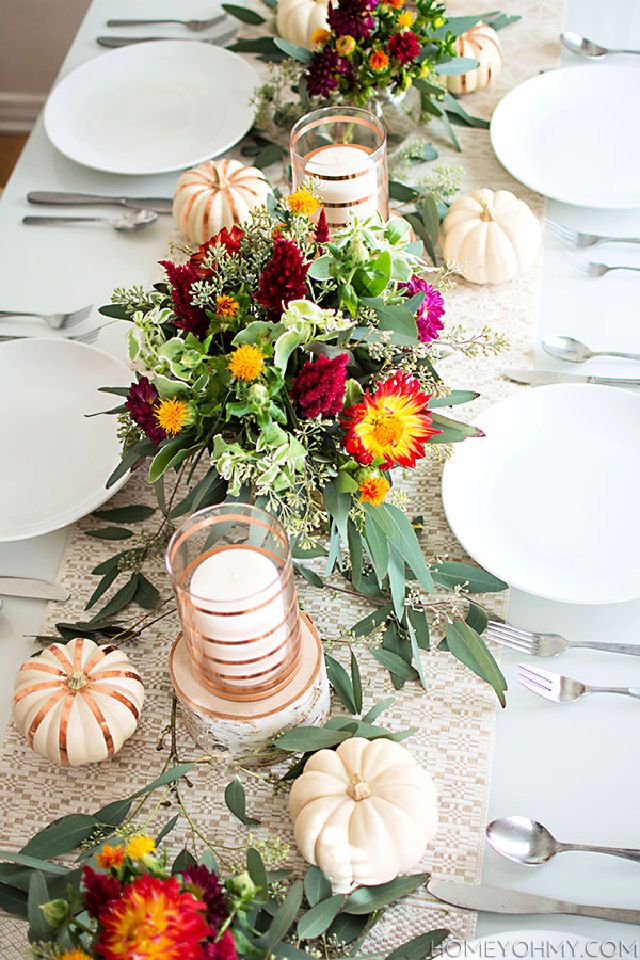 Whether you are willing to organize some great fall dinners or Thanksgiving feasting, this tablescape will rock for both purposes. This table decor setting features lots of fall flowers, greenery and pumpkins. The striped glass hurricanes with pillar candles inside are placed on the wood slices in the light decors. Use the custom table runners, table cloths and cutlery for added visual grace and stimulation. The whole project is quick and much doable for all beginners. Moreover, it will also leave bigger impressions on the guests. The whole decor will also cost you next to nothing. homeyohmy
39. Buffalo Plaid Thanksgiving Table Setting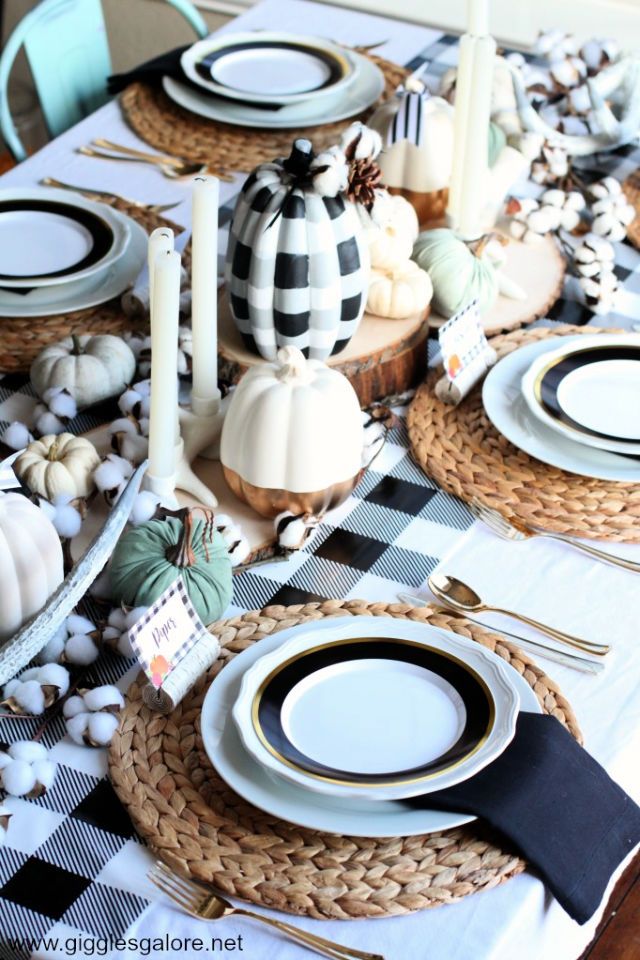 The table decor ideas for Thanksgiving are just never-ending. You will love this another setting done on a buffalo plaid, and it features white and black prominently. Use the buffalo plaid table runners, pumpkin covers, and the black and white place settings to easily bring this theme to your Thanksgiving party table. It looks rustic and will be loved dearly by all. The best way to bring your whole Thanksgiving into prominence and installing this theme will create too much fun also. Don't forget to add the rustic wood slices and antlers for the ultimate antique look of the tablescape. gigglesgalore
40. Outdoor Thanksgiving Table Scape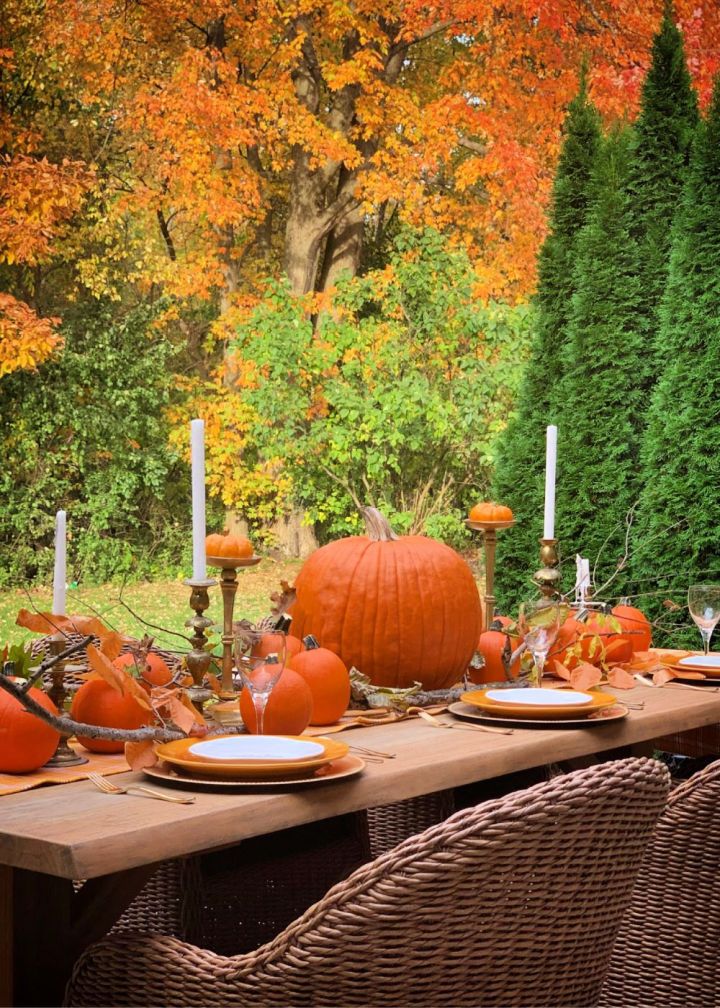 Opt for this outdoor Thanksgiving tablescape setting featuring many pumpkins and antique candles. The whole setting is installed on a rustic wooden table, and the whole table decor will rock for the outdoor Thanksgiving dinners. For added rusticity, add the rustic tree branches to decors, and this will be the most inexpensive and rustic Thanksgiving table decor idea for sure. Pick your favorite decors for the place settings, and everyone can duplicate this gorgeous rustic and pumpkin-based tablescape theme for Thanksgiving feasting. Pick the plaid yellow table runner for this table decor also. haneens haven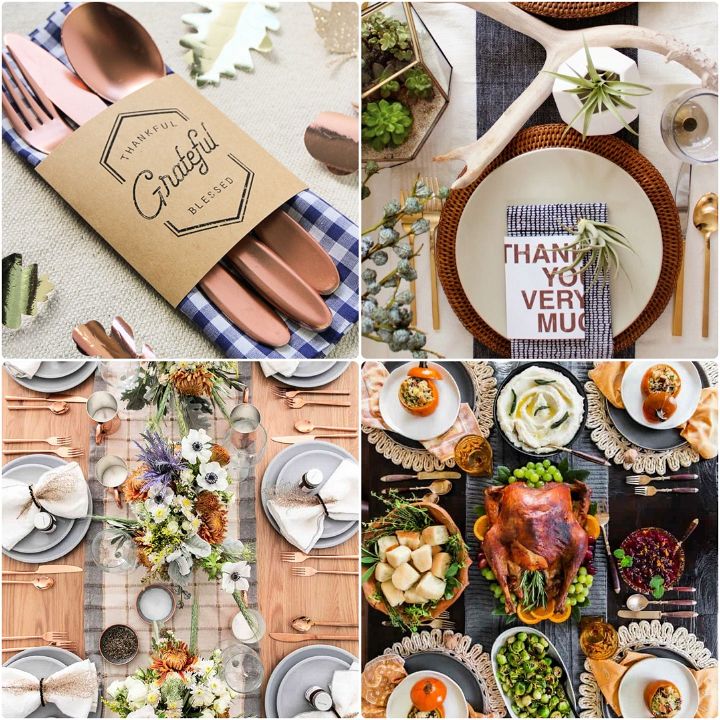 Related DIY Projects:
Halloween Party – Need some Halloween party ideas? Find easy, themed recipes, games, decorations and more for every age group.
Wedding Dessert Table – Dessert tables can be easy and inexpensive to put together. We've gathered some of our favorite dessert table ideas for you – all using items from your local grocery store.
DIY Wedding Favors – These DIY wedding favor ideas are your one-stop guide for all of your wedding party gift needs. Browse our selection of wedding favors and bridesmaid gifts to find the perfect present to give on your big day.
Pumpkin Painting Ideas for Halloween – Paint your pumpkin with these awesome ideas that are easy to follow and will make a great halloween decoration.
No Carve Pumpkin Decorating Ideas – There's no carving involved in these pumpkin decorating ideas. That's right, we're going to make it so that you don't have to just carve your pumpkin.
Conclusion:
This project will tell you how to decorate and fancy up those Thanksgiving tables. So, they will impress all the guests and family members. You will get here step-by-step instructions, detailed diagrams, and a complete list of materials to easily duplicate any of the given Thanksgiving table decors. There are table decor ideas for all skill levels, from easy to intermediate to advanced. You will learn to make many different Thanksgiving centerpieces, table runners, place cards, and many other Thanksgiving decorations. So, look through these projects to make the Turkey Day and Thanksgiving dinner parties unforgettable.