Mudcloth projects will get inspired by culturally rich decor and textile creations. Learn how to make mudcloth pillows with these 10 DIY mudcloth pillow ideas that are easy to make and will inspire your creativity. Intricate fabric designs added to your decor can really bring so much more volume to your decor game. Before we head over to these ideas, let us spill the mudcloth beans to you; how and where did this trend emerge for? It might be surprising for you to know that though mudcloth is trending now, it actually is centuries old! So, fellows mudcloth, originally known as bogolanfini, comes from Mali origin. It has this detailed cotton strips dyeing process with all the earthly elements in two cycles. The first cycle involves leaves and branches, while the other involves mud. Now, here's the twist in these DIY mudcloth pillow projects, they don't involve these 2 cycles. How? Let's dig in.
If you like minimalist patterns in your home decor items, then these DIY mudcloth pillow ideas will add just the right statement to your decor! But let's not forget that something this delicate is definitely going to cost you more than just minimal. But, these DIY mudcloth pillows can be easily spruced up with some exciting patterning techniques involved. We have rounded up these mudcloth pillows with crochet patterns or chalk paint designs, from pillow covers to throw pillows and plain or indigo colors; we have it all here! The Pinterest enthusiast inside you is going to have SO much fun. With a few supplies that are readily available, you can take satisfy your minimalist decor cravings.
1. DIY African Mudcloth Pillow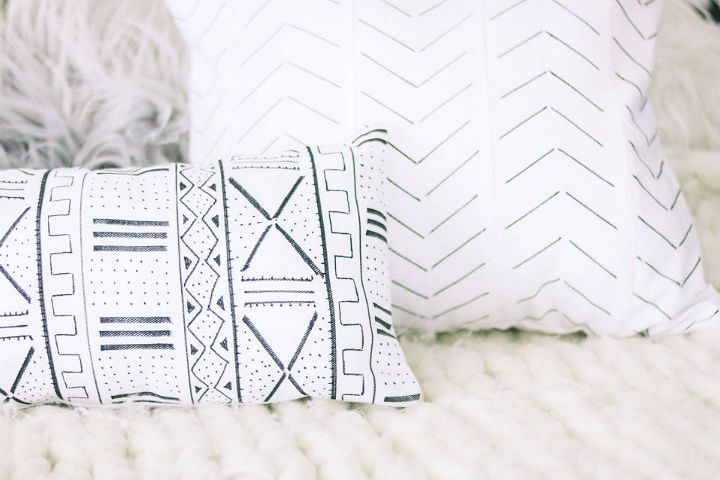 So, by now, we know that the original mudcloth is a bit off-white in color, given its process cycle. But if you like more of a whiter theme, this tutorial uses white denim (smart, right?!). All you need for this African mudcloth lookalike is a ruler, fabric marker and other sewing supplies. Start by sewing your pillow first and making the pattern as described in the tutorial step by step. lilyardor
2. mudcloth Crochet Pillow Pattern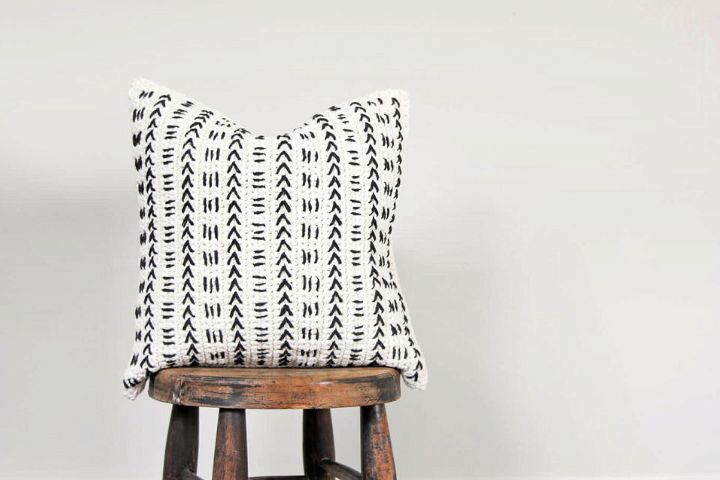 There's no denying that crochet patterns add this super cozy vibe to any place. This guide can help you spruce up a lovely woven fabric appeal. To ace this pillow, you just need to be familiar with a single crochet stitch and mainly how to make a square out of it. The tutorial also has a free downloadable link of the pattern; hit the link now and get started. makeanddocrew
3. Easy DIY Mudcloth Pillow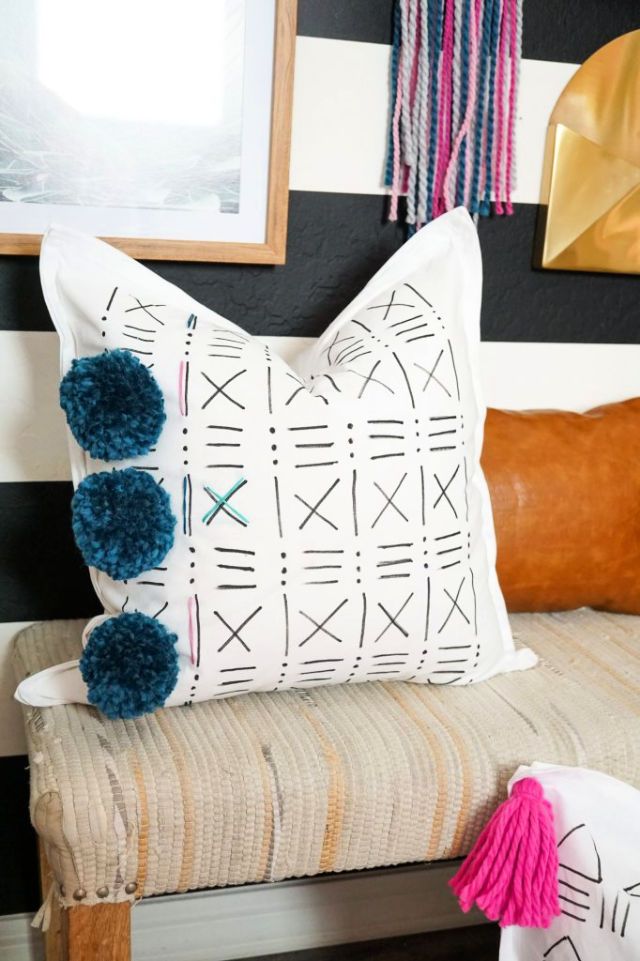 Get your decor that boho appeal with fabric paint markers, embroidery floss and napkins. For the extra touch, feel free to add some yarn pomps or tassels. Start by putting the finished napkins together and then drawing your pattern. This DIY mudcloth pillow is really easy peasy as you get to play with the fabric marker just how you like! See for yourself below. rebeccapropes
4. Homemade Mudcloth Pillow Cover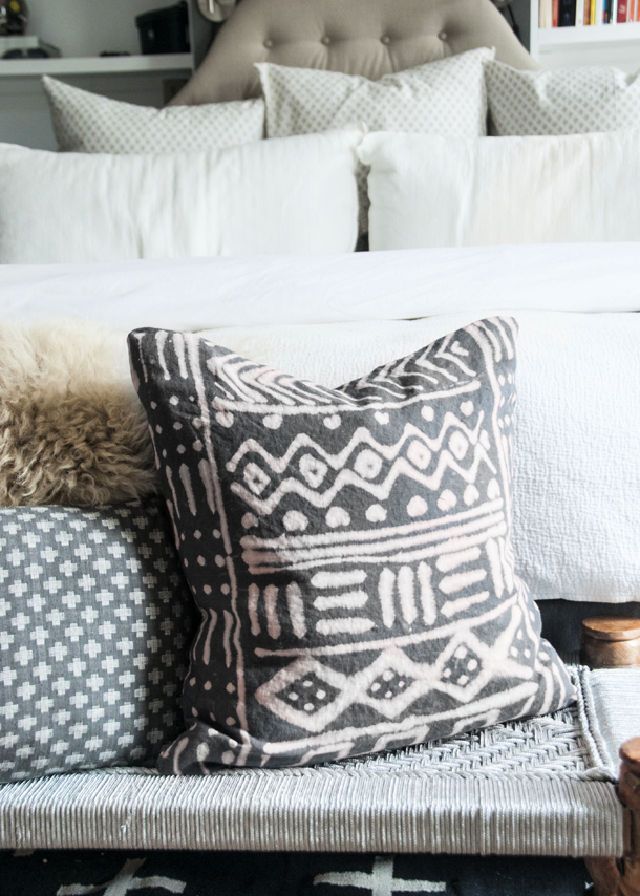 If you are a huge fan of reverse engineering, then this mudcloth pillow pattern is going to be your personal favorite! Start by getting your hands on dark linen or cotton napkins and a bleach pen. Pick your favorite graphic design for mudcloth and get creative with the bleach pen. Let the bleach sit long enough so that the colors turns white from initial pink. Tadah! earnesthomeco
5. How to Make a Mudcloth Throw Pillow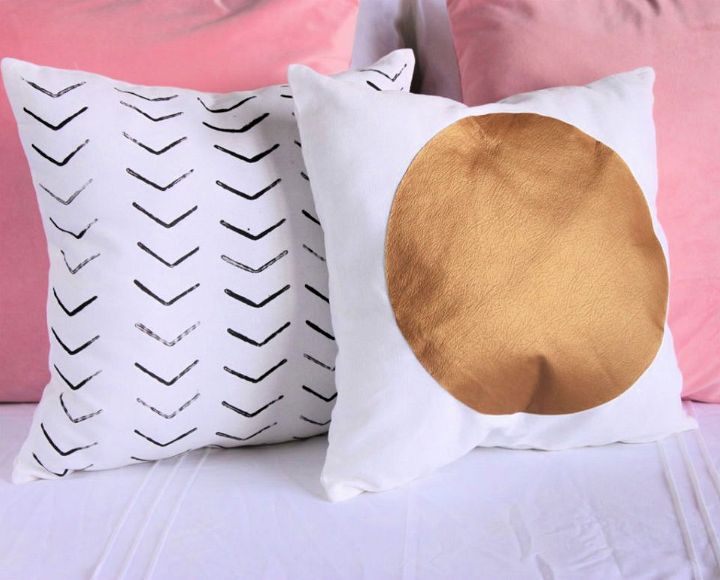 Here's another minimalistic DIY mudcloth throw pillow idea! Absolutely a charmer and ridiculously easy! Start by laying out the fabric for your pillow, use painter's tape for marking the space. Cut a fine V out of the cardboard paper, dip it in the paint and get crafty over the pillow's fabric! Enjoy the lovely design later. lifesahmazing
6. Indigo mudcloth Pillow Knock Off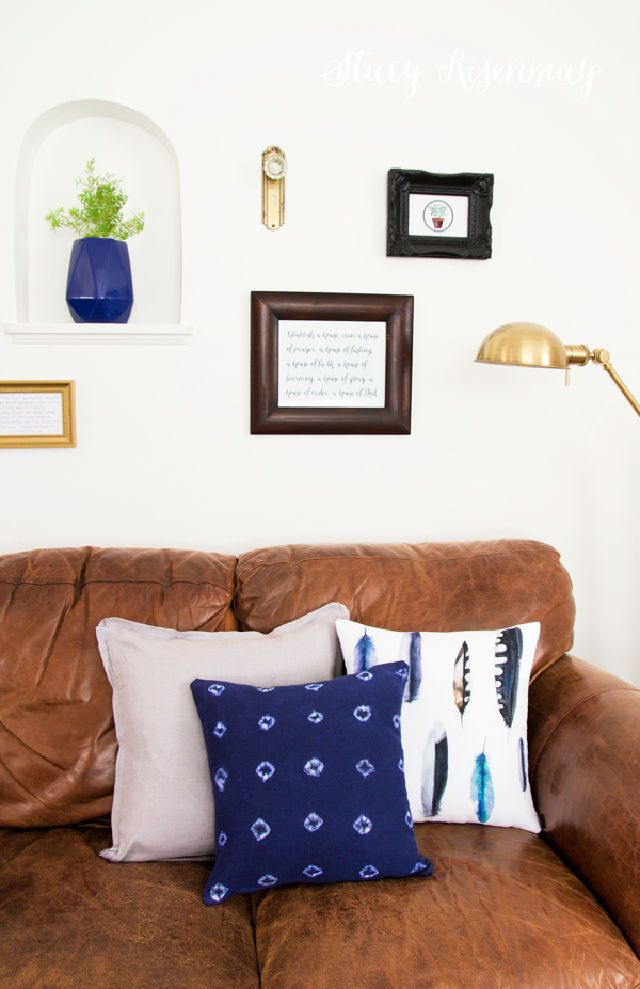 For all the tie-dye fans here, you are absolutely going to adore this Indigo mudcloth knock-off pillow. Especially if you are fond of playing with colors, this is going to be your next DIY project. Get your hands on natural indigo dye or any other dye you like, gloves, metal bucket and rubber band. Head over to the link for more details. notjustahousewife
7. DIY $3 Mudcloth Pillow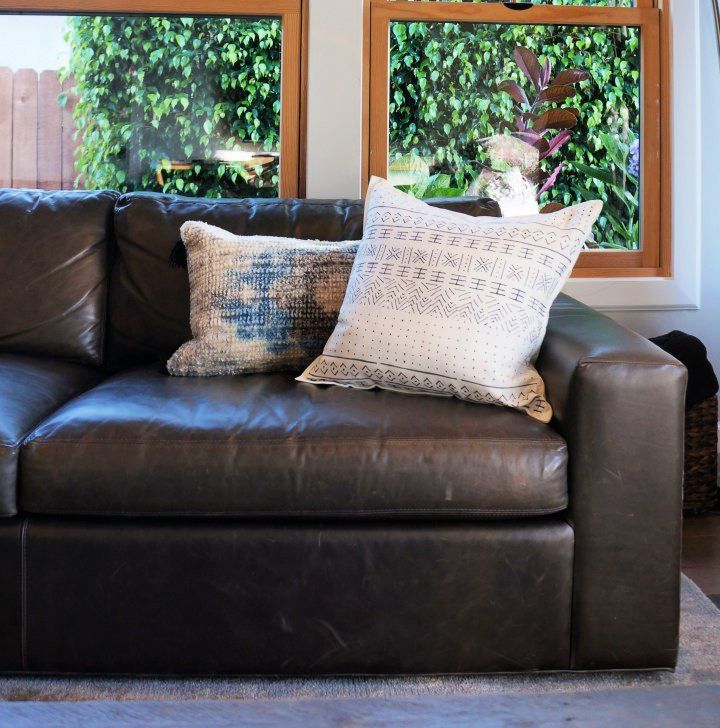 This DIY mudcloth pillow is unbelievably easy to spruce up! Get your hands on a white pillow cover, get your hands on a sharpie. Now, it's time to get creative with the graphic design you want to add to your mudcloth pillow. Use some yarn to add the extra touch. Get started! relativerenovations
8. Hand painted Chalk Paint mudcloth Pillow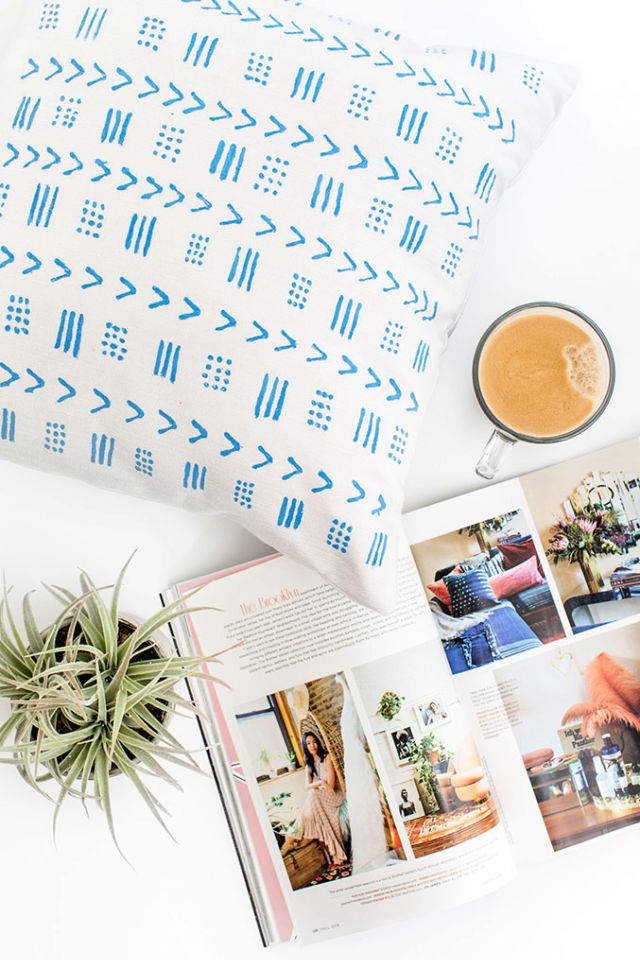 Check out this lovely chalk-painted mudcloth pillow! It has these beautiful blue hues. Get your hands on a wooden stir stick, solid-colored pillow in light color, paintbrush medium angled and small round. In five simple steps, you can easily spruce up this chalk paint mudcloth pillow. dreamgreendiy
9. DIY mudcloth Pillow Cover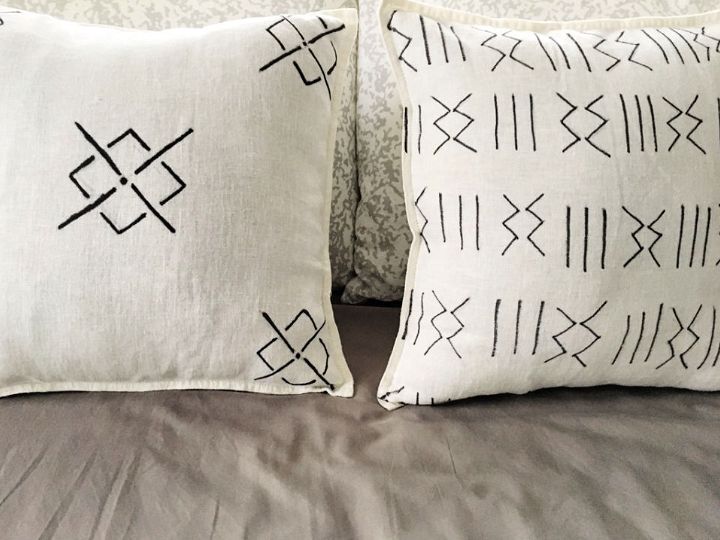 Another lovely version of the famous African mudcloth pillow. Gather supplies including linen cover, pencil, ruler, sharpie and piece of cardboard or paper. You can start by sketching the design first on the pillow and then take it up from there. Easy peasy and simple to spruce up! mysimplysimple
10. Create A Mudcloth Pillow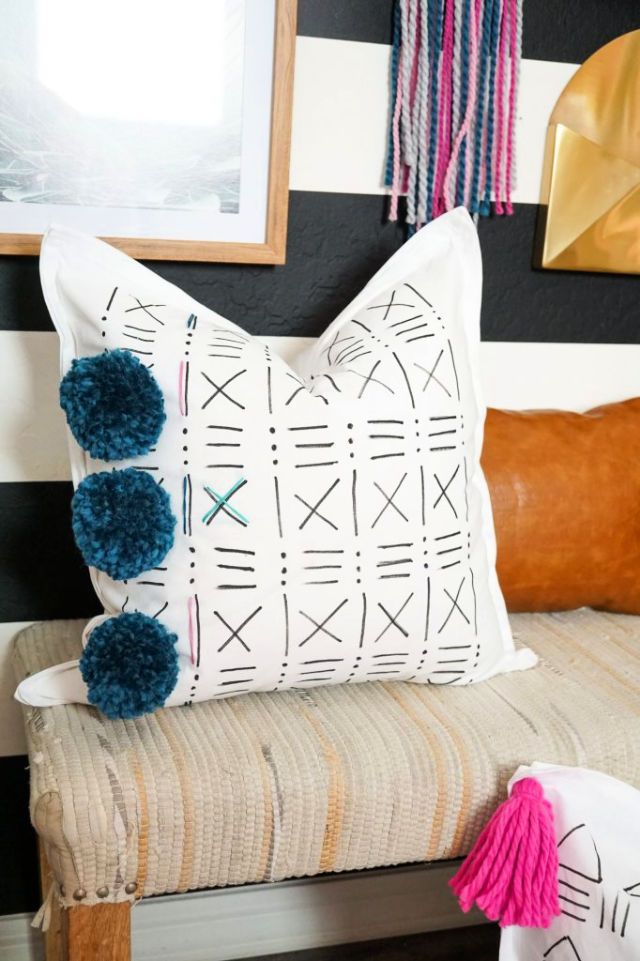 Here's another one of our rather funky-looking DIY mudcloth pillow patterns. If you are looking for a rather chic appeal to add to your decor game, this is going to be it! Get started with your hand-drawn graphic design, add in some colorful yarn and then finish one end or corner using yarn tassels or thread. rebeccapropes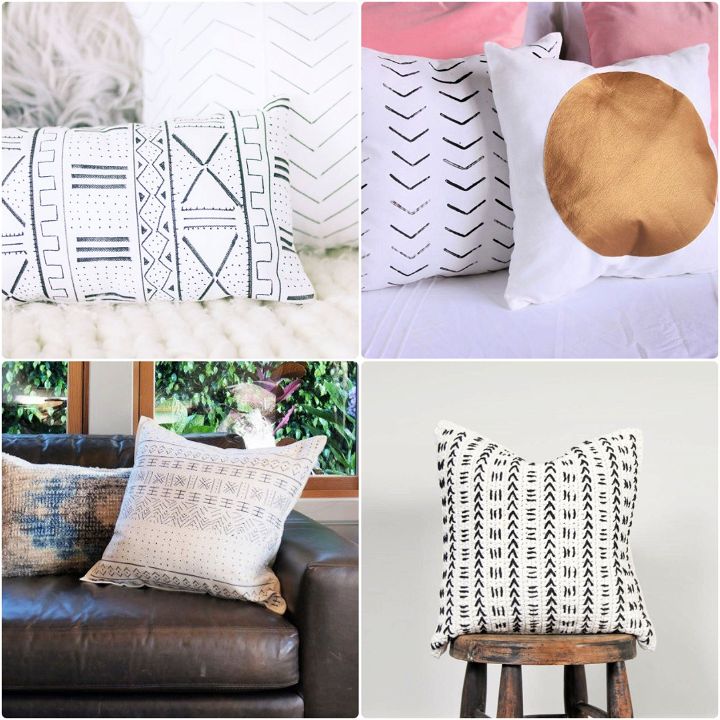 Related DIY Projects:
Related DIY Projects:
Painted Terracotta Pots – Looking for a cheap and easy way to fill your home with color? Discover easy painted terracotta pots and painting pots ideas to make your space unique. You don't need any special skills or expensive tools to make these beautiful pots.
Pumpkin Painting Ideas – For the best pumpkin decorating projects in 2022, these easy pumpkin painting ideas will be a huge help. Get creative and have fun with your friends and family!
No Carve Pumpkin Decorating Ideas – Find these no carve pumpkin decorating ideas that are easy and don't require you to carve into the pumpkin. These ideas will allow your pumpkin to last for a long time, and you can enjoy it for weeks.
DIY Shoe Painting Ideas – A simple guide to painting shoes, with 25 easy DIY shoe painting ideas and tutorials. Make your own custom shoes to match any outfit!
Conclusion:
We bet the boho and minimalistic DIYer inside you is well-satisfied with these DIY mudcloth pillow ideas. Firstly, they are ideal if you wish to add just a subtle statement to your decor. Secondly, since the real African mudcloth can be way too heavy for your budget, these DIY lookalikes can be a blessing in a rather affordable disguise. Lastly, they are just so irresistible and perfect for any DIYer. With just a bunch of easily available supplies, you can make some aesthetically pleasing additions to your decor game! Thank us later. Happy mud-clothing, folks!