See these 25 easy diy shoe painting ideas are the most unique and handmade pieces that will help you makeover your old shoes. Sometimes an old pair of shoes get so worn out, but it's still not possible to get rid of them as they are so comfy. This list of unique shoe painting ideas works best on those old shoes, and they will stay in your use for a long time.
When you buy a boring pair of white sneakers, you certainly need something unique to do with them; otherwise, they will sit in your closet for the next many years. Make use of these different DIY shoe painting ideas that will help you in creating something that will match your style perfectly. You will be able to customize your designs in any way you want using painting shoes in different colors.
Make your own pair of sneakers using these DIY shoe painting ideas that can liven up your old regular pair of sneakers in no time. Try your hand at these beautiful and cool shoe painting ideas, and everybody will keep on admiring your designs, giving you a chance to look super stylish without spending too much money.
Try making cute embellished shoes with a daisy and butterfly; use mod podge to DIY glitter shoes! Or make white saddle shoes for men; you could also make diy painted shoes, cool Hawaiian hibiscus vans, custom design your own ombre Nike shoes, and use just sharpies to make rainbow tie-dye shoes. Let's get going!
1. DIY Sharpie Tie Dye Sneakers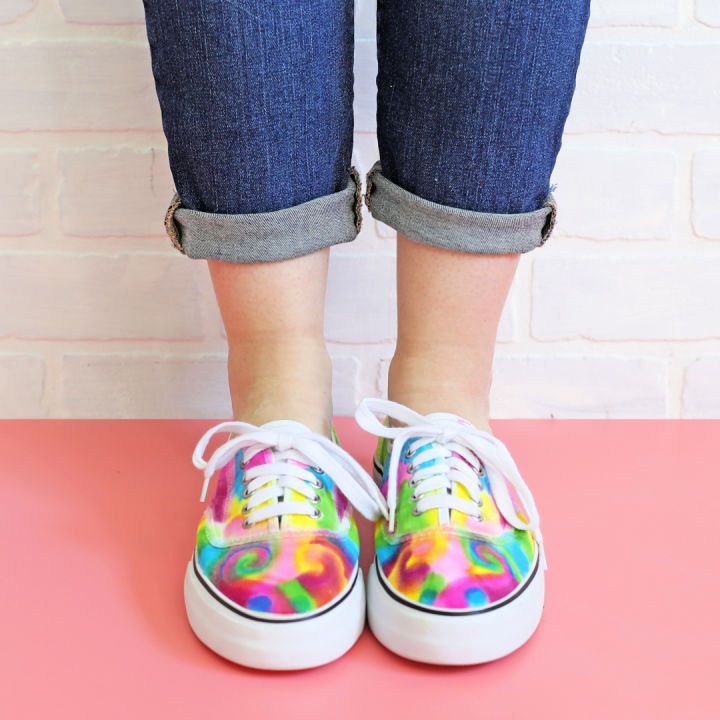 Make a colorful and happy new pair of diy painted shoes by trying some new shoe painting ideas. Try the sharpie tie-dye technique on them, which will get you hooked, and you will want to try it on different pairs of shoes again and again. Gather some supplies like plain white canvas sneakers, sharpie markers, 91% isopropyl rubbing alcohol and a medicine dropper. Start the project by removing the laces from your canvas shoes so that you don't drop any ink on them. thecraftpatch
2. DIY Decorate Leopard Print Shoes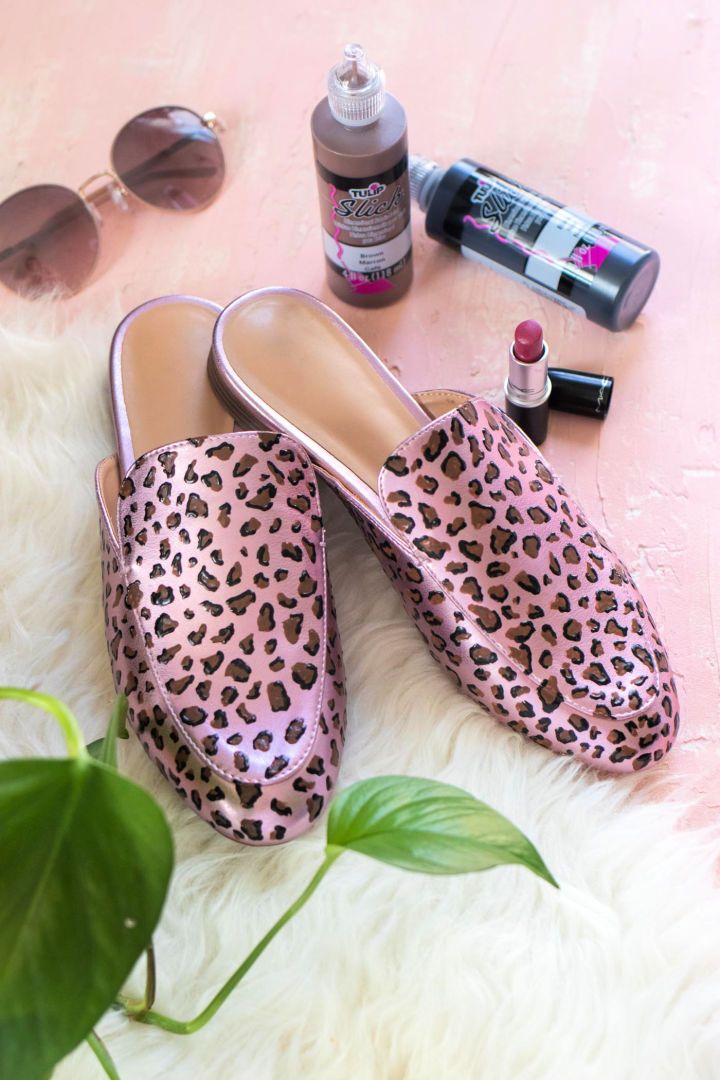 Sometimes when you spot a pair of shoes, an idea clicks into your mind right away. That means you must get the pair and create something unique with them using different shoe painting ideas. Make your own DIY leopard shoes that will make your old pair really pop out. You will need supplies like a pair of shoes and slick dimensional paint in colors black and brown. Splotches all over the shoes will be painted using brown paint. clubcrafted
3. Cute Daisy and Butterfly Embellished Shoes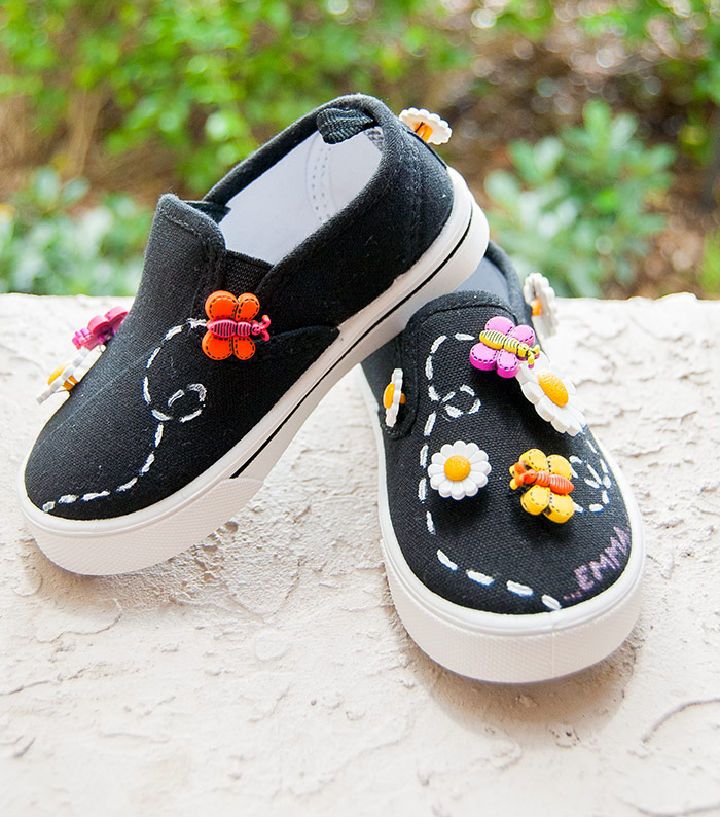 A regular and plain pair of shoes can turn out to be so cute if you try something new and crafty on them. Turn an old pair of your little one's shoes into cute daisy and butterfly embellished shoes that will make them look adorable. For the embellished shoe project, you will need supplies like a pair of plain canvas shoes, some cute buttons, thread, a needle, a pair of scissors and white fabric paint. In this case, choose daisy and butterfly buttons. thecraftingnook
4. DIY Glitter Shoes Using Mod Podge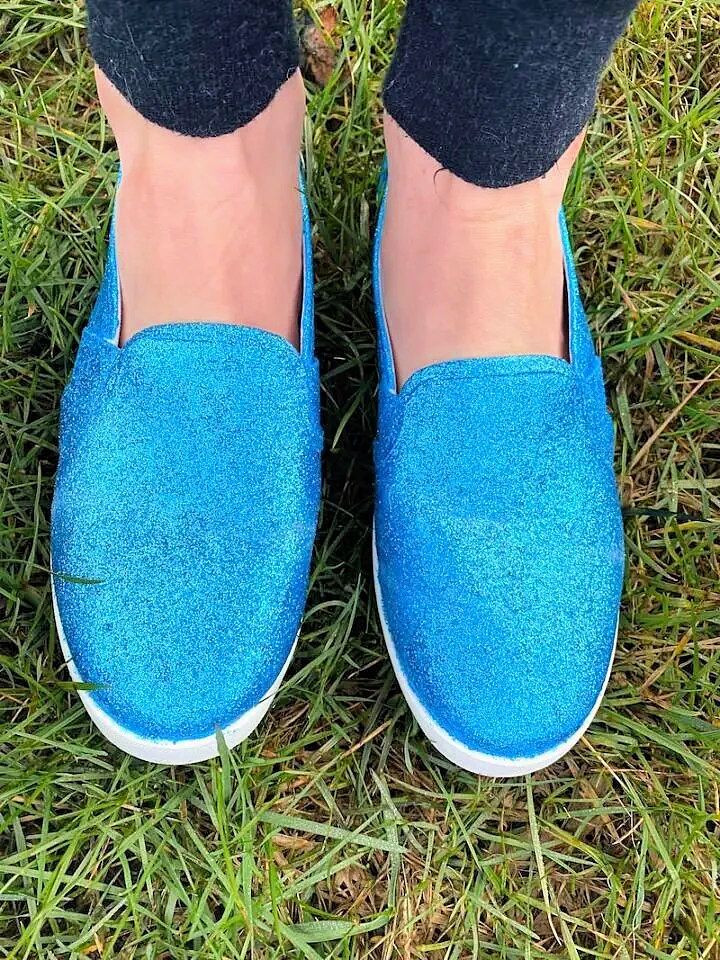 Use mod podge to turn your favorite pair of shoes into some sparkly stunners and use them for a long time. You can decorate your shoes easily, even if you have never crafted them before. To make your own shiny pair, you will need canvas shoes, mod podge gloss, fabric paint, glitter, mixing container, paint brushes, painter's tape and craft knife. Just choose some simple and inexpensive canvas slip-on. Use sandpaper to make the surface a bit rough. modpodgerocks
5. White Saddle Shoes for Men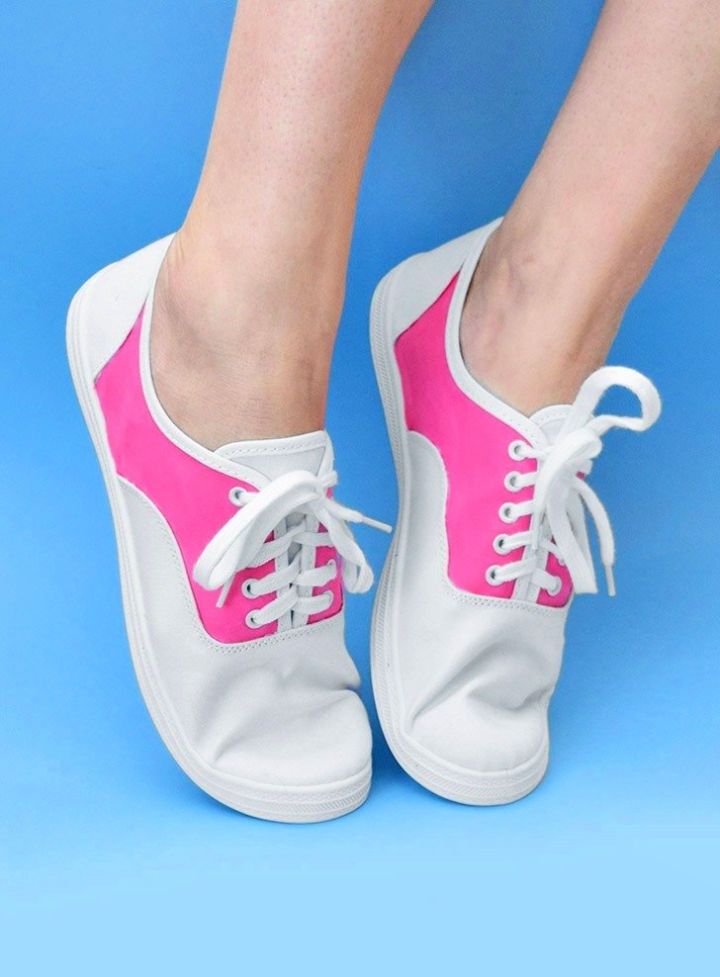 Enjoy working on a simple and cheap craft project that you can use for a long time. Make a pair of faux saddle shoes that will be super cute and will go perfectly with any costume. Rock them out at parties or wear them with a poodle shirt, and they will stick in your wardrobe for a long time. Supplies needed will be a pair of white canvas sneakers, paint in different colors, stiff paintbrush, fabric medium or water and cotton swabs. dreamalittlebig
6. Cool Hand Painted Hawaiian Hibiscus Vans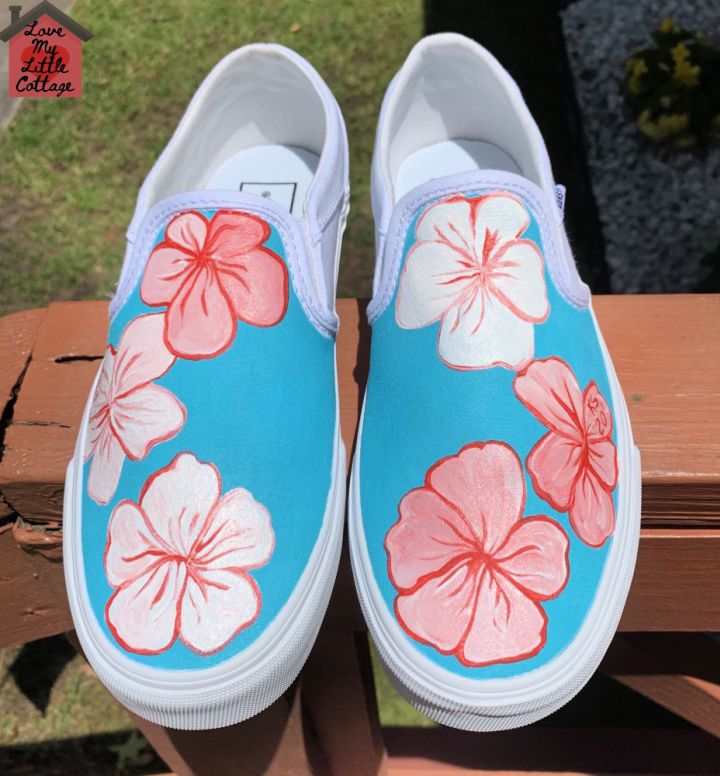 Hawaiian fabric patterns are so admirable, with beautiful hibiscus flowers and surfboards on them. Use them as your inspiration and make a pair of your own hand-painted hibiscus vans that will go great with any outfit. Gather some supplies like pair of white canvas slip-on vans, a hibiscus pattern, paint in different colors, brushes, textile medium and a fabric protector. Before starting to paint, stuff the vans with some paper to give them stability. Mix equal amounts of your paints. lovemylittlecottage
7. DIY Custom Ombre Nike Shoes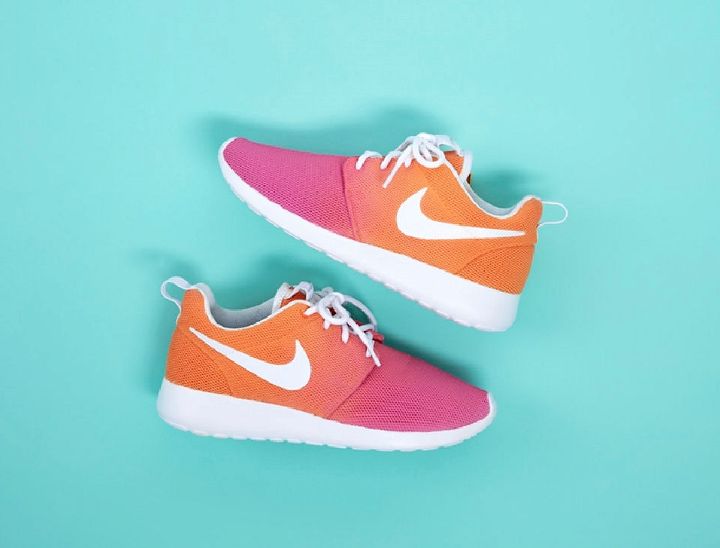 It's so hard to find a perfect pair of running shoes to match your style perfectly. That's the right time to just get a pair of kicks and give them a colorful makeover. You will need instant fabric color in 2 different colors, masking tape, plastic surface cover and paper towels. It's important to choose your colors wisely so that they can blend together well and don't get muddy or brown looking after a few times of use. tulipcolor
8. Rainbow Tie Dye Shoes Using Sharpies – DIY Painted Shoes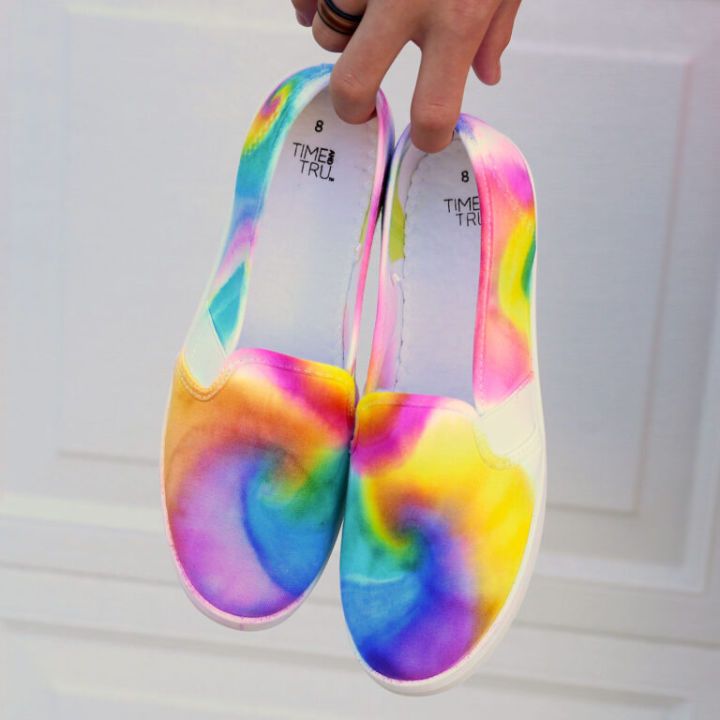 An easy enough project for kids and people of all ages is making your own pair of tie-dye shoes. This is a fun project that is perfect for doing in summer and can be completed in just an hour. Get a few supplies like white canvas shoes, sharpies of colors that can blend well, 91% rubbing alcohol, dropper and masking tape. Tape off the soles of the shoes so that they don't get colored. Protect your work surface well. itsalwaysautumn
9. How to Paint Leather Shoes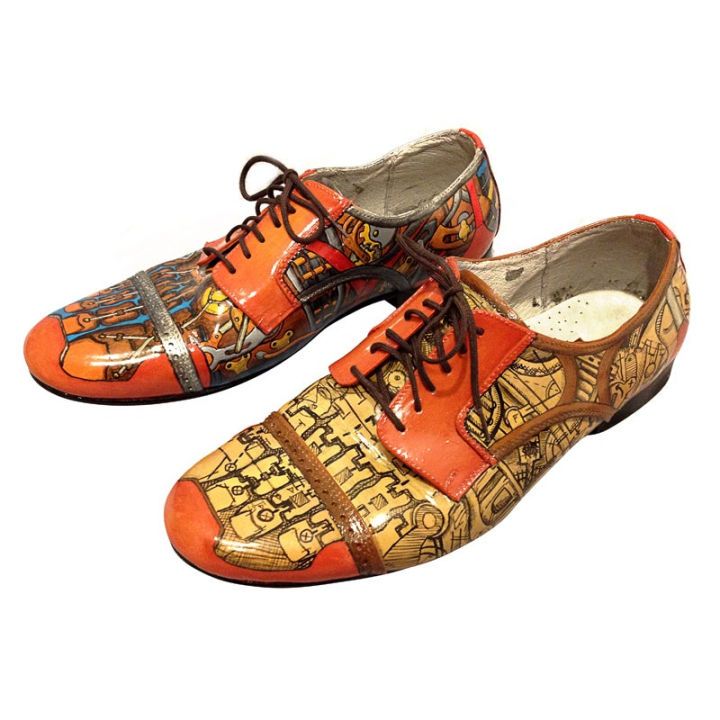 Plain black, white or brown shoes can get quite boring to use, so spruce up your favorite pair of battered brogues with these shoe painting ideas. Paint your own pair of leather shoes with supplies like solvent to remove the shoes' finish, flexible leather paints, acrylic finisher, pencil, eraser, brushes or cotton buds, disposable sponge, wooden skewers, shoes and a waterproof drop cloth. Start your project by trying out all colors on a rough surface first to have a good plan. instructables
10. Decorate Wedding Shoes with Lace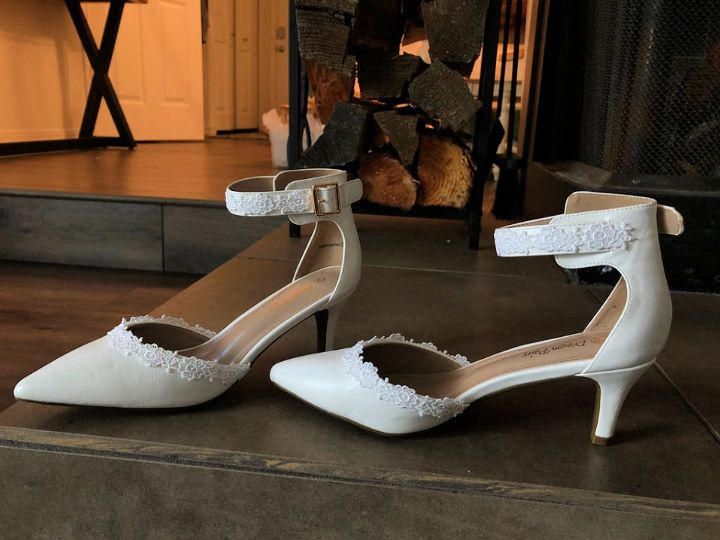 Buying wedding shoes can be one hell of a hit on your wallet as they are unnecessarily expensive. You can design your own pair to match our style while saving a lot of money. You only need a pair of heels that you plan on using, some lace in any color you want and glue. The process is upper easy. You just have to glue the lace on the shoe and keep on turning the lace in small increments. instructables
11. DIY Floral Canvas Shoes Design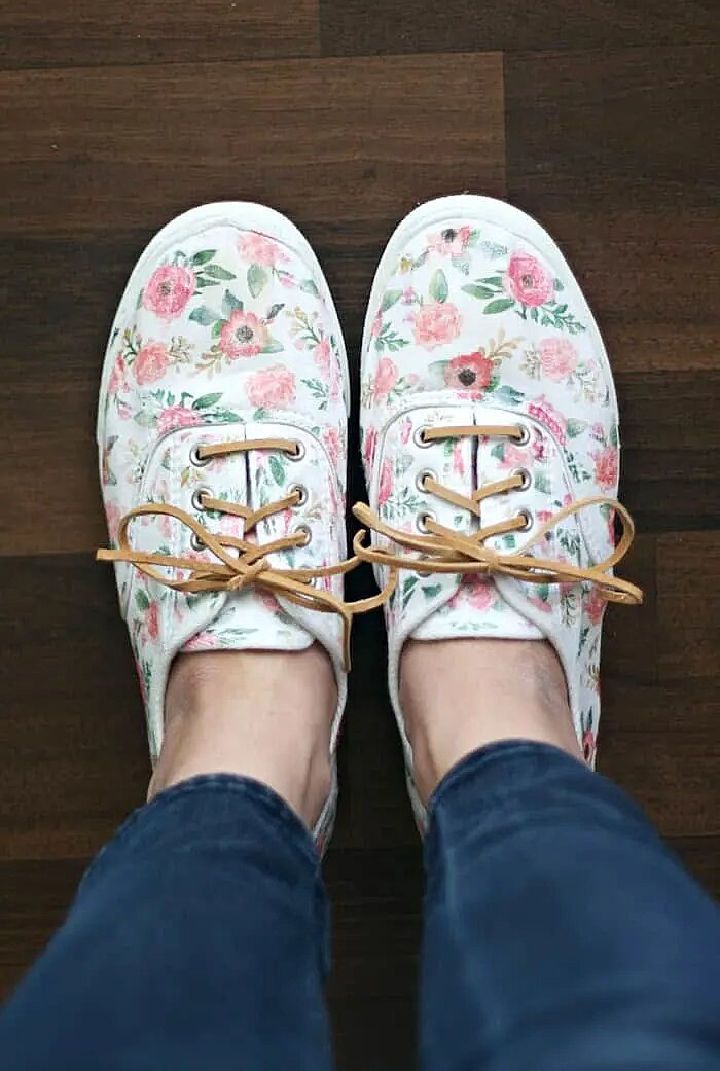 Revive your old canvas kicks in a fun and simple DIY project. These shoes will turn out to be the cutest, and everybody won't stop admiring them. Make floral canvas shoes that you can easily DIY using shoe painting ideas. You will need canvas sneakers, iron transfer paper, floral pattern to print, leather or suede lace, scissors and iron. You just have to print the floral pattern on the iron transfer paper. Trace pieces to fit the shoe and cut it into small pieces. diycandy
12. Hand Painted Popsicle Canvas Shoes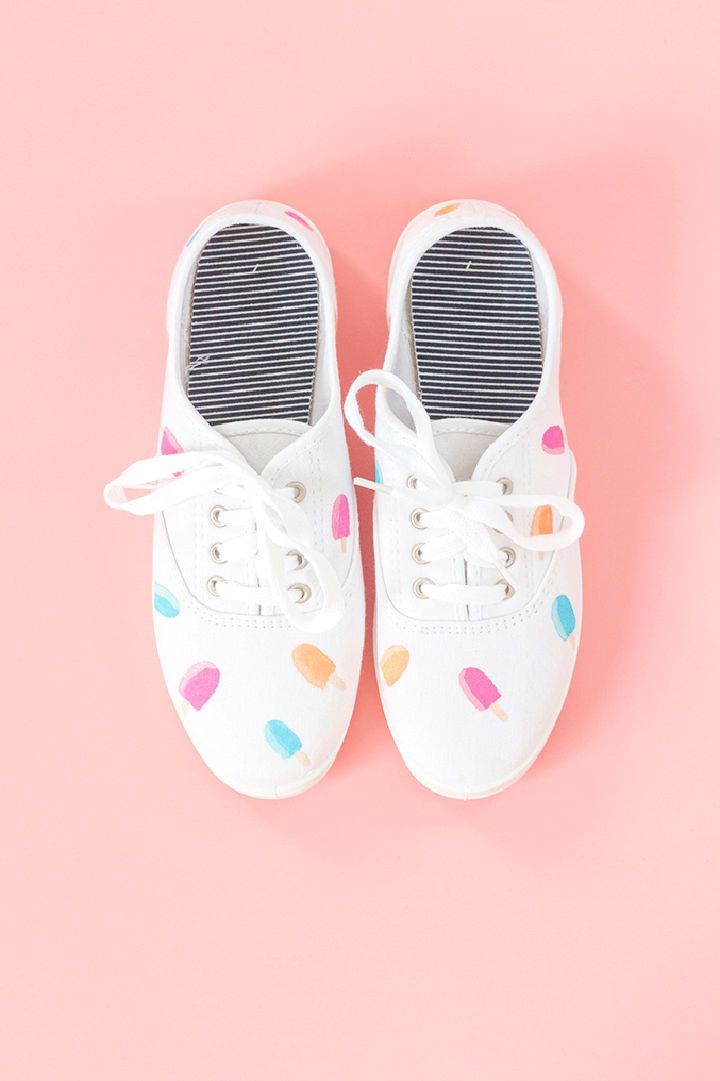 It's time for a brand new entry in your wardrobe in the form of an easy re-creatable design of a pair of shoes. Make a pair of DIY ice-cream sprinkle shoes and celebrate national ice cream month. Supplies required are a pair of white canvas shoes, a plastic paint tray, round detail paintbrushes and multi-surface paints in different colors. Painting our own popsicles on shoes is quite a simple process where you will use one small brush and one super small brush. dreamgreendiy
13. Painted Shoes for Kids with Acrylic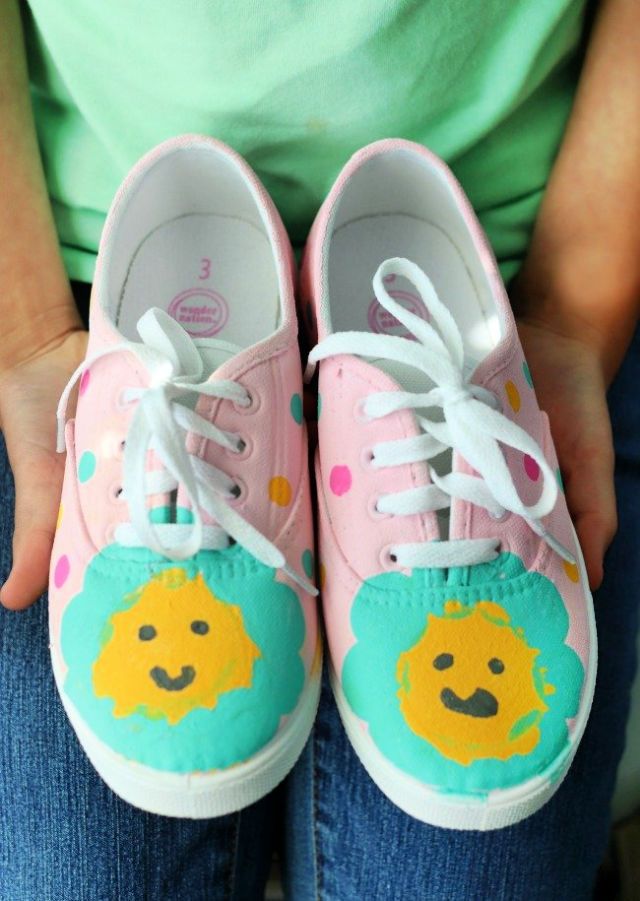 Paint your own pair of shoes and let your creativity shine bright. Use any colors you want and any designs you desire, as you can't go wrong with these easy-to-make shoe painting ideas. Get some supplies for making your own pair like painter's tape, a pair of white canvas shoes, fabric or acrylic paint and Scotchguard spray. Don't forget to remove laces from the shoes and tape off the soles so that you don't drip paint on them. gluesticks
14. Easy to Make Platform Shoes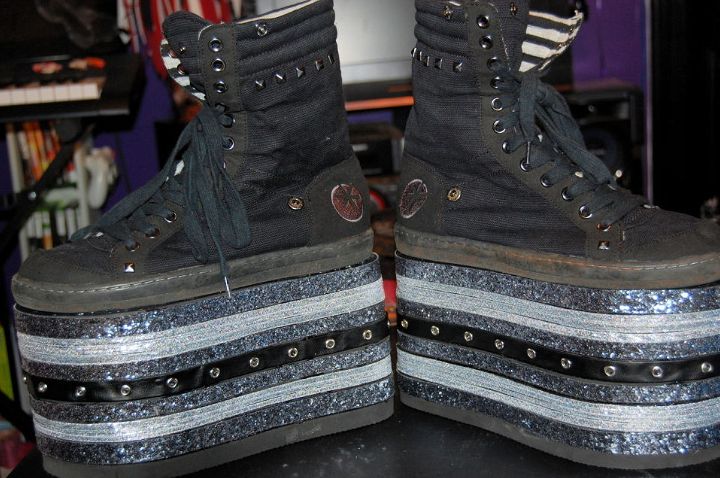 Some things sure turn out to be winners among people and become big head turners. Make your own pair of crazy platform shoes that will be just that and more for you. Buying a pair of platform shoes off the rack can cost you hundreds of dollars, so try making them easily at home by following instructions. For this project, you will need rubber bands, 2 bottles of shoe goo, flip flops that match your shoes, latex gloves, shoes and scissors. cutoutandkeep
15. Simple DIY Shoe Repair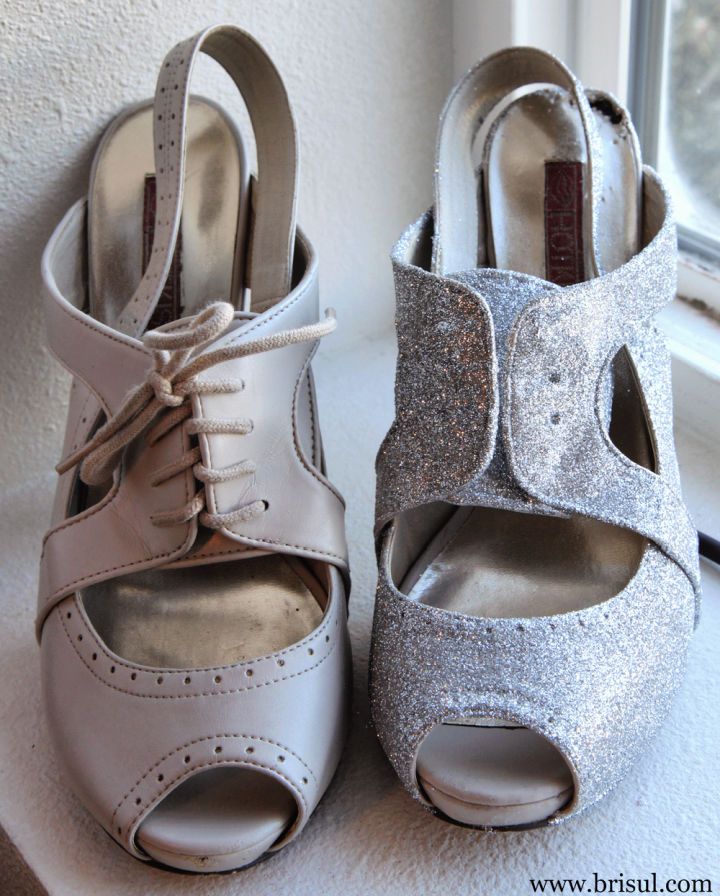 When your pair of shoes start to tear at the toes, it's time to buy new ones only if you have a lot of extra time and money. Otherwise, it's a great chance to repair and recycle this pair into something brand new that matches your style without spending too much money. All you need is a pair of your old shoes, mod podge and a bottle of extra fine glitter. You can turn a simple plain pair of shoes into something formal. brisul
16. Baby Splatter Paint Shoes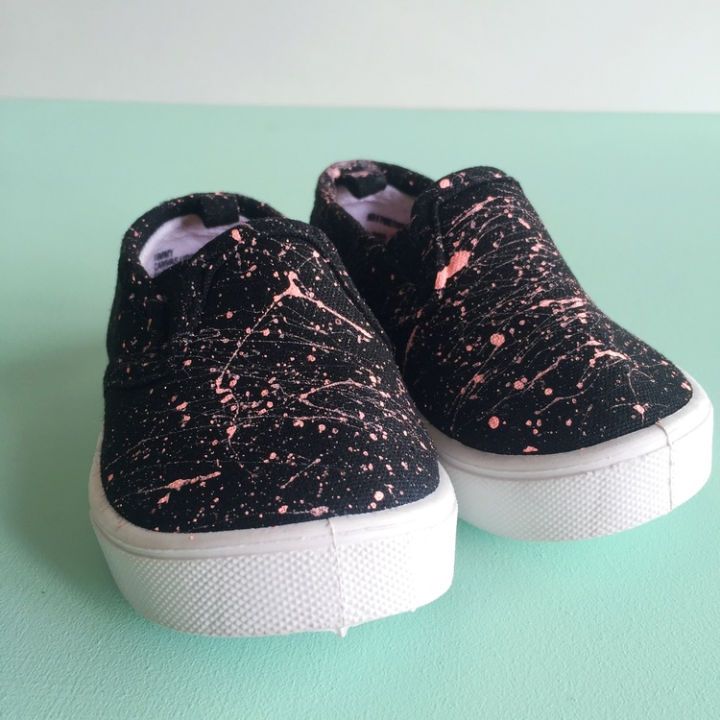 Create a pair of mini-splatter paint shoes that will look super cute on chubby little feet. Your little one will love them too, and it will be hard to take them off even when he has outgrown them. To make your own pair, you will need supplies like shoes, paint, paint brushes, tape and a newspaper. Put the pair of shoes on newspaper and tape the soles of the shoes before you start splattering paint. Put an ample amount of paint on your brush when you start. myonlysunshine
17. How to Draw Spring Flowers on Shoes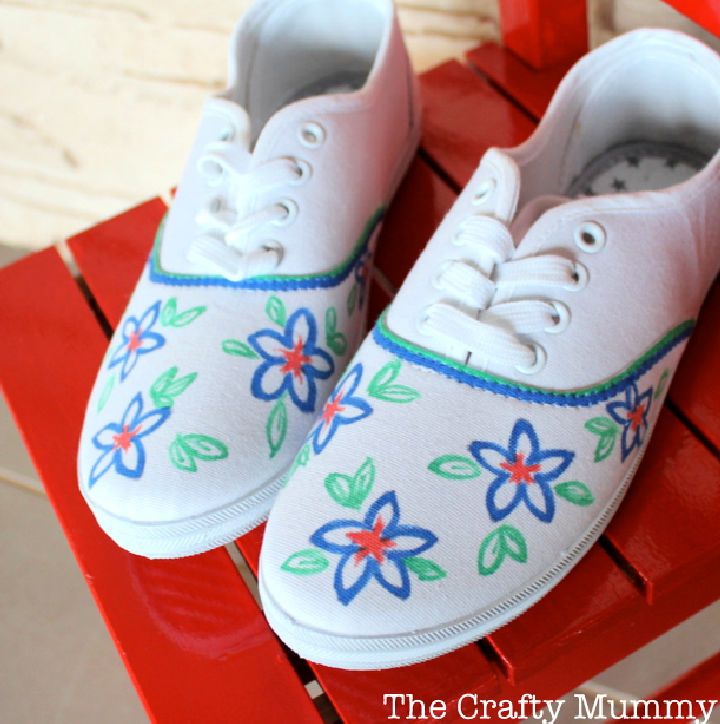 If you've recently bought a pair of canvas shoes, painting them to match your style might be the right project for you. It's really quite a simple project, and you don't have to spend a lot of money on it too. Gather some supplies like a permanent stained marker with a brush tip in different colors and a pair of white canvas shoes. It will only take you about half an hour to draw the floral design on the shoes. thecraftymummy
18. DIY Lemon Print Shoes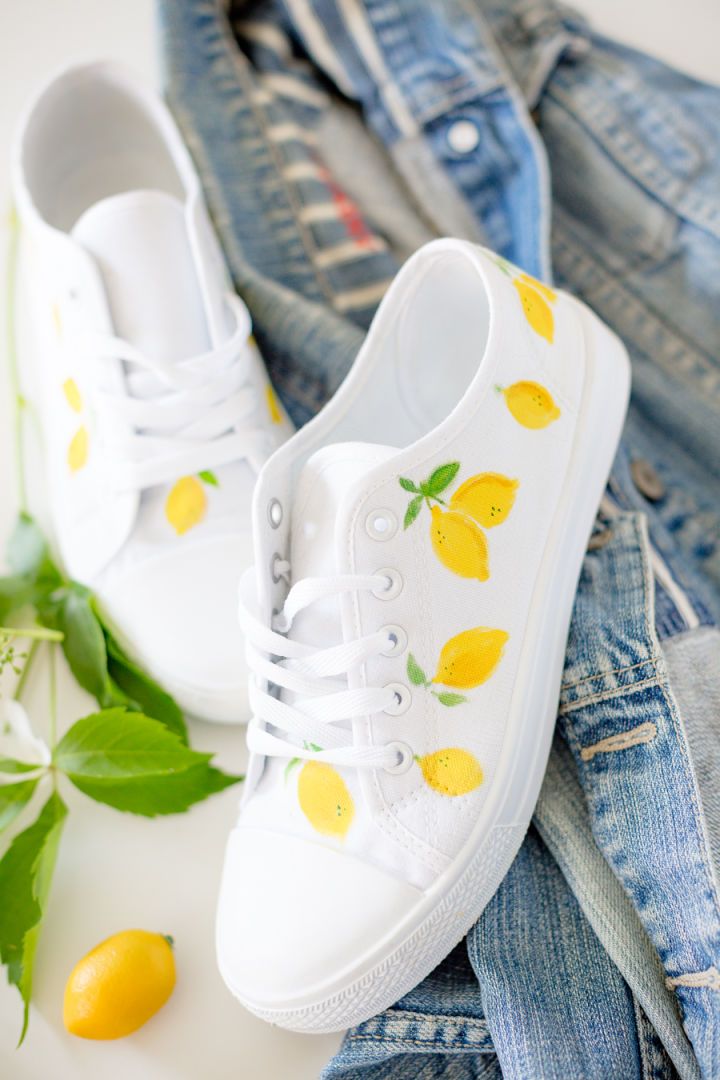 Make a pair of lemon print shoes if you're feeling productive and want to enjoy a simple project. These lemon print shoes will look great with every outfit and sure will make a statement wherever you decide to wear them. Your old pair of white canvas shoes will sure get a freshening up, and they will be a great addition to your wardrobe. Lemon print shoes look so zesty even if you pair them with your old worn-out jeans. craftberrybush
19. How to Make Shoes Non Slip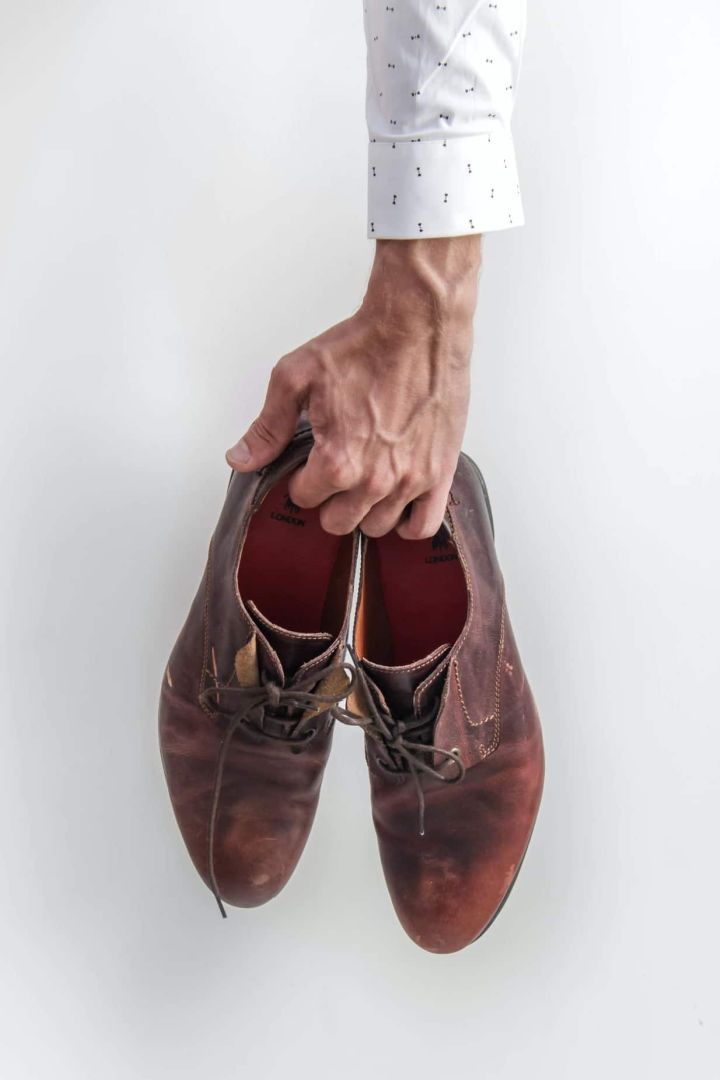 Everybody needs a pair of slip-resistant shoes no matter which job you're working on. They are especially handy if you work in a restaurant and every hour is rush hour. A great way to make anti-slip shoes is by making the soles rough. Scruff them on rough surfaces or use 50-grit sandpaper on the soles. You can also try using salt grains and rubber glue on your shoes by painting the mixture on the heel and sole of your shoes. fashionandmash
20. How to Make a Witch Shoe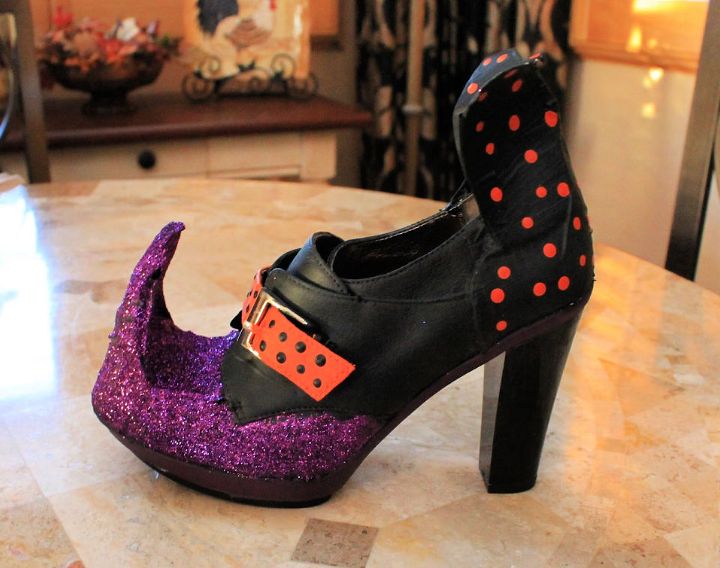 While dressing up for Halloween or any other costume party, shoes are one thing that complete the look. Create your own pair of DIY witch shoes that will go perfectly with your costume and will add a lot of value to it. For this project, you will need supplies like a pair of shoes, some duct tape, cardboard and some packing paper. Your pair of shoes must have a buckle on them. Start by bunching some packing paper into the shoes. southernseazons
21. DIY Tap Shoes for Kids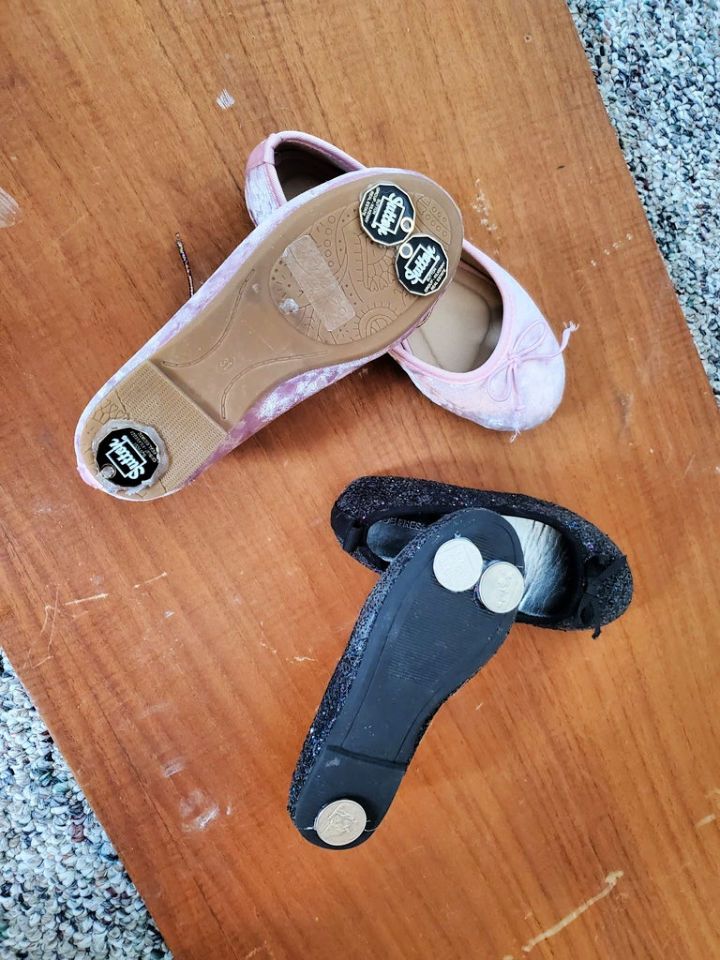 If your girls love to dance, make fun tap shoes for them that will be perfect to learn tap dancing. These homemade tap shoes will be very comfortable to wear even if your kids are learning to dance at home. You will only need a pair of very comfortable shoes, super glue, salt and coins. The superglue must be put on the sole of the shoe, more on the toe part and lesser on the heel. Then put salt on this glue. instructables
22. Stylish Shoes Covered With Fabric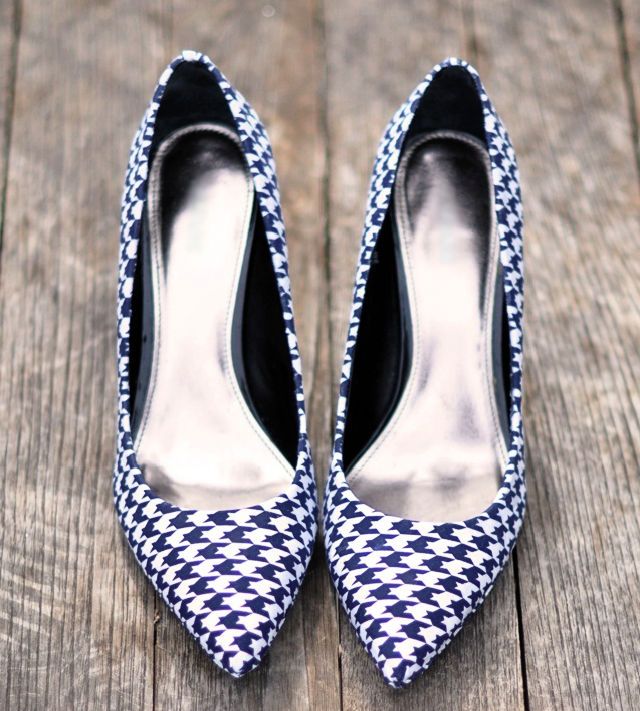 If you want to make a stylish pair of shoes without any investment, you've come to the right place. Take help from these shoe painting ideas and make your own pair of hounds that will match your style perfectly! For this particular project, you will need a pair of pumps with a moderate pointy toe, cotton hounds-tooth printed fabric, fabric glue, crafts sponge brush and scissors. Use the sponge brush to put a thick layer of textile glue on the heel. alldaychic
23. How to Paint Nike AF1s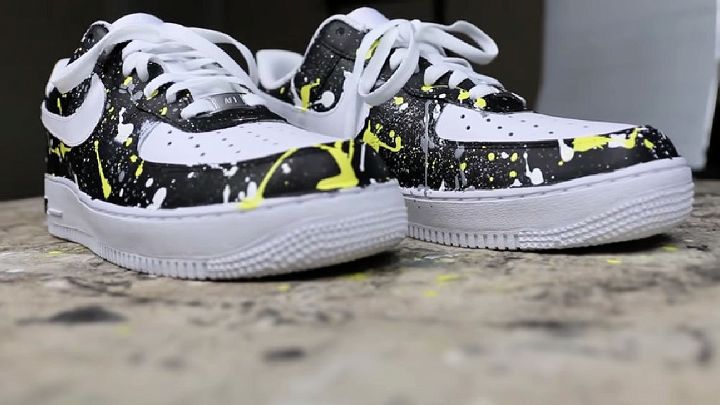 Customize your own pair of Nike AF1s into any design and any color you like depending upon your style. This project gives you the freedom to do whatever you want with your pair of shoes, and any design you choose will look perfect. Supplies required for this project are painter's tape all over the sole of the shoes to cover the logo, paint, a pointed needle and scissors. Make sure that you neatly take the tape off of the logo. youtube
24. Cheap DIY Earthing Shoes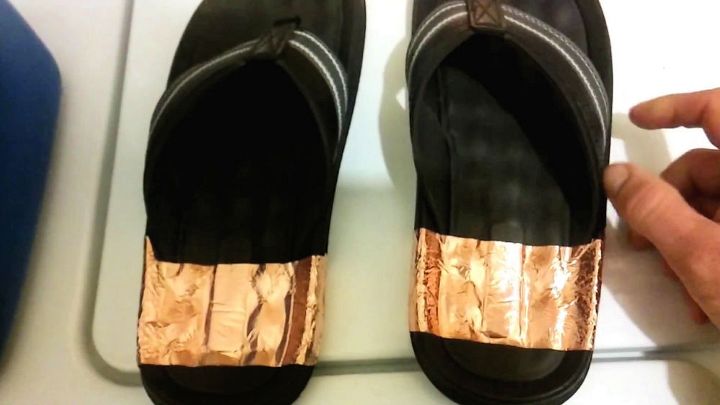 Sometimes the shoes used at home can get a little worn out, and you might not be ready to buy new ones, or maybe your budget doesn't allow that. To make the shoes worn at home safe, learn this cheap way of DIY earthing shoes easily at home. All you need is copper foil tape and your old pair of shoes. Wrap two layers of copper foil tape around the sole of your shoes and cut off with scissors. youtube
25. Walmart Shoes Painting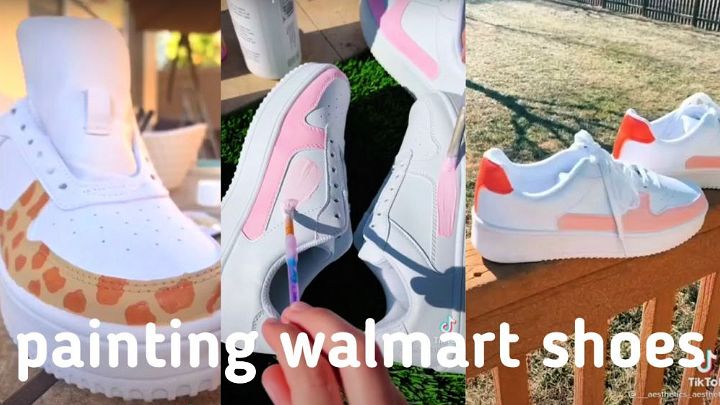 Upgrade your pair of Walmart shoes using paint and turn them into something new with a lot of style and substance. Everybody will stop to admire your design, and you will be able to use the pair for a long time. You just need some paint to create any design you want by taking help from different shoe painting ideas. Make a cheetah pattern on them or just plain pink paint using a paintbrush, and they're ready to use.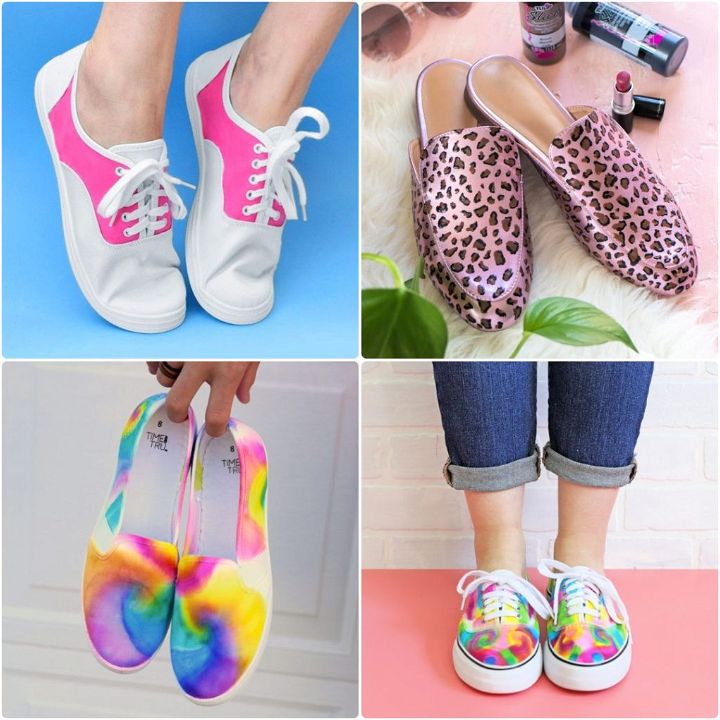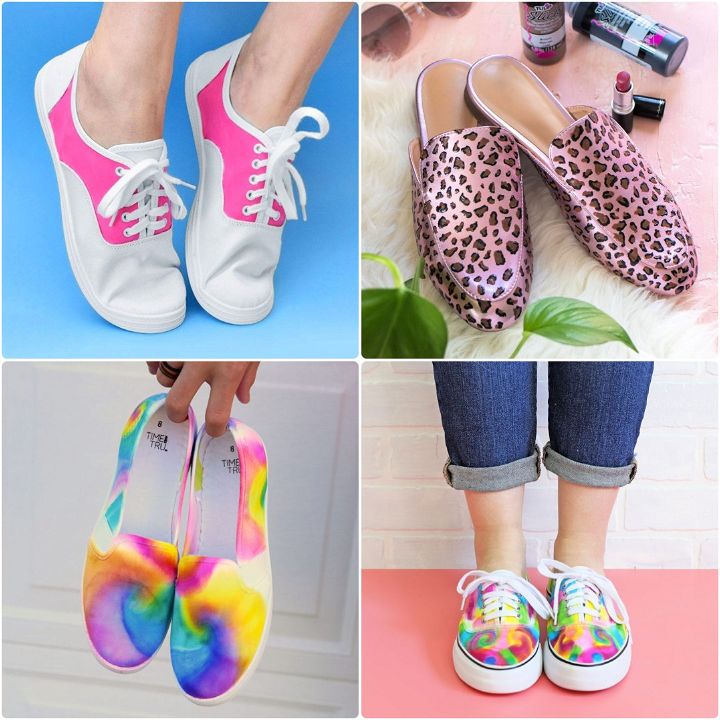 Related DIY Projects:
Painted Terracotta Pots – Painting pots and planters is a fun and creative way to dress up your outdoor space. Find out more about painting pot ideas and tips for getting the perfect finish.
DIY Mudcloth Pillow – Follow these easy DIY mudcloth pillow ideas to create a gorgeous, custom look for your sofa or bed.
DIY Wall Organizer – This DIY wall organizer can be used to store toys, books, and craft supplies. The slanted shelves allow for easy retrieval and visibility of all items.
Pumpkin Painting – Discover the most creative pumpkin painting ideas and patterns, including free, easy to follow instructions. We have all the tips and tricks you need to make your Halloween or Thanksgiving decorations stand out.
Printable Cards – With our wide range of Free DIY cards, you will be able to find the perfect card for any occasion. We offer cards for birthdays, congratulations, sympathy, and more.
Conclusion:
When you try one idea from many shoe painting ideas, you won't be able to stop at just making one pair of diy painted shoes. You will be itching to try this technique again and again, and your wardrobe will be full of these new exciting and colorful pair of shoes.
Sometimes change is all you need to give yourself a makeover, and these custom shoe painting ideas are just what you need to change your overall look and add some more funk to your regular style.
Design and customize your shoes with these easy shoe painting ideas and show your new pair of shoes to your friends and family. Who knows how many requests you will get to make a pair for everybody who comes across your designs!