Looking for free printable cards? We've got them free printable greeting cards here. These are available in PDF format, so you can just download and print them. The cards are designed with printable templates in a variety of styles, shapes, and sizes.
Everyone needs to take a look at these free printable cards. Whether you're organizing an event or having a business meeting, it can always be important to have good card templates so you can print them out whenever required for a new venture. Furthermore, with technology advancing, it has become very common to email cards to people instead of sending them through the post office. This has led to many people not ending up attending events or business meetings as it's just not as special as receiving a card in real life.
If you want to grow your business or throw a unique party, then you need to make it stand out from the rest! A great way to do so would be to print out actual cards and send them to other companies and your loved ones. This will be a lovely gesture, and these free printable cards will also make anyone's day!
This can create a great first impression on many people and lead to you making some wonderful connections. The given guide has many different free printable cards with unique patterns and vibrant designs – wedding cards, business cards, thanksgiving cards, thank you cards, birthday cards, etc.
1. Printable Floral Thank You Card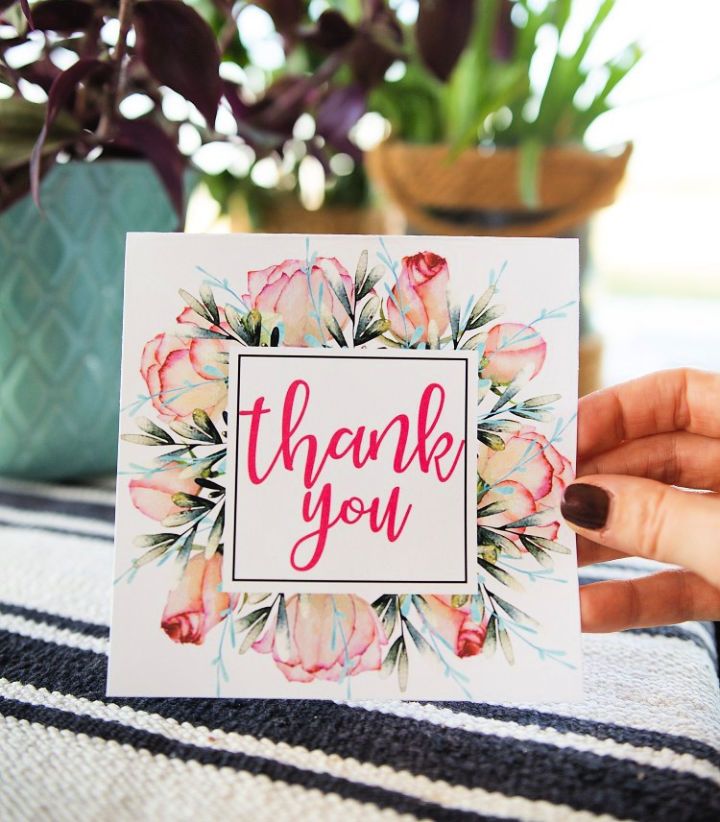 Do you want to thank your loved ones for something and organize a special dinner for them? Well, then a great way to show them how grateful you are would be to give them these beautiful "thank you" cards! These cards have floral designs all around the edges with a "thank you" in the center. Moreover, you can easily fit these into 5.5" x 5.5" envelopes. sixcleversisters
2. Printable Watercolor Birthday Card for Him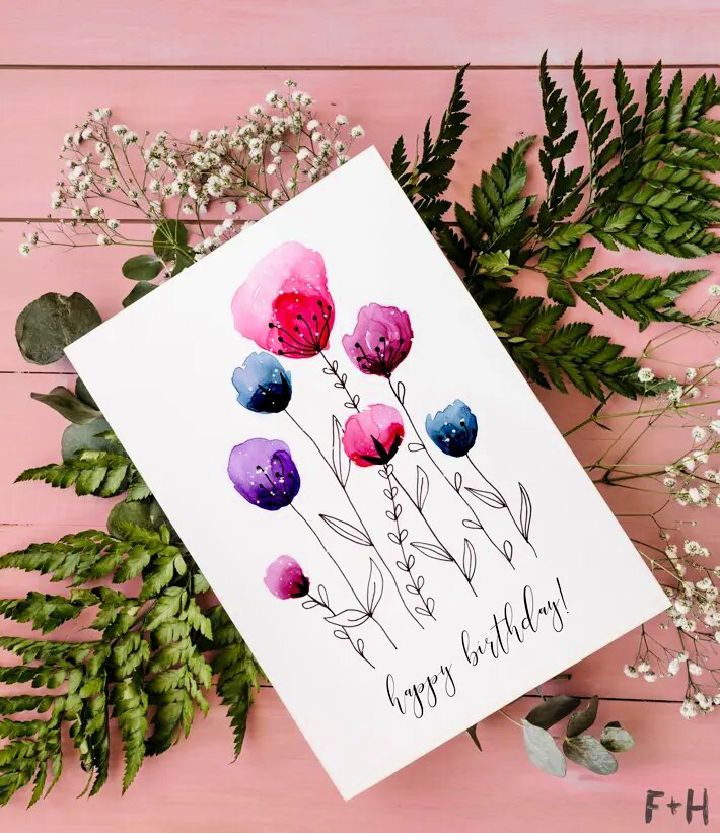 Watercolor patterns can look so beautiful and can give off a handmade vibe – which is always more special! Do you want to make adorable birthday cards for someone special? Well, all you need to do is to print these out and cut them into shape! It's recommended to make the flowers with paint first and once it's dry, print out the design on top of the colored flowers – for better results. foxandhazel
3. Free Printable Vintage Flash Cards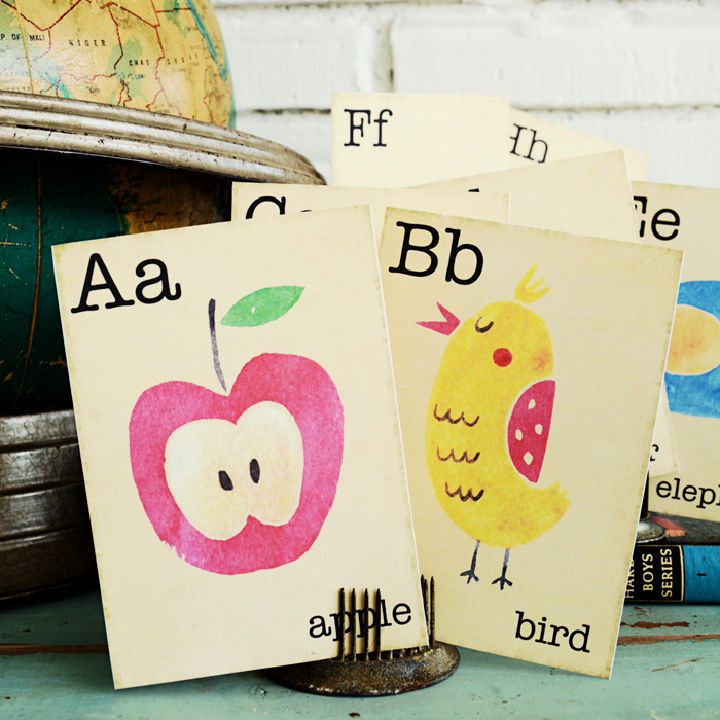 Are you a teacher and want to make your classroom look beautiful? Well, then you need to add these free printable cards which give off a vintage vibe! Moreover, you can also use them as flashcards to help your students learn the alphabet. These cards can also be used to make a banner. You need to click on the link in the guide to download them for free! ishouldbemop
4. Free Printable Mothers Day Card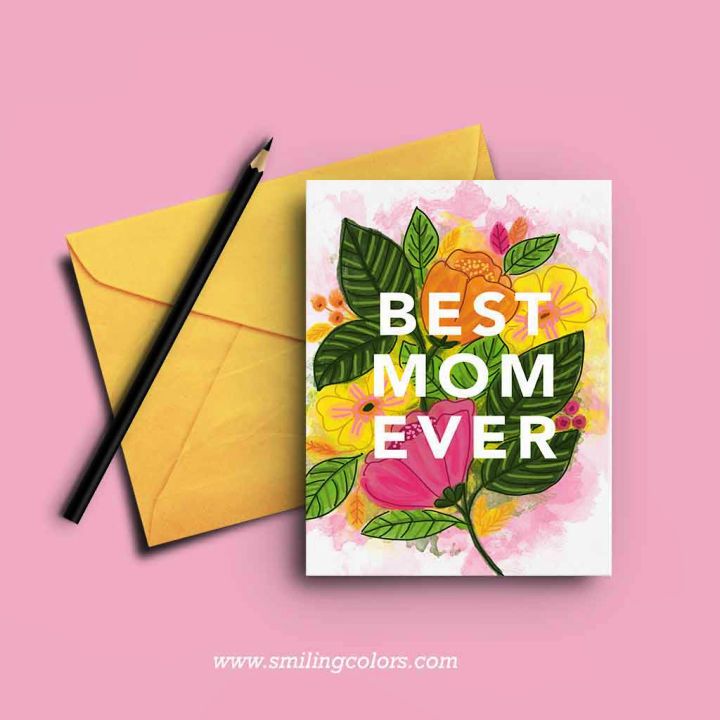 Mother's Day is just around the corner, which means that it's the perfect time to start making these wonderful cards! The best part is that these are free printable cards so you won't have to spend any money on them. Furthermore, you only need to download it to your desktop and then send an instruction to your printer to print it. After that, fold it and cut it into shape. Done! smilingcolors
5. Custom Printable Bingo Card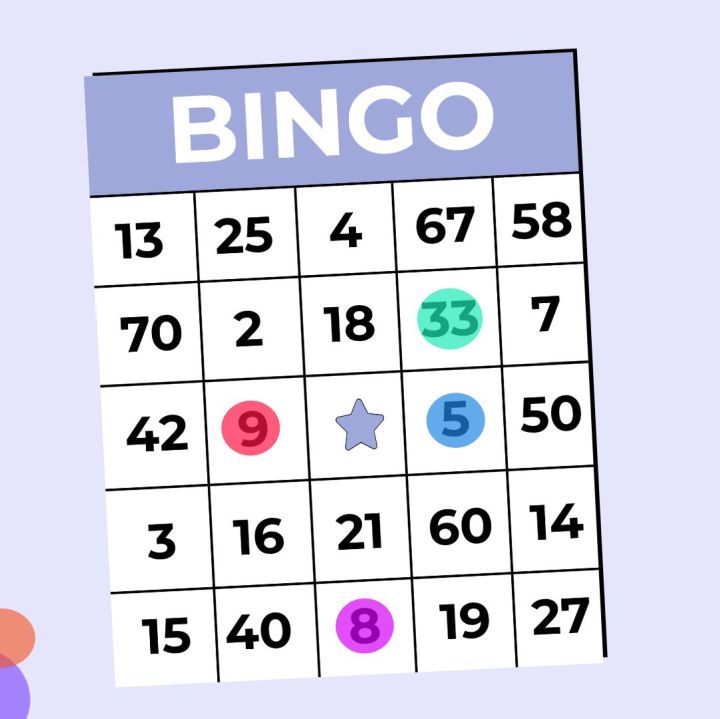 Bingo is a very fun game to play with friends and family. However, if you're doing a special dinner or some type of competition, you will need good-looking bingo sheets! Here's the perfect free printable card that can be used as a bingo sheet – it has a light blue and white color to it – which will make the pen marks visible. So, are you ready to experiment with this sheet? kapwing
6. Printable Valentines Day Card to Color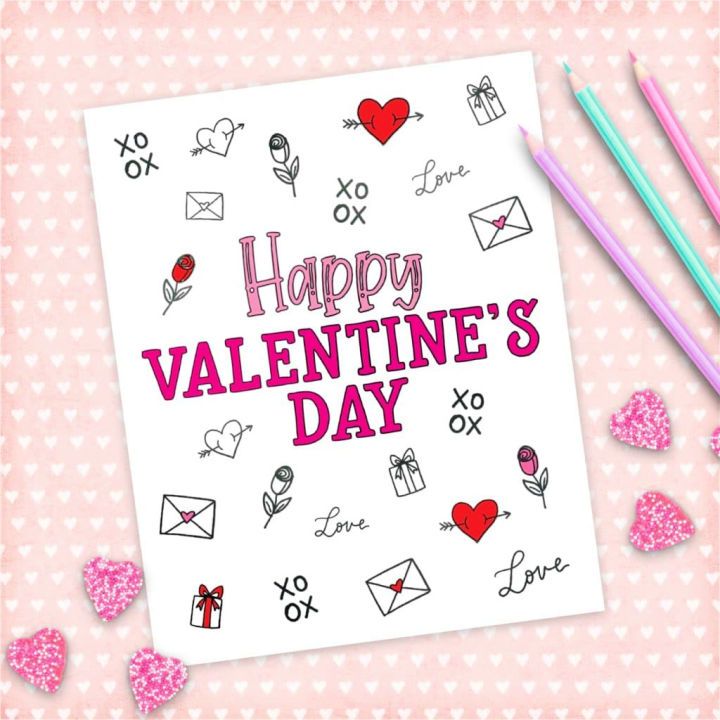 Valentine's Day is just around the corner and you only have a little bit of time left to make a special card for your significant other. It will be very special for your loved ones – if you gift this to them! At the front, it has a beautiful design that can be colored in. Furthermore, on the backside, the whole sheet is blank so you can write any message for your loved one on it! pineapplepaperco
7. Free Printable Anniversary Card Template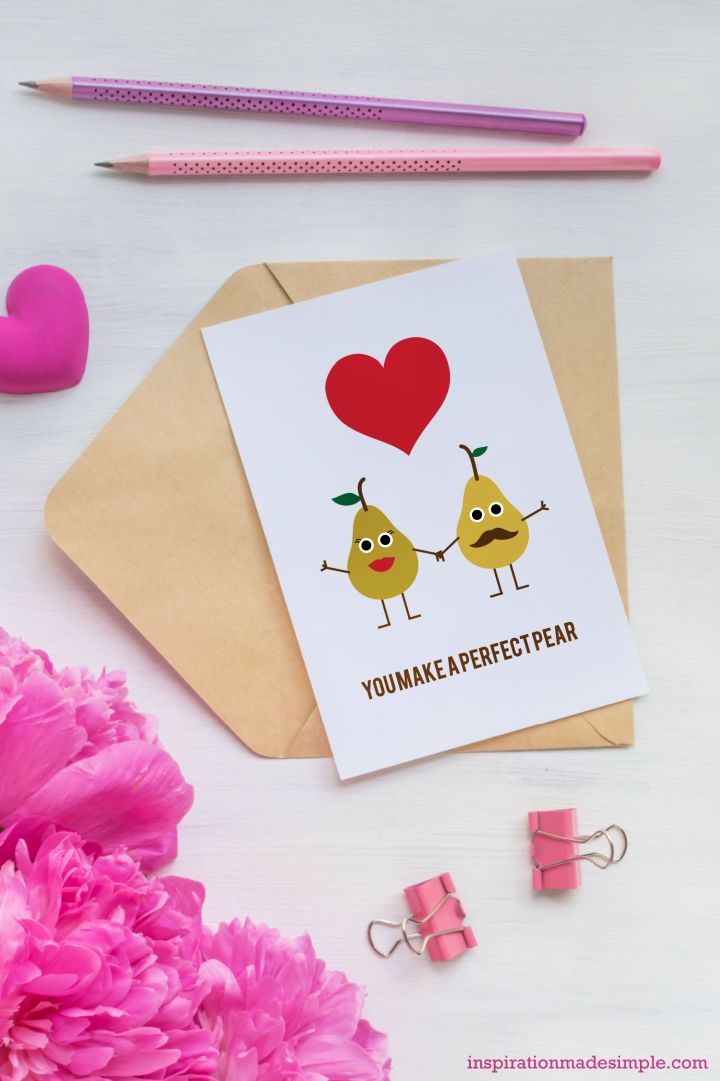 Anniversary days cannot be fully celebrated without some cards with funny jokes on them! If you want to make your husband or wife smile this anniversary, just gift them this adorable card that says "you make a perfect pear" on it. Don't you just love this card? Moreover, it has two pears drawn on it – one male and one female – along with a heart on top! inspirationmade
8. Modern Printable Fathers Day Cards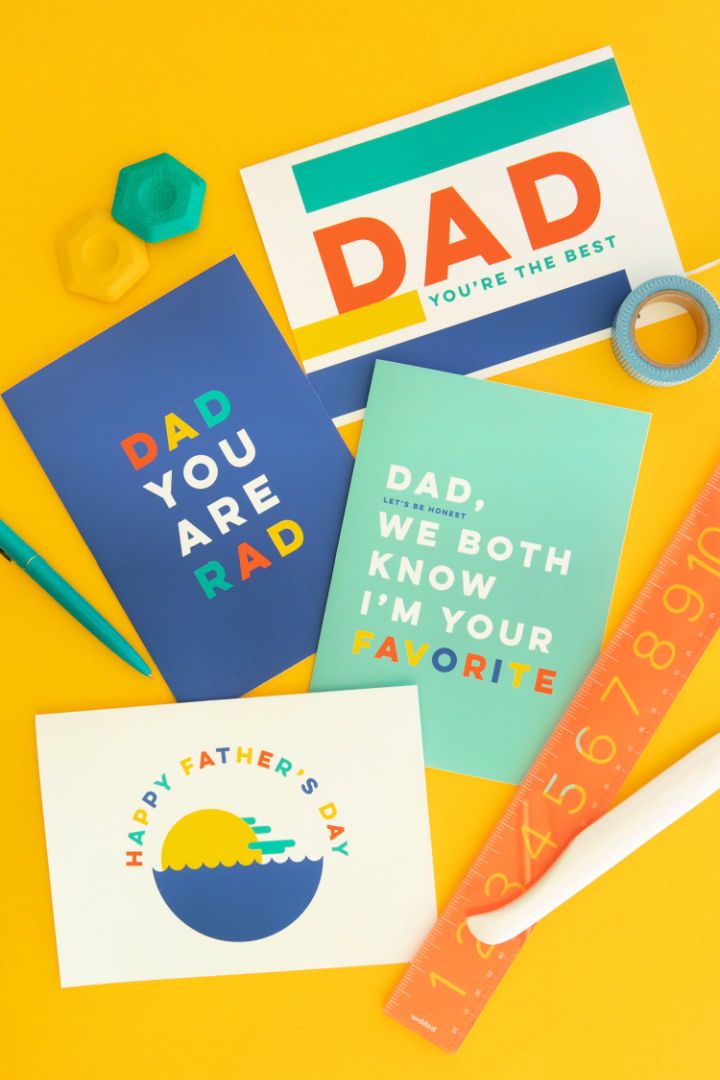 Here are many different options for your Father's Day cards! Fathers are special and provide for the family throughout their lives, which is why you should remind them that on this day! These cards have adorable messages in them – "dad you are rad", "dad you're the best", "dad we both know I'm your favorite", and "Happy father's day". So, are you ready to print these out? sarahhearts
9. Free Printable Recipe Cards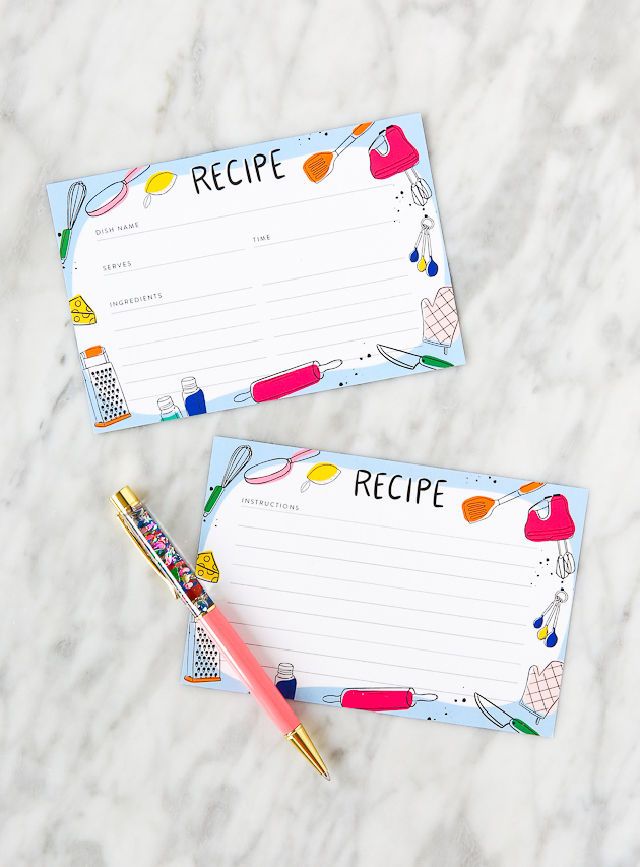 Recipes can be hard to follow if they're not written down. If you feel like you will be following a recipe a lot and want to put it in a place where it's visible in your kitchen, you can just print out this free printable recipe card! Write down the recipe on this card and attach it to your fridge. You can write down the ingredients on this card and all of the instructions, as well. thecraftedlife
10. Free Printable Sympathy Cards to Print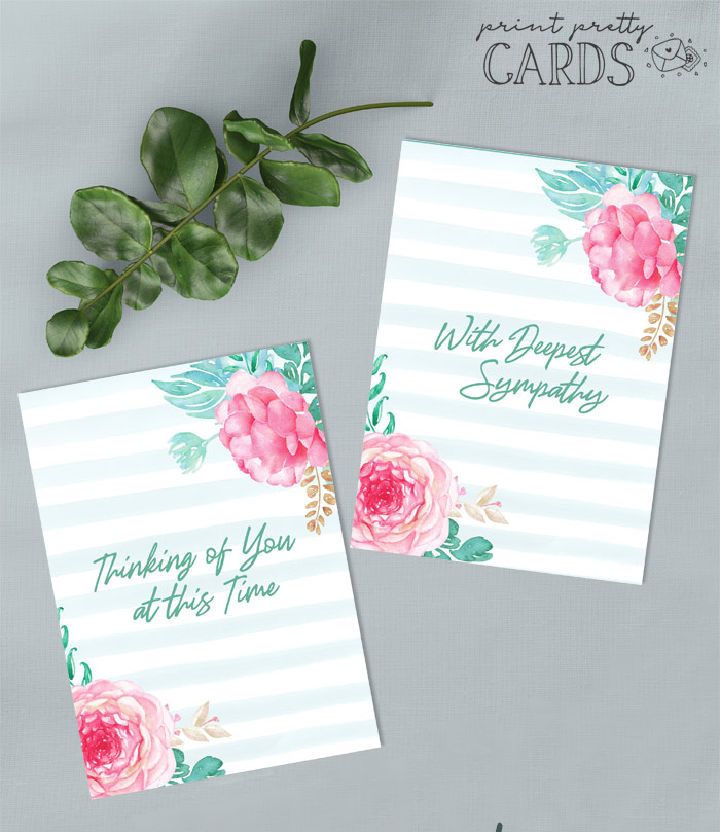 It can be hard for some people to talk about emotions openly and comfort other people. If you're one of those, then you can just print out this card for them which says "with deepest sympathy" and write your heartfelt message on the backside of it. This way you won't have to face them but still, make them feel better about their loss. They will also be able to read it, again and again, to feel better. printprettycards
11. Printable Thanksgiving Grateful Cards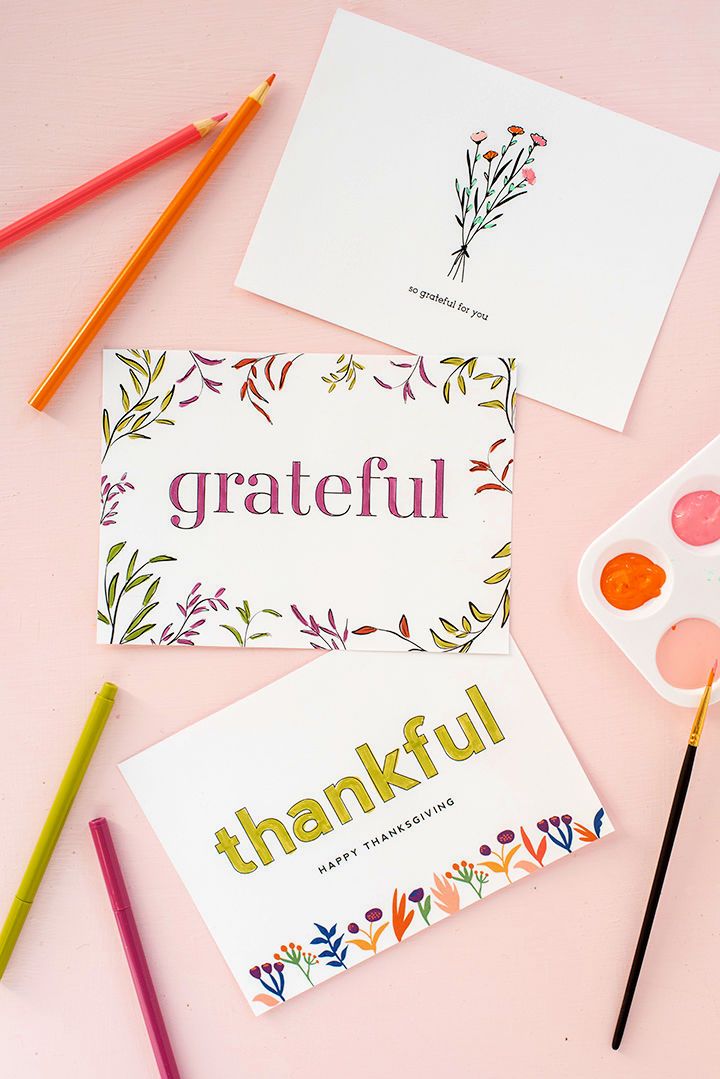 Thanksgiving is a special event that should be celebrated to its fullest! You might be making all the meals in the world but a few simple free printable cards are what will help everyone remember this special day. These cards have positive affirmations on them such as – "grateful", "thankful" etc. Moreover, they also have a beautiful floral theme. aliceandlois
12. Printable Birthday Cards for Kids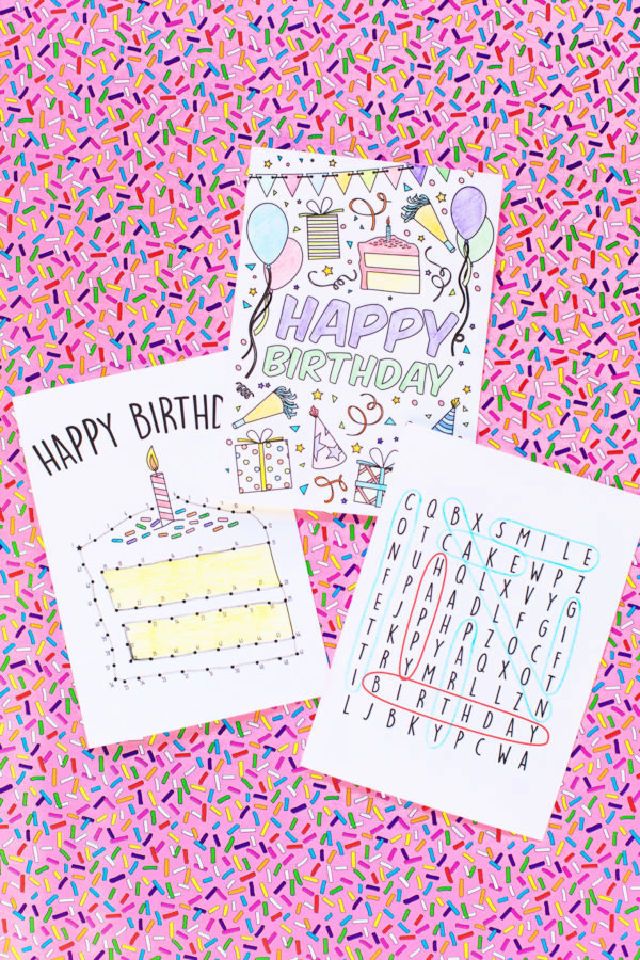 Birthdays are very special events, especially for younger kids as they tend to feel very nice on this day. You should do everything you can to make your child feel loved on this special day and a card is going to help! These vintage-looking adorable cards are going to look so cute with the birthday cake and also make your little one happy. So, are you ready to print these out? studiodiy
13. Free Printable Teacher Appreciation Cards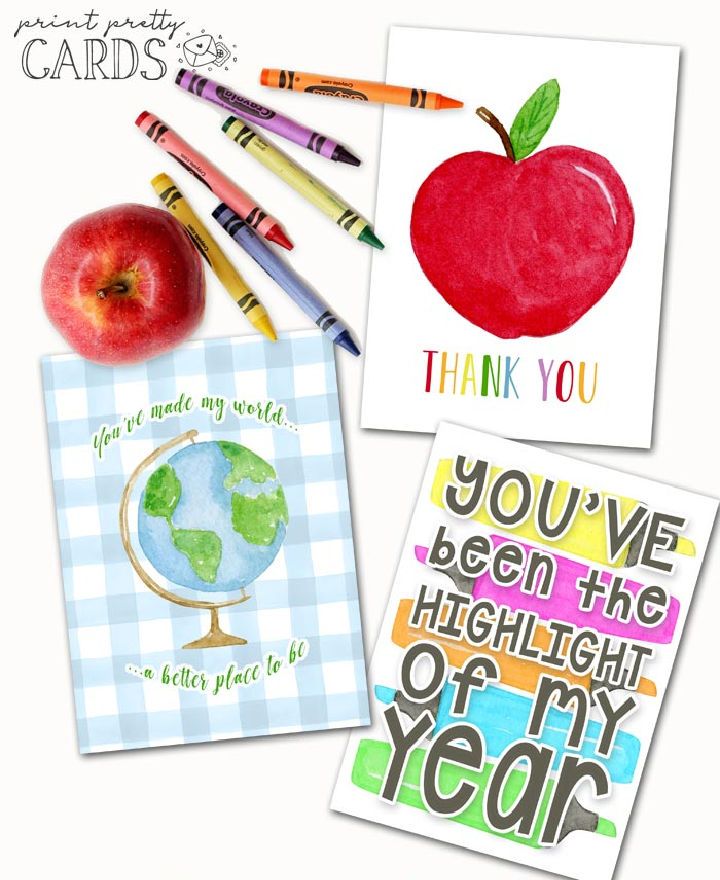 Teachers can play a huge role in who your child's development and you should encourage your children to always stay on the hood side of teachers and appreciate their efforts. Here are a few free printable cards that are easy to access. You just need to click on the download link and save these for free. After that, send an instruction to your printer to print these out. printprettycards
14. Printable Summer Greeting Card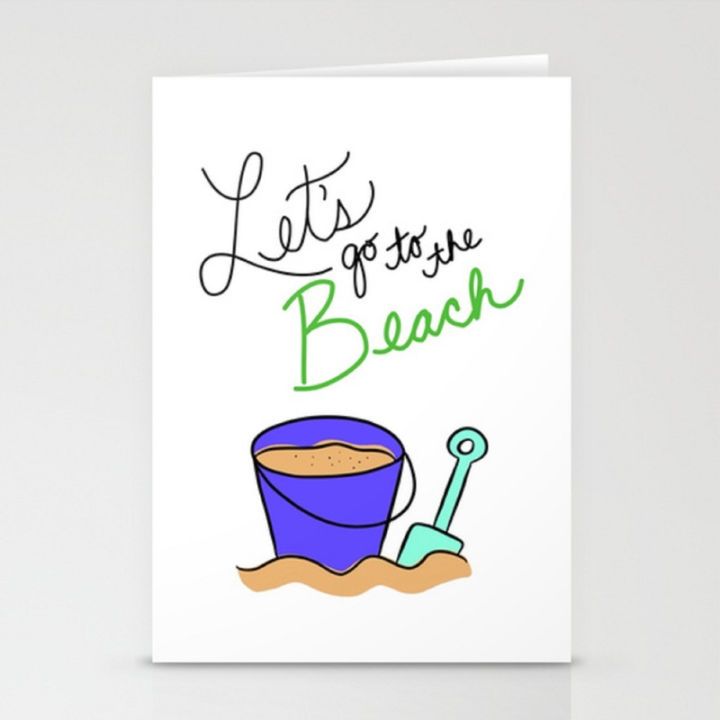 Summer season is not far away and this is a good time to start prepping for it so you and your children can have the best summer ever! If you want to invite any of your friends or family members over for the summer, then this card would be the perfect way to do so. This card has a cute message on it that says "let's go to the beach" along with a sand bucket filled with sand drawn. cozyreverie
15. Printable Black and White Birthday Cards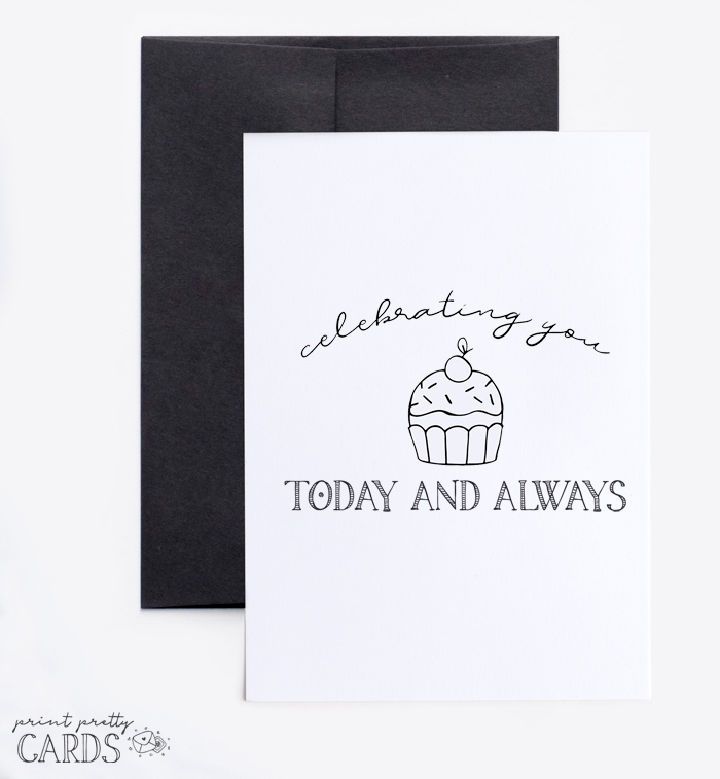 Are you about to go to a friend's birthday who is a minimalist? Well, then you don't need to worry about finding the perfect car as you're at the right place now! Take a look at this simple and sophisticated card – it has white and black coloring. Moreover, the message on the card is written in a clean don't which says "celebrating you, today and always". Isn't this adorable? printprettycards
16. Printable Unicorn Birthday Card for Her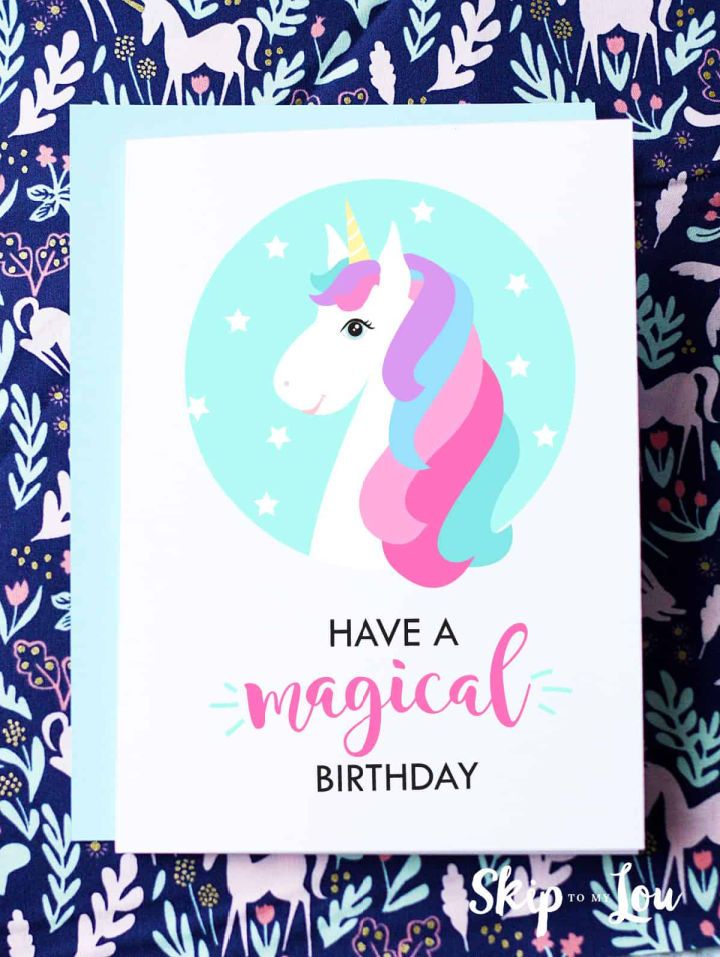 Girls love unicorns as this creature can be quite mysterious and unique. If your little one is obsessed with unicorns, then you should throw her a unicorn-themed birthday party! Here's an adorable card idea that is going to make your little one super happy. This card has a pastel theme to it with a unicorn in the center and an adorable message which says "have a magical birthday". skiptomylou
17. Printable Coloring Birthday Cards for Adults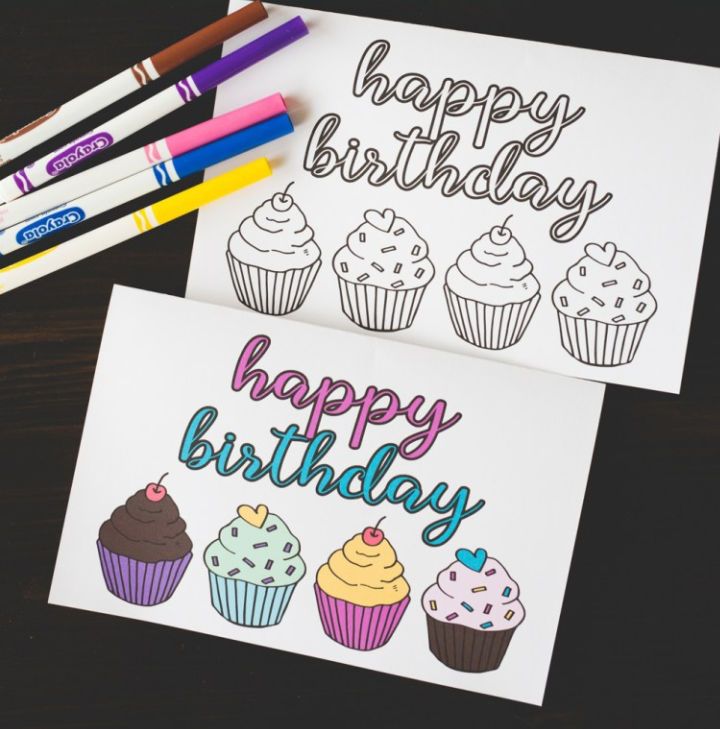 In comparison to the other free printable cards, this one is unique as it has cupcakes all over it instead of cake! It looks quite beautiful as there are many different and beautiful cupcakes on it – with sprinkles, cherries, and hearts! All you need to do is to download the card by clicking on the link and then print it out. After printing, add any customizations and cut them to shape. sixcleversisters
18. Printable Goat Photo Greeting Cards Template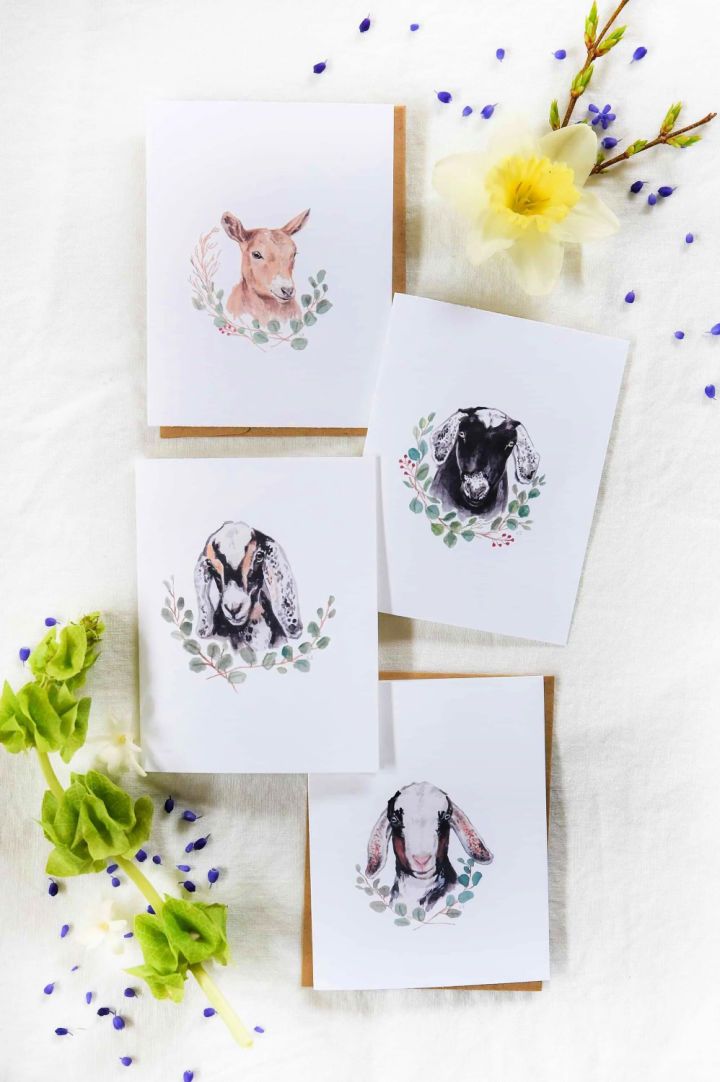 Easter can be perfectly represented by goats! This goat card would be perfect for the Easter season to send to your loved ones and long-distance family or friends. All you need to do is to print this out on one half of an A4 sheet and then fold it into half to turn it into a card. This guide has many different goats – black, brown, white, etc. You can choose one depending on your preference. boxwoodavenue
19. Free Printable Greenery Card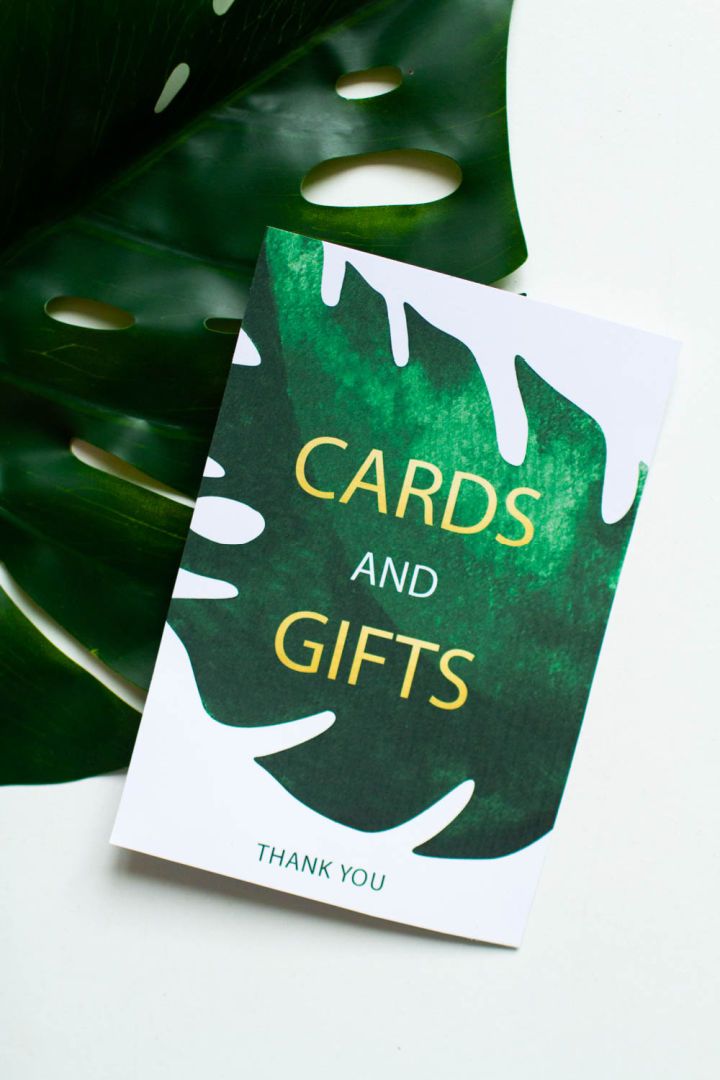 Are you prepping for your wedding and want to find the perfect wedding car for your special day? Well, then, here's the perfect card for you! This card has a nice green theme to it which will go well with a bohemian-themed wedding or any wedding with a lot of greenery in the decor. There are two different downloading options – one to download on an A4 sheet and the other to download on an A5 sheet. bespoke bride
20. Free Printable Business Cards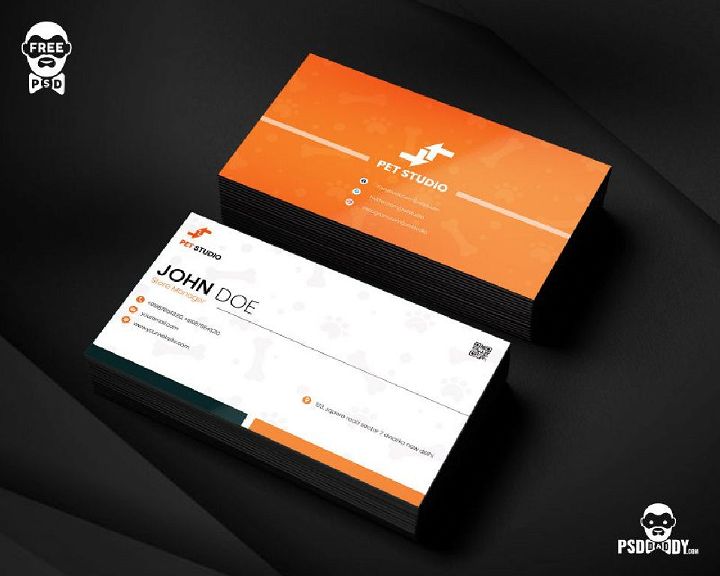 Last but not the least, this card is different from all the other free printable cards! This plan features a business card that is easy to edit and you can easily customize it according to your business. However, it can be really easy to use this template – it won't cost you a penny as it's free to download and use! So, are you ready to experiment with this business card PSD template? psddaddy
How to Use My Free Printable Greeting Cards
Related DIY Projects:
Customizable Gift Tag Templates – You'll love our free printable gift tags. Add your own custom designs and pictures, and create a beautiful customized gift tag in minutes.
Halloween Decorations – Find all the best Halloween decorations and printables, from beautiful black cats to grinning pumpkins! For kids and adults, these are adorable and easy to make.
Valentine's Day Crafts – Whether you're a seasoned crafter or just a beginner, we've got something for you this Valentine's Day. With 40 easy and adorable crafts, we'll show you how to find new ways to show your love.
Free Travel Packing List Printable – Download this free printable packing list to get organized for your next trip – from where you're staying to what to pack.
Halloween Party Ideas – Whether you're hosting a party or just attending one, these cheap Halloween party ideas will help you have a spooky, fun event that's easy on your wallet.
Conclusion: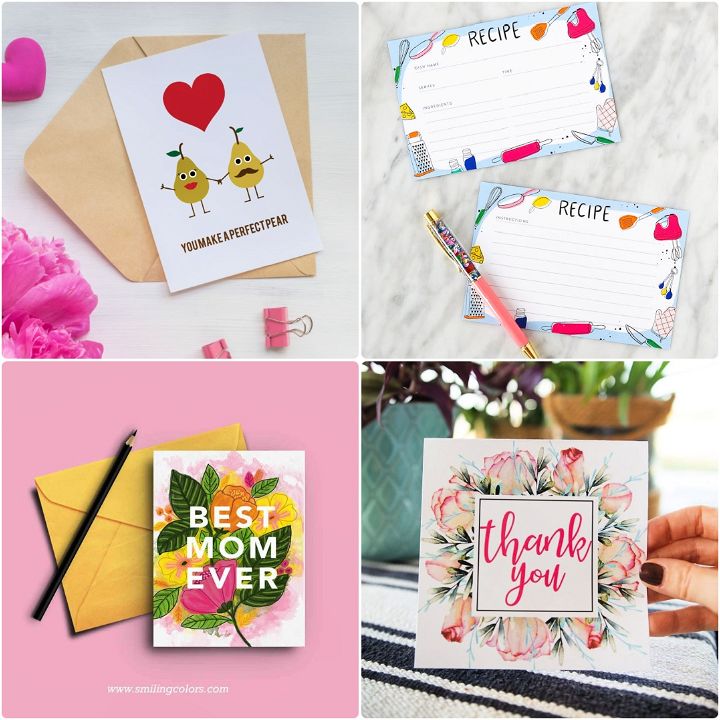 You might be excited to print out these free printable cards and use them. However, before you get started, it's recommended to keep a few things in mind. Firstly, it's recommended to not sell these cards if the creator has written to not do it. These cards might be free by they have copyright restrictions. Most of these cards are only for personal use – to gift to family members or loved ones. Secondly, make sure to print these cards in their actual size as changes can lead to distorted patterns which can look bad. Lastly, make sure to add your customizations and have fun!