Learn how to make a homemade snow globe with these 25 easy DIY snow globe ideas you can make at home. These are all easy and simple to make, and they are so cute for any occasion and spice up your winter with a homemade snow globe. There are so many fun and easy ways to create your own. These easy DIY snow globes are perfect for kids and adults, from flamingos to flowers.
Snow globes look so magical and remind us of a beautiful happy ending of a fairytale. Unfortunately, snow globes are so expensive in the market that gone are the days when we could keep a few in our house and enjoy watching them all year long. That's why we have compiled some DIY snow globe ideas for you so that you can make as many snow globes as you want. It's not necessary that you display them only in one specific season, but they can be used in every season and every weather. The homemade version of your own custom-designed snow globes can be treasured for years and years.
If you're obsessed with finding new craft projects that can be completed in one sitting so you can enjoy using your product, these DIY snow globe ideas are just the thing for you. Use them for your home decor, to display in your office workstation or anywhere else you want. Try making different snow globes, like making a mason jar snow globe for the spring season. Or make a snow globe that displays your family portrait, a glittery snow globe using mason jars. Also, make a snow globe with ocean animals, a homemade California-themed snow globe. Make one in just 5 minutes using a mason jar to make the coolest snow globe ever.
1. DIY Snow Globe without Glycerin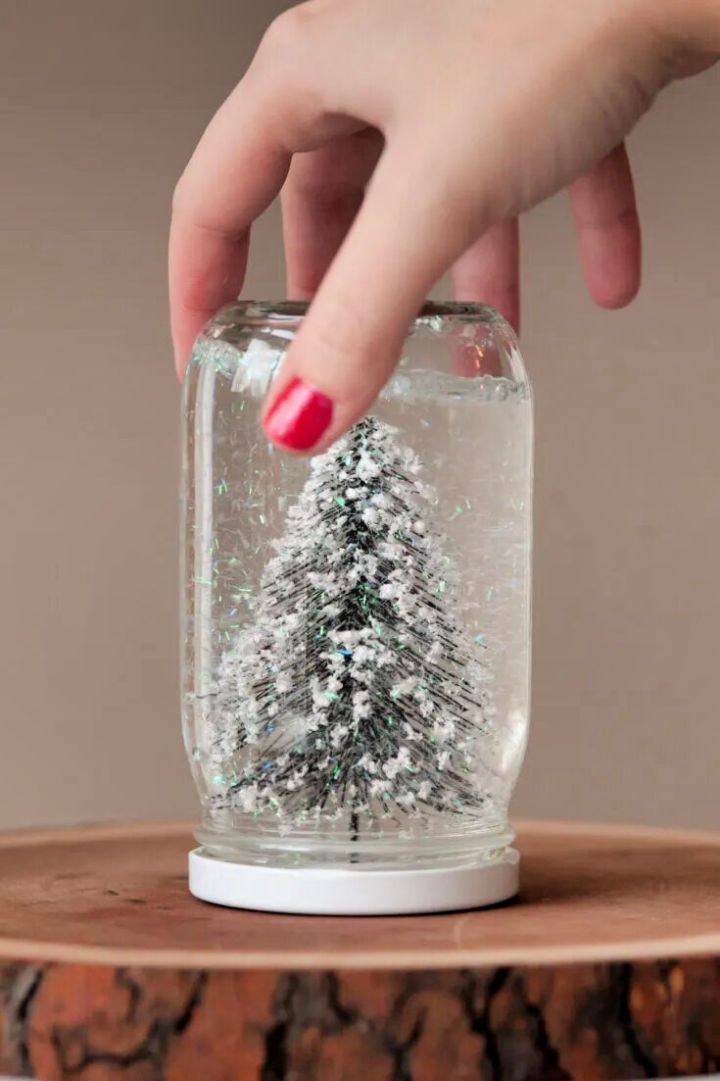 Snow globes are so sweet and nostalgic that you just want to get a few even if you don't need them. That's why you must try making them at home as they are just a cinch to make. To try these DIY snow globe ideas, you will need supplies like clean jars with lids, distilled water, glycerin, figurines/tress, tinsel glitter, epoxy, and sandpaper. Distilled water turns out to be perfect for use as the liquid of the snow globe and is quite cheap too. thesweetesto
2. Spring Mason Jar Snow Globes Craft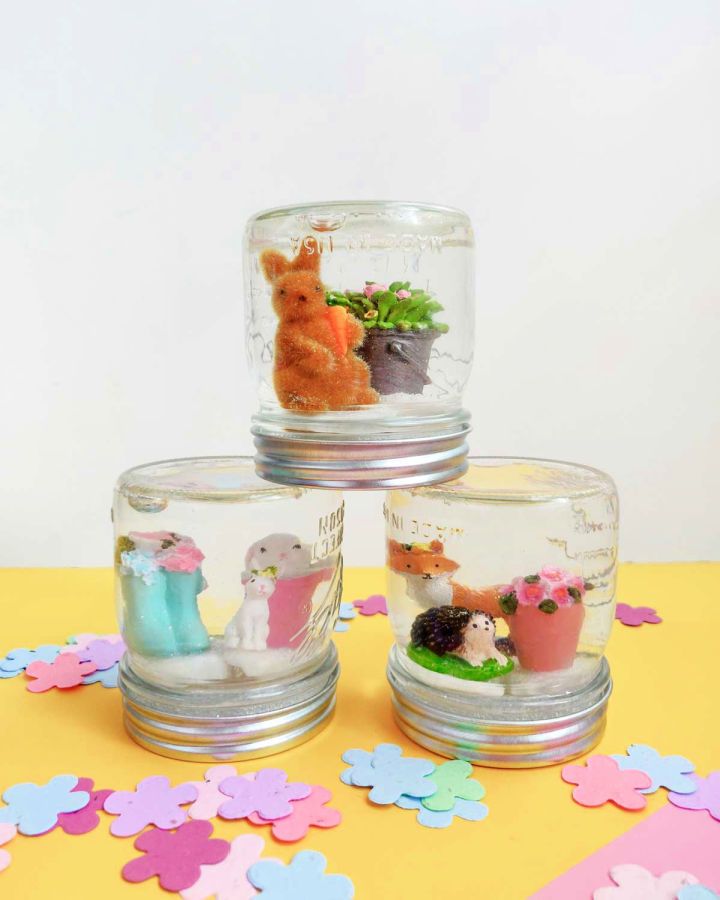 You are going to adore these spring-themed snow globe ideas! It literally springs in a bottle. The tutorial suggests getting all the materials from Michaels. You are going to need supplies like Mason jars Quart and half-pint, tiny treasure figurines by Michaels, glitter, E6000 adhesive, distilled water, Styrofoam, and rocks for the base! artfuldays
3. Coolest Family Portrait Snow Globe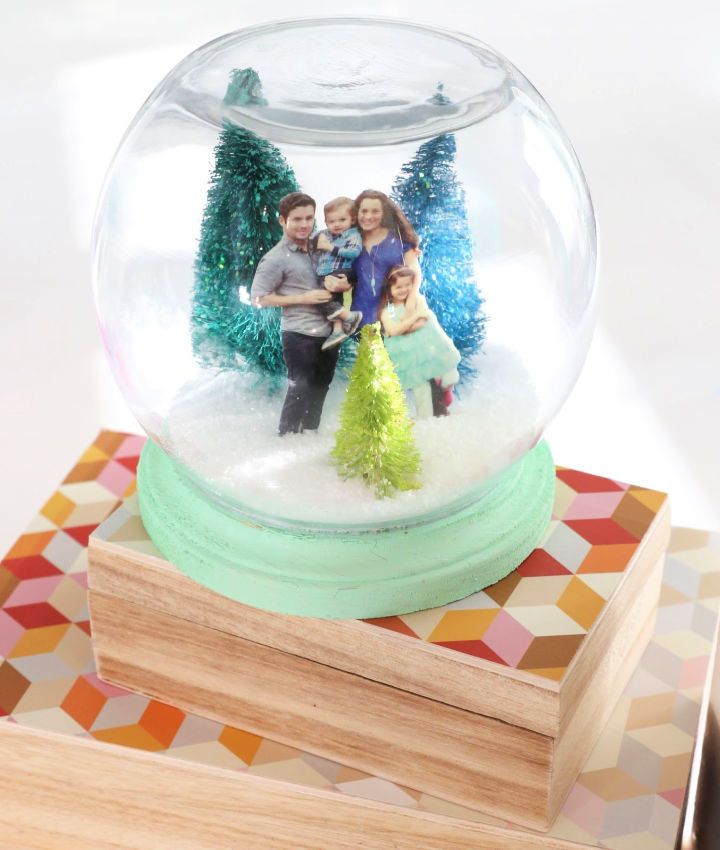 We have all been mesmerized by the ever-stunning snow globes! This particular beautiful DIY snow globe idea comes with a lovely personalized appeal. Best part? You can make these personalized snow globes for your family or as a meaningful gift for anyone, and it will cost you even less than 20 dollars. Hit the link for the complete guide. akailochiclife
4. Glittery Mason Jar Snow Globe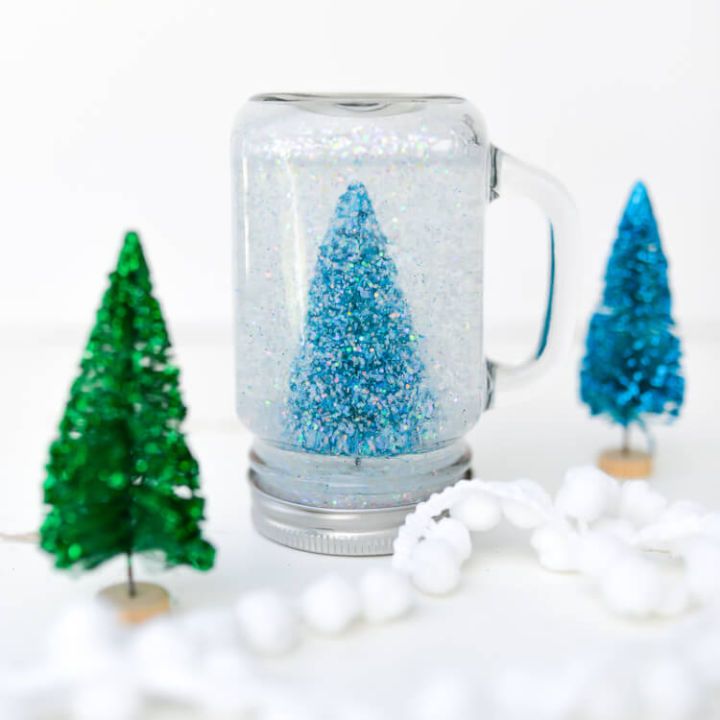 Shiny, glittery trees in a snow globe? Yes, please! Way to make your day shinier and better any moment of the day. Get your hands on a mason jar with a gasket lid, Elmer's glue, scissors, glue gun and glue sticks, small miniature trees, and glitter. Don't forget to stick your mason jar lid and piece it together, so the water doesn't spill everywhere. heyletsmakestuff
5. DIY Ocean Snow Globe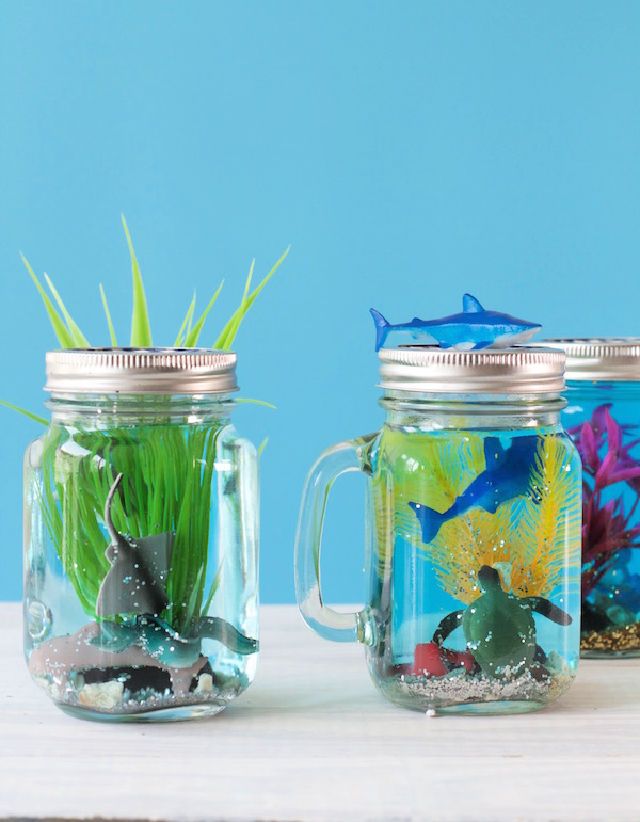 Have you ever imagined putting the ocean together in a snow globe? We neither. But here's a perfectly easy and completely fantasizing guide to doing so. You are going to need a glass jar with a tight lid, aquarium plants that you would like to put inside, super glue, small rocks, glitter, little sea animals, glycerin, water, and blue food color for the oceanic appeal. libbiesummers
6. Homemade California Snow Globes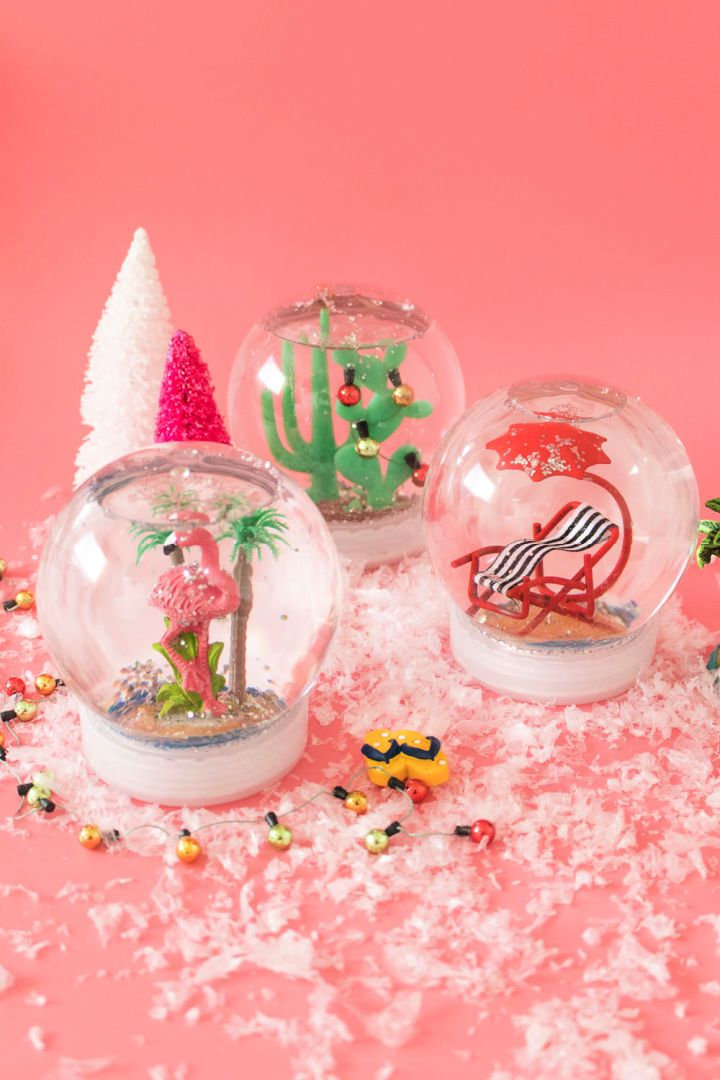 Mini lights and shiny Californian feels captured in a tiny DIY snow globe! This idea is absolutely adorable and honestly quite charming. Gather supplies, including a plastic globe but make sure it doesn't shatter, miniatures of a flamingo, palm tree, beach chair, cactus and lights. Along with these, you will also need E6000 glue, paintbrush, fake sand and glycerin or corn syrup. clubcrafted
7. 5 Minutes Snow Globe in a Mason Jar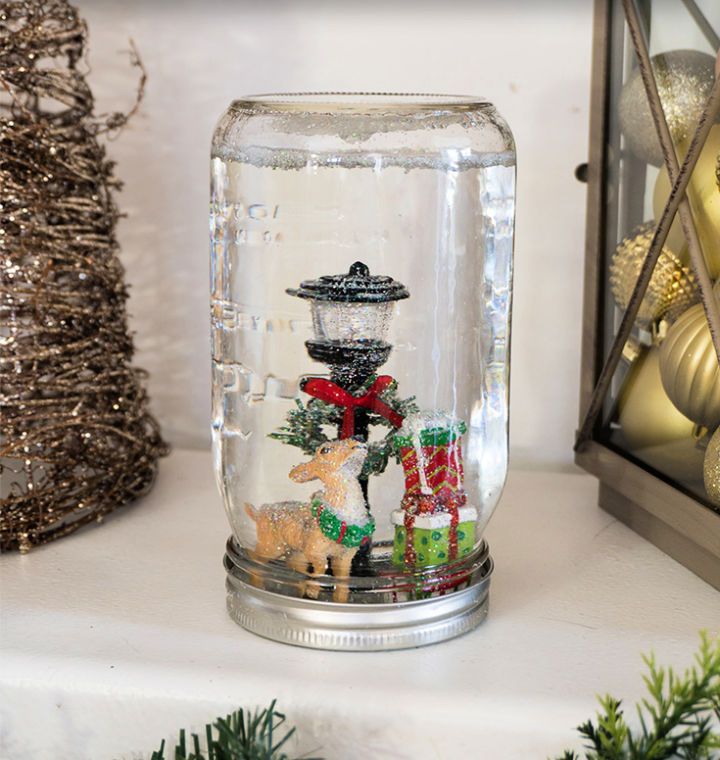 Spruce up your snow globe in just five minutes in a mason jar! Yes, it's that quick and that satisfying. Please note that the size of the mason jar depends upon your choice; however it should be big enough to contain your miniature figurines. Gather supplies like glitter, water, glycerin, miniature figurines and a mason jar. practicallyfunctional
8. Create Your Own Snow Globes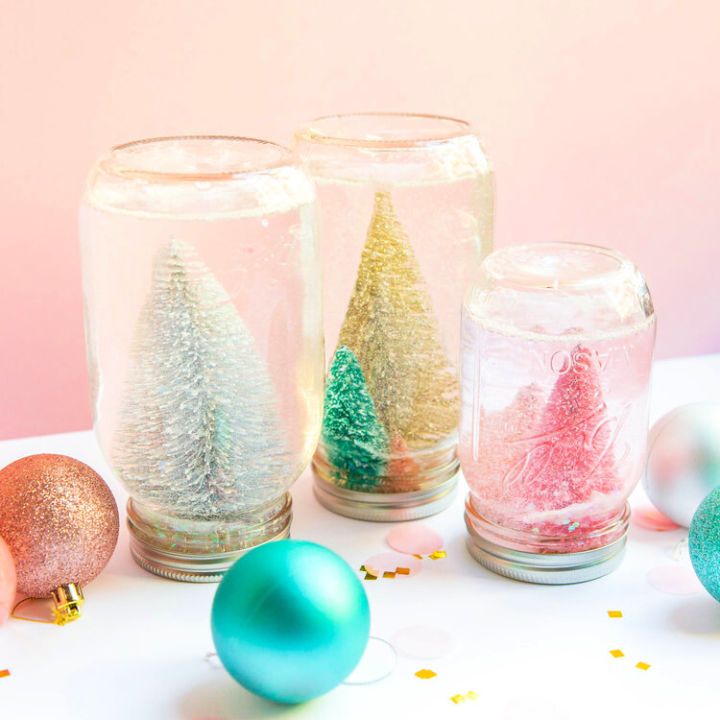 Thinking of making a meaningful and kind of soothing gift for a loved one? Well, think no more. You can spruce up any of these DIY snow globe ideas, and you will already be winning hearts. To get started, you need readily available supplies, including the extra special ingredient; a laminated photo that you want to put inside (make sure the picture fits the mason jar's size). mixbook
9. DIY Glitter Snow Globe from Mason Jar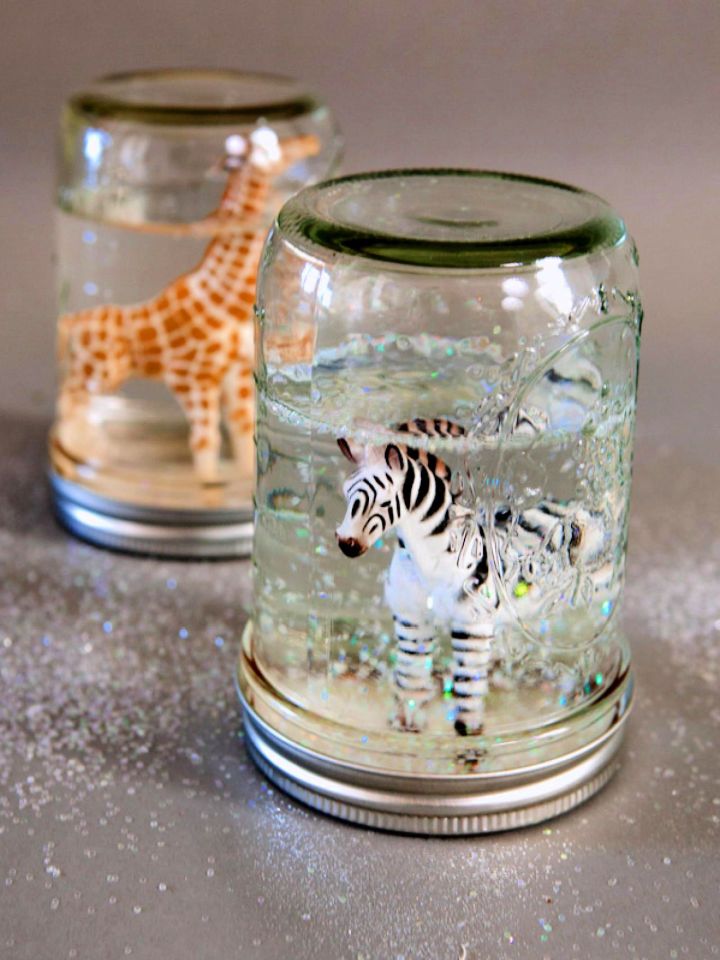 Get your hands on a mason jar, preferably one-pint, an animal figurine, super glue or epoxy, water, glycerin, snowflakes and glitter flakes. Start by gluing your animal figurine to the bottom of the mason jar lid; once it's secure, move on with filling the jar with glitter, glycerin and glue! hgtv
10. DIY Snow Globe with a Picture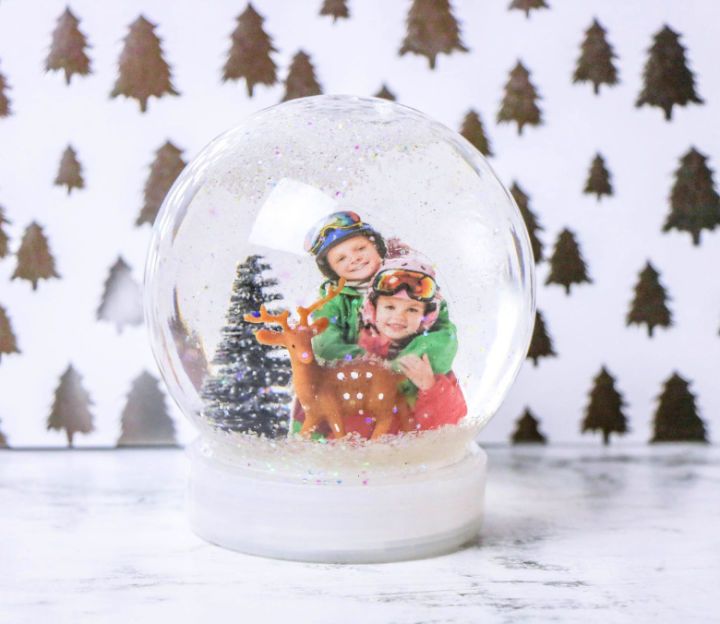 Here's another prettiest DIY snow globe idea with a meaningful, personalized add-on. This can turn out to be a family DIY activity, starting with choosing the picture that goes in the snow globe. Get your hands on supplies, including; a plastic snow globe, card stock, some laminating pages, scissors, waterproof glue, glitter, water and vegetable glycerin. messylittlemonster
11. Make Your Own Mason Jar Snow Globe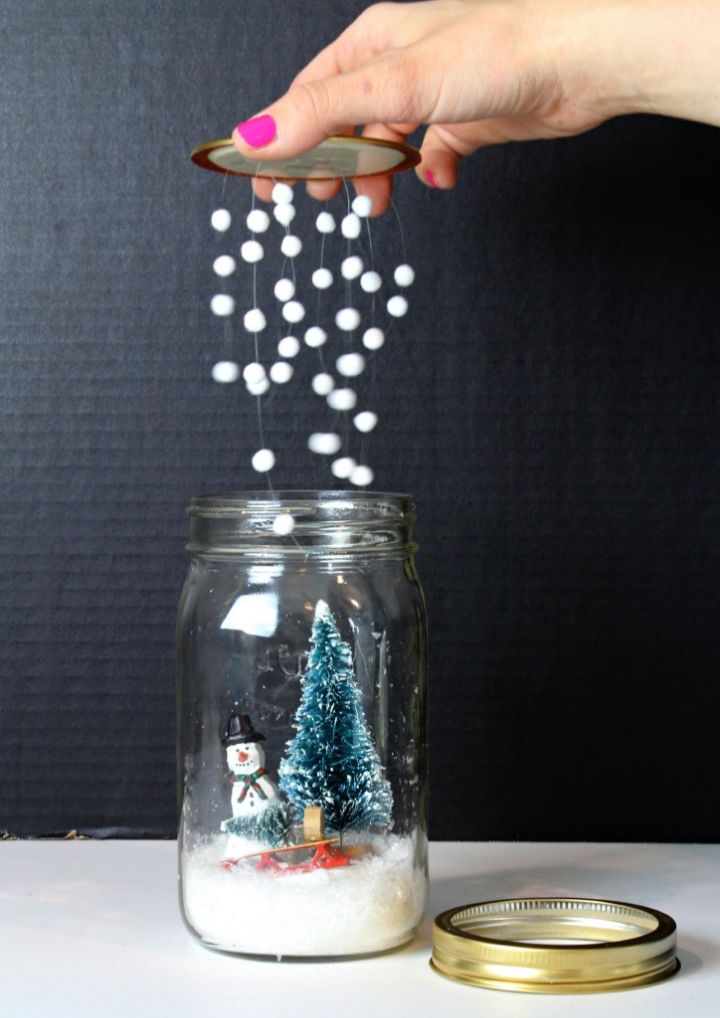 Take it up a notch with this absolutely mesmerizing snow globe using a mason jar. You will be surprised to see how fake snow can truly create some magical effect. What you need to spruce up this magic includes a mason jar, some figurines, tiny white balls, fishing line, needle and tape. Head over to the link below and get started! classyclutter
12. DIY Waterless Snow Globes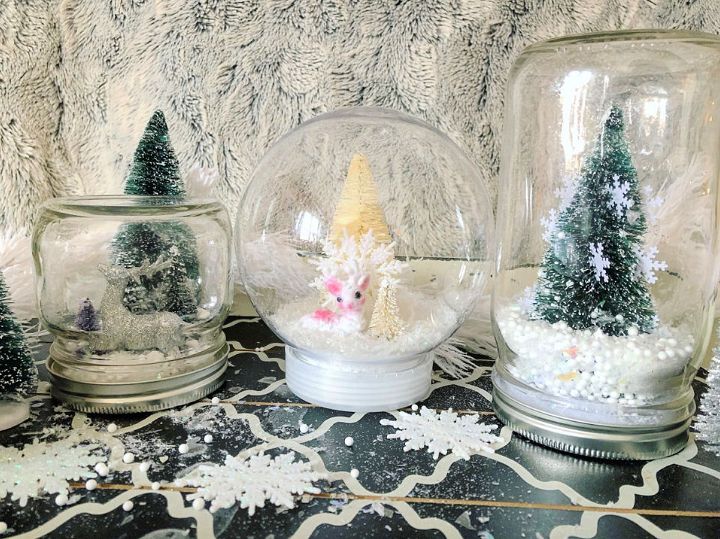 Check out this DIY snow globe idea that comes with a twist, NO water! But if you like yours to have some water flowing around, you can add that. So, with this idea, you can enjoy the freedom of choosing the basic supply. Gather supplies like a plastic snow globe, some foam balls, glitter or fake snow, figurines that can be adjusted inside, glue and a glue gun! Get started. bookish babe
13. Make a Dollar Tree Snow Globe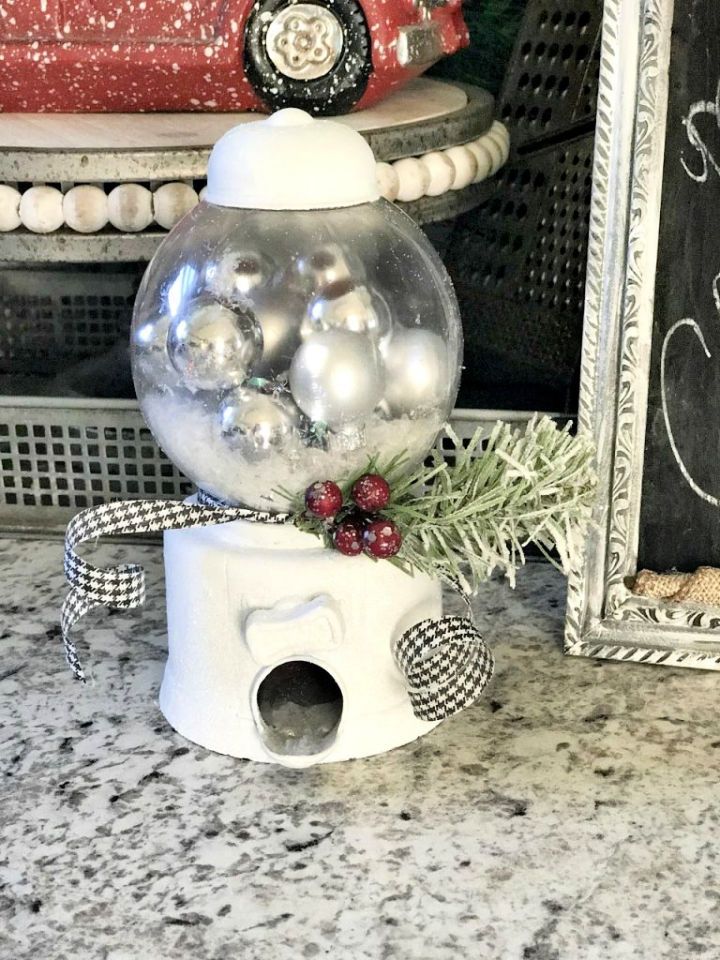 Would you believe us if we told you that this snow globe is actually made on a gumball machine? Imagine our surprise, too, as it makes such a perfect snow globe! You will need some white chalk paint to add the snowy effect. Put some tiny ornaments inside, make the look complete with a ribbon and ta-dah! re fabbed
14. DIY Disney Planes Snow Globe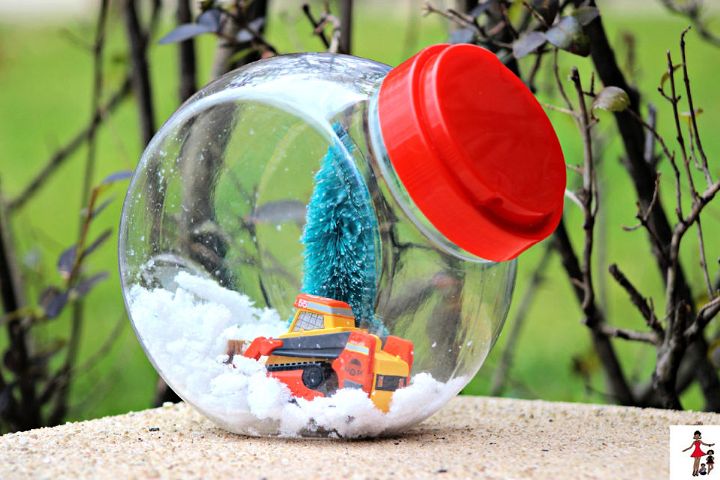 Is your kid a Disney lover? Well, get ready to become their favorite parent in an instant by sprucing up this Disney in a snow globe DIY idea. Here's what you need, a Disney avalanche figurine that you can easily find at Walmart or any store. Whip up some fake snow using Epson salt or baking soda, or just use cotton. Put all of it in a glass container. adannadill
15. Fun Snow Globe for Girls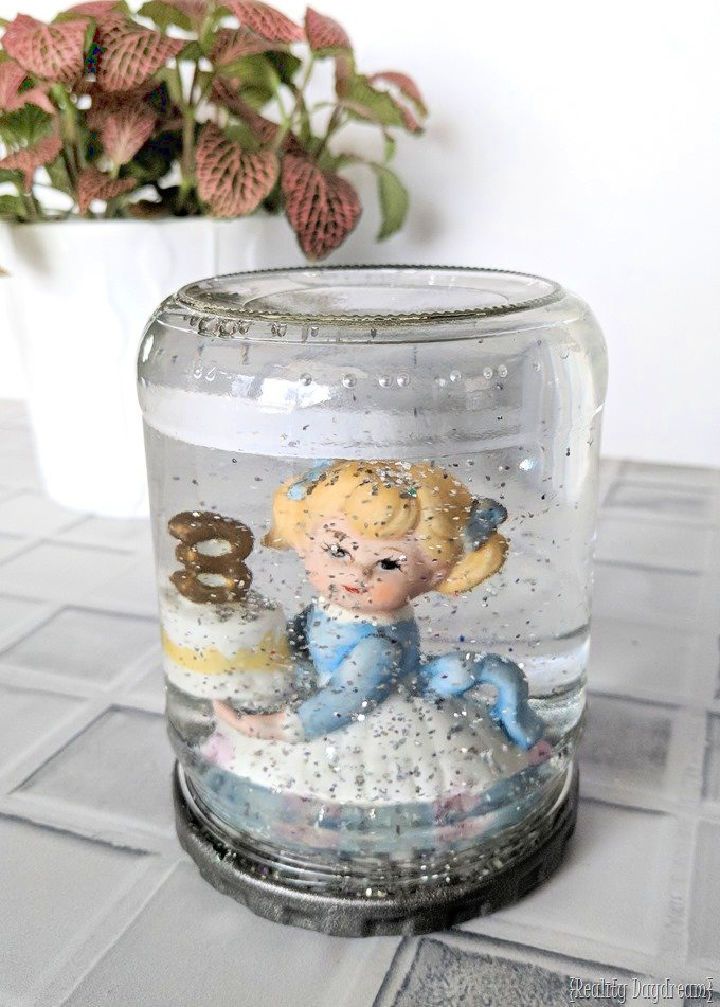 Wondering what to gift your little girl this birthday? Here's a super pretty girl-themed snow globe idea with a doll figurine that is holding a cake and 3 shaped candles; how adorable, right?! You can find something similar for your little one and simply spruce up this DIY snow globe idea. Hit the link for step-by-step details. realitydaydream
16. Mason Jar Snow Globe for Kids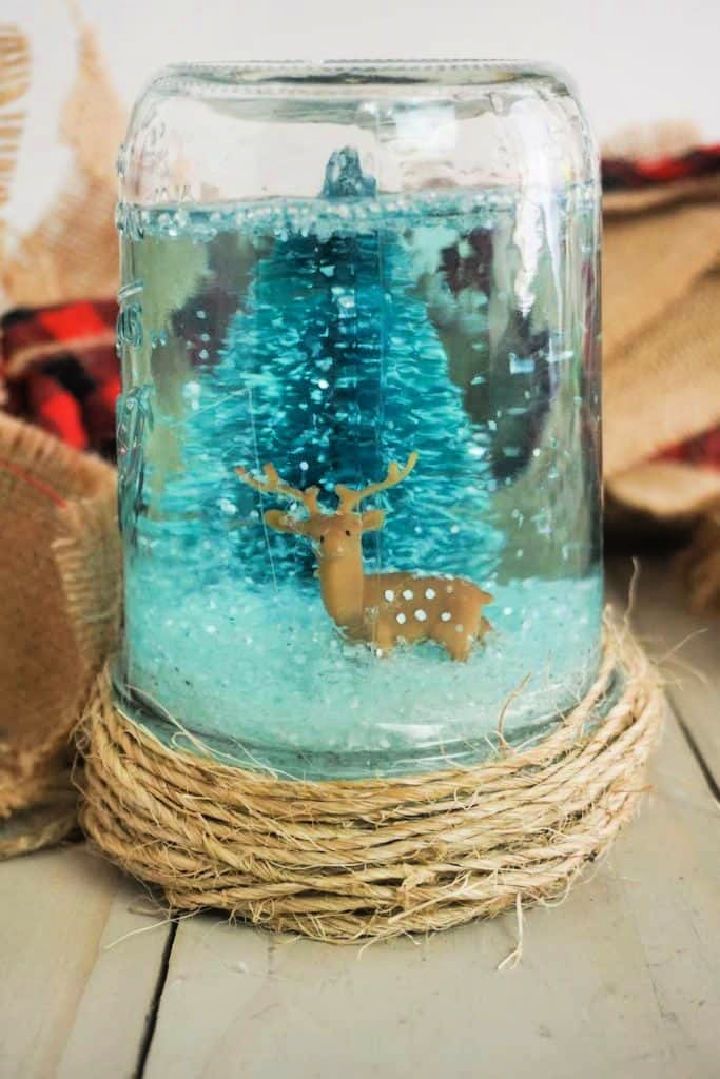 It's quite amazing how mason jars can have so many creative and exciting uses! Just like this DIY snow globe idea, here uses a mason jar. Get your hands on supplies, including on a mason jar with a lid (preferably one which has a wide mouth), polyfill, an old plastic cup, any decoration pieces or figurines, twine, water, glitter, Exacto knife and a glue gun. happiestcamper
17. Homemade Snow Globes Using Glycerin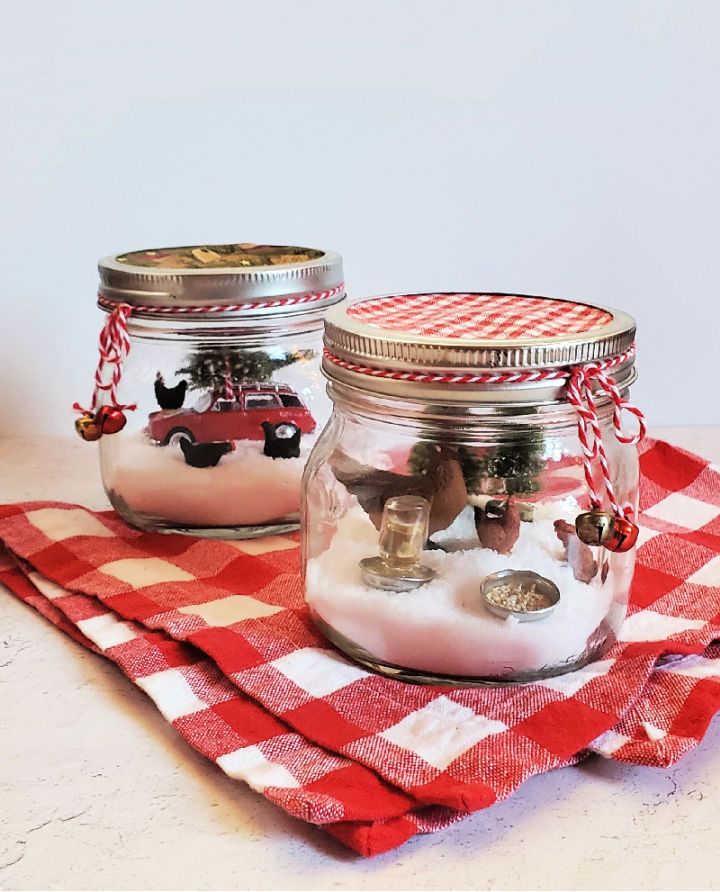 This tutorial has some really easiest and most exciting ways to spruce up some quick DIY snow globe ideas. The magic ingredient in this guide is Kosher salt! All you have to do is put your figurines inside the globe and pour in some kosher salt! You can go with a chicken-themed snow globe or the other one with the vintage wagon. Hit the link and choose as you like! fresheggsdaily
18. Simple Frozen Olaf Snow Globe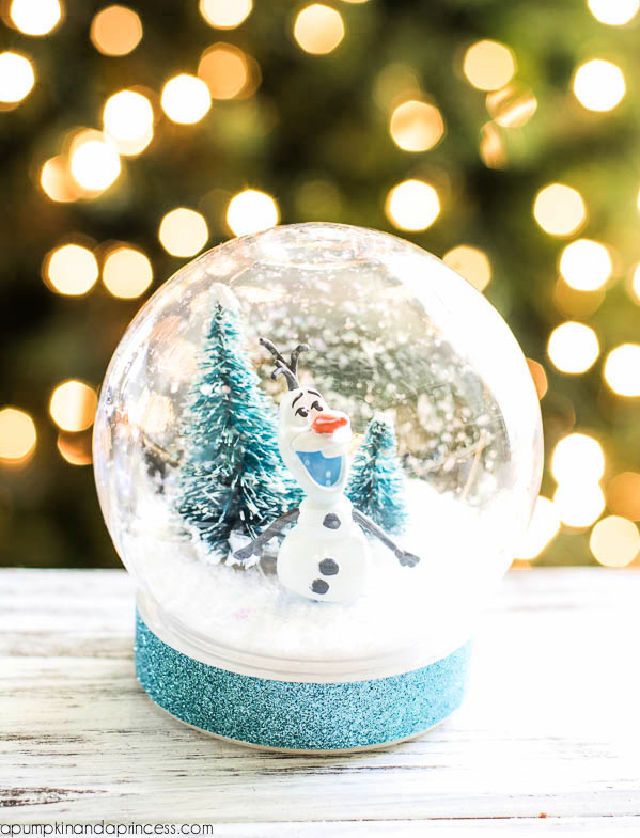 Everyone has fallen in love with the super-loving and cheer spreading Olaf character from the movie "Frozen." Here's how you can get your Olaf frozen in a snow globe. All you are going to need is a plastic snow globe, the Olaf figurine, some miniature trees, glittery snowflakes, white glitter, hot glue and blue glitter tape. Follow the step-wise guide from the link below. apumpkinandaprince
19. Easy to Make Snow Globe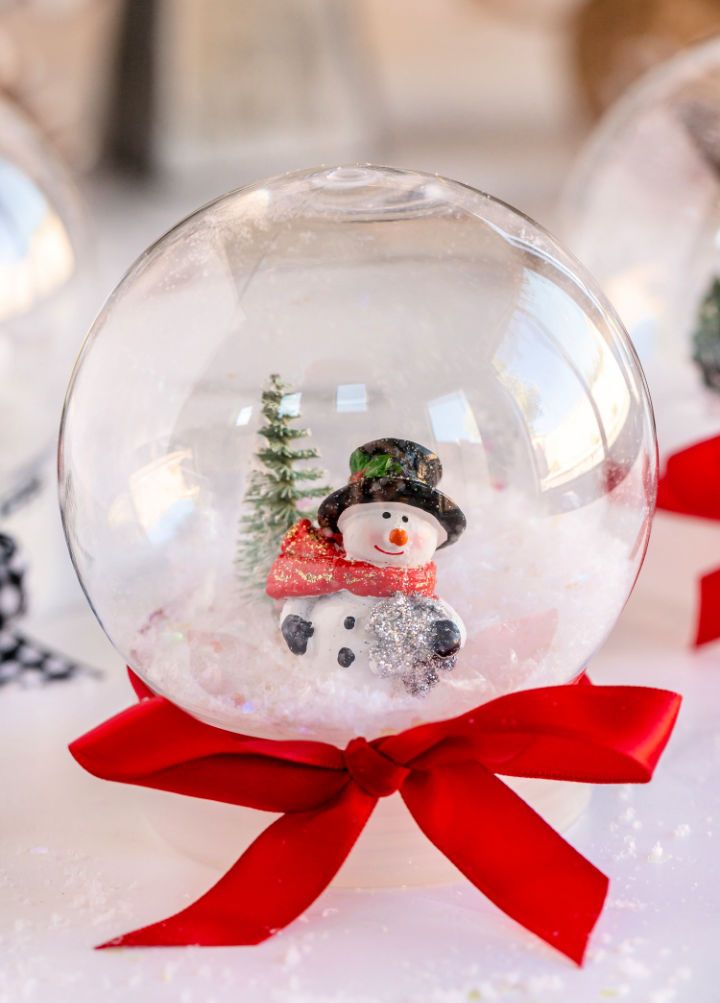 Let us take you in on a secret about waterless snow globes! As you might know, that metal irradiates in water, so with a waterless snow globe, you definitely enjoy more liberty of choosing your figurines. With this guide, you can learn to whip up some snow globes with some bottle brush tools and more sturdy figurines. Check out! madetobeamom
20. DIY Snow Globe for Boys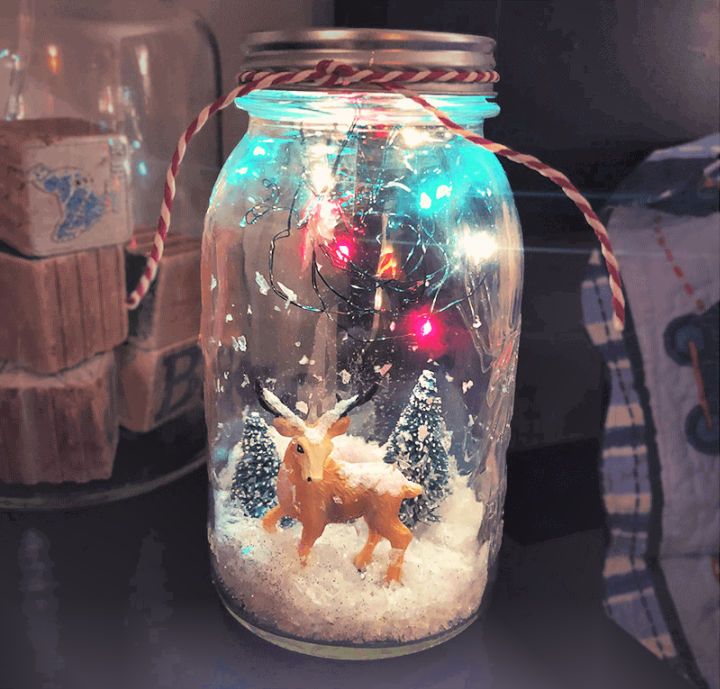 Here's another personalized gift idea for your little boy this birthday! It is a waterless snow globe, so it also comes with pretty tiny lights! Supplies you need for this DIY snow globe are; a large jar with a clear side, tiny lights that are battery operated, some fake snow, white felt, ribbon and cute figurines. letslassothemoon
21. Photo Snow Globe Ornament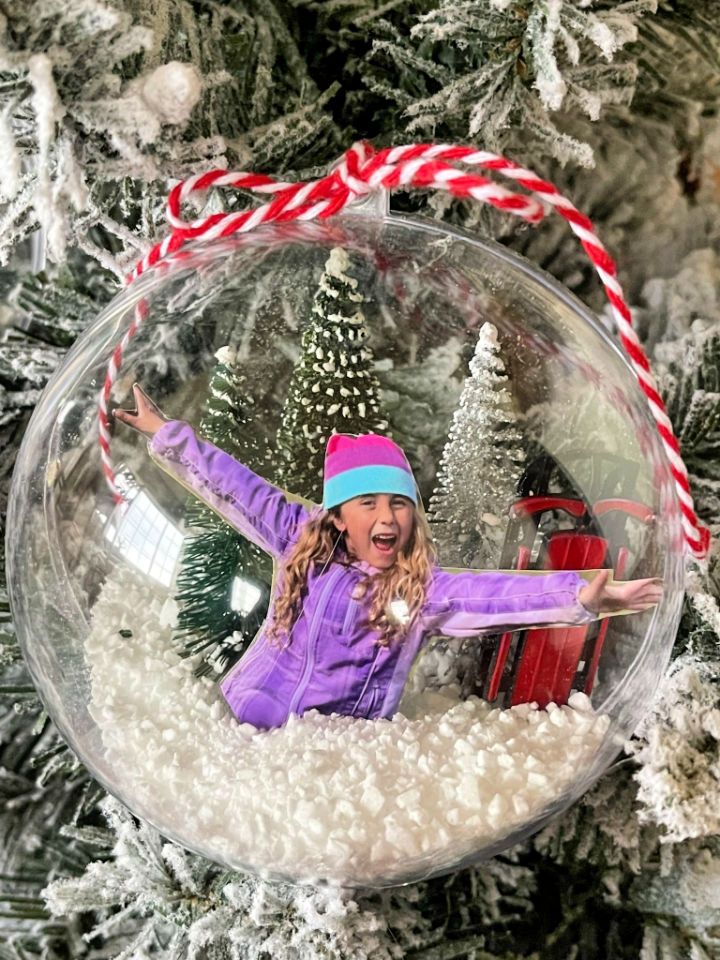 Who knew snow globes could be actually so much more fun and personalized, right?! Check out this dashing through the snow idea, perfected using finely trimmed photos as ornaments. Along with these, you will also need some trees, Epsom salt for the snow effect and a plastic globe, of course. therenegadeseam
22. Easy DIY Snow Globe for Preschool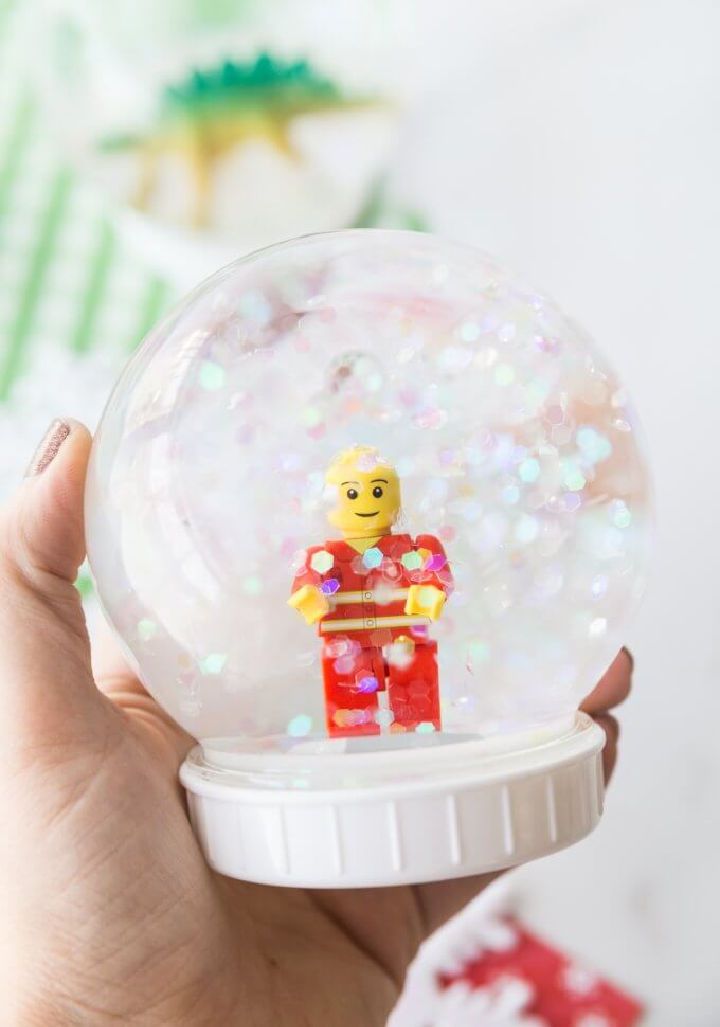 Learning sensory activities is a most important part of every little one's journey and quite a parenting challenge! Make it fun for the kids and easier for the parents using this snow globe idea. It will help in visual and educational learning as well as help manage through cranky moods. For making it completely baby-safe, you can add baby oil instead of glycerin as well. littlebinsforlittle
23. Waterless Snow Globe in Vintage Glass Jar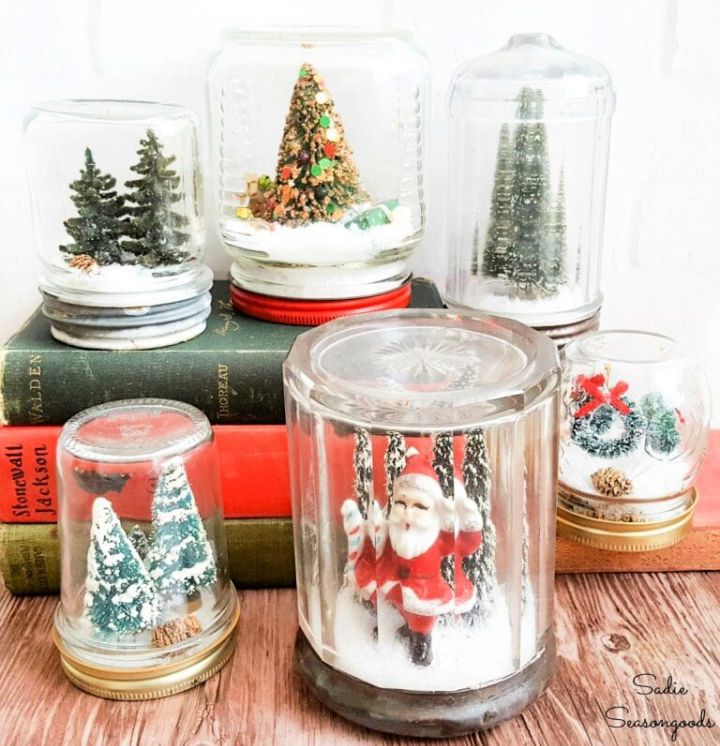 Here's your chance to put some old vintage glass bottles with a lid to an exciting use! Get ready to spruce up some DIY snow globes. You will need supplies including a foam cutter, Styrofoam for the snow, some artificial snow, a hot glue gun and a bottle brush tree. sadieseasongoods
24. How to Make a Mini Snow Globe Favors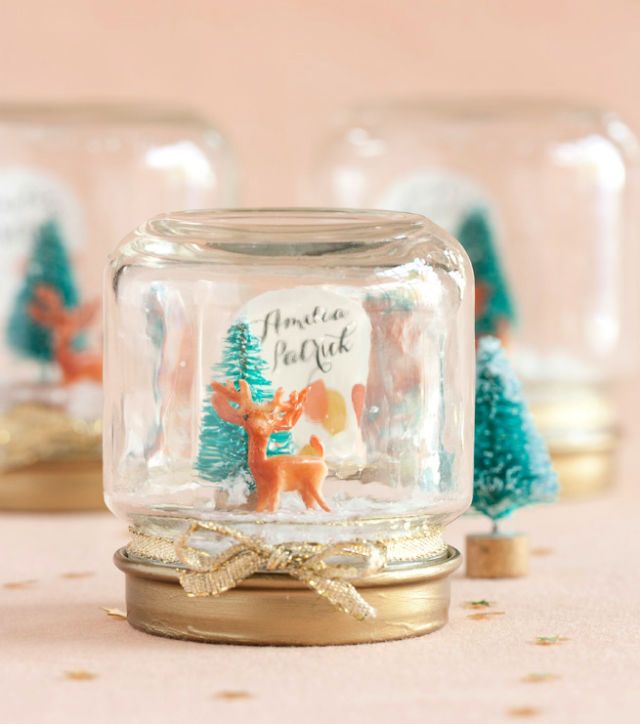 There can be many exciting ideas for party favors, but we bet you won't find anything as cool as snow globe favors! Yes, that's right. Thank people for celebrating with you using these snow globe party favors. All you need is some small baby food jars, tiny figurines like a deer and bottle brush trees, Styrofoam, glitter, fake snow, gold paint, ribbons, circular labels and craft supplies. evermine
25. DIY Plastic Snow Globe with Picture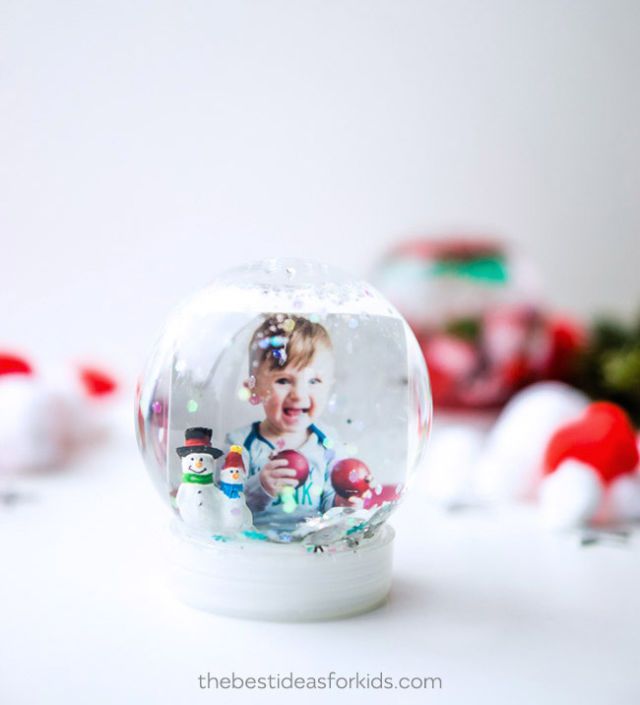 Last but not least, another version of making a snow globe with a picture inside. However, make sure the picture is laminated, so it doesn't get damaged in the water. Here's what you will need; some chunky glitter, snowflake glitter, silver sequins, small decor items or figurines, hot glue, distilled water and glycerin. thebestideasforkids
Related DIY Projects:
DIY Ornaments – The holiday season is upon us, and it's time to indulge in some festive DIY projects. It's so easy to make DIY ornaments with simple supplies you probably already have at home. From ornaments, wreaths, and more, get
DIY Wedding Favors – What's better than a wedding? A wedding affordable enough for people to actually have it. Don't spend a lot on wedding favors that you can make yourself! These affordable DIY wedding favors will show you how to create your own custom gifts.
DIY Photo Backdrop – Take your photography to the next level with these DIY photo backdrop ideas. From simple and quick to more inventive, you'll love these creative backdrops for any type of photography.
DIY Wall Organizers – There are a lot of things to consider when it comes to organizing your home. But what if you don't have the space? Here are DIY wall organizer ideas and systems to help you maximize your space and organize.
DIY Terrarium Ideas – This list of DIY terrarium ideas is your one-stop guide for a little bit of greenery. Start with a jar, some dirt, and your favorite plants and see what you can come up with.
Conclusion: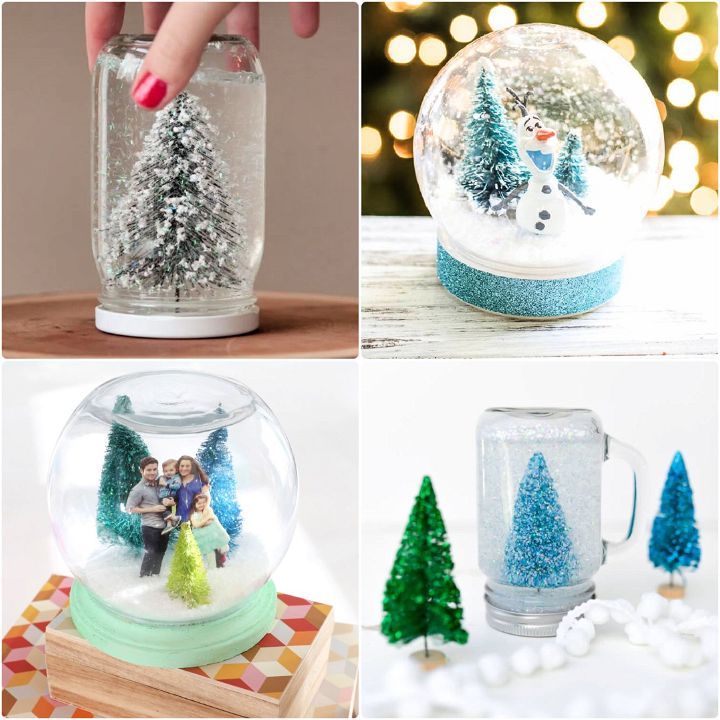 Different DIY snow globe ideas are perfect when you want to craft away, but you have a very short time on your hands. These snow globes are perfect to be used as giveaways for different winter parties or to be used for school projects. You can display them at home anywhere you want, especially in the area where you entertain your guests. That way, everybody can come and admire your beautiful creations making you more proud. Make sure you ask the little ones to join in and do small tasks so they can feel included in your projects and spend quality time together. Enjoy snow globing!