These 20 DIY ornaments are so easy to make with just a few supplies. Give your tree decorations a handmade touch this year! Decorating the festival tree is a great tradition, and those hanging baubles can also be thought to create great memories from generation to generation. Do you think about the best ornaments for your dreamy tree decor? Then skip buying the ornaments from stores and go with these DIY ornaments allowing you to make a wide range of expensive-looking and personalized ornaments at home.
From making paper ornaments to those painted glass bulb ornaments to heavenly angel ornaments, you will learn to make them all here. For more unique and creative inspirations? Go with these 20 easy DIY Ornaments that are amazingly cute and popular and will be loved dearly by all who love decorating their festival tree. You will learn to make the fancy ornaments using clay, round wood log slices, felt and pinecones, and salt dough.
However, you can use clear plastic and glass ornaments to create those scenic, quoted and painted ornaments for the festival trees. Moreover, you can also add custom photos, toys, faux snow trees, and many other things to make gorgeous scenic and memorial ornaments for the festival trees. At the same time, you can also paint and glitter up the ornaments in various ways to make great ornaments for the festival tree. Browse all these easy to make DIY ornaments to see many more unique craft ornament ideas to choose from.
1. Paper Honeycomb Ornaments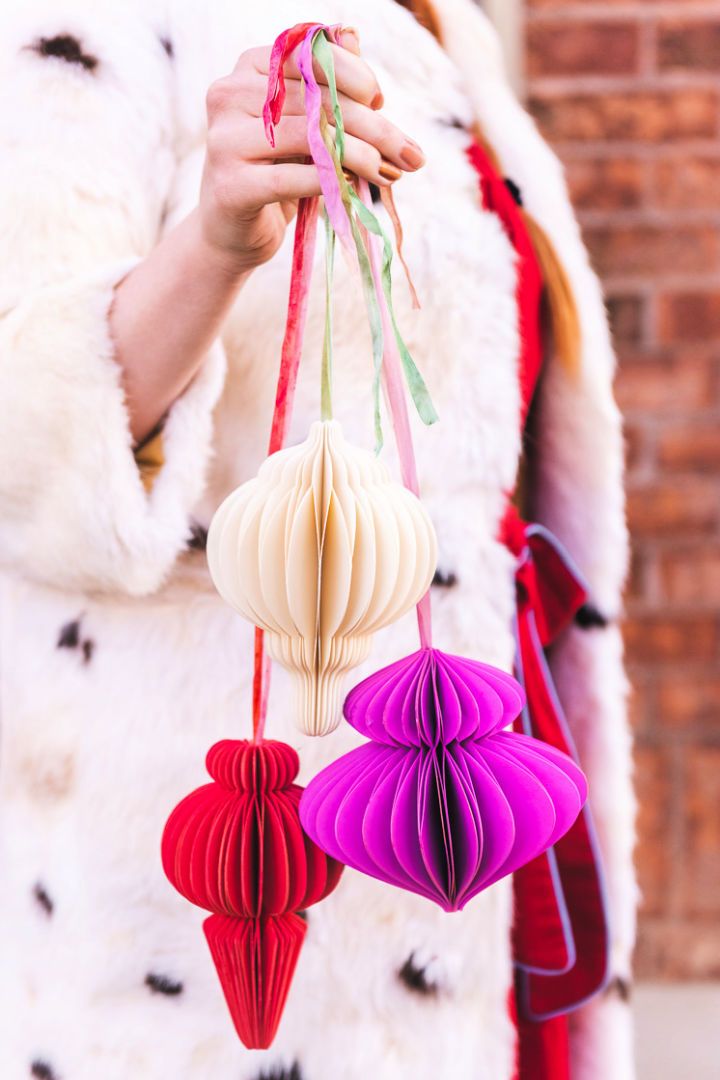 Making ornaments and decorating the trees do in anticipation of a big event. So, are you lacking some cool ornament ideas to add to the festival and tree decor? Then try to make these paper honeycomb ornaments worthy enough to be a part of any party and festival decor. Making these decor will rock your holiday season. You need PDF and SVG ornament templates, medium weight cardstock, a Cricut machine, ribbon, flexible glue, a paintbrush with a flat edge and super glue to easily create these hearty ornaments. thehousethatlars
2. DIY Painted Gold Leaf Ornaments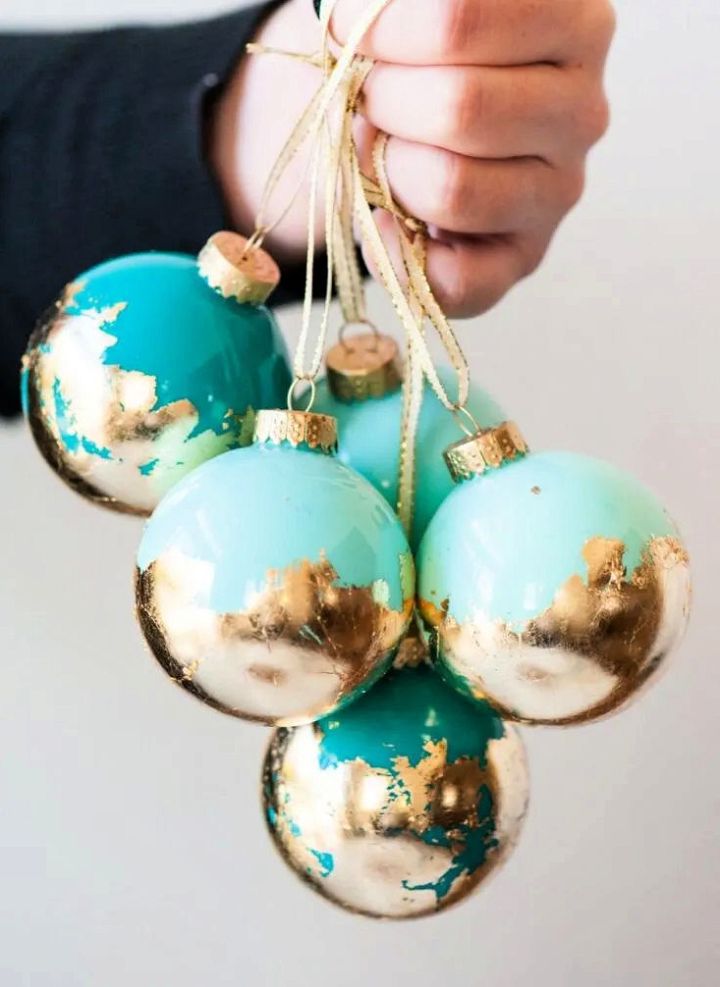 You will need some great baubles and trinkets for decorating those trees and home spaces at the biggest festival of the year. So, learn here to make the best posh-looking ornaments for the festival using the gold leaf. You need clear glass ornaments, assorted craft paints, thin ribbon, spray paint, paintbrushes, gold leaf and adhesive to easily complete these hearty ornaments. They look just fabulously cute and will be loved dearly by all the homey people. You can try out these ornaments with your favorite craft paints, fitting to the rest of the festival decor. thesweetest
3. Easy DIY Photo Ornaments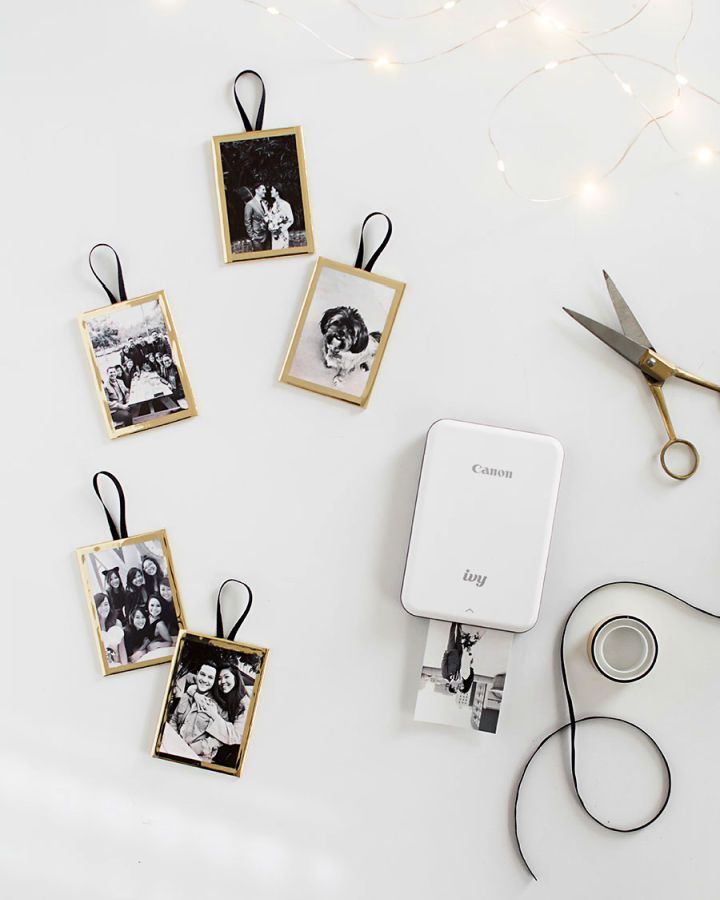 Have you decided to pick the unique ornaments for the biggest annual festival? Then get inspired by this super unique ornament idea, sure to impress all. Here are the photo ornaments that will be superb to hang on the festival trees and the walls for added visual interest. Moreover, they are super easy to make at home also. The idea is to print out the mini 2″x3″ photos using a printer. Next, paste the photos on the 2"x3" pieces of wood using a strong adhesive and finish with the decorative golden washi tape framing and a ribbon hanging loop. homeyohmy
4. Glitter Scallop Glass Ornaments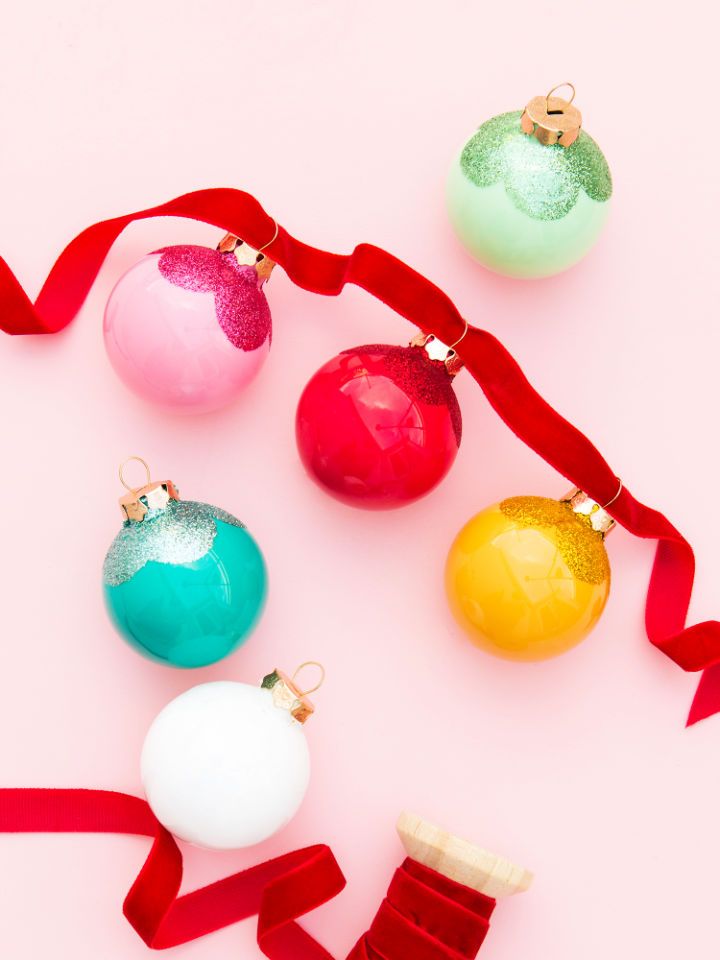 Are you making efforts to decorate your trees uniquely and beautifully? Then here is what you need to fancy up your festival trees, the scalloped glitter ornaments. Here the glass ornaments are painted and then glittered, matching to paint colors in the scalloped pattern. Want to try making these ornaments at home? Then grab the glass ornaments, craft paint, assorted glitter, decoupage medium, foam pouncer, large paintbrush, and small angled paintbrush to easily duplicate these fancy festival ornaments. One of the best festival decor ideas ever. sarahhearts
5. Personalized Word Ornament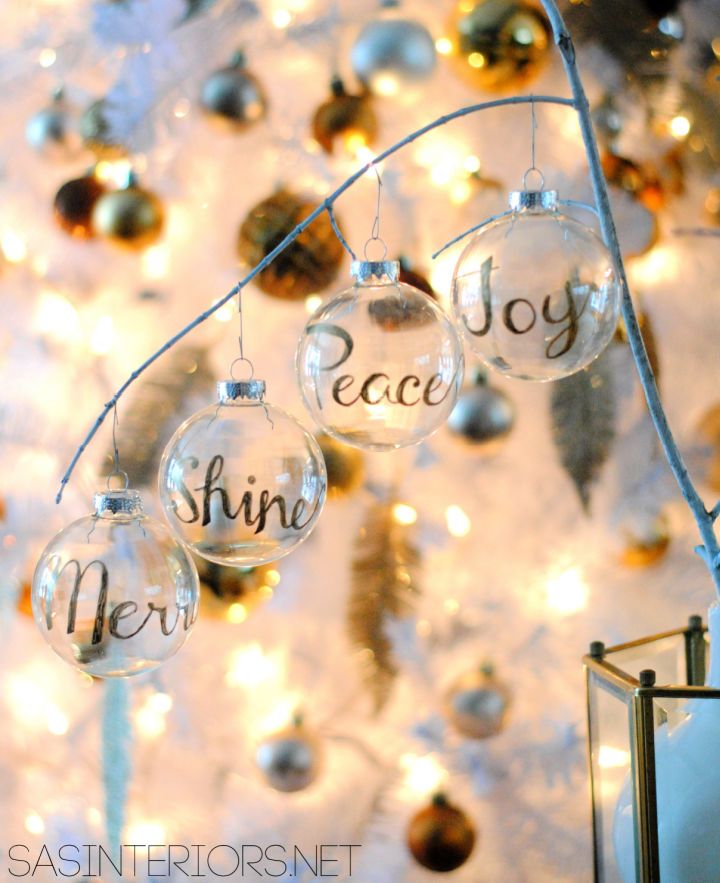 Greet the guests at the festival parties with this cool ornament displaying the festival words. However, you can easily whip up these personalized glassy ornaments at home in a budget-friendly way. Just peek into the project details to get the expert tips to make these bauble ornaments efficiently and quickly. You need the clear bulb ornaments and sharpie markers in black and gold to easily complete these festival ornaments, sure to take your festival decor to peak level. First, trace the words on the bulbs and then start filling them with the desired marker colors. jennaburger
6. Simple Coffee Filter Angel Ornament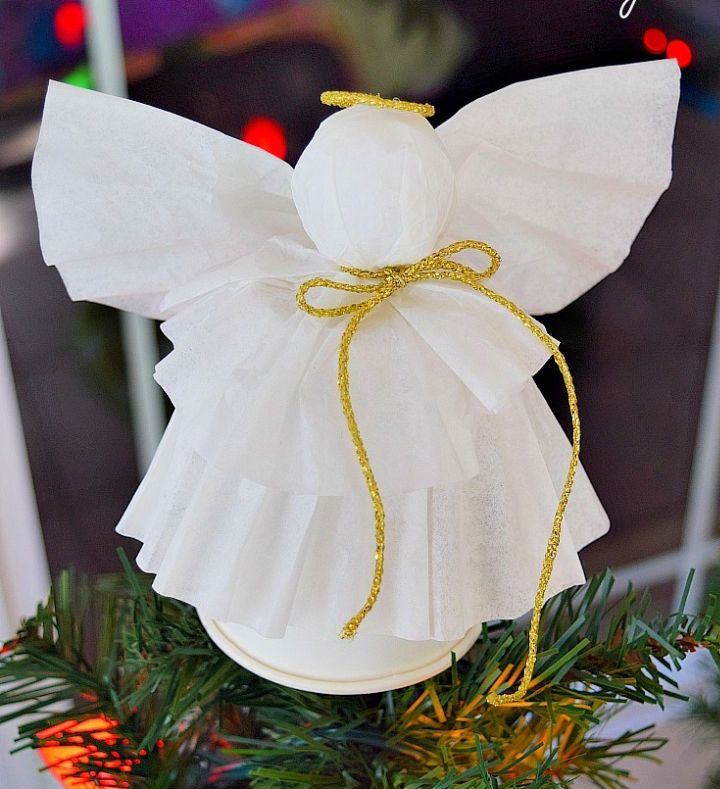 Make your festival tree look divine and heavenly with this outstanding tree topper decor. Yes, this is here, a lovely angel made with inexpensive supplies. However, crafting this angel is as easy as ABC, and even a little kid can whip it up easily. You need a white paper cup, 3 coffee filters, a small round Styrofoam ball, toothpick, gold twine, rope, ribbon, gold rope and a warm glue gun to easily duplicate this heavenly angel tree topper. You will get here detailed diagrams and step-by-step instructions for each step. So, it will be all easier to clone with the provided tutorial. kidfriendlythings
7. Button and Felt DIY Ornaments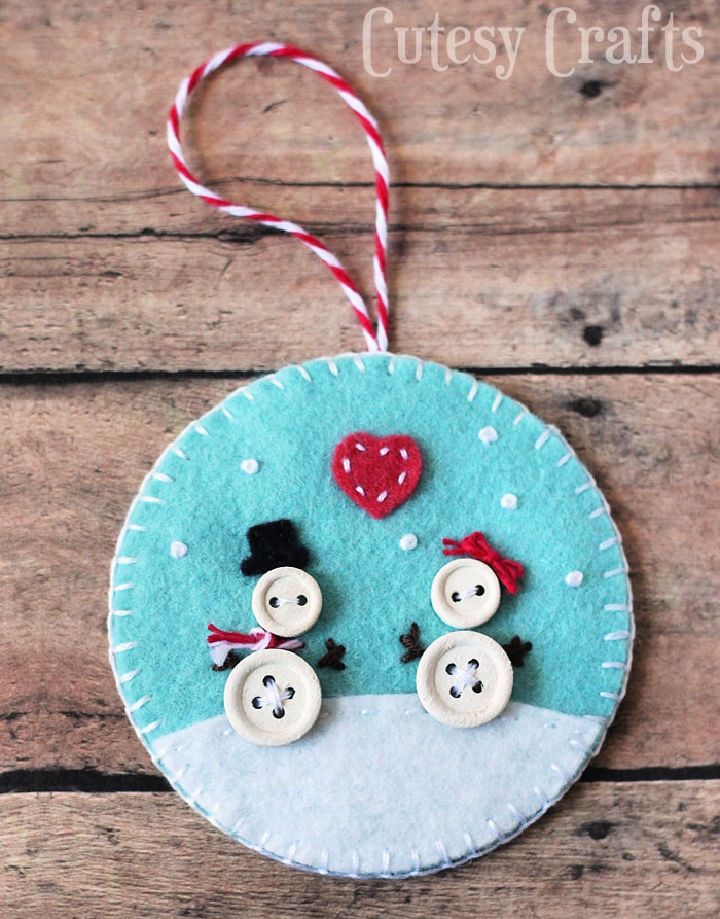 When decorating the festival trees and the whole home in a particular theme, you are surrounded by many decor choices. However, if you still cannot find those custom ornaments, then time to make your beautiful personalized ornaments at home. A great inspiration will be these button and felt ornaments, sure to be a great addition to a festival tree. You need the ornament patterns, felt, buttons, white paint, embroidery floss, baker's twine and small red rhinestone to easily duplicate these cool and colorful ornaments. However, the project also provides free downloadable patterns for the project. cutesycrafts
8. DIY Harry Potter Ornaments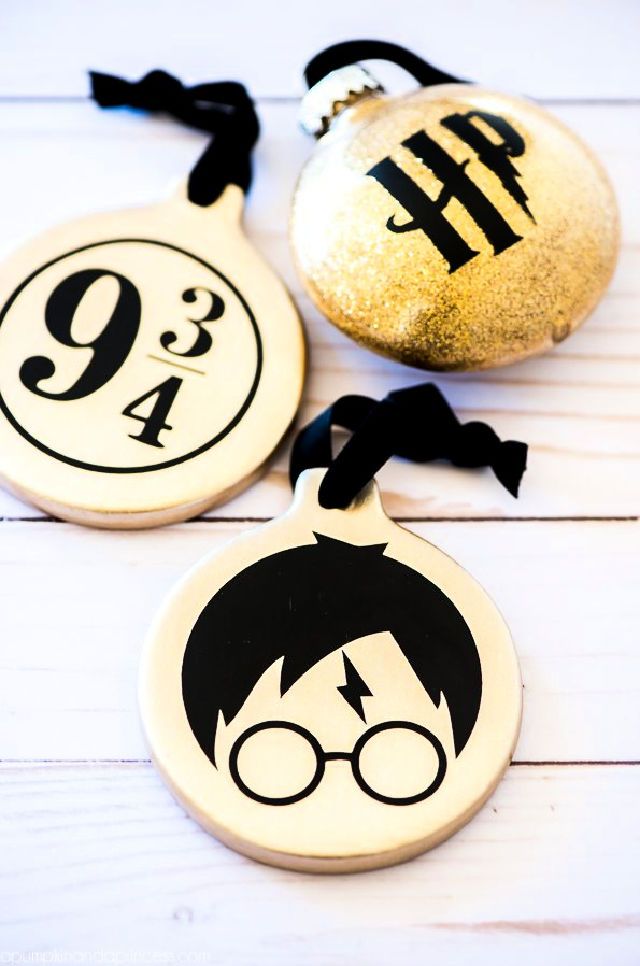 When making the hanging glass bulb ornaments for the Noel tree, get inspired by various other themes. So, are you highly obsessed with Harry Potter and want to make the ornaments on the Harry Potter theme? Then get instructions and some great design inspirations to go ahead like a pro. The idea is just to paint and glitter up the glass ornaments or baubles and then paste the Harry Potter cut vinyl on them. You can use any cutting machine like Silhouette or Cricut to easily duplicate these ornaments in no time. apumpkinand
9. DIY Dipped Glitter Ornaments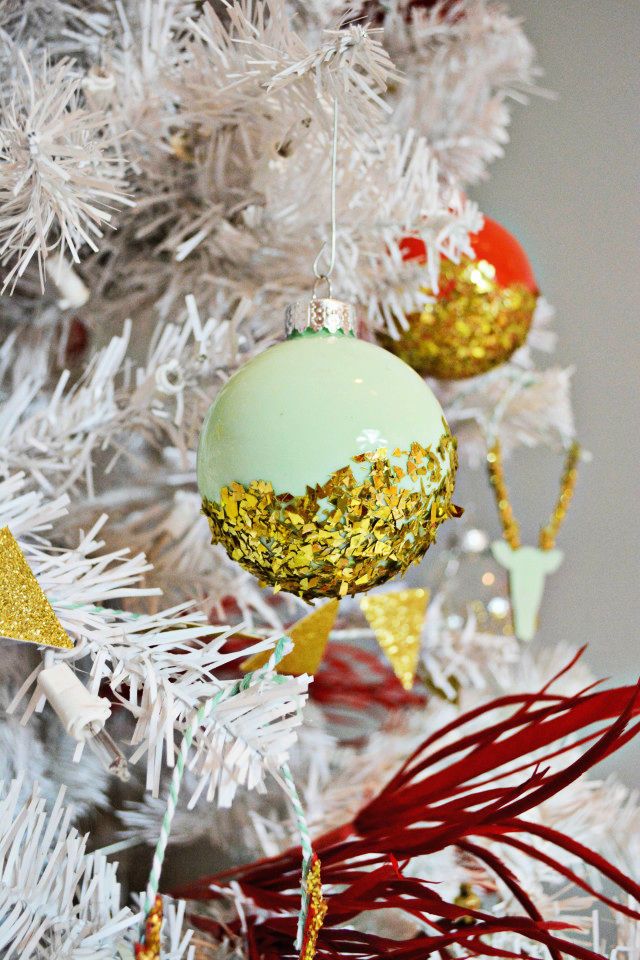 There are so many different ideas to make fancy ornaments for the festival trees. You will fall in love with these dipped glitter ornaments, guaranteed to fancy up your festival tree, and everyone will just fall in love with them at a very first look. You can paint the glass ornaments, glue them partially and sprinkle glitter on them. Soon you will get some outstanding festival ornaments to hang on your festival tree. One of the best DIY ornaments to make at home without getting a bit expensive. ajoyfulriot
10. Clay Baby Handprint Ornaments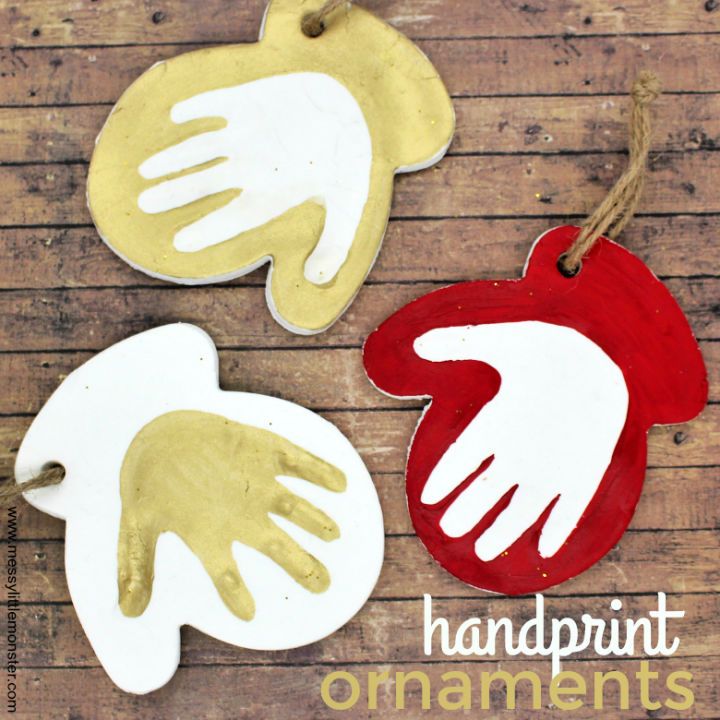 You will love this creative and fun idea for making personalized ornaments for the festival. The project involves making the baby handprint ornaments that you can paint and glitter and can also add up with the baby name letters or an enhanced appeal. You need air dry clay, mitten cookie cutter, rolling pin, straw, acrylic paint, paintbrush, glue, glitter, twine, string or ribbon to easily complete these festival tree ornaments. One of the best DIY festival ornament ideas that everyone can duplicate easily in no time. Use various paints to create a colorful set of these hanging handprint ornaments. messylittlemonster
11. Glitter Silhouette Ornaments for Kids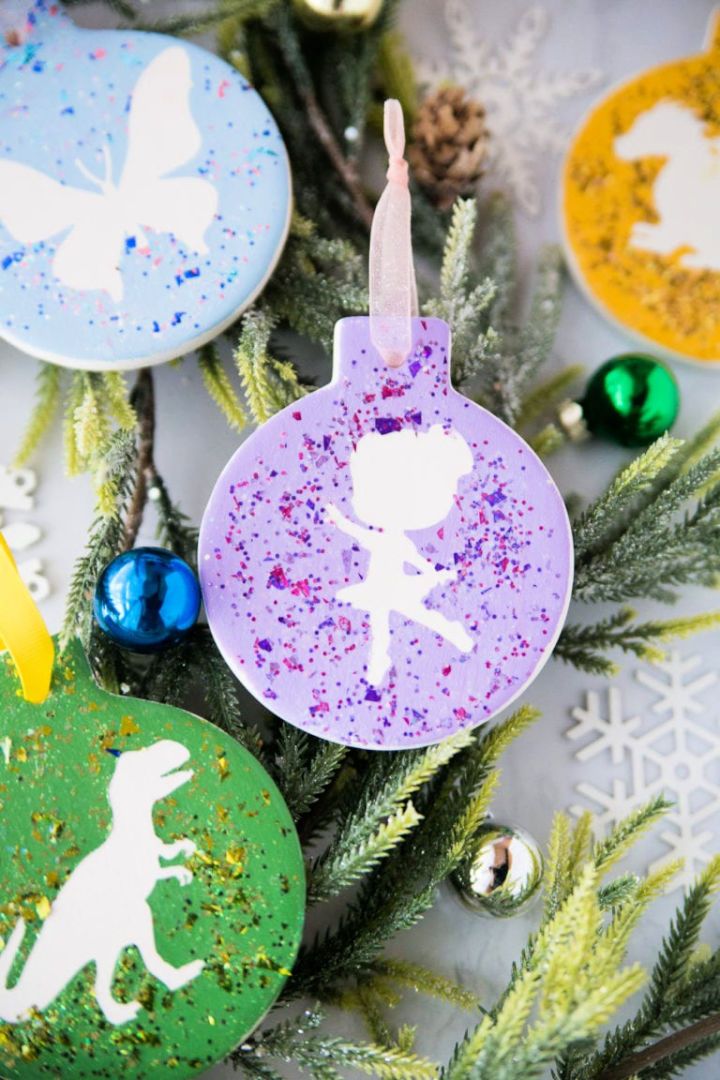 The ornaments are crucial when it comes to festival tree decorations. They hang beautifully on the different branches of the tree, and here you will learn to make those ornaments uniquely and affordably. Peek into details of these glitter silhouette ornaments that look visually captivating and will be a total breeze to duplicate. Here, the project uses ceramic ornaments to add up with the favorite Silhouette shapes and art. Paint them and finish with your favorite glitter colors, and finally, you can remove those silhouette shapes to reveal the art. These ornaments will be a big center of attention of all for sure. In supplies, you need ceramic ornaments, glitterific in favorite colors, silhouette shapes, coordinating acrylic paint, ribbon and foam paintbrush to complete this project. madetobeamom
12. Handmade Clear Ornament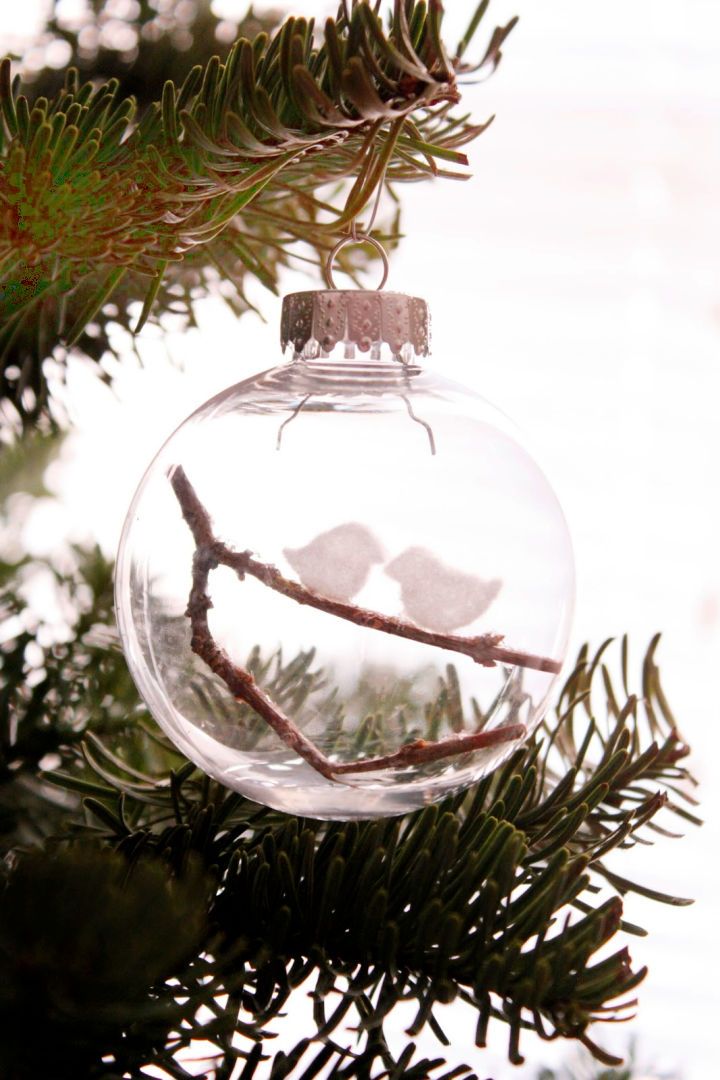 You can also capture the most favorite nature and landscaping scenes in the glass bulb ornaments to make outstanding festival ornaments out of them. Get inspired by these scenic glass ornaments that feature the bird-on-a-tree branch art and the snow-covered trees. They will be a beautiful addition to any festival tree and super quick and easy to make. You need clear plastic bulb ornaments, fake mini trees, scrap felt, glue, glitter, polyfill, tweezers, a small crochet hook or bamboo skewers and branches to easily duplicate these fancy yet classy festival tree ornaments. deliacreates
13. How To Make A Memorial Ornament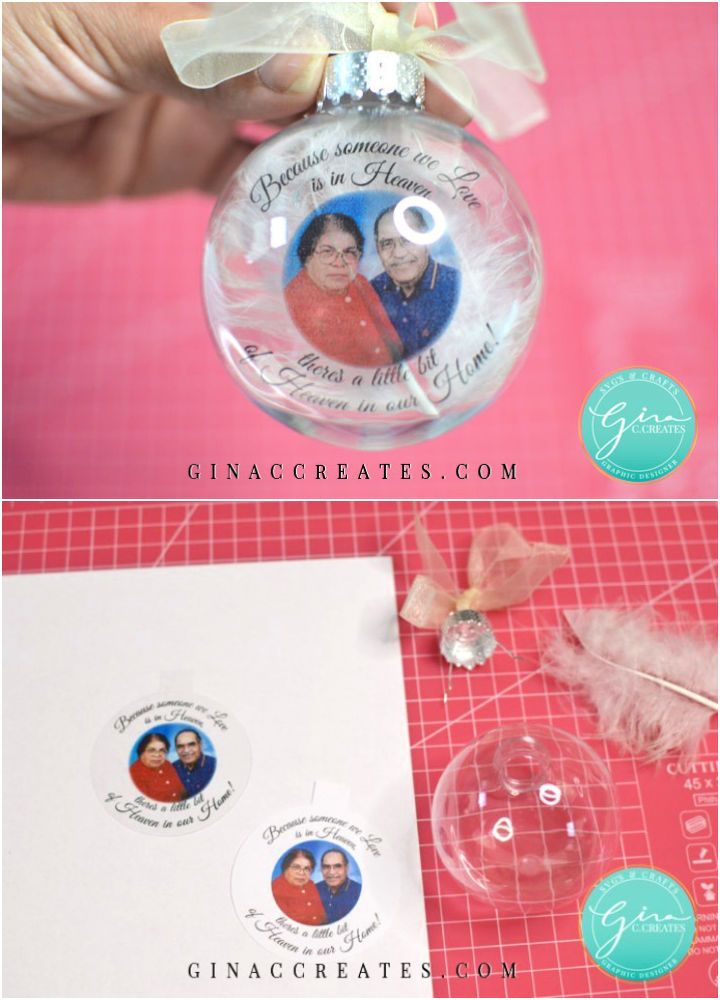 You will learn here how to add your favorite photos in the glass or clear plastic bulb ornaments to craft some memorial ornaments to hang on the festival tree. Here the project involves using the Cricut Explore, and you will find here the free SVG templates for the project. The required supplies for the project will be a Cricut Explore, Ink Jet transparency sheets, free SVG template, clear plastic ornament, inkjet printer, computer paper, ribbon, white 3 in feather and stick to easily complete these festival ornaments. One of the best DIY ornament projects ever. ginaccreates
14. Stovetop Potpourri Plastic Ball Ornaments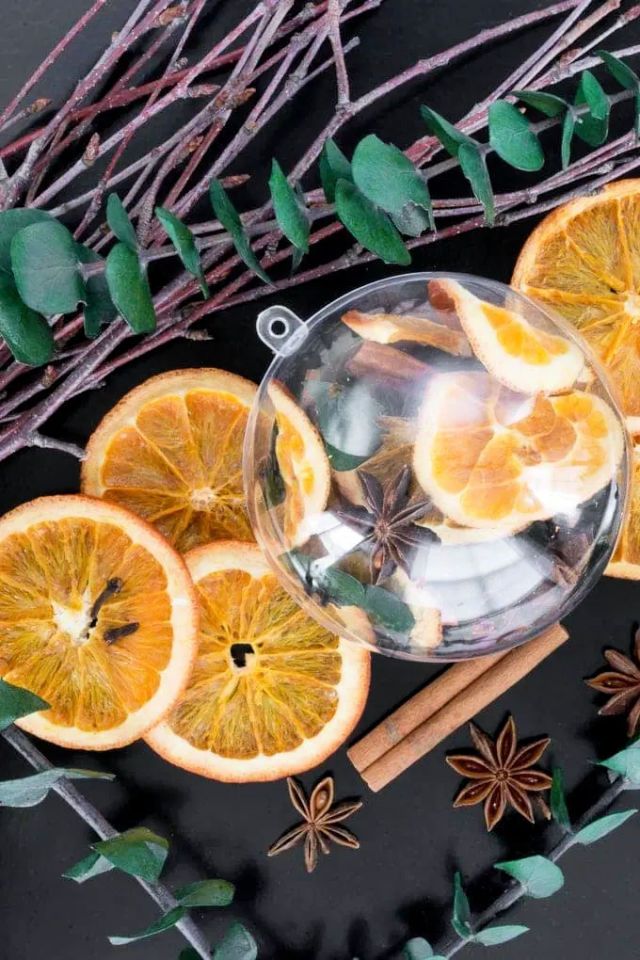 You can simply enclose anything beautiful and scenic in the glass bulb ornaments to make outstanding and precious decorations out of them. Here is another great inspiration to do that. Feel free to whip up these DIY stovetop potpourri ornaments that look just amazing and will also hang beautifully upon the festival tree. You need whole cloves, rosemary, eucalyptus, cinnamon sticks, pine needles, fresh cranberries, dried orange slices, star anise and whole nutmeg for the potpourri. For ornaments, the clear plastic ball ornaments will rock. The whole project will complete shortly. letscraftinstead
15. Light Bulb Snowman Ornament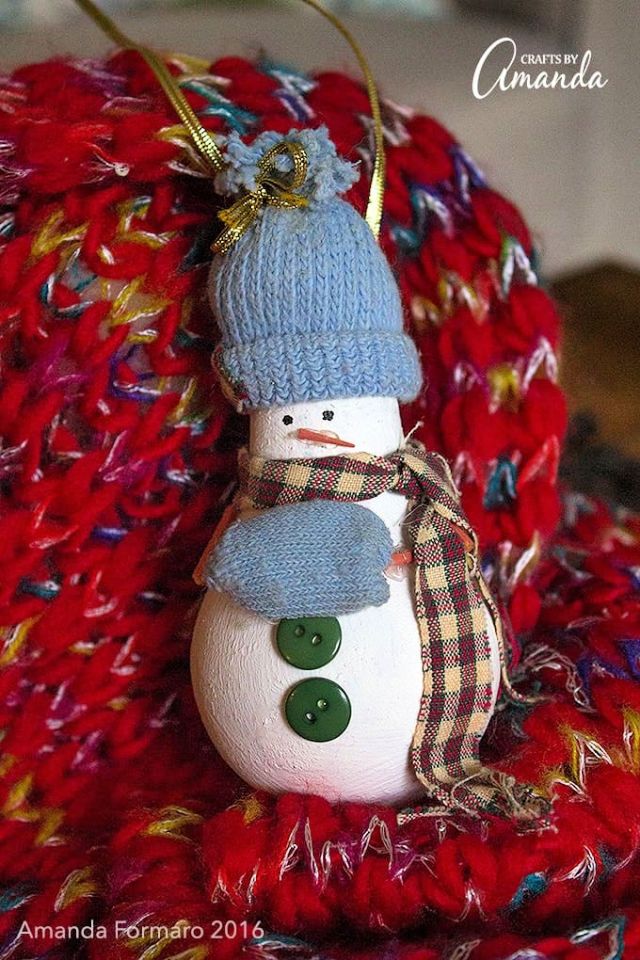 Do you have some burnout bulbs at home? Want to do some creative DIYs with them? Then learn how to transform them into adorable snowman ornaments that look super cute and beautiful. You can give custom white base coats to those burnout bulbs using the white acrylic paint. Next, add the face and body features using buttons, toothpicks and other items of this kind. Moreover, you also need the gold cord, child's sock, scrap material, fiberfill, glue, scissors, black marker and rubbing alcohol to complete these ornaments. craftsbyamanda
16. DIY Wood Slice Reindeer Ornament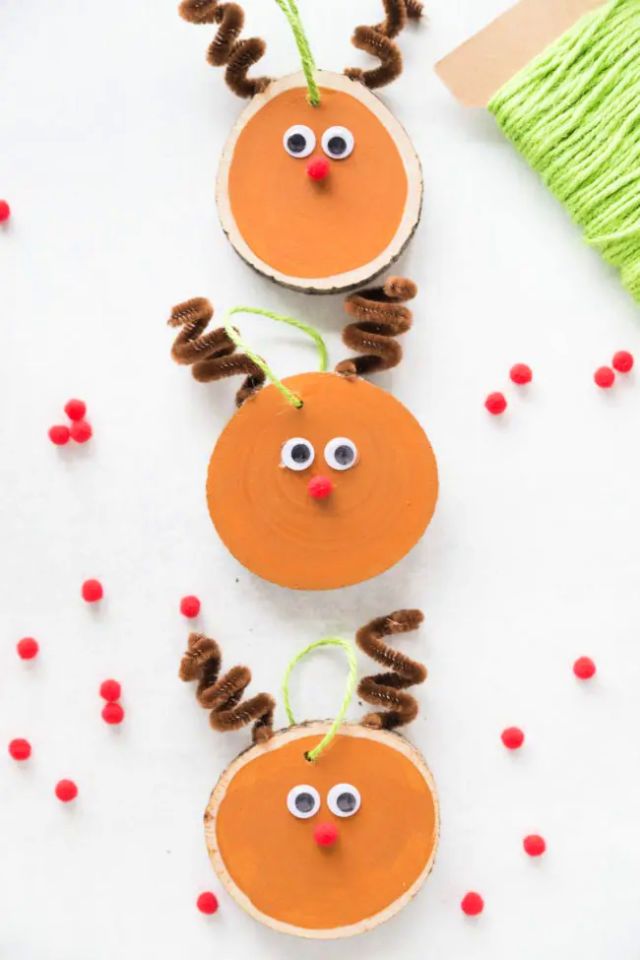 Go handmade with the wood slices to make the superb ornaments for the festival trees. You will surely fall in love with this reindeer ornament craft that is cute, easy to duplicate, and will never get out of style. You can easily transform the rustic wood slices into these cute reindeer ornaments using paint, googly eyes, pom-pom, pipe cleaners and twine. One of the best and most quick-to-do DIY projects that everyone can duplicate with quite an ease. dearcrissy
17. Rustic Pine Cone Ornament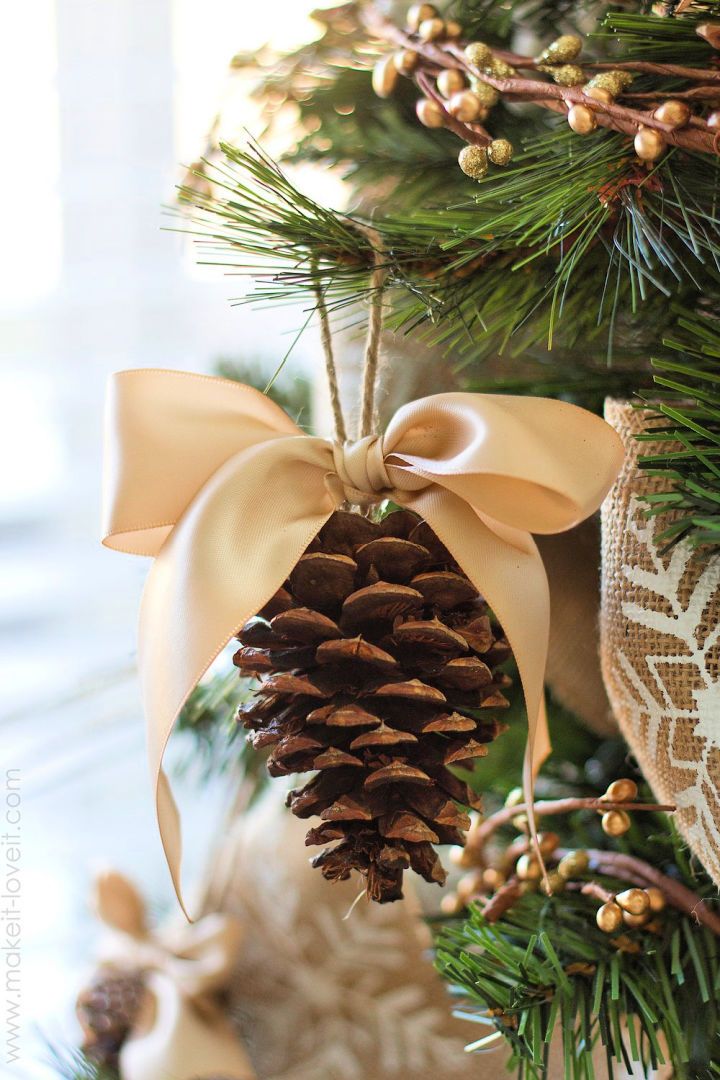 Are you on a mission to create a dreamy festival tree with all the fabulous ornaments loaded on it? Then glass bulb ornaments will rock for your festival tree. Next, you can add this new handmade pinecone bow decor to make the whole tree look extra beautiful and fancy. The project involves using glass ornaments, burlap with snowflakes, pinecones with the bow, reindeers, white berry sprigs, and many other fancy items. You will get step-by-step instructions to easily make the pinecone bows, and everyone will fall in love with these handmade ornaments. makeit loveit
18. DIY Snowflake Ornaments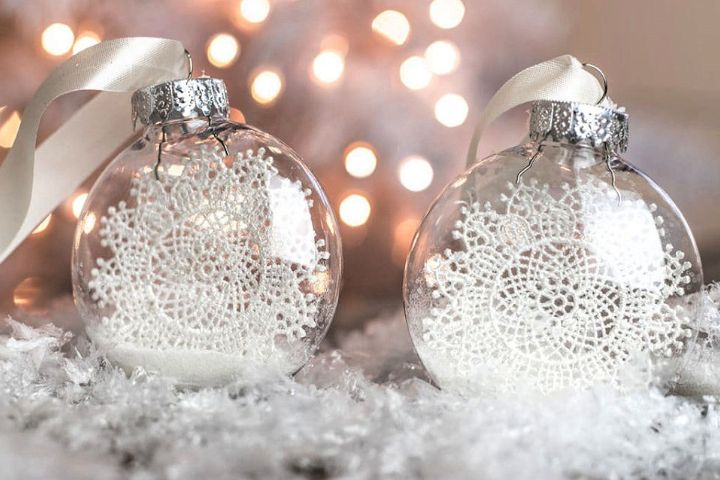 The biggest festival of the year is often celebrated in the snowy season. So, it will be a great idea to decorate the festival trees with snowflakes ornaments. Follow here guides and instructions about quickly making the snowflake ornaments at home without getting a bit expensive. It requires a few supply materials and tools to easily duplicate these ornaments, sure to fancy up the whole festival tree. You need clear glass disc ornaments, double face satin polyester ribbon in white, glitter sparkling crystals, sparkling snow, snowflake embroidery lace applique and some creativity to easily complete these cute ornaments for the festival tree. littleyellowwheel
19. DIY Salt Dough Ornaments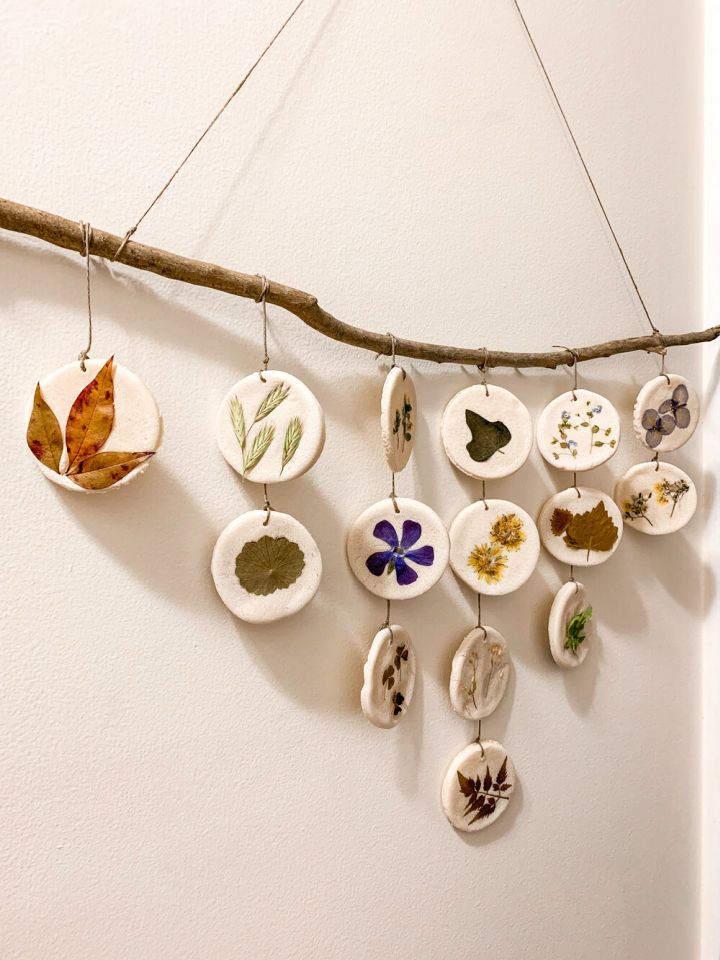 Take your festival decor to the next level with these homemade ornaments that are cute and decorative and will be loved dearly by all. At the same time, these ornaments are also super easy and quick to make. The provided tutorial will provide complete step-by-step instructions to make you easily whip up these ornaments, sure to take your festival decor to the next level. You can easily make the ornaments with the salt double and mix with the flour, salt and water to easily make the dough. Flatten the dough, and cut the circle ornaments out of it using the circle cookie cutter. Finish each disc with the pressed flowers and leaves, and that's it. valueminded
20. Waterless DIY Snow Globe Ornament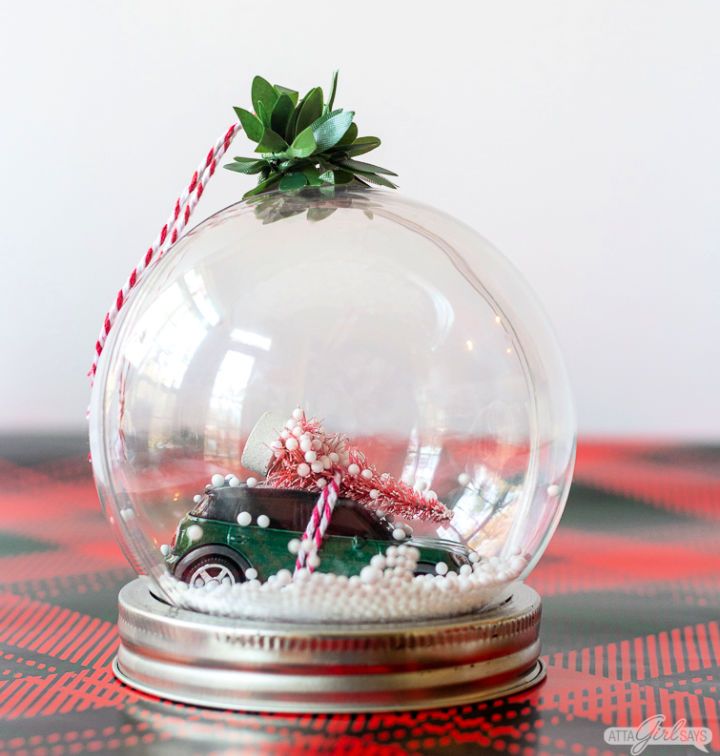 Grab here ultimate guides and instructions to easily make the waterless snow globe ornament. You need clear plastic fillable ornaments, toy cars, small bottlebrush trees, baker's twine, faux foam snow, paper ivy garland and a hot glue gun to easily complete these snow globe ornaments. The whole project is easier to complete and will be loved dearly by all the kids and adults. You can experiment with this project with your favorite toys to put inside the clear bulb ornaments. attagirlsays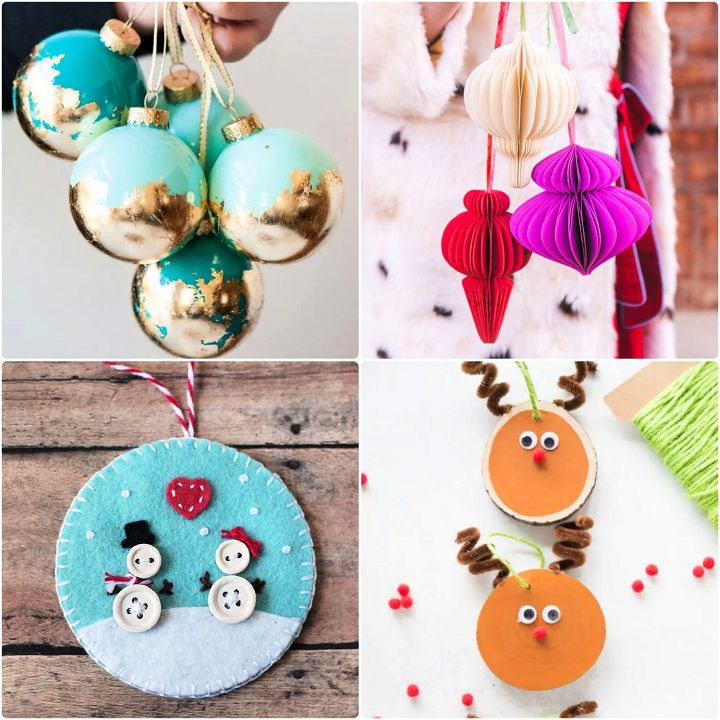 Related DIY Projects:
DIY Snow Globe Ideas – Delight your friends and family with these DIY snow globe ideas! From candles to succulents, you'll have a new decoration that's easy to make.
DIY Advent Calendar Ideas – Advent calendars are a great way to count down the days until the holiday season. Whether you're looking for an easy DIY or something more traditional, these 15 homemade advent calendar ideas will inspire you.
Free Halloween Printables – This post has 40 free Halloween printables to download and use for your Halloween celebration. Printables include decorations, cutouts, invitations, games, classroom activities and other fun things for a happy Halloween.
DIY Terrariums – Terrariums are a great way to spruce up your space and add some life to the room. Throwing one together is as easy as a cheap DIY project. How can you make your own terrarium? Whether you're into succulents, orchids, or cacti , DIY terrariums are a great way to add life to your home or office.
Pumpkin Painting Ideas – Whether you're dressing up your home, porch, or garden with pumpkins this Halloween, these 50 easy painted pumpkin ideas will give you plenty of inspiration.
Conclusion:
These projects aim to make the best baubles and ornaments at home to hang on your festival tree. So, you will save tons of money to make your beautiful dreamy trees at home without getting expensive. However, you will find here complete step-by-step tutorials providing the complete list of materials, tool lists, and detailed diagrams that will give a better understanding of each project so you can easily duplicate any of the given ornaments. You can look through all these projects to see a lot more unique ornament designs to choose from. They will help you make your dreamy trees easily, quickly and budget-friendly.