Everyone needs a DIY spa day once in a while! What can make your spa day experience phenomenal? A good DIY spa kit, along with a few home spa ideas! It's indeed fun to go to salons for spa days, but there are many reasons why you should move your spa days to your home instead of salons. Firstly, salons overcharge you for these services. While it can be relaxing at the spa but after you see your bank credit later, it will only give you street and extra wrinkles. Secondly, it can be more relaxing at home if you think about it – you can sit in familiar spots without the fear of anyone judging you. You can also drink wine while relaxing and having your DIY spa day.
Moreover, a DIY spa day is never complete without good music, and you get to have full control over the music you play and the vibe you create in your own house! Another great thing about home spa days is that you get to use your favorite products – that have no toxic ingredients. Isn't that amazing? Furthermore, you can always switch it up and use store-bought ones, as well. There are so many different home spa ideas in these guides that you could try out for fun and might end up loving a few of them!
Take a look at the ingredients of every recipe so you can choose a kit that won't give you an allergic reaction. This article has many different options – editable labels, gift bags, printable labels, spa kit, orange scrub, mason jar kit, mermaid kit, prototype kit, etc.
1. Beauty DIY Spa Kit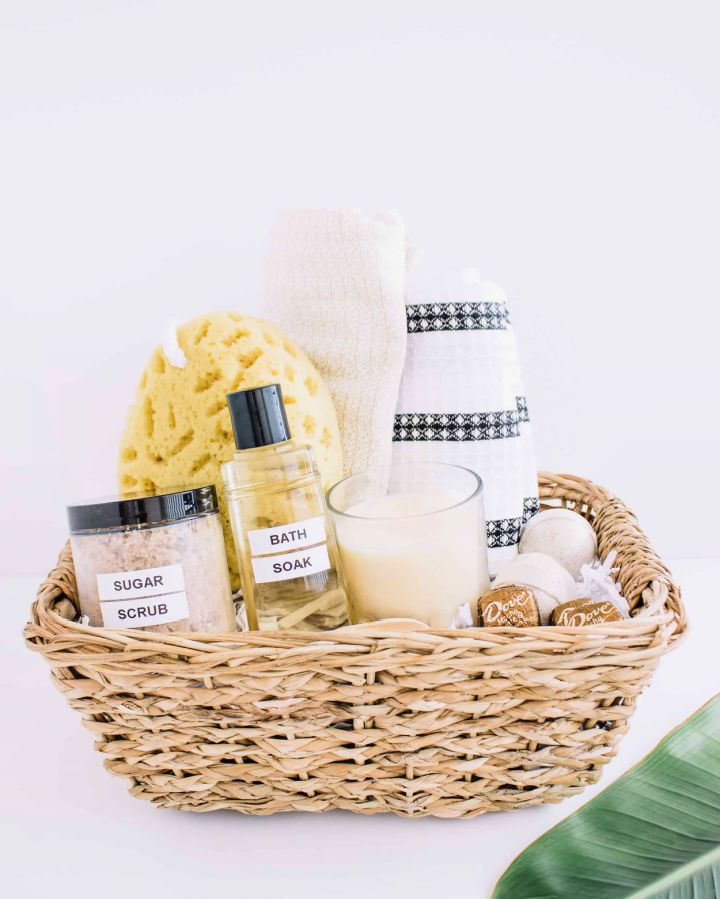 The Winter season has many different benefits for the skin, but one of the biggest skin problems during winters can be dryness. However, you can always beat dryness issues but making a DIY spa kit – like this one! You will need various spa products, wooden baskets oval-shaped, crinkle cut paper sheets, etc. Make sure to buy a sturdy wooden basket so it can last you a while. hotbeautyhealth
2. Spa Date Night and Massage Kit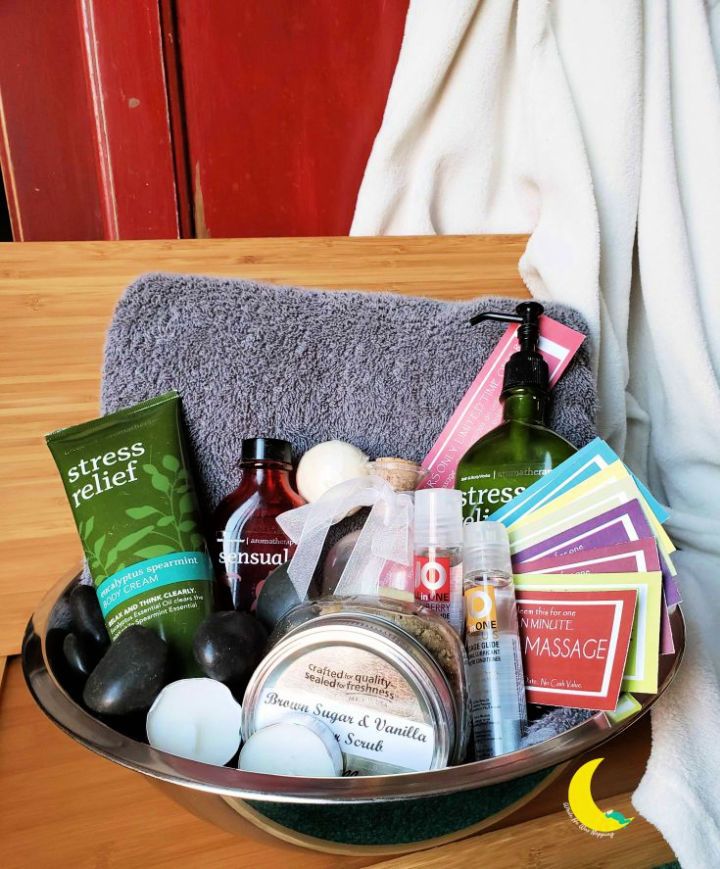 Valentine's Day is just around the corner, and many romantic ideas might be crossing your mind; however, have you ever thought of having a DIY spa day with your significant other? It would give you both a chance to relax from your busy schedules and give each other messages! This is not only going to be romantic for this special day but also great to rest – instead of going out and getting tired. whilehewasnap
3. Editable Spa Kit Labels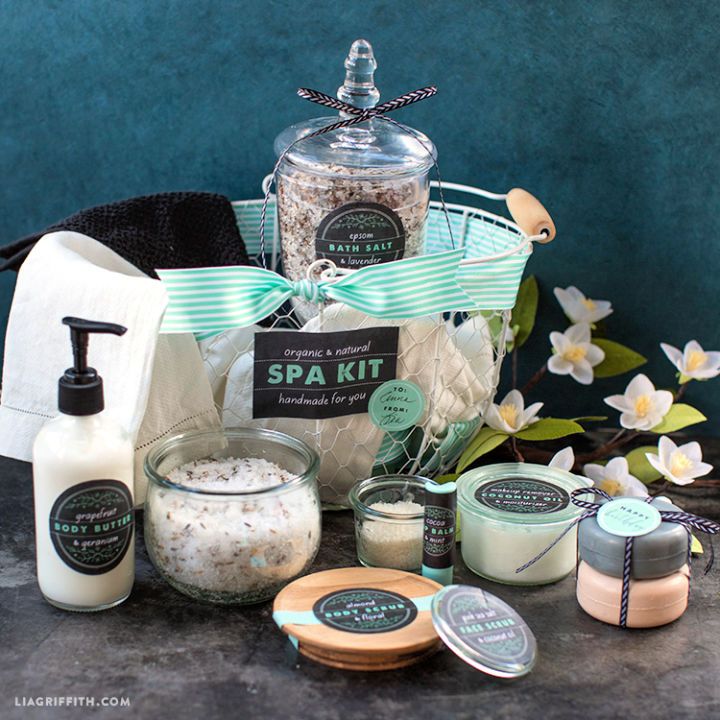 Even if you have your whole DIY spa kit ready to use, it can always add a little extra sweet touch to add your labels to your pieces! This will also not only make your products look aesthetically pleasing but also will be a really fun activity to do in your free time. Furthermore, these special labels are also editable – isn't that interesting? So, are you ready to give this a try? liagriffith
4. DIY Spa Gift Bag Idea – PDF and Design Space Files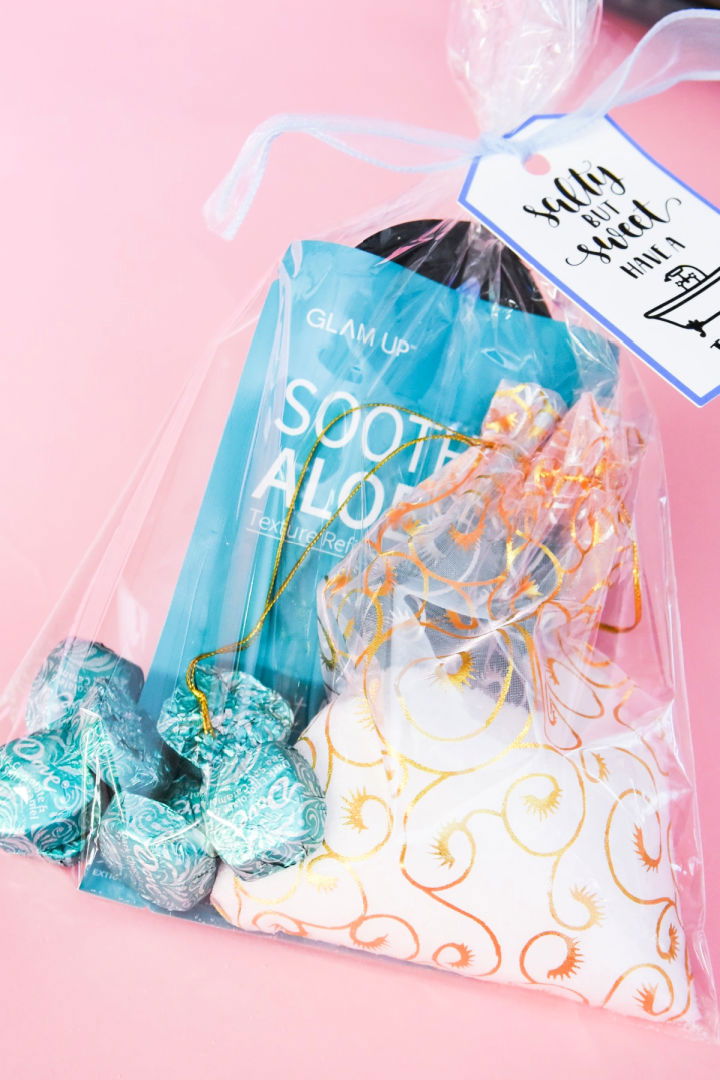 You will find many different home spa ideas that will be interesting for teenage girls, but nothing is going to interest them more than a spa gift bag idea like this one! Why is that? Well, it's because teenage girls are usually broke and they love to receive products like these! The cute tag that comes with the bag says "salty but sweet, have a treat" – isn't that the cutest thing you've ever heard? clarkscondensed
5. DIY Spa Kit with Free Printable Labels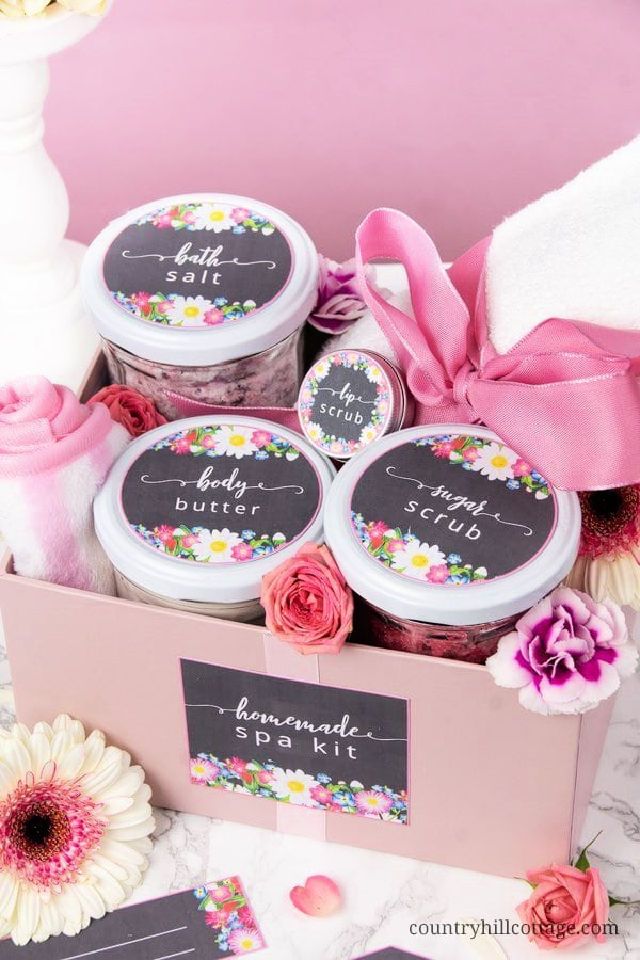 Who doesn't love a nice little DIY spa kit? Anyone would love to receive one and keep using it until it runs out. However, a DIY spa kit with a cute label is what anyone would place in their vanities and tables! If you want to make a kit with extremely beautiful packaging, then you need to download the free printable labels from this guide and use them in your kit. countryhillcottage
6. Homemade Spa Kit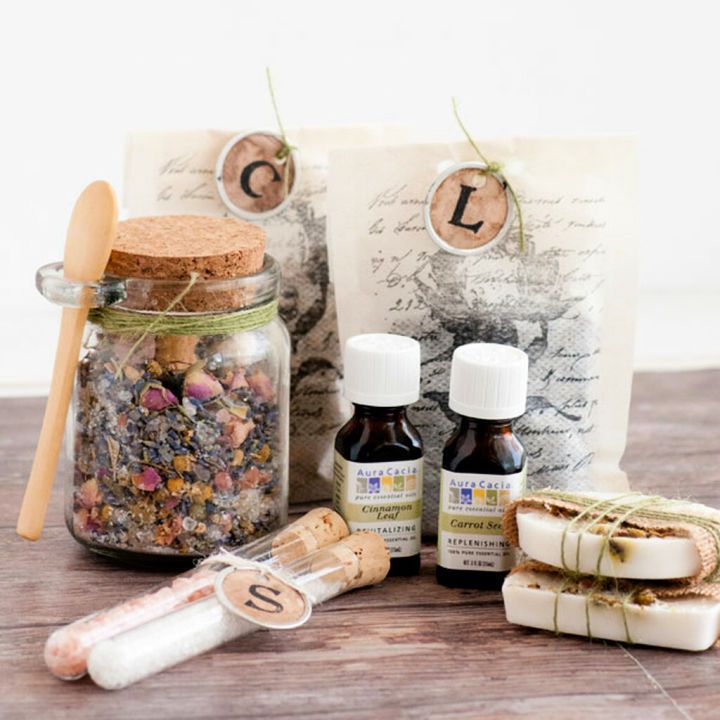 Whenever you need to pamper yourself or make this for a woman in your life – this guide is the perfect one to follow! These beautiful DIY spa kit pieces are going to turn into your favorite ones once you make them and use them. You will be filling up the glass tubes with soaps, flowers, herbs, tart tins, etc. Moreover, pink Himalayan salt and dead sea salt are used, as well. stampington
7. Spa Kit With Recipes And Printables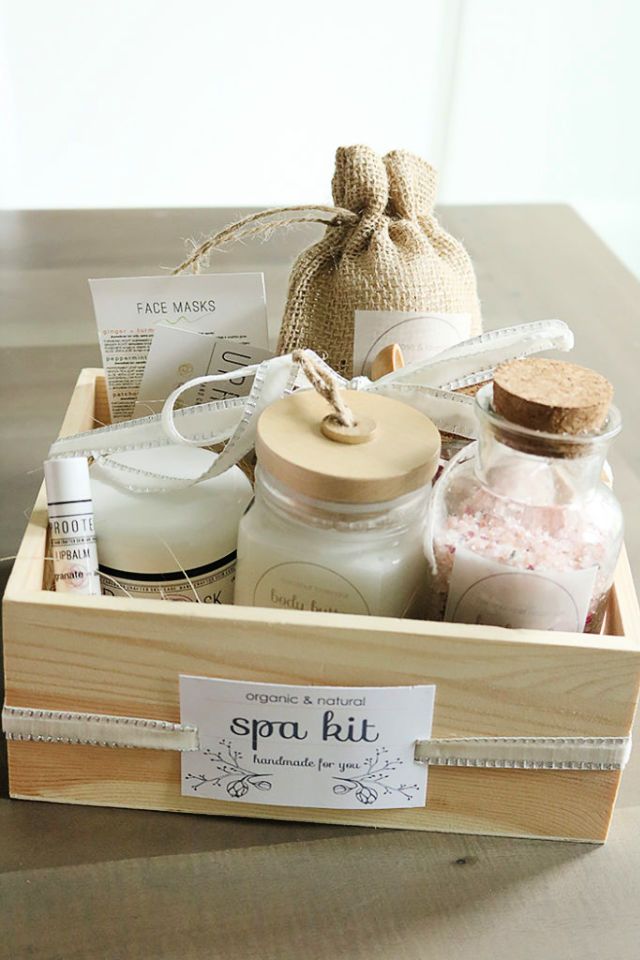 Here's another cite spa kit, which has free to download printable, as well! The whole process of making this is easy. Firstly, you will gather all the ingredients and supplies. Secondly, you will follow the guide and make the products. Lastly, you will print out the free labels and attach them to your containers. Isn't that simple? It only takes a few minutes. darlingdarleen
8. Last Minute DIY Spa Kit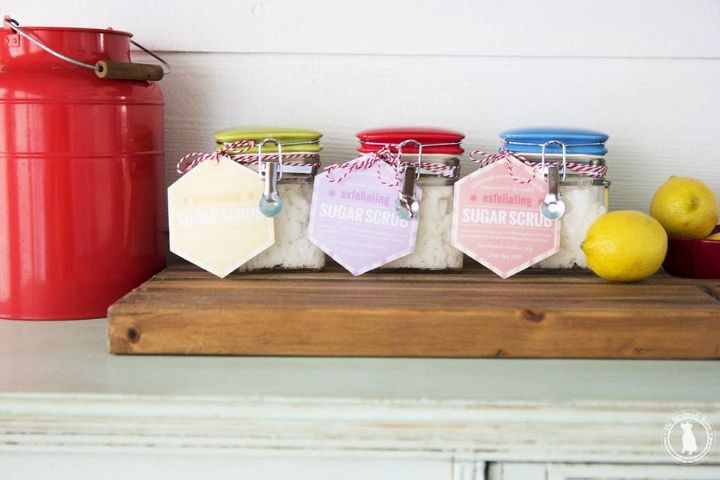 The holiday season can be quite hectic, especially if you haven't chosen a present for a loved one yet. However, you don't need to worry anymore. Why is that? Here's a last-minute gift idea that any girl on this planet would love – a DIY spa kit! You can follow the guide to go through the whole process of making these delicate and beautiful pieces. thehandmadehome
9. DIY Mothers Day Spa Kit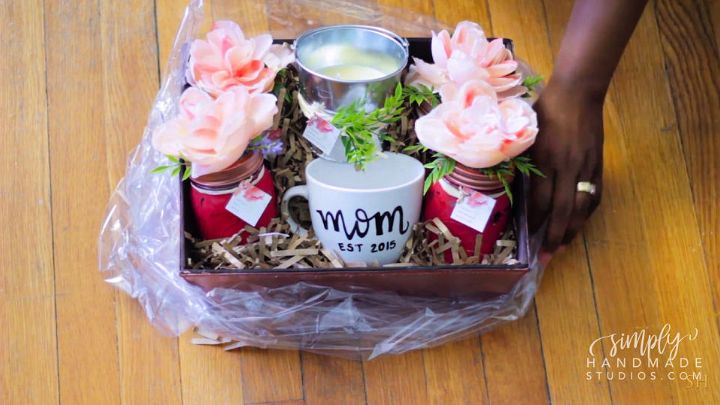 Mother's Day can be a nice opportunity to make the relationship between you and your mother better. Mother-daughter relationships can be quite complicated, but a DIY spa kit like this one followed by a DIY spa day can fix anyone's bad moods! Mason jars, beeswax, sugar, wicks, gelatin, copper spray paint, coconut oil, and a few other ingredients will be required. simplyhandmade
10. DIY Spa Pampering Kit At Home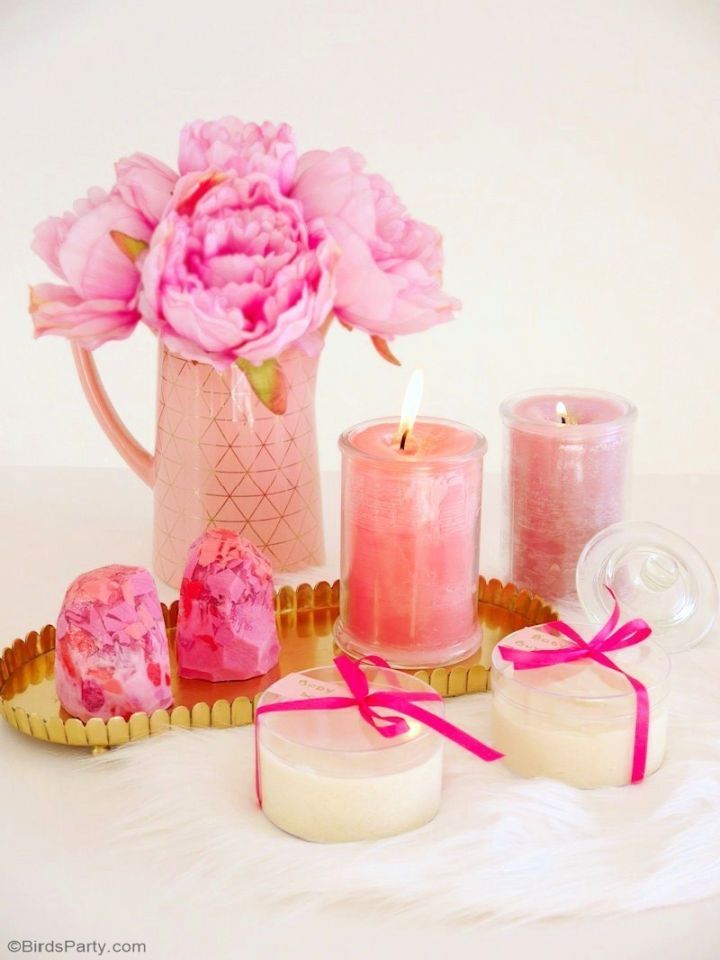 Spa kits a usually supposed to have more than one option of the products inside them. However, it can be hectic to make so many products, but with this guide – it will be like a piece of cake! The best part about this kit is the beautiful gemstone – it's really to make if you follow this guide. Soap, essential oils, dye, mica powder, and a few other supplies will be required. birdsparty
11. How To Create A Spa At Home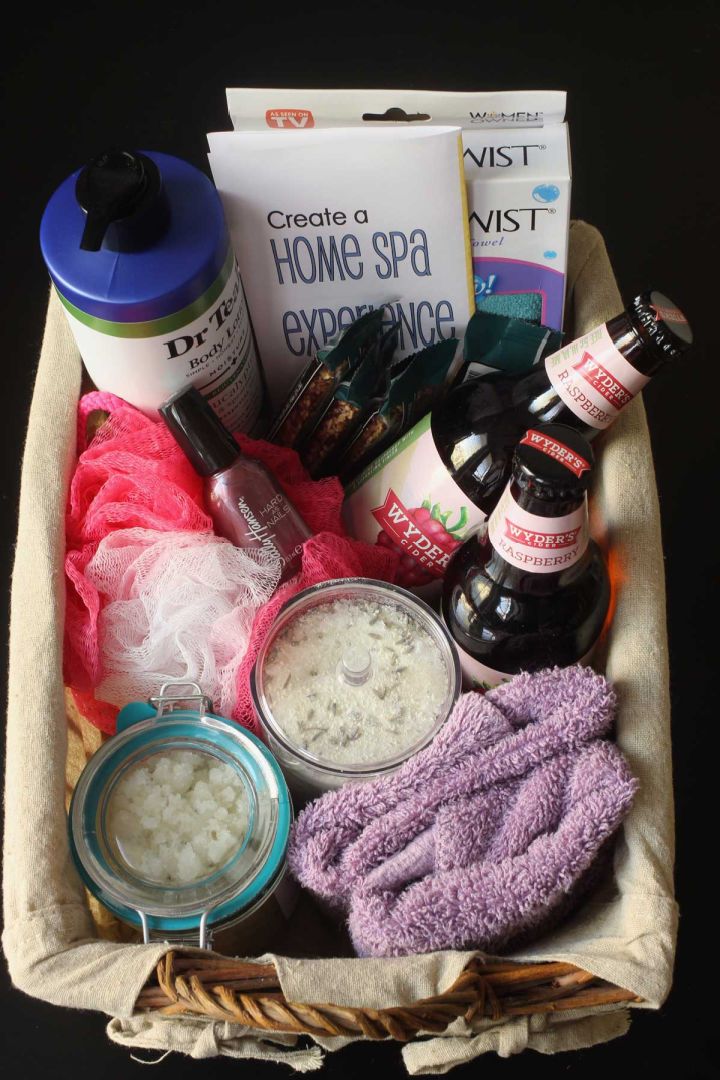 Have you ever thought of putting together a spa kit as a gift basket? Who knew that such a cute gift could be made in an affordable range? This will fit your budget and also turn out looking expensive! You can also add a few other things to it – such as candles, music, a slice of pumpkin piece, etc. Snack bars, hard cider, nail polish, body lotion, and a few other things will be included. lifeasmom
12. Pampering Spa Gift Set In A Jar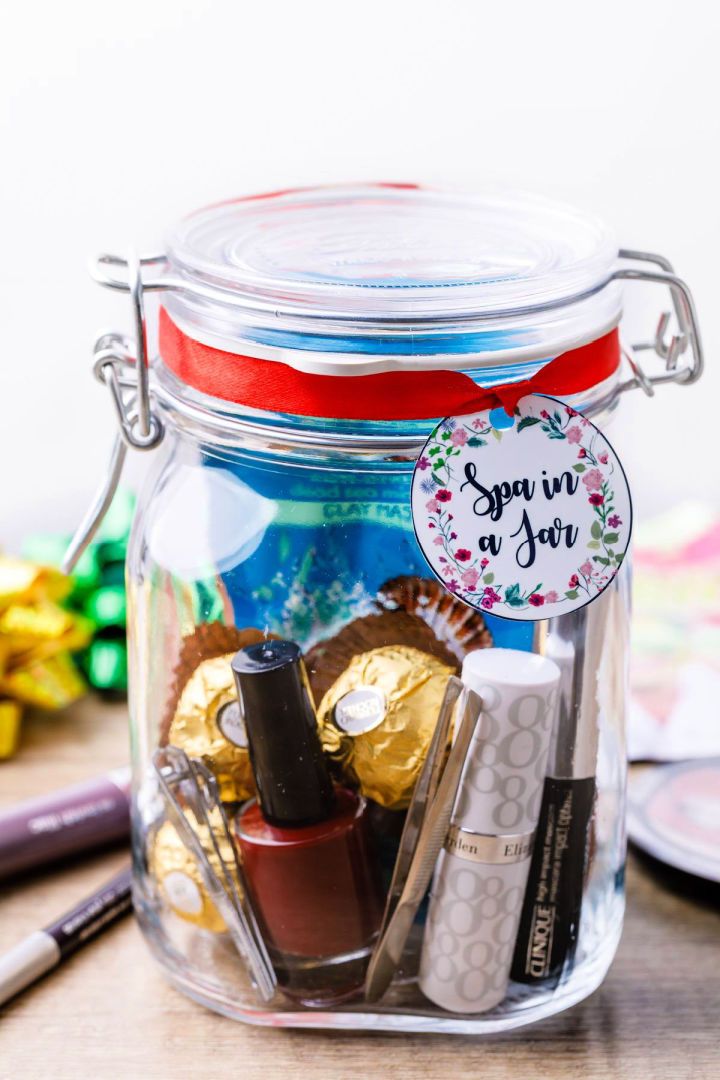 Don't you just love the idea of receiving a spa kit or making one for your loved ones? The fact that the kit will make them feel good about themselves is such a nice thought. You can include many different things in a DIY spa kit – nail polish, nail polish remover, lip balm, mascara, facemasks, tweezers, nail clippers, chocolates, etc. Doesn't that sound like a heavenly little basket? misswish
13. DIY Mermaid Spa Kit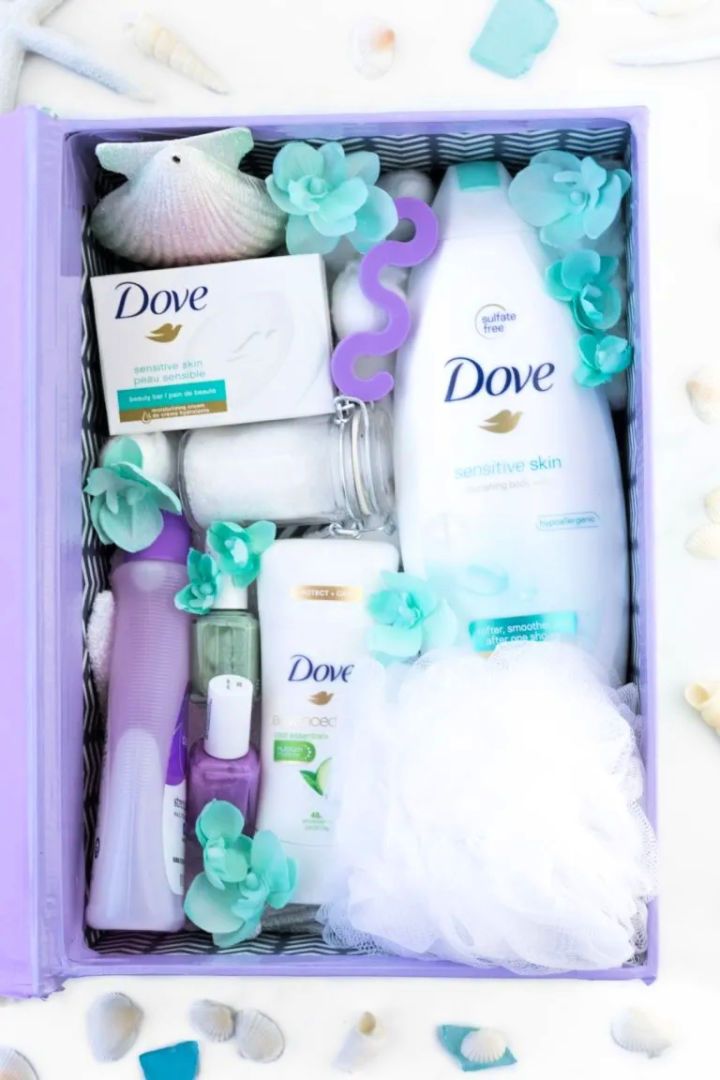 How adorable is the theme of this kit! It has a beautiful mermaid theme and a cute message that says, "you're seaworthy!". You can gift this to your working mom, friend, aunt, or any woman in your life that you love and appreciate. Moreover, you can add all of your favorite products inside it and then use purple craft paper to decorate the box. cutefetti
14. How To Make A Spa At Home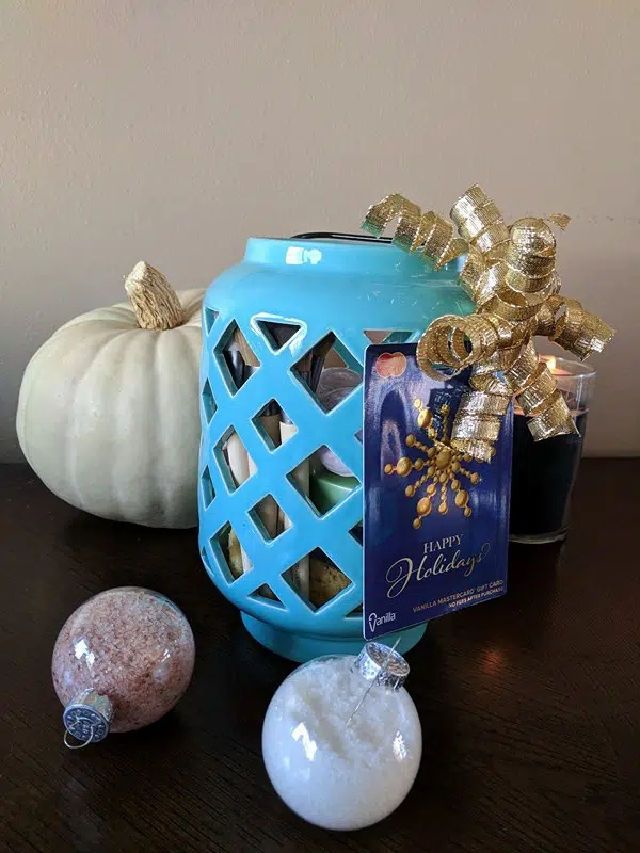 Who doesn't love receiving a spa gift? Especially, mothers love to be pampered and taken care of – after she took care of you, all her life! You can gift your special mother something like this to make her feel loved and appreciated. You will only need a few supplies to make this spa gift – fillable ornaments, bath salts, hurricane lamps, essential oils, etc. Isn't this exciting? parentingchaos
15. Create a Gift Basket of Spa Essentials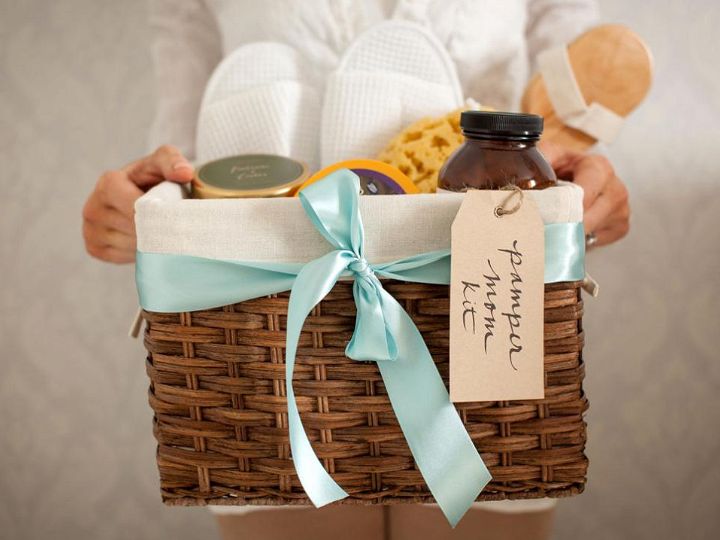 Do you have a cute basket lying around your house, and you want to do something fun with it? Well, the best thing you can do with a basket is to turn it into a DIY spa kit! Here's a great guide to follow if you want to make a spa kit that can be used whenever you need to relax. Just place all the products inside it and add a ribbon or label to make it look cute! diynetwork
16. DIY Spa Kit A Mason Jar Gift Idea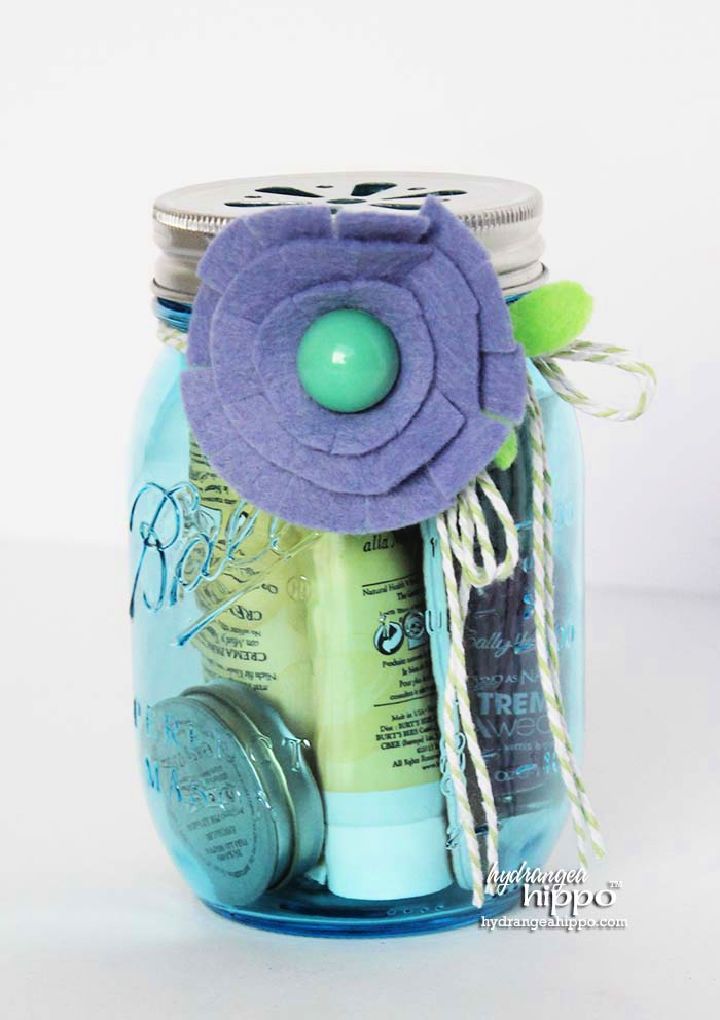 Mason jars are not only super cute, but they can also be used in many different ways. One of the most common ways to use it is to make personal and adorable presents for your loved ones! This kit will not only look super cute but will also be very helpful when you need to pamper yourself the next time. Manicure set, twine, felt leaf, glue gun, and a few other supplies will be required. smartfundiy
17. Prototype DIY Spa Kit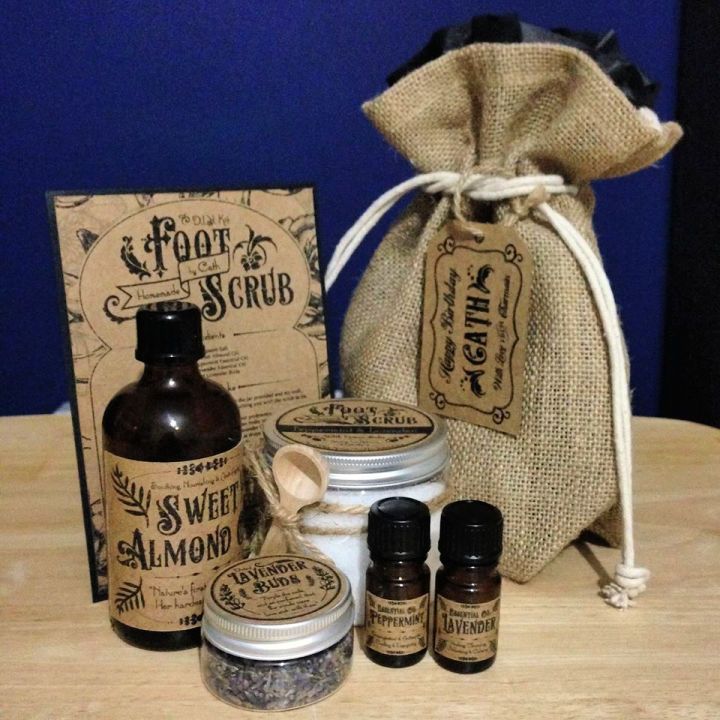 In comparison to the other DIY spa kits in this article, this one stands out as it has a dark vibe to it. This theme might remind you of the aesthetic that's called "dark academia"! This beauty kit almost looks like it was made by a witch's spells. You can start by gathering the product, placing them in these bags, and wrapping a string around them! cocoonuk
18. Orange Sugar Scrub Recipe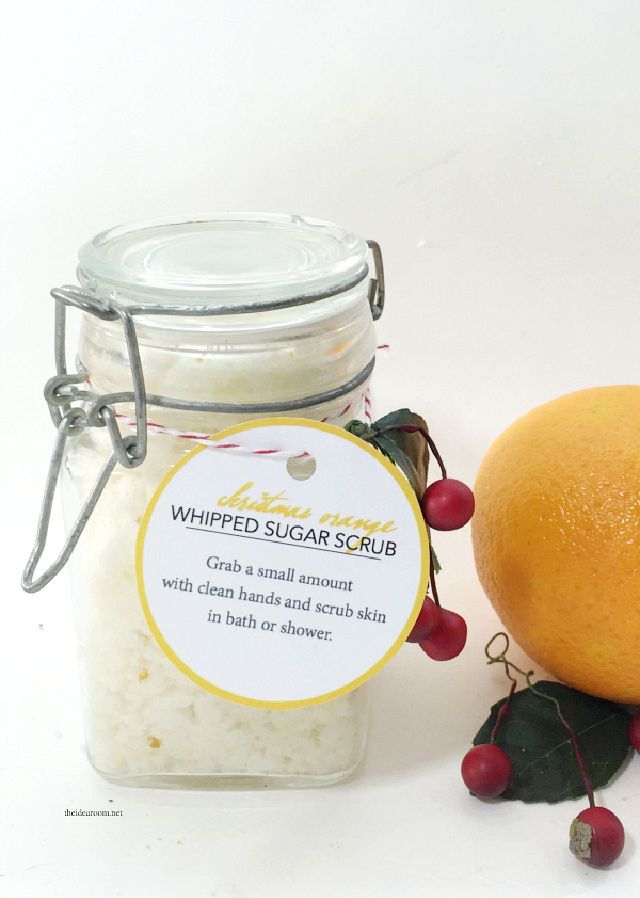 The orange sugar scrub will be the perfect product to add to your summer DIY spa kit! It smells and tastes like an orange which will keep you in that summery vibe. Furthermore, a scrub like this will keep your face fresh, supple, and soft! You can also give this to a loved one as it will make their skin look stunning. You will need to add orange zest to this mixture. theidearoom
19. The Last Minute DIY Spa Kit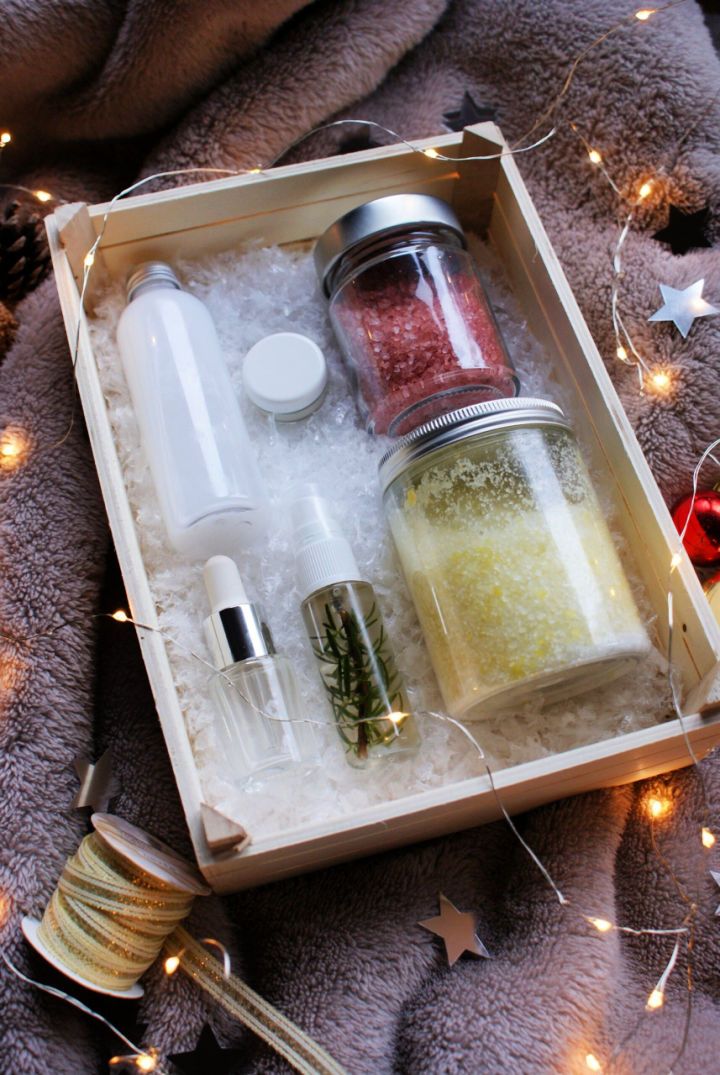 Have you still not found the perfect present for your friend who's a skincare addict? Not only can skincare products be very expensive, but they can also be really hard to choose for someone else. However, with a DIY scrub like this one, you don't need to know the skin type of your friend! This type of scrub would work for almost everyone, and it turns out looking beautiful and lovely! francinesplace
20. Homemade Monthly Spa Night Kit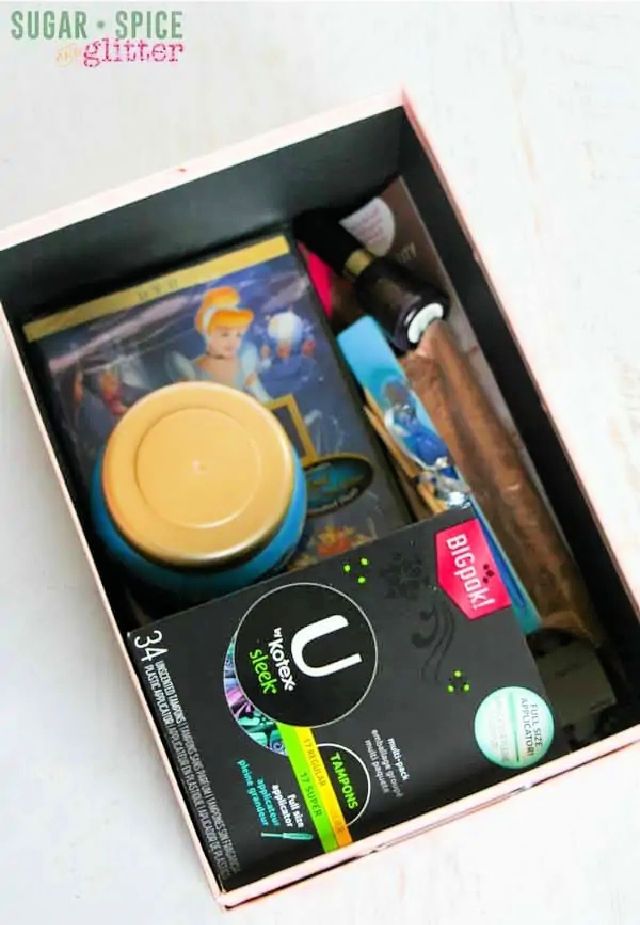 Imagine having a spa night with all of your friends! Isn't that exciting? Self-love is really important, and a great way to show it to yourself is to do this on those days when you're not feeling your best. A nice facial, some fresh-smelling scrub, and upbeat music can turn your life around! Don't let a bad day make you think that this life is bad – just re-create this DIY spa kit and enjoy it! sugarspiceand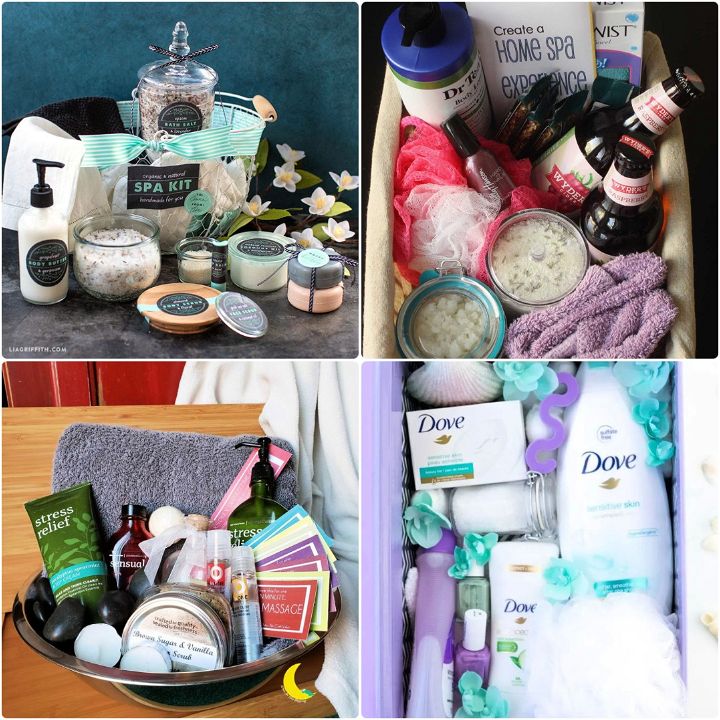 Related DIY Projects:
Make a Gift Bag out Of Wrapping Paper – With the holidays just around the corner, you may need something unique to present your gifts. Wrapping paper makes a great gift bag! Here are some cute, simple ways to make a gift bag out of wrapping paper.
Free Printable Gift Tags – These quick and easy 30 free printable gift tags are customizable, so you can use them for all your celebratory events. They're also totally free, and I bet you have everything you need to make right now!
Homemade DIY Gift Box Ideas – Whether you're looking to give a gift or to make one, these homemade gift boxes are perfect for wrapping up your idea. You can use them to package everything from jewelry and snacks to framed prints and potpourri. Follow these easy steps for making a DIY gift box for the holidays or any other time of year.
Paper Bag Crafts – Brown paper bags are perfect for arts and crafts with kids. This list of 30 creative paper bag crafts includes crafts for all ages, from preschool to the teen years.
Printable Halloween Potion Labels – These free printable potion labels are the perfect addition to your Halloween party decor. Simply download the PDF file and print out as many as you need.
Halloween Printables – Find the best free Halloween printables, decorations, cutouts, and party ideas here. Browse our selection of free printables to find a wide variety of decorations.
Conclusion:
So, are you ready to hop on and experiment with these DIY spa kit ideas? If you feel like you miss your old female friendship bonds, then this is the perfect time to call them up and invite them over for a DIY spa day! After all, what can better connect two women back together than on a spa day? You can serve some wine with a cute little cheeseboard and endless spa kits! Moreover, it can also turn into a party by the end of the evening. This is a great idea for a bachelorette party, as well. You can also gift these spa kits to your loved ones this Holiday season – if you don't have a gift prepared already!