Learn how to make a wreath with these 50 easy DIY wreath ideas. You'll find tutorials and instructions on how to make wreaths out of everything from faux flowers to ribbon and other materials such as pine cones, leaves, bark, and more.
Sometimes getting ready for any upcoming season takes a lot of time and effort, and we forget the simple little things. Decorating the house with simple things like trying DIY wreath ideas, including different projects to prepare your house for different occasions.
You can display your beautiful creations on the front door to welcome your guests, inside the house, on the patio or even in the garden or farmhouse. The simple wreaths look great everywhere and give your house a warm and welcome touch. You can go with different designs to add a different flair to the area you want to decorate and change the overall outlook of the house.
DIY wreath ideas are perfect craft projects that have proven thrifty as not many expensive supplies are required to rush you to the store immediately. You could call your friends and family and create different joint projects while having a lot of fun. Try making the 4th of July mesh wreath for decorative purposes, or use a picture frame to make a spring wreath.
Use wood slices to make a DIY wreath or burlap wreath using your photos. Maybe surprise your dogs by making a holiday dog treat wreath, or for teachers, make a chalkboard crayon wreath and many more interesting ideas just to have a little fun in your crafty mood.
1. Burlap Wreath with Fall Flowers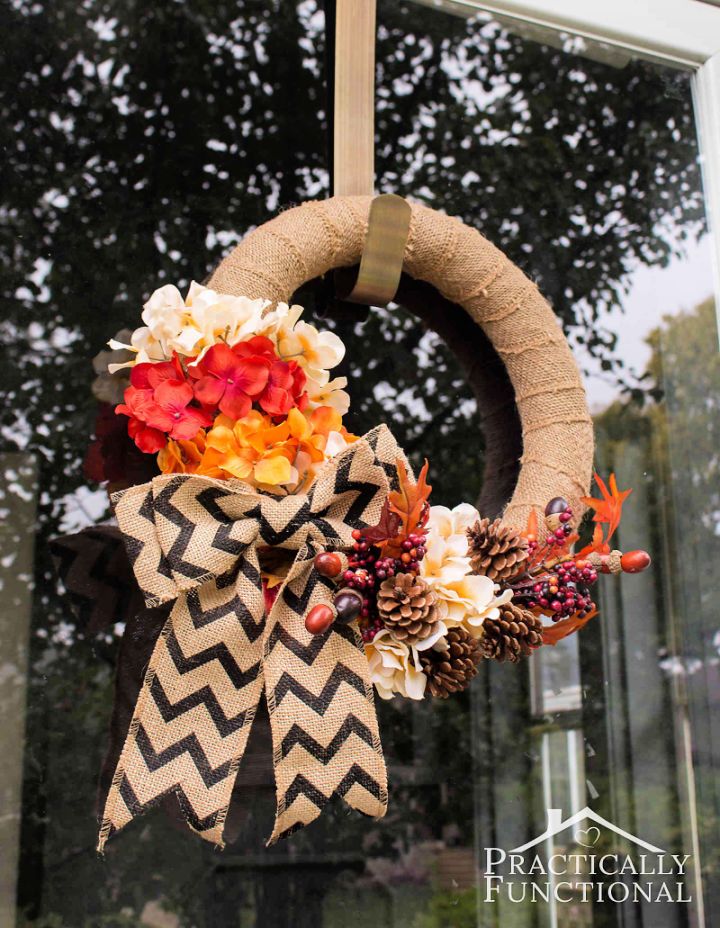 If you love to decorate your house with gorgeous colors, try different DIY wreath ideas. You can get ready for the upcoming season using these ideas to make a wreath to make your front door more presentable for the guests. To make a burlap wreath using fall flowers, you will need a hot glue gun, scissors, greening pins, wire cutter, faux flowers, faux brushes, foam wreath form, plain and patterned burlap ribbon. This turns out to be a practically functional wreath, especially for fall decor. practicallyfun
2. Deco Mesh Wreath for 4th of July

For summer in general or specifically for Memorial Day or 4th of July celebrations, decorate your house by making a mesh wreath. It will add a little patriotic touch to your house, making you feel proud and excited for the upcoming celebrations. For making this deco mesh wreath, you will need supplies like foam wreath form, deco mesh and floral pins. This is a perfect large and fun decoration for your front door or wherever you want to use it. attemptsatdo
3. Picture Frame Spring Wreath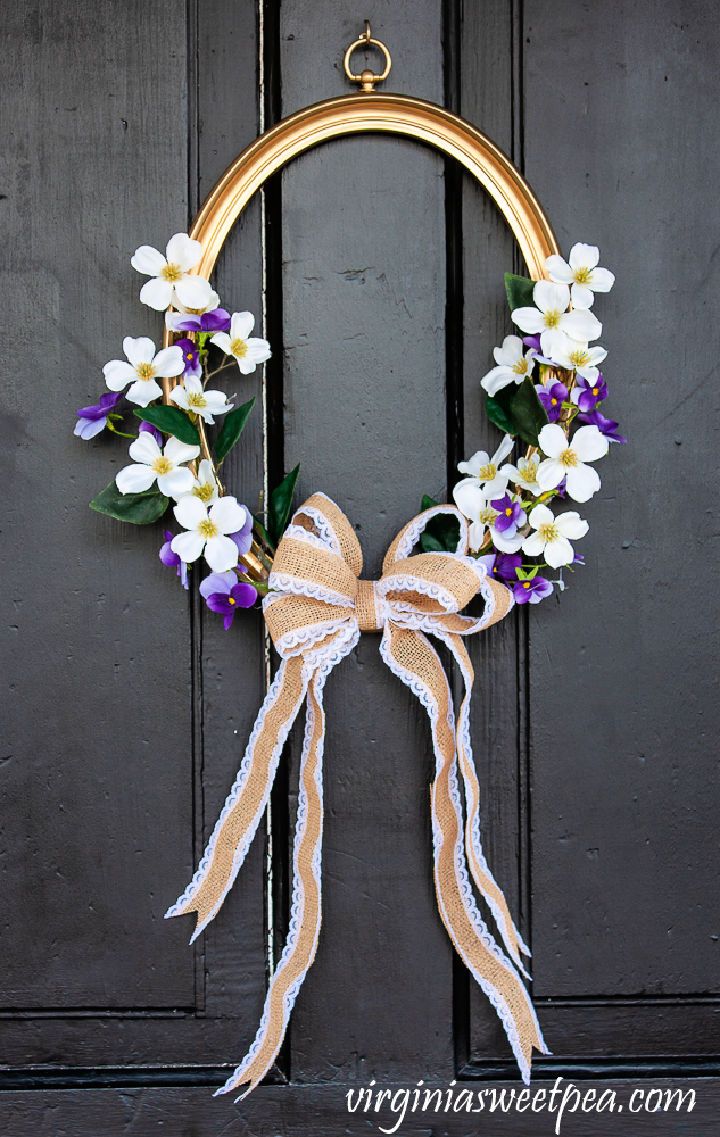 If you have some old picture frames that you haven't used for a long time, this is the perfect project to put them to good use. Make a beautiful picture frame wreath that can be perfect for spring decor for your house. To make this wreath, you will need a picture frame, spray paint, faux florals, a glue gun, ribbon and floral wire that you can use to make the bow on the wreath. It's quite an easy project that's great for beginning crafters. virginiasweetpea
4. DIY Wood Slice Wreath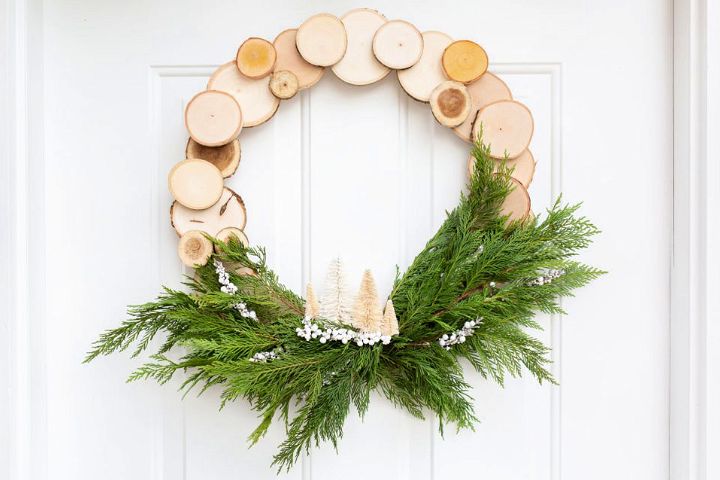 Are you looking to add a minimalistic touch to your front door? What's better than some neatly sliced wooden pieces joined together forming a perfect wreath! Give your house this soothing vibe to get ready for the cold, harsh and gloomy winters. For this project, you will need supplies like a chipboard wreath form, birch wood slices in a variety of sizes, a high-temp hot glue gun, real or faux evergreen clippings, bottle brush trees and snowy berry floral pick. hgtv
5. DIY Burlap Photo Wreath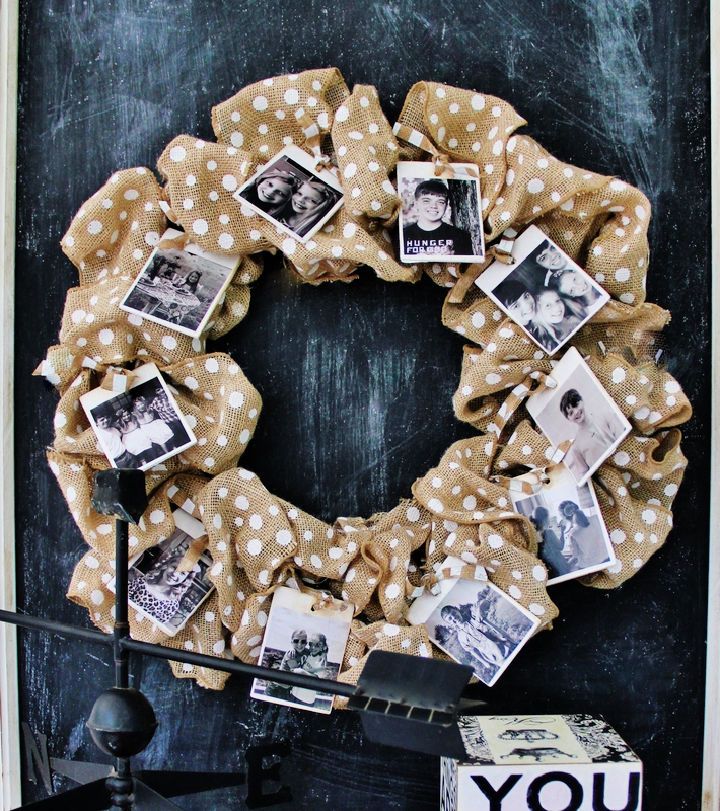 Collect a few old photos that you would love to display but don't really have the time or energy to go to the store to buy some frames. Use these photos and take help from DIY wreath ideas to make a beautiful burlap photo wreath. You will need supplies like wide and narrow burlap ribbon, wire wreath form, small rectangular pieces of wood, white paint, mod podge and matte clear acrylic spray. Start your project by making the wreath first. thistlewoodfarms
6. Easy Fall Football Wreath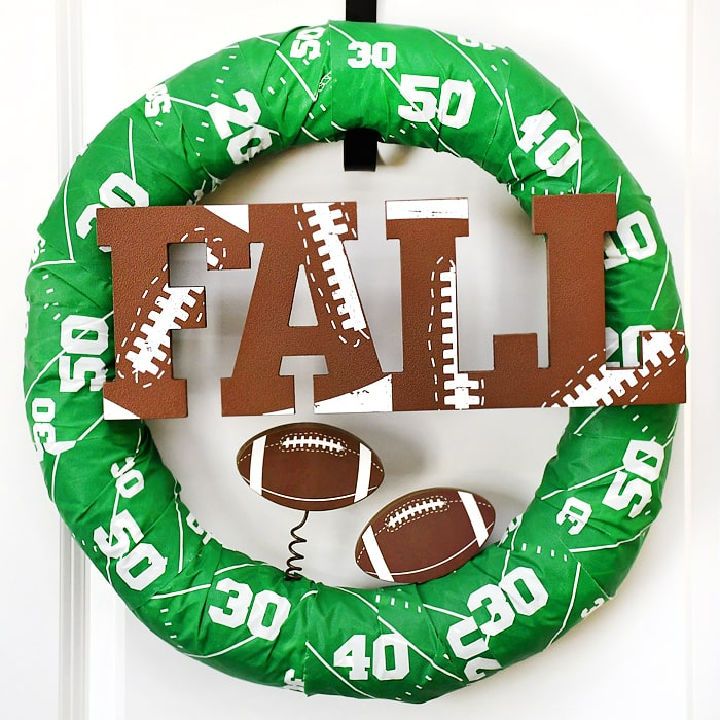 Can't wait for Fall? Just grab a few supplies and kick start this adorable football fall wreath to mark the upcoming cold weather, including the football matches. You will need supplies like straw wreath form, football field plastic tablecloth, fall football sign, greenery pins, football metal picks and wire cutters. Start by cutting the plastic football tablecloth into strips so that you can wrap the straw wreath form with these strips. howtonestforless
7. DIY Holiday Dog Treat Wreath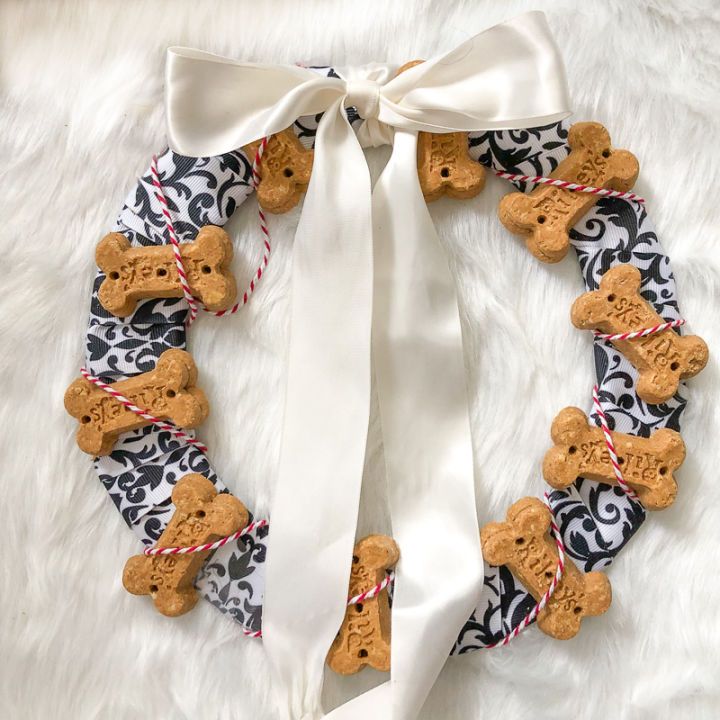 Create an adorable gift for your pets and pet lovers around you. Make a beautiful dog treat holiday wreath that can even be used for Christmas decorations or just to display to please your pets. To make this dog treat wreath, you will need supplies like a circular cardboard cutout, ribbon, twine or string, dog biscuits, tape or hot glue and scissors or box cutter. Start by tracing a circle on a piece of cardboard using a large bowl as your guide. suchasweetheart
8. Chalkboard Crayon Wreath for Teacher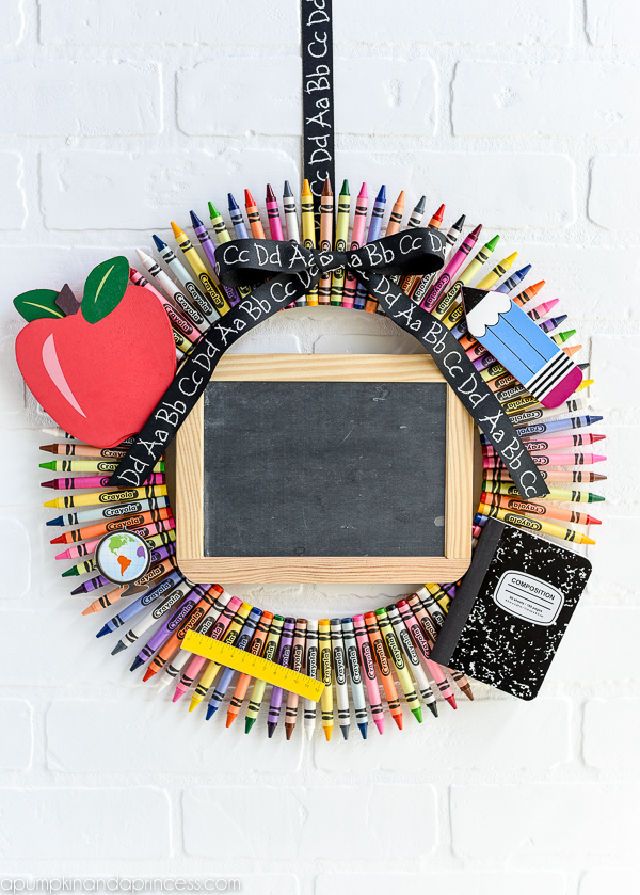 For your kid's teacher or just as a gift for any teacher, create this cute chalkboard wreath using crayons. This can be used as a teacher's day gift or just to use at the start of the new school year for teachers. You will need supplies like an unfinished wood wreath, a few boxes of crayons, chalkboard ribbon, chalkboard, stickers and any other embellishments you want to use and hot glue. The first step involves hot gluing the crayons to the wreath form. apumpkinand
9. Creepy Halloween Wreath Step by Step Instructions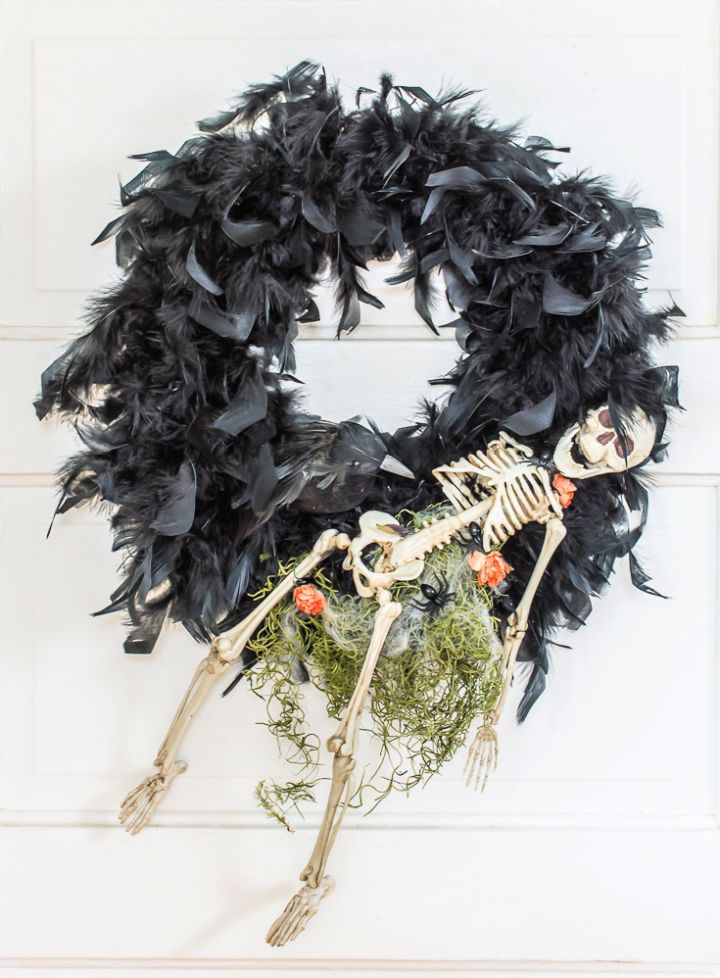 If you're a fan of decorating the house thoroughly for Halloween celebrations, here is an amazing project for you. Make a creepy DIY Halloween wreath to put up on the front door and scare the little trick-or-treaters. To make your own wreath, you will need supplies like black feather boas, wreath frame, feather crow, preserved moss, plastic spiders. Also plastic skeleton, faux flowers, spider web, florists wire, clear filament and wire cutters. This wreath will be surprisingly easy to make if you happen to stumble upon some black feather boas. diyinpdx
10. Make Your Own Succulent Wreath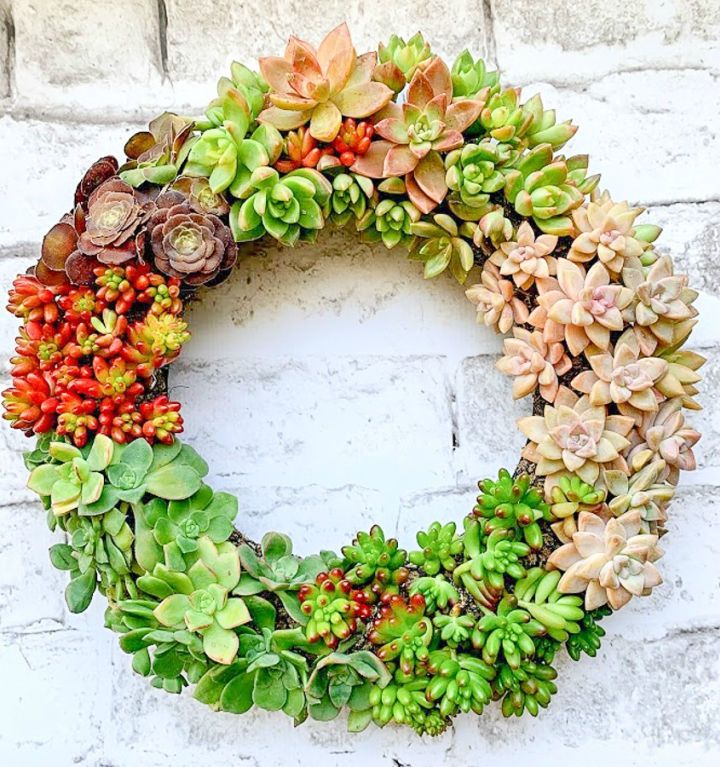 Beautiful succulent wreaths in the market come with some huge price tags, too, so just make the decision to make your own succulent wreath. It might take you a few hours to make it, but the end result will be worth it for sure. Supplies needed for this project include succulent cuttings, scissors or shears, mesh-covered moss wreath form, pencil or screwdriver, floral pins and floral wire. While hanging the wreath frame, attach the florist wire to its back. myuncommonslice
11. Black and Purple Tulle Wreath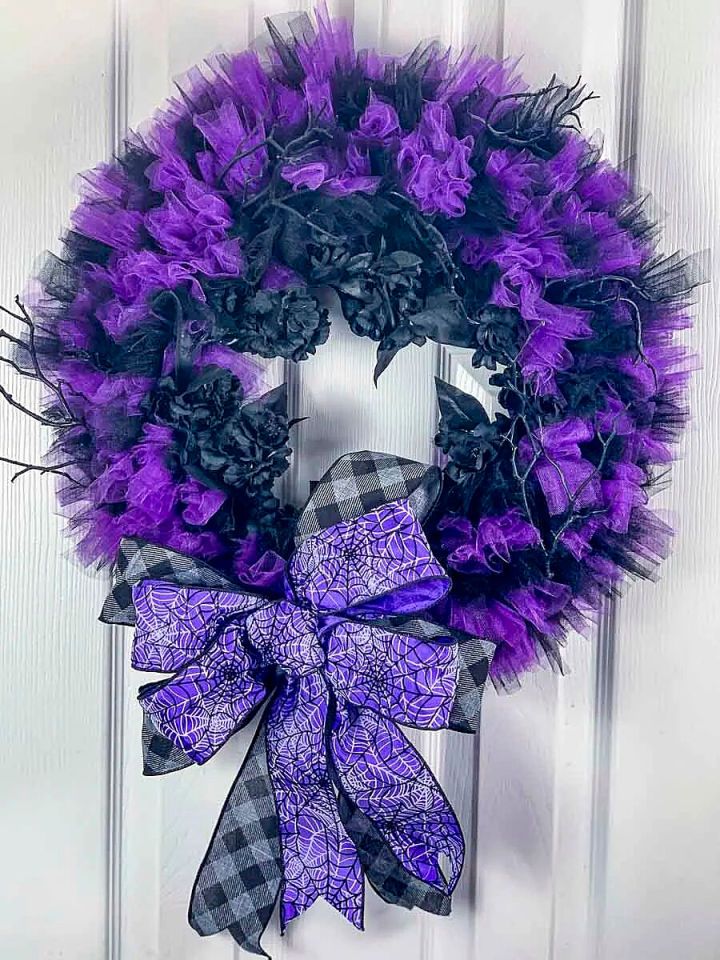 Fun and easy DIY projects are the best so try making these DIY wreath ideas which become excellent pieces for home decor too. Use tulle to make a Halloween wreath that you can use for the Halloween party celebrations. For this project, you will need tulle in different colors a piece of heavy or thick cardstock. Along with that, you will also need a wreath form, large bow, wire, stem of artificial flowers and twigs, zip ties, rotary cutter, or you could use scissors, cutting mat and wire cutter. ikorncrafts
12. Nautical Dollar Store Wreath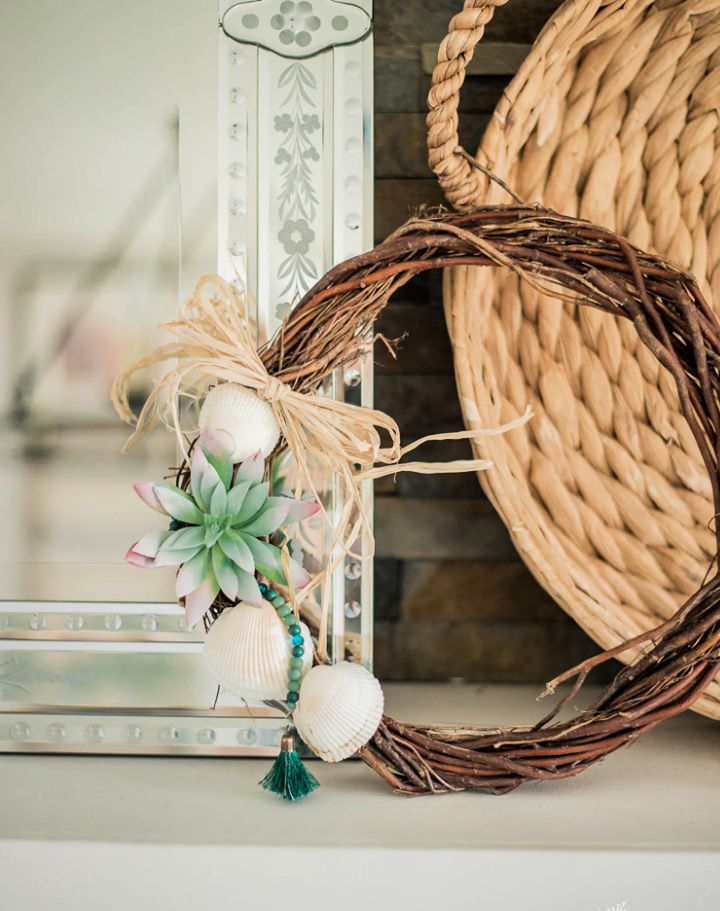 If you need to come up with a craft project that is as easy-breezy as wind, this nautical dollar store wreath is the thing for you. For the ice and bright beach weather, this wreath can become the perfect decor piece. Run to your dollar store and get some supplies like shells, glass beads and a succulent. It will only take a few minutes to put together and is a cute grapevine wreath for putting up at the front door of the house. thediymommy
13. Feather Thanksgiving Wreath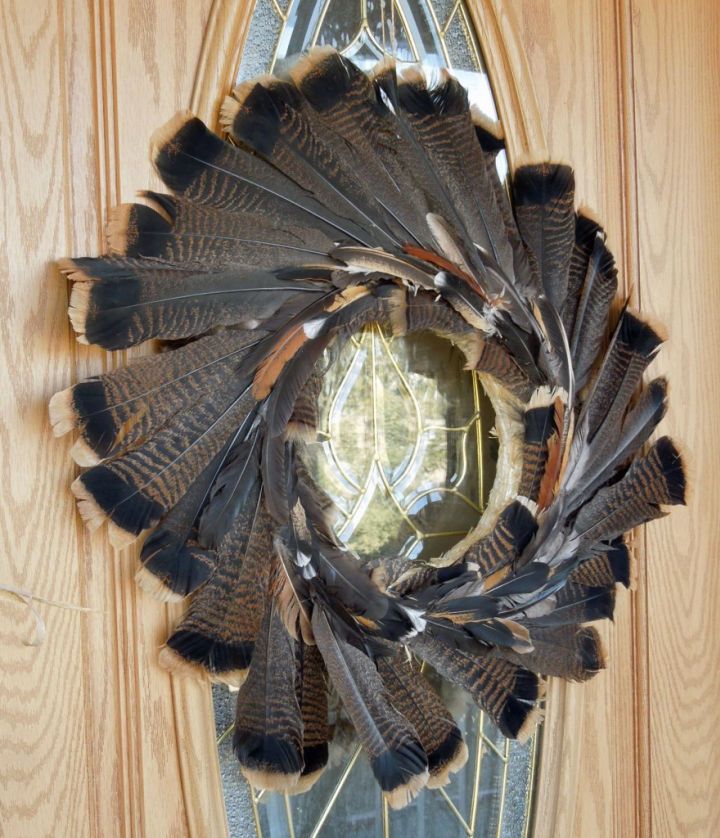 Feeling the Turkey feels this Thanksgiving with this beautiful thanksgiving wreath that will be loved by all the guests when you will be hosting the thanksgiving dinner. Use the good supply of feathers of hens and turkeys that just keep in lying around waiting to beget something done with them. For making your own wreath, you will need supplies like a straw wreath or a foam wreath, greening floral pins, garden twine and lots of feathers of hens and turkeys in different fall colors. thepaintedhinge
14. Farmhouse Magnolia Wreath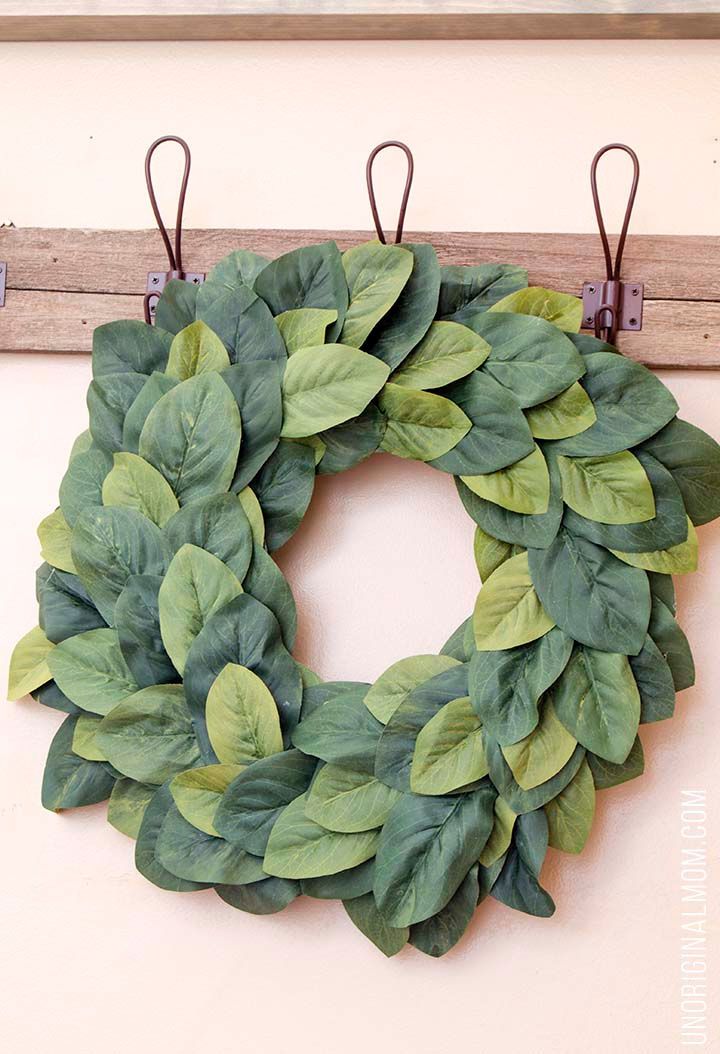 Add some more green vibes to your decor with this breezy green DIY wreath idea! Make a beautiful magnolia wreath that will be super trendy in farmhouse decor wherever you decide to display, and it will give out the perfect farmhouse vibes. Use faux magnolia leaves, paint, wire wreath form and hot glue for gluing the leaves to the form. The faux leaves must be painted and given a matte finish using olive green paint. unoriginalmom
15. DIY Floral Photo Wreath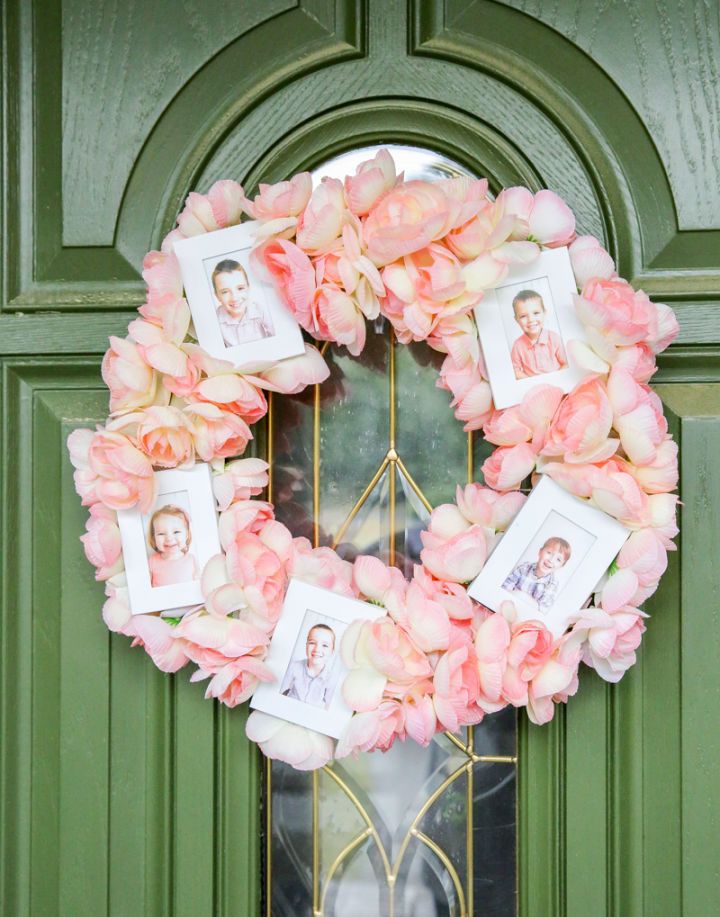 Making a seasonal wreath for different seasons becomes a great piece of decor to celebrate the upcoming seasons. Make a beautiful floral photo wreath that will be worthy of putting up on your front door. Use it inside the house or to giveaway for birthday parties etc., it will be great for anything. You will need supplies like foam wreath form, fake floral picks, photo frames, wire snips, scissors, chalk paint spray paint, wire floral ribbon, hot glue gun and mini photo printer. bowerpower
16. How to Make a Peace Sign Wreath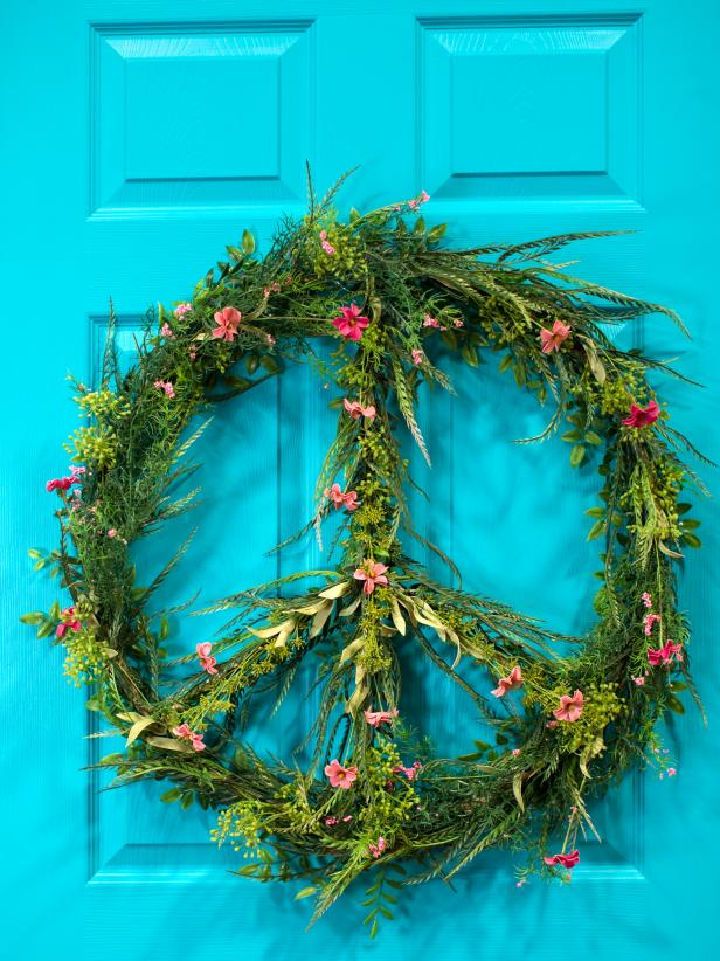 An interesting peace sign wreath on the front door will be a perfect decor item to be used all year long. To make your own wreath, you will need supplies like an embroidery hoop, wood dowel, hand saw, faux greenery, floral wire, hot glue gun and sticks and floral snips. The hand saw will be used to cut the dowel into pieces and dry fitted to create a peace sign by using the embroidery hoop. Use hot-glue to attach the dowels. hgtv
17. Ribbon Wreath in Three Easy Steps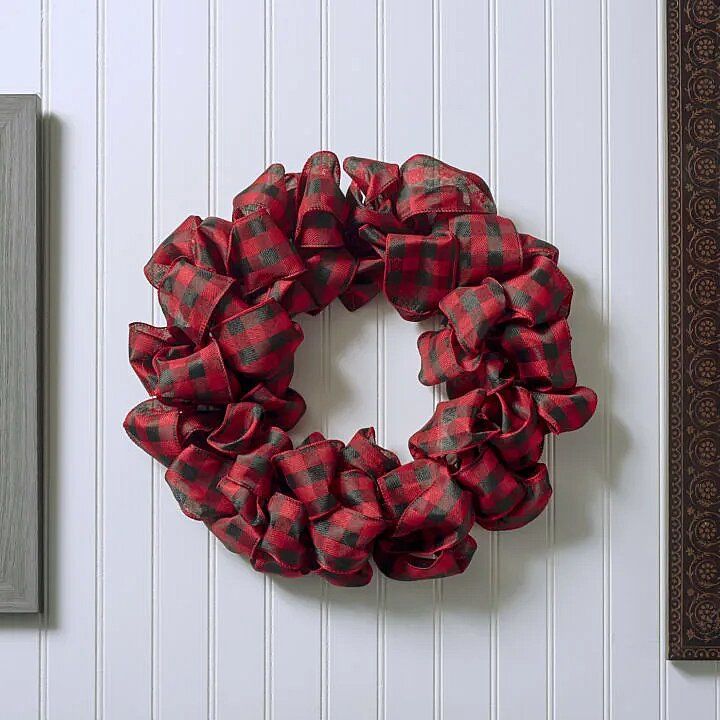 A very easy craft for decorating the house for the whole year is a beautiful ribbon wreath. You can use it exclusively for Christmas or for regular decor also. To make this wreath, you will need supplies like wire wreath form, pipe cleaners, wire ribbon and scissors. The color of pipe cleaners must coordinate with the ribbon. Start by cutting the pipe cleaners into thirds and setting them in a pile. Unfurl the length of the ribbon by grabbing a ribbon spool. diycandy
18. Succulent Wreath with Terracotta Pots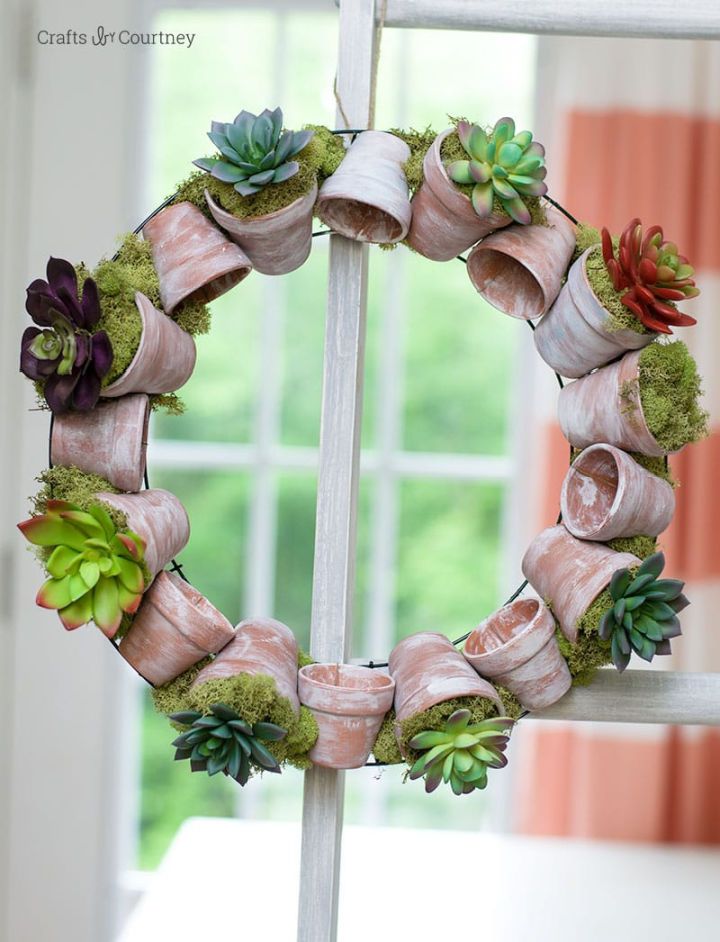 If you liked our succulent wreath idea, here's another one with a twist! Make a succulent wreath with terra cotta pots that will be a very cheap project for you and your kids to do together. You will need supplies like a wire wreath, clay pots, moss, succulents, foam balls, floral pins, chalky finish paint and floral wire. This wreath will look amazing and very pretty hanging up wherever you decide to display it. Start by painting your terra cotta paints. craftsbycourtney
19. DIY Faux Eucalyptus Wreath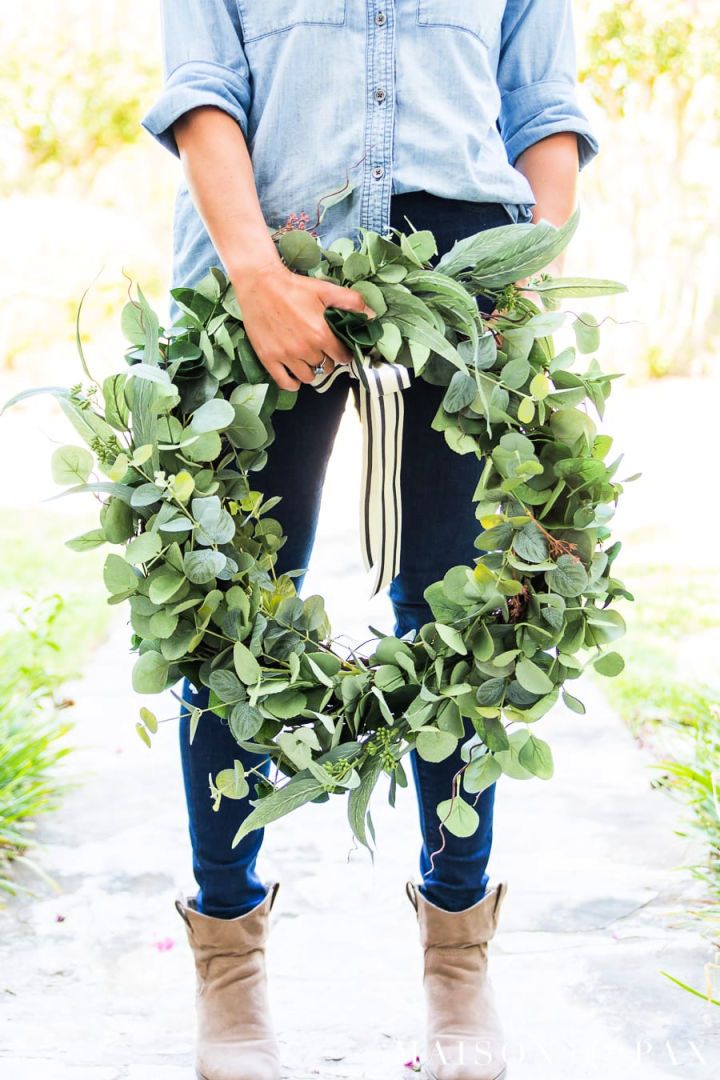 Wreaths made by using fresh leaves or flowers don't last long, so make a beautiful faux eucalyptus wreath to last much longer. It's a gorgeous and fuller front door wreath for the decoration of your porch. The supplies needed to make your own wreath are a grapevine wreath, a few branches of a variety of faux eucalyptus, a hot glue gun, floral wire and wire snips. Cut the large eucalyptus branches into single stems using wire snips. maisondepax
20. Sunburst and Sunflower Wreath for Front Door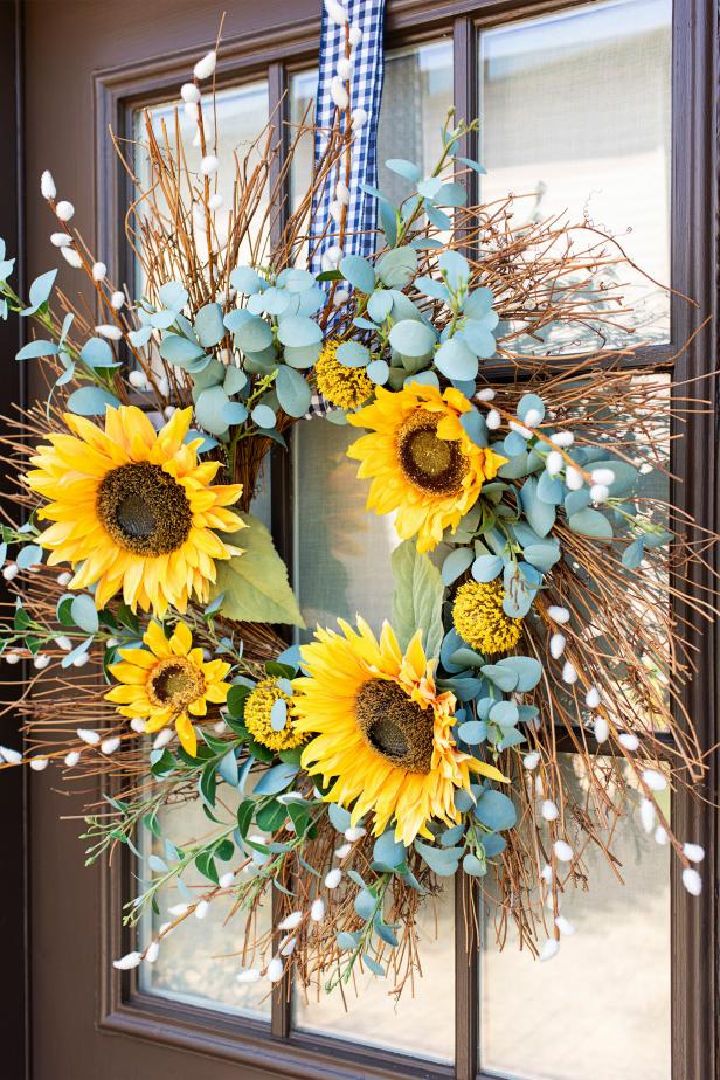 Looking for some bright additions to your front door decor? How about adding some sunflower and sunburst appeal and brightening up everybody's day a little more! Get some supplies like sunburst style grapevine wreath, large and medium-sized faux sunflowers, faux yellow blooms, faux pussy willow. Moreover, you will need eucalyptus greenery, wire snips or heavy-duty shears, a hot glue gun, glue sticks and a wide decorative ribbon or a wreath hanger for hanging. hgtv
21. How to Make a Snowman Wreath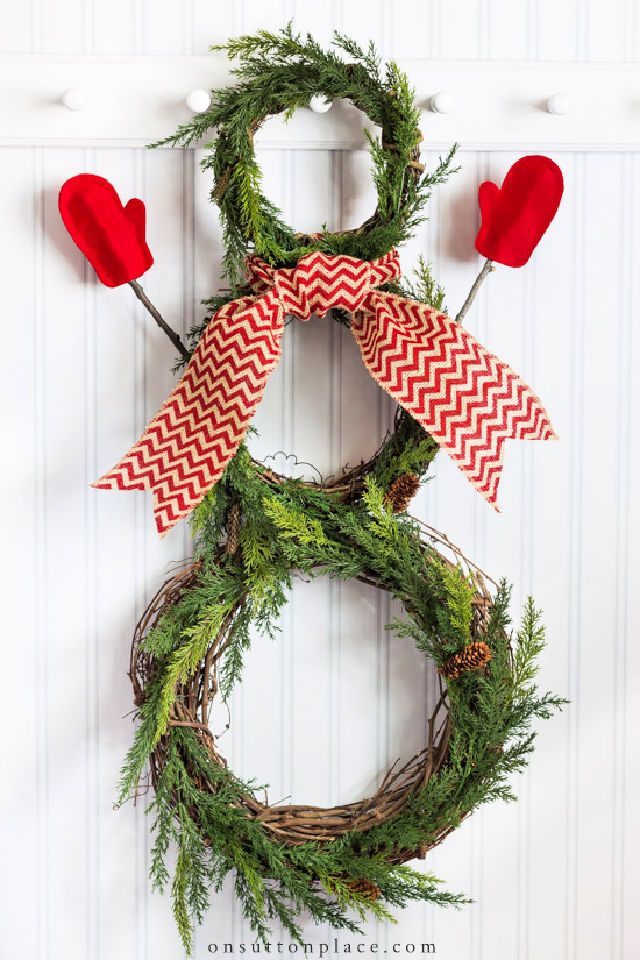 Run to your nearest craft store to get the simplest supplies available for your next project. Make a snowman wreath that uses basic supplies and requires easy-to-follow instructions. You only need different sizes of grapevine wreaths, florist wire and greenery like a narrow garland, picks or stems. Place the smallest wreath on top when you're wiring the wreaths together. A single piece of wire must be enough to do the trick if it's securely attached. Wire them together tightly. onsuttonplace
22. Easy Mesh Mardi Gras Wreath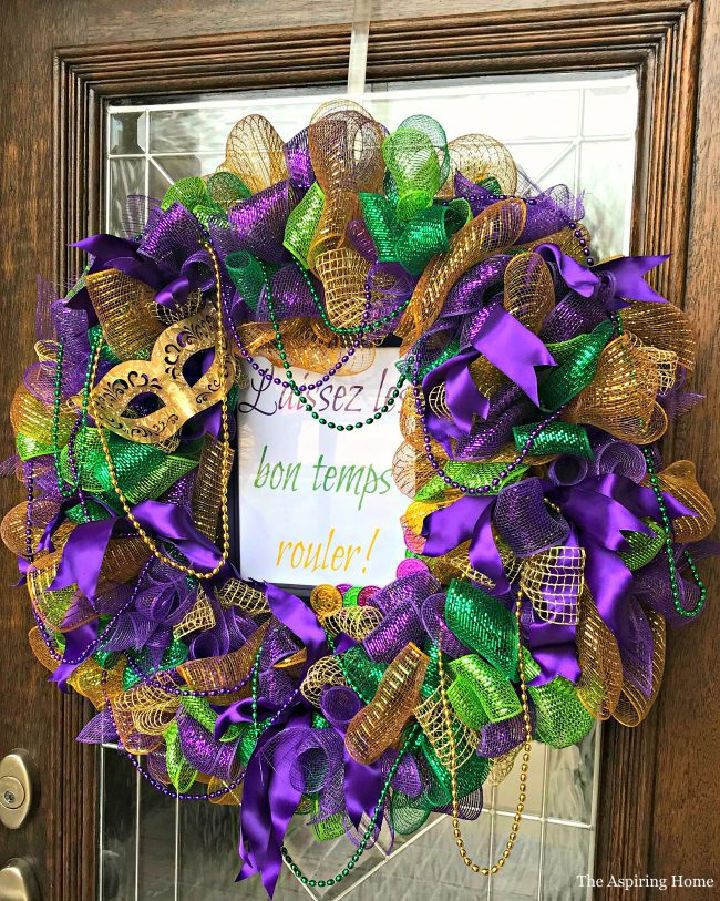 Any upcoming celebrations call for proper house decor to feel the excitement. The mardi gras is one such event for which the house must be decorated. Make a beautiful and easy mesh mardi gras wreath that can be displayed on the front door of your house to welcome your guests. It looks so bright and colorful that you wouldn't want to take it down for the rest of the year. Use beads, masks and king cakes with colorful and fancy ribbons to design your wreath. theaspiringhome
23. DIY Flip Flop Summer Wreath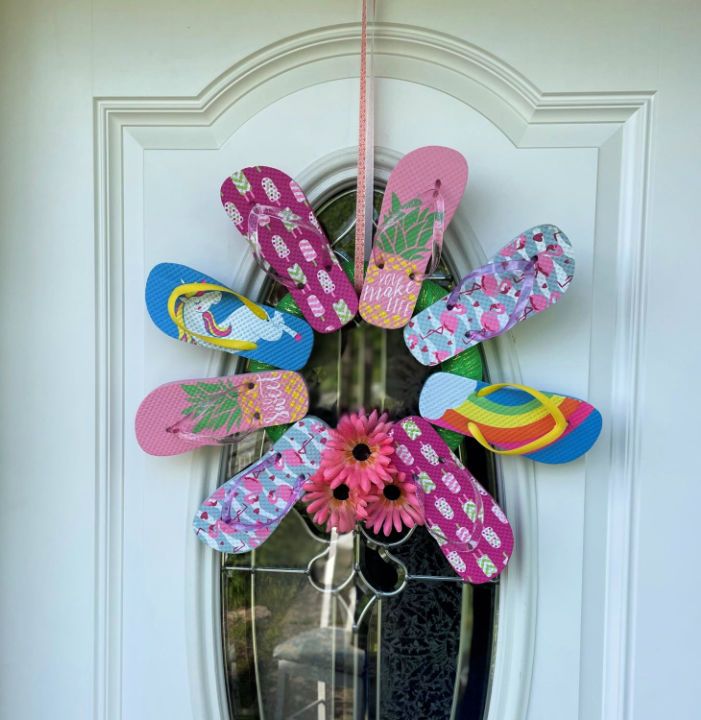 Summertime and flip flops are everyone's favorite time of the year which is the best time to do some crafting. Make a flip flop wreath that's super fun to make and will surely get a smile out of everyone. The supplies needed to make this project are a wreath form, flip flops, floral mesh, ribbon or something to cover your wreath form. Some flowers or other fun decorations for embellishment, ribbon to hang the wreath, a hot glue gun and extra glue sticks. 5outof
24. Make a Grapevine Wreath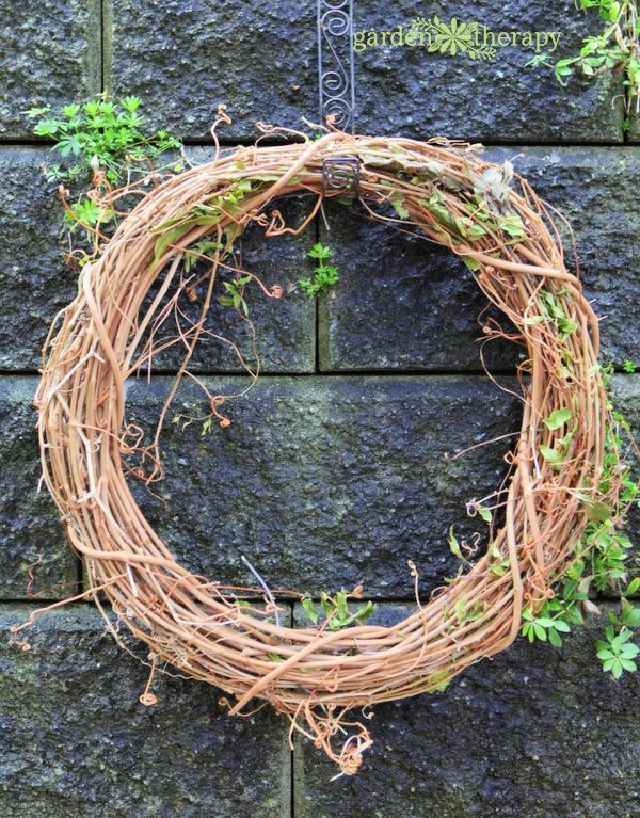 Almost every gardener has a wall that's been occupied by grapevines! What if we tell you that these grapevines can nail as your next DIY wreath idea? We all know that vine wreaths have been quite famous and liked wreaths of all times. So, spruce one up yourself by simply using vines and pruners. Head over to the link and get started by following the stepwise guide. gardentherapy
25. Valentines Day Heart Wreath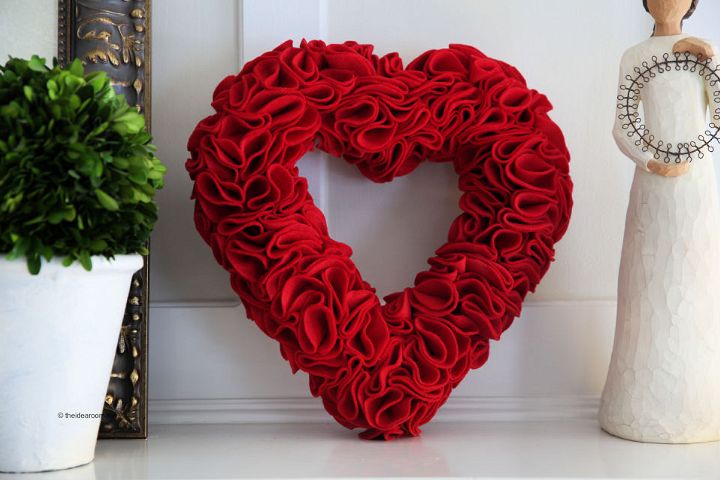 Every year on Valentine's Day, you have to come up with new ideas to give gifts to your loved ones. This year try making a beautiful Valentine's Day wreath that can even be used all year long. Gather some supplies like Styrofoam heart, off the bolt, felt, straight pins, scissors or rotary cutter and a circle pattern. The heart-shaped foam wreath can easily be bought from any store. Nice velvety red-colored felt will be perfect for giving off the romantic Valentine's Day touch. theidearoom
26. DIY Paper Snowflake Wreath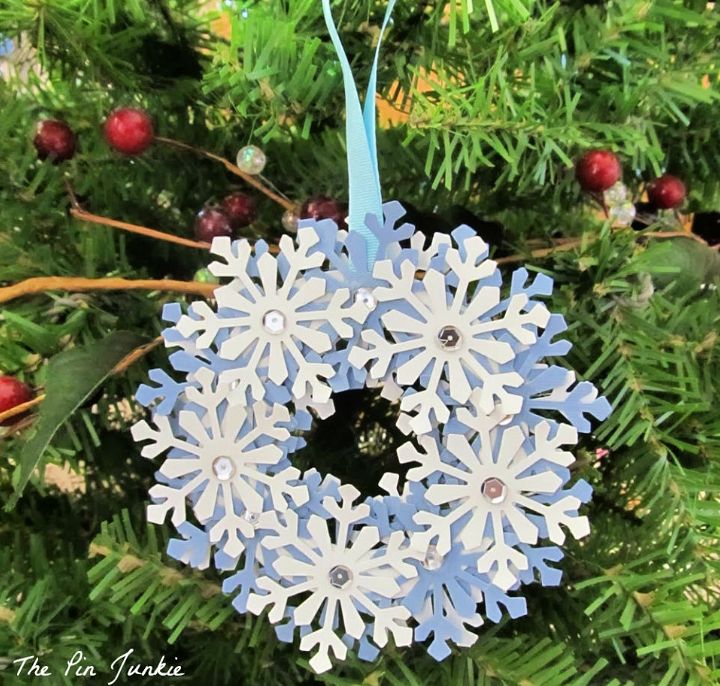 Welcome the winter season by decorating the house to get rid of the gloom that surrounds the house during the cold, harsh weather. Make a snowflake wreath that will look super cute displayed outside or inside the house. You will need supplies like cardstock in white and blue colors, snowflake punch, sequins, glue and ribbon. Use the snowflake punch to punch out some cute snowflakes in blue and white. Use the white cardstock and cut out a neat circle from it. thepinjunkie
27. Jack Skellington Pizza Pan Clothespin Wreath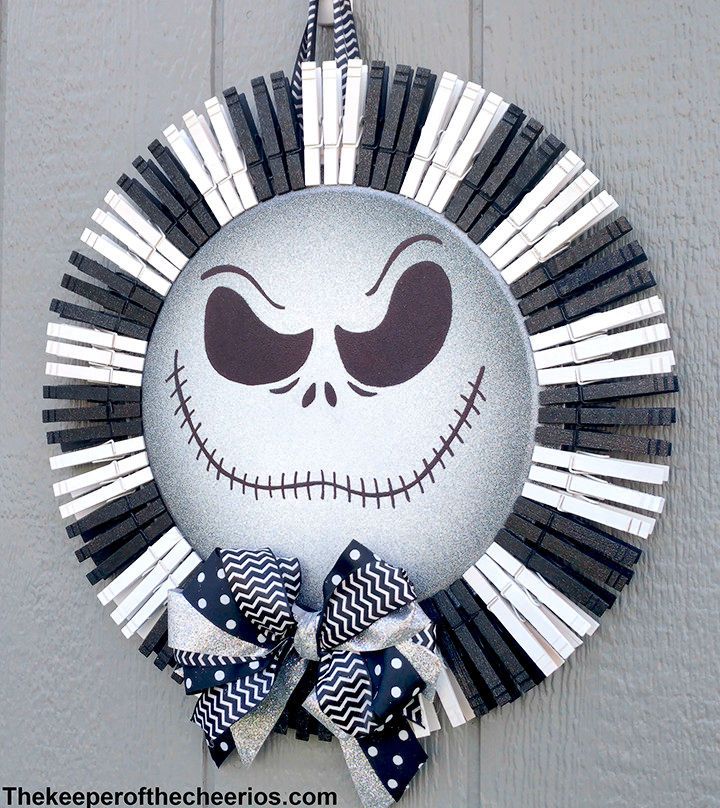 The best way to welcome your guests on Halloween is by scaring them right at the door. This can be done by making a scary Halloween wreath using a jack skellington pizza pan and clothespins. This is a funny Halloween decor piece to be used at the front door for hanging. You will need supplies like a pizza pan, clothespins, black and white spray paint, diamond dust glitter blast spray paint, a ribbon of three kinds, hot glue and glue gun, black sharpie/black craft paint. thekeeperofthe
28. DIY Graduation Memory Wreath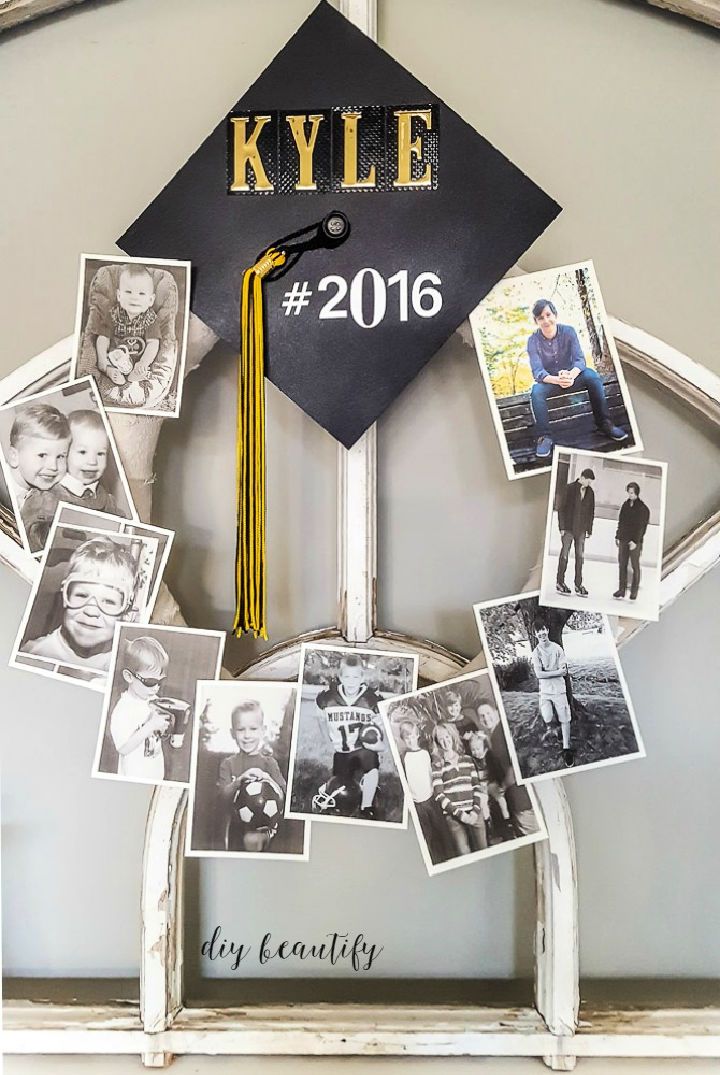 From the first time, he took his first step to now his graduation steps, celebrate your kid growing up and graduating with this DIY wreath idea! A graduation memory wreath will be great to be used on the table as a display or hang on the front door. To make it, you will need supplies like; a paper trimmer, pool noodle for making the wreath base, duct tape, strips of canvas drop cloth, hot glue gun, heavy black cardstock, black button and gold letter stickers. Use old pictures for its embellishment. diybeautify
29. How to Make a Mickey Mouse Wreath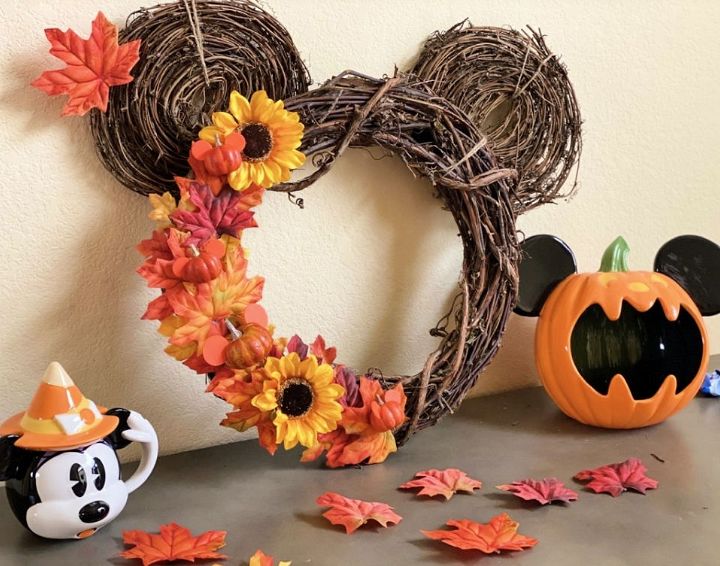 Surprise the little Mickey Mouse fan at the house by making this cute Disneyland Mickey Mouse wreath. This Disney-inspired wreath will be loved by every Disney fan, so it's a very fun project to enjoy. Supplies required for this project are 3 wreaths, a glue gun, paintbrush, orange acrylic paint, twine, scissors, wood circles in different sizes, maple, oak and sunflower leaf bush, mini pumpkins and floral wire. Use a table covering as things might get dirty. thecactuschronicles
30. No sew Fabric Tie Wreath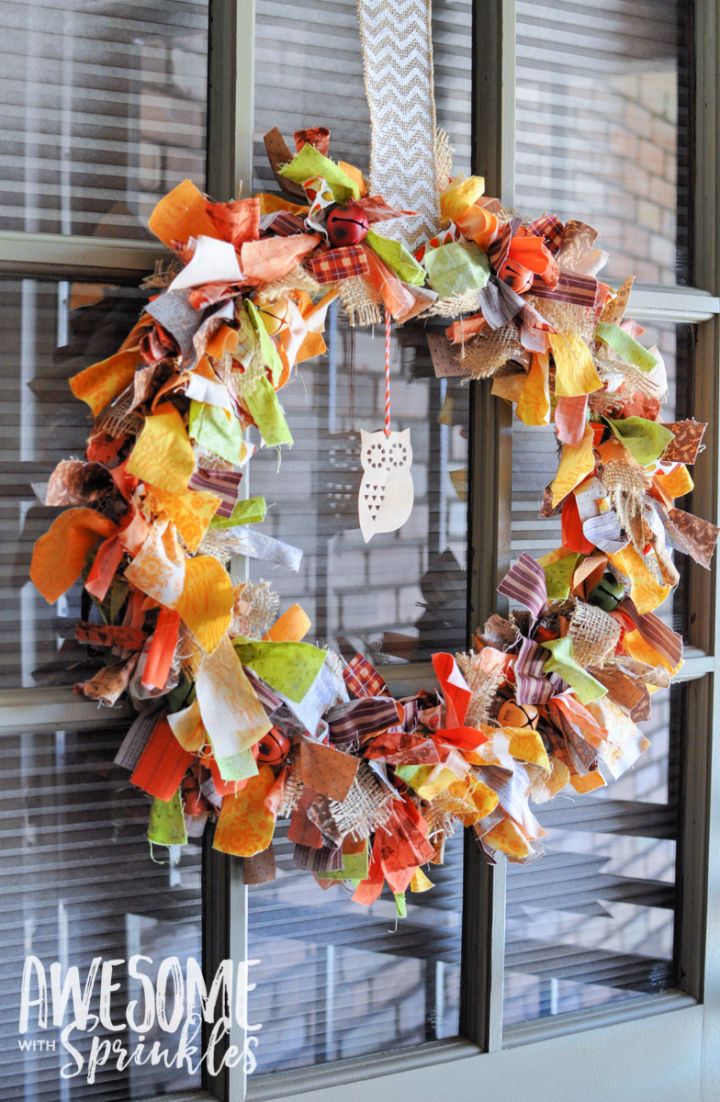 Fall colors and fall decor holds a very strange attraction and calls for making something, especially for this weather. Make a beautiful fall wreath that will be perfect to use for decoration in this weather. Decorate the front door with it or put it up somewhere inside and enjoy the fall colors as much as you want. Get some supplies like fabric scissors, wire floral wreaths, assorted fabric strips, burlap strips, embellishments such as bells or flowers and craft wire. awesomewith
31. Make a Horse Head Wreath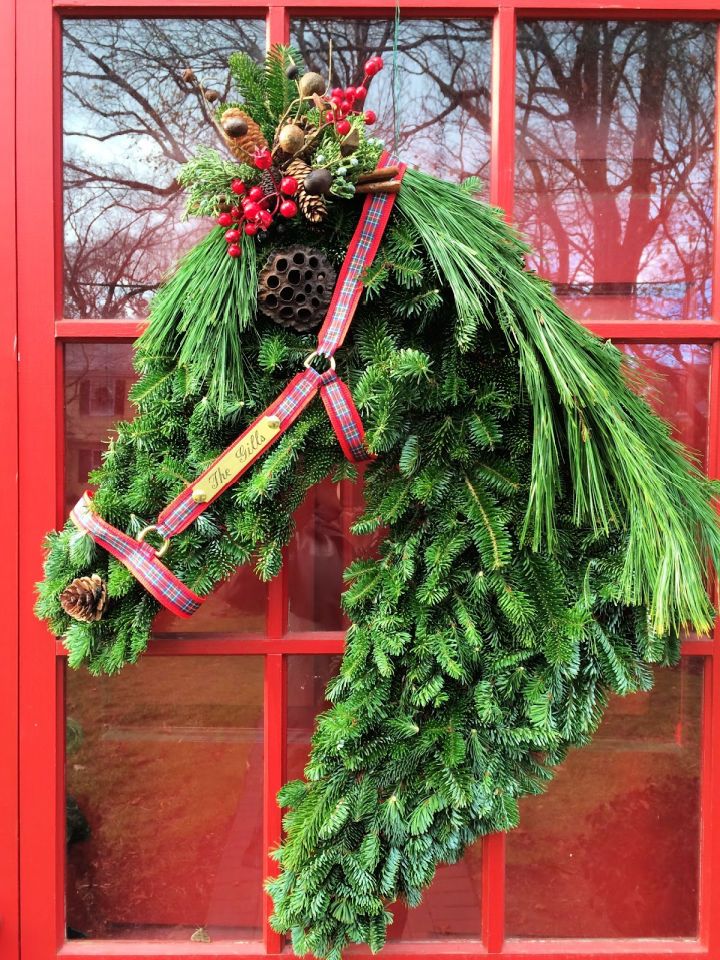 Horse head-shaped wreaths have been very famous all over the internet, and you can easily make up your own. You can go with any style or design you want and embellish the horse head using different things. Moreover, you will need tools like garden sheers, wire cutters, floral picks, and preservatives. You must determine the shape and size of your wreath first, as you must make it large if you want to fill in the door with more extreme curves of the head and neck. rantingsofahorse
32. Easy to Make Money Wreath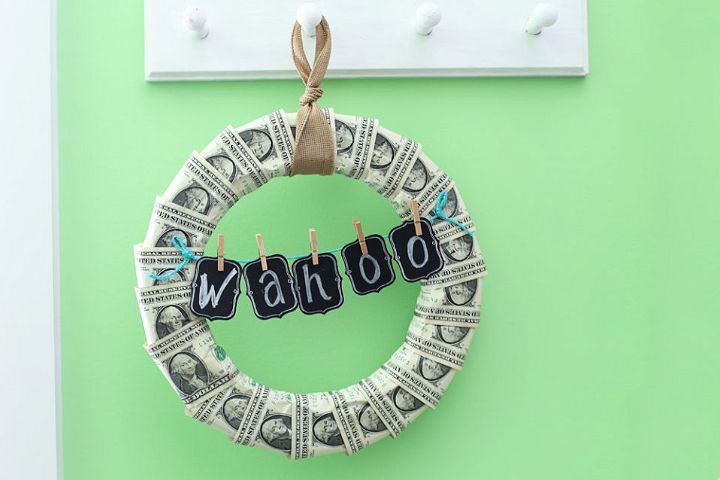 The best gift for any occasion is always and always money. So if you want to be the favorite one in the gift-giving niche, a money wreath can be a great idea for giving away cash. It comes together very easily and can be hung over the gift table. To make this wreath, you will need supplies like a fun foam wreath in your desired size, foam cutter, dollar bills, straight pins, burlap ribbon and tags, mini clothespins and twine for the banner. sugarbeecrafts
33. Twig Works Square Ribbon Wreath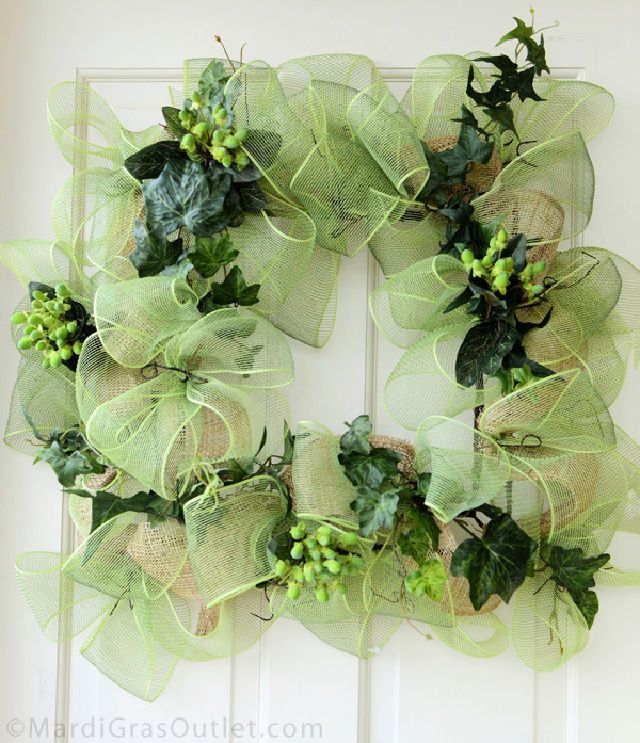 Create your own custom door decoration by making a beautiful work wreath form. You don't have to follow any standard design or style to make your own wreath, and anything will look great with it. Supplies needed for this project are moss/apple deco mesh ribbon, square wreath form, artificial ivy and faux berries. You can also use artificial greenery and flowers to decorate your wreath form. Above all, this twig-works wreath form is perfect for everyday use in the house decor. mardigrasoutlet
34. Dollar Tree Rag Pumpkin Wreath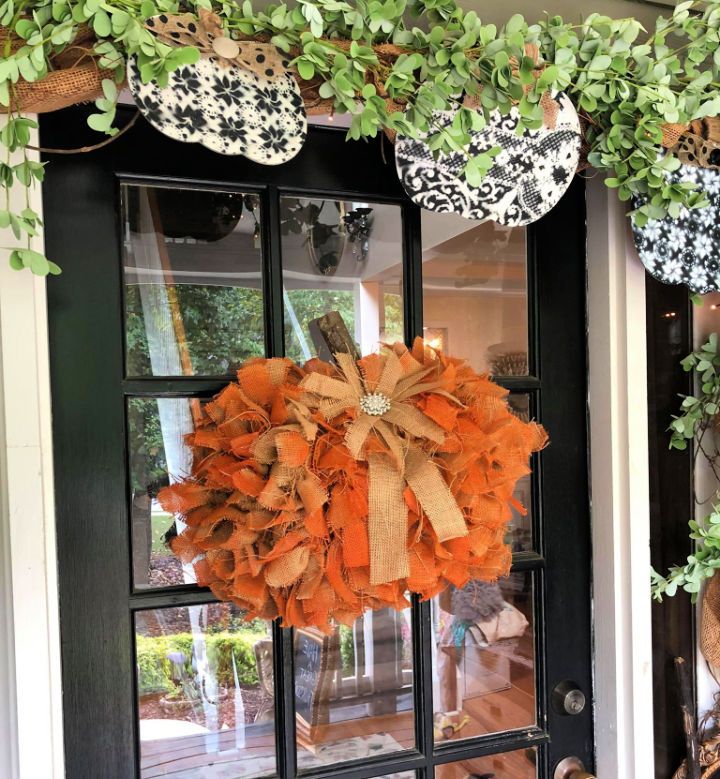 Looking for something fun to put on your front door? Make this DIY pumpkin wreath that is perfect to be used around anywhere in the house, especially for the fall season. Gather a few supplies like metal pumpkin form, any material of your choice like burlap, scissors, twine, spray paint and a fat tree twig. Cut the strips of the fabric into your required size as your first step to wrap each strip of fabric around the metal post of the pumpkin. theshabbytree
35. Instagram Photo Wreath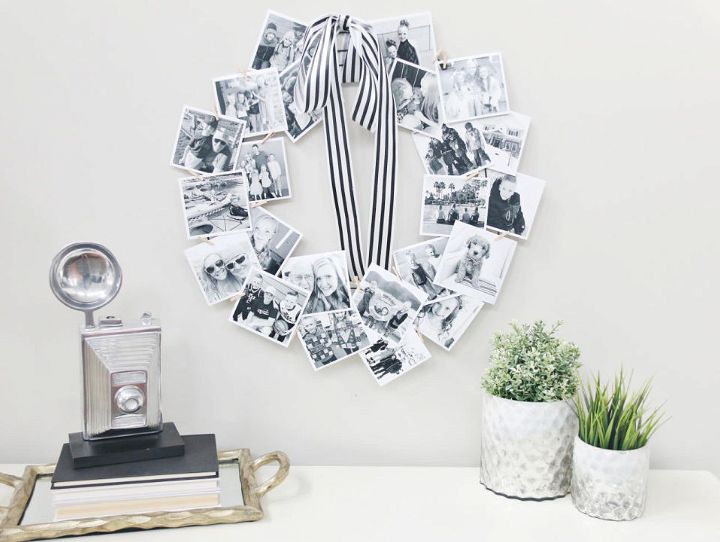 Pictures taken and put up on Instagram are always the best ones with their beautiful colors and some great memories. The best way to keep all your Insta pictures at hand so that you can look at them at any time you want is by making a photo wreath. Make your own Instagram photo wreath by printing all our Instagram pictures and gluing them to a foam wreath form. You can get colored pictures or print them in black and white. fun365 oriental
36. Year Round Wreath on Styrofoam Base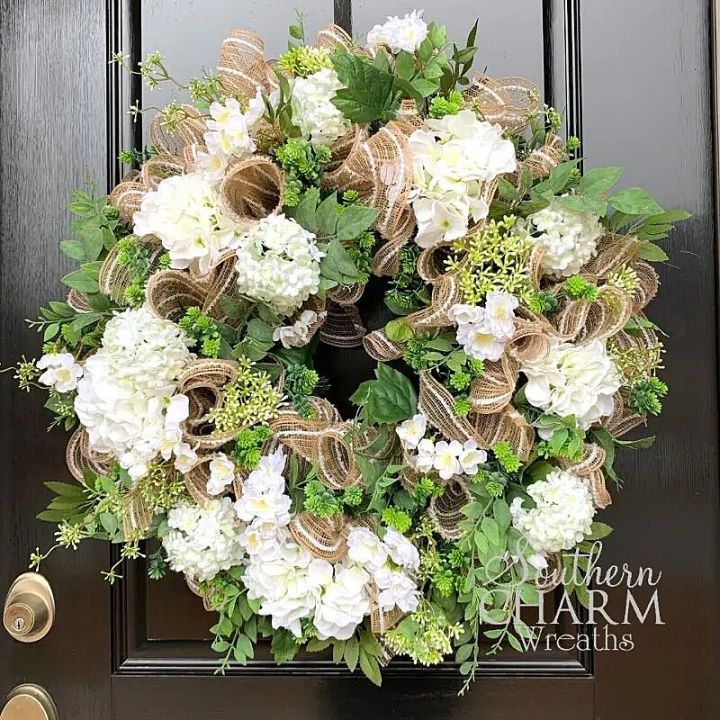 Put a beautiful wreath together for your front door by adding an extra green touch to it. This turns out to be a great year-round front door wreath that looks adorable displayed anywhere you want. To make your own wreath, get some supplies like an evergreen wreath base, mesh cut into long pieces, floral and greenery picks, glue sticks and a glue pen. This wreath can be used for all the seasons and holidays alike to be left on the door, and people can go around admiring it. southerncharm
37. DIY 3D Fall Wreath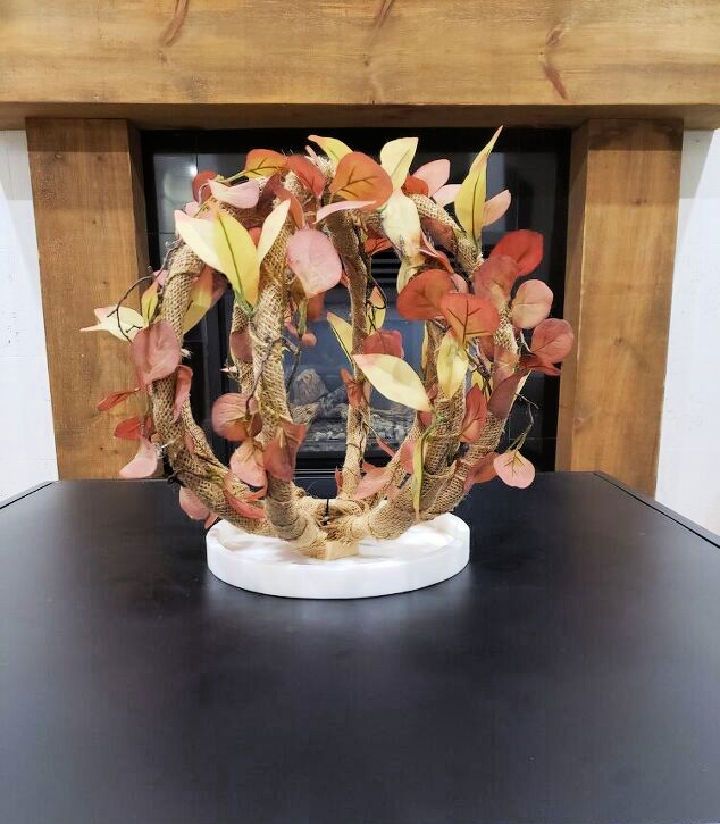 Here's a creative twist you can add to your wreath-making game! How about sprucing up a 3D centerpiece wreath, fall-themed?! You will need supplies like a wire wreath, fall florals, any other florals that you have available easily, some burlap ribbon that will be used to wrap around each wire. Twist the burlap to cover the wire at the top of the sphere, and make sure that you wrap the burlap around each wire. hometalk
38. Unique Lavender and Lambs Ear Wreath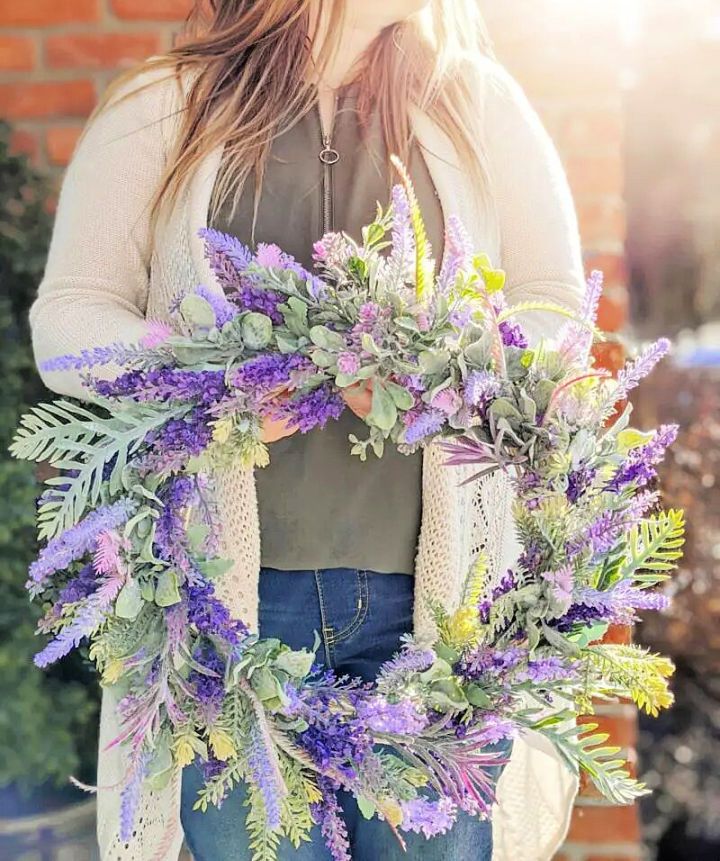 For spring, all flowery and colorful wreaths really bring the weather inside our houses. You can also make a pretty spring wreath using some cheap supplies that can be found easily from your nearest dollar store. You will need lavender and lambs ear stems, grapevine wreath, hot glue gun and wire cutters. While using silk flowers, it's recommended to cut them up to get rid of the leaves as the leaves might give them a cheap look. Work your way around the wreath. allthingswith
39. Dollar Tree Wire Pumpkin Wreath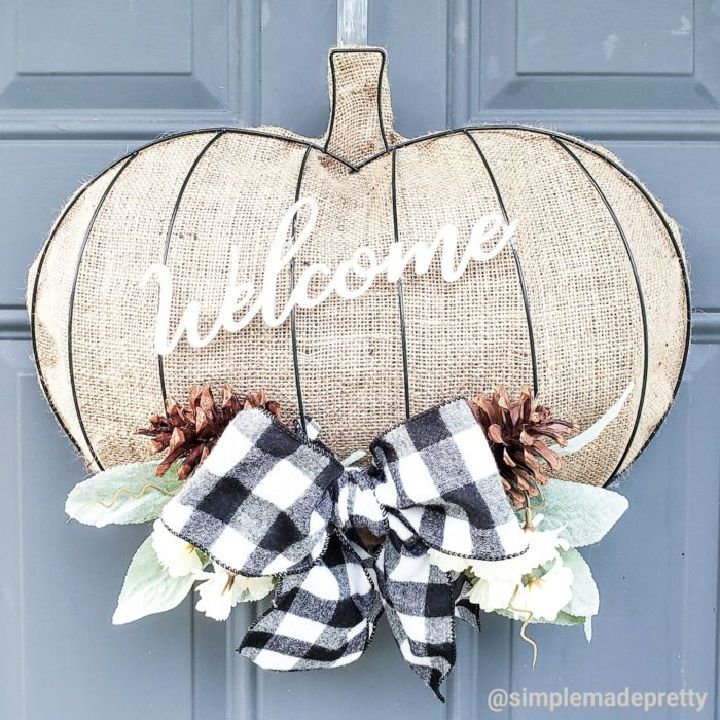 Home decor becomes easy and cheap when you do it with your own hands. Make a beautiful pumpkin wreath form that can be used as home decor inside or outside. You will need very few craft supplies like wire wreath form in pumpkin shape, some pine cones, faux flowers, faux leaves, black and white ribbon, hot glue and scissors. If you decide to display it on your front door, you can add a small welcome sign in the middle of it. Use it all year long. simplemadepretty
40. Beautiful Coastal Seashell Wreath for Beach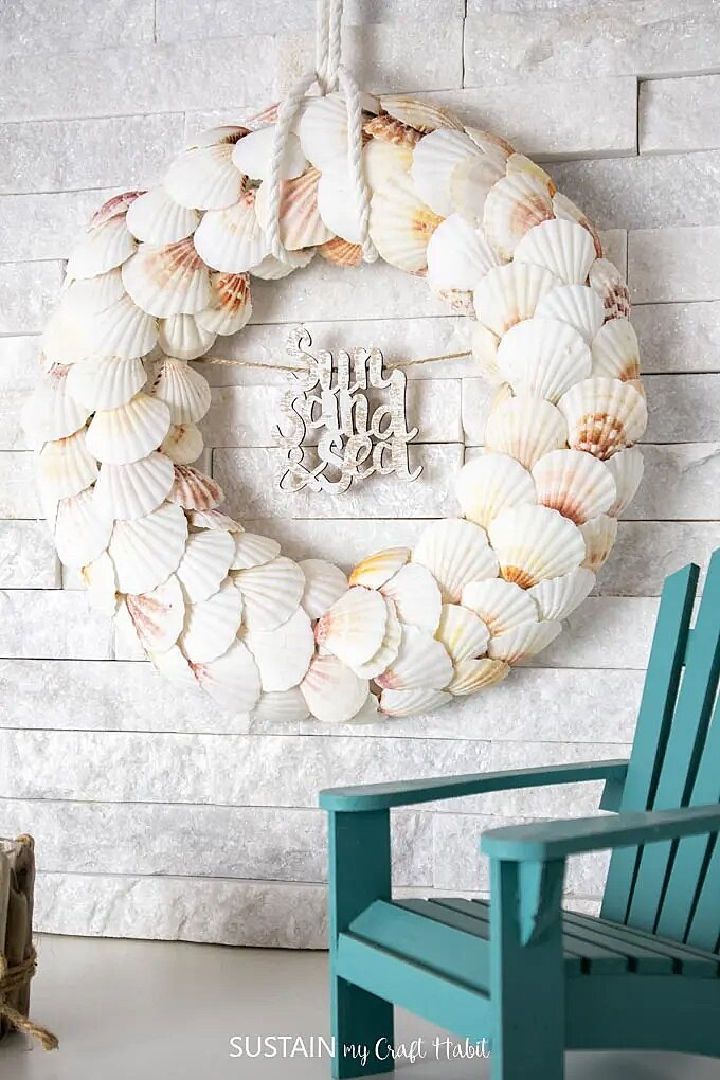 Relive the summer beach vibes with this DIY wreath idea. Make a beautiful coastal seashell wreath that turns out to be the cutest display piece for your house. It will look great on the wall, your front door or on the tabletop too. You will need supplies like round foam wreath form, medium-sized seashells, hot glue gun and clear craft glue, wooden cut out with a beachy phrase, twine and white cotton rope. craftsbyamanda
41. DIY Witchy Crescent Moon Wreath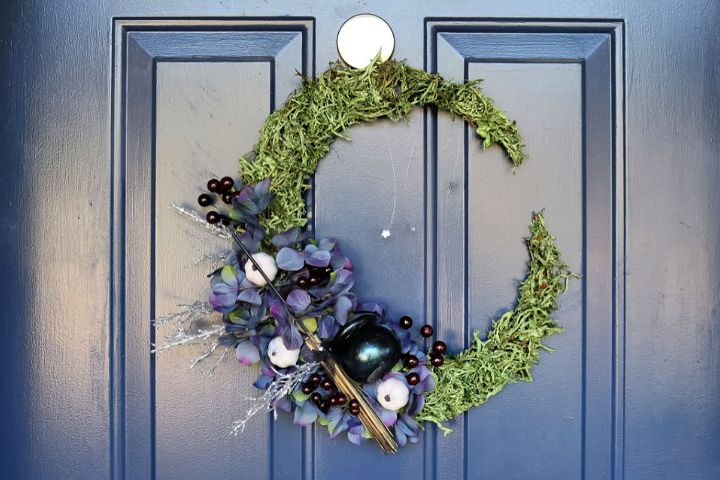 Bored of the conventional Halloween-themed wreaths? This one is a little different as it does give the witchy feels because of the crescent moon but otherwise, it makes a perfect front door decor! Get some supplies like wire wreath form, wire cutters, duct tape, floral wire, pumpkin picks, craft paint, paintbrushes, plastic cauldron, dragonfly glaze, glue gun, silicone finger caps, reindeer moss, faux flowers and berry pick, witch broom embellishments, glittery branch picks, fishing line. madincrafts
42. How to Make Watermelon Wreath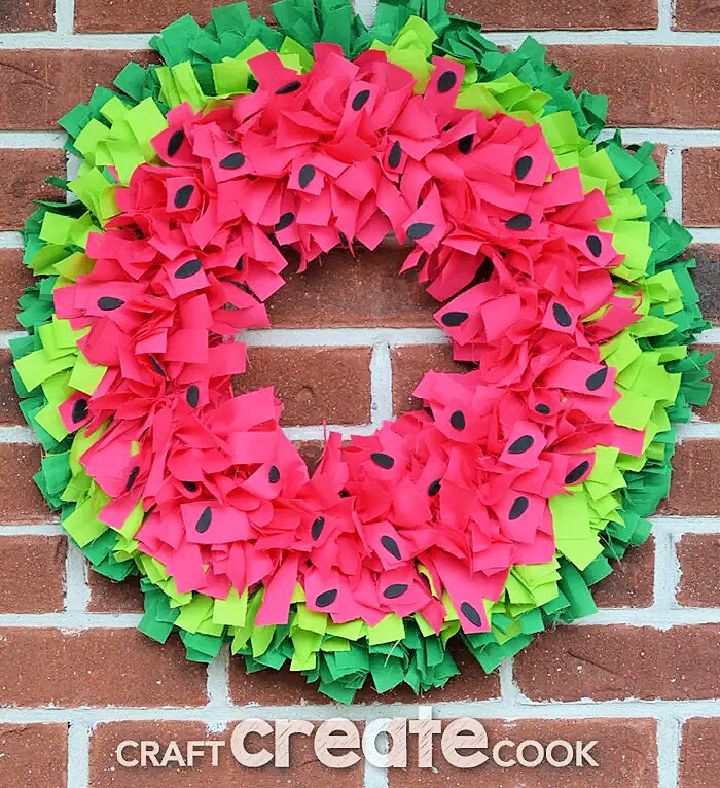 Watermelon is everyone's favorite summertime snack. You will find it everywhere in summer, including in your own fridge. Make the simplest watermelon wreath that will speak summer like nothing else. For this project, you only need fabric, black foam, wire wreath form, sharp scissors, a ruler and tacky glue. Buy all the fabric from your local fabric store in cotton material. A stiff fabric works perfectly for this project, and you can start by cutting it. craftcreatecook
43. Indoor Chunky Yarn Wreath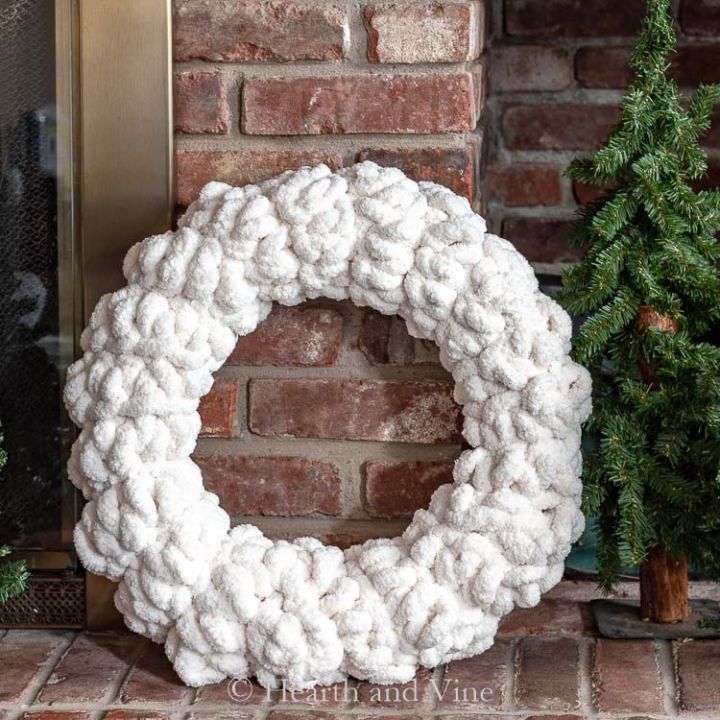 If you are fond of chunky appeals in your decor theme, you will absolutely adore this chunkiest indoor yarn wreath! It is whipped up using the finger knit technique. You only need supplies like 2 packages of chunky yarn and wreath form for this project. Moreover, this technique involves wrapping the yarn around your index finger. Continue wrapping from the front towards the pinky finger. You will love the softness of the yarn's texture around your hands. Then pull all the bottom loops over the top loops. hearthandvine
44. Hydrangea Wreath with Just 2 Materials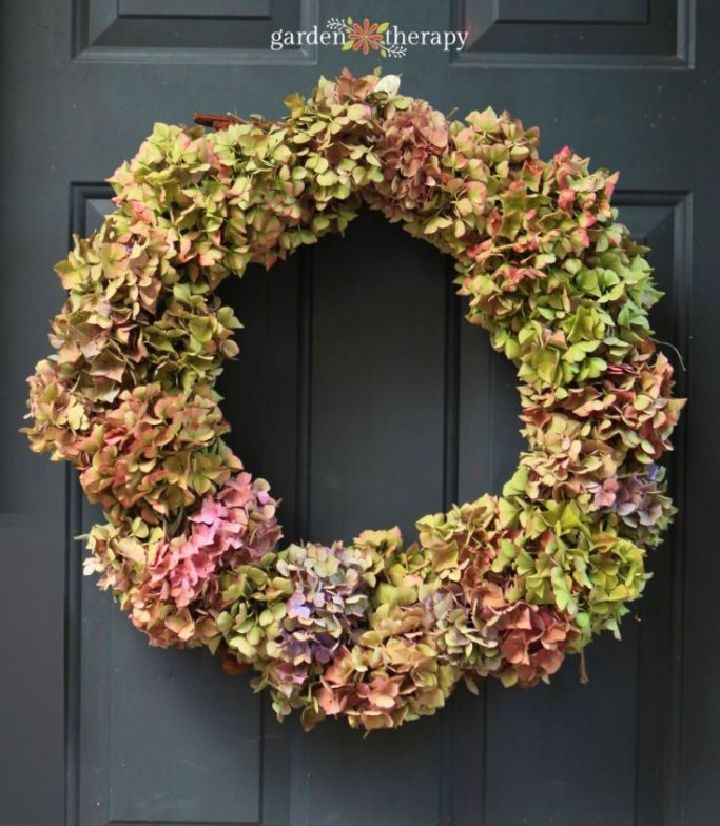 Rose and violet hues remind us of fall decorations, especially when you decorate with hydrangeas. If you are a minimalist, you will absolutely adore these Hydrangea wreaths with their subtle hues! Supplies required are a grapevine wreath, hydrangea blooms, floral wire and wreath hanger. A good wreath form with plenty of twisted branches is great for this project as you won't have to use anything else to hold the branches in place. gardentherapy
45. DIY Twig Winter Wreath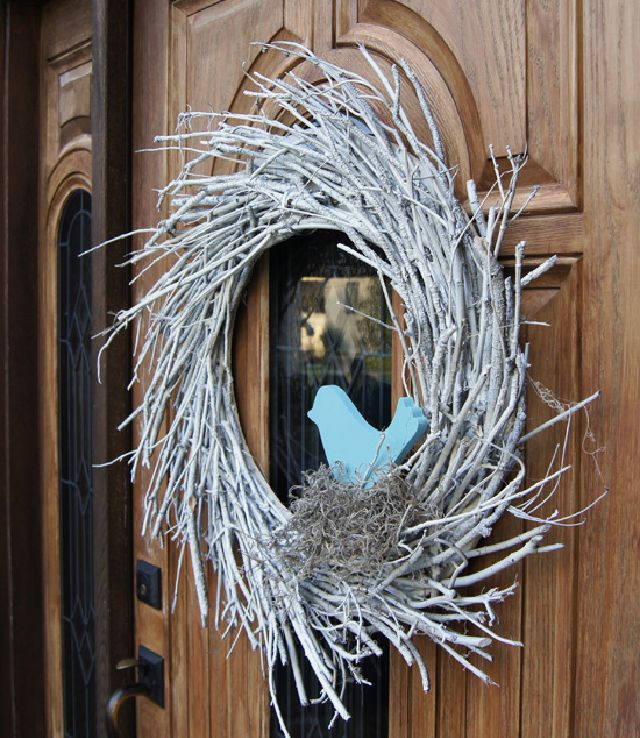 Make an adorable wreath that can hang for a long time on your front door and will still be praised. Collect as many branches as you can find in your hand as the chunkier you make it, the better it looks. Use an old piece of wood and cut it in the wreath form. Start hot gluing the branches to that wood circle. Most importantly, use lots and lots of twigs and branches to cover the whole circle of wood. Finally, finish by spraying it with off-white paint. confessions
46. Easy Diaper Wreath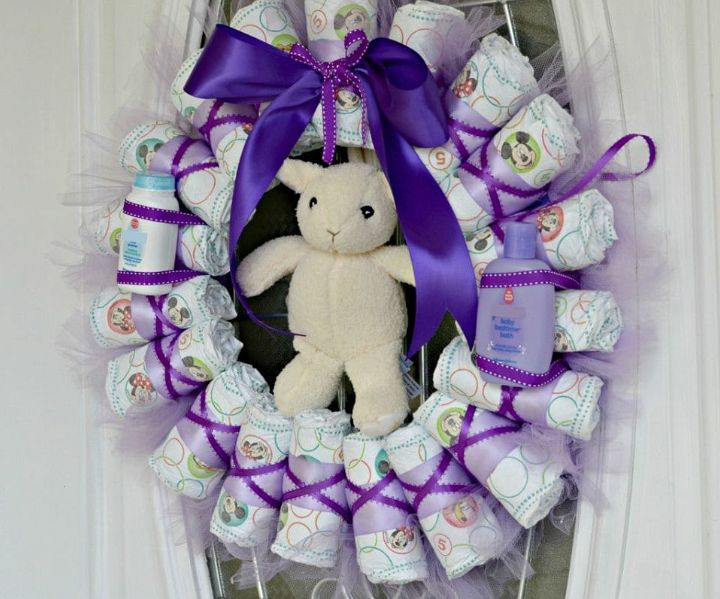 Thinking of the best baby shower gift? We would totally go with this super easy diaper wreath. It can be easily spruced up and can give total baby shower party vibes as well! You will need supplies like wreath form, diapers of any size you want, rubber band or a hair tie, scissors, ribbon, hot glue gun, cardboard box, tape measure and acrylic paint of the color of ribbon. Attach the diapers closely. mylatinatable
47. Double Door Magnolia Wreath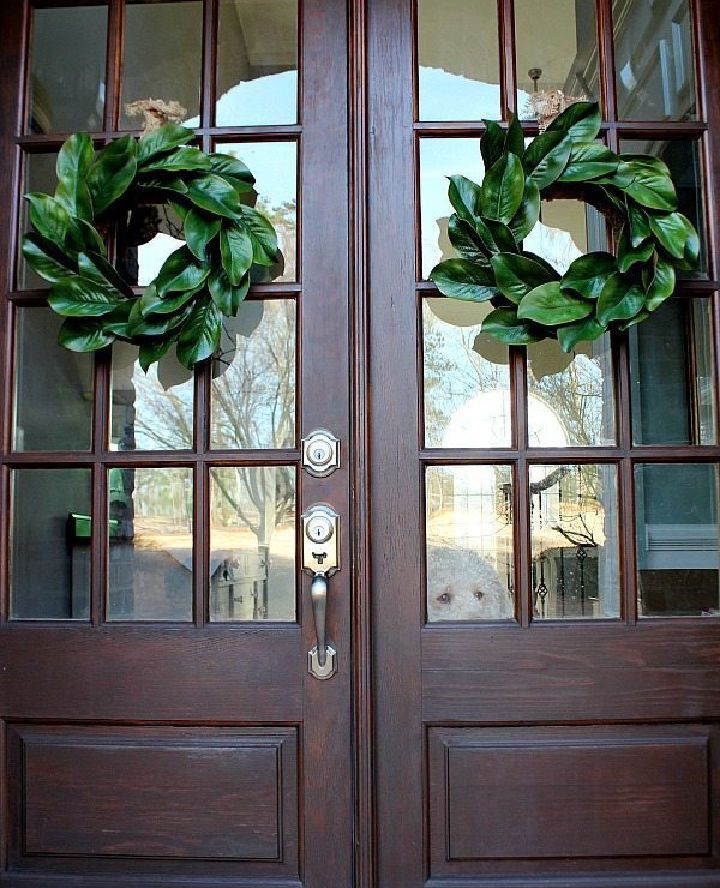 If you are a crafter, you can easily find stuff that can concern you, like bunches of amazing magnolia leaves. You can use them to make excellent home decor items like a magnolia leaves wreath. Supplies needed will be floral pins, wire cutters, magnolia leaves, foam wreath and burlap ribbon to hang it. Leave some of the wire attached while trimming the stems using the wire cutter. Put leaves and stems as needed using the floral pins and work in the same direction. refreshrestyle
48. How to Make a Tulip Wreath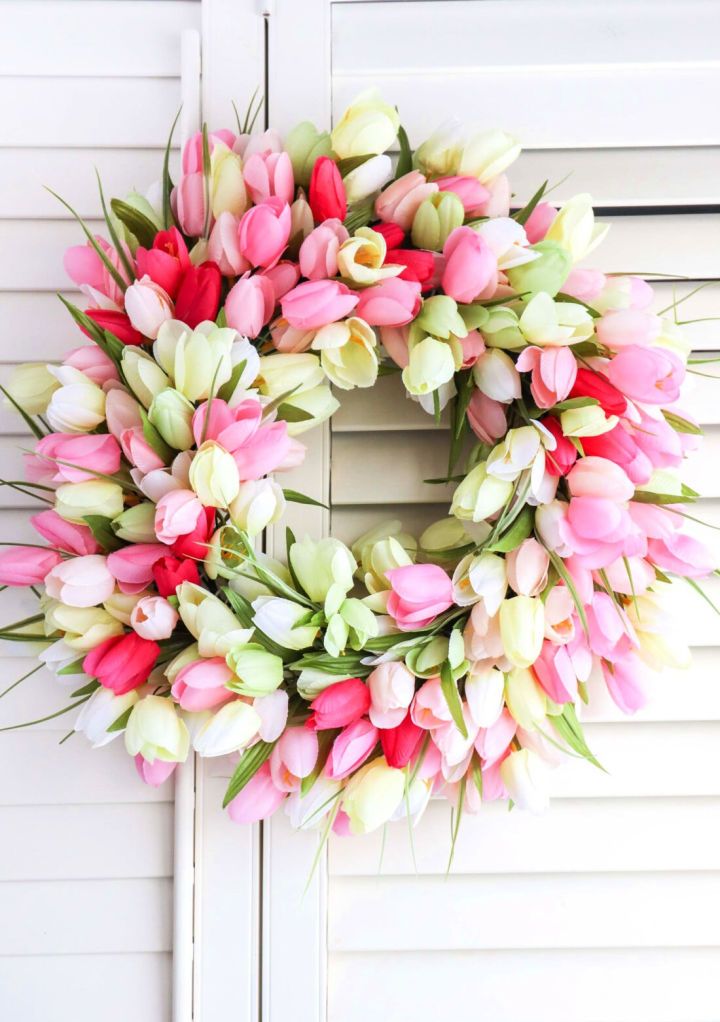 If you have been feeling a bit gloomy lately, it's time to remedy that with this DIY wreath idea. As it turns out to be a perfect statement piece for the spring season, and you don't need many supplies to make it too. Get a Styrofoam wreath, bunches of miniature tulips in different colors, ribbon or yarn, wire cutters and scissors. Cut your tulips stems of the size that fits best in your wreath and that you can put together on the wreath. craftsbyamanda
49. Thrift Store Berry Wreath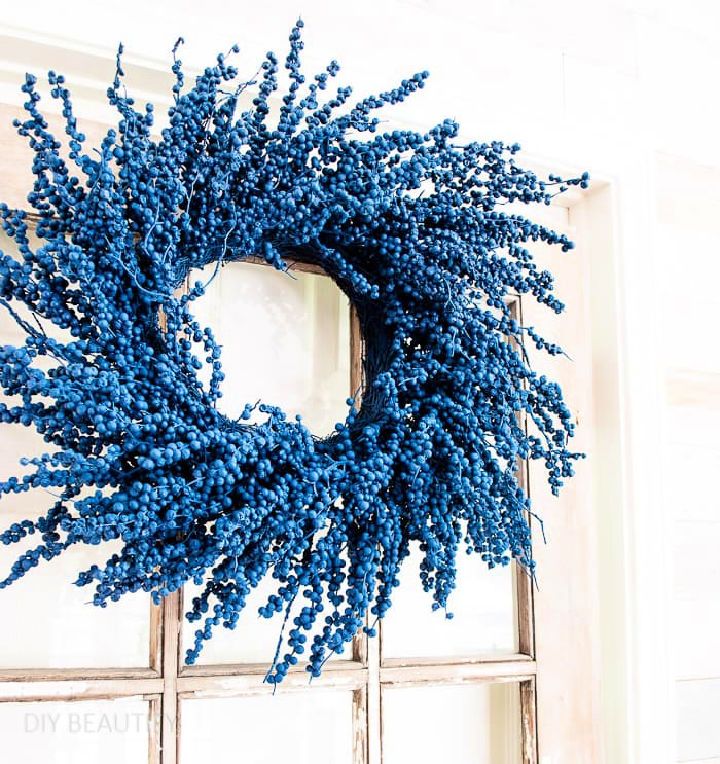 Berry wreaths have been in trend for quite a long time! Almost everybody has a berry wreath in their attic filled with damaged berries, so this is a great chance to revamp the old one and put it up as a brand new wreath! The key is to paint the berries by spraying them all over to give them maximum coverage. Keep moving your hands at different angles as the spray paint will be able to reach all the difficult spots. Let it dry for an hour. diybeautify
50. DIY Rag Wreath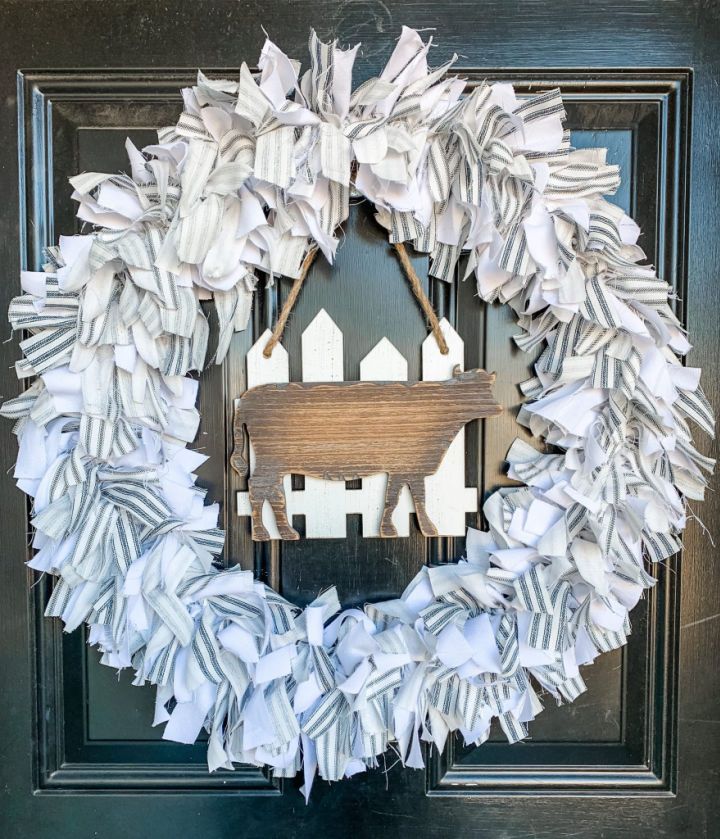 Buying wreaths for your front door can be quite expensive, so you can make a very nice and cheap rag wreath for your house. You only need supplies like a wreath form and fabric to make rags. Whichever color of fabric you decide to use, start by cutting it into strips. Depending upon the size of your wreath form, decide on the number of rags you will need. Create enough rug strips to cover your wreath form properly. themakersmap
How to Make a Year round Wreath
How to make Dollar Tree DIY Wreaths (easiest tutorial!)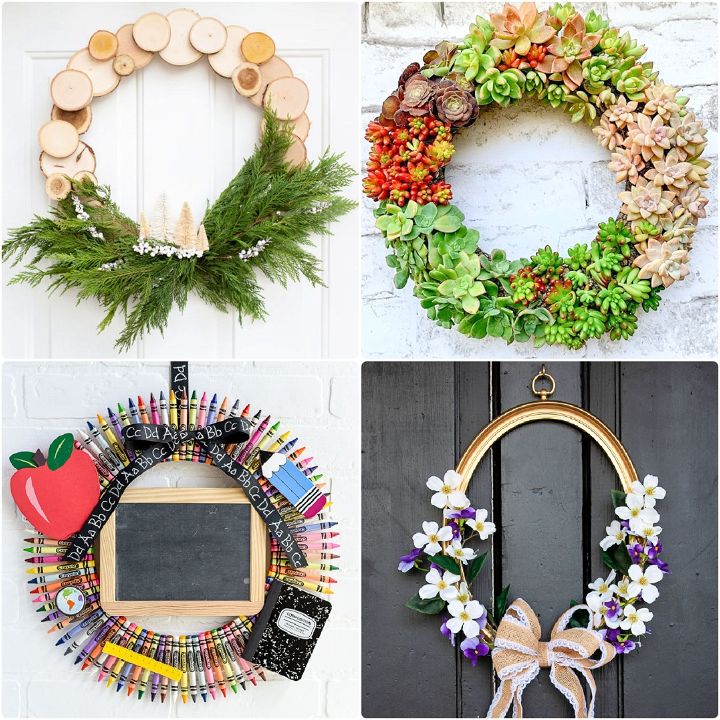 Related DIY Projects:
Valentine's Day Crafts – It might not be time for Valentine's Day yet, but it's never too early to plan ahead! This list of 40 easy Valentine's Day crafts has something for everyone.
No Carve Pumpkin Decorating – No carving? No problem! These 50 no carve pumpkin decorating ideas are easy to do and will add a personal touch to your holiday décor.
Halloween Party Ideas – Halloween is the perfect night to get your creativity on and make the most out of your budget. Here are 50 easy and cheap Halloween party ideas!
Pumpkin Painting Ideas – Halloween is finally here and that means it's time to get creative with your pumpkins. From cute to creepy, these pumpkin painting ideas are sure to inspire!
DIY Gift Box Ideas – Looking for the perfect gift for your loved one? We've compiled 30 DIY gift box ideas that are easy to make, budget-friendly, and totally customizable. From breakfast in bed to a spa day, we have something for every occasion.
Conclusion:
It's just a matter of a few hours to try different DIY wreath ideas that turn into beautiful creations to be used for many, many years to come. Your house will speak up for the wonderful few hours you spent doing this project wherever you decide to display your wreath. Most importantly, your family must be a part of the decor project if you decide to make a wreath for any upcoming season or if you just want to welcome the holidays in full swing. Also, make use of the old things that you already have available in your supply closet, like old frames, some leftover ribbons or tape etc. and craft away, making these amazing DIY wreath ideas.