Here are 40 Valentine's Day crafts that anyone can make. From Valentine's Day cards to sweet treats and gifts, you'll find unique valentine's day craft ideas to make your day extra special. Whether you're looking for a romantic way to tell your loved one how much you care or just want to find a few last minute ideas for the kids, we have you covered.
The handmade gifts are always packed with extra love and respect, and they always hit hard the heartstrings of the receivers. So, are you sorting out the best gift craft projects for Valentine's Day? Go with these Valentine's Day Crafts and see a wide range of gifts and decors to make for the Day. Moreover, you will find amazing kids' crafts here that they can try out on the most romantic holiday of the year.
From making various romantic cards to outstanding heart shape decorations to making pink and red gifts, these 40 Valentine's Day Crafts will involve all. They will also provide additional tips and tricks to hone your crafting skills. You will also learn to make outstanding love day vases, wall art signs, outfits, jewelry and candy or chocolate boxes.
This does not end here. You will find great free printables for Valentine's Day cards and game puzzles here. And they will help keep the kids busy on V-day. These Valentine's Day Crafts will involve getting crafty with many versatile crafting materials like paper, felt, clay, wood, rope, craft sticks, Mason jars, etc.
You can easily find them all in the home or in nearby craft stores. The involvement of these materials makes all these crafts super cost-efficient. So, all beginners can try out these crafts without any hesitation.
1. DIY Painted Valentines Day Cards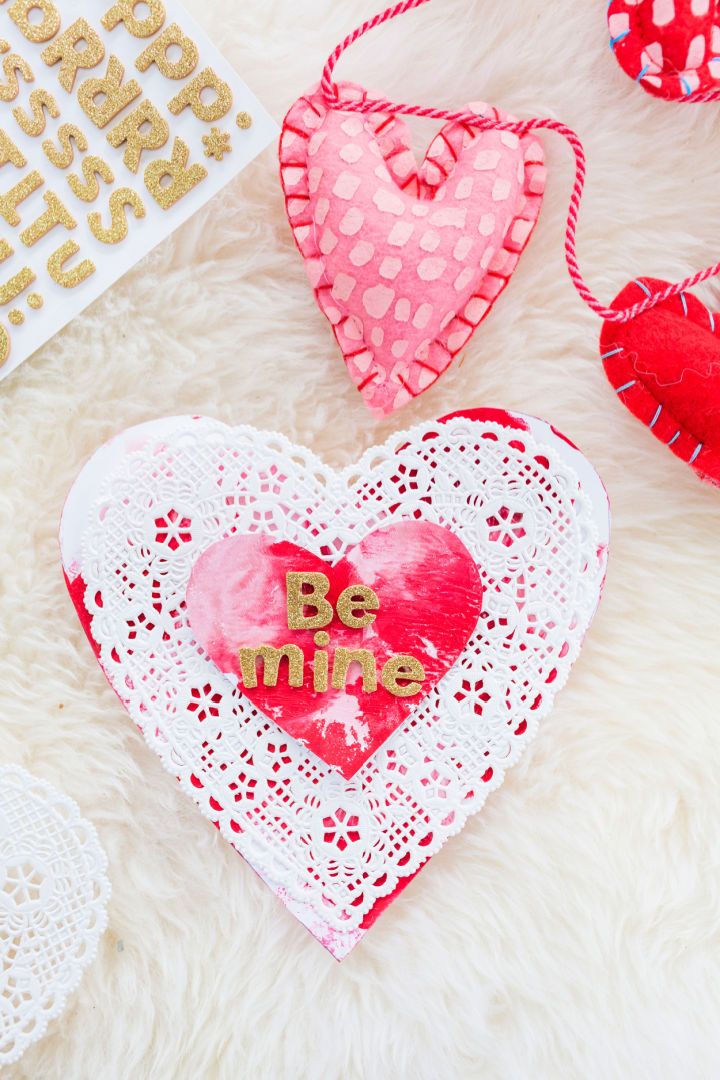 Want to spice up Valentine's Day gifting routines? Then time to make these Valentine's Day painted cards that are beautiful enough to win one's heart and are easy to make with the provided directions. These colorful heart softies are sure to be a big love of all the lovers and help promote love emotions among friends and family. You need acrylic paints, cardstock paper, Ziploc bags, tape, craft glue, scissors, glitter alphabet stickers, heart stickers, heart doilies and construction paper to craft out these painted cards. glitterinc
2. Valentine Pom Pom Heart Cards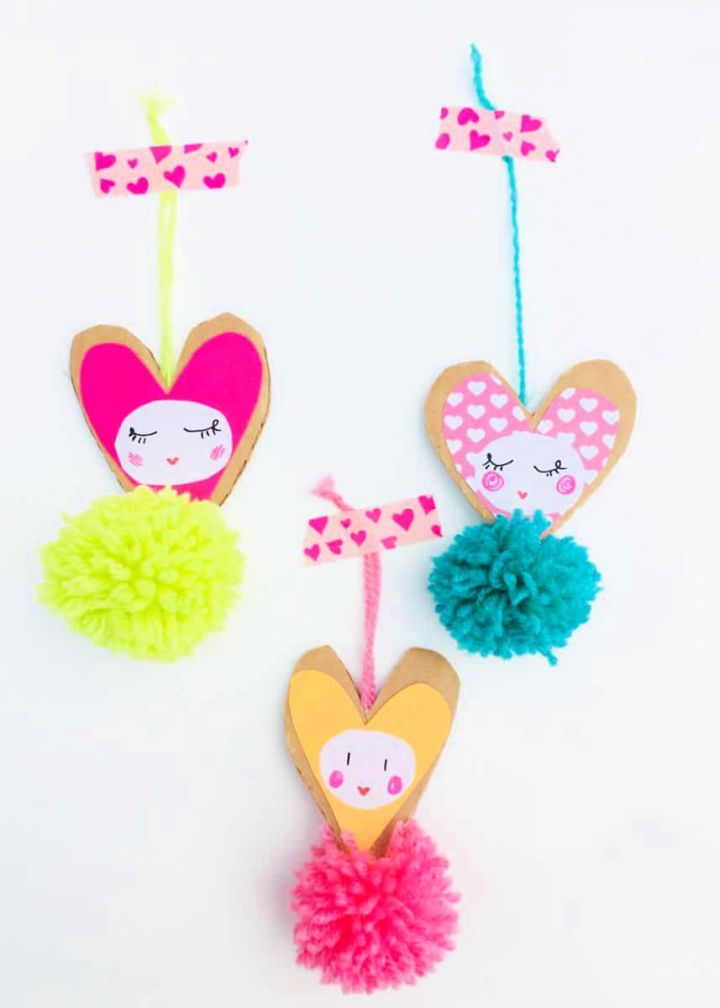 Valentine's Day is often celebrated by making lovely cute cards that you can give to your favorite friends, family members and people just to show how much you love and care for him/her. So, this time evoke the love emotions in your beloved ones with these cute Valentine pom-pom heart cards that are cute enough to impress at a very first glance. However, they are super easy and quick to make, and even the kids can duplicate them in just no time. You need corrugated cardboard, plain and patterned papers, cut-out white paper discs, different colored yarns, pink, red, black fine liners, glue stick, scissors, and a long needle to complete this Valentine's Day pom-pom card easily. hellowonderful
3. DIY Paper Plate Love Birds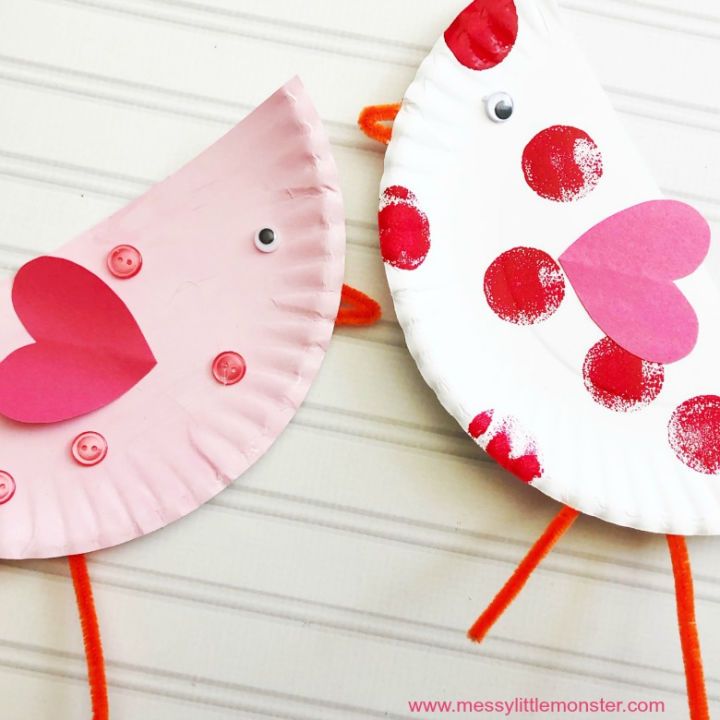 The love birds are another great symbol of love and are cute enough to be a part of Valentine's Day gifting and crafts. So, go handmade with the paper plates and make these cute little love birds, the best Valentine's Day kids craft project for preschoolers and toddlers. You need a paper plate, pink and red craft paint, red and pink buttons, red or pink paper, orange pipe cleaners, googly eyes, round sponge paintbrushes, paintbrushes and glue to complete these love birds. messylittlemonster
4. Printable Valentines Day Game for Preschoolers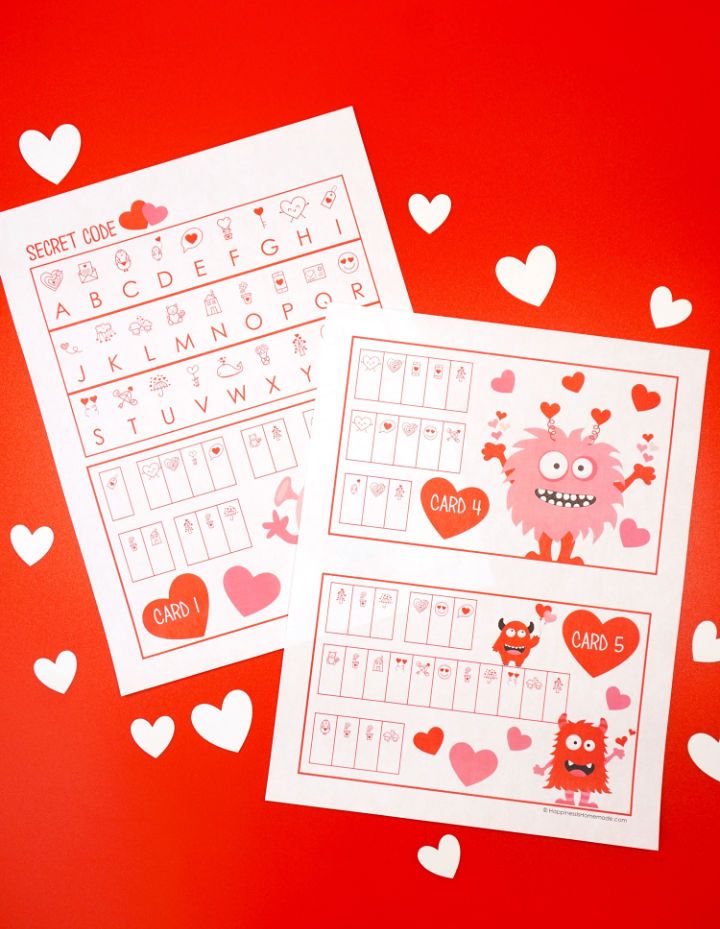 Sorting out the best Valentine's Day activities for the kids will help keep the kids busy. Then get free game printables that you can easily print out to provide your kids to enjoy the holiday. However, the adults and younger kids can also play this Valentine's Day game for hours of fun. These crack-the-code games will also help boost the creativity and intelligence of the kids. It will be a fantastic way to deliver some hidden messages to your Valentine. At the same time, these games will also be a great classroom activity. happinessishome
5. Make Canvas Art and Sell on Etsy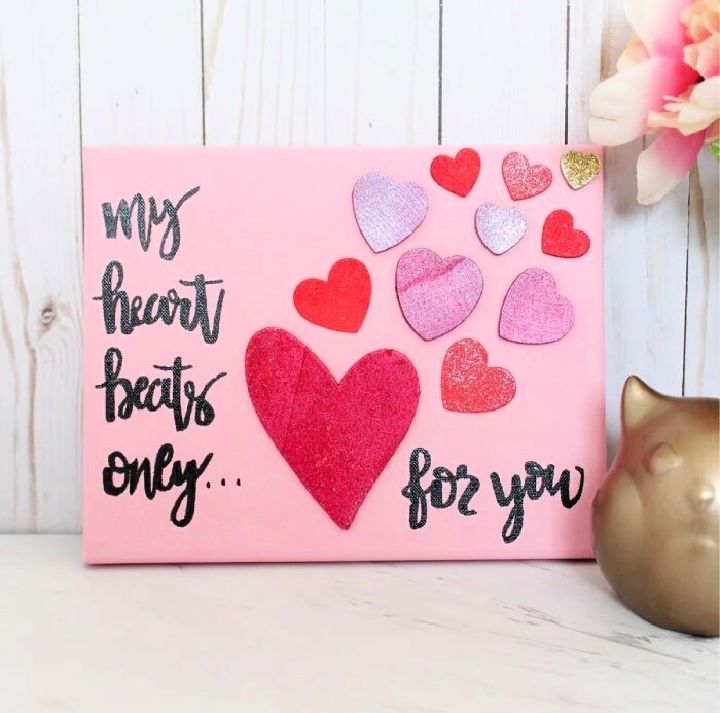 You just can't leave the walls boring and blank on Valentine's Day. So, follow here guides and instructions to make a beautiful canvas wall art. It will bring those love emotions to the targeted space and rock as a great Valentine's Day decor. You need a handful of cheap supplies to craft out this romantic canvas wall art sign easily. Give it as a hearty Valentine's Day gift also to your favorite kids. So, want to duplicate this canvas wall art? Then get your hands onto a blank 8 x 10 canvas, mod-podge, gold glitter, glitter spray paint, paintbrush, wooden hearts, sharpie paint marker fine tip, E6000 glue and craft paint in pink, red and white color to duplicate this wall art sign. domestically
6. DIY Conversation Heart Keychain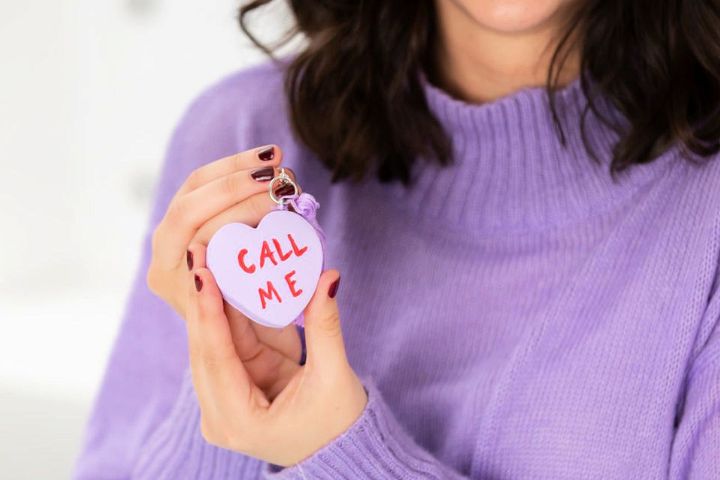 Giving gifts helps build relationships, and giving love gifts on Valentine's Day will also help build unbeatable love relations. Want to pick some best and most unique gifts for Love Day? Then get instructions to make Valentine's Day conversation heart keychain that can be added to ladies' handbags as a lovely charm and accent. The best and most cute keychain gift to make for Valentine's Day. Using clay, rolling pink parchment paper, cookie-cutter, letter stamps, paintbrush, eye hook, metal ring, lobster clasp and tassel. hgtv
7. Valentines Day Candy Boxes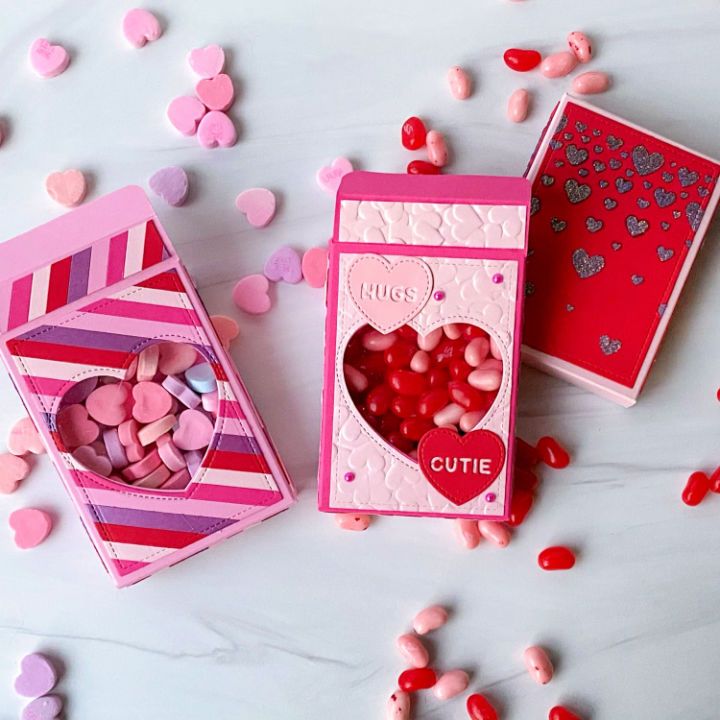 Bring the sweetness of love between you and your favorite persons with these lovely Valentine's Day candy boxes. They are the best gift for Valentine's Day, and you can easily whip them up at home. Here you need the scoring board & bone folder, scissors, paper trimmer, corner rounder, scor-tape, liquid adhesive, acetate, manual die cutting machine, heart-shaped die, cardstock warehouse and lots of candies to complete these gift boxes for the love day easily. cardstock warehouse
8. Scandinavian Embroidered Hearts Decorations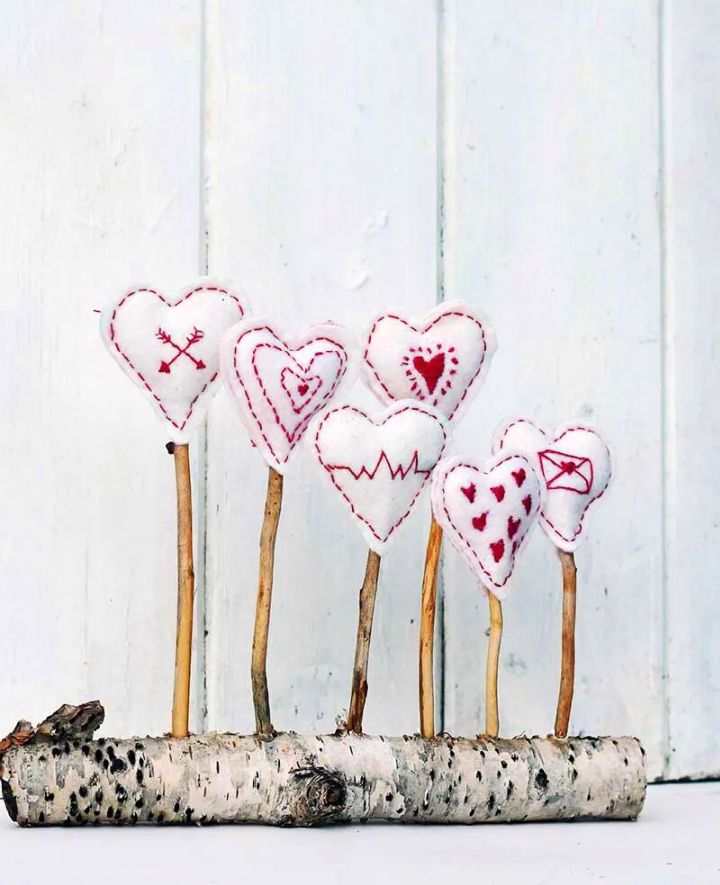 The heart shapes say very well all your love emotions, and they can be a brilliant part of your Valentine's Day decors also. So, all to your Valentine that is in your heart, with these Scandinavian embroidered heart gifts, one of the best Valentine's Day gift ideas ever. Grab the cream or white-colored fabric, heart-shaped cookie cutter, red embroidery thread, water-soluble fabric pen, a small amount of fiberfill, embroidery needle, large branch or wood slice, twigs, drill and wood drill bit and white tack to complete these heart-winning embroidered hearts. pillarboxblue
9. Simple Cricut Valentines Day Cards for Adults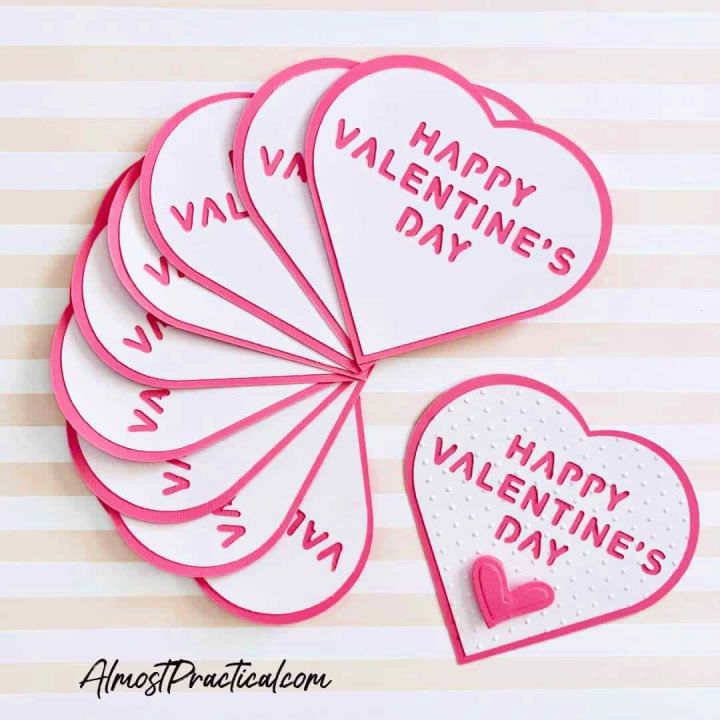 Are you looking for some cool Valentine's Day craft projects that you can even complete at the last minute? Then just make these Cricut Valentine's day cards, and they will be ready even in the last few minutes. You can use the digital cutting machine to easily cut the custom letters in the heart shape cards. Go handmade with the cardstock to easily whip up the heart-shaped cards, and everyone will praise these sweet and lovely Love Day cards. However, the project provides additional instructions also to decorate the whole card more. One of the best DIY Valentine's Day card ideas ever. almostpractical
10. Your Love Is All I Need February Card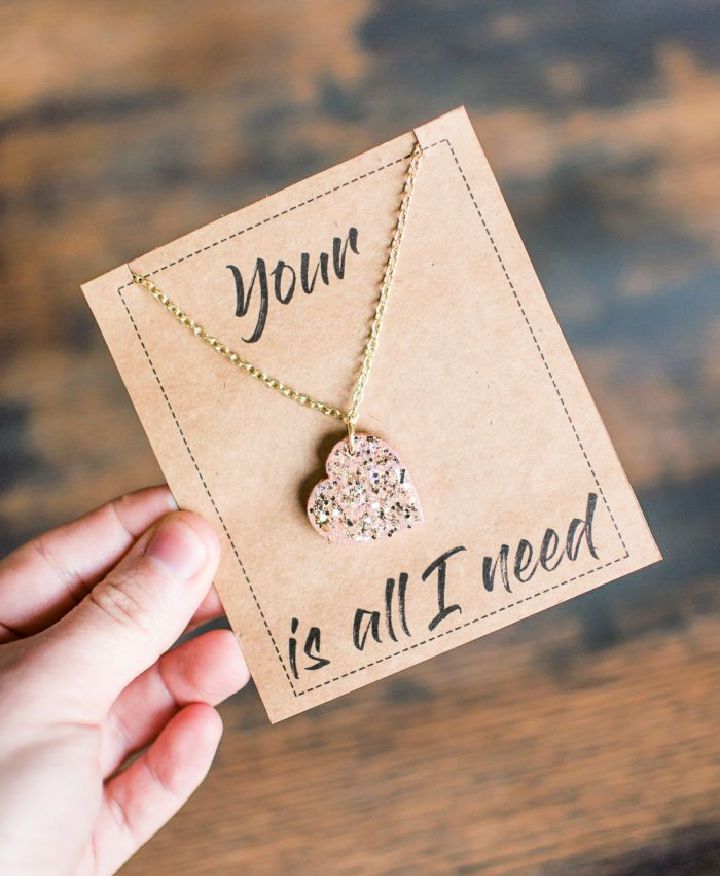 Follow her instructions and directions to make the best quoted Valentine's Day cards for your lover or Valentine. The project provides instructions to whip up this "Your Love easily is All I Need" Valentine's Day card. It will hit hard the heartstrings of your lover and will be a smarter way to say "I Love You" to a very special person. Here you need glitter heart necklaces, brown kraft cardstock paper, scissors, washi tape and free love quote printable to complete this card easily. cherishedbliss
11. How to Make Heart Garland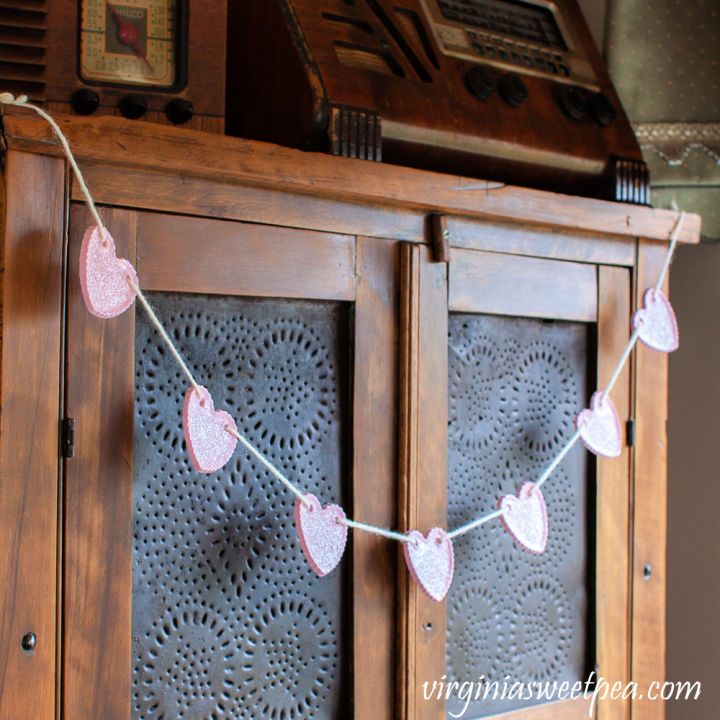 Are you hosting some great Valentine's Day parties and sorting out the best decors for it? Pick this Valentine's Day heart garland that you can hang up on the dessert table background wall and also around the dessert table for some romantic vibes. You have the freedom to duplicate this garland with your favorite hearts like the string hearts, stuffed hearts, felt hearts and even the paper hearts. Just punch out the holes in the upper side of the heart shapes and then string them up to make this outstanding garland in no time. virginiasweet
12. Tic Tac Toe Board Game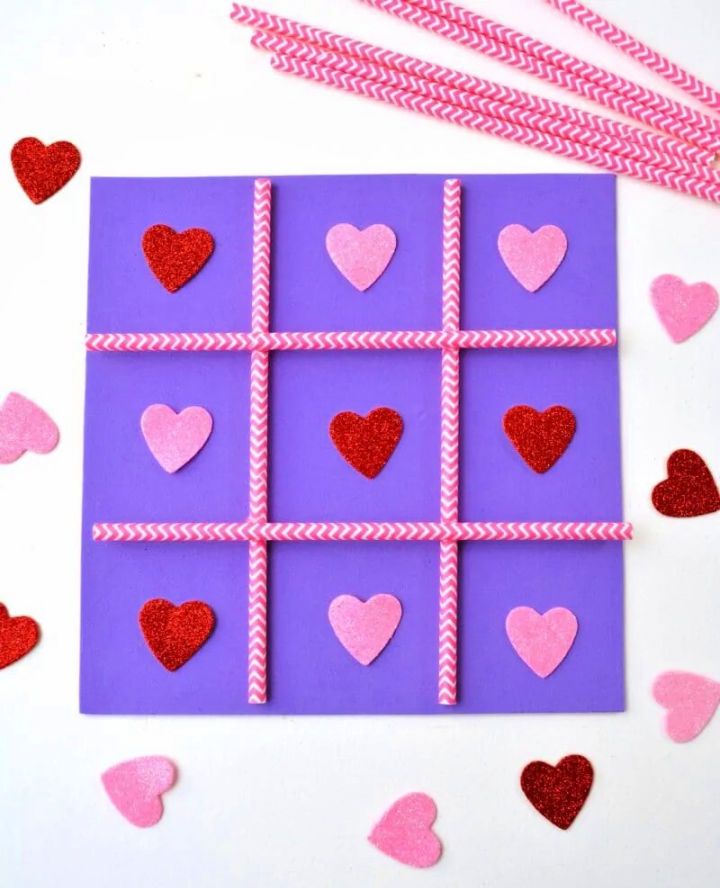 Keeping the kids active and busy on Valentine's Day will surely demand some fun activities, crafts and games for the Valentine's Day holiday. Opt for this game that is quick to make and will create too much fun for the kids. Here this game is made in the love colors like pink and red, and you can easily duplicate it. Just make the game grid plan using the chevron striped straws. Use the glittered hearts in red and pink as game pieces. Use a square purple paper or cardstock for the whole base of the game. One of the best Valentine's Day kids' activity ideas ever. You need a purple foam sheet, Valentine-colored paper straws, a hot glue gun, scissors and a pink and red heart-shaped table scatter to complete this tic-tac-toe game for Valentine's Day. crayonsandcravings
13. Make a Burlap Wreath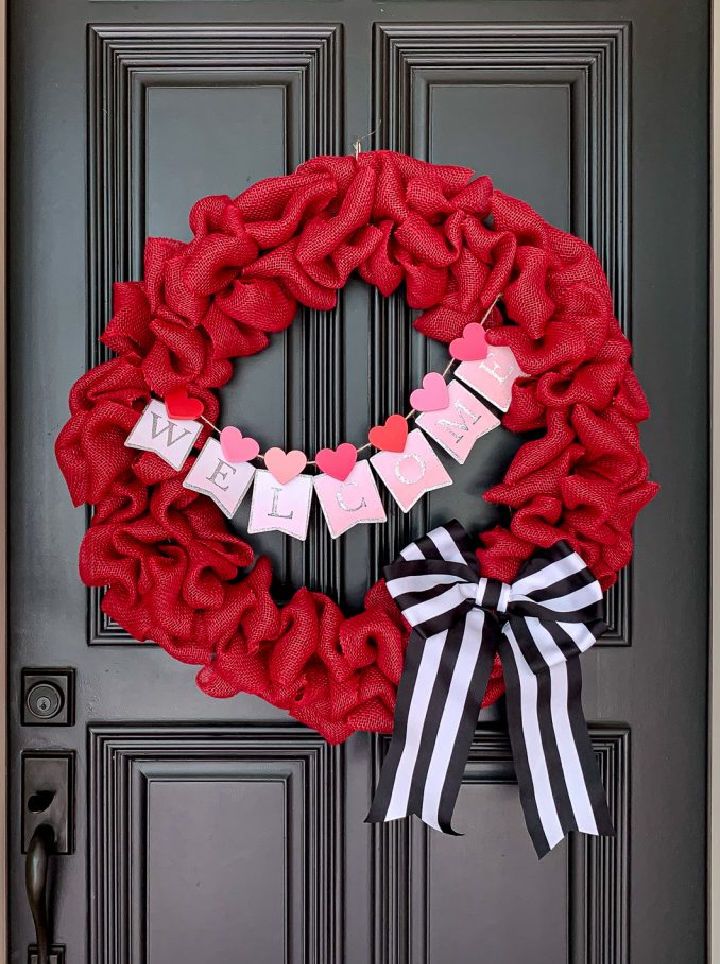 Celebrate Valentine's Day by creating a romantic appeal of your main entrance. Yes, just hang this hot red love wreath on the main door, and it will speak volumes for the arrival of Valentine's Day. However, you can also whip up this red burlap wreath for the Valentine's Day decors. You need a wire wreath frame, roll of burlap ribbon, accent ribbon, and floral wire to complete this beautiful burlap Valentine's Day wreath easily. You need cardstock, jute string, and Cricut Cameo for banner or bunting supplies. firstdayofhome
14. Valentines Day Jokes Cards for Kids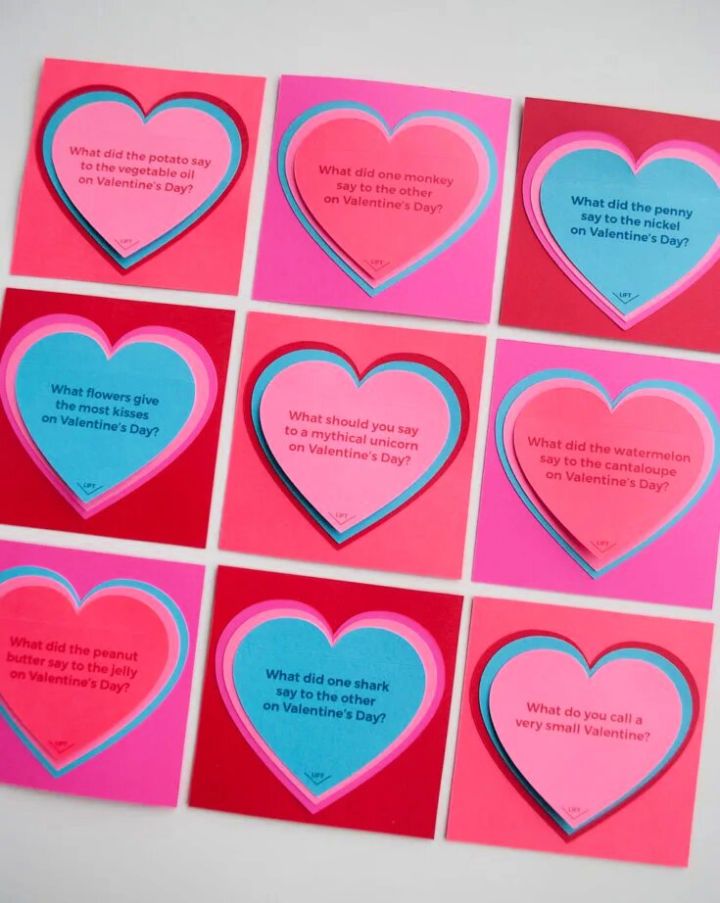 These joke cards will bring those fun waves of laughter to your Valentine's Day party spaces. They are specially designed and made for the kids and feature lots of jokes written over them. Just the glue to adhere together different layers of paper and heart shapes. Just add the custom quotes, letters and jokes on the top heart, and quickly make these Valentine's Day party jokes cards. The project involves using colorful papers like dark pink, light pink, and aqua, and you need fewer supplies to duplicate these cards easily. Grab the free printable templates, cutting tools, glue, and markers to complete these Valentine's Day jokes easily. merrimentdesign
15. Sparkly Painted Clay Pots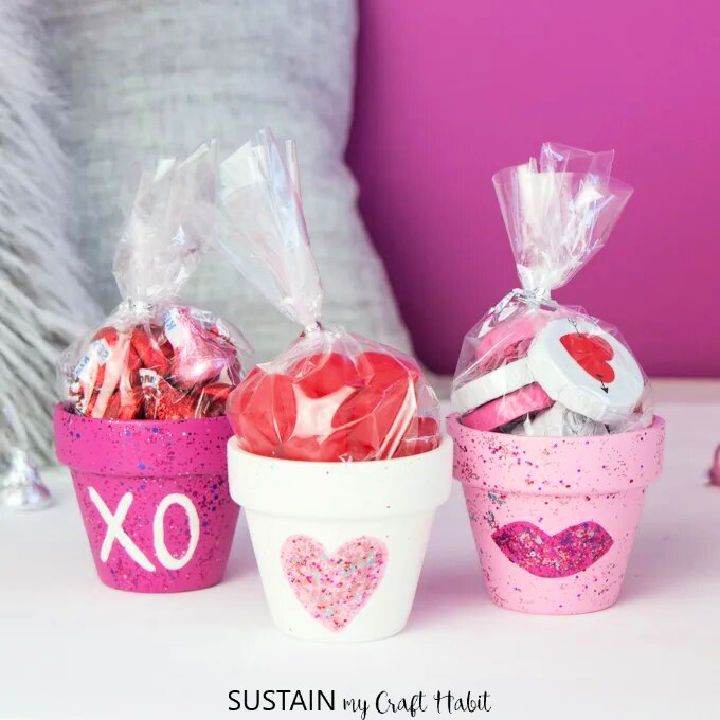 See these valentine's day crafts to celebrate love, and you can make many different decors and gifts for Love Day. Bring the romance in the air with these sparkly painted clay pots that feature the heart shape, XOXO, and kiss lips, and you can easily whip up these pots using the terracotta pots. Here you need 2″ terracotta pots, paintbrushes, Valentine's Day treats, paint in custom colors of choice, galaxy glitter in clear ice comet, pink cosmos and supernova berry. One of the best Valentine's Day decor and craft ideas that everyone will love to duplicate. sustainmycraft
16. DIY Valentines Day Suncatchers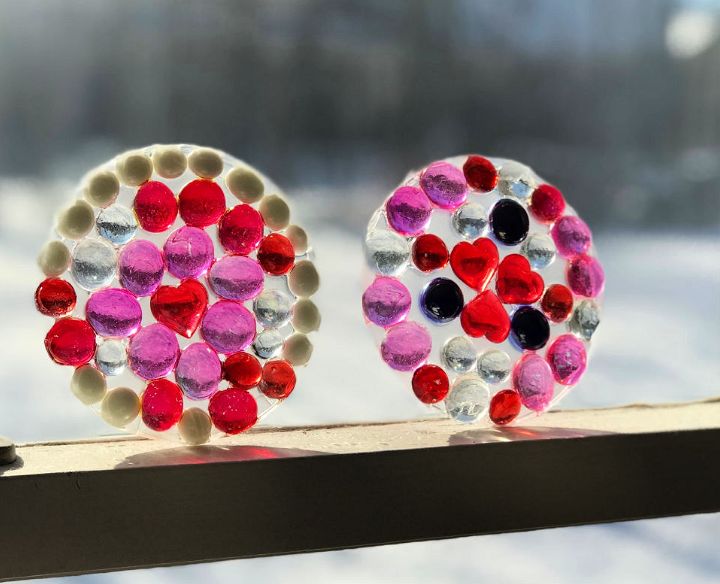 Do you want to do some great craft projects in anticipation of Valentine's Day? Then why not make these Valentine's Day suncatchers? They feature adorable hearts in the center and will be a great project on Valentine's Day for the kids. What makes these suncatchers super visually stimulating are the decorative glass gems appearing in the red, pink, clear white and white colors. Furthermore, you need clean plastic lids, clear glue, ribbon or clear fishing line and some creativity to complete these suncatchers. thejerseymom
17. Valentines Day Heart Front Door Sign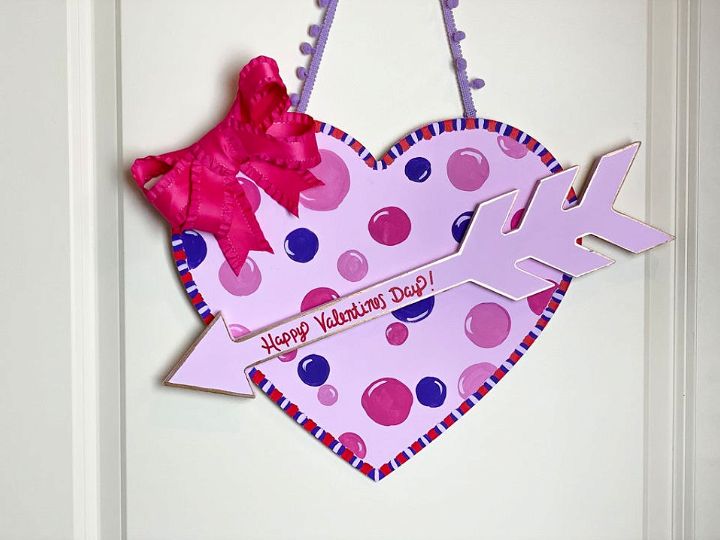 Take your front door Valentine's Day decors to the next level with this homemade Valentine's Day heart front door sign. This heart features a brilliant heart with a decorative boundary and a dotted inner section. Next, it is finished with an arrow sign and a hot pink ribbon bow tie. In supplies, you need testors to craft acrylic paint, decorative paint pens and leafing pens in gold and red, wood heart, wood arrow, paintbrushes, purple pom-pom trim, hot glue and a pink ribbon to easily complete this heart front door sign. One of the best Valentine's Day craft ideas ever. craftboxgirls
18. Cute DIY Pom Pom Love Birds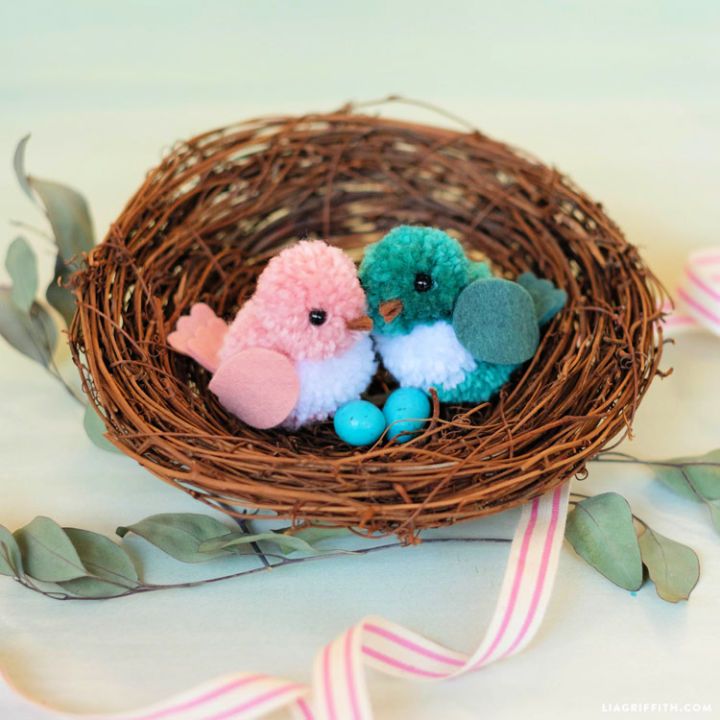 Are you sorting out the perfect decors and gifts for loving couples or for your Valentine to give on the Love Day? Then why not make these super cue pom-pom love birds that are cute and gorgeous to look at and will also be a breeze to make. Grab the yarn, felt, and black beads to make these love birds. You can pick the yarn in any color under the sun to easily duplicate these love birds, sure make a great romantic decor and centerpiece for a decorative shelf in the home. The required tools for the project will be small pom-pom makers, a low-temp hot glue gun and craft scissors. liagriffith
19. Sweet Valentines Day Centerpiece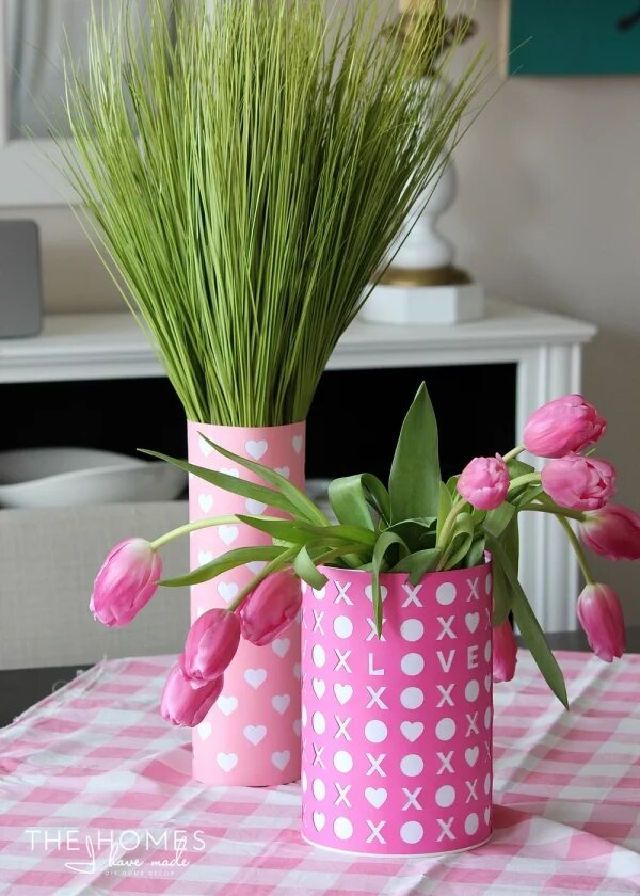 Do also a lovely and romantic makeover of your vases and pots so they will speak volumes for the arrival of Valentine's Day. Here the rose flower vases and planters are wrapped in pink decorative paper featuring the lovely XOXO and LOVE letters and the heart shapes and round polka dots or circles. One of the best and quick-to-do DIY Valentine's Day decor ideas that everyone can duplicate with quite ease. However, you can make these entire planters also at home in a cost-efficient way. thegoodstuff
20. DIY Love Wall Art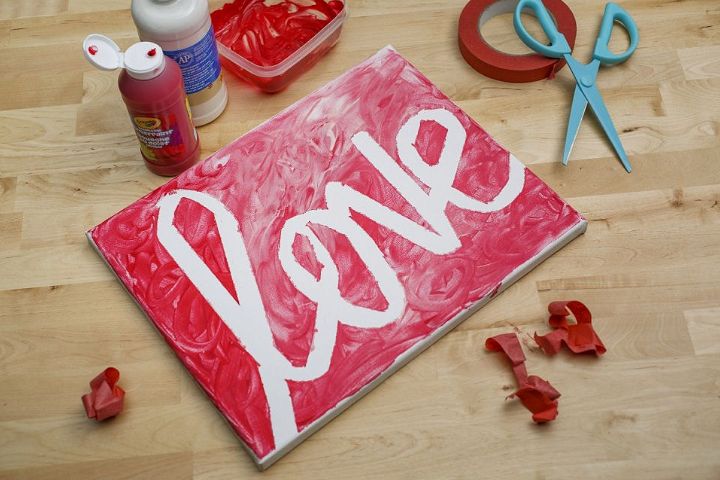 Are you going to announce your love this Valentine's Day to a special person? Want to do it cutely and stylishly? Then why not make these Valentine's Day love art sign that is easy to craft out and will go rocking on the interior home walls. You need canvas of any shape or size, painter's tape or masking tape, finger paint in red and pink to easily complete this super romantic love sign for Valentine's Day. One of the best DIY Valentine's Day craft ideas ever. kindercare
21. Felt Heart Valentines Day Shirt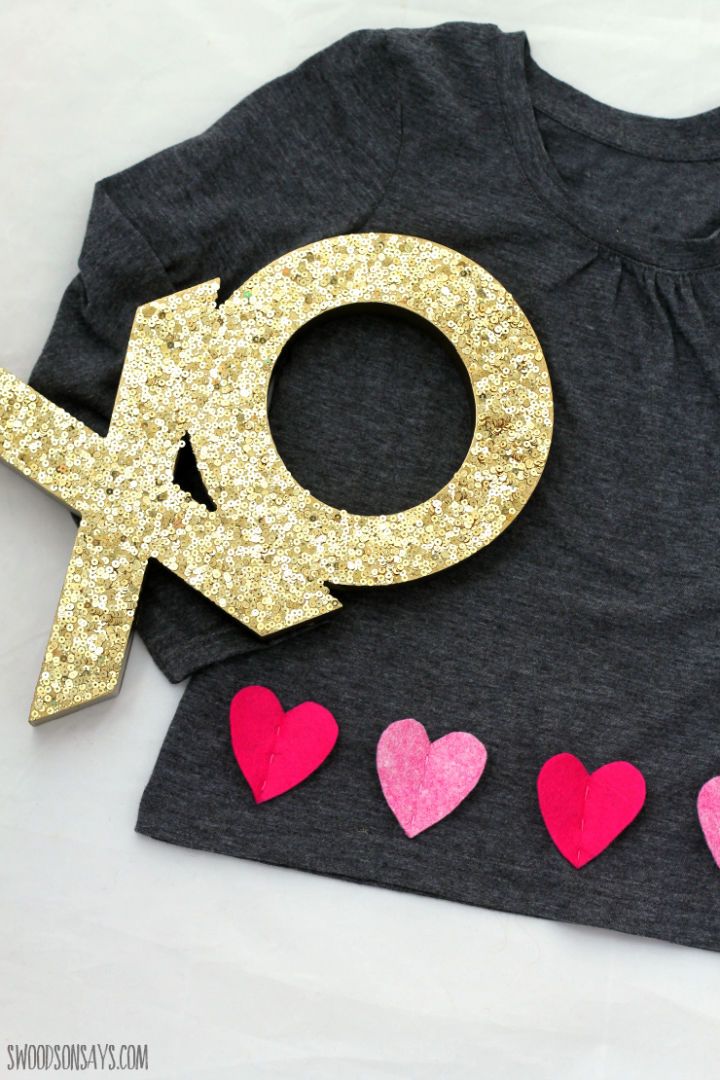 After deciding or making your Valentine's Day gifts, you can also head over to outstanding Valentine's Day fashion outfits. Don't spend too much on buying the best romantic costumes. Get here instructions to make some outstanding Valentine's Day shirts at home for bigger romantic statements. Here a super romantic makeover of a blank shirt is done that impresses, and the whole t-shirt will rock for the little kids in-home or family. You need a freezer paper transfer method, needle, embroidery floss, scissors, wood blend felt, iron, blank shirt, and free PDF heart template to easily complete this Valentine's Day project. swoodsonsays
22. Farmhouse Heart Shaped Rope Coasters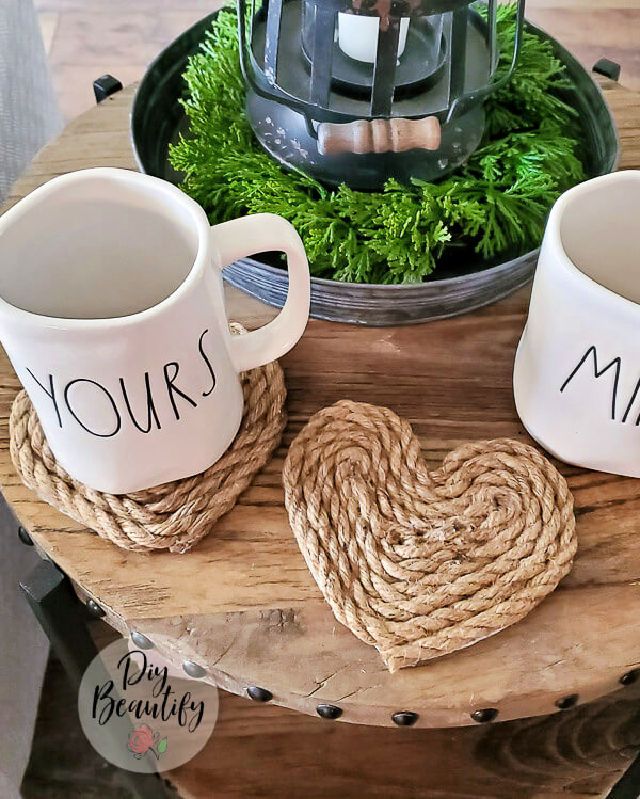 You can easily create romantic Valentine's Day decors and crafts in the farmhouse style. So, these rustic rope costers will be a great addition to a rustic Valentine's Day party table. However, these coasters will nicely hold all those dripping down beverages. At the same time, you can use these coasters as rustic yet romantic Valentine's Day decors also. You need rope from Dollar Tree, felt sheets, scissors, a pen or marker, a sheet of card stock, and all beginners can try making these rustic and farmhouse rope coasters. diybeautify
23. Valentine Day Mason Jar Vase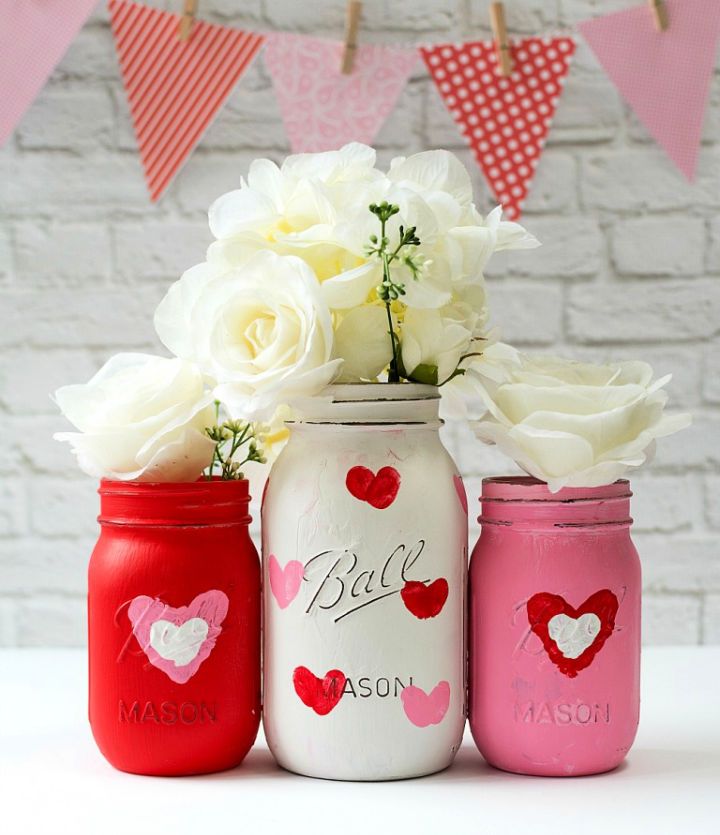 Go handmade with the Mason jars to craft amazing Valentine's Day decors and centerpieces. You will give ten out of ten to this outstanding Mason jar masterpiece, sure to rock your Valentine's Day decors. Just give base coats to Mason jars using pink, red or white paint and then use your fingers to easily paint the hearts on them. Fill them up with the custom cut flowers and make an outstanding Valentine's Day flower centerpiece, sure to bring love in the air. masonjarcrafts
24. Make Your Own Valentine Mini Treat Bags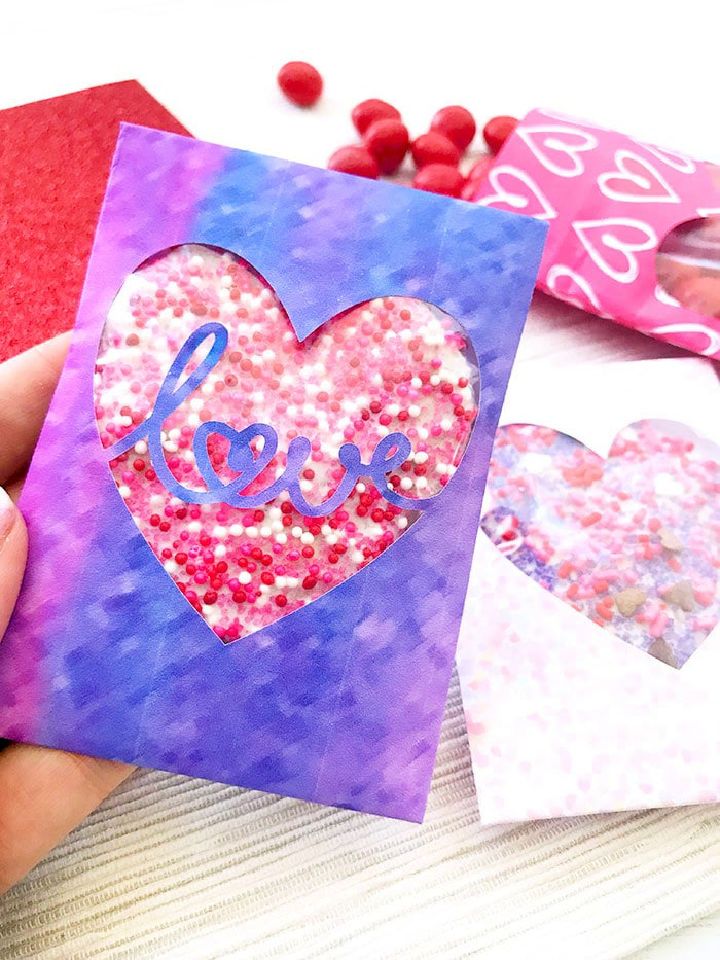 Willing to make some quick treats for Valentine's Day parties? Then learn how to make the best treat bags like a pro, and they can beautifully hold those love candies and treats that will be visible through the clear paper heart motif. If you love operating the Cricut machine, then doing this project will be big fun for you, and it will also be complete in a few minutes. You need a Cricut machine, Cricut Design Space, valentine mini treat bag canvas, printer, paper, plastic sandwich bag, scissors and glue to complete these Valentine's Day favors. 100directions
25. DIY Be My Valentine Kitchen Towels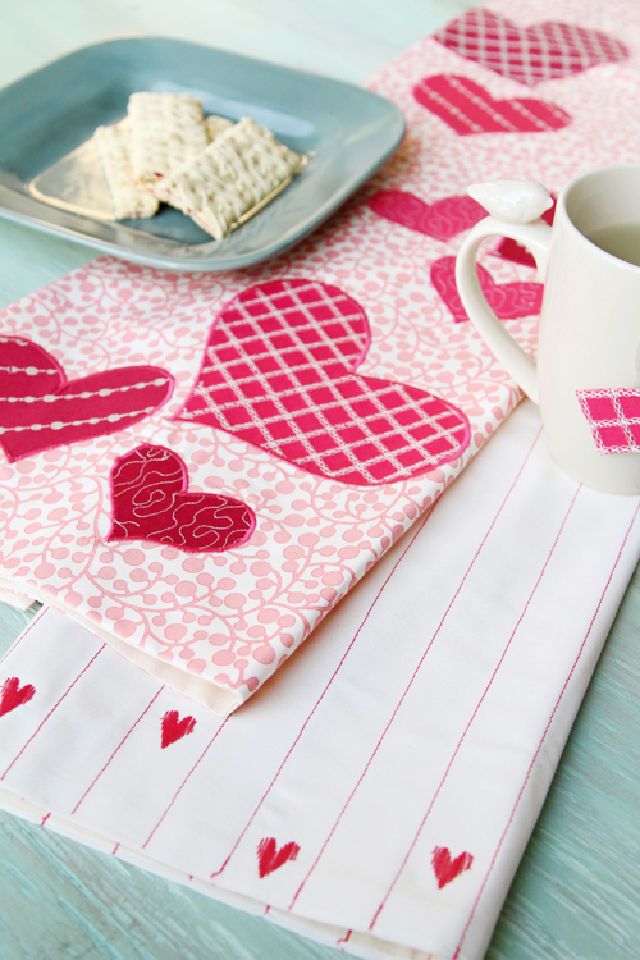 Give also a glam touch of romance to your kitchen by adding these Be My Valentine kitchen towels that feature lovely heart shapes along with interesting design patterns. You have to do some stitching work to easily complete these romantic kitchen towels. Grab the main fabric, fat quarters, a few yards of solid, a few yards of muslin, 40 weight cotton thread, clear acrylic gridded ruler, turning tool, rotary cuter, hand-sewing needle, open toe foot and sideways motion foot to complete this Valentine's Day towel gift project. All beginners can try making these towels, and they will never get out of style. weallsew
26. Valentines Day Suede Earrings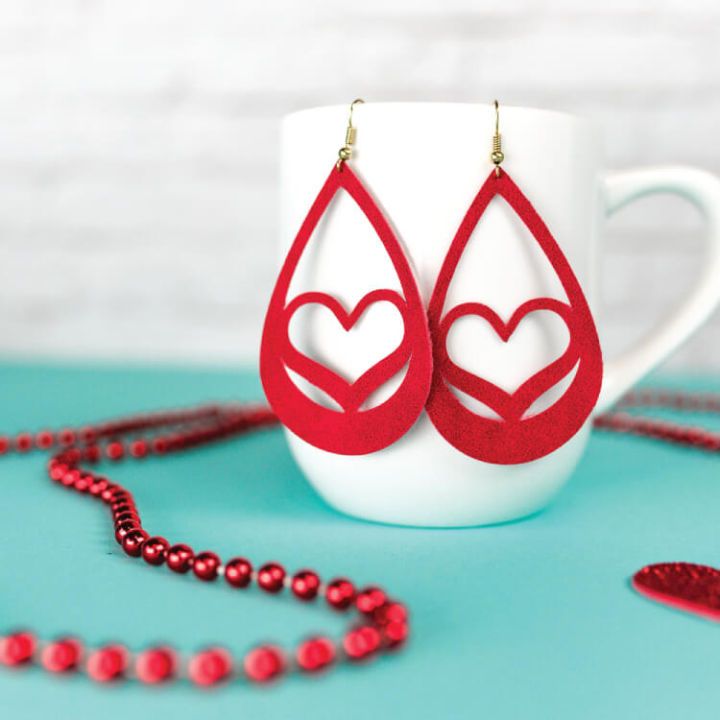 Learn how to make the best Valentine's Day jewelry items at home. They will make great handmade valentine's day crafts, and everyone will fall in love with them. These are here the Valentine's Day suede earrings that are cute and stylish at the same time and will be a total pleasure to make with the beginner skills. Manage to have the faux suede, fishhook earring findings, poker, needle-nose pliers and SVG file, and the Cricut paper crafting toolset to easily complete these very special Valentine's Day earrings. The best gift to make at home for Valentine's Day. heyletsmakestuff
27. Easy Peasy Cardboard Valentines Day Hearts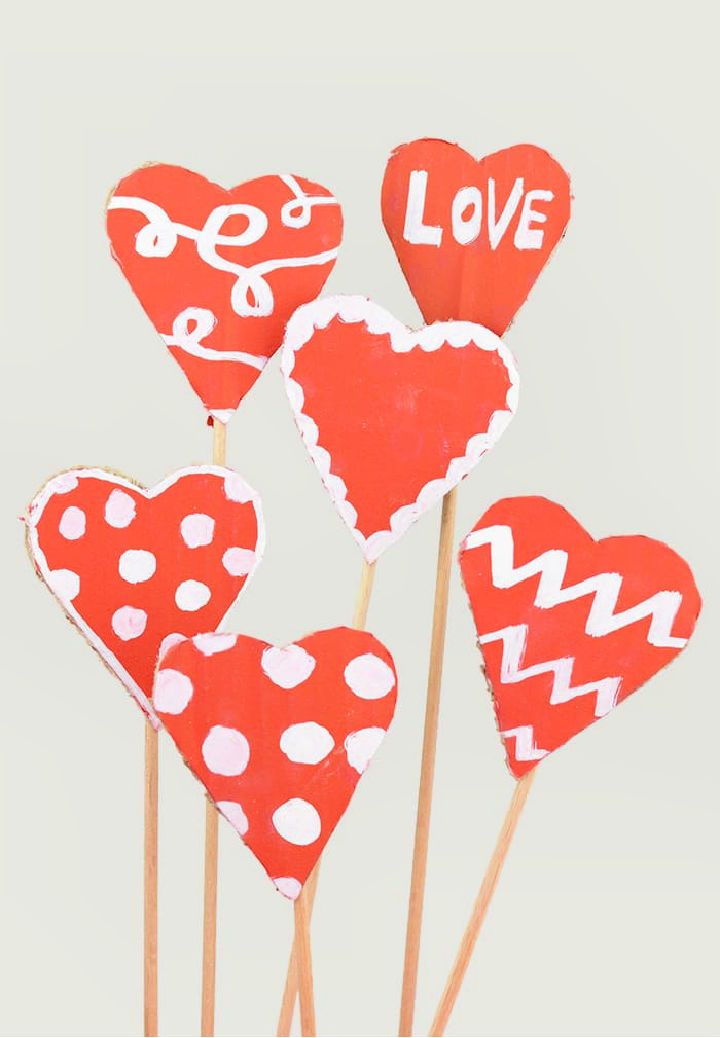 There are unlimited valentine's day crafts and decor ideas that will make your Day. Get inspired by this very cute yet lovely kid's Valentine's Day craft, and everyone will just love to make it with the beginner crafting skills. However, these Valentine's Day heart crafts will also make outstanding photo props and never get out of style. Even the little kids can try making them with the cardboard. You need cardboard, fun chalk markers, scissors or craft knife, skewers and heart stencils to complete these heart crafts or props easily. easypeasyandfun
28. Homemade Valentines Day Wall Sign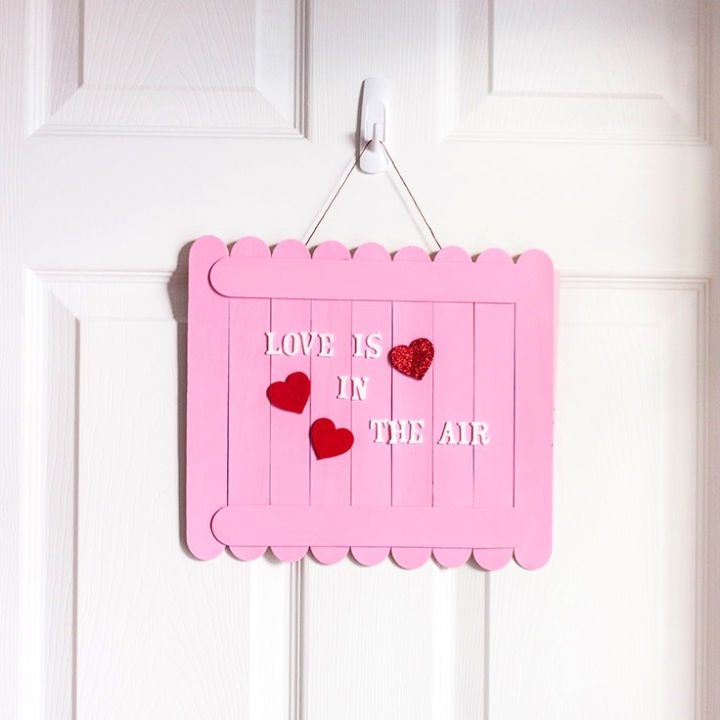 Time to choose the best love signs and decor for the interior home walls to celebrate Valentine's Day. Take a look at this cute and quoted Valentine's Day sign that will help fancy up any interior wall, and it is totally easy to make this sign using craft sticks and some creativity. You need pink acrylic paint, pink cardstock, extra-large wooden craft sticks, letter stickers, foam hearts and waxed twine to easily complete this superb wall art sign for the Valentine's Day decor. It will surely take your Valentine's day decors to the next level for sure. kenarry
29. Decorative Valentine Wood Blocks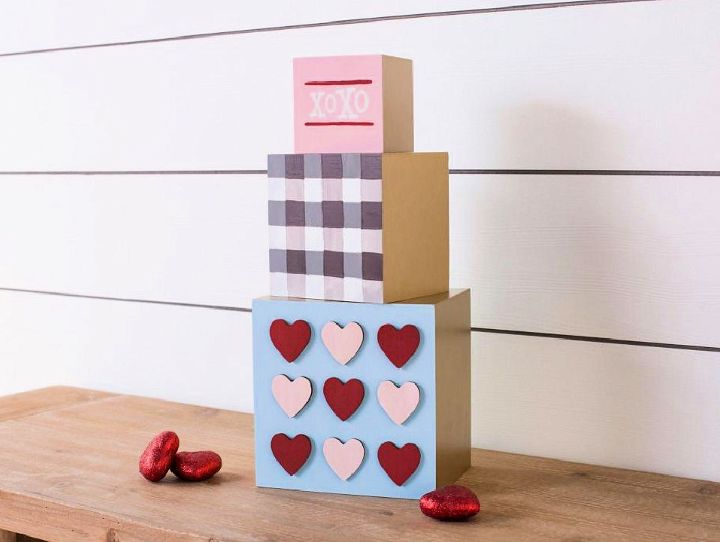 You can think of ordinary items in many smart and creative ways to invent outstanding yet cheap centerpieces for Valentine's Day. Everyone will just fall in love with this wood blocks centerpiece that will rock for Valentine's Day and also for St. Patrick's Day for sure. Here you need some intermediate crafting skills to easily duplicate these Valentine wood blocks in just 40-45 minutes or less. Pain the wooden blocks in the way you like and then start decorating them on Valentine's Day theme, and that's it. You need a gold buffet riser set, colorful masking tape set, unfinished mini wooden hearts, assorted color acrylic paints, paintbrushes, and unfinished wood heart ornaments to easily complete this Valentine's Day craft project. fun365 oriental
30. Handprint Roses for Mothers Day Gift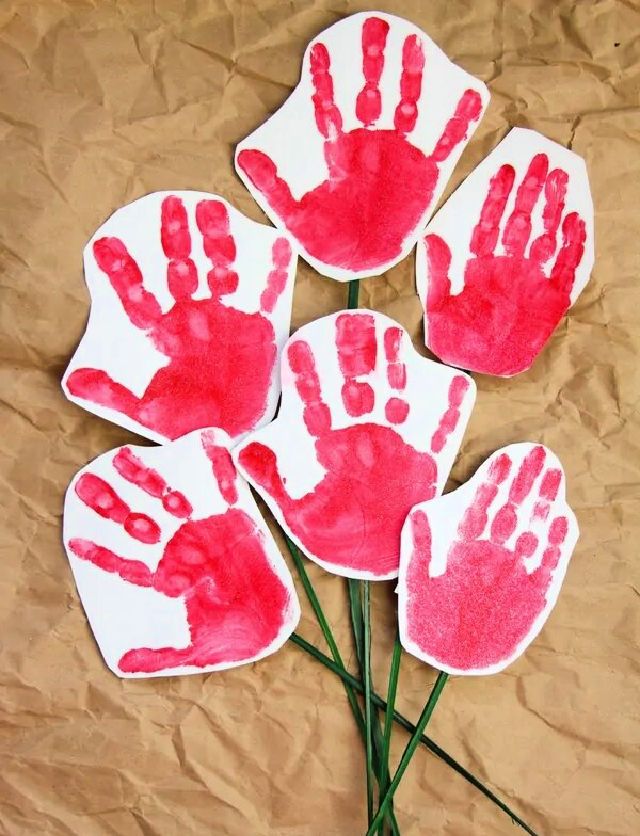 This Valentine's Day craft idea will rock for the little kids at home. Using the red handprints, it involves making a brilliant rose flower decor for the Love Day. Let your print their hands dipped in the red paint on a paper surface, and then cut the perfect heart designs out. Here you need white cardstock, red paint, paintbrush, glue sticks and pipe cleaners to easily complete this outstanding and fetching Valentine's Day decor. However, it will make a great wall art sign also. sugarspicean
31. Simple Cupcake Liner Love Birds Craft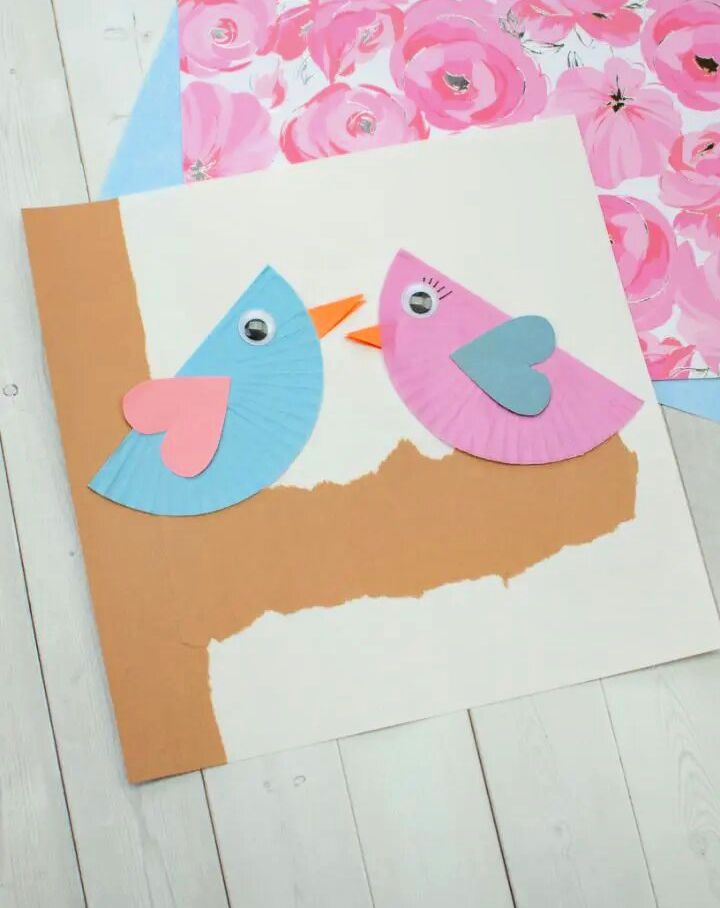 Use the paper plates to make super innocent love birds, sure to make the best decor and craft project for the Loveday, and everyone will fall in love with these cuties. Even the little kids can whip up these Valentine's Day crafts, and they are sure to be a big love of all the homey persons. You need paper plates that you can easily take in half, paper hearts, yellow beaks, googly eyes, and some glue to craft these paper birds on paper or cardstock easily. Use paint to make the tree branch, and you can also frame it up. gluesticksgum
32. Felt Valentine Banner with Free Template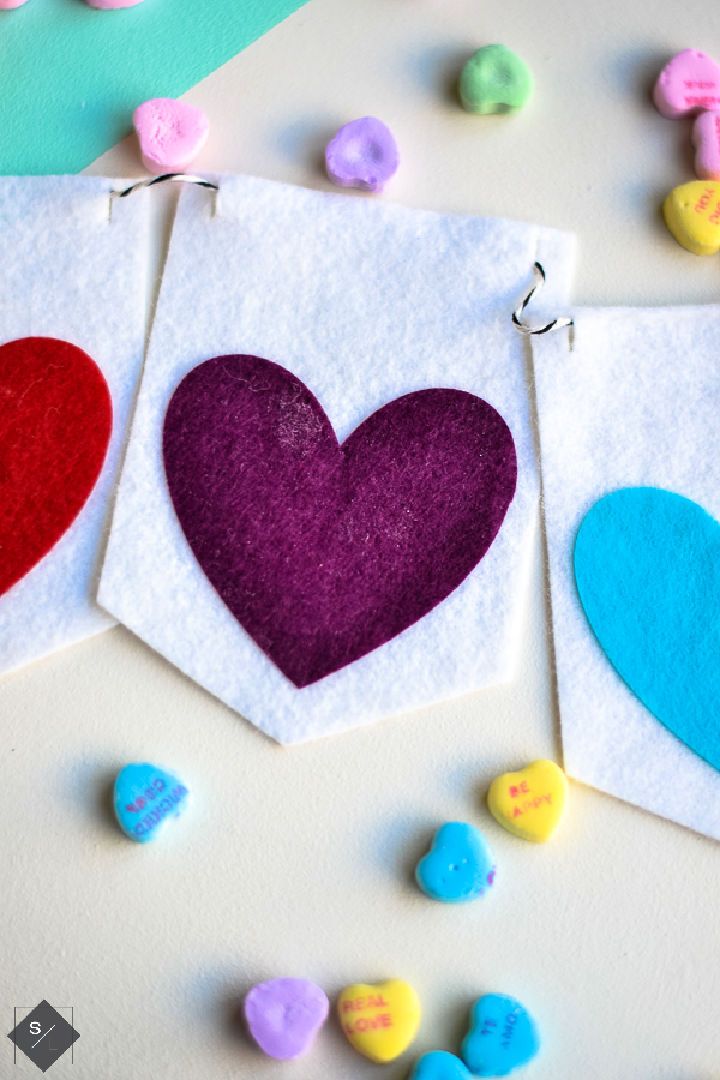 The felt is one of the most loved crafting materials and can also be planned for Valentine's Day craft. Yes, it is available in every color under the sun, and you can pick some hot ones to plan for the Valentine's Day decors and gifts. This project will share instructions about making the best felt Valentine banners that will create a big scene, and everyone will surely praise these valentine's day crafts. Here the project is all about using the Cricut Maker, and you will love making it for sure. In supplies, you need a Cricut maker, Easypress or iron, felt in desired colors, Cricut Design Space File, liquid thread, twine and puffy paint to complete this felt heart banner. seelindsay
33. Cute Footprint Heart Craft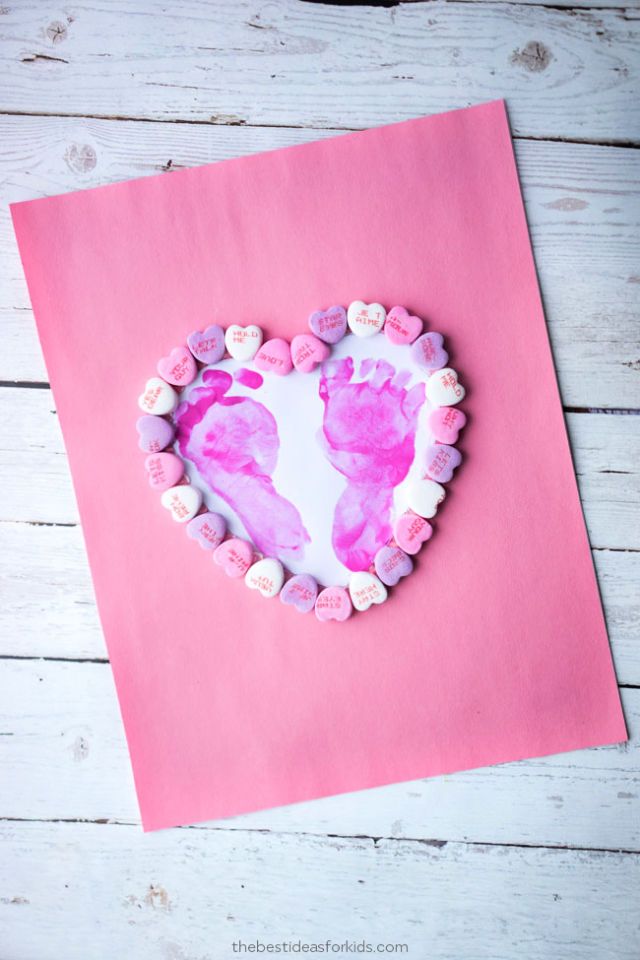 Take your Valentine's Day happiness to the next level by creating this footprint art, the best kids' craft project to do on the Valentine's Day holiday. Just add some custom footprints on the paper and then surround them with the cute mini colorful hearts for a brilliant boundary, and here you go. The entire project will cost you next to nothing, and it will surely make a great gift for all you love and care about a lot. You need conversation hearts, construction paper, washable paint, white cardstock, and hot glue to complete this Valentine's Day frame and gift easily. thebestideasforkids
34. Valentines Day Wreath Craft for Seniors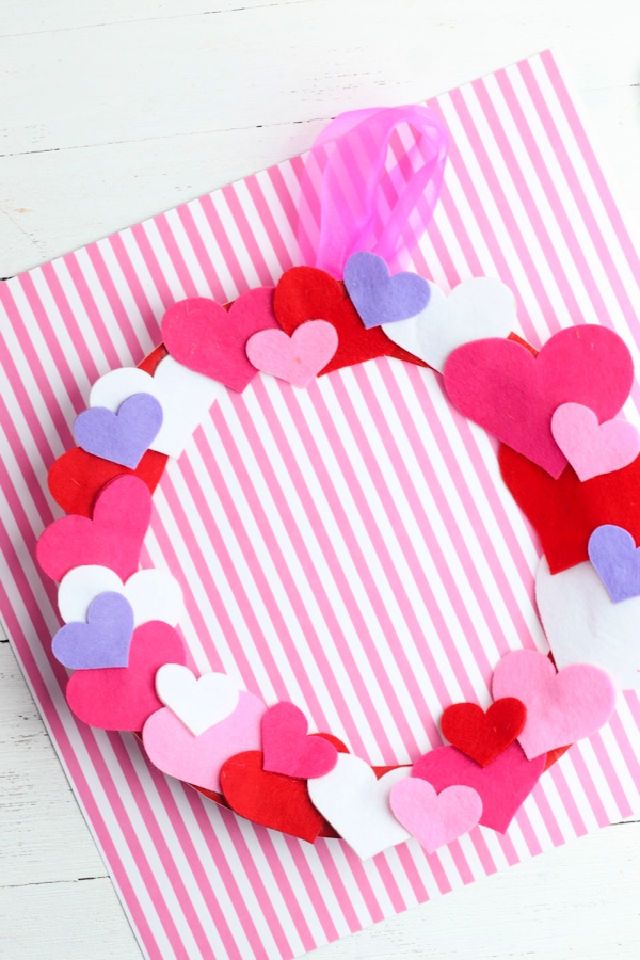 Sorting out some perfect Valentine's Day wreaths that will add to your party and home decors? Want the ones that will feature beautiful hearts? Then duplicate this given one that is to make with the felt heart and striped paper and will big a big center of attention for sure. You need a paper plate, felt hearts, ribbon and felt heart sticker cutouts to easily complete this brilliant Valentine's Day wreath. mommymade
35. Easy Valentines Day Finger Paint Art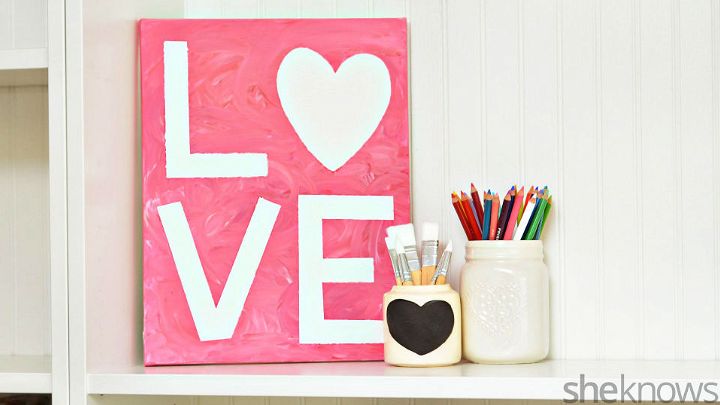 Kids just do the painting craft projects, and you can indulge them in making this Valentine's Day love sign that will surely bring tons of romance in the air. This is where kids can create the best artwork on the upcoming Loveday. The best project will turn the simple finger paint into a precious love sign that you can also give to a special person. You need artist's canvas, painter's tape, scissors, pen, and paint to let the kids try making this cute and lovely sign. sheknows
36. Valentine Name Puzzle for Toddlers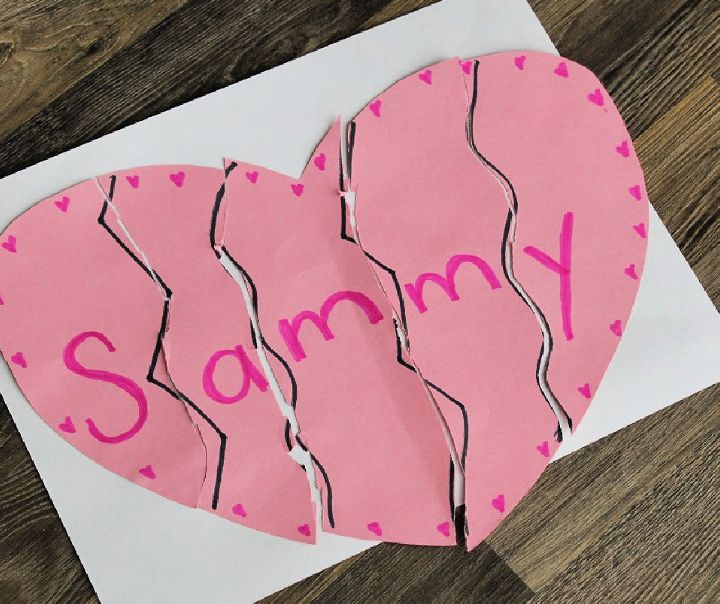 The Valentine's Day craft ideas are never-ending and can be a great pleasure to do also. So, are you willing to involve those preschoolers and toddlers also in the Valentine's Day crafts? Then boost their craft activities with this Valentine name puzzle, which will be super quick and easy to make. You can easily write the name letters on a paper heart and add lots of enchanting line patterns to it, and then you can take it into random pieces to provide to preschoolers as puzzle pieces. Let them make the shape again on a piece of cardboard and paper. howweelearn
37. Paper Plate Bear for Kindergarten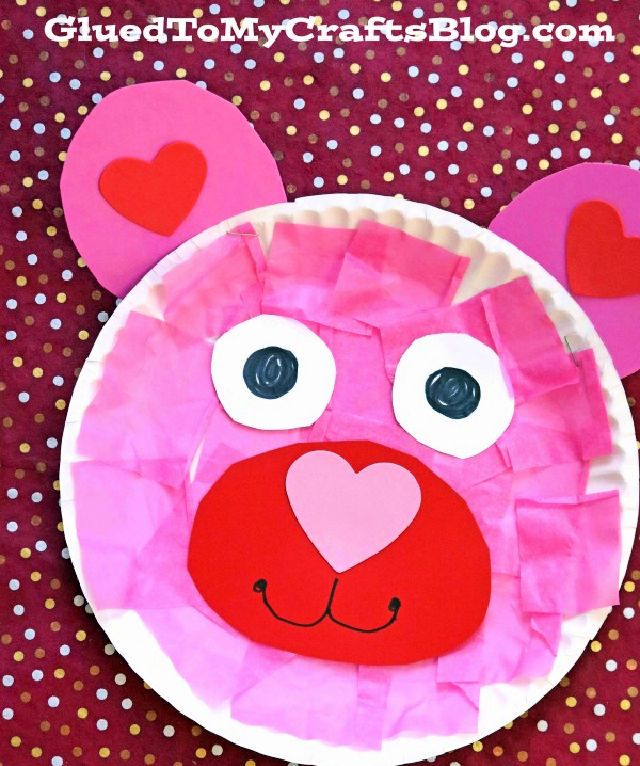 Paper plates can be another great crafting material for the little kids at home and can be used for all sorts of craft projects. Now, plan them for Valentine's Day crafts also. This paper plate bear will be a great inspiration, and you can easily whip it up by adding the papers and heart shape cuts in the paper plate. You need a large paper plate, pink tissue papers, school glue, kid-friendly scissors, stapler, custom Valentine's Day stickers or embellishments and cardstock paper in pink, red and white color to complete this entire project like a pro. gluedtomycrafts
38. Love Map Wall Art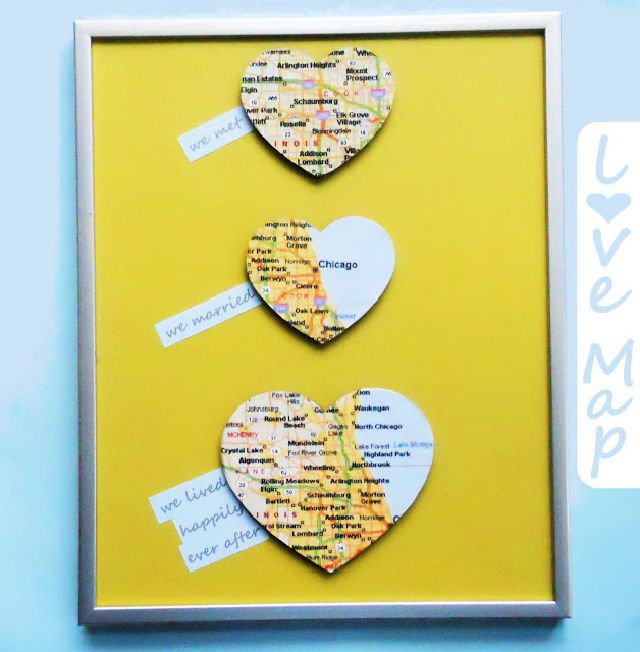 Let your interior walls speak volumes for the Love Day also. Do it easily by installing this heart wall art frame on the wall inspired by maps that mention the place where we met, married and lived. You need a 3D craft heart accents, mod-podge glass sponge, scissors, colored cardstock, colored paper, craft glue, a picture frame, an old atlas or print-off maps on google, and some creativity to easily complete this outstanding piece of love wall art. You can easily write the custom quotes on the paper to adhere them to the frame insides of the 3D hearts. delightfullynoted
39. DIY Heart Collage for Boyfriend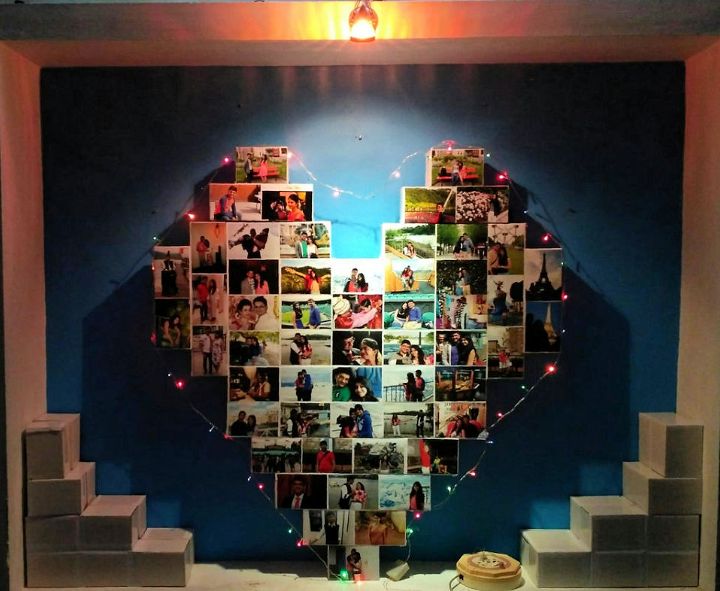 This is going to be one of the best Valentine's Day craft projects ever, and it will make you say a big wow. Just make the heart collage of your favorite couple of photos, and then install the romantic lights on it. This will create a giant focal point on the targeted wall, and everyone will just fall in love with it. You need corrugated boxes, photos printed in the sticker sheet, photo tapes, Pidilite 100ml Lovibond, L-clamps, scissors, cutter, glue and scale etc, to complete this fabulous Valentine's Day project. instructables
40. Construction Paper Heart Bouquet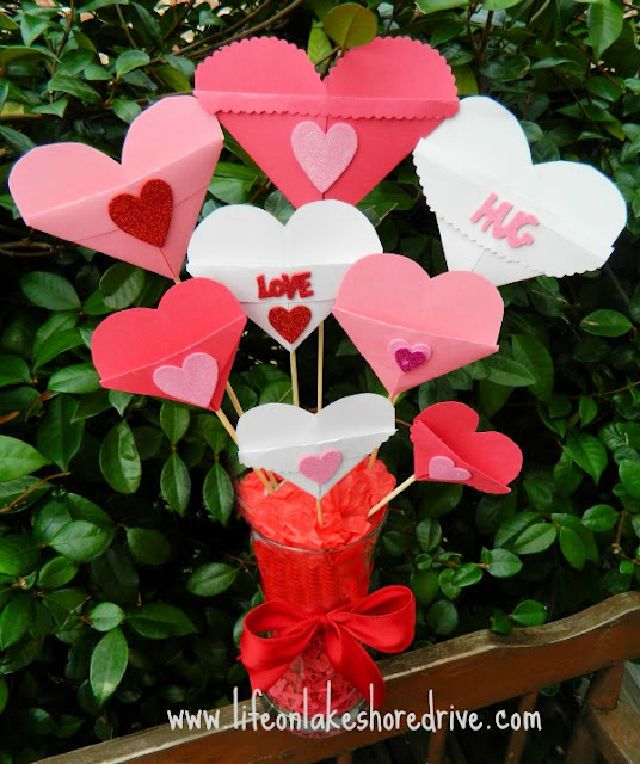 Get creative with the papers to make outstanding heart shape valentine's day crafts. Take a look at these Valentine's Day Heart holders that are cute and lovely at the same time and will be loved dearly by all the lovers around. Fill the candies in the paper heart holders and then add them with the bamboo skewer handles to make cool love gifts for the kids. Decorate them more using the glitter hearts and letters, and they will surely be a big love. You need a 12×18 piece of construction for a large heart, scissors, glue or stapler, and a pencil to complete these hearts easily. lifeonlakeshore
Related DIY Projects:
Printable Gift Tags – Use these templates to create beautiful gift tags for any occasion. Choose from over 40 different designs and add your own text, photos, and colors.
Conversation Heart Cookies – If you're looking for some conversation heart cookie recipes, this is the place to be. We've got a bunch of delicious conversation heart cookies recipes on this list, so if you're having a hard time deciding on one, just scroll through and pick whichever one jumps
Gift Bag out Of Wrapping Paper – Need to buy a gift bag for your present and don't want to spend any money? Check out this guide for how to make an easy DIY gift bag out of wrapping paper.
DIY Gift Box Ideas – Looking for a few DIY gift box ideas? We've got you covered with these awesome and easy DIY gift boxes.
Free Printable Cards – We share a wide variety of free printable cards, sentiments, and greeting cards that can be customized with your own text. Whether you need birthday or anniversary cards, get-well-soon wishes, or congratulations for an engagement or a new baby – you're sure to find unique inspiration.
DIY Painted Pots Guide – This terracotta pot painting ideas guide is for you if you want to paint pots. Learn how to make your own painted pots for your garden with easy painting instructions.
Conclusion: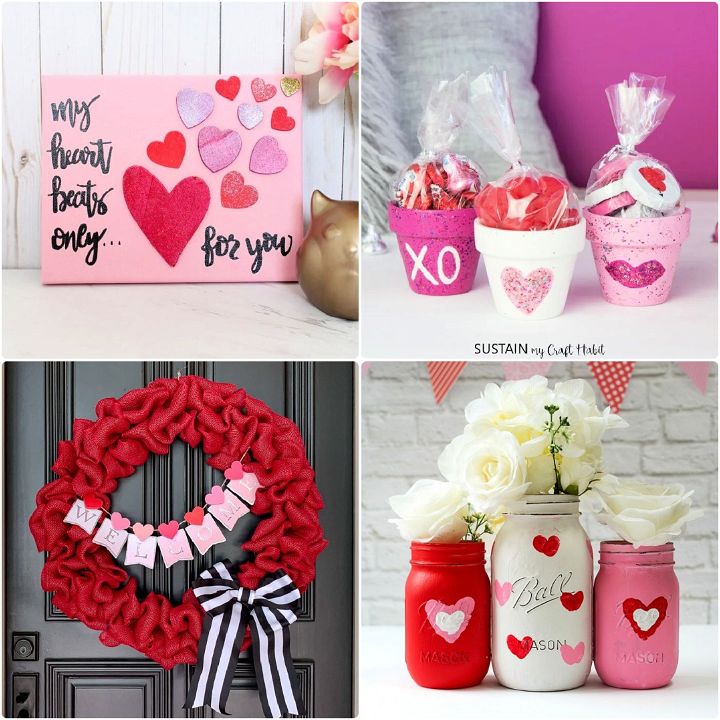 These valentine's day crafts will share some outstanding projects with you that you can do to celebrate the v-day and also for the Valentine's Day party decors. Most valentine's day craft ideas are beginner-friendly, and you will find craft projects for preschoolers and toddlers here. The provided valentine's day craft ideas will also share complete material lists, tool lists, detailed diagrams, and step-by-step written instructions. So, you can just follow them to easily duplicate all of the given valentine's day craft ideas. You find a wide range of rare and unique crafting ideas while exploring this big collection of crafts. They will surely inspire your inner genius.