These 25 free travel packing list printables are the perfect way to stay organized when traveling. This includes 25 free vacation checklist PDF to download. A printable travel packing checklist to help you pack for your next trip. Print out a packing list for your next trip. Includes a handy "To Pack" checklist, Air Travel Tips, and more. It has all the basic items you may need. It includes sections for clothing, toiletries, electronics, shoes and more!
Forgetting things at home is common and can be less painful for domestic picnics, beach vacations and camping trips. But, it can be highly risky to miss out on some essentials and must-haves for international tips. So, before the loads of packing stress make you forget about some important travel documents and essentials, get helped with these 25 free Printable Packing List guide sure to make you avoid forgetting anything in the future.
These packing list printables will take your stress of planning the traveling and camping must-haves. The clothing, toiletries, personal care, misc, food and drink, medication, documents, comfort and entertainment, and many other categories are beautifully itemized with all the essentials in these packing list guides. However, these lists will also make you avoid over-packing, raising your hefty baggage fees. You must go with these packing checklists for smarter vacation, camping and international traveling trips.
These packing list printables will provide additional tips and tricks for a smarter packing list, not merely the checklist. They will make your traveling and tours super relaxing, and you must do certain activities in the custom weather conditions. So, you will find here Free Packing List Printables for skiing, traveling, camping, beach vacation, Mexico, Florida and weekend trips. Moreover, separate packing lists printable are available here for toddlers, women, men and the whole family.
1. Printable RV and Camping Packing List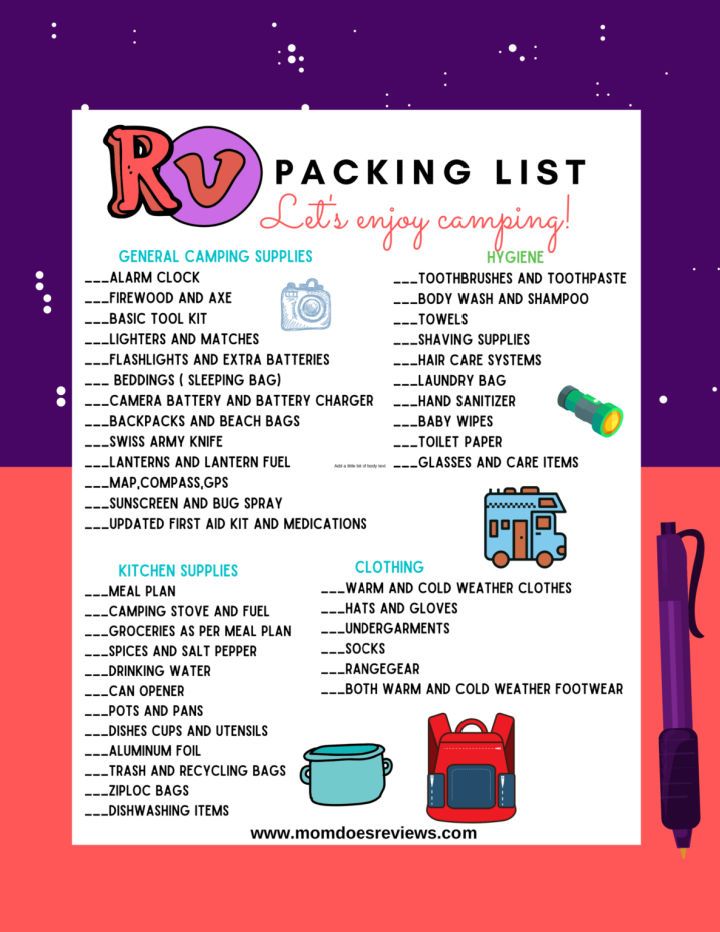 Missing out on some of your tools and materials at home can ruin your camping adventures. However, spending time outdoors can be hard without the highly needed items you have forgotten to load in the vehicle. So, you never want to miss out on those packing lists? Get free RV & Camping printables that you can download and print out to keep tracking your packing list. You can mark it on the list if you have packed your shelter, food and other necessary items. The printable list features 4 main categories: general camping supplies, hygiene, clothing, and kitchen supplies. momdoesreviews
2. Printable Packing List for Vacation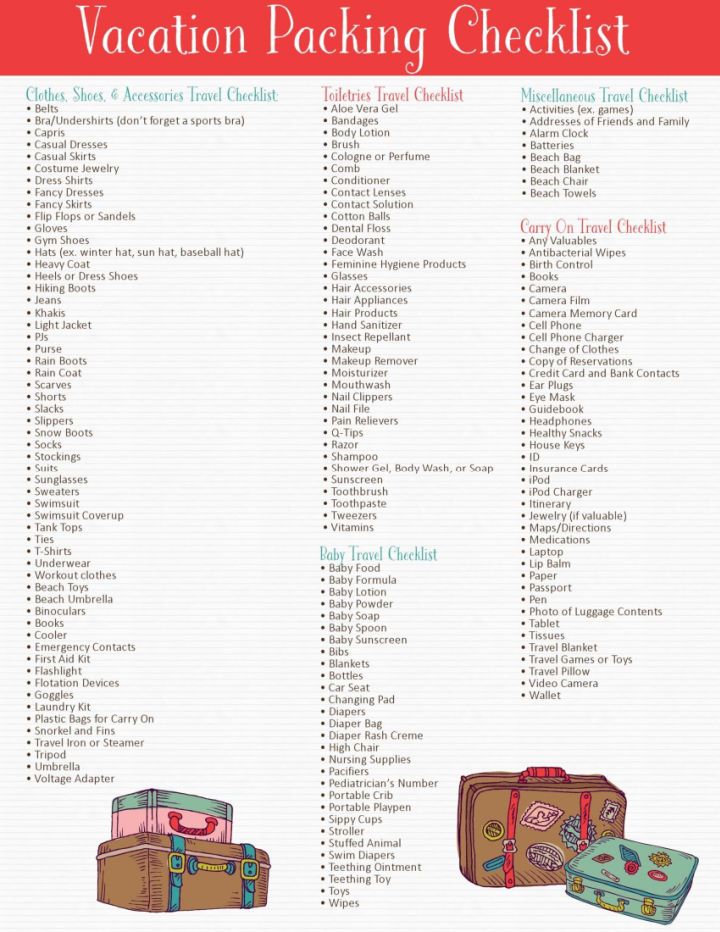 Are you going out for a vacation to spend some great time with family and loved ones? Then it will take some time to do the planning and packing, which may be a little tricky also. So, lend yourself a big helping hand with this packing list printable that will tell you what you really need for the vacations and how you can easily pack them all in the picnic bags without forgetting about even a single item. One of the best packing lists ever. freebiefinding
3. Printable Travel Packing Checklist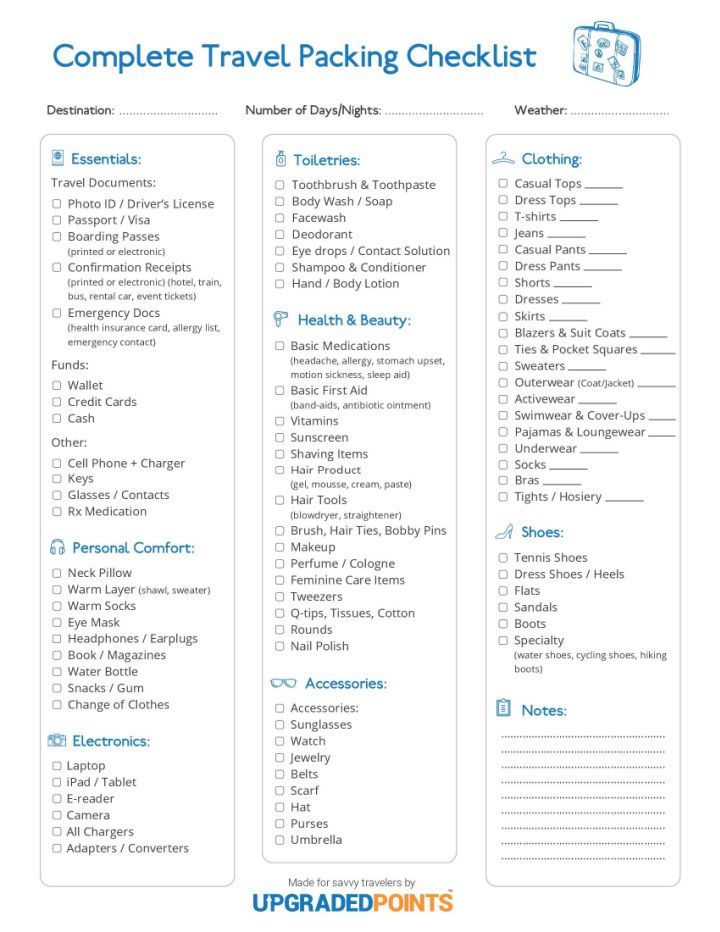 It can put you in big trouble to miss out on some necessary items and tools while going out for the traveling tours. So, get here free printable for the complete travel packing checklist, and it will surely make you pack all the necessary items while going for domestic and international traveling tours. This printable will do the packings for the tips a lot easier and quicker, and every traveling lover will fall in love with this packing list printable. The list will assure you that you have all you need during traveling. upgradedpoints
4. Printable Blank Packing Checklist Template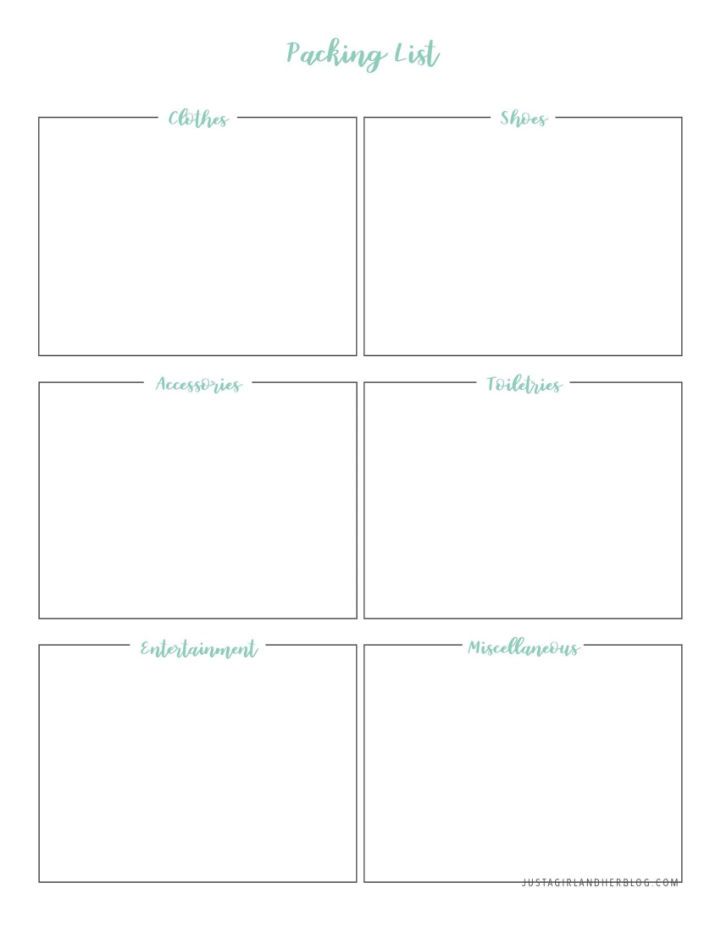 Get here a free printable list that is well designed with category names only, and you can fill up the boxes with the required items. Just write down the name of items in the category boxes after adding them to the category boxes. The list beautifully mentions the clothes, shoes, accessories, toiletries, entertainment and miscellaneous categories. It will make you never forget about any single item you need on a picnic, trip or camping adventure. You can easily add custom items by opening them in an editing program. justagirlandher
5. Free Printable Packing List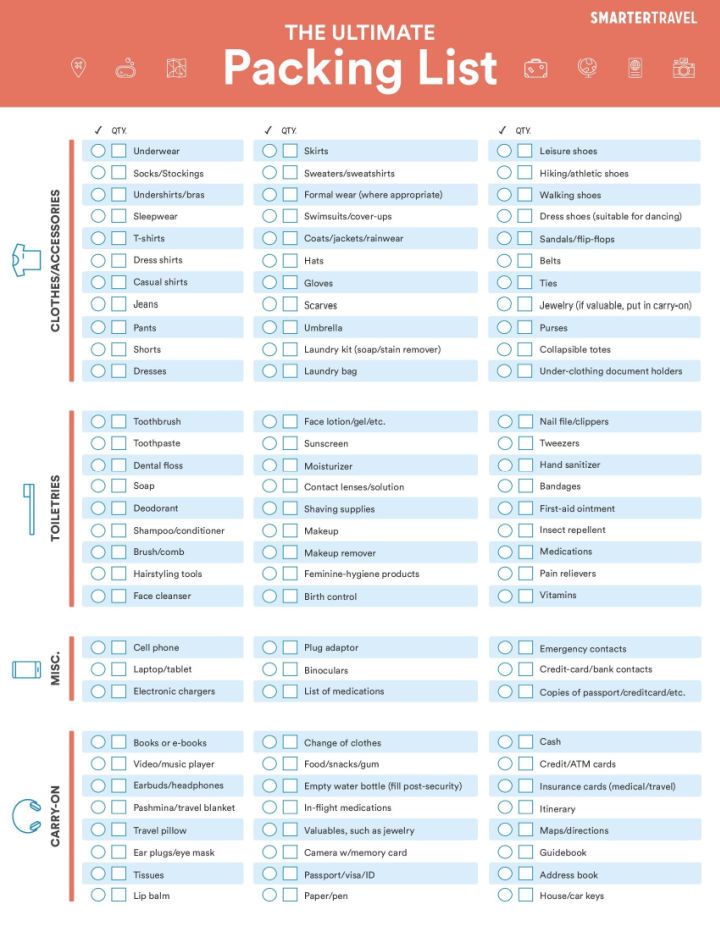 Are you finding it hard to pack for a vacation trip or camping adventure? Are you often leave some items in-home while going out for a picnic? Then time to change things up and keep your packing list in check. You can easily do so with this free packing list printable, sure to make your plannings and packings for the trip super easy and quick. You can easily mark the checklist after adding the items in the packing bags, which will always result in a great picnic, tour, trip and camping adventure for sure. smartertravel
6. Free Printable Road Trip Packing List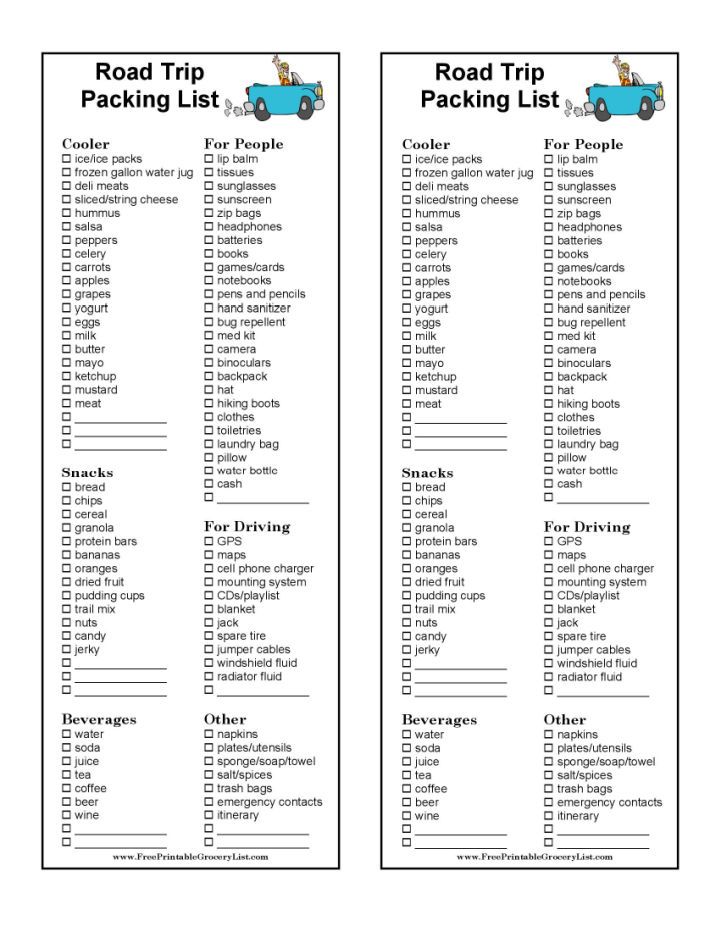 So is it always happening that you forget the things at home while going out for a picnic or a traveling. This is what you need to keep all the things in check while going out for any tour. So, you can download here the free road trip packing list that will allow you to keep everything in check while doing some packing. The list includes the dry food, food for a cooler, games, accessories and driving aids to easily complete this list. One of the best packing list printables that will download in no time. freeprintablegrocery
7. Printable Carry on Packing List for Kids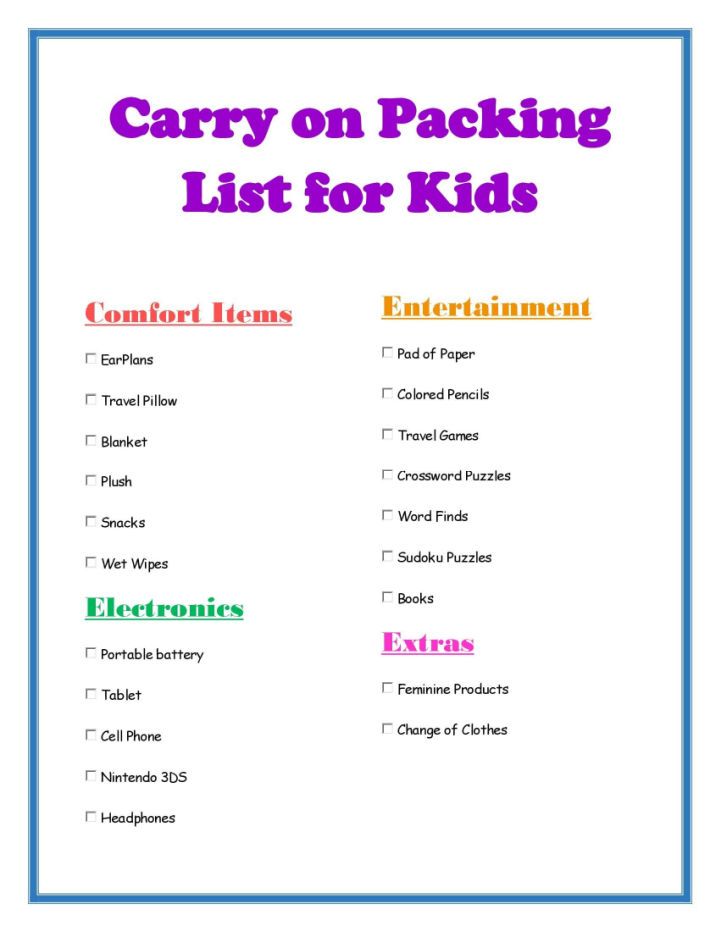 Sometimes we have to pack a lot more for the kids while traveling or on a vacation trip. So, if you often forget lots of kids' accessories, games and other items at home, then this ultimate carry-on packing list will help you pack everything. You can mark the lists on the printable check after all the packing and then easily get into the camping vehicle. You can use this list for any trip or picnic tour; everyone will fall in love with it. The list mentions the custom kids' comfort items, entertainment, electronics and extras. unexpectedlygeeky
8. Printable Ultimate International Travel Packing List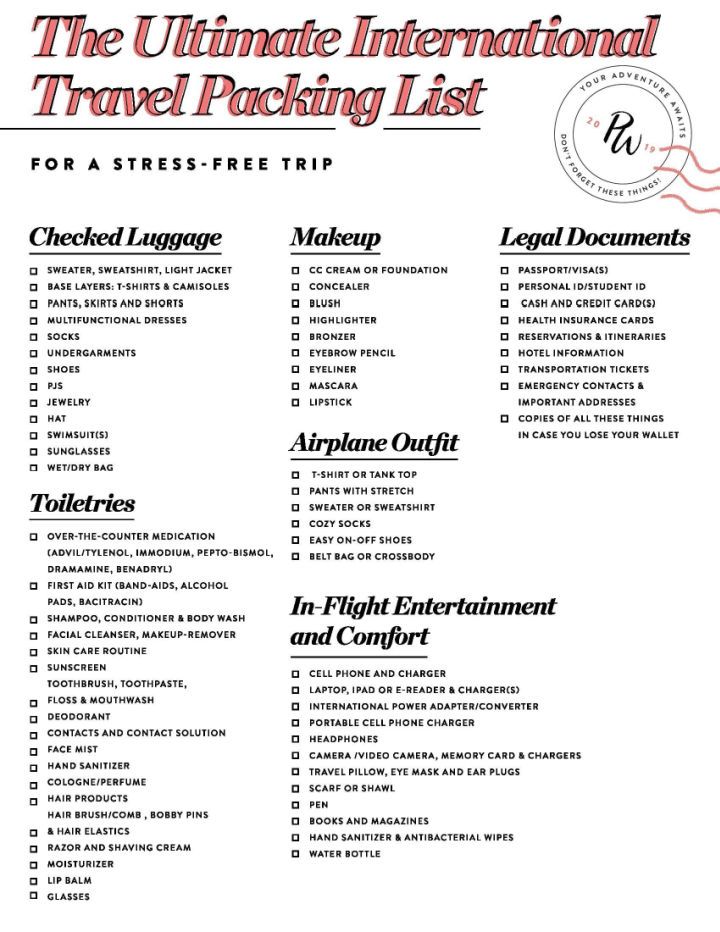 Are you traveling abroad and need to carry many items with you? Then here is the idea to never forget anything important at home before leaving for the airport. Just opt for this ultimate international travel packing list that will surely allow you to go for a stress-free trip. The list includes makeup, legal documents, airplane outfits, checked luggage, toiletries, and in-flight entertainment and comfort categories. You can easily add the respective items in the categories and mark check. One of the best and most well-expanded packing lists printable ever. purewow
9. Printable Beach Vacation Packing List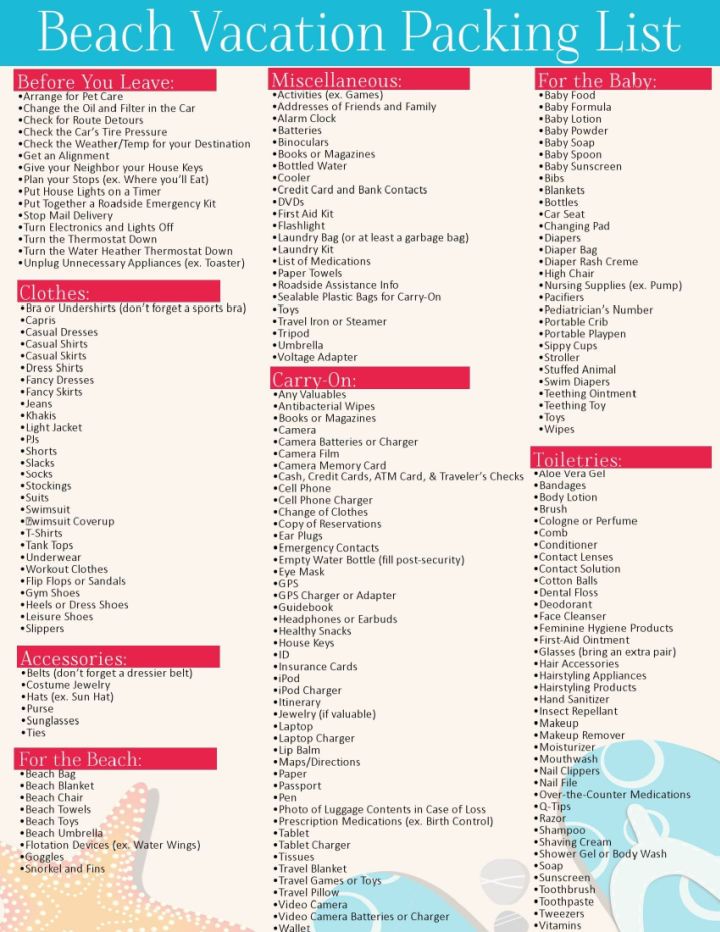 Sometimes, you shop all the items for the vacation trip but forget some of them at home. So, here is how you can stop it from happening again with this vacation packing list. You will get a free printable for the whole packing list that will allow you to mark the items you have packed. As a big bonus, this list will also explain all the items you probably and compulsory need on the vacation trip. Here the list is made for the beach vacation trip, but you can also modify it for the road trip. freebiefindingmom
10. Free Printable Mexico Packing List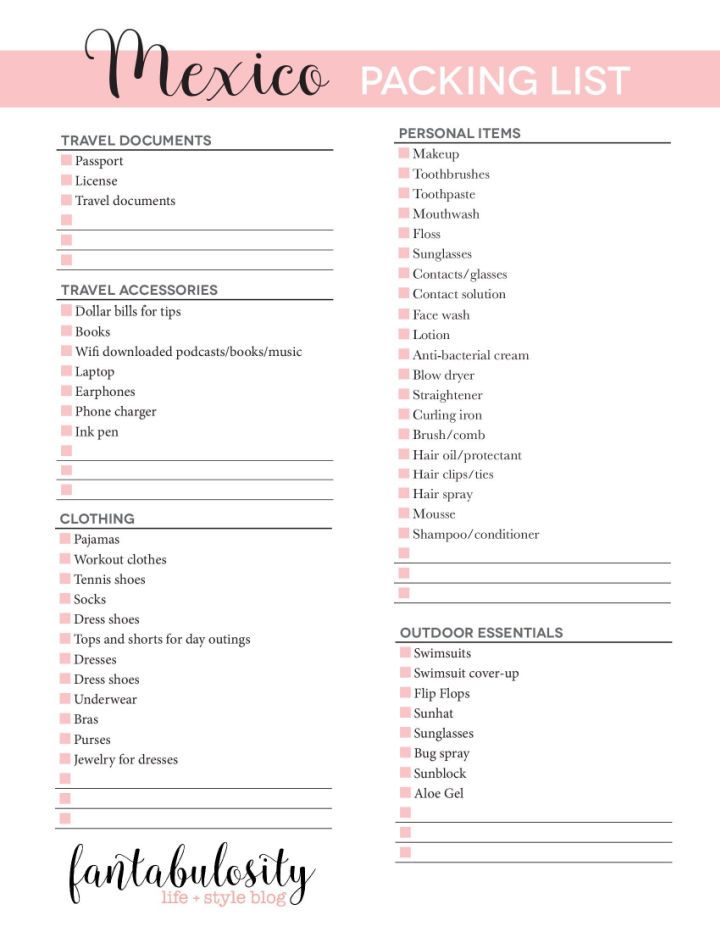 Have you chosen Mexico as your next international trip or vacation destination? Then get here are tips and instructions about making your vacation trip successful. The very first thing you need is this free printable for the Mexico packing list. Just download it now, and it mentions all the required items as checklists, and you can start marking them as you get them to pack. From personal items to travel documents to travel accessories and outdoor essentials, this list mentions all you need to carry with you for the Mexico trip. fantabulosity
11. Printable Packing List for Florida Vacation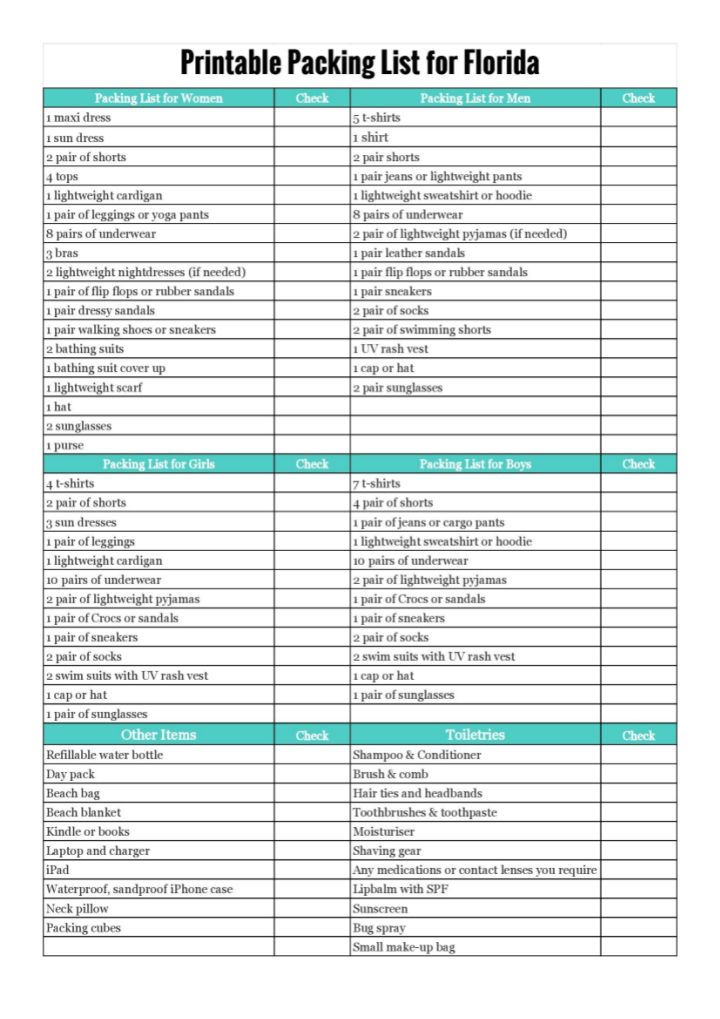 Do you love to travel internationally? Then you may need different items to pack for different international trips. So, get here instructions for the Florida packing list for both men and women and girls and boys. The list mentions the required items for the Florida trip, and this will not let you forget about anything. The list will make you pack all to avoid getting into trouble while on the trip. You can easily mark the items that have been packed, and you can also edit the whole list in some editable programs. One of the best packing list printables ever. templateroller
12. Family Beach Vacation Packing List Printable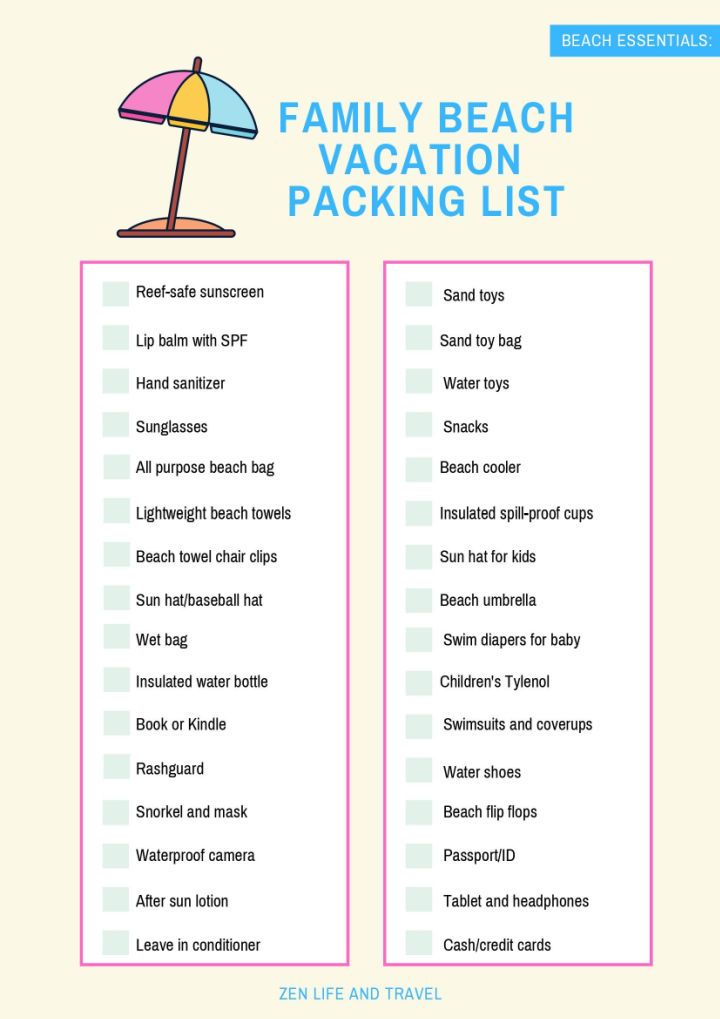 Are you often going on a family beach vacation and facing the issue of missing out on some items to add to the packing bag? This can lead to great problems at the picnic place or on the camping. So, just go with this checklist that will allow you to pack all your necessary items, tools, accessories, and many other comforting goods. The list will also assure you that you have packed everything, which will keep you relaxed throughout the journey and the whole vacation. You can download the printable packing list with just one click. zenlifeandtravel
13. Printable Ultimate Ski Trip Packing List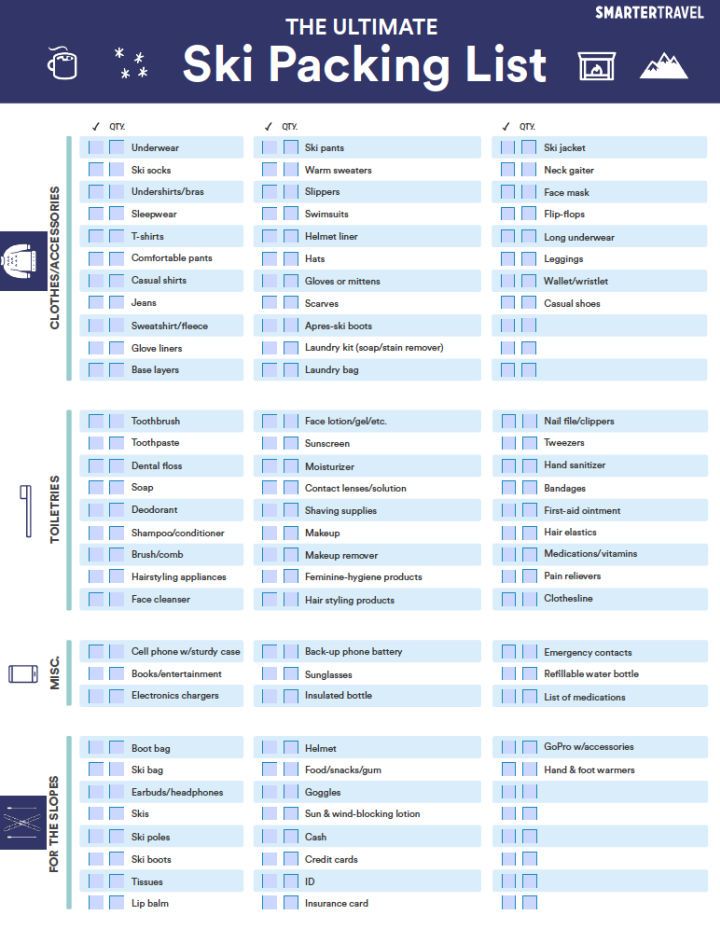 Do you love to travel to snowy places to glide on the snow? It is a great recreational activity, and you will also love to do it during the vacations. So, are you planning a vacation trip to satisfy your skiing obsession? Then make sure you carry all the necessary goods and stuff with you to face any problem during your best skiing vacation. So, download this PDF ski packing list printable that you can use to check that you have packed everything. From clothes to toiletries to miscellaneous items, you will find here categories for all the crucial. smartertravel
14. Printable Travel Women Packing Checklist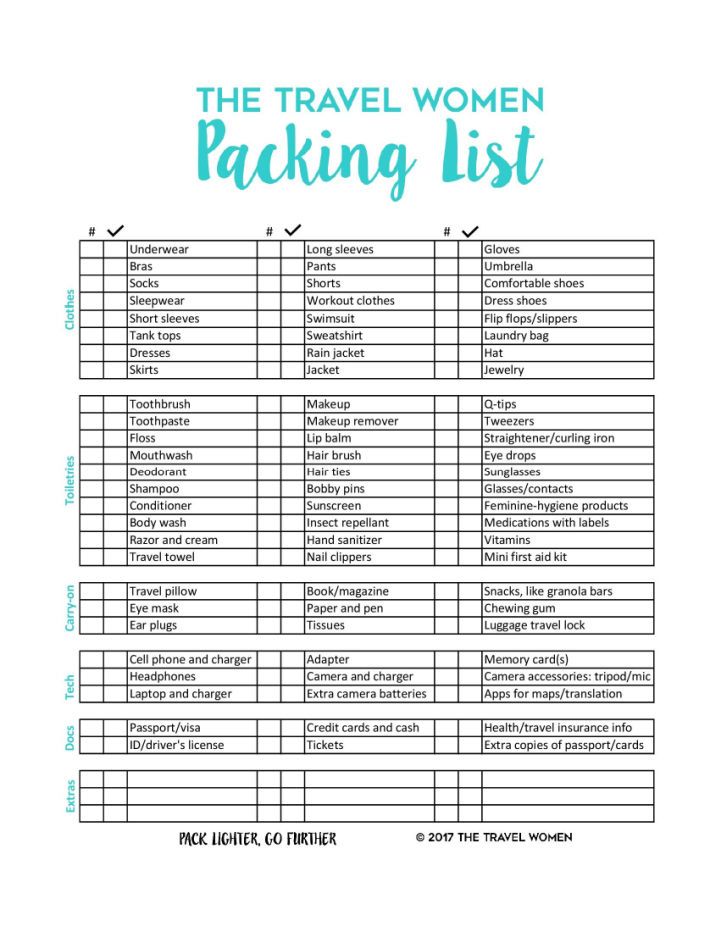 Are you a lady addicted to traveling? Have you ever gone through some problematic situations by missing out on some traveling essentials to pack? You will want to go through the bad situation again. So, make yourself remember when doing packings for the traveling with this free packing list printable, designed for the travel women. The list provides lists of ultimate items that you mostly need during and for traveling, and you can have them all one by one while marking the necessary boxes simultaneously. thetravelwomen
15. Customizable Printable Vacation Packing List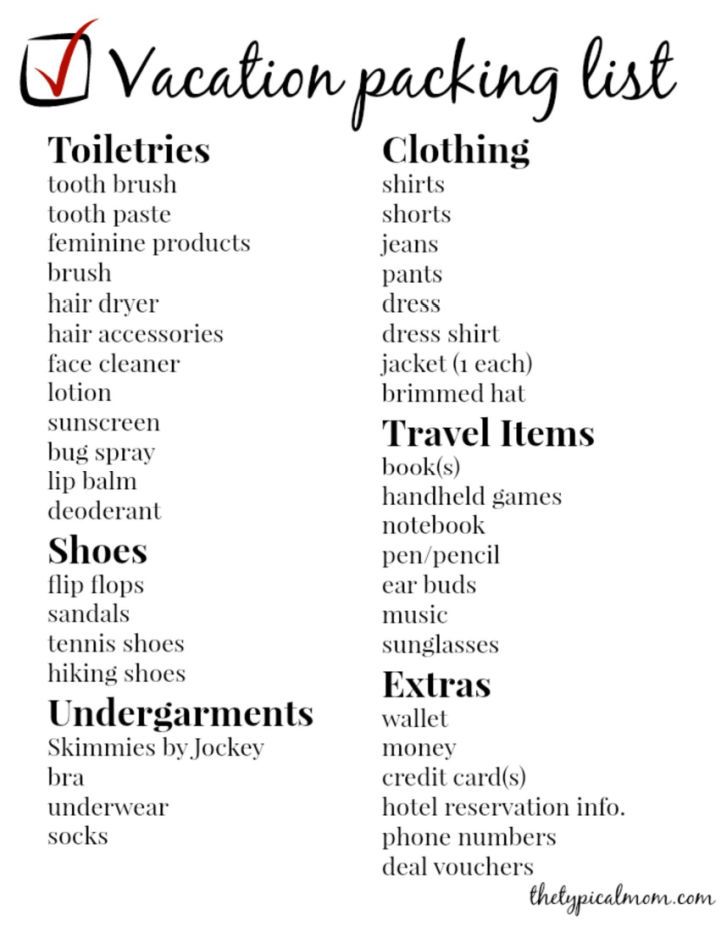 After planning your vacation trip, shopping and packing are the most complicated and time-consuming tasks. When you have to pack many items, the chances are you will forget about a few ones. So, this packing list will not make you miss out on any item for the vacation trip. Just download it for free, and it mentions the categories for toiletries, clothing, shoes, travel items, extras and undergarments. You can hold this packing list in your hands to carefully pack all your essentials. So, you will be enjoying the whole vacation in a relaxed mood for sure. temeculablogs
16. Printable Travel Packing List for Toddlers Pdf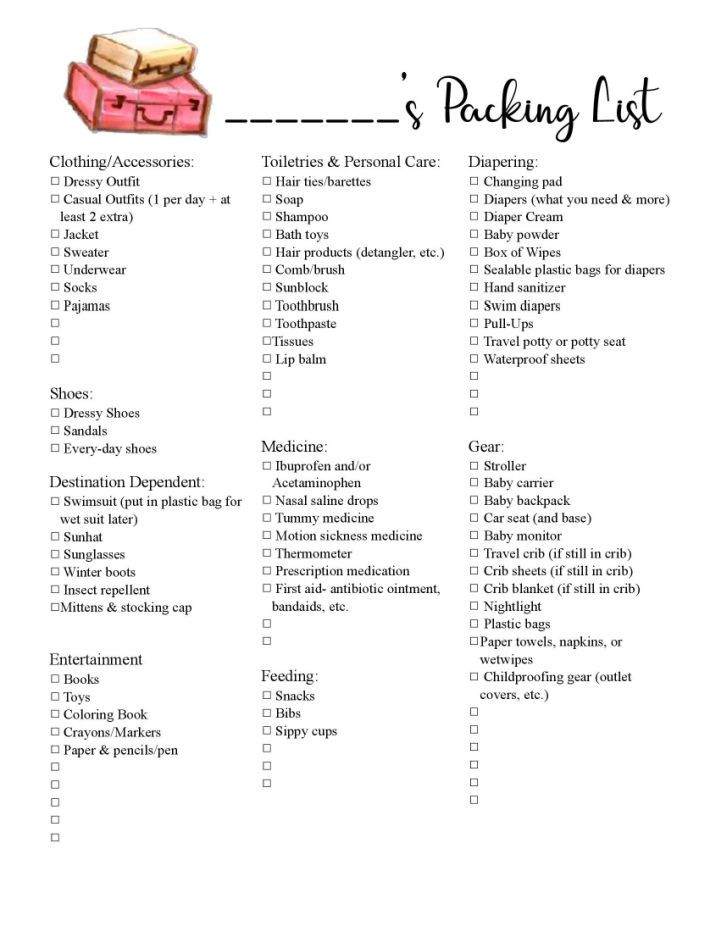 We always need to carry stuff for the toddlers while going out for a picnic, camping, or vacation trip. So, before you face any problem during the traveling or at the picnic place, check if you have packed all the necessary items with this packing list. You can easily download the free PDF printable for the entire packing list and can easily mark the items you have packed. So, download this toddler PDF packing list that mentions the toiletries and personal care list, clothing and accessories, diapering, medicine, gear, shoes, destination dependent, shoes, entertainment, feeding, and extras. thehousewife
17. Weekend Trip Packing List Printable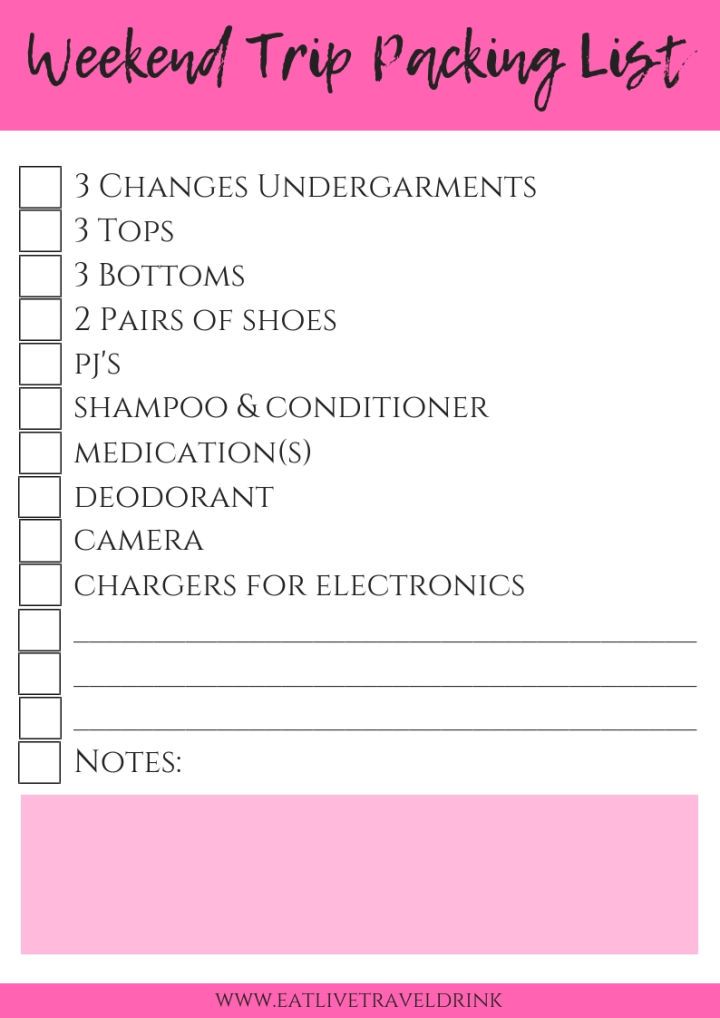 Are you living a healthy lifestyle and love to go out for vacations every weekend? Then get here the ultimate packing list for your weekend trips. This allows you to make sure that you have not left behind anything important and finally you are carrying all with you that will make you enjoy the whole trip in a stress-free manner. The list mentions the undergarments, tops, bottoms, shoes, PJ's, toiletries, medication, deodorant, camera, and chargers for electronics. Tick mark the respective checklist boxes after completing the items of one category mentioned in the list. eatlivetraveldrink
18. Printable Sample Beach Packing List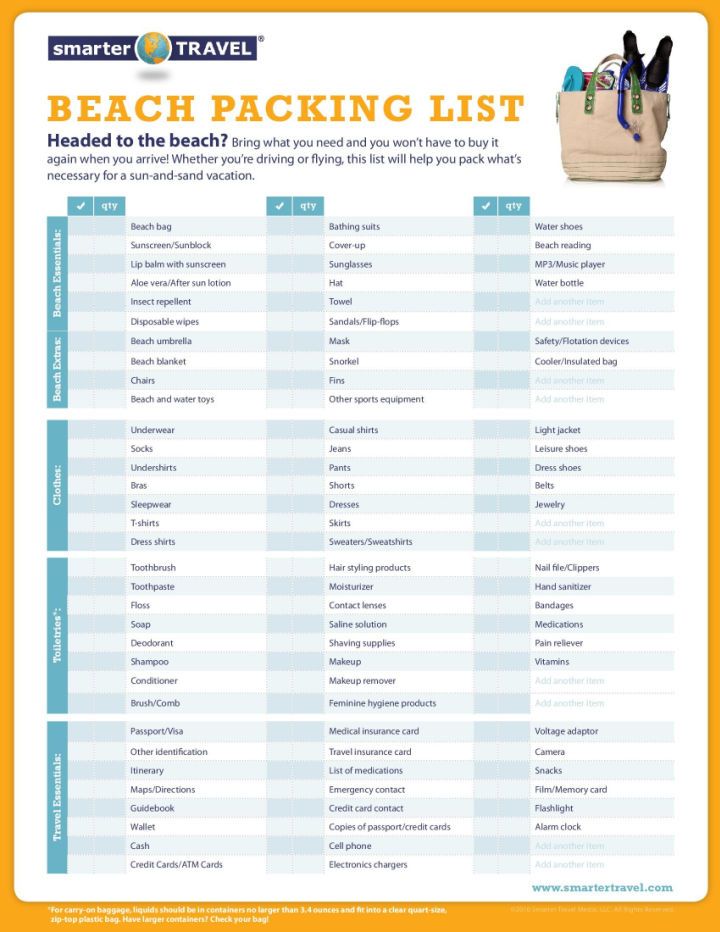 Get here 11 different sample packing lists that are editable also. Yes, you will find samples that are editable in MS Word and PDF, and you can easily edit them and print them out to make all your holiday tours and picnic trips successful. The lists will be available with a single click, and you can easily add or remove some items and the custom categories. Most of the sample mentions valuables, travel documents, essentials, entertainment and comfort. one of the best packing list printables to avoid forgetting anything to pack. sampletemplates
19. Printable Essential Carry on Bag Packing List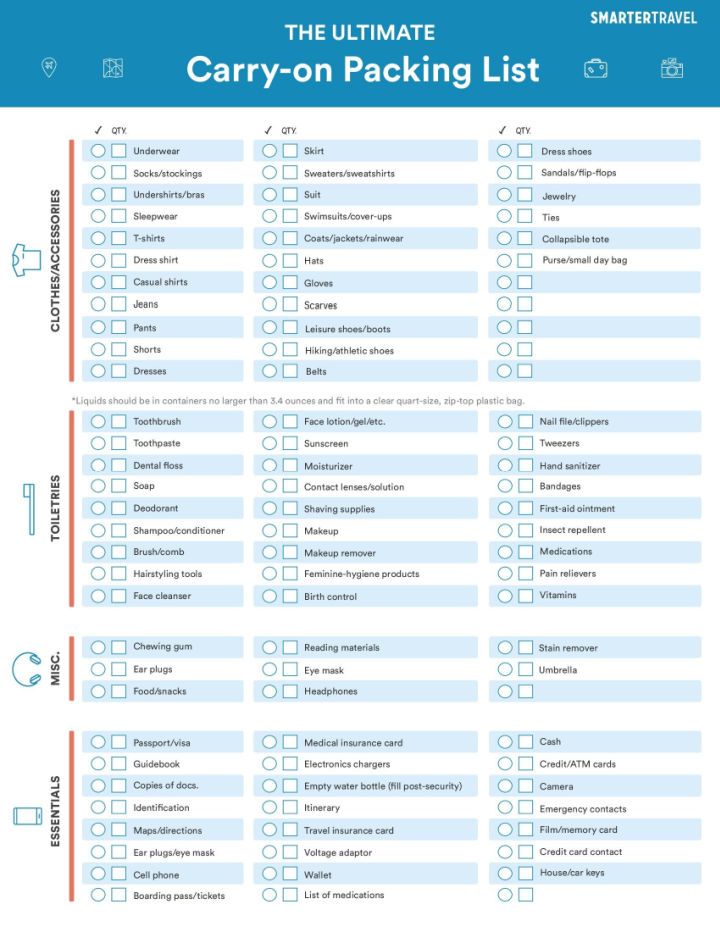 Just make your traveling comfortable and stress-free with this carry-on packing list. It will not make you forget anything. The list appears with clear item categories, provides both the checkboxes and quantity boxes, and will rock for stress-free traveling. Choose this carry-on packing list for your international trips also, and it will surely make you keep all the necessary stuff with you all the time. Each category like clothes, toiletries, essentials and misc is itemized with an expanded range of essentials. So, you can easily pack all you need with the help of this list, and it will be super life-saving for all travelers. smartertravel
20. Printable Airplane Travel Tips Packing List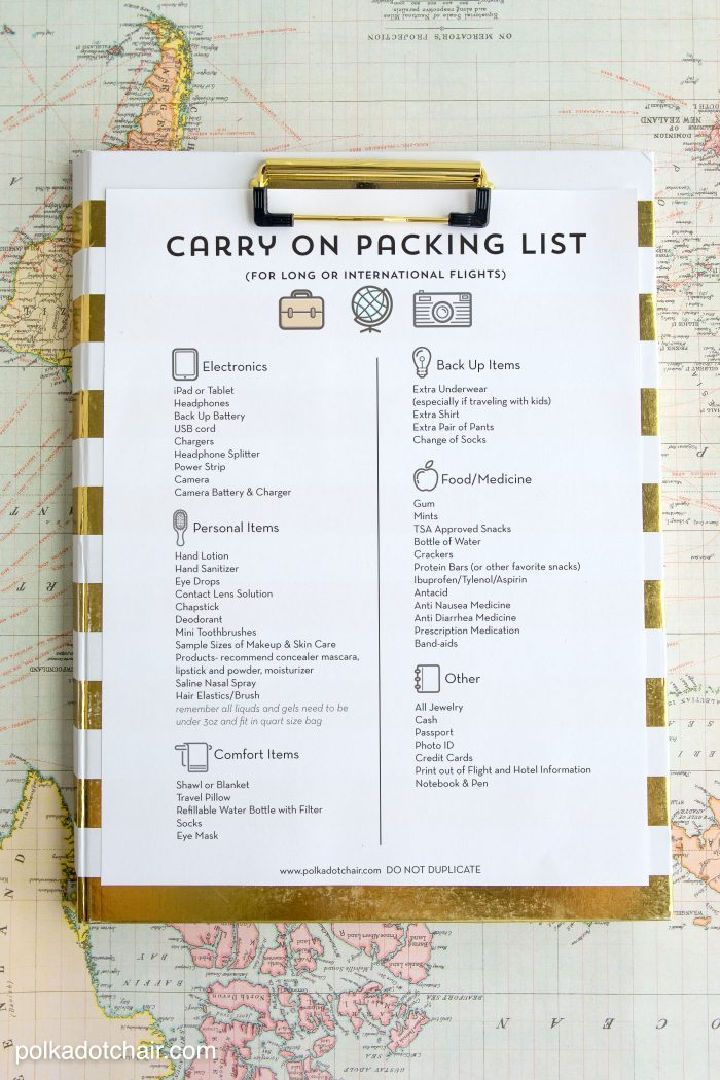 No matter how much sharp memory we have, the things go out of the head when you have to do a lot of things in a short period. This is often the case when you start packing your items for the holiday, vacation or an international trip. So, just check out this carry-on packing list that will rock for all your airplane travels, and you can easily download the free printable for it here. It beautifully mentions the list of items you need for long or international flights, and every traveling lover will find this packing list super helpful. polkadotchair
21. Printable Suitcase Checklist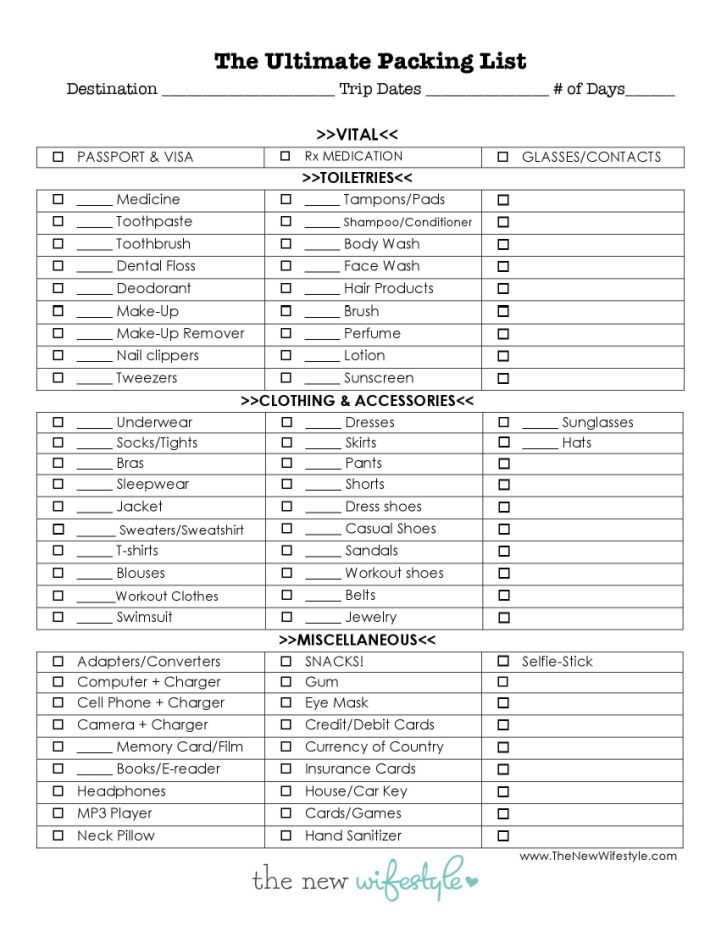 The packing list can be the best way to avoid forgetting any must-haves for the traveling or the picnic trip. So, you can get all your items packed to bring tons of fun to your vacation. It is always in the routines of a smarter traveler to make the lists of items before you pack. So, get here the readymade travel packing list printable specially made for women. So, just download and print it out to make sure you have packed everything in the luggage bags you may need during traveling. thenewwifestyle
22. Printable Luggage Trip Pack List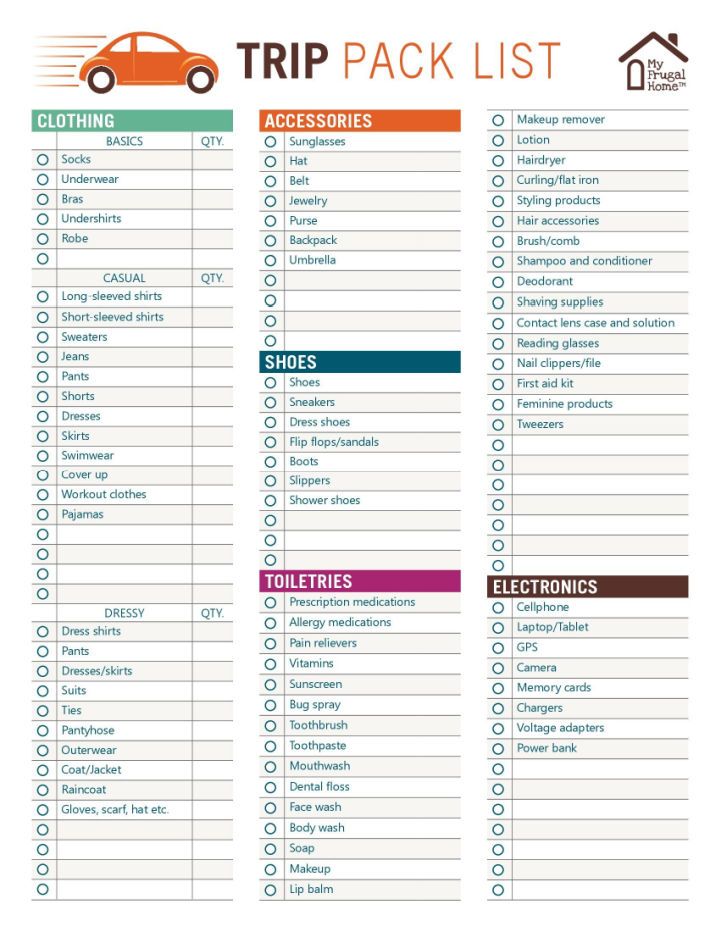 Planning a picnic trips with the family and kids? Then you will be making a grand list of must-haves before you start packings. Don't take the stress of it. Grab these readymade trip pack lists that clearly mention all the essentials and must-haves for the trip, and you can just print them out just at the drop of a hat. The lists appear with custom categories like documents and other essentials, kids, misc and entertainment. So, boxes are provided inside each listed item to tick mark when it is packed. Everyone will just fall in love with these packing lists that are just totally amazing. myfrugalhome
23. Printable Travel Necessities Packing List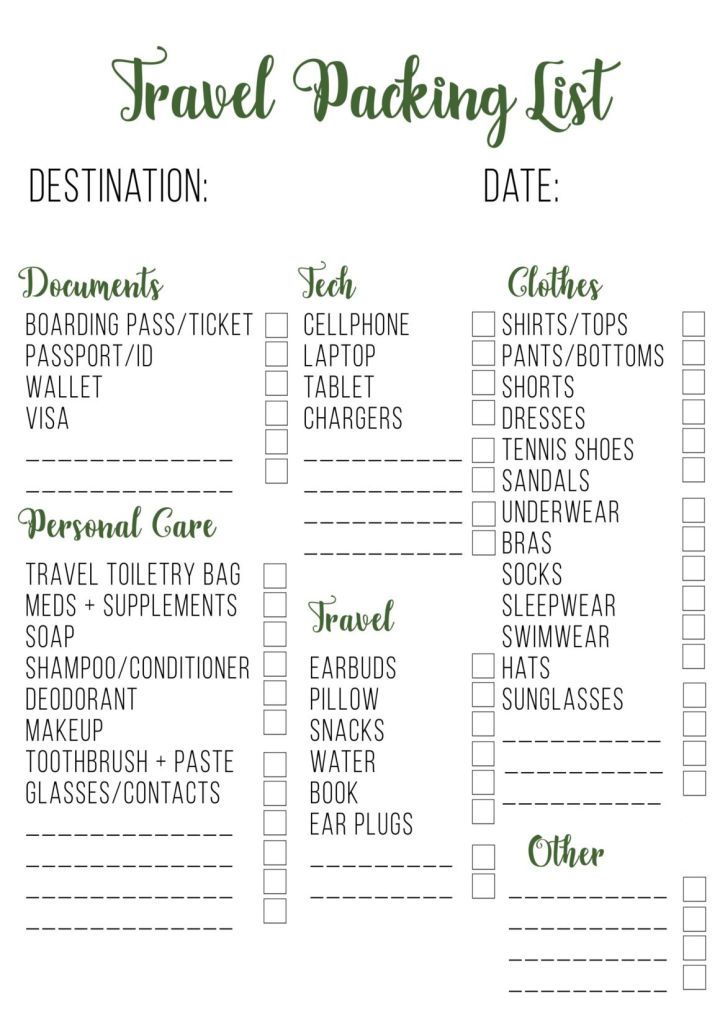 Packings for vacation trips and holiday tours can create a lot of mess. So, the packing lists can be a great rescue. Yes, they will make you get rid of making grand lists of must-haves, and you can quickly download them to print out to get ready for the vacation trip packing or shopping. So, you always need these lists to keep with you and your family to not miss out on a single traveling essential. Everyone will fall in love with these packing list printables. thecactuschronicles
24. Free Printable Camping Packing List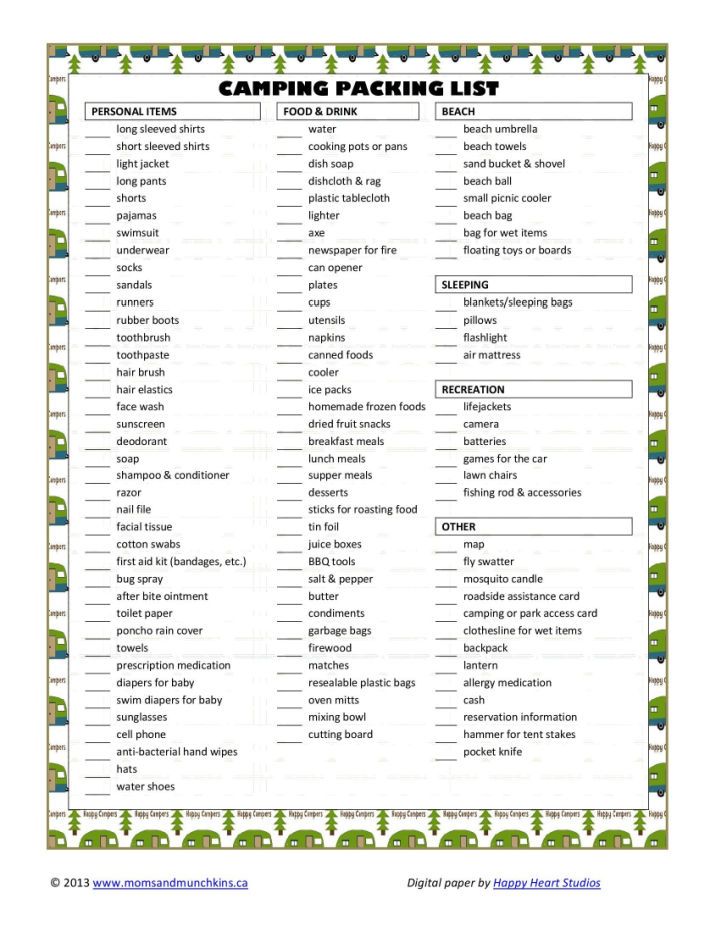 Sorting out the best packing lists for the camping? Then get here a free one, and you can easily print it down to have all the checklists for the beach, food drink, personal items, sleeping and recreation must-haves. At the same time, you will find the checklist for the misc items that will take your camping experience to the next level for sure. The big lists of items are mentioned that you many need in each category, making you avoid forgetting anything. So, enjoy the camping more with this free printable packing list. momsandmunch
25. Free Printable Travel Checklist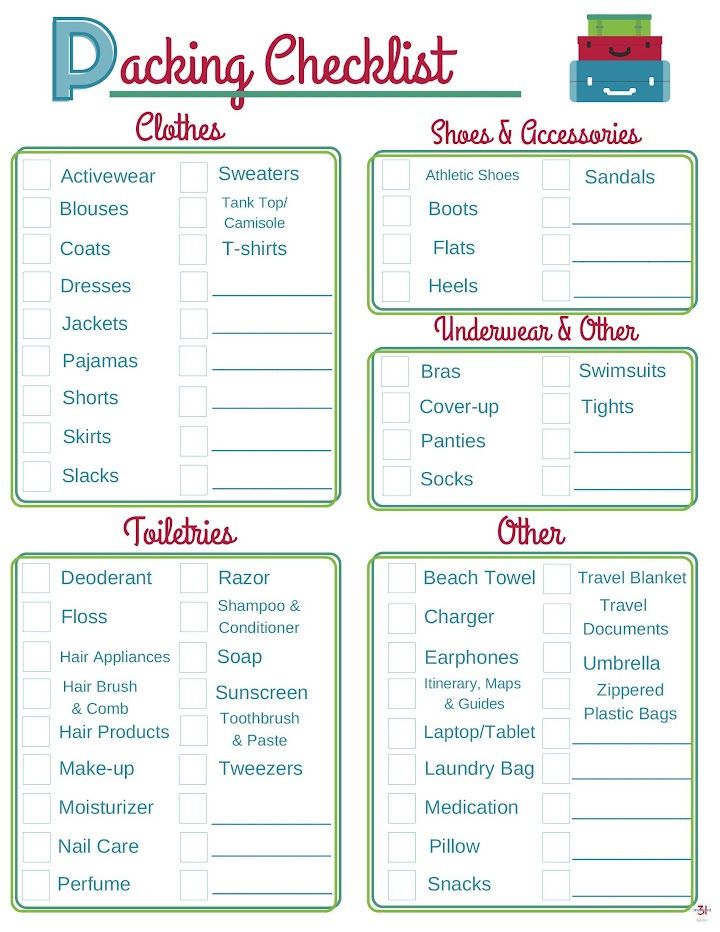 It can cause serious problems to forget about packing some big must-haves for the vacation, beach, camping and international trips. So, want to come out of this embarrassing situation? Then go with this free printable packing list that will provide all the checklist for the packing stuff. So, you don't forget anything again after having this packing list in your hands. The packing list appears with the custom category boxes like clothes, toiletries, underwear & others, shoes & accessories and others. One of the best packing lists that everyone can print out just at the drop of a hat. organized31
Related DIY Projects:
Customizable Printable Gift Tags – Save time and money by downloading free printable gift tags – with a customizable design to match your style. The set includes holiday, birthday, thank you, and wedding tags for every occasion.
DIY Paper Mache Gift Boxes – The possibilities are endless! Make your own unique gifts. The paper mache box kit includes everything you need to make a beautiful gift box in any shape you like.
Free Printable Cards – Celebrate everything with a personal card. Get free printable cards, sentiments & greeting cards to create DIY gifts for friends, family, and colleagues.
Free Halloween Printables – Get your home decorations ready with these free printable Halloween decorations. Print, cut, and glue these festive decorations to make your house a spooky delight.
Homemade Gift Box – The best homemade gift idea is one that's tailored to the person you're giving it to. We've got DIY gift boxes for every occasion – from fun, to cozy, to fancy – and ideas for what you can put inside.
Conclusion: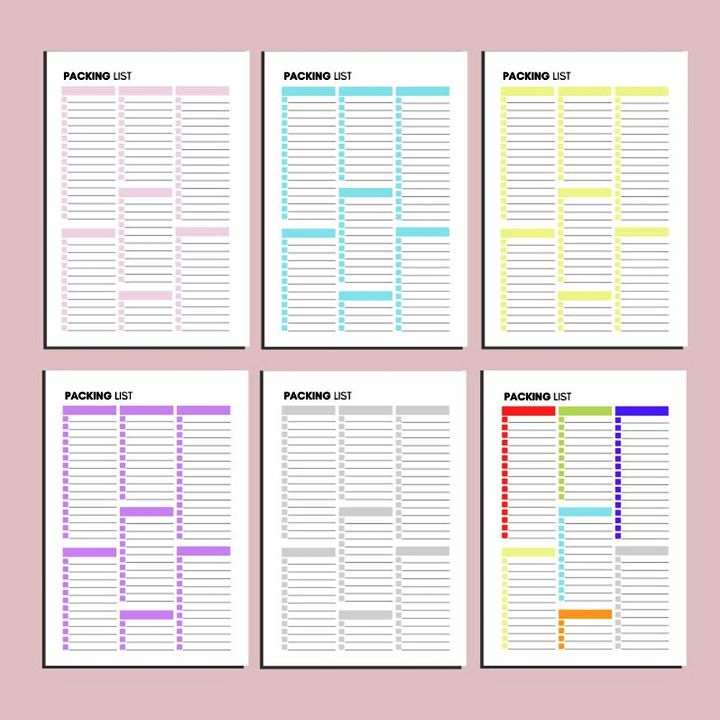 These Free Packing List Printables aim to make your every picnic or business, domestic or international travel successful. They will work as great reminders to pack all your accessories, medications, documents, clothes, food, entertainment, and more. So, you will eliminate the stress of forgetting anything important at home. From Free printable packing lists to PDF and work editable packing list printables, you will get them here for free. These packing lists will surely turn you into a smarter traveler and will certainly assist you in shopping and packs of custom vacation trips and tours.